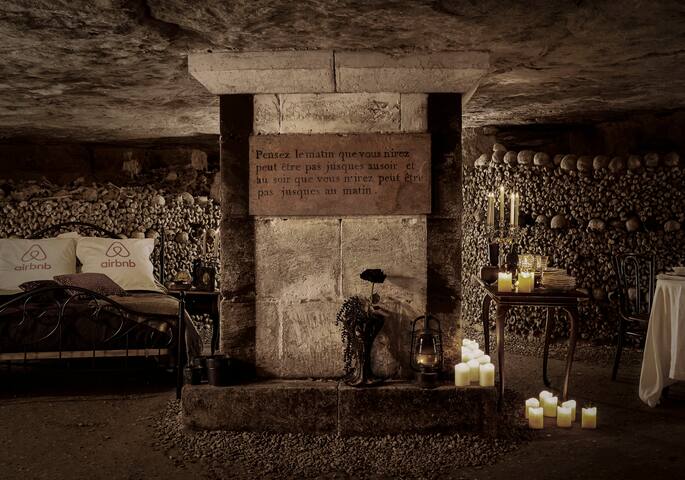 Nacht Bij...
Nacht in de Catacomben van Parijs
Gehele woning/appartement
2 gasten
1 Slaapkamer
1 bed
Over deze ruimte
Welkom bij de donkere uithoeken van Parijs!

Wil je Halloween net even iets anders vieren? Ontsnap aan de standaard verkleedpartijtjes en kom naar 's werelds grootste graf— de beroemde Catacomben van Parijs, de laatste rustplaats van zes miljoen zie
---
Kamertype: Gehele woning/appartement
Bed type: Echt bed
Woningtype: Overig
Aantal personen: 2
Slaapkamers: 1
Badkamers: 0
Bedden: 1
---
Voorzieningen
Ontbijt
Ontbijt is inbegrepen
Keuken
Keuken
Keuken voor de gasten om maaltijden te maken
Internet
TV
Basisvoorzieningen
Basisvoorzieningen
Handdoeken, beddengoed, zeep en wc-papier
Verwarming
Airconditioning
Wasmachine
Droger
Gratis parkeren op het terrein
Gratis parkeren op straat
Betaald parkeren buiten het terrein
Wifi
Wifi
Altijd toegang in deze ruimte
Kabel TV
Ontbijt
Ontbijt
Ontbijt is inbegrepen
Huisdieren toegestaan
Huisdieren toegestaan
Hulpdieren zijn altijd toegestaan
Gezins/kindvriendelijk
Geschikt voor evenementen
Geschikt voor evenementen
De woning is geschikt voor een bijeenkomst van 25 of meer deelnemers.
Roken toegestaan
Toegankelijk met rolstoel
Toegankelijk met rolstoel
De woning is makkelijk toegankelijk voor gasten met een rolstoel
Lift
Lift
De woning of het gebouw heeft een lift van ten minste 132 centimeter diep en een deur van ten minste 81 centimeter breed.
Open haard
Draadloze intercom
Portier
Zwembad
Jacuzzi
Fitnessruimte
Kledinghangers
Strijkijzer
Föhn
Laptopvriendelijke werkplek
Laptopvriendelijke werkplek
Een tafel of bureau met ruimte voor een laptop en een comfortabele stoel
Eigen woonkamer
Eigen entree
Eigen entree
Aparte ingang aan de straat of in het gebouw
24 uur inchecken
24 uur inchecken
Sleutelkastje, toegang zonder sleutel, zoemer of iemand die er altijd is
---
Beschrijving
De Ruimte
Welkom bij de donkere uithoeken van Parijs!

Wil je Halloween net even iets anders vieren? Ontsnap aan de standaard verkleedpartijtjes en kom naar 's werelds grootste graf— de beroemde Catacomben van Parijs, de laatste rustplaats van zes miljoen zielen.

Reis in de nacht van Halloween naar Parijs en hoor meer over de huiveringwekkende geschiedenis van dit mysterieuze ondergrondse labyrint. Ga op avontuur in dit uitgestrekte netwerk van schedels en beenderen. Geniet vervolgens van een verbluffende culinaire ervaring onder het genot van een privéconcert met de meest ongelooflijke ondergrondse akoestiek.

Voor het slapen gaan, zal een verteller je fascineren met meeslepende verhalen uit de Catacomben, die garant staan voor nachtmerries. En geniet tot slot van de dageraad met de doden. Je zult de enige levende persoon zijn die ooit wakker is geworden in de Parijse Catacomben.

Ben je klaar voor een onvergetelijke nacht met Halloween? Laat de gastheer dan uiterlijk om middernacht op 20 oktober weten waarom jij denkt dapper genoeg te zijn om in de Catacomben te slapen.
Neem gerust een vriend/vriendin/partner mee (maximaal 2 personen).
---
Gelieve de nachtrust van Parijzenaren te respecteren
Probeer geen kwade geesten op te roepen
Volg de spoken niet door de gangen, je kunt zomaar verdwaald raken
Trick-or-Treaters opgepast
****************************
TERMS AND CONDITIONS
Night at Paris Catacombs on October 31st, 2015
NO PURCHASE OR PAYMENT NECESSARY TO ENTER OR WIN. A PURCHASE OR PAYMENT WILL NOT INCREASE YOUR CHANCES OF WINNING.
When you submit a submission for this Contest, you agree with the Official Rules below.
Sponsor. The Sponsor of this Contest ("Contest") is Airbnb Ireland, The Watermarque Building, South Lotts Road, Dublin 4, Ireland ("Airbnb").
How to Enter. Participants who have reached the age of 18 at the time of participation, may enter the Contest from Tuesday October 6th, 2015 at 9:00am Central European Time until October, 20th 2015 at 11:59 pm Central European Time by following the process below. Submissions must be received through the below process by the close of the Contest to be eligible.
Process: To participate in the Contest and to try to win the prize described below, you have to:
Sign in with an Airbnb account
Go to the "Night At Paris Catacombs" listing page
Click on 'Contact the Host' button and explain to the host why you think you're brave enough to sleep in the Paris Catacombs. In the form provided write a story of 100 words maximum – in English or in French – explaining why you think you're brave enough to sleep in the Paris Catacombs (the "Submission").
The Submission must be sent from the email account associated with the participant's Airbnb account to be verified and reviewed. Each participant can only participate once and you represent that you are more than 18 years old. Airbnb is not responsible for computer or network problems, problems with servers, problems with email accounts or the failure to receive any Submission for any reason whatsoever. By entering the Contest, participants agree, on their behalf and if applicable any guest that as a winner they are permitted to share the prize with, that they may be contacted by Airbnb in relation to the Contest and agree to take part in any publicity that occurs as a result of the Contest and grant Airbnb and their Partner and their agents the right to use their name and/or image and/or town/country of residence.
Eligibility. Eligibility. The Contest is not open to residents from: Crimea Region of Ukraine, North Korea, Syria, Iran, Sudan, any country subject to embargo by the United States, or the Province of Quebec, or any jurisdiction where the Contest would be prohibited or restricted by law. This means that you are not allowed to participate if you reside in one of these jurisdictions. The Contest is for residents of all other countries of the world and by entering participants agree that the individual winners will be selected from all entries received from these countries. Directors, officers, employees, independent contractors and agents of Partner and Airbnb, or their subsidiaries or affiliates, and the members of their immediate families or households, are not eligible.
Before entering into the Contest, participants shall take into account that the Catacombs are located 20 meters underground (130 steps to go down). The temperature inside the Catacombs is around 14°C.
The participants represent that they and their guest are fully able to receive, use and enjoy the prize of this Contest, in view of the above restrictions, and that they do not suffer from any health issue which may make the Catacombs experience unsuitable for them. In addition, the participants acknowledges and agrees that, before awarding the prize to the winner, Airbnb may require the winner and his/her guest to provide a medical certificate based on a medical examination to confirm their ability to spend one night in the Catacombs.
Winner Selection. One participant will be selected from the Submissions and will be nominated winner and best story writer of the Contest. The winner will be chosen entirely on merit, based on two judging criteria applied by a panel of judges at the following weight:
70% - Originality and creativity of the submitted story. Does it surprise and delight us?
30% - Spirit of the submission. How does your submission relate to the Paris Catacombs and Halloween?
The panel of judges will be comprised of members of the marketing teams of Airbnb, and one independent judge. If substantially similar Submissions are submitted by different entrants, judges will select only the best version of that idea, as determined by the judges in their sole discretion.
Prohibited Content. Submissions/content must be the original work of the participant and not have been previously published, or entered in any other competition, and must not violate the rights of any other party, including but not limited to intellectual property rights or rights of privacy, publicity or other moral rights. Submissions must NOT contain: (a) advertising or commercial content for any party other than Airbnb or Partner; (b) content that endorses/promotes illegal or harmful activity; (c) violent, profane, vulgar, obscene, defamatory or otherwise objectionable material; (d) adult material; or (e) defamatory content. The Sponsor reserves the right to disqualify any participant who violates these prohibitions or any other provision of these Official Rules, or that the Sponsor deems inappropriate for any reason, in their sole discretion.
License. By submitting a Submission, participants grant each of Airbnb and Partner a perpetual (or for the term of the protection granted by the relevant intellectual property rights), worldwide, irrevocable, royalty-free license to transform, edit, modify, reproduce, distribute, transmit, publish, broadcast, perform, display, or otherwise use the submitted story, in whole or in part, with or without modifications, in any form or medium (including but not limited to: internet, any printed medium distributed via press, billposting, point of sale advertising, flyers, leaflets…), whether now existing or later developed, for entertainment, promotional and/or advertising purposes and/or any other purpose. To the greatest extent permitted by law, participants agree not to invoke any so-called moral rights in relation to their submissions (including without limitation the right to be identified as the creator of the work and the right to object to derogatory treatment of the work). For the avoidance of doubt, the license referred to in this paragraph is a fully paid-up license. By entering, you guarantee that your entry is original as referred to above, and that you have all necessary rights to provide the entry and to grant to Airbnb the rights set out in these Official Rules, as well as the consent of any person identified, depicted or referred to in the entry. You will indemnify and hold Airbnb harmless for any breach of these provisions. Only the winner will receive a prize according to the next paragraph: 'Prize'.
Prize. Each winner will receive, in recognition of their personal writing talent and as full and comprehensive consideration for the License described above, the following prize for himself/herself and one his/her guest:
A private visit of the Paris Catacombs with the curator of the Catacombs on October 31st, 2015
A private dinner for 2 in the Paris Catacombs
A private concert during the dinner
A one night stay in the Paris Catacombs (Halloween night on October 31st, 2015)
Breakfast the next morning
The return trip to Paris for all non French residents – Economy class tickets
The prize described here above does not include: visa fees, airport transfers from the winner's home to/from their airport or train station, expenses, any meals (except for the dinner and breakfast at the Paris Catacombs), and any other expenses.
The prize described here above is provided by Paris Musées, which will be in charge of the safety of the winner and his/her guest.
Participants represent that they are available to travel to to be there on 31st October, 2015. Participants must have a valid passport (or EU Identity Card) to travel to France during the period of the trip to redeem the prize. The total value of the prize is approximately 3,000EUR (or the equivalent in local currency) + a return trip to France for all the non- French residents. The Sponsor is allowed to ask for a written confirmation or proof of the place of residence and age of the winners and any guest(s) they are permitted to share the prize with before awarding the prize. No substitution or transfer of the prize is permitted. The prize may not be redeemed for cash. If due to circumstances beyond Airbnb's control, Airbnb is unable to provide the stated prize, Airbnb reserves the right to award, as substitute, a prize of equal or higher value.
Notification/Announcement of Winner.
The winner(s) will be selected on 21st of October and will be notified by [email / via the Airbnb message centre] within 24 hours. Each winner must confirm their acceptance of the Prize in writing within 12 hours of such notification. The Sponsor reserves the right to disqualify any winner who does not confirm acceptance of the Prize in accordance with these Official Rules, and reserves the right to select an alternative winner in such event. In the event of a dispute about the identity of a winner, the Sponsor will award the prize to the authorized account holder of the Airbnb account from which the winning entry was sent. The Sponsor may publicly announce the name of the winner within 30 days of the close of the Contest, including through social media channels such as (website hidden) (@airbnb) and (website hidden)
Prize Conditions. Save as may be required by any applicable mandatory laws, the prize is provided as-is with no express or implied warranty or guarantee. This Contest is subject to applicable local laws and regulations, including but not limited to tax laws. The winner is solely responsible for any taxes applicable to or resulting from the award of the prize, and the Sponsor will have no obligation for any taxes that may be payable. Sponsor may require the winner, and where applicable, the winner's guest, to sign and return an affidavit of eligibility, a liability release and a publicity release permitting the Sponsor to use the winner's name, image and winning Submission in promotional materials where permitted by law and subject to applicable rules. To the extent permitted by applicable law, refusal or inability to sign and return such forms within 72 hours of receipt may result in disqualification and awarding of prize to an alternate winner. The winner and guest represent they will behave as good citizens during their stay at Paris Catacombs and that they will cooperate with the security personnel that will be present at Paris Catacombs on October 31st and November 1st, 2015.
General Liability Release. By entering this Contest, participants release the Sponsor and their agents from any liability whatsoever, on any theory, and waive all claims and causes of action arising from or related to this Contest and/or fulfillment and/or use of the Prize, to the extent permitted by applicable law. However, nothing in these Official Rules limits or excludes any person's or entity's liability for death or personal injury caused by their negligence or any other liability which may not as a matter of law be limited.
Data. By entering the Contest and submitting a Submission and any other personal information, participants are expressly consenting to the processing of their personal information by the Sponsor for the purpose of the Contest or any associated publicity by Airbnb or Partner. Airbnb's privacy policy will apply. Airbnb may share the Submissions with Partner and third party prize providers for Contest administration and prize fulfillment purposes.
Interpretation and Disputes. Subject to the application of contrary overriding provisions of a national law or European regulations, participants agree: (a) to be bound by these Official Rules and all decisions of the judges, which are final and binding; (b) that any disputes shall be governed by the laws of Ireland (or by mandatory local laws, if applicable), and shall be resolved only in the courts in Ireland (or in mandatory local jurisdiction, if applicable), without resort to any form of class action or other form of collective action, to the extent permitted by applicable law; and (c) that they consent and waive any objection to the jurisdiction of said courts for any such disputes.
Miscellaneous. The Contest is void where prohibited. If any provision or part-provision of these Official Rules is held by a court of competent jurisdiction to be invalid, illegal or unenforceable, it shall be deemed modified to the minimum extent necessary to make it valid, legal and enforceable. If such modification is not possible, the relevant provision or part-provision shall be deemed deleted. Any modification to or deletion of a provision or part-provision under this clause shall not affect the validity and enforceability of the rest of these Official Rules. To the extent permitted by applicable law, the Sponsor may suspend, modify or terminate the Contest if they believe, in their sole discretion, that malfunction, error, disruption or damage is impairing or will impair the administration, security, fairness, integrity or proper conduct of the Contest, in which case the prizes will be awarded among the eligible entries received that were unaffected by the problem, if possible. With reference to the Italian participants please note that this Contest does not constitute a "Manifestazione a Premio" under the provisions of D.P.R. 430/2001 because winners are selected and prizes are assigned to them on the basis of their personal writing talent and consequently the exception described under Article 6, par. 1, letter a) of the above mentioned decree shall apply.
---
Over de Verhuurder, Catacombs Of Paris
We are the Paris Catacombs, the world's largest grave with million of souls. Passionate history buffs, we enjoy sunsets, the company of deceased friends, and long walks under the city—specifically, 20 meters under the sewer and Metro.
For centuries, we've been an oasis of peace, silence, and permanent slumber for the Who's Who of Paris, hosting celebrities like Francois Rabelais, Jean de la Fontaine, Charles Perrault, Lavoisier, and Robespierre.
We've even welcomed prestigious royal visitors, including Charles X, Francois 1er and even Napoleon the 3rd.
Won't you be our guest?
*********
Nous sommes les Catacombes de Paris, la plus grande tombe du monde où reposent des millions d'âmes. Férus d'histoire, nous adorons les couchers de soleil, la compagnie de défunts amis et les longues promenades sous la ville dans ce vaste souterrain enseveli 20 mètres en dessous des égouts et du métro.
Pendant des siècles, nous avons été un havre de paix et de silence, garant du sommeil du Tout-Paris, accueillant des célébrités comme François Rabelais, Jean de la Fontaine, Charles Perrault, Lavoisier et Robespierre.

Nous avons aussi accueilli des personnalités prestigieuses de la royauté : Charles X, François 1er et même Napoléon III.
Voulez-vous être des nôtres ? Nacht Bij...
Bekijk waar andere reizigers heen gingen voor een overnachting uit duizenden.