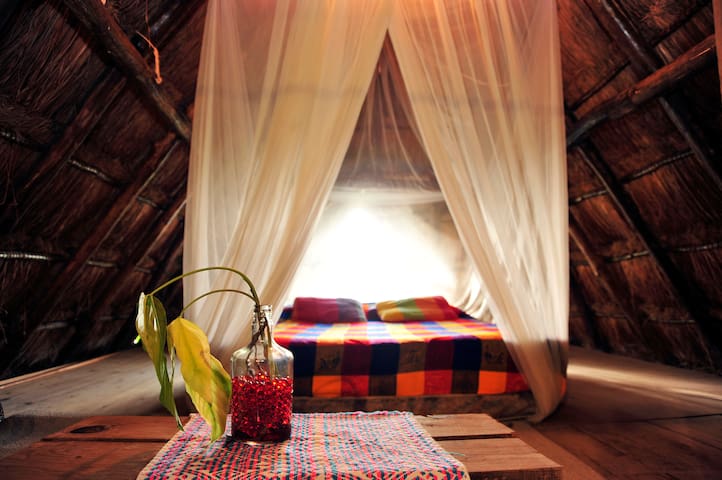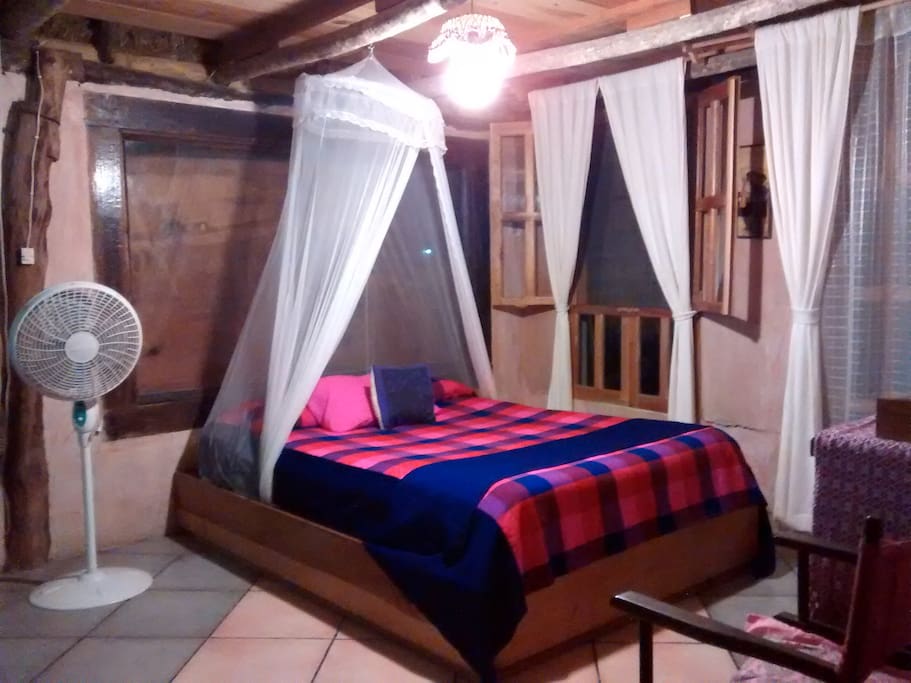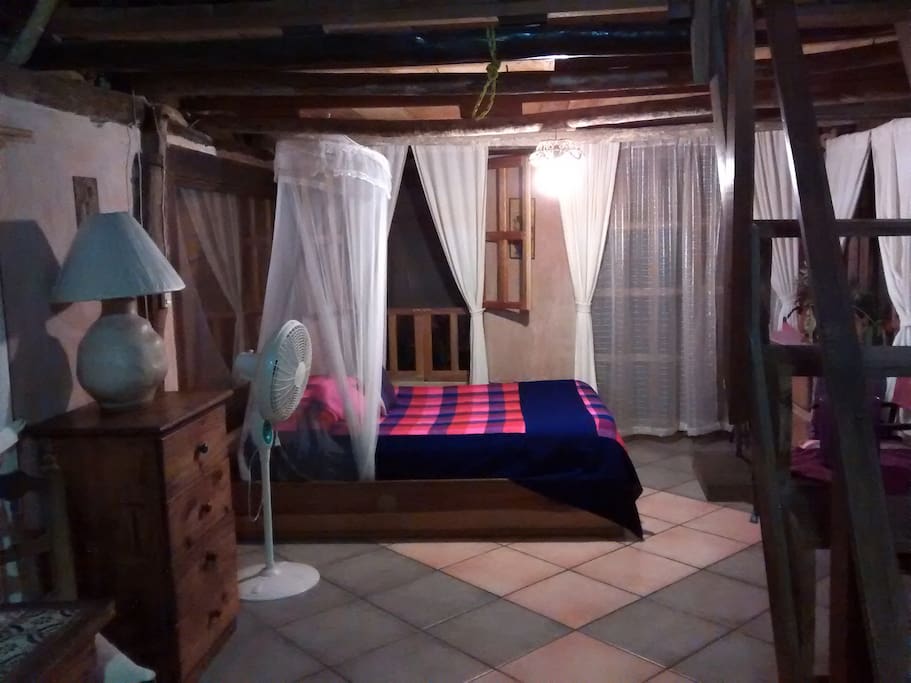 Casitas Kinsol Guest House - Room 4
Casitas Kinsol Guest House - Room 4
Een zeer grote rieten dakhut, op de tweede verdieping, met een klein balkon met uitzicht op de straat. Het heeft een mezzanine met een tweepersoonsbed matras. Heeft veel charme als je de rust van een rieten dak en de omliggende geluiden, van de straat en van de buren, niet erg vindt. De meeste van onze gasten noemen het het boomhuis.
A very large thatched roof hut, on the second floor, with a small balcony overseeing the street. It has a mezzanine with a double-size mattress. Has plenty of charm if you do not mind the rusticity of a thatched roof and the surrounding noises, from the street and from the neighbors. Most of our guests call it the tree-house.
---
---
Extra mensen €10 / nacht na 2 gasten
Communiceer altijd via Airbnb
Maak nooit geld over en communiceer nooit buiten de Airbnb-website of app, om je betaling te beschermen.
Lees Meer
---
Slaapkamer 1
1 tweepersoonsbed, 1 vloermatras
---
- Check out before 12:00 pm. Check in after 3:00 pm. Late check-out and early check-in can be accommodated; ask us for details.
- No curfew: if you come back late at night, please maintain a quiet atmosphere so that the other guests can have a restoring sleep. Some rooms have only mosquito screens (no window): please, keep the volume low and maintain a quiet atmosphere.
- Candles are provided as emergency lights when the electricity goes off. You may use them for romantic purposes, however, never leave a candle unattended.
- For the safety of all residents and guests, please register any overnight visit or guest that you may have.
- For the safety of our 4 legged guests and hosts, make sure that all gates are latched and locked at all times.
- The towels are not to be used as rugs or beach towels. Beach towels are not provided.
- Some rooms do not have windows - only mosquito screens -: please maintain a quiet atmosphere.
- Toilet bowls: Only human waste! Absolutely no toilet paper, hygienic towels, Q-tips, ... !!! The basket next to the toilet bowl is for these items.
- If you drove to Casitas Kinsol, make sure that your car is parked along the sidewalk in front of Casitas Kinsol. In Puerto Morelos, the property owners think that they own the sidewalk in front of their property; as a result any vehicle that is not theirs is not welcome!!!
THE KITCHEN IN THE COMMON AREA
It is for the only use of the owner. The kitchen in the common area is only to prepare coffees and teas. NO COOKING or MEAL PREPARATION is allowed.
However, you are welcome to use the sitting/dining areas if you ever order some food (pizzas, for example) from the surrounding restaurants. Most of the eateries and restaurants in the area will offer the food 'to-go'/ 'to-take'.
ROOMS WITH A KITCHENETTE:
- Please wash the kitchen utensils as soon as you used them; failure to do so, will attract all kind of bugs and vermin in the room.
- When you leave Casitas Kinsol, you are expected to leave the kitchenette and all the utensils washed and cleaned. Failure to do so, a cleaning fee will be charged.
ROOMS WITHOUT A KITCHENETTE:
- the kitchen in the common area is only to prepare coffees and teas. NO COOKING or MEAL PREPARATION is allowed.
- If you use the kitchen utensils, you wash them and store them back in their location.
- Wash the kitchen utensils as soon as you used them; failure to do so, will attract all kind of bugs and vermin.
FOOD IN THE ROOM:
Remember that Casitas Kinsol is located in a tropical area: leftovers of food will turn bad in few hours (the fruits ferments, the cookies lose their crunchy feel, the meats oxidize, …). Do not leave food in the room (even overnight) unless you want to have the visit of hungry friends (ants, cockroaches, flies, …). Use Ziploc bags and put everything in the fridge.
LAUNDRY SERVICE:
No laundry service is provided on site. However, there are many inexpensive laundries within walking distance of Casitas Kinsol (where you drop off your cloths and get them back, washed, dried and folded); you get back your cloth on the same day (if you drop it early morning) or the next day. The cost is between MXN 13.00 Pesos and MXN 15.00 Pesos per kilogram (around 2 pounds). Some laundries apply a minimum charge of 3 kilograms.
SMOKING:
- Absolutely no smoking in any rooms.
- Should you decide to smoke in the yard / garden: make sure that you do not "smoke" the guests or any room around you.
THE HAMMOCKS
If your room is not fitted with a hammock, you can always use one of the hammocks in the common areas, on the floor above the kitchen area or in the garden area. Be cautious when using the hammocks.
ENERGIES and RESOURCES:
- Help us keep our low rates: save water and electricity. Shut off fan and lights when you leave the room.
- Report any water leak (toilet flushing all day day long, ...).
Help us be environmentally responsible:
- by reducing the amount of detergent used: If you plan in re-using the towel, do not through it on the floor.
- by recycling and reusing organic materials in a compost process.
- by reducing our impact on the underground phreatic and aquifer waters: do not flush medications or any chemicals in the toilet bowl.
RECYCLING
Casitas Kinsol tries to limit our impact on the environment. Help us by reusing the plastic bottles of water: refill them with the purified 5 gallons water bottle available in the kitchen area. A cooperation of MXN 5.00 Pesos per liter or quart is greatly appreciated (please leave the money in the "green" box on the table by the water jar).
Organic waste goes to a compost system in the backyard of Casitas Kinsol; please drop the organic waste (no paper, no cardboard, no cigarette, no plastic, ...) in the appropriate bin ("green Organic") in the kitchen of the common area.
Some of the bottle of beer are recycled: you get your deposit back when you bring the bottle back to the convenient store or to the grocery store: make sure that you go back to the same store and make sure that you bring the original receipt.
Put the aluminium cans on a side: the employees that collect the trash, are always happy to make some extra money by reselling the aluminium by the weight. One of our neighbors is an elder woman with limited income and she always look forward to collecting the aluminium cans that we have.
PETS:
- Pets' owners: pick up IMMEDIATELY after your pet. Make sure your pet does not jump on furniture and on guests' laps.
- Non pet owners: make sure that all gates are closed and locked at all times for the safety of our 4 legged guests.
- Casitas Kinsol's dogs are NOT allowed OUT of the property without supervision or a leash: do not let the dogs out even if they beg you.
THE INTERNET
For those of you using free music or free video and movies downloads: you are most likely using a PPP (point-to-point protocol) applications where you allow this application to use the hard disk of your computer or of your electronic device for storage for other users. By allowing these applications, you surely get free music and movies, but you are also allowing the application to use the whole bandwidth of the internet connection, therefore leaving almost no internet connection for the other guests. Please disable (temporarily) these applications, while you are at Casitas Kinsol.
THE KEYS
Your room comes with two (or more) keys: one for the door of the room and one for the padlock on the main gate. We do not operate a front desk: please take the keys with you when you leave the room or the property.
INVITED GUESTS
For the safety of all residents and guests, please register any visitor or guest that you may have. Maintain the doors and the gates locked at all times. If your guests stay overnight, a third, a fourth or fifth occupant in the room will be charged $12.00 US Dollars per night (per person); make sure to notify us so that we can provide the extra persons with the towels and amenities needed.
SERVICE / TIP / GRATUITY:
- The gratuity, also called tip or "service" is NOT included.
- It is NOT mandatory, however, your maid will surely appreciate it (should he/she deserves it).
- It is left to your appreciation and it is completely discretionary.
- 10 to 15 % would be an excellent tip.
IN CASE OF EMERGENCY
If no one of the Casitas Kinsol's staff is on the property, you can reach either Christine or Alain on their mobile phones. You can call them free of charge from the desk phone that is located in the common area, below the information panel. An information sheet is by the desk phone so that you can quickly dial the numbers. This phone is for emergency use ONLY. This phone is NOT to make or to receive any personal or business related phone calls. This phone is NOT to call any 800 numbers in the USA or Canada, or in any other country (it will route your call to an 800 number in Mexico, being therefore a different company that you would reach).
Je erkent ook
Dog(s) en cat(s) live in the house
---
---
---
Minimum verblijf 2 nachten
---
If you really want to live Mexico, this is the BEST choice. It's a super tidy place with lovely hosts who will tell you tips, stories, and will make you feel like home. It's a well located place, 30 min from Cancun, Playa del Carmen, Xcaret, and 40 min from Tulum. It's quite and peaceful, so it's a great place if you're looking forward to relax. The beach is super clean, not full of people, and not far from the place (10 min by taxi which only costs you 25 MXN). We really enjoyed staying with Chris and Alain!
---
Christine and Alain's place is a unique way to enjoy Puerto Morelos. It is close to the beach by taxi, yet far from the touristy feel. It gave us an opportunity to enjoy the local cuisine and culture in La Colonia. We were within walking distance to the fruit a vegetable market, local eateries and small stores. Casita Kinsol is a green oasis in the middle of a little Mexican village. It was mango season and we were encouraged to collect the ones that fell from the tree, yum! The guest house that we stayed in was lovely, it had a grass thatch roof, which when seen from the outside, leads you to believe that it will be rustic but it isn't, it is simple yet comfortable and beautifully decorated. Christine and Alain pay attention to the small details, their place is clean and well maintained. Their lovely garden was a sanctuary for us as well as the birds, which be aware, will wake you up around 5 am no matter what if you stay in this room. We embraced this and followed an early to bed and early to rise policy. Christine and Alain are very knowledgeable about the area and are more than happy to share their knowledge with you, in fact they have so much information and stories to tell, that we would often go to ask them a question or two and we would end up talking and listening to their sometimes for hours! They were very attentive hosts and were always available. They were happy to arrange for massages in our room and a beautiful snorkeling trip. We look forward to our next visit!
---
Casitas Kinsol es un lugar mágico, que mantiene los elementos tradicionales de la vida maya conjugados con el buen gusto y el sentido estético de Christine. Ideal para quienes quieren una inmersión en la auténtica vida de La Riviera. Alain y Christine son dos acogedores y magníficos anfitriones, hasta el punto de que fuimos a cenar juntos con otros huéspedes. Me encantaría volver. Muchas gracias, Christine.
---
Good spot convenient to get to the beach area, lots of restaurants and good location when flying out of airport the next morning. A good vibe in Puerto Morales. We enjoyed staying in room #4 with our two teenage boys. Found the area nice and clean. Thank you for the great recommendations for restaurants. Christine and Alain were very quick to answer questions before we arrived.
---
Christine and Alain's place is calming, inviting and very unique! They were helpful suggesting restaurants and places to visit. We had good conversations with them. Their pets are friendly too. Their space is clean and cozy with a lot of sitting and relaxing areas. We wish we could have spent more time there.
---
Puerto Morelos, Mexico
Lid sinds december 2009
Born in 1962 in Germany, my mom was from Colombia, my dad was from Germany. Since the age of 5, I moved from country to country and was exposed to many different cultures: Spain, Columbia, Mexico, Panama, Dominican Republic, Belize, Guatemala, Switzerland, France, USA … My parents would never speak to my brother and myself in German, therefore, I never learnt German.
My mom, Luz Acevedo was an artist who exposed her oil paintings in major permanent expositions such as "El Jardin del Arte" in Mexico City, and Tepozotlan (Mexico State).
I studied to be a biochemist engineer and I discovered at a young age that I love paintings. I self taught myself different techniques such as oil color, water colors, acrylics and collage. My love for arts and my passion as a bio-engineer bring me to my current project: acrylic painting on natural leaves from plants found in the Yucatan peninsula (by Cancun on the Mexican Riviera) in Mexico.
I have worked in the eco-archaeological park, Xcaret, as a project leader in 3 major departments: the botanical garden, the aquarium and the cultural events.
I am an active member of an Aztec dancing group, the "Concheros": these dancers aim at preserving the traditions of the natives and they strive in providing the coming generations with the values and philosophy of life of the native ethnic groups that show deep respect to the nature.
My current project combines the essence of nature with the techniques of acrylic painting, depicting the expression of native cultures in their traditional costumes and attires. The main challenge of the project resides in the diversity of supports on which I paint. The uniqueness of each leave leads to an ad-equation of the painting technique and therefore each piece is unique cannot be reproduce.
EXPOSITIONS
- from March 1989 to November 1991, "Galeria Azteca", Costa Careyes Hotel in Jalisco, Mexico
- from May 1992 to November 1993, "Galeria del Sol" San Carlos , Guaymas in Sonora, Mexico
- from January 1994 to October 1998, "Xcaret" Museum of Cultures Eco-Archaeological park Mayan Riviera, Mexico
- from January 1997 to October 1998, "Quinto Sol" Fine Mexican Art, Cozumel, Mexico
- from April 1999 to December 2004, "Maroma" Hotel on the Mayan Riviera, Mexico
- from April 2000 to Today, "Casitas Kinsol", Puerto Morelos on the Mayan Riviera, Mexico
- from February 2004 to September 2006, "Ceiba del Mar" Hotel & Spa Resort in Puerto Morelos, Mexico
- from May 2007 to November 2008, "Acorn Benevolent" gallery, Grand Avenue, Saint-Paul, MN
Talen:
English, Español, Français, Italiano
Responscijfers:
100%
Responstijd:
binnen een uur
Vergelijkbare advertenties
Ontdek andere opties in en rondom Puerto Morelos
Meer plekken om te verblijven in Puerto Morelos: