La Maison du Pont, our petit vacation home in beautiful Semur-en-Auxois, Bourgogne, France. Unwind, be comfortable along bridges& canals, resting in the sun. Lazy afternoons,& star filled nights. Escape to a private medieval zen, and gothic paradise.
La Maison du Pont, is our petit vacation rental in beautiful Semur-en-Auxois, Bourgogne, France. Unwind in our comfortable home along many bridges and canals, and always in the sun. For your lazy afternoons and star filled nights, rent our upstairs flat with your own private balcony and entrance over the Bourgogne river. Simply perfect for two lovebirds, or 1-2 persons traveling through the Cote d'Or! If you find yourself in Bourgogne, and a craving authentic French food, or drink this incredible wine from the region!? Or do you have an interest in art, religion, ancient ruins, or perhaps you have a deep curiosity for historical medieval architecture?! I propose this stunning Gothic little city and jump on a train from Paris,(Gare de Lyon) to Montbard....1 hour! If you are driving by car(we have parking) and it is 2.5 hours from Paris and 2 hours from the city of Lyon. You won't be sad driving, and cruising through Burgundy's famous French countryside! Enjoy our little house, and walk in the maze of ancient relics, churches, or stop in the cutest shops downtown, have a cafe, a drink in the bar, and there is also le marché (farmers markets)....which can always be fun! Semur-en-Auxois Le Marché is very charming and Sunday 8am-1pm! There's also Dijon! Dijon Le Marché is awesome, and 45 minute drive away! 3days a week, Tuesday Friday and Saturday from 8am-2pm! Beaune for wine, and so much more! Semur-en-Auxois is in the middle of it all! This is a must see, dreamy little town, that stories of legend have been written about, and dates back to the 11th/13th century Goth and 14th/17th century Renaissance....
Semur en Auxois, for me is actually a real fairy tale. I'm from California and they write legendary stories about a places like this. The only thing I can suggest is to look it up on the internet to actually get the real feel of the place. To see other peoples pictures and not just mine, and to truly understand this Beautiful, Medieval, Gothic, Ancient Paradise and all it's epic glory.
Erg idyllisch en leuke plek om te verblijven voor een aantal dagen. Semur is een ontzettend mooie en romantische stad, vlakbij een aantal grotere steden. Nikki is een lief en enthousiast persoon, voelden ons erg welkom. Het appartement was iets kleiner dan we hadden gehoopt maar prima voor een aantal nachten.
Gwen
2016-07-30T00:00:00Z
The placed is as described: well located, very beautiful area by the river and the room is spacious, good well stocked kitchen. Nikki is very welcoming and helpful. There was a glitch with the internet connection. Nikki gave a bottle of wine as an apology! Very thoughtful! I would definitely recommend the place for a single person or a couple. The town is beautiful but public transport is not very convenient, taxis can be expensive so its better to have your own transport.
Brij
2016-06-23T00:00:00Z
Our stay was amazing! Nikki is a fantastic host, warm and welcoming. The apartment is not only the one best located, it is also the most inspiring and cozy one we have ever stayed in. By just entering the apartment we felt instantaneously like it was going to be the most pleasant stay during our trip through France. And so it was! Even though the apartment was outstanding, it was Nikki who totally made our stay. Before we left she gave us some local tips of Dijon, which we explored and really appreciated! We would love to come back and we really recommend this perfect apartment, in the cutest of towns, with the lovely host to anyone!
Emma
2016-08-20T00:00:00Z
Nikki a été très chaleureuse et accueillante. Sa petite maison posée sur la rivière est charmante, très bien arrangée et la terrasse donnant sur un vieux pont de pierre est très agréable pour se prélasser, dîner aux chandelles sous le clair de lune et déguster un bon bourgogne ! Le village de Semur est magnifique et sa découverte fut une très belle surprise. La région regorge d'attraits culturels, historiques et naturels. Nous avons passé chez Nikki un excellent week-end, son enthousiasme est absolument communicatif.
Remy
2016-07-17T00:00:00Z
Le village est très charmant. L'appartement est décoré avec goût. Rien ne manque. L'hôte bien que vivant juste au dessous n'est pas envahissant. Nous le recommandons fortement pour un séjour de détente et découverte en Auxois.
Matthieu
2016-08-16T00:00:00Z
Nicci is a Great host. There was a very warm welcome including a bunch of grapes and a bottle of water. This nicely furnished apartment is located beside a small river in the centre of Semur. I felt very comfortable there.
Susanna
2016-08-05T00:00:00Z
We had an excellent stay in this beautiful apartment on the bridge. It has absolutely everything that you need and is in the perfect location for emerging yourselves in charming Semur en Auxois.
Wadse & Mathilde
2017-02-19T00:00:00Z
joli petit cocon à recommander, très propre et confortable, je n'ai vu personne sur place, mais aucun soucis pour récupérer et laisser les clés selon les indications de Nikki.
catherine
2016-12-25T00:00:00Z
Kamertype
Gehele woning/appartement
---
Type woning
Appartement
---
Geschikt voor
2
---
Slaapkamers
Semur-en-Auxois, Bourgogne Franche-Comté, Frankrijk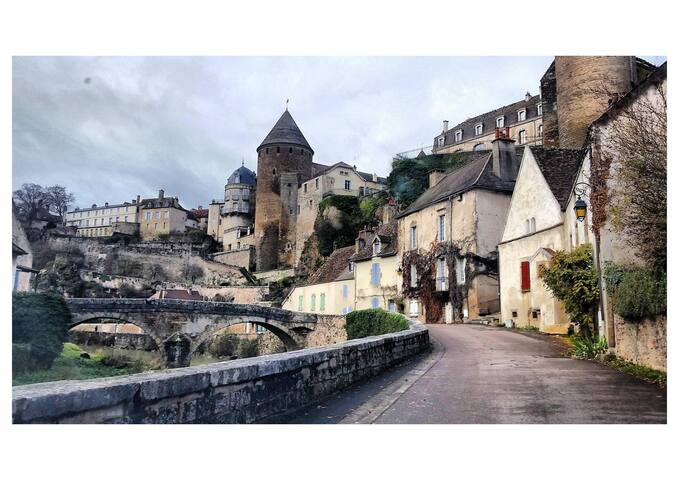 Situé au coeur de la ville médiévale, en zone piétonne, ce grand appartement de charme, de 100 m2, bien ensoleillé, occupe un étage de l'ancien logis des gouverneurs, monument historique. Il est situé à l'entrée de la vieille ville après la porte Guillier, entrée de la vieille ville. La rue piétonne est bordée de façades construites entre la Renaissance et le XVIIe s. et conduit à la place Notre Dame où s'élève la Collégiale. Il est tout proche des commerces, d'un cinéma, des balades découverte.
Appartement entièrement rénové. Il comprend deux chambres de 30 m2 chacune : La chambre lilas, avec un lit en 160 X 200 et un lit d'appoint en 90 pour un adolescent, salle de bain et baignoire attenant à la chambre. Elle donne sur la rue piétonne. Chambre bleue avec un lit en 140 X 200 situé dans une alcôve, un cabinet de toilette avec douche attenant à la chambre. W.C indépendants Un salon-salle à manger avec balcon situé plein est avec vue sur l'artère principale de la ville Une cuisine équipée : plaques de cuisson vitro-céramique, four, micro-ondes, cafetière, bouilloire, grille-pain et toute le matériel de cuisine. Vos hôtes, passionnés d'histoire locale, pourront, si vous le souhaitez, vous faire partager les attraits de cette belle ville et de ses alentours riches en histoire et en belle nature.
La proximité avec les monuments ( basilique, remparts), les restaurants, les commerces et les promenades (promenade au bord de la rivière, l'Armançon) rendra votre séjour agréable et relaxant. Aux alentours de Semur vous pourrez visiter : L' Abbaye cistercienne de Fontenay classée au patrimoine mondial de l'UNESCO, Les châteaux d'Epoisses, de Bussy Rabutin, de Châteauneuf en Auxois, Le Muséoparc d'Alésia, le village classé de Flavigny sur Ozerain connu pour son vin et ses anis, la réserve naturelle régionale du Morvan. Et à 70-80 km les villes de Dijon et de Beaune. A noter : Tous les ans à Semur, se déroule le 31 Mai une course de chevaux : c'est la fête de la Bague. Et elle est suivie ou précédée d'une fête médiévale. Cette année elle aura lieu le 13 et 14 Mai 2017.
Logis des Gouverneurs met all our expectations and even more. Maite is a very charming and helpful host. The residence was extremely clean and very comfortable. Both bedrooms were very large and had lovely views of the beautiful town. There are two good size bathrooms and we shared one toilet which was separate from both bathrooms. The location of the apartment is perfect - right in the middle of the town square and free parking was provided within a couple of minutes walk. Semur is a lovely town full of amazing historical sites and it is very easy to navigate around the town. There are a number of excellent restaurants and boulangerie's within a few minutes walk of the apartment. We loved our stay in Semur en Auxious and have absolutely no hesitation in recommending a visit to this town and a stay at the Logis des Gouverneurs.
Philippa
2016-10-23T00:00:00Z
E' stato un soggiorno bellissimo. L'appartamento si trova in pieno centro ed é forse più bello della descrizione e delle foto e poi è attrezzato di tutto punto. Ci siamo sentiti veramente a casa e questo anche grazie alla calorosa accoglienza di Maïté e di suo marito che ci hanno dato tutti i consigli necessari e risolto piccoli problemi. Infine Semur en Auxois si é rivelata una ottima base per visitare questa interessantissima parte della Borgogna. Lo raccomando a tutti.
Giovanni
2016-06-07T00:00:00Z
Pour les adeptes du canal de Bourgogne, Semur-en-Auxois vaut le détour! Séjourner à l'intérieur de ces murs historiques, de la cité et du logis, est une expérience remarquable. L'accueil attentionné et chaleureux de Maïté nous a permis de bien apprécier cette cité médiévale. Nous en gardons un excellent souvenir.
Claudine
2016-09-10T00:00:00Z
Our stay was way beyond our expectations! There were four of us in the apartment, and when Maite showed us around, all of us nearly burst into tears. The pictures do not do justice to the charm, history, and comfort of this place. The personal touches like fresh flowers and wine on our arrival were delightful, and HOW a place manages to have the charm of a medieval chateau while also having the modern comforts of homey beds and warm showers is beyond me. Artists and writers will love the tables in nooks. History buffs will appreciate Maite's knowledge of the area. People wanting to take a break in pastoral France will bask in the morning sunrise and resonating echo of church bells. Maite and her husband were incredibly gracious, friendly, and knowledgeable. We had the best of both worlds--the feeling of complete privacy with the option for company or suggestions. We wish we had planned for more time, because nobody wanted to leave either the apartment or the gorgeous town. I can't think of a better place to stay. I'm gushing because we all felt incredibly lucky to have found this place and have had this experience. It is absolutely perfect. We will definitely return.
Rachel
2015-09-12T00:00:00Z
Nous avons passé un agréable week-end : l'appartement est idéalement situé dans le centre-ville, il est tout confort et dispose de belles pièces à vivre. Maïté est très gentille, réactive et disponible !
Alexandra
2015-05-03T00:00:00Z
Kamertype
Gehele woning/appartement
---
Type woning
Appartement
---
Geschikt voor
4
---
Slaapkamers
Semur-en-Auxois, Bourgogne, Frankrijk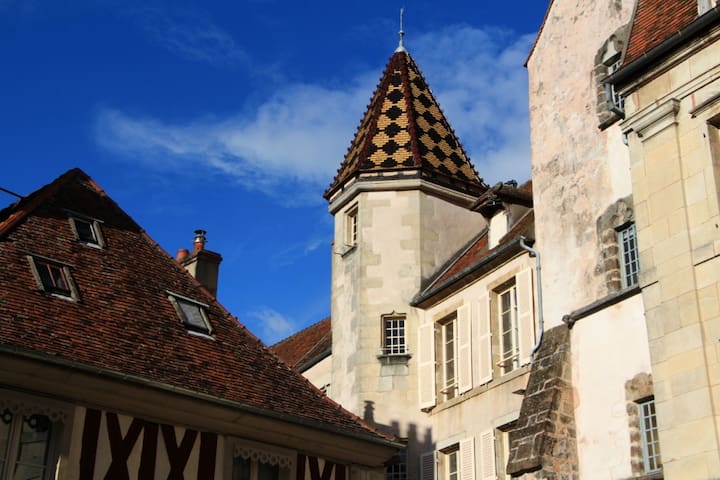 Spacious ground floor flat in a delightful 300 years old stone house. Stone walls, fireplace and exposed beams. Overlooks a leafy green park. To the rear has views of 4 medieval turrets and the ramparts. Renovated in 2014 with all modern comfort.
The Rooms: - large sitting room with fireplace, 1 single bed + 1 extra folding bed - fully equipped open plan kitchen/dining room - large bedroom with en-suite bathroom (very large Italian shower), - table and chairs, reading corner with armchair and view of the ramparts and turrets - separate toilet The Facilities: - Wifi, - dishwasher, - washing machine, tumble dryer, - hair dryer - clothes folding counter/baby change area - international Satellite TV, games and books. - wardrobe, shelving - all baby equipment available, cot, bath, high chair, plates, cutlery, beakers and toys…. (Pleased ask) Perfect for a couple, a family with a baby/ 1 or 2 teenagers (extra folding bed also available)
8 mins walk to town centre (medieval streets, cafes, baker, river) Vineyards of the Burgundy regions (Chablis, Beaune, Dijon) as well as local Auxois wines Many historical sites within easy reach such as Abbey de Fontenay, Chateau de Bussy Rabutin …
The most warm and welcoming French flat you could ever imagine. So cosy and extremely comfortable. Ideally located - only a 5 minute walk to the local shops and restaurants. Lots to see and explore but felt incredibly relaxed. Patricia our host was lovely - so accommodating and helpful throughout our stay. She was fluent in English and when our car broke down this was very helpful! You won't regret a visit to this beautiful part of the world. We will definitely return.
Mark
2015-08-27T00:00:00Z
We had a very enjoyable week at Patricia's lovely house and could easily have stayed a month. The house is beautifully furnished, very well equipped and comfortable and incredibly clean. It is in a lovely quiet location with great views to the old town and to the park across the road and is within easy walking distance of the town. Patricia was so welcoming and friendly. We enjoyed sharing stories with her. She provided plenty of information about things to do in the area. A wonderful find and we would certainly love to return.
Maureen
2015-11-09T00:00:00Z
We really enjoyed staying in Patricia´s flat in the lovely town of Semur-en-auxois. The apartment is very charming and we had everything from ironing board to dishwasher. From the living room window you have a beautiful view of the medieval city. Patricia was very friendly and welcoming, she even invited all the guests once for a drink. We would love to come back some day.
Peter
2015-08-13T00:00:00Z
Kamertype
Gehele woning/appartement
---
Type woning
Appartement
---
Geschikt voor
4
---
Slaapkamers
Semur-en-Auxois, Bourgogne, Frankrijk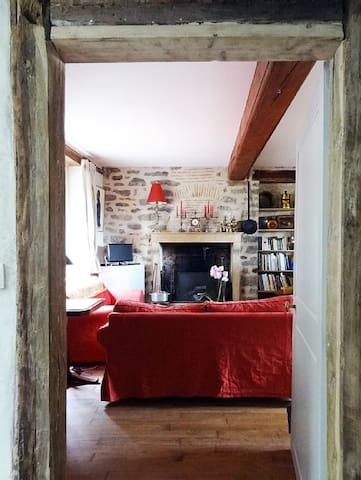 Mon logement est parfait pour les couples, les voyageurs en solo, les voyageurs d'affaires et les familles (avec enfants).
Kamertype
Gehele woning/appartement
---
Type woning
Appartement
---
Geschikt voor
4
---
Slaapkamers
Semur-en-Auxois, Bourgogne Franche-Comté, Frankrijk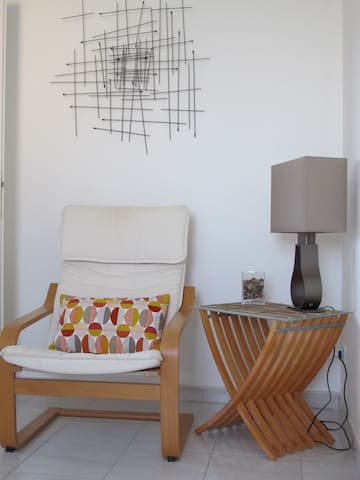 This little cottage is nestled in a hunting lodge of the sixteenth century, a few minutes from Semur en Auxois. It accommodates two people, in all seasons and can be coupled with the lodging of Bergrisars (4 people). Its input is however totally independent and there is no passage between the two inside. Guests have a parking space in the courtyard and 2 terraces (north and south). This is the ideal place to visit our beautiful region the time of a weekend or more ...
Kamertype
Gehele woning/appartement
---
Type woning
Appartement
---
Geschikt voor
2
---
Slaapkamers
Villars-et-Villenotte, Bourgogne Franche-Comté, Frankrijk
Mon logement est parfait pour les familles (avec enfants) et les compagnons à quatre pattes.
logement indépendant avec table et chaise de salon de jardin extérieur et toute les commodité intérieur pour cuisiné
la village dispose de toute les commodité ( pharmacie , superette , terrain de tennis , terrain de foot , office du tourisme pour vos visite ....)
Kamertype
Gehele woning/appartement
---
Type woning
Appartement
---
Geschikt voor
6
---
Slaapkamers
Précy-sous-Thil, Bourgogne Franche-Comté, Frankrijk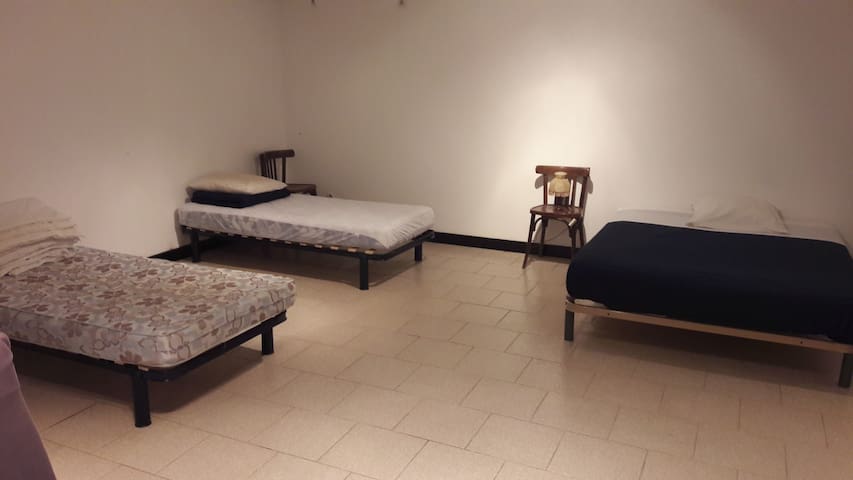 In de historische wijk, rustige straat, mooie ruime kamer. Open dakconstructie, oude vloertegels.
Avallon, middeleeuwse stad, Green Station sinds 2009, opent de deur van het Parc Naturel Régional du Morvan. In de historische wijk, rustige straat, mooie ruime kamer. Open dakconstructie, oude vloertegels. Een ontstressen break, culturele en gastronomische. . Muren, daktuinen, torens en bastions, Cousin Valley . Wandelen, natuur sport . Artisans werken met biologische boeren, de markt op zaterdagochtend . Museum van Avallon, Costume Museum, House of Lords Domecy, St-Lazare collegiale kerk, tentoonstellingszalen, nieuwsgierigheid winkel .... . gastronomische restaurants, wijn Vézelien In de omgeving: . Vezelay, eeuwige heuvel, uitgeroepen tot Unesco World Heritage . Noyers s / Serein, Montreal, ingedeeld mooiste dorpen van Frankrijk . De Morvan meren . Grottes d'Arcy s / Cure . Epoisses en zijn beroemde AOC kaas . Abbaye de la Pierre qui Vire . Bazoches Kasteel, de thuishaven van maarschalk Vauban .
Central District: cafés, restaurants, voedsel op te slaan, wijn winkel, bioscoop, musea, tentoonstellingen, de markt op zaterdagochtend.
Martine heeft ons goed ontvangen in haar kamer. Een fles water stond klaar om ons welkom te heten. Interessante uitvalsbasis om de middeleeuwse ommuurde stad Avallon te bezichtigen. Ook "La vallée du cousin" is de moeite waard om te verkennen.
Dirk
2016-04-07T00:00:00Z
Hartelijke ontvangst. Heel goed bed, verzorgd ontbijt. Alles heel netjes en sfeervol ingericht. Aan te raden adres. Dank je wel Martine. Erna en Luc
erna
2015-05-15T00:00:00Z
Martine heeft ons zéér hartelijk en met een warme glimlach ontvangen en ons kort, maar duidelijk wegwijs gemaakt in haar gezellige flat. De kamer en badkamer zijn kraaknet en slapen doe je als een roos. Dankjewel Martine!
Sofie
2015-08-27T00:00:00Z
Martine heeft ons warm en hartelijk ontvangen en ons de nodige uitleg gegeven over de kamer en over Avallon. Met veel zorg heeft ze het ontbijt aangepast aan mijn allergie en mijn voorkeuren. Eigen sleutel van het huis en je komt en je gaat zoals je zelf wil. De kamer is ideaal gelegen in het centrum van het stadje en toch heel rustig (vermijd dan wel 21 juni = Fête de la Musique). Avallon op zich laat zich graag ontdekken en is een goeie uitvalsbasis om de streek te verkennen.
Chris
2015-06-23T00:00:00Z
We couldn't recommend a better place to stay for a relaxing holiday. Martine provides impeccable service (including organic breakfast served in your room) and great advice for things to see around Avallon. The room is super comfortable and very nicely decorated. Avallon is a beautiful town, and we wish we had stayed longer. We'll try to visit again!
Anghelos
2016-12-31T00:00:00Z
Martine nous a accueilli comme des rois. Tout a été splendide! Martine a même eu la gentillesse de nous préparer le petit-déjeuner. On espère revenir bientôt.
Jacopo
2017-01-01T00:00:00Z
Martine est très disponible et souriante ! Sa chambre est très cocooning, on s'y sent bien !
Corinne
2017-01-04T00:00:00Z
lieu de charme et accueil aimable de très bonne qualité
Daniel
2017-02-02T00:00:00Z
Kamertype
Privé Kamer
---
Type woning
Appartement
---
Geschikt voor
2
---
Slaapkamers
Avallon, Bourgondië, Frankrijk
Semplice, comoda, sicuro, pulito, ordinato, mezzi di trasporto, Le strutture circostanti, Al Check - in, possono, in qualsiasi momento, per cucinare, di circa tre Persone vivono, di fornire un Servizio di qualità Standard è il negozio.
Kamertype
Privé Kamer
---
Type woning
Appartement
---
Geschikt voor
5
---
Slaapkamers
蒙特巴德, 勃艮第, Frankrijk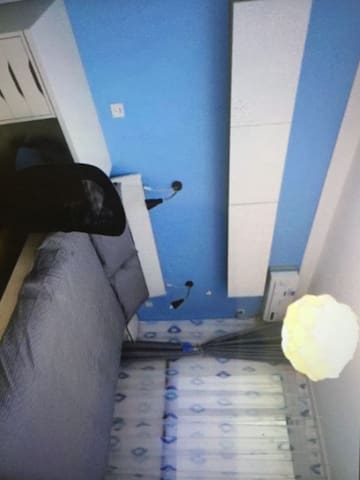 Ideal for your professional or your weekends and holidays in Burgundy, independent apartment in a typical Burgundy house, full of charm. The place is a subtle marriage between the old and the contemporary. You will feel at home.
Apartment of 75 m2 with living room with dining area, 2 bedrooms, a bathroom (bath and WC), a kitchen, a long corridor. This apartment is located in a Burgundy house has two outdoor gardens. On request Possibility of an extra bed, a cot, a baby high chair and changing table without charge. You will feel at home.
The area is residential and quiet. The place is close to: Swimming pool and tennis courts; Services (Tourist Office, Post Office, Pharmacy, Doctor, Hospital); local shops, supermarket and hypermarket; historic center of Avallon; Gare SNCF, cinema etc ...
L'accueil a été extrêmement chaleureux, le logement conforme a la description. Le logement est tout neuf, Gabrielle nous a même proposé de la nourriture pour notre arrivée, nous nous sommes sentis comme chez nous! Vraiment un accueil inoubliable merci beaucoup!
Maeline
2016-05-22T00:00:00Z
The host canceled this reservation 5 days before arrival. This is an automated posting.
Mel
2016-08-09T00:00:00Z
Gabrielle's house is great! She was a perfect host and we had a wonderful time. If you want to see what it's like to live in a dreamy French village, I highly recommend her house.
Ana-Maria
2016-06-18T00:00:00Z
Kamertype
Gehele woning/appartement
---
Type woning
Appartement
---
Geschikt voor
4
---
Slaapkamers
Avallon, France, Bourgogne Franche-Comté, Frankrijk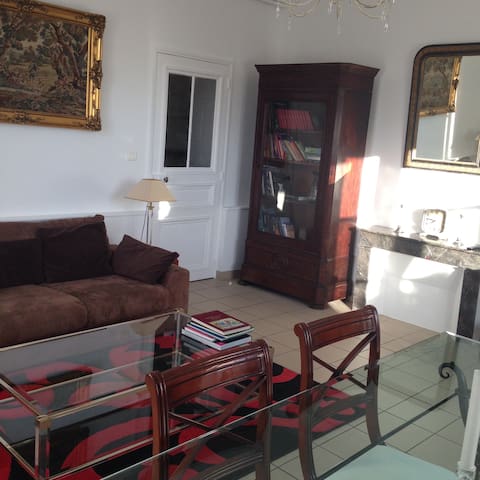 Studio en duplex au cœur d'Avallon,
Super appart idéalement situé aux portes du Morvan, le duplex de Chantal est idéal comme base d'exploration du nord de la région pour un week-end. Merci Chantal pour les petites attentions (fleurs et café)! Vivement recommandé!
Alexandre
2016-08-15T00:00:00Z
Appartement charmant dans un très joli village. Propre, lumineux et agréable à vivre !
Marc
2016-07-16T00:00:00Z
Très bonne expérience. Merci à Chantal pour sa disponibilité et la qualité du studio mis à disposition !
Pierre
2016-10-29T00:00:00Z
Charmant studio, calme, bien situé et conforme aux photos. Merci à Chantal dont la réponse rapide nous a permis d'être logés le jour même.
Harold
2016-08-07T00:00:00Z
Très court séjour, mais très bon! Seul hic l'odeur dans la salle de bains...! Sur les photos j'ai cru que la cuisine était indépendante et en fait non. Studio très propre tout y était! Merci !!
Mamad
2016-08-02T00:00:00Z
Accueil parfait et appartement très pratique ! Quelques tous petits inconvénients mais rien de majeur. Séjour très agréable et appartement super bien situé.
Hugo
2016-08-25T00:00:00Z
Kamertype
Gehele woning/appartement
---
Type woning
Appartement
---
Geschikt voor
4
---
Slaapkamers
Avallon, Bourgogne Franche-Comté, Frankrijk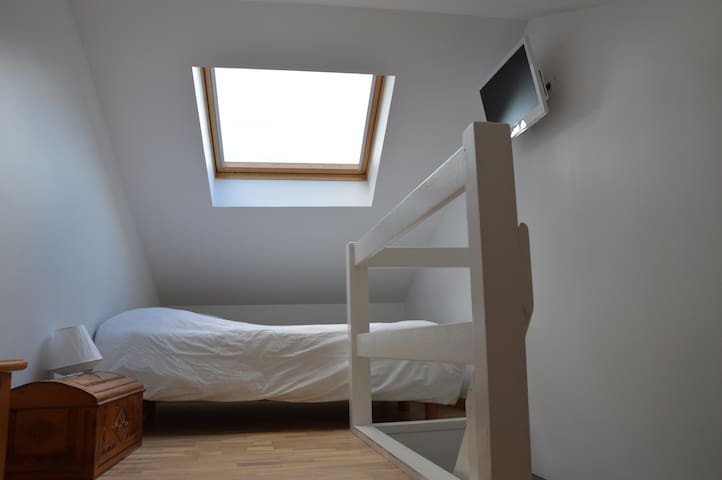 Le Gîte ICI ET LÀ est aménagé dans une partie d'un ancien hôtel qui est rénové et réorganisé autour de sa cour fermée et ombragée, à deux pas des services, des commerces et de la gare. La voie verte (canal) et le MuséoParc sont accessibles en quelques foulées (ou coup de pédales) et sans montées ! A l'étage : 2 chambres, wc. Au rdc : salle de bain/wc et pièce à vivre avec coin cuisine tout équipé, poêle à granulés. Wifi, tv, équipement bb, parking, cour fermée. Animaux acceptés (caution).
Endroit calme et agréable. hôte à disposition et très sympathique
Nicolas
2017-01-13T00:00:00Z
On s'est senti comme à la maison! La maison est très jolie, accueillante, propre et bien équipée. Sophie était toujours prête à aider. Un supermarché et des boulangeries sont à trois minutes à pieds. A recommander!!
Anna
2017-03-10T00:00:00Z
Gîte très agréable, bien situé et bien équipé, propreté exemplaire. Cour intérieure fermé très calme et sécurisante. Hôte disponible et très aimable. Merci pour ce séjour !
APPUY CREATEURS / ARKKA
2017-03-17T00:00:00Z
Beau logement. Très fonctionnel. Je conseille pour vos voyages.
Alan
2017-02-17T00:00:00Z
Très bonne aceuille .
Lucas
2017-02-24T00:00:00Z
Kamertype
Gehele woning/appartement
---
Type woning
Appartement
---
Geschikt voor
5
---
Slaapkamers
Venarey-les-Laumes, Bourgogne Franche-Comté, Frankrijk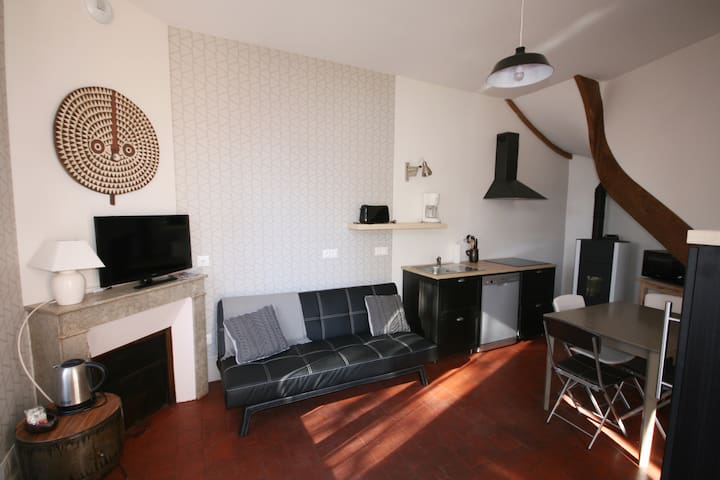 In the heart of the Morvan Lake district and Natural Park– (Central Burgundy) Come and have a peaceful break and relax, visit, or house hunt in our charming little gîte 'La Louvière' in a lovely water mill set in its own grounds.
Come and have a peaceful break and relax, visit, or house hunt in our charming little gîte 'La Louvière' in a lovely water mill set in its own grounds. Unspoilt and natural area.
Nous avons passé une très agréable semaine dans le charmant gîte de Julie. Notre hôtesse avait allumé un feu lors de notre arrivée, ce que nous avons beaucoup apprécié. Le gîte est spacieux, très bien équipé et très confortable. Belle région avec des grands lacs et beaucoup de promenades. Dommage que la pluie nous ait un peu freinés ! Nous reviendrons avec plaisir aux beaux jours !
Oriane
2016-01-12T00:00:00Z
Le moulin de la Louvière est un lieu idyllique !! Magnifique bâtisse en pierre dont Julie nous loue le rez de chaussée et dont elle occupe les étages. Appartement décoré avec beaucoup de goût. Le terrain tout autour est beau et sauvage, Julie y a aménagé de charmants recoins. Elle nous a accueillis avec beaucoup de gentillesse. La région est superbe, lacs de Chamboux et des Settons à proximité.
Juliette
2015-07-18T00:00:00Z
Kamertype
Gehele woning/appartement
---
Type woning
Appartement
---
Geschikt voor
2
---
Slaapkamers
Montlay-en-Auxois, Bourgogne-Franche-Comté, Frankrijk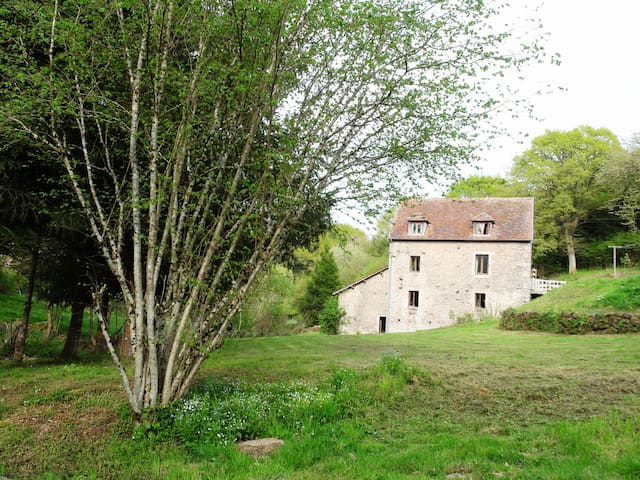 At the heart of Burgundy, are the lodgings of Mr. Cote. Duplex, this house will welcome Scent of a Woman, a week or longer, 2 to 4 people! Guests also have access to the garden and its equipment.
Clotilde is zeer behulpzaam en heeft een mooi appartement te huur
Joost
2015-08-03T00:00:00Z
Un très beau séjour dans cette "Réserve de l'écureil" ! Le confort y était tout comme la propeté et tranquillité des lieux. Malgré le fait que nous n'ayions eu l'opportunité de rencontrer les hôtes, l'accueil et les petites attentions furent très appréciés.
Aurelie
2016-11-13T00:00:00Z
we stayed for one night (2 adults and a 7 month child) and the place was really nice. very clean, modern and includes everything you require for a night or a week. the village was very quiet but we were there to see chambley which was 20-30 mins drive away. clotilde was very helpful and provided us with good advise on places to visit and to eat and was very friendly. i would highly recommend 'la reserve'. thanks clotilde for your help, ben
Benjamin
2015-07-26T00:00:00Z
Nous avons passé un week-end très agréable ! Le logement est charmant, correspondait tout à fait à la description et Clotilde nous a parfaitement accueillies. Merci encore !!
DELPHY
2016-05-02T00:00:00Z
Tout était parfait. Le logement comme le jardin. Le soleil était au rendez-vous. Et plein de petites attentions qui font la différence. Merci Clotilde !
François
2016-05-08T00:00:00Z
Merci à Clotilde pour son accueil chaleureux et sa disponibilité. Le gîte est très agréable et est décoré avec soin. Nous n'avons passé qu'une nuit sur place mais nous recommandons sans hésiter !
Diane
2016-08-01T00:00:00Z
Merci Clotilde pour ton très bon accueil. Le logement est fidele à sa description avec une hôte charmante qui nous a tres bien reçu avec en prime des petits chocolats à notre arrivée et des viennoiseries au petit déjeuner :)
Xavier
2015-05-10T00:00:00Z
Most beautiful and charming stay your could find in the area. Located in a gorgious landscape between several typical vilage houses and fields, decorated nicely, warm and welcoming and just newly renovated. All very clean, communication with Clotilde was perfect that even left us a home made typical spicy cake. We had an amazing, romantic weekend in one of france's most beautiful regions and were very lucky to find this magical place to stay.
Avishai
2015-05-05T00:00:00Z
Kamertype
Gehele woning/appartement
---
Type woning
Appartement
---
Geschikt voor
4
---
Slaapkamers
Étivey, Bourgogne, Frankrijk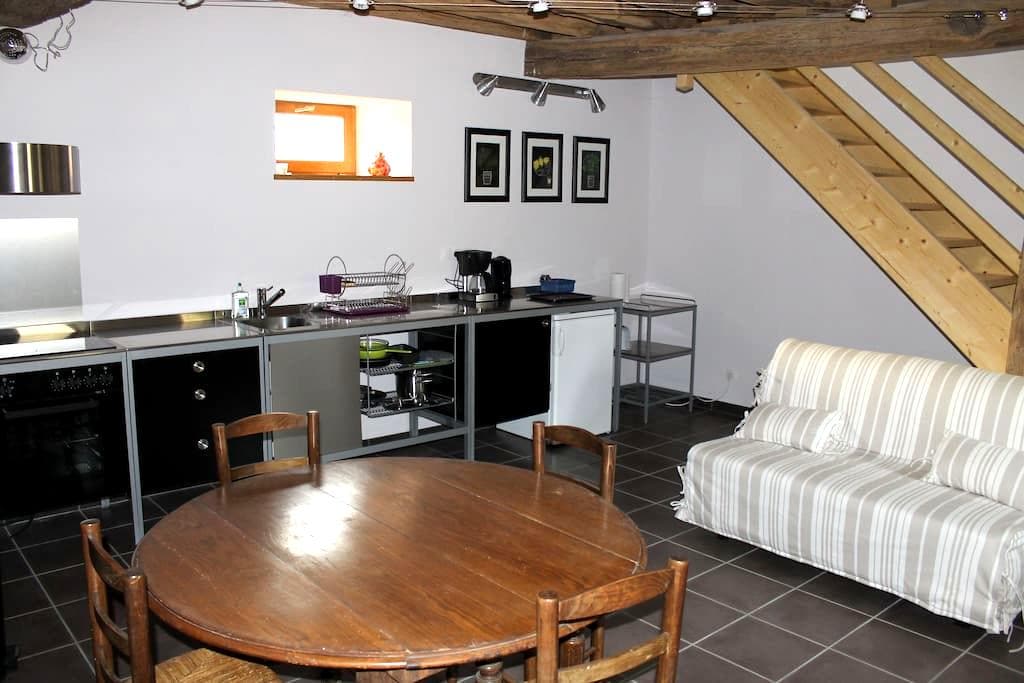 Au coeur de la Bourgogne, se trouvent les gîtes de la Côte Monsieur. La Prince Grenouille est un duplex spacieux offrant tout le confort pour deux personnes, avec ou sans enfant, avec accès au jardin et à ses équipements (terrasse, barbecue, jeux).
Clotilde heeft ons gastvrij ontvangen. Het appartement is recent gerenoveerd en het is volledig ingericht. We hebben dankbaar gebruik gemaakt van de zitjes in de tuin. We bewaren een goede herinnering aan het verblijf in deze prachtige omgeving. Astrid en Jan
Jan
2015-08-30T00:00:00Z
Clothilde est très accueillante et disponible. Le gîte est récent et agréable, tout comme le jardin et la salle commune.
Bertrand
2015-08-22T00:00:00Z
Kamertype
Gehele woning/appartement
---
Type woning
Appartement
---
Geschikt voor
2
---
Slaapkamers
Étivey, Bourgogne, Frankrijk
Deze comfortabele, moderne gite is gelegen tegenover het huis van de eigenaren. Gelegen op de eerste verdieping van de oude schuur te nemen hoge plafonds met originele balken. Bestaat uit grote slaapkamer, badkamer met douche en een ruime woonkamer / keuken.
Een prachtig gerenoveerde huis met een prachtig uitzicht over de prachtige Bourgondische platteland. De gite heeft een slaapkamer met een tweepersoonsbed, maar er is een neerklapbare bed beschikbaar voor een kind.
Bourgondië is een heel mooi deel van Frankrijk met een prachtig landschap en gemakkelijke toegang tot de wijnroutes in de buurt van Beaune en de historische stad Dijon met tal van winkels en restaurants. Grote ruimte om te wandelen en fietsen met rustige landweggetjes. Het Canal de Bourgogne ligt op 20 minuten rijden van het pand, waar u kunt fietsen langs het kanaal pad voor vele kilometers te nemen in het prachtige landschap!
Kamertype
Gehele woning/appartement
---
Type woning
Appartement
---
Geschikt voor
2
---
Slaapkamers
La Motte-Ternant, Bourgogne, Frankrijk
"La Petite Etape aux vins" (The Wine Country Stopover) is a large and independent duplex, in a charming building dating from the 17th century. Located in the historical Noyers-sur-Serein city center, "La Petite Etape aux vins" offers a great view on the typical half-timbered houses.
The flat's got a large living room composed with a lounge area included a TV and a DVD player, a dining area and an open fully equipped kitchen (dishwasher, toaster, coffee maker, microwave,…). Three double bedrooms are waiting for you. Unpretentious but cosy, Miss Marple is a « crossing room » which can also serve as a reading area or as an office . Mrs Dalloway, quite British, takes advantage of the view on the medieval city. In the attic, the sweet Lady Hamilton is hidden. Very spacious, in this room you can sleep in a large queen size bed. A baby bed, for a child under 3, can be a added in the parent's room. Just let's know. Concerning the facilities, you can find a shower-room and a separated toilet. A laundry area, equipped with a washing machine, a dryer, an iron and an ironing board is also available for the long stay. You've got a free internet WI-FI access. Bed linen and towels are furnished and we take care of the final cleaning. Be careful : this apartment is built on two levels and has got several stairs. It is not recommended for people with limited mobility or for young children beginning to walk. You love wine and french gastronomy ? You prefer castles and abbeys ? Or you just want to be quiet, take a walk in the countryside and have a swim in the river ? No matter, staying in « la Petite Etape aux Vins » you can enjoy all of that ! Just for a step or for a longer trip, « la Petite Etape aux Vins » (the Wine Country Stopover) is the place to be !
Situated in Northern Burgundy, Noyers-sur-Serein is one of the most beautiful villages in France. In the village, you can find several restaurants, a large choice of crafts shops (wool clothing, pottery, antiques, leather goods...), a bakery, a caterer and two little supermarkets. All that shops are within walking distance from the apartment. Noyers-sur-Serein offers a multitude of cultural activities (galleries, winery tours, a truffle market twice a year, concerts and exhibitions..) You can also practice sports and swim in the Serein river. Concerning history, Northern Burgundy's got plenty of castles (Ancy-le-Franc, Tanlay, Maulnes...), abbeys (Pontigny, Fontenay, Flavigny...), historical sites (Arcy-sur-Cure, Vezelay...)
Absolutely beautiful and full of French character. The rooms look out over a charming medieval square. We loved it!
Julie
2016-07-18T00:00:00Z
A lovely flat in a beautiful town. Everything as described. Julie made it all very easy. I would love to come and stay again.
Ian
2016-06-21T00:00:00Z
Lieu chaleureux dans un beau village, hôte très disponible et investie pour faire découvrir la région dans les meilleures conditions.
Clément
2014-04-28T00:00:00Z
Noyers is a charming medieval town - quiet at this time of year. The apartment was wonderful, well-equipped and exactly as described in the listing. While Julie could not meet us in person, she was attentive to our needs and responded promptly by email to any, and all questions. I would strongly recommend this location to anyone and would certainly stay here again. Julie is a wonderful host.
Rodney
2014-11-30T00:00:00Z
The host canceled this reservation 5 days before arrival. This is an automated posting.
Alban-Thibaut
2016-01-24T00:00:00Z
This was a very enjoyable stay in a beautiful French village, the accommodation has a real old world charm. We stayed one night but ideal base to explore the surrounding region.
James
2015-12-23T00:00:00Z
The reservation was canceled 80 days before arrival. This is an automated posting.
Charlotte
2015-03-03T00:00:00Z
Excellent place. Clean, comfortable, great location, cool upstairs bedroom, and just as advertised. Great communication. Would definitely recommend.
Alex
2014-09-04T00:00:00Z
Kamertype
Gehele woning/appartement
---
Type woning
Appartement
---
Geschikt voor
6
---
Slaapkamers
Noyers sur serein, Bourgondië, Frankrijk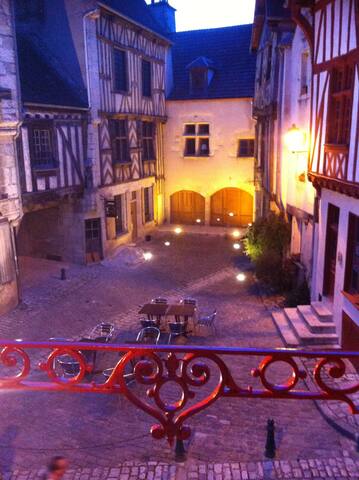 Appartement de 3 pièces avec salle de bain complète dans un aythentique châteu du 15ème siècle en Bourgogne, entre Avallon et Vézelay
Kamertype
Gehele woning/appartement
---
Type woning
Appartement
---
Geschikt voor
4
---
Slaapkamers
Island, Bourgogne Franche-Comté, Frankrijk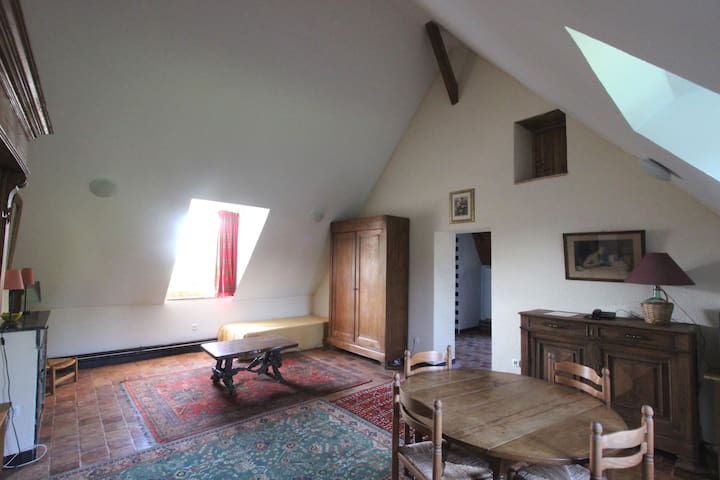 Charming 2 bed individual cottage adjacent to the larger 4 bedroom 'La Chouette qui Chante' property. Open-plan lounge and dining/kitchen with wood-burner for the winter months. 2 bedrooms and 2 bathrooms (one ensuite) on the 1st floor. Use of shared private garden area and free parking onsite. Indoor pool available in the summer months. Please note this is not heated.
Kamertype
Gehele woning/appartement
---
Type woning
Appartement
---
Geschikt voor
6
---
Slaapkamers
La Motte-Ternant, Bourgogne, Frankrijk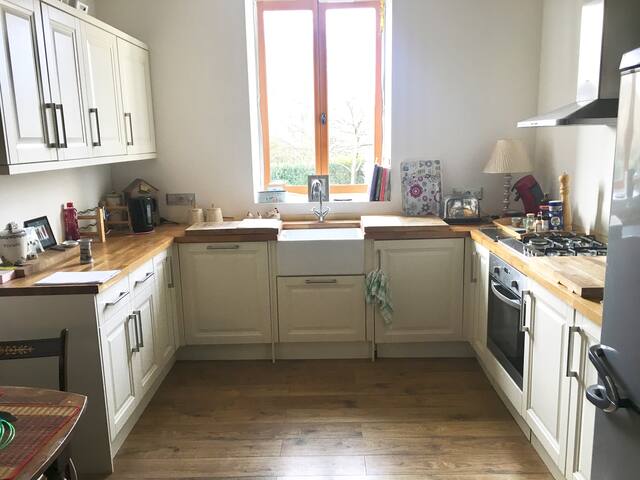 1

–

18

van

19 Appartementen te huur