Next to LX Factory (coolest area of Lisbon), full of restaurants, Sunday flea market, arts, design and book shops. Museum of Oriente, Train Station to Cascais, Art Deco Museum, Belém and Bairro Alto easily reachable by Tram/Bus. Comfy flat, recently renewed, clean, full of light and with the Lisbon iconic Trams passing by, you will never forget your Lisbon experience. Queen size bed, clean towels and everything you need to enjoy Lisbon! Ideal for lonely travelers, couples or up to 4 friends.
Walking distance to the river front and at the door step of the Arts, Culture and Design district LX Factory. It's a 1st Floor totally refurbished, fully equipped kitchen.
LX Factory is the Arts, Design and Cultural District of Lisbon and where you will feel most welcomed. There you can read a book, taste the Lisbon trendy food, shop antiques and ceramics, clothes and the casual memorabilia. There is a supermarket at 3' walking, a disco and a police station for guaranteed safety.
Kamertype
Gehele woning/appartement
---
Type woning
Appartement
---
Geschikt voor
4
---
Slaapkamers
Lisboa, Lisboa, Portugal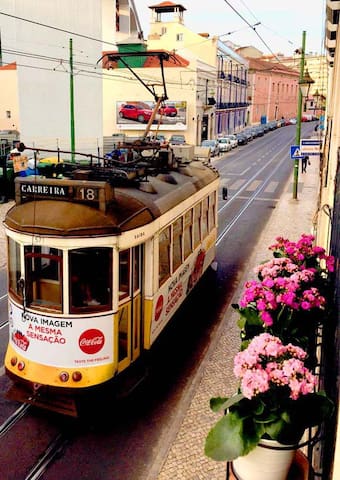 100 meters from the Tagus river, in a nice and quiet neighborhood, this is the perfect starting point from which you could discover Lisbon, enjoy the sun, his amazing light and come back in the afternoon for a relaxed glass of wine in the terrace.
The apartment, located on the ground floor and totalizing 48 sqm, was totally refurbished in 2014, is in an excellent condition and functional with every modern convenience (Wifi/TV/Tablet/iPhone Dock Station). Fully fitted kitchen and bathroom with tub. The sleeping area, with two single beds, is separated by a blackout curtain. On request the two single beds can be put together into a full king size linen bed. With a twin sofa in the living room area, the apartment can easily accommodate another couple or two kids. If necessary we can provide for a crib/bed, suitable for babies up to 2/3 years old, at no extra cost. A secluded TERRACE for al fresco breakfast or meal is the ideal spot to relax and enjoy the warmth of Lisbon weather.
Overview
Mario verwelkomde ons in een keurig schoon appartement. De locatie is perfect, je stapt zo in tram 15 richting Belem of de andere kant op, de stad in. Via de sms is Mario altijd bereikbaar en weet antwoord op elke vraag. Dit appartement is echt een aanrader!
S.
2016-05-02T00:00:00Z
Het is ons goed bevallen bij Mario. Het contact verliep voorspoedig via de mail en sms. Via zijn persoonlijke 'handleiding' had hij vantevoren al veel handige informatie gegeven over plekken om te eten, dingen om te doen, openbaar vervoer etc. Omdat hij zelf een paar dagen de stad uit was, heeft zijn dochter ons binnengelaten, dat verliep prima. Het is een prettige ruimte en smaakvol ingericht. Douche was lekker warm, bedden sliepen goed. Er stond een flesje wijn klaar, lekkere koeken, melk en jus d'orange in de koelkast. Alles wat we nodig hadden was aanwezig: voldoende handdoeken, afwasmiddel, peper en zout etc. Zelf boodschappen gedaan waardoor we konden ontbijten in het appartement. Je kan er ook koken, maar wij gingen lekker elke avond uit eten. Het is wel een vochtig appartement, dat ruik je een beetje als je binnenkomt, maar er staat wel een apparaat om de vocht eruit te halen die je een enkele keer moet legen. Als je eenmaal binnen bent merk je het niet meer. We hebben ook lekker op het buitenterras gezeten. Het was leuk om de fietsen te kunnen gebruiken, zeker om naar (Torre de) Belem te kunnen fietsen. Qua openbaar vervoer kun je in een kwartier tot half uur (afhankelijk van hoeveel bussen/trams er gaan) in de binnenstad komen. Vanwege een staking van de vliegmaatschappij konden we pas een dag later terugvliegen. Gelukkig konden we nog een extra nacht in het appartement blijven en Mario was zo aardig om ons daar niets voor te rekenen. Ook heeft hij de taxi naar het vliegveld voor ons gebeld, heel fijn. Kortom, aanrader!
Sandra
2014-11-02T00:00:00Z
Mario is de beste host die je maar kan bedenken. Zeer hartelijk, gastvrij en uiterst behulpzaam bijna onze erg late check-in (ivm met vertraging van vliegtuig). Appartement is erg charmant en authentiek ingericht. Precies wat je nodig hebt voor een paar dagen Lissabon. Een leuk zitje voor in de avond en een terras met veel privacy waar je fijn kan zitten met goed weer. Fijne bedden, goede donkere gordijnen en een erg warme douche! Zoveel leuker dan een standaard hotelkamer. Locatie is op steenworp van het congrescentrum, taxi standplaats en openbaar vervoer. Slechts op minuten van het centrum maar alle rust van een buitenwijk. De volgende keer dat wij in Lissabon zijn, kiezen we gegarandeerd weer voor deze optie in Lissabon!
Arris
2014-11-24T00:00:00Z
Ontvangst was zeer vriendelijk en warm. Alles aanwezig wat je je maar kunt wensen, van sap in de koelkast, wijn op tafel en heerlijke handdoeken in de douche
Annemieke
2016-10-17T00:00:00Z
Hij was aanwezig voor de sleuteloverdracht en zeer voorkomend.
Marij
2016-04-28T00:00:00Z
Mario is erg vriendelijk en gastvrij.
Anja
2016-10-27T00:00:00Z
Door de totaal ervaring van rust en comfort in deze top bnb is onze waardering over Lissabon alsnog gestegen. Mario weet hoe hij zijn gasten in de watten moet leggen, een oprechte man die duidelijk ook geniet als zijn gasten het naar hun zin hebben. We kwamen aan rond middernacht en met de taxi stonden we op 15min in de zeer kalme straat, daar stond Mario ons al op te wachten. Als je dan na een rustige nacht naar de bakker(lidl) wandelt voel je al heel snel de gezelligheid van de buurt. Op nog geen 5min ben je al aan de wandelboulevard van de taag. De authentieke trams van Lissabon zijn erg charmant maar het is zeker ook een aanrader om per fiets langs het water richting stad of Belem te fietsen. Een zeer mooi einde van 2014 dat we niet snel zullen vergeten. Thanks Mario!
Robin
2014-12-31T00:00:00Z
Our Holiday was amazing. The flat is just perfect if you want to explore Lisbon, and even Portugal. You are 10 min away from Belem, 15 Min from downtown and 10 min away from a train station, from there you can take the train to the beach. The flat is just the right size and you even have a terrace, where you can relax after a long day of exploring. although we were warned about ants (because it's this time of year), we really Coudnt spot that many. Mario was just the perfect host, you could really see, that it was important to him, that our stay was perfect. All in all this holiday was perfect and the flat was a huge part of it.
Anastasija
2015-08-21T00:00:00Z
Kamertype
Gehele woning/appartement
---
Type woning
Appartement
---
Geschikt voor
4
---
Slaapkamers
Lissabon, Lissabon, Portugal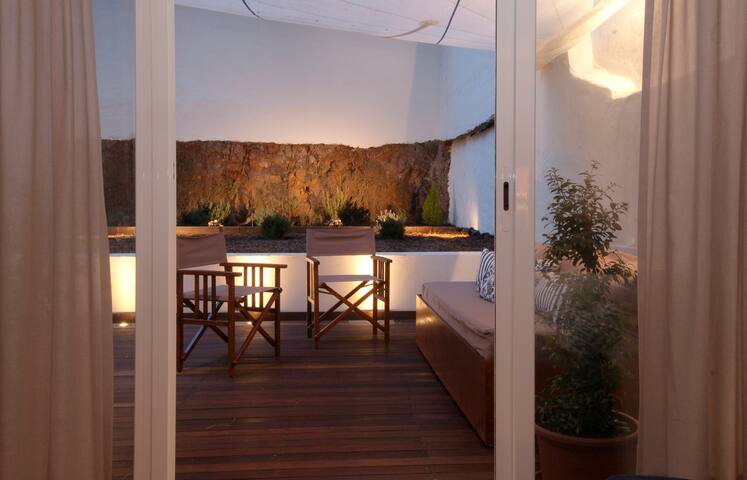 100 meter van de rivier de Taag, in een mooie en rustige buurt, is dit het perfecte startpunt van waaruit je zou kunnen Lissabon te ontdekken, genieten van de zon, zijn verbazingwekkende licht en komen terug in de namiddag voor een ontspannen glas wijn op het terras.
"100 meter van de rivier en de Docks Een uitstekend studio gelegen vlakbij het prestigieuze Congres Centrum (Ex-FIL) profiteert van een ruime, mooi aangelegde buitenruimte ideaal om de verbazingwekkende licht en de overvloedige zon van Lissabon. Het pand, gelegen op de begane grond genieten van een gebouw van de jaren '50, is in een uitstekende staat in 2012 functioneel ingericht met alle moderne gemakken volledig gerenoveerd. Volledig ingerichte keuken en badkamer totaliserende 48m², afgescheiden slaapgedeelte met een kamerscherm met twee eenpersoonsbedden en een tweepersoons slaapbank. de buitenruimte aangelegde / dek totaliseert 40m². Ideaal voor 2 tot 4 personen op zoek naar een binnen handbereik van enkele van de beroemdste bezienswaardigheden van de stad, dicht bij de oever van de rivier en met een unieke buitenruimte dat een ontspannende ervaring biedt. "4 Biciclces verkrijgbaar bij de appartement (zonder extra kosten) te rijden op de rivier en Belém. Genieten.
We werden heel hartelijk ontvangen door Joao. Het huis was heel schoon en er lag van alles in de koelkast. Het was erg warm en het grote terras was dus heerlijk.
Helen
2014-10-30T00:00:00Z
Plezierig ontvangst. Sfeervol appartement in een achterstallige wijk. Wel kort bij de rivieroever voor uitzicht, wandelen etc. En ondanks de vele luchtverfrissers blijft er een vochtige lucht hangen in het gehele appartement
jan
2015-05-02T00:00:00Z
A great apartment in fantastic location, especially if coming by car as there's plentiful free on street parking and it's easily accessible from the main bridge into Lisbon without entering the town centre. It's situated between Belem and the city centre, with easy access to both areas by very good transport links or the bikes provided in the flat. There are also a couple of interesting places within a few minutes walk. Joao provided a great welcome and info pack with lots of great advice and tips for a good stay, and also left milk, water and wine for us which was a lovely touch. We were 2 people, but the flat could easily accommodate 4, the terrace is lovely though in the end we were too busy site-seeing to make use of it! I would definitely stay here again.
(EMAIL HIDDEN)
2016-03-24T00:00:00Z
This is a terrific spot. When Joao couldn't meet us (as we were a little early) he had his brother do so. We were given lots of advice on sites and restaurants, how to use the bus system, etc. Wine and chocolate awaited us in the very convenient apartment. Although just off the main road, it was quiet and had everything we needed. Joao came by to meet us on our second evening and to ask if there was anything we needed.
Ann
2015-10-02T00:00:00Z
It was a very nice accomodation in Lisboa! Everything looked exactly like the pictures promised. It was clean and cosy. Location is also very good, just near the river to make some sports or go to Belem and with the Tram its only 10 minutes to the center. Tanks João for the nice stay!
Nina
2013-09-22T00:00:00Z
Had a lovely couple of days in Lisbon. My host was responsive to my calls and as helpful as possible. The house was as described; simple and quaint, in a very peaceful area. The thing that struck me the most was that the host was thoughtful enough to leave milk, juice and water in the fridge and even a bottle of wine. It may not seem like much but I thought it was a lovely touch and it made me feel welcome. I also felt very secure as the door looked extremely strong and had numerous locks for my security. Wifi was free and fast! The location was a only a little out of the way from the busy area, just a 20 minute walk. All in all a pleasant stay and when I'm back in Lisbon i will be sure to book again. Thank you for having me!
paul
2016-01-24T00:00:00Z
Super appartement, avec tous ce dont vous avez besoin. Même si Joao n'était pas sur Lisbonne il a toujours été present par message pour nous aider. Le quartier n'est pas centrale mais parfaitement desservi en transport. Et surtout c'est un quartier moins touristique mais très sympa. On reviendra à Lisbonne avec joie. Superbe ville et 30 degrés fin Octobre c'est un rêve pour des parisiens.
Didier
2014-10-21T00:00:00Z
Tivémos aqui um magnífico fim de semana. A casa tem uma localização excelente, onde a proximidade do rio e da zona das docas tornam a estadia muito especial. Tudo o que é proposto no anúncio está de acordo com o que encontramos. Até as bicicletas, que isamos com muita alegria. A simpatia do João só acrescenta razões para voltarmos.
Paulo
2015-01-25T00:00:00Z
Kamertype
Gehele woning/appartement
---
Type woning
Appartement
---
Geschikt voor
4
---
Slaapkamers
Lissabon, Lissabon, Portugal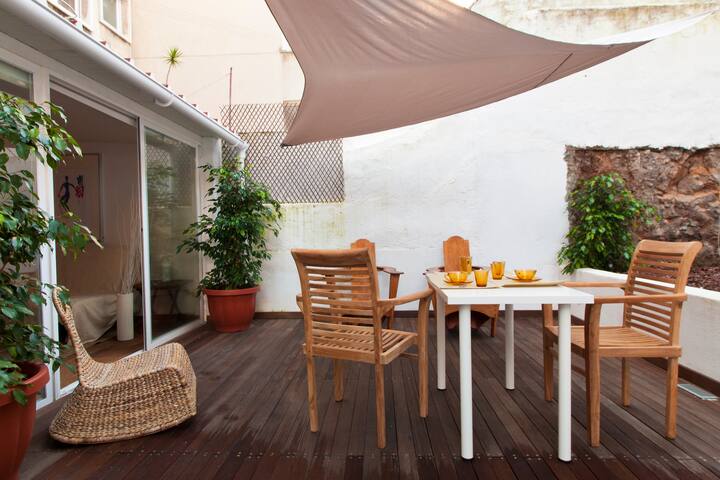 Gezellig en brigh appartement met een balkon in een van de meest centrale wijken van Lissabon. In de buurt van de beroemde LX Factory, met een trendy nachtleven, tussen de heerlijke Pasteis de Belém, Alcantara en de trein museum.
Alcântara is een geweldige plek om te verblijven, het is gelegen tussen het centrum en Belém. Bussen en treinen kunt u naar het historische centrum (7 min. Reistijd) en Cascais, Estoril, Sintra en Costa da Caparica. Als u een sport- en natuurliefhebber, Monsanto Park en "Tejo" rivier zijn slechts een stap verwijderd. Als je een auto te huren, zult u profiteren van gratis parkeergelegenheid en een snelle toegang tot de "25 de Abril" bridge, Serra de Sintra en de Zuid- en Noord-snelwegen.
Je hebt 3 supermarkten in de buurt, een apotheek, post-mail, restaurants en 2 banken. 5 minuten loopafstand van "Lx Factory", Museu Carris, en meer dan twintig verschillende bussen en treinen. 10 minuten lopen naar Monsanto Park, Rio Tejo en de beste visrestaurants in Lissabon te komen.
Logement sympa propre et surtout une terrasse bien agréable ! Une hôte très serviable qui est venu nous chercher a l'aéroport et nous a donnée beaucoup de conseils ! Un seul petit hic les avions qui passent juste au dessus du logement
Marine
2016-08-27T00:00:00Z
Carla ont été Ana très accueillantes, nous avons passé un très bon moment. L'appartement est comme décris sur l'annonce et très agréable avec sa terrasse. Le quartier est un peu excentré mais bien desservi par le tramway. Je reviendrai avec plaisir dans cet appartement.
marianne
2016-07-18T00:00:00Z
The host canceled this reservation 13 days before arrival. This is an automated posting.
Adrian
2016-09-30T00:00:00Z
Nous avons été accueilli dès notre arrivée avec un grand sourire. On nous a fait visiter rapidement le logement. Ce qui a été très agréable c'est de sentir la confiance de nos hôtes. Les photos correspondent bien au logement. Il est très bien situé entre Béléem d'un côté et les autres quartiers historiques de l'autre ; proche de tous les moyens de transports accessible en 5mn à pied ; et de la gare ou on peut se rendre à la plage en 30mn. Proche également de d'un supermarché.
Valérie
2016-09-10T00:00:00Z
Estuvimos dos semanas en el apartamento y fue una experiencia estupenda. Tiene tres ventajas principales: 1. Un patio muy agradable con barbacoa donde podíamos comer y cenar al aire libre, un gran desahogo para nosotros que viajábamos con 2 niños pequeños. 2. Se puede aparcar en la misma puerta de la casa, en la calle de forma gratuita a diferencia del centro de Lisboa y con total seguridad. No hay que estar buscando aparcamiento. 3. El barrio es muy tranquilo y tiene un montón de supermercados, mercado, cafeterías y pequeños comercios. Está muy bien comunicado con el centro con varias líneas de autobuses, se tarda apenas 10 minutos en llegar al centro de Lisboa. Carla fue una perfecta anfitriona; amable, comunicación fluida y nos dio todas las indicaciones y ayuda que necesitábamos. A la semana de nuestra estancia, mandó a una persona para limpiar el piso, cambiar toallas, sábanas y demás. El piso es pequeño pero es suficiente para una familia con niños pequeños. El espacio está muy bien aprovechado, la cocina dispone de todos los electrodomésticos: horno, microondas, lavadora... Gran espacio exterior para tender ropa. La relación calidad-precio del apartamento muy buena.
Patricia
2016-08-16T00:00:00Z
We had a great time here. It's a nice cosy and homy apartment. Off course the garden is great for relaxing in the morning and evening. Also, the neighbourhood is nice and you can quickly and easily reach the city and the beach by train.
Leon
2016-09-21T00:00:00Z
Bon accueil, bon séjour, chouette appartement, quartier facile d'accés, merci !
céline
2016-09-05T00:00:00Z
The host canceled this reservation 28 days before arrival. This is an automated posting.
Noha
2016-09-30T00:00:00Z
Kamertype
Gehele woning/appartement
---
Type woning
Appartement
---
Geschikt voor
4
---
Slaapkamers
Lissabon, Lissabon, Portugal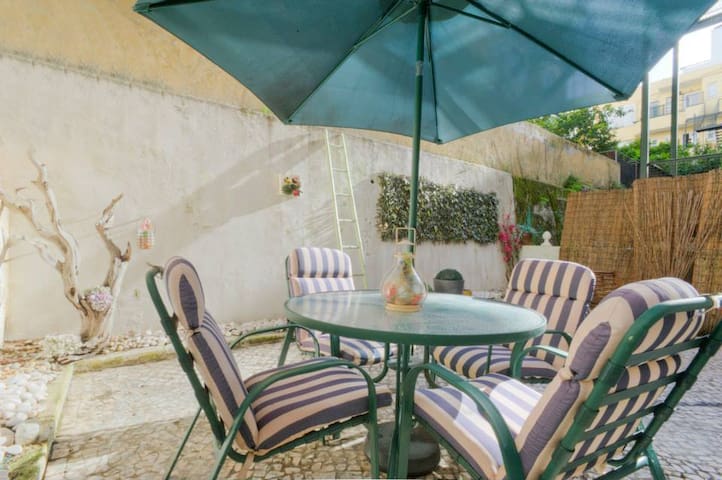 Een zeer ruime appartement is ingericht in een eigentijdse stijl, licht en gekleurd in een perfecte combinatie met natuurlijk licht van de blauwe hemel van Lissabon. Gelegen aan de omgeving Alcântara, met veel winkels, restaurants, bars en cultuur.
Een zeer ruim appartement met natuurlijk licht dat afkomstig is van de blauwe hemel van Lissabon. Het is gebouwd met goede materialen: hout, marmer en tegels. Is ingericht in een gelijktijdige stijl, licht en gekleurd in een perfecte combinatie. Het appartement bestaat uit: - 1 slaapkamer; - 1 badkamer; - 1 woonkamer met tafel voor de maaltijden; - Kabel TV; - Wifi; - 1 Keuken met Owen, een magnetron, koelkast, broodrooster en was de kleding machine; - Beddengoed, handdoeken, keukengerei alles inbegrepen. Het appartement is gelegen in een 1e. verdieping van een recent gebouwd complex van 3 verdiepingen, in Alcântara, met gedeeltelijk uitzicht op de rivier de Taag, Tower erover en Cristo-Rei (aan de andere kant van de rivier de Taag)
Van wijk Alcântara, kunt u een bus of een tram naar de belangrijkste monumenten van de stad te nemen: Mosteiro dos Jerónimos, Torre de Belem, Padrão dos Descobrimentos, Fábrica dos Pastéis de Belém, waar u kunt stoppen en proeven van de meest bekende koek van Lissabon "pastel de Belém" met een paar thee .. De beroemde "Docas" met it's restaurants en bars zijn een kleine wandeling vanaf hier. In de buurt van ongeveer 5 minuten lopen kunt u de LX Factory, een plaats van cultuur, winkels, bars en restaurants te vinden. De transporten nabijgelegen blik brengt u gemakkelijk en in korte tijd naar alle delen van Lissabon, waar u onze cultuur, gastronomie, gastvrijheid kunt vinden en genieten van het goede weer en de zon. Op de open lucht langs de rivier de Taag-bank kan je een speciale ambient om te ontspannen en te genieten. De Alcantara Terra treinstation ligt op ongeveer 5 minuten van het appartement als je wilt Sintra bezoeken, maar als je wilt gaan naar Cascais moet je de trein op Alcantara Mar treinstation dat is 10 minuten van het appartement langs de rivier de Taag te vangen!
Leuke locatie, attente gastheer dus niks mis mee
Johan
2017-04-06T00:00:00Z
Très bel appartement. Pedro était présent à notre arrivée et il a fait l'office du tourisme pour nous. Il nous a donné tous les renseignements utiles pour notre séjour. L'appartement en lui même est impeccable et tous y est: Internet, télé avec dvd,cuisine équipée, sèche cheveux... Je le recommande vivement pour un séjour à Lisbonne!
Rabéa
2016-05-29T00:00:00Z
Alcântara Bridge Apartment is very nice and confortable. It's easy to go everywhere in Lisbon. Pedro was very kindly and gave us good indications to eat. We really appreciate our stay in Portugal. Thanks Pedro! O apartamento em Alcântara é realmente muito bonito e confortável. Há tudo que um hóspede precisa. O local é bem servido de transporte e em poucos minutos chegamos aos pontos turísticos de Lisboa. Pedro é um excelente anfitrião e nos dicas muito saborosas e fora do circuito turístico. Foi bom estar em Lisboa. Obrigada, Pedro!
Elianne
2015-04-16T00:00:00Z
Este foi, sem dúvida, o melhor apartamento em que já me hospedei através do AIR BNB até hoje. O apartamento é melhor, inclusive, do que mostram as fotos. Não falta absolutamente nada e é extremamente limpo e bem decorado. Pedro é um excelente host, atencioso, educado e muito talentoso. Na minha chegada me indicou os principais pontos turísticos de Lisboa e, durante minha estadia, me enviou um email perguntando se estava tudo bem e se eu precisava de alguma coisa. O único ponto a ser considerado é a localização. O apartamento fica em Alcântara, que é um bairro entre Belém e o centro histórico. Embora Alcântara também tenha vários pontos interessantes, para ir aos principais bairros (Chiado, Bairro Alto, Baixa) é necessário uma caminhada até o ponto do bonde/ônibus (5 minutos) e depois o transporte, mais uns 15 minutos. Se se sai para jantar até mais tarde, para retornar talvez seja melhor pegar um táxi, máximo 5 euros. Contudo, acredito que este fato não eclipsa o excelente custo-benefício.
Joaquim
2014-06-29T00:00:00Z
We really appreciate our stay at Pedro's apartment in Alcantara. Very beautiful apartment with a nice decoration. Alcantara is not in the center of Lisbon but you can take the bus (many lines) or the tramway (15/18) to reach the places to see in Lisbon. And you can even take the train for Sintra (alcantara terra) or Cascais (alcantara mar) ! Pedro was really kind to us and reactive by mails before and during our stay. It was a perfect week spent in this apartment. As we couldn't visit everything in Lisbon during those 5 days, we will be back, maybe in few years, and will not hesitate to contact Pedro again to have another stay in his apartment ! Thank you again !
Héloïse
2015-09-12T00:00:00Z
Pedro a été un hôte très sympathique et très disponible. Étant arrivé tard à Lisbonne, il a quand même été présent à l'appartement pour nous faire visiter et nous remettre les clés. De plus, il nous a été de très bon conseil pour visiter et découvrir Lisbonne. L'appartement était fidèle aux photos et très agréable. Je vous recommande.
Mohamed
2016-06-12T00:00:00Z
Nous avons passé un excellent séjour À Lisbonne. Nous remercions Pedro pour son accueil chaleureux et ses excellents conseils pour les visites de la ville. L'appartement correspond tout à fait à la description. Aucune mauvaise surprise! Très bien équipé et au calme dans une résidence sécurisée. Nous recommandons vivement l'appartement de Pedro et nous n'hésiterons pas à y retourner si l'occasion se présente.
Delphine
2016-01-28T00:00:00Z
Pedro quando siamo arrivati ci aspettava già a casa. E' stato disponibile a fornirci informazioni utili per il nostro soggiorno fin dall'inizio. La casa rispecchia esattamente quanto descritto ed è dotata di tutti i confort. Pur non essendo in Centro è ben collegata da autobus e tram. Pedro ci ha suggerito cosa visitare e gli imperdibili panorami dove ammirare tutto dall'alto. Siamo soddisfatti di ogni cosa sia della casa, sia della città che di Pedro davvero molto gentile e ospitale!a presto ;)
Valeria
2016-04-20T00:00:00Z
Kamertype
Gehele woning/appartement
---
Type woning
Appartement
---
Geschikt voor
2
---
Slaapkamers
Lissabon, Lissabon, Portugal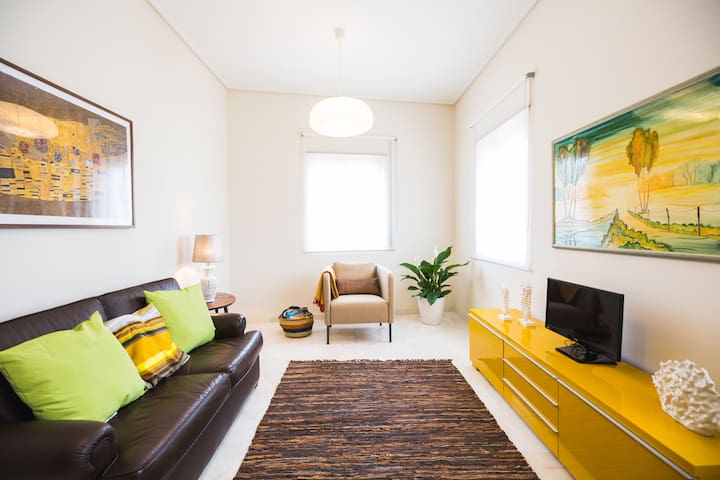 Mon logement est parfait pour les couples, les voyageurs en solo, les voyageurs d'affaires et les familles (avec enfants). A baby cot, high chair and toys are available at the flat as it is also a bottle warmer. We wish you and your family a pleasant stay!
L'appartement de Carla est trés grand .Le quartier est très agreable. Le stationnement est facile et gratuit. Il y a à des petits supermarchés à proximité ainsi que de nombreux restaurants qui vous serviront une cuisine traditionnelle portugaise à des prix trés abordable (7euro50 le midi environ 10 euros le soir cafè et vin compris). Si vous prenez un taxi faites très attention à l'aéroport demandez le prix avant de monter . Ne vous faites pas prendre pour des touristes à des heures de circulation identique nous avons payé 35 euros pour venir et 14 euros qui est le prix normal pour repartir. Ceci dit je retournerai sans hésiter dans l'appartement de Carla(URL HIDDEN)
Jean Michel
2017-03-13T00:00:00Z
The host canceled this reservation 125 days before arrival. This is an automated posting.
sawane
2017-03-06T00:00:00Z
Kamertype
Gehele woning/appartement
---
Type woning
Appartement
---
Geschikt voor
4
---
Slaapkamers
Lisboa, Lisboa, Portugal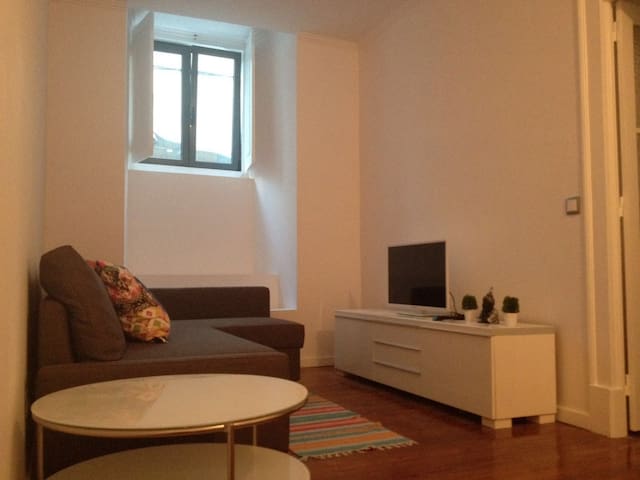 Een charmant verbouwd appartement, met een geweldige sfeer 1 minuut lopen van LX FACTORY en een stap van de rivier. Welkom op onze mooie huis!
Ons huis is gelegen tussen de twee belangrijkste toeristische attracties: Baixa / Chiado en Belém, waar u kunt proeven één van onze beroemde "Pastéis de Belém". We zijn ook in de 1 minuut lopen van LX FACTORY, een van de meest trendy, verse en koele plekken in Lissabon. Daar vindt u vele restaurants, winkels, bars en frequente straat markten. Als u wilt ontspannen naar Docas (slechts 10 minuten lopen); daar kon je een maaltijd of gewoon een drankje en genieten van de bezienswaardigheden. In de buurt van ons appartement vindt u alle diensten die u nodig hebt te vinden: supermarkt, apotheek, wasserette, bakkerij, een take-away restaurant en ook Largo do Calvário waar u alle transporten kan nemen; taxi, bus, trein en ook onze beroemde gele tram "Electrico".
Een paar straten achter het huisje is LX Factory te vinden. Hier kun je iets eten, drinken en zelfs een dansje wagen. Om de hoek zijn cafeetjes en winkels te vinden. De bewoners in de omgeving zijn uiterst vriendelijk en zijn zeer behulpzaam.
Linda
2016-10-07T00:00:00Z
Recommend it!
Markéta
2016-09-17T00:00:00Z
I stayed at Silvia's for two nights at the beginning of October and loved it. The flat is beautiful, a great size and very well kept. I was staying alone but it would easily fit another person or two. In terms of location, the fantastic LX factory is literally round the corner, with lots of cool restaurants, bars and shops. The flat isn't in the centre of town, with both the historical centre of Belem and the main city centre being a 30-45 minute walk away, but there are good public transport links and lots of taxis around. The Alcantara area is great though, with lots of locals around and it feels very safe. The apartment is right by a police academy! I would really recommend staying here, unless you want to be right in the city centre with everything a 10 minute walk away. I loved staying here and would definitely come back.
Amy
2016-10-09T00:00:00Z
This was the perfect place for what we wanted. It is small but well appointed. It was imaginatively decorated. The host was friendly and helpful, I think it was pitched just right. We are a family with a pre teen child and found the area to be a right mix of genuinely local with trendy pockets of interesting shops and restaurants at LXFactory. It is very well located for exploring the city. We talked to many locals , walked around and it felt really safe at all hours. Very easy to access Belem to one side and towards the Baixa to the other. We recommend the area around Sodre to eat, we found 2 very different restaurants which were fantastic, one very small and traditional, O Arco da Velha and Latitude, run by a Franco Portuguese couple as well as the fabulous Mercado da Ribeira for all sorts of goodies. We loved our stay
catarina
2016-10-28T00:00:00Z
Très bon accueil, Silvia est très sympathique. Logement conforme malgré des nuisances sonores la nuit.
Benjamin
2016-09-04T00:00:00Z
Silvia es de lo más simpática, está disponible para todo lo que necesiten sus huéspedes y además cuando te da las llaves de la casa te explica las cosas que se pueden hacer en el barrio. El barrio está bastante alejado de lo que es el centro de Lisboa, pero tiene un mercado con tiendas y restaurantes al lado de casa que es precioso. Aun así el apartamento está muy bien comunicado con el centro, tiene paradas de tranvía y autobús a 5 minutos de casa.
Emilia
2016-11-01T00:00:00Z
Espetacular
Filipe
2017-03-12T00:00:00Z
Muito agradável a anfitriã, no entanto, falta maior interatividade com os hóspedes. Deixou de atender alguns telefonemas por não identificar o número do celular. O que nos causou uma despesa de 75 euros; mas após identificar foi muito atenciosa e prestativa. Quanto ao apartamento gostamos muito, é bem localizado, ótima mobília é com excelente espaço físico.
JOAO
2016-07-15T00:00:00Z
Kamertype
Gehele woning/appartement
---
Type woning
Appartement
---
Geschikt voor
4
---
Slaapkamers
Alcântara, Lissabon, Portugal
A good retreat 15 minutes driving from Lisbon city centre, it's located in a small neighbourhood, Ajuda, placed 2 minutes walking from the bus (nº742) and 5 from the old tram (nº18) This is my place, a small apartmant in the ground floor with a taste of a little house, in a simple area. This is were I'm used to spend my week days, and it's only available when I'm out, so, you will have all the privacy. There are personal belongings around, I'm giving trust, and asking for some care.
2 pièces dans le quartier de Ajuda. Pas proche du centre (à pied) mais idéal pour les vacanciers qui ont loué une voiture car stationnement tres simple et gratuit!! En voiture tout se fait en 15 minute et surtout c'est pas loin de belem (entre le centre historique et les plages coté carcavelos) L'appartement est mignon en soi, et parfait pour un couple. Il a été complètement rénové, en comparaison des maisonnettes adjacentes.
David
2017-03-22T00:00:00Z
The host canceled this reservation 3 days before arrival. This is an automated posting.
Gabriel
2016-12-27T00:00:00Z
I had a very good time in Bárbara's nice apartment in Ajuda. Everything was there, the neighbourhood is very nice, the flat is amazing.
Fino
2016-09-19T00:00:00Z
Le logement était très bien. Barbara a tout fait pour que nous soyons à l'aise, on a été très bien reçu. Le logement est juste un peu excentré du centre mais il est plutôt bien desservi !
Kahina
2016-08-25T00:00:00Z
The host canceled this reservation 27 days before arrival. This is an automated posting.
Sylvie
2016-08-02T00:00:00Z
Great little place in the residential neighbourhood. You would like it only if you want a place away from the town centre. It is not walkable and takes about 15 min on the taxi to get to centre which is quite inconvenient and expensive. The apartment itself is very nice, clean, good size bedroom (NO window though), big bathroom and nice sitting area. The host left out basic breakfast items which was a nice gesture. There are no convenience stores or restaurants around the area so a bit tough when you looking to buy something to put in the oven or go out for dinner. This would have been a perfect place to stay if a bit closer to centre.
Akhil
2016-08-09T00:00:00Z
Casinha agradável e moderna, fácil estacionar.
Sara
2016-10-23T00:00:00Z
O espaço da Bárbara é ótimo, tudo conforme ela descreve no anúncio. Nossa estada foi bem tranquila, um excelente lugar para o descanso após um dia de passeios e visitas. Bem próximo ao Mosteiro dos Jerónimos, Torre de Belém e arredores. Recomendo!!
Fabio
2016-11-01T00:00:00Z
Kamertype
Gehele woning/appartement
---
Type woning
Appartement
---
Geschikt voor
2
---
Slaapkamers
Lisboa, Lisboa, Portugal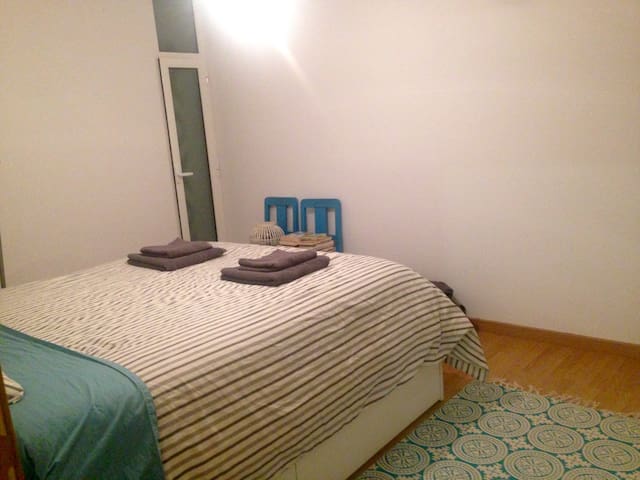 The Cork House is a house with no doors, with a sweet terrace, close to the river, very cosy and private space, located in a 300 old building. The house was architectured and furniture designed for your confort. House very retro style. Most of the furniture was designed or created by me.
The cork house was all designed by me, most of the pieces and furniture where design, i love them and i hope you also love them... soo be sweet with them
the cork house is 2 m from the LX factory, 10 m walking from MAAT, 110m walking from Museu de arte antiga, 10 m by tram to downtown, 20 m walking to belem by the river, and 15m walking to the start station of the tram 28.
C'était notre première expérience sur Airbnb et nous avons été enchantés par l'accueil que nous a réservé Bruno dans son très bel appartement qui reflète sa personnalité d'artiste ! Quand nous sommes arrivés, il nous a rapidement mis à l'aise en nous offrant une bouteille de bon vin Portugais et la pâtisserie locale. Nous gardons un excellent souvenir de ce séjour. Fabienne et Emmanuel
Olivier
2016-06-21T00:00:00Z
I had a great stay at Bruno's place. In the end I did not meet Bruno, but we stayed in close contact via (SENSITIVE CONTENTS HIDDEN). The appt has all you need. It migh be a bit far from the very tourisitc center, on the other side, you are close to Belem and LX Factory. As you are in a cella, it is a bit noisy for those who like to enjoy overquiet night though. I would recommend this appt for onyone who stays more than 2 nights in Lisboa, for those who come for a very short trip, i would recommend to stay closer to the touristics spots (even if it is never more than 15 min ride with the taxi)
Rodolfo
2017-02-03T00:00:00Z
Bruno is very knowledgeable about the local area and was nice enough to sit down with us and run us through all of the tourist traps to avoid. The apartment is much larger than most of the ones you'll find on AirBnB and has all of the amenities you need. We were able to do all of our washing while here as well. The nearby LX Factory is well worth checking out, and there was plenty of parking nearby.
David
2016-10-03T00:00:00Z
Bruno was an amazing host! He greeted us with Lisbon pastries and a bottle of Portugal's sparkling green wine which was delicious. He also provided us with recommendations on things to do, a map, and refillable metro cards. The appartment contained many artistic and interesting pieces and a relaxing patio. I was very pleased with our host, the appartment, and our overall experience. Thank you Bruno!
Yesenia
2016-11-23T00:00:00Z
Lovely, quiet and bright flat. Will definitely stay there again if I can!
Coralie
2017-02-06T00:00:00Z
L'appartement de Bruno est très cosy et original, chaque détail est pensé avec goût. L'emplacement est vraiment super, à côté de LX Factory, près de Bélem et de Cais do sodré. Bruno nous a accueilli avec du vin et des pasteis de nata et nous a donné de supers conseils pour nos visites. Nous recommandons ce logement à 100%.
Julie
2017-03-16T00:00:00Z
Bruno is a fantastic host. He gave us amazing recommendations about where to go and to eat. All were amazing. The place is very central between the two touristy parts of town. 10/10 would go back.
Julie
2017-03-12T00:00:00Z
Bruno's apartment is a fantastic place to explore Lisbon and surrounding cities. Within a 5-10 minute walk, there are two train stations that allows you to travel to Sintra (45 minutes), Estoril (30 minutes) and Cascais (30 minutes). You are a tram away from going downtown Lisbon, Blem (though I, like Bruno, recommend walking to Blem, by the river and a nice 20-30 minute walk from the apartment) and Alfama. The tram, bus and taxi services are literally a minute walk from the apartment, making life easy. Bruno was kind enough to tell us about all the train, tram and bus routes and which lanes we should get from where to the destinations we wanted to. In fact, Bruno provided us with his (SENSITIVE CONTENTS HIDDEN) number and responded very quickly, with recommendations of restaurants, attractions and what to drink/eat. I recommend you ask for his opinion; my girlfriend and I certainly enjoyed his recommendations and are extremely thankful for his advice throughout our stay (one week). I cannot speak highly enough of Bruno, who also left us a Vinho Verde in the fridge to welcome us in. We even went for a walk together which tells you all you need to know about a nice, friendly host. There are a lot of restaurants, supermarkets and cafes near the apartment, this was great for us and if you decide to book Bruno's apartment, do ask for his recommendation on where and what to eat and drink! It is extremely rare for me to leave a long review, in fact, I cannot remember ever leaving a review this long, that should tell you how much my girlfriend and I enjoyed Lisbon, Bruno's apartment and Bruno as a host! Oh, and the apartment is also extremely well presented and cosy! 5 stars!
Shahriar
2017-01-11T00:00:00Z
Kamertype
Gehele woning/appartement
---
Type woning
Loft
---
Geschikt voor
2
---
Slaapkamers
Lisboa, Lisboa, Portugal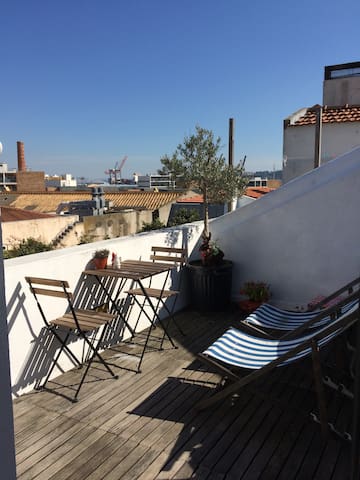 GIANT 3-bedroom DUPLEX of 140 sqm with VIEW on the Tejo river, the Cristo Rei and the 25 de Abril bridge from the 3 bedrooms with two separate bathrooms/showers. Furnished with stylish decoration, you will enjoy a relaxing moment in the VERANDA. It is perfectly located in between Belem, Caparica, Baixa/Chiado/Cais do Sodre. Alcantara is Lisboa's TRENDY neighborhood.
My duplex appartment is very spacious (140 square meters), designed by a Portugese architect, modernly furnished, with large kitchen, living room with a veranda without vis-a-vis, a dining area, three bedrooms, two bathrooms, located at the top floor of a secured building. Parking is free in the street. ENJOY YOUR STAY in: - a spacious, bright and clean duplex flat with breath taking views from the bedrooms over the Tejo, the 25 de Abril bridge and the Cristo Rei. No vis-a-vis. The flat is ideal for a family or group of friends up to 6 persons. It is composed of: -Downstairs: 1st bedroom has 1 double bed (electrical inflatable bed), a wardrobe, a bridge table. 2nd bedroom has 1 double bed, a shelf with books and a collection of hats, a folding table and a large wardrobe. Both bedrooms have access to a large bathroom with toilets, bidet and bath. Fully equipped kitchen with oven, fridge, washing machine, dish washer, microwave, coffee machine, water heater, etc. You will feel really relaxed in the beautiful living room with its veranda making this room really bright all day long. The fireplace creates a charming atmosphere. Enjoy the HI-FI system, cable TV, internet, Bluray reader, WIFI. After a day visiting the city and its surroundings, have a rest in the veranda, laying on the reader sofa, encircled by nature. Watch the sky, dance with the stars and breathe. Dining area. - Upstairs: all-in-one master bedroom with office area (printer, desk), bathroom area with toilets and shower, library, a wardrobe and a queen-size bed. Do not take a look through the skylights, you could stay there forever. You will feel like in a luxurious chalet. -Fresh sheets and blankets, towels, shower gel, shampoo, toilet paper, soap, hairdryer are provided.
The flat is located in between two living and trendy neighborhoods: Alcantara and Compo de Ourique. Campo de Ourique district is like a village in the capital, close to downtown, and one of the most typical neighborhoods of Lisbon. This is an old, picturesque and lively area, rich in history and tradition, the perfect place to learn about Portugese customs, habits and gastronomy. Around you will find all kind of shops, restaurants and bars. From the tramway stop in front of Cemetario dos Prazeres (10 minutes walk from the appartment), onboard the 28E/25E tram, avoid the long queues in the city center, and immerse yourself in Lisboa. Alcântara means bridge in Arab. This neighborhood offers the best places to go out during the night. You have the docks under the bridge with many bars, restaurants and discos. One of the best cultural center of the city, the LX factory is 15 minutes walking distance from the flat. There you can enjoy many bars, restaurants, trendy shops, bio markets. This flat is perfect if you travel by car to go to Cascais, Sintra, Belem, the beaches, Cristo Rei... Sights Nearby: - Tapada das Necessidades: one of the most beautiful park in Lisboa (8 minutes) - Miradouro do Largo das Necessidades (10 mins) - a panoramic view over the bridge, the Tejo river and Cristo Rei - Cemetario dos Prazeres (10 mins) : the largest cemetary in Lisboa like Père Lachaise in Paris - Mercado de Campo de Ourique (14 mins): a smaller version of Mercado da Ribeira-Time Out - Jardim da Estrela and Basilica da Estrela: one of my favourite neighborhood (20 minutes walking) Very close is the Lisbon Congress Center (25 min walking distnace / 8 min by car), so the flat is also perfect for those who come to Lisbon in business. Nearby you have the wonderful neighborhood of Belém, where you can find historical monuments like the Jeronimos Monastery, the Belém Tower or the Padrão dos Descobrimentos (Monument to the Discoveries), see the house of the Portuguese President (Palácio de Belém), taste the unique Pastéis de Belém and find some great restaurants by the river. From the many Churches and Palaces these are who the ones that most stand out in Alcantara: - Quinta do Monte do Carmo ou Jardim do Monte do Carmo - Palacete da Ribeira Grande ou a antiga Escola Secundária Rainha D. Amélia - Edifício da Administração do Porto de Lisboa ou Palacete Ponte ou Palacete dos Condes da Ponte - Capela de Santo Amaro (Alcântara) - Palácio Vale Flor, Hotel Pestana Palace - Palácio Sabugosa e Jardins - Palácio Fiúza - Edifício da Companhia de Fiação e Tecidos Lisbonense - Tapada da Ajuda - Palácio Burnay ou Palácio dos Patriarcas - Edifício da Escola Industrial do Marquês de Pombal - Quinta das Águias - Igreja e Convento das Flamengas - Igreja e Convento do Calvário - Igreja de São Pedro em Alcântara - Palacete dos Duques de Saldanha - Palacete dos Condes da Ribeira
The host canceled this reservation 2 days before arrival. This is an automated posting.
Fadi
2016-11-04T00:00:00Z
We stayed here with 2 children, the place was clean and comfortable. Communication with fredrick was amazing, he really cares about his guests and we felt so lucky to have his as a host and his friend Nuno which was extremely helpful. We took Uber everywhere so we dont know how the buses downstaris from us were, but the area wasn't fun or interesting for us. the dangerous looking stairs were ok for us because we removed the first steps so our kids couldnt use it. if you plan to come in the winter bring wool socks as portugal has no heated floors and can get really cold floors
Dalia
2017-03-23T00:00:00Z
Really nice apartment. Well located in quiet area, near to public transportation. The pictures speaks itself. Its a friendly apartment, clean, fresh and beautiful, and really big. The varanda ( balcony ), is my favorite place, well actually i had to fight fit my moth and sister to have that place for me, because seems to be their favorite too lol. Frederic was very nice and always asking with everything was OK, if we were enjoying the house or if we need some help. Well, I miss it already !!!
Amersona
2016-09-26T00:00:00Z
Kamertype
Gehele woning/appartement
---
Type woning
Appartement
---
Geschikt voor
6
---
Slaapkamers
Lisboa, Lisboa, Portugal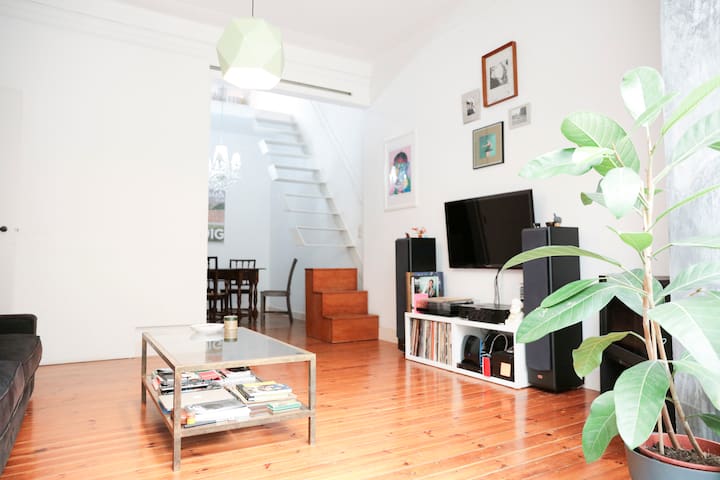 If you wish to explore the amazing Lisboa and you also have the longing for a dive into the wonderful beaches next to the city, my home is your home. In a few minutes you are in a bus or train Stop, half an hour from reaching the Atlantic waters. In also half an hour you can get to the historical neighborhood of Belém, with his monuments, gardens and wide lawns, simply by walking along the riverside. The house, with a flower backyard, is cozy and quiet, in a popular neighborhood. LGBT friendly
Bright and welcoming, simple and functional, the house has a flowery interior patio, perfect for lounging outdoors when you don't feel like touring around. The house and the neighborhood, a protected island in the urban hustle and bustle, offer an interlude of silence and lightness after a day of adventure exploring the city and its surroundings. Close to the coastal district of Belém, one of the richest in history, gastronomically famous for its pastries, and the historic city center, my neighborhood is also the best point of access to the beaches. In a few minutes you can be on a train to the charming town of Cascais or a bus to the beautiful beaches of Costa da Caparica. The house has a room with a double bed and a private bathroom, a dinning area with a kitchen, and a larger room with a double bed and a single one, with bathroom and connected with the backyard
This small neighborhood resembles a village within the city. It has a single entry for vehicles and is not a crossing point to other locations. It is quiet and modest, but just 5 minutes away from the urban bustle of Alcantara, with lots of businesses, eateries, and transport options. I suggest you explore the neighborhood. In a few minutes you reach the underpass of Alcântara-Mar Train Station (leading to the beaches of Estoril and Cascais or -- going the other way -- to the lively Cais do Sodre area). This passage also accesses to the waterfront, where we can take delightful walks, free from the pollution of cars, between the river and huge lawns, resting here and there in a good restaurant or cafe, all the way to the Belem Tower. Also in Alcantara, you can find the "LXFactory", a large area providing a creative avant-garde experience of things modern and trendy, and mostly affordable, from the fine dining and vintage cafés, to the fashion stores, books or design and architecture.
Manuela nous a très bien accueillie, s'est montrée disponible, et nous a donné les infos nécessaires pour démarrer notre séjour en terre inconnue ! L'appartement est agréable, spacieux, propre. Situé dans un quartier populaire, Alcantara mais qui est très bien situé pour visiter Lisbonne. Le train à proximité, de même que les arrêts de bus et de tram. Port à proximité aussi si l'on veut traverser le Tage en bateau. Un séjour agréable.
Christine
2016-10-29T00:00:00Z
When we arrived we were greeted and shown around. The apartment was beautiful. And any questions we had were responded to very quickly. We had a wonderful time.
Lauren
2016-09-29T00:00:00Z
Manuela ist eine großartige Gastgeberin, alles hat wunderbar gepasst. Was ich allen anderen Reisenden mit auf den Weg geben möchte, ist die Lage des Apartments. Man braucht mindestens 45 Minuten in den Stadtkern, was etwas anstrengend ist. Wenn man am Anfang planlos ist und nicht auf Anhieb weiß, wo Tagestickets zu kaufen sind, kann es auch mal 1,5 Stunden dauern :D auch waren wir von der lauten Musik Sonntagabend bis 23.30 nicht sehr angetan, bis wir realisiert haben, dass es sich um das wöchentliche Outdoor Festival im Sommer handelt. Und man hört natürlich die Flugzeuge, aber damit ist in Lissabon einfach zu rechnen :) die Nachbarschaft ist nicht die schönste, aber wir waren drei Mädels und haben uns sicher gefühlt. Alles in allem war es toll, vielen lieben Dank Manuela!
Katrin
2016-08-02T00:00:00Z
l'appartement est comme les photos. situé à mi chemin entre le centre et bélem. (30mn à pied pour chaque côté). quartier très calme, très agréable après une journée de marche. les taxis sont à peu près au même prix que les transports publics. Si vous souhaitez diner en ville n'hésitez pas à rentre en taxi (+/- 8 euros). A faire absolument le monastère Jeronimos à 30mn à pied le long du tage.
beatrice
2017-02-16T00:00:00Z
Manu's house is just perfect and she was so good, warm and helpful for us<3
Natalia
2017-03-29T00:00:00Z
Casa da Luz é o termo certo para descrever esta casa. Um espaço tranquilo e acolhedor. Manuela foi fantástica a nos receber e um muito obrigado pela atenção na chegada. A casa é super acolhedora com tudo o que necesitamos para umas ferias calmas. O espaço é cheio de luz, muito sossegado e tem tudo o que precisamos para cozinhar na casa ou tomar uma refeição. Perto da zona ribeirinha de Lisboa, descendo a rua encontramos mercados, restaurantes e todo o tipo de lojas. Tem transportes publicos a 200m e é facil de encontrar um taxi ou uber na zona de Alcantara. Uma experiencia e estadia fantástica.
Joao
2016-11-04T00:00:00Z
Le logement est agréable malgré les avions que l'on n'entend presque plus avec la porte fermée. Nous voyageons avec notre chien qui a bien profité avec nous de la charmante courette et du beau parc des "Necessitades" à 15 min à pied. L'accueil de Manuella est super avec de très nombreux produits de base alimentaires et produits d'hygiène. On a bien apprécié les beaux draps brodés!
gérard
2017-03-25T00:00:00Z
We chose Manuela's apartment because it was not far from the venue of an event we were attending in the Alcantara district. It's in a quiet side street at the top of a steep hill, which might not suit everybody, but is a very clean, comfortable apartment, with two showers, a neat kitchen and ample bed linen and towels. Manuela is a great host. From start to finish she went out of her way to be extra helpful - from providing directions in Portuguese to give to the taxi driver at the airport, to great flexibility over check-in, to spending time with us talking about the best ways to get around the city and on where to go. A giant city map on one wall was a great touch. Finally, she booked a cab to take us back to the airport at the end of our stay - helpful to the last. The apartment is ideal for a short stay and is roughly 25 mins walk from the city centre and, in the opposite direction, the tourist spot of Belem.
Roger
2017-03-01T00:00:00Z
Kamertype
Gehele woning/appartement
---
Type woning
Appartement
---
Geschikt voor
5
---
Slaapkamers
Lisboa, Lisboa, Portugal
Cozy apartment to live in a traditional neighbourhood in Lisbon, close to great areas like LX Factory and with good transports and amenities nearby.
The apartment comprises a completely equiped kitchen, one full bathroom, one double bedroom, a living room and a dining room. I will provide all the towels and bedsheets. It is a charming apartment with small divisions but with everything you might need for a relaxed time. You will find pharmacies, supermarkets and nice cafes and restaurants within a 5 minute walk. Pestana Palace Hotel is a mere 5 minute walk if you fancy an afternoon tea in one of the most beautiful converted palaces in Lisbon. It is located in a traditional nighbourhood in Lisbon, very close to Alcantara, Docas (an area with several restaurants) and LX Factory and the river. Nightlife is a 10 min ride away with the best discos and bars in Lisbon. You can choose just to go for a walk along the river and that is a 20 min walk away (5 mins by car). Parking on the street is free and safe. You will find everything you need and definitely have a relaxed time.
It was a very nice stay and Maria Simões was amazing, as usual! :) It was raining, she picked me up in the city. The apartment was warm and clean, located in a very nice area and has lots of natural light. The were some welcome drinks and snacks, I felt at home.
Margarida
2013-11-24T00:00:00Z
Maria é uma ÓTIMA anfitriã, muito atenciosa e disponível. O apartamento fica numa rua muito charmosa em Alcantara, com todas as facilidades perto : bustop, mercados, farmácias, restaurantes. Fácil acesso ao cais do sodre, bairro alto, príncipe real. Recomendo!!!!
Raíto
2016-10-21T00:00:00Z
Замечательная и уютная квартира, где есть все необходимое для жизни: посуда, фен, полотенца, постельное белье, WF)! Полностью соответствует фотографиям. Рядом много супермаркетов, остановка и электростанция Алькантара (минут 10 спокойным шагом), советую первое время пользоваться картой, потому что ее не просто найти. Ни разу не пожалели, что остановились в этой квартире, спасибо Мария!))
Elena
2015-08-25T00:00:00Z
Maria was amazing. There was not a kettle and she bought one new and had it to us by the end of the day along with another extension cord. We had the feeling nothing was too much trouble. She was amazing. The apartment was exactly as seen on the internet, very very sweet with good amenities. It is very authentic Portuguese style with tiles around the oven, using gas cylinders etc and the location is great (parking might be a bit tricky). We are going back in 2 weeks and are very excited.
Bryony
2015-01-17T00:00:00Z
It was a very nice stay , the apartment was clean, cosy and has lots of natural light. Location is also great. Maria was fantastic. It was raining when I arrived and she gave me a lift in the centre for my appointment. There was a coffee machine and welcome drinks and snacks. Made us feel at home. Thank you!
Athena
2014-11-24T00:00:00Z
Maria es la mejor anfitriona que se puede encontrar, muy amable y detallista !!! el apartamento es exactamente lo que se indica en el anuncio, confortable, bien situado y con todo lo que puedes necesitar cuando estas de viaje!! Absolutamente recomendable!!! y por supuesto...cuando vuelva a Lisboa, volveré a su casa!!! Gracias por todo
Cristina
2015-02-09T00:00:00Z
This was our second time here and when we arrived Maria had gotten the following for us: 2 takeaways, 2 bottles of wine, a bottle of chocolate, an expensive cheese, bread, milk and other items. It was so amazing. I can only recommend this beautiful place and the lovely owner. Also, we arrived late at night and Maria waited up for us (she could have left the key with her daughter who lives nearby but she came personally). Thank you Maria!
Bryony
2015-02-02T00:00:00Z
Maria est une hôte formidable, tout étais prêt quand nous sommes arrivées. Elle nous as accueillis alors que nous arrivions tard. De plus le frigo contenait de quoi préparer un ou deux repas, et une bouteille de Porto nous attendais pour notre arrivée. Ce fut un séjour très agréable et Maria était disponible si nous avions besoin de quoi ce soit. Le centre de Lisbonne est un peu loin mais facile d'accès avec les transports. Je vous recommande ce lieu pour des vacances. Françoise
Françoise
2015-08-10T00:00:00Z
Kamertype
Gehele woning/appartement
---
Type woning
Appartement
---
Geschikt voor
3
---
Slaapkamers
Lissabon, Lissabon, Portugal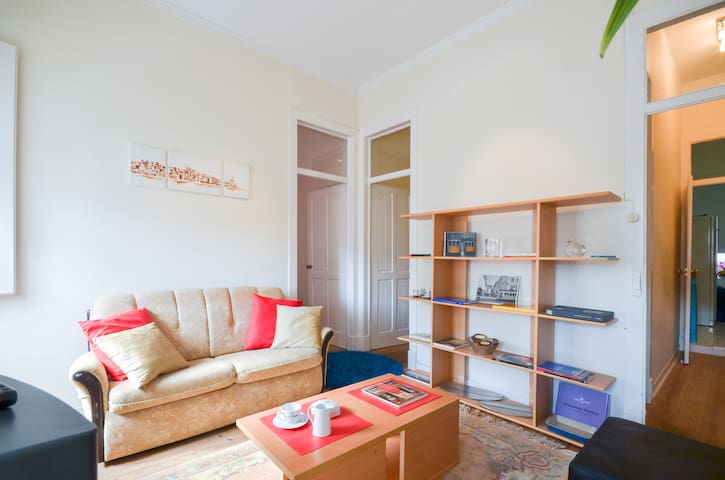 Kitnet comoda, em edifício tipico. Situado no bairro de Alcântara, a pouca distância do centro de de Lisboa. Servido de transportes, comercio, bares e restaurantes. Ideal para explorar e descobrir a cidade.
O espaço é muito acolhedor, numa área total de 28 mt2 encontra o essencial para uma estadia confortável. Espaço de refeição e cozinha totalmente equipada, área de Tv com sofá confortável e mezanino com cama de casal.
Al-kantara significa "a ponte" na língua árabe. A primeira ligação entre as margens da ribeira de Alcântara, integra, em quase metade do seu território, uma mancha verde (parte do Parque Florestal de Monsanto e a Tapada da Ajuda). Compõe-se essencialmente por prédios baixos e históricos, os alojamentos, de ocupação predominantemente residencial, são compostos por população bastante acolhedora.
Apartment is very nice, cozy and small. but very well furnished. It has everything you need. Location is close to public transport, it is easy access to go city center. Rui was very responsive before, between and after the travel. :-)
Anka
2017-01-03T00:00:00Z
Kamertype
Gehele woning/appartement
---
Type woning
Appartement
---
Geschikt voor
2
---
Slaapkamers
Lisboa, Lisboa, Portugal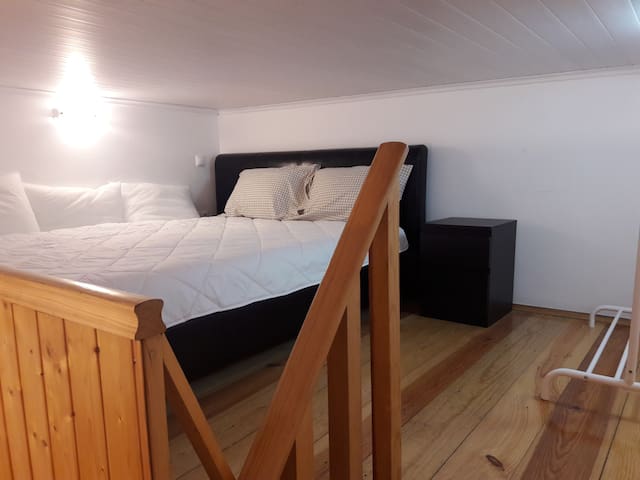 Awesome house from 19th century totally recovered. The house has 2 floors with 8 rooms, 2 living rooms and 2 open air terraces with barbecue and a big laundry. Huge living room with fire place, full equiped.
Awesome house from 19th century totally recovered. The house has 2 floors with 7 rooms, 2 living rooms and 2 open air terraces with barbecue and a big laundry.Huge living room with fire place, full equiped. This is a special house where the old style and new design meet under the same roof. There are single, doble and couple rooms. 10 minutes walking from Lusiada University, 15 minutes from Faculdade de Agronomia and 20 minutes from Universidade Técnica de Lisboa e Faculdade de Arquitetura. 
The apartment is located not far from Belém, one of the most visited places in Lisbon. You can visit Mosteiro dos Jerónimos and eat the original (and tradicional) Pastel de Belém. Also not far from the most visited portuguese museum: Museu dos coches. To reach the beach its also easy by catch the train or the boat in Belém.
We travelled with a group of friends. Pedro was really attentive, and made sure the group got installed and received the keys. The house is beautiful and it offered enough space and amenities for everyone to have an enjoyable and super comfortable time. It's ideal with its two terraces, living rooms and dining area. We walked to Belem from there in no time, and reached the rest of the city and beaches with the public transport easily. We would definitely recommend it and would love to go back!
Michael
2016-08-30T00:00:00Z
The host canceled this reservation 154 days before arrival. This is an automated posting.
Anthony
2016-11-23T00:00:00Z
We stayed in a group of twelve friends and got exactly what we expected. Nobody ever felt uncomfortable or unsafe in this neighborhood and a supermarket is just around the corner. To get to the Center, taking a Uber or taxi costs around 7€. We'd definitely stay there again.
Christof
2016-09-15T00:00:00Z
Kamertype
Gehele woning/appartement
---
Type woning
Huis
---
Geschikt voor
12
---
Slaapkamers
Lisboa, Lisboa, Portugal
Do you remember grandma's house How everything were so familiar? This apartment has the charm of the old and the comfort of the new. Get lost in a time where the details are important and the objects had their own story. Let their stories be yours.
It is a renovated apartment with two bedrooms, a fully equipped kitchen, living and dining room. For added comfort , there is air conditioning in bedrooms and living room.
The apartment is in a typical neighborhood of Lisbon, next to various services , grocery stores, supermarkets, cafes and restaurants. Is at a distance of 15 minutes walk from the Tagus river and another 15 minutes walk from the forest park of Lisbon - Monsanto.
Hôte très sympa et appartement identique aux photos. Proche dès commodités. À conseiller
Julie
2016-10-10T00:00:00Z
Nuno est très sympathique, et son appartement confortable avec de grandes chambres, une bonne literie. Il est situé près des bus et non loin du comboio ce qui permet de rejoindre facilement tous les quartiers historiques de Lisbonne ainsi que la ville de Cascai (plages). Il y a des avions qui passent la journée mais le soir et la nuit c'est calme. Nous y avons passé un excellent séjour, en profitant de l'ambiance particulier d'un vrai quartier lisboète.
sophie
2015-08-30T00:00:00Z
Nuno是一位很友善的房东,他很热心地去帮助我们解决了我们在里斯本期间所遇到的问题。他的公寓设施齐全,几乎有我们所需要的一切。Obligado, Nuno!
昱华
2016-10-27T00:00:00Z
Nuno est un hôte accueillant et qui sait mettre à l'aise ses voyageurs. Nous sommes restés une semaine. Son appartement situé dans le quartier Alcantara est conforme à la description. Il est un peu excentré par rapport au centre ville,mais la station de bus est à 5 minutes. Pour autant, je le recommande car il reste d'un excellent rapport qualité prix.
Line
2016-08-25T00:00:00Z
We were very satisfied with the apartment, it is fully equipped with everything you will need! We really enjoyed the neighborhood, do visit the LX Factory near the apartment for a drink, and do not miss the rooftop which is opens on the weekends :) Also don't miss the marina nearby for some good seafood or burgers! Thanks Nuno!!
Iason Aimilios
2016-08-17T00:00:00Z
We did not meet Nuno, instead we were met by his friend Luis who was very helpful. This is a very well renovated apartment in an old part of Lisbon. It was very near the tram at Calvario which brought us straight into the heart of Lisbon. We were very pleased with this apartment.
Marie
2015-06-28T00:00:00Z
I really enjoyed staying at Nuno's apartment and he was very helpful before and during my stay. The apt. was comfortable and quiet, which met with my requirements. I will stay here again as first choice. The apt. was withing walking distance to the Centro congress, where my event was being held.
Jim
2015-10-24T00:00:00Z
Our experience at Nuno's apartment was not a good one. We were not happy about the conditions of the apartment. It was very dirty and it looked unkept. The kitchen cabinets were greasy and they looked like they had not been cleaned in a while (dust and dirt were sticking to it.) The bathroom had mildew and mold all over, the carpets looked like they hadn't been cleaned or vacuumed in a long time. There was accumulated dust and hairs under the beds. The floors were dusty. The bottom of the kitchen cabinets were dirty too. In general, nothing there looked like it had been cleaned. Moreover, the inside of the fridge was dirty and it had opened left over food ( when I told the owner about the food his reply was that he hates to waste food. However, most of the food was half used and opened which is unsafe.) As a summary, the apartment was so filthy that we couldn't stay there and we left a couple of hours after we arrived . It would have been a nice place to stay if the apartment was kept cleaned. Also, it is far away from downtown Lisbon. All in all, I do not recommend this place.
Rebeca, Ronald and Debora
2016-07-08T00:00:00Z
Kamertype
Gehele woning/appartement
---
Type woning
Appartement
---
Geschikt voor
4
---
Slaapkamers
Lisboa, Lisboa, Portugal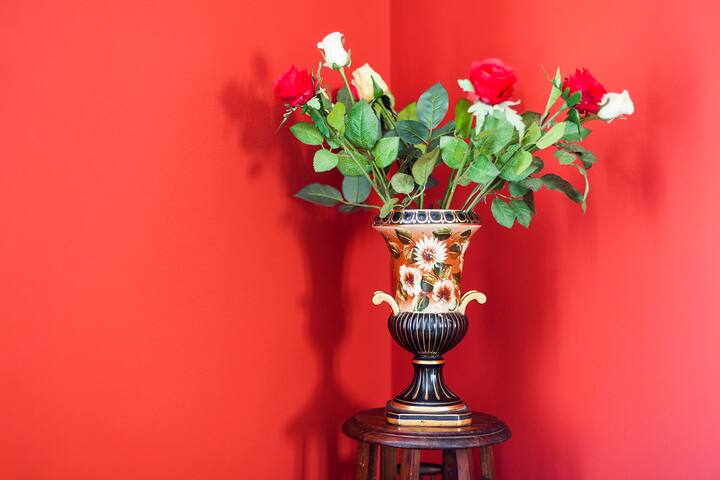 This stunning 1st floor apartment (170 sqm) is just 2 minutes walk to the LX Factory and 3 minutes from the Tejo riverside. Ideally situated between Baixa and Belem. Full CH. The apartment has a master bedroom, bathroom and study (38 sqm), 2 further bedrooms and bathrooms, a large dining room and kitchen (28 sqm) completely equipped and with original vintage Lisbon tiles. Full Central Heating (advisable in winter months) Cosy for a couple but large enough for a family or a group of friends.
The rooms and the large sitting room (33 sqm) have high ceilings and french windows to two calm courtyards, letting the sunlight in at all hours of the day! The appartment has 3 bathrooms, one with bathtub, and an independent loo. Decorated with traditional hand made tiles (some from the original building over 100 years old) a mixture of modern, vintage and antiques pieces of furniture as well as bespoke Moroccan Beniouarain rugs. The flat is an ideal base to explore town and enjoy a real typical Lisbon experience!
The so called Docas (an area with lots of restaurants, night clubs, bars, sailing school etc ) is just 5 minute walk on the river side! Beach (Costa da Caparica, Meco etc ) are a 20 minute drive. The flat is connected to down town (8 minutes journey) by several bus lines and the traditional Little Yellow Electric Tram that passes below the apartment windows. Truly charming and old Lisbon! The new electric tram to Belem passes just next to the apartment in Carveilho Square. The LX Factory and the Berrado collection are around the corner and the new MAAT museum is a 10 minutes walk. Belem tower, CCB (Cultural Center of Belem), Jeronimos Monastery are all just 15 minutes and very soon around the corner will open the Museum of Antique Art. The apartment is very well located but far from the typically tourist and noisy areas. Just opposite the apartment is a local market with fresh vegetables, fresh fish, fresh meat, a gourmet small shop as well as a supermarket.Really convenient!
Kamertype
Gehele woning/appartement
---
Type woning
Appartement
---
Geschikt voor
6
---
Slaapkamers
Lisboa, Lisboa, Portugal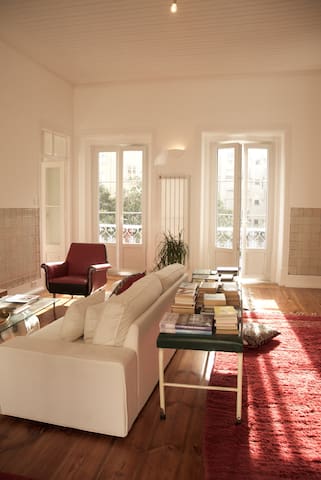 Cosy and lovely house in a friendly neighborhood in the center of the historial city of Lisbon. From there you are at a walking distance from Belem and Docas, where you can find a lot of restaurants, bars and museums. It is 10 minutes by bus or tram from Baixa, Bairro Alto and Alfama, several must known places if you wish to visit Lisbon. Also, if you ara a beach enthusiastic or water sports lover, you are just 20 minutes by train from several beaches where you can practise sports like surf.
2 bedrooms,1 living room, 1 bathroom, 1 hall and 1 storeroom. 2 amazing patios with one barbecue. Great for family dinners or just to hangout after a full day in this beautiful city.
Typic and friendly Neighbourhood alongside the river! There you can find some good restaurants with great price where you can try the tradicional portuguese food.
Ciao, sono Justine. Volevo ringraziare Manuel della sua disponibilità. Malgrado piccoli problemi all'inizio,è stato molto gentile,disponibile e carino. La casa essenziale,molto pulita e carina. Forse leggermente fredda per l'inverno.D'estate sicuramente molto meglio. Anche se non è centrale,ma facile raggiungerla coi mezzi. Comunque siamo stati benissimo. Od dziewczyn z Polski. Mieszkanie po remoncie,czyste,schludne. Bardzo polecam. Wlasciciel bardzo pomocny,bezproblemowy i usmiechniety. Bardzo nam sie podobalo.
Justyna
2017-01-31T00:00:00Z
Recommended! The house is lovely, there is lots of space. The kitchen had everything necessary to cook, and it was very clean and well organized. The beds were comfortable and there were plenty of blankets and warm things. There were also several space heaters, so we never felt cold, even though it was December. Manel was very easy to communicate with and available if we had questions. It was a great stay!
Cait
2016-12-30T00:00:00Z
perfect
tianshu
2017-01-03T00:00:00Z
Great apartment! We loved it!:)
Monica
2017-03-21T00:00:00Z
Very good and cosy place! The location is just under the bridge next to the LX factory.
Basile
2017-03-12T00:00:00Z
Manuel is a great host, he did everything to make us feel at home and the communication was very smooth. The apartment is located in a nice neighborhood, well-equipped, clean and comfortable. Highly recommended !
Ronan
2016-11-29T00:00:00Z
Casa fantástica e super confortável para uma estadia na cidade.
Isabel
2017-02-10T00:00:00Z
Excelente estadía! Manel y su mamá nos recibieron muy bien, hermoso el detalle de los Pasteles de Belem, lo pasamos genial y si andamos por Lisboa nuevamente no dudaremos en volver! Totalmente recomendado!
rene
2017-01-14T00:00:00Z
Kamertype
Gehele woning/appartement
---
Type woning
Appartement
---
Geschikt voor
5
---
Slaapkamers
Lisboa, Lisboa, Portugal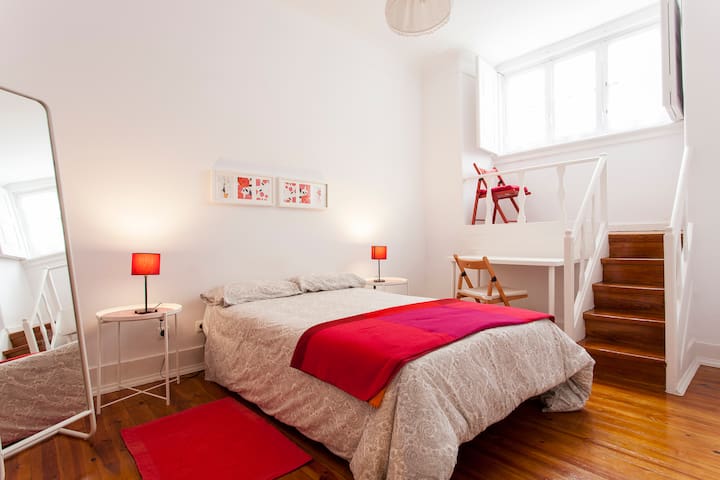 Bright studio apartment with a fully equipped kitchenette and bathroom, in a typical Lisbon neighborhood, right next to LX Factory and Village Underground Lisboa, and a 20 min walk from Belém. Train, bus and tram stations are just down the road, making it the perfect base from which to start exploring Lisbon!
Kamertype
Gehele woning/appartement
---
Type woning
Appartement
---
Geschikt voor
2
---
Slaapkamers
Lisboa, Lisboa, Portugal