Dit dorp heeft alles wat je nodig hebt. 2 bars die typische Andalusische gerechten evenals pizza's etc, een kerk, een arts en een kleine supermarkt te dienen. Het dorp is gelegen aan de voet van de bergen en op 5 minuten van Priego de Cordoba, die vele interessante plaatsen om te bezoeken is. Een mooie rustige plek om te ontspannen en weg van alle drukte van het dagelijks leven.
Het huis bestaat uit 2 verdiepingen. De begane grond heeft 3 slaapkamers, een open keuken / eetkamer / woonkamer, een badkamer, porche, zeer groot terras met trappen in de aanloop naar de tuin en het zwembad. De eerste verdieping bestaat uit 2 slaapkamers, 1 met een sofa cama. Een keuken, badkamer en een zeer grote semi overdekt terras met prachtig uitzicht over de omliggende bergen.
Het dorp is een ideale "weg van alles". Hier heb je alles wat je nodig hebt om te ontspannen, terwijl slechts 5 minuten afstand ligt Priego de Córdoba, die veel interessante dingen te zien, kerken, fonteinen, oude wijken heeft ... Het is ook dicht bij grote steden als Granada, Jaen, Málaga en Córdoba. De bergen van de Sierra Nevada zijn 2 uur rijden en de dichtstbijzijnde stranden zijn ongeveer een en een half.
Lo recomiendo 100%, la casa está genial y el trato de Danielle ha sido increible en todo momento. Repetiremos sin duda.
Álvaro
2017-04-01T00:00:00Z
Kamertype
Gehele woning/appartement
---
Type woning
Huis
---
Geschikt voor
8
---
Slaapkamers
Priego de Córdoba, Andalusië, Spanje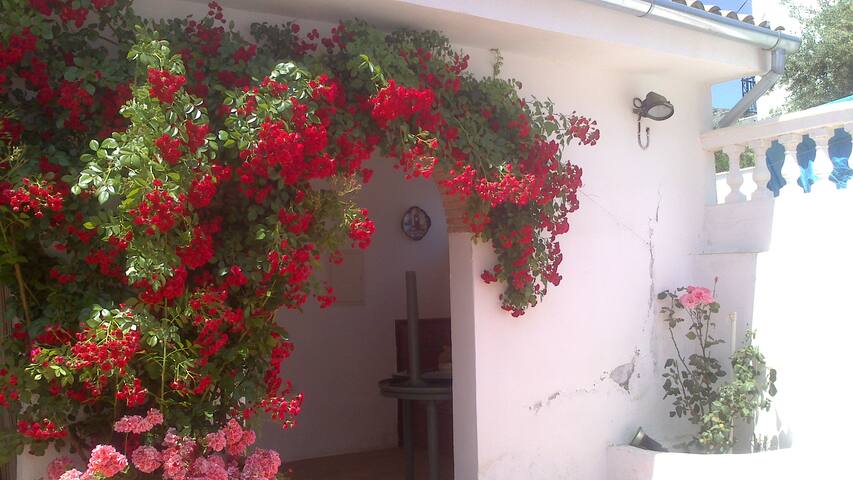 Kamertype
Gehele woning/appartement
---
Type woning
Huis
---
Geschikt voor
6
---
Slaapkamers
Priego de Córdoba, Andalusië, Spanje
Ihr Landhaus im Herzen der andalusischen (Priego de Córdoba). Kunst, Unterhaltung und Gastronomie. In der Mitte der Stadt. Der ideale Ort für zwei Paare und Familienausflüge zu bleiben. Es verfügt über zwei Schlafzimmer, WC, Badezimmer, großes Wohnzimmer und Küche.
Ihr Landhaus im Herzen der andalusischen (Priego de Córdoba). Kommen Sie, unsere Stadt in einer privilegierten Umwelt zu wissen, dass es Ihnen mit fünf Sinnen machen genießen. Genießen Sie Ihren Aufenthalt bei uns. Casa Rural Azahar, in Priego de Córdoba, kostbare Ortschaft Córdoba. Zentrale Lage, in der Nähe der Villa, Nähe der mittelalterlichen - moslem Inspiration, in der Nähe von Paseo de Colombia, die mittelalterliche Burg, die Kirche der Asuncion und dem Balkon des Adarve. Schmal und gepflasterten Straßen, weißen Fronten von Kalk und schönen sonnigen kleinen Plätzen. Es ist ein Haus neu renoviert, sechs Jahre, im Jahr 2011 für die Tätigkeit des ländlichen Tourismus bedingt. Kapazität für vier Erwachsene. Zwei zusätzliche Betten im Wohnzimmer. Auch Priego außergewöhnliche Lage (im Herzen von Andalusien) hat von Casa ländlichen Azahar ein ebenso außergewöhnlichen Ort, von dem flüchtete nach Cordoba (60 Minuten), Granada (50 Minuten) Malaga (1,30 Minuten), Sevilla (1,30 zu planen Minuten) oder Jaen (50 Minuten). Ah! Und es ist sicher, dass Sie nicht das Vorhandensein der Autos vermissen, die nicht entlang dieser Straßen passieren kann. Verfügbare Parkplätze in der Umgebung.
Das Haus befindet sich im Stadtzentrum, in der Nähe der Villa, zweifellos die Hauptattraktion von Priego de Córdoba. Ein Viertel der arabischen / mittelalterlichen Inspiration, die den Kern von Priego de Córdoba bildet.
We had a very pleasant stay in Luis apartment. The neighborhood has a lof of character. The apartment is just perfect! Luis and his wife are very friendly hosts who gave us useful information.
Toon
2016-12-29T00:00:00Z
Cómodo, limpio, propietarios cumplidores y encantadores. Hemos estado de lujo. Sin duda lo recomendaremos y repetiremos
Irene
2017-01-15T00:00:00Z
Una casa preciosa, bien cuidada, moderna y en una localización inmejorable. Luis es una persona impecable y muy amable. Todo fue genial.
Rafael
2016-11-01T00:00:00Z
The host is great. We got lost in the old town and he came to pick us up and took care of the parking space. The house is decorated with a very good taste and the same way as the other houses in a neighborhood. Beautiful place and I would like to come back.
Boguslawa
2016-05-17T00:00:00Z
Kamertype
Gehele woning/appartement
---
Type woning
Huis
---
Geschikt voor
4
---
Slaapkamers
Priego de Córdoba, Andalusië, Spanje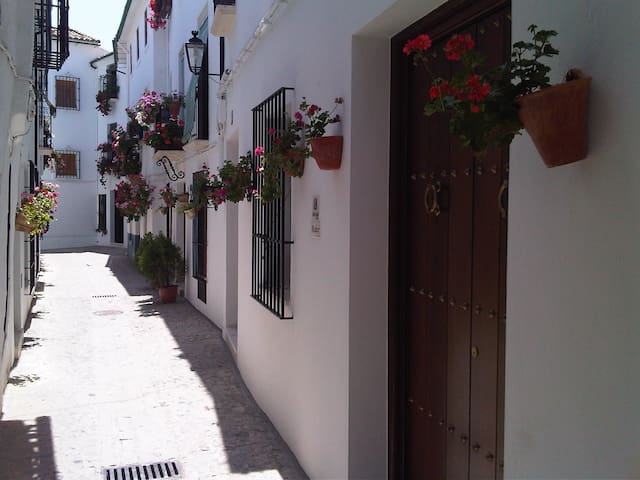 It is a set of two beautifully restored farmhouse of the eighteenth and nineteenth centuries, prioritizing the conservation of structures and specific characteristics of each space, but providing them with the highest quality and comfort of the XXI c
The Serval Pedriza is a house located in a unique area in the heart of Andalusia straddling Subbetic Natural Park and the spectacular region of Western Granada. The Serval Pedriza is located in the heart of an unspoilt area with magnificent river landscape, in a world that alternates Mediterranean mountain forest with olive seas. It is a set of two farmhouses (PHONE NUMBER HIDDEN) centuries beautifully restored, prioritizing the preservation of the structures and characteristics of each space, but providing them with the highest quality and comfort of the XXI century: Heated indoor pool (telescopic) Spa rural jacuzzi, floor heating and wooden floors, whirlpool bath and walk. Furniture unique pieces mansard roofs, integrated cabin construction, fireplaces, barbecues, wood stove, decks, outdoor patio, was, garden, oak, organic garden, plasma screens, Canal +, satellite, large play areas children and more than 5,000 m. enclosures. It has also been committed to sustainability through the use of solar panels and biomass covering the entire energy needs. First casaecorural.
Nuestras casas están aisladas en medio del campo, no tenemos vecinos.
Estuvimos toda la familia en las casas de David y solo tenemos cosas buenas que comentar. Eramos 17 incluyendo un niño recién nacido y dos ancianos y la casa cubrió las expectativas y necesidades de todos. La casa está bastante aislada y da mucha privacidad. Sin embargo está a 10 minutos en coche de Algarinejo, un pueblo muy bonito y hospitalario. La casa tiene piscina climatizada, chimeneas bastante buenas, suelos radiantes, leña siempre a disposición. Aun que fuera invierno no pasamos frío. David y su familia fueran muy simpáticos y estaban siempre a disposición. Recomendamos 100%.
Valéria
2016-12-29T00:00:00Z
Nous avons passé un excellent séjour dans cette belle maison typique au calme au milieu des oliviers. David est très arrengeant et nous a bien aidé pour notre trajet retour. Je recommande vivement.
Mathieu & Mari
2015-07-18T00:00:00Z
The host canceled this reservation 8 days before arrival. This is an automated posting.
José Antonio
2016-11-10T00:00:00Z
Superbe propriété au milieu des oliviers, avec piscine chauffée dont on a pu profiter même en plein hiver. David a mis à notre disposition du bois pour les feux de cheminée, et a été réceptif et réactif pour toutes nos (petites) demandes complémentaires. Petit cadeau d'arrivée (deux bouteilles d'huile d'olive maison) bien sympathique. Notre groupe de 15 personnes a été ravi du séjour et de l'accueil. Excellente adresse.
Remi
2014-12-31T00:00:00Z
Nous avons passé 2 semaines chez David et nous sommes ravis de notre séjour: la vue est superbe, le gîte est spacieux et agréable. Nous avons bien profité des équipements extérieurs : piscine, barbecue, spa, solarium, four à pain,potager ! Un vrai bonheur. Merci à David et son père pour leur bienveillance. Nous recommandons cet endroit et nous y reviendrons avec grand plaisir !
Virginie
2016-08-22T00:00:00Z
hola David,merci pour votre accueil chaleureux ,nous avons passe un merveilleux séjour dans votre maison,un vrai havre de paix ,votre papa Paco toujours présent et attentionné,la maison est comme sur les photos,meme mieux!!nous reviendrons volontiers pour passe encore de bonnes vacances .internet ,piscine ,tout y était ....parfait .merci encore deborah&marco
deborah
2015-10-31T00:00:00Z
David and his family are lovely, and from the moment we arrived made us feel completely welcome, doing everything they could to make sure we had the best time possible, and helping throughout the week to upkeep the house. The house is beautiful and well maintained, with space for plenty of people, and the setting is absolutely amazing. Whilst the kitchen isn't huge, it is extremely well equipped, and we had no trouble cooking for our large group. We had a wonderful time here, and would definitely return. Thank you David!
Hessy
2014-09-04T00:00:00Z
Nous avons passé un séjour très agréable en famille dans ce petit coin de paradis parmis les oliviers. La maison bien équipées, la literie est confortable. La piscine fut fortement appréciée pour se rafraîchir, et profiter de la vue sublime. David, ainsi que son père sont sympathiques et disponibles. Le seul bémol fut la présence de nombreuses abeilles, ce qui nous a empêché de profiter à 100% de l'extérieur (repas, bronzage...). Une voiture est obligatoire pour pouvoir se déplacer. Nous avons visité l'Alhambra, la fabrique d'huile d'olive qui se trouve à quelques kilomètres de la maison, découvert la cascade (en photo) et de belles vues... En résumé, nous sommes ravis d'avoir passé une semaine dans cette maison !
Lucile
2015-08-23T00:00:00Z
Kamertype
Gehele woning/appartement
---
Type woning
Huis
---
Geschikt voor
16
---
Slaapkamers
Montefrio, Granada, Spanje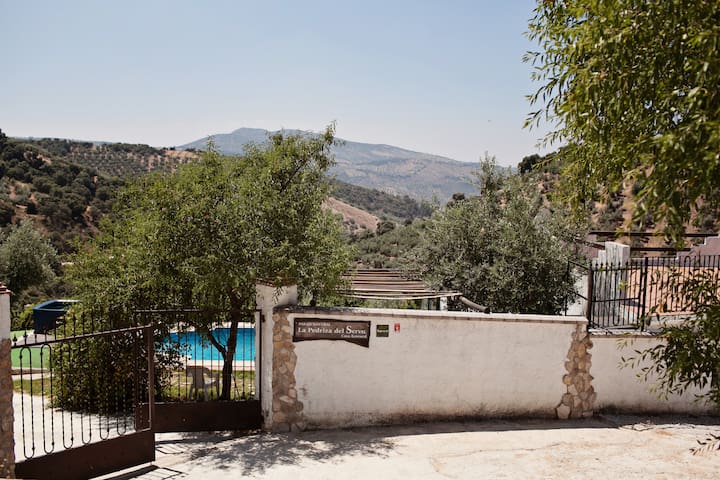 Den "Casa de la Huerta Palacio" er en indbydende og turistmæssige hus i en af de historiske neibourghoods i Priego de Córdoba Vi er kun en time væk af de vigtigste turistede steder at besøge i Andalussia. Når du har besøgt vores dejlige landsby
Den "Casa de la Huerta Palacio" er en indbydende og turistmæssige hus i en af de historiske neibourghoods i Priego de Córdoba, i en kort gåafstand af alle de vigtigste interessante seværdigheder i landsbyen, som: "Carnicerias Reales", "Barrio de la Villa "og" Castillo de Priego ", og snart den nye" Museo Arqueológico ". Huset er klar til kortere eller længere ophold, med plads til 2 personer, et soveværelse, badeværelse, stor spisestue / stue område, andalusisk stil gårdhave og en terrasse, hvor du ville være i stand til at nyde de rolige og solrige aftener. Placeret i udkanten af slottets mure, den ydmyge kvarter af "Huerta Palacio" med sin "Belen" kirke, breder sammen væggene i retning af de gamle slot kolonihaver og videre til "Adarve" balkon, efter gamle stier fulde af figen og granatæble træer.
Paco heeft ons prima ontvangen en gezorgd dat er genoeg informatie was over de omgeving. De koelkast was gevuld met de eerste benodigdheden, heel attent. het huisje was in deze tijd van het jaar, met 5 graden, wat koud, het is een prima huis voor in de zomer.
Marie Jose
2016-02-19T00:00:00Z
Warme welkom door Paco zelf. Deed er alles aan om het ons naar de zin te maken. Mooie woning, knus en persoonlijk.
Annette
2016-05-19T00:00:00Z
Nous avons passés 6 jours chez paco : l'appartement est très agréable, fonctionnel et a proximité du centre. Nous vous le recommandons comme point de départ pour visiter Cordoue, Grenade et les petits villages alentours, ainsi que le doux parfum de l'huile d'olive.
estelle
2014-09-10T00:00:00Z
Sehr herzlicher und zuvorkommender Empfang durch Paco. Das Haus ist sehr empfehlenswert: sehr sauber, wohnlich und mit wundervollem Blick über die Olivenhaine von der Dachterasse aus. Danke!
Claudia
2015-09-08T00:00:00Z
La experiencia ha sido genial por esta encantadora casa en Priego de Córdoba. El anfitrión fue encantador, atento, y de lo mas servicial. Nos atendió muy amablemente y nos dio varios consejos sobre el pueblo. La casa es completísima y no le falta de nada.
Alberto
2015-10-25T00:00:00Z
He estado junto a mi pareja en este alojamiento y hemos estado muy agusto. El anfitrión muy amable, la ubicación céntrica y la casa limpia y cómoda. En general, buena calidad-precio.
María Dolores
2017-03-12T00:00:00Z
We had a great stay in this bijou house in Priego de Cordoba. It had everything we needed for a week's stay in a beautiful part of Andalusia. It's just on the edge of the old quarter of the town, where we spent a lot of our time, and the town is perfectly situated for visiting some of the other parts of the region, such as Granada and Cordoba. It's very easy to park nearby if you have a car. The outside terrace is a great bonus, and lovely to sit out when the weather is warm, but be aware it is up some very steep steps! Paco was a great host. He met us at the apartment and showed us how everything worked - including the air conditioning in the lounge and bedroom, essential in the hot weather we had!
Marie-Louise
2016-06-15T00:00:00Z
Paco has a nice little but efficient place in the center of Priego. He gave us good information and a warm welcome. Although we had bad weather at the time of visiting, we had a nice stay in this beautiful and peaceful city.
Stefaan
2016-05-08T00:00:00Z
Kamertype
Gehele woning/appartement
---
Type woning
Huis
---
Geschikt voor
2
---
Slaapkamers
Priego de Córdoba, Andalusië, Spanje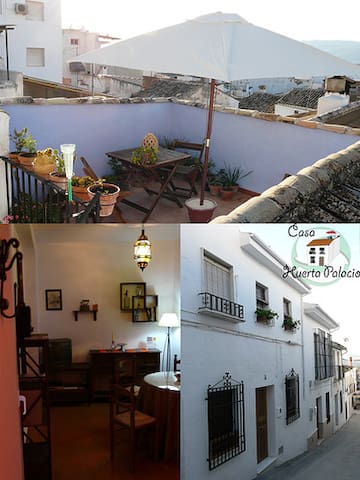 La casa está genial, muy limpia, equipada y con diferentes espacios. Es muy bonita, tal como se ve en las fotos. Ubicación inmejorable. Además, Ángeles es encantadora, teníamos parking privado, y nos dejó algunas cosas para comer al día siguiente. Deseando de repetir!
Vanesa
2014-12-09T00:00:00Z
We just returned from a fabulous 10 day break in Preigo de Cordoba. Casa del Rey is a delightful home which has everything you could need, a real "home from home". Our host Angeles is lovely and was always available if needed. The accommodation is right in the heart of the old town next to a beautiful square within easy walking distance of fantastic restaurants and a promenade overlooking a valley of olive groves with magnificent views. Idyllic! The town is well placed for exploring quaint andalusian villages and not too far by car from Cordoba and Granada.
Mary
2015-07-24T00:00:00Z
Kamertype
Gehele woning/appartement
---
Type woning
Huis
---
Geschikt voor
9
---
Slaapkamers
Priego de Córdoba, Andalusië, Spanje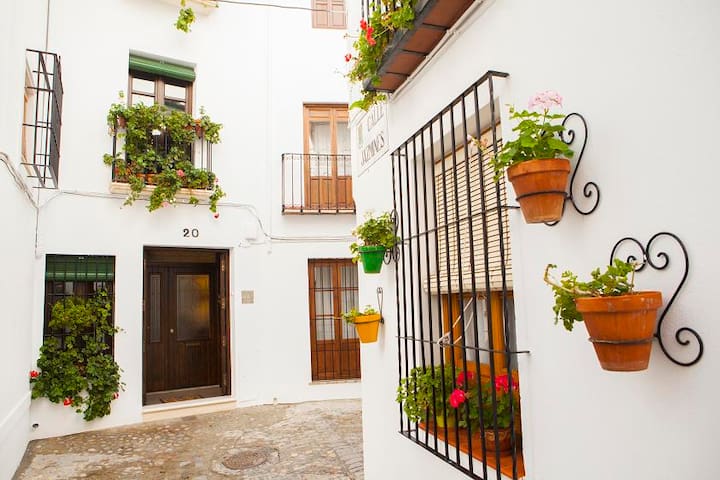 Our Cottage is located in the best area of Priego, just the historic center (Barrio de la Villa) and excasos minutes walk from the main tourist attractions. In addition, its position on the balcony of Adarve gives superb views of the mountains of Albayate, Sierra Leones, Sierra Palomeque and all hortofrutícula vega of Priego de Córdoba
The proximity of the house to the main attractions of the city, less than 200 meters from Paseo de Colombia, Castle City (restored and visitable) and the parish of Our Lady of the Assumption, among others, lets forget his vehicle during his visit to Priego de Córdoba. A few minutes walk from the Baths of Villa (2 '), shops and restaurants (4') and municipal pools Salt River (10 ')
Priego de Córdoba is a town of winding, narrow streets and white and adorned with geraniums which was declared a Historic-Artistic in 1972. There are many reasons to fall in love Priego, his Cordovan Baroque (s XVIII.) Offered visitors represented in different religious monuments Priego: Shrine of the Assumption, Chapel of Jesus Nazareno in the Church of San Francisco, plasterwork of the Church La Aurora, among others, its Fuente del Rey, its medieval castle, its incredible scenery, charming villages, festivals and traditions (fairs, Sunday May, his emotional Easter ...) for its excellent cuisine (the pickled meats, salmorejo the scrambled collejas, flamenquines and magnificent breakfast with fried AOVE or ham toast and orange juice tejeringos ...)
Nous avons passé 3 nuits dans la casa rural Las mejores vistas de Priego. Notre séjour en famille y a été agréable. Le site de la vieille medina de Priego est magnifique. La ville elle-même est charmante et très animée ; elle est parfaitement située à mi-chemin entre Grenade et Cordoue. La maison bénéficie d'une vue imprenable sur les oliveraies et les montagnes alentour. Organisée sur 3 niveaux, la maison offre un hébergement calme et confortable, adapté pour 6 personnes. On peut stationner aisément à proximité avec la carte de résident. Seul bémol : l'équipement de la cuisine est quelque peu réduit. Une bonne adresse en définitive.
Nicolas
2016-04-25T00:00:00Z
Alicia was very helpful and the place was wonderful. It exceeded our expectations. We will definitely stay there again!
Fred
2016-08-17T00:00:00Z
We had a great welcome in Priego and we were shown where all the shops and facilities were. This is a great location and it was wonderful to live like a local. The apartment was just as described, and if anything it exceeded our expectations. We made great use of the roof terrace with its great views. Alicia was great with all communication prior to our arrival, and Lourds who met and farewelled us was very sweet and helpful. We would definitely stay here again, and highly recommend the property.
Philip
2016-06-24T00:00:00Z
Lovely house in a great location in a special town, would come back
Tom
2016-10-26T00:00:00Z
Location of Alicia's house is unique and perfect. It is in the ancient and most picturesque area of Priego de Cordoba, el Barrio de la Villa. However, it lies on the edge of the Barrio (Balcon del Adarve), where the town fronts onto the valley. So, you have a wonderful view and plenty of light. Priego de Cordoba, besides being a charming small town, is a perfect location for visiting the region, being halfway between Granada and Cordoba. The house is very nice and cosy. You have a very small patio at the ground floor, one at the middle floor, close to the kitchen, and a rather large, liveable terrace at the last floor. The living room is very nicely equipped, and it has two door windows from which you can enjoy the view. The house has 3 air conditioning machines, one for each floor, which make the house very comfortable. Alicia and her friend Lourdes were incredibly helpful and friendly. They provided us with all we need and quickly answered to our requests, and always with a smile. Alicia even helped us after we left Priego, during our subsequent stay in Granada. She's a special host and person! We highly recommend Alicia's house. We will surely come back.
Antonella
2016-05-19T00:00:00Z
This was the perfect place to stay, both because of the unit itself and because of the hospitality of Alicia and her associates. When we arrived we were greeted at the front door, shown the property, given instructions on where to park, eat, things to see, etc--all top notch and very helpful. Alicia also made it very easy to 'check-out', and is an all-around excellent hostess/owner. The unit itself was also above and beyond what we expected--the pictures do not really do it justice. It was spacious and updated, in an amazing location, and with STUNNING views--without a doubt the perfect spot for our trip and for yours as well.
Michael
2016-09-13T00:00:00Z
Very clean, authentic decor, nice location for walking. Lots of room for 3 couples with some privacy. Great, quiet part of town.
scott
2017-02-09T00:00:00Z
Kamertype
Gehele woning/appartement
---
Type woning
Huis
---
Geschikt voor
8
---
Slaapkamers
Priego de Córdoba, Spanje
Our house is located in a village 10 km from Montefrío, included in the top10 of the most beautiful villages in Spain by National Geographic. Here you can enjoy wonderful views of the olive groves, give a dip in the pool and enjoy the tranquility.
Our house is located in a singular spot, away from the madding crowd. Ideal to unwind and relax. Overlooking the olive groves that characterize our area.
The best thing about the house is its natural environment. Your stay will be wonderful if what you want is to be in contact with nature, get away from the big city and discover the Andalusian countryside.
Emilio et sa fille Mara sont plus que fidèles a la réputation des andalous ils sont remplies de bonté de gentillesse ,et de bienveillance bref des personnes très très agréables les lieux prêtes a un dépaysement total , le calme, une vue splendide sur les oliveraies, l'intimité est totalement préservé . en plein mois d août nullement besoin ne serais que d'un ventilateur la maison est d'une agréable fraîcheur de jour comme de nuit et la piscine est très très rafraîchissante un barbecue avec du bois fournit qui n'apparaît malheureusement pas sur les photos un vrai régale! merci Emilio et Mara et à bientôt j'espère ps: je vous recommande vivement l'huile d'olive de la coopérative de Montefrio
ichem
2016-08-09T00:00:00Z
Er hat uns abgeholt und gut unterstützt!!
Ali
2016-08-31T00:00:00Z
Kamertype
Gehele woning/appartement
---
Type woning
Huis
---
Geschikt voor
8
---
Slaapkamers
Montefrío, Es, Spanje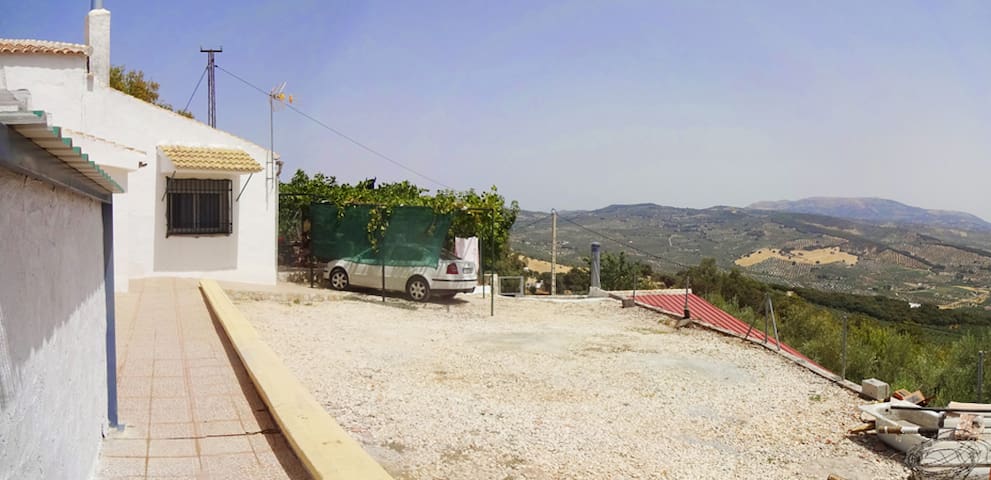 Nuestro lugar está cerca de la antigua ciudad de Alcalá la Real (que significa ciudad fortificada) utilizado por los árabes como una línea de defensa contra las incursiones vikingas y Norman y más tarde contra el avance cristiano hacia Granada. Janice y yo compró la propiedad hace 10 años, mientras que trabajan y viven en Dubai y ahora restaurado y ofrece un destino de vacaciones para aquellos de ustedes que disfrutan de un entorno pero con las ventajas de tener las comodidades de una ciudad cercana país.
La casa tiene 4 cuarto de baño independiente y habitaciones privadas todas con vistas al patio central. Las habitaciones son cómodas y bien equipadas con excelentes instalaciones de calidad, ropa de cama y colchones. Podrá descansar en la comodidad y privacidad.
Nuestra zona es campo abierto entre los olivares y cerezos pero están a sólo 8 km de la ciudad de Alcalá la Real, con todas las comodidades de cualquier ciudad pequeña y moderna.
Kamertype
Privé Kamer
---
Type woning
Huis
---
Geschikt voor
2
---
Slaapkamers
Alcalá la Real, Andalusië, Spanje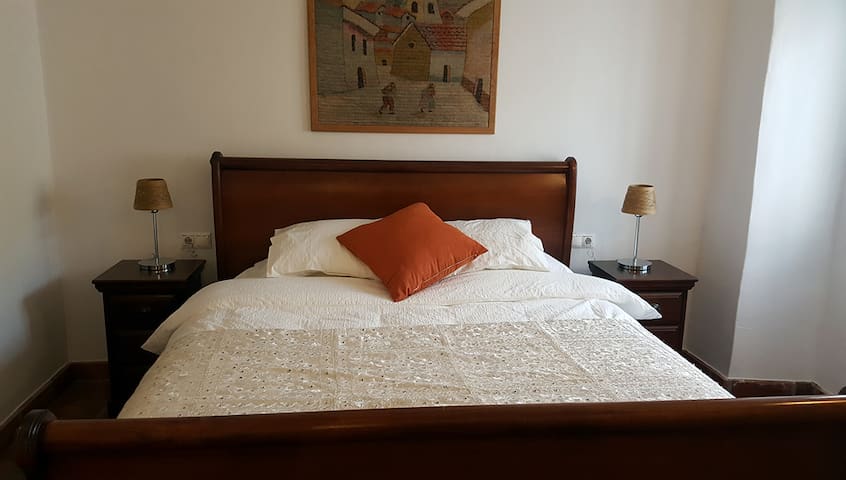 My accommodation is good for families (with children).
Kamertype
Gehele woning/appartement
---
Type woning
Huis
---
Geschikt voor
8
---
Slaapkamers
Priego de Córdoba, Andalusië, Spanje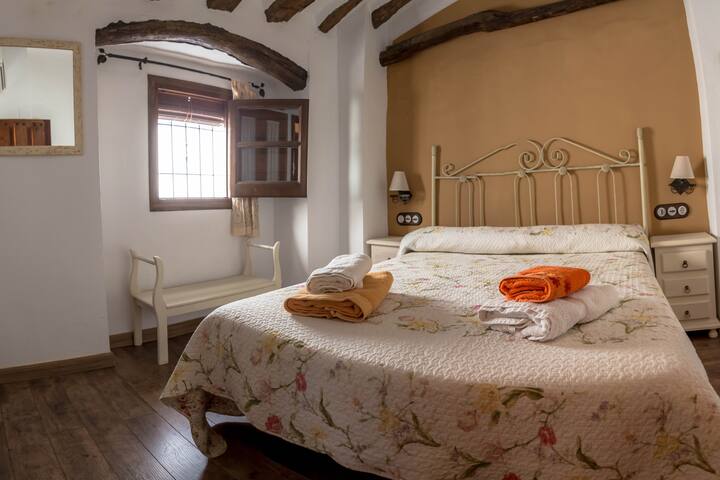 La oferta es para la casa totales para un máximo de 9, todo incluido. Las instalaciones incluyen Internet, piscina, jacuzzi, barbacoa, gimnasio, mesa de billar, y estacionamiento para 5 coches. La ubicación es muy rural..12min de Alcalá La Real.
Nuestra experiencia en CasaQuince fue genial. Keith nos recibió estupendamente y se preocupo en todo momento de explicarnos todo lo que necesitábamos para que nuestra estancia fuese lo mejor posible. Lo recomiendo 100%
Carmen Belén
2016-08-01T00:00:00Z
Kamertype
Gehele woning/appartement
---
Type woning
Huis
---
Geschikt voor
10
---
Slaapkamers
Alcalá la Real, Andalusië, Spanje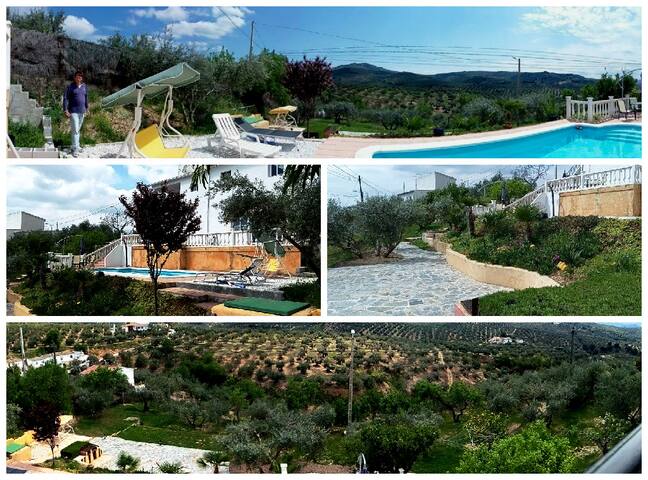 Kamertype
Gehele woning/appartement
---
Type woning
Huis
---
Geschikt voor
3
---
Slaapkamers
Priego de Córdoba, Andalusië, Spanje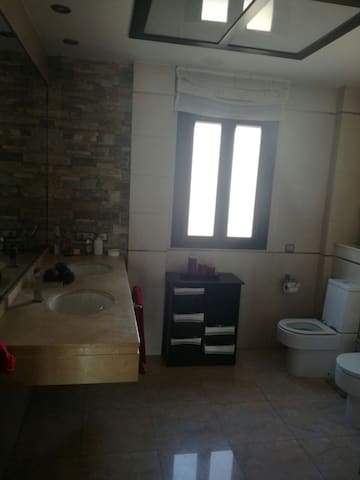 Belle Log Cabin usage exclusif, sans partage. Profitez de toute la cabine et leurs terrasses, jardins avec lac artificiel, et une grande piscine. petit-déjeuner en option 5 € par personne et par jour. Personne supplémentaire: 15 € par personne et par nuit.
CABAÑA usage exclusif, sans partage. L'atmosphère dans la campagne, jardins et piscine privée, décoration, le confort rend un séjour inoubliable, personne supplémentaire: 15 € / personne / NOCHE.Máximo 6 personnes. Chauffage et climatisation.
Le chalet est situé dans une belle propriété avec des animaux, ferme et verger. Deux chalets de notre propriété sur 50-100 mètres. A 1 km du beau village de Zagrilla et à 5 kms de Priego de Córdoba, la belle ville d'eau et baroque
Es war alles wunderbar, leider konnten wir wegen des schlechten Wetters den wunderschönen Pool nicht nutzen. Die Kommunikation mit Manuel war wunderbar und sehr freundlich, er holte uns sogar persönlich ab, damit wir uns nicht verfahren. Es gab frische Eier und wir konnten sogar direkt dort eine Reitstunde nehmen. Wir waren sehr zufrieden.
Johannes
2016-04-14T00:00:00Z
Kamertype
Privé Kamer
---
Type woning
Huis
---
Geschikt voor
2
---
Slaapkamers
Priego de Córdoba, Andalusië, Spanje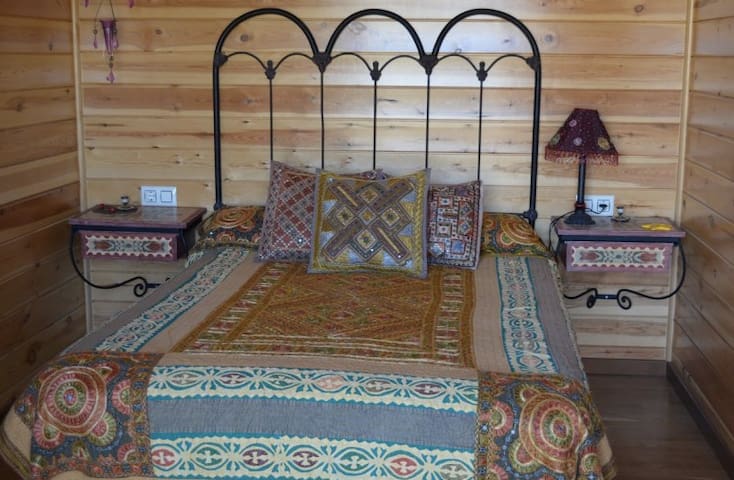 Mijn ruimte is vlakbij parken. Mijn ruimte is geschikt voor stellen, gezinnen (met kinderen), grote groepen en harige vrienden (huisdieren).
Kamertype
Gehele woning/appartement
---
Type woning
Huis
---
Geschikt voor
12
---
Slaapkamers
Montefrío, Andalusië, Spanje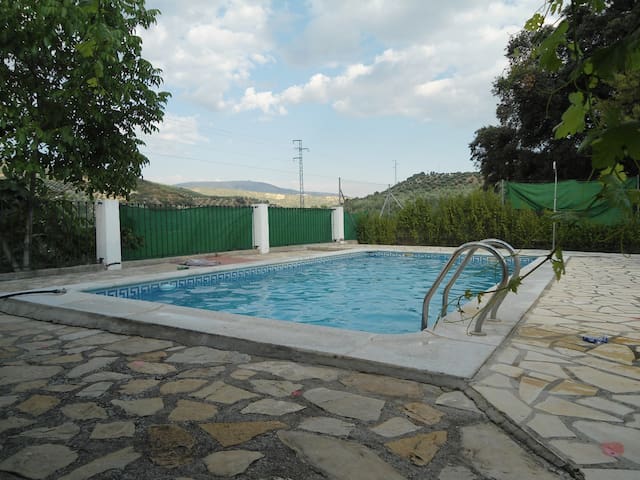 The Pedriza is a rural house situated in a unique location in the heart of Andalusia straddles the Natural Park Subbética and spectacular region of Western Granada. indoor heated pool, outdoor hot tub, wi-ffi, fireplace ...
David nous a très bien accueilli et nous nous sommes tout de suite senti a l'aise, la maison est superbe , encore mieux que sur les photos!
Maëlys
2015-08-10T00:00:00Z
Mi familia y yo estuvimos en la propiedad de David unos dias y lo pasamos muy bien. Tuvimos un problemilla con el agua caliente y con la televisión, pero David lo arregló bastante rápido! Paco, el padre de David, es un señor muy amable y nos recibió estupendamente! Nos ha gustado mucho! Estar lejos de la ciudad, desconectar y disfrutar de la piscina con unas vistas increíbles! Gracias por todo, David!
Cíntia
2015-09-07T00:00:00Z
The host canceled this reservation 63 days before arrival. This is an automated posting.
Alejandro
2016-10-28T00:00:00Z
The host canceled this reservation 26 days before arrival. This is an automated posting.
Maria
2016-11-10T00:00:00Z
Kamertype
Gehele woning/appartement
---
Type woning
Huis
---
Geschikt voor
14
---
Slaapkamers
Montefrío, Andalusië, Spanje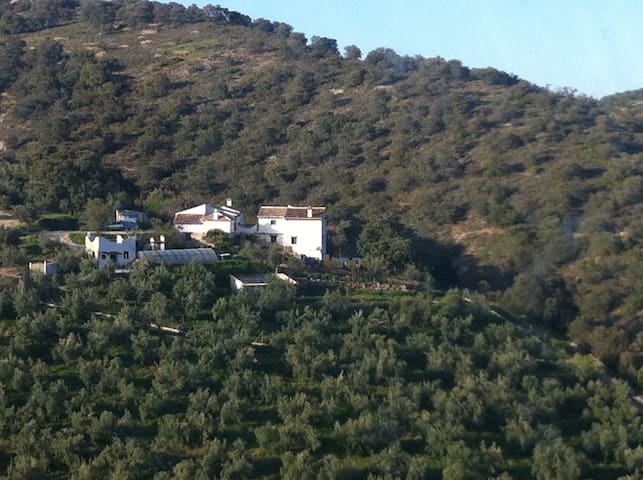 De traditionele watermolen, omgeven door de natuur op een full house regime, prive zwembad, WIFI. Het ligt in het hart van Andalusië, halverwege tussen Cordoba, Malaga en Granada.
Geweldige vakantie molen in het hart van Andalusië, badend in haar eigen ontluikende kristalheldere water dat in de Morales rivier stroomt, rivier die vele ongerepte watervallen voor natuurlijke baden op het platteland heeft, met pittoreske dorpjes op slechts een paar kilometer afstand, zoals: Algarinejo , Montefrio, Iznajar en Priego de Córdoba. Een uur en een half rijden van de steden Baeza, Ubeda, Ronda, en de prachtige stranden van Malaga, Granada (Alhambra) en Cordoba (moskee). De molen is ideaal voor groepen van 2-10 personen vanwege de grote kamers geschilderd in warme en gezellige kleuren waar natuurlijke materialen zijn gebruikt. De inrichting is geraffineerd en met een grote aandacht voor detail. De traditionele smaak van de bouw op basis van steen, hout en modder herschept een gezellige en warme sfeer verborgen achter de dikke muren van grote ramen, bestaande uit twee verdiepingen en een terras met een bewoonbare oppervlakte van 250 m². Buiten is er voldoende ruimte om te spelen voor de kinderen in de natuurlijke grasveld en tuinen om te wandelen of lopen. Er is voldoende parkeergelegenheid voor auto's. De accommodatie, die de oorspronkelijke structuur van de meelfabriek behoudt bestaat uit twee verdiepingen: de begane grond decennia geleden opgedragen om brood te maken, behoudt intact de oorspronkelijke machine geïntegreerd in een ruime woonkamer met open haard en een goed uitgeruste kleine keuken met een zeer speciale oude broodoven. Op deze verdieping vindt u een van de slaapkamers met een badkamer met douche, wastafel, toilet en föhn te vinden. Boven vindt u een slaapkamer, drie slaapkamers, badkamer met ligbad, wastafel, toilet, woonkamer met satelliet-TV, DVD, een tafel voor spelletjes voor kinderen en een volledig uitgeruste keuken. De accommodatie biedt gasten een volledig uitgeruste keuken in het buitengebied bij het zwembad, die het verblijf maakt nog comfortabeler. Naast de keuken is een tuinhuisje waar men kan een warme maaltijd en of een romantische avond onder de sterren kunt genieten. De accommodatie beschikt over alle apparatuur en keukengerei die nodig is voor een verblijf met alle voorzieningen. Alle buitenruimtes zijn ontworpen voor rust en recreatie, lezen, kletsen of stille contemplatie van het landschap. Het terras biedt uitzicht op de bergen met uitgebreide olijfboomgaarden en de rivier waarvan de cursus loopt langs de Mill.
De omgeving van de molen behoudt de oorspronkelijke uiterlijk van een landelijke omgeving waar de gasten rust en ontspanning te vinden. U vindt paden langs de rivier naar rond het huis lopen of zelfs naar beneden lopen naar het dichtstbijzijnde dorp op ongeveer 4 km afstand, die Algarinejo om een heerlijke tapa te genieten en te drinken. Het huis ligt afgelegen, maar er zijn andere eengezinswoningen ongeveer 25 meter afstand van de plaats.
Ook wij hebben enorm genoten van ons verblijf in the mill!! We werden verwelkomd door gans de familie en kregen een uitgebreide rondleiding door Pino en Pedro. Ze zijn ontzettend lief en proberen alles te doen om je vakantie zo fantastisch mogelijk te maken. De binnenkant van het huis is welliswaar iets kleiner en donkerder dan op de foto's,maar er is nog steeds meer dan voldoende ruimte en je leeft natuurlijk voornamelijk buiten. De slaapkamers en de keukens zijn gezellig, netjes en volledig uitgerust. (linnengoed en handdoeken zijn ook aanwezig) Vooral de buitenkeuken en het zwembad (met heerlijke ligbanken!) zijn super!! Dit was absoluut de favoriete plek van onze 3 jonge kinderen. Een andere topper zijn de prachtige natuurlijke watervallen op 5à10 minuutjes wandelen!! De kinderen konden er naar hartelust spelen midden in een adembenemend landschap! Het dichtstbijzijnde dorpje, Algarinejo, is een lieflijk dorpje waar je al het belangrijke terugvindt: supermarkt,bakker,tapasbar,barretjes,restaurant,apotheker,dokter,... Priego de Cordoba,Granada,Malaga en Cordoba zijn allemaal gemakkelijk te bereiken op max 1,5u rijden met de auto. De molen is dus ideaal gelegen om te kunnen genieten van deze Andalusische parels! Je moet wel rekening houden met de slingerende wegen, maar ook zij dragen bij tot de charme van de streek. Je zit midden tussen de olijfbomen en kan op 200m van de molen ook heerlijke olijfolie kopen. Alle mensen zijn supervriendelijk en uiterst behulpzaam,hoewel ze meestal enkel Spaans spreken! Wij willen Pino en Pedro (en Pino,Paula en Daniella) hartelijk danken voor de warme ontvangst en hopen dat we ooit terug kunnen komen!!!
chris
2016-06-05T00:00:00Z
Ons verblijf in de Casa Molina was heerlijk. Het is een heel verzorgd verblijf met veel mooie hoekjes en kantjes. Het is ruim en gezellig ingericht. Wij hadden prachtig weer en hebben vooral rondgehangen in de zwembadzone. Er zijn 3 keukens in het domein, maar wij gebruikten enkel de keuken aan het zwembad. Alles was aanwezig, inclusief bed en bad linnen. Het domein biedt voldoende privacy. Er zijn enkele gezellige dorpjes in de buurt. De eigenaars zijn ontzettend vriendelijk en hebben ons enorm geholpen om onze bagage geleverd te krijgen. Pino praat prima Engels en is steeds bereid om ter beschikking te staan, ook al wonen ze meer dan een uur weg. Een echte aanrader! Zowel met één gezin als met een aantal gezinnen. Wij hopen alvast nog eens te kunnen terugkeren.
Lien
2015-06-07T00:00:00Z
Pino and Pedro's house was absolutely fantastic. We had an incredible time enjoying the huge spaces and idyllic surroundings. The house is kitted out with everything you need, and Pino and Pedro are extremely generous and friendly, as our their charming children. We would heartily recommend a stay here.
Tom
2016-09-25T00:00:00Z
Wow, this place is fantastic. Pino made us feel really welcome and was so friendly. She even bought us a welcome pack with some cheese and rioja and a home made cake! The house is a great getaway in the middle of the Andalucian hills but we had no trouble finding it. We were lucky enough to have beautiful sunshine but with the open fire and plenty of chopped wood, the house would have been perfect in colder times to. The kitchens were really well stocked, the beds and pillows were really comfortable and the rustic charm of the place made it a unique, exciting and relaxing place to be. The pool area was having some work done but Pino had ensured the workmen were not there during our stay. My friends and I would definitely book the mill again!
Clara
2015-04-02T00:00:00Z
Pino's brother, Pedro, and his parents met us at the place. They were very friendly, helpful and full of stories about how the mill worked in the old days. The place is very charming, full of antiques and pieces from the flour milling days yet is up to date with tasteful art on the walls and several kitchen and indoor and outdoor dining options. There is a wonderful hike following the steam down to the nearby town which also boasts a great gourmet restaurant. This is altogether a great get away place for an extended family or group of friends.
Douglas
2015-04-28T00:00:00Z
We had a lovely stay at the Mill. Pino and Pedro were wonderful hosts. Easy to communicate with, friendly and helpful. We were four adults and five kids from 1 - 5 yrs old. Even though it was up towards 40 degrees celcius during most of our stay, the Mill kept a comfortable temperature as long as we followed Pinos guidelines. There is no AirCon, but still the Mills natural construction kept us comfortably cooled (only assisted by two fans on the hottest days). The main building is large and comfortable, but for us the greatest plus was the small kitchen-house and the pool-area. This is where we spent almost all our time. Wonderful in the morning, theough the day and after the kids had gone to bed. We ate wonderful food from the GastroPub La Huella. We recommend the Mill and would love to go back.
Jo
2015-07-22T00:00:00Z
Pino and Pedro's house is wonderful. We had a great week staying there and enjoying the place. The molino looks even better in real life then the pictures show it, which is quite a challenge! The swimming pool area is great to hang around and do nothing all day... We will come back as soon as we have the opportunity!
laura
2014-10-18T00:00:00Z
Pino and Pedro are very welcoming and spent a lot of time with us explaining the ins and outs of the molino and the surrounding area. All the praise in the previews reviews is genuine and well deserved. The only two things that bothered us during our stay are the restrictions on internet usage and the extremely twisted roads which made traveling to major attractions in Andalusia not very convenient. I would highly recommend a stay at the molino, especially if you're planning to stay put and disconnect from the world for a few days.
Neah
2015-05-31T00:00:00Z
Kamertype
Gehele woning/appartement
---
Type woning
Huis
---
Geschikt voor
10
---
Slaapkamers
Montefrío, GRANADA, Spanje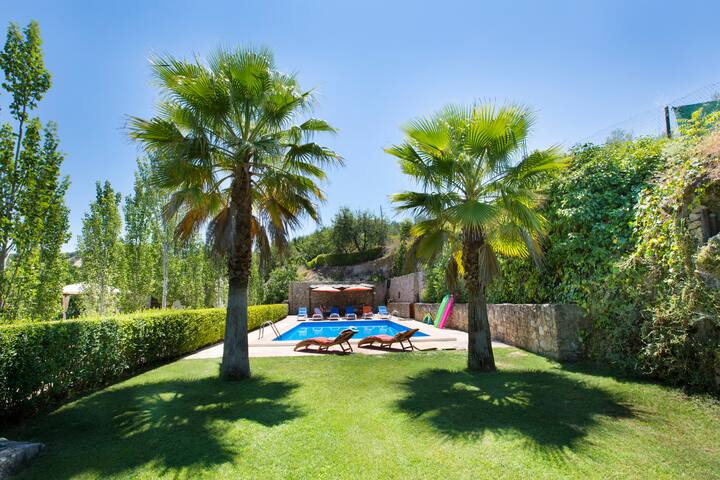 Ons huis, in het centrum van Andalusië, naast een waterval van meer dan 25 meter hoog, met zwembad, Smart TV, tafelvoetbal, tafeltennis, hangmatten, darts, barbecue, een klein speelhuisje, enz .. zal iedereen verrukken.
Vertaling gemaakt met (SENSITIVE CONTENTS HIDDEN) traslator. De landelijke woning grenst aan Tajil Morales stroom, een waterval van 50 meter 20 meter hoog, naast het dorp van Algarinejo, maar de term Montefrío. Een een uur rijden van de steden van Antequera (El Torcal), de prachtige stranden van Malaga, Granada (Alhambra) en Cordoba (moskee). Het huis is volledig gerenoveerd door ons in de afgelopen 4 jaar. Het heeft twee verdiepingen en heeft een bewoonbare oppervlakte van 140 m². Op de begane grond is de woonkamer met open haard, twee banken, satelliet-tv en een tafel met acht stoelen. Onmiddellijk na een keuken met wastafel, wasmachine, oven met kookplaat, grill, paella en Rosco gasfornuis, koelkast, vriezer, vaatwasser, koffiezetapparaat, haardroger, strijkijzer en strijkplank. Naast de eetkamer is er een badkamer met douche, wastafel en toilet. Een slaapkamer met een tweepersoonsbed (150 cm x 190 cm), garderobe en verwarming in dezelfde fabriek. Vanuit de eetkamer is toegankelijk via een trap naar de eerste verdieping en naar de buitenkant houten huis. Er is een klein terras met uitzicht op het zwembad. Vanaf het terras, naar het zwembad en barbecue buitentrap. Vanaf hier kunt u ook toegang tot de grot was, waar woonde de oude bewoners van het huis. Op de eerste verdieping is er een kleine speelkamer met darts, tafelvoetbal en kaartspellen, heeft ook een slaapbank voor 2 personen. Naast de game room is een slaapkamer met een stapelbed en een eenpersoonsbed (1,05 mx 1,90 m, onder deze kunt u een vierde bed te trekken. Aan de andere kant van deze verdieping is de master bedroom met een tweepersoonsbed ( 1,50 mx 1,90 m), met TV, DVD en een grote kast. In deze ruimte kunt u een kleine extra bed of een reiswieg toe te voegen kan worden verstrekt indien gevraagd. beide kamers zijn voorzien van airconditioning. Tussen de twee slaapkamers is de badkamer met douche, toilet, wastafel en haardroger. Buiten is er voldoende ruimte voor maximaal vier auto's. Onder een veranda zet een paar schommels voor de kinderen, tafeltennis. Benadrukt het zwembad (4m x 5m) met stoelen en paraplu. Open mei-oktober. We hebben ook een barbecue, houtoven en al snel. Vlak achter het huis is een grot (ongeveer 50m²). Daar willen we een jacuzzi te installeren in de toekomst, hoewel we op dit moment buiten het huis hebt geïnstalleerd. Het gebruik van deze faciliteit is 50 € minimum of verblijf € 12 per dag, moet voorafgaand aan uw aankomst (elektriciteit, schoonmaak en schoon water) worden aangevraagd. In de tuinen is er een klein houten huis voordeel van een kleine grot, waar kinderen veilig kunnen spelen en dat kan worden gecontroleerd uit dezelfde grote zaal. Van mei tot september, zaaien groenten: tomaten, aubergines, komkommers en nog veel meer. Er zijn mogelijkheden van het gebruik 2 mountainbikes. Als eerste activiteit is om hen te adviseren van het huis het pad van beken en molens. Plus wat meer dat je kunt zien op de website van het VVV-kantoor, een bezoek aan de VVV-kantoor Algarinejo geopend van donderdag tot zondag, waar de Nuria beste route die vanuit onze accommodatie kan worden genomen, de fiets zal adviseren te voet of met de auto. Wij raden u niet verlaten zonder te proberen het degustatiemenu restaurant in Algarinejo piolas Huis, 3 km, de waarde is geweldig, de beste die ik ken. Of bezoek het restaurant Footprint, ook in Algarinejo, waar ze zielsveel wordt begroet. Noch de Swamp Iznajar, minder dan een half uur, waar u kunt watersporten beoefenen mag missen. Naast Iznajar, Rute dorp, beroemd om zijn zandkoekjes, en geesten, waar u musea Ham, Anis, de Polvoron, etc, waar ze met proeverijen van hun producten werden begroet is volledig gratis kan bezoeken. Veiligheid Pin, rondleiding door de Necropolis de la Peña de los Gitanos Montefrio gedurende 3 uur lopen. Moeten contact opnemen voordat met Paquita Toñi om de benoeming te verkleinen. We raden een bezoek aan Priego de Cordoba tot 19 km, onlangs uitgeroepen tot het mooiste dorp in Spanje, waar u de Barrio de la Villa, de monumentaliteit van de beste barokke Andaluz in hun kerken, en de Adarve Fuente del Rey kunt bekijken. In Almedinilla tot 19 km, bezoek dan een van de best bewaarde Romeinse villa's die bestaan in Andalusië en haar Ecomuseo Caicena River, in de buurt van de watervallen van de paardestaart, en bevolkt Ibero Cerro de la Cruz. Wij raden een bezoek aan de verlaten Macht Cessna 12 km Pueblo. Het is een perfect uitje van 's middags naar de ruïnes van wat eens een klein dorpje op de heuvel naast de Iznajar reservoir te bezoeken. Een 15 minuten rijden van het huis. In de meer recente geschiedenis kan worden gezegd dat in 1940, de oude stad, nu bekend als de "Las Fuentes Old", werd begraven in een deel als gevolg van een aardverschuiving geleid door een grote regenbui die ervoor zorgde dat de virtuele vernietiging dorp en talrijke slachtoffers. In 1963 en na een tweede, vergelijkbaar met de ramp in 1940 werd gestart met een plan om een nieuwe stad te bouwen in een minder gevaarlijke plaats. De locatie uiteindelijk gekozen was La Hoya de las Viñas, in de voorkant van de Sierra del Alcornocal. Door 1966 de bouw van het nieuwe dorp werd voltooid, met tweehonderd huizen, een kerk en een school. Op ongeveer 82 km is Antequera, waar naast de stad kan, bezoek dan een van de meest indrukwekkende geologische formaties van Zuid-Europa, "El Torcal de Antequera" specifiek in Villanueva de la (URL HIDDEN) zoals de megalithische bouwwerken Megna en Viera (Archidona). Een beetje ver van ons huis is: De stranden van de Costa del Sol in Malaga 120 km De stad Cordoba, met de moskee of Medinat Alzahara 120 km. Het Alhambra in Granada, 85 km. Eerst moet je tickets online te krijgen, niet op het monument verkocht. U moet tickets te boeken op zijn minst een paar maanden van tevoren, zijn ze snel uitgeput. En tot slot, raden wij aan om de steden van Ubeda en Baeza in Jaén 145 km bezoeken. Heritage Cities van de Mensheid.
Vertaling gemaakt met (SENSITIVE CONTENTS HIDDEN) traslator. Het huis is geïsoleerd, de dichtstbijzijnde buur is 25 meter.
Dit was een supertoffe vakantie! De eigenaar stond ons bij aankomst al op te wachten en bleef tijdens het hele verblijf beschikbaar om onze vragen te beantwoorden. Dankzij de eigenaars hebben we ongelofelijk lekker gegeten in Algarinejo, hebben we het Alhambra bezocht en heeft onze dochter paardgereden. De plek is uniek: afgelegen maar wat een mooi landschap + een authentiek huis, een zwembad, een waterval. Onze 3 kinderen vonden het een topper en wij voelden er ons thuis. Een dikke merci!
evelyn
2014-11-03T00:00:00Z
Vriendelijk en behulpzaam. Zijn ons voorgereden naar adres.Hadden een cake gebakken ter verwelkoming.Een heel gezellig familiehuis in een mooie omgeving.
Marianne
2015-10-21T00:00:00Z
Superbe !!!! Nous avons été extrêmement bien accueillis, la disponibilité de Sady et Eli pendant notre séjour était extra, ils se sont même chargé de nous commander une paella auprès d'un reste du village. La maison répondait parfaitement à ce que nous recherchions ; à savoir du calme et du confort. L'endroit est paisible, la vue magnifique et Algarinejo (le petit village à 3km) est extrêmement accueillant. Nous reviendrons c'est certain !!!! -------------------------------------------------------------- Muy muy bien !!!! Estábamos muy bien recibido , la disponibilidad de Sady y Eli durante nuestra estancia fue genial ! La casa encontró lo que queríamos, tranquilidad y confort. El lugar es muy tranquilo, hermoso y vista Algarinejo (el pueblo hasta 3 km) es muy acogedor . Volveremos seguro !!!! Gracias a vosotros !
raphael
2015-04-26T00:00:00Z
We had a wonderful and relaxing time at El Tajil. The house is beautiful and has everything one could need (the family uses it as their vacation get away and you can see they love and care for it). The location is great for exploring Montefrio and surrounding areas; we did some of that but enjoyed the house so much that we ended up spending a lot of time just lounging on the hammocks, cooking, walking along the river into town, and watching the sun set over the mountains. We met Sady, her husband and three sweet children when we arrived and they showed us how to work various in the house; inevitably, we didn't get to everything but Sady was incredibly responsive with texts - it never took her more than 10 minutes to answer a question. Wonderful people and a wonderful house which comfortably sleeps seven (we were just two but hope to drag some friends back for another visit when the pool is open). My only recommendation would be to put in wifi since the cell service at the house is spotty.
Dan
2014-04-12T00:00:00Z
A big thank you for the use of your beautiful home. It was holiday much needed and the house was more than accommodation for the whole family, to keep 3 teenagers happy 2 under 7´s happy while the adults still manage to relax is a job well done. Thank you! We thoroughly enjoyed staying there and we are already looking at dates to come back. I would not hesitate to recommend this house to anyone who wants total relaxation and fun for the whole family whatever the age. Hopefully will be back soon.
Catherine
2015-06-28T00:00:00Z
Casa espectacular, comoda, grande, con todo lo necesario para no salir de la casa y su terraza, de su jacuzzi, de su chimenea, la verdad que lo que diga se queda corto, repetiremos seguro!
Christian
2016-12-04T00:00:00Z
Our stay at El Tajil was one of the best holidays we have ever had. When we arrived it was a cold and wet night (by Spanish standards), but the fire was on in the living room and the heating on in the bedrooms, making it nice, cosy and inviting. The rest of the week couldn't have been better: Breakfast on the deck each morning, afternoons cooling off in the pool, BBQ every night served under the canopy and then a little soak in the hot tub as the sun went down over the mountains. In fact, we only went out a couple of times and were perfectly happy to frequent the perfectly stocked local Supermarket in the village and eat in each night. Which to be fair, is a lot easier when you have a two year old in tow! Who, incidentally, loved the play house. The villa itself is quiet, private, has beautiful views and every amenity your family could need. And whats more, it was spotless. We have taken villa holidays before and found the homes to be covered in dust, damp or mold, but this was immaculate and we felt right at home, straight away. Would we recommend this home to anybody else? Without a doubt! Whether you go with a family of any age, a group of friends or just a couple looking for a quiet break, El Tajil has everything you could possibly want. Would we go back? Definitely!
Katie
2016-05-21T00:00:00Z
We absolutely loved El Tajil. It's a beautiful home in a wonderful setting. If you're looking to get away and relax then this house is perfect. We felt immediately at home there - it's been lovingly furnished and it's very well equipped. We didn't want to leave! Sady and Ele are fantastic hosts and we felt very welcomed. They waited for us to arrive, despite our late arrival on the Saturday, left us with an abundance of fruit and veg from their trees and veg patch, and spent time showing us around, explaining how everything works and talking us through the local area. Ele then dropped by in the week to do a bit of tidying and garden maintenance and left us with a delicious bottle of olive oil! The place and setting is very photogenic - we took lots of photos (Sady - we can email some over if you like?). It's as stunning as it looks in the pics, if not more! There's also a new larger table in place of the one in the pics (between the house and pool) and we spent lots of time there - eating, reading and just hanging out. If you do go, we urge you to take a walk through the river to the local town, Algarinejo. It was a highlight of the holiday - lots of fun wading through the (mainly knee high) water and it's incredibly beautiful.
Jaime
2014-07-27T00:00:00Z
Kamertype
Gehele woning/appartement
---
Type woning
Huis
---
Geschikt voor
8
---
Slaapkamers
Montefrío, Andalusië, Spanje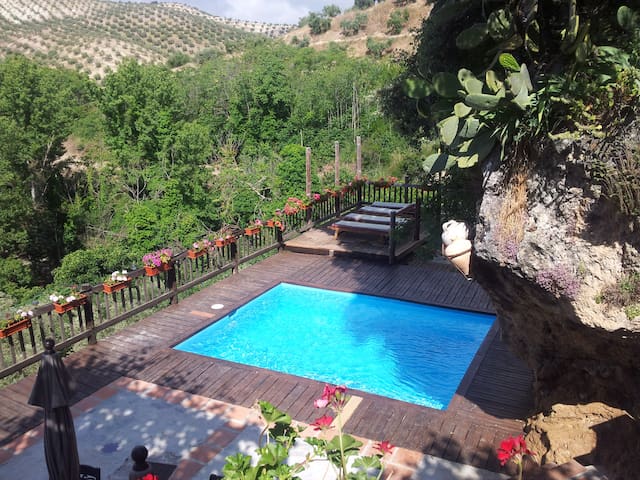 Almedinilla - Airbnb
:
Gemiddeld

4.39

van

5

sterren op basis van

106

gastrecensies
1

–

18

van

47 Huizen te Huur