We loved staying at the Mt. Guardian guest house. It was so cozy, comfortable, private and clean. Perfect for a relaxing and romantic getaway from the city. We loved the fireplace! It was so nice to have a glass of wine, cozy up to the fire and look out onto the beautiful mountain views. The place has everything you could need and is very well thought out. We realized we didn't have milk and olive oil and Harvey was more than happy to oblige us, what stellar hosts! We also really appreciated that there was a small speaker in the cottage, it makes a real difference. We will definitely be back, hopefully soon!
Amy
2017-01-14T00:00:00Z
Harvey and Linda's cabin is beautiful, bright, and incredibly well designed. The view from the cabin was one of the best highlights of weekend! They were terrific hosts and provided very helpful instructions for our stay. We can't wait to return.
Lillian
2017-02-05T00:00:00Z
The place is gorgeous! Really ideally located to be close to stuff but also a little remote. Beautiful birds and wildlife (I saw a doe!) about! The place itself was so beautiful, had every amenity you could need, and smelled of cedar t want to leave!
Natasha
2017-01-29T00:00:00Z
Everything you need for a quiet romantic getaway! Close enough to venture out and explore the area but just far enough to getaway to peace and quiet. Will definitely stay again.
Jessica
2017-02-17T00:00:00Z
This place feels like home. My girlfriend and I like it, not to mention our dog likes it too. There's many rules to follow, but I guess that's reasonable. Harvey is very helpful. The view is fabulous! There's a Tibet temple nearby, if anyone interested can check that out. Overall, we enjoyed staying at this lovely place.
xinyao
2017-01-19T00:00:00Z
My wife and I wanted to get away from the noise and commotion of the city. This cabin is beautifully secluded with a wonderful view. Harvey and Linda are great hosts who give you plenty of privacy, but are available if you need anything. We will definitely stay here again.
Omar
2017-02-20T00:00:00Z
The newly renovated place was modern yet cozy. They had amazing coffee and tea waiting for us and were very friendly/easy to get to if needed. The bed was super comfortable and the view was great.
Lauren
2017-01-16T00:00:00Z
The Mt Guardian Cabin is a cozy Catskill gem! The cabin faces west with an incredible view of the mountains. The cabin is up the road from the Town of Woodstock. Cool evening sunsets warmed by the cabin fireplace. At dawn, I sipped my coffee on the porch as light snow fell; the morning light illuminating the vast mountain landscape.
Michael
2016-12-05T00:00:00Z
Kamertype
Gehele woning/appartement
---
Type woning
Houten huisje
---
Geschikt voor
2
---
Slaapkamers
Bearsville, New York, Verenigde Staten
This is the third time that I've rented this home in the Bearsville/Shady/Woodstock area. The house is spacious, the property beautiful, and the hosts are very responsive. There's room to enjoy your other guests and room to find some solitude. I love the kitchen addition area with the wall of windows (equally striking in each of the three seasons I've experienced there) and the big swing in the woods was what drew me back for this last visit. That probably reads as ridiculous, but once you give the big swing a go, you'll know... you'll know.
kurt
2015-06-09T00:00:00Z
The house was charming and spacious! But be careful going down those stairs! Before we arrived about a foot of snow had fallen. Grey informed me that someone would be coming to plow it and when we arrived it was all cleaned up for us. The kitchen and outdoor spaces were amazing, it's really a beautiful home.
Mike
2017-01-01T00:00:00Z
Great location in a really homely place. Would definitely recommend for any one to stay.
Joshua
2017-02-20T00:00:00Z
I stayed with six of my friends at Grey's vacation home for a long weekend in early October and we had a wonderful time. Our favorite part of the house was the kitchen, a relatively new extension that served as a cozy gathering space for dining and recreation. As advertised, the house is well stocked with cooking utensils, oils, spices, and the like, and we appreciated the clean linens and towels, dish soap, shampoo, and laundry detergent. Although we were disappointed that we could not use the pool - the $500 cost to heat it was prohibitively expensive for our group - we found other things to do like play board games and hike the nearby Overlook Mountain trail. As residents of the New York metropolitan area, we had to get used to the sulphur smell in the water but by no means were we bothered or concerned. As other reviewers have suggested, the photograph collages do not fully capture the listing's beauty and charm: a private rustic farm house in the woods with access to modern conveniences. The owner's eclectic Americana design taste may not appeal to all - the animal hide rugs were especially curious - but these furnishings help give the home a distinctive character and personality. We will remember our fall retreat for a long time to come. Thank you to Grey for sharing his home with us and for being such a gracious host. We would love to come back.
Stephen
2016-10-10T00:00:00Z
My friends and I spent another wonderful weekend enjoying Grey and Julie's lovely Bearsville home. With enough space for 10 adults (and 3 pups) to cook, lounge, and enjoy the grounds, it has become a favorite vacation spot for us! Looking forward to enjoying many more stays there :)
Carolyn
2015-07-06T00:00:00Z
Grey and Julie really have something special here. The setting is private, yet close town making quick trips possible, and the house is modern in the ways it needs to be, with plenty of rustic touches. The pictures truly do the property justice. The pool, creek, woods, and fire pit kept us occupied throughout the weekend. Separately, Grey was incredibly accommodating and responsive throughout the process. I would definitely rent again.
Dan
2015-08-10T00:00:00Z
My friends and I rented the Woodyhouse to celebrate my birthday and it was everything we could have wanted and more. The home has an ideal design and set-up for entertaining with the large, modern kitchen which opens up onto a covered outdoor dining area. Continuing on you will find the large, beautiful pool and sunning deck - perfect for a relaxing afternoon. The rooms were well-situated and the beds very comfortable. You can even hear the rushing water of the stream on the property from some of the bedrooms, which is extremely soothing. We took advantage of all the properties amenities including the great tree swing in the woods behind the house, the trampoline in the yard and the gorgeous stream that is easily accessible from the stone pathway in front of the house. Grey and Julie were extremely kind and have made getting to and enjoying the home a simple and smooth process with their detailed directions and house guide. I would highly recommend this rental and I'm sure we will return again ourselves!
Amanda
2014-07-22T00:00:00Z
The pictures don't do the house justice. We were a group of 8 ladies in our 30s, and we loved everything about the house and its surroundings. The interior of the house is decorated tastefully, and has a lot of character. It's also fully stocked with all the essential (and then some) tools you'd need to prepare a meal. Outside the house, the pool, of course, is amazing, but so is the quaint cabana by it. It was also a pleasure to sit around the fire pit at night making s'mores, while hearing the sounds of the running creek just steps in front of the house. We also loved walking into the woods and using the swing, as well as jumping on the trampoline! There is just so much to do for fun and relaxation here. We never met in person, but Grey is a friendly host who checked in to make sure all was going well. I'm already planning my next rental here!
WEN-TING
2014-07-14T00:00:00Z
Kamertype
Gehele woning/appartement
---
Type woning
Huis
---
Geschikt voor
10
---
Slaapkamers
Bearsville, New York, Verenigde Staten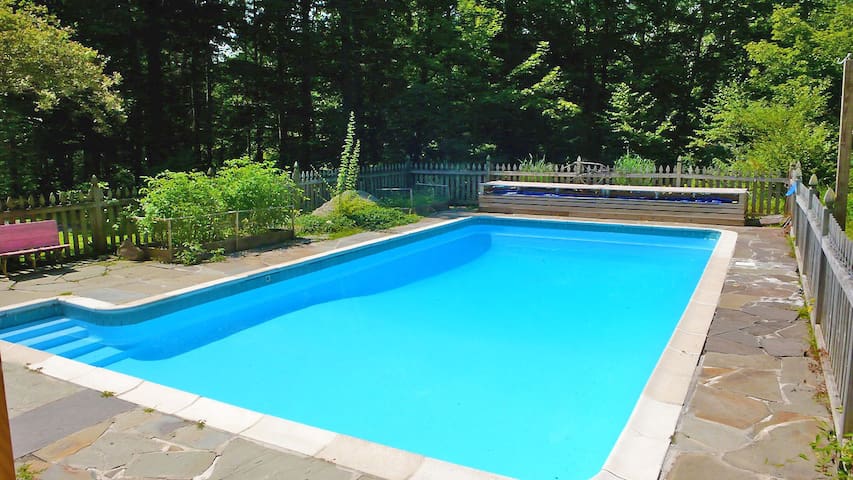 Kamertype
Gehele woning/appartement
---
Type woning
Huis
---
Geschikt voor
4
---
Slaapkamers
Bearsville, New York, Verenigde Staten
My girlfriend and I spent a few days in Woodstock, tucked away in Johanna's cottage. The location is secluded and peaceful, but still close to town (only a 5-10 minute drive). The cottage is small but really all we needed for our long weekend. Johanna was extremely accommodating for our stay, and equally helpful with advice on things to see, eat, and drink. Even though the cottage is just below her house, we definitely had all the privacy we needed. We highly suggest stopping in The Red Onion restaurant on the other side of town for dinner. Oriole 9 has great brunch/breakfast/lunch all day. And great wine tasting is just South in New Paltz. Also highly suggested is stopping in at River Rock Health Spa for a massage to really relax and unwind. Thanks Johanna!
Andrew
2013-10-14T00:00:00Z
The Cooper Lake cottage was very cute. We had everything we needed to enjoy our stay. The house was clean, user-friendly and very close to town. Johanna, the host, was very easy to communicate with and got back to us via email very quickly.
Meghan
2016-07-10T00:00:00Z
Johanna's cottage was very nice and was an easy, short drive into Woodstock, shops and close to local hiking trails.
Robert
2016-10-23T00:00:00Z
Johanna was a pleasure to deal with and had great communication. She sent an email full of ideas for our trip. Due to work, we were unfortunately not able to make the trip, but we plan on making it there soon!
Andy
2016-08-14T00:00:00Z
Johanna's place was great, and exactly what we wanted! The location is perfect, very secluded but only a couple of minutes away from town driving. The cottage is adorable, very clean, and the bed is VERY comfortable. Also, they have the sweetest dog that roams the property. Even though Johanna lives up the hill on the same property, it was still a very private stay. We would definitely come back again, thanks Johanna!
Erin
2015-11-08T00:00:00Z
Johanna was a gracious host. I did not get to meet her but she gave us very clear directions and great tips about the local town and things to do. We had a lovely time. The cottage was perfect for our stay. Thank you!
Sara
2015-09-22T00:00:00Z
We had a wonderful 4th of July weekend at the cottage - and will definitely plan to return! The cottage is incredibly cozy and set-up on a beautiful property - very green and private. Johanna very sweetly left us a delicious loaf cake upon arrival and gave my boyfriend some awesome hiking suggestions as well. We enjoyed eating out on the porch and using the little BBQ provided - even our typically grumpy Chihuahua enjoyed himself! Definitely a top-rate spot!
Rachel
2014-07-07T00:00:00Z
We really enjoyed our stay at Woodstock Cooper Lake. It's very quiet and only a mile and a half or so from downtown Woodstock. It's at the end of a beautiful meandering dirt road with plenty of deer grazing throughout the woods. The cottage is very quaint with a nice open floor plan, it's clean and the bed is super comfortable. Our host was very friendly, available, and also gave us our privacy. I would definitely recommend Johanna's place to a couple or someone traveling solo.
Ryan
2015-08-17T00:00:00Z
Kamertype
Gehele woning/appartement
---
Type woning
Houten huisje
---
Geschikt voor
3
---
Slaapkamers
Bearsville, New York, Verenigde Staten
Quiet, secluded, but close to town. This was a perfect getaway spot with very comfortable beds, 2 full baths (essential for a crew of 6) . 2 in-house fire places and 1 fire pit were great for cozy nights and mornings.
mark
2017-01-02T00:00:00Z
The home is beautiful and very centrally located to the wonderful town of Woodstock. The kitchen was open and easy to use, and the information provided was very accurate. There is a fenced in backyard which was great for us. We had a wonderful time staying here!
Amanda
2016-12-27T00:00:00Z
Susanna
2017-02-19T00:00:00Z
Kamertype
Gehele woning/appartement
---
Type woning
Huis
---
Geschikt voor
8
---
Slaapkamers
Bearsville, New York, Verenigde Staten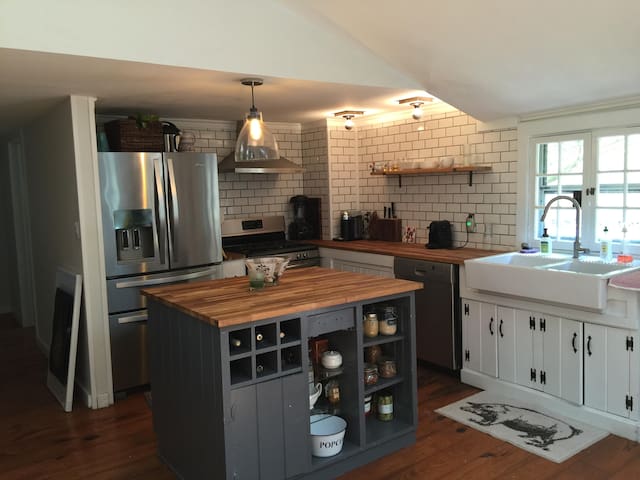 This was our second time staying at the cottage and was just as lovely and cozy as our first stay! We have already suggested our friends stay here during our wedding weekend in August!
Kelli
2017-03-26T00:00:00Z
The host canceled this reservation 136 days before arrival. This is an automated posting.
Daniel
2017-03-29T00:00:00Z
Picturesque views both indoors and outdoors. Highly recommend staying for a long weekend and cutting off the world.
Kelli
2017-03-12T00:00:00Z
Kamertype
Gehele woning/appartement
---
Type woning
Huis
---
Geschikt voor
6
---
Slaapkamers
Bearsville, New York, Verenigde Staten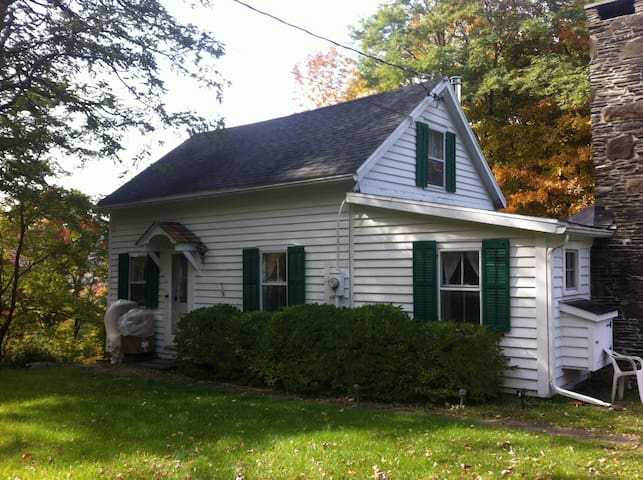 Velkommen til Chez Charlize! Skridt til Cub Marked, Commune Saloon, Bear Cafe, Bearsville Teater til morgenmad, cocktails, live musik og middag. Eller køre til vandreture, svømning huller eller antikvitetsforretninger. Nyd det enorme køkken, smukt lys, stor have, film og gårdhave spisestue. Tag familien til en genforening. Comfy, klassiske, kreative og ren, Chez Charlize er det perfekte hjem til din ferie til vidunderlige upstate NY. På NYC busrute. God til par, familier (med børn), og små hunde.
Charlize er en meget rummelig bolig med masser af naturligt lys. Der er en privat kontor bør du har brug for det. Vi har inkluderet en mobiltelefon booster også som service kan være mangelfulde heroppe. Terrassen og haven område er guddommelige til spisning og sjov. Du har også en formel spisestue og en vintage køkken spisebord som sidder i morgensolen. Køkkenet er fuldt udstyret og klar til dig at lave lækre måltider eller bage en kage, hvis du vil! Stuen er stor også med et fladskærms-tv og et sted at spille din musik. Eller om vinteren kan du lave en ild i pejsen og hyggelig op med varm chokolade. Der er en stor mudder rum bør du komme hjem med ski eller vandreture gear og har brug for at disrobe. Vi har altid te og kaffe til dig sammen med badeværelsestilbehør som øre rengøringsmidler og bomuld vaskeklude, ansigt vask, body wash, shampoo / balsam og hårtørrer. Smukt renoveret med mousserende trægulve og smarte møbler, er du sikker på at nyde den plads og føle på denne vidunderlige hjem. Skulle du have spørgsmål, vi har et hus leder, der er en lokal og kan hjælpe med næsten alt!
Vi er lige ved siden af den berømte Bear Cafe ... jep, kan du gå der på under fem minutter og har en NYC værdig middag, mens du ser åen rush af ((URL HIDDEN) Vi er også inden for gåafstand af kommunen Salloon ( (URL HIDDEN) som har et poolbord, sjove cocktails og en udendørs brand pit med smores kits. Der er den Bjørn teater for levende musik (be(URL HIDDEN) og endelig den lille bjørn restaurant for stor kinesisk mad. Alt dette inden for en kompleks og en fem minutters gang fra Chez Charlize! .. som er sjældne her og meget nyttigt, når cocktails er involveret, eller de løber tør for parkering under et stort navn bånd på teatret! Du kan også køre fem minutter og være i hjertet af Woodstock, som har restauranter og cafeer og søde butikker. Eller køre lidt mere for andre kvarterer. Bare spørg os, vi har gjort det hele.
Newly renovated and well furnished house. Very clean upon arrival. Very short drive into Woodstock. Would definitely come back!
James
2016-08-14T00:00:00Z
Justin was very quick to respond and accommodating in making our arrangements. I was easy for guests to check in and have access to the house. There were amenities to accommodate 6 of us. The house is about 40 min to Hunter mountain and 5 minutes to the town of Woodstock. It was perfect for an overnight stay.
Alexandra
2017-02-20T00:00:00Z
Lovely stay. Only a few minutes drive from Woodstock and in a very serene setting. Fully stocked kitchen, hairdryer, and coffee at the ready. This was a great place to escape from the city for a day.
Heather
2016-10-02T00:00:00Z
Lovely house in a great location, just as described. The heat was not working when we arrived (end of October) and the house was very cold. Justin and his assistant responded quickly to my texts and got the problem fixed, however it is a large house with a lot of windows and we didn't feel it warmed up in the house until the morning. We were given a bottle of wine as a gift, but I would have preferred a gift of firewood for the fireplace... there is one in the living room and a fire pit outside as well which is fun... We were surprised that the house has 2 lovely tv's but no cable or satellite. Everything else was perfect and I would recommend this house to anyone!
Allison
2016-10-30T00:00:00Z
Justin was very quick to response to my questions. The house was beautiful. quiet and nice. when we arrived, there was a deer welcomed us. what a nice surprise!!!
Chifei
2016-10-09T00:00:00Z
This is an ideal location to take a deep breath. It is walking distance to the Bearsville Theater and restaurants. The home was very clean and the photos are accurate and truly represent the peacefulness of the home and surroundings. Very Cozy! Great food walking distance! The hosts are great!
Dan
2016-11-26T00:00:00Z
The place is very large and spacious and nicely decorated. We loved having a fireplace and the big open kitchen. Would stay here again.
Elizabeth
2016-10-22T00:00:00Z
The house was spacious, clean, and in a great location. We would recommend this Airbnb for anyone spending time in Woodstock!
Kaitlin
2016-09-04T00:00:00Z
Kamertype
Gehele woning/appartement
---
Type woning
Huis
---
Geschikt voor
6
---
Slaapkamers
Bearsville, New York, Verenigde Staten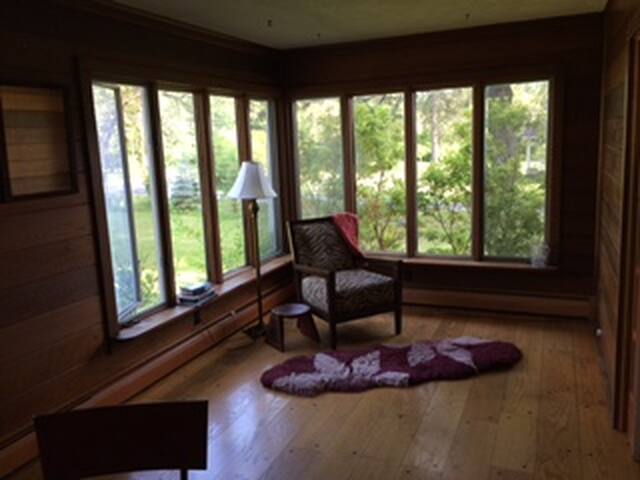 Kamertype
Gehele woning/appartement
---
Type woning
Huis
---
Geschikt voor
6
---
Slaapkamers
Bearsville, New York, Verenigde Staten
Will and I came to the Catskills for a relaxing getaway and we definitely got what we were looking for staying with Young Mi! She is so friendly and welcoming, she goes above and beyond to make sure we were comfortable. Her home is surrounded by nature, furnished beautifully and not too far from Woodstock. I would definitely come back! :)
Tamara
2017-02-20T00:00:00Z
Young Mi was a truly wonderful host with a beautiful home filled with her pottery and art. She gave us some great recommendations for the area and we had some lovely conversations about her work and shared about our lives. She is such a warm and gracious person and it was an a great experience all around. I would recommend a stay at her place to anyone looking for some peace and relaxation- made all the better by being surrounded by the mountains and stunning great outdoors of upstate NY.
Shirley
2016-11-05T00:00:00Z
Kamertype
Privé Kamer
---
Type woning
Huis
---
Geschikt voor
2
---
Slaapkamers
Bearsville, New York, Verenigde Staten
We (5 ppl) rented this house for 4th of July weekend and we had a great experience! Tasso's wife greeted us when we arrived and gave us great recommendations for restaurants and activities in the area. The house is very beautiful, the area that it was in was very secluded and surrounded by nature, very private. And still we were very close to Woodstock restaurants, supermarkets, shops. Everything was as described and even better. The house is very clean incredibly well decorated, the high ceilings and the big windows in the living room really made it even more spacious and airy. The beds were very comfortable, and all the linens and the towels were very nice and clean. The kitchen was very well equipped with everything you need for cooking, there is also a grill outside which we used every evening. The hammock under the trees was also very nice to have too. There is so much to do in the area around, lots of hiking places, and swimming holes. We went to the Kaaterskills' Falls which i highly recommend visiting, it's quite a hike up there but it's incredibly beautiful. Lots of antique shops in Woodstock and also around in the area. We definitely will be back and would highly recommend Tasso's house! Thank you for sharing your house with us!
Galina
2016-07-05T00:00:00Z
Kamertype
Gehele woning/appartement
---
Type woning
Huis
---
Geschikt voor
6
---
Slaapkamers
Bearsville, New York, Verenigde Staten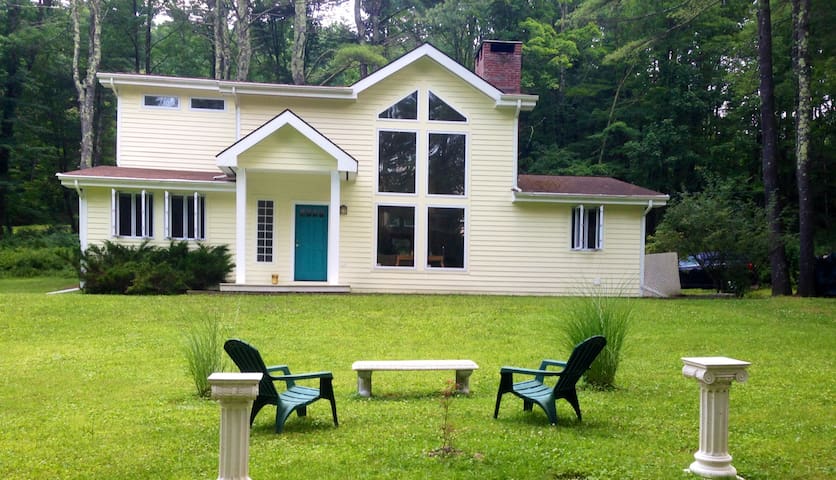 We had such a lovely weekend at the cottage. My husband and I were looking for a quiet getaway and we were even excited to not have any cell reception/wifi and completely disconnect this memorial day weekend and it definitely delivered. Jill provided us with detailed instructions that were very easy to follow and we couldn't be happier. The cottage is comfortable and stocked up with anything you might need. The kitchen has everything available for meal preparation as well as plenty of seating both inside and outside the cottage. The biggest perk was the we were able to take our dogs which was the amazing part of the weekend. They loved hanging out by the stream and running around the perimeter of the cottage and enjoyed it more than either of us. The cottage stays cool even when the weather outside was close to 90 degrees and has good airflow once you open windows. If you want to stay cool just bring a small fan (we did and was plenty). A couple of recommendations - bring bug spray and citronella candles for sitting outdoors and definitely go down the stream where you have a few swimming spots.
Jenniffer
2016-05-31T00:00:00Z
We were looking for 3 things: a secluded/private spot, a kitchen that was ready for real cooking, and a creek that we could take a dip in. This cottage had all of those things. Super private, all the kitchen tools/bowls/utensils your heart could desire, and a very magical creek. Make sure you walk down to the big boulders. They are really warm in the sun and make taking a dip in the cold water more fun. We really loved this place!
Sean
2016-07-04T00:00:00Z
This is a really special cottage and was a perfect long weekend escape from NYC. The property is large and private and a great place to relax away from traffic and cell service. The house is rustic, but perfectly equipped for a great stay. We enjoyed eating breakfast outside, reading, and playing board games while listening to the stream. Woodstock is only a short drive away for dining, hikes, etc. We really loved this beautiful home in the woods and hope to return!
Una
2016-09-05T00:00:00Z
Great little cottage with everything we needed! Jill gave us detailed instructions and directions so we didn't need to contact her with any questions while we stayed. We really loved our mini vacation in her charming cottage.
Adriane
2016-06-29T00:00:00Z
The host was very diligent with providing all kinds of information prior to our arrival. I didn't contact the host during my stay, but she provided phone numbers and email, where she could be reached in case this was necessary. The was also a landline in the house. The amenities were accurately described, and appliances were working. My only "problem" was that the cottage was a lot older than it seemed form the photos. It is, indeed, a very rustic place, for people who like to be secluded and left in peace. Kids loved to play by the stream that flows behind the cottage. We had a lovely time overall, going hiking and visiting the town of Woodstock.
Lyudmila
2016-08-04T00:00:00Z
The pictures don't convey the expanse and beauty of this secluded escape. We were surprised at how large and private the property was. Looking at the stars and listening to the stream, it was truly a memorable getaway. We barely left the property the entire 4 days. Would recommend 10 times over!
Mark
2016-09-25T00:00:00Z
The cottage is more charming in person than the pictures suggest. A 5 minute walk leads you to a serene enclosure with nothing but the sounds of the babbling brook and birds chirping. The house is small but more than adequate for 2 people. Kitchen was fully stocked with necessities to cook dinner with, along with a grill outside. Nights were chilly and gave us an opportunity to enjoy the fireplace. We had a black bear that visited us twice so just be prepared to make his acquaintance. The house exceeded our expectations and would definitely return.
Christopher
2015-08-23T00:00:00Z
This was the perfect cabin in the woods! Surrounded by trees and next to a stream, we felt totally secluded and yet still close to town. Our son loved running around the property and visiting the stream. The interior had a cozy, rustic feel and was well equipped. If you're looking for a peaceful retreat, this is it!
Albane
2016-10-10T00:00:00Z
Kamertype
Gehele woning/appartement
---
Type woning
Houten huisje
---
Geschikt voor
4
---
Slaapkamers
Bearsville, New York, Verenigde Staten
I have been visiting the Woodstock area for over 40 years and have to say that staying with Kristine and Glenn has been the best experience I have had. They are warm and welcoming hosts and great conversationalists, but respected our privacy. The yurt was a unique and peaceful place to stay in a nice natural setting. The yurt and and associated sitting room and bathroom were nicely decorated and appointed and impeccably clean. The food was great. We will definitely be back and look forward to building many happy memories.
Thomas
2014-06-09T00:00:00Z
Our host Kristine was very warm and accommodating. Although the description was 100% accurate, there was no mention on how MAGICAL this space is!
candace
2015-07-13T00:00:00Z
My boyfriend and I were pleasantly surprised when we saw how large, unique, and inviting the yurt was. The photos really don't do it justice. Kristine was extremely kind and thoughtful, and had excellent recommendations about the area. She also has a lovely garden in front and even gave us some seeds to plant when we get home. She made sure to be as accommodating as possible, and even took note of my vegan diet. The bathroom was clean and stocked with plenty of towels and toiletries. The yurt has amazing energy and had music, stuffed animals, and all kinds of little surprises. The bed was comfortable and directly under the center of the yurt, so we could look up at the sky as we rested. We had a wonderful time and hope to come back soon!
Sierra & Rob
2014-09-02T00:00:00Z
Staying at Kristine & Glenn's yurt was an absolute pleasure! The space itself is cozy, relaxed, quiet. As hosts, they're exceedingly friendly, helpful and gracious; making you feel right at home the moment you arrive. the lush, beautiful landscape mixed with cool, interesting hosts equals the perfect experience. many thanks to Kristine & Glenn!
Matthew
2015-05-26T00:00:00Z
lovely warm home with kitties in the yard and beautiful views in the morning... great spot for book reading and close to town.
Rachel
2016-05-30T00:00:00Z
Kristine was amazing, I already miss her and our morning coffee together! She was incredibly accommodating and easy to connect to. The yurt and the overall space was so relaxing and inviting.
The EnChanted
2016-08-23T00:00:00Z
The yurt is magical! Two friends and I spent a long weekend lounging and visiting in the cozy space, sleeping late, and exploring the area. Kristine kindly provides ample coffee and tea, as well as some of the coziest bedding I've enjoyed. Highly recommended, though check with Kristine before booking if you want to use the kitchen or store food in the main house.
Cara
2015-10-13T00:00:00Z
My host made me feel VERY welcome and at home and the area was perfect! Close to everything in a lovely area and everything the add said it would be.
Catherine
2014-07-08T00:00:00Z
Kamertype
Privé Kamer
---
Type woning
Yurt
---
Geschikt voor
3
---
Slaapkamers
Bearsville, New York, Verenigde Staten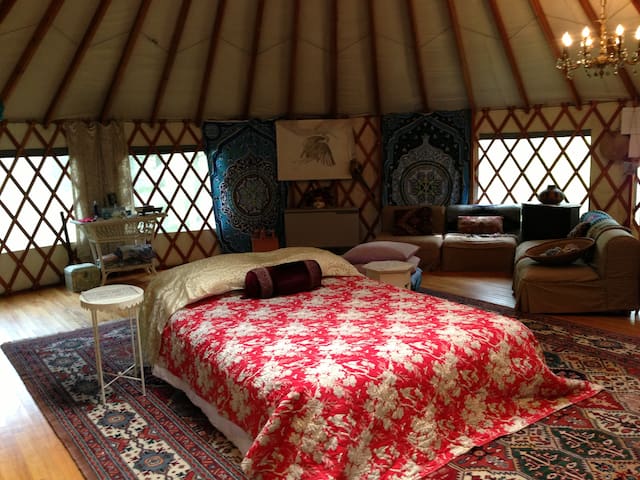 Stephanie's home is very charming as its 1800s energy is highlighted with exposed ceiling beams and wide plank wooden floors. There is ample space and its proximity to Woodstock is great. You can hear the sounds of nature (frogs, crickets) by night and see deer by day! Overall, a great place.
Joelle
2016-06-18T00:00:00Z
Stephanie was a wonderfully generous host. She communicated in detail not only about the particulars of her gracious home, including exactly how to work the TV and the AC, but also about all kinds of things to do in the neighborhood. For example, she helped us to find "The Big Deep," a wonderful swimming hole. The house is so tranquil and comfortable, loaded with thoughtfully chosen kitchen appliances and utensils, linens, etc.
Pieter
2016-07-25T00:00:00Z
The house was just as described and the host communicated clearly. It suited our extended family, from our 2 year old to grandparents. Overlook mountain is a great trail, ideal for taking a little one up a hill in a sling. As long as the weather is kind! We had a great lunch in Garden Cafe and it's worth checking out what's on at Bearsville Theatre. Wish we could visit again. Mike
Michael
2016-11-02T00:00:00Z
We had a lovely stay in Stephanie's home! It was cozy, well-appointed, roomy, and just all-around charming. We'd happily stay there again and recommend it to others.
Gideon
2015-09-28T00:00:00Z
Book this property right now if you're looking for a perfect getaway spot that's an easy drive from the city and a few miles from the village of Woodstock. We used the stone fireplace our first night and opened some wine and felt a million miles away from everything in the ultra cozy living room. The next day we relaxed in the private backyard with coffee, caught up on some reading and then roamed around Woodstock, which was a lot of fun. And then we picked up enough groceries and freshly baked bread and wine and stuff to host a wedding. We pulled off an amazing dinner in the well stocked kitchen and sat together at the dining room table for a really long time, which you don't often do enough of in NYC. And I'll remember that part the most. Thank you for opening up your home to us. Truly a great spot. We will definitely be back! GG
Guy
2015-09-22T00:00:00Z
Highly recommend. Huge fan of this unique and special home, the property, area, and the welcoming hosts. We're repeat guests and will keep returning. Book this property if you're looking for a warm and cozy space which is close to the village of Woodstock yet feels a million miles away from NYC.
Guy
2017-03-12T00:00:00Z
Stephanie was a great host and provided very helpful instructions on how to get to the house, how everything works, and recommendations of things to do in the neighborhood. The house was beautiful, clean and warm - something that was well appreciated in the -10 weather! All in all we had a great and comfortable weekend and would definitely love to return.
Sandy
2016-02-15T00:00:00Z
Great Host! thank you so much for having us!
Cat
2016-07-14T00:00:00Z
Kamertype
Gehele woning/appartement
---
Type woning
Huis
---
Geschikt voor
7
---
Slaapkamers
Bearsville, New York, Verenigde Staten
Kamertype
Gehele woning/appartement
---
Type woning
Huis
---
Geschikt voor
8
---
Slaapkamers
Bearsville, New York, Verenigde Staten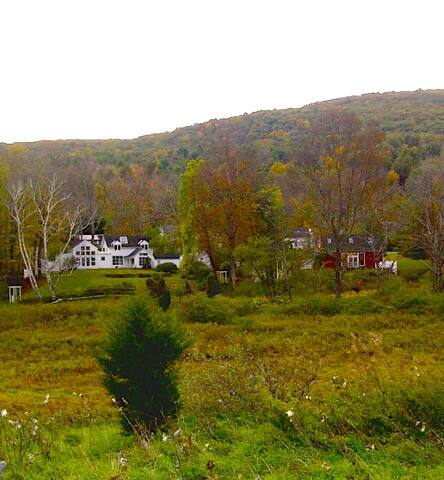 Kamertype
Gehele woning/appartement
---
Type woning
Huis
---
Geschikt voor
4
---
Slaapkamers
Bearsville, New York, Verenigde Staten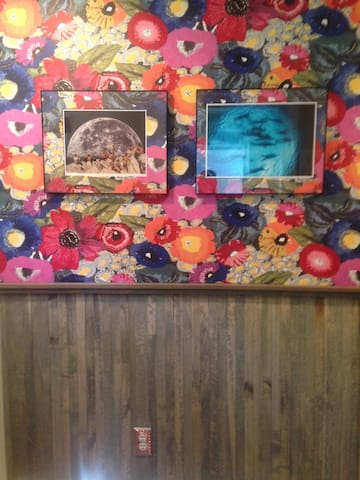 Ven a disfrutar del campo, el bosque, el arroyo, los animales, el sol, y unos a otros. Esta maravillosa granja de 200 años, tiene 5 BRS, 2 baños y hermosa luz natural durante todo el día. bañera de hidromasaje. cocina de campo totalmente equipada. Rodeada de bosque.
La gente vivía diferentes vidas diarias hace 200 años y se puede sentir la tranquilidad y la alineación con la naturaleza en las paredes y pisos de la granja poco de amarillo. Póngase en contacto con la naturaleza y el ciclo de los cambios en el medio ambiente. ¡Cocinar una comida! Caminar por los suelos ondulados desgastados y echa un vistazo a la fundación de pila seca en el sótano.
La casa amarilla en el Wild Woodstock santuario del bosque de 3517 Ruta 212 (entre Glasco Turnpike y Reynolds Lane) Shady, NY 12409, es parte de la Woodstock santuario del bosque salvaje y se encuentra en las instalaciones del santuario de 125 acres en las colinas de Catskills. La casa es una casa de campo hermoso, sereno, de dos pisos, construido en 1900 recién renovado, con todas las comodidades modernas. Es un lugar dedicado a la práctica espiritual, la contemplación y la reconexión con yo y la naturaleza, un oasis de paz situado dentro del santuario.
The house was great! We had a very peaceful weekend. It's a very well kept house for being so old.
Ramsey
2015-11-29T00:00:00Z
Great time, easy check in and out. Great laughs were had by all, instructions for the house are easy to follow, and everyone complimented me on a great find.
David
2016-09-18T00:00:00Z
The description was accurate. It's a cute house with a well equipped kitchen and a nice hot tub. Everything is clean and everything works. We cooked a big meal and relaxed by the wood stove. The house is close to Woodstock and all of the restaurants there. It's a great little town.
Leon
2015-01-19T00:00:00Z
This was a great getaway from the bustle of New York City. A true country escape close to some beautiful hiking trails. The house was large enough to accomodate our group of 10 with plenty of room to spread out and eat meals together. The hot tub was a true highlight and provided the perfect perch for evening stargazing. The host was very helpful and responsive to requests before and during our stay. If you're planning a group outing, just note that one of the bedrooms has a twin bed. But the couch is a full-size pull out, so there's that option if folks aren't interested in getting cozy.
Joshua
2014-10-26T00:00:00Z
We had a great stay at the Yellow Farm House. The yard and deck are perfect for lounging - we spent the majority of the weekend outside on the deck. With two dogs and a toddler the big yard out back was a great, safe play space. You can hear the traffic from the road, but you do not see it. The house was clean and comfy, with plenty of linens and nice bedrooms. Aside from toilet paper, no paper products were provided, however there were cloth napkins and dish towels.
Sarah
2015-08-10T00:00:00Z
The house is in a good location, and there is just a short distance to downtown Woodstock. The house is nice and roomy, but the owners lock the thermostat, which is difficult to handle if it's the middle of winter and we're expected to function at 66 degrees. There is no television, which would have been nice to know. In addition, we are not allowed to flush toilet paper normally, which is understandable when taking the septic system into account, but is a little bit of an inconvenience. Overall, the location is beautiful and the hot tub is an added bonus, but I'm not sure why we weren't permitted to flush the toilet. In addition, we called the night of our arrival to ask a question about where the location was, and the owners neither picked up our call, nor called us back at any point to make sure we had arrived.
Sajji
2015-03-15T00:00:00Z
Although we had to delay our travel by one day due to a 14" snowfall, all was great on our visit to the Yellow Farm House. As described, it is located in a beautiful, wooded area very close to Woodstock. There was even more sleeping and living space then we needed for our extended family of four adults, three children and family dog. The large dining area was full of windows looking out to the snowy woods. The wood stove in the living area was enjoyed while we played games. The house was well heated, kitchen very well appointed, hot tub enjoyed on the snowy deck. A book signing event in Woodstock provided memories for our young grandaughters, while my wife and I had Woodstock memories from another age! A wonderful Thanksgiving holiday.
Jim
2014-11-30T00:00:00Z
This is a great place to stay with friends, we used the hot tub, made fires, and went into the nearby town for dinner and walking around. I recommend it!
Kelly
2017-01-29T00:00:00Z
Kamertype
Gehele woning/appartement
---
Type woning
Huis
---
Geschikt voor
9
---
Slaapkamers
Bearsville, New York, Verenigde Staten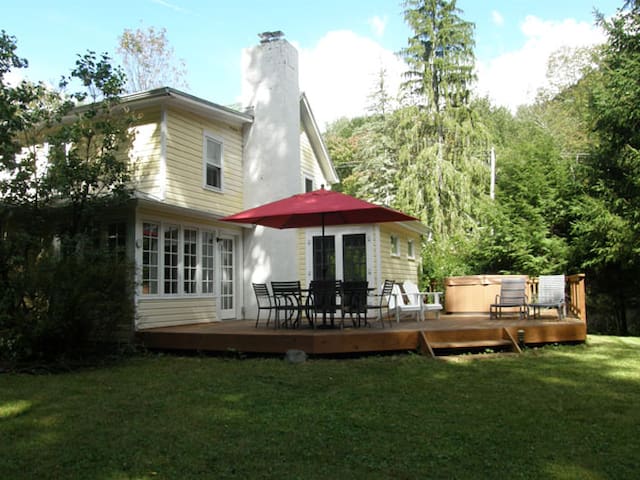 Dança do anjo fica no alto de uma montanha com vista para a cénica Ashokan Reservoir e as belas montanhas de Catskill. Um rápido 5 minutos para Woodstock, ea apenas 2 horas de Nova York. Você vai adorar o meu lugar por causa É um espaço bonito, virada a sul, com controles deslizantes para um deck, com excelentes vistas. O ambiente na casa é tranquilo e romântico. Dança Angel é ótimo para casais, aventureiros individuais, viajantes de negócios, e os cães (que têm uma taxa de limpeza $ 50. Animal de estimação)
Wow, where do I begin. First off, communication was spectacular leading up to the trip. Margie answered questions within minutes! We arrived to a toasty warm cottage with the fire going (gas fireplace which was really great even though we usually prefer the real deal). The cottage is tastefully decorated and minimal which was so calming for us. Really comfortable king size bed with lovely high quality blankets, robes waiting for us. It was too dark to see the view. Plentiful warm water and great wifi and all we needed to cook on the stovetop (note there is no oven, I missed this in the listing, but was glad that I truly had to REST). We woke to snow, so still could not see the view for our whole first day, but the third morning we woke to a spectacular gift of the ashokan resevoir with the mountains behind it, with blankets of snow on the ground, little creature footsteps winding about. The section of our walkway on the front door porch was shoveled for us each time it snowed and the driveway plowed. There is Scrabble in the closet which we played in front of the fire. Blue jays, crowd and other birds are plentiful. Lastly, Babs owns the home and called us on New Years day morning, before we checked out to let us know we could stay as her guest an extra night if we would like. I wish I could have taken her up on it. This place was romantic and perfect and my husband and I hope to be back! Thanks for giving us a relaxing space to end our 2016 and start the new year.
Nicole
2017-01-01T00:00:00Z
The host canceled this reservation 5 days before arrival. This is an automated posting.
Holly
2016-10-09T00:00:00Z
***Disclaimer: we ended up staying at another property managed by Marjorie*** However, she was extremely accommodating and was able to put us up in another location that we really enjoyed staying in. We had a very relaxing time hanging outdoors, and so did our two pups! The house was clean and had everything we could ask for. Thank you for a pleasant weekend!
Anna
2016-06-21T00:00:00Z
We loved staying at the Dancing Angel cottage. Marjorie sent us an incredible list of activities we could in the area with our dog, and it made for a wonderful retreat. We loved the 7-waterfall hike and using the grill to make dinner in the evening. Highly recommend!
Lindsey
2016-06-27T00:00:00Z
Very pretty setting and comfortable cabin. Close to hiking and Woodstock. Perfect for a weekend get away.
Richard
2016-06-13T00:00:00Z
The host canceled this reservation 3 days before arrival. This is an automated posting.
Samuel
2016-07-12T00:00:00Z
Great experience! Beautiful little cottage, just the right size for us and the dogs. Lovely views. Ate out on the terrace and drove into Woodstock in the mornings for breakfast.
Shanna
2016-08-22T00:00:00Z
We had the best time ever. Marjorie was a fantastic host recommending places to eat and see. Very easy to communicate with. Triple A host!;)
ZEBI
2016-05-23T00:00:00Z
Kamertype
Gehele woning/appartement
---
Type woning
Houten huisje
---
Geschikt voor
2
---
Slaapkamers
Bearsville, New York, Verenigde Staten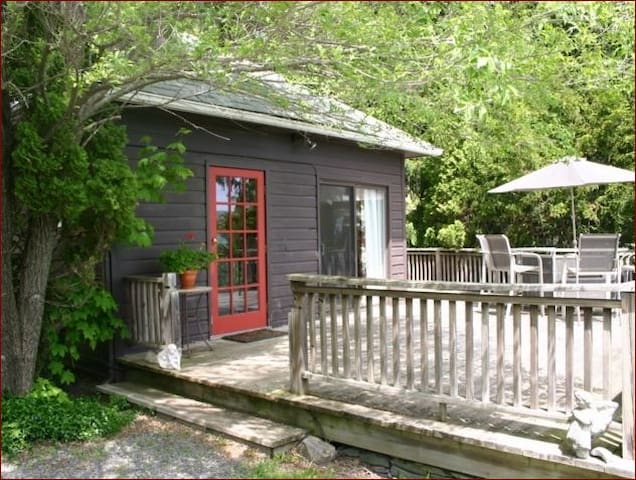 We loved the house! We loved the area! Wendy was extremely helpful with everything we asked about. The space is so warm, welcoming and homely that we would definitely love to come back.
Anya
2015-08-30T00:00:00Z
Wendy was a wonderful host. She was overseas the weekend we were set to arrive but arranged for friends to be there upon our arrival (which was later in the evening). It was my boyfriend's birthday weekend and there was a bottle of champagne in the fridge waiting for us! Even though she was away she made sure to check in before, during and after our arrival so that we had everything we needed. The cottage itself is perfect. It's very clean, minimal and has everything you need. It's also only a short 10 min drive to Woodstock and surrounded by trees which make it feel secluded. I would highly recommend staying here if you get the chance to.
Leon
2015-06-28T00:00:00Z
Charming little cottage, very tastefully furnished! We had everything we needed for a weekend getaway. Wendy was very helpful and always responded to our questions quickly and with a lot of care. Overlook Mountain is an easy and rewarding climb to do nearby!
Marijn
2016-06-07T00:00:00Z
Our stay at Wendy's cottage was wonderful. The cottage is private, clean, and perfect for a quiet escape. Wendy was lovely and easy to work with; she was timely with organizing the check in and departure, and checked in to see if we had everything we needed while there. I highly recommend staying at the cottage!
Kristin
2015-07-19T00:00:00Z
We had a fantastic stay at Wendy's Treescape Cottage. The location (close to Woodstock but still with a woodland feel) was great. We were both 15 minutes away from a great downtown, but also close to great places to hike and take in the Catskills. The cottage was very cute, and very clean. Everything was as described in Wendy's listing. Arrival was very easy, and Wendy was ready to answer any questions throughout the stay. We loved the deck, the sunroom, and how the kitchen was ready to go if we wanted to cook (there's even a grill!). Wendy even left us a bottle of champagne. Thanks so much, Wendy!
Andrew
2016-09-05T00:00:00Z
My girlfriend and I had a wonderful stay in Wendy's small cottage just outside of Woodstock Proper. A 7-minute drive from the center of Woodstock, the cottage is ideally located, offering a pleasant blend of seclusion within the woods and convenience in terms of its vicinity to the town. We found the house's décor welcoming, and though Wendy's cottage is certainly cozy, it is by no means cramped, as it has a well-lit sunroom, a comfortable kitchen-dining room combo, complete with skylights, and a small bedroom that features an unusually soft mattress. Wendy was an attentive host, and though she wasn't in Woodstock the weekend that we visited, she made sure that we had a pleasant stay, and responded to all questions we had about the cabin promptly and with care. My girlfriend and I enjoyed our trip to Woodstock as much as we did in large part because of our time in Wendy's cottage, and we both agreed that we'd be sure to rent it again, if we made a return trip to Upstate NY.
Matteo
2015-06-08T00:00:00Z
My daughter and I loved being tucked away inside this sweet oasis of a cabin in the woods. It quickly felt like home largely due to our host's spirit of generosity and care. We cooked, talked, and watched the chipmunks on the porch. Skipped stones on the lake, and hiked to the top of Overlook. Good times, great place!
Keely
2016-09-25T00:00:00Z
What a great cabin in the woods! Had such a nice time. Wendy was very helpful and had great recommendations. Can't wait to stay here again!
haley
2015-07-12T00:00:00Z
Kamertype
Gehele woning/appartement
---
Type woning
Huis
---
Geschikt voor
3
---
Slaapkamers
Bearsville, New York, Verenigde Staten