two nice rooms to rent in our beautiful villa with a private pool in a large mature garden. We are next to the beach and with bars and restaurants at the end of the street. We are in El Presidente / Benamara Urb. A retired couple in 50s who enjoy splitting our lives between UK and Spain. Our hobbies are golf for him and horse riding for her. We are in an Ideal location for a relaxing stay with walks on the beach or with easy access to the main route to all the major site seeing attractions.
Either a twin bedded room or a King size double. There is Plenty of wardrobe space, a bath with shower. A simple breakfast is included to set you up for your day. Our beds are from the UK so are very comfy and we have good quality Egyptian cotton sheets. You are welcome to relax on our sunny terrace or lounge by the pool, with the beach at the end of the street it is great if you like walking along the shore line. With a range of 12 restaurants at the other end of the street or the local bus service close by there is no need to drive if you don't want to. English only spoken, and 2 night min stay.
We are ideally located if you are looking to explore the local sites of Puerto Banus, Marbella & Estepona. We are also close to the main routes to Ronda, Jerez, & Sevilla .We live in a highly sort after residential area of large villas and private apartments. We are close to the Marriott "Playa Andaluza" Hotel. At the end of the street is the beach and the beach bar Salduna. We have a good selection of 11 restaurants at the other end of the street including, Robin Hood Pub, Lebanese, Indian. And our favourite place to eat or have cocktails called Tannino's including many vegetarian dishes if needed.
My husband and I spent a few days at Laura's place, and it was just perfect! We decided to spend our Honeymoon in Spain, and wanted to find a nice home in which we would feel comfortable, welcomed, and most of all, appreciated. And we found it. Laura and her husband answered our (many many many) questions with patience and humour, and we had the best time. They are very welcoming and we felt privileged to have been able to share our time with them. We also discovered beautiful cities (Mijas, Rhonda and Antequerra), gorgeous beaches, and hidden little gems as my husband and I love doing little "road trips". As mentioned in previous reviews, the beach is very close by, the neighbourhood is very safe, and there's lots of parking around the property. Every city is close-by so it's great for sightseeing. As our last days were spent "shopping" for a future apartment (for vacationing), we will surely come back to Spain! Thank you again Laura (and Ian)! :-) PS - Say hi to Smudge and Biscuit for us!
Julie
2015-09-21T00:00:00Z
Merci Laura un peu difficile à trouver votre maison, mais des que nous sommes arrivés quel plaisir de passer 2 jours dans votre belle maison, tranquille, accueillante, décorée avec raffinement. Un petit clin d'oeil pour vos deux chiens.
SERGE
2016-06-22T00:00:00Z
Fantastic! Laura as a host and her home wonderful home are fine examples of the very best of Airbnb. I can't speak highly enough of my experience staying at this lovely villa.
Austin
2016-06-09T00:00:00Z
We spent a few beautiful days at Laura. The house is very nice, cozy, clean. Very comfortable room and very clean bathroom. Laura is a great hostess, always with breakfast ready and willing to help. We enjoyed our stay Absolutely recommended.
Mariana
2016-03-17T00:00:00Z
My girlfriend and I throughly enjoyed our time staying with Laura. She was a very welcoming host and offered lots of local information and guidance. The villa is absolutely beautiful. The pool was a little chilly this time of the year but I still braved a dip. Shampoo, conditioner and shower gel are all provided along with towels and extra towels for the pool. Make sure you take your own towels for the beach though. Laura also provides face wipes which we found were great to refresh you after a hot day in the sun. The double room where we stayed is a very good size, the bed is comfy and the ceiling fan keeps you cool at night. Lovely! Breakfast was as described, a no frills toast or cereal affair with assorted jams, spreads or honey. The honey is particularly nice. The locality is perfect for a quiet retreat after a busy day sightseeing. In a calm and reasonably secluded neighbourhood, moments from the beach. Loads and loads of restaurants close by. Notably, the Robin Hood - gastro pub grub and the cheapest San Miguel I found. Malibu and coke was 6.5 euros but remember they don't measure in Spain, the barman stops pouring when he gets bored, so prepare for a hang over! Haha L'oriental - Lebanese food. Personally I wasn't bowled over but I've heard great reviews. Bar Amara - cheap full English breakfast Taninos - brilliant funky cocktails and tapas. Monster sized burgers too. The list goes on. We tried to count how many places to eat within ten minutes by foot and we gave up after the first 30. The dogs are wonderful. And be prepared to throw the ball a few times for smudge. She needs to see her doggy psychiatrist about her OCD over tennis balls. If you fancy a giggle, ask Laura to show you the "biscuit ball" This villa, and Laura's hospitality, will make you feel like you are home, and when she takes the keys back and you say goodbye at the end of your trip, you'll be begging to go back. Thank you Laura (and Biscuit and Smudge)
Matt
2016-06-01T00:00:00Z
Staying with Laura was a complete joy! She was a wonderful host and if I return to Spain at any time, I will book with her again! The accommodations are comfortable, very clean and wonderfully homey.
Kiley
2017-02-01T00:00:00Z
I spent exceptional vacations thanks to Laura. Her villa is simply fantastic, relaxation is guaranteed thanks to the big garden with swimming pool. Also wr can spend gaea t moments in the beach which is at 100 meters from her house. The neighborhood is safe and place is available for park in front of the villa with supervising camera so E really feel safe. The description of the house reflects 100% reality. Thank you again Laura for your smile, your availability and suggestions that makes out trip really nice! Maybe see you next holidays! It will be a pleasure.
Meryem
2015-08-23T00:00:00Z
Laura and Ian were brilliant hosts and immediately made us feel welcome. Super friendly and they were there if we needed anything but left us be when we just wanted to relax in our own space The room was just the right size and we had plenty of wardrobe and general storage space. The Bed was comfy and extra pillows were there if needed. The bathroom was great with his and her sinks as well as a great shower. Shampoo and shower gel were also provided. Little things like this can make the hole experience stand out. They also provided some toast, cereal, tea and coffee in the morning which is a really nice touch and would set us up nicely until lunch. The proximity to the restaurants and a couple of bars was perfect. It was maybe less than 5 mins walk to the nearest bar and another minute to a great restaurant called toninos!! We went back there 3 times, it was that good and I generally like to try a few different places. It was a great recommendation from Laura. We had a fantastic stay and would definitely go back. Oh yeah, the dogs are really friendly and love attention, so if you love dogs, your gonna love these two. We're looking forward to heading back there in the summer.
Gavin
2016-12-19T00:00:00Z
Kamertype
Privé Kamer
---
Type woning
Villa
---
Geschikt voor
2
---
Slaapkamers
San Pedro Alcántara, Andalusië, Spanje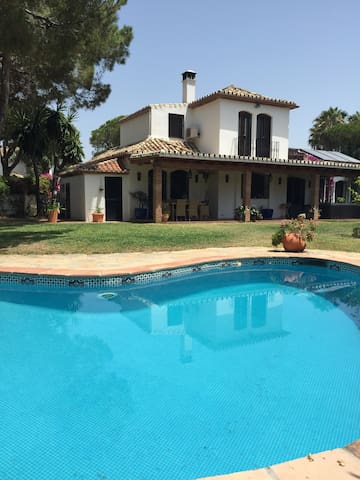 A fresh, cool apartment, nestled quietly in the corner of a serviced luxurious residential resort. Hang out, watch the sun rise and set with the beauty of the shaded balcony overlooking the pool. A short taxi to Puerto Banus, Marbella or Estepona!
Het appartement was super wij hebben een heerlijke tijd gehad. Het ontbrak ons aan niks in het appartement. De locatie is prima het zwembad is ook heel lekker. Mocht je niet ver willen gaan zijn er vlakbij het appartement restaurantjes en een supermarkt. Wij zijn een maand geweest en wilde niet weg zeer zeker voor herhaling vatbaar.
Mandy
2016-08-06T00:00:00Z
Dan was an amazing host from start to finish, always quick to answer questions and giving great advice about cars, restaurants and giving us directions when needed. The apartment is really big, bigger than the photos suggest and it's kept lovely and clean, very modern. It has everything you need inside and it's in a perfect location, a short drive away from so many lovely places, we took lots of day trips but also spent a lot of time around the pool which is really big, beautifully kept and perfect for small children as it has a gradient from shallow to deep. The pool bar sells lovely fresh food, we loved it. It's also a short walk (less then 5 minutes) to some other restaurants and a supermarket, all really handy. I would recommend this apartment to everyone and really hope we'll be going back, we loved our holiday and Dan was a massive part in this, he really made us welcome and gave us so many tips. Thank you Dan, we loved making memories in your apartment! Xx
Charlie
2016-09-22T00:00:00Z
The apartment is great, clean, big living room, big terrase, environmentis very good, we spent a very nice vacation there!
燕昭
2017-02-04T00:00:00Z
Dan's condo in Estepona exceeded our expectations! It really is a 5-star accommodation. We loved it! It is very modern, clean, spacious and I loved that the kitchen is equipped with modern appliances. I particularly loved the master bedroom, it is very luxurious with its ensuite bathroom. All in all it was a wonderful stay and we are looking forward to staying here again.
Ariel
2016-12-01T00:00:00Z
My partner and I stayed with our 1 yr old and we're extremely happy to see everything was exactly as described. Great space, lovely bathrooms, nice quiet location and 2 super pools. We tried a couple of restaurants locally and they were ok but it was easy enough to travel the short distance to the Marbella old town or Puerto Banus if we wanted anything more upscale. I would definitely stay here again and would highly recommend Dan as a host.
Mike
2016-10-16T00:00:00Z
This was my second stay in Dan's apartment. As always everything was just perfect. See my first review for a more thorough feedback of this great place.
Knut
2016-03-08T00:00:00Z
Dans apartment was perfect! Ideal location too. The apartment was well looked after and very clean, communal wifi was good, and pool and the pool area perfect! Would definitely recommend to a couple or small family. We would 100% recommend and return! Thanks Fleur and Dan! X
Katherine
2016-09-29T00:00:00Z
Квартира очень хорошая, просторная, все комнаты довольно большие. Кухня маленькая, но есть все необходимое. Огромная терасса. Бассейн на несколько квартир и можно ходить на общий большой бассейн. Квартира находится далековато от моря за шоссе. Ближайший пляж (минут 30 пешком) не очень хороший. Вокруг квартиры тоже почти ничего нет, маленький магазин и несколько довольно посредственных ресторанов. Обязательно нужна машина.
Jaanika
2016-09-11T00:00:00Z
Kamertype
Gehele woning/appartement
---
Type woning
Condo
---
Geschikt voor
4
---
Slaapkamers
Estepona, Andalusië, Spanje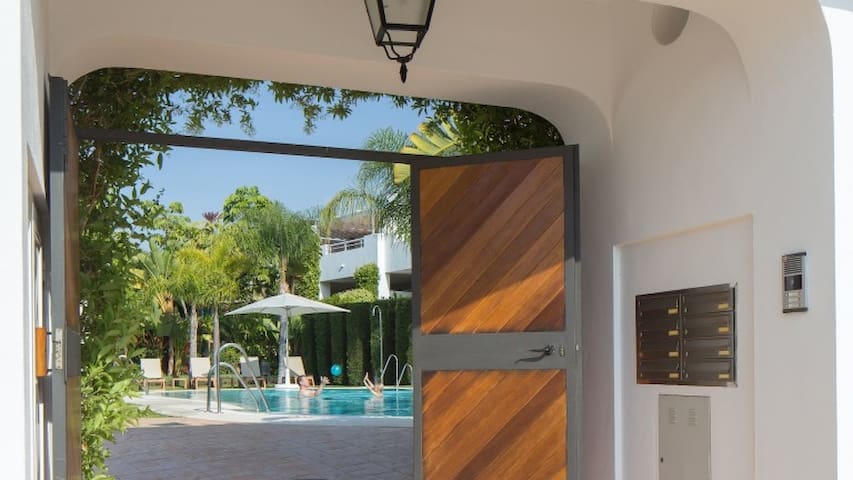 Hi guys, I am renting a very cosy double bedroom with an exit into a back large outdoor patio where you can have your meals/drinks al fresco. You will also have your own bathroom for your use only. You are more than welcome to use all kitchen facilities and also have your meals or watch TV in the lounge.
The apartment is in a well established complex with a swimming pool and parking. There are restaurants, cafes and shops in a very short distance. The complex is situated between San Pedro and Estepona and only takes a short bus ride to Puerto Banus and Marbella. Bus service is quite regular and reliable. Also there is one of the top golf courses nearby - El Paraiso Golf Course set in a picturesque valley with two lakes.
Rita was very hospitable, check-in us at night, provide us with all necessary stuff, help us with information and was very attentive! Her house is beautiful and is situated in very beautiful place. Rita speaks English and Russian.
Kasia
2017-03-03T00:00:00Z
Una bonita urbanización con piscina y restaurantes y supermercados cerca. Algunos kilómetros a Estepona .
Michael
2017-02-22T00:00:00Z
Warm and welcoming host. Extremely comfy bed and lovely place.
Sarah "Shivani"
2017-03-18T00:00:00Z
Rita was a lovely host and made us feel welcome in her home.
Miriam
2016-12-28T00:00:00Z
Very nice place, good location and friendly hostess. My recommendation
Taavi
2017-03-26T00:00:00Z
I can fully recommend Rita's (URL HIDDEN) is very centrally located between Marbella and Estopona and just about forty five minutes from the famous Rock of Gibraltar. It is also surrounded by lovely restaurants and bars. As a current Super Host myself with Airbnb I can fully recommend Rita's hosting skills. She made me welcome all the time .Continued to make me feel at ease and always made me feel at home .Made suggestions on places to see and nothing was too much trouble assuring me at all times I was welcome in her lovely comfortable apartment with private bathroom . I am already in the process of returning. Thanks again Rita, Bernard
Bernard
2017-02-03T00:00:00Z
Nice place, wonderful host.
Angel
2017-03-12T00:00:00Z
Kamertype
Privé Kamer
---
Type woning
Appartement
---
Geschikt voor
2
---
Slaapkamers
El Paraíso, Andalusië, Spanje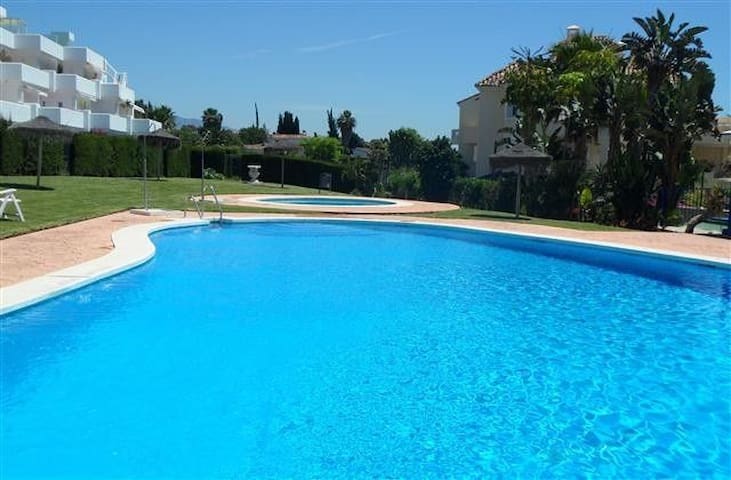 very nice and welcoming to ten minutes from Puerto Banus and Marbella fifteen minutes Loft is in a very nice and cozy village with the beach 10 minutes away and many bars .Also the apartment is next to taverns bars and restaurants and two minutes this mercadona Supersol aldi and Lidel.
Decor en charme
Gemakkelijke toegang tot alle voorzieningen, tuinen en entertainment gebied een stap
Kamertype
Gehele woning/appartement
---
Type woning
Appartement
---
Geschikt voor
3
---
Slaapkamers
Estepona, Cancelada , Andalusië, Spanje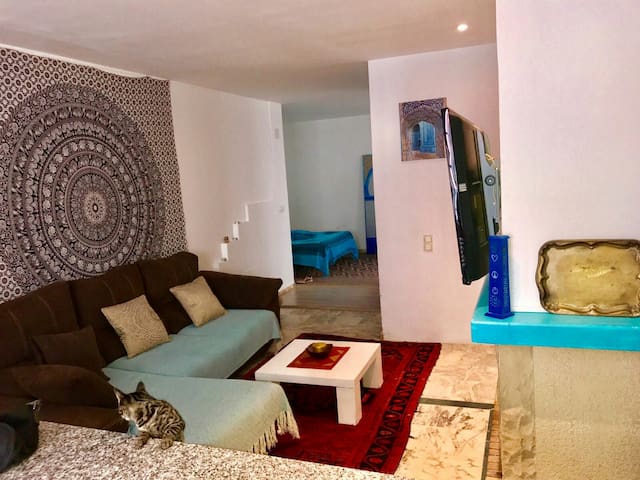 Charming apartment in the exclusive urbanization of Costalita on the coast's New Golden Mile. Just a two-minute walk to the beach and an amazing swimming pool and beautiful gardens. Across the road there are two supermarkets to cater for all your food needs as well as many restaurants in the area. Glamorous Puerto Banús can be reached within a ten-minute drive. Also close by you'll find Villa Padierna's golf course, rated one of the best in the area.
Kamertype
Gehele woning/appartement
---
Type woning
Appartement
---
Geschikt voor
2
---
Slaapkamers
Estepona, Andalusië, Spanje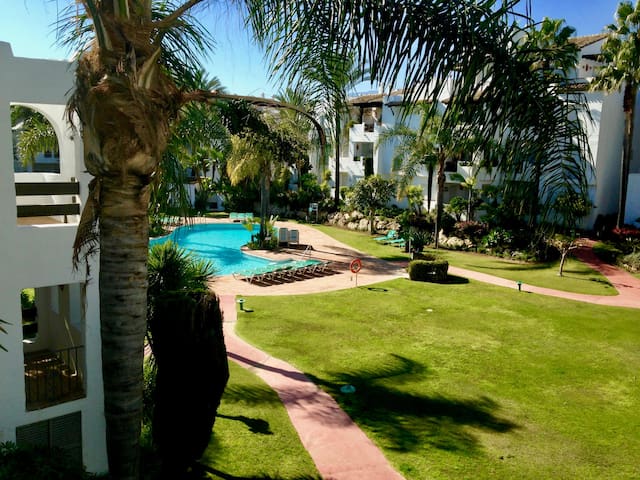 Modern appartement in een mooie urbanisatie in het Paradijs, genaamd de Palacetes. Het complex heeft twee zwembaden en een jacuzzi, een uitstekende locatie op slechts 10 minuten rijden van Puerto Banus en op 15 minuten rijden van Marbella, omringd door golfbanen.
Een paar minuten rijden van Puerto Banus, Marbella, Benahavis en het schitterende strand, omringd op zijn beurt van de beste golfbanen aan de Costa del Sol (Flamingos Golf Club, El Paraiso Golf, El Higueral Golf Club, Marbella Club Golf ...) kunnen genieten van dagen van rust en ontspanning in ons appartement, gelegen in de luxe villa's in het Paradijs hoge heeft twee geweldige zwembaden, jacuzzi, tuinen, solarium, terrassen, gratis wifi, een eigen parkeerplaats (zonder extra kosten) en 24h security service. Een minuut auto service supermarkten (Mercadona, Lidl, Supersol ...) Het appartement met een bed 150cm (visco-elastische matras), een volledig uitgeruste keuken, woonkamer met een slaapbank (matras 135 cm viscolástica), een eigen badkamer met bad en haardroger, airconditioning en verwarming, gratis wifi en een eigen terras Coast slaapkamer . Keuken: keramische kookplaat, vaatwasser, magnetron, broodrooster, koffiezetapparaat, waterkoker, koelkast met vriesvak en keukengerei (glazen, bestek, servies, ...) Woonkamer: tafel en vier stoelen, een slaapbank, traagschuim matras 135 cm, salontafels, twee fauteuils, TV 49 ", dekens en lakens voor de slaapbank (geen meerprijs) BADKAMER: vergrotende spiegel voor make-up, badhanddoeken, bidet, haardroger ... Slaapkamer: luie stoel voor het lezen, bureau, bed 150 viscoelastica, TV, lakens, dekens, handdoeken ... (geen meerprijs) Prive terras: tafel en stoelen buiten. LAUNDRY: strijkijzer, strijkplank, draagbare waslijn, pincet kleren. Parkeergelegenheid en gratis WIFI.
Het appartement is gelegen urbanisatie Los Palacetes, de hoge Paradise, omgeven door luxe villa's, de beste golfbanen aan de Costa del Sol, Natuur en enkele minuten van de prachtige Payas van Puerto Banus en Marbella, uw ideale vakantie aan de Costa del Sol.
Listing was exactly how listed if not better! And the host was perfect! Met us outside the complex and showed us around, constantly communicated with us answered all our questions and went above and beyond to meet all our needs
Lauren
2016-05-29T00:00:00Z
L'appartement de était génial et Lola et son conjoint, des hôtes parfaits. I received well in advance a lot of information about the apartment and the areas (including what to do around and a list of restaurant). The appartement is one of the best I ever had with airbnb and, though you need a car ideally to get there and around, it is ideally located, close to everything in the Costa del sol. L'accueil à ete très chaleureux et nous regrettons presque de ne pas avoir plus de temps à cet endroit pour profiter davantage de la place. Un gros merci!
dorothee
2016-10-03T00:00:00Z
La amabilidad y la confianza que transmitía nos hizo sentir una estancia muy agradable, ademas la sensación sobre el apartamento fue mejor si cabe que la del anuncio. Solo me queda agradecerle su hospitalidad.
Juan Carlos
2016-07-11T00:00:00Z
No hay palabras para el apartamento... Y los dueños fantásticos!!.. La experiencia que tuve con mi mujer e hijo es invaluable.. De lo bien qué estuvimos.. Estuvimos como en casa, o incluso diría mejor!!! "El que da, no debe volver a acordarse; pero el que recibe nunca debe olvidar." Y nosotros no olvidamos!!! GRACIAS LOLA!!!!!!!!
Jalal
2016-07-23T00:00:00Z
Apartamento magnifico muy recomendable
Andres
2016-10-10T00:00:00Z
My Family and I had a great time at Lola's apartment. I haven't met her but her husband came to meet us and he was very helpful and was waiting for us as soon as we came in. They also gave me really good tips. The apartment is very very clean and super organise. It is exactly like what the pictures are showing. The location is great and only 8 minutes drive from one of Etepona's beach. I would super recommend this place.
Isabella
2016-09-02T00:00:00Z
Fuimos unas amigas a pasar el finde y nos recibió Lola que es encantadora,hemos alucinado con la casa,estaba todo al detalle,súper limpio y ordenado,olía genial,las camas son súper comodas y si podemos repetiremos,le doy un diez a la casa.Ella es un amor,gracias por todo!
Natalia
2016-08-02T00:00:00Z
Excellent apartment, quite location. Host excellent but I would recommend that a car is required.
renee
2016-10-08T00:00:00Z
Kamertype
Gehele woning/appartement
---
Type woning
Appartement
---
Geschikt voor
4
---
Slaapkamers
Marbella, Andalusië, Spanje
Een unieke ruimte op het strand met eigen parkeerplaats. - Keramische kookplaat en keuken in de woon / slaapkamer (één spatie) - Television - Elektrische boiler - 2 eenpersoonsbedden - 2 terrassen - Badkamer met bad
Bouw in een wit Andalusisch dorp. Een plek op zee, ideaal voor koppels op zoek naar rust. Mogelijkheid om een kinderbedje te huren als ze een baby.
Het complex ligt direct aan het strand, een mooi en groen, met restaurants en een wasserette. U kunt genieten van een verblijf in een rustig, dromerig, met moderne voorzieningen binnen handbereik. Bruisende nachtleven en tal van activiteiten op het strand.
Kompakti yksiö hienolla alueella mm. uima-allas ja nurmikko auringonottamiseen. Wifi toimi vain pihalla. Vuokranantajan kanssa yhteistyö toimi parahaiten (SENSITIVE CONTENTS HIDDEN):n avulla, puhuttu englanti ei oikein luistanut.
Satu
2016-07-02T00:00:00Z
Pequeño apartamento en una buena urbanización, perfecto para una escapada y disfrutar de la costa.
Ana
2016-06-27T00:00:00Z
El apartamento es como en la fotos, un poco pequeño pero muy acogedor, la urbanización es excelente, bonita, ajardinada y limpia. La ubicación es excelente, a pie de playa y las piscinas son muy buenas, es excelente para familias con niños, en nuestro caso con bebé, es muy cómodo.
Maria
2015-08-30T00:00:00Z
Urbanización pintoresca y tranquila, con buena ubicación y transporte cercano.
Maria
2017-03-20T00:00:00Z
Cute little one room apartment in the great Villacana area. No 1 Restaurant and pools in the comlex.Helpfull , Kind Hosts (y) Best choice if anybody wants to enjoy the Costa del Sol , and looking for a cheep, but lovely place! Thanks a lot Carlos &Carmen 3
Adrienn
2015-06-14T00:00:00Z
Appartamento un po piccolo ma dotato di tutto il necessario per 2 persone, situato in un villaggio molto bello e fornito di ogni comfort ( piscine, ristoranti, bar, supermercato, parcheggi ). La posizione della casa è comoda e facilmente raggiungibile tramite auto e bus. Carlos e Carmen hanno fornito tutte le informazioni necessarie per raggiungere il villaggio e si sono sempre resi disponibili in tempi brevi. Consiglio a tutti.
omar
2016-09-15T00:00:00Z
Petit studio très bien situé, a côté de marbella. Le petit village est mignon, calme. La piscine et la plage sont à 500m. Par contre pas de wifi dans le logement, mais à la piscine. Et pour le lit, ce sont 2 matelas une personne.
Elise
2015-10-10T00:00:00Z
Studio bien situé dans une résidence au calme et avec toutes les commodités à proximité: bars, restaurants, épicerie, piscine, plage ... L'appartement est fonctionnel avec une terrasse, parfait pour profiter de l'extérieur. Un parking est disponible gratuitement devant le logement.
SEBASTIEN
2016-10-28T00:00:00Z
Kamertype
Gehele woning/appartement
---
Type woning
Loft
---
Geschikt voor
2
---
Slaapkamers
Playa del Sol Villacana, Andalusië, Spanje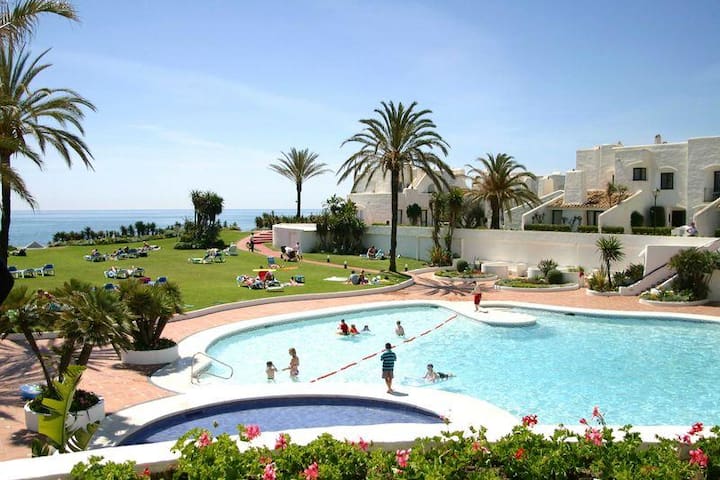 A lovely 2 bedroom apartment located on a beautiful resort. Located between Estepona and Puerto Banus the apartment is close to great restaurants and bars, golf, as well as the beach. The onsite pool, gym and sauna are perfect for some relaxation.
Just a twelve minute drive from the world famous Puerto Banus, this beautifully secluded spot is made up of over 30,000 square meters of manicured gardens complete with two swimming pools, one specially designed for children, plus waterfall features. It's the perfect place to make your home in the sun. Sotoserena's wonderful location also means everything you and your family could possibly need is close at hand. Five minutes away you'll find a beachside restaurant and cocktail bar plus a supermarket. Drive five minutes more and you'll arrive at the elegant town of Estepona. Accommodation will provide you with a TV, wifi and air conditioning. There is a full kitchen with a dishwasher and a refrigerator. Featuring a jet shower, private bathrooms also come with a bath or shower. Guests will have access to all the amenities including the pool, gym, sauna and car parking. Activities in the surrounding area include golfing, kite surfing, the famous Selwo Park zoo as well as a load of fantastic bars, restaurants and beaches. If you feel like visiting the surroundings, check out Estepona Golf (13.7 km) and Flamingos Golf (3 km).Malaga Airport is located 57 km away.
Activities in the surrounding area include golfing, kite surfing, the famous Selwo Park zoo as well as a load of fantastic bars, restaurants and beaches. If you feel like visiting the surroundings, check out Estepona Golf (13.7 km) and Flamingos Golf (3 km).Malaga Airport is located 57 km away.
빌리지 관리하시는 아주머니가 아주 친절하게 맞이해 주시고, 영어와 스페인어 모두 대화가 가능해 매우 쉽게 의사소통을 할 수 있었습니다. 정말 안전하고 쉬기에 좋은 그런 집입니다.
Juhyun
2016-06-08T00:00:00Z
Die Anlage ist beim ersten mal sehr schwer zu finden, aber Linn hat uns via Handy gecoucht. Der Empfang war sehr herzlich und der erste Eindruck sehr gut.
Cornelia Uta + Horst
2015-04-21T00:00:00Z
awesome place to stay and relax! 100 % recommendable! great balcony, furniture, kitchen, bath rooms. on the spot replies and support by either Janis and Lynn. thanks and best regards. we hope to come back.
Tido
2016-03-27T00:00:00Z
We have a very good moment whith my family the appartement is buetiful and the swiming pool was very nice Thanks a lot See you next time
Clement
2016-04-09T00:00:00Z
The appartment has a large balcony and a great view on the pool and the tropical garden. We arrived around midnight but that was not a problem as the security guard could let us in en give us the keys. The appartment as wel as the complex were clean and well maintained. The complex is at the 'wrong' site of the N70, but the pedestrian bridge is really close, so within 10 minitues walk you are on the beach.
Tilja
2015-08-30T00:00:00Z
We had an amazing time at this beautiful little gem of a place. Yannis and Lynn were perfect hosts. We would definitely return. Great location, clean, modern apartment. Perfect for families, safe and luxurious facilities.
Adrian
2015-06-18T00:00:00Z
Yannis was a great host checking that we had all the information we required before we arrived. Lynne was our contact in Spain and was willing to help us with anything that we needed. The apartment was lovely, clean and perfect for us. It is a great place to relax with a small beach down the road and good transport links to Estepona and Marbella. The swimming pool was picture perfect with a calm atmosphere. We highly recommend this apartment!
Tina
2015-08-07T00:00:00Z
Yannis's apartment in the South of Spain was a lovely place to relax and lay back. It was a great location between Marbella and Estepona. My family and I loved relaxed atmosphere and the amazing pool which we spent many hours in. It was a lovely apartment and Lynn who looked after us on the trip was fantastic and helped us with absolutely anything we need. I highly recommend this apartment.
Samuel
2015-07-15T00:00:00Z
Kamertype
Gehele woning/appartement
---
Type woning
Appartement
---
Geschikt voor
4
---
Slaapkamers
Estepona, Andalusië, Spanje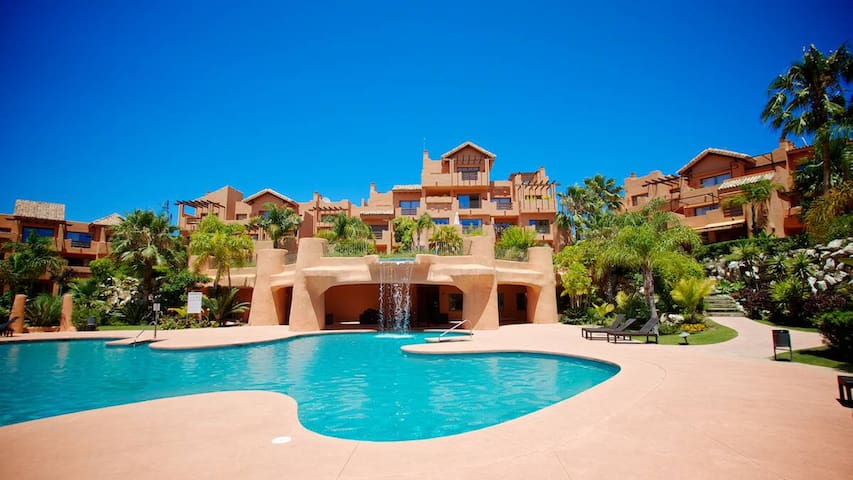 Deze lichte en lichte appartement is ingericht naar een hoge standaard en is op de begane grond met directe toegang tot de mooie tuin en een groot zwembad. Een korte wandeling naar het strand, chiringuitos en strandpromenade. Het aanbieden van een geweldige vakantie voor iedereen!
Deze lichte en lichte appartement is ingericht naar een hoge standaard en is op de begane grond met directe toegang tot de mooie tuin en een groot zwembad. Het is cool, luchtig en ruim, met 2 slaapkamers, 2 badkamers, woonkamer met eethoek, goed uitgeruste keuken met koelkast met vriesvak, vaatwasser, oven, kookplaat en een magnetron en een aparte bijkeuken, met wasmachine en droogruimte. Buiten is er een prive-terras, in een uitstekende positie met uitzicht op het zwembad en de tropische tuinen, met een directe poort toegang tot het gemeenschappelijk zwembad. Er is een tafel met zes stoelen, om te dineren alfresco en te ontspannen. Als je een auto huren is er parkeergelegenheid buiten het appartement, waardoor voor een gemakkelijke toegang met koffers en winkelen. Een vijf minuten lopen naar het nabijgelegen wandelpad leidt u naar Playa de Sol en Playa de Saladillo een 5 mijl strook van uncrowded zandstrand. Het nemen van een wandeling langs het strand of de verharde promenade brengt u naar een aantal trendy bars met eten en drinken de hele dag, ligstoelen en af en toe entertainment. Als alternatief voor een speciale lunch of avond uit, ga je naar het 4-sterren hotel of Villacana Resort, binnen een paar minuten lopen, het aanbieden van diverse restaurants en een bruisend nachtleven in de loop van het seizoen. Er is een grote supermarkt, een bank en diverse restaurants op 10 minuten lopen en nog dichterbij is het typisch Spaanse dorpje Cancelada waarin verschillende lokale winkels, een apotheek en een verdere verscheidenheid aan bars en restaurants.
Locatie, locatie, locatie Gemakkelijke toegang, strand, zee, zwembad, tuinen, entertainment
hôte très sympathique mais très peu de contact car pas location chez l'habitant comme habituellement chez airbnb
Julie
2016-08-19T00:00:00Z
Vi trivdes väldigt bra i lägenheten och kan mycket väl tänka oss att återkomma en annan gång. Det är gott om plats och finns plats för förvaring, praktiskt med 2 badrum. Skön altan i skuggan för den som vill ha det. Trädgården är vacker och poolen fantastisk! Jane har varit mycket trevlig och tillmötesgående. Det här boendet kan absolut rekommenderas.
Lucas
2016-07-07T00:00:00Z
Jane made me and my family very welcome great area to stay Many thanks
stuart
2016-10-07T00:00:00Z
Lovely appartment on the ground floor in a great quiet residence. Jane is an absolute great host who will do anything to make your stay as comfortable as possible. Great location for a lovely holiday!
Bjorn
2016-08-04T00:00:00Z
A very nice apartment. Comfortable beds. Can walk to supermarkets, beach and restaurants. Bus stop nearby. It is close to the motorway but there is a large commercial building between the apartment and the motorway that blocks most of the noise. The only drawback is that the terrace is shaded by a tree and since we were there in March it would have been nice to have the sun on it. Jane was a great hostess. Very responsive. We would rent this apartment again.
wade
2017-03-31T00:00:00Z
Very handy spot if you want to tour to Tarifa or other cities. The beach is nearby and there are lots of supermarkets and restaurants within walking distance. The local bus service is very good and of course so nice to have a pool at the complex.
Fiona
2016-12-30T00:00:00Z
Jane was a fantastic host. She personally picked us up and dropped us off from the Airport and she was very informative and gave us lots of tips on places to visit and the area in general. She was only on the end of the phone if we needed and made us feel very welcome and relaxed from the start. The property is a great base to get out and about to explore from, or to simply kickback and relax in all the home comforts provided, including the excellent shared pool area and gardens.
Anne
2016-08-28T00:00:00Z
Very welcoming host and location is a great base to explore the Costa del Sol. Jane was a very helpful and accommodating host. Good value for money and suitable for young families. Apartment had everything you might need and close to local amenities.
Paul
2016-09-20T00:00:00Z
Kamertype
Gehele woning/appartement
---
Type woning
Appartement
---
Geschikt voor
6
---
Slaapkamers
Playa del Sol Villacana, Andalusië, Spanje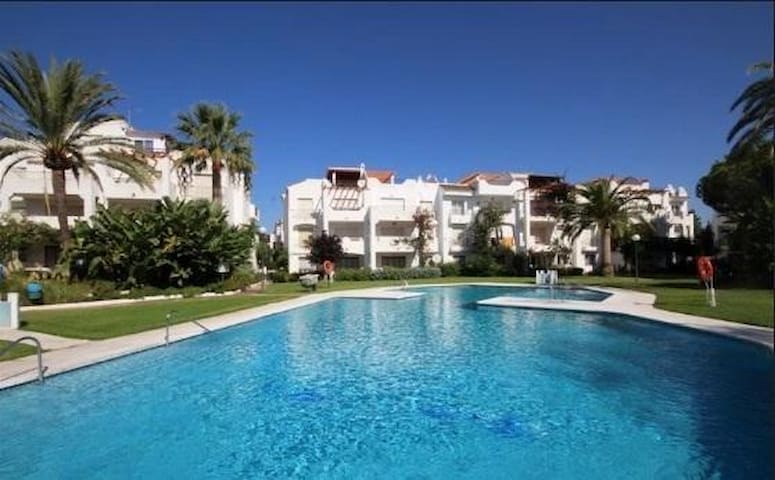 Newly renovated 3 bedrooms & 2 bathrooms apartment with 2 terraces. Spectacular communal areas, 2 pools, security, high-speed wi-fi by fiber optics, cable TV & underground dedicated parking. Walk to beach, supermarkets, bank, restaurants, pharmacy, tennis court.
This 3 bedroom +office and 2 bathrooms remodelled apartment is situated in the popular and quiet residential area of Bel-Air between Puerto Banús and Estepona. This spacious residence is more than 170sqm and includes 2 large terraces (north 60m2 and south facing 20m2) and 2 min walking distance to supermarkets (3), bank, pharmacy, doctor, restaurants, police station, post office, fuel/petrol/gas stations and more. It is only a 8-10 minute walk to beautiful beaches. By car, Puerto Banús is 8 minutes away, Estepona 6 minutes away, San Pedro de Alcantara 5 minutes away and Marbella 15 minutes away. The building has 2 big pools, security, luscious gardens and dedicated underground parking space. Cet appartement rénové de 3 chambres + bureau et 2 salles de bain se trouve dans le quartier tranquil et résidentiel de Bel-Air entre Puerto Banús et Estepona. Cet appartement spacieux (+ de 170 m2) inclus 2 grandes terraces (une vers le nord de 60m2 et l'autre vers le sud de 20m2) et se trouve à 2 minutes à pied de supermarchés, banque, pharmacie, docteur, restaurants, police, la poste, stations de service, et plus. La plage se trouve à 8-10 minutes à pied. En voiture, Puerto Banús est à 8 minutes, Estepona à 6 minutes, San Pedro de Alcantara à 5 minutes et Marbella à 15 minutes. L'immeuble a 2 grandes piscines, gardiens, jardins et place de parking dédiée au sous-sol. Este apartamento renovado de 3 dormitorios + oficina y 2 baños esta situado en la zona tranquila y residencial de Bel-Air entre Puerto Banús y Estepona. Este espacioso piso (+ de 170 m2) incluye 2 grandes terrazas (una hacia el norte de 60m2 y otra al sur de 20m2) se encuentra a 2 minutos a pie de supermercados, banco, farmacia, doctor, restaurantes, ayuntamiento, correo, estaciones de servicio y más. La playa está a tan solo 8-10 minutos a pie. En coche, Puerto Banús esta a 8 minutos, Estepona a 6 minutos, San Pedro de Alcantara a 5 minutos y Marbella a 15 minutos. El edificio tiene 2 grandes piscinas, seguridad, jardines maduros y garaje para 1 coche. Den här lägenheten som har 3 sovrum + kontor och 2 badrum ligger i det trevliga och lugna området Bel-Air, mellan Puerto Banus och Estepona. Lägenheten är stor och rymlig med totalt över 170m2, inkluderat 2 stora terasser, (en i norrläge och en i söder) så att ni har sol hela dagen, Ni kan promenera ner till vackra stränder och strandpromenad på under 10 minuter. Det är också gångavstånd till 3 mataffärer, den närmaste bara några minuter, till resturanger, bank, post, apotek, doktor och polis station. Med bil tar det 8 minuter till Puerto Banus, 6 minuter till Estepona, 5 minuter till San Pedro de Alcantara och 15 minuter till Marbella. Byggnaden har 2 stora pooler, vackra gröna trädgårdar, bevakning och p-plats i garage.
Don't feel like driving? No problem, you can leave the car parked and still find all necessary amenities within a few minutes walk: three supermarkets; Mercadona (2 minutes away), SuperSol (5 minutes away) and Lidl (5 minutes), restaurants, bank, pharmacy and doctor (2-3 minutes away). One of the best tennis clubs in the area (Club Tenis Bel Air) is located behind the building and offers tennis and paddle courses. El Paraiso golf, Atalaya Golf & Country Club and Alferini Golf club are all located within a 3 to 7 minute drive. Si vous n'avez pas envie de conduire; pas de problème. Le quartier a plein de services à vous offrir comme: trois supermarchés Mercadona (à 2 minutes), SuperSol (à 5 minutes) et Lidl (à 5 minutes), restaurants, banque, pharmacie et médecin (2-3 minutes à pied). Un des meilleurs clubs de tennis de la zone (Club Tenis Bel Air) se trouve derrière l'immeuble et il offre des cours de tennis et de paddle. Les golfs El Paraiso, Atalaya et Alferini se trouvent tous à 5 minutes en voiture. Si no quiere conducir; no hay problema. Deje el coche en el parking subterráneo y salga a caminar. Vera que hay 3 supermercados; Mercadona (a 2 minutos), SuperSol (a 5 minutos) y Lidl (a 5 minutos). Restaurantes, banco, farmacia y doctor están a 2-3 minutos caminando. Uno de los mejores clubs de tenis de la zona (Club Tenis Bel Air) esta atrás del edificio y ofrece pistas de paddle y de tenis. El Paraiso golf, Atalaya Golf y Country Club y el Alferini Golf club están entre 3 y 7 minutos en coche. Det som är bra med det här området är att du inte nönvändigtvis måste ha en bil eftersom allt du behöver dagligen finns på gångavstånd. På under 5 minuter kan du gå till Mercadona, SuperSol eller Lidl, resturanger, bank, apotek och läkare. På ca 10 minuters promenad kommer du ner till stranden och strandpromenad med strandbar och cafe. Tennis klubben "Club Tenis Bel Air" ligger precis bakom byggnaden och har bade tennis och paddle. För golfare finns det mycket att välja på i närheten, El Paraiso golf, Atalaya Golf and Country Club, Alferini Golf Club och Guadalmina Club de Golf ligger alla på 3-7 minuters bilavstånd.
Vi har nydt 12 dage i denne fantastiske lejlighed. Den fremstår præcis som beskrevet, og udlejeren er utrolig venlig, hjælpsom hvis der er behov for det og ikke mindst hurtig til at svare tilbage på eventuelle spørgsmål. En service udover hvad man kunne forvente. Lejligheden ligger i et roligt område, hvilket giver nogle dejlig rolige aftener, som kan nydes på den dejlig store terasse. Jeg kan kun give mine bedste anbefalinger :-)
Erik
2016-07-29T00:00:00Z
The location was perfect for us. With a car, 1 hour away from Gibraltar and Malaga, 30 mins from Marbella, we felt we were somewhere a little more remote and peaceful, and yet only a drive away from city life. The apartment is large and spacious, and definitely suits a large group of friends or a large family. There's a concierge and a gated entry into the complex, so it feels rather safe. The view from the living room was absolutely beautiful, a picture of mountains and country side. There was unfortunately a technical problem after a day and so we had to find an apartment near by. Nonetheless, the host was incredibly gracious at attempting to assist us and we thank him and hope we can have a host like him with our future travels, even though we hadn't met face-to-face.
Gemma
2016-11-15T00:00:00Z
Excelente host , very caring and helping us in any possible way, going beyond and above his obligations. The place is neat, we'll located, very well kept, many amenities. Beds are good quality, very clean and in perfect order.
Victor
2016-05-17T00:00:00Z
Really nice apartment that is practical and fully equipped with everything you can possibly need, even great service with beach towels. Great location with beautiful views of the mountains. The neighbourhood feels alive with a lot of locals. Proximity to the football field, tennis club, numerous golf courses, the bus stop, grocery stores and 15 min walk to the beach. After many years renting different accommodations in the surrounding area, this apartment became a favorite that we can recommend. We will definitely return to this spacious and affordable accommodation between Puerto Banus and Estepona.
Karl
2016-04-04T00:00:00Z
Cadre très agréable. Présence d'un gardien jour et nuit. Place de parking au garage très pratique. Très bonne réactivité de Jonathan en cas de problème.
Françoise
2017-02-11T00:00:00Z
We had our early spring holiday between 15-23 of march, which was clearly off- season in the area. The place was nicely quiet and there were not many neighbours around. One of the pools was under maintenance, but the other one was full (the water was cold). The community areas were exceptionally clean. It was easy to find the place and plenty of room for parking, we didn't use the underground parking except once. The basic shops were close and (3) different restaurants within walking distance. The apartment was comfortable and had a nice big living room with dining table and a balcony. The rooms were a bit apart and more private, which was great in our case as we travelled 3 different families. The kitchen was well equipped, including a washing machine. The only thing we missed was a basic espresso pot. We had a bit of a bad weather with just some really warm days, so I imagine with better weather this apartment with patio and pools would be even better. We were really happy with the place and would recommend it to anyone who prefers a quiet no- stress holiday.
Eeva
2017-03-23T00:00:00Z
Hemos pasado tres días estupendos en casa de Alberto. Es amplia y muy bien surtida. Tiene todo lo necesario para sentirte cómodo. Al haber ido en invierno, no hemos hecho uso de las zonas comunes, pero debe ser increíble en verano. Alberto se ha preocupado constantemente de que nuestra estancia fuera perfecta. Sin duda, repetiremos.
Sol
2016-12-29T00:00:00Z
El apartamento de Alberto tiene una ubicación genial, todo lo que se puede llegar a necesitar está a solo un paso de poder comprarlo. El apartamento es muy espacioso y brinda una comodidad increíble. La Cocina está muy bien equipada con todos los utensilios necesarios. No pudimos utilizar la piscina por el clima muy frío, pero se veía divina para disfrutarla en verano. La comunicación con Alberto fue excelente desde el inicio de nuestra reserva. Definitivamente volveríamos a hospedarnos en este apartamento.
Vanessa
2017-01-04T00:00:00Z
Kamertype
Gehele woning/appartement
---
Type woning
Appartement
---
Geschikt voor
6
---
Slaapkamers
Málaga, Andalusië, Spanje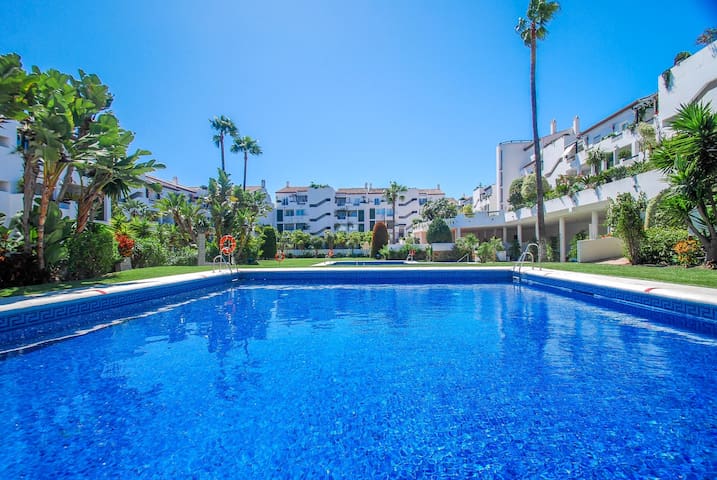 Just Opened - Special Introduction Tariffs! Our Mediterranean Chalet "MarbellaBB" is a little oasis of tranquillity in Atalaya Park and that is an old residential area, centrally situated on the fun-filled Costa del Sol. MarbellaBB is a cosy one-bedroom Chalet and is perfect for a romantic couple or a small family. Inside the Chalet (40 m2) is one bedroom, a living room and a bathroom with shower, toilet and washbasin. You have your private entrance and there is airconditioning in each room.
Outside in your private garden you are provided with your own pool! The outside terrace has a bar with freezer and water tap. We will provide a nice welcome drink upon your arrival!
It is a flowery and vegetated neighborhood with a tranquil ambient, even though it is a stone throw away from the sea and both day and nighttime activities.
We spent a wonderful night at Martines cabin. It is exactly like in the pictures, a really beautiful place to relax with all comforts you would want. Martine is a great host and lovely person, when we woke up in the morning, we had this delicious breakfast and could enjoy it in the sunny garden. More than 100% recommendable and we would love to stay there soon for a longer holiday. Thank you Martine! :)
Ingrid
2016-09-25T00:00:00Z
Fabulous experience! Martine is a kind & generous host. Cabin has everything you would need. Very comfy bed. Lovely quiet location. We hope to be back!
anna
2016-10-06T00:00:00Z
Great success!!
Allon
2016-09-23T00:00:00Z
Trato excelente por parte de la anfitriona. La casa preciosa,perfectamente equipada, con todo lo necesario para pasar unos dias con encanto. Es igual que en las fotografias, todo muy cuidado.
Carmen
2016-09-13T00:00:00Z
What a fantastic few days, Martine was lovely and the cabin was gorgeous! Thank you for the wonderful breakfast, we have left a few pounds heavier! s]We hope to return soon xxx
alexandra
2016-09-02T00:00:00Z
Nous avons été très bien accueillis par Martine. Nous nous sommes tout de suite sentis chez nous et en confiance. Sa cabane a beaucoup de charme et tout ce qu'il faut pour passer un bon séjour. C'est un bon emplacement pour visiter le centre d'Estepona et proche de Marbella aussi. Elle nous a conseillée un super restaurant "Le Salduna" Tout était parfait. Martine est une adorable personne qui fera tout pour rendre votre séjour très agréable.
Baptiste
2016-08-22T00:00:00Z
Una sola parola: perfetto !!!
Massimo
2016-08-27T00:00:00Z
Hemos pasado un fin de semana maravilloso. Una gran anfitriona y una casa preciosa. Recomiendo 100% este sitio.
Juan Miguel
2016-09-04T00:00:00Z
Kamertype
Gehele woning/appartement
---
Type woning
Houten huisje
---
Geschikt voor
4
---
Slaapkamers
Estepona, Andalusië, Spanje
Perfect family holiday rental in luxury complex - Stunning Pool - Wi Fi, Air Conditioning & Sky TV, russian, arabic channels, etc... Only 10 minutes from Puerto Banus and a few steps from the beach! Recently refurbished ample apartment with a sunny terrace facing the giant swimming pool and green areas. Child's friendly and well-catered complex, with gorgeous pool and loungers. 24H security.
Are you ready for a stress-free vacation in a luxury resort, stunning swimming pool views, great sunsets, comfy beds, a breathtaking terrace, and true 'owner-driven' hospitality? Then check out our reviews and come join us, we manage more than 50 properties in Marbella. Welcome to Marbella, where spectacular golf courses, beaches and a wonderful Mediterranean cuisine make a stunning backdrop to a village filled with luxurious shopping, superb dining, gorgeous golf courses and more than 300 days of sun a year. And you're just steps from some of the most beautiful beaches in Spain and 10 minutes from the famous seascape of Puerto Banus. Traveler looking to relax will find their personal paradise here. We are family – friendly, group of friends – friendly as we've welcomed family reunions, golf retreats, company retreats, weddings, etc. Everyone can find a home-away-from-home here! FLOOR PLAN: This 150 Sq meters ground floor has two ample bedrooms and two bathrooms, fully equipped kitchen, cozy and elegant living room plus a private terrace facing the green areas and the swimming pool. Garage. Living Room: Separate lounge and dining area. 45"TV, Wi Fi, international TV and terrace. Kitchen: Fully equipped kitchen, dishwasher, oven, kettel, coffee machine, etc.. Terrace: Big terrace , sunny outdoor dining area. Master bedroom: 180 x 200 cm king size bed with ensuite bathroom. Guest room: Two twin beds 90 x 200cm. Beach. Shopping. Sleep. Repeat. After you've enjoyed the whole day on the beach, return to your relaxing luxury retreat: Modern furniture, soft lighting, privacy mean that you can get some much-needed shut-eye before you hit the beach in the morning. We provide linens, towels, hair dryer, iron board and a welcome package with some amenities, water and wine. Even the most well travelled guest will be surprised with the little luxuries we offer in this amazing flat. Top-Notch Customer Service. I'm a Marbella native who has lived and worked all over the world, which means I know good hospitality – and that's what I provide for my guests. Even world-wise travelers will be pleasantly surprised by the little extras and goodies we provide, and I love helping my guests live like locals by providing them with tips on the best dining and nightlife around. Once the reservation is made, we will send a guide with different tips on the best restaurants, nightclubs and points of interest in the area, so you can live the experience like a local. Opt for a holiday you deserve and not for other options with lower quality. READY TO BOOK? Please contact me to check dates, tell me a bit about yourself and your trip BEFORE you request a booking. The calendar is accurate but I might be in communication with other guests. Maybe you are searching for something different? Please take a look at all the properties available in my Airbnb profile: https://www.airbnb.com/users/show/27654121
Welcome to Guadalmina, where spectacular golf courses, beaches and a wonderful Mediterranean cuisine make a stunning backdrop to a village filled with luxurious shopping, superb dining, gorgeous golf courses and more than 300 days of sun a year. And you're just steps from some of the most beautiful beaches in Spain and 10 minutes from the famous seascape of Puerto Banus.
It is the second time I've stayed at Borja's properties and it could not have been any greater. Thanks for your hospitality!
Nacho
2017-03-26T00:00:00Z
Todo mejor de lo esperaba, precio y calidad estupendo.
manuel
2017-03-28T00:00:00Z
The overall hospitality was great! I will definately recommend it to friends !
Bryan
2017-03-24T00:00:00Z
Our stay at the apartment was absolutely great! The apartment is huge, with two balconies, access to the pool and garden and has a private parking space. The design is beautiful and we were impressed by the cleanliness and good communication with the hosts. Thank you!
Oana
2017-04-01T00:00:00Z
Kamertype
Gehele woning/appartement
---
Type woning
Appartement
---
Geschikt voor
4
---
Slaapkamers
Estepona, Andalusië, Spanje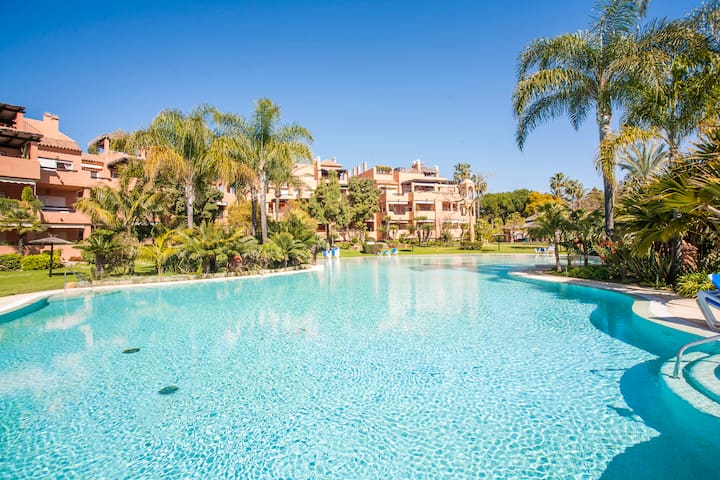 Welcome to our cosy flat, ,in the famous urbanization of Benamara Dos Hermanas,at 5km of Puerto Banus. We are ideally located if you are looking to explore the local sites Marbella et Estépona. We are also close to the main routes to Séville,Tarifa,Cadix,Ronda...We have near the appartement great restaurants, bars (the Robin Hood pub, the Tanino, Lebanese,Indian...)
Perfect for a couple . Possibility for 1 other personn to sleep in the living room on a sofa (with a supplement of 10€ per day). Beautiful terrace for lunch with a corner solarium and a community garden view. A large pool 100m wich brings you to the beach. Close to golfs, restaurants, shops, taxi and bus. A bathroom with a bath . Real kitchen with possibility to cook. A beautiful terrace with a barbecue and a table to eat outside . A beautiful larg pool with sunbeds and parasols . You can also use our bike. Wifi avaible.
Zeer dicht bij het busstation en taxi's, restaurants, golfs ...
Bij aankomst goed en heel vriendelijk opgevangen door Veronique. Appartement is gezellig, schoon en gevuld met nieuw meubilair. Extra welkomstgevoel door een mandje gevuld met wat eten en drinken. De urbanisatie is goed en mooi onderhouden. Dicht bij zee. Kortom goed naar ons zin gehad.
Marieke
2015-09-17T00:00:00Z
Logement situé dans un endroit calme et à la fois proche de très bons restaurants. Quartier sympa. Logement convenant à un couple. Excellents échanges avec les propriétaires.
patricia
2017-03-04T00:00:00Z
The apartment is located in a very quite compound and is nicely arranged. Within a 5min walk you can reach the beach with two beach bars. It's a perfect place to stay if you want to explore Puerto Banús and Marbella. The reception and handover of keys by Véronique worked smoothly and wihtout problems. I can unconditionally recommend this apratment. Thank you Franck and Flo.
Sébastien
2016-05-30T00:00:00Z
We had a lovely stay at this apartment, lovely area, very nice, clean and comfy place. We were well looked after and given all of the information we needed in regards to restaurants, beaches and general advice. I would recommend to friends and look forward to coming back in the future hopefully. Many thanks, Annabel
Annabel
2016-07-21T00:00:00Z
Séjour agréable à l'appartement: propre, confortable, dans un résidence calme, conforme à la description. Les instructions pour l'arrivée étaient très clairs, les contacts réguliers, et l'accueil par Véronique très sympathiques.
Thibaut
2016-04-18T00:00:00Z
Wow! What a fantastic apartment, a really quirky design and everything you could want from a home from home. The terrace was quiet and private and the communal gardens and pool where beautiful and also very quiet despite the lovely weather. The enormous pool was very clean and we had it almost to ourselves the both days that we used it. Veronique, the point of contact was very helpful ans everything went very smoothly. Highly reccommended Many thanks
David
2016-10-03T00:00:00Z
We enjoyed our stay in Franck & Flo's apartment near Estepona. Everything was as described and shown in the pictures. Contact with host was uncomplicated and quick. Apartment is in a nice neighbourhood with a large common pool area, the beach is a short walk away. Some good restaurants are very close too (e.g. Indian, Lebanese and Salduna Beach Restaurant right at the beach). Great basis to visit near places like Marbella, Gibraltar, Malaga etc.
Steffen
2016-03-25T00:00:00Z
We appreciated the welcome pack. The apartment is in a quiet and well maintained neighbourhood. It was a pleasure to stay there.
Hugh
2015-11-27T00:00:00Z
Kamertype
Gehele woning/appartement
---
Type woning
Condo
---
Geschikt voor
3
---
Slaapkamers
Benamara, Andalusië, Spanje
Bonito apartamento de 55 m2, un dormitorio con baño, cocina incorporada al salon, porche y jardín, en preciosa urbanización con piscina, zona Marbella, muy buena situación. Playa a 150m. Puerto Banús 7m. en coche. Supermercados y restaurantes a pié. Dormitorio con cama de matrimonio . Sofá cama en salón con otro sofá utilizable por niño. Existe en armario un colchón inflable.
Apartamento amueblado sobriamente, pero con buen gusto y cariño.
Urbanización típicamente andaluza con pequeños jardines en todos los bloques de apartamentos. Las casas tienen dos alturas y las calles estrechas están empedradas con cantos rodados que le confieren un aspecto muy agradable y tradicional. Está muy bien comunicada entre la autovía y el mar y se puede llegar en pocos minutos a Puerto Banús, San Pedro de Alcántara y Estepona. 45 al aeropuerto de Torremolinos y menos de una hora a Málaga
ubicación muy buena, Jose M. muy educado y amable.
Gonzaga
2016-12-02T00:00:00Z
Santiago, was very available . He worried whether our stay went well .The apartment match the photos and description . Good location but a car is (URL HIDDEN) calm.
Arnaud
2015-09-16T00:00:00Z
El apartamento era tal cual está en la descripción y en las fotos. Es un apartamento muy bien cuidado y con un jardín que por las noches si se cena allí se está de maravilla. Es un sitio muy tranquilo, cerca de la playa y la piscina muy bonita. El dueño muy atento y sin problemas. La limpieza muy buena. Por poner un pero, el frigorífico muy pequeño.
Jose
2016-08-01T00:00:00Z
La estancia en la casa fue perfecta, en un ambiente tranquilo y acogedor. Cerca del mar y a 10 metros de la piscina de la urbanización. Recomendable.
Jordi
2016-09-04T00:00:00Z
El apartamento es tal y como se ve en las fotos, es genial para una pareja, la zona es tranquila y la playa esta al lado. El trato genial. Las zonas de mas gente como puerto banus o el puerto deportivo están a escasos 15 minutos en coche. Recomebdable 100%.
Alvaro
2016-08-23T00:00:00Z
It was a quaint little beach house in a quiet neighborhood. Everything works in the apartment, hot water, electricity and a small heater. We rented a car so driving to towns from this location was pretty easy. Highway just down the road. Would recommend!
Ekim
2017-03-18T00:00:00Z
Asunto oli siististi sisustettu ja lämmin. Itse tykkäsin asuinalueesta suuresti ja omasta pihasta. Vuokraisäntä oli huomaavainen. Suosittelen myös muille.
Tuula
2017-02-21T00:00:00Z
La casa tiene su gran fuerte en el jardin, esta muy bien y es lo que te da la vida. La urbanizacion es tranquila y la piscina esta perfecta. La playa esta muy cerca y es muy familiar y tranquila, la gente que va a esa playa son residentes de la zona. La casa en lineas generales esta bien, el anfitrion es muy atento y funciona bien. Alguna reforma a la casa le vendria bien y algo mas de limpieza, pero aun asi merece la pena sobre todo por el jardin.
Daniel
2016-08-05T00:00:00Z
Kamertype
Gehele woning/appartement
---
Type woning
Appartement
---
Geschikt voor
3
---
Slaapkamers
El Paraíso, Andalusië, Spanje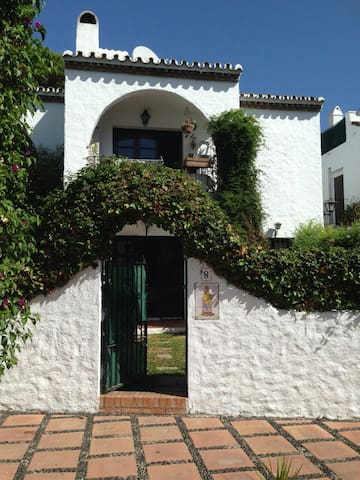 Appartement ideale vakantie in een mooie residentie het reconstrueren van een wit Andalusisch dorp aan de frontlinie van het strand 10 minuten van Puerto ...
Appartement ideale vakantie in een mooie residentie het reconstrueren van een wit Andalusisch dorp aan het strand op 10 minuten van Puerto Banus en 15 minuten van het centrum van Estepona. Bar, restaurant en de handel in het complex. Leuke sfeer. Pool opening van mei tot Septiembre. Indien u wenst, bieden wij internet voor 2 € Out Tijd: 11:00. Bij aankomst na 22.00 uur zal er een toeslag van 20 € zijn.
Kamertype
Gehele woning/appartement
---
Type woning
Appartement
---
Geschikt voor
3
---
Slaapkamers
Playa del Sol Villacana, Andalusië, Spanje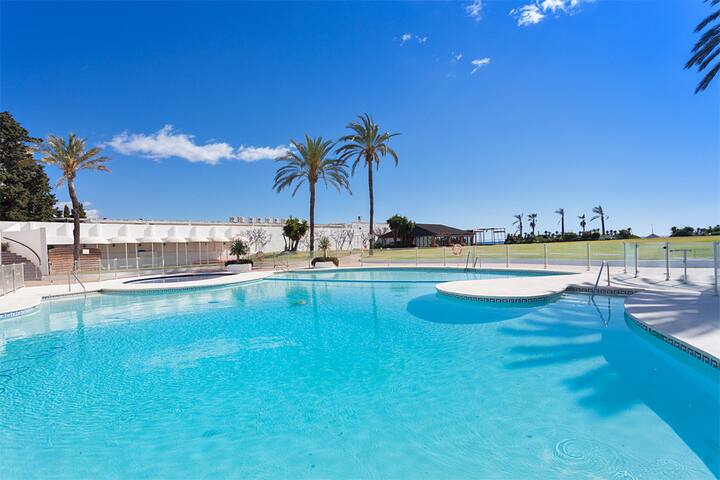 Apartment with two bedrooms and a sofa bed in the living room for two people. We also have a baby crib and linens and bath and beach towela. The living room has two sofas, TV, and fireplace, dining area for 6 people. Wi-Fi is installed throughout the house. The kitchen is fully equipped with an enclosed space for washer and dryer. From the living room you can entry the terrace and the garden, partially covered. 5-10 minutes drive to several golf courses, tennis and paddle courts.
First floor apartment in the exclusive development Park Beach, just a 10 minutes drive from Puerto Banus and 20 minutes to Marbella. Beautiful private gardens and a relaxed atmosphere. Direct access to the pool and the beach is only a 5 minute walk away (200m through the development), with restaurants and bars nearby. The property has a double bedroom at the rear with an ensuite marble bathroom. The twin bedroom, at the front, has access to a marble shower room in the hall way. Both bathrooms have heated floors. The fully fitted kitchen is self-contained with an adjoining utility room. The living / dining area is a very spacious open-plan area, with seating & dining for 6. The lounge area consists of two zones. The dining area with & the living area with two comfortable sofas & fireplace (the sofas can turn into beds). The TV has European channels and the possibility of watching movies and documentaries in English. Sliding doors lead you out onto a hedged south facing semi-private garden/ patio area. Perfect for sunbathing or outdoor entertaining. Direct access to pool area. 200m from the beach. For those interested in golf, there are several golf and tennis-paddel clubs within 5 minutes by car. There's plenty of parking right outside the apartment. There's a bus stop 200 metres walk that services Estepona, San Pedro and Marbella.
appartement très agréable et spacieux. Parfait pour les familles. la position géographique est un atout majeur de cette habitation. Le voisinage calme et sûr. juste à prévoir pour les prochaines fois une bouilloire électrique. A recommander vivement.
El Bejjati
2016-10-19T00:00:00Z
Todo perfecto
teresa
2016-06-07T00:00:00Z
We had a wonderful time in Miguels Apartment. He was available every time we had aquestion and all in all the welcome was warm and friendly. The Apartment is perfect for a lovely family holiday. BBQ on the terrace, heaven beach bar 5 minutes away, Restaurants and grocery Shopping nearby. The proximity to Marbella, Benehavis, Puerto Banus and all the other beautiful places is superb. We would recommend a rental car for even more flexibility. Thank you Miguel for a wonderful holiday! We will come back :-)
Sylvia
2013-05-10T00:00:00Z
I stayed in Miguel's house in Park Beach and loved this place. He was very flexible in giving us the keys and equally flexible in checking out. Every need I had was met here and I will gladly return to this house.
Patrick
2016-05-08T00:00:00Z
We stayed in Miguel apartment and he had a very good time. The apartement is really nice, clean and charming, we could rest and enjoy. It is pretty closed to Marbella city centre and Puerto Banus. I recommend this apartement and we would be really glad to come back one day!
Rossella
2013-08-04T00:00:00Z
Máxima tranquilidad en un ambiente acogedor. Estuvimos dos parejas pasando una semana en Navidad y la estancia fue perfecta. Todas nuestras necesidades estuvieron cubiertas, incluso pequeños detalles en la casa que no esperábamos. La urbanización es muy tranquila, a pie de playa y muy cercana a localidades mas grandes. Las playas de la zona son un valor seguro, pero la serranía de los alrededores merece la pena ser descubierta. Totalmente recomendable
Coral
2015-01-05T00:00:00Z
Very comfortable apartment, well equipped in a lovely property (pools, garden). Good starting point for trips around Andalucia. Very good contact with the owner, and nice local staff (cleaning lady, guards).
Tomasz
2015-07-05T00:00:00Z
The apartment exceeded our expectations. Spacious, comfortable, good location, very close to local restaurants on the seaward side of the motorway and worth the short walk over the pedestrian bridge to Cancelada to some really good eateries. catch the local bus to Marbella or Estepona where there is much to do. I hesitate to make it sound too good, as I want to make sure there are vacant dates for when we can revisit.
Tim
2017-03-01T00:00:00Z
Kamertype
Gehele woning/appartement
---
Type woning
Appartement
---
Geschikt voor
4
---
Slaapkamers
Estepona, Andalusië, Spanje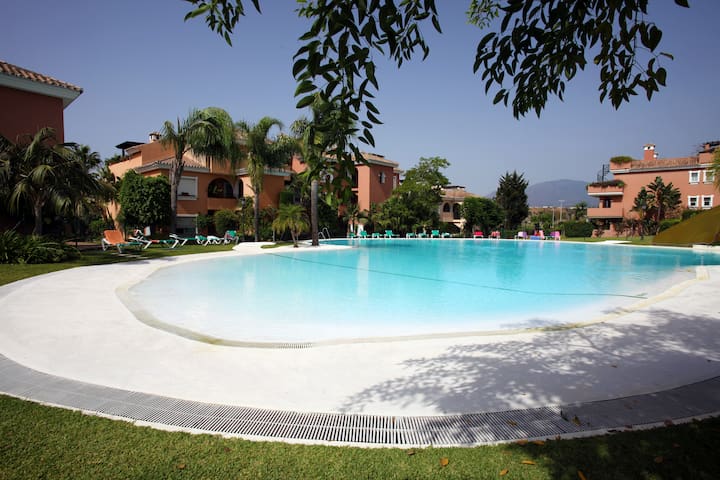 Cozy and comfortable apartment on the second floor with two bedrooms, big living room, bright terrace and fully equipped kitchen. In the urbanization you have a swimming pool, sauna, indoor swimming pool, jacuzzi and gym.
Very close to the sea - about 300 meters. Amazing spa area with two saunas, jacuzzi, swimming pool and a small gym. The spa area is open from 1st of October to 15 of May. It is closed during summer months. Outdoor swimming pool Indoor swimming pool Gym Quiet, residential area Several little shops are around. It is advised to have a car. During the months of November, December, January, February and March special discounts are applied for long-term reservations (2 weeks+).
Quiet, residential area Several little shops are around.
Prachtig appartement. Het was schoon , fris en zag er net zo uit als op de foto's. Het appartement ligt in een zeer luxe wijk en de beurt is perfect onderhouden. Locatie tov de zee is op loop afstand zoals voorgesteld. Wij hadden de tweede dag problemen met de airco maar die zijn door verhuurde binnen één dag!! opgelost. Verder was de security man zeer behulpzaam en is er een heerlijke garage onder het gebouw. Al met al zijn wij zeer tevreden en zullen zeker nog eens terug gaan.
Georges
2015-08-03T00:00:00Z
A great place. Anton was allways available. Impecable!
Ana
2016-06-05T00:00:00Z
L'appartamento e' veramente molto bello, pulito, spazioso, dotato di ogni confort.
Erika
2015-11-25T00:00:00Z
The apartment is really spacious with huge and all-day sunny terrace, 2 mins to the sea with a very nice promenade. WiFi is very fast and stable and the parking was easy. The urbanization itself is somewhat secluded although there are several good restaurants around within walkable distance. Nice place to explore the entire Costa Del Sol.
Boris & Lucy
2016-03-20T00:00:00Z
Logement spacieux de grande qualité. Propre pratique et bien décoré. Parking juste en dessous de l'immeuble pratique Lotissement avec piscine intérieure piscine extérieure jacuzzi salle de sport et sauna tout pour passer de bonnes vacances
Genséric
2016-11-25T00:00:00Z
Todo perfecto, un apartamento maravilloso, esperamos poder repetir
Javier
2015-10-18T00:00:00Z
Although host was not available top greet on site he made good provisions for handing over the key and checked early on that everything was satisfactory. Good location. Close to beach
Doreen
2016-11-07T00:00:00Z
El apartamento es como aparece anunciado. Situado en una buena urbanización, tranquila y rodeada de preciosos jardines. La urbanización cuenta con piscina exterior en verano (la piscina interior permanece abierta solo durante la época estival), sauna y un gimnasio. El apartamento estaba limpio, ordenado y ofrecía comodidades para disfrutar de una vacaciones sin problemas. Es preferible ir en coche, hay aparcamiento. Anton, aún en la distancia, siempre estuvo pendiente de nuestra llegada y de solucionar cualquier inconveniente. Volveríamos.
Mercedes
2015-05-19T00:00:00Z
Kamertype
Gehele woning/appartement
---
Type woning
Appartement
---
Geschikt voor
5
---
Slaapkamers
Estepona, Andalusië, Spanje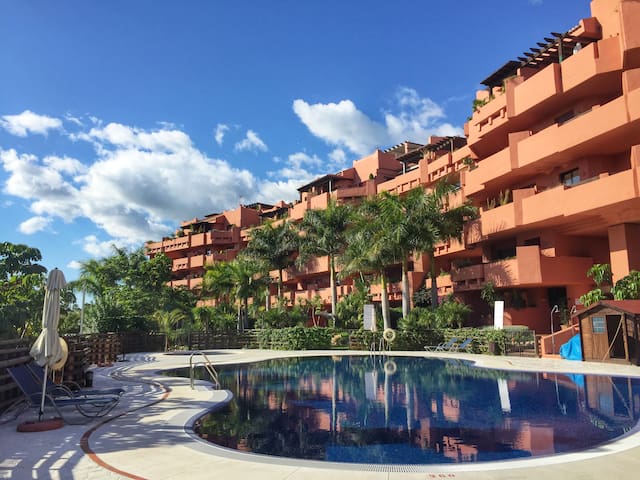 Cosy apartment within the luxury complex of Los Palacetes by the Royal Suites Marbella Hotel. It has beautiful surroundings in a quiet and peaceful location with two swimming pools and a jacuzzi. It is close to Puerto Banus, Marbella and Estepona. Also a ten minute drive from the picturesque mountain village of Benahavis, the gastronomic centre of the Costa del Sol. Surrounded by some of the best golf courses on the coast, makes it the ideal holiday home for golfers wanting a relaxing stay
Your holiday home is decorated in a Spanish rustic style making it extremely cozy and homely. You will find one double bedroom with two single beds and in the lounge a double sofa-bed as well as a single chair/bed. Fully equipped with air conditioning, heating, TV, and WIFI. A large kitchen with a little breakfast table, fridge/freezer, microwave, oven, dishwasher and a laundry room with a washing machine, iron and ironing board. The small balcony/terrace with views to the "La Concha" mountain, above Marbella is inviting to have meals and drinks outside enjoying the fresh air and the summer evenings.
The apartment is located halfway between Marbella and Estepona within the urbanisation of "El Paraiso". It's just a 10 minute drive to Puerto Banus and 5 minutes from supermarkets, shops and restaurants. For tennis lovers, there is a big Tennis Club only 2 minutes away. Golf players can take their pick from the numerous golf courses in the area. El Paraiso Golf, Nueva Atalaya Golf, Monte Mayor, Marbella Club Golf Resort and Los Flamingos are just a few amongst many more.
Very beautiful appartment! I hvae nothing to say! Its perfect! Wine and truffle on the table when we arrived it was amazing! I recommend
Ets
2016-12-20T00:00:00Z
The place is like a little piece of paradise. The hosts are amazing and welcoming. The condo is fully equipped and you will not miss anything. Theres a pool and also a small terrace. You can also park your vehicule. Its located in Benahavis..maybe not downtown of Marbella but its REALLY worth it the small detour. We really hope to come back soon and spend more then one night.
Marie Noel
2016-10-14T00:00:00Z
Mike and Raquel made us feel extremely welcome, he came to pick us up from the round-about of Benahavis entrance. The apartment is decorated with supreme elegance and it was very clean and comfortable with everything that was needed. They also supplied us with an excellent continental breakfast. Excellent swiming pools outside aswell. I would certainly return again and would recommend to others.
Frank
2016-10-18T00:00:00Z
Rien à dire à part merci beaucoup à Mike et Raquel ! Nous avons terminé notre voyage dans leur appartement et tout était parfait. Le vin mis à disposition était très bon ainsi que le petit déjeuner. L'appartement est très propre et bien agencé. Ce sont des hôtes très attentionnés. Tout le nécessaire est présent, rien ne manque.
Jérôme
2017-02-06T00:00:00Z
The hosts are the kindest and really attentive ,with all the little touches ranging from the croissants to the wine bottle. The heating system was great, as in the area some complexes might be inadequate in the cold season. Really a wonderful experience with Mike and Raquel around the corner, just ready to help.
Christopher
2017-02-05T00:00:00Z
Mike is a very efficient and professional host. The accommodation was just as described and more. Mike had organised a continental breakfast, wine and snacks for our arrival which was a nice touch. I would highly recommend Mike & Raquel's apartment for both leisure and business trips. Thank you both again for your hospitality.
Alek
2017-03-04T00:00:00Z
I got a few personal issues, like I was late to get the key on first night, I was 3 h late at least, plus couple more things in appartment. Mike was always so helpful and help me out always right away. That I would call a customer servise. Thank you so much. If you like a good food or you are golfer, the location is the best one. There is a one good golf course next to appartment, approx 5 min by car and then the Spanish castronomical paradise the Benahaven, approx 10 min by car.
Ilari
2017-03-19T00:00:00Z
Neat clean and tidy apartment on a quiet complex, good value too.
David
2017-02-26T00:00:00Z
Kamertype
Gehele woning/appartement
---
Type woning
Appartement
---
Geschikt voor
4
---
Slaapkamers
Benahavís, Andalusië, Spanje