Maison d'architecte, havre de paix en lisière de la forêt de Fontainebleau (varappe, escalade, promenade, balade, cheval). Piscine chauffée et couverte, de Pâques à la Toussaint environ ; jardin de 1 ha. 30mn en train de Paris (Melun direct, puis 7 km). Proche Barbizon. 10 km INSEAD.
The house can welcome up to 8 people : 5 in the main house and 3 in Justine's studio (see pictures). On 2 levels, the house has - a groundfloor where there are an open-plan kitchen, a living room with a parkray, a dining room and a toilet. - a first floor with 2 rooms (one for the kids with two single beds and a matress and one for the parents with a queen size bed) and a bathroom with toilets. The house is very light. Close to the house, Justine's studio offers 3 beddings on mattresses with shower, washstand and toilets. Central gas heating system for the house, electric for the studio. A parkray with wood (provided without additional fee in the garden porch) in the living room of the house.
Perfect location for forest's lovers. Mountain bikes, walks, climbing, rock climbing. Equestrian centers (Chailly-en-Bière, Barbizon). You can visit from there : Fontainebleau, Fontenay le Vicomte and... EuroDisney is about an hour away by car.
Dit huis lijkt te mooi om waar te zijn, maar het is echt waar. De goed onderhouden tuin vol met fruitbomen is echt zo groot als het eruit ziet; volop ruimte om te spelen, te verstoppen en te relaxen, ook in de schaduw en veilig voor kinderen. Je komt binnen en sluit het terrein af door een automatische poort en dan heb je het hele terrein volledig voor jezelf met 100% privacy. Het zwembad is fantastisch en ook voor volwassenen groot genoeg om baantjes te zwemmen. Het huis op palen dat je op een van de foto's ziet is een niet in gebruikzijnd gastenverblijf, en biedt vanaf de veranda een mooi uitzicht over de velden achter het huis. Het huis ligt naast een doorgaande weg dus je hoort wel auto's af en toe, maar niet storend. Het huis is heel gezellig en comfortabel, heerlijke bank, grote eettafel, toffe muziekinstallatie waar je dankzij goede WiFi verbinding Spotify via je telefoon makkelijk en goed kunt beluisteren. Open haard werkt prima en er is meer dan genoeg hout voorradig in het houthok buiten. De keuken met twee Smeg koelkasten heeft een jaloersmakende oven en al het keukengerei dat je eventueel nodig zou kunnen hebben. Fijn ook dat alle kruiden en huishoudmiddelen als vaatwastabletten en wasmiddel er gewoon zijn. De slaapkamers (een met gestemde piano!) en badkamer zijn prima, voor stripliefhebbers een walhalla. Boodschappen zijn op 10 minuten rijden bij een mega Carrefour of een iets kleinere Eclerc, of lopend (circa 20 minuten) in een klein winkeltje met vers stokbrood in Chailly en Biere. Maar de beste asset is de ligging t.o.v. Parijs: in 50 minuten sta je op Gare de Lyon. Je parkeert je auto in Melun (10 minuten rijden) in de naast het station gelegen parkeergarage (voor 10 € voor 24 uur) en bent dan met de trein in een half uur in Parijs (koop voor 16 euro een kaartje en je kan daarmee ook de hele dag onbeperkt in de metro in Parijs). Met de RER lijn D kan ook, dan doe je er bijna een uur over maar kun je wel uitstappen bij Les Halles. Trein is relaxter. Na een dag Parijs op een ligbed in zo'n tuin met een wijntje, wat een topcombinatie is dat. Wij hebben met twee zonen van 7 en 9 een toptijd gehad en bevelen dit huis absoluut aan voor iedereen die van rust, ruimte, natuur, koken, muziek en van Parijs houdt.
Simone
2015-08-01T00:00:00Z
We come again for a visit
Christian
2017-04-11T00:00:00Z
Nous avons passé une semaine de vacances géniales dans la maison de Jean-Michel et Cécile. La maison est super bien équipée, le jardin et la piscine sont magnifiques, la forēt est juste au bout du jardin .... Destination idéale pour des vacances au vert et au calme! Les propriétaires sont charmants et très disponibles. Nous avons hâte de revenir dès que possible!!
Emmanuelle
2014-06-29T00:00:00Z
Jean-Michel and Cecile were great at communicating right from the start, answering all our questions, and helping us make sure the place was right for us. They were warm and friendly, and pleasantly relaxed about a group of grubby climbers staying in the house! They also agreed to keep the pool heated an extra week, which was much appreciated by one of our crew, who braved the autumn chill to go for a swim every morning. The house is bright and welcoming, and set in beautiful grounds. We were welcomed by Evelyn, the housekeeper, and quickly found everything we needed (and more). We thoroughly enjoyed having a nice, warm base for our bouldering trip - there were five of us (adults) in the group, and this was a comfortable number, but the house could easily accommodate a couple more. All in all, great value for money, and we hope to come again!
Julia
2015-10-10T00:00:00Z
We had a great time at Jean - Michel and Cecile's house. We've worked and took long trips into the woods. The house is fully equipped, near the forest and has a very big garden. Also, both Jean-Michel and Cecile were very nice to let us checkout very late.
leon
2016-03-19T00:00:00Z
Everything was great, we loved the place!
Elena
2015-10-31T00:00:00Z
Beautiful House - ideal for relaxing and enjoying Fontainebleau
Michael
2016-10-09T00:00:00Z
Really wonderful home in the Fontainebleau area! Hosts are very easy to communicate and made sure we had a great trip.
Ben
2015-04-04T00:00:00Z
Kamertype
Gehele woning/appartement
---
Type woning
Huis
---
Geschikt voor
8
---
Slaapkamers
Chailly-en-Bière, Île-de-France, Frankrijk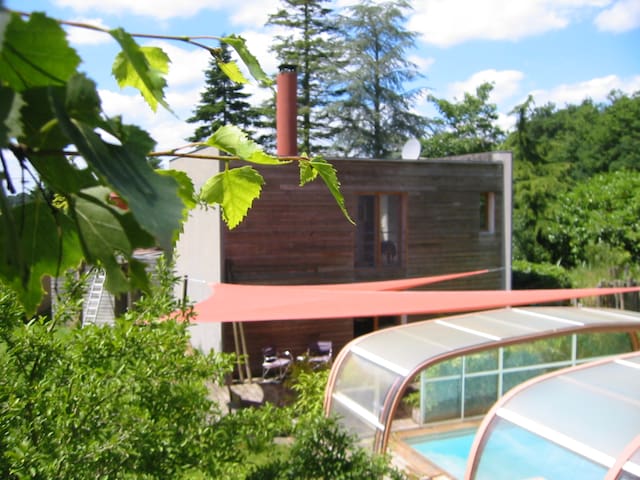 Spacious two bedroomed cottage, ideal for a couple, sleeps up to three adults comfortably, or 2 adults & 2children under 14ys. Near historic Fontainebleau, S. of Paris, just east of A6 motorway N/S. Wifi. Cottage located in large gardens on a quiet lane, in attractive village bordering the River Seine.
The cottage is on a quiet lane, a minute's walk from one of the largest forests in Europe, the Forest of Fontainebleau, stunning for walks, well known among rock climbers. Bois le Roi is a pretty village bordering the River Seine, ideally situated for a quiet weekend escape, or easy visits to Paris (direct train 35mins to Gare de Lyon, every half hour or more, so this is so much easier than driving and trying to park in Paris!), the Chateaux of Vaux-le-Vicomte, Courance and Fontainebleau, the impressionist villages Moret-sur-Loing and Barbizon, and for the jazz festival in Samois sur Seine in June. Teak garden furniture on the patio area overlook the main gardens. Wifi connection. Downstairs - garden entrance to study area, sofa and fireplace, front door entrance to open style kitchen with fridge, microwave, and oven, storage cupboard. Wooden stairs lead to a cosy sitting room/2nd bedroom with wooden floors and beams, looking out onto the lane: The sofa can be turned into a comfortable, double bed. TV. The main double bedroom with wooden flooring has an adjoining shower room and WC and two windows looking out onto the garden. Limited outdoor storage space, for skis for example. Parking is on a small, quiet lane next to the cottage. We can usually offer pick up/drop off at Bois le Roi train station on arrival/departure on request. Entry is through a garden gate, or front door. Teak garden furniture on the patio area overlook main gardens. We welcome guests on arrival. Coffee/tea and milk is available. We do not provide breakfast. There is a good boulangerie and a mini market just 5 minutes walk away. We can provide information about the area on request. The Forest of Fontainebleau is simply stunning in all seasons. Perfect for a stroll, a good walk or for seasoned climbers. Fontainebleau is a humming town, filled with great restaurants, boutiques and cafés and surrounded by several gorgeous villages, each one with its own history and identity. The nearby chateaus are well worth a visit: Fontainebleau, Vaux le Vicomte, Courances. In Bois le Roi we have a pharmacy, great bakery, small supermarket, excellent butcher, several small restaurants, a bank and dry cleaners close by, all within an easy 5 minute walk. Within 5 minutes drive is the marché twice a week (Thursday and Sunday mornings) for fresh fruit, fish, meat and vegetables, and a larger supermarket where everything is available. The marché of Fontainebleau, in the car park opposite the chateau, is also a great place to pick up delicious French food on a Sunday morning (also Tuesday, Friday). Bois le Roi train station is a 10-15 minute walk, or 5 minute drive from the cottage: Regular, direct trains North to Paris (35mins), or South to Fontainebleau (5mins) then to Moret sur Loing, Thomery... Timetable provided. For walkers/climbers: Buses leave from Fontainebleau train station into Fontainebleau centre and towards other parts of the forest. Map of walks available. The Base de Loisirs public parc just outside Bois le Roi is a great place to take small children for swims in the river in summer. Riding stables and tennis courts are available: 10 mins by car. The Fontainebleau swimming pool is lovely and clean.
Our lane is quiet, our neighbours are polite and helpful, the village is calm, we have an excellent little commercial centre with everything one needs just a 6 minute walk away, and a direct train to Paris. The riverside is beautiful and there is plenty to do and see nearby.
Nous avons passé un excellent week-end dans le cottage de Penelope. Le cadre est ultra calme et charmant, et le lieu est très agréable. La maisonnette est très confortable, bien équipée et chauffée. La communication avec Penelope a été idéale, et elle a eu la générosité de venir nous chercher (et déposer) à la gare. Nous recommandons chaleureusement cette location. Merci, Penelope!
Christian
2017-01-02T00:00:00Z
We loved our stay at the cottage! It's a really nice and cosy home. The kitchen is very complete and it even has a dishwasher! Penelope is very nice and helpful. We also really loved her cute dog, with whom we played almost every day. The village is very peaceful and you can find everything you need nearby. Parking at the station was hard, but there are plenty of parkingspots nearby. Just keep in mind to park outside the blue area. We really recommend this place for a stay nearby Paris, Disneyland and Fontainebleau. We recommend to visit the chateau of Fontainebleau, it's very beautiful.
Lianne
2016-08-04T00:00:00Z
L'endroit est parfait pour changer d'air et se reposer au calme. Le logement est confortable et tout équipé. Penelope nous a proposé de nous récupérer/déposer à la gare. Si l'occasion se présente nous reviendrons avec plaisir. Merci!
Vianney
2016-11-13T00:00:00Z
The cottage was as described - no surprises! My girls felt at home rapidly and enjoyed their stay. Penelope was really flexible on the hours of arrival and departure, which helped a lot our organisation. Great week with great weather!
Aurelie
2017-02-18T00:00:00Z
We had a great time in the cottage; it's really quiet and cosy, just as promised in the description. The forest is really a short walk away, as well as the local shops. Even though we actually didn't meet her in person, Penny was very helpful before, during and after our stay. We would definitely come back again.
Julien
2014-12-14T00:00:00Z
Nous résidons à bois-le-Roi, à 10 minutes à pied, et nous ne regrettons pas d'avoir fait le choix de louer cette petite maison charmante et bien aménagée pour accueillir 2 personnes de la famille pendant le week-end prolongé du 14 juillet. Les propriétaires sont restés joignables tout le temps de notre séjour et ont répondu à nos sollicitations avec sympathie. Nous n'hésiterons pas à reproduire l'expérience si l'occasion se présente !
Magali
2016-07-18T00:00:00Z
We came to Fontainebleau for climbing and stayed for 1 week. The cottage is absolutely lovely and perfect for 2 people. It's located in a pretty little village so it's best to arrive by car. The cottage was very clean and well equipped so you don't need to bring anything with you. Penny was traveling when we arrived but there is a book with lots of helpful information about the area which was great. We can absolutely recommend to stay here and would come back again next time :)
Tabea
2014-10-03T00:00:00Z
Petite maison très agréable pour séjourner au vert et recharger les batteries !Penelope est une excellente hôte et tout s'est très bien déroulé.
Laurence
2017-03-04T00:00:00Z
Kamertype
Gehele woning/appartement
---
Type woning
Huis
---
Geschikt voor
4
---
Slaapkamers
Bois-le-Roi, Île-de-France, Frankrijk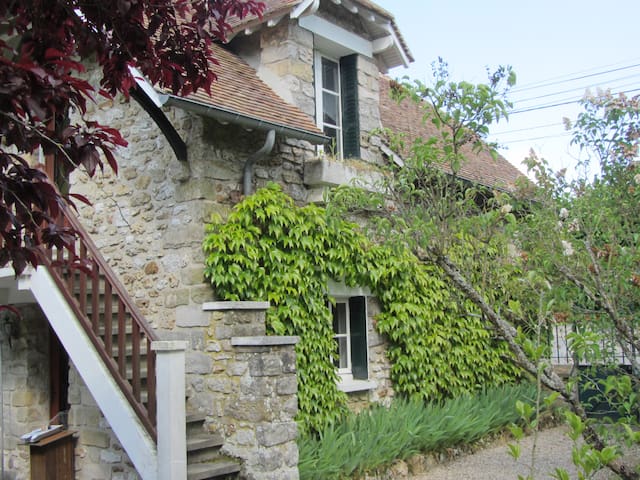 Romuald et Ana .Romuald and Ana welcome you to their cottage hand made, attached to their stone house in 1913. 5 min from the first site climbing in Fontainebleau, calm, charm and rest assured in the garden.
Our house is suitable for 4 persons, is located in the commune of Bois le Roi 8 km from the town of Fontainebleau. The cottage is attached to our house but you have a private entrance and no vis-à-vis our house for comfort and respect for all. Bakery, tobacco, banks, pharmacy, post office, restaurants, ... and especially the railway station, which is located 20 minutes walk from our house and brings you to Paris Gare de Lyon in 35 minutes. You have: All equipped small kitchen (oven, hob, microwave, toaster, coffee maker, ...) to make delicious dishes. Space to eat good food. Bathroom with toilet. Small seating area. The bed is on a mezzanine for 4 people (4 beds 90 x 190 + 2-seater sofa bed 160x200) Sheets and blankets are included in the rental price. You can also eat outside on your patio and enjoy the garden. You also have a location of the car. You also have free internet access. We also offer free: plays / Chias / baby bath. soon to be Romuald and Ana. ( sorry for us (SENSITIVE CONTENTS HIDDEN) translate :)
This a quik street just near the forest . There is no shop near the gite only at 10 min by car .
We hebben een super week gehad in de gite. De omgeving is super en de verhuurders zorgen voor een zeer aangenaam verblijf.
Miranda
2016-08-28T00:00:00Z
Cosy gite, friendly and helpful hosts, slept well in the nice loft. Perfect for a bouldering holiday, would stay again for sure.
Tobias
2013-06-22T00:00:00Z
Great position for trips around fontainebleau - providing you have a car. Very short drive to all nearby climbing spots and close to the shops and train station.
Chris
2016-05-08T00:00:00Z
On a éte très bien accuellis à Bois-le- Roi. Le Gite est très joli. Il nous manquait de rien. Il y a plein de choses à découvrir dans la région. Surtout pleins de rochers! Nos enfants (3 et 6ans) ont adoré le gite. Surtout la chambre tout en haut avec le filet et vos animaux très gentils.... on aimerait bien revenir.
Silke
2016-05-22T00:00:00Z
Very nice and welcomy little house decorated from a climber lover to climber lovers :) The house is small but has all you need, included lots of light during the day and a beautiful garden with little friends (a cat and a really friendly dog). Surely we will come back if we'll go climb near Fontainebleau. Thank you again Romuald and Ana
Ardea
2014-09-30T00:00:00Z
Cool place, cool people - loved it. We ate at Le baroque - highly recommended!
Alison
2014-09-13T00:00:00Z
Nous avons passé un super séjour dans ce gîte: situation idéale pour les enfants (jardin, forêt, déco et "dortoir familial" sur la mezzanine). Il nous a permis de nous rapprocher de Paris et de connaître un peu mieux le coin (château et forêt de Fontainebleau). Nous n'avons pas eu le plaisir de croiser les propriétaires mais les contacts furent agréables et les démarches simplifiées par une relation de confiance. Merci encore à Romuald et Ana!
Martin & Nancy
2014-12-28T00:00:00Z
Perfect point of attack for climbing :)... The Gîte is extremelly charming and puts you in the right mood to go out and climb some hard boulders. Furthemore, the lovely hosts Romuald & Ana were very quick to respond to requests and provided the very handy service of renting out a few of their own crashpads, which saved us some space in the car. The garden at your disposal is big and very good for hanging out. Last but not least, a bakery for fresh croissants and a Carrefour ( supermarket) are close by for added comfort. We wil return ;)
Maarten
2014-06-10T00:00:00Z
Kamertype
Gehele woning/appartement
---
Type woning
Huis
---
Geschikt voor
4
---
Slaapkamers
Bois-le-Roi, Île-de-France, Frankrijk
At a park in the town center, a room welcomes your weekend getaways and breaks in a green environment. Possibility of 2 additional beds for 1 person. The price will be increased by € 15 per person.
The apartment is on SOE floor of a mansion in a park. guaranteed peace and nature.
Near climbing sectors of Fontainebleau, of course the castles of Fontainebleau and Vaux le Vicomte. The Seine runs through the city, the banks are very pleasant. Melun is 25 mins by train from central Paris with accommodations 3 times cheaper.
Très bon accueil chez Annie, chambre cosy et calme, bonne literie, emplacement très avantageux dans Melun. salle de bain très propre, petit déjeuner tout a fait correct.
Julien
2016-11-12T00:00:00Z
Annie est une personne charmante. Je regrette de n'avoir pu profiter plus (car je révisais). J'aurai aimé discuter avec Annie qui est formidable. Le logement est très cosy, propre et la literie très confortable. Je recommande vivement.
Laurène
2016-07-02T00:00:00Z
Very nice place, and very friendly landlord!
Zhongzhe
2016-08-22T00:00:00Z
À choisir sans reserve
Baptiste
2017-01-28T00:00:00Z
Annie propose une chambre privée avec salle de bain très confortable. J'ai apprécié le calme et le décor soigné. Je recommande ce lieu bien situé dans le centre de Melun.
BRIGITTE
2016-06-18T00:00:00Z
Logement très agréable et chaleureux. Propriétaire avenante pour que tout se passe bien ! Proche des commerces ... J'y retournerais sans hésiter !
Emilie
2016-03-21T00:00:00Z
Très bon accueil de la part d'Annie. Sympathique arrangeante et très réactive dans ses réponses malgré une réservation faite en toute dernière minute. Rien à redire. L'appartement est très beau et chaleureux. Je recommande!
Vanessa
2015-11-17T00:00:00Z
Chambre très spacieuse, lit confortable et déco soignée. Annie sait mettre à l'aise et donne de bons conseils sur sa ville et les alentours. Bon rapport qualité-prix pour la région parisienne.
Yvaine
2016-08-15T00:00:00Z
Kamertype
Privé Kamer
---
Type woning
Bed & Breakfast
---
Geschikt voor
2
---
Slaapkamers
Melun, Île-de-France, Frankrijk
Spacious in a quiet area. not paid parking near the southern highway, Fontainebleau, Blandy the towers, Milly the forest. climbing, forest hiking, Franchart, Barbizon may be considered. possibly 1 extra bed for child. neither party nor evening during the stay
it is a separate room, spacious
The avenue of the forest to its name, we are al oree of the national forest of Fontainebleau
Patricia a été très accueillante et propose un studio spacieux à un très bon rapport qualité-prix.
arnaud
2016-10-31T00:00:00Z
Le logement de Patricia est idéalement situé: en lisière de bois, mais proche de tous les lieux touristiques, nombreux et variés. Le studio est exactement comme décrit dans la présentation: tout à la fois joli et fonctionnel. Patricia est une hôtesse charmante, avenante et à l'écoute des personnes qu'elle accueille. Une très bonne adresse assurément!
Isabelle
2016-04-15T00:00:00Z
Petit passage de 3 jours chez Patricia. Le studio est juste parfait et Patricia est très chaleureuse et accueillante. Merci beaucoup à elle.
Céliou Et Yann
2016-09-29T00:00:00Z
Accueil chaleureux. Hôte disponible à l'écoute de nos besoins. Serviable, à refaire et à conseiller
Pascal
2016-04-09T00:00:00Z
on se sent chez soi , très confortable , accueil parfait
Jeff
2016-12-02T00:00:00Z
Studio confortable et Patricia est très accueillante
Cécile
2017-04-09T00:00:00Z
Patricia et son mari ont été très accueillants avec nous : ils nous ont fourni des oeufs, des conseils pour nous promener, une carte et même des vélos ! Le studio était confortable et très bien pour deux personnes. Une bonne expérience au calme.
Max
2016-08-08T00:00:00Z
Toujours impeccable. Je ne manquerai pas de revenir pour un prochain déplacement.
Jimmy
2016-12-16T00:00:00Z
Kamertype
Gehele woning/appartement
---
Type woning
Huis
---
Geschikt voor
2
---
Slaapkamers
Dammarie-les-Lys, Île-de-France, Frankrijk
ENGLISH DESCRIPTION BELOW Petit déjeuner et ménage inclus dans le prix. Maison en pierres cosy au coeur de la foret de fontainebleau, escapade romantique ou sportive... Petit déjeuner inclus.... Feu de cheminée et 100% nature. Barbizon le village des peintres à 10 minutes de voiture et Château de Fontainebleau à 20 minutes. Retrouvez calme et sérénité en vous baladant dans votre jardin : la foret de fontainebleau. plus d'infos plus bas!
Dans (oui, oui, dans!) la foret de fontainebleau, par un petit chemin boisé, vous verrez l'unique maison construite au coeur de la forêt, en pierres avec grande verrière en bois. Juste derrière se cache votre petite maison en pierres d'époque de 50mn avec mezzanine. Refaite entièrement à neuf en 2016, tout le confort nécessaire pour deux personnes (+ un lit une place pour votre enfant ou un autre adulte dans la mezzanine). Le nécessaire pour petit déjeuner (café, thé, toast, miel, confitures, jus d'orange pressé) et une cuisine équipée si vous souhaitez cuisiner. Mais si vous ne souhaitez pas cuisiner, je vous conseille d'aller dans le village de Barbizon (10minutes de voiture) pour manger un plat traditionnel français au Relais et visiter ce village, connu pour avoir inspiré les impressionnistes. Au coeur de la foret, les oiseaux se chargeront de vous réveiller en douceur. En louant cette maison, vous profiterez aussi de la verrière dans laquelle vous pourrez faire un feu, aller sur internet, lire sur le hamac, prendre votre petit déjeuner ou un verre de vin. Le château de fontainebleau est à 20 minutes en voiture. POUR LES CAVALIERS : si vous êtes en stage chez K Dressage ou à l'écurie Richez, l'écurie se trouve à 5 minutes à pied... La maison est donc idéale pour vous. Si vous souhaitez faire un stage avec eux, des boxes sont disponibles pour vos chevaux et venez passer la semaine dans la foret! Venez prendre un grand bol d'air et vous balader dans votre jardin : la forêt de fontainebleau! 10 mn de la gare de Melun (Melun —> Paris = 25mn de train R) 20 mn de la gare de Fontainebleau Les taxis sont disponibles jour et nuit pour venir de, ou aller à la gare de Melun ( 12€ l'aller environs) VEUILLEZ ROULER A 20KM H MAXIMUM DANS LE CHEMIN BOISÉ MERCI DE RESPECTER CET IMPÉRATIF... beaucoup de chevaux passent et cela peut être très très dangereux... pour le cheval, pour le cavalier, et pour votre carrosserie.... merci! Inside (yes, yes, inside!!) the Fontainebleau Forest, by a little road surrounded by trees, you will find the only house built in forest of Fontainebleau, stones and wooden house with a big glass roof. Just behind is hidden your little stone house of 50m2 with a mezzanine. Recently restored, all you need for two persons ( + 1 in the mezzanine for your children or another adult ) to feel confortable. Breakfast is included in the price (coffee, tea, toasts, jams, honey and fresh orange juice) and your kitchen is ready to be used. But if you don't feel like cooking, I advice you to eat a traditional meal in Barbizon and visit the village; known to have inspired the trend impressionists in the XIXth century. In the heart of forest, birds will gently wake you up with the sound of their music! By renting this house, you will also enjoy the glass roof in which you will make fires in the big fireplace, connect on internet if you need to, read on the hamaca or enjoy your coffee or wine. Le Fontainebleau Castle is 20 minuts away! Breakfast and Cleaning taxes included in the price Come breath some fresh air and wander around in your garden : the fontainebleau forest! 10 mn away from the Gare de Melun (Melun —> Paris Gare de Lyon = 25mn with the train R) 20 mn away from Gare de Fontainebleau Cabs are available day and night and it is 12€ to go to Melun train station. PLEASE DONT DRIVE A MORE THAN 20KM/H IN THE FOREST , lots of horses can be afraid of you so it can be very dangerous, thank you.
La Proprietaire fut disponible et très conciliante ! L'endroit est parfait pour se ressourcer au calme ... la foret est magnifique et la région idéale pour visiter et se reposer. Je recommande vraiment le lieu
Chiocchi
2017-04-09T00:00:00Z
Kamertype
Gehele woning/appartement
---
Type woning
Natuur/eco-lodge
---
Geschikt voor
3
---
Slaapkamers
Chailly-en-Bière, Île-de-France, Frankrijk
Tiny house just near another gite ( cosy gite near fontainebleau ) Open the 5 march . We work hard for finish and make pictures . Only for 2 people , possible with a baby . Small bathroom , small kitchen and small room with 2 beds . Littel garden .
Tiny gite is make with wood inside . Every think is small but you have every thinks for bathroom our kitchen .
It s a very quiet place . There is no shop near the gite , it s 10 min by car .
ana hat mich unerwartet mit ihrem kind mit dem auto vom bahnhof abgeholt, da es doch fast 30min (mit rucksack und crashpad) zu gehen gewesen wären! auch wenn ich auf viel gehen eingestellt war, war das ein schönes ankommen am ersten tag und eine sehr liebevolle geste! hab mich sehr sehr wohl gefuehlt bei ihnen! und für alle die zum bouldern kommen- crashpad zu hause lassen, sie haben da genug! :-)
Mizzi
2016-12-06T00:00:00Z
This little gite is really nice, they did a great work with the wood!!... It's exactly as shown in the pictures.. really clean and with all needed, privacy 100%,, easy to park, etc... Ana is very nice and you can reach them very easily if something needed.. plus they are very flexible... Don't hesitate to stay here if planning to stay in the Fontainebleau area..
Maria
2016-09-22T00:00:00Z
We had a really nice boulder holiday! Perfect little house for resting, spending the evenings and planing the next trip. very close to nice boulder spots! very polite and friendly hosts! Love to come back!
Jane
2016-10-23T00:00:00Z
Amazing place. The hosts were absolutely amazing. It was our first time here and we booked this holiday on a bit of a whim. We hired mats from the Romu and Ana, they helped point out areas we should go. The place itself is located near a bakery and bar (for coffee) which is a 5 minute drive, 20 minute walk which we visited daily for breakfast goodies before hitting the crags. It was great to come back and sit out in the sun with a beer and get to know the neighbours in the bigger house next door too. Lots of bouldering chats! Great time, great accomodation and great hosts. Will definitely look into booking here in future trips to Font. Amazing!!
Carolyn
2017-04-06T00:00:00Z
Excellent wee spot near some great climbing spots. Host were friendly and saka the dog and wee bippers the cat (we made that name up) were awesome! Will defo stay again.
Douglas
2016-10-30T00:00:00Z
Logement parfait pour quelques jours en forêt ! Cozy et ingénieux, on adore
Lise
2016-11-16T00:00:00Z
Fin leilighet med disponibel hage i rolig nabolag. Sentral beligenhet mtp buldring. Vennlige og hjelpsomme verter. 10 min gange til bakeri.
Tonette
2016-04-01T00:00:00Z
Charmant petit endroit super accueil idéal pour se reposer
Soraya
2017-03-31T00:00:00Z
Kamertype
Gehele woning/appartement
---
Type woning
Huis
---
Geschikt voor
2
---
Slaapkamers
Bois-le-Roi, Île-de-France, Frankrijk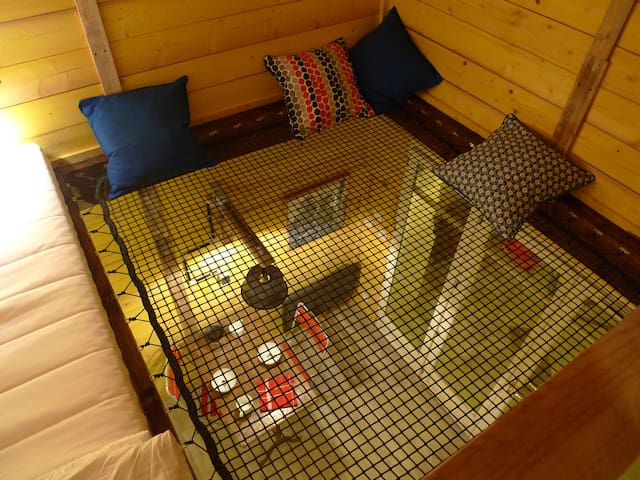 Charmante duplex met romantische kamer, volledig uitgerust met een eigen terras en een comfortabel bed twee plaatsen naar beneden Een paar stappen van de Seine en alle handel, in de buurt van universiteit
Door de architectuur en romantische kamer bar vol met Bluetooth-apparaten
De Seine, dokken, boten, college en winkels
Petit duplex agréable et bien équipé
Lou
2017-04-10T00:00:00Z
Kamertype
Gehele woning/appartement
---
Type woning
Appartement
---
Geschikt voor
2
---
Slaapkamers
Melun, Île-de-France, Frankrijk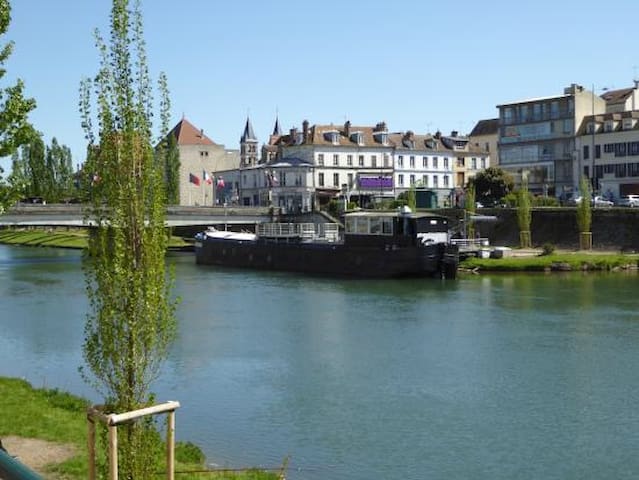 Pretty appartement of more than 70 m² freshly renovated on the brink of the Seine river. The fully equipped flat offers one double room, a big living, a kitchen and a bath room. The historic centre of the village is at only a couple of minutes walking distance. Fontainebleau and its castle is at 10 min car drive, the station for trains to Paris at 5 min. The forest of Fontainebleau offers many possibilities of walking, bicycle riding and climbing.
Appartement refait à neuf dans des couleurs claires et joyeuses. Nous avons mis l'accent sur la qualité de la literie pour assurer un confort à nos invités (haut de gamme). Un grand jardin fleuri entoure la maison ou vous pourrez prendre le soleil et profiter du paysage.
Notre logement est juste en face de la Seine, vous pourrez flâner au fil de l'eau, pour déjeuner ou diner en terrasse. Il est possible de louer des vélos à Fontainebleau qui vous permettrons de découvrir la région et sa forêt.
Bettina et sa famille nous ont accueilli très chaleureusement. Nous avons de suite été séduits par le paysage en bord de Seine, la maison et la tranquillité du lieu. L'appartement est adorable, très propre, confortable, spacieux et décoré avec goût. Tout est prévu pour que l'on s'y sente bien. On peut trouver des restaurants à proximité. Séjour magnifique, encore merci Bettina.
Thierry
2017-02-25T00:00:00Z
Kamertype
Privé Kamer
---
Type woning
Huis
---
Geschikt voor
4
---
Slaapkamers
Samois-sur-Seine, Île-de-France, Frankrijk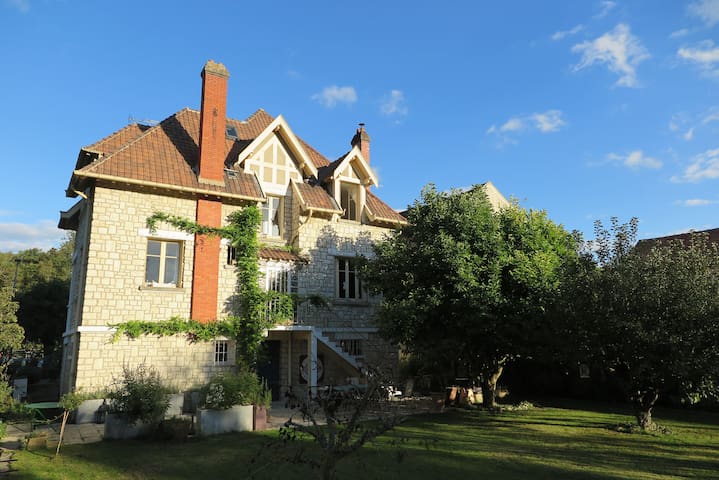 Vous apprécierez mon logement pour les espaces extérieurs et le quartier. Mon logement est parfait pour les couples, les voyageurs en solo, les familles (avec enfants) et les compagnons à quatre pattes.
Je prépare le logement selon le nombres de personnes mais il n est pas sécurisée pour les enfants en bas âge. Les animaux sont les bien venus dans un espace clos de pratiquement 1000m2, je possède 2 chats en liberté. Vous avez accès a une place de parking fixe. La télévision fonctionne avec un lecteur dvd, et le wifi et celui de la maison on le capte donc a l extérieur du studio, vous etes bien venu a la maison pour mieux capter le wifi mais je possède pas non plus la télé.
Très bon accueil. Un vrai havre de paix, superbement équipé.
anne
2016-08-02T00:00:00Z
Très bon accueil de notre hôte. Le logement est fonctionnel et tout a fait conforme aux photos et au descriptif.
Michael
2016-09-18T00:00:00Z
The host canceled this reservation 2 days before arrival. This is an automated posting.
Juliette
2016-06-23T00:00:00Z
Nous étions à Bois le Roi pour un mariage et nous n'avons profité du lieu que rapidement. Mais de ce que nous avons vu, l'accueil est chaleureux, le logement est propre et pratique, et l'hôte est prévenante. Merci beaucoup !
Pierre
2016-07-10T00:00:00Z
Laure a tout fait pour faciliter mon séjour, j'ai reçu un très bon accueil. Elle a fait preuve de disponibilité. Le logement correspondait à la description. j'avais accès à tous les équipements dont j'avais besoin. C'était un très bon séjour.
Jérémy
2016-09-12T00:00:00Z
Nice and friendly!
Markus
2017-01-07T00:00:00Z
Once againe a perfect stay at Laure's. She's a very accomodating host, going to great lenghts to make you feel welcome.
Felix
2017-03-28T00:00:00Z
Séjour confortable et adapté pour un stage au grand parquet de Fontainebleau
Anne
2016-10-09T00:00:00Z
Kamertype
Privé Kamer
---
Type woning
Appartement
---
Geschikt voor
3
---
Slaapkamers
Bois-le-Roi, Île-de-France, Frankrijk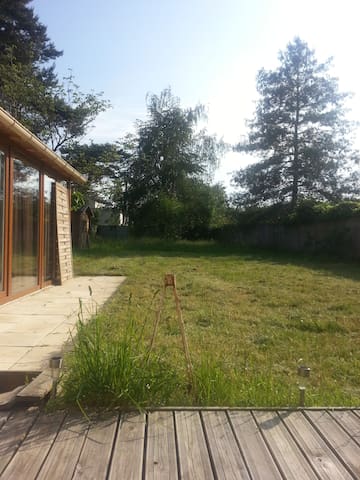 Maison atypique en plein centre du charmant village de Samois, à proximité directe (à pied) des commerces, restaurants, de la forêt et du bord de Seine. Un bus rejoint Fontainebleau. Vous apprécierez le cachet, le calme, et le volume de cette ancienne maison rénovée, parfaite pour les couples et les familles (avec enfants). C'est une maison à 2 étages avec passerelles sécurisées.
Maison ancienne rénovée situé en centre ville. De nombreux commerces sont à 30 secondes à pieds tels que boulangerie, tabac, pharmacie, poste, épicerie, restaurants, brocante.
Centre Village à proximité direct des commerces, de la seine et de la Forêt
Kamertype
Gehele woning/appartement
---
Type woning
Huis
---
Geschikt voor
6
---
Slaapkamers
Samois-sur-Seine, Île-de-France, Frankrijk
Charmante maison de plein pied au calme, proche de toutes les commodités et des activités de loisir.
La troisième chambre est un espace dans le salon séparée par des panneaux japonais Nous avons des locataires au premier étage de la maison mais pas de fenêtres donnant sur le jardin Barbecue à disposition, hamac pour deux
Quartier très calme au milieu d une raquette
Kamertype
Gehele woning/appartement
---
Type woning
Huis
---
Geschikt voor
6
---
Slaapkamers
Bois-le-Roi, Île-de-France, Frankrijk
Orchard appollaiato 1.500 m2, bella vista della Senna e la foresta di Fontainebleau. Casa e design organico su 2 piani con ampio e bella sala trasformata in un dormitorio per gli ospiti al piano terra (50 mq) + cucina, ufficio, 6 posti letto in più, lavanderia e bagno. accesso al giardino gratuito. bagno e terrazza panoramica in comune al 1 °, dalle 8.30 alle 20h in serata. Wi-Fi, lenzuola, asciugamani, riscaldamento, lavatrice, asciugatrice, ferro da stiro. Parcheggio gratuito, 2 Gatti. permesso fumare. 40 minuti da Parigi
Casa ecologica, caldo e luminoso. Arroccato su un ciclo della Senna, si affaccia la foresta di Fontainebleau. Il piano terra è riservato agli ospiti la notte, e questo è ciò che è previsto per il sonno: Posti letto 4 adulti e 1 bambino e 1 bambino in pavimento del salotto 4 materassi sul pavimento 80X195 1 divano 70x157 1 letto ombrello per bambini > Sacchi a pelo sono i benvenuti.
Chartrettes, village side, 30 minutes from Paris, the Seine and in the heart of the protected forest of Fontainebleau. Activities: Golf, Water sports, walk in the forest and along the Seine, Climbing, Touring castles, Local products (Brie de Meaux ...) Other corners renowned Fontainebleau (castle) Barbizon (art galleries and old town), Samois (jazz festival gypsy Django Reinhardt) ... nice outdoor market on Thursday / Friday / Saturday and Sunday Flea ... :) The Seine, along which you will discover the "maddening" more beautiful and charming are 5 minutes. The GR trails start at the station and walks are endless. The most beautiful climbing sites very close, the village is adjacent to the forest. A leisure enriches these possibilities: tennis, horse riding, golf, swimming, fishing, tree climbing, etc. Fontainebleau and its magnificent Château Vaux le Vicomte and minutes. The walks along the Seine, bicycle, horse, ancient villages are enchanting.
The host canceled this reservation the day before arrival. This is an automated posting.
Connor
2017-02-11T00:00:00Z
Nous louons habituellement notre logement:nous ne nous permettrions jamais de le laisser dans le même état de propreté que le votre.le descriptif mentionne 5 lits alors qu'il n'y en a aucun au rdc mais des surmatelas!enfin le petit déjeuner est tout simplement inexistant. Nous n avons pas la même conception de la location et certainement du respect de l autre.ce sont des comportements comme le votre qui discréditent ceux qui prennent tout le soin nécessaire à l accueil de leurs "clients"
Behige
2017-04-09T00:00:00Z
Nous avons apprécié notre séjour avec cette famille super sympa habitant une jolie maison avec une vue magnifique sur le jardin en contrebas et la seine.
Karine
2016-11-13T00:00:00Z
Kamertype
Privé Kamer
---
Type woning
Aarde Huis
---
Geschikt voor
6
---
Slaapkamers
Chartrettes, Île-de-France, Frankrijk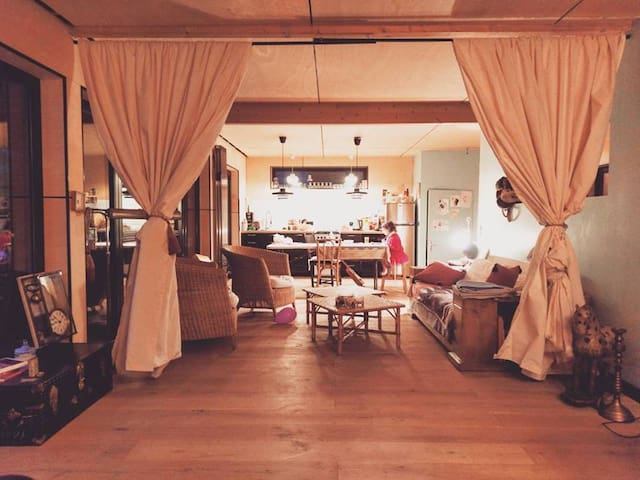 Apartment located 30 minutes from Paris situated in a park residence. ideal location to visit Paris and Fontainebleau Nearby shops and transport: S located in a quiet residence, located 4 minutes had bus (stop in front of the building) from the station of Melun (24 min Paris Gare de Lyon)
room "orchid" in furnished apartment of 63 m2 renovated in a calm and secure condominium In the room: 1 bed and 1 wardrobe.
schöne Wald Residenz Carrefour Contact, Bäckerei, Fast Food in wenigen Metern. abwechslungsreichsten Naturgebiete förderlich zu Fuß: Wildpark, Wald, Fluss Seine ...
The host canceled this reservation 15 days before arrival. This is an automated posting.
Ahmed
2017-04-08T00:00:00Z
Parti à un, arrivés à deux (on a quand même prévenu avant ;) )... et aucun problème. Nous avons beaucoup apprécié la compréhension et la souplesse devant une arrivée un peu retardée à cause d'imprévus. Nous avons été accueillis par le fils qui loge également sur place et dont nous avons pu apprécier la gentillesse. Le quartier est agréable, on entend les oiseaux le matin. Le logement est près d'une boutique de pizzas à emporter et d'un Carrefour Contact. Nous aurions bien exploré davantage si nous en avions eu le temps. Bref nous gardons le lieu en mémoire pour un prochain séjour.
Philippe
2017-03-31T00:00:00Z
Kamertype
Privé Kamer
---
Type woning
Appartement
---
Geschikt voor
2
---
Slaapkamers
Dammarie-les-Lys, Île-de-France, Frankrijk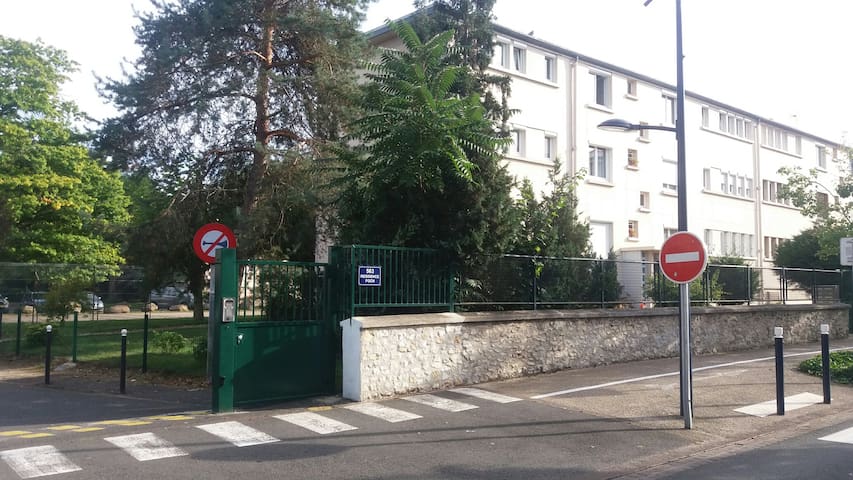 In een klein land dorp, mooi huis ideaal gelegen. 170 m², volledig ingericht, op een prachtig terrein van 4000 m² met terras en het zwembad.
Mooi huis op het platteland In een klein land dorp, mooi huis ideaal gelegen: - 1 uur rijden van Parijs en 40 minuten met de TER van Mormant treinstation (5-10 minuten rijden van het huis) - 1/2 uur rijden van Disneyland - 40 minuten met de auto en de trein van het mooie middeleeuwse stadje Provins - 50 min rijden naar het bos van Fontainebleau. 170 m², volledig ingericht, op een prachtig terrein van 4000 m² met terras en het zwembad (momenteel niet in gebruik). Op de begane grond: - Een grote woon / eetkamer van meer dan 40 vierkante meter geopend binnenkomst en keuken - Een grote nieuwe en functionele keuken - Een grote dressing - Een badkamer met toilet en douche boven: - Een mooie landing kamer - Een grote master suite - Twee grote slaapkamers - Toiletten - Een badkamer met grote douche en bad. Onlangs eigenaren en ouders, het meubilair is nog niet volledig afgerond in het huis: - De eettafel is de tuintafel. Ook zal het u nemen naar het terras te genieten, - Afgezien van de master suite met een king size bed, matrassen zal dienen als bedden in de andere twee slaapkamers (1 matras 2 plaatsen en 2 matrassen een plaats - platen kunnen worden verstrekt). Baby uitrusting beschikbaar zal zijn voor u als u dat wenst. De wifi (DSL) beschikbaar is. Er is echter geen televisie. Enkele kleine aanvullende informatie / aanbevelingen: - Dieren zal er zijn om u te houden bedrijf: 8 kippen en 1 haan die je moet voeden om te profiteren van hun goede verse eieren (heerlijk!) En een zeer mooie oude kat genaamd Bibi nemen. - De woning is volledig gevloerd, zullen wij het op prijs om zoveel mogelijk te voorkomen dat het dragen van schoenen binnen. Voor de periode 19-26 april: Presentatie sleutels en status armaturen voor 10 uur op 04/19/17. State of armaturen op 4/26/17 om 20:45. Voor het weekend van 6 tot 8: Levering van de sleutels en de status van armaturen op zaterdagochtend. State of armaturen op maandag laat in de middag. Verhuur mogelijk bij het andere weekend op basis van uw verzoeken. Een aanbetaling van de huursom nodig zal zijn (niet geïnd).
zeer rustig
Kamertype
Gehele woning/appartement
---
Type woning
Huis
---
Geschikt voor
6
---
Slaapkamers
Courtomer, Île-de-France, Frankrijk
In een beschermde omgeving in het hart van de Seine en de Marne, op minder dan 1 uur van Parijs en 1/2 uur van Disneyland Parijs, het huis van Maurevert hele jaar geopend. Je verblijft in een traditionele boerderij gerenoveerd.
Het huis is op 2 niveaus: de begane grond, entree en badkamer met douche, toilet en wasmachine. boven: woonkamer met een slaapbank 2 plaatsen, TV, keuken (inductie kookplaat, oven, vaatwasser, koffiezetapparaat, broodrooster, waterkoker, magnetron en koelkast met vriesvak), een tafel 10 zitplaatsen, boven de woonkamer, mezzanine met bed 2 plaatsen 160 . Badkamer met toilet en bad Room 1 bed 140. Slaapkamer 2 met 3 eenpersoonsbedden waarvan 2 stapelbedden, 1 kinderbed. De toegang tot de tuin (schommels en glijbanen), terras en tuin met blind.
Excellent rapport qualité prix
Laurent
2016-11-26T00:00:00Z
Nous étions 8 adultes et 2 enfants dont 1 bébé... Franchement aucun commentaire négatif à dire... Nous avons tous apprécié notre nuit. Confortable, propre et agréable. Très bon accueil et disponible. A bientôt et merci encore.
Ruth
2017-02-19T00:00:00Z
Gîte calme et reposant. Le grand terrain s'avère un plus aux beaux jours pour les enfants.
Pascal
2016-12-26T00:00:00Z
It was a great pleasure to stay at the Gîte de Maurevert! Elodie was always very responsive to our emails and text messages. She kindly updated us about the water situation and driving routes. And gave us some delicious, just made, cookies for the way back. The apartment is perfect to stay with a group of friends of family, very neat and tidy.
Fien
2016-06-06T00:00:00Z
Merci pour l'accueil. Logement très propre et confortable.
Géraldine
2016-03-21T00:00:00Z
Gîte accueillant et agréable.
claudia
2016-11-27T00:00:00Z
Logement identique aux photos et à la description. Pièce à vivre agréable, tous les équipements nécessaires pour passer un bon séjour. Vrai point positif : 2 salles de bains, quand on est 7 c'est très pratique. Propre, les lits sont faits à notre arrivée. Elodie était dispo pour répondre à nos questions. Je recommande ce gite !
Lauren
2016-09-26T00:00:00Z
Maison dans un petit lieu-dit très calme, en campagne mais proche de Paris, avec petit jardin fort agréable et joliment aménagé. Maison très propre à notre arrivée, hôte présente malgré notre arrivée tardive et surtout arrangeante pour les horaires. Maison très bien aménagée avec toutes les commodités et hôte très accueillante. On y retournera volontiers si l'occasion se présente une nouvelle fois!!!!
annelise
2016-05-20T00:00:00Z
Kamertype
Gehele woning/appartement
---
Type woning
Huis
---
Geschikt voor
9
---
Slaapkamers
Chaumes-en-Brie, Île-de-France, Frankrijk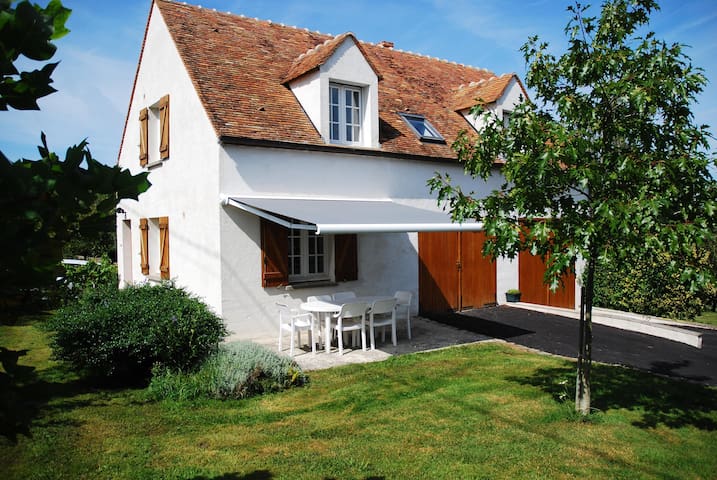 Open plan kitchen dining room, fireplace, bedroom 2 people, bathroom with tub. Terrace, garden, private bank. Access Paris in 35 minutes by direct train 5 minutes from the train station. Fontainebleau forest 2 minutes. 10 minutes from Fontainebleau
kitchen open to the living room (induction hob, fridge, oven ..etc) air conditioning, television, internet room with bath tub
FONTAINEBLEAU 10 minutes. Discover the forest of Fontainebleau and its rocks. Barbizon, Moret sur Loing with, next season, possibilities down the Loing canoe. WELLNESS SPA: O Sermaize in Bois King WOODEN LEISURE ISLAND KING: golf 9 holes / equestrian center / tennis / swimming Vaux-le-Vicomte and Fontainebleau in 15 minutes by car. 35 minutes from PARIS by direct train; Station 5 minutes by car.
Alain et Patricia nous ont accueillies avec beaucoup de gentillesse et de disponibilité, ils ont tout fait pour rendre notre séjour le plus agréable possible. La maison est conforme à la description et parfaitement équipée, nous avons pu profiter de la terrasse au soleil... La vue sur la Seine est absolument magnifique ! Un lieu où nous reviendrons avec plaisir. Merci
Carole
2015-11-04T00:00:00Z
Un séjour idyllique dans un petit coin de Paradis. Des hôtes à l'écoute simplement adorables. Merci encore !
Boris
2016-02-18T00:00:00Z
Patricia et Alain nous ont accueilli comme des amis. La maison est vraiment très spacieuse et hyper-équipée. Chartrettes en bord de Seine est très calme et la vue de l'eau rend le lieu très apaisant. Nous avons eu un souci de manipulation avec la TV, Alain s'est montré disponible immédiatement. Impossible de faire mieux. Merci beaucoup!!
Denis
2015-10-26T00:00:00Z
Nous avons passé des moments très agréables dans la maison d'Alain et son épouse, en bord de Seine. Nos hôtes nous ont accueillis très cordialement, malgré notre arrivée tardive, et nous nous sommes tout de suite sentis comme chez nous dans cette maison charmante, très joliment décorée, où il ne manque rien. La vue sur la Seine et la forêt en arrière-plan est saisissante, même par temps pluvieux.
Martine
2016-02-14T00:00:00Z
tout est là pour un super séjour dans un cadre charmant. Une vrai petite maison, propre et confortable, avec un équipement complet et les péniches qui rythment lentement le paysage sur la Seine en face. Beaucoup aimé! Accueil très sympa, simple et sans chichi de la part d'Alain et Patricia. Rien à redire décidément. Un de mes meilleurs AirBnb.
Mathieu
2016-10-19T00:00:00Z
Cette maison est vraiment conforme aux photos: charmante, bien décorée, belle vue Accueil flexible à l'arrivée et également sur le départ avec cette possibilité de rester jusque l'après-midi
Guillaume
2017-03-19T00:00:00Z
Accueil chaleureux, Maison charmante et au calme.. un vrai petit coin de paradis :) Merci encore Aurelie et Simon
aurelie
2015-12-07T00:00:00Z
Très jolie maison, accueil agréable!
Gurbuz
2016-03-01T00:00:00Z
Kamertype
Gehele woning/appartement
---
Type woning
Huis
---
Geschikt voor
2
---
Slaapkamers
Chartrettes, Île-de-France, Frankrijk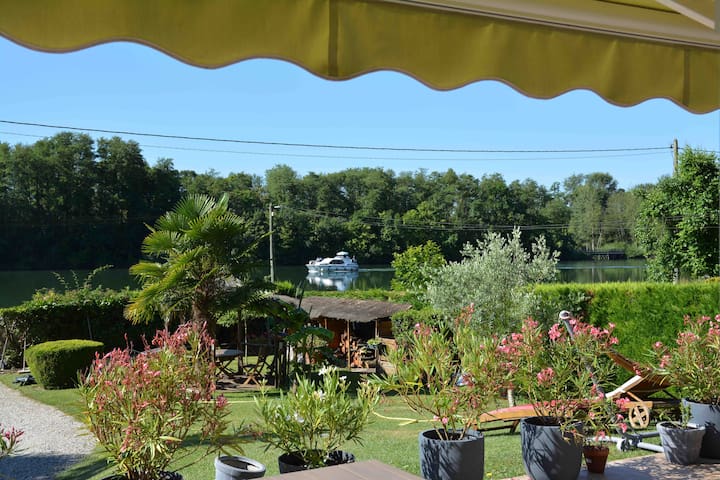 De accommodatie is ruim en licht. gelegen in een rustige omgeving, goed bereikbaar met het openbaar vervoer. (15 min van Melun station bus of auto). Dicht bij winkels (bakker, apotheek, supermarkt, banken, ...) Op 3 min.
Het appartement is zeer goed gelegen, comfortabel, en beschikt over faciliteiten die nodig zijn in het dagelijks leven.
Rustig gelegen, dicht bij de winkels.
The host canceled this reservation 15 days before arrival. This is an automated posting.
Xavier
2016-12-10T00:00:00Z
L'appartement est bien fourni, propre, très bien situé près d'un centre commercial et d'un arrêt de bus. L'hôte est disponible et répond à toutes les questions. Le lieu est calme, idéal pour se reposer après une journée de tourisme à Paris ou environ.
Amine
2016-07-25T00:00:00Z
Hôte très sympa, le logement correspond parfaitement à l'annonce. Nous avons passé un bon séjour.
Olivia
2016-03-29T00:00:00Z
L'appartement de Lila est accueillant et bien situé, dans un quartier populaire et calme avec des commerces à proximité. C'est une très bonne option pour découvrir en famille une région riche en patrimoine. Nous reviendrons !
Ana Inés
2016-04-18T00:00:00Z
The host canceled this reservation 2 days before arrival. This is an automated posting.
Smila
2017-02-25T00:00:00Z
Appartement spacieux pour le prix.
Fabien
2016-07-14T00:00:00Z
Great house with all facilities !
Pavel
2016-05-31T00:00:00Z
Bon rapport qualité prix
Enguerran
2017-02-24T00:00:00Z
Kamertype
Gehele woning/appartement
---
Type woning
Appartement
---
Geschikt voor
4
---
Slaapkamers
Melun, Île-de-France, Frankrijk
1

–

18

van

222 Accommodaties