Spartan device is only a temporary offer, as off the old tenants and until new tenants are found fit, this apartment is to be a good offer! We have a large garden where always doing something. Gladly can also be helped, there are various projects this year into the house.
Kamertype
Privé Kamer
---
Type woning
Appartement
---
Geschikt voor
4
---
Slaapkamers
Wels, Oberösterreich, Oostenrijk
Zimmer in neu errichteter heimeligen 80 m2 Wohnung unter dem Dach eines Mehrfamilienhauses. Mitbenützung großzügiger, hoher, offener Wohnraum mit Küche und Eßbereich. Teilweise ausgestattet mit Familienerbstücken, antiken Möbeln und Reisemitbringsel aus aller Welt.
Das Loft verfügt über 2 Schlafzimmer mit je einem Doppelbett und weiteren Liegeflächen im Wohnbereich. Auf Anfrage mit bis zu 6 Personen belegbar. Die Küche hat eine Grundausstattung an Besteck, Geschirr, Töpfen und Pfannen. Geschirrspühler, E-Herd mit Dunstabzug, Kühlschrank mit Gefrirkombination. Schlicht gehaltenes Badezimmer mit WC. Die Unterkunft ist auch als Seminarraum buchbar.
Ausgedehnte Spaziergänge oder Fahrradtouren ohne viel Autoverkehr möglich. Öffentliches Hallen- und Freibad in Wels, Freibad Marchtrenk, Römermuseum, Stadtmuseum, Welios, Lebensspuren, Therme Bad Schalerbach oder Bad Hall, Baumkronenweg, Stift Kremsmünster, Stift St. Florian, Schloss Puchberg, Schaunburg, Burg Stauf, zahlreiche Lokale in der Welser Altstadt, nahegelegene Supermärkte
I had a good stay in this room. Nice and clean. Value for money.
Jochem
2017-03-06T00:00:00Z
OK, wenn man mit dem Auto oder Fahrrad unterwegs ist, da die Wohnung - vor allem abends - keine Anbindung an den öffentlichen Verkehr hat.
Elena
2016-11-14T00:00:00Z
A~M~A~Z~I~N~G! My Home
Dave
2016-07-26T00:00:00Z
Alles wunderbar super liebe Leute schöne Umgebung tolle Wohnung
Charlotte
2016-09-15T00:00:00Z
Kamertype
Privé Kamer
---
Type woning
Loft
---
Geschikt voor
7
---
Slaapkamers
Wels, Oberösterreich, Oostenrijk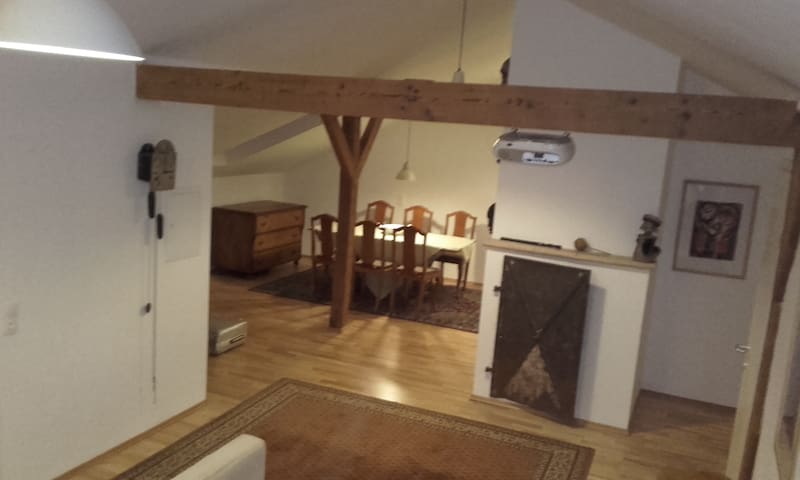 Schönes, ruhiges Zimmer in einem Holzblockhaus in einer Siedlung auf dem Land. Tierpark in 1 km Entfernung (URL HIDDEN) Stadt Wels mit Bahnhof in 6 km Entfernung, Linz 30 km, Gmunden und Salzkammergut Region 80 km, Salzburg 110 km Entfernung
Bad und Küche Mitbenützung
Wir hatten ein wunderschönes Wochenende in dem tollen Holzhaus. Es war sauber, ordentlich und ruhig. Ich würde jeder Zeit wieder bei Hillevi und ihrem Mann übernachten!!!
Bellybooh
2016-09-18T00:00:00Z
Top Unterkunft, absolute Ruhelage, schönes Zimmer; man wird sehr freundlich von den Gastgebern empfangen und fühlt sich einfach wohl; vielen Dank und gerne wieder :-)
Katrin
2016-05-24T00:00:00Z
Hillevi and her husband were very friendly and kind. They make a very good cup of coffee for you! The wooden house is situated in a quiet village near Wels, a small town with some good restaurants. Traveling from the Netherlands to Croatia, it's a nice place to stay for a few days.
Huub
2015-06-02T00:00:00Z
Die Unterkunft war ein Traum, das wunderschöne Holzhäuschen ist wunderschön gelegen. Wir haben zwei angenehme Nächte hier verbracht und richtig gut geschlafen. Hillevi war eine ganz tolle Gastgeberin, wir haben uns auf Anhieb wohl gefühlt. Sie ist sehr freundlich und hat eine sehr herzliche Art. Wir kommen bestimmt mal wieder. Vera und Daniel
Vera
2016-06-06T00:00:00Z
Sehr schönes und sauberes Zimmer! Hillevi und ihr Mann waren ganz lieb und wir haben wunderbar geschlafen. Vielen Dank!
Bianka & Christian
2015-09-05T00:00:00Z
Es war ein sehr herzlicher und freundlicher Empfang. Wir haben auch gleich Schluessel zum Haus bekommen um unabhaengig zu kommen und zu gehen.
Harald
2016-09-23T00:00:00Z
We enjoy our stay, the home is clean, the hosts are very friendly. Pictures on the Web show exactly the home.
Monica
2016-07-12T00:00:00Z
Ich habe mich bei Hillevi und Ihrer Familie sehr wohl gefühlt. Das Haus ist sauber und das Zimmer groß und gemütlich, genau wie das Bett. Mit dem Auto sind es ca. 10 Minuten nach Wels. Absolut empfehlenswert!
Florian
2015-02-26T00:00:00Z
Kamertype
Privé Kamer
---
Type woning
Huis
---
Geschikt voor
2
---
Slaapkamers
Krenglbach, Oberösterreich, Oostenrijk
Dit appartement is de kelder van ons huis. De kelder huis is vrij eenvoudig en niets luxe. Je moet ook weten dat een deel van het meubilair is vrij oud, dus je moet ok met dit te zijn.
Dit appartement is de kelder van ons huis. De kelder huis is vrij eenvoudig en niets luxe. Je moet ook weten dat een deel van het meubilair is vrij oud, dus je moet ok met dit te zijn. Maar het is gezellig, heeft een mooie keuken, toegang tot de tuin en is de plek waar ik woon als thuis (die deze dagen ben ik niet). Het is een groot appartement met 135 vierkante meter met het grootste deel van het op uw beschikking. Het is volledig ingericht en heeft alles wat u nodig heeft (met inbegrip van Wifi-internet, wasmachine wasmachine, etc.). U vindt er een keuken hebben, woonkamer met TV, badkamer en twee slaapkamers. Houdt u er rekening mee dat dit appartement heeft het recht als een 'gedeeld appartement ", zoals mijn vader daar woont ook. Maar vaak hij eigenlijk niet zijn tijd door te brengen, noch slaapt daar toen de gasten rond. Als u liever het appartement helemaal zelf kunnen we discussiëren over dat, hoewel ik geen beloftes kan maken op het van tevoren :) Hier wat algemene informatie over het huis en locatie: Hierbij moet worden opgemerkt dat de tuin heeft een ietwat exotische flair (vooral in het voorjaar en in de zomer) en is populair onder vogels en katten. Dus verwacht te kippen, duiven en katten ergens aan de achterkant van het huis (hoewel geen binnen). Als u graag een huisdier mee te nemen, dat is geen probleem. Zelf ben ik een student, hoewel momenteel niet op het land. Maar de hele Airbnb zaak is nauw gecoördineerd met mijn vader. Hij zal rond om u te helpen op elk moment nodig is. Ik zal u met zijn gsm-nummer en je kunt hem bellen voor eventuele vragen. Ik zorg voor de 'officiële' gedeelte via de website. Voel je vrij om contact met mij op elk moment. Bij het huis zal mijn vader voor je zorgen. We zullen ook verse lakens en handdoeken voor u. Er is geen noodzaak voor u om ze mee jezelf te brengen. Met betrekking tot de omgeving van het gebied, het is mooi en natuurlijk. Het is vrij rustig (behalve voor de geluiden van de natuur). Af en toe een auto rijden door op een weg geruime afstand te horen. Je hebt ook een beekje achter de tuin. Een van de buren is een kwekerij. Dus als u van bloemen voel je vrij om te stoppen door en zeg hallo. De buren zijn allemaal leuk en sommige spreken goed Engels. Het huis ligt dicht bij diverse steden (5 minuten rijden naar Marchtrenk, 15 min naar Wels, 25 min naar Linz [de hoofdstad van Opper-Oostenrijk]), ongeveer 45 minuten van de Duitse grens (Passau), een uur rijden van de Tsjechische grens , een uur van Salzburg en twee uur rijden van Wenen. Bovendien is de locatie is ideaal voor een bezoek aan verschillende bekende plaatsen in verschillende richtingen. Naast de hoofdstad van Opper-Oostenrijk, Linz, je hebt, bijvoorbeeld de historische steden van Steyr, Gmunden en Bad Hall, een aantal mooie Oostenrijkse meren (Attersee, Traunsee, etc.), de Tweede Wereldoorlog concentratiekamp van Mauthausen, het beroemde zwemcentrum waterpark Bad Schallerbach (Aquapulco), en enkele andere leuke schilderachtige plekjes, allemaal gelegen binnen minder dan 45 minuten rijden. In de winter kunt u ook gemakkelijk toegang tot verschillende bekende skigebieden (zoals Hinterstoder, Feuerkogel, Kasberg, ...), allemaal met ongeveer 50 minuten rijden. In het geval u niet GPS in uw auto en / of niet weet hoe u het huis van mijn vader kan ook voldoen aan u, bijvoorbeeld op het station in Linz (of waar je wilt) te vinden en kan u begeleiden naar het huis de eerste keer . Dit moet echter worden geregeld met ons op voorhand. Het openbaar vervoer onderdeel is zeker een nadeel van de locatie. Hoewel het vrij dicht bij verschillende steden het dichtst spoorlijn ligt op 3 km afstand en er is geen openbaar busvervoer in de buurt-by, zodat je een auto nodig hebt om rond te krijgen. Ook de dichtstbijzijnde winkels zijn niet op loopafstand. U moet om te rijden met de auto gedurende 5 minuten. Als je er een hebt, is het geen probleem. Als je er geen hebben, dan is de locatie niet ideaal voor u. We hebben ook een fee-vrij garage die u kunt gebruiken. Gratis parkeerplaatsen zijn altijd beschikbaar. Sinds februari 2015 hebben we een nieuwe winter-Garten bij het benaderen van de tuin van het huis. Het is erg leuk om te zitten, slapen, chatten en tijd doorbrengen. Genieten! Het huis heeft een volledige thermische isolatie. Zo is in de winter niet te koud en in de zomer niet te warm krijgen. Je moet bovendien rekening mee dat de kelder appartement is slechts één van de twee appartementen in het huis. U moet verwachten dat iemand die leeft in de bovenste verdieping van het huis. Als u nog vragen neem dan gerust contact met mij op.
Daniel's dad was very nice and hospitable. He made us breakfast in the morning and we had nice conversation. Definitely we will come back. Lovely house and place. The porch was lovely. Everything what we needed was there - towels and etc. Just perfect :)
Mariya
2015-06-28T00:00:00Z
We loved staying here. The area is very nice and quiet and peaceful. It's been sort of a warm spring so the basement apartment was the first relief we've had during this whole trip. Apartment self is very nice with wonderful accommodations. Daniel was unable to meet us there but gave us a very clear instructions on how to get in and use the facilities.
Jeremiah
2016-06-26T00:00:00Z
sehr geräumige Wohnung wir waren zwar nur eine Nacht da und haben sehr gut geschlafen. super freundlicher Empfang. hervorragende Kommunikation
Gennadij
2016-08-08T00:00:00Z
Daniels Vater, der auch in diesem Apartment wohnt, hat uns gleich herzlich in die Familie aufgenommen. Meine Frau hat eine Klavierstunde bekommen und Peter hat uns mit leiser Klaviermusik zum Frühstück gerufen. Wir wurden mit selbstgemachten Produkten aus dem Garten verwöhnt und beschenkt und haben gemeinsam gebetet und in der Bibel gelesen. Jeder, dem persönlicher Kontakt und ein gutes Gespräch wichtiger sind als unpersönlicher Drei- oder Viersternkomfort, ist hier richtig.
Reinhard
2015-09-22T00:00:00Z
Everything was OK except the fact that we stayed only one night. We should have stayed some more days to enjoy the house and the environment. Daniel was a pleasant host and we liked talking with him.
Paul
2015-07-16T00:00:00Z
very hospitable family . We were only one night , but felt relax- clean , comfortable beds , fresh air. after a long road better not imagine !
tatiana
2016-05-29T00:00:00Z
Minden szuper volt, még sokkal jobb, mint amit a leírás alapján várni lehetett. Nagyon kedves házigazdák, máskor is szívesen visszatérnénk.
András
2016-06-20T00:00:00Z
Fantastic friendly house. We recommend it for everybody!
Peter
2016-11-20T00:00:00Z
Kamertype
Gehele woning/appartement
---
Type woning
Appartement
---
Geschikt voor
8
---
Slaapkamers
Oberprisching, Oberösterreich, Oostenrijk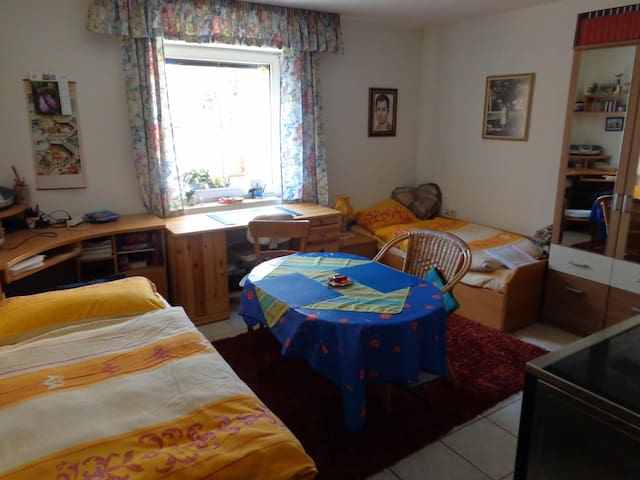 Meine 72 m² große 3-Zimmer-Wohnung liegt 20 Gehminuten vom Zentrum und 15 Gehminuten vom Bahnhof entfernt. Es gibt auch eine Bushaltestelle direkt vor dem Haus. Ich habe ein freies Zimmer mit einer Schlafcouch für 2 Personen und freue mich immer über Gäste.
Jorg was goed bereikbaar en reageerde snel en vriendelijk op mijn berichten en vragen.
isabelle
2016-08-05T00:00:00Z
Kommunikation war spitze, sehr bemüht und alles war sehr unkompliziert! TOP
Sabrina
2017-02-05T00:00:00Z
Nice place and Jörg was a great host!!!
Ognjen
2017-01-29T00:00:00Z
Everything perfect ... exactly what I was looking for
Chris
2016-12-03T00:00:00Z
I couldn't have chosen a better place to stay in Wels, everything was perfect.
Pablo
2017-01-12T00:00:00Z
Ich habe mich bei Jörg & Anja sehr wohl gefühlt, sie sind unkompliziert und total hilfsbereit. Danke für die tolle Unterstützung, z.B. mich mit dem Auto abzuholen und den Service, mir sogar das Fernsehprogramm nachzuschauen (großer Fernseher im Zimmer)!
Claudia
2014-11-15T00:00:00Z
Jörg was very nice and helpful, we stayed only for one night but all was great.
Maria
2016-08-22T00:00:00Z
Jörg is a very kind, attentionate and welcoming host. The room is comfortable and quiet. I would definitely recommend!
Pierre
2017-03-03T00:00:00Z
Kamertype
Privé Kamer
---
Type woning
Appartement
---
Geschikt voor
2
---
Slaapkamers
Wels, Upper Austria, Oostenrijk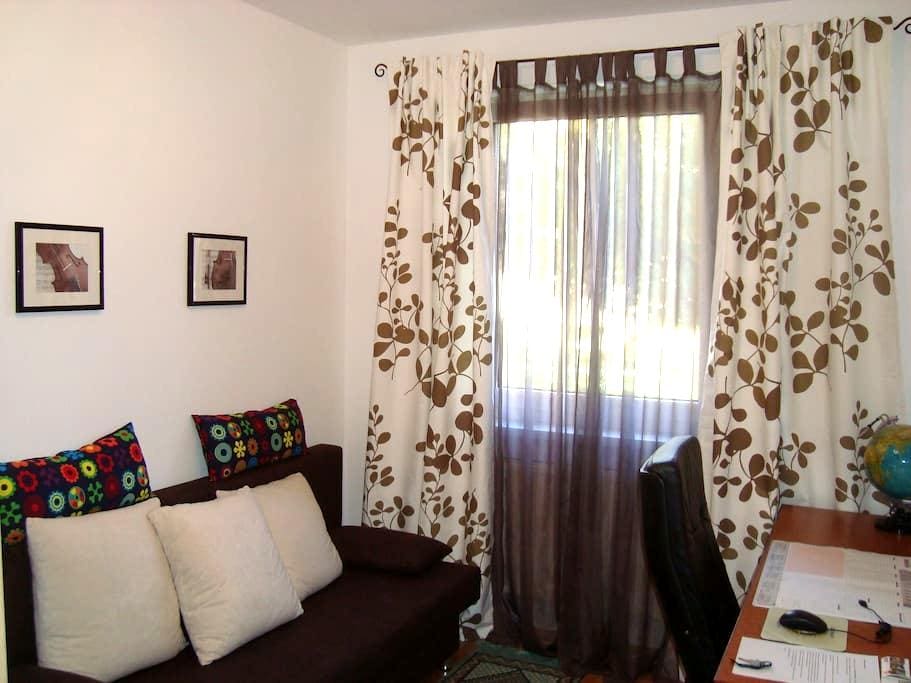 Willkommen in Wallen! Diese Wohnung befindet sich im Erdgeschoss eines Zweifamilienhauses mitten im Zentrum von Wallen an der Trattnach. Sie besteht aus einem großzügigen Vorraum, einer Wohnküche mit Couch und Fernseher, einem Schlafzimmer mit Doppelbett (1,80m) und 1 Schlafzimmer mit ausziehbarer Couch, sowie einem Badezimmer und extra WC. Gasthaus Schaichgegenüber. Eurothermenressort Bad Schallerbach 2 km entfernt, Salzburg 90 km.
Wallern liegt direkt an einem Fluss, an der "Trattnach", die zu Fuß von unserer Unterkunft in nur wenigen Minuten erreicht werden kann. Der Trattnachtal-Lehrpfad führt auf etwa 2,5 km entlang der Trattnach von Wallern nach Bad Schallerbach. Hier kann man entlang spazieren oder mit dem Rad den Fluss entlang fahren. Verbunden mit dem Wassererlebnispark "Aquapulco" in Bad Schallerbach und dem Vogelpark in Schmiding ist Wallern auch ein ideales Ziel für Tagesausflüge. Wandern, Reiten und Fischen garantieren eine abwechslungsreichen Urlaub. Besonders interessant ist ein Besuch im Wallerer Heimatmuseum, in welchem bäuerliches Kulturgut präsentiert wird. Die Nähe zu den Städten Wels und Linz mit deren kulturellem Angebot und die gute Erreichbarkeit vieler touristischer Attraktionen, wie die Grottenbahn mit dem Märchenkeller am Pöstlingberg, die Donauschifffahrt, das Agrarium in Steinerkirchen, usw. garantieren unvergessliche Urlaubserlebnisse. Siehe: (URL HIDDEN)
Großzügige Wohnung und freundliche Hausherrn
Astrid
2017-02-19T00:00:00Z
Everything OK! Reliable and very friendly host. I recommend.
Petr
2016-07-27T00:00:00Z
All was great and would recommend this stay to anyone :)
Ana
2017-04-01T00:00:00Z
Sehr tolle und große Unterkunft. Der Besitzer war sehr freundlich. Immer gerne wieder
Peter
2016-11-25T00:00:00Z
The host canceled this reservation 39 days before arrival. This is an automated posting.
Christian
2016-11-30T00:00:00Z
Eine tolle Wohnung mit gutem Preis-Leistungsverhältnis im Dorfzentrum von Wallern! Großzügiges Platzangebot, sauberes Bad & WC und funktionale Küche mit dem Nötigsten um sich etwas zu kochen. Es war sehr angenehm, hier zu residieren.
Hannes
2016-07-20T00:00:00Z
Excellent house in calm village near Wels. The host was very friendly and showed us everything we needed. We had very good experience. Thank you.
Ladislav
2016-12-04T00:00:00Z
Sehr bemühter persönlicher Gastgeber saubere Wohnung gutes Preis Leistung Verhältnis.
Johann
2017-03-05T00:00:00Z
Kamertype
Gehele woning/appartement
---
Type woning
Appartement
---
Geschikt voor
4
---
Slaapkamers
Wallern an der Trattnach, Oberösterreich, Oostenrijk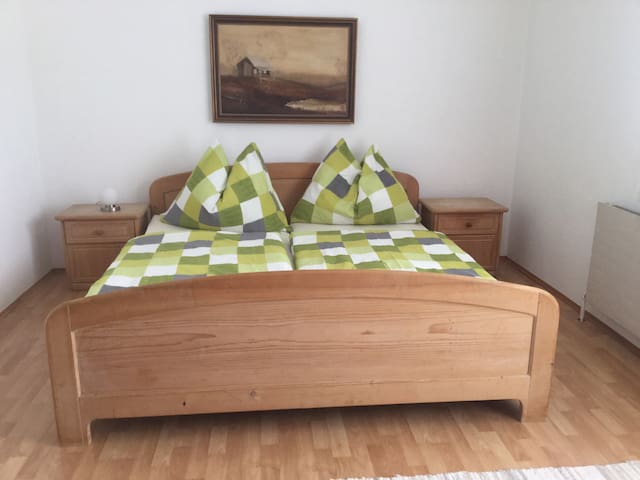 Our farm house ("Vierkanthof") is surrounded by fields, meadows and woods. The quaint apartment is absolutely quiet, yet very central (10 minutes to Wels and Grieskirchen, 25 to Linz, 1 hour to Salzburg, 2 hours to Vienna, 5 minutes to the next motorway drive and to Bad Schallerbach). Within walking distance there is the possibility to feed our sheep and chickens.
Through a large arched vestibule one reaches the accommodation, which is divided as follows: Ground floor: - 1 vaulted kitchen with sink, refrigerator, electric stove with oven, coffee machine and a traditional wood burning stove - 1 living room with large farm table, couch (possible bed for 1 person), TV, radio, stereo, and wood burning chimney - 1 bathroom with washbasin, bathtub with shower wall, toilet, washing machine - 1 bedroom ("Chamber") with double bed (1,60x2,00m) - in this room the staircase leads up into the upper sleeping area 1st floor: - 1 bedroom ("Cherry Tree View") with double bed (1,40x2,00m) - 1 bedroom ("Morning Sun") with double bed (1,80x200), as well as a pull-out sofa-bed (1,20x2,00m) Baby crib and high chair, as well as other baby and children's implements are available on request, since we ourselves have 2 children at the age of 2 and 0 years.
Within walking distance you can reach the center of Wallern in about 15 minutes. There you can find a supermarket, bakery, various restaurants and inns, as well as a Western riding stable. Only 4 minutes by car you can visit the magnificent Spa Eurotherme Bad Schallerbach, with saunas and swimming pools - ideal for relaxing, as well as the Aquapulco adventure water park (theme "pirate world"), which makes children's heart beat faster. The cities of Wels and Grieskirchen can be reached in about 10-12 minutes by car.
Pleasant, helpful and flexible host. Beautiful accommodation and ditto surroundings. Highly recommended.
Roeland
2015-09-20T00:00:00Z
Wir hatten einen wunderbaren Aufenthalt in der von Sara vermietenden Wohnung, die wie im Inserat beschreiben ist, über eine sehr schöne ländliche Lage verfügt und alles bietet, das man so braucht. Obwohl wir nur eine Nacht blieben, haben wir uns sehr willkommen gefühlt, was sowohl an der tollen Unterkunft als auch an der sehr freundlichen Art von Sara und ihrer Familie liegt, die uns auch gleich zum gemeinsamen Fussball schauen eingeladen hat. Die Kommunkation mit Sara war vollkommen unkompliziert, obwohl unsere Anfrage sehr kurzfristig kam und auch bei Anreise- und Abreisezeiten kam uns Sara sehr entgegen. Außerdem versorgte uns Sara mit sehr guten Tipps bezüglich der Umgebung und lokalen Möglichkeiten. Insgesamt können wir diese Unterkunft nur allen ans Herz legen und hoffen selbst bald wieder Gelegenheit zu haben uns bei Sara einzumieten, dann auch gerne länger als diesesmal.
Gregor
2016-07-03T00:00:00Z
Wonderful experience in Austria countryside! So lucky to have met host family, they are so wonderful people! Sara, Annie thank you! Good luck with your beautiful baby boy!
jun
2015-08-04T00:00:00Z
Sara and her family welcomed us very warmly despite the late hour of arrival. We got a tour of the estate and were told the story of it. A very pleasant stay with pleasant people. THANK you
Helle
2015-07-22T00:00:00Z
Sara was very nice and spoke English to us. Place is beautiful and air is fresh.
Ligaya
2015-09-28T00:00:00Z
Die urige Wohnung am Berg ist genau richtig für Ruhesuchende und Leute die der modernen Welt ein paar Tage entkommen wollen. Sehr zu empfehlen! Sara und ihre Familie sind sehr zuvorkommend und gastfreundlich, danke für den sehr netten Aufenthalt.
Hannes
2016-07-02T00:00:00Z
We had a wonderful time at the Farm house. The surrounding landscape is picture perfect and the panoramic view is super. Sara and family were very friendly and (URL HIDDEN) fact, they were kind enough to provide us with jackets for the unprecedented rains; as well as was ready to help us with all directions for our visits in Austria. The children had lots of space to run around and had fun feeding the farm animals. I would recommend Sara's friendly place for its perfect landscape, friendly host and calm surrounding. It is also perfect to plan your trips to Salzburg, Vienna and Linz
Renjit
2016-07-15T00:00:00Z
Sara and her family were exceptionally friendly, warm and welcoming. We had booked last minute but Sara still accepted us due to her kind nature. The kitchen was well equipped and there were numerous bathroom products available. Beds were comfortable and the space was large. The place was very clean and tidy. The country style furniture was lovely. We were also provided with local beer at night and coffee in the morning. The view of the farm and the surrounding countryside was beautiful. Sara also provided us with advice about where to visit. Would recommend to everyone! We would like to come back again :)
Sam
2016-06-09T00:00:00Z
Kamertype
Gehele woning/appartement
---
Type woning
Condo
---
Geschikt voor
9
---
Slaapkamers
Wallern an der Trattnach, Oberösterreich, Oostenrijk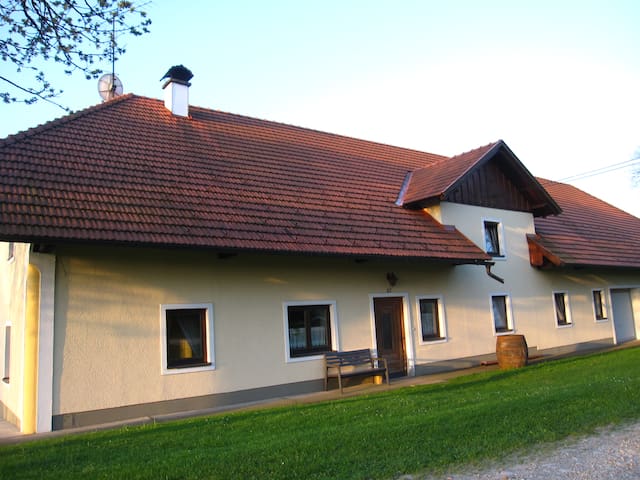 Unser Vierkanthof liegt mitten im Grünen, zwischen Wiesen und Feldern. Die urige Wohnung ist absolut ruhig und dennoch sehr zentral gelegen (10 min. nach Wels und Grieskirchen, 25 nach Linz, 1 Stunde nach Salzburg, 2 Stunden nach Wien, 5 min. zur nächsten Autobahnauffahrt bzw. nach Bad Schallerbach). In Fußnähe gibt es die Möglichkeit unsere Schafe und Hühner zu füttern.
Durch ein großes Gewölbe Vorhaus gelangt man in die Unterkunft, die sich wie folgt aufteilt: - 1 Gewölbeküche mit Waschbecken, Kühlschrank, E-Herd, Kaffeemaschine und urigem Holzofen - 1 Stube mit großem Bauerntisch, Couch (Bettfunktion für 1 Person), TV, Radio, Stereo, und Holzofen - 1 Badezimmer mit Waschbecken, Badewanne mit Duschwand, WC, Waschmaschine - 1 Schlafzimmer ("Kammer") mit Doppelbett (1,60x 2,00m) Gitterbett und Hochstuhl, sowie andere Baby- und Kinderutensilien sind auf Anfrage möglich, da wir selber 2 Kinder im Alter von 2 und 0 Jahren haben.
Fußläufig erreicht man in ca. 15 min das Zentrum von Wallern mit Supermarkt, Bäcker, Gasthaus, sowie einen Western-Reitstall. Nur 4 min. mit dem Auto entfernt befindet sich das herrliche Eurothermen Resort Bad Schallerbach, dessen Saunen und Pools ideal zum Entspannen sind, sowie das Erlebnisbad Aquapulco, das mit seiner Piratenwelt Kinderherzen höher schlagen lässt. Die Städte Wels und Grieskirchen erreicht man in ca. 10-12 min Autofahrt.
Kamertype
Gehele woning/appartement
---
Type woning
Appartement
---
Geschikt voor
3
---
Slaapkamers
Wallern an der Trattnach, Oberösterreich, Oostenrijk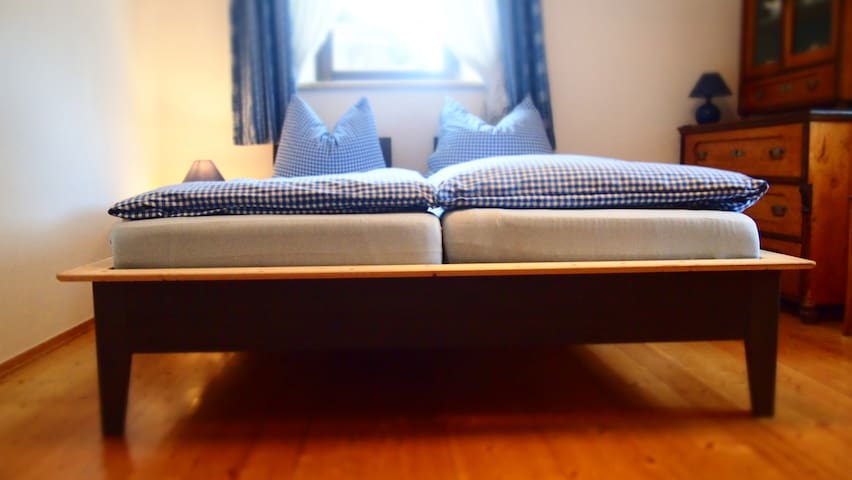 This apartment is fully furnished, spacious and looks very nice. It has 135 square meters and 8 rooms, all at your disposal. It's ideal for families. There is free wifi, good heating as well as cost-free parking spots available. It is available from
This apartment is fully furnished, spacious and looks very nice. It has 135 square meters and 8 rooms, all at your disposal. It's ideal for families. There is free wifi as well as cost-free parking spots right in front of the house available. We also rent the basement apartment of the same house: https://www.airbnb.com/rooms/1605614?preview Besides the balcony you will also have a garden available. It should be mentioned that the garden has a somewhat exotic flair (especially during spring and summer) and is popular amongst birds and cats. Besides our garden chickens also expect to have birds and cats somewhere at the back of the house (although none inside). If you would like to bring a pet along, that's no problem. I myself am a student although currently out of the country. But the whole airbnb thing is closely coordinated with my father. He will be around to help you at any time necessary. I will provide you with his mobile phone number and you can call him for any questions. I take care of the "official" part via the website. Feel free to contact me at any time. At the house my father will take care of you. We are helpful people and will try hard to make your time at our place smooth. We will also make sure that you have some basic groceries in the refrigerator upon arrival, such as bread, milk, cereals, (homemade) fruit juice, jam, etc. With regards to the surrounding of the area, it is nice and natural. It's pretty quiet (except for the sounds of nature). Occasionally you hear a car driving by on a road quite some distance away. You also have a little creek behind the garden. One of the neighbors is a nursery. So if you like flowers feel free to stop by and say hello. The neighbors are all nice and some speak good English. The house is located close to several cities (5 minutes drive to Marchtrenk, 15 min to Wels, 25 min to Linz [the capital of Upper Austria]), about 45 minutes from the German border (city of Passau), one hour from the Czech border, one hour from Salzburg and two hours from Vienna. Furthermore, the location is ideal for visiting several famous places in different directions. Besides the capital of Upper Austria, Linz, you have, e.g. the historic cities of Steyr, Gmunden and Bad Hall, several beautiful Austrian lakes (Attersee, Traunsee, etc.), the WWII concentration camp of Mauthausen, the renowned swimming center water park of Bad Schallerbach (Aquapulco), and some other nice scenic spots, all located within less than 45 minutes of driving. In winter you may also conveniently access several famous skiing resorts (such as Hinterstoder, Feuerkogel, Kasberg, Wurzeralm,,...) all with approximately 50 minutes of driving. In case you don't have GPS in your car and / or are unsure how to find the house my Dad may also meet you e.g. at the train station in Linz (or wherever you wish) and can guide you to the house the first time. This, however, needs to be arranged with him on the phone. The public transportation part is certainly a disadvantage of the location. Although it is pretty close to several cities the closest train station is 3 km away and there is no public bus transportation close-by, so you will need a car to get around. There is a nice traditional Austrian restaurant right next to our house, but the nearest shops aren't within walking distance. You will need to drive by car for 5 minutes. If you have one, it's not a problem. If you have none, then the location may not be ideal for you. The house has a full thermal insulation. Thus, in winter it doesn't get too cold and in summer not too hot. You should furthermore note that this basement apartment is only one of two apartments in the house. You will need to expect to have someone living in the basement apartment of the same house. If you have any questions please feel free to contact me anytime.
Everything worked out as promies, recommended
Peter
2016-08-26T00:00:00Z
Landlord very warm reception we really very thank landlord!
文夏
2016-08-15T00:00:00Z
This house is super clean and all facilities are convenient. Daniel's father gave us a warm welcome upon arrival. All the rooms are well decorated and we felt like just visting our own grandpa. Mr Schuster is kind and willing to talk with us. He even played accordion for us in the morning, which was the most unforgettable experience during our trip. Thank you Daniel.
Wandong
2015-12-30T00:00:00Z
This was our 2nd stay and the host was as pleasant and welcoming even more so than the first visit. We would refer his home for a stay to anyone needing a place in that area. He was extremely helpful in finding anything we could possibly need.
Reba
2015-09-06T00:00:00Z
We had a great night in this huge flat. Daniel's father was really friendly and make us feel like at home. We thank you for our great weekend !
Magdaléna
2015-05-25T00:00:00Z
Daniel's dad welcome us in a grandiose style with opened hands and with big smile on his face :) he welcome us with home made sirup. And also we get another one for our next journey when we left his house. It was really nice to met him. If I need accommodation in this area for the next time I will not hesitate to go there again.
Tomas
2015-08-28T00:00:00Z
The host canceled this reservation 282 days before arrival. This is an automated posting.
Esküvői- és Party zenekar
2016-10-05T00:00:00Z
The host Peter was very welcoming and helpful throughout the stay. He even gave us Christmas presents and had a Christmas tree with decorations put up in the living room. The apartment is very spacious and cosy (there is a wood fired oven) and has a big kitchen with all necessities. Everything was clean and the mattresses were tip-top. There is also a huge terrace which would be lovely in the warmer seasons. The house is in an extremely quiet, rural area and a car is a must for shopping etc.
Andreas
2015-12-27T00:00:00Z
Kamertype
Gehele woning/appartement
---
Type woning
Appartement
---
Geschikt voor
11
---
Slaapkamers
Buchkirchen, Oberösterreich, Oostenrijk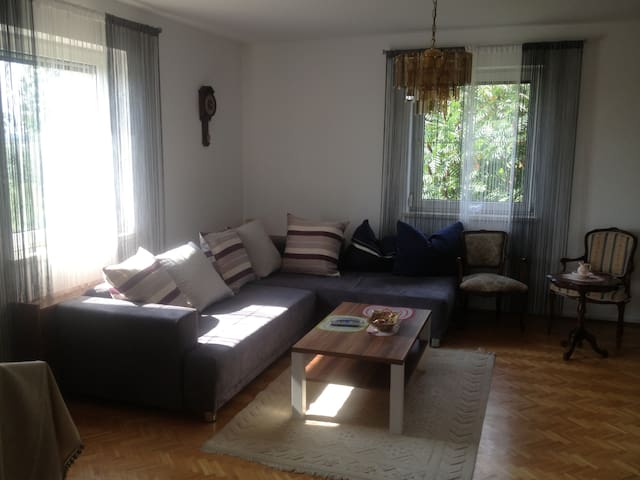 Schöne zentral gelegene 72m2 Wohnung für bis zu 4 Personen, Wohnung ist ruhig neu renoviert und im 1 Stock, Lift ist auch verfügbar. Schöner Balkon mit Holzboden und kleine Sitzgarnitur. 200 m zur nächsten Bushaltestelle ca. 500 m zum Bahnhof (zu Fuß erreichbar) ca. 1,5 km ins Zentrum (zu Fuß erreichbar), Welios, schöner Weihnachtsmarkt, historischer Stadtkern ca. 3 km ins Messegelände Geschäfte, Bäcker, Trafik, Apotheke und Restaurants sind im Umkreis von 500 m und leicht zu Fuß zu erreichen.
Sehr Zentral, gemütliche großzügige Wohnung, schöne Küche. Geschirr, DVD, Bücher, Handtücher und Bettwäsche ist alles Vorhanden.
Die Unterkunft war genau wie beschrieben, sehr sauber, gemütlich, zentral gelegen, gute Parkmöglichkeiten. Der Kontakt mit David und seiner Freundin war unkompliziert und nett und ich würde jederzeit wieder dort wohnen, wenn ich in Wels bin.
Verena
2016-01-11T00:00:00Z
Die Wohnung war leicht zu finden und wir wurden herzlich empfangen und gleich sehr gut eingewiesen. Der Schlaf war ausgezeichnet und alles hat wunderbar gepasst. Vielen lieben Dank David. Wir kommen nächstes Jahr gerne wieder. LG; Ianna
Ianna Y.
2015-09-14T00:00:00Z
The hosts were great - I only saw them on arrival and I had the apartment to myself during the entire 3 night stay. The host has proactively called me on arrival and offered me a lift from the train station to the apartment. This was very helpful, since I did not know the area and it was raining and dark on arrival. No disturbance from host or neighbours, a very quiet place. This was a really lovely apartment, cosy, warm and clean, brand new furniture and appliances with everything necessary in it, including fully equipped kitchen, iron, hair-dryer etc. The place is spacious for one person or a couple, but it can easily accomodate a couple + 2 more people. There is a big and comfy sofa in the living room. There was no internet / wifi but this was not a problem since I used my mobile to create a hotspot. The location was good - 10 min walk to the train station, 10-12 min walk to the city center, 20-25 walk to the Fair / Messe. Very pleased with the experience! Would stay there again if I am visiting to Wels.
Veronika
2016-02-27T00:00:00Z
David war sehr freundlich und zuvorkommend. Er hat uns die Wohnung genau gezeigt und uns auch noch ein paar Tipps für Restaurants in der Nähe gegeben. Die Wohnung war sehr schön, sauber und super ausgestattet... Ich kann sie jedem empfehlen!
Arnold
2015-10-03T00:00:00Z
Alles hat gut geklappt, haben uns gleich wohl gefühlt. Haben gute Tipps bekommen, wo man gut essen kann. Wohnung war schön und sehr sauber.
Marlies
2015-12-07T00:00:00Z
David's place was perfect for our short stay in Wels. He was flexible with check-in and explained everything very well. The appartement is in a good neighbourhood and the city center is very close. The apartement is very nice and clean. We would definitely come back.
Michael
2016-04-30T00:00:00Z
Nagyon kedves, meleg es otthons volt David lakasa. Szivesen visszamennek barmikor :) Csak ajanlani tudom! A környek is baratsagos kisvarosi, a közelben par perc setaval minden elerhetö a belvaros es bevasarlo helyek is.
Béla Szabolcs
2016-02-12T00:00:00Z
Nice and clean place. Good position. Little bit harder to find parking place. Thanks David
EugenS
2016-04-11T00:00:00Z
Kamertype
Gehele woning/appartement
---
Type woning
Appartement
---
Geschikt voor
4
---
Slaapkamers
Wels, Oberösterreich, Oostenrijk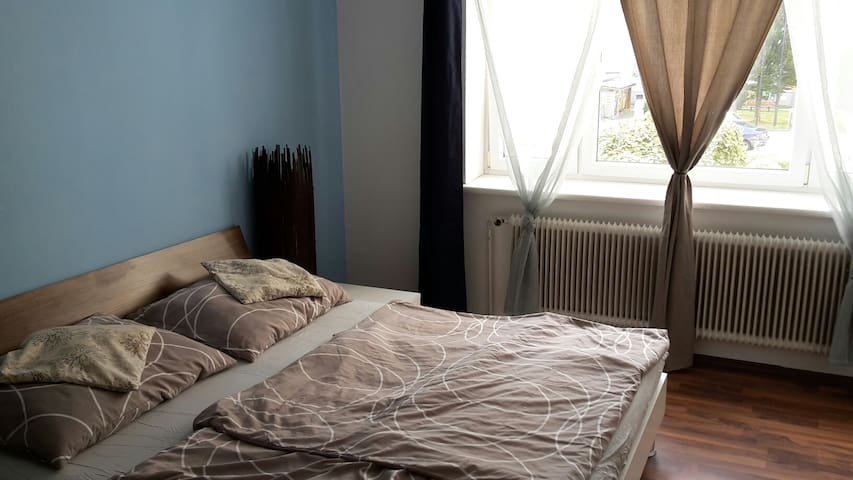 Meine Unterkunft ist in der Nähe vom Stadtzentrum. Inklusive Tiefgarage und zusätzlicher Parkmöglichkeit. Lift vorhanden - barrierefrei von der Tiefgarage in die Wohnung.
Siehe sueno(at)at
Ruhig
Tolle vollwertige Wohnung in guter Lage inkl. Tiefgaragenplatz direkt neben dem TG Eingang. Schöner Wintergarten zum Entspannen. Jederzeit wieder.
Manuel
2017-03-05T00:00:00Z
Kamertype
Gehele woning/appartement
---
Type woning
Appartement
---
Geschikt voor
4
---
Slaapkamers
Wels, Oberösterreich, Oostenrijk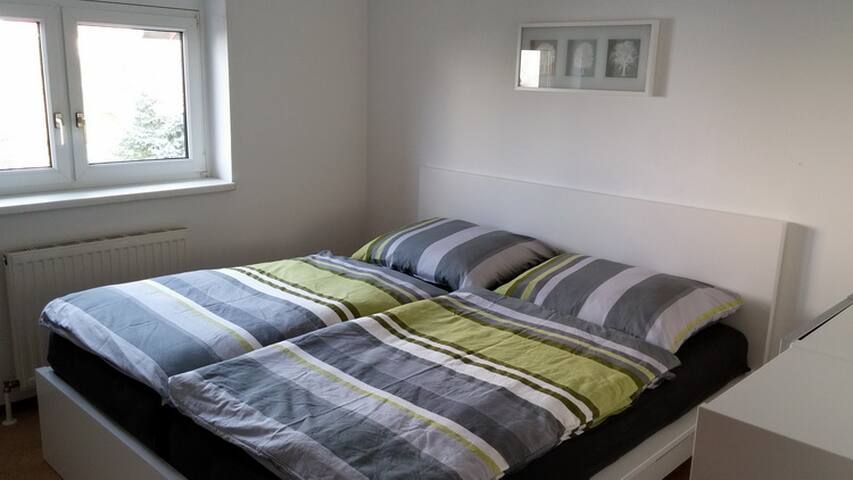 Die Wohnung liegt Mitten in Wels zwischen Bahnhof und Stadtzentrum. Fußläufig: 5 Min Bahnhof, 5 Min Stadtzentrum, 2-5 Min jede Menge Gastro in allen Geschmacksrichtungen, 3 Min Supermarkt, 10 Min Messegelände. Parkplatz oder ev Einzelgarage (zB Motrräder) vorhanden. Die Whng. wird nur vom Mieter benutzt. Frühstück kann bei der guten Fee vorbestellt werden.
Die Unterkunft wurde im Jan-Feb 2017 neu renoviert. Betten usw sind neu, nur die "alten Möbel" sind auch "ALT"! Wohnung im Erdgeschoss.
Mitten in der Stadt - und doch nicht driekt im Wirbel. Die kurze Distanz zu allen wichtigen Loications wie Bahnhof, Zentrum, Messe usw ist perfekt!
Kamertype
Gehele woning/appartement
---
Type woning
Appartement
---
Geschikt voor
5
---
Slaapkamers
Wels, Oberösterreich, Oostenrijk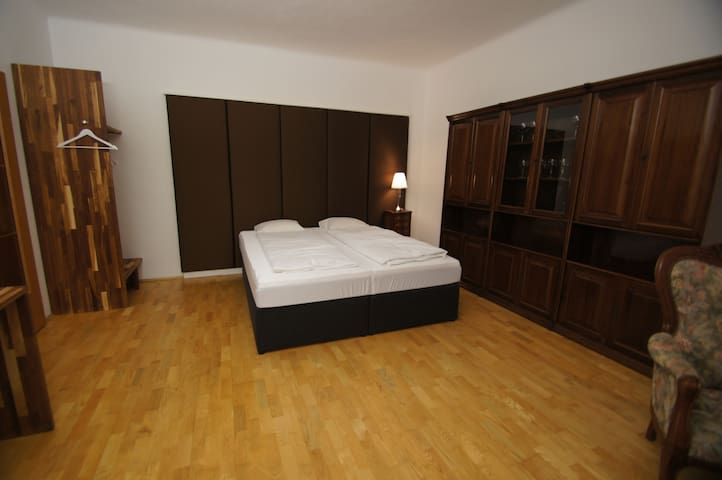 Das hochwertig ausgestattete NICHTRAUCHER-Ferienhaus verfügt über 2 Schlafzimmer mit Doppelbetten oder Einzelbetten, ein großes Wohnzimmer, 2 Kabel-TV (140 cm), X-Box, eine komplett eingerichtete Wohnküche, 2 Bäder mit Dusche und WC und Vorraum. Das Haus wurde im März 2013 eröffnet. Gerne dürfen Sie sich in unserem 10.000 m2 großen Garten wohlfühlen. Liegewiese, Kinderspielplatz, Tischfußball und Tschtennistisch stehen Ihnen zur Verfügung. Kostenloser Parkplatz (Carport) vorhanden.
Das Ferienhaus und die überdachte Terrasse 40m2 steht dir alleine zur Verfügung.
In 5 min bist du bei der "Schönsten Therme Europas" Das Highlight der Urlaubsregion Vitalwelt bildet das EurothermenResort Bad Schallerbach, das mit der Cabrio-Therme "Tropicana" zum Relaxen mit Südseefeeling unter Palmen im wohlig warmen Thermalwasser einlädt. Ruhe und Erholung finden Sie auch im Sauna-Bergdorf "AusZeit" mit über vierzig Sauna- und Relaxerlebnissen.
Kamertype
Gehele woning/appartement
---
Type woning
Huis
---
Geschikt voor
5
---
Slaapkamers
Wallern an der Trattnach, Oberösterreich, Oostenrijk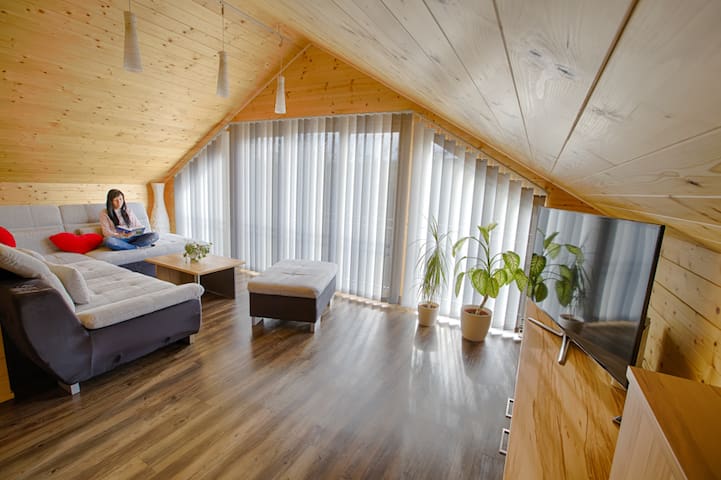 Rent 2 rooms, central location. Old town and the station, fußgängig reachable.
Kamertype
Privé Kamer
---
Type woning
Appartement
---
Geschikt voor
1
---
Slaapkamers
Wels, Oberösterreich, Oostenrijk
Flat with its own entrance with a size of 90m² has two bedrooms, a kitchen and a bathroom and is part of former farm. It is located just 10 minutes on foot to center of Bad Schallerbach in quite environment.
2 Schlafzimmer, Küche, Bad + WC, Vorraum, TV, WLAN + Internet
Die Therme Bad Schallerbach zählt ist die meistbesuchte Therme Österreichs und liegt lediglich 15 Gehminuten entfernt von der Wohnung. Darüber hinaus befinden sich auch diverse Geschäfte (Lebensmittel, Mode und dgl.) im Umkreis von 5 - 20 Gehminuten.
Kamertype
Gehele woning/appartement
---
Type woning
Appartement
---
Geschikt voor
4
---
Slaapkamers
Wallern an der Trattnach, Oberösterreich, Oostenrijk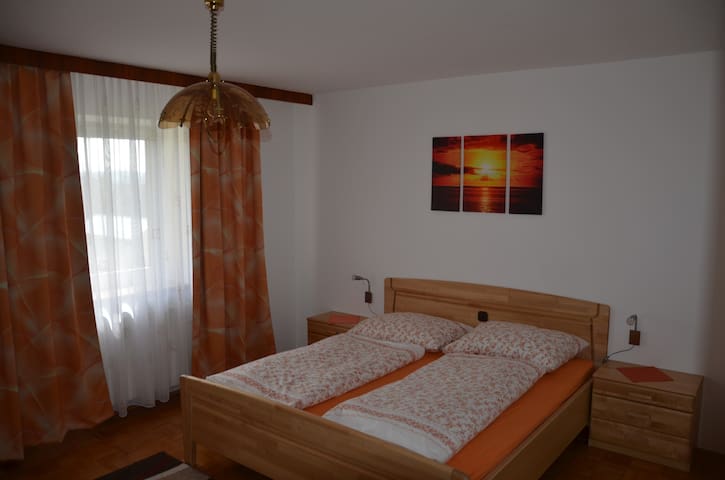 Diese sehr ruhig gelegene NICHTRAUCHER Ferienwohnung 94 m², in der Nähe des Kurortes Bad Schallerbach bietet Komfort, den Sie gewöhnt sind. Ideal geeignet für 2 Paare mit 3 Kinder oder ein Paar mit bis zu 5 Kindern.
Die Wohnung verfügt über 2 Schlafzimmer mit Doppelbetten und Einzelbetten (inkl. Bettwäsche), ein kleines Kinderzimmer mit einem Kinderbett, ein großes Wohnzimmer, KabelTV, eine komplett eingerichtete Wohnküche (inkl. Kaffee.- u. Nespressomaschine), Bad, WC mit (inkl. Handtücher). Die Wohnung wurde liebevoll ausgestattet und ist auch für Allergiker geeignet. In jedem Raum befinden sich Fliegengitter. Eigenes Carport vorhanden.
In 5 min bist du bei der "Schönsten Therme Europas" Das Highlight der Urlaubsregion Vitalwelt bildet das EurothermenResort Bad Schallerbach, das mit der Cabrio-Therme "Tropicana" zum Relaxen mit Südseefeeling unter Palmen im wohlig warmen Thermalwasser einlädt. Ruhe und Erholung finden Sie auch im Sauna-Bergdorf "AusZeit" mit über vierzig Sauna- und Relaxerlebnissen. Auch in der Nähe: Zoo Schmiding, Wandern, Baumkronenweg in Kopfing, Indianerdorf IKUNA in Natternbach, Lauf – und Nordic Walking Strecken, Mountainbiking, Golf, Tennis, Disco, ….
Very roomy and clean apartment, the whole upper floor of a family house. It even has a piano in the living room (!). The house is located in great nature environment, on the outskirts of the village, next to a deer feeding station (!). Hosts are extremely friendly and helpful, they treated us with great traditional breakfast. Highly recommended place to stay!
Matjaz
2015-08-03T00:00:00Z
Sehr geräumige 4 Zimmerwohnung im ersten Stock. Hier ist´s wirklich ruhig, rundum und im Haus. Waltraud und Hermann sind reizende Gastgeber. Besonders ihr Ferienhaus, das wir besichtigt gaben ist erstklassig. Und die Kokosbusserln von Waltraud ebenso, sie ist gelernte Köchin. Kommen sicher wieder. Alfred
Alfred
2015-11-14T00:00:00Z
Kamertype
Gehele woning/appartement
---
Type woning
Appartement
---
Geschikt voor
6
---
Slaapkamers
Wallern an der Trattnach, Oberösterreich, Oostenrijk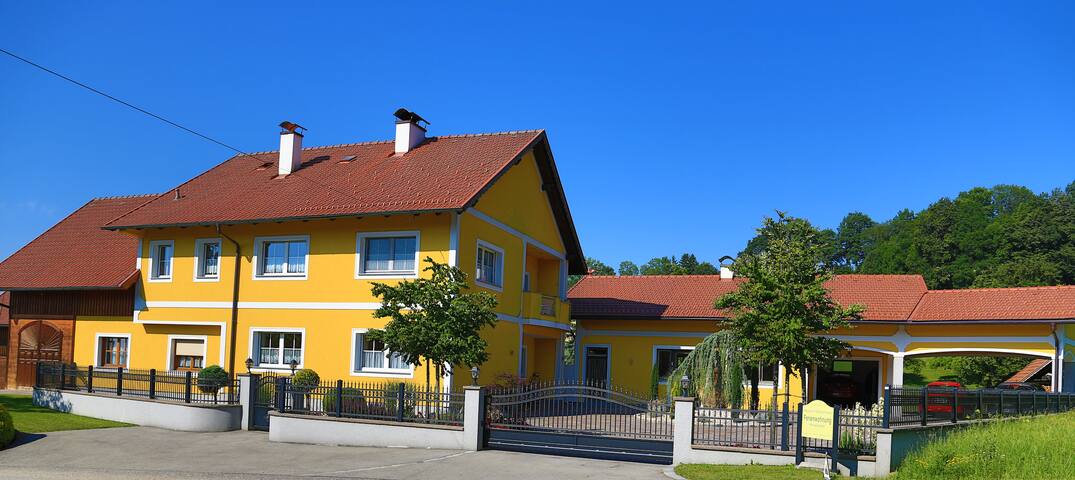 Das Haus liegt am Stadtrand von Wels und bietet direkten Zugang zu Lauf- und Walkingstrecken im Grünen. Terrasse, Garten und Wiese können genutzt werden.
Zusatzmatratze oder Schlafsofa wäre auf Anfrage möglich.
Kamertype
Privé Kamer
---
Type woning
Huis
---
Geschikt voor
1
---
Slaapkamers
Wels, Oberösterreich, Oostenrijk
Schöne zentral gelegene 73m2 Wohnung (bis 6 Personen), mit Garage (1 PKW). Wohnung befindet sich im 1.Stock. Schöner ruhiger Gemeinschaftsgarten. 200m zur Bushaltestelle. ca.12min Fußweg zum Bahnhof. Geschäfte/Restaurants in unmittelbarer Nähe.
Die Wohnung zur Alleinbenützung (1. Stock) ist zentral gelegen und bietet ausreichend Platz für bis zu 6 Personen. Ein kostenloser Garagenplatz direkt vor dem Haus, sowie zusätzliche kostenlose Parkmöglichkeiten in unmittelbarer Nähe stehen euch zur Verfügung. Weiters könnt ihr den ruhigen Gemeinschaftsgarten benützen. Die Wohnung ist komplett ausgestattet und ihr braucht nur noch eure Zahnbürste mitzubringen ;-) Supermarkt sowie Cafes/Restaurants, Tankstelle, Apotheke, etc in unmittelbarer Nähe.
Manuel war trotz unserer sehr sehr spontanen Buchung superfreundlich, hat alles perfekt vorbereitet und uns willkommen geheißen. Die Wohnung ist zwar (noch) recht spartanisch ausgestattet, dafür aber sehr sehr stilvoll und neu. Alles Nötige ist da und wir haben uns wohl gefühlt. Sogar eine Garage gehört zur Wohnung! Supermarkt und Bäcker sind sehr nah, genau wie ein McDonalds. Das Stadtzentrum ist etwas entfernt.
Johanna
2016-03-25T00:00:00Z
Kamertype
Gehele woning/appartement
---
Type woning
Appartement
---
Geschikt voor
6
---
Slaapkamers
Wels, Oberösterreich, Oostenrijk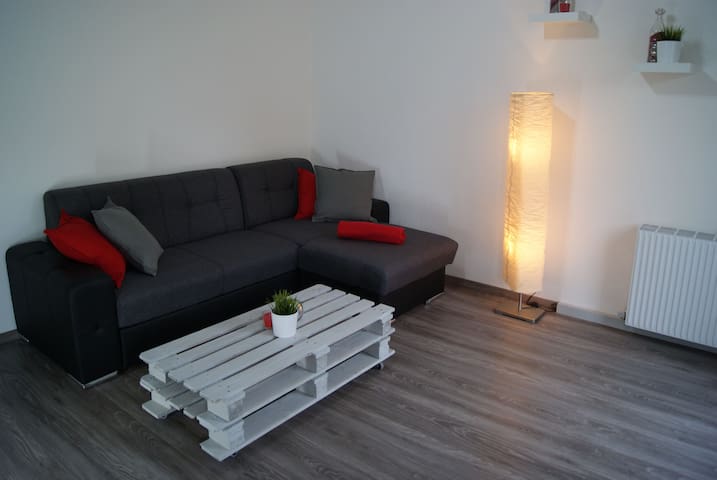 1

–

18

van

32 Accommodaties