300+ Appartementen te Huur
We are situated right on the Waterfront with beautiful vista over the Derwent River and Mount Wellington, our garden is our delight, with lots of produce which you are welcome to share . We are a 5 min walk to beach, bus stop and shops.
Fully functional 1 Bed Flat, separate lounge, bedroom, bathroom, laundry. Kitchenette behind bifold doors,with a hotplates, electric frypan, toast and grill. Lovely outdoor area with BBQ. We also have FREE WIFI. Our third bed is a folding single bed, it is in main bedroom but can be moved into the living room for privacy.
We love that we can walk daily on the beach, friendly street with lovely neighbors, easy access to local shop and supermarket 3 min drive away. Local Bowls, tennis, yoga dance classes.
Sharon's place was perfect for us, very comfortable self contained apartment, lovely veggie garden and beautiful views. Would highly recommend :)
Iva
2017-02-20T00:00:00Z
Very comfortable and clean apartment. The host Sharon was lovely. The apartment looks out onto a beautiful back garden, with the river behind it. There are seats at the end of the river so you can relax and admire the gorgeous view. We would love to come back
Stefanie
2017-02-11T00:00:00Z
Beautiful garden, stunning views of the harbour and city. Absolutely the most kind and wonderful hosts. Really nice accommodations with nice sitting space and kitchenet. Really nice walk to beach.
Josh
2017-02-10T00:00:00Z
Beautiful spot with stunning views and comfortable apartment with very attentive host. Great for a soothing rest break! A bit off the beaten track for central Hobart but nothing is too far away to get out and explore. Car recommended.
Melanie
2017-03-25T00:00:00Z
Kamertype
Gehele woning/appartement
---
Type woning
Appartement
---
Geschikt voor
3
---
Slaapkamers
Howrah, Tasmanië, Australië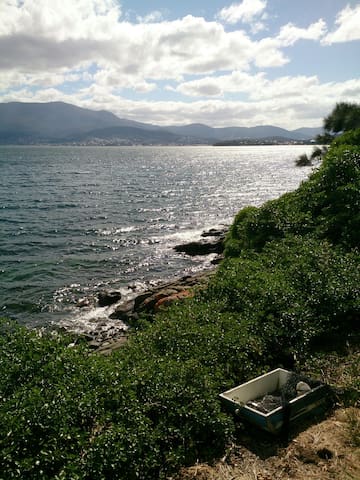 Would you like to wake up to panoramic views of Hobart's CBD, Mt.Wellington and the Derwent River every morning? Stay at Charbella's and you can take in the breathtaking views by day or night. The apartment that has its own separate entrance so that you can come and go at your leisure. A car is advised, as it gives you freedom to explore Hobart and surrounding places of interest and at the end of your day of sight seeing, come home to your apartment and enjoy the spectacular views of Hobart.
Wake up to Panoramic views of Hobart, Mt.Wellington and the Derwent River from your two bedroom apartment on the ground floor.Bedroom 1 has a quality Queen bed , a free standing wardrobe, plus table and chairs for 4 people and you have your own balcony with a barbecue so that you can enjoy your culinary arts and take in the breathtaking views.We also offer a wall mounted television , DVD and CD player for your use. Bedroom 2 offers a quality double bed ensemble,built in wardrobe and wall mounted television. Free wi fi can be accessed throughout the 2 bedroom apartment. There is a shower, vanity and toilet in the bathroom. We offer a combined kitchenette with laundry facilities .The kitchenette has a fridge, microwave/convection oven, 2 burner hotplate,toaster, kettle, electric frying pan, a slow cook crockpot,blender,crockery, glasses and a variety of kitchen utensils that you can utilise during your stay.
Howrah in Hobart, is a quiet suburb on the eastern shore of Hobart and our 2 bedroom apartment offers a panoramic view of the Derwent River, Hobart's CBD and Mount Wellington. Hobart provides a truly unique experience with the famous Salamanca Markets, Blundstone Arena (Bellerive Oval) just down the road, and lots more to see, do and experience.You can experience fresh Tasmanian farm produce at the Farmers' Markets which are held every Saturday morning along the Bellerive Boardwalk in Summer , as Bellerive is only 4 minutes by car.
The listing was as pictured and described. Nice location close to Hobart city. Only a couple of minutes drive to local shopping centre with a woolworths and hotel for dinners. Bed is very comfortable and property is fitted out with all the best appliances. We had a fabulous view of the harbour,city and Mount Wellington from the balcony and could see the cruise ships coming and going Carol offers a nice breakfast with quality coffee and tea selections. Carol is an attentive host who checks in often. We did find it a little noisy being on the bottom floor of a two story home as you hear footsteps and voices. It was only an issue for us as we had a two year old who goes to bed very early but wouldn't be a problem otherwise.
Shelley
2016-03-20T00:00:00Z
Carol and Ian are lovely hosts and made us feel very welcome. When I had trouble with the verifying my online identity on airbnb Carol was a great help in getting that sorted out. This is a great place with caring people.
Chrissy
2015-05-20T00:00:00Z
Well maintained and well equip apartment, helpful host.
Lim
2016-07-05T00:00:00Z
We stayed at Charbella's for 2 separate periods of 2 nights each (at the start and the end of our holiday). It was a lovely place with the essentials and gorgeous view :) Although Carol was not physically present to welcome us (due to personal reasons, which we totally understood, no problem at all!), we maintained close contact and she made sure everything went well throughout our whole stay. Simple and cosy with all we needed for our short stay :) Thanks Carol & Ros!
Elaine
2016-09-30T00:00:00Z
We had a lovely stay at Charbella's. The view is amazing, the apartment is quiet and private, and it's only 10 mins to the CBD. Carol was a very attentive and thoughtful host who was in touch throughout our stay. The apartment has many homely touches and is well fitted out, and the bed in the main room is really comfy! We loved our time in Tassie.
Katie
2015-09-13T00:00:00Z
The apartment was lovely, neat, clean and well furnished; There is a main bedroom, with a queen bed, a sofa, a table + 4 chairs, Tv and Stereo and a balcony/BBQ area overlooking a stunning view; and a guest bedroom; the bed in the guest room is a sofa bed; The kitchenette/laundry was very small, ok for short term stays - a bit too small if you are planning a longer stay; One bathroom with a shower, basin and toilet; Carol provided a starter breakfast pack, with our choice of milk, bread, yoghurt and fresh fruit which was very much appreciated; We also had a choice of jams, there was some coffee left in the fridge, which was enough for 1 day, and a choice of teas; she also left a choice of Corn Flakes and Muesli, however these appeared to be a little old and stale; The apartment was very clean and well presented, we asked for an earlier check- in because we arrived very early, and Carol was happy to accommodate our request; The apartment is in a perfect quiet location - 10 minute drive to centre city Hobart, and 15 minutes drive to the airport; The accommodation was perfect for a long weekend of exploring South East Tasmania, and the view from the main bedroom/balcony is well worth it;
Angela
2016-04-26T00:00:00Z
Carol apartment was amazing and couldn't believe that it was so clear and beautiful, all of the furniture and washing machine was using a top model, even better than my house in Hong Kong. Made my trip easier and relax to stay at Tas! the view from the apartment was so nice. Thanks for Carol such as good welcome speech and check in, made our life easier, i would recommend my friends to come when they are visiting Tas soon, Highly recommended to everyone
Chan
2015-04-09T00:00:00Z
This was the first time that we used Airbnb so we did not know what to expect. We spent four nights at Charbella's on Norma. Carol was extremely warm, welcoming, friendly and she cared us a lot altough she was in other places due to personal business. We were impressed with the property which is just ten minutes away from a shoreline shopping center and you can also take bus from there to city. This house has a nice design and great views, especially during the night. We would strongly recommend this property and should we ever return to Hobart, we will definitely stay here.
Ruguo
2014-07-28T00:00:00Z
Kamertype
Gehele woning/appartement
---
Type woning
Appartement
---
Geschikt voor
4
---
Slaapkamers
Howrah, Tasmanië, Australië
Situated across the road from a beautiful beach. Located upstairs from a small shopping centre - a supermarket/cafe selling delicious local foods and wines, plus a friendly newsagency and hair salon. 10mins to central Hobart by car. Bus stop nearby.
Amazing panoramic views of Hobart.
Howrah boasts a gorgeous beach which joins to another beach lending itself to lovely long walks. There is a lovely Thai restaurant on Clarence Street (Thai Eatdustry) and other popular cafes/restaurents towards Bellerive Quay (4km away). There is a local Park nearby (Wentworth) which has a bike track for people who'd like to ride from Howrah to Bellerive (or further). This park also has outdoor equipment to entertain the kiddies. There is also an indoor children's play centre (Far Out!) only 5 or so minutes drive away. By car, Howrah is a few mins away from Blunstone arena and Bellerive Quay, 10-15 mins from the city (and the Museum and Salamanca), about an hour to Port Arthur, 10 Mins to the airport and 25 mins to MONA (all are approx. times).
Kamertype
Gehele woning/appartement
---
Type woning
Appartement
---
Geschikt voor
8
---
Slaapkamers
Howrah, Tasmanië, Australië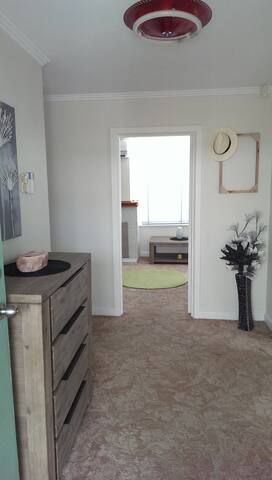 A beautiful apartment on the same property as our own home in the suburb of Howrah. It is a large one-bed unit that is very popular. Set in a quiet residential street, the unit backs onto parkland with a lovely beach at the end of the street.
Set in a quiet residential street, the unit backs onto parkland with a lovely beach at the end of the street, a perfect location for quiet evening walks.
Howrah is a quiet middle-class suburb situated on Hobart's sunny Eastern Shore, but only a 5 min drive to regional indoor shopping centre and further 5 min drive to the city centre.
Hi David, Sorry for the late reply but would still like to let know you our feelings about your accommodation. It was a lovely and comfortable appartment and your friendliness when we arrived. No negatives whatsoever. Really great! Thank you. Catharina
Catharina
2016-06-06T00:00:00Z
David and Allison were very welcoming. Everything was very clean and as expected. A perfect accommodation for our stay in Tasmania. Also, only 15min drive to Hobart CBD. great location. Would stay here again :)
Glenda
2016-06-22T00:00:00Z
When we arrived we were greeted by David's daughter who explained everything we needed to know and made us feel like it would be no hassle if we needed anything. Location was great. Very close to Bellerive and just a short drive across the bridge to Hobart. Very quiet court that could actually hear the waves in the distance. The accommodation was very clean and spacious. We were very comfortable and would stay again.
Shannon
2016-03-09T00:00:00Z
Our hosts greeted us and were helpful but not intrusive. The apartment had every thing that we needed, it was clean and tidy and well set out, ideal for a couple or three people. The bed was very comfortable, the electric blanket was a nice touch since we visited Tassie in the winter. The good fairy who serviced the apartment on a weekly basis did an amazing job, Thank you. The apartment was well situated, away from the hustle and bustle but close to all amenities
Alanna
2016-08-18T00:00:00Z
Description was accurate. For being in Hobart in the middle of June I had to turn down the heater because it got to warm.
Roque
2015-06-26T00:00:00Z
This is a lovely self-contained unit that completely met our needs (Mum, Dad & teenager). It is located not too far from some lovely restaurants in Bellerive and a comprehensive shopping centre at Eastlands. The beds were comfortable, there were spare pillows if required. The heating was completely adequate. The unit is behind a house set in lovely gardens. We couldn't hear any traffic noise at all and slept very well. The small interaction we had with Allison was lovely. Highly recommended.
Cathy
2015-10-04T00:00:00Z
It was a nice stay. Everything was available, arranged and clean. The only noise we had were the birds, what a nice way to wake up. We had a car, and the place was easy to find, with a parking space available.
Frederik
2015-10-12T00:00:00Z
really nice apartment in really nice quiet neighborhood, thanks !
david
2014-11-06T00:00:00Z
Kamertype
Gehele woning/appartement
---
Type woning
Appartement
---
Geschikt voor
3
---
Slaapkamers
Howrah, Tasmanië, Australië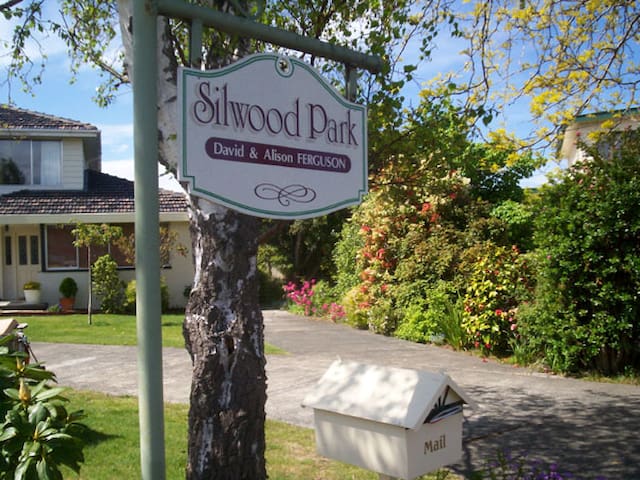 Located in the centre of Hobart, this historically significant property has been beautifully renovated back to a 12-bedroom guest accommodation. Situated less than 5 minutes walk from Salamanca's waterfront precinct, Macquarie House provides guests access to shared bathrooms, kitchen & dining facilities, and common lounge room. Rooms include high quality bedding, with towels and linen provided. Free NBN speed Wi-Fi is included, as well as access to coin-operated laundry facility.
Macquarie House is of major heritage significance, and one of the oldest surviving buildings in Tasmania. The property is on the Tasmanian Heritage Register, noted as one of the first two brick buildings ever constructed in Hobart. Birch's House first became known as Macquarie House after Governor Lachlan Macquarie stayed there between April and June 1820. The very name of the building 'Macquarie House' is a recognition of the fact that Dr. TW Birch was favoured by Macquarie. In 1824, the property was converted to a hotel for the first time, and in 1842 the hotel converted to a boarding house (including the additions of coach house and stables). Come 2015, it has been renovated back to accommodation, reinvigorating the name 'Macquarie House' (not the stables, but newly renovated guest rooms!).
Macquarie House is conveniently located in the CBD of Hobart, and only 5 minutes walk from Salamanca's popular waterfront precinct. For more information on visiting Hobart, check out (URL HIDDEN)
Great stay, great accommodation and great host. Terrific, comfortable and and quiet stay. Thankyou very much
Robbie
2016-09-09T00:00:00Z
Clean room, with a great location for travelling around Hobart.
James
2017-02-15T00:00:00Z
We found our room at Macquarie House to be just as advertised. It was very clean, even the shared bathrooms and kitchen...& there did seem to be a few people staying at the time. Being new to Tassie & unfamiliar with the area, we did have trouble finding it- as it's only a doorway with a plaque in the middle of the Fico restaurant frontage. We eventually found a place to park in a multi level garage around the corner, but on the 7th floor. It cost us $18 to leave the car there from mid afternoon for about 24 hours- you take a ticket & pay at a machine before leaving. Christian was quite helpful with giving us directions on different places to park, he offered to help carry our bags from the front door up the 3 flights of stairs and also helped us connect our laptop to their wifi by providing a cable free of charge. Overrall we enjoyed our stay and Christian's personal assistance made all the difference!
Jo
2017-03-17T00:00:00Z
Comfortable room close to all you want to do in Hobart
lyn
2017-02-06T00:00:00Z
Recommend who want live in center of Hobart.
YuHang
2017-01-31T00:00:00Z
Extremely central location. We were able to walk to salamenca place, the mona ferry and various cafe's and restaurants easily.
Fred
2016-12-16T00:00:00Z
Modern, clean, convenient and great value for money.
Jean
2016-12-31T00:00:00Z
Christian was at the premise and did the check in for us. He's very friendly and can be reached by phone/SMS after working hours. Overall room is clean but common toilet is abit dirty (not sure if it's dirtied by other guests). No aircond in the room, have to open the windows to let the cool air in but bees and mosquitoes would fly in as well. Christian has offered to bring fan though.
Lynn
2016-12-24T00:00:00Z
Kamertype
Privé Kamer
---
Type woning
Appartement
---
Geschikt voor
2
---
Slaapkamers
Hobart, Tasmanië, Australië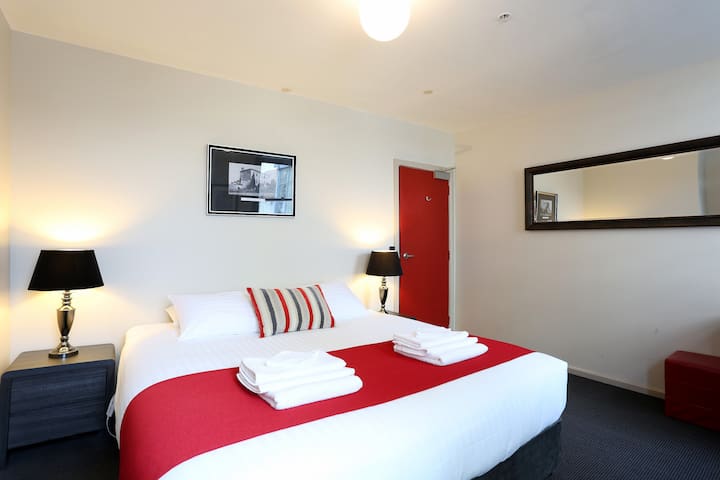 The original house built in the early 1900's now hosts 3 apartments in Hobarts CBD. It is quaint, retaining many original features. This apartment is self contained with an updated Vintage inspired kitchen, it has a sun drenched loung room and it's only a short walk into the heart of Hobart, Salamanca, the MONA ferry and all of Hobarts wonderful restaurant - including the famous North Hobart strip. This apartment would have to be one of the best located airbnb's in the city of Hobart.
Kamertype
Gehele woning/appartement
---
Type woning
Appartement
---
Geschikt voor
2
---
Slaapkamers
Hobart, Tasmanië, Australië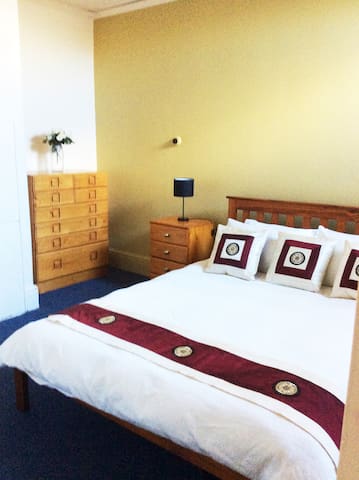 Stay in our cosy and modern loft apartment in the heart of the CBD. You are in the Hobart CBD! Walk anywhere, only 5 minutes to MONA ferry and Salamanca, the wharf and the Tasmanian Museum & Art Gallery, or explore Hobart's historical heart. Now with free NBN Wifi Internet.
The apartment is a new renovated loft space with modern conveniences. It has one main queen bedroom, and is equipped with a kitchen, bathroom and laundry facilities. Apartment Features - Fully heated and air conditioned. - Lounge room featuring leather sofa and, flat screen TV. - Fully equipped kitchen with oven, fridge/freezer, microwave and modern appliances. - Bathroom with shower. (Water pressure issues have been fixed!) - Open plan dining area with large dining table. - Free parking space for one car behind the building. - New NBN wifi internet.
The CBD is home to numerous coffee shops and gift stores and a host of early colonial architecture including the only intact Georgian street corner in Australia. You're also a short walk away from the Elizabeth St restaurant precinct, and some of the best restaurants in Hobart. It is set in the heart of the CBD just 5 to 10 minutes walk from Sullivan's Cove and the Hobart waterfront, Salamanca Place, and the North Hobart restaurant precinct.
We really enjoyed our time at Luigi's apartment. Everything was as described, and Luigi helped us with our bags when we arrived early. The apartment was really close to the main shopping area, and 10 minutes walk to the waterfront and Salamanca Market. Plenty of cafes and restaurants to choose from.
Tom
2016-02-09T00:00:00Z
Very informative and provided detailed information in all communications
Brian
2016-10-15T00:00:00Z
Needs new bed. New linen. Especially towels. Great loft. Great place to stay in Hobart cbd. There five nights. Plentiful hot water at the turn of a tap. Would return.
Robyn
2016-11-20T00:00:00Z
The decoration of the flat is warm ,and very tidy also, the mother of the flat's owner was very nice, the only thing we are not satisfy is the water pressure is poor
MANCHI
2016-03-18T00:00:00Z
Good location but we didn't feel the place quite lived up to the photos however it was fine for our needs. Luigi was really friendly and understanding when we were later than anticipated and hadn't had mobile signal to be able to let him know.
Leah and James
2016-03-30T00:00:00Z
Loved staying at this place. Highly recommended- great spot
Andrew
2016-01-26T00:00:00Z
Apartment was very cosy and clean, super close to Salamanca Place and central of CBD. Luigi's mum met us at the apartment and was so lovely to greet us and show us the apartment. Would definitely stay there again.
Allison
2015-12-30T00:00:00Z
The apartment as very comfortable, clean and had all the required utensils. The bed was comfortable and I loved being able to open plenty of Windows for fresh air.
Heather
2016-01-25T00:00:00Z
Kamertype
Gehele woning/appartement
---
Type woning
Appartement
---
Geschikt voor
2
---
Slaapkamers
Hobart, Tasmanië, Australië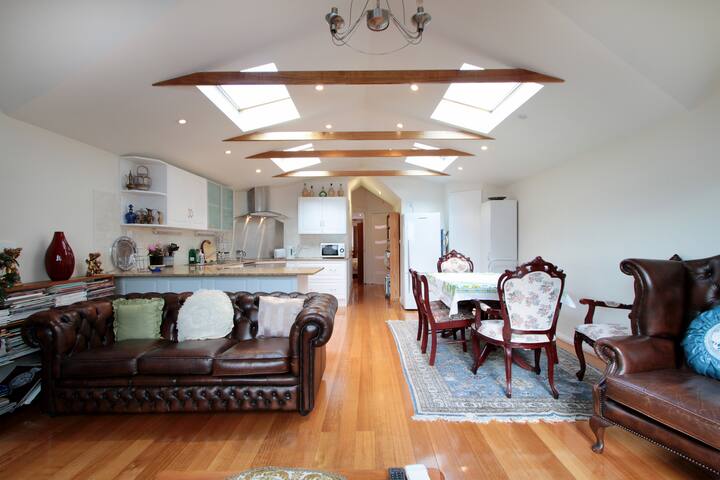 Modern, two bedroom apartment with off-street parking within walking distance of Salamanca Market and the City. This is the perfect base to explore Hobart and beyond– whether its a local restaurant, the MONA ferry, or wish to travel further by car. The apartment has a fully equipped kitchen, lounge, private outdoor patio, desk, WiFi and Netflix. The single beds can be made into one King-sized bed if you notify me at the time of booking. This is one of four apartments in the building.
Perfect location, great host... Excellent and highly recommended accomodation!
Torben
2017-03-18T00:00:00Z
Great spot for a Hobart weekend. Easy walk into Salamanca. Close to shops, clean, cozy and comfy!
Libby
2017-04-01T00:00:00Z
Perfect location, clean home and very accomodating host! We will be back :-)
Zoi
2017-03-25T00:00:00Z
Kamertype
Gehele woning/appartement
---
Type woning
Appartement
---
Geschikt voor
4
---
Slaapkamers
Hobart, Tasmanië, Australië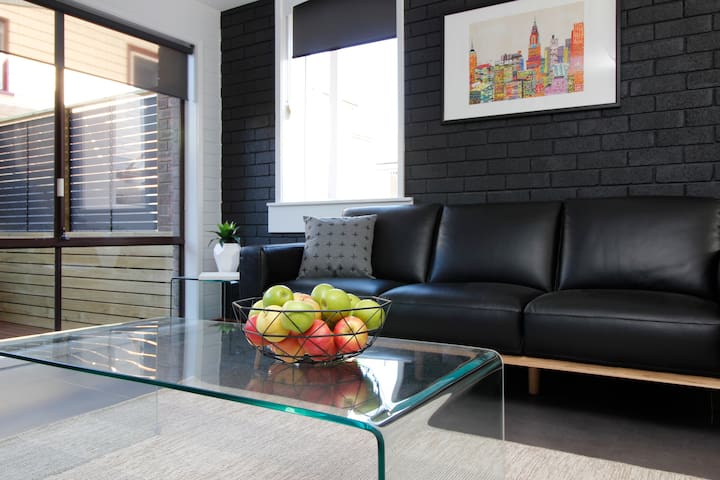 5 minutes walk to Salamanca and Hobart Waterfront, restaurants, cafe's and bars. Close to public transport and 10 minute walk to CBD
Nice ground floor apartment, always nice to have the essentials such as tea/coffee/milk provided, cheers
Lachlan
2017-01-20T00:00:00Z
This wonderfully, comfortable accommodation is within 5 minutes walking distance to the Historic Salamanca Place (restaurant and pub strip). With a lovely modern, recently renovated bathroom and Kitchen. This apartment is idea for a travelling couple or couple with a young child as it located in a quiet area of Battery Point. The fold out couch bed is super comfy if travelling with any extras. The host was super easy to communicate with and really helpful. I highly recommend this apartment for a travelling professional or couple looking for a self contained stay in Hobart, with convenient off street parking, one could easily base their adventures from this central, easy to find, convenient location. Best possible first AIRBNB experience! Matt
Matthew
2017-01-19T00:00:00Z
This was a large, clean, very well equipped self contained unit in a great central location. We loved our stay there and would definitely like to stay again if back in Hobart. Very friendly greeting and helpfulness from Cameron's sister in the unit above and great communication from Cameron.
Dave
2017-01-26T00:00:00Z
Perfect apartment for a long weekend in Hobart. Located in historic Battery Point, the apartment is modern, comfortable, and well equipped, and in walking distance to all the great restaurants and shopping Hobart has to offer.
Beverley
2017-02-10T00:00:00Z
Cameron provided great details on what we needed to do to check in. Unfortunately he wasn't in the city to greet us however his sister in a nearby apartment provided us everything we needed. The value of the accommodation is great and the location is Fantastic! Definitely would not hesitate staying here again next time in Hobart! :)
Adam
2017-02-05T00:00:00Z
We had a wonderful time! The apartment is located very nicely nearby the city center of Hobart but at the same time in one of the most unique and beautiful areas of it, which does not have that busy and touristic vibe. Because of this, we felt right at home. Cameron and his sister took great care of us and were available before, during and after our stay. The apartment has everything you need for a city trip and even though the areas are quiet compact, it was perfect. Definitely would recommend this for couples on a trip to beautiful Hobart!
Surya
2017-01-28T00:00:00Z
Enjoyed our stay here - conveniently located to Battery Point and the Docks.
Robert
2017-03-04T00:00:00Z
Nice place, nice owners. very happy
Russell
2017-03-09T00:00:00Z
Kamertype
Gehele woning/appartement
---
Type woning
Appartement
---
Geschikt voor
4
---
Slaapkamers
Battery Point, Tasmanië, Australië
Modern, convenient, secure and most importantly, central. The best of Hobart's cafes and shopping steps from the door! Enjoy Hobart with a glass of wine on the beautiful private rooftop terrace, or take a 5 minute stroll to the lively waterfront.
Functional, architecturally designed inner city space with ample storage, full queen bed, Tasmanian contemporary art and fully furnished kitchen. Brand new bluetooth sound system, 42" flatscreen LED television and nespresso machine mean that you can enjoy a deluxe hotel-like stay at a much more reasonable price, and with an unbeatable location.
Trendy stores, cafes and galleries dot the inner city of Hobart, just steps from the door of the apartment! Fresh Tasmanian produce, markets, cafe lined laneways and relaxing wine bars are close-by, meaning the choice is up to you! Enjoy being in the heart of the city, but with the peace of mind of a fully secure apartment.
Our stay was pleasant. The apartment was a little difficult to find as the address was different. It's in a central location. The apartment was a little unclean and noticeable that other people had stayed ie. Used shampoo, damp towels. No bathroom floor mat so it was difficult to keep it dry after a shower. The washing machine door was broken and difficult to use. Ian was very friendly and accomodating to a later departure time.
Sasha
2016-02-09T00:00:00Z
Our host was very friendly and welcoming on our trip to Hobart. The apartment was very neat, safe and tidy with all the essentials available. The central location was perfect for walking distance to all aspects of Hobart City.
Emma
2014-12-20T00:00:00Z
Nice room, great location. Ian prepared everything for us to arrive late and stay comfortable.
Ryan
2016-01-28T00:00:00Z
Great apartment in the middle of the CBD - walking distance to everything
David
2016-08-15T00:00:00Z
Fantastically cosy apartment in walking distance of almost everywhere in Hobart, perfect for a quick getaway or a longer stay. Lovely carefree communication with Ian made dealing with accommodation a non-issue and we hope to come back here in the future, preferably sooner rather than later. A+++++
Mia
2015-07-25T00:00:00Z
Ian's place is indeed in a good location. We walked to the nearby restaurants and pubs. Ian was responsive to the questions I had when we arrived.
Cy
2016-02-13T00:00:00Z
Lovely little apartment, perfect for one or two people. Came down to Hobart with my partner, really appreciated the convenient key pick up, comfortable bed and cleanliness. Was a quick walk to Salamanca Place, which was awesome. Ian also gave us fantastic recommendations for food close by. Only thing to be aware of is, because it's so central, it can get a bit noisy at night with trucks coming through or roadworks. Not a problem if you're a deep sleeper. Also a lovely little collection of books and DVDs to browse through if you're having trouble getting to sleep.
Erica
2015-02-12T00:00:00Z
Great little studio apartment right in central Hobart. Ian made everything easy, no issues at all.
Jen
2016-03-08T00:00:00Z
Kamertype
Gehele woning/appartement
---
Type woning
Appartement
---
Geschikt voor
2
---
Slaapkamers
Hobart, Tasmanië, Australië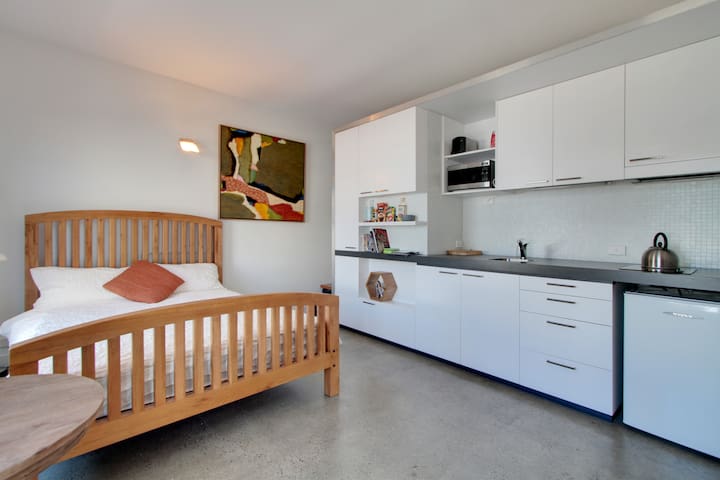 The Quarry Self-contained Apartments feature award winning design and comfort beyond all expectations. The location is second to none. Relax and unwind in the opulent surrounds of our friendly pub Watermans's Beer Market downstairs and enjoy breakfast, lunch or dinner in our popular cafe Zum next door. Close to all of Hobart's fabulous attractions including, the Mona ferry, the city, bustling waterfront, historic battery point, The Botanical Gardens and so much more!
The Quarry Apartments is a beautiful old convict building built in 1840. All of the original sandstone is beautifully detailed and featured in all apartment rooms. The space has a large kind sized bed, kitchen, bathroom and washing machine. The Quarry Apartments is set on Salamanca Place, Hobart's entertainment strip, whether you are after a quiet cafe, beautiful restaurant, bar or to head up into the CBD you are in walking distance of them all.
The apartment was clean and very comfortable. So close to the docks and great eateries! We arrived in the middle of the market day and we had been worried about parking but there was plenty to be had and then no charge in the side streets on Sunday. Breakfast was a treat too!
Cheryl
2016-02-29T00:00:00Z
The apartment was great. Location was super close to everything and if you're there on a Saturday, Salamanca markets are right at the doorstep. The place was clean and tidy, and was cleaned which was super nice. Parking is a pain but if you don't mind a walk, Evans st carpark has $8 all day parking. Zum cafe was also quite delicious and we enjoyed the discount. As regards to the noise level, my husband and didn't think it was that loud at all despite being on top of the pub. Maybe if you're a really sensitive sleeper, but otherwise it was fine. The shower and bath was great and it was nice to be provided with little soaps and shampoos. Really enjoyed our stay, thank you!
Rachel
2016-07-10T00:00:00Z
Excellent location and room. We arrived a little early and were able to leave our bags at the cafe while we went and explored. Breakfast was lovely at Zum cafe, unfortunately we left too early on the Sunday to enjoy it on the second day. The only issue as with other guests was the noise on Saturday night, even with ear plugs we had problems sleeping. We would definitely stay again if we were in Hobart, but maybe not on a Saturday night.
Jennifer
2016-05-16T00:00:00Z
We stayed here for a weekend, when we were visiting for a weekend. Great location, we coukd only hear the pub below on the saturday night, it was fine. The apartment is beautifully designed, perfect for a couple who've known each other a while, the location of the shower may be a bit close for comfort for a new couple or friends!!!
Kathy
2015-12-13T00:00:00Z
Fantastic location and character. Rooms new, stylish with all the essentials. Will definitely be staying here again. Best place I've stayed in Hobart.
Tara
2016-01-21T00:00:00Z
To be honest we left the Quarry Apartments quite disappointed. I booked the stay for 3 nights last week as part of a surprise getaway for my boyfriend's birthday. I wanted it to be really special so when I saw the pictures of the room I thought it was going to be amazing. I had seen some reviews on TripAdvisor where people had posted pictures of their room and the view was of a roof and I really wanted to make sure I got a street facing room, however when I looked sites like (URL HIDDEN) there didn't seem to be any way to request specific rooms and I couldn't find any information about which rooms were street facing or not. The pictures displayed on AirBnb of the Collins room I thought were showing street facing views (which may not be the case) so I went ahead and booked it. Turns out the pictures on AirBnb aren't pictures of the Collins room anyway. We arrived to find a much smaller, darker room than pictured with a view of the tin roof and air unit so as you can imagine I was very disappointed. We immediately spoke to the girl downstairs to see if anything could be done and she was very sympathetic and thought maybe they could shuffle things around but we'd need to speak to the booking manager. When I called her, however, she actually tried to tell me that the pictures were correct and seemed annoyed that I'd called her on her day off. She said they were fully booked and there was nothing that could be done and left it at that. I asked if maybe I could have some money back because it was quite expensive and I absolutely did not get what I thought I was paying for. She said she'd have to speak to her superior when she was in next. Nothing was mentioned again for the rest of our stay and upon checking out we believe it was the booking manager who took our key but did not ask us how our stay was or anything but simply said "enjoy your afternoon". For $220 a night after all the fees, I expect much better service than what we received. I think the location and the $20pp breakfast deals are the reason they are getting away with the price but honestly with no aircon or wifi, half the light bulbs blown and not even a bottle of water in the minifridge it was pretty disappointing. Maybe to some people the view doesn't really matter but I think the images should be changed to reflect the room you're really getting or it should say somewhere that the images are not specifically of the Collins room. This stay was by far the biggest let down of our trip and an expensive mistake we won't be making again.
Allie
2016-11-06T00:00:00Z
Quarry apartments are in a great central location. The room itself was very noisy and extremely dark. The breakfast provided at ZUM downstairs was fairly average and there are much nicer places to eat in Hobart a short walk away. At night, the room was extremely noisy with the pub downstairs and people walking in the room above.
Laila
2016-07-18T00:00:00Z
This is not really a 'boutique apartment', it's more like an upmarket youth hostel. The room was very dusty and one of our pillows was bloodstained. Several items in the kitchen had not been washed up. The bath plug didn't work and the bath could not be filled properly. The complimentary breakfast in the bar downstairs was very poor - we were served burnt granola which we sent back and which was then served to us again in a different bowl. Staff were unwilling to compensate us and could not offer a suitable alternative. They also have very limited ability to cater for special dietary requirements. If you need a central place to stay in Hobart for a night, it's okay but don't be taken in by the beautiful photos and tempting description.
Lawrence
2017-01-16T00:00:00Z
Kamertype
Gehele woning/appartement
---
Type woning
Appartement
---
Geschikt voor
2
---
Slaapkamers
Battery Point, Tasmanië, Australië
Quirky, private, warm and welcoming double room available in artists working studio/home. Convenient central Hobart CBD location. Murals and Art works adorn the walls. Clean, tidy, comfortable, respectful space. Shared bathroom and kitchen. Upstairs from 'Maid and Magpie' Tattoo shop. Restaurants, Cafes, bookshops, bus stops and Bars in all directions. 5 -8 mins stroll to famous Salamanca Market, MONA Ferry and Hobart's waterfront precinct. Sundays are a 2 minute stroll around the corner to the bustling 'Farm Gate' market for Tassies freshest produce. Euro car hire only a hop and skip away. Welcome! Host info: Instagram: davewilliamsart. Website (URL HIDDEN)
Central Hobart location. Simple, Creative, happy, inclusive, warm and welcoming:)
Central Hobart City location with only short walk to the waterfront, public transport, cafes, bars, restaurants, parks and Battery Point.
David is really helpful and a nice person. Lalaland is a really artistic place to stay.You can find art everywhere and feel inspired.I love this place and really enjoyed my trip.
Danya
2017-02-03T00:00:00Z
David is a lovely man, we enjoyed chatting with him and loved seeing his art everywhere. He was quick to reply to texts and calls. Everything very comfortable. Super central. A highlight of our time in Hobart. Highly recommended!
Ed
2017-01-27T00:00:00Z
Dave was a great host and his place was quirky, comfortable and convenient. It's very clean, equipped with the basics (apart from a TV perhaps as we stayed there for five nights) and within easy walking distance of the city centre and attractions. We thoroughly enjoyed staying in Lalaland.
Alan
2017-03-07T00:00:00Z
Perfekte Unterkunft! Lage, Sauberkeit, Gemütlichkeit, Kommunikation, alles tipptopp, sehr zu empfehlen!!
Eva
2017-01-24T00:00:00Z
Really nice guy and cool place
Anna
2017-02-20T00:00:00Z
David was most hospitable and his place was so unique.
Ceara
2017-03-26T00:00:00Z
Great location, great host and fabulous artistic setting.
Barry
2017-02-14T00:00:00Z
David's place is very clean and is in the heart of the city.The place is decorated with a wonderful style. The next time we visit Hobart for sure we want to book the place again.
Regina
2017-04-06T00:00:00Z
Kamertype
Privé Kamer
---
Type woning
Appartement
---
Geschikt voor
2
---
Slaapkamers
Hobart, Tasmanië, Australië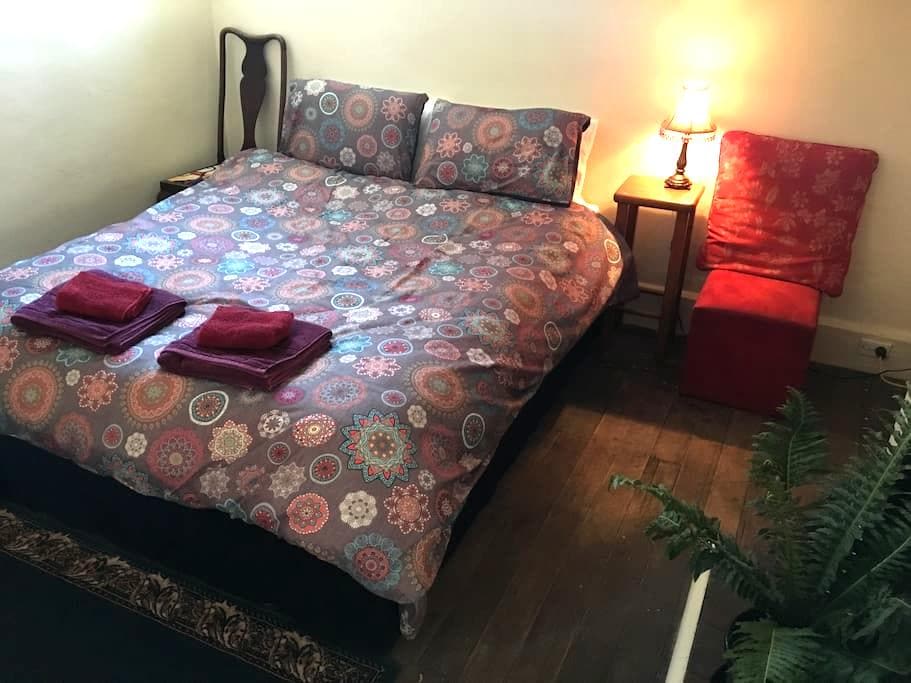 If you stay here you are in the heart of the heart of Battery Point! Walk to the docks, CBD, Salamanca markets, Princess Park (Kids will love it ) restaurants, coffee shops, wine bars, MONA ferry and adventure tour bases. Its a fantastic location! Relaxing and private outlook. We live in the main house as we have taken over what was a Bed and Breakfast, the apartment remains as accommodation. We are very conscious of your privacy but not too far away if you need anything!
The main area consists of the queen bed ( feedback is that it is a comfortable bed !) TV/DVD 2 seater couch, dining table and kitchen. There are 2 induction cook tops, convection microwave and plenty of crockery etc. The second room is separated by a compact bathroom. It is a small room with a single bed and wardrobe. We have off street parking a premium for this area.
We are very privileged to live in such a beautiful place, so close to Salamanca precinct that we can walk everywhere. We love living here!
Enjoyed our stay ,the apartment was adequate ,clean and had everything we needed . Bathroom and full kitchen facilities.Location is fabulous ( Kelly steps can be tough after a couple wines ) Hosts very helpful when needed . Love the privacy. surrounded by lovely old heritage properties and attractions and just a short walk to great restaurants bars shop and the Salamanca arts precinct . All in all very neat tidy and adequate apartment .
Robert
2016-03-02T00:00:00Z
Kathryn was a great host and Mandalay Garden studio a fabulous apartment. Located in atmospheric Battery Point just 5 minutes walk from Salamanca Place and the waterfront it would be hard to find a more convenient location. Very central but with the feel of rural French Chateau, due to its lovely garden. The apt. has everything you could possibly need, plus, plus (e.g. washing machine plus washing detergent plus fabric softener plus portable clothes line), and is quiet, comfortable and tastefully decorated. Kathryn's initial responses were prompt and directions were clear. We were given space and privacy but the family were welcoming and friendly and there if we needed them. The car parking space was a boon. It was a great pleasure staying at Mandalay Garden Studio and I will definitely stay there when I visit Hobart again. Thanks Kathryn!
Jane
2015-03-31T00:00:00Z
Its a really quaint and pretty studio with doors opening out onto a large parterre style garden. Its amazing how Kathryn has managed to fit so many elements into this space to call your VERY PRIVATE pied-à-terre in the middle of Battery Point. 10 out of 10 for location, styling and comfort. Battery Point is where you want to be if holidaying in Hobart. Mandalay Studio is in an enviable location, steps away from Salamanca Square, minutes to Battery Point Village and 5 minute drive to Sandy Bay. Excellent communications with Kathryn and David. Will certainly be back and will be recommending others this accommodation. Well done!
Beng
2015-04-08T00:00:00Z
Kathryn was prompt and very helpful in responding to initial queries. She was very accepting of our rather late arrival and made entry straightforward. Great hosts, giving us tips for eating and things to do in Hobart and Tassie. The studio is beautifully decorated and has everything available for a great stay. Our friends had booked a hotel and I think were wishing they had found Kathryn's BnB instead. Perfect location and outlook toward the city. Just wished we'd stayed longer to enjoy the sun in the lovely private garden. Thanks Kathryn and David, we will be back.
Michelle
2015-04-26T00:00:00Z
What a wonderful 3 nights we just had at Mandalay! Everything was just perfect - the studio, location, cleanliness and definitely the hosts. Kathryn and David were very accommodating and made us feel part of their surroundings without being intrusive. The studio was very warm and spacious with a very classic feel. Definitely a place to consider when visiting Hobart.
Jeanette
2016-05-02T00:00:00Z
Kathryn's place is situated in such a beautiful and convenient location. We had a great time sight-seeing in Hobart.
Alison
2016-10-08T00:00:00Z
Cosy little studio apartment excellent for exploring Hobart on foot. Our hosts were very helpful. the property was easy to find and very close to all Hobart's attractions but still in a quite and friendly neighbourhood.
Rodney
2016-05-23T00:00:00Z
Kathryn and David were very welcoming, and we very much enjoyed our stay. Comfortable accommodations, close to active part of the city. Apartment had everything we needed. It was a little funkier than some of the other Airbnbs we stayed at.
Robert
2016-02-15T00:00:00Z
Kamertype
Gehele woning/appartement
---
Type woning
Appartement
---
Geschikt voor
3
---
Slaapkamers
Battery Point, Tasmanië, Australië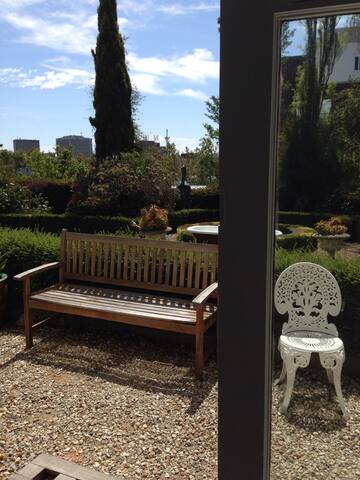 Newly built 1 bedroom fully self-contained compact studio unit for 2. With quality furniture and fittings, courtyard and off-street parking. Located in a heritage suburb within 1.5 km of the CBD, waterfront bars & North Hobart restaurants.
A new purpose built self-contained studio apartment. Featuring polished concrete flooring, high ceilings, and luxurious kitchen and bathroom fittings. The compact studio has a light and airy feel. Fully self contained including all laundry equipment. Located within a short walking distance of Hobart's city attractions and waterfront. The apartment complies with all Government building and accommodation regulations including sound and fire proofing.
The Glebe is one of Hobart's oldest heritage suburbs featuring some grand old homes. The suburb is next to the Queens Domain Park, Botanic Gardens, Tennis, Aquatic, and Athletic Centres. Hobart city centre, waterfont, Ferry to MONA and North Hobart restaurant strip is 1-2 km away. A Supermarket and local pub with great meals is across the road. Walk everywhere no need for a car in the city. Close to University city campus, schools of Art, Medicine and Nursing.
The place was awesome! Had everything we needed & more. Close to everything so we could walk everywhere which was nice for when we had a few too many wines. Michaels communication before, during & after was excellent. Answering any questions we had & helping with places to eat etc. he was lovely. I didn't get a chance to meet him but my partner did & said he was lovely. we had an excellent time & would highly recommend this rad little place.
Lauren
2016-05-11T00:00:00Z
My partner and I chose to stay at the Glebe Studio Apartment in the heart of Hobart for 5 days in Feb 2016. Before we checked in, Mike provided us with very detailed instructions on the location and how to access the property. Both him and his wife Kerrie were there to give us a very warm greeting. The studio room and outdoor setting was just perfect and everything we had expected from the photos. The room had everything we needed and was built beautifully. The bathroom was a delight to get ready in. Also inside were handy brochures of where to go and places to eat. Mike was very attentive to us and an all-round great host. We absolutely loved staying at the Glebe studio apartment and highly recommend it to anyone travelling to Hobart. Thanks for having us Mike and Kerrie!
Steph
2016-02-07T00:00:00Z
Mike's place was great- great value, comfortable, clean and stylish, and in a really great location- ten minute walk to North Hobart restaurants and the same to the MONA ferry terminal and the city. The heater was on when we arrived which was a nice touch. Would happily stay again- he was a very helpful but unobtrusive host. Thanks Mike!
Rohan
2015-06-29T00:00:00Z
Could not recommend this any higher!! The accommodation itself was everything you could need and more and was absolutely spotless! Michael was so generous and nothing was to much trouble. And Michael also had great knowledge/advice on local things to see and do! The apartment is in a great location. Walking distance to most things. Would highly recommend!
Clea
2015-10-18T00:00:00Z
Lovely accommodation, very clean modern and stylish with great amenities in a good location within walking distance of Hobart and trendy North Hobart restaurant strip. Also a very convenient location to explore outside of Hobart from. Our host Michael was very friendly and accommodating. Definitely recommended.
Marie
2015-12-21T00:00:00Z
Fantastic apartment in a location close to the city (walking distance or a $7.50 taxi). Michael has thought of everything for a comfortable stay.
Paul and Lauren
2017-01-22T00:00:00Z
Michael has thought of everything that guests may possibly need for a stay at his place. It was very clean and easy walking distance to the city centre.
Amber and Matt
2017-03-02T00:00:00Z
Well presented studio
Jenny
2017-01-02T00:00:00Z
Kamertype
Gehele woning/appartement
---
Type woning
Appartement
---
Geschikt voor
2
---
Slaapkamers
Hobart, Tasmanië, Australië
Lovely, light comfortable, quiet one bedroom unit, in the heart of South Hobart. Everything you need for a comfortable stay close to the city, local restaurants and tourism attractions.
Best vibes, Kate's a legend, best value for your own privacy in Hobart.
Harley
2017-04-02T00:00:00Z
Kamertype
Gehele woning/appartement
---
Type woning
Appartement
---
Geschikt voor
2
---
Slaapkamers
South Hobart, Tasmanië, Australië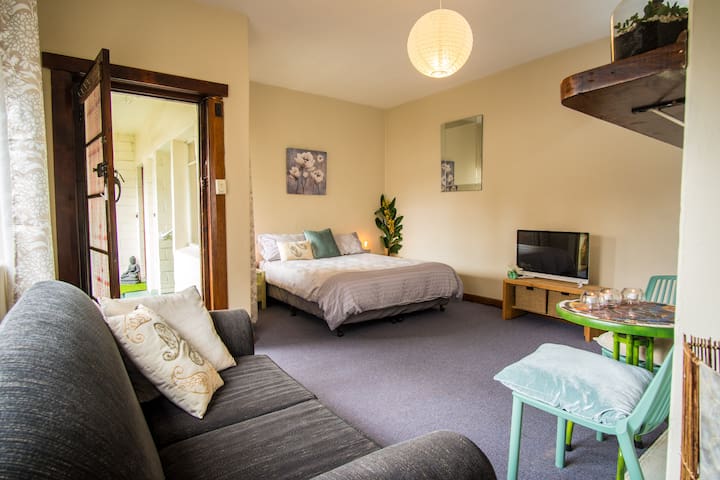 Tucked away just 3 mins drive from the CBD of Hobart and the lively food mecca of Nth Hobart is the Grand Lady Apartments. Beautifully furnished and functional you will love the respite this space offers. Close to everything the city has to offer this apartment is the perfect for couples, singles, friends and families. One of four apartments with optional bed configurations makes the apartment suitable for group and event accommodation also.
Home away from home...Everything you could possibly need is available at The Grand Lady! Fully decked out kitchen, outdoor BBQ and alfresco dining, a mini cooking pantry to save you money and your sanity whilst travelling. We have made staying and living away frome home so easy. For families we offer complimentary high chair and porta cot and free wash powder!! Great unlimited wifi and Netflix to keep the kids and adult entertained alike! Beds can be configured to guests needs, so either a queen and a king or a queen and 2 singles.
Kamertype
Gehele woning/appartement
---
Type woning
Appartement
---
Geschikt voor
4
---
Slaapkamers
New Town, Tasmanië, Australië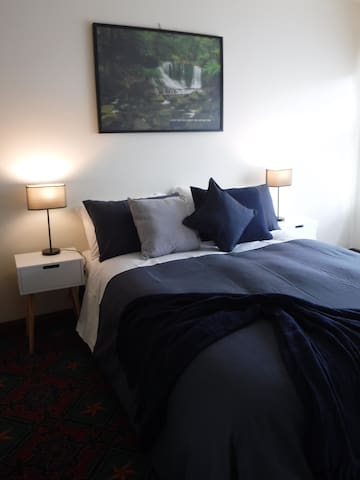 Welcome to our spacious & modern Nordic styled apartment! Perfect for couples or singles, it's ideal location on a quiet & charming street on the city fringe means Hobart's highlights and main events are all conveniently within your reach.
Modern infused with Scandinavian trends - light, bright & serene! Newly renovated, our apartment has been carefully appointed to ensure guests stay in total comfort and style! A streamline, fully equipped kitchen with European appliances make dining in a pleasure. Complementary tea, coffee and milk are provided, including freshly roasted local coffee beans for the stovetop espresso. The pantry is stocked with other complementary items such as olive oil, salad dressings, cookies and muesli etc....and with fresh produce shops within walking distance, you'll have all you need to cook up a feast! There's even a waffle iron for a lazy breakfast in as well as a full picnic set. A new front load washing machine may be used for any personal laundry. The clothes line is located around the side of the apartment (outside the front door turn right & follow the path) The modern bathroom has a sleek walk in shower, luxury towels & a selection of complimentary organic/eco bathroom products. Relax into your stay in the spacious and light filled living & dining area...Enjoy a meal at the cosy dining table, then sink into the uber comfy leather sofa for a night in. There is a new flat screen TV, as well as a good selection of films, cds, quality literature and current magazines to muse over at your leisure. The ambient bedroom is pure comfort with luxury linen on the queen sized bed, an opulent throw rug and electric blanket for the winter nights. There is ample cupboard space for hanging and folding clothes, as well as an antique writing desk...
The best location for you to experience one of the coolest parts of Hobart - a hip, friendly neighbourhood with unfetted views of Mount Wellington. Ideally located close to the city, with a leafy urban charm! Guests are spoiled for choice with an abundance of cafes, top restaurants, specialty shops, vintage stores, art house cinema and bookstores close by. One of Hobart's top bakery/cafes "Jackman & McRoss" & five star restaurant "Lebrina" (offering a high class modern Australian menu) are only a minutes walk from the apartment. There are also many other eating and drinking options either within walking distance or a 2-5 minute drive away.: - Green Store Organic Cafe & Grocer (Main Road NewTown, 4 mins walk) - Post Office Cafe (Main Road Network Town, 2 mins walk) - Gioconda Cafe & Laundromat (Main Road New Town, 2 mins walk) - MUY Easy Bites Malaysian (Main Road New Town, 5 mins walk) - Jean Pascal Patisserie (New Town, 8 mins walk) Nearby hip, happening & eclectic North Hobart (15 mins walk or 2-5 mins drive towards the city) is a strip of non stop eating and drinking options, as well as cute boutiques, food specialty stores and an Arthouse cinema (see our guide for more details on our top picks!) Check out a film at the State Cinema (maybe on the rooftop) with a glass of Tassie wine or enjoy some live music and good pub grub at the Republic or the Winston. In the opposite direction to North Hobart, the burbs of Lenah Valley & Moonah (en route to MONA Museum) are up and coming areas! Check out these hot spots: - St Albi's Bar and Restaurant (Moonah) - Magnolia Cafe (organic cafe gallery, Moonah) - Salt Restaurant (Moonah) - Texas Pantry (Moonah) - Cooley's Hotel (Moonah) - Whisk and Co (Lenah Valley) - Augusto (Lenah Valley) There are also two major supermarkets, both within 2-5 minutes walking distance, as well as an organic greenstore on the main road. Please see our personalised e-guide (provided via email once you book) for more recommendations, tips. tricks & advice on what to see and do during your stay. It also provides links to all the venues as well as info about what is currently on in Hobart during your stay. The neighbourhood is quiet, and the location of the apartment is very private.
Amazing! Mai's apartment is wonderful! Efficient and thoughtful organisation and communication (including an email with advice on all the best ways to enjoy Hobart. The apartment is bright and spacious with a hip design. Mai has thoughtfully ensured it feels like a home away from home. We will be back again! Thank you Mai!
Claire
2016-09-28T00:00:00Z
Easy access to the place, lovely facilities and friendly welcome! Beautiful home and great neighbourhood with cute Cafes nearby. A little out of Hobart central which we liked, but would need a car (or knowledge of transport) if wanting to get into the centre of town
Katrina
2016-07-02T00:00:00Z
We had a wonderful stay at this apartment! It was beautifully furnished including lovely touches like fresh flowers. Mai couldn't meet us but her husband Rich kindly showed us around. Everything we needed was there. The bed was very comfortable! The area was conveniently located with a wonderful patisserie/cafe just up the road and supermarkets nearby. Thanks for a great stay!
Emma
2015-09-23T00:00:00Z
We cannot speak highly enough of this place. From the moment we were picked up by Mai at the airport to the moment we left, we were treated like family. Everything about this apartment was perfect, the furnishings, the breakfast supplies, fluffy towels, great location and all the wonderful suggestions provided to us prior to our arrival. The apartment is situated in a great location, in walking distance to north hobart which has a great range of cafes, restaurants and bars. One mall bus trip away and you are in the heart of hobart. The apartment has everything you need, bathroom supplies, fluffy towels, sufficient heating, dvd's, books and plenty of kitchen supplies should you wish to cook your own dinner or brekkie. Mai and Rich were so lovely and accommodating, they could not have made us feel more welcome. Thank you so much for a wonderful few days. We will definetly be recommending this place and hope we can return soon!
Kim
2016-05-01T00:00:00Z
We had everything we needed upon our first visit to Hobart. The detail that Mai and her husband had put into their property made the occasion that little bit more special... Property was within a 20 walk to Elizabeth Street, where there was a plethora of eating and drinking establishments, and only a further 10 mins further to the heart of Hobart.
Chris
2015-09-29T00:00:00Z
A fantastic apartment close to shops and an easy drive to the CBD. We found Mai easy to talk to and she even offered travel advice. Unit was clean and well equipped for cooking our own meals. We stayed with our 1 year old daughter.
Stacey
2017-02-15T00:00:00Z
Hi thanks so much for letting us stay we absolutely loved it. Have left heaps of food there so please eat it or pass onto next guest... Have also left a cooking tray.
Larissa
2017-02-22T00:00:00Z
Very nice house, supper clean, and a great host!
barakat
2017-02-19T00:00:00Z
Kamertype
Gehele woning/appartement
---
Type woning
Appartement
---
Geschikt voor
2
---
Slaapkamers
New Town, Tasmanië, Australië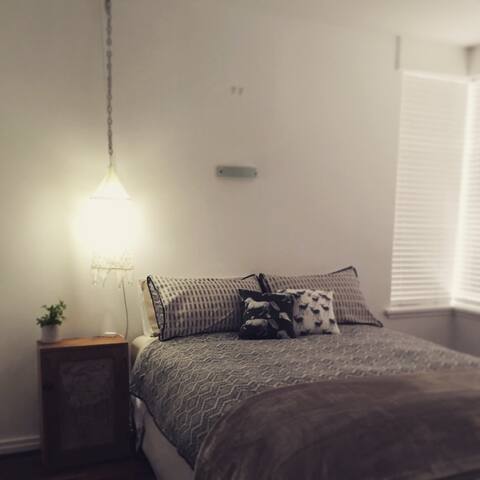 My place is good for couples.
Kamertype
Privé Kamer
---
Type woning
Appartement
---
Geschikt voor
1
---
Slaapkamers
Richmond, Tasmanië, Australië
1

–

18

van

300+ Appartementen te Huur