NEW PICTURES!!! 3 BEDROOM, 1500 sq ft downstairs APARTMENT on a lake front lot on Buggs Island Lake and near the towns of Clarksville VA and Oxford, NC. Full kitchen, the high ceilings and the view make an ideal place for couples, families and friends.
It's large enough to hold a family as well as a few with all the amenities. The view of the lake is the very best thing in any weather. Like toplay darts or enjoy a fire pit and marshmallows. How about lounging on the patio and enjoying the peace and quiet. We have a piano for you and Direct tv too. There is a desk and printer available also. Each bedroom has a ceiling fan for extra comfort!! Depending on the time of year we may have dock space for your boat. Please ask ahead of arrival and we can verify.
Even though we have neighborhood it's very quiet. Lots of trees. There is a bird sanctuary not far away. You'll enjoy the many birds and their songs. Go for a walk to the main road and back. Or bring your bikes and enjoy the country roads. Kerr Lake has lot to do with fishing, hiking swimming, boating and so much more. Clarksville is a cute small town with antique shops and tourist retail shops. Public access to boat ramps at Longwood and other state parks. Enjoy a ride to Clarksville public boat ramp for lunch or a stroll through town!
Wonderful lake-side cottage! Gorgeous views, really quiet, and a wonderfully cozy place to stay. My son and I needed a place to stay for the night on a long Thanksgiving drive, but I'm sure we'll come back for a longer stay in the summer. Jenny was super responsive and the place was set up perfectly. 3 big bedrooms, plenty of places to sleep, clean and full of everything you'd expect. Thanks, Jenny! Great experience.
Vince
2016-11-25T00:00:00Z
Jenny's home truly is Lake Happy Place. I visited Jenny's lake house for a weekend getaway with my boyfriend. It was the perfect place for getting away from the city. First and foremost, Jenny's communication was perfect. She was quick to respond to the request as well as receptive to any and all questions before and during the stay. Finding the house was easy ((SENSITIVE CONTENTS HIDDEN) Maps and Garmin both brought us to the correct location) and Jenny and her husband were there to greet us and show us around. The apartment was clean and well stocked - we felt at home the second we arrived. We truly lucked out with the weather - 70's in February? Totally unexpected but it made the trip spectacular. The porch at Lake Happy Place offered lounging at its finest. Gentle breezes, comfy chairs, and peace and quiet. One of the reasons we chose this location was because it seemed far enough outside the city to see the stars, and boy were we right. The view from the floating dock on the lake is breathtaking. On a clear night, you are able to see the faint banding of the Milky Way, shooting stars, and satellites galore. Lastly, we were pleasantly surprised to find a working N64 with Mario Kart. We would highly recommend Jenny's to family & friends and hope to return for our next needed getaway!
Kate
2017-02-19T00:00:00Z
Place is even nicer than the pictures. The hosts could not have been any nicer or accommodating!
Kristina
2017-03-05T00:00:00Z
Happy Lake Place is a wonderful home with an awesome view. I cant begin to count all the amenities. It is truly a home away from home with all needs covered. Jenny and Paul are not only great hosts, they have huge hearts. They go above and beyond to make our stay memorable. I booked a long weekend for our 14th wedding anniversary. When we arrived, Jenny and Paul had candles lit throughout the home, strawberries and two apples on a dish, and a bottle of wine with two wine glasses waiting on the counter! They had also stocked a cabinet with fresh blueberry muffins and all the fixings for s'mores! Not only did we find a new getaway location, we gained some great new friends!
Russell
2017-03-20T00:00:00Z
My family of four (2 adults, 1 year old, & 3.5 year old) thoroughly enjoyed our stay at Jenny & Paul's basement apartment. We had a warm welcome with a tour and juice and cookies for the kids. While pictures are accurate, the apartment is bigger than it looks. Lots of space for the kids (& lots of toys too!). Kitchen was well equipped (tons of spices and tons of kitchenware). We stayed while in town for a family event and the drive to downtown Clarksville was 10-15 minutes - plus we loved having our own place to come home to & eat meals at. The lake view is gorgeous though we wish we spent more time enjoying it. Perfect as a hotel alternative, weekend getaway, or vacation!
Susanne
2017-03-12T00:00:00Z
Lovely, scenic and private ground floor apartment in a secluded lakefront community. My brothers and sister and I used it for our annual "Sibling Weekend" getaway and thoroughly enjoyed ourselves. Three very well equipped bedrooms, each with a queen bed and one with an additional comfortable futon bed gave each of us our own beds. A cozy gas fire kept the whole place warm on a cold winter weekend. Jenny and Paul couldn't have been more welcoming or more accommodating. We also highly recommend the Lamplighter Restaurant in Clarksville. Great place for a quiet weekend or an active, family-friendly warm weather stay!
Susan
2017-01-29T00:00:00Z
This was the perfect place to reset and relax. Hosts were so amazing!!! Clean, welcoming and homey !!! Fishing, sunsets and views worth a million bucks!! We can't wait to go back....
brandelin
2017-04-02T00:00:00Z
We were originally supposed to be staying in WV at another Airbnb location but due to plumbing issues we needed a new weekend getaway at 5 days notice. Jenny responded to my inquiry within 5 minutes of messaging her. The lake house does not do the pictures justice. A beautiful view right on the lake with access to the lake for fishing and canoeing. The apartment had wonderful beds, plenty of room, up to date appliances, plenty of activities to do inside and outside, and the kindest hosts we have had yet. We immediately told our families about this location and highly recommend it to anyone needing a getaway during any season. Jenny provided all the toiletries, kitchen supplies, and bedding we could have imagined and even had the fire pit going for us when we got there. Our weekend could not have gone better or been more of a blessing!
Maryl
2017-01-15T00:00:00Z
Kamertype
Gehele woning/appartement
---
Type woning
Appartement
---
Geschikt voor
8
---
Slaapkamers
Clarksville, Virginia, Verenigde Staten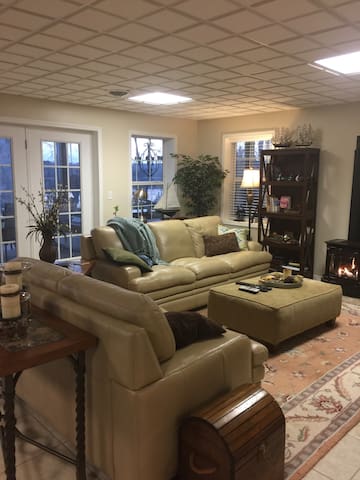 This completely private suite in The Gilliland Hotel which was built in 1898 Shop, Dine and enjoy the shopping in the Historic District Downtown! State Parks, Golf, Biking , Fishing, and more make up some of the 20 + activities we 've listed
Built in 1898 renovated in 2009. High ceiling exposed brick wall. Lake view in charming historical southern town. Great hiking , mountainbiking , horseback riding,boating, fishing and sightseeing. Out locall country Club is open to golfers. Check out local plantations or revolutionary war cemetery as well as the largest lake in Virginia.
One street light town on the water. Great golf club .
This Airbnb was a fantastic choice for my night's stay in Clarksville while biking the East Coast Greenway. The apartment is clean and spacious. Location is perfect, one block from the lake and a few good places to eat. Bed was very comfortable. I would stay here again in a second were I to return to Clarksville. Thanks, Franck and Kelly!
Jason
2016-04-25T00:00:00Z
Frank and Kelly definitely made us feel welcome from the time of booking until we arrived and were responsive during our stay.
David
2016-09-25T00:00:00Z
The apartment was as listed and pictured - it was clean and had welcoming touches such as a binder of local information. The bed and furniture were comfortable and we enjoyed sitting in the nook area of the full kitchen. Thanks.
Gladys
2016-03-27T00:00:00Z
Easy communication and quick response to questions. Shared info on nearby restaurants and hiking near the lake.
Cheryl
2016-04-12T00:00:00Z
Kelly and Franck were both wonderfully responsive and helpful in setting up our stay. The apartment was nice, clean and quiet. The town is interesting, but the plantation across the river was the real draw for us. It's worth spending an afternoon at, as we did. There are plenty of choices for a nice dinner in town as well.
Terence
2016-05-09T00:00:00Z
Visited Clarksville for a wedding and was happy to stay at Franck and Kelly's place. It is not a lived-in apartment, so everything is kept very clean and everything you might need is there - no more and no less. It's very close to the lake but not actually lakeside, which was understood from the listing. Though the listing says there isn't, there is a hair dryer and an iron. The building itself seems to be in the process of renovation, and we were a little confused upon entering from the front, but once you're up to the third floor from the back of the building, the apartment itself is just like the pictures. Visit the ice cream store across the street and West Side Deli.
Sierra
2016-09-18T00:00:00Z
The host canceled this reservation 14 days before arrival. This is an automated posting.
Denise
2016-11-08T00:00:00Z
This is a very quiet town, with a lot of unique charm! There's a state park nearby, and a few little shops and places to eat. Definitely a place to go if you need to get away from people. Franck and Kelly were great hosts, and the apartment was adorable and clean. They even provided us with a lot of information on surrounding attractions, which was incredibly helpful.
Pamela
2016-04-13T00:00:00Z
Kamertype
Gehele woning/appartement
---
Type woning
Appartement
---
Geschikt voor
2
---
Slaapkamers
Clarksville , Virginia, Verenigde Staten
Our place is on Kerr Lake, 10 minutes from Clarksville, VA, and 20 minutes from Oxford, NC. Longwood Park ( is 5 min away with a sandy beach), Occoneechee State Park, and Rudds Creek Campground are all close by with boat ramps, hiking, fishing, swimming and more. You'll love our place because of the views, the location, and water access.. You can park your boat at our dock. Our place is great for couples, solo adventurers, fishermen and families.
The lake view is very pretty from our apt. Our dock is on a quite deep water cove just down the hill. We do not share our dock with the neighbors. Each family has their own docks, which is great.
The neighborhood is very quite only 4 homes nearby. Most weekends there might be a family or two down here. Our apt is one minute off the state road, which makes it easy to locate.
We had a great time at Vickie's place. The room was very clean and a had a great view of the Lake. Location is very close to Clarksville, VA and Occoneechee state park. Vickie was an absolutely amazing host! I would highly recommend.
Mohit
2016-11-22T00:00:00Z
Our stay at Vickie's was great! The pictures don't do the beauty justice. Myself and four friends spent the weekend away here and we loved it. The lake is gorgeous, and Vickie and her husband Chris are so willing to share their dock and space. They even let us use their paddle boards and row boat. You can see the water from the large windows in the apartment and it's just a quick walk down. We loved our time here. There is a large grass area to relax or throw a football around, and the game room is perfect for a movie at night. It was relaxing, quiet, and absolutely beautiful and we can't wait to come back.
Edward
2016-10-11T00:00:00Z
We loved the quiet and serenity of the Location. The place was super clean and loved the attention to details and guest amenities including coffee, fruit, snacks, toiletries, etc. Perfectly suited for 2, and room to bring our kids if desired. Very short ride to town and activities. Will definitely look to stay again.
Robert
2017-03-26T00:00:00Z
The place was great!!! It was absolutely everything we needed and more!!!
Harve
2016-10-08T00:00:00Z
Vickie and her Husband were both very kind and very helpful. The place was trueky a gym in a place where there's seemingly nothing. We felt peace as soon as we walked in. Blessed to stay here.
Nathanael
2017-03-18T00:00:00Z
Vickie' s place was fantastic! The upstairs room is cozy, quiet, and comfortable. Extremely clean. It's basically you're personal apartment while you stay. Unfortunately we were only staying overnight, but the game room downstairs looked amazing! If you got bored here, you really don't know how to have fun. Vickie herself was a very sweet host. We got in late, and since she was open the next day (no new tenants), she was really nice about letting us check out a little late, which really, really, was great after such a late night driving. Vickie' s place is a great, quiet getaway. I'd stay there again just to be there!
Jim
2016-09-27T00:00:00Z
Vicki and Chris could not have been more accommodating. They were very gracious hosts and catered to our every need while still respecting our privacy. We thoroughly enjoyed our stay and will definitely be going back. They went out of their way to build a bonfire down by the lake for us while we sat out and watched the harvest moon come up over the lake. It was a beautiful night! Thanks for your hospitality.
Sherry
2016-09-18T00:00:00Z
We had a fantastic stay on the lake and Vickie made us feel right at home! The pictures do not do this studio apartment justice -- the decor was adorable and it was impeccably clean. The full functioning kitchen came with pots and pans and Vickie went as far as to provide us with fresh fruit, breakfast items, and coffee. The bathroom had various travel-sized toiletries and plenty of towels. The view of the lake was gorgeous and it was very easily accessible. Checking in was simple and Vickie made sure we were comfortable, offering restaurant suggestions and assistance if needed. Would definitely return the next time I am looking for a waterfront weekend getaway!
Olivia
2016-09-11T00:00:00Z
Kamertype
Gehele woning/appartement
---
Type woning
Appartement
---
Geschikt voor
4
---
Slaapkamers
Bullock, North Carolina, Verenigde Staten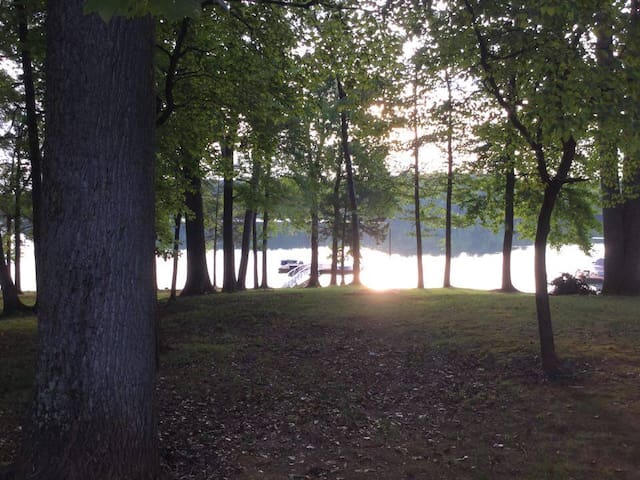 1

–

3

van

3 Appartementen te huur