Welcome to our home,it is NOT a B&B, NOT a transient house. We live here without maids or helpers. We enjoy sharing it with people looking for a home stay experience. This is our home so we expect our guests to be considerate! A loft for 1 to 4 people, with a small seating area; it overlooks our living/dining area. The bathroom is below, under the stairs. PLEASE read ALL the details and house rules! WE HAVE OTHER LISTING, please check them by clicking "view other reviews", then scroll down:)
The price of the loft is for 3 people however it can accommodate a maximum of 4 people. There are 2 twin beds, which can be put together to make a king size bed. There is a 3rd single bed as well as 1 extra mattress. Breakfast is included. IMPORTANT: the maximum capacity of the loft is 4 people. We do not allow overcrowding!!! Note: the room gets warm during summer months so we have a ceiling fan and a cooling fan for the comfort of our guests. It has a small sitting area, just 2 armchairs and a little side table. The bathroom is under the stairs. The loft overlooks our living/dining area and right above our master's bedroom. FYI; we have another room available in Le Coq Bleu: https://www.airbnb.ca/rooms/1512871?s=ZtFWATDJ suite as well as 4 more in Le Coq Floral: https://www.airbnb.ca/rooms/16418291?s=ZtFWATDJ sunflower https://www.airbnb.ca/rooms/16418602?s=ZtFWATDJ lavender https://www.airbnb.ca/rooms/16418432?s=ZtFWATDJ leaf https://www.airbnb.ca/rooms/16418539?s=ZtFWATDJ rose
We live in a residential area with lots of trees. Very quiet! Parking is on the private subdivision road outside our house. 1.5 km from our house, there are a couple of supermarkets, restaurants, a church, a dairy farm, a bank, gas station, a 24/7 store. The Bencab museum is 3-4km from our house.
Nice ambiance. Quick booking. I love the house, the architecture. The dogs are cute.
Mynard
2016-01-06T00:00:00Z
Such an interesting home to visit, and Chantal and Boy are warm and professional hosts. Our kids loved staying in the loft, (if only they were as enthusiastic towards the friendly doggies!), and we all loved the comfortable beds. The sitting area meant that we could relax after the kids went to sleep, and they could play there in the morning. If you have kids who are accident-prone, or climbers, however, you may find the downstairs suite better suited to your needs. I would have been anxious about the loft if my kids didn't listen to safety instructions. We were particularly impressed by the special touches: a selection of children's books in the loft, Mickey Mouse pancakes for the kids, even a Smurf blanket on the bed! The bathroom was clean, and the shower was hot. The food was great. Chantal and Boy are both knowledgable conversationalists, and our trip to Baguio was enhanced by their tips. (Also by their prompt laundry service!) We hope to see you again sometime. Best wishes, Megan.
Michael
2015-04-09T00:00:00Z
Twas one of the best stays I had in Baguio. The place looks exactly as shown in the photos, better actually. Chantal and her husband were very accommodating. The beds were the best! Super comfortable. Breakfast was delicious. I can't stop raving about this place. Highly recommended. Very cozy and peaceful.
Danielle
2015-05-02T00:00:00Z
Great place and great location! It was pretty close to all the places to visit in Baguio. Chantal was very accommodating, she even upgraded us to the suite where me and my friends had private time and had the entire place to ourselves. The feel of the house is very cozy, and it almost feels like home. Can't wait to be back!
Reeham
2016-10-23T00:00:00Z
I had a wonderful experience. The place is beautiful, the food is nice, the host will make you feel very welcome. Bonus if you are a dog lover, they have three loving, cuddly dogs.
Michael Clint
2017-02-05T00:00:00Z
The place and experience were better than we expected! Me and my parents loved it so much. ❤️ All corners of the house were picturesque indeed! Ms. Chantal and sir boy were very accommodating as well, it was nice to just sit down and chat with them. :) Would recommend the place for the ones who want to take a break from the city and just disconnect. ❤️
Ja
2017-02-19T00:00:00Z
This is my best Baguio trip. My friends and I enjoyed the tranquility of this place. What I love the most is the french breakfast prepared for us and the very relaxing music Chantal plays in the morning ❤️
Mye
2017-01-22T00:00:00Z
Thank you Mr Boi and Mr Chantal! We super enjoyed your beautiful home and your company! What you see in the pictures of Le Coq Bleu is definitely the same and even more beautiful in real setting! :) Hosts Ms Chantal and Mr Boi are the best! Appreciate their love for each other, super great accommodation, good humor and appetizing breakfast. We left their lovely place inspired and refreshed! ❤️❤️❤️
Rhia
2016-12-24T00:00:00Z
Kamertype
Privé Kamer
---
Type woning
Huis
---
Geschikt voor
3
---
Slaapkamers
Baguio City, Cordillera Administrative Region, Filipijnen
Welcome to our home,it is NOT a B&B, NOT a transient house. We live here without maids or helpers. We enjoy sharing it with people looking for a home stay experience! 1 bedroom suite with a living/dining. bedroom with a queen size bed, a trundle bed in the living area, T&B, small kitchen area with a sink and a fridge. Perfect accommodation for couples seeking privacy. PLEASE read details & house rules! WE HAVE OTHER LISTINGS, see by clicking "view other reviews", then scrolling down:)
It is a 1 bedroom suite with living/dining and T&B. The room has a queen size bed, ideal for couples. The living area has a trundle bed. It is overlooking a wooded area. Breakfast is included. FYI- we have other rooms available, please check our listings: Le Coq Bleu loft, https://www.airbnb.ca/rooms/1101845?s=ZtFWATDJ loft Le Coq Floral (4 rooms listed) https://www.airbnb.ca/rooms/16418291?s=ZtFWATDJ sunflower https://www.airbnb.ca/rooms/16418602?s=ZtFWATDJ lavender https://www.airbnb.ca/rooms/16418432?s=ZtFWATDJ leaf https://www.airbnb.ca/rooms/16418539?s=ZtFWATDJ rose
A private subdivision 1 km from the main highway; about 5 km to the center of town. Parking is right outside our house, on the subdivision road. 1.5 km from our house, there are a couple of supermarkets, restaurants, a church, a dairy farm, a bank, gas station, a 24hrs store. The Bencab museum is 3-4km from our house.
体验不错!这件小屋依山而建,环境优雅,空气清新,初来此处深有不愿离开之感。这里空气里也没有什么灰尘,三天下来依然干净的很。 Chantal也非常友善,最后离开时还帮忙送到了汽车站,真的是非常难得的体验,感谢她。
AI
2017-02-27T00:00:00Z
This place is really lovely. It's like you're transported to a different place even if you are already aware that you are in a different place. :) The hosts were very accommodating and warm and they make really good breakfast!!! My boyfriend and I loved the pancakes! The suite is huge for 2 people and it is comfortable, homey, and relaxing. We immediately fell asleep the moment we lay down the bed. Highly recommended for people who would like to stay in a peaceful and quiet place away from the busy streets of Baguio.
Fats
2015-12-19T00:00:00Z
Excellent host, after 2 days at the city Chantal's place became my retreat home. The house settings has its story to tell, the small pretty touches really caught my eye! And i love this Lady- a truly amazing and creative! making her nest a very unique home.
Maria
2015-12-09T00:00:00Z
Listing was accurate and our room looked exactly like it did on the pictures, even better! i loved this rustic cottage it is very pretty, cozy and homey. our hosts made us feel welcome and were very accommodating with our needs and requests. because we are dog lovers ourselves, we enjoyed our stay as they had 3 friendly dogs we loved playing with. we miss their dogs hestia, juno, and gaston. it is a bit far from the city center but we had no problems with this as our plan for the trip was really to relax. we enjoyed the quiet relaxing ambiance of their place. they also serve really good breakfast too! our hosts were also very kind enough to prepare Valentines dinner for us as all good restaurants in Baguio were booked for Valentines dinner.
Sheila Marie
2015-02-15T00:00:00Z
My family and I had a wonderful time staying at this beautiful home. Every corner of this house was such a pretty sight. It was peaceful and comfortable. The breakfast provided were delicious and our hosts were friendly and accommodating. Their pets were well behaved and adorable too. We will definitely come back if we are given the chance. Thank you so much :)
Ana Monique
2015-05-19T00:00:00Z
It's an amazing first Airbnb experience for my friend and I. The host and the house was so lovely, the dogs are so sweet and the food is so good. It was such a great place to be and we'll definitely be back.
Roma
2015-07-20T00:00:00Z
Read about our whole Baguio experience at thegladiato(URL HIDDEN) It was such an amazing stay at Le Coq Bleu. Chantal and her husband were such gracious hosts. My sister and I loved meeting 2 of her furbabies, Hestia and Juno. The suite we stayed in was absolutely beautiful, cozy and comfortable. It was clean and organized when we got there. They provided us with all the essentials and we were left to our own devices. Our dogs appreciated the small open area outside the suite. It was perfect to play around and explore. Their pancakes were the bomb-diggity! 2 whole-wheat pancakes w/ a slice of melon and yoghurt was all we needed until about 3 pm. Super delicious and filling! Thank you for the amazing bed and breakfast, Chantal! We loved getting to know you and your family.
Nicole
2015-12-13T00:00:00Z
Chantal's place was beautiful.Exactly as it is in the pictures. The apartment was huge and definitely worth your money.Chantal and Mang Boy are good hosts.They serve breakfast too! :-)
Dianne
2014-12-29T00:00:00Z
Kamertype
Privé Kamer
---
Type woning
Huis
---
Geschikt voor
2
---
Slaapkamers
Baguio City, Cordillera Administrative Region, Filipijnen
Our house is inside a well-guarded executive subdivision with very quiet and peaceful neighborhood. It is 10-12 minutes going to SM Baguio, Burnham Park and Camp John Hay. Good for couples or friends to spend their holidays. We have two (2) other rooms, you can view them below: Copy and paste link to view >> Nice & Clean Room w/ Toilet & Small Tub- A/C is optional https://www.airbnb.com/rooms/10994418?preview Nice & Clean Room - 2nd Floor w/ T&B https://www.airbnb.com/rooms/10375163?preview
Your bedroom has it's own toilet and bath with hot and cold shower. 32" television, a table and 2 chairs, a stand fan plus a big window to enjoy the cold breeze of Baguio City.
A very peaceful and quiet neighborhood with roving guards. Get a chance to enter and relax in one of the most exclusive subdivisions in Baguio City.
Everything on the listing is same as the actual look of the room and house. Ms Olive was accomodating and provided all the necessary things needed. We are very lucky to be staying at their place!
Angela Dominique
2016-11-27T00:00:00Z
My boyfriend and I had a lovely stay at this place. Ms. Olive and Ms. Em were very helpful and accommodating to their guests. Would highly recommend this to other travelers :)
Nikki
2016-07-16T00:00:00Z
More than the cleanliness of the place, it's actually the hospitality and friendliness of the hosts which made our visit to Baguio a memorable one! Paul and Tita Olive are very accommodating and responsive to our concerns--starting from the message inquiries, our actual stay until our departure. Every corner of the house is very dainty and well maintained! Access to public transportation perhaps was a bit of concern but walking through to reach the subdivision's entrance was an experience in itself. We enjoyed looking at those houses as grand as Paul's. We don't have much problems with our stay here. My girlfriend and I thank Paul for inviting us to their entertainment room, and we also thank Tita Olive for sharing with us few good stories and lessons in life. We are happy that we're able to make new friends in Baguio even just for this very quick escape from city life. Fantastic. =)
Yfur Porsche
2016-02-28T00:00:00Z
Love the place! It is exactly where you wanna go home to after a long day's drive. Tita olive and tita Em were very accommodating to our needs, and very understanding of our circumstances. We came in late due to some work issues, and so they allowed us to extend an extra hour late from the curfew to get around the city. Awesome hosts.. wonderful house.. I'd definitely wanna stay here again :)
Evannette
2016-06-26T00:00:00Z
Ms Olive was very accomodating. SMART signal was a struggle but she offered free use of their wifi. The room was hotel-like and I couldn't ask for more. The surrounding is very quiet ensuring a very sound sleep. Thanks again Ms Olive for being such a wonderful host. I will surely recommend your place to my friends.
Angelo
2016-06-06T00:00:00Z
Feels like we had our own home in Baguio. Short travel from the city center but definitely a great place to stay.
Julius
2017-02-06T00:00:00Z
Even though the place is far from the city, getting cab or grab isn't that hard. Also, being far from the city, it gave the place a very relaxing vibe as it is very quiet and peaceful. Place is very clean and well equipped with basic necessities (water, towel, soap, etc.) Host is very accomodating and friendly. Thanks again, Miss Olive!
Gian
2017-02-01T00:00:00Z
Our stay at Ms. Olive's place was great. The room looks exactly like what is shown above and it is spacious. The house really looks good too! Ms Olive will make your stay great. Staying at Ms. Olive's place will make you feel like you are living in your house. I'm looking forward to staying here again. ☺️
Kriss
2016-08-22T00:00:00Z
Kamertype
Privé Kamer
---
Type woning
Huis
---
Geschikt voor
2
---
Slaapkamers
Baguio, Benguet, Filipijnen
This unit is the entire 2nd Floor of a 3-storey house located in a secure and scenic community in Baguio. It is easily accessible from Kennon Road and is only 10 minutes away from the city center. Views from most of the rooms are majestic.
Approximate floor area is 150 sq.m. and is fully furnished. The bathrooms have a centralized water heater and water pressure is strong. There are 3 bedrooms, 2 bathrooms, kitchen, dining room, living room, terrace and front porch. The living room is nicely decorated and opens to the terrace that has a great view of the mountains. To further enjoy the view and the mountain air in the terrace, a garden set is provided coupled with a bench for basking under the sun. The dining area is conveniently located between the living room and the kitchen and also has a view of the outdoors. The kitchen is equipped with a refrigerator, microwave oven, rice cooker, toaster, coffee maker, stove and kitchen/dining essentials. The master bedroom has a picture window providing an excellent view of Mt. Cabuyao and Mt. Sto. Tomas. It has a queen-sized bed with its own bathroom and walk-in closet. The second bedroom also has a queen-sized bed, clothes cabinet, bookshelves and a nice view of greenery. The third bedroom has a double-sized bed, clothes cabinet and an excellent view of the mountains of Cabuyao and Sto. Tomas. A common bathroom is conveniently accessible to both bedrooms. WiFi and cable TV are available Important: The place can accommodate six persons comfortably but can easily fit a maximum of eight people. Beyond six guests, an additional person will be provided with a movable bed with mattress and will be charged Php 250/person/night.
Organized, clean, guarded and gated subdivision.
Our family enjoyed our weekend stay at Ms. Anali's place. It was perfect for our family of 8. The house has a beautiful mountain view, very serene and has a cozy feel. It is obviously well maintained and her kitchen is complete with equipment and utensils you would need if you would like to cook . The house is inside an exclusive village with security guard so we felt safe. Her garage accomodated 2 vehicles. Her staff/caretaker was very helpful and accomodating. Ms. Anali even had them prepare for us pork sinigang complete with rice ready when we arrived. My family was pleasantly surprised and enjoyed the meal for dinner. We would love to stay there again when we go back to Baguio.
Tin
2016-06-01T00:00:00Z
True to its promise, this place indeed has serene and majestic views. It's the perfect place to stay if you want to enjoy the cool weather in Baguio without the hustle and bustle of the city. The place is also spacious, with room enough for ten. It's also complete with all the things one might need in a comfortable home. Anali is a great host. They even prepared welcome drinks for us and checked in on us once in a while to inquire if we needed anything. We're definitely coming back to this place! :)
Theresa
2016-03-26T00:00:00Z
We really enjoyed the beautiful house. So peaceful and relaxing. The views from the windows and terraces are so terrific! The hosts gave us a warm welcome. I really recommend the place. Our stay is almost perfect and I can't sa any negative thing about the hosts and the house. Thank you Mrs. De Leon for the wonderful vacation we had from your place and surely we will go back to your place.
Chelo Carmel Cecilia
2016-02-09T00:00:00Z
I'm so much into country houses and when i saw this in airbnb i knew i had to book it. I guess luck was on my side, as the impossible became possible. :) i was able to booked this for 2 nights a day before our trip. Ms. Leni was so easy to talk to and that she even tried to grant most of my requests. :) She is indeed the most gracious and warmest host i've ever dealt with.  The house was really beautiful... very captivating indeed. It has this feeling of calmness and serenity upon entering the house, you would feel at peace with yourself and with nature itself. If all you wanted is to relax and enjoy the great weather in Baguio, I suggest you book this house. All reviews about this place and Ms. Leni are indeed true, everything. Her house is as warm and lovely as her.  It was very unfortunate that we arrived there late and had to leave early as we needed to go to La Union. Ms. Leni, thank you for sharing your lovely house for my family's weekend getaway. God bless you!
Salve
2016-04-26T00:00:00Z
Leni, our gracious and friendly host, made sure we were warmly welcomed, well-attended to, and properly nourished when we arrived even as it was way past her sleeping time. We left Manila around 4:30pm, soon after my grandson's dismissal from school. We arrived in Leni's house at almost midnight because NLEX was veeery slow and there was a mishap in Kennon that cleared only after an hour of waiting. We were famished so we truly appreciated the warm sinigang that went well with our adobo. My daughter who came much later as she still attended a meeting was happy to have warm comfort food at 1:00 am.. Serenity, the house, is cozier and more spacious than how it looks in photos. Being tired and hungry, it was good to arrive in its welcoming atmosphere. It is so right and comfortable for our family of 7 adults and one toddler but it could accommodate a few more. It is complete with all the stuff a vacationing family would need - linens, towels, bath amenities, kitchen and dining appliances and utensils, condiments, drinking water, wifi, etc. It is very clean and well-kept. Leni segregates waste, which we truly appreciate. By daytime we admired the view and the neighborhood, which is quiet and safe. In our very limited chats with Larry (lucky to meet her husband) and Leni, we immediately struck rapport. They are very friendly and we were just exchanging stories like long-time friends. We found many things in common like "UP complex" :), construction, surnames, shingles :(, etc. Larry and Leni are very flexible. They allowed us to stay beyond the check out time to be able to go to church before heading home. We left the place late in the day fully satisfied and filled with appreciation and good memories of Serenity and its owners. Serenity is a great value for money. Try it!
Ella
2016-04-06T00:00:00Z
Staying with ate Leni in Baguio was the best decision I ever made! From the moment we stepped out of the car, her husband, Larry, greeting me by my name from the Terrace, the made us feel so welcome. We arrived earlier than check-in time and we need not have roamed around the city as she unhesitantly offered us the guest house on the 1st floor which, in my opinion, was good enough space to stay as well. Complete with kitchen utensils and toiletries, we were able to have breakfast and sleep after the long-distance drive. What was extra-ordinary about our host is that, she would go an extra-mile to make her guests feel special. I requested for plain rice for breakfast and she offered us garlic rice plus Sagada coffee & fresh tomatoes. For lunch I requested Bangus bec. it was a Good Friday, and she perfectly matched it w/ Chopsuey. The following day I asked for Longganisa, and she surprised us w/ a whole lot of side dishes including talong & banana plus salted egg. I mean, if one can vote for a Super Host pre-maturely, she is the one! Not only that, when I told hed we're going to Camp John Hay later, pre-empting the heavy traffic condition, she drew a map for an alternate route. I'll never run out of good words for ate Leni. Though my husband & I shared the same thought that we may have a difficult time booking w/ Majestic Serenity next time, after writing down a good review...we couldn't help but share when credit is due. She even thought of accommodating our driver into a separate quarter at no add'l cost. She is superb! :) Even your car will be secure inside the gated parking space, a photo of which was not provided. And they have this Beagle, Naya, who's just adorable...All in all, perfect!
Xienina
2016-03-30T00:00:00Z
We loved the house. It was perfect for our family. The neighbirhood was quiet and the guards were nice. The house is just like what was posted in the listing. The housekeepers were accommodating. All our concerns were dealt with. Tita Leny was very welcoming. The free dinner we had was delicious. My son kept asking for more sinigang. We left a phone at the house and didnt even realize it until I read the text from tita leny the next day. She was trying yo call me but I didnt notice. We got the phone back with no problems thanks to her. :) Would love to stay here again in the future.
Christelle
2016-05-08T00:00:00Z
From the time we booked our stay in Ms. Leni's, she had been attentive to all our needs and requests. She would answer my email and text messages promptly and provided the details that she thinks would be necessary without me asking. We arrived @ lunchtime, Thursday. She made sure that her 2 angels, Irene & Moi are ready with their "Pork Sinigang" to welcome us. However, we opted to have it by dinner. We loved it!
Imelda
2016-04-10T00:00:00Z
Kamertype
Gehele woning/appartement
---
Type woning
Huis
---
Geschikt voor
8
---
Slaapkamers
Baguio, Cordillera Administrative Region, Filipijnen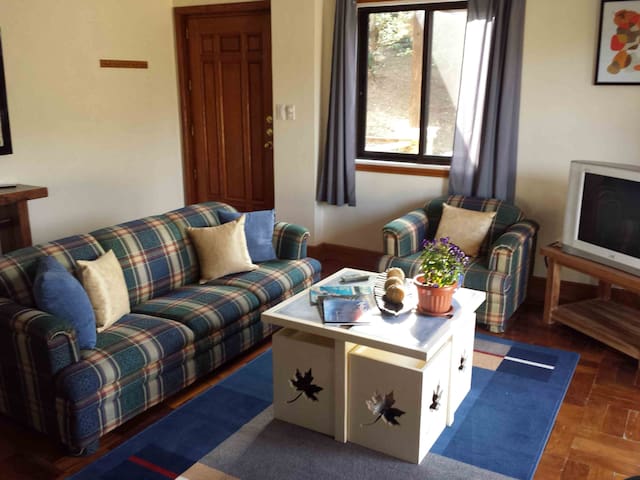 Our house is inside a well-guarded executive subdivision with very quiet and peaceful neighborhood. It is 4 kilometers away or 10 to 12 minutes going to SM, Burnham Park and Camp John Hay. Good for couples or friends to spend their holidays.
Het heeft een klein bad in de badkamer, 32 "televisie en een schuifpui te gaan naar ons huis een kleine tuin. De kamer heeft een airco en als je het gebruikt u een extra vergoeding van 300 Php toe te voegen
Een zeer rustige en rustige buurt met roving bewakers. Er zijn geen winkels in de onderverdeling. Dichtstbijzijnde sari sari winkel is recht tegenover de onderverdeling gate. Wij zijn 4 km afstand van het centrum, dus ik stel voor dat je mee te nemen voedsel dat u kunt opslaan in de ref en opwarmen met de magnetron of oven.
the pictures were accurate
Angela
2016-11-13T00:00:00Z
due traffic'i checked late but mrs.olive was accommodating enough to wait for me in the lobby even had another errand. also she tried d best to support all I needs. over allthe place is good especially its location. and I love d kitchen area so much.. I will surely rent this place next time. thank you so much...
Johanna
2017-02-12T00:00:00Z
Overall, our stay was superb. We booked for 5 days and it was definitely a truly memorable experience. Auntie Olive was very accomodating and easy to talk with. The location is accesible as well. A plus point also which we liked is that the subdivision is very quiet and well secured. Auntie Olive's home is definitely one of the best to find.
William
2016-08-01T00:00:00Z
Tita Olive is an awesome host, very accommodating, friendly and one of the coolest mom I've met. Thank you for the chitchat and free coffee Tita. Paul was very responsive, was quick to answer all of our inquiries before booking, thanks for the great deal. If you're looking for a hotel-like home, this is the best place for you. The room is perfect, spotless. I love the bed, bathroom, flooring and the interiors of the house. The place is situated in a very private and quiet subdivision, so make sure you have everything you need before checking in. Highly recommended place to stay in Baguio.
Jeanette
2016-07-23T00:00:00Z
The place was just AMAZING! It looks exactly the ones in the picture! The house is well-maintained and the surrounding was quiet and relaxing. My friends who's familiar with Baguio says it's far from the city but coming from Manila, if I can go to a place by cab within 10-15 mins then it's close by. I love the jacuzzi and the veranda the most! Enjoyed a relaxing bath after all the day's travel and got to get some stretching/yoga in the veranda during dawn. The host, Tita Olive, was very accommodating! I travelled alone for this trip and it was such a blessing to have a conversation with someone during dinner. My uncle and his wife's family is about to go home next month and I'm definitely recommending their place!
Aissa
2016-11-18T00:00:00Z
Nice and beautiful! Very clean! Host very friendly and accommodating. Highly recommended!
Rene
2017-03-30T00:00:00Z
We love the quietness and cleanliness of the place. What you see on the pictures are the actual look of the home we stayed in. Ms Olive was a great host! She is very friendly and accommodating. She even provided us with some kitchen utensils to use. Very highly recommended for families and friends visiting Baguio city. Even if Ms Olive's home is a bit far from the city, it's serenity is very refreshing most especially if you want to forget about the hustle and bustle of city life. Definitely going back! :) thank you again Ms Olive!
Maristel
2017-02-05T00:00:00Z
This place is highly recommended.
Iris
2017-02-14T00:00:00Z
Kamertype
Privé Kamer
---
Type woning
Huis
---
Geschikt voor
2
---
Slaapkamers
Baguio, Benguet, Filipijnen
The lovely Family Cottage is 5 minutes from the Mansion House (the President's summer residence) and is 10-15 minutes from Mines View Park, Wright Park, Horseback Area, Botanical Garden, St. Joseph Church, Camp John Hay, Club, BCC, etc. The cottage is inside my family compound which has more than a hundred tall pine trees. We have a beautiful lawn which you can use. Driver's room too. We provide fresh linen, unlimited bottled drinking water, toilet paper, towels, soap, shampoo, etc.
The casual cottage is located just 3 minutes outside the city limits and inside a compound with more than a hundred pine trees. You will share the garage of the main house. The minimum stay during weekends is 2 nights. The Family cottage is 5 minutes from Mansion House. It is inside a large gated family compound. Parking is enormous and secured.
there are few neighbors nearby. hence you can party as much as you wish. our compound is quite isolated. The nearby favorites are Amare (very good pizza and pasta) and Ketchup (4 restaurants in one spot).
It was good trip... It's enough space for 10guests... Thank u so much
Diether
2016-09-04T00:00:00Z
The host was very accomodating and open. Their place never dissapoint us, given the peaceful environment, relaxing area, beautiful house and many more.
Julie
2016-08-01T00:00:00Z
We were greeted by two very pleasant caretakers who attended to our needs upon our arrival.
Arlene
2016-05-18T00:00:00Z
Good experience with the accom. The vacation house is perfect for Baguio as this is surrounded with lush pine trees and green garden. It's also very spacious and quiet. What's also nice is that it is close to Baguio Country Club and Camp John Hay, so you get to avoid the busy part of town. Host was superb also interms of service.
Albert
2016-03-30T00:00:00Z
Perfect place to stay in Baguio if you're looking for a homey & laid-back feel :) Sir Herminio was in constant communication with us right after our booking; and didn't hesitate to allow us to check-in very late (past midnight). We didn't able to meet him personally but we were assisted by their good caretaker, Ate Sally during our stay. The house is clean overall and the fireplace is a plus factor too :) I'll definitely recommend this place to my family and other friends as well. Thank you for the great weekend!
Sheila Mae Naghisa
2017-02-12T00:00:00Z
My family had a wonderful time at this place. Two days before our family trip to Baguio and we still did not have a place to stay over the weekend. I was actually set to just stay in any available apartment or hotel since all the nice places in Airbnb were already booked. Good thing I sent an inquiry to one of Sir Herminio's vacation houses even if the calendar showed it was no longer available. Sir Herminio replied right away and was gracious enough to offer us the family cottage under the pine trees =D The place is awesome, perfect for family getaway, an answered prayer indeed =D We stayed there for 3 days and 2 nights and we all loved the coziness and homy feeling it gives. The house is spacious. The rooms have enough beds that are comfortable to sleep in. The kitchen is equipped with enough cooking and dining utensils so we got to enjoy the Baguio environment with some home cooked meals, made us feel more at home. Sir Herminio was a great host and he even allowed late check out. Ate Sally was also quick to respond to our needs. Overall, our experience was wonderful. We will definitely come back.
Johanna
2017-01-30T00:00:00Z
Our stay in Mr. Herminio's place was really wonderful from beginning until end. The communication was really efficient, and the location of the place was just about 5-10minutes away from The Manor/Camp John Hay area; 15-20 minutes away from Session road, making it easy to get around Baguio whether you have your own vehicle or even when you just commuted (there are a lot of taxis in the city). The ambience of the house was really light and cozy (with Pine trees in your backyard), so it is also nice to stay at home if you just want a relaxed day or night. It can easily fit in 10 persons and you can even cook your own meals. When you have concerns in the place (i.e., the connection of our tv cable was faulty), the caretakers (like Ms. Sally) are prompt to attend to your concerns. Overall, the experience in this place was really excellent, and what made it more memorable was Mr. Herminio's three adorable pet dogs!! Coco, Toby, and Snowflakes were always happy to welcome and play with us each time we arrive in the house. I would definitely book again in this lovely place when I go back to Baguio.
Desiree
2016-07-11T00:00:00Z
The place is awesome. We love the place, we love the host. I was busy with my kids that I didnt have a chance to look for Mr. Herminio. My friends say they met him and they said he is so nice. thank you so much.
Lilibeth
2016-07-29T00:00:00Z
Kamertype
Gehele woning/appartement
---
Type woning
Huis
---
Geschikt voor
10
---
Slaapkamers
Itogon, Cordillera Administrative Region, Filipijnen
Walking distance to Session Road, SM and very near the Baguio Cathedral. Its right at the heart of Baguio City
We had a good stay in this place. Hosts are easy to talk to. Location is very near session road which is a plus. Would definitely recommend.
Michael
2015-12-07T00:00:00Z
Sir Jojo was a gracious host. He definitely made us feel welcome during our stay. The room details were accurate and were beyond expectations. The neighborhood was good, near commercial districts and accessible to many tourist places.
Miko
2016-10-01T00:00:00Z
Great place. We enjoyed our trip.
Ej
2016-11-27T00:00:00Z
This my second time to stay in his unit.The location is good. The room is clean. Host is very accommodating. I will definitely recommend it to my friends.
Janice
2016-11-12T00:00:00Z
Jojo's place was neat and clean, feels like home, the only downside is the mobile phone signal, other than that everything is pefectly fine. I definitely recommend this to my family and friends, and will be on top of my list of place to book whenever I plan to visit baguio city.
Erwin
2016-05-23T00:00:00Z
The host canceled this reservation 2 days before arrival. This is an automated posting.
Louie
2015-12-30T00:00:00Z
Jojo has been such accommodating all through out the process. From the reservation until the transaction has materialized. He has been so attentive and consistently checking on us from time to time. My family had a great experience during our stay. We will consider Jojo's unit in our next visit to Baguio. Jojo, thank you so much..
Yeye
2016-02-28T00:00:00Z
The place was nice and they had what we needed for our short stay. Thank you Mr. Juanito for providing internet as well. I would consider staying again at your place next time.
Jana
2016-01-01T00:00:00Z
Kamertype
Gehele woning/appartement
---
Type woning
Huis
---
Geschikt voor
4
---
Slaapkamers
Baguio, Cordillera Administrative Region, Filipijnen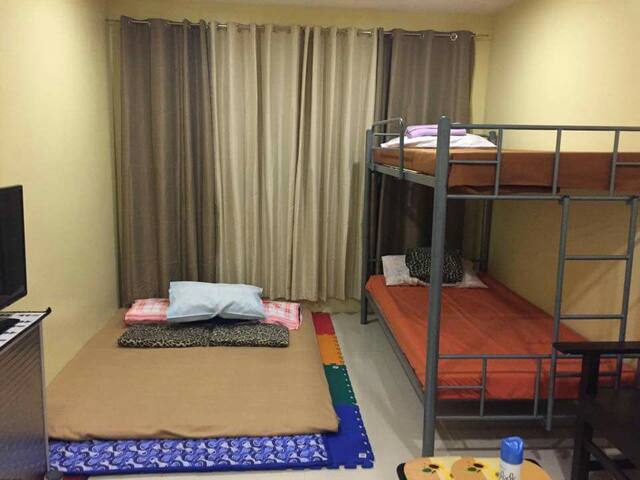 If you are viewing this on mobile, some photos might have been cropped/cut by AirBnb. Its best to view this on a computer to appreciate it more. Affordable Luxury & Comfort. In our Guest House you pay less but get more. A house surrounded with tall beautiful Pine trees giving off that cool invigorating Baguio Breeze!
LET'S TAKE A TOUR INSIDE THE HOUSE: sit and watch HBO in a warm lighted cozy living room, relieve yourself from the stress of travel by taking a hot shower in a spotless super clean bathroom, cook a hearty meal for your family/friends in the kitchen or there is a deck at the back where you could barbecue while enjoying a bottle of beer or a cup of coffee and experience that signature baguio cold evening chill. And when you are ready to call it a night the master's bedroom has a queen sized bed with extra mattress under the bed and two other rooms with double deck beds and extra mattresses under them as well.
Our guest house is located in an exclusive subdivision with a very warm and friendly community so you, our future guests can totally experience that home away from home feeling. Safety wise, security guards are stationed on all three gates inside the subdivision 24 hours.
Booking: No hassle. Lawrence responded very quickly! He also answered my queries on time. Stay: Going to his place became a little hard for us. If we could've just known he can pick us up on a certain pick up point! (But I don't blame this on him - because we had a sudden change of plans). Lawrence really implements the rule, yet very considerate. His family was so accommodating; in fact, his father offered to pick our friends up on a certain location because their taxi unloaded them as they too can't find the place. Our overnight stay was indeed very relaxing! The place was safe, really huge, clean and almost complete! You just have to buy foods of course! lol. Checking out: We didn't have the chance to personally thank Lawrence and his family because we learned that they weren't around when we checked out. We just left the keys and texted him. As expected, lawrence was apologetic that he wasn't around. This guy really was raised with a good heart! See you again soon, Lawrence!
An
2016-05-09T00:00:00Z
A very comfortable and safe place in a nice enviroment. Easy communication with the host. I highly recommend to stay at this place. Thank you!
Fabian
2016-02-25T00:00:00Z
The best yung stay namin. Pag pasok palang malinis na. Sobrang bait din ng dad nya and sobrang accomodating
John Justin
2016-05-07T00:00:00Z
It's a nice place to stay, with friendly people and friendly dogs.
Mary
2016-05-04T00:00:00Z
The location is peaceful and quiet so it is unbelievable how close to SM Baguio this place is! The unit is spacious enough for everyone to just do their thing. Hearing birds tweet outside the window in the morning was a nice touch for any jaded city dweller. Lawrence and his family gave us a warm welcome and send off. My very private hubby even warmed up to Lawrence which, says a lot of his hosting skills. And lastly, for a city where parking is a premium, let me assure you, you won't have that same problem here! We arrived in two vehicles and they have more space to spare! Thank you, Lawrence! We felt well-rested and refreshed enough when we woke up the next day!
Joy
2016-11-01T00:00:00Z
Me and my family had a great time! The owners were very friendly and hospitable. There were 3 kids with us who were crying and were noisy most of the time but we werent kicked out of the house! Thank you for understanding! There was a shortcut very near to the city :) so exploring wasnt a problem. The area was very peaceful and relaxing with mountain views and pines trees around. Will recommend this house to friends and relatives who will be visiting Baguio :) Will be back next year! :) Their dogs nala, sky and chuckie plus the other 6 puppies entertained us too! They were also friendly! :)
SHARLYN
2016-12-19T00:00:00Z
We had a great stay here! Lawrence and his family were very friendly and helpful. We were a group of 5 in Baguio for a wedding and it was the perfect size for us. Very clean, with a comfortable living area space, dining area, kitchen, and deck to BBQ on. It is a gated neighbourhood that is still close to the centre without all the traffic noise and pollution. Thanks again Lawrence!
Amy
2016-04-11T00:00:00Z
The place was exactly what my family needed for our baguio vacation. It was homey, clean and spacious. Not to mention affordable, for what you will get. There was cable tv and wifi which we enjoyed. Lawrence and his dad were very accomodating and kind, and waited for us even if we arrived late in the evening, around 1130pm due to traffic. My only issue with our stay is the neighbor's dog which was noisy at some parts of the evening. Also if you're looking for a place right in the city center, this may not be the place for you since it's tucked inside a subd. But for us, we felt safe and we appreciated the feel of living in a house in a gated village.
Michelle
2016-10-31T00:00:00Z
Kamertype
Gehele woning/appartement
---
Type woning
Huis
---
Geschikt voor
8
---
Slaapkamers
Baguio, Cordillera Administrative Region, Filipijnen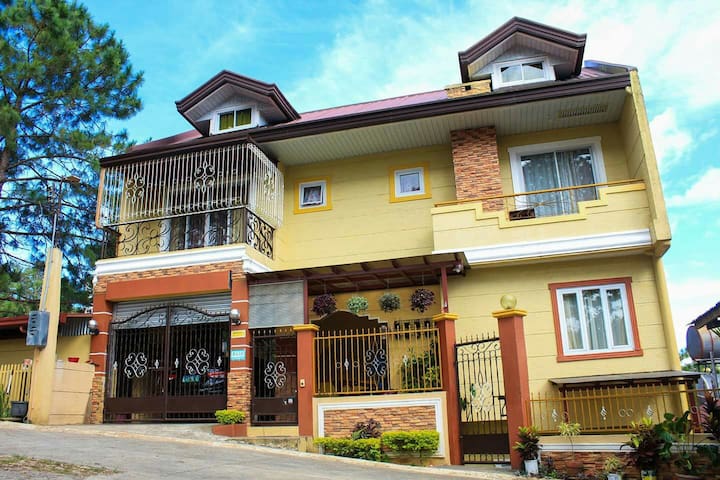 TONY'S HOMESTAY offers a one stop shop that will offer you the comforts of A home.It is situated at the MAIN VIEWPOINT overlooking the famous BANAUE RICE TERRACES. We do offer breakfast,lunch and dinner and arrange TOURS and TREKKING services
Tony's Homestay is situated in the heart of the terraces,
Tony and his family made us feel like at home at all times, it is definitely an amazing place to explore the Banue Rice terraces. The place is located only few minutes away from the terraces, the view is great and the food is amazing. For anyone going to Banaue we would recommend Tony's place.
David
2016-03-07T00:00:00Z
Tony's place is a very nice place to stay. He and his sons speak English very well which is good if you have questions and they can help you quickly. They picked us up at the bus terminal and even on our return trip waited until we were on the bus safe. His son who was also our guide showed us some nice places we could visit on our own and helped us on carrying our bags when the trekking was too exhausting! They are all very polite and funny making jokes while hiking, very relaxing! His wife cooked us awesome breakfast and dinner which was much needed after the hikes. The only bad thing that we had no electricity because of a cable burn during our stay but having candle light at night can also be very romantic. I would consider the location very good, although it's a little far from the center, but it's peaceful and quiet and you wake up with a view of the rice terraces, winning! Tony and his family are great, stay with them if they're not already overbooked!!
Fabian
2016-04-11T00:00:00Z
Nous avons adoré notre séjour chez Tony. Nous devions rester qu'une nuit mais l'accueil si chaleureux nous a fait rester trois nuits de plus. Les repas élaborés par sa femme étaient délicieux, variés et locaux. La literie était également parfaite. Mais notre plus beau souvenir était avec le fils aîné Franz. Il a était notre guide pendant deux jours à la découverte des rizières en terrasse. Vous trouverez le lien de son site ci dessous : (URL HIDDEN) Vous ne serez pas déçu du voyage. Franz est très pro, attentif et drôle, il répond à toutes vos questions et plus... Je remercie encore cette famille exceptionnelle qui a enrichie notre expérience aux Philippines.
Rémi
2016-11-16T00:00:00Z
This place is brillIant. I would definitely recommend this place to anyone staying in the Banaue area. The hosts are very friendly, welcoming and can't do enough for you! The view is incredible. The food is excellent, I loved the huge portion sizes! The son in law is a brilliant guide that takes you around the rice terraces. I can't recommend this place enough!
Ryan
2016-04-17T00:00:00Z
Tony, Rita is wife and the rest of is family are very welcoming !! They organised everything for us, pick up and visit to Batad, breakfast and dîner (extra charges). If you want to experiment a true local experience this is the right place to choose ! There is no hot water but they boiled some for us which was very appreciated after a long treck day at Batad Waterfalls. There are 200 steps to reach the house so be prepared ;) but the amazing view to Banaue terraces worth it!!
Stan
2016-04-05T00:00:00Z
Nous avons passés 2 nuits chez Tony,nous avons été accueillis par son fils Bradley qui est un garçon très accueillant et aussi très bon cuisinier. A savoir juste que la maison se situe en bas d'un long escalier (pas accessible à tous) La vue sur les rizières est sympa,la maison est juste un peu loin du centre (restaurants,commerces). Eau chaude,chambre confortable, nous recommandons.
Mélanie
2017-03-17T00:00:00Z
Great place for an authentic experience. Food was plentiful, rooms were private, and the hosts accommodating. The stairs were a bit difficult while carrying luggage and juggling three toddlers, but Tony and his family were very helpful. The only down side is there is only one shared bathroom for the whole house.
Jacob
2016-04-29T00:00:00Z
It was my first time to visit Banaue but Tony's place really felt like the best place to stay in at Banaue. You wake up to an awesome view of the terraces every morning. The room I stayed in was breezy and very comfortable. The house was in a more remote, residential area so it was quiet and peaceful. The food they prepared were satisfying and the family is very accommodating. Stallone, Tony's son-in-law, was also an awesome guide. He picked me up from the bus station upon my arrival and went with me to buy some groceries. During our treks, he was extremely entertaining to talk to and always made sure of my safety. Staying with them again will definitely be my first choice!
Kimberly
2016-05-20T00:00:00Z
Kamertype
Gehele woning/appartement
---
Type woning
Huis
---
Geschikt voor
10
---
Slaapkamers
Banaue, Cordillera Administrative Region, Filipijnen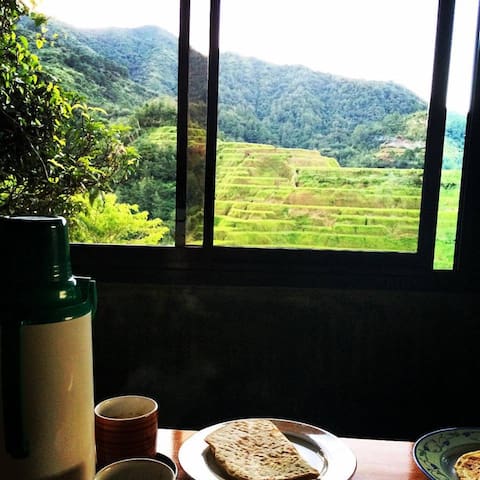 A single bedroom good for two with a view of the town center and the terraces. A specious veranda and bathrooms are located outside rooms but they are designated for each room private for each guest.
The hosts are very helpful and the communication was even before my arrival very good. They cared for me. It is a rather rustic hotel, but good and clean.
Karl
2016-12-11T00:00:00Z
Convenient to bus stops and you can't beat the people! David was a great guide and showed and taught us a lot. Wish we could have stayed longer!
Jenny
2016-12-28T00:00:00Z
Amazing view from the room! Private bathroom that was seperate to the bedroom but was lockable and just across the hall. Bed was comfortable. Everyone was friendly and welcoming right from the start when I was picked up from the morning bus. Their tour organiser David was fantastic and I highly recommend booking tours through him. As a solo female traveller he made sure I felt comfortable and confident with all arrangements and guides. If he is available for a day trip when you're there definitely do this as he is very experienced and informative. Thanks for a great stay!
Narelle
2017-03-13T00:00:00Z
Although the weather was not the best, our stay at Louie's was perfect. The location is just steps away from the bus drop off, and very close to the town center/market. Everyone was so nice and the food was delicious! ;)
Dee
2017-01-26T00:00:00Z
Nice stay in Banaue with Louie and David who was our guide during 4 days !! :) We really advice you this guesthouse: they make a lots for feeling well ! You have also a beautiful view on the Rice terrasses :)
Helene
2016-12-23T00:00:00Z
This place is perfect! Just a few minutes walk up the road from where the bus dropped us, we arrived at 7th Heaven and were given such a warm and friendly welcome. The accommodation was great - clean, comfortable and our room had amazing views of the rice terraces. We ate dinner, breakfast and a late lunch in the cafe below, which serves huge, tasty portions from a large menu, and they were even kind enough to make us sandwiches for our bus trip back to Manila. We were only in Banaue for a short time, but David was so helpful and really wanted us to get the most out of our visit. He arranged for his brother, Michael, to take us to the Batad rice terraces and for for a walk to the nearby waterfall. Michael was such such a nice guy and it felt like spending the day with with a friend, rather than a guide. The whole family/staff are just so lovely - you really are in safe hands staying here. Book in now!
Jon & Holly
2017-03-22T00:00:00Z
excellent accuiel chez Louie dans une agréable maison familiale en bois.c'est simple ,mais chaleureux ,propre,le petit dejeuner sur la terasse est à ne pas (URL HIDDEN) vue est belle.On peut aussi prendre un repas car chez Louie c'est toute la famille qui travaille et son beau frere vous proposera des ballades en tricycle pou raller voir bien sur les rizières en terasses.A faire, en négociant un petit peu le prix surtout si on voyage seul. je recommande cet endroit
helene
2017-02-17T00:00:00Z
The view was amazing and the food really good. We have spend a very nice time in this place with amazing people. The tour organized was perfect.
Marion
2017-03-20T00:00:00Z
Kamertype
Privé Kamer
---
Type woning
Huis
---
Geschikt voor
2
---
Slaapkamers
Banaue, Ifugao, Cordillera Administrative Region, Filipijnen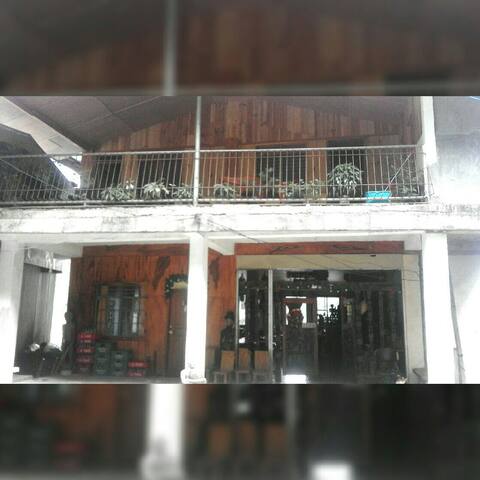 7 Heavens cafe ligt op slechts 5-10 minuten lopen van de belangrijkste stad en de gemeentelijke VVV-kantoor. Een rustig en prachtig uitzicht op de terrassen en de stad. Deze lijst is een kamer goed voor 4 personen. De badkamer is aangewezen voor elke kamer gelegen buiten.
Endroit idéal pour la découverte des rizières de Banaue. Chambre avec vue sur les terasses de riz, on mange très bien sur place et ils peuvent nous aider pour les excursions. Tout simplement super!
Anne
2017-02-06T00:00:00Z
Die Gastgeber sehr freundlich und hilfsbereit. Die Zimmer sind sauber und wenn man eines der Zimmer hat die zu den Terrassen zeigt, hat man eine tolle Aussicht. Die anderen Zimmer sind nicht zu empfehlen, da sie durch die anliegende Straße kaum zum schlafen geeignet sind, zumindest nicht ohne oropax.
Richard
2017-02-22T00:00:00Z
Very understanding hosts. Will definitely recommended their place to friends.
Niña
2016-07-07T00:00:00Z
After an epic Journey to banaue from manilla, we arrived in banaue with only A reservation at louie's Inn 2 days later. Luckily she had 2 spare rooms for our friends and us. Food and service were great as well as the location, the guide recommended (David) and the smiles of people working there. I hope to come back and that nothing has changed.
Charles
2016-03-27T00:00:00Z
Eine wirklich tolle Unterkunft mit einem traumhaften Ausblick vom Balkon über Banaue.
Kathrin
2016-12-23T00:00:00Z
We had a great stay in 7th Heaven in Banaue and would definitely recommend it. The rooms were clean, the food was good and the tours they organised for us were great!
Maurice
2017-03-12T00:00:00Z
We booked lodging at 7th Heaven's Cafe only a few days in advance of arrival in Banaue, and were very pleased with our 2-night stay. Our room had a fabulous view of the town in the valley and the surrounding terraced hills. It was very nice to watch the sunrise from this vantage point. The bedroom was spacious, clean and comfortable. The bathroom was in a separate area, but was private to us and was also very clean. Perhaps the only thing I felt was missing was a mirror. David was our excellent guide for both days we were in Banaue. He was very informative and helpful during our trip to the Batad rice terraces, as well as on our (rainy) excursions to the Banaue Viewpoint and the Hiwang Village the following day. He was also gracious enough to take us to the laundry shop and to the bus terminal for our trip back to Manila. The food at the restaurant was yummy and fairly priced. We would definitely recommend 7th Heaven's Cafe and Lodging to anyone visiting Banaue.
Jenny
2016-12-11T00:00:00Z
An absolutely outstanding stay! Clean, spacious room, great location - and above all - absolutely outstanding hosts! You'll have it all here, including great food and all you need to plan trips to Hapao (a must!) and Batad. Won't think twice !
Nimi
2016-12-30T00:00:00Z
Kamertype
Privé Kamer
---
Type woning
Huis
---
Geschikt voor
4
---
Slaapkamers
Banaue, CAR, Filipijnen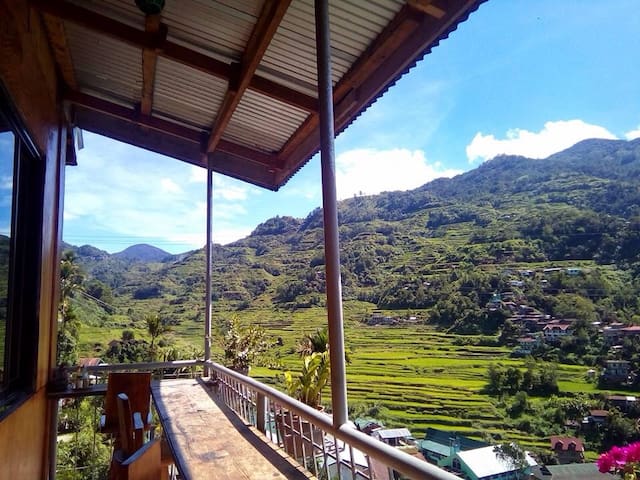 Welcome to the LE-ONIE's Petunia room! Named after flowers in our garden, its customized wooden furniture gives a "REALLY BAGUIO!" feel. For 4; separate entrance; 5 minutes from bus terminal; 10 minutes walk to Pink Sisters & eateries; 15 -30 minutes leisurely walk to town, Baguio Cathedral, mall, market, park
LE-ONIE's Lodge is in the heart of the city so places are accessible thru leisurely walks. It was created to give a cozy, homey, relaxed ambiance so your stay in Baguio becomes a pleasant memory. Entrances to the rooms are separate. The garden has pasiflora flowers in abundant bloom all year round. A cozy nook in the garden is available for bonding. This can be enhanced by having a small bonfire.
The room is very homey and its actually bigger compared to the pictures that they posted. The family hosts are very friendly and accommodating as well.
Winchell
2016-04-05T00:00:00Z
I booked the room for my parents for 3 nights. They said the room was big and that it was good for 4 to 5 people. It was spotless. You could go to places for 10-15 mins on a cab. They would have liked it better if the water from the faucet is stronger. But overall, they were really happy and satisfied with the place that they asked me to book the same room for us next time we go to Baguio.
Janine Cedie
2016-06-29T00:00:00Z
Clean and comfortable room! Ate Lorie was accommodating and gave us our own privacy. We love the house dog, too!
Prex
2016-07-03T00:00:00Z
Had a pleasant stay at Lorie's place. Everything was easy to get to; too bad we only stayed for three days. Lorie and I only met on the second night, so I didn't get to get to know her besides being able to tell her why I had to cancel last month. I'd love to get to stay here the next time I visit Baguio.
Theo
2016-02-21T00:00:00Z
Good location! Have taxis passing through as well if you are not into walking. Its peaceful as well. Good for tourists who is out all day and just need a sleep at the end of the day.
Ericsen
2016-09-21T00:00:00Z
We felt really at home. My Japanese friends loved the place.
Marco
2016-04-02T00:00:00Z
Exceeded our expectations! Clean place and a very accommodating host. The place is very accessible to most tourist spot. We literally walked every day. Highly recommended..
Le'Grev
2015-12-30T00:00:00Z
SM, 50's Diner, Grumpy Joe, Hill Station are all walking distance.
Salve
2016-08-15T00:00:00Z
Kamertype
Privé Kamer
---
Type woning
Huis
---
Geschikt voor
4
---
Slaapkamers
Baguio, Cordillera Administrative Region, Filipijnen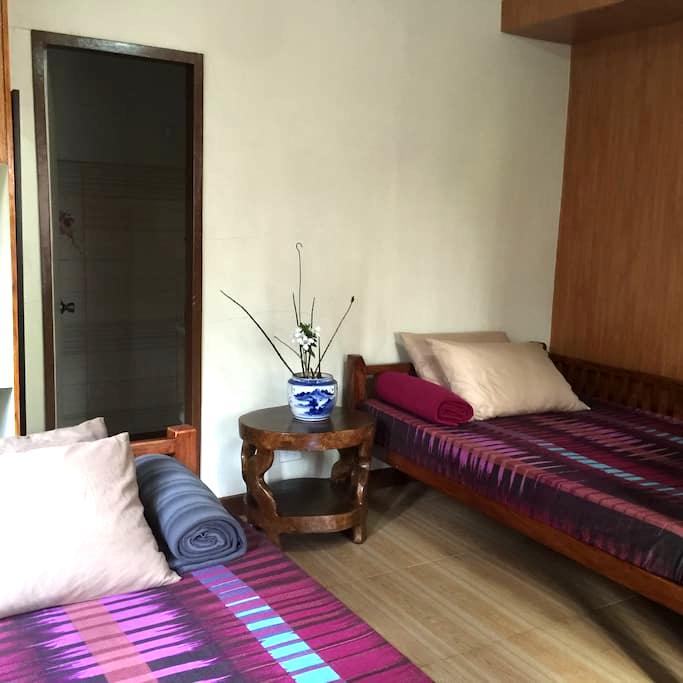 Our location is inside the resort. You can use all the amenities like swimming pool and jacuzzi.
Kamertype
Privé Kamer
---
Type woning
Huis
---
Geschikt voor
2
---
Slaapkamers
Roxas, Cagayan Valley, Filipijnen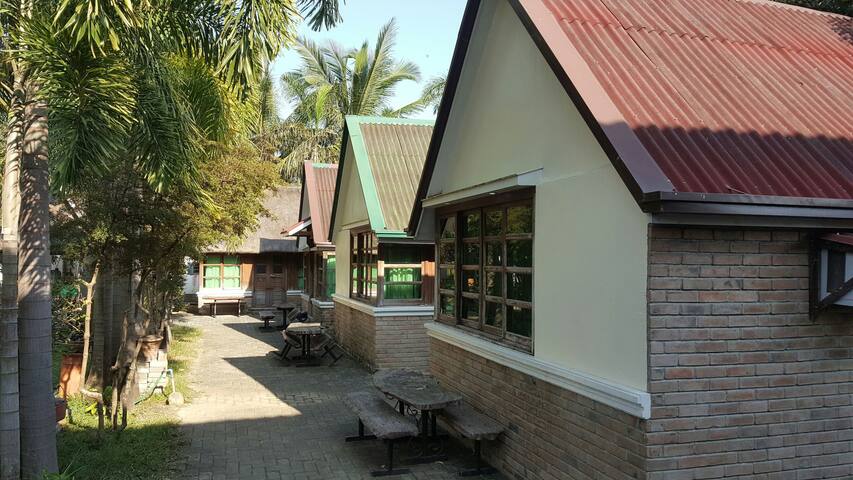 It is inside the resort. You can use all the amenities like swimming and jacuzzi.
Kamertype
Gehele woning/appartement
---
Type woning
Huis
---
Geschikt voor
4
---
Slaapkamers
Roxas, Cagayan Valley, Filipijnen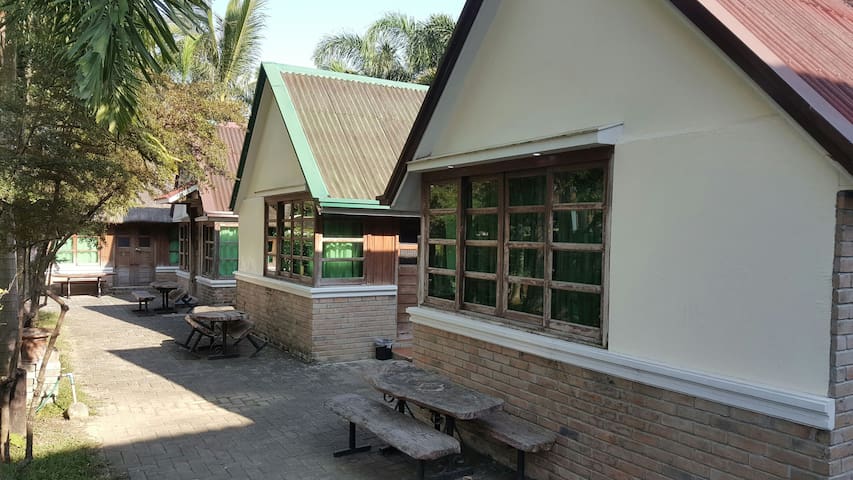 Welcome to LE-ONIE's Blue Ginger room! Uniquely designed bunk beds provide cozy private spaces while at the same time sharing the room with friends or family. Blue ginger blooms in the garden will delight you. For 6; private entrance, short leisurely walks to town, market, park, eateries, mall, churches
LE-ONIE's Lodge is in the heart of the city so places are accessible thru leisurely walks. It was created to give a cozy, homey, relaxed ambiance so your stay in Baguio becomes a pleasant memory. Entrances to the rooms are separate. The garden has pasiflora flowers in abundant bloom all year round. A cozy nook in the garden is available for bonding. This can be enhanced by having a small bonfire.
Jungletown is an old Baguio community where neighbors know each other & grew up (& grew old) together. Jungletown road ends into HAPPY GLEN LOOP which surrounds the community basketball court & park (that houses the Aguinaldo museum and flag) and is the path to walk / drive to town.
The room at the heart of the city is a basic accommodatiob at a fair price. The location is very good; it is just a short walk to the famous 50s Diner. You can also walk from the house to the Victory Liner Terminal. The host, Lorie, replies quickly to mu queries. She also waited for us to arrive in Baguio at around 4am. Althoug the room is quite small for 6 adults with tons of luggage, we managed to fit in the room. Upon arrival, we were provided with 6 bottled water and some coffee and creamer. They also provide toiletries (1 sachet of shampoo, small soap and toothpaste). The blanket provided is very comfy I want to take it home (but of course didn't). The minor drawback is that the water prsssure from the showrr is low. But overall our stay is memorable and hassle-free. I would recommend this place. :)
Phoebee
2015-01-17T00:00:00Z
Nice location, near some popular dining places like 50s Diner. The room was clean, provided amenities like towels, toothbrush, water and coffee like ordinary hotels, and had wifi. We experienced a water shortage on our last day but the hosts were quick to act on the problem and fetched us buckets of water from the main house's water supply. Overall we had a pleasant stay.
Kristine
2015-04-02T00:00:00Z
The host canceled this reservation 2 days before arrival. This is an automated posting.
Malen
2015-09-10T00:00:00Z
The house was near some baguio tourist destinations and going around the city wasn't a problem. Lorie and Noynoy was gracious enough to wait for us to check in at 4am and lend us extra blankets.
Mark
2015-02-15T00:00:00Z
We had a really nice stay. Everyone was so accomodating and helpful. Nice room size and the beds were really cute. We stayed for 3 nights and we slept really well. The free coffee and water were nice add ons too. Just a couple of things that can be improved to keep unit really nice and fresh. All in all I will and have recommended this place to other friends! See you again!
Heidi
2016-05-09T00:00:00Z
Our group of six had a nice stay. The area is within Jungletown Road, a short residential street smack within the city. Just a few steps away from SM, Session Road and the drinking joints/ restos/ coffee shops on Gen. Luna Rd. The room was ok for six pax. Towels, bottled water and 3-in-1 coffee were provided. We met the host, Maam Lorie, who was friendly and very accommodating. She even gave tips where to eat around Baguio. Overall, I gave my experience at this accommodation a 4.5 out of 5 stars. Why? I urge you guys to discover.
Thea
2016-04-22T00:00:00Z
The host was very welcoming. She made sure that we'd be able to find the place easily. She's very easy to contact when you have questions. The pictures are very accurate. In fact, the place was more than what we expected. It's very spacious and they also provide toiletries as well as bottled water.
Rosemarie
2016-07-23T00:00:00Z
We appreciate the free toiletries, but I think the low water pressure should be attended to. Room looks exactly the way it was presented in the photos. Location is good.
Eunice
2015-12-25T00:00:00Z
Kamertype
Privé Kamer
---
Type woning
Huis
---
Geschikt voor
6
---
Slaapkamers
Baguio, Cordillera Administrative Region, Filipijnen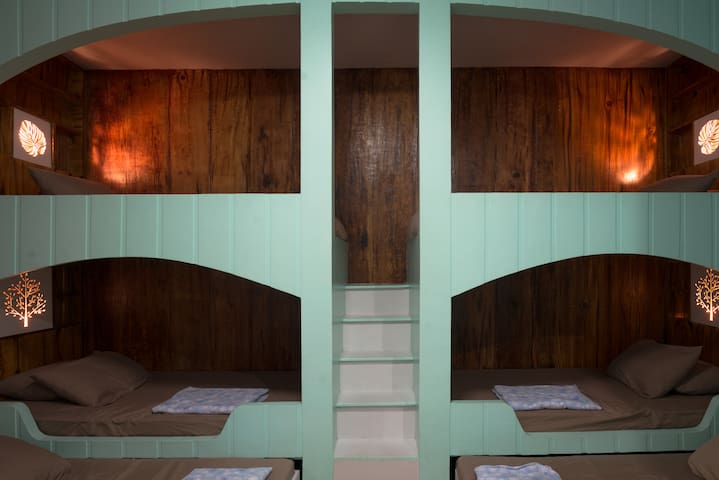 Enjoy swimming with your family!
Kamertype
Gehele woning/appartement
---
Type woning
Huis
---
Geschikt voor
15
---
Slaapkamers
Roxas, Cagayan Valley, Filipijnen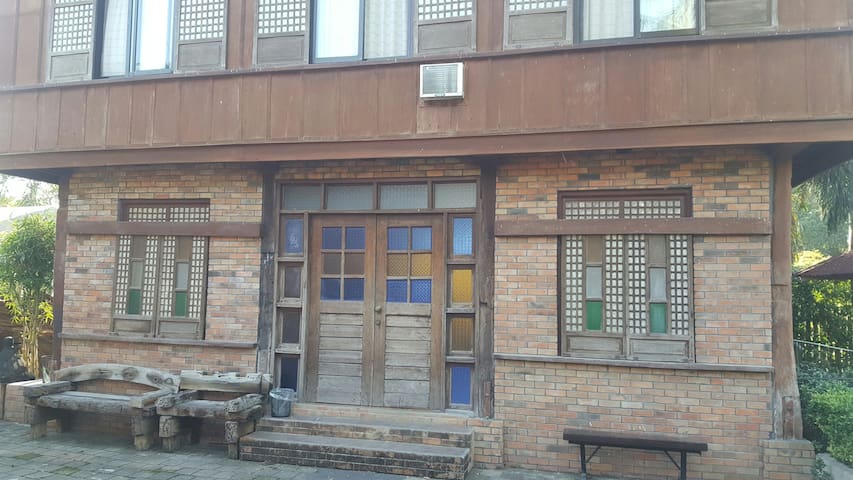 Quality and comfort at a very affordable price accommodation. Experience a spacious contemporary bedroom design with 2 queen-sized beds fit for travellers/backpackers, etc. This is conveniently located at the heart of Solano, Nueva Vizcaya, along the main highway. The neighborhood is safe wherein you can just walk for 5 min. to reach the common bus stop, McDonald's, local banks and supermarkets. A housekeeper is also available for daily general cleaning upon request.
Kamertype
Privé Kamer
---
Type woning
Huis
---
Geschikt voor
2
---
Slaapkamers
Solano, Cagayan Valley, Filipijnen
Our house is inside a well-guarded subd. with very quiet and peaceful neighborhood. It is 10 to 12 minutes going to SM, Burnham Park and Camp John Hay. Good for couples or friends to spend their holidays.
The room has cabinets to store your things, a very comfortable queen size bed. Your own bathroom with hot and cold shower, mirror and hair dryer by request. 32" television and a ceiling fan and large window so you can enjoy the breeze of Baguio City.
A very peaceful and quiet neighborhood with roving guards. Get a chance to enter and relax in one of the most exclusive subdivisions in Baguio City.
everything is perfect.
Bribri
2016-12-04T00:00:00Z
Nicest host, clean house and rooms, soft bed..Made us sleep like a baby after a tiring day walking around the city, quiet and safe neighborhood. Overall experience...AWESOME!! Thanks for sharing your home with me and Don Ms. Olive! Til next time.
Sharon
2017-01-02T00:00:00Z
Very accommodating. Deserve to be a superhost
Maria Lyra Ruth
2017-02-12T00:00:00Z
It's my first Airbnb booking and I was really thankful that I found your house! House is really nice and new. The room is very clean and the bed is really comfortable. Room has its own toilet and bathe with a hot shower. It's likely booking in a hotel. Host is also nice and very understandable, just update your host if you will be coming home late. The house also have ample of parking space infront of the house. Thank you for letting us stay in you beautiful house on our 3D and 2N stay at the summer capital of the Philippines. I will definitely recommend your house to my friends who will be travelling to Baguio. Again thank you Mam Olive and God bless!
Shu
2017-01-30T00:00:00Z
The place is more than the beautiful house you're gonna come home to during your vacation, it's the warmth and hospitality of Ms Olive that makes the difference. The place is highly recommended. Have no doubt in booking it.
Iris
2017-02-14T00:00:00Z
Mrs Olive was very accommodating and welcoming! It was a smooth and comfortable stay in their lovely house. I would recommend their home for travelers like myself who seek very nice house at an affordable price.
Melvin Jay
2016-03-21T00:00:00Z
We had a great experience staying in Paul's house. Very relaxing. Quiet. On top of those, the house is so nice and clean. A very good place to rest after your busy daily tours in the town. Paul's mom was very accommodating as well. Do not hesitate to ask her if you need anything. Will definitely go back and recommend this to my friends.
Sherwin
2016-01-31T00:00:00Z
We had a great time during our stay at Mommy Olive's house. The house is very modern, homey and the hosts are accommodating. The rooms are neat, comfortable and relaxing. I can spend the whole day inside the rooms and enjoy the luxury of the place. The bathroom is neat as well. Though the water from the shower is not strong, I still enjoyed a nice, warm bath. They even supplied us with tissue, bath towels, toothpaste and soaps. We are thankful that despite their house rules, they still accommodated some of our requests. They even allowed us to use some of their plates and glasses for dinner and booze session. I would definitely go back with my family next time for them to experience the luxury at Mommy Olive's place.
Joyce
2016-04-18T00:00:00Z
Kamertype
Privé Kamer
---
Type woning
Huis
---
Geschikt voor
2
---
Slaapkamers
Baguio, Cordillera Administrative Region, Filipijnen
Cordillera Administrative Region - Airbnb
:
Gemiddeld

4.82

van

5

sterren op basis van

771

gastrecensies
1

–

18

van

300+ Huizen te Huur