Kom verblijf bij Vinh & Stuart (Bekroond een van de beste gastheren van Australië door Airbnb CEO Brian Chesky & belangrijke aandeelhouder Ashton Kutcher. We zijn Sydney's # 1 beoordeeld gastheren ook). Ontdek waarom we al positief 500+ keer beoordeeld. Lees onze lijst eerste (hint hint) We hebben geen reserveringen van mensen accepteren zonder een geverifieerde profiel. En dan kunt u een aanvraag niet te maken voordat we berichten hebben uitgewisseld. We zijn erop gebrand om 1e te praten en ervoor zorgen dat we kunnen u een "Five Star Stay" bieden
Gelieve zeg hallo en bericht ons * VOORDAT * u uw reservering te maken ... Het zal snelheid dingen overeind te helpen, en zachte dingen uit ... Gelieve onze lijst te lezen. Het zal het krijgen van een bevestigde reservering zo veel makkelijker :) Zie hieronder (hint hint) - G'Day van Vinh & Stuart in Sydney! Bedankt voor het komen om uit te checken onze lijst :) We hebben nog een btw ... http://www.airbnb.com/rooms/73639 als deze niet beschikbaar is "Sydney City Home met uitzicht op de haven"; onze logeerkamer op de zolder. We zijn vrij ontspannen gastheren, en zoals Sydney's # 1 gastheren we spelen een actieve rol in de Airbnb gemeenschap, maar we volledig genieten van een verblijf met iemand anders, in hun eigen huis, is niet voor ieder-een. We krijgen het, onze plaats is niet voor iedereen. Dus zullen we niet beledigd als je deze lijst verlaat (er zijn tal van andere grote Airbnb aanbiedingen om uit te kiezen die niet bieden een gehoste ervaring). Als we waren onder de eerste Airbnb'ers in Australië (reizigers + hosts) we hebben nogal een uitgebreid profiel op basis van alle gasten vragen die we hebben door de jaren heen beantwoord ontwikkeld. Het lezen door middel van de beschrijving aan het einde (hint hint) en het "House Rules", zal betekenen dat u vindt alle belangrijke informatie die u nodig hebt om uw Sydney Airbnb verblijf een fantastisch vinden. Voel je vrij om ons een bericht te sturen met eventuele vragen die u heeft over ons, ons huis, Pyrmont, Sydney, of Airbnb ... willen we graag van u horen! : D Dit is niet een bedrijf, of een hotel. We zijn ongedwongen Airbnb gastheren, niet hoteliers. Dit is onze familie thuis. Wij wonen hier. U bent niet het huren van een leeg appartement. Dit is niet een 'sub-let'. En we hebben niet een team van kruiers te wachten om je koffers te nemen op elk moment van de dag of nacht. Onze "check in" / "aankomsttijd" / "bag drop" is allemaal hetzelfde. Jouw kamer: * Private slaapkamer (met een afsluitbare deur) * Queen size bed * Alle beddengoed, kussens, dekens, handdoeken, etc, op voorwaarde dat ook * Volledig voorzien van airconditioning * Wifi Licht ontbijt (granen, fruit, toast) inbegrepen: * Breakfasty dingen en heerlijke traktaties * Seizoensfruit * Brood voor roosteren * Volledige toegang tot "de Seinfeld kast" * Alle Vegemite je aankan * Thee en koffie - We espresso duivels, neem dan ons niet kwalijk nemen als u onze plaats te verlaten volledig bedraad, of verslaafd aan single origin; p Gast Badkamer (delen): * Douche met onmiddellijke (volle druk) warm water * Haardroger * Handdoeken Uw Sydney Home: * Prachtig uitzicht op de haven van Sydney, White Bay, en Glebe Island * Drie level rijtjeshuis * Slechts 2 minuten lopen van het centrum van Pyrmont * Slechts enkele minuten lopen van alles Sydney aanbiedingen * Dicht bij de luchthaven en al het openbaar vervoer * Stille straat * Outdoor dek met zitje en uitzicht op het water * Volledig voorzien van airconditioning * Gratis wifi in het hele huis Een paar dingen die je moet weten voordat je boekt: -> Steile trappen - Omdat het huis is op drie niveaus, en de trappen zijn steil, zouden we niet de eigenschap voor mensen die graag reizen met veel bagage, mensen met eventuele mobiliteitsproblemen, of voor kinderen aanraden. -> TALK eerst met ons - Stuur ons een bericht en een praatje met ons voordat u uw reservering verzoek -> De beschikbaarheidskalender is JUIST - Gelieve alleen te reserveren verzoek om de exacte (en volledige) data die u nodig heeft. U kunt de kalender gebruiken op onze advertentie naar onze beschikbaarheid maand te zien per maand. Als de data die u nodig heeft niet zo beschikbaar zijn te zien op die kalender, het is omdat we geboekt voor die data ... Sorry :( -> AKKOORD AANKOMSTTIJDEN voordat u een aanvraag - Guest aankomsttijd is 18:00. Zie de "Andere dingen te opmerking" voor meer informatie over aankomsttijden / check-in / zak daling gegevens, etc. Bericht ons eerst over uw geplande aankomsttijd tijd voordat je een reservering verzoek. -> een geverifieerd profiel - wij zijn veel meer kans om verzoeken van Airbnb'ers met profielen, vrienden, en aanbevelingen, etc. accepteren Op dezelfde manier waarop je je beter voelt meer weten over de mensen die je logeert bij, we doen ook. En een profiel foto van een kat niet echt snijd het ofwel ... PLEASE ASK - Neem gewoon een bericht te sturen ons als u vragen heeft over het verblijf bij ons, of het bezoeken van Sydney zijn. FIVE STAR STAY - Nu hier is het belangrijkste bit: ** Gebruik de codewoorden; "Five Star Stay" wanneer u ons bericht over uw reservering - Net die woorden vallen in uw boodschap aan ons. Het laat ons weten dat u deze informatie heeft gelezen en zijn klaar voor een fantastische vijfsterren gehost ervaring met ons in onze Sydney City naar huis. Kan niet wachten om je te ontmoeten! cheers, Vinh & Stuart PS Goed gedaan voor het lezen van zo ver! De meeste mensen doen niet :( Sorry, dit is zo lang, maar we weten dat we al uw vragen nu beantwoord. En vergeet niet om de code woorden te gebruiken; "Five Star Stay" in uw bericht.
Pyrmont is een binnenstedelijke dorp van Sydney, op slechts ongeveer 2 km van het Sydney CBD (Central Business District) / Core, pal naast Darling Harbour en Chinatown. https://www.airbnb.com.au/locations/sydney/pyrmont Pyrmont heeft een ontspannen gemeenschap sfeer met een binnenstedelijke vibe. Pyrmont is slechts ongeveer 2 km (10 - 15 minuten lopen) van het centrum van Sydney met een uitgebreid scala aan lokale restaurants, wijnbars en pubs. Er is een aantal serieus goede barista's en cafés recht dicht bij huis (Ga en hoi zeggen Damien & Tim bij Bar Zini - het is een van onze lokale favorieten). Er is vijf sterren fine dining tot en met vettig lepel afhaalrestaurants met een aantal van de beste eetgelegenheden van Australië's restaurants binnen handbereik. * Darling Harbour en Cockle Bay * Exhibition and Convention Centers * Sydney Fish Markets * Pyrama Point Park * Jones Bay Wharf * The Star (Casino) met Food zalen, bars, en het Lyric Theater * Powerhouse Museum * National Maritime Museum Ook (terug op het eten - merken een thema?): * Twee supermarkt / supermarkten binnen een korte wandeling * Ook een grote wijnhandelaar (en ambachtelijke bieren) aan het eind van onze straat * Fantastische deli Signorelli Gastronomia om de hoek * Food-winkels, supermarkten en supermarkten * Pyrmont Growers Market 1e zaterdag maandelijkse; farm directe en ambachtelijke foodies. Pyrmont was ooit een bloeiende industriële waterfront / werkende haven met scheepsbouw, fabrieken en wol-winkels. In het afgelopen decennium is er sprake van een aanzienlijke instroom van nieuwe bewoners en commerciële residentiële ontwikkeling / dat het gebied tot een trendy mix van de binnenstad van bewoners en commerciële hoofdkwartieren heeft veranderd. Bijvoorbeeld Goo gle heeft zijn kantoor in Sydney, de "Goo gleplex" gewoon op de weg, zoals Fairfax Media, NOKIA, en de Seven Network (TV). Media Production huizen, boutique kabel-tv, enz. De UTS (University of Technology) campus, de ABC's Ultimo hoofdkwartier (Australië Nationale Omroep), het Sydney Convention Center en het Sydney Entertainment Center, zijn allemaal op loopafstand. Universiteit van Sydney ligt op ongeveer 20 minuten lopen (slechts 10 minuten in een taxi of bus). Eet, drink en wees vrolijk: Als ex-restaurateurs zouden we meer dan blij om u te wijzen in de goede richting voor een heerlijke maaltijd in Sydney. En er is genoeg op de tap. Je kunt niet meer dan een blok in elke richting lopen zonder te lopen in de voorste bar van een lokale pub of een wijnbar, of een geweldige cafe of restaurant ... Om u een idee te geven, is er 9 van Sydney's top 10 restaurants op loopafstand: * Rockpool * Momofuku Seiobo * Quay * Sepia * Est * Rockpool Bar & Grill * Tetsuya's * Bentley * The Bridge Room En er zijn tal van lokale kleur en goede smaak wat uw prijs of culinaire favoriet. Met een volledig assortiment van cafés en restaurants in tussen, tot en met de goedkope en vrolijk Harry's Cafe de Wheels (een late night Sydney instelling), Noodle King, en al de levendige aanbod van Chinatown er geen einde aan opties ... Modern Australian , Perzisch, Goan, Japans, Indonesisch, Maleis, Italiaans, Indisch ... alles tegen onze deur Moet's (onze lokale favorieten) doen in Pyrmont zijn onder andere: * Bar Zini * Gallon * Blue Dragon Eye * Le Trader * Sociale Brew * Gemaakt in Italië * Vrindavan Indian Restaurant * Hamachi-Ya * Kura * Hannah's Pies * Pioik Bakery * Vliegende vis * Signorelli Gastronomia * De stagiar * Brio * Yuzu * Sokyo * Persian Room * BLACK door Ezzard * Cafe Morso * Little Monk Krijgt het idee? (En we hebben nog niet eens geraakt Chinatown nog!) Pyrmont is echt dicht bij de Sydney CBD en de andere binnenstad dorpen: * Een gemakkelijke 10 minuten lopen naar het centrum van de stad * Winkelcentrum: QVB, TGV, etc ... "Lacroix Sweetie Lacroix" * Circular Quay, het Sydney Opera House, en BridgeClimb * King Street Wharf * Museum of Contemporary Art * Art Gallery of NSW * Sydney Museum * Hyde Park * Botanic Gardens * Chinatown, Paddy's Markets, en de Chinese Gardens * Surry Hills * Paddington * De historische Rocks gebied * Koningskruis * Carriageworks Famers Markets @ Eveleigh elke zaterdag * Pyrmont Farmer Markets 1ste zaterdag van de maand
Wij gebruikten voor het eerst het aanbod via Airbnb, Vinh en Stuart ontvingen ons rustig en zorgden er voor dat wij ons enkele dagen 'thuis' voelden. Niet opdringerig, heel aangenaam en erg behulpzaam als we iets vroegen. Dank je, ook voor Kenji, een erg leuke, rustige hond, die als vanzelfsprekend nieuwe gasten ontvangt. Veel succes verder.
Miek
2013-11-24T00:00:00Z
Vinh phoned to be sure, that we arrived as forseen and received us very friendly in his and his friend's Stuart home. He informed us about the local traffic and gave us the'opal' tickets for transportation. Further he asked us what we wanted to do in S. and advised us what best to do and when.
Doris
2015-10-13T00:00:00Z
Thanks lads. Very easy, and seamless stay over the weekend. Will keep you guys in mind next I'm in Sydney. Cheers.
Nigel
2015-08-02T00:00:00Z
I'm happy to meet the two nice guys. The description is exactly the same as what I see. They are happy to share their favourite place nearby. It is recommended for single traveller or couples who would like to explore the city.
Carrie
2016-10-11T00:00:00Z
A very pleasurable experience: Vinh, Stuart, and Kenji are the perfect hosts. Recommended: sitting on the deck at the back looking out on the bay.
Anna
2011-04-18T00:00:00Z
We would just like to thank Vinh & Stuart for making our 1st Airbnb such an easy & enjoyable experience, we felt that Vinh went out of his way to give us advise during our holiday and found them both to be extremely kind and genuine hosts who we would not hesitiate to stay with again, thank you again for your making us feel so comfortable in your lovely home. Mike & Jacquie
Mike&Jacquie
2011-11-22T00:00:00Z
Lovely stay, lovely hosts. Fantastic location. Highly recommended.
Riksta
2016-05-27T00:00:00Z
Wonderful spot, with friendly and hospitable hosts.
Arran
2011-04-20T00:00:00Z
Kamertype
Privé Kamer
---
Type woning
Huis
---
Geschikt voor
2
---
Slaapkamers
Pyrmont, New South Wales, Australië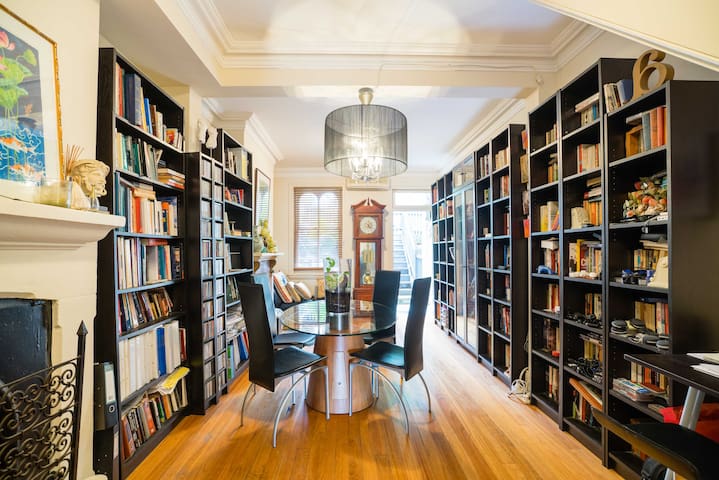 Our newly renovated one bedroom suite has its own private rear deck and separate access. We are in a fantastic Balmain location in a quiet little street, just 2 minutes walk from famous Darling St. Very close to Harbour Ferries & city bus stops. Non smoking. Temporary Visitors Parking Permit available.
Beautiful, private room with newly renovated bathroom and off street parking available. Separate street access ensuring full autonomy for guests without interacting with the Hosts. No kitchen, however a Bar fridge, Nespresso Machine, Toaster and Kettle are included.
Harbour walks and views minutes from the house Beautiful scenery Beautiful parks abound Lots of restaurants and cafes only minutes walk away Great shopping of all sorts and a big Supermarket minutes away
We had a great experience staying at Lindsay and Minny's. The room was beautiful, private and clean- perfect. Lindsay was helpful with all of our questions and gave us some great recommendations. It's a beautiful spot, highly recommended!
Claire
2015-12-08T00:00:00Z
Great location and unique private space for 1 or 2 people.
Brian
2017-02-05T00:00:00Z
Great location, clean and comfortable. Good communication from Lindsay and Minny and good value for money.
Joy
2016-11-11T00:00:00Z
Fantastic stay. Lindsay and Minny excellent hosts and accommodation comfortable and welcoming. Ideally located for easy access to Balmain and Rozelle with bus or ferry options to central Sydney. Would definitely stay again.
Meredith
2015-09-30T00:00:00Z
We were meet by our hosts and shown around. It was a hot humid day and they put two beers in the fridge to cool us down.
Sue
2016-03-04T00:00:00Z
Lindsay and Minny were just a great host ...they gave me clear directions prior to arrival, a warm welcome & walkthrough of my accomodation & very helpful with suggestions on what to do, place to eat, tips, etc. etc. Thank you very much.
PK
2016-04-16T00:00:00Z
Lindsay and minny are very nice,provide a lot of help, the room is comfortable and clean 。the position is very convenient.we have a good time in sydeny 。房间就在balmian离悉尼歌剧院环形码头岩石区只要乘坐F3 ferry,10分钟即能到达。居住的环境很惬意,周边超市、餐饮都很方便。公园很舒服。房东很亲切,房间很独立。很开心的一次经历。
kang
2016-02-19T00:00:00Z
Brilliant! :-) Our long-overdue return visit to Sydney was made all the more perfect thanks to our experience at Lindsay and Minny's B&B. Clean, quiet - very private - and just minutes to restaurants, bars, and the Balmain ferry, we couldn't have been happier. The parking pass was a plus, the washing machine an unexpected bonus, and the pear cider and fruit platter we devoured on arrival could not have been more welcome. We would recommend and return without hesitation. Age & Jill, Nashville, TN. :-)
Age & Jill
2015-10-04T00:00:00Z
Kamertype
Privé Kamer
---
Type woning
Huis
---
Geschikt voor
2
---
Slaapkamers
Balmain, New South Wales, Australië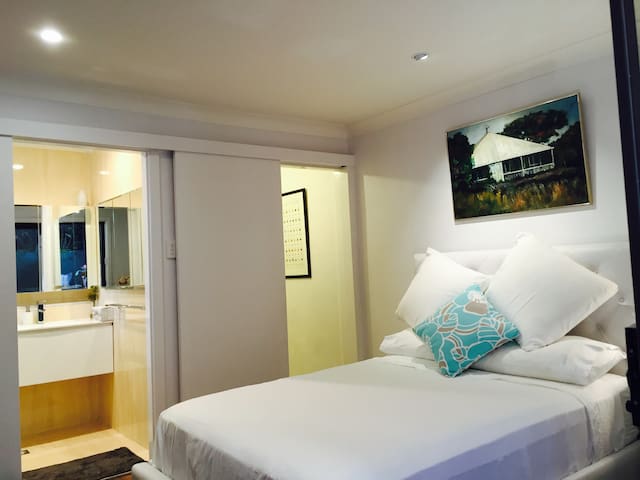 Located near Sydney Harbour, the Opera House, the CBD & much more. Whether in Sydney for business or pleasure you will be well located to see what you want to see and do what you need to do, with the least effort.
Comfortable bedroom on the 2nd floor of an 1840's four storey terrace. Views to Harbour Bridge. Bathroom on next floor up (shared with one other room). Free high speed Wifi. Available next door to the bedroom is a large comfortable sitting room or a smaller sitting room down stairs that can be made available at an extra charge for your private use.
The house is in the historic Rocks precinct of Sydney where the first settlement of Australia occurred. Despite proximity to major tourist destinations it is a quiet neighbourhood. There are outstanding views of Sydney Harbour from many vantage points and numerous old buildings and other historic features. It is five minutes bus ride or 15 minutes walk to Sydney CBD. It is also a short walk to Barangaroo, with its new Headland Park opening in July 2015, which will provide extensive recreational opportunities and harbourside walks.
A very enjoyable 3 night stay. Great location. Excellent accomodation & a very welcoming host.
Judith
2015-08-21T00:00:00Z
We thoroughly enjoyed our stay at Mary's beautiful home. Mary was there to meet us and explained everything we needed. The space was welcoming, comfortable and clean and beautifully decorated. The bed was really comfortable. the location was fantastic. It had everything we needed. Can't wait to go back again and explore more of the area.
Dale
2015-11-27T00:00:00Z
We a great stay at Mary's house. It is ideally suited for Circular quay, Harbour bridge as well as the Opera house. It is a beautiful home and the room and bathroom are beautifully appointed. The view of the Harbour bridge from the bedroom is a bonus. Mary was a great host and I would recommend her house as a wonderful base in Sydney.
Emma
2015-12-12T00:00:00Z
Greeted on arrival, and shown the beautiful home. The location was amazing, and the accommodation was perfect! They even helped us with finding parking and put some money in the meter for us when we were out!
Luke
2016-10-28T00:00:00Z
Our stay with Mary & Graham was great! The location of their house is perfect, a nice room, living room and bathroom for ourselves with a nice view on the Harbour Bridge. The charm of an older house was nice. It's only max 10 min walk from the train station/ferry station/harbour bridge. The area had also nice restaurants/places to go out for in the evening. We enjoyed it very much and would recommand the place higly and hope someday to visit again!
Sissie
2016-08-14T00:00:00Z
Absolutely perfect location. The home is impeccably decorated. We only wish we had more time to discover the area.
Kristine
2015-11-13T00:00:00Z
AMAZING! We had a fabulous stay here, very close to a wedding at the observatory :) Mary was so accommodating and very quick with communication . The bed is Devine as well as the beautiful tall room and lovely touches all over. Loved the view of the harbour bridge and the close proximity to the city . A great stay and hope to be there again soon!!
Tim
2016-02-15T00:00:00Z
Millers Point is an amazing part of Sydney. Historic, quiet, picturesque and right on the edge of the CBD. We took advantage of its proximity to the Opera House so we could walk to and from a concert we saw there. Parking is right out front of the house, no dealing with expensive, cramped, multi storey car parks. There are lots of great places to eat and grab a drink nearby. Mary suggested some really great ones, our favourite was having cocktails at sunset in the Altitude Bar of the Shangri-La Hotel (superb views!). The bed is super comfy and there is a great view of the harbour bridge from the bedroom window. This place is more than just a place to lay your head at night, there is so much history in this house and Millers Point in general and it was an unforgettable experience for us. I have recommended this place now to family and friends and hope to come back one day myself.
Carlie
2016-03-08T00:00:00Z
Kamertype
Privé Kamer
---
Type woning
Huis
---
Geschikt voor
2
---
Slaapkamers
Millers Point, New South Wales, Australië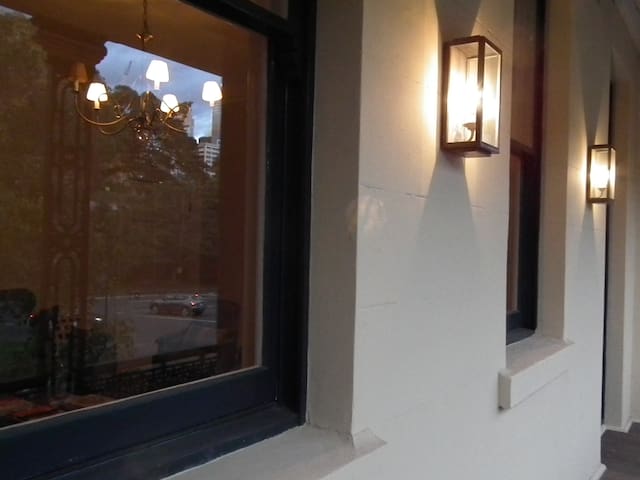 빈 & 스튜어트와 함께 머물 가자 (에어 비앤비 CEO 브라이언 체스키 및 주요 주주 애쉬튼 쿠쳐에 의해 호주 최고의 호스트 중 하나를 수상. 우리는 시드니의 # 1은 너무 호스트 검토있어). 우리가 긍정적으로 500 번 검토 한 이유를 알아보세요. 우리의 첫 번째 목록 (힌트 힌트)를 읽어 보시기 바랍니다 우리는 확인 된 프로파일없이 사람들의 예약을받지 않습니다. 우리가 메시지를 교환하기 전에 그리고 예약 요청을하지 마십시오. 우리는 1 채팅하고 우리는 당신이 "5 스타 스테이"를 제공 할 수 있는지 확인 촉각을 곤두 세우고있어
인사를하시기 바랍니다 및 메시지 우리는 * 전 * 당신은 당신의 예약 요청을 ... 그것은 속도의 일을 도와 줄게, 부드러운 것들을 밖으로 ... 우리의 목록을 읽어 보시기 바랍니다. 그것은 아래를 참조하십시오 :) 너무 쉽게 확인 된 예약을 받고 편리해집니다 (힌트 힌트) - * 개인 다락방 룸 (개인,하지만 문 - 사진 참조) * 더블 사이즈 소파 베드를 배 - 시드니에서 빈 & 스튜어트에서 G'Day! 우리의 목록을 체크 아웃 주셔서 감사합니다 :) 우리는 또 다른 ... BTW 나열했다 http://www.airbnb.com/rooms/12351이 하나를 사용할 수없는, 또는 당신은 (우리가 그것에 자신을 잤 한 소파 침대의 (SENSITIVE CONTENTS HIDDEN)어를 좋아하지 않는 경우 - 그것은 좋은 며칠 당신은) 진짜 침대의 필요성을 느낄 전에. 우리의 다른 목록은 "문에서 시드니 도시 및 항구"라고합니다; 두 번째 침실에 퀸 사이즈 침대. 우리는 꽤 편안한 호스트있어, 시드니의 # 1 호스트로 우리는 에어 비앤비 커뮤니티에서 활약하지만, 우리는 완전히 다른 사람과 함께 머물 감사, 그들의 가정 가정에서, 모든-하나가 아닙니다. 우리는, 우리의 장소는 모두를 위해 아닙니다 얻을. 당신은 (호스트 된 경험을 제공하지 않습니다 선택할 수있는 다른 훌륭한 에어 비앤비 명부 많은 그에서있다)이 리스팅을 남겨한다면 우리는 기분을 상하게하지 않습니다. 우리가 호주에서 처음으로 Airbnb'ers 중이었다으로 (여행 + 호스트) 우리는 우리가 수년에 걸쳐 대답 한 모든 고객의 질문에 따라 매우 광범위한 프로파일을 개발했습니다. 말 (힌트 힌트)에 대한 설명을 통해 읽기, 그리고 "집 규칙", 당신은 당신이 당신의 시드니 에어 비앤비는 환상적인 일을 머물 수 있도록하는 데 필요한 모든 중요한 정보를 찾을 수 있습니다 의미합니다. 당신이 우리에 대해 가지고있는 질문을 우리에게 메시지를 보내 주시기 바랍니다, 우리의 가정, 피어 몬트, 시드니, 또는 에어 비앤비는 ... 우리는 여러분의 의견을 언제나 환영합니다! :디 이것은 비즈니스 또는 호텔이 아닙니다. 우리는 캐주얼 에어 비앤비 호스트가 아닌 경영자이야. 이것은 우리의 가정입니다. 우리는 여기에 살고 있습니다. 당신은 빈 아파트를 임대 할 수 없습니다. 이것은 '하위하자'가 아닙니다. 그리고 우리는 가방 낮과 밤의 시간을 기다리고 포터의 팀이 없습니다. 우리는 / "도착 시간"/ "백 드롭" "에 체크하여"모두 같은 것입니다. 너의 방: * 개인 다락방 룸 (개인,하지만 문 - 사진 참조) * 더블 사이즈 소파 베드를 접을 * 모든 리넨은, 베개, 담요, 수건 등도 제공 * 에어컨이 완비 * 와이파이 가벼운 아침 식사 (시리얼, 토스트, 과일)을 포함 : * Breakfasty 물건과 맛있는 간식 * 계절 과일 토스트에 대한 * 빵 * "는 펠트 찬장"에 대한 전체 액세스 * 모든 베지 마이트 당신이 처리 할 수 있습니다 * 티 & 커피 - 우리는 악마를 에스프레소하고, 완전히 유선 우리의 장소를 떠나, 또는 하나의 기원에 중독 경우 우리를 비난하지 마십시오; P 게스트 욕실 (공유) : * 인스턴트와 샤워 (전체 압력) 뜨거운 물 * 헤어 드라이어 * 제공 타월 귀하의 시드니 홈 : * 시드니 하버, 화이트 베이 및 글 리브 섬의 놀라운 전망 * 세 가지 수준의 테라스 하우스 * 단 2 분 피어 몬트의 중심에서 도보로 * 그냥 분은 모든 시드니 이벤트에서 도보 * 공항 및 모든 대중 교통 닫기 * 좌석 물 뷰 실외 갑판 * 에어컨이 완비 * 집 전체에 걸쳐 무료 와이파이 당신이 예약하기 전에 알아야 할 것들의 커플 : -> 그것은 FOLD OUT 소파 침대 - 그리고 우리의 경험에 정말 편안 결코 소파 침대를 배; 특히 며칠 이상. 우리는 우리 자신에 잠을했는데 그것은 밤의 몇 괜찮지 만 그 이후 ... 음, 그것은 소파 침대입니다. -> 가파른 계단 - 집이 세 가지 수준에 있고, 계단이 가파른 때문에, 우리는 짐을 많이, 어떤 이동성 문제를 가진 사람들, 또는 어린이와 여행을 좋아하는 사람에 대한 속성을 권하고 싶지 않다. -> FIRST 우리와 함께 이야기 - 당신이 예약 요청을하기 전에 우리에게 메시지를 보내 및 우리와 함께 채팅을하시기 바랍니다 -> 가용성 달력은 정확하다 - 단지 당신이 필요로하는 날짜의 정확한 (완전한)에 대한 예약 요청을하시기 바랍니다. 당신은 달에 의해 우리의 가용성 달을보고 우리의 목록에 달력을 사용할 수 있습니다. 필요한 날짜가 달력으로 사용할 수 표시되지 않는 경우 우리가 그 날짜에 따른 경고를하고 있기 때문에, 그건 ... 죄송합니다 :( - 당신은 예약 요청을하기 전에> 도착 시간을 동의합니다 - 고객의 도착 시간 오후 6시입니다. 도착 시간에 대한 자세한 내용은 "참고하는 기타 사항"을 참조하시기 바랍니다 / 체크 / 가방 드롭 세부 사항 등 메시지 우리는 처음 의도 도착 시간에 대해 당신은 예약 요청을하기 전에. -> 확인 된 프로필이 - 우리는 더 많은 요청을 수락 할 가능성이있어 같은 방법 등 프로필, 친구, 권고와 Airbnb'ers는 당신이 우리가 너무 수행 머물 곳을 찾는 사람들에 대해 더 알고 더 편안하게 생각합니다. 그리고 고양이의 프로필 그림은 정말 하나를 잘라하지 않습니다 ... 문의 해 주시기 바랍니다 - 당신이 우리와 함께 머물, 시드니를 방문에 대한 질문을 한 경우 단지 우리에게 메시지를 보내 주시기 바랍니다. FIVE STAR의 STAY - 지금 여기에 가장 중요한 비트입니다 : ** 코드 단어를 사용하십시오; 그냥 우리에게 메시지로 그 단어를 드롭 - 예약에 대한 당신이 메시지 우리를 "5 스타 그대로". 그것은 우리가이 정보를 읽고 우리의 시드니 시티 홈에서 우리와 함께 환상적인 5 성급 호스팅 경험을 위해 준비했습니다 알 수 있습니다. 당신을 만나기 위해 기다릴 수 없어! 건배, 빈 & 스튜어트 추신 그럼 여기까지 읽어 완료! 대부분의 사람들은하지 않습니다 :( 죄송합니다, 너무 오래이지만, 우리는 우리가 지금 모든 질문에 대한 답변 것을 알고있다. 그리고 코드 단어를 사용하는 것을 기억; 메시지에서 "5 스타 그대로".
피어 몬트는 시드니 CBD (중심 업무 지구) / 코어, 달링 하버 (Darling Harbour)와 차이나 타운 바로 옆에 시드니의 도심 마을, 약 2kms입니다. https://www.airbnb.com.au/locations/sydney/pyrmont 피어 몬트는 도심 분위기와 편안한 지역 사회의 느낌이있다. 현지 레스토랑, 와인 바, 술집의 광범위한 범위와 시드니의 중심에서 - (15 분 걷고 10) 피어 몬트는 약 2kms입니다. 우리 집 바로 근처 일부 심각하게 좋은 바리 스타 카페있다 (이동 바 Zini에서 데미안 및 팀에 인사 - 그것은 우리 지역의 즐겨 찾기 중 하나입니다). 별 다섯 훌륭한 식사는 바로 쉽게 도달 호주 최고의 다이닝 레스토랑의 일부와 기름기 숟가락의 테이크 아웃까지있다. * 달링 하버 (Darling Harbour)와 코클 베이 * 전시 컨벤션 센터 * 시드니 수산 시장 * Pyrama 포인트 파크 * 존스 베이 부두 * 스타 음식 홀, 바 (카지노), 그리고 가사 극장 * 파워 하우스 박물관 (Powerhouse Museum) * 국립 해양 박물관 또한 (다시 음식 - 테마를 통지?) : * 도보로 쉽게 갈 내에서 두 식료품 / 슈퍼마켓 * 우리의 거리의 끝에 또한 훌륭한 와인 상인 (공예 맥주) 모퉁이 * 우수함 델리 Signorelli Gastronomia * 식품 상점, 식료품 점, 슈퍼마켓 * 피어 몬트 재배자 시장 1 일 토요일 매월; 농장에서 직접 및 장인 식도락가. 피어 몬트 한 번 조선, 공장 및 양모 점포 번창하는 산업 워터 프론트 / 작업 포트 지역이었다. 지난 10 년간 도심 주민과 상업 본부의 트렌디 한 혼합으로 지역을 변화 시켰 새로운 주민과 상업 / 주거 개발의 상당한 유입이있었습니다. 예를 끈적 거리는 GLE는 자신의 시드니 사무실을 가지고 들어 페어팩스 미디어, 노키아와 일곱 네트워크 (TV) 한, 바로 길 아래를 "구대성은 gleplex". 미디어 프로덕션 하우스, 부티크 케이블 TV 채널 등 UTS (기술 대학) 캠퍼스는 ABC의 지난 달 본부 (호주의 국립 방송사), 시드니 컨벤션 센터 및 시드니 엔터테인먼트 센터는 모두 도보 거리에 있습니다. 시드니 대학은 약 20 분 (택시 또는 버스 10 분) 도보 거리입니다. 먹고 마시고, 즐거워 : 전 식당 주인 인 것은 우리가 시드니에서 멋진 식사를 위해 정확한 방향을 가리 키도록보다 더 행복 할 것입니다. 그리고 탭에 많은도있다. 당신은 현지 술집의 전면 바, 또는 와인 바, 또는 좋은 카페 나 레스토랑에 들어가는없이 어떤 방향으로 한 블록 이상 걸을 수 없다 ... 당신에게 (SENSITIVE CONTENTS HIDDEN)어를 제공하기 위해, 도보 거리 내에서 시드니의 상위 10 개 레스토랑의 9있다 : * Rockpool * 모모 후쿠 Seiobo * 키 * 세피아 * 동부 표준시 * Rockpool 바 & 그릴 *는 테츠야의 * 벤틀리 * 다리 룸 그리고 지역의 색상과 좋은 맛을 무엇이든 가격 포인트 또는 요리를 좋아하는 많은이있다. 바로 저렴한 & 쾌활한 해리의 카페 드 휠 (늦은 밤 시드니 기관), 국수 킹, 차이나 타운의 모든 역동적 인 제품에 이르기까지, 그 사이에 카페와 레스토랑의 전체 범위와 함께 ... 현대 호주 옵션의 끝이 없다 , 페르시아어, 고아, 일본어, 인도네시아어, 말레이어, 이탈리아어, 인도 ... 우리의 문에서 모든 피어 몬트에서의 (우리 지역의 인기 항목) 꼭 해봐야 할 것 같습니다 * 바 Zini * 갤런 * 블루 아이 드래곤 * 르 상인 * 사회 브루 * 이태리에서 만듦 * 브린 다반 인도 레스토랑 * Hamachi를-야 * 쿠라 * 한나의 파이 * Pioik 베이커리 * 비행 물고기 * Signorelli Gastronomia * 도제 * 생기 * 유자 * Sokyo * 페르시아어 룸 * Ezzard 의해 BLACK * 카페 Morso * 리틀 스님 생각을? (우리는 아직 차이나 타운을 명중하지 않은!) 피어 몬트는 시드니 CBD 및 다른 도심 마을에 정말 가까이 : * 시내 중심에 쉬운 도보 10 분 * 쇼핑 : QVB, TGV 등 ... "라크 스위티 라크" * 서큘러 키 (Circular Quay), 시드니 오페라 하우스와 하버 브릿지 * 킹 스트리트 워프 현대 미술의 * 박물관 NSW의 * 아트 갤러리 * 시드니 박물관 * 하이드 파크 * 식물원 * 차이나 타운, 패디의 시장 및 중국 정원 * 서리 힐 * 패딩턴 * 역사적인 록스 영역 * 킹스 크로스 * CarriageWorks Famers의 시장 @ Eveleigh 매주 토요일 * 피어 몬트 농부 시장 1 월의 토요일
Een mooie woning die prachtig aan een haven ligt, in een fijne buurt met allerlei leuke restaurantjes en op loopafstand van de binnenstad. Voor ontbijt was er ruim voldoende keus aanwezig en de douche is werkelijk heerlijk! Zowel Stuart als Vinh zijn ontzettend vriendelijk en behulpzaam en Vinh zit vol geweldige tips om de Sydney-ervaring zo mooi mogelijk te maken. Fijne gastheren die je je thuis laten voelen en tegelijkertijd alle vrijheid geven. En in geval van nood staan ze meteen voor je klaar en doen er alles aan om mee te denken hoe je het beste geholpen kan worden. Een absolute aanrader!
Cleo
2016-11-09T00:00:00Z
De verhuurders waren meer dan gastvrij. Allerlei tips werden gegeven die een bezoek waard waren. Een grandioos ontbijt. De huurders waren belangstellend. De kamer was ruim en netjes en het uitzicht fantastisch. Geen huis maar een thuis! In een woord geweldig. De woning ligt op loopafstand van het centrum. Openbaar vervoer binnen vijf minuten. Top!
Dianne
2016-11-30T00:00:00Z
Walking distance to the city center (20min) + safe quiet neighborhood Near darling harbor - lovely place Many places to eat, and food court in darling harbor mall(?) was quite good for easy various delicious dish Kind and helpful host :)
Haedeun
2017-01-17T00:00:00Z
A friend and I had a great stay at Stuart's place. The house was easy to find and in walking distance of the city centre. It was also close to a bus stop and lots of good restaurants and cafes. Stuart and Vinh were so lovely and gave us lots of tips for things to do in Sydney. The room was ideal with a really comfortable bed! Would definitely stay here again if I came back to Sydney.
Rachel
2016-12-23T00:00:00Z
Quiet and easy access to city.
Milton
2017-04-12T00:00:00Z
The stay with Stuart and Vinh was perfect. Their house was extremely clean and neat. There's a coffee machine to get your caffeine fix. The location of their place is perfect. The balcony gives you a sneak peek of Darling Harbour and it's walkable to most attractions in Sydney. If walking isn't your thing, the bus and light rail is just a stone's throw away. Nothing more that we can ask for :)
Hao Jun
2017-03-08T00:00:00Z
My stay at Stuart and Vinh's place was wonderful. They even contacted me a wk before arrival to ask what they could do to make it special- I requested a kettle to make coffee. To my delight on arrival they had 3 types of coffee to fuel my addiction ... my room overlooking water & lovely cool aircon was stunning. Their home gorgeous , great location and full of character. Absolutely loved them and their house. Higly recommend!
Annelie
2017-03-22T00:00:00Z
We had a great stay with Vinh & Stuart. Vinh was very welcoming upon arrival and helpful throughout the stay. Would definitely recommend as a place to stay in Sydney! Thank you both!
Guy
2017-01-22T00:00:00Z
Kamertype
Privé Kamer
---
Type woning
Huis
---
Geschikt voor
2
---
Slaapkamers
Pyrmont, New South Wales, Australië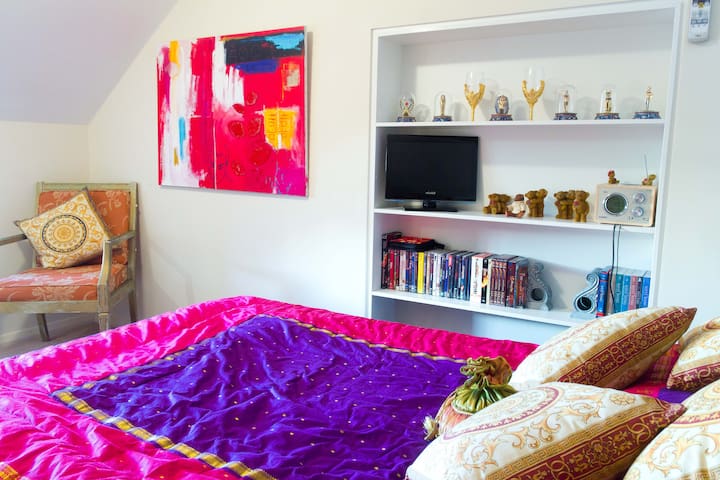 "麦肯基"是建于1886年一个美丽的遗产上市的内城的屋顶,这是离散坐落迷人门的马厩内。我们的古朴两间卧室/一间浴室的房子提供了一个华丽的都市休闲之地,提供无与伦比的价值和便利的CBD。 停车是每天一个额外的$ 40。
一个家外之家!请有关房屋和区域的详细信息请阅读下面.... 我们的房子提供无与伦比的价值和便利的中央商务区,歌剧院,博物馆,植物园,新南威尔士州美术馆和容易获得的一些最好的餐馆,咖啡馆充满活力和夜生活在悉尼。令人惊叹的乌鲁姆鲁手指码头是一个五分钟的步行路程,您可以在奥托意大利餐厅,曼塔,Aki的印度和中国娃娃用餐。有一个超市Woolworths的五分钟步行路程,一个超市Coles的国王十字,国王十字有机食品市场(每周六)和哈里斯农场的Potts Point。国王十字站是一个五分钟的步行路程有直接线邦迪结,为邦迪海滩,它是在机场一个简单的平台变化。中央商务区是一个短暂的十米分钟的步行路程。 我们的排屋有两间卧室和这导致了阳光普照的娱乐甲板醒目的城市天际线美景一楼研究。有一个现代时尚的厨房,时尚的浴室和木地板的休息室/用餐涂成裸露的砖墙,一个美丽的吊灯和现代艺术品委托。阁楼卧室有坊塔的美丽方面和城市天际线。这房子可容纳共六人;但是这是一个挤压。在一楼的沙发床可根据需要容纳两个额外的人。 有一个在酒店后面(40天+制作的Airbnb预订费额外的$)安全的室外停车场。请提前预订停车位的入住前,所以我们可以组织。我们也可以使用一个驱动程序可以接你从机场起来,成本大约是AUS $ 90 - AUS从国内/国际机场四人$ 120。请让我们知道,如果你想进一步的细节。 这房子是适合家庭团体,游客和商务客人居住。如果需要的话,我们会很乐意为您的家庭提供一个PORTA婴儿床,高脚椅和额外的玩具。房子有两层楼,并有楼梯(见提供的照片),我们会,因此,不建议对行动不便的客人或大量行李的地方。这是一个没有政党的房子。最高人民在任何时候房子是八。如果有一方或一大群超过八人的财产;你会被要求离开。任何留在家里过夜的人将被视为一个客人。 检查从下午2点开始。我们通常可以从中午起适应以$ 60充电(支付额外的清洁剂来加快速度)。退房是上午10时或之前。请让我们知道您的预计登记入住和预订,所以我们可以组织密钥交换时退房的时间。 这是一个不吸烟的房子。你可以吸在阳台上和屋外,但请若有所思地处置烟蒂的(即不是在外面或者在花盆地板)。 我们将让您住得舒适,干净的毛巾,床单,牛奶,红酒和巧克力的到来,浴室用品,厨房用品,卫生纸和厨房卷纸小样本。我们提供给您开始的基本知识。对于长期住宿,这一次使用,您将需要购买自己的。也有无限的Wi-Fi和房子和地区我们自己的个人写的指南,地图,旅游信息和上面提示的区域。该指南还翻译成普通话。 房子的详情如下: 请同时参阅平面图中,显示了房子的大小和空间的图片。 地面层 *客饭厅 自由流动的起居和用餐空间 舒适的沙发床,可以使用一个额外的两个人(沙发床已被锁定,除非请求) 电视 IPhone播放器 便携式风扇为炎热的月份 六人餐桌 燃气热水器在寒冷的月份 美丽的吊灯和镜子饭厅 裸露画砖的工作和木地板 大波斯地毯 书籍和游戏 *厨房 别致的开放式可丽耐的Smeg厨房 宽敞的开放式厨房配有设备齐全的家电,微波炉,洗碗机,烤面包机和水壶等。 咖啡,茶和提供一个小的牛奶。 与美丽的酒杯葡萄酒晚宴服 野餐篮子 烫衣板 *浴室 无框淋浴屏(没有浴缸)吸引力/紧凑的现代浴室。 大镜梳妆台,水槽和厕所。 电热毛巾架。 吹风机。 铁 综合洗衣机 洗衣桶 衣服晾晒架 (有没有干衣机在家里) 第一层 *办公着陆空间 分体式系统的空调/加热 充足的存储 门通往甲板 IPhone播放器,蓝牙 木地板 *装饰 与城市景观的户外甲板 舒适的户外家具 *第一间卧室 枕头顶特大号床,如果需要,可以做成两个单曲。羽毛/羽绒寝具。 二楼 *第二卧室(在阁楼空间) 特大号床的枕头顶配装饰艺术风格的镜面床头板。羽毛/羽绒寝具。 大威卢克斯窗,俯瞰城市与黑掉百叶窗。 分体式系统的空调/加热。 请注意,在阁楼空间和有限的房间没有门,如果你是"高"走动,但是这是我们最喜欢的房间在晚上欣赏到房子。 THE AREA 伍尔卢莫卢有丰富的与人的各类组合历史的区域;富裕的,著名的,波希米亚人,澳大利亚皇家海军和无家可归者。伍尔卢莫卢有时可以是"多姿多彩",但我们一直觉得"安全"并宴请由当地人。由于这是内城居住,你可能会听到火车和汽车的典型城市的喧嚣。 可用性日历精确。如果您需要的日期不可用的地方已经被黄牌警告。对不起:( 现在,这里是最重要的组成部分.....请使用代码"乌鲁姆鲁"当你预订/给我们留言;这是为了让我们知道您已经阅读上面的描述和绝对准备在我们家你发现生活怎样运作的经验。一旦预订,请让我们的房子手册的读取,并让我们知道,如果您有任何问题。 谢谢阅读! :)
In a great location, walk to all the Sydney touristy bits from here. The house has great character as does Woolloomooloo, Viv is a terrific host & was so helpful & accommodating.
Graham
2017-02-01T00:00:00Z
Very Nice place, a lot of space (we where with 4). Very Good Italian restaurant nearby. In a few minutes you are downtown, Sydney was amazing. The communication with Viv was also very Good. We had a great time!
Pauline
2017-04-05T00:00:00Z
Our stay at Viv's place was wonderful ! Her place is very tastefully decorated, and has all the necessary amenities for a good stay. We really appreciated the homemade guides of the area, as well as the helpfulness of Viv whenever we needed it. The house is very conveniently located, within walking distance to all major attractions. It is close to a road, but the soundproofing of the house is good and it is quiet inside. Thanks for an amazing experience of downtown Sydney, we will definitely recommend your place !
Gautier
2017-03-23T00:00:00Z
Hosts were very easy to communicate with and very helpful. Beautiful place in an excellent location, we felt very welcome and hope to be back!
Jeremy
2016-02-17T00:00:00Z
Viv's place is the model Airbnb rental: all the amenities, great location, and loads of style. Viv was an amazing host who bent over backwards to make out stay great.
Amir
2016-10-26T00:00:00Z
Wow what a great place. So central only a few blocks from the CBD, and even closer to all the action in the city and Kings Cross and Surry Hills. The house is comfortable and inviting and exactly as described. The rooftop balcony is comfortable and great for relaxing and people watching. We cannot wait to come back.
Charles
2015-11-23T00:00:00Z
Viv was a great host and the house is lovely! Me and my friends loved it, prime location and clean! Would definitely stay there if I am back!
Shreyaa
2015-10-27T00:00:00Z
Convenient location and close to Hyde Park. Cozy home with a good view and nice balcony. Very helpful and accommodating host!
Charles
2015-10-20T00:00:00Z
Kamertype
Gehele woning/appartement
---
Type woning
Huis
---
Geschikt voor
6
---
Slaapkamers
Woolloomooloo, New South Wales, Australië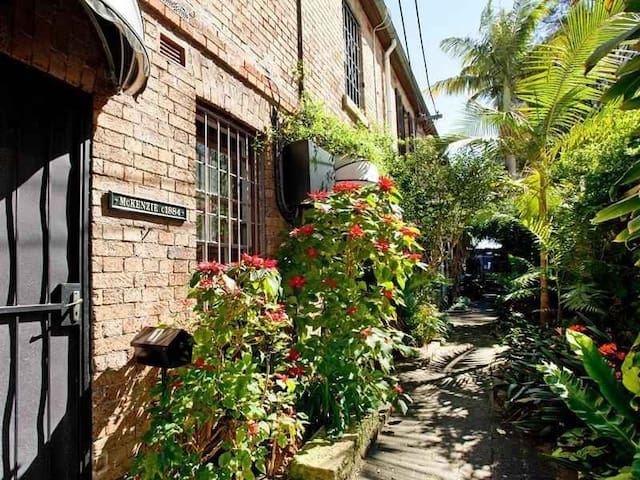 1 extra large room with queen bed in a private home complete with separate bathroom. Residence is located in a quiet neighborhood with street parking and close to Light Rail and Bus services. Short stroll to Leichhardt Oval and famous Bay Run, small convenience store and local cafe's. Make use of the large shared open plan kitchen and own outdoor space under the private leafy covered front verandah. Although sharing with the owners and 1 small dog the house is big enough for a private stay.
Lilyfield is in the Inner West suburbs of Sydney. Close to Balmain/Rozelle and famous Darling Street. Short 15 minute $20 uber/taxi (6km) into the city. 30 mins from Sydney Airports. Great spot for easy access to all Sydney has to offer.
Local Area: Leichardt Oval - 1 min walk Bus Stop - 3 min walk Norton Street Leichardt - 5 min drive Rozelle/Balmain - 5 min drive Bay Run - 2 min walk CBD - 12 min drive
Kamertype
Privé Kamer
---
Type woning
Huis
---
Geschikt voor
2
---
Slaapkamers
Lilyfield, New South Wales, Australië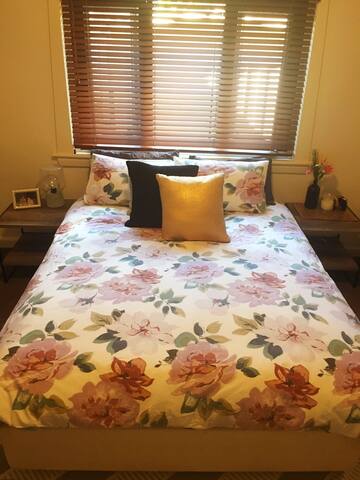 This historic terrace is located opposite Observatory Hill in the beautiful Rocks area. An indulgent & yet sensitive renovation, brings the best in comfort & contemporary living, whilst being surrounded in the luxury and elegance of classical Sydney.
Wonderful location for taking advantage of Sydney rocks area etc The terrace house has been renovated with style - a credit to the host who could not have been more helpful Roger Hewitt
Roger
2017-03-18T00:00:00Z
This house is perfectly situated for exploring Sydney. Our family with 3 teenage children managed the 3 flights of stairs and shared the second bathroom which is two stories apart. If unkempt garden, creased but clean linen, few and small towels and no aircon though fans do not bother you then this house is perfect.
rozanne
2015-12-12T00:00:00Z
Perfect location, definitely the property's best feature! Comfortable beds and many modern amenities in a beautiful historic home. Lincoln was easy to communicate with and helpful.
Tessa
2015-12-28T00:00:00Z
Wow, what a great home to spend a lovely stay in Sydney! The location is fantastic, just a short walk through the Argyle "Cut" to The Rocks, and only a couple minutes walk further to Circular Quay and the Opera House. Lincoln is a terrific host, he was very responsive to our questions and very helpful in guiding our stay. His home is spacious and very well appointed, and surprisingly warm despite the very cold mornings and no need for space heaters. We would stay there again without hesitation, and recommend highly to anyone looking for this location and style of home.
Robert
2015-07-06T00:00:00Z
We really enjoyed out stay at Lincolns house. The location is great, and we really appreciated that because we were in Sydney over New Years. The house is also very nice with new furniture and baths/kitchen. Lincoln is a great host. He responds fast and was very helpful during our stay.
Amalie Kastrup
2016-01-02T00:00:00Z
Absolutely 5/5. We booked for a weekend stay and were spoiled by the loveliness of the property and excellent location. Well appointed with typical appliances required in a house. The listing photos were reflective of reality - though I was surprised by how much more space there was in real life, ample room for the four person group. Within a short walk there was lots of quality restaurants, pubs, cafes, shopping. Lincoln was a perfect host, extremely timely in response to my queries and facilitated an easy booking process. Highly recommend.
Erin
2015-06-21T00:00:00Z
Observatory Hill is just across the way; offering sweeping panoramic views of the Harbour Bridge, Sydney Harbour and the city. Worth booking a night tour if you're into astronomy. The viewing of the constellations was excellent. About the home - it is lovely! Laid over several levels with stairs connecting to all the different rooms. Very nicely renovated. A truly convenient location. There are plenty of eateries nearby, and the house is within walking distance for visiting some major Sydney landmarks. Lincoln & Dora are fantastic hosts!
Tu
2016-10-29T00:00:00Z
A wonderful home, close to everything you could need in Sydney!
Alex
2017-04-05T00:00:00Z
Kamertype
Gehele woning/appartement
---
Type woning
Huis
---
Geschikt voor
6
---
Slaapkamers
Millers Point, New South Wales, Australië
Ma place est proche de Bah-BQ, Petit Bar Crows Nest, Crows Nest, Orphie Crows Nest, et de Peter Pan Restaurant italien. Vous allez adorer ma place à cause de l'emplacement, les gens, le quartier, et l'ambiance. Ma place est bonne pour les aventuriers en solo et les voyageurs d'affaires.
Dans la chambre à coucher est un roi lit très confortable avec un matelas de haute qualité acheté il y a seulement deux ans. Aussi une grande armoire encastrée libre pour vous d'utiliser.
Kamertype
Privé Kamer
---
Type woning
Huis
---
Geschikt voor
1
---
Slaapkamers
Crows Nest, New South Wales, Australië
A due passi dal cuore di Crows Nest e 10 minuti di macchina per la città, la nostra bellissima camera ha un letto super-comodo, un proprio ingresso indipendente e bagno ed è separata dalla nostra zona giorno nella parte posteriore. E 'più o meno indipendenti, con un proprio frigo e forno a microonde, con accesso alla nostra rete wifi ad alta velocità e account Netflix. Vicino ai mezzi di trasporto e le principali arterie, CBD e spiagge del Nord sono facilmente raggiungibili. Saremo lieti di darvi il benvenuto!
Noi amiamo la nostra casa, e siamo sicuri che lo saprete anche voi. Soleggiata, arioso e spazioso, situato sulla strada migliore in Crows Nest, abbiamo convertito una casa di tradizionale Federazione operaio in un moderno ufficio a casa con una grande zona soggiorno separata nella parte posteriore. Parcheggi fuori strada è raro qui, ma noi siamo benedetti con un lungo viale e spazio per tre auto. Il parcheggio è disponibile per un massimo di due auto. Il proprio bagno privato è in fondo al corridoio e c'è un bar tranquillo frigo in camera. La vostra camera si trova nella parte anteriore della casa. Non c'è il minimo rumore della strada come la strada è molto tranquilla con poco traffico di passaggio. La camera spaziosa adatta un viaggiatore coppia o single persone ed è completamente sicuro: avrete la vostra chiave della camera. Sei libero di andare e venire come ti pare, come noi risiedono nella parte posteriore della proprietà e utilizzare l'accesso lato quando gli ospiti soggiornano. La casa dispone di un sistema di accesso senza chiave per la vostra convenienza: ti verrà assegnato il proprio codice di accesso unico, quindi non c'è bisogno di preoccuparsi di perdere la chiave! Attualmente stiamo dogsitting a 3 anni pastore tedesco splendidamente ben educati e accogliente per un amico che non la può tenere nel suo appartamento durante la notte. Lei rimane con noi la sera nella parte posteriore della casa, ed è ottimo con gli ospiti una volta che è stato (URL HIDDEN) Lei quasi mai abbaia e non si sa nemmeno lei è qui a meno che vorresti dire ciao a lei.
Recentemente votato quartiere più vivibile di Sydney nel Urban Living Index, Crows Nest è senza pretese, affascinante e molto sicuro. E 'uno dei più bassi tassi di criminalità a Sydney, ed è un luogo sicuro per passeggiare a qualsiasi ora del giorno o della notte. E 'giustamente famosa per la sua proliferazione di caffetterie, ristoranti e piccoli bar; ci sono letteralmente centinaia tra cui scegliere. Due dei nostri ristoranti preferiti (Xenos e Grazeland) e tre grandi piccoli bar (The Crow Bar, Foxtrot e lo Stoned Crow) sono solo in cima alla nostra strada. Xenos rende un'ottima colazione: I loro bagel colazione sono deliziosi, e un valore imbattibile! La nuova ammiraglia Woolworths ha tutto il necessario: è a soli tre minuti a piedi all'angolo di Burlington e Alexander Street. Willoughby Road ha una reputazione meritata come il miglior striscia ristorante / caffetteria a Sydney, ed è tutto a posto a portata di mano. Dieci minuti a piedi, Miller Street a Cammeray sta facendo un ottimo lavoro nel mettersi al passo con meravigliosi ristoranti e case boutique birra: il pubblico su Miller Street è una grande novità. North Sydney è proprio sotto la collina, ed è una piacevole passeggiata di 30 minuti per l'Harbour Bridge. Ciò che è meno noto circa la zona è l'abbondanza di grandi passeggiate Bush. Ci dirigiamo fuori quasi tutte le mattine, e tu saresti il benvenuto a unirsi a noi. Il nostro brano preferito dura poco più di un'ora e si porta al fianco di Flat Rock Creek sotto il Cammeray (Long Gully) ponte verso il Parco Tunks porto molo, poi su una serie moderatamente impegnativo di scale per i negozi Cammeray e la casa. draghi d'acqua, tacchini cespuglio e molti uccelli nativi sono ovunque. Si potrebbe pensare che tu fossi a mille miglia da una grande città.
Thanks Tim & Nadya for welcoming me back into your beautiful home. I now feel I have a home away from home that really supports me on my whirlwind visits to Sydney. I love having the convenience of my own lovely bathroom and sleeping in such a quiet space. It was great to catch up with you and I'll see you on my next trip in. ☺️
Diane
2015-06-15T00:00:00Z
Excellent place to stay, highly recommend! Comfortable bed, clean and well appointed room, own bathroom, access to reliable WiFi, excellent location in a leafy area with nearby public transport and amenities, great hosts - Tim even picked me up from the train station.
Dinusha
2015-06-13T00:00:00Z
Fantastic place with everything you need
Tim
2016-09-29T00:00:00Z
Had a wonderful 2 night stay at Tim & Nadya's lovely home who made me feel very welcome and comfortable. A great location for good selection of restaurants and cafés within walking distance. Tim's recommendations for dinner options and breakfast cafés were all spot on! Would definitely come back again knowing it's a great spot for exploring the local area with a comfy bed with luxurious linen at the end of a busy day. Thank you for giving me a great first Airbnb experience.
Louise
2014-10-13T00:00:00Z
the hosts were fantastic and made us feel very welcome. Very informative and couldn't do enough to make our stay very homely yet with complete privacy. The area was perfect for our needs, very central and easy to access main roads.
petra
2015-10-24T00:00:00Z
This was my second time with Tim and Nadya because I was so impressed the first time. It is a lovely room and the hosts are extremely pleasant. Location is superb with transport to the city very close by. Security is super important to me and I felt very comfortable at all times. I shall return.
Beverly
2016-07-30T00:00:00Z
Thanks again Tim, Nadja and Astro for welcoming me to your home. After what were very busy days it was great to be able to collapse into such a comfy bed and sleep peacefully. Thanks for all the little things you did to help me at this time. And the brekkie was delicious! I'm sure I'll see you again when I'm back in town with possibly less to do on my plate!
Diane
2014-09-15T00:00:00Z
Nadya and Tim are warm and thoughtful hosts. I had an enjoyable and very comfortable stay. The property is spacious, clean and beautifully decorated.
Jenny
2015-04-13T00:00:00Z
Kamertype
Privé Kamer
---
Type woning
Huis
---
Geschikt voor
2
---
Slaapkamers
Crows Nest, New South Wales, Australië
Mi lugar es bueno para parejas, aventureros en solitario, viajeros de negocios y amigos peludos (mascotas), siempre y cuando se casa limpia. Sólo un corto paseo de Crows Nest tiendas y restaurantes, autobús o tren y en el CDB Las transferencias de la estación local de trenes o del aeropuerto se pueden arreglar. desayuno ligero y Wi-Fi está disponible.
Las habitaciones son amplias y recientemente reformado con cama de matrimonio, ventilador de techo, escritorio, TV y armario. Cocina y comedor son espacios compartidos como es el baño limpio. Tienes la oportunidad de compartir los espacios de vida en la casa si lo desea o ver la televisión en su propia habitación. Por supuesto, se ofrece wifi. Estoy feliz de socializar o darle su propio espacio.
Crows Nest es cerca de North Sydney, así está cerca de la CDB. Crows Nest es famoso por sus pequeños cafés y restaurantes y todos están a poca distancia a pie. Espero que les guste el sonido de las aves ya que somos una barrio residencial y tranquilo.
Alan is a great host. He's helpful, cheerful, very adjusting and always has an uplifting life story up his sleeve. The place itself is very cosy, comfortable and has all the necessary amenities. Absolutely loved the magpies greeting you in the front porch in the morning.
Kedar
2016-12-22T00:00:00Z
I found this to be a sensitively renovated and surprisingly roomy cottage. The buzzy area has excellent public transport, pubs, high-class delis, and restaurants. The host Alan is affable and welcoming and makes you feel right at home without being intrusive. An enjoyable stay.
Jules
2016-10-25T00:00:00Z
Great place and host! Highly recommended
Jonathan
2017-02-25T00:00:00Z
Alan's place is situated in a quiet residential road close to a busy area with lots of restaurants. It's a 15 minute walk to the train station which gets you into the centre of Sydney in 20 minutes. Alan is a very helpful host full of stories, tips and recommendations. Although I spent most of my time out and about this was a nice find to start my Oz trip!
Vikash
2017-02-06T00:00:00Z
Alan's place is in a very cool little town with an easy commute into the city. Alan is a very welcoming host, and the room is very comfortable.
Suzanne
2017-03-17T00:00:00Z
Alan is a great and fantastic host. He went beyond being a host and made my stay thoroughly enjoyable. Alan's place is a short 5-minute walking distance to Crows Nest's shops and restaurants and public transport which make the place very accessible and convenient. I would definitely recommend Alan and look forward to going back there again if I get an opportunity.
Khalil
2016-12-30T00:00:00Z
Al is a very hospitable man. The location is great and close cafes, restaurants etc. The accommodation was perfect for my needs. Looking forward to staying there again.
Lee
2017-01-19T00:00:00Z
The house is in a quiet area close to restaurants and shops. Alan was helpful and welcoming. The room has a comfy bed with a tv in it. Would recommend staying there.
Brad
2017-03-04T00:00:00Z
Kamertype
Privé Kamer
---
Type woning
Huis
---
Geschikt voor
2
---
Slaapkamers
Crows Nest, New South Wales, Australië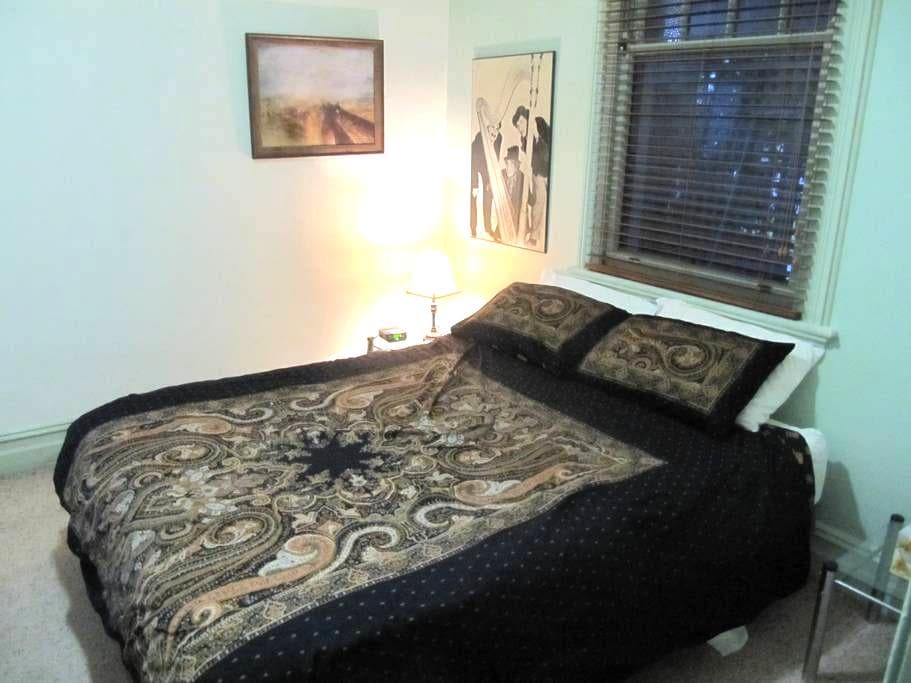 Stilvolle Wohnung mit Panorama, Boden bis zur Decke Blick auf die Lichter der Stadt, eigenes Zimmer und Bad. Doppelbett, Waschmaschine, Trockner, 65 "Samsung-TV, voll ausgestattete Küche, zahlreiche Restaurants und einen Supermarkt machen es zu einem idealen" home away from home '. 10 min zum CBD, 5 min zu Fuß zum Crows Nest Streifen. Bushaltestelle direkt vor der Tür der komplexen und Bahnhöfen in der Nähe
Vincent was a very gracious host. He was very helpful and accommodating. His place was very tidy, clean and had all the facilities needed. Thoroughly enjoyed the stay!
Joleen
2017-03-12T00:00:00Z
Vincent was very welcoming, He has a beautiful apartment which is very clean and convenient for a wide range of restaurants and cafes..
Kate
2017-02-28T00:00:00Z
It was a nice and clean place with very close proximity to restaurants and grocery markets.
Chirag
2017-02-22T00:00:00Z
the place was as per description...close to public transport. Vincent was a good host. recommend
Anish
2017-03-23T00:00:00Z
Perfect host.
Jamie
2017-03-04T00:00:00Z
Our stay with Vincent was enjoyable. Recommend to everybody. Thanks Vincent!
Jan
2016-09-18T00:00:00Z
The host canceled this reservation 168 days before arrival. This is an automated posting.
Steve
2016-07-13T00:00:00Z
Vincent is a friendly and helpful host. His home is spacious, clean and comfortable with chocolates by the bed!
Kate
2017-03-29T00:00:00Z
Kamertype
Privé Kamer
---
Type woning
Huis
---
Geschikt voor
2
---
Slaapkamers
Crows Nest, New South Wales, Australië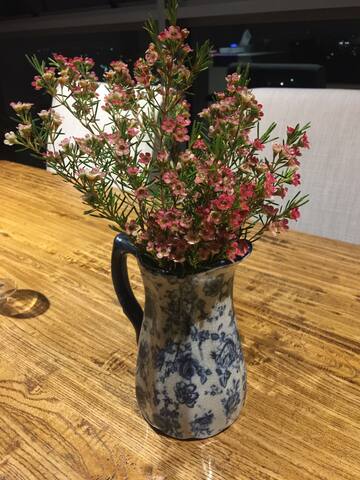 Bonjour gens adorables !!! Je dois une grande et belle chambre double disponible. Ma maison est en Crowsnest 5 minutes à St leonards gare, bus qui va à Manly, cbd, doublebay, bôndi etc etc! Nous sommes des gens ouverts d'esprit et nous nous aimerons de vous rencontrer!
L'endroit est une maison confortable dans le coeur de Crowsnest.
Très au centre de tout à 15 minutes de la ville en train et en bus. Il peut également aller à Manly et d'autres plages en bus tous la distance de marche de 5 min de la maison.
Jorge is a really friendly and accommodating host. The room is very big and fits two people easily for an extended stay. WIFI works well. The house is in a nice residential area of Sydney so it is quiet and peaceful, it's just five minutes walk to St Leonard's station though which will take you to the City in about 20 minutes. Coles and Woolworths supermarkets also 5-10 minutes walk and plenty of places to eat out.
John
2017-03-24T00:00:00Z
Great host and great location.
Adam
2017-03-17T00:00:00Z
Kamertype
Privé Kamer
---
Type woning
Huis
---
Geschikt voor
2
---
Slaapkamers
Crows Nest, New South Wales, Australië
Moderne 2 soveværelser, 2 badeværelser hus med nord vendt gårdhave og lockup garage til en bil tæt på byen og strande. Rolig beliggenhed, kun 300 m til offentlig transport, butikker, restauranter, og supermarkeder. Pet og børnevenlige. Tilgængelige NYE.
Huset er nordvendt - huset er en meget lys og lyse hus og gården er i solen hele dagen. 4 sovepladser voksne. Main soveværelse med ensuite - queensize-seng, bygget i gevandter, ensuite (bruser, toilet, håndvask) 2. soveværelse - queen seng, TV, skuffer, hængende rack Main badeværelse - badekar, bruser, toilet, håndvask Køkken - åbent køkken med opvaskemaskine Intern Tøjvask - vaskemaskine og tørretumbler Lounge - TV, 6 personers lounge med dobbelt chaiselong som åbner på gården Courtyard - 6 personers lounge, BBQ Garage - låse op, bag lane adgang, en mid størrelse bil Trådløst internet gennem hele huset.
5 min kørsel til Harbour Bridge og 4 km i byen. 300 meter til masser af gode restauranter og cafeer i alle køkkener. 450 meter til St. Leonards Park - en stor park for børn med legeplads med fantastisk udsigt over Sydney og NYE fyrværkeri. Der er masser af andre parker inden 1 km nærhed og alle parker i rådet er off snor til hunde. Gåafstand til North Sydney og St. Leonards forretningskvarterer.
Loved this house! Excellent location. Close to shops and public transport. Not far at all from the airport or city. Highly recommend.
Jessica
2017-04-02T00:00:00Z
Kelly is very attentive and quick to respond to enquiries. Well appointed in convenient location. everything was as it should be.
Grant
2017-04-05T00:00:00Z
The house is fantastic - everything you need in a great location. Kelly was great to communicate with and quick to reply. Thank you so much
Heidi
2017-02-05T00:00:00Z
The house is welcoming, light-filled, modern and stylish. The location is fantastic with so many options for transport and restaurants. We loved the back garden with its seating area and especially appreciated the use of the garage.
George
2014-12-23T00:00:00Z
We really enjoyed our stay at Kelly's house. It is a beautiful house, very clean, lots of storage and Kelly really made us feel welcome with a lovely welcome package. It is in a great location, with walking distance to lots of great cafes, restaurants and shopping. I would highly recommend staying here.
Georgie
2015-09-06T00:00:00Z
We had the most beautiful stay. Kelly was an absolute delight to speak with. As our very first Airbnb experience, the benchmark has been set. Everything about Burlington St was perfect!
Mischa
2015-03-06T00:00:00Z
We have just come back from a lovely holiday in Sydney staying at Kelly's beautiful home in Crow's Nest. The house is in a great location, with plenty of restaurants and shops around and close to public transport when you needed to go into the city or elsewhere. Kelly was a great host and quickly responded to our queries. The house was just like the pictures and very comfortable ... we thoroughly enjoyed our stay here and would recommend others to try this place out.
Joanna
2015-04-17T00:00:00Z
My sister and her kids stayed here and had a great time! The house was perfect and so close and convenient to everything! Kelly was always easy to contact if we had any questions. My sister definitely wants to stay at Kelly's place again!!
Amanda
2015-05-04T00:00:00Z
Kamertype
Gehele woning/appartement
---
Type woning
Huis
---
Geschikt voor
4
---
Slaapkamers
Crows Nest, New South Wales, Australië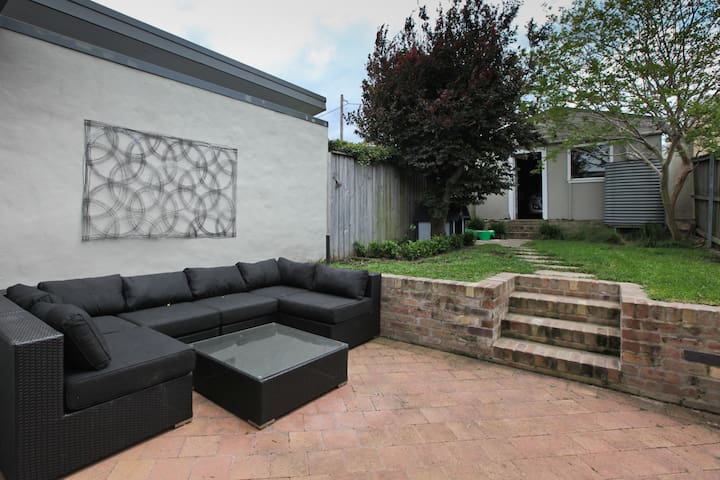 Kamertype
Gehele woning/appartement
---
Type woning
Huis
---
Geschikt voor
4
---
Slaapkamers
Crows Nest, New South Wales, Australië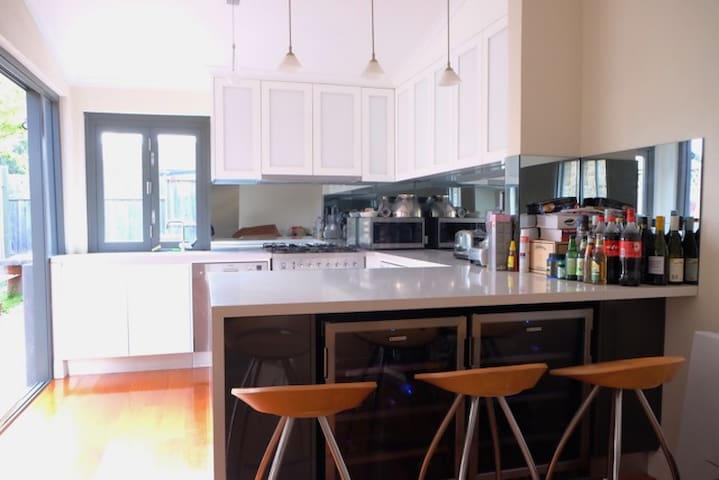 Cathy was a great host. She got in contact with us before hand and made sure we had the adress, gave clear instructions on how to get in and gave us a neighbours number incase we had any problems. She even left a little card n some chocolates n bubbly 4 us as it was christmas! The best thing about the house was definitely the location. Only 10 mins to circular quay in a taxi or there were plenty of buses at the top of the road.
Emily
2016-01-03T00:00:00Z
Kamertype
Gehele woning/appartement
---
Type woning
Huis
---
Geschikt voor
6
---
Slaapkamers
Crows Nest, New South Wales, Australië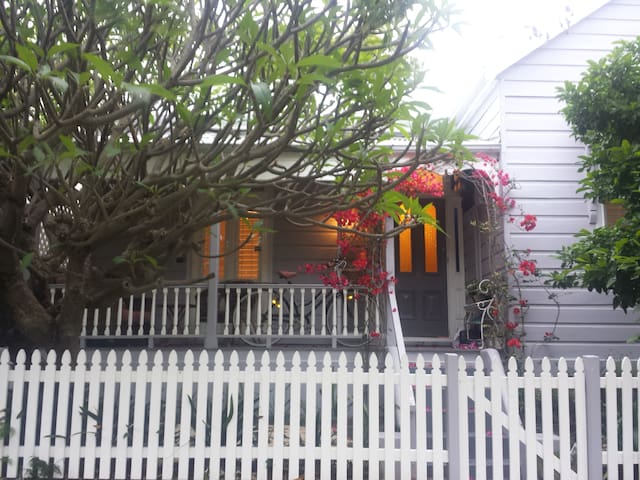 Kamertype
Gehele woning/appartement
---
Type woning
Huis
---
Geschikt voor
4
---
Slaapkamers
Crows Nest, New South Wales, Australië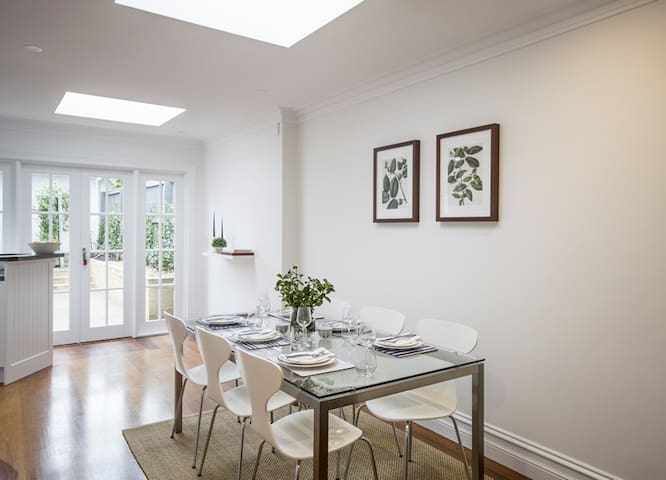 The neighborhood and location are great! The hostess was gracious and did her best to make us feel at home. The curtains, rugs and blankets all had a large collection of dust, which over the course of weeks I became very allergic to. Shaking them out revealed clouds of dust which would return each day, evidence of an infestation of dust mites. The vacuum provided was inadequate to alleviate the dust. The hostess was new to Airbnb and I don't think was aware that cleaning upon departure is included in the fee unless otherwise stated. It is an otherwise charming, cozy and small place but in my opinion not worth the price compared to other more comfortable offerings in Sydney at the offered rate.
Leif
2014-08-17T00:00:00Z
Kamertype
Privé Kamer
---
Type woning
Huis
---
Geschikt voor
2
---
Slaapkamers
Crows Nest, New South Wales, Australië
1

–

18

van

300+ Huizen te Huur