Our luxurious and quiet house in District 6 is a small domestic idyll in the middle of Zurich. We live on 3 floors with 2.5 bath rooms, a huge garden and sun terrace only minutes away from Zurich Downtown. The ground floor consists of an open and modern kitchen, a small bath with washing machine and dryer and the living room with a fireplace. On the first floor we have our sleeping room plus the two bath rooms. Finally on the 2nd floor we have our guest space - your own floor with bedding.
District 6 is a district north of the old town in the Swiss city of Zürich. The district comprises the quarters Unterstrass and Oberstrass. Both entities were formerly municipalities of their own, but were incorporated into Zürich in 1893. It`s characterised by beautiful Jugendstil houses and it`s quiet but modern appeal. You will find lots of truly Swiss restaurants, schools and public places. For us it`s the best place to live in Zurich.
Great place to stay. Chris is an amazing host
Laura
2016-11-29T00:00:00Z
Laura and Christian are wonderful hosts, this is the best Airbnb experience I had so far! Christian has been very patient and helpful to help us with tourist information and to help plan our short stay in Zurich to be a memorable one. Their house is very clean and modern and just exactly like how it was described, and we loved chatting with Laura to share our life experiences - it feels like we instantly clicked and have much in common. Our only regret is that we only spent one night in Zurich with them - if we ever have chance to come back to Zurich, will definitely stay with them again! Thank you again for taking good care of us!
Da
2016-12-07T00:00:00Z
Amazing home, I enjoyed staying at the home very much. Christian and Laura were very friendly and welcoming. I would do it again if I get to come back to Zurich!
Omar
2017-01-07T00:00:00Z
Clean and modern house. Location is perfect. We enjoyed our stay a lot. Thanks Christian!
Yan
2016-06-14T00:00:00Z
We had a wonderful experience with Christian and Laura. They are such friendly and kind people who will make you feel very comfortable. Their house is beautiful, relaxing, and has everything that you will need. We are very pleased and grateful!
Lisa
2017-01-05T00:00:00Z
Christian und Laura haben wir als sehr nette und sympatische junge Leute kennengelernt. Wir hätten uns sehr gerne länger mit Ihnen unterhalten, aber da wir den ganzen Tag bei unserem ebenfalls in Zürich lebenden Sohn waren gab es dazu kaum eine Möglichkeit. Vielleicht klappt das aber, wenn wir das nächste Mal wieder nach Zürich kommen und hoffentlich bei Christian und Laura wieder wohnen können.
Peter
2016-10-09T00:00:00Z
We had a very pleasant stay at Christian and Laura's place. Their home is lovely and close to Central Zurich and the old town. The room is spacious and has everything you need. Our hosts were away and they still let us stay, they were also very helpful with giving directions and recommendations of places to eat and see while in Zurich.
Michelle
2016-09-11T00:00:00Z
We enjoyed a lot our stay in Zurich. The place is very nice decorated, clean, with access to everything we needed. Mostly we were interested in a good internet connection as we had t work during the day and parking for our car, which have been met very well. We liked the neighbourhood very much and the coffee place Kafischnaps where we went for either lunch or breakfast. Also, we could easily access by foot (~30mins) the areas of interest: Zurich West with the Viaduct, Moods, but also city-center. Communication with our guests went really well, even if we didn't manage to talk too much as our stay happened during the week and Chris & Laura were at work during the day and we were going out in the evenings. I definetly recommand the place to other guests and I'll stay again in the future
Julia
2017-03-04T00:00:00Z
Kamertype
Privé Kamer
---
Type woning
Huis
---
Geschikt voor
2
---
Slaapkamers
Zürich, Zürich, Zwitserland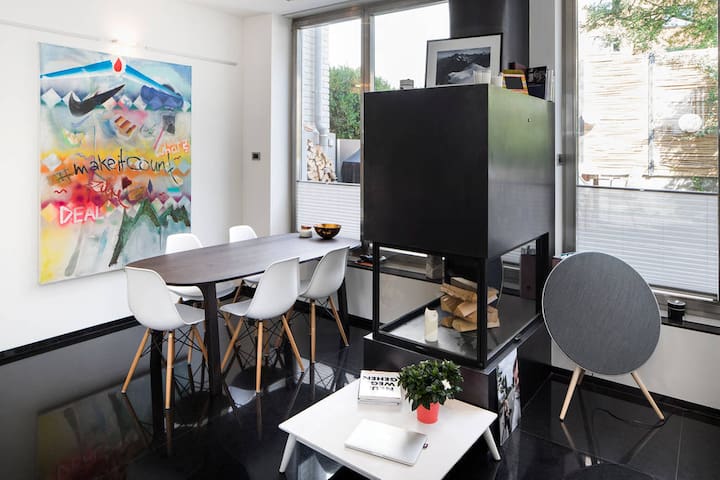 Comfortable bed in a nice cozy room for easy goin' folks. Close to airport, ideal for overnight stay, citytrip or even business affaires. Close to city centre and good organised public transportation.
central living in an urban spot just • 15 min. to Airport • 15 min. to lake Zürich • 9 min. to Hauptbahnhof
Urban living space called Wipkingen with an international vibe; • Lake Zürich also reachable by a nice walk. • Bathing area called Oberer and Unterer Letten • The Viadukt next to Josefwiese. • Frau Gerolds Garten for a beer and a nice chat. • Rote Fabrik for culture and music
Markus and Suzanne are both lovely and fun people. They accommodated us with our early arrival as well as stored our luggage for our late departure. Everything was very clean quite comfoetable. Although we had a short stay the time we encountered with them we realized that they are genuine people and that we actually have a few people and places in common:) we highly recommend these kind hearted people and you will not make a mistake staying with them.wwll definitely stay with them again should our future endeavours allow us to do so
Milrie
2016-09-22T00:00:00Z
Markus was a great host. Super friendly flexible and kind ;-)
Christoph
2016-08-01T00:00:00Z
Markus and Susanne were a really lovely and helpful couple! They were super friendly the few times we met them but gave us all the privacy we needed. They provided us with plenty of information with things to see and do in Zurich as well. The apartment was really close to public transport which made it easy to get around and the room was cosy for our base in Zurich, with a really great heater! Would recommend.
Siobhan
2017-01-29T00:00:00Z
Simple stop over, all good
Ben
2016-10-20T00:00:00Z
Nette Hosts und schönes Zimmer
Thomas
2017-01-23T00:00:00Z
Very nice place in Zurich! Close to train station and tram station, easy to get there. Susanne and her boyfriend are very helpful, I highly recommend to you.
Mini
2017-02-20T00:00:00Z
Hatten ein super wochenende in zürich! Die unterkunft ist super gelegen in einem schönen altbauhaus. Das zimmer ist sauber und liebevoll eingerichtet. Markus & susanne sind sehr sympathisch und ausgesprochen hilfsbereit. Wir kommen gerne wieder!
Lukas
2016-12-05T00:00:00Z
Reibungslose Kommunikation. Nette Zeitgenossen.
Massimiliano
2016-12-09T00:00:00Z
Kamertype
Privé Kamer
---
Type woning
Appartement
---
Geschikt voor
2
---
Slaapkamers
Zürich, ZH, Zwitserland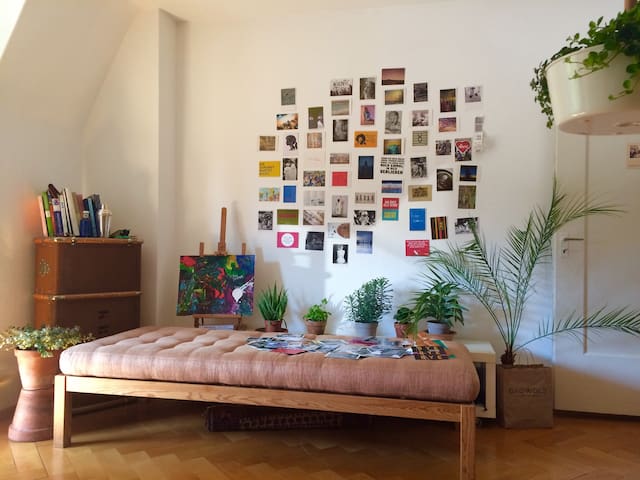 Mein Zimmer ist hell, warm und sehr gemütlich. Die Wohnung ist ideal gelegen, mit den öffentlichen Verkehrsmitteln kommt man überall schnell hin. Supermarkt, Bäcker und Imbiss sind zudem gleich um die Ecke.
Die Lage und Mobilität in Zusammenhang mit den freundlichen und geselligen Mitbewohnern macht meine Wohnung für mich zu meiner Heimat.
Wenige Meter vor der Haustür ist der Irchelpark gelegen. Ein wunderschönes Wreal mit See in dem man auch im Winter die Sonne genießen kann.
The host canceled this reservation the day before arrival. This is an automated posting.
Marthe
2017-01-01T00:00:00Z
It was nice place really!! Bed was very comfortable, so I slept like a baby last night hahah. And also room was very warm, good location. :)
민정
2016-12-27T00:00:00Z
Its a great place to stay in if you're looking for a reasonably located place in zurich as it is not far from the city centre. The tram stop is just outside and it really helps in navigating. I'd definitely come back here
Karan
2016-12-29T00:00:00Z
Kamertype
Privé Kamer
---
Type woning
Appartement
---
Geschikt voor
2
---
Slaapkamers
Zürich, Zürich, Zwitserland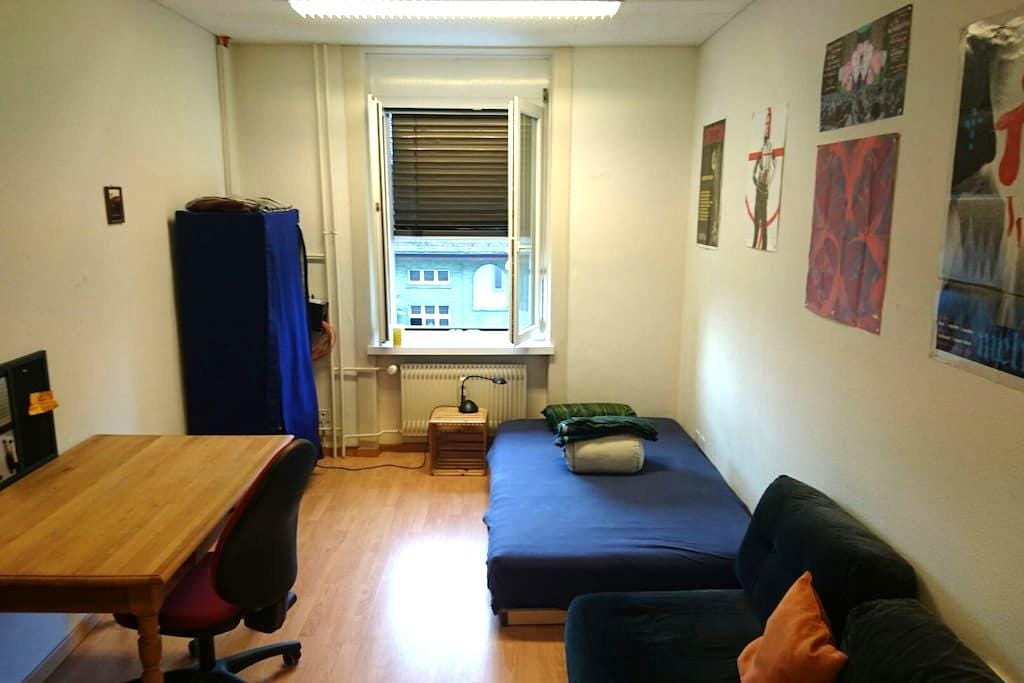 Grosszügiges, lichtes Studio, moderner Kücheneinbau, Dusche und WC getrennt, separater Wohnungseingang. Objekt liegt an ruhiger Lage im Anbau (1990) an altem Jugendstilhaus, eingebettet in verwunschenem Garten mit 120- jähriger Blutbuche.
Im Kühlschrank finden sich Willkommensgetränke, die Küche ist mit allem Nötigen ausgerüstet: Kaffeemaschine+Kaffee, diverse Tees, Salz, Pfeffer, Zucker, Gewürze, Essig und Olivenöl. Für Gäste mit einem Kleinkind steht 1 Kindermatratze (120x70) und ein Hochstuhl zur Verfügung.
Wohnung ist umgeben von EFH mit Gärten. Gastgeber pflegen freundlichen Kontakt zu allen Nachbarn.
Zunächst wurde ich herzlich von Isabella's Mann Thomas empfangen. Die Wohnung entspricht den dargestellten Bildern ist sauber und ca. 5min. von der Tram Haltestelle Berninaplatz entfernt. Es ist schön ruhig gewesen und Kaffee gibt es frei Haus. Ich kann die Unterkunft in jedem Fall empfehlen.
Sarina
2016-06-13T00:00:00Z
the place was spacious & perfect everything was really welcoming and it was meticulously clean i hope to come back thanks
madeline
2015-09-12T00:00:00Z
Io e il mio ragazzo abbiamo passato 3 giorni meravigliosi nella casa di Isabella e Thomas. L'appartamento è perfetto per una coppia, non ci è mancato nulla! Isabella è stata molto disponibile nel fornirci informazioni sulla città, i trasporti e gli eventi per il Capodanno e anche Thomas è stato molto gentile nell'accoglierci :) la casa dista solo 5 minuti a piedi dalla fermata del tram che porta direttamente in centro! Lo consigliamo assolutamente!
Giulia
2016-01-01T00:00:00Z
Nice
Peter
2017-01-22T00:00:00Z
We are very happy that we could stay in the studio of Isabella. We appreciated the sunny and comfortable studio - in especially because of the magic garden and the quiet neighborhood. Unfortunately we haven't met Isabella in person, but the arrival at her studio was perfectly organized and she was very flexible concerning the arrival time. Communication was perfect from the first contact. We highly recommend to stay at Isabellas studio for a relaxing stay in Zurich.
Nicole
2016-12-29T00:00:00Z
Isabella is a gracious, very welcoming, kind host. She always replied extremely promptly. We would highly recommend a stay at her apartment.
Clare
2016-01-24T00:00:00Z
We were warmly welcomed upon our arrival and provided with all the information we needed for our stay. The apartment is well set up and comfortable. It is in a quiet suburb close to the city and to the tram network. A good supermarket is a short walk away. We joyed our stay very much.en
Julia
2016-06-06T00:00:00Z
We chose this flat for our parents to stay in during our wedding, not only was the location great, but Thomas was able to chat away in French with them in the build up to the big day! Beautiful sculptures in the garden made by Isabella's mother, a prominent Zurich artist.
Alice
2016-08-24T00:00:00Z
Kamertype
Gehele woning/appartement
---
Type woning
Schoonfamilie
---
Geschikt voor
2
---
Slaapkamers
Zürich, Zürich, Zwitserland
The beautiful flat is well located (6min by tram to central station) and walking distance to Zurichberg, grocery shops and restaurants. Is in good quite neighbourhood, specious, has fully equiped kitchen and big sunny balkony for breakfast or dinner. I am renting my place only when I am travelling, lucky me, its quite often the case :). Please take note before booking, that I AM NOT HAVING A TV at the moment !
all in one you will have access to ca.80qm
it is a very good, sunny, central area, perfectly reachable from the airport, central station or inner city. In the summer time the river is just 5-10 min walk and Zurichberg with its views to the City or the Lake aroun 10min walk up the hill. With multiple good restaurants in the next neighbourhood and walk or 10min taxi to every Zurich direction, the area provides great quality of live in every season of the year.
Olga is a very friendly host and expert, when it comes to giving advice, what to visit in Zurich. We loved our stay, thank you, Olga!
Hakim
2016-11-01T00:00:00Z
Everything was perfect at Olga's place. The location is good: 20 min by feet from the city center, close from shops, quiet area. The flat was perfectly clean. Olga even offered me a bottle of Proseco. Highly recommended!
Nicolas
2016-04-02T00:00:00Z
Olga était une hôte accueillante des nos premiers échanges par message. L'appartement est comme les photos le suggèrent. C'est spacieux, très bien localisé et on s'est senti chez nous. Olga nous avait réservé une petite surprise dans le frigo, une honte parfaite jusqu'aux derniers détails. Pour ceux qui ne connaissent pas Zurich elle a laissé un guide personnalisé des endroits à visiter et de quelques ballades. Flexibilité des heures de check-in et out, un vrai avantage! Merci Olga :)
Marine
2016-11-22T00:00:00Z
The apartment was great. Olga was very prompt in responding and provided alot of information on Zurich. We would definitely recommend her apartment to everybody.
Yew Chung
2016-04-06T00:00:00Z
We had a great stay at Olga's flat! The place is large and comfortable, with all the amenities we could have asked for during our stay. We loved her tour suggestions, and used several of them throughout our visit. She checked in several times to make sure things were going okay, and made check-in and check-out a breeze.
Carrie
2016-08-01T00:00:00Z
Staying at Olgas place was better than expected, she left us very useful information for our stay, thanks!
Julio
2016-09-18T00:00:00Z
Olga's place is really nice and cozy. well equipped and located. I never met Olga, but we had a great communication. She is very considering and sweet, prepared everything for us. I and my boyfriend had a really great time there! I strongly recommend this place to everyone who is coming to Zurich
SHUAI
2016-04-26T00:00:00Z
Wir haben uns in Olgas Wohnung sehr wohl gefühlt. Geschmackvoll eingerichtet, gemütlich und super sauber. Der Weihnachtsbaum war auch richtig schön! Danke für die fantastische Vorbereitung. Den tollen Empfang und die super Infos über Zürich! Jederzeit wieder gern!
Diana
2016-12-27T00:00:00Z
Kamertype
Gehele woning/appartement
---
Type woning
Appartement
---
Geschikt voor
2
---
Slaapkamers
Zürich, Zürich, Zwitserland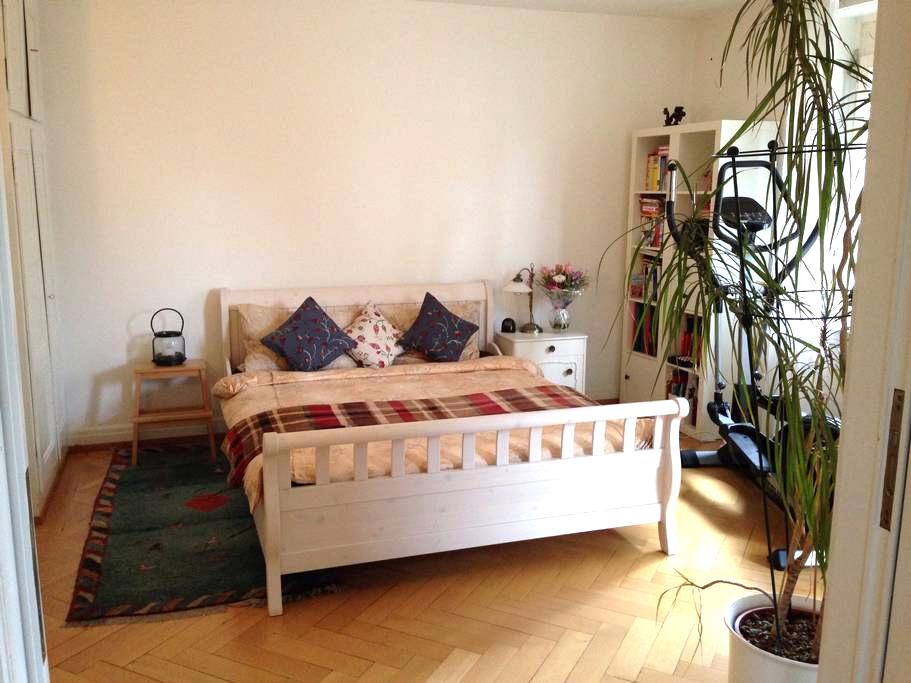 Das Hotel Astor ist zentral gelegen in fußläufiger Erreichbarkeit des Bahnhofs (5 min.). Darüber hinaus befinden sich der Zürcher Hauptbahnhof, die Altstadt, verschiedene Geschäfte, Banken und die Universität ETH in der Nähe des Hotels.
Bahnhofstrasse, Universität und Kunsthaus Zurich können innerhalb von 10 Gehminuten erreicht werden. Das Stadtzentrum liegt nur in wenigen Gehminuten entfernt. Eine grosse Terrasse steht allen Gästen zur Verfügung sowie 3 Laundry Rooms mit Waschmaschine & Tumbler zur kostenlosen Verfügung.
Kamertype
Privé Kamer
---
Type woning
Service appartement
---
Geschikt voor
2
---
Slaapkamers
Zürich, Zürich, Zwitserland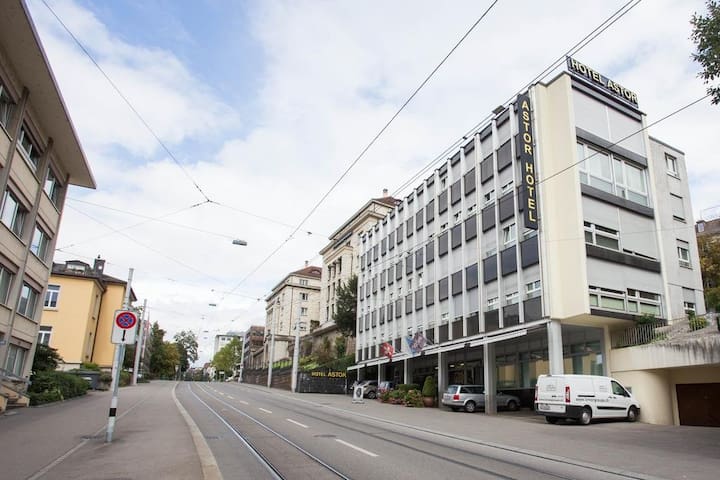 This airy room (20 sq.m.) is in our 1st-floor flat in a century-old character building. Our home is in a quiet area and just a 10-minute walk from downtown. Excellent links to the bus and tram system, with direct lines to main train station and airport.
Non-smoking apartment. Spacious room, convenient location, pleasant neighbourhood. Room offers double bed (180 x 200 cm / 6 ft. wide x 6' 6" long), towels, desk, clothing rack, street view.
Yvonne and Allan were absolutely lovely hosts! They were sweet and easy to talk to, and my biggest regret is that I didn't talk to them more! Great array for breakfast too. Staying with them was my first Airbnb experience and I would definitely do it again. The room was simple and clean, and comes with everything you'd need for a short stay. The neighborhood is quiet and a nice, brisk walk to the central area of town (I walked down but always trammed up lol). Very safe, even for a lone woman traveling. Highly recommended!
Melissa
2016-02-22T00:00:00Z
It was great staying here. Location is quick tram ride away. She made recommendations about local restaurants and places to check out. Room: huge with great wifi connection HOST: lovely and helpful bonus: Great Breakfast in this expensive city. She even woke up early to get us breakfast at 6am last day when we had to leave to catch train early morning. I would stay here again if I am back in Zurich.
Ami
2015-10-21T00:00:00Z
Freundlicher Kontakt - Hilfestellung beim WLAN - Infos zu Land und Leuten - Nette Gespräche - Ruhige sehr gepflegte Umgebung wie beschrieben, trotzdem verkehrsgünstig
Joachim
2016-10-24T00:00:00Z
Yvonne and Allen were amazing. They could not have been nicer. Their home was conveniently located by a tram stop at the mid point between the airport and the city center. They provided a wonderful breakfast each morning and helped us make plans for the day with directions and suggestions. Bottom line; they were amazing!!!
Donna
2015-12-18T00:00:00Z
Excellent welcome- very helpful, gracious and easy to relate to. The neighborhood is friendly, close to the university and easily accessible by public transport. A really great place!
Martin
2015-06-03T00:00:00Z
Ich war bereits zum 2. Mal bei Yvonne, da ich ja bereits ihre Gastfreundschaft und das nette Zimmer sehr zu schätzen gelernt habe. Eine sehr schöne Kombination von ruhiger Lage in einem schönen Viertel und sehr guter Anbindung an das öffentliche Nahverkehrsnetz in Zürich. Ich freue mich schon auf den nächsten Aufenthalt.
friedrich
2014-03-17T00:00:00Z
Yvonne is a very nice host. We arrived Zurich early in the morning and she allowed us to put our luggage in the room first. She provided us a big and clean bedroom and lovely breadfast. I will stay in Yvonne's home if I visit Zurich again.
Ellie
2015-06-18T00:00:00Z
Visiting at Alan and Yvonne's home in Zurich was everything we had hoped for (and more!). We were unfortunately never able to meet Yvonne, who was out of the country, but Alan made up for her absence by being a very warm, extremely helpful, and very entertaining host. As an example of his helpfulness, I needed to locate and purchase some rather specialized electronic supplies (on a Saturday, no less) to facilitate a small repair of an instrument which I was going to demonstrate in a workshop early the following week. Alan not only stayed up late Friday evening trying to understand exactly what the parts were so that he could determine the appropriate store, but then insisted on going to that store himself on Saturday to make the purchase, so that me and my wife would have the entire day free for sightseeing in Zurich. Their home was really lovely, the breakfast he provided was really great (including the conversation about a whole host of topics!) and the walk to the historic center of Zurich was very easy. Together with the recommendations for what to see, where to eat, and discussions about what it is like to live and work in Zurich, we cannot recommend Alan and Yvonne's home too highly as a place to stay when visiting Zurich.
Terry
2015-09-14T00:00:00Z
Kamertype
Privé Kamer
---
Type woning
Appartement
---
Geschikt voor
2
---
Slaapkamers
Zürich, Kanton Zürich, Zwitserland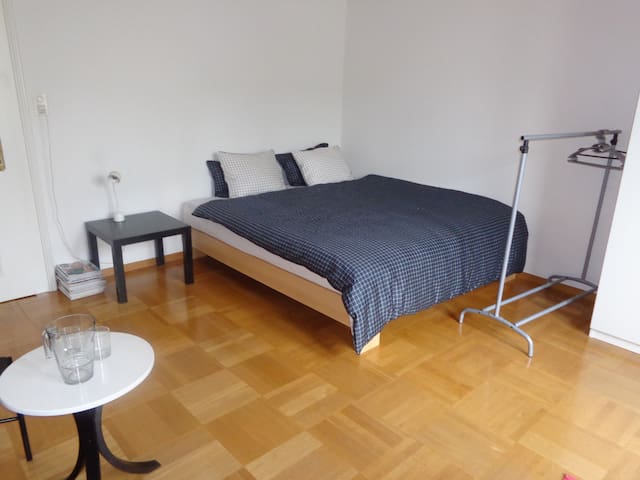 Sofa bed in lovely 2 rooms flat with balcony in the center of Zurich. Sofa bed is in living room. 10 mn walk from Zurich's main train station and Niederdorf (lively quarter with plenty of restaurants, bars, shops, etc). Excellent connection to public transports.Wifi.
Furnished apartment and free wifi You will rent the sofa bed in the living room. I will be in the apartment. We are fluent in French, Spanish, Italian, English and German. 2 mn walk from tram stop line 7 and 15. 5 mn walk from Central/Niederdorf 10 mn walk from Zurich main train station (Zurich HB) On week days check in from 19h (exact time for check in/out to be agreed). We provide bed sheets and towels
Super accueil chez Olga!! Appart au top et très grande flexibilité de l'hôte.
Ghislain
2016-02-27T00:00:00Z
Great stay in a very clean and pretty apartment. The sofa bed is super comfy (better than some beds!!!), Olga and Dario were lovely. Thanks!
Karen
2015-05-02T00:00:00Z
The flat locates in the quiet resident area and is really cozy. It's in walking distance from the train station and also easily reached by tram. Olga and her BF were nice and quiet people. I had good sleep on the sofa bed. BTW, it's relatively quite cheap considering other bnbs in Zurich.
Fay
2015-11-30T00:00:00Z
Although we were not able to meet Olga, her boyfriend was there at our arrival and we enjoyed our time of conversation with him. The bed is in the common space of the apartment, and the bathroom shared, so we appreciated how much our host gave us privacy. Guests who are less used to street noise may wish to have ear plugs, but the location is perfect for exploring Zurich and getting to the train station. Very affordable.
Adam
2016-06-02T00:00:00Z
Great sofá bed. We slept great. Nice location near the train station. Clean and Cozy
marcela
2016-05-21T00:00:00Z
Olga was really nice and welcoming! She waited for us despite our late check in hour. The couch was really nice and comfortable. I will recommend..:)
Lorenzo
2015-11-27T00:00:00Z
A very tidy flat and impressive for the decorations collected from all over the world. Thanks for Olga arrangements even though for our late arrival nearly mid night. Recommended to take tram to there (very convenient) as the road is a little bit steep, not easy to carry luggage on walk
Jansen
2015-06-10T00:00:00Z
Everything went smooth, Olga and her boyfriend welcomed us warmly and the late check In wasn't a problem! Very recommend !
Lorenzo
2016-06-04T00:00:00Z
Kamertype
Gedeelde Kamer
---
Type woning
Appartement
---
Geschikt voor
2
---
Slaapkamers
Zürich, Zürich, Zwitserland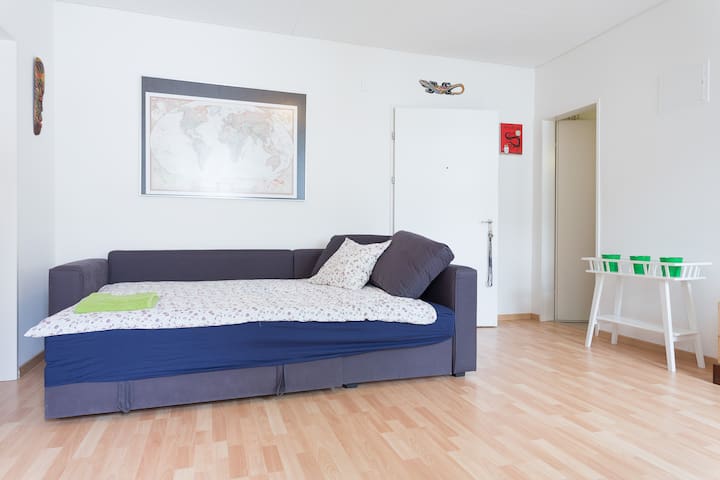 My home is right in the city center, parks, art and culture, great views, restaurants and dining.5mins from Zurich Mainstation,10mins from Zurich Airport, perfect connections with Public Transport to the city centre,Hallenstadion,Letzigrund Stadium, the Zoo etc.. You will love my place because it is CLEAN, relaxed and has a Comfortable Bed. My place is good for couples, solo adventurers, and business travelers.
Good clean room, owner was so nice she even prepared breakfast no matter I was dispatching quite early. I'd suggest to add convenience and storage features to the room though, right now it's only bed and one small table there. I'd like to see table near to outlet to be able to charge devices. To be honest even here perhaps owner would be able to help me I just didn't bother to ask.
Alexey
2016-08-29T00:00:00Z
My host Ade was friendly and she has a clean secure apartment. It is easy to find from the railway station via a picturesque walk along the river. The room is nice with a very comfortable bed. A good breakfast provided so all in all a very enjoyable stay.
Michael
2017-02-16T00:00:00Z
Ade's place was again perfect! Not only the bed, but also the sofa is super comfy, which makes it a unique place for groups of friends as well.
Javier
2016-12-07T00:00:00Z
Ade is a perfect host. She is easy going and very helpful. The flat is clean and quite. The bed is very comfortable. My recommendation.
Marc
2017-03-14T00:00:00Z
der aufenthalt war völlig problemlos und Ade ist sehr unkompliziert im ungang (schlüssel-übergabe, etc.) - meine uneingeschränkte empfehlung :-)
Urs
2017-02-01T00:00:00Z
Ade is special host, her communication it's beyond great, very friendly and very nice, she made sure we got to her place without getting lost on every step of the way, her place it's outstanding and extremely clean, she cook dinner for my cousin as she arrived to her apartment which no one now a days does and she cook breakfast for us gave us hot tea and and freshly squeezed orange juice, she's a top super host, I promise her I was gonna come back to Zurich and stay at her place
Victor
2017-03-25T00:00:00Z
Best Airbnb experience ever. Cozy place, super clean apartment, delicious breakfast!! Ade is a great host and a super interesting person to talk with. Great experience.
Javier
2016-11-30T00:00:00Z
My pretty spontaneous stay at Ades place was unexpectedly wonderful. Not only does she live in in a beautiful flat in a quiet street between the main station and the hotspot around Hardbrücke, but she also took care to make me feel really welcome. Ade, thank you very much for your hospitality! If I come back to Zürich I will definitely look for staying at your place again.
Eduardo
2016-09-08T00:00:00Z
Kamertype
Privé Kamer
---
Type woning
Appartement
---
Geschikt voor
2
---
Slaapkamers
Zürich, Zürich, Zwitserland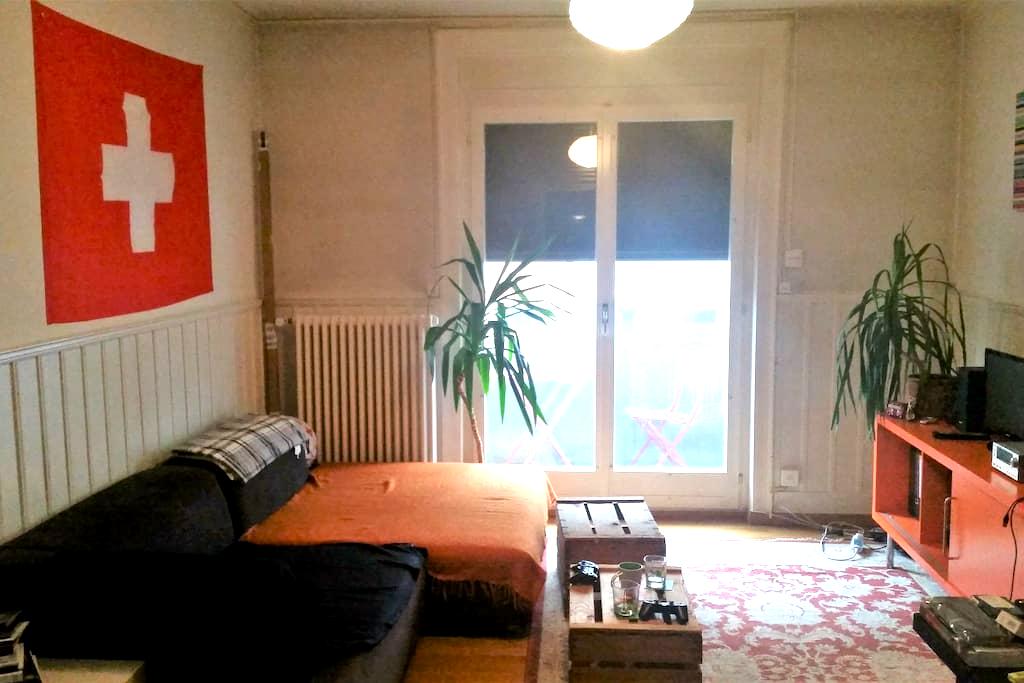 | the 4S stands for | | a Small room | | for a Small prices | | for easy-going people with only Small/no luggage | | and that a Small breakfast is included |
Welcome! I rent a cozy bed in my working zone .. my working zone has a cozy bed, a big table, and a nice window but not much more, it's really only some square meters! AND it has only a curtain, no door (but it's more at a corner and not in the middle of the flat, so that you have some privacy). For a second person I could offer a mattress on a Japanese Tatami in my living room and for the third and forth people good mattresses on the floor in the living room. Please note, the living room is shared and often used from 11am till 9pm, but its not an 'open living room', its like a normal room/bedroom (with a door for the night). A small breakfast (toast, cereals, saisonal fruits etc.) is included as well as tea/coffee the whole day. Public transport is around 50 meters away with direct connections to airport (25 min), main station (10 min, 1'600 meters), old town (10 min, 1'500 meters), the lake (10 min, 2'500 meters), the river (great for swimming, 14 min (one change), 1'300 meters). I provide you with fresh linen and towels, shower stuff and shampoo, even a new toothbrush if needed, that you could really travel with small/no baggage. Further you get information about Zurich and Switzerland and of course free WIFI.
The house is located in a safe residential neighborhood, public transport and grocery stores as well as some restaurants/take aways within short walking distance. Further close to Post office and Pharmacy. Only 10 minutes from the famous Bahnhofstrasse, the Mainstation and the Lake.
It's such a pleasure to stay at Mika's and even though it's a small space quite cozy and she has everything home as well! it's very easy to get there by a tram from the hbf and very quiet to relax as well. Definitely would like to visit again! :) 很好的入住体验,不大的空间但是非常舒适!生活用品也一应俱全,真的是很方便,从中心车站到住处也很方便做一个公交车直达。也很安静安全的环境!如果一个人是很少行李的旅行会很适合呢
Xiaoxiao
2016-11-10T00:00:00Z
Mirka ist sehr freundlich und präzis.
Christian
2016-11-16T00:00:00Z
Great day spent in her place! Mika is so nice! Hope to come back!
Roberto
2016-11-22T00:00:00Z
Excellent host, room was as described, would happily recommend to anybody looking to stay in Zurich!
Daniel
2017-03-30T00:00:00Z
It's a lovely room which is suitable for a single person. Mika is warmhearted and will give you many details about your trip. By the way, Mika's black berry tea is very good :-)
Site
2017-04-09T00:00:00Z
Very nice hostress, not only she offers us a quiet, clean, comfortable rooms, but also gives us many informations about the transports, interesting places to visit, and local cultures. I had a enriching conversation. Even Mika also prepared a breakfast. Strongly recommend.
Hao
2017-01-18T00:00:00Z
Dobře
Ivana
2016-10-21T00:00:00Z
This room is located right next to the "Kinkelstrasse" tram station, from where you can reach the central train station within 10 minutes. ETH is also just a short distance away. The room is small but cosy, fully equipped with basically everything that a solo traveler needs. Mika is very nice to talk, and this has made communication extremely easy with her. Highly recommended for solo travelers tight on budget but still looking for quality in a private flat.
Honglun
2016-12-12T00:00:00Z
Kamertype
Privé Kamer
---
Type woning
Appartement
---
Geschikt voor
4
---
Slaapkamers
Zürich, Zürich, Zwitserland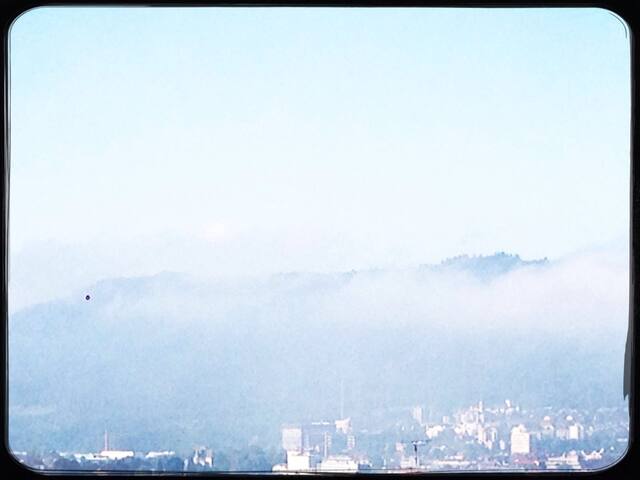 A nice simple and comfortable room across main rail station of Zurich HB, can accommodate 2 guests. WLAN, TV, Bathroom, Balcony and a Small kitchen for light cooking are there. Weekday Check-in is from 19:00pm. Everything is within minutes of walk.
The nice room which is on 2nd floor overlooking Zurich HB main station accros has own bathroom, toilet, small kitchen for light cooking and balcony from where you can watch trains roll in and out of the station. WLAN and flat screen TV is available for the guest. Towels and shower gel are available. The Swiss national museum, restaurants, clubs, discos, the trendy langstrasse etc are all just a short walk away. The beautiful lake Zurich is only some few minutes walk away.
The largest rail station in Switzerland is accross the road, the Swiss national museum is nearby, restaurants, clubs, discos, the trendy langstrasse or even Bahnhofstrasse etc are just a short walk away. Starbucks is behind the house while Burgerking is underground of the house at the station. The beautiful lake Zurich is only some few minutes walk away. It can be alittle noisy especially over the weekends because of revealers, closing the window and balcony door reduces the noise.
Great stay next to the train station. Friendly host.
Jordan
2015-04-20T00:00:00Z
The apartment is well located near the Zurich Main station. We had no trouble getting anywhere in Zurich. Erik picked us up at the meeting point and immediately made us feel very comfortable with good conversation and a friendly smile. The apartment was perfectly clean and we even found chocolates on our beds. We had a great time staying there. The only small issue for us was the noise from the station, but this didn't hinder our experience of Zurich at all. Thanks Erik for everything. We had a great time.
Brandon
2015-06-06T00:00:00Z
erik's place is well-located - just across the zurich HB and two small streets from the bus terminal. it was perfect for my friend and i who were in zurich for just one night and having an early morning bus to catch.
Esther
2017-01-21T00:00:00Z
This is the perfect place for a solo traveller, or possibly a couple, that is just looking for a simple, very clean, relatively affordable place to stay for a few nights, in an expensive city. The location is fantastic, as it is literally across the street from the train station (fantastic assuming you have travelled to Zürich by train). The Bahnhofstrasse is just on the other side of the train station, which leads down to Lake Zürich, where you will find an amazing view of the Alps. The Old Town is no more than a 10-15 minute walk. Erik was a great host. His communication was quick and efficient. He met me at the apartment, gave me a thorough overview of everything, then left me to my privacy. Couldn't have asked for anything more.
Scott
2016-04-02T00:00:00Z
Nice apartment, everything as on the pictures, good location. Very convenient to/from airport or trains.
Csilla
2014-05-04T00:00:00Z
Super central and a friendly host.
Charles
2016-11-22T00:00:00Z
The apartment was very clean and Erik was a friendly and responsive host. The location was Safe and Walking Distance to the Best Of Zurich.
William
2014-08-16T00:00:00Z
Great place right next to Zurich HB. Was perfect for my needs. I would certainly stay here again!
Tyler
2015-09-08T00:00:00Z
Kamertype
Privé Kamer
---
Type woning
Appartement
---
Geschikt voor
2
---
Slaapkamers
Zürich, Kanton Zürich, Zwitserland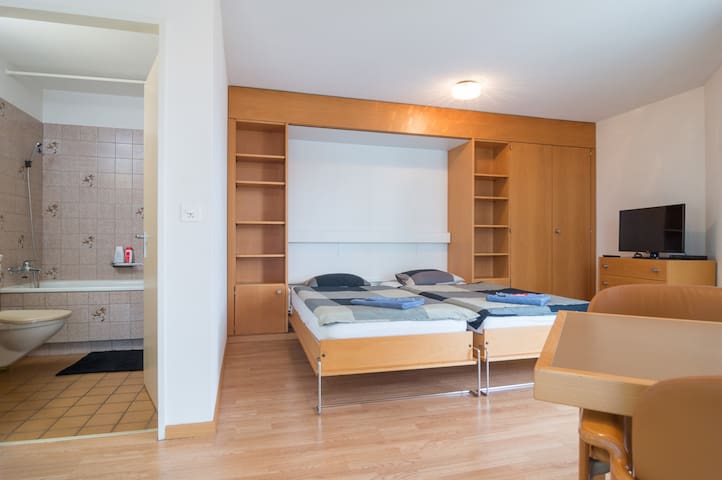 The apartment is situated 5 minutes walk from Zurich Main Station. Once here one will find oneself surrounded of restaurants (Indian, Greek, Italian). Although the apartment is rather central at night is quiet and assures a good nights sleep.
Very welcoming accomodating and gave me helpful tips for the city and locality. He is very generous
Barbara
2016-07-02T00:00:00Z
Ich fühlte mich vom ersten Moment an sehr willkommen. Adrian ist sehr unkompliziert und freundlich. Ich hatte einen sehr guten Aufenthalt.
Peter
2015-09-04T00:00:00Z
Perfekt gelegene Wohnung nur 5 Min vom HB Zürich entfernt. Relativ grosszügiges Zimmer;trotz Langstrassenquartier sehr ruhig in der Nacht. Freundlicher und gilfsbereiter Gastgeber
Stefan
2016-01-18T00:00:00Z
Adrian's apartment is located in a very convenient location about 10 minutes on foot from Zurich HB train station. Every morning he prepared a lovely breakfast with good coffee. He is friendly and I felt at home at his place.
Albert
2017-03-31T00:00:00Z
Unglaublich gut gelegene Wohnung, zwei Minutenzu Fuss vom Limmatplatz, dann in 5 Minuten am HB Zurich mit vier verschiedene Trams. Trotzdem in der Nacht sehr ruhig. Schönes Zimmer mit grossem Bett. Küche zur Mitbenützung. Das Beste: Biervorrat im Kühlschrank für die Gäste offeriert von Adrian.
Stefan
2016-02-13T00:00:00Z
Adrian is a generous person. He was very willing to sit down with me and point out a few places of interest that I should visit during my stay. He also gave me a map and fixed me tea and a delicious breakfast. My bedroom was spacious and airy. Highly recommend!
Rebecca
2016-07-31T00:00:00Z
Adrian is a super cool host!!! He is really nice! He give us permission to use his kitchen and the room is comfort with a big bed. Everything is tidy and make you feel safe. The location is quite good, its just 5 minutes walk to Zurich HB train station.
Si
2016-09-19T00:00:00Z
Adrian is enthusiastic and hospitable. Listing pretty much as described, in low-key neighbourhood, close main train station.
Symeon
2015-10-21T00:00:00Z
Kamertype
Privé Kamer
---
Type woning
Appartement
---
Geschikt voor
1
---
Slaapkamers
Zürich, Zürich, Zwitserland
Stay in a beautiful room in our lovely 4-room apartment in a house with history, it is more than 100 years old and was one of the first in our neighborhood. The bathroom and kitchen are fully renovated and have everything you need. You can use the kitchen, the living room, our two balconies and of course lots of tips about our city! Stay in Zurich City just 10 minutes away from the main station by tram and 25 minutes from the airport, in a very green and quiet area. Enjoy Zurich's best side!
Spacious guest room with two big windows. There is a queen-size bed in the room with a very good mattress, a dresser, a bookshelf and a desk too. Fresh towels, a clean room and everything else will be ready when you arrive. We always try to welcome you with fresh flowers and a Swiss specialty to make you feel as welcome as possible. Enjoy old wooden floors, high ceilings and a carefully furnished apartment!
It's very very safe, you can also walk around alone during the night. The street and the garden is very green and there is a big park area 5 minutes away from the apartment. There is also a forest 5 minutes away. In the area there are lots of good restaurants, supermarkets, coffeeshops and everything else you need. Our favorite is the Pizzeria right next to the tram station. The closest supermarket is just a 5 minutes walk away.
Both Nora and Michel were lovely, they both made me feel very welcome and comfortable. The apartment is well located to public transport and Zurich. The room nice and spacious with a lovely view of the street. Thank yiu for having me
Tanja
2016-12-23T00:00:00Z
Very nice host and place looks like described on the listing
Fanny
2017-03-28T00:00:00Z
Die Wohnung liegt in einem sehr schönen Viertel, in dem viele Familien unterwegs sind. Mit der Straßenbahn kommt man ganz einfach in die Innenstadt oder auch in Richtung Oerlikon. Für mich hat alles super gepasst. Tolle Unterkunft in Zürich!
Claudia
2016-11-21T00:00:00Z
Die Wohnung ist super schön, man fühlt sich wohl, alles ist sehr geschmackvoll eingerichtet. :-) Auch die Umgebung ist super, Öffentlicher Verkehr und Supermarkt in wenigen Gehminuten erreichbar, sehr ruhige Nachbarschaft. sehr sehr empfehlenswert.
Anne-Sophie
2017-03-12T00:00:00Z
Tolle Unterkunft, supersüsse verschmuste Katze, sauber und Preis-Leistung passt!
Céline
2017-03-17T00:00:00Z
Nora and Michel are nice hosts! I felt good about staying with them.
Marko
2015-11-21T00:00:00Z
The Room was very nice. Kitchen well equipped. the neighbourhoud very cosy, with children playing and birds singing. we liked it !
Thibault
2016-04-07T00:00:00Z
Nora et son compagnon nous mettent immédiatement à l'aise. On se sent comme à la maison. Ils ont accepté mon fils qui a adoré son séjour ici. Chacun vit indépendamment dans une ambiance cool et en cas de besoin nous avons eu toute l'aide souhaitée.
Nicola
2016-07-10T00:00:00Z
Kamertype
Privé Kamer
---
Type woning
Appartement
---
Geschikt voor
1
---
Slaapkamers
Zürich, Zürich, Zwitserland
Entire apartment, cozy, clean and super close to transportation! Right in between airport and city center which you can reach in less than 10 minutes with public transport! It has fast wifi, one sleeping/living room with a single bed and a high quality swiss couch-bed, a closable kitchen, complete with everything to cook, a balcony and a bathtube in a newly renovated bathroom, as well as access to wash machine and dryer!
Great value for money. Pegah accommodated us for a 1 night stay with only 20 hours notice. Great communication and overall good experience. Would highly recommend :)
Jacob
2017-02-27T00:00:00Z
Great apartment in a nice neighborhood. Would recommend this for guests of all ages
Shari
2017-02-20T00:00:00Z
The apartment was impeccably clean, and with plenty of room for a quiet and peaceful stay.
Juan
2017-02-19T00:00:00Z
Another great stay in Pegah's place. Everything was as described. Clean, confortable and well equiped apartment. Looking forward to my next stay at Pegah's place. Thank you.
Tiago
2017-03-30T00:00:00Z
Good apartment. It was clean and well equipped . Close to public transports and takes 10 mints to the main station. I highly recommend Pegah's place.
Tiago
2017-03-16T00:00:00Z
Pegah's place is really just wonderful. Well-kept, well-organized, well-decorated, well-supplied, well-located... what a swell place to stay at and kind, thorough, responsive host!
Jessica
2016-12-26T00:00:00Z
Nice place!Pegah is very helpful and responsive. Recommended!
Linda
2016-12-08T00:00:00Z
Pegah is helpful at all time during my trip in Zurich. Will definitely stay in the apartment again if come to Zurich next time.
Kin Chung
2016-12-23T00:00:00Z
Kamertype
Gehele woning/appartement
---
Type woning
Appartement
---
Geschikt voor
3
---
Slaapkamers
Zürich, Zürich, Zwitserland
Located in the safe & quiet - yet central - lower part of Zurichberg, the flat is approximately 15min away from the mainstation (tram / on foot). The University / ETH are within walking distances (ca 10min) and the airport is 30min away by direct tram.
For one person only. 120cm bed + work area with light and speakers. Shared bath room and WC. Uptown Zurich in the residential area of Zurichberg. Less than 10min walk from ETH / University of Zurich (15min to the Irchel campus). 15min walk to Zurich HB / Mainstation. 30min direct tram ride to the airport. Excellent direct connections to the nexuses HB / Central / Bellevue / Sihlquai from where you have connections to all other train / tram / bus lines.
Quiet residential, yet central
Paul is a great host. He ensured that I had a smooth arrival to his place by providing a very detailed description. Beyond this, he was also super helpful with any questions I had about moving around the city, etc. His place was very clean and comfortable and I would definitely stay there again. Also, it is a nice neighbourhood and an ideal location for anyone visiting UZH or ETH.
Clara
2016-05-20T00:00:00Z
It was a pleasure to stay at Paul's place. The flat was excellent and the hosting was great.
Stefan
2015-12-22T00:00:00Z
It was a very pleasant stay at Paul's. The room is nice with a few great details (like speakers for your laptop) and Paul is a very friendly host.
Elisabeth
2015-06-04T00:00:00Z
I can absolutely recommend this great apartment in one of the loveliest parts of Zurigo! A very nice and clean flat with an awsome view to the city:) I really enjoyed my time and want to thank that great host called Paul for making this weekend so special! Would like to come back for longer in summer:)
August
2016-01-25T00:00:00Z
We never met in person because of conflicting schedules. In spite of this Paul was very proactive, clear in his communication and very responsive to mine. The room is perfectly organized in a quiet residential area near transportation and shops. Highest recommendation!
Daniele
2016-11-27T00:00:00Z
Es hat alles perfekt funktioniert. Die Beschreibung, wie man die Wohnung findet, war sehr hilfreich. Der Schlüssel Übergabe und die Absprechen war problemlos. Die Wohnung ist mit den Tram schnell erreichbar. Paul ist sehr nett, freundlich und rücksichtsvoll.
Herbert
2016-01-04T00:00:00Z
Paul is a friendly and kind host who answered all questions quickly and made suggestions beyond my expectations. The room is quiet and comfortable, exactly as advertised. I would definitely stay here again.
Warren
2016-07-07T00:00:00Z
Comfy bed, good neighborhood, everything as described. Paul gave great directions and was very responsive. Would definitely recommend.
Cory
2016-09-26T00:00:00Z
Kamertype
Privé Kamer
---
Type woning
Appartement
---
Geschikt voor
1
---
Slaapkamers
Zürich, Zürich, Zwitserland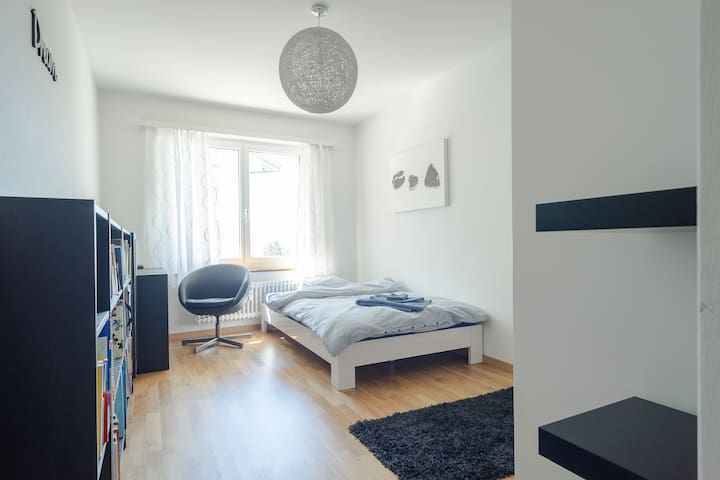 This is not your normal 2.5 european bedroom apartment. This is a LARGE 83m² apartment with high ceilings, large rooms and windows, and natural light. My favorite part though, is a wonderful TERRACE with furniture to lounge or to have a meal outside! We are also dog friendly (WOOF)! It's a beautiful retreat for your stay in Zurich, yet still very convenient. You'll have both easy access to the city and nature for day outings.
You'll love our place as it's convenient and very large. We have a beautiful terrace just for your personal use, and welcome dogs! You will be only 15 min to the Airport and 17 min to Zurich HB (city center). You will also be close to the center of Oerlikon. In walking distance, there are several "Top 10" restaurants on Trip Advisor. Also walkable to the Hallenstadium, Hallenbad Oerlikon, Freibad Allenmoos, Irchel Park, and Zurichberg. Other highlights: + a fully stocked kitchen with all the necessary tools (I like to cook and bake) + a well-equipped entertainment center and 55" LED TV (my husband likes to watch sports), + spacious shower and bedroom to make your stay extra comfortable + air conditioning and a fan + heaters + board games, and cable TV, Netflix, a TV HDMI connection for your use and entertainment We are new to hosting, but promise to make your stay as comfortable as possible. Just let us know if there is anything we can do to make your stay the best!
We are one stop from the Oerlikon main station where there are several large grocery stores and restaurants (Migros, Coop, Aldi, Alnatura, Lidl). Down the street there is a park with a playscape and several doggie pickup stations.
Estuvimos 4 días en este apartamento dos niños, mi mujer y yo. Lo encontramos muy limpio, todo muy nuevo, y con una amplitud sorprendente, excelente la terraza!!, todo mucho mejor que en las fotos. Marissa estuvo muy atenta en todo momento preguntándonos por las necesidades, recomendando visitas y facilitando la estancia, incluso con detalles de bienvenida. Excelente, superando las expectativas.
Nacho
2016-08-16T00:00:00Z
We had a great time in Zurich staying in Melissa's apartment! Convenient location near a tram stop, great accessibility to down town
John
2016-10-16T00:00:00Z
For us it was the second time we rent the apartment from Marissa because we liked it from the first time we went there. Marissa is a really nice and easy person, the apartment is really good with shop really closed. Also the air conditioning is something extra that we appreciate a lot. So we recommend this apartment for any trip you have to do in Zurich!!!
Didier
2016-08-29T00:00:00Z
Beautiful apartment that has easy access to Zurich city via tram. Due to my mistake, I arrived 1 day earlier but Marissa and the guests who were staying there were so kind and patient with us as we quickly tried to find alternative accomodation for that night. Hope we weren't too much trouble and so sorry for the mess up! Place was very clean, cosy and I love the deco style, plus a host who was very communicative and fast to respond. Overall 5 stars!! Thank you so much Marissa :) Ps: we stayed with a toddler and a cot was rented which helped us get a much needed decent night sleep.
Eva
2016-12-23T00:00:00Z
Marissa is the nicest host you can imagine. She is very caring, helpful and has a wonderful personality. The apartment is very spacious and bright with tasteful and modern furnishing. We just loved it. While the city center is not within walking distance, there is a tram station right across the street. We'd stay there again anytime.
Max
2017-01-01T00:00:00Z
This home is lovely! The tram station is right across the street and is extremely easy to use, especially with the thoughtful instructions and suggestions Marissa provides. In about a 12 min ride you are to the center able to explore that area too! I highly suggest this home as it is very clean, great amenities, the renters are fabulous, and it is in a great location with swift commute to center.
Bonnie
2017-02-19T00:00:00Z
Wow... beautiful house...Merissa was always reachable and helpful House was just amazing . Would surely stay if I come to swiss. Thanks a lot Merissa.
Aarna
2016-12-27T00:00:00Z
The appartment is really nice,with an interesting terrasse,well located for going to center or (URL HIDDEN) let s us good general infos on Zurich and appreciated welcome gifts.We had a perfect week end and if i would go back to Zurich i would try to go back in Marissas place.
Johan
2017-04-02T00:00:00Z
Kamertype
Gehele woning/appartement
---
Type woning
Appartement
---
Geschikt voor
4
---
Slaapkamers
Zürich, Zürich, Zwitserland

Private room in the middle of Zürich, near ETH and University. Perfect point to start exploring the city. Great for couples or business trips. You are renting a room in an four-rooms apartment. The room has a new, double bed (queen-size 195*210). Our house is old Villa, has a lot of charm and stands next to tram 10 directly to airport and 9 to the lake. The apartment is located in second row of the building, giving a quiet, cosy atmosphere.
All for your comfort in the apartment you can easy use: -living room -bathroom with bathtub or shower with all toiletries -kitchen with complete household appliances, also with italian coffee-machine (there is always coffee and tea, honey, jam..available) -iron with ironing board -washing machine and dryer -free WIFI
Nice and clean room,really enjoy it. Hosts are very friendly.!!!!
志强
2017-04-05T00:00:00Z
This is a great room and great area with easy access to the center of Zurich. I was only there a night but the hosts were extremely kind and gracious and accommodating. Tania made me breakfast and they both were as lovely as can be. Would definitely book again!
Kiki
2017-03-21T00:00:00Z
Tania and her husband are very friendly and approachable. The room is clean so as other amneties. They even provided a nice breakfast for us. Tania's place is situated near the university and the nearest tram station is within 3 minutes walking distance. The tram goes directly to the airport in 30 minutes which is convenient. Communication was great and I would definitely recommend this place to everyone.
Yew Choong
2017-04-01T00:00:00Z
The host canceled this reservation the day before arrival. This is an automated posting.
Erin
2017-03-02T00:00:00Z
You can't have a more central location then that, only a few stairs away from the very heart of the city, it's also very comfortable and welcoming. Tania and Roland are super nice and they were always available for our questions. I would recommend the place.
Jasmine
2017-03-26T00:00:00Z
There are absolutely no bad things to say about this Airbnb. Everything from the location, cleanliness and hospitality was absolutely incredible. Granted we got off at the wrong Tram stop, Tania came to greet us and we instantly felt at home. Her and her husband are so lovely and accommodated us so well throughout our stay. The highlight of our trip was spending the night talking to them about our hometown and Zurich. They told us where to explore and how to get there, but also let us have our own space if we wanted. Amazing people and amazing private room. Would definitely recommend this to anyone travelling to Zurich.
Christine
2017-03-19T00:00:00Z
Nice and cozy room with very friendly hosts!
Gleb
2017-03-31T00:00:00Z
This is, by far, the best airbnb I've ever got. I've been hosted in tenths of airbnbs before, but none of them provided me a better experience than time one. When I arrive, Tania, gave me all the instructions about the city. In the next day, she prepared an delicious dinner for me, when I had the opportunity of hearing about the day-to-day life in Zurich. Her husband, Roland, also gave me great advices about working in the city. With his friendly and welcoming way, I am sure that Tania is going to be one of the most popular hosts around the city. On my second day, she prepared me an amazing breakfast - with high quality Swiss cheese - can this get any better? Yes it can! The apartment itself is really tidy and clean. Really close to ETH - like 5 walking distance - and is really easy to get there from the Central Station or the airport. When I arrived everything was meticulously prepared. I couldn't have higher thoughts of this airbnb and right now I cannot foresee a way to make it better, it surely surpassed all my expectations. I would recommend this place to anyone.
Marco Aurelio
2017-03-14T00:00:00Z
Kamertype
Privé Kamer
---
Type woning
Appartement
---
Geschikt voor
2
---
Slaapkamers
Zürich, Zürich, Zwitserland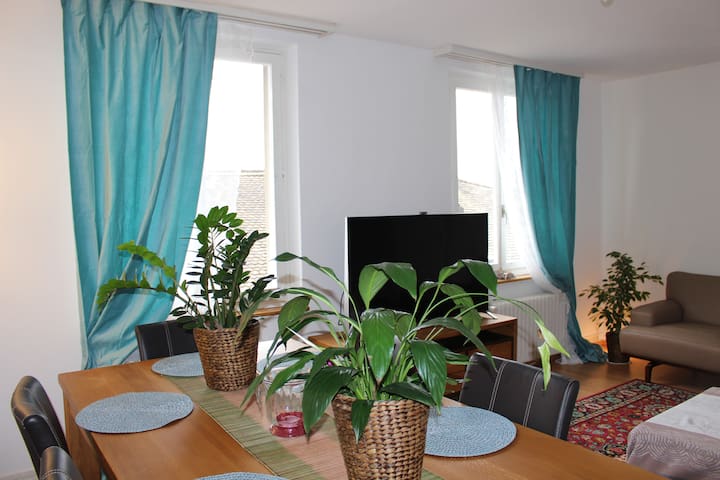 My place is close to restaurants and dining, family-friendly activities, and nightlife. My place is good for couples, solo adventurers, business travelers, and possible also for a small family with a baby.
Clean, very relaxed atmosphere, big windows and a perfect balcony.
The apartment was as advertised, with lots of windows and a corner balcony. It is located in a quiet neighborhood outside of the old town. It is a 15 minute walk to the main train station, but even quicker via the tram which stops down the block. The tram will take you directly to the old town. Communication and coordination with Lucia was easy.
Colin
2016-10-05T00:00:00Z
The place was close to the tram stop and very close to the place we were visiting so it was a perfect match for us. Very clean apartment and everything in place.
Jannis
2017-01-22T00:00:00Z
Lucia is lovely and very accommodating. The apartment is super clean, well located and everything was comfortable.
Adele
2017-01-01T00:00:00Z
Lucia made the check in very easy with her good communication. We only had one night in Zurich but had a great sleep on the comfy bed before flying back to Australia. Everything was really clean and the place was close to trams making getting to the city very easy.
cheryl
2016-12-02T00:00:00Z
.
Giovanni
2017-01-31T00:00:00Z
It was a great stay at the apartment! Lucia was very friendly, she responded well to all communication and was very flexible. Great host! The apartment is very central, so easy to get around Zürich by public transport. There is a tram, just a couple of minutes walk away that takes you directly to the center in less than ten minutes. There are also shops close by including a Starbucks. Lucia even provided us with a place to park! The apartment is exactly as it appears in the pictures. It is kept clean and is a reasonable space for a couple of people. Definitely great value!
Lara
2017-03-12T00:00:00Z
Kamertype
Gehele woning/appartement
---
Type woning
Appartement
---
Geschikt voor
2
---
Slaapkamers
Zürich, Zwitserland