las fotografías que ves son uso exclusivo para los huéspedes, la parte que corresponde a los huéspedes es la que comunica con el jardín delantero y la piscina, donde está la entrada principal. Julia, yo y una cariñosa perra vivimos en la parte baja de la casa que da a la parte trasera del jardin. Lugares de interés: 25 Km. de Barcelona y de la playa, Montaña de Montserrat 50 Km. Catas de vino y cava en Sant Sadurni de Noia, Aeropuerto 30 Km., actividades Senderismo, Golf, Padel, etc.
La casa esta situada en la parte alta de la urbanización, donde saldrás de la casa y estarás en la montaña, para hacer buenas caminatas en plena naturaleza. La capacidad es para 6 personas, se puede adaptar hasta 9 con un precio adicional de 20 € por personas y dia. La estancia minima puede variar según la época. Mejor consultar para estas cuestiones.
Una de las cosas con más valor para los huéspedes es que la urbanización esta rodeada de montaña, su tranquilidad por el poco paso de vehículos y sus vistas.
Heel warm welkom, alles aanwezig en heel tolerant naar onze jonge hond. Gedurende ons verblijf altijd warme aandacht en goede zorg! Heel comfortabel huis met heerlijk zwembad en ruime tuin ligt aan de rand van het dorp vlakbij een prachtig wandelgebied! En vanaf terras elke avond uitzicht op de lichtjes van Barcelona. Reistijd half uurtje, zo ook naar zee.Kortom: toplocatie en eigenaar!
Ad
2016-08-23T00:00:00Z
Lovely house, great view, warm welcome, responsible host!
Howie
2017-02-02T00:00:00Z
Fantastic place and very polite hostages. The nature is really very beautiful. We was very pleasantly surprised to find that the house is more beautiful that was shown on the website.
Maxim
2016-09-24T00:00:00Z
The host's are Super, the house and surrounding everything is perfect. Grate view form mountains to Barcelona. If you want good quiet place near to Barcelona I defiantly recommend.
Valdemārs
2016-10-10T00:00:00Z
Esteban et Julia ont été des hôtes très sympathiques et pleins d'attentions plus qu'appréciables (dîner préparé le soir de notre arrivee, jouets pour les enfants, préparation du barbecue, et j'en passe). La maison est très fonctionnelle et dans un lieu calme et reposant. Tout était parfait, merci beaucoup!
cecilia
2016-10-31T00:00:00Z
Nos recibió muy bien. La casa se adapta perfectamente a la descripcion. Recomiendo encarecidamente esta casa
Mohamed
2017-03-02T00:00:00Z
Прекрасное райское место. Дом находится в тихом месте , с чистым горным воздухом. Очень удобный дом, в котором есть всё для комфортного отдыха. Три спальни на первом этаже- одна спальня с двухместной кроватью имеет свой санузел и гардероб, и две спальни с большими одноместными кроватями. А также на первом этаже кухня, общий туалет с душем, столовая и гостинная с удобным мягким диваном. TV 48" smart tv и wi-fi. На кухне есть все для приготовления разных блюд и большой сервиз для семьи. На втором этаже расположенна спальня с большой двухместной кроватью и балконом с видом на горный пейзаж. Дом имеет большой просторный двор с басейном и разными шезлонгами. Бассейн комфортный для детей и взрослых. Глубина примерно 2 метра по всей длине бассейна. Для детей есть все для безопасного Купания - нарукавники, матрас, мяч. В доме также имеется большая веранда с обеденным столом. Очень удобно для обедов на свежем воздухе. Кондиционера в доме нет, но он и не нужен так как внутри очень комфортная темпиратура , на всех окнах сетки и можно спать с открытыми окнами не боясь москитов.  Этот дом находится рядом с лесом, где можно гулять и бегать по утрам .  В основном хвойных породы деревьев. Но самое главное в отдыхе это гостепримность хозяина - это бесценно !!! Эстебан очень внимательный, не навязчивый, всегда отзывчив и приятен в общении.  Дело даже не в том что он владелец дома в котором мы жили , а в том что таких людей мало в нашей жизни. Я очень рад что появился такой друг и хороший человек ! Большое ему спасибо! Наши дети были в восторге от Эстебана, он принёс им много игрушек и повесил качели на веранде. Все рекомендую этот дом ! Не дом,  а сказка!  Отдых по  настоящему!  P.S. если хотите ездить в Барселону ,  берите в аренду машину. Можно жить в этом доме и кататься погулять в Барселону.  Дорога займёт 30 минут . Также можно ездить на пляж в Кастедельфес, примерно 30 минут на машине. Perfect paradise. The house is in a quiet location, with clean mountain air. Very comfortable house in which there is everything for a comfortable stay. Three bedrooms on the first floor has one bedroom with double bed has its own bathroom and dressing room, and two bedrooms with single beds. Also on the ground floor kitchen, shared bathroom with shower, dining room and living room with comfortable sofa bed. TV 48 "smart tv and wi-fi. The kitchen has everything for cooking various dishes and a great service for the family. On the second floor there are a bedroom with a double bed and a balcony with views of the mountain landscape. The house has a large spacious courtyard with a swimming pool and various ... loungers Pool comfortable for children and adults depth of about 2 meters over the entire length of the pool for children there is everything for safe bathing -. armlets, the mattress, the ball in the house also has a large veranda with a dining table is very convenient for dining al...
Кирилл
2016-08-08T00:00:00Z
Esteban y su mujer son unas personas muy amables y muy pendientes de todo momento de nosotros debido a que se encuentran en el piso de abajo de la casa. Este dato es importante para aquella gente que busque disfrutar de intimidad, o estar solos completamente, ya que por la distribución de la casa no es posible.
DANIEL
2016-11-06T00:00:00Z
Kamertype
Gehele woning/appartement
---
Type woning
Vakantiewoning
---
Geschikt voor
6
---
Slaapkamers
Corbera de Llobregat, Catalunya, Spanje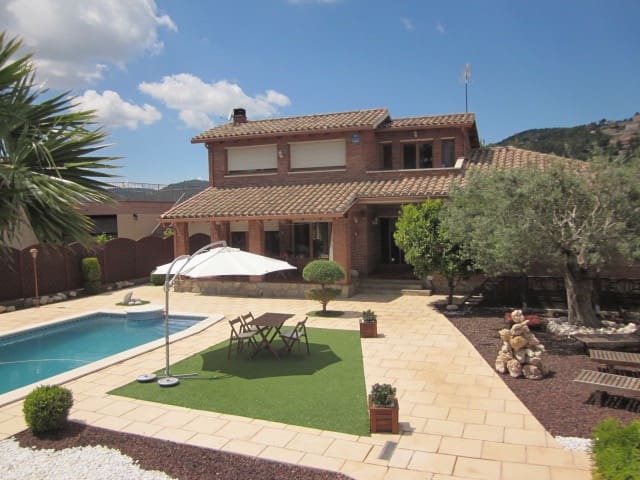 Attracties: parken, restaurants en voedsel. U zult genieten van mijn ruimte door licht. Mijn accommodatie is goed voor koppels, avonturiers, zakenreizigers en gezinnen (met kinderen).
todo genial
Ivan
2017-04-02T00:00:00Z
It was great
Alexander
2017-03-14T00:00:00Z
Edmilton is very welcoming and kind. The flat is big but quite cold. Warmer linens would have been appreciated. The flat is not exactly what you would expect, quite empty and missing customisation. The location is not great but perfect if you have an early flight. Either take a direct bus or book a taxi. With a bit of effort Edmilton's place could become a nice accommodation.
Sabri
2017-03-02T00:00:00Z
Edmilton was an excellent host. I had a short overnight layover in Barcelona and needed a room. Edmilton was very accommodating despite my late check-in and early check-out times.
Christian
2017-03-05T00:00:00Z
The host canceled this reservation 17 days before arrival. This is an automated posting.
Afzal
2017-02-21T00:00:00Z
Kamertype
Privé Kamer
---
Type woning
Huis
---
Geschikt voor
2
---
Slaapkamers
El Prat de Llobregat, Catalunya, Spanje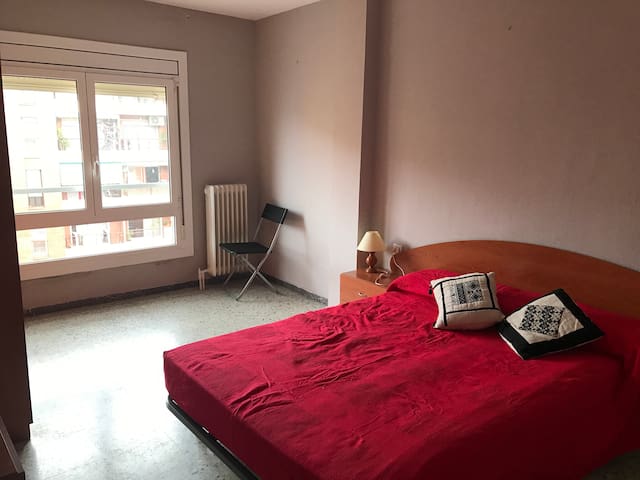 Villa in Barcelona, Pallejà. Spectaculaire huis met privé zwembad, gelegen in een bevoorrechte locatie, recentelijk gebouwd en minimalistisch design met een prachtig panoramisch uitzicht op de zee vanuit elke ruimte van het huis. Exclusiviteit, comfort en charme.
Dit huis is ontworpen om de vakantie van onze gasten een onvergetelijke ervaring in een natuurlijke en mooie omgeving, allemaal met een maximum aan comfort en privacy te maken. Het huis is ontworpen om maximale privacy en tegelijkertijd een gevoel van totale vrijheid genieten. De villa heeft Zuid-oriëntatie volledig, zodat de hele dag zon en natuurlijk licht in elk van de kamers.
Onze accommodatie is gelegen in een woonwijk van grote klasse, in een uitzonderlijke natuurlijke omgeving waar elke dag een zuivere luchtvracht, energie en totale rust zal worden. Heel dicht bij de stad waar u allerlei diensten (apotheek, medisch centrum, supermarkten, etc.) vindt
Een geweldig huis en een schitterend uitzicht. We hebben genoten van ons verblijf. Absoluut de moeite waard. Wij komen terug!
Petra
2016-10-02T00:00:00Z
Daniel was a great host. He was friendly and ready to help us discover the best of the city. We loved that the house was far enough out of Barcelona to be a quiet, peaceful stay, but it was also close enough to accessible public transport. The place was beautiful and spotless. The host Daniel was there to meet us after a confused taxi driver got lost due to road blocks, he had to stay a bit extra but he didn't seem to mind at all. Overall, the house was brilliant and had a lovely style, the pool was fantastic. It would be better to rent a car but the bus at the bottom of the hill was convenient. We would definitely stay here again, thanks so much!
Laura
2015-07-09T00:00:00Z
Daniel's place is wonderful and we had a brilliant stay. The villa is exactly how it looks in the pictures and the house has a lovely feel and great facilities. The views are spectacular and could not have asked for more from the house. It's feels very safe for a family holiday. The only item that would have improved the stay was a 'village' shop in Fontpineda - there is plenty of choice from just a few miles away (and of course Barcelona is 30 mins in the car) but need to drive to get to any shops, which was not a problem for us as we had a car. We would certainly look to go back and Daniel is a great host, checking up on us every few days to ensure we had everything we needed. We loved staying here! Thank you so much!
Angelica
2016-08-07T00:00:00Z
Daniels home is set upon a hilltop and provides a serene environment with all the amenities for a tranquil getaway. It's an ultra modern and simple home with incredible views however I would consider and be cautious of taking young children. Daniel was a great host and gave instant responses to our questions. His home is also a short distance away from the city and local shops. Overall our stay was perfect, my family and I completely enjoyed our stay and would happily return. This house would make for a range of different kinds of holidays, I would definitely recommend it.
Priya
2015-12-29T00:00:00Z
The photos of Daniel's place are really good. But they are far from the actual feel of the place. Just because the actual feel is bloody awesome and you have to be there to grasp the climate of this place. Imagine you fall asleep looking at panorama of Barcelona blinking to you with thousands of small and distant lights. You wake up, open your eyes and every morning you are welcomed with a new sunlight painting of the Catalan capital city and its surroundings. Just stunning. The villa has a great design and is well kept. It's very private. Daniel was very helpful and very kind to us. Thank you! We already miss those 9 days stayed there.
Piotr
2015-09-06T00:00:00Z
Daniel tok godt i mot oss og viste oss rundt i huset. Som andre annmeldere skriver så er huset i meget god stand og utsikten er magisk. Da det var nasjonaldag i spania og vanskelig å finne en butikk kjørte Daniel med oss ned til nærmeste åpne butikk og var veldig hjelpsom. Huset og beliggenheten er veldig behagelig og det var kjekt for ungene da hadde endel leker og barneseng. Det var heller ingen problem å sjekke ut midt på natten. Leie av dette huset kan jeg anbefale.
Eirik Vika
2015-10-16T00:00:00Z
Daniel was the most amazing host and his house is simply one of the best designed and constructed places i've ever stayed. The place itself is equally marvelous as the views it provides (of the city and the nearby mountains). It is a wabi sabi style with concrete floors, open space and all the fixing of a home. Daniel was even nice enough to give me suggestions on places to visit in town (which were all very good). This place provides solace from the city and is about 20-30 minutes away by cab, which was not a burden (cost of taxi is about 40 euros). I will be definitely staying here again on my next visit!
Earl
2016-02-27T00:00:00Z
Super maison! Idéale pour les vacances.
Philippe
2016-04-24T00:00:00Z
Kamertype
Gehele woning/appartement
---
Type woning
Huis
---
Geschikt voor
5
---
Slaapkamers
Pallejà, Catalunya, Spanje
Attractions: family activities, public transport, restaurants and food, nightlife, and the beach. My accommodation is good for couples, adventurers, business travelers and families (with children).
20 quiet 'area of central Barcelona.
Idéal pour couple avec enfant Logement tres fonctionnel et tout équipé Ascenseur a disposition Gare pour Barcelone et tous commerces à proximité.
Cecile
2016-08-22T00:00:00Z
Studio très sympathique, largement suffisant pour 2 personnes. Beaucoup d'équipements disponibles. Quartier calme. Facilité d'accès, pas loin des transports en commun pour se rendre à barcelone. Accueil par la maman de rita très sympathique. Difficulté pour se garer en voiture pour notre part, nous avons du tourner plusieurs fois mais beaucoup de places disponibles autour du logement donc sûrement un manque de chance pour nous. Le seul hic est que l'appartement n'est pas très bien insonorisé, on entend facilement les voisins.
Dimitri
2016-10-27T00:00:00Z
Todo genial, el apartamento muy equipado y a 5 min andando de la estacion de tren, a 10 min del centro. Rita muy atenta a todo al igual que su madre que nos recibio y nos aconsejo para conocer barcelona, muchas gracias.
Diego
2017-03-23T00:00:00Z
Rita was super nice and helpful. She went through the trouble of booking us a cab and getting us info of activities for us in Barcelona. Excellent host and apartment, totally recommended!!!
Katherine
2017-01-07T00:00:00Z
Super séjour chez Elena ! Sa maman nous a accueillis très chaleureusement. Le logement est fonctionnel, pratique et on arrive à se garer facilement. Je le recommande sans hésiter.
Ahmed
2016-09-06T00:00:00Z
La casa está muy bien equipada,es cómoda y está en un barrio tranquilo. Rita ha sido muy buena anfitriona estando para lo que necesites y no dudaríamos en repetir experiencia.
Cristina
2017-03-26T00:00:00Z
Rita a été très accueillant, très agréable et le logement parfait pour nous.
ann-sofie
2016-12-20T00:00:00Z
Nous étions très chaleureusement accueillis par la mère de Rita. L'appartement est bien, globalement bien équipé. Il est situé un peu loin du centre ville de Barcelone, il faut faire attention aux horaires du train pour ne pas perdre du temps, surtout après 22h parfois il faut attendre 45min entre chaque train .
Karim
2017-01-03T00:00:00Z
Kamertype
Gehele woning/appartement
---
Type woning
Loft
---
Geschikt voor
3
---
Slaapkamers
Sant Feliu de Llobregat, Catalunya, Spanje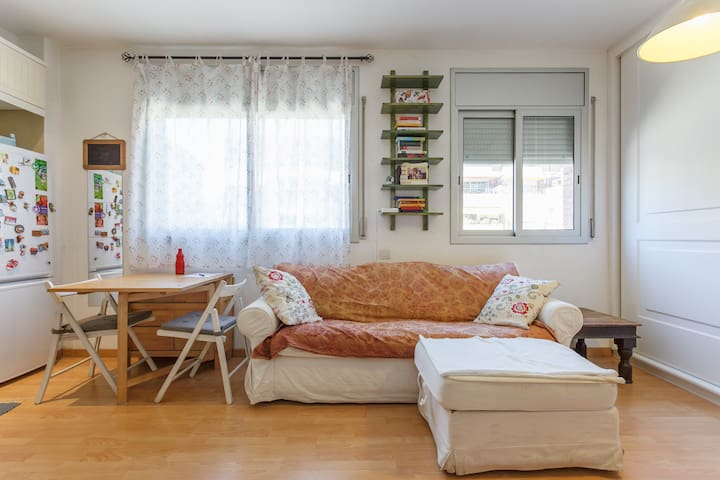 Nice flat 20 minutes from Barcelona and 5 minutes from Sant Cugat. In the middle of the Collserola Park. Very well connected (metro & bus). 2 rooms (each with a double bed) living room, kitchen and terrace with BBQ. Capacity for 4.
Do you like being in the nature but near Barcelona? Then you will enjoy this flat which is in "La Floresta/Sant Cugat", in the middle of the Nature Park "Collserola" and only 20 minutes away from Barcelona - easily reachable with public transport! Ideal for couples, families, groups of friends or even business traveller. The apartment is aprox. 55 m2 and is independent of our separate house above. It has 2 rooms: one room has a double bed of 140 x 200 and the other a double bed 160 x 200. It has a kitchen/dining room/living room with microwave, washing machine, electric iron & board, oven, a flat TV and DVD. All bedding and towels are included. The bathroom has been refurbished during summer 2014 and has a shower and a hair drier. The terrace is around 40 m2 and has a lovely view. There is a table with 6 chairs and a Weber BBQ. You can park in front of the house. Parking is no problem at all. Enjoy Barcelona and rest in La Floresta.
La Floresta is a district of Sant Cugat del Vallès, Barcelona Province/Spain. The area is called Vallès Occidental. It is located in the Sierra Collserola. There are around 4.430 inhabitants. The district is very green and there is a mix of luxury houses and more modest ones. We have a metro station of the Vallès trains that connects with Barcelona around every 10 minutes. There is a bus to the station just 80 m away from the house. Near the station are a few bars, restaurants, supermarkets, a bakery, a farmacy, a bank (BBVA), a hairdresser, a pizzeria and a children´s park
Zeer goede informatie, snel antwoord op je vragen. Zeer behulpzame en vriendelijke verhuurder
Hans
2016-08-08T00:00:00Z
We hebben een fantastische tijd gehad in La Floresta. Het huis was heel compleet, mooi verzorgd en helemaal naar verwachting. We voelden ons heel welkom en Gerald was een zeer hartelijke gastheer. Hoewel hij met z'n gezin een weekje op stap ging, hield hij steeds kontakt met ons. Dat voelde heel goed. We zijn hier vast niet voor het laatst geweest. Ook prima verbinding met de stad. Mooie omgeving, heerlijk buiten!
marijke
2015-06-27T00:00:00Z
Wij hebben erg genoten van het verblijf in het appartement van de familie Caspari. Natuurlijk heeft dit te maken met de stad Barcelona waar je eenvoudig naar toe reist met de metro, maar zeker ook met de gastvrijheid van Gerald, Eva en hun hondje. Zij doen echt hun best je verblijf optimaal te laten verlopen en bieden daarvoor allerlei tips en hulp. Het appartement is zeer compleet en sfeervol ingericht. Het ligt in het rustige groene dorpje Sant Cugat en is echt van alle gemakken voorzien. Terwijl wij op het terras in de zon zaten konden onze beide jongens van 7 en 10 zich perfect uitleven op de grote trampoline en waren grote vrienden met de hond. Al met al prima genoten van de rust in het appartement en de omgeving dat daarmee een goede afwisseling vormt voor de hectiek van Barcelona.
Jelmer
2015-05-09T00:00:00Z
Een appartement dat prima in orde is. Zeer goede bedden! Alle erop en eraan! Proper en goed ingericht! Gemoedelijke ontvangst! Zeer correct!
Boumans
2016-12-02T00:00:00Z
geweldige locatie mooi appartement waar niets aan ontbreekt laptop cv in alle kamers grote tv zo kan ik nog wel doorgaan,geweldig . komen zeker weer terug
Theo
2015-03-29T00:00:00Z
This is a truly great apartment in the Serra de Collserola (the largest metropolitan park in the world: you're basically in the middle of the woods!). Quiet and very comfortable: it has everything you may need (with extras such as a MacBook Air, a radio, Iphone/Mp3 speakers, a big flat TV, etc.). Although the first day it seemed like a longer walk, the train station is 15 min. away by foot. The train works like the underground: there are lots of trains and 10 min. is the maximum wait. My daughter and son in law were with me in the apartment with their son for a few days. My grandson really enjoyed the trampoline and the beautiful terrace. They took the train but also travelled by car: it is very well connected (Barcelona, Sant Cugat, Rubí or Sabadell are all near). It is perfectly located to get to the university (UAB), where they were working. It's a perfect apartment if you want to visit Barcelona but want to get away of all the noise at night or if you are on a business/research trip to Sant Cugat, the Autonomous University of Barcelona or somewhere else in the area. The (small) square of the town is where the station is and we were glad to learn that it has an organic shop. There is also small supermarket, a pharmacy, a couple of shops, bars and restaurants. The beds are very comfortable and the apartment was spotless at our arrival. We were also greeted with some wine and a few drinks in the fridge. This is the best airbnb we have stayed in. I truly recommend it. Thank you, Gerald!
MARIA CRISTINA
2017-01-14T00:00:00Z
Très jolie location située en hauteur dans un écrin de verdure. Belles prestations où rien ne manquait. 10 mn de la gare et à 25 mn du coeur de Barcelone. Emplacement idéal alliant calme et visites touristiques. Les propriétaires charmants, attentionnés et discrets ont contribué à rendre notre séjour des plus agréables. C'est vraiment une adresse à privilégier Claudie
Claudie
2015-09-18T00:00:00Z
I felt very welcome and I love this apartment. I really appreciated ride from and to train station. Also really appreciated the laptop. I wish I could live in this apartment!!!!
Lori
2015-06-09T00:00:00Z
Kamertype
Gehele woning/appartement
---
Type woning
Appartement
---
Geschikt voor
4
---
Slaapkamers
Sant Cugat del Vallès, Catalonië, Spanje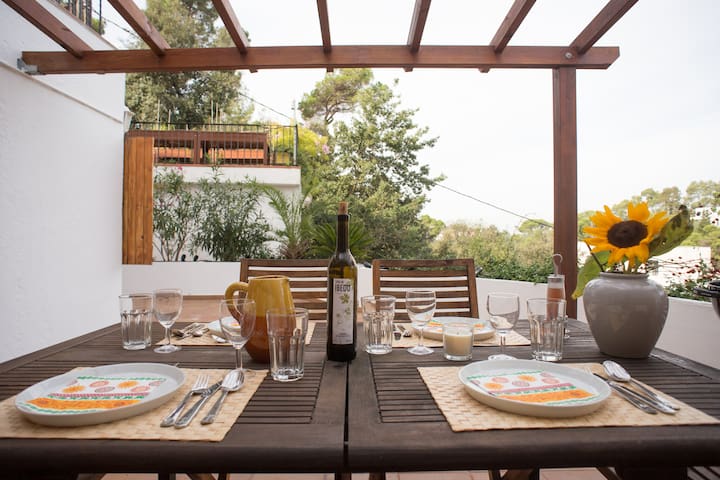 Cozy apartment overlooking the sea and mountains, in quiet and close to all amenities. Fully equipped kitchen with oven, microwave, dishwasher and coffee maker. Bathroom with shower, and a bedroom with queen bed. It has a pool, barbecue, and parking. Located 2 minutes drive from the beach, bus stop at the door, close to the train station, and 15 minutes from Barcelona Airport. A 20 km from Barcelona and 16 km of Sitges.
Gezellig appartement in een rustige woonwijk, met uitzicht op zee en de bergen. Het heeft een volledig uitgeruste keuken met oven, magnetron, koffiezetapparaat en vaatwasser. Een badkamer met douche, en een kamer met een tweepersoonsbed. U beschikt over een zwembad, een barbecue en een eigen parkeerplaats tot uw beschikking. Op 2 minuten rijden van het strand, bushalte voor de deur van de appartementen, heel dicht bij het treinstation en op 15 minuten van de luchthaven van Barcelona, 20 km (12 mi) van Barcelona, en 16 km (9 mijl) van Sitges .
Kamertype
Gehele woning/appartement
---
Type woning
Appartement
---
Geschikt voor
2
---
Slaapkamers
Castelldefels, Catalunya, Spanje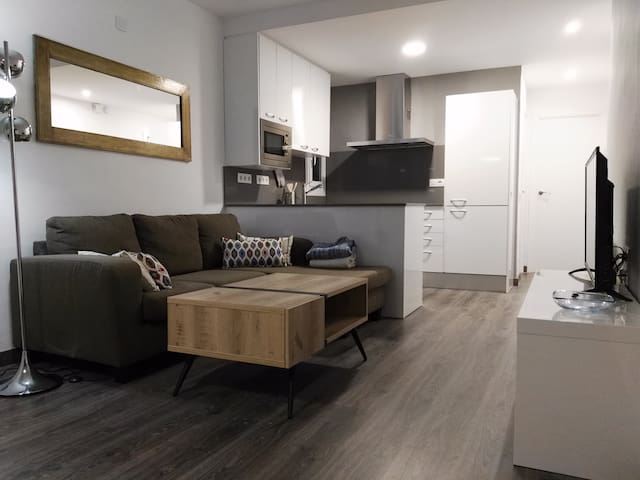 Attracties: Huis gelegen in het centrum van Sant Just Desvern op slechts 10 minuten van het centrum van Barcelona met de taxi. In een rustige, met het openbaar vervoer en winkels van alle soorten slechts 1'. Een 5 'van een van de meest karakteristieke gebouwen van de architect Ricardo Bofill, de Walden7. De ruimte is zeer helder, vrolijk en makkelijk om te leven. Ideaal voor gezinnen of grote groepen. Het heeft 2 grote terrassen met tafels om buiten te eten en een chill out bedekt met een prachtig uitzicht.
Het huis is ruim en ontspannend. Het heeft twee mooie en grote terrassen op verschillende niveaus. Het bovenste terras heeft een chill out ruimte en de onderste een grote BBQ die u kunt gebruiken. De keuken is groot en inspirerend en de woonkamer heeft een prachtig licht in de ochtend, evenals een grote tafel voor alle huurders om te genieten van maaltijden.
Kamertype
Gehele woning/appartement
---
Type woning
Huis
---
Geschikt voor
10
---
Slaapkamers
Sant Just Desvern, CT, Spanje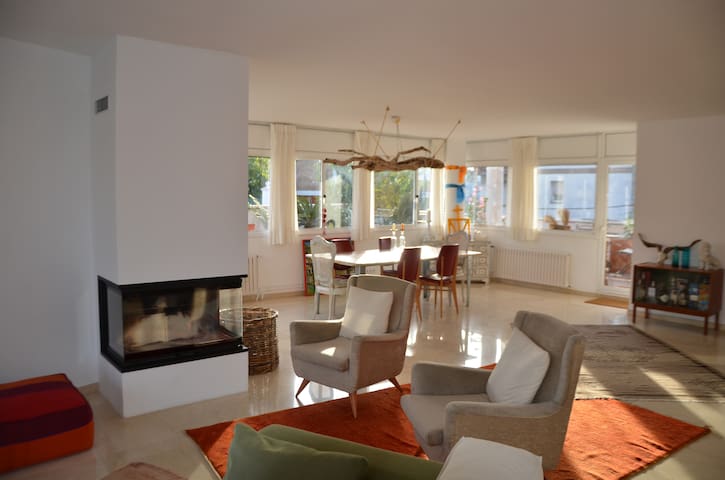 Zonnig appartement, gelegen op 20 minuten van Barcelona en op 3 minuten lopen naar het strand. Zonnig appartement, op slechts 3 minuten lopen van het strand. Zeer goede ruimte voor tapas en zeer rustig op hetzelfde moment, niet zijnde in de voorkant van de zee.
Het is de perfecte appartement om te genieten van het zonnige strand in de zomer en zeer rustig Tijdens de winter, met een fantastisch weer het hele jaar door. Het is het appartement ideaal voor zowel in de zomer als in de winter. In de zomer is er veel beweging. En in de winter, zijn er mensen die het hele jaar door, maar de conecpto op dit moment is anders, het is rust en stilte.
In de winter, de omgeving is erg rustig, met zo veel voorzieningen (restaurants, kiosk, bakkerij, ontbijt ... en het busstation). In de zomer zijn er zo veel activiteiten rond, maar omdat het appartement ligt op 3 straten van het strand, de plaats is rustig en een eigen parkeerplaats Met de door u kunt gaan rond de auto met whitout enkel probleem om terug naar huis te komen. Het appartement is gunstig gelegen. Tijdens de winter, is het vooral rustig, maar charmant. Het heeft alle noodzakelijke diensten, met inbegrip van 10 minuten lopen, en een bushalte, op 1 minuut lopen, die gaat naar Barcelona. In de zomer, het is anders, er is veel beweging in het gebied, maar erg leuk omdat het niet in de zee, is erg rustig 's nachts. Eigen parkeergelegenheid, in de zomer, is essentieel, want het is niet gemakkelijk om te parkeren in het gebied. In de zomer,
The host canceled this reservation 119 days before arrival. This is an automated posting.
Ksenia
2017-04-07T00:00:00Z
Kamertype
Gehele woning/appartement
---
Type woning
Appartement
---
Geschikt voor
6
---
Slaapkamers
Castelldefels, Catalunya, Spanje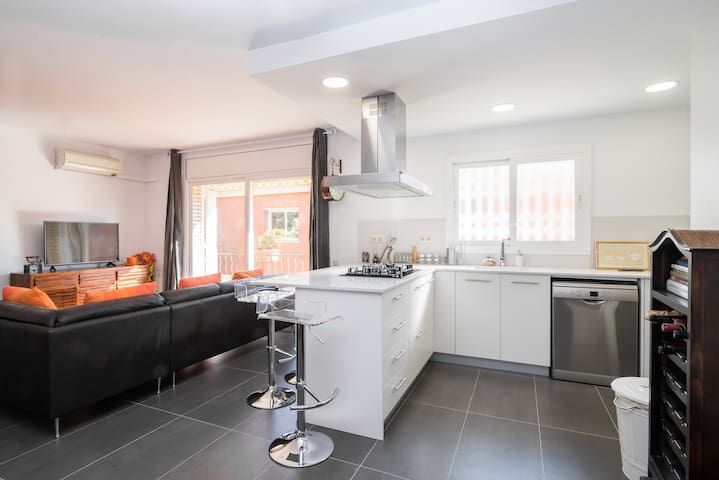 Lovely new 3 bedrooms apartment just rennovated in 2017. All 3 bedrooms are sunny. There is a small terrace to enjoy the weather. Perfectly connected, only 5 min. walk from Torrassa metro station. There is a direct line to the airport, 5 stops to the famous Plaza España.The apartment will be furnished
Kamertype
Gehele woning/appartement
---
Type woning
Appartement
---
Geschikt voor
4
---
Slaapkamers
L'Hospitalet de Llobregat, Catalunya, Spanje
4 sleeping places
Kamertype
Gedeelde Kamer
---
Type woning
Appartement
---
Geschikt voor
2
---
Slaapkamers
Barcelona, Catalunya, Spanje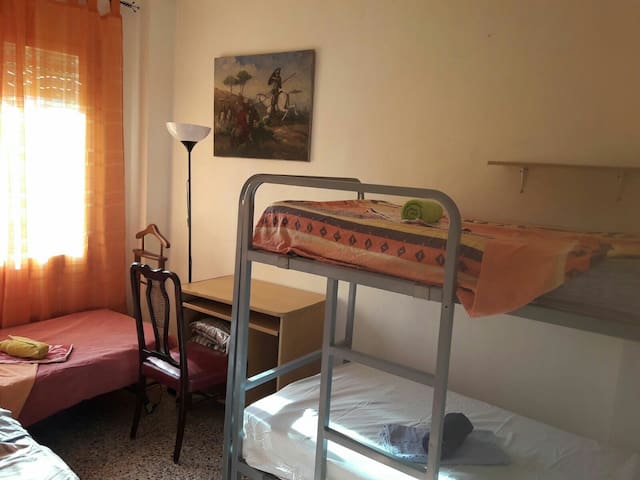 Tenemos un apartamento duplex de 20m2 con entrada independiente a la casa con una cama doble y un sofa cama. En agosto y parte de julio ofrecemos la casa entera con disponibilidad para hasta 10 personas. tenemos 4 habitaciones y 3 baños. Estamos a 5 minutos caminando del transporte público. Vivimos en un parque natural.
El entorno es precioso dentro del parque natural de collserola. El apartamento es ideal para parejas. Acogedor y coqueto. El sofa cama sirve para dos personas de forma puntual.
Kamertype
Privé Kamer
---
Type woning
Bed & Breakfast
---
Geschikt voor
4
---
Slaapkamers
Barcelona, Catalunya, Spanje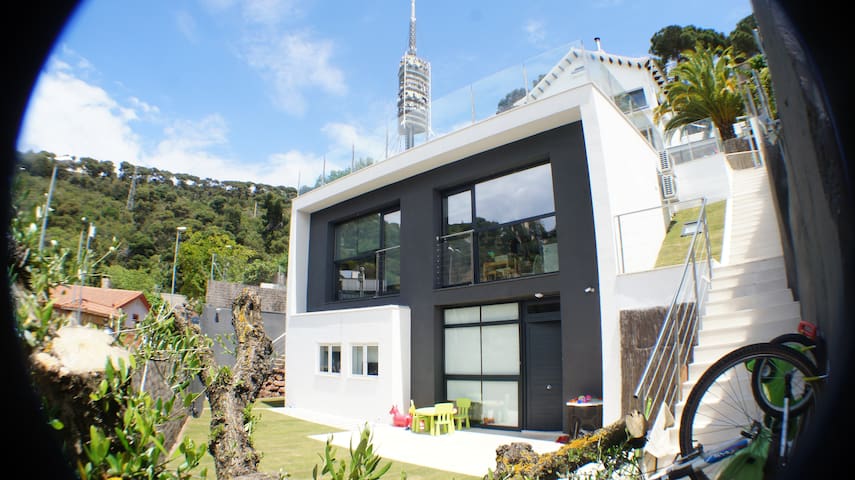 Beautiful apartment full of light for 4 guests situated in the district of Sarrià Sant Gervasi.
The flat has two bedrooms (one double and one single up for a child), a stylish living/dining room with a sofá-bed, an ample american kitchen and a bathroom. It is equiped with: washing-machine, dishwasher, Wi-Fi, localphone, air conditioning, heating, ceiling fans in the living room and the double bedroom. Around the apartment, you will find all the necesary comidities like supermarkes, bars, restaurants and especialy the market of Llibertat, only 500 meters. Also it is important to notice that it is only 15 minutes walk from the Rambla Cataluña and Paseo de Gracia. Furthermore, the bus station Balmes-Travessera de Gràcia, at only 5 minutes will bring you to every touristic atractions of Barcelona. •BOOKING CONDITIONS: To be paid upon arrival (not included on final price): Mandatory Tourist city taxes: 2.25€/adult/night. Children under 16 do not pay taxes. At the check-in you must provide valid ID or Passport of the guests. •POSSIBLE ADDITIONAL CHARGES: Check-in after 7 p.m or Week-ends & Bank Holidays: 30€
This is the second largest district of Barcelona, runs from Avenida Diagonal to the Collserola mountain and is known to be a residential area where wealthy people lives. You will visit it if you want to know the Tibidabo, either by going to the amusement park with your family or to its extensive network of trails for hikers that love to be outdoors. It is an ideal place to stay if you are looking for tranquility during your stay in the city and for a very safe and family district. No missing local shops where to find clothes, food or decorative objects and furniture.
Kamertype
Gehele woning/appartement
---
Type woning
Appartement
---
Geschikt voor
4
---
Slaapkamers
Barcelona, Catalunya, Spanje
Double room-saloon with private balcony in the beach in Gavá Playa. The best location you can imagine. Beach - few steps away, bus station - 3 mins walk (30 mins to Barcelona PL. España center) Apartment is located in third line to the beach.
The room is a loft (11 m2) it can be dining room and bed room is equipped with everything you may need during your stay, including a private terrace where my guests can relax and enjoy the beautiful view with the pine tres and the bird singing. The terrace is equipped with a table, and twoo chairs. The privacy during the stay is almost complete, the common places are the kitchen and the bathroom. - double sofa-bed - table and chairs. - a place to keep clothes and suitcase - lamp - Internet conection and fast WiFi (30 mb/s) - hair dryer - iron - towels - bedding and fresh linen Bathroom - bath with shower, toilet, washing machine, shampoo Gavá Beach has a beautiful 6 km sea front passage. It's fantastic for walks, jogging, cycling etc. There are restaurants, tapas bar and chiringuitos all over the passage. Convenience store (open till late) is within 10 mins walk from the house and the big supermarket is within 15 mins walk. Barcelona center can be reached by bus L95 within approx. 35 minutes by bus (Pl. España) (you don't have to pay any additional transport charge as we're still in Barcelona transport zone 1). Bus stop within two minutes walk from home. Bus Ga1 two minutes from the house takes to Gava village and train station only in 15 minutes, from there you can visit Sitges 15 minutes trip.
It is a residential neighborhood. Quiet place. Respect the night time for rest.
Samen met een vriendin verbleef ik 5 nachten in Gava, bij Ara. Het appartement is geweldig gelegen. Het is maximaal 5 minuten lopen naar het fijne strand en maximaal 5 minuten lopen naar de bushalte. De bus is in ongeveer 40 minuten in Barcelona en ongeveer 20 minuten in Casteldefells. Het appartement had een fijne kamer voor twee personen met een lekker balkon. De wifi was super snel. Het nadeel van het appartement vonden wij de afwezigheid van airco en de keuken was naar Nederlandse standaarden niet schoon. Een heel leuk restaurang Torreon was op een minuut of 10 loopafstand. De dichtsbijzijnde supermarkt was ongeveer 30 minuten lopen, en er zat ook geen bakkertje in de buurt waar we s ochtends wat konden halen. Dit vonden wij ook een groot nadeel; zeker in combinatie met de niet schone keuken. Ara was verder erg vriendelijk en rustig. Zij heeft ons de dag van vertrek naar het vliegtuig gebracht voor 15 euro (een rit van 10 minuten), wat erg prettig was.
Julia
2016-08-09T00:00:00Z
Ara es muy amable y hospitalaria, nos sentimos muy acogidos. La descripción encaja perfectamente con el alojamiento y lo recomendamos al 100%.
Guillem
2016-06-27T00:00:00Z
Ara was a great host! I asked to change my check in time to earlier and she was more than accommodating! She was very responsive to my texts and helped me with whatever I needed! The place was cute and very close to the beach and a few cool restaurants. It was nice to get away from the city and just hang out for a day at the beach. Would highly recommend staying with Ara!
Taylor
2016-08-02T00:00:00Z
Ara is a very friendly and responsive host. The place was in a perfect location for us as we had a wedding in the nearby restaurant tropical. Aside from that I was a little disappointed with the size of the room. It's not as spacious or as pleasant as the photo suggests. The other slight issue was the lack of privacy and size of the bathroom. If these are not a concern for you, Ara's place is perfect for you.
James
2016-07-31T00:00:00Z
I had a good time in Barcellona, Ara's b&b was very quite and confortable , if I come Back in Barcellona I still wanna go in Ara ' s b&b!
Fabio
2016-09-28T00:00:00Z
The space is perfect if you need to stay close to the airport. You're walking distance from a beautiful beach... We honestly could not have asked for a better spot.
Kristine
2016-08-02T00:00:00Z
Sitio perfecto , cerca del aeropuerto y de la playa .
Inazio
2016-06-28T00:00:00Z
Fue muy agradable nuestra estancia en casa de Ará. El alojamiento es tal y como lo describe en la pagina web. Está genial! La cama es muy cómoda y los desayunos en el balcón tomando el sol son ideales. Además ella hizo que la estancia fuera mas cómoda, manteniendo la intimidad de los huéspedes. Recomendable 100%.
Virginia
2015-08-16T00:00:00Z
Kamertype
Privé Kamer
---
Type woning
Appartement
---
Geschikt voor
2
---
Slaapkamers
Gavà, Catalunya, Spanje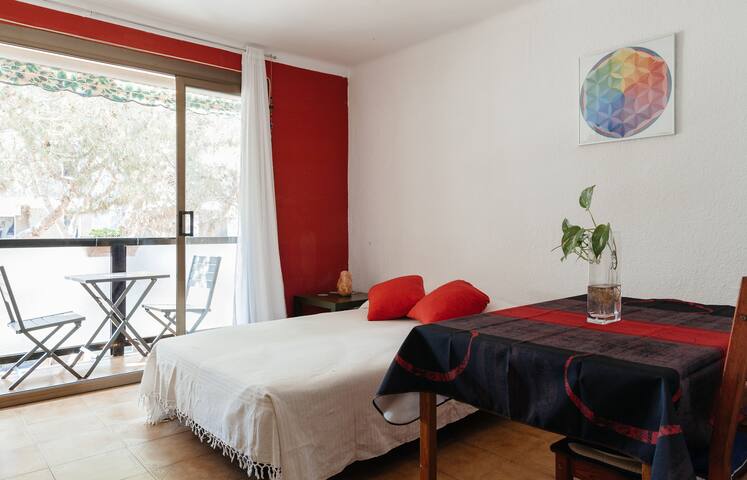 Si lo que quieres es disfrutar de unos días fuera de tu entorno, te ofrecemos una opción en Castelldefels. En apartamento muy luminoso y tranquilo. Podrás ir caminando a la playa 5min, bañarte, hacer deporte, disfrutar de una buena comida o tomarte una copa en los restaurantes de la playa.. disponemos de mas de 10km de paseo para patinar, bici, pasear, hacer yoga, kitesur, voley ...También tenemos un hermoso castillo, que se puede visitar y donde se realizan conciertos, teatros, fiestas populare
Disfruta de unos días en Castelldefels, en un apartamento muy luminoso y cálido. Desde el dormitorio puedes ver los primeros rayos de sol, y por la tarde ver como se esconde el sol desde la cocina/comedor, tiene una bonita terraza para disfrutar en cualquier momento. Descansarás en un buen colchón, con buena firmeza y en una amplia habitación. Disponemos de servicio de Secador y plancha bajo petición de nuestros huéspedes.
situado en un barrio muy tranquilo, próximo al canal olímpico, a 15min del tren y bus. también hay otra línea de autobuses a 2min
Una casa muy agradable, las vistas a los pinos, la cercanía de la playa, aparcamiento y Barcelona muy cerca. Li muy amable.
Alex
2016-04-01T00:00:00Z
Li's apartment at Castelldefels fitted us very well! The apartment is not too big but it is nice and cozy, the neighbourhood is very calm and it is located in such a good area close to the beach perfect for families who want to relax and enjoy their vacation. We had a really good time there and I have no complaints about Li, she was very kind and solicitous every time we needed her explaining everything she could about the area and about Barcelona too and also, when we had a problem with the shower I just sent a message for her and she replied in a few minutes promptly to solve it. Therefore, I really recommend her place for those who want to relax and enjoy a calm place not just because the apartment itself but also because the atmosphere I felt there.
Eduardo
2016-06-28T00:00:00Z
Una casa acogedora, excelente para perderse unos días en un lugar muy bonito. Muy amable la dueña u muy atenta al explicar los pormenores de la casa y las opciones posibles para ocio cerca. Lo suficientemente alejado del barullo y lo suficientemente cerca para explorar a pie. Un buen lugar pata estar
Josué Ignacio
2016-05-16T00:00:00Z
Li met us on time and is a really helpful and nice person - drove us around the neighbourhood so we knew where the shops, supermarket, trains etc were located. The area is a little untidy, but we always felt safe walking the streets to the train station and the like. The apartment is an older building which has had a bit of a makeover, but quite frankly it needs some maintenance to bring it up to acceptable levels. Leaking shower screen, almost blocked shower drain, doors to the balcony off the main bedroom which could not be locked (note we were on the third floor) - Li telling us the neighbourhood was safe is one thing, but when we travel from another country with cash, passports, iPad etc, we really need to be able to secure everything. There was a lot of other small things but that's all they were. Li just needs to consider how it is for paying guests and act on that. Then we could be writing a different report. For what it's worth, we are very experienced travellers and have been into all sorts of low socio economic countries, so we are not particularly hard to please. But we were paying a premium price as apparently it was busy (79 not the advertised 59 euro) which is a hell of a lot to pay in Spain. For this we expect everYthig to be 100% operational, that's all. Don't forget my opening couple of sentences please -'Li is a good host in person.
Peter
2016-06-07T00:00:00Z
Logement propre et spacieux. Accueil chaleureux par Li, qui est disponible en cas de besoin. Très bien pour une ou deux nuits. Seul hic, le périphérique est proche, on entend le bruit des voitures, mais cela se calme dans la nuit.
Fanny
2016-03-30T00:00:00Z
Very good Apartment. Li was very nice. Looking forward to come again
Patrick
2016-05-06T00:00:00Z
Todo correcto y en buenas condiciones
David
2016-05-30T00:00:00Z
Li es muy simpática y agradable, una gran anfitriona. El apartamento es espacioso, y está muy bien. Quizá los únicos inconvenientes sean su cercanía a la autopista (aunque casi no se nota ruido porque está bien insonorizado), y la ausencia de persianas en el dormitorio, que está suplida por unas cortinas de toldo que cuando se alza el sol, no terminan de ser opacas y dejan que entre luz... Por lo demás, y salvando estos inconvenientes menores, estuvimos muy a gusto, y seguro que repetiremos.
Daniel
2016-03-16T00:00:00Z
Kamertype
Gehele woning/appartement
---
Type woning
Appartement
---
Geschikt voor
4
---
Slaapkamers
Castelldefels, Catalunya, Spanje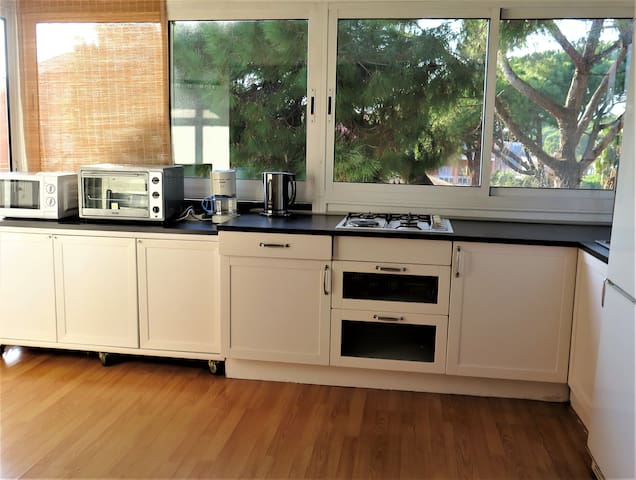 Appartement 5 minuten van Plaza Spain luchthaven 15 minuten alle vormen van vervoer en communicatie wordt metro, Renfe, Catalaans traint Linia L9 supermarkten en andere rustige buurt .... helemaal gezellig echte foto's
Kamertype
Gehele woning/appartement
---
Type woning
Appartement
---
Geschikt voor
5
---
Slaapkamers
L'Hospitalet de Llobregat, Catalunya, Spanje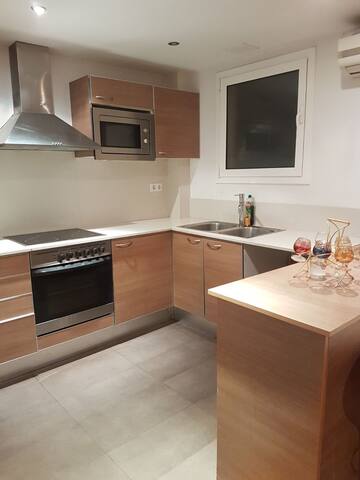 El meu pis es troba en una ciutat prop de Barcelona. Hi ha transport d'autobusos just davant i a 10 minuts el tren. My flat is located in a town near Barcelona, just in front of the bus stop. The train station is 10 minutes walking from the house. You can go to the city or to the beach towns. Mi piso se encuentra en una ciudad cerca de Barcelona. Hay transporte de autobuses justo delante, y a 10 minutos el tren donde los puede llevar a la ciudad o a los pueblos de playa.
Bed&Breakfast, allotjament en una habitació amb llit de matrimoni disponible en un pis particular. Només "llit i esmorzar", es limita a donar allotjament on passar la nit i ofereixo un servei d'esmorzar. Bed & Breakfast accommodation in a double room available in a private apartment. Only "bed and breakfast", it is limited to provide accommodation to spend the night and offer a breakfast service. Bed & Breakfast, alojamiento en una habitación con cama de matrimonio disponible en un piso particular. Sólo "cama y desayuno", se limita a dar alojamiento donde pasar la noche y ofrezco servicio de desayuno.
Cultura i lleure per a tothom La programació cultural de la ciutat és molt variada i completa. Carnestoltes, la Festa Major o el Festival de Teatre Al Carrer són algunes de les cites que no us podeu perdre. L'oferta cultural es completa amb els espectacles que ofereix el teatre Atrium Viladecans i altres activitats que s'organitzen al llarg de l'any. Culture and leisure for everyone The cultural program of the city is varied and complete. Carnival, the Festival or the Festival of Street Theater are some of the quotes that you can not miss. The cultural offer is completed with the shows offered by Atrium Viladecans theater and other activities organized throughout the year. Cultura y ocio para todos La programación cultural de la ciudad es muy variada y completa. Carnaval, la Fiesta Mayor o el Festival de Teatro Al Carrer son algunas de las citas que no te puedes perder. La oferta cultural se completa con los espectáculos que ofrece el teatro Atrium Viladecans y otras actividades que se organizan a lo largo del año.
Perfect host. Even after we lost our car and spent 3 hours looking for it in Barca, the host stayed up and we arrived at 12 AM to welcoming arms. We needed a few hours to sleep for our 6 AM flight. Fantastic that her daughter was there to also speak English to us. She in fact wanted to wake up and give us breakfast at 4AM but we insisted she sleep. Best of the best.
Baho
2017-04-06T00:00:00Z
(4 students stayed for 4 nights.) Apartment was nice, well-equipped and very clean. Its situated in a nice area - Viladecans - a beautiful town with good connections to Barcelona. The hostess was very kind and friendly, but she cant speak English very good. However, if you leave a message via (SENSITIVE CONTENTS HIDDEN) or (SENSITIVE CONTENTS HIDDEN), she translate it fast, reply you, advise you and arrange what is needed. We did not want to leave.. We can only recommend :)
Martin
2017-03-29T00:00:00Z
Kamertype
Privé Kamer
---
Type woning
Bed & Breakfast
---
Geschikt voor
5
---
Slaapkamers
Viladecans, Catalunya, Spanje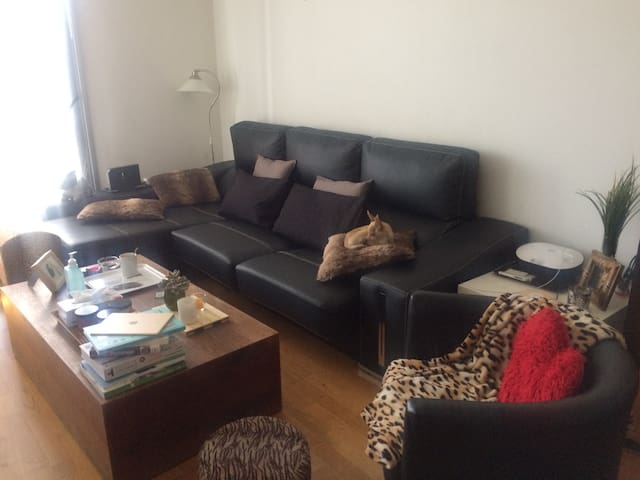 Gorgeous, spacious and luminous independent duplex (140 m2), located in a modern Villa of 850 m2, designed by architect Roger Paez i Blanch, inside a 4,500 m2 plot, in the heart of the Collserola Natural Park. Just 15' from BCN (25' from Conventions Center). Wifi 300 Mb (optical fiber). Free parking. Private pool and large terrace. Hosts available for assistance and/or additional services/resources. Customized attention. English, French, Italian, Portuguese (and, of course, Spanish & Catalan).
Can sleep up to 10 people if sharing bedrooms is not a problem, since the rooms are very large, but it is most comfortable for 6-8 sleeps. Ground floor: Living-room and kitchen + 1 bathroom with shower. Living-room faces large private terrace and pool right at the foot of the mountain (Collserola Natural Park). There are 2 sofa-beds, each one could sleep 2 children or 1 adult. Top floor: 2 large bedrooms (+ 35 m2 each), both of them with private bathroom, ( the largest one has a whirlpool bathtub and the other one, a regular bathtub). Beds can be accomodated upon demand. The sofa-bed in bedroom 1 could sleep 2 children or 1 adult. All rooms have gorgeous views and amazing luminosity (even the bathrooms!). Healthy heating through low temperature radiant floor. Optic fiber wifi of 300 Mb! Modern facilities, spacious, minimalistic style. The Villa was designed by architect Roger Paez i Blanch.
The Villa "Catalonia Dreaming" is located in a peaceful upscale residential area on the North side of Collserola Natural Park. A few decades back it used to be a summer retreat area where Barcelona locals had a second residence. Through the past 20 years it has become a preferred location for permanent residences, since it has the best of both worlds: Nature and tranquility, only 15' away from Barcelona city. Our neighbourhood has a local supermarket, local stores and restaurants that are only a short walk away (10' ). Activities available nearby: Golf, Tennis club, Horse-riding, walking trails.
Kamertype
Gehele woning/appartement
---
Type woning
Huis
---
Geschikt voor
10
---
Slaapkamers
Sant Cugat del Vallès, Catalunya, Spanje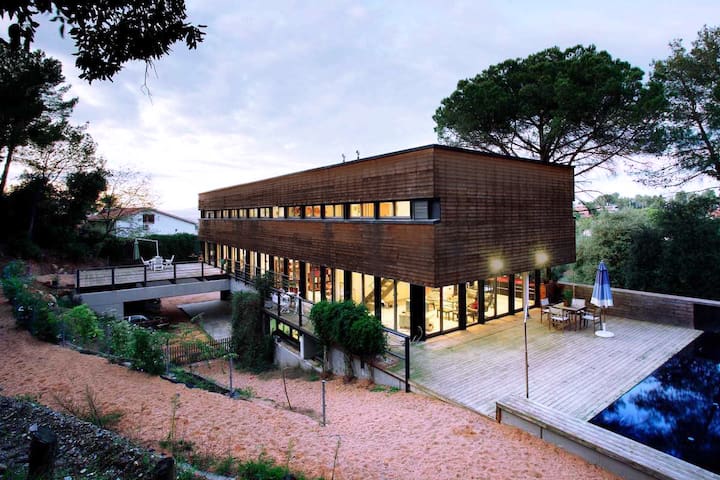 5 minutes walk from the station FGC Floresta, 25 minutes by train to downtown Barcelona. In the Natural Park of Collcerola. Bright and charming apartment with a large terrace. Perfect for family vacaciones. The mountain neighborhood of Barcelona
The building is on the side of the mountain, Vertically divided into two areas: Stairway 1 for the apartments A, B and C Stairway 2 for apartments D, E and F Our apartment has two access a pedestrian street and a regular street.
It is a small neighborhood full of surprises. Less than 5 minutes walk there are the square where the station is, the standard supermarket, a bakery bar, a restaurant bar (with concerts every Sunday at 12h), a tobacconist, small hardware store haberdashery, a dentist, and even a veterinarian. Very close to the square up the stairs you have a pharmacy. The atmosphere is very liberal and relaxed. La Floresta there are several restaurants that take into account: La Piccola Cucina Italiana (URL HIDDEN) They have the best Burrata of the world The Casa Blava (URL HIDDEN) Very good grilled meat, Argentinean style. You can also order pizzas at Pizza Dolce (URL HIDDEN) and go to pick them up near the square. La Floresta has always had a reputation for strange place. Perhaps because it extends in the foothills of the Collserola, between forests and ravines, and because it was devised in the second decade of the twentieth century as an exception, as a development out of this world. The Canadian engineer F. S. Pearson, whose name was associated until recently the population -The Floresta Pearson, devised on the map a housing estate a the English way that was some kind of residential break between the overpopulated Barcelona and the Vallès Industrious date.
Ross's flat is a nice place to stay at. It's is quiet, comfy and really well placed to discover Barcelona while being able to park your car for free and have breakfast outside, in the sun. The access to the train station, the fact that you have one every five minutes until midnite and the easy way out to visit the region helps to make it a perfect choice for many kinds of holidays. Ross have been answering to all our questions to make our stay easy and enjoyable during those twoo weeks. Her tips are also to listen to, Casa Blava's grilled beef starter is marvelous !
Arnaud & Widaad
2016-08-13T00:00:00Z
L'appartement est calme, bien équipé et joliement décoré. Un parfait endroit pour récupérer de nos escapades quotidiennes à Barcelone et ses environs.
Quoc
2016-08-25T00:00:00Z
Thanks Ross for all your kindness. You have given us a lot of information. We could reach you easily when we need it to. The apartment is situated at 20mn by train from Barcelona, it's a beautiful country. Our holidays were fantastic.
Sabine
2016-07-29T00:00:00Z
Kamertype
Gehele woning/appartement
---
Type woning
Condo
---
Geschikt voor
4
---
Slaapkamers
Sant Cugat del Vallès, Catalunya, Spanje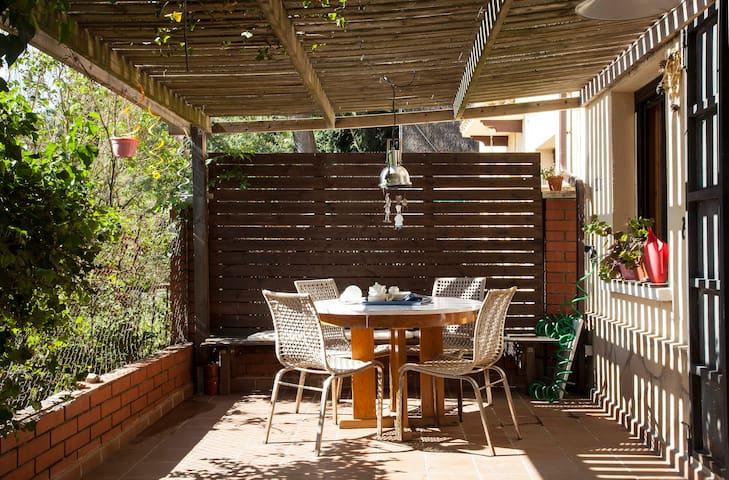 El Baix Llobregat - Airbnb
:
Gemiddeld

4.69

van

5

sterren op basis van

191

gastrecensies