153 Appartementen te huur
Volledig uitgeruste familie appartement met een groot balkon met uitzicht op de Caldera de Taburiente, een volledige keuken, badkamer, twee slaapkamers, grote ramen met uitzicht op de zee en het landschap. Geniet van spectaculaire zonsondergangen van een van uw ramen, balkon of terras aan de achterkant. Omgeven door tuinen met fruitbomen, overdekte barbecue en een solarium te genieten van het buitenleven. Dit alles op loopafstand van het centrum van El Paso, supermarkt, tankstation, restaurants, etc.
Deze familie huis omgevormd tot 3 volledig onafhankelijke appartementen bevindt zich in een bevoorrechte plaats, in een landelijke en rustige omgeving, omringd door de natuur en met een onovertroffen uitzicht, en toch je kunt lopen naar restaurants, supermarkt, winkels, enz., Want het ligt minder dan 1 km van het centrum van El Paso. Met een overdekte barbecue en een grote tuin en een solarium waar u buiten kunt genieten van grote momenten.
This review comes from a family with two small children, who have been in travel for over 6 months and have rented 9 locations with hosts offering over the Airbnb platform. Given the above experience I have to say that Rebeca was one of the nicest hosts we have ever come across. As surprising as this may be, staying with someone who has genuine interest in making your stay pleasurable is fairly rare - I give standing ovations to her for non-intrusive pro-activity in our well being and overall contribution towards making out visit in the island a pure joy! And a joy it was :) Rebeca is a very nice, communicative, polite, and patient host who was extremely quick to resolve any issues we challenged her with (not that there were many ;). The location in El Paso has to be one of the best in the island. It is a good starting point for exploring the entire island. Some of the hiking trails are reachable within walking distance. The house is located on a slope facing west - the sunsets are a real jaw-dropper there! And although the house is located in the city, the actual location is on its outskirts hence you're left with an impression of staying in country site. El Paso itself is a gorgeous little city. It's situated nearby 2 beautiful mountain chains, whereof one has constant wave of clouds that keeps pouring over in the city's direction (then dissolves shortly after passing the peak before reaching the city and causing bad weather) - just watching the scenery is enough of an attraction worth visiting El Paso. It has a charming town square, a farmer's market (Fri, Sat), as well as a convenient and huge supermarket if you need it - all within just 5 mins walking distance from the house. Direct connection by bus to Santa Cruz, as well as Los Llanos are also available; Los Llanos is where you'll want to catch your transfer bus to the beaches of Puerto Tazacorte or Puerto Naos. Shall we ever come back to La Palma we will surely book this place again :D
Piotr
2017-03-30T00:00:00Z
Un appartement très agréable, spacieux et propre, une terrasse de rêve pour de belles soirées. Rebeca est très à l'écoute et nos moindres petites demandes ont reçu une réponse immédiate. Une résidence parfaite pour connaître La Palma! Very nice, clean and lots of space with a superb terrace to enjoy. Rebeca is a great host and was very responsive to all our small demands. Perfect place to discover La Palma!
Beatrice
2017-03-14T00:00:00Z
Kamertype
Gehele woning/appartement
---
Type woning
Appartement
---
Geschikt voor
4
---
Slaapkamers
El Paso, CN, Spanje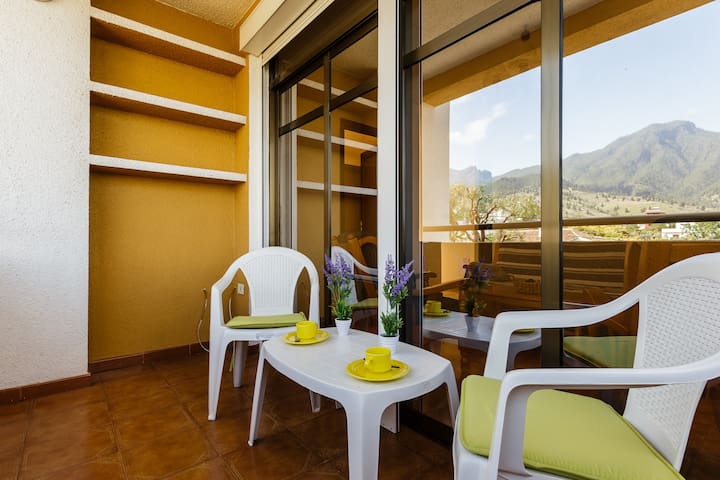 Mooie en rustige 1 slaapkamer appartement met keuken, woonkamer, badkamer en een klein terras met uitzicht, met gratis wifi, satelliet-tv en een tuin, dicht bij de stad en de korte rit naar het strand met parkeerplaats, bushalte in de buurt van de eigendom.
Het appartement is gelegen in een afgelegen cul de sac.
Genial todo, el sitio fantastico, la casita confortable y ellos muy amables. Superrecomendable. Repetiremos sin duda.
Pablo
2016-05-26T00:00:00Z
John is a great person and fantastic host! He knows so much of the island and is so helpful that we called him '(SENSITIVE CONTENTS HIDDEN) John' hahaha. Sun is (almost) guaranteed! For a short stay it is good to have transport.
Arnd
2016-02-16T00:00:00Z
Très agréable lieu pour séjourner, très lumineux et très bien situé pour randonner, visiter... Nos hôtes étaient fort sympathiques et nous ont très bien accueillis et conseilles. Merci a eux! Une très bonne adresse.
Bénédicte
2016-02-01T00:00:00Z
Cadre superbe, belle terrasse avec vue sur l'océan ! Appartement lumineux, spacieux. Il y a 2 lits jumeaux dans la chambre. Ce n'est pas confortable pour des personnes de plus d' 1,80 m. John est un garçon très sympathique.
Brigitte
2016-03-01T00:00:00Z
John ist ein großartiger Gastgeber! Er ist immer gut zu erreichen, falls man Probleme oder Fragen hat. Er hat uns sogar geholfen unseren Wagen wieder zu reparieren als dieser nicht lief! Er ist hilfsbereit, freundlich & hilft gerne weiter bzw. gibt gerne Ratschläge, wenn man mal Fragen hatte. Die Wohnung ist sehr schön & man hat eine tolle Fensterfront und eine tolle Aussicht. Und vor allem das Wohnzimmer ist sehr schön & individuell eingerichtet! Man hat in der Wohnung alles was man braucht. Und sie ist ideal gelegen, um schnell nach Los Llanos bzw. Tazacorte oder nach Puerto Nass zu gelangen. Wir würden diese Wohnung definitiv empfehlen! Vielen Dank John für deine Gastfreundschaft!
Michael
2016-04-06T00:00:00Z
The apartment is nicely located between Los Llanos and El Paso and was a perfect starting point for mountainbike and hiking trips. It is calm and one can enjoy the evening sun on the terrace. The apartment is in accordance with the pictures and a very cosy place to be. The kitchen is well equipped. For us, it was very handy to have a washing mashine directly available. The communication with John was easy and uncomplicated. He is a very nice host, who was immediately available in any case of trouble or questions. We enjoyed our vacation very much and we definitely recommend staying in John's apartment.
Nicole
2016-11-16T00:00:00Z
We had a great time on La Palma and in the apartment of John. His mother gave us a warm welcome and both gave us helpful tips for our stay. In the apartment we had everything we needed and it was a good starting point to travel around the island. It is a calm place, but there are also restaurants and supermarkets close by (5 min by car). Thank you both for the nice stay!
Linda
2016-11-28T00:00:00Z
Los algunos dias que pasado en este casa estaban muy agradables. En efecto la casa es muy guapa y tranquila. Ademas, John y su madre son muy simpaticos!
Meredith
2016-03-10T00:00:00Z
Kamertype
Gehele woning/appartement
---
Type woning
Appartement
---
Geschikt voor
2
---
Slaapkamers
Los Llanos, Canarische eilanden, Spanje
New apartment to enjoy the mountains and La Palma (El Paso), trekking, hiking, mountain biking (VTT), privacy and nature rural housing. 1 Bedroom (double bed) with bathroom (shower) and a sofa bed in kitchen / living room. + Possibility to use adjoining terrace. + Heating Cast iron stove (wood). + Next to the center of El Paso, independence / discretion by failing housing nearby. + Access via dirt track, recommending suitable vehicle.
Malerisch gelegenes Ferienhaus an der Cumbre mit Blick über El Paso auf den Atlantik; komplett eingerichtet; für die Anfahrt Allradmodell bzw ausreichende Bodenfreiheit vom PKW von Vorteil. Nette Betreuung durch den Vermieter!
Gunther
2017-03-14T00:00:00Z
Ideal place for those who prefers to stay not in the city, but nearby. No neighbours at all. Nice view down to El Paso through the wide glass door in the living room. It was just what we expected. The city is 1.5 km away and more than 100 m lower. Walk downhill to the El Paso centre took about 15 minutes and up to 30 minutes in backward uphill direction. Recommended for people who like to walk. Really large kitchen / living room. We asked to provide additional equipment such as microwave, coffee maker, electric kettle and more convenient light for reading and all was done. Also provided by our request were two beds instead of single double bed. Host's partners provided excellent assistance and transportation service. Thanks a lot.
Leonid
2016-11-05T00:00:00Z
Central and secluded. A great spot with excellent views particularly in the evening. Entirely private but within a 10 minute walk of El Paso centre, albeit over rough tracks. Took the weeks let in conjunction with ebikes hire from la Palma outdoor which made the Caldera, Cumbrecita and El Pilar within easy reach. Miguel an Conchi were exceptionally helpful also. Look forward to next time!
Mike
2017-03-26T00:00:00Z
Kamertype
Gehele woning/appartement
---
Type woning
Appartement
---
Geschikt voor
2
---
Slaapkamers
El Paso, Canarische eilanden, Spanje
The apartment is located 400 meters from the Main Bus Station (Guagua) and 5 minutes walk to Plaza España Everything in it is brand new with all the apliances you need. (Microwave, toaster, coffe maker, cutlery,etc) It is perfect is you want to stay to go to places like La Caldera de Taburiente, Tazacorte or Puerto Naos and them enjoy the night at Los Llanos. The couch turns into bed so 5 can sleep no extra charge.
Sehr empfehlenswert
Friedrich
2017-02-07T00:00:00Z
Nice apartment and nice host, we surely recommend !
Marie
2016-08-20T00:00:00Z
Very clean spacious apartment, close to town centre, quiet and very nice kitchen. Hope to return soon.
Brian
2016-11-18T00:00:00Z
Wir waren sehr zufrieden mit der Wohnung, alles was man braucht, war da und zudem war auch alles sehr ordentlich und gemütlich. Von Los Llanos aus kommt man überall gut hin!
Arik
2016-12-06T00:00:00Z
El piso es amplio, con suficiente espacio hasta para 5 personas y muy cerca de las playas del oeste y la caldera del taburiente, la anfitriona muy atenta y simpática. Todo perfecto
b5rser
2016-09-15T00:00:00Z
Quedamos fascinados con la belleza de Los Llanos y con la excelente ubicación del apartamento de María Consuelo.Muy formal su atención,nos recibió con fruta y chocolates para los niños. El apartamento muy limpio, luminoso y confortable.
Bibiana
2017-01-02T00:00:00Z
Das Appartment, das uns Maria vermietet hat war für den Preis hervorragend. Zentrale Lage, super sauber, neueste Austattung und viel Platz. Ich kann es nur weiterempfehlen
Leonie
2016-09-08T00:00:00Z
Fantastic apartment in an excellent location, only a few minutes walk from the centre of los llanos, plus there was always parking outside where as in the centre you can never find parking! Flat was in immaculate condition, really clean and tidy, and the flat was very good value for money. THANK YOU :)
Jess and Sam
2016-11-08T00:00:00Z
Kamertype
Gehele woning/appartement
---
Type woning
Appartement
---
Geschikt voor
5
---
Slaapkamers
Los Llanos de Aridane, Canarische eilanden, Spanje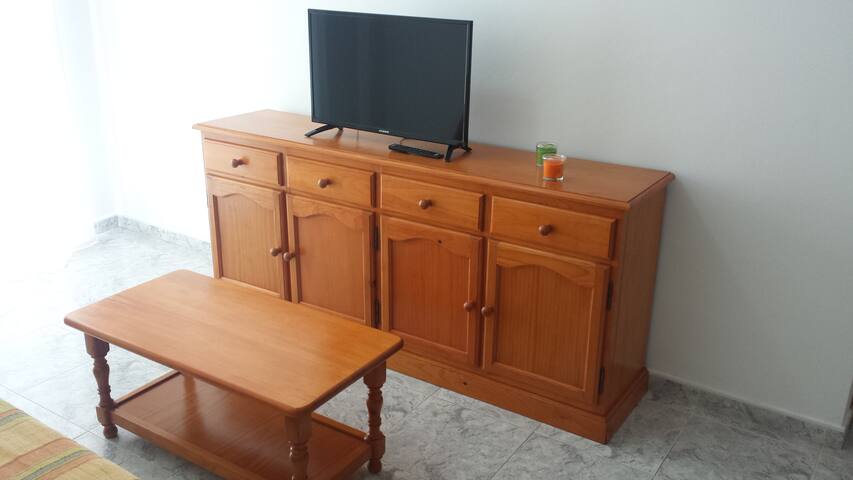 Kamertype
Gehele woning/appartement
---
Type woning
Appartement
---
Geschikt voor
6
---
Slaapkamers
Los Llanos de Aridane, La Palma, Spanje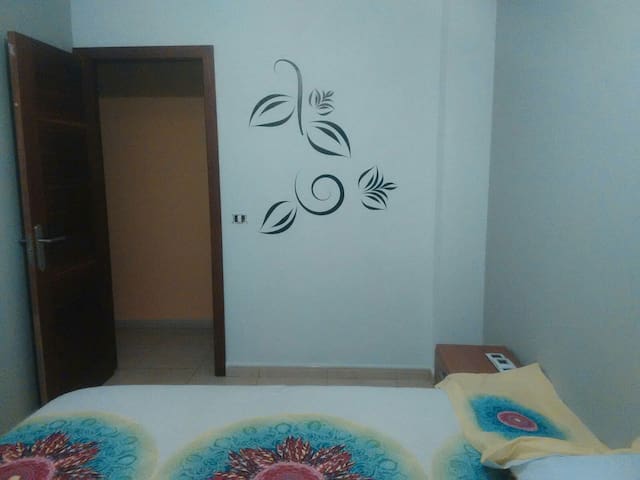 Een prachtige plek net buiten El Paso. Door de westelijke ligging van het appartement, kunt u heerlijk genieten van de zonnige ligging, de rust en de privacy die het appartement zich biedt. Wordt heerlijk wakker met het uitzicht over het prachtige landschap en de zee. Geniet overdag van de vele wandelroutes, stranden, boulevard en alles wat het eiland zich te bieden heeft. Het appartement is geschikt voor ieder die wil genieten van La Palma.
Het betreft een gemoderniseerd appartement in de onderste woonlaag van de villa met een eigen ingang. Bij de ingang bevindt zich direct het zonneterras met uitzicht op de zee. De woonruimte is opgedeeld in een woonkamer met eethoek, open keuken, slaapruimte en een dichte badkamer met douche, toilet en wastafelmeubel.
Het huis is gelegen op een royaal perceel en biedt veel rust en ruimte. Er is op het landgoed veel privacy en er zijn veel terrasjes. Wie ultieme rust en privacy wil ervaren moet zeker dit huisje boeken! Alle voorzieningen zijn gelegen in het dorpje El Paso op slechts enkele autominuten. Het prachtige strand in Tazacorte is een must-see op slechts 15 minuten afstand! El Paso zit vol met leuke restaurantjes en barretjes. Ga voor een overheerlijke pizza naar Dulce y Salado in El Paso of ga voor een grote hamburger naar de bar Los Angeles tegenover het politiebureau. El Paso is centraal gelegen en een goede uitgangsbasis om het eiland te verkennen. El Paso heeft diverse voorzieningen waaronder een tankstation, autoverhuur en een grote supermarkt.
Die Kommunikation mit Willem war super unkompliziert. Die Unterkunft war gut zu finden und mit dem Schlüssel im Locker ist die Anreise zu jeder Uhrzeit problemlos möglich. Die Unterkunft liegt in einer kleinen eher ländlichen Siedlung zwischen El Paso und Las Manchas. In Las Manchas ca. 2 km entfernt ist ein kleiner Supermarkt, die größeren Märkte sind in El Paso. Mit einem Mietwagen ist dies kein Problem. Von der Terrasse aus sieht man das Meer und hat einen schönen Blick in die Umgebung. Der Ort liegt leicht erhöht und daher sind die Temperaturen etwas frischer als an der Küste. Die Unterkunft war sauber, in der Küche ist alles vorhanden und insgesamt ist es schön ruhig. Wir können den Aufenthalt dort auf jeden Fall empfehlen.
Ruth
2017-03-27T00:00:00Z
Everything was good... Think you...
Lutz
2017-02-25T00:00:00Z
Cosy and beautiful place
Isabelle
2017-02-18T00:00:00Z
The appartement is at a very nice place in a wonderful landscape, so we really enyoyed staying there! The kitchen had everything we needed!
Katharina
2017-03-12T00:00:00Z
La ubicación de apartamento es ideal para conocer la Palma ya que se encuentra en el centro de la isla. Está en una zona tranquila apartada de la ciudad de El Paso pero a sólo 5 minutos de la misma. El apartamento tiene todo lo que necesitas para pasar unos días. Los propietarios atienden todas tus necesidades al momento. Sin duda alguna lo recomiendo.
Félix Jonay
2017-04-02T00:00:00Z
Willem and Rowan were the best hosts anyone could wish for. The communication was great and Rowan was always willing to answer any questions I had. He gave tips about things to do in El Paso and asked me what my areas of interest were. I felt very welcome in their house. When i arrived, the apartment was very clean and tidy. Furthermore, the house has a terrific view and the porch is huge. A breakfast in the morning sun on this porch is delightful to do. I would recommend this apartment to anyone, not only by the owners, but overall by the great area and the beautiful house. By the way, there is also a nice restaurant nearby, it's called Bodegon Tamance in Las Manchas. They got some terrific food. I would like to thank Willem and Rowan for the great hospitality during this stay! Again, warmly recommended!
Wouter
2017-03-16T00:00:00Z
Kamertype
Gehele woning/appartement
---
Type woning
Appartement
---
Geschikt voor
4
---
Slaapkamers
El Paso, Canarische eilanden, Spanje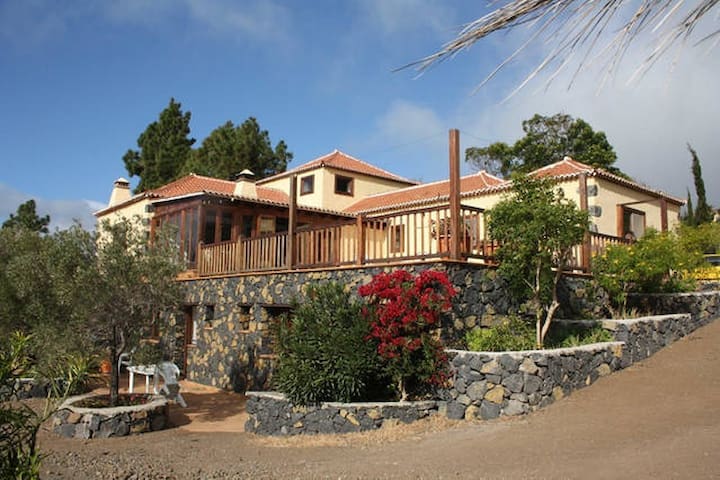 hello, welcome to my home
Kamertype
Gehele woning/appartement
---
Type woning
Appartement
---
Geschikt voor
1
---
Slaapkamers
El Paso, Canarische eilanden, Spanje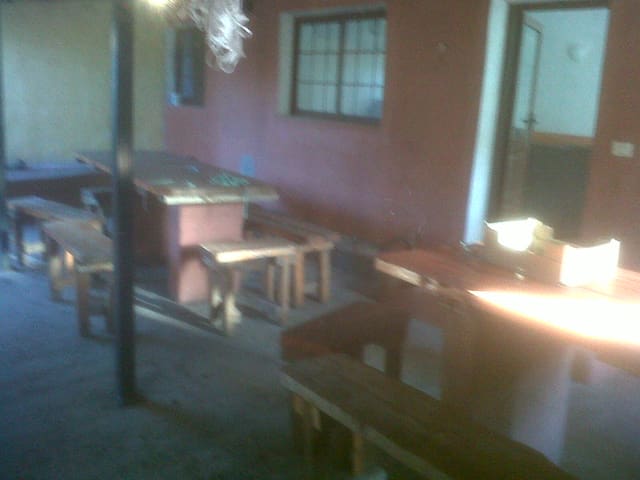 Plongez-vous dans un mauve chill-out, handlasiert, avec une touche d'argent. La cuisine en vert délicat de la papaye maturation. lampes marocaines, chaises et canapé confortable Alcantara. Confortable jardin d'hiver avec vue sur la piscine et la mer. lit à baldaquin indonésienne 160x200 en bois massif. Salle de bains avec grande douche, WC et lavabo, également avec chauffage.
Immerse yourself in a chill-out Mauve, handlasiert, with a touch of silver. The integrated kitchen has the tender green of ripening papaya. Moroccan lamps cast their patterns on the walls. The Esstühle and the sofa where you can put your his feet, are made of Alcantara. From the large glass front in the living room leads into the cozy conservatory with comfortable Korbsesseln.Von there it goes to the west terrace with seating under a fig tree and a few steps down is the pool area. The master bedroom is a restored Canarian Pajero high wooden gable roof. It is glazed in a warm ocher color, with a touch of gold. Here magic oriental lamps a colorful play of colors on walls and ceilings. Indian Saris decorate bed and window. Pillows, candles and carpets invite to feel ein.Von there it goes into the bathroom with window to the garden. Amenities: Papaya 72qm² large one bedroom Kitchen: equipped with hob, kl.Backofen, juicer, toaster, coffee and espresso machine. Fridge with small. Freezer and everything else you need for cooking and eating. Bad: with a rain shower, sink, toilet and window to the garden. Bedroom: has an Indonesian canopy bed made of solid wood 160x200m with latex mattresses and Sarihimmel. Living area: satellite TV flat screen, modern hi-fi system with DVD, CD, MP3 player, USB flash drive, a kl. CD selection is available. Free Wireless Internet, Römerheizug (heated marble slabs) in all rooms! Bed linen, towels for bath and pool are also available. There is an east-facing terrace with breakfast area and a west-facing terrace with seating and private access to the pool area. There are available at the pool two chairs with cushions in a banana tree. A sunshade is for use for our guests. Pool, BBQ, outside shower, washing machine, large patio under a pergola are also for the guests of the other house Mango since.
, Quartier calme, mais pour que vous pouvez tous faire marche pays vaste vie nécessaire aussi.
Kamertype
Gehele woning/appartement
---
Type woning
Appartement
---
Geschikt voor
2
---
Slaapkamers
El Paso, Canarische eilanden, Spanje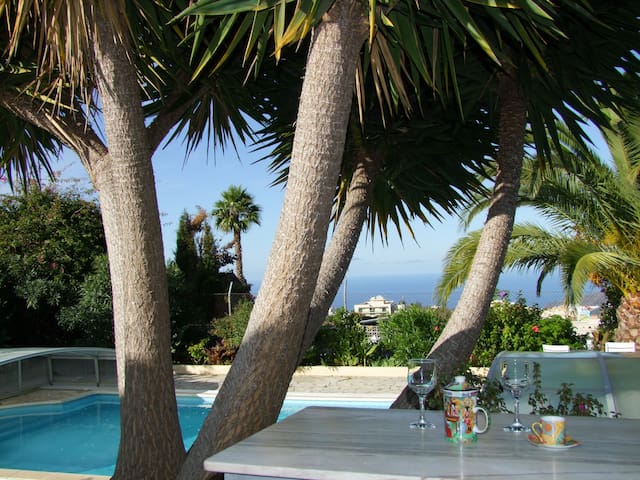 Fantastische mensen in La Isla Bonita, die is als de kanaries gesprek. In deze unieke omgeving kan je naar het strand, een bezoek aan de indrukwekkende Caldera en magische paden metgezel door een rijke lokale gerechten welke door de plaatselijke wijnen gewassen.
Clean, fully equipped apartment conveniously located and close to Los Llanos town centre. Good for long stays: washing machine, large fridge, cooker, microwave, etc. Winter months can feel a bit cold as the apartment has not heating. Punctual, reliable host to welcome you. Recommendable.
Jesús
2017-01-24T00:00:00Z
Thanks for pleasant stay.
Peter
2017-01-31T00:00:00Z
Apartamento práctico y limpio. Bien ubicado en Los Llanos, con tiendas y restaurantes a pocos metros y buena base para recorrer la isla.
Javier
2017-02-10T00:00:00Z
Un piso muy acogedor y céntrico
Virginia
2017-01-28T00:00:00Z
Un pedazo de cielo en la ISLA BONITA. El apartamento es grande, comodo, limpio, moderno y la situacion es inmejorable...cerca de la playa de puerto de tazacorte y cerca de una infinidad de rutas de montaña. La dueña es super amable. 110% recomendable
King
2017-04-01T00:00:00Z
Die Wohnung ist super zentral gelegen, sauber und gut ausgestattet. Maria ist immer gut erreichbar und hilfreich gewesen. War ein toller Urlaub!
Carmen
2017-03-21T00:00:00Z
Relación calidad precio inmejorable. Muy limpio,con todo lo necesario para pasar una semana muy a gusto. La casera muy simpática. El alojamiento está en una zona de fácil aparcamiento,cerca de supermercados y a 500 metros del centro de la ciudad.
Henar
2017-01-22T00:00:00Z
100% recomemdable
Airam
2017-02-12T00:00:00Z
Kamertype
Gehele woning/appartement
---
Type woning
Appartement
---
Geschikt voor
3
---
Slaapkamers
Los Llanos, Canarische eilanden, Spanje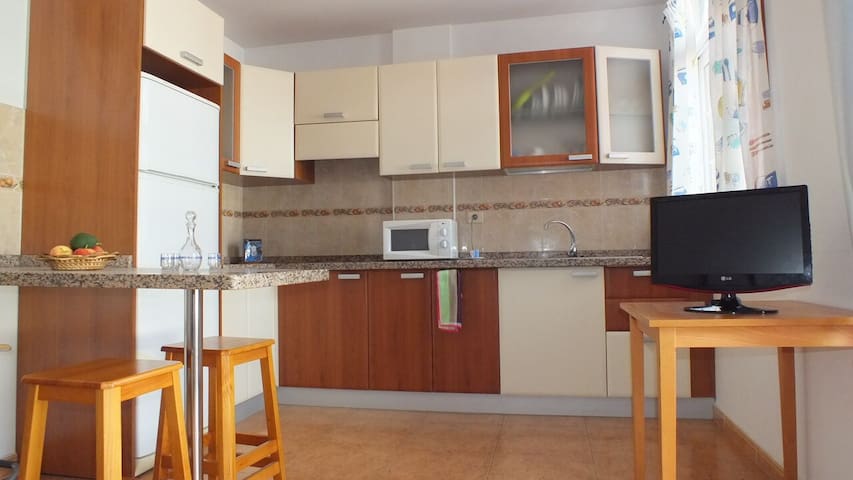 Das Penthouse ist sehr gut im Zentrum von privilegierten Durchgang für diejenigen, die alle Routen-Website zu gehen um mögen. Es hat alles, was man ein paar Tage Urlaub zu verbringen. Es liegt ca. 15 Minuten vom Strand entfernt
Nuestra experiencia ha sido muy buena, es la primera vez que utilizamos el servicio Airbnb y no tenemos queja alguna. El atico es fresco y tanto la terraza como las vistas son ideales. La verdad es que hemos estado muy comodos y el Paso es perfecto para desplazarte a los diferentes lugares de interes.
Rebeca
2016-08-29T00:00:00Z
Marisol was a good host, I arrived late (21:30) and it was no problem to check in the apparent was clean and had everything what is needed.
Marc
2016-09-18T00:00:00Z
La experiencia en casa de Marisol fue muy buena. La casa estaba limpísima y con todo lo necesario para hacer agradable la estancia, incluso wifi. La ubicación no puede ser más céntrica en El Paso!
NACHO
2016-11-10T00:00:00Z
Marisol was very nice. The appartment was perfect with everything inside. The view from the balcon is amazing. It's very close of supermarket, tourism office, restaurants. Llanos is also very close. Thanks a lot and see you maybe next year for The Transvulcania. Axel
Axel
2016-05-11T00:00:00Z
Kamertype
Gehele woning/appartement
---
Type woning
Appartement
---
Geschikt voor
3
---
Slaapkamers
El Paso, Canarische eilanden, Spanje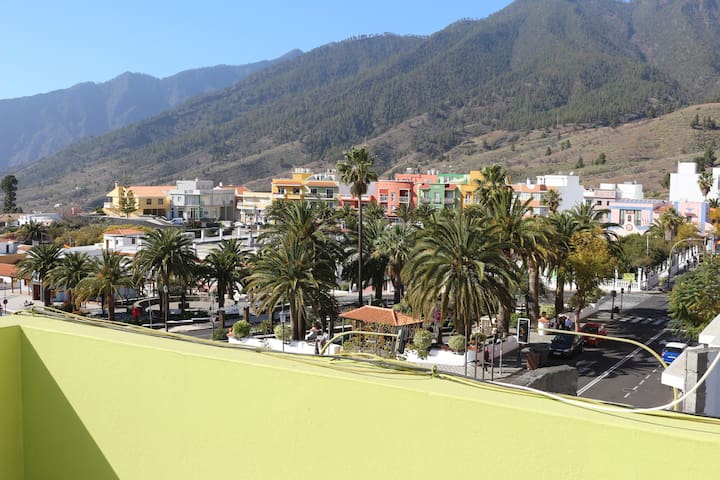 Attractions: large private garden overlooking the sea and mountains, close to everything, nature, quiet without noise. . You'll love my place because of the cozy space, high wooden ceilings, comfort of bed, views, private environment, I equipdo full kitchen. My accommodation is good for couples and families (with children).
Kamertype
Gehele woning/appartement
---
Type woning
Appartement
---
Geschikt voor
6
---
Slaapkamers
El Paso, Canarische eilanden, Spanje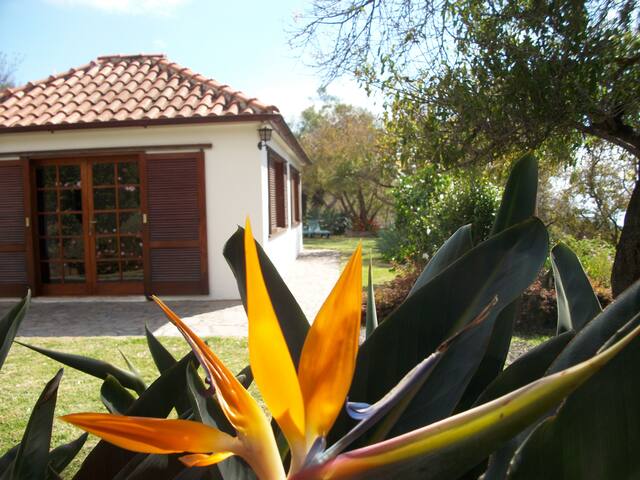 Maak jezelf een bijzondere vakantie in onze liefdevol ingerichte appartement. De grote woonkamer, een keuken is geïntegreerd, die goed is uitgerust. In de wintertuin kunt u de dag te begroeten met de eerste stralen van de zon bij het ontbijt. Voor uitslapers, het grote zonneterras voor het ontbijt te wachten met uitzicht op de Atlantische Oceaan en de bergen. De slaapkamer is uitgerust met twee grote comfortabele bedden, een kleine doucheruimte meedoet.
Kamertype
Gehele woning/appartement
---
Type woning
Appartement
---
Geschikt voor
2
---
Slaapkamers
El Paso, Canarische eilanden, Spanje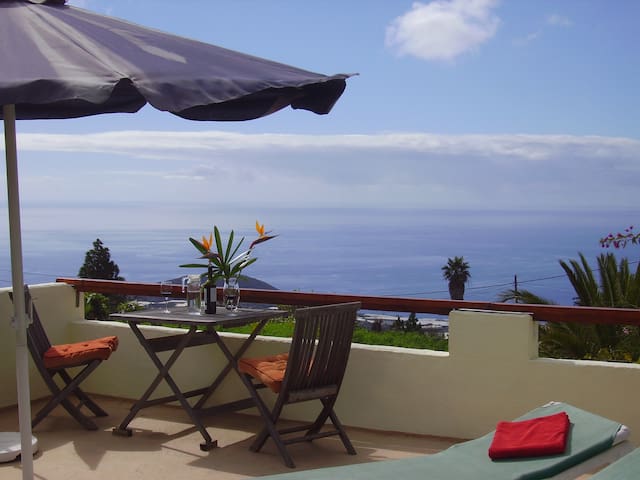 Ons appartement is gunstig gelegen in de stad, op vijf minuten van het centrum, in een rustige omgeving. Het heeft een complete en moderne terras met uitzicht op La Caldera, waardoor maximaal vier personen comfortabel.
Het heeft twee slaapkamers, een met twee eenpersoonsbedden, een ruime woonkamer met een balkon, een keuken met benodigdheden en een badkamer en een toilet. We hebben een wasmachine, oven, magnetron, koelkast, broodrooster, waterkoker, strijkijzer en strijkplank, haardroger, electrische water thermos en Wi-Fi.
Dit appartement is gelegen in de Llanos, dat is de tweede stad in belang van het eiland, maar heeft meer dan 20.000 inwoners, het dichtste van het eiland, meer dan de hoofdstad van het eiland Santa Cruz La Palma.
Heel net en ruim, maar zeer kil en koud
Nick
2017-03-06T00:00:00Z
Muy recomendable! Bonito piso en el que hemos tenido todo lo necesario para estar como en casa, muy limpio y buena situación para moverse por la isla. Aunque no conocimos personalmente a Flori siempre estuvo disponible para cualquier inconveniente que pudiera haber,aunque como digo todo fue estupendo y no hizo falta. Si viajamos a la Palma de nuevo volvemos seguro.
Jordi
2017-03-29T00:00:00Z
We had the most wonderful stay at Flori's apartment. She was a very warm and welcoming host, providing us with a beautiful basket of home grown bananas, avocados, lettuce and wine upon arrival. She was also kind enough to provide bottles of water in the fridge (most people in Los Llanos drink bottled water). The apartment is modern, clean and has everything you would need for a comfortable stay. The kitchen is very well equipped with a large fridge-freezer, microwave and kettle and a good range of utensils, pans and cutlery. The bedrooms are spacious, both with lovely views of the Caldera, and the balcony is lovely to sit out on and just look at the mountains or relax with a drink. The bathroom has a lovely large shower and lots of towels, and there is also another smaller bathroom with a sink and toilet - this would be very useful if there were more than two people staying. The apartment is in a convenient location - the wonderful market is just a few yards away and open daily, there is a SuperDino supermarket behind the apartment block and to the plaza, where the restaurants, cafes and bars are located, is a five minute walk. There is parking in an area behind the apartment. There is currently no wifi in the apartment, which was not a problem for us, but Flori's son explained that this was likely to be provided in the future. However, many of the local cafes have free wifi. We were very sad to leave and wish we could have stayed for longer. We will definitely return and would recommend Flori's apartment to anyone. Thankyou to Flori and your lovely family! Kate and David x
KATE
2016-12-31T00:00:00Z
Hemos pasado una semana perfecta en la isla de La Palma. La estancia en el piso de Flori fue perfecta, todo nuevo y super limpio. Flori es una amfitriona de primera.
Maria
2017-01-07T00:00:00Z
The flat is very well situated along a main street but at the same time quiet (windows facing the backyard). Flori is a nice host: prepared a basket of local food and wine. Highly recommended if you plan to travel the island without a car (the bus station is 5 min distance).
Adrienn
2017-01-29T00:00:00Z
Flori hat uns bei der Ankunft erwartet und mit frischen Gemüse aus ihrem eigenen Garten, dem berühmten Mandel-Gebäck und einer Flasche palmerischem Wein begrüßt. Das war ein sehr schöner Urlaubsbeginn! Das Appartement war sauber und mit vielen großen Handtüchern ausgestattet. Perfekt für unsere Tage am Strand! Sehr zu empfehlen ist die Markthalle direkt neben dem Haus. Es hat uns bei Flori sehr gefallen, sie hat uns mehrfach gefragt ob uns etwas fehlt.
Wolf
2017-03-19T00:00:00Z
Liebe Leute, wenn ihr auf La Palma reibungslos eine tolle Wohnung beziehen möchtet, die direkt an der Markthalle, an Supermärkten und am zentralen Busbahnhof liegt, die perfekt ausgestattet ist in der Küche, mit bequemen Betten in zwei Schlafzimmern, mit viel Raum für eure Klamotten, einem großen Bad und noch einer extra Toilette, mit einem Riesenbalkon mit Blick in die Berge und einem Mega-Wohnzimmer ..., dann seid ihr hier gold richtig! Zum Strand geht es in 15 Minuten mit Bussen, zum Wandern und Besichtigen mit vielen Bussen in alle Richtungen ... unbedingt buchen und genießen!!!
Peter
2017-02-25T00:00:00Z
Kamertype
Gehele woning/appartement
---
Type woning
Appartement
---
Geschikt voor
4
---
Slaapkamers
Los Llanos de Aridane, Canarische eilanden, Spanje
Waarschijnlijk een van de beste gebieden in La Palma. Een prachtig uitzicht, zonnig weer en erg rustig te genieten van uw vakantie. Zeer dicht bij het strand en Los Llanos de Aridane. Alles wat je nodig hebt om comfortabel te voelen en een geweldige ervaring leven in een mooi appartement obtein.
Leuk huisje met goede keuken, badkamer en bedden. Centraal gelegen aan de west-zijde. Routebeschrijving volgens (SENSITIVE CONTENTS HIDDEN) maps klopt niet (meer richting Los Llanos)!
M
2016-12-04T00:00:00Z
Notre hôte Nieves a été très accueillante et serviable. Le site est très bien aménagé et entretenu au niveau paysager. Et seulement 4 unités (casitas) en location bien isolées acoustiquement. Un séjour agréable et finalement un peu trop court.
Jean-Marie
2017-03-08T00:00:00Z
Fantastic apartment for a couple. We were really good in this place. Awara crew helps with everything. If you find a good place with a good price, this is a excellent option
Xavi
2017-02-23T00:00:00Z
The appartement is centrally located, great to explore the island, and has a big garden which is great for kids. Our appartement was accidentally not available, but we got a refund from the host, so it worked out in the end
Chris
2017-01-23T00:00:00Z
The apartment is one of four houses infront of a beautiful garden with nice places to eat and to see the ocean, the mountains and some avocado trees! With a car it's perfect located nearby some nice little towns, restaurants, beaches, the harbor and supermarkets. Also its the sunny side of the island so the weather was always great. The check in and out where perfect! We had a amazing stay and would definitely come back!
Marie
2017-02-21T00:00:00Z
Everything as described in the listing. Our kids liked this place and its garden a lot. The host communicated with us proactively. We were shown around the house and greeted with a little gift. Overall we had a wonderful stay, thank you!
Karol
2017-03-17T00:00:00Z
Kamertype
Gehele woning/appartement
---
Type woning
Appartement
---
Geschikt voor
4
---
Slaapkamers
Los Llanos, Canarische eilanden, Spanje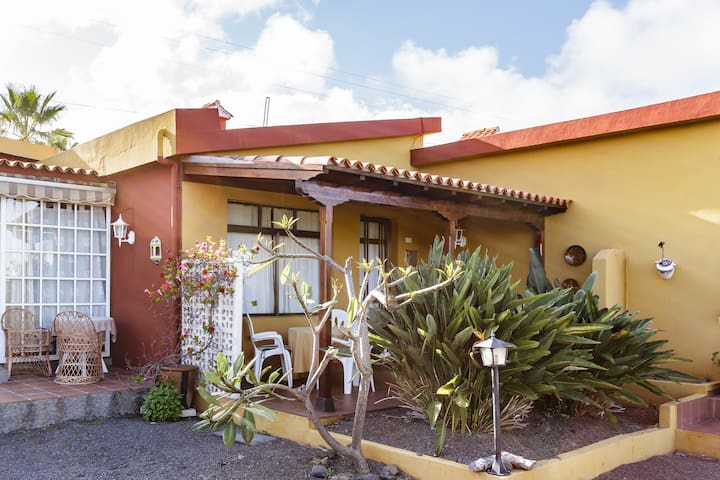 Mijn ruimte is vlakbij Nationaal park Caldera de Taburiente, fantastisch uitzicht. Je zult genieten van mijn plek vanwege de locatie, de sfeer, de buurt en de buitenruimte. Mijn ruimte is geschikt voor stellen.
Zeer centraal gelegen in de natuur en toch ook snel in St. Cruz of los llanos.
De mooiste wandelingen zo vanuit het huis weg! Rust en ruimte. Verrassend!
Engelina has a beautiful place and we enjoyed our time there a lot. Although the location is laid back, it is very central in terms of getting around the island. The scenery is beautiful and Engelina has the small apartment super well equipped.
Merlin
2017-02-18T00:00:00Z
Kamertype
Gehele woning/appartement
---
Type woning
Appartement
---
Geschikt voor
2
---
Slaapkamers
El Paso, Canarische eilanden, Spanje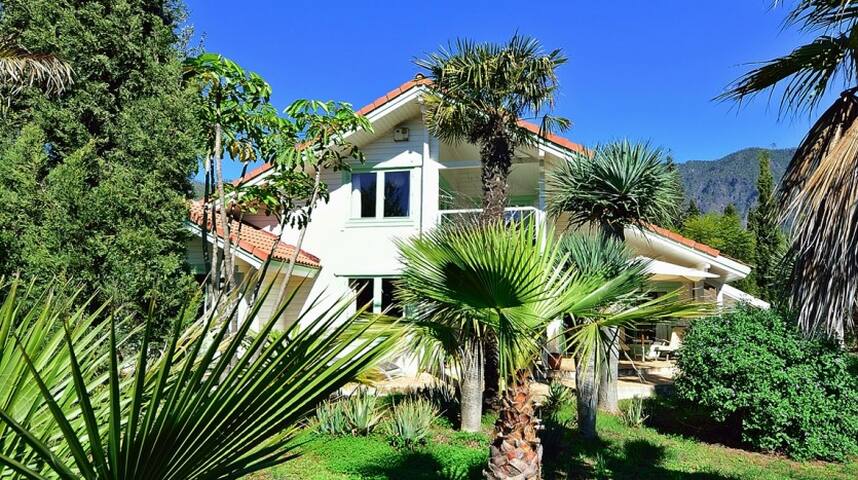 Studie van ongeveer 25 m. appartementencomplex nabij het centrum waar u winkels, restaurants en het busstation te vinden. Aparcamento beschikbaar op aanvraag en tegen een vergoeding van EUR 4 per dag.
Todo muy bien
pedro
2017-02-25T00:00:00Z
Kamertype
Gehele woning/appartement
---
Type woning
Appartement
---
Geschikt voor
3
---
Slaapkamers
Los Llanos, Canarische eilanden, Spanje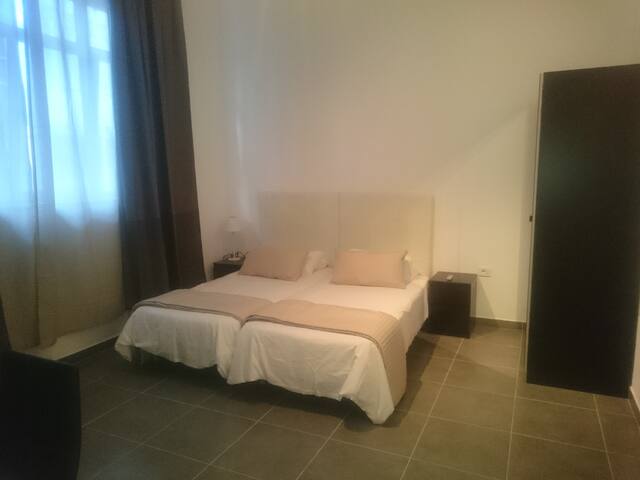 Los Campitos 3 biedt u een woonkamer met zit- en eethoek, een aparte keuken, een slaapkamer en een badkamer met een douche. Op de galerij is een extra slaapmogelijkheid voor grotere kinderen. De houten plafonds geven de vakantiewoning een typisch Canarische sfeer.
Het perceel van 5000 m² heeft verschillende terrassen, een vaste barbecue en rookoven. Daarnaast is er een Jeu de boules-baan. Campitos ligt boven Todoque op 400 meter, op een bijzonder rustige locatie. De slechte weg (landweg) wordt vergoed door de rust die vandaag de dag vaak ontbreek
Kamertype
Gehele woning/appartement
---
Type woning
Appartement
---
Geschikt voor
3
---
Slaapkamers
Los Llanos, Canarische eilanden, Spanje
Meine Unterkunft ist gut für Paare und Abenteurer.
Kamertype
Gehele woning/appartement
---
Type woning
Appartement
---
Geschikt voor
2
---
Slaapkamers
Los Llanos de Aridane, Canarische eilanden, Spanje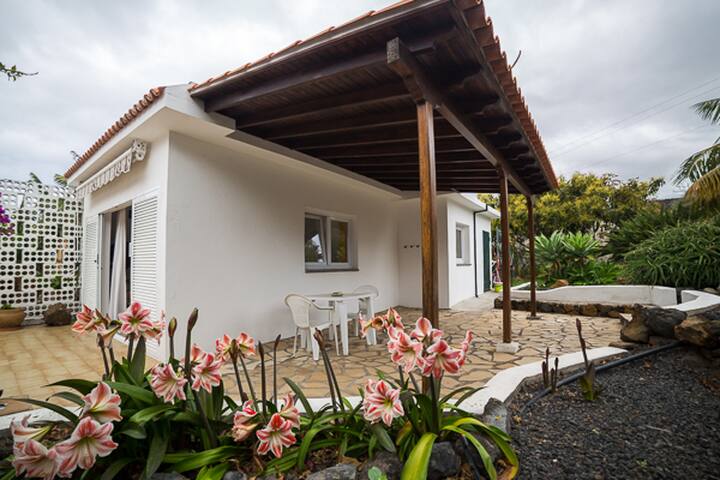 1

–

18

van

153 Appartementen te huur