Een uniek, iconisch, architectonische huis - interieur ontworpen door de eigenaar. Een licht gevulde oase van rust, omgeven door de natuur met een eenvoudige, creatieve en eigentijdse uitstraling. Je kan overal in de wereld tot aan de poorten open en zeggen: 'Hallo Ghana! "
..... Ergens in LA of Cape Town .... zijn suggesties van plaatsen dit huis oproept -een echte wereldwijde ruimte in een typisch lokale plek! Zijn kenmerkende luchtig gevoel, badend in het licht, gelegen in een weelderige, aangelegde tuin met een symfonie van vogels, het gebruik van natuurlijke materialen ontwerp, rustgevende kleuren en eclectische kunstwerk dat opduikt, maakt dit ongetwijfeld ......... .... een gewoon unieke ruimte in Accra!
De buurt is ligt op 30 minuten van de luchthaven en 25/30 minuten (5-7km) van al het drukke delen van de stad-Osu, Accra Mall, Airport City, Cantonments, de oude CBD, Makola Market, Jamestown en de Arts Centre. 'S Nachts, wanneer er weinig verkeer, kunt u terugkeren uit deze gebieden in minder dan 20 minuten. U kunt ook druk op het strand in 30 minuten, hoewel de stranden buiten Accra zijn over het algemeen beter. Er zijn een aantal kleine supermarkten en eten / groenten en fruit kiosken in het gebied en een warenhuis met een supermarkt 5 minuten rijden. Een slager, viswinkel, wijn winkel, apotheek en een forex bureau zijn ook in de omgeving, net als een paar plaatsen om een maaltijd te bestellen en laten bezorgen. Houtskool gegrilde kip / lam / vis met gebakken rijst of Joloff rijst, frieten of Libanees brood, geleverd aan uw deur, is slechts een telefoontje verwijderd!
I stayed with Nana in Accra for a week. It was my first time in Accra and I couldn't have asked for a better host. Firstly, Nana's place is beautiful. Secondly, she is a wonderful host who was extremely helpful. She will be able to make many great recommendations on places to visit, restaurants to eat at and where to shop. As a first time visitor to Accra - this was priceless.
scott
2016-04-15T00:00:00Z
This was a fabulous stay and the place is exactly as pictured. It feels very comfortable and relaxing here. Nana is an Interior designer and it clearly shows. Everything fits together so nicely and feels right. I can't tell you why, (I'm not a super arty person) it just does. It is also clean, spacious, has lots of colour, and natural light. This was more like a therapy session in the sense that it was the perfect retreat from the hectic bubble of life, smells and general mania that Accra possesses. I had just spent two months in a hotel room with air con. Opening the double glazed windows let all the noise from the streets in. So I really needed no air con, lots of natural light and peace! I had initial reservations about staying here as it looked far away from the centre of the city. But the photos of the place looked so appealing. Since being here I can tell you Taxi's to Central City, Osu Cedi$15-20 (US$4-5) depending on your negotiating skills to Accra Mall - US$4-5 to Kokrobite - US$10-12 to Labadi Beach - US$5-6 Local shops are within 800M, (2 Supermarkets, two wine shops, Gas station, and myriads of small local shops) the neighbourhood is fine. I've been out walking and running at night. People are friendly and say hi. A few local bars are close by Nana herself is a wonderful hostess. Very accommodating and has lots of useful info on the place. The kind of person you find will be a good friend. I really enjoyed the stay here and it revived me when I was lagging from staying in Ghana for longer than expected. This is one of those choices that you make and you pat yourself on the back for being such a clever one!
Dave
2015-07-31T00:00:00Z
There is only one place I would stay in Accra and it is at Nana's place. Sure the Movenpick is 5 star and the Labadi Beach hotel are nice as well. But those are hotels and this is a true experience that no hotel can provide. I'll be returning next week and will write another review afterward. But to be sure, the stay and Nana are both fantastic.
Jeff
2016-05-17T00:00:00Z
As the previous review, all fantastic, thanks Nana.
ellie
2016-05-24T00:00:00Z
What can I say? My stay at Nana's was an existential twofer. There is Nana, and there is her lovely home. Nana engages wonderfully, insightfully and authentically with whatever one shares with her. She brings a lifetime of accomplishment and aesthetic enquiry together with genuine curiosity about those who enter her world. The end result is joyful, meaningful conversations on a regular basis. Huge plus. Then, there is Nana's home, which reflects what you would expect of such a thoughtful and generous person. It is an impeccably appointed, welcoming and comfortable space to live in. Enjoy the company of Nana and her beautiful home while you explore Accra!
James
2016-08-20T00:00:00Z
Absolutely wonderful AirBnB. This was a perfect stay. The location is fairly close to all the major sites, via taxi. Breakfast was spot on. We loved the atmosphere - it was quiet and artsy! We highly recommend this AirBnB.
Perry & Yannine
2016-08-17T00:00:00Z
Excellent as usual, love staying at Nana's.
Zubair
2017-03-30T00:00:00Z
A big thanks to Nana for her hospitality! After two weeks traveling around Ghana for work, arriving in her place has been a great moment of relax and pleasure. The house is like heaven, the decoration is amazing and we loved the garden! I only stayed one night but would have been so pleased to be able to spend more time. Nana has been great and very friendly, and gave us a lot of good tips to go out. I highly recommend her! Thanks again.
Fabian
2016-04-11T00:00:00Z
Kamertype
Privé Kamer
---
Type woning
Huis
---
Geschikt voor
2
---
Slaapkamers
Accra, Greater Accra, Ghana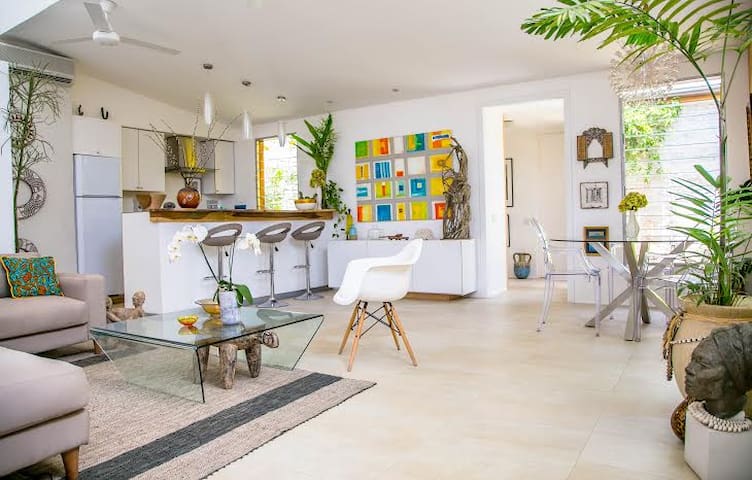 Een liguster kamer in onze familie huis in het centrum van de stad. omgeven door een rustige en unieke tuin. liguster badkamer, B.fast WiFi zijn inbegrepen. Gemakkelijk vervoer naar alle delen van de stad. Op loopafstand van Accra mall check ook een paradijs, ster of tuin oase.
Onze grote comfortabele slaapkamer, met een aangrenzende eigen badkamer, ingericht met een groot bed 2 × 2 meter (bijna 7x7 voeten) De kamer heeft een extra uitgang deur naar een eigen tuin. Een extra matras kan worden toegevoegd of een baby slecht.
Het beste van twee werelden: In het centrum van de stad en op hetzelfde moment in het midden van geurige Nature. Een grote tuin veel bomen, verschillende dieren en ook een visvijver.
I loved my stay here! Ellie (?), Gladys and Gidi's daughter was so helpful! Free breakfast too! Will come back again! :)
Shadrack
2016-01-06T00:00:00Z
I really enjoyed my stay, even though it was really short. Gladys & Gidi were very accommodating and gave very helpful tips on how to move around in Accra. Everything from the arranged airport pickup to tips on where to eat and visit were spot on. If you need to move around, they can also give you very good tips. I highly recommend staying with them if you are looking for a nice, clean, quiet and safe place to stay in Accra.
Henry
2016-08-23T00:00:00Z
Gladys and Gidi have created a home away from home. If you are looking for a green oasis close to East Legon and Accra, but far away from the hustle and bustle of the city, this is the ideal location. You will get a warm welcome from the hosts, rooms are spacious and clean, breakfasts are healthy and good. I stayed with Gidi and Gladys for a business trip of a week, together with a colleague, and I will definitely be back. Already looking forward!
Rutger
2016-11-16T00:00:00Z
For my first visit to Ghana I had the honor of staying with a wonderful family and I was treated as a part of it. Everything was perfect I will return.
Phillip
2016-10-08T00:00:00Z
You feel part of the family a few hours after arriving.
Mirza
2016-08-05T00:00:00Z
This was the best stay ever! Gladys, Gidi and their lovely daughter Ellie are really warm and open people. You become a part of their family and they make you feel at home in an instant. Every morning they serve a nice breakfast with eggs, fruits and a good salad and they can give you tips on how and where to travel within Accra. Thank you so much for the nice time guys! We will be back ;).
Prisca
2016-04-05T00:00:00Z
This was a great experience. Gladys and Gidi's place is very nice and extremely convenient. They arranged transportation from/to the airport as well as to the border with Togo. We really enjoyed visiting with them.
Carrie
2016-07-27T00:00:00Z
Gladys and Gidi are wonderful! Immediately they made us feel welcome and part of the family. Their house is comfortable, spacious and full of love, and the location very convenient to get around. It is a paradise oasis in a big city, one we hope to return to time and time again.
Eden and Pat
2015-11-29T00:00:00Z
Kamertype
Privé Kamer
---
Type woning
Huis
---
Geschikt voor
3
---
Slaapkamers
Accra, Greater Accra, Ghana
Maak het jezelf gemakkelijk in Ghana door te kijken in TO GAMS.ROOM voorzieningen; airconditioning, een kingsize bed, een eigen badkamer, roomservice OOK INCLUSIEF.
Kamertype
Privé Kamer
---
Type woning
Huis
---
Geschikt voor
2
---
Slaapkamers
GH, Ghana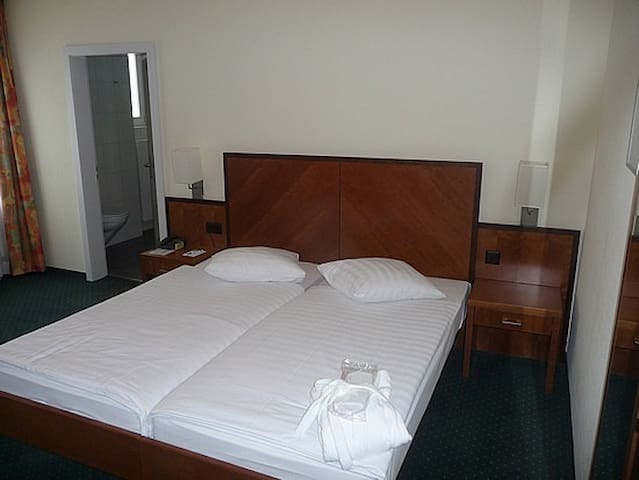 Mijn plaats is een 3 kamer woning 30 minuten van de luchthaven zonder verkeer. U zult genieten van mijn plaats vanwege de mensen. Mijn familie is geweldig, goede zorg, en relaxed. . Mijn plaats is goed voor koppels, solo avonturiers, zakelijke reizigers, families (met kinderen), en harige vrienden (huisdieren).
vriendelijke buren
Kamertype
Privé Kamer
---
Type woning
Huis
---
Geschikt voor
6
---
Slaapkamers
Accra, Greater Accra Region, Ghana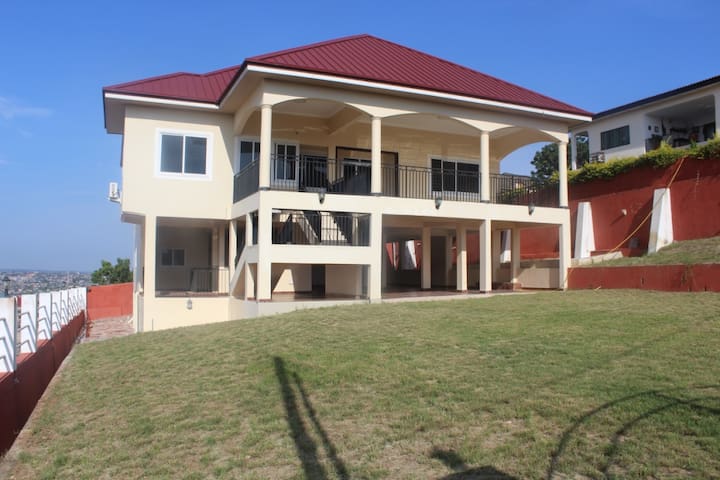 Familie huis in een rustige buurt met uitzicht op de oceaan in Tema, Ghana. Slechts een korte loopafstand van het strand in de Gemeenschap 3, met gemakkelijke toegang. Volledige keuken, en chef-kok kan worden geregeld. We hebben back-up zonne zonne-water verwarming, telefoon en internet. Neem contact met ons op voor meer informatie.
We bijgenaamd het huis 'Halfway'. Op zoek vanaf de straat het huis heeft 2 verdiepingen, als je de ruimte van de garage het eigenlijk heeft 4 levels zonder corridors in te voeren. De ruimte binnen is open en uitnodigend met veel zithoeken binnen en buiten de balkons. Een architect vriend wiens focus ligt op het beste gebruik van de ruimte in het ontwerpen, werkte samen met ons naar ons idee om te zetten in ons huis design. Wij hopen dat u net zoveel genieten van dit huis als we doorgaan om ervan te genieten .....
we loved to to stay in tema .the house is very well done ,we pretty much felf at home... even though it feels a little out of accra, its really not that far to get in an out of accra, ben was very help ful...and could make meals for us when we needed, ,ultimately our experience in these house was marvellous,we would high ly recommend to any one visiting ghana..... the air conditioning in the house was great considering the humidity in accra ,the space of the house was incredible,we could not have asked more,
joe
2014-01-05T00:00:00Z
Kamertype
Gehele woning/appartement
---
Type woning
Huis
---
Geschikt voor
4
---
Slaapkamers
Tema, Greater Accra, Ghana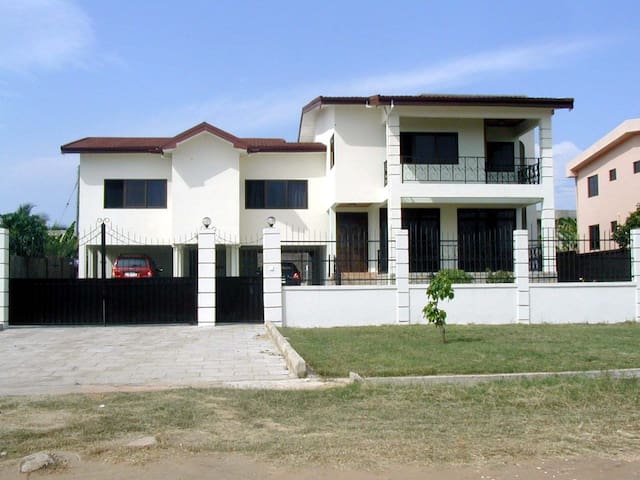 It is the private vacation home of a German/Ghanaian/Japanese family based in Germany. We spend 3-4 weeks a year in Ghana and always love to return to our home. It is very important to us that our accommodation is very clean and comfortable. Experience Ghana like Ghanaians do, authentically, in a safe, well established, and very lively area, from a very pleasant and comfortable home. Why stay in the old traditional expatriate areas? Come and see the house for yourself and you will be charmed!
This is vacation home that is well maintained and equipped to a standard above the average vacation home in western Europe. This is because it is our own personal vacation home and it is very important to us that the house provides above average comfort. As it is our own home, we have taken a lot of care and effort to renovate and finish the house in a way that appeals to us. Recently renovated, the house has 3 bedrooms, a spacious multi-purpose room which can be used as a bedroom or office, two spacious halls, two bathrooms (one ensuite and one shared) with showers, sink and toilet, a kitchen with storeroom, guest toilet and sink, corridor and verandah, back terrace behind kitchen and outdoor parking space for up to 3 vehicles. The house is very airy and light throughout, due to the many windows (louvres) and elevated location close to the sea. It also offers beautiful views of McCarthy hills and surrounding towns and overlooks the salt ponds (great for Christmas and new years fireworks viewing). Room details: the bedrooms have solid wooden beds, a king-sized bed in the master bedroom, a queen-sized bed in the second large bedroom, and a double bed in the smallest bedroom. There is an inflatable double bed that can be used in the multi-purpose room if needed. All wooden beds have matching bedside tables, with table lamps, and alarm clock radio. Each bedroom also has a real rattan sofa with coffee table and lamp, as well as solid fitted redwood wardrobes. The two large bedrooms also have air conditioning (brand new LG) and the master bedroom has an ensuite bathroom. Halls: the living room has a real rattan sitting chair set with coffee tables and table lamp, a 6-seater solid wooden dining table set, flat screen TV with satellite programmes, DVD player and an air conditioner. The visitors' hall has a full cane sitting chair set as well as a spare cane dining table and chairs set, and standing lamps. This hall doesn't not currently have air conditioning. Adjacent to the visitors hall is a guest toilet with sink. Kitchen: the fully equipped kitchen has solid wood fitted cabinets, double stainless steel sink with two drying wings, and store room with multiple shelves for optimal storage. It offers all kitchen equipment you can find in a proper western European kitchen, including coffee maker with mill, microwave oven, electric kettle and tea pot, liquidizer/chopper/food processor, various cooking pots, frying pans, baking tins, cooking utensils, table and serve ware, variety of glasses and cleaning equipment. Since spring 2016, we have also installed a brand new full-sized European refrigerator with freezer compartment and a brand new full-sized European cooker with five burners and electric fan oven. We offer a complete western standard kitchen and a great cooking experience. Bathrooms: the ensuite master bedroom bathroom, has a spacious shower with German armature, brand new European water heater, toilet, sink and mirror with shaving lamp. The second bathroom also has German armature, toilet, sink and LG self-heating 5 kg load capacity washing machine. The house also offers a lovely solid redwood garden chair set with cushions which can be used on the verandah where you will have a lovely view of beautiful palms and bougainvillea flowers on a manicured lawn. There is a foldable laundry rack and rotary laundry line set (on a metal pole) which can be used to hang large loads of laundry, and several plastic laundry baskets, and clothes pegs.
Dansoman/South Odokor is the largest residential Estate in Africa. It is located near Mallam junction and is about 20-30 minutes drive from Kotoka Airport either via the N1 highway or central Accra. It is a safe and very respectable residential area which has its own thriving economy and offers everything one can find or needs in a modern town, including banks, ATMs, grocery shops, markets, mini-stores, filling stations, forex bureaus, fast food restaurants, clinics, etc. See Wikipedia for further details.
Darkoa's home in Dansoman area Accra is as shown in the photos--lovely, comfortable, very clean, and spacious. We stayed for a month with the kids and felt very much at home. We had a wonderful birthday party for my daughter in the spacious and green backyard, we relaxed on the patio in the evenings, entertained quests in the front living room, and I able to work from the home-office with consistent and easy wifi service. The area is very safe and conveniently located. Its easy to catch a taxi and head to central Accra or the university (Legon) and there is a swimming pool at a hotel up the road. Dansoman is a great neighborhood, with all the lively culture Accra is known for--friendly folks, bars, shops, a pharmacy, restaurants, vendors, markets, etc. are just outside or down the road at the Circle. The neighborhood is nonetheless quiet and calm in the night. I enjoyed many relaxing walks quite late in the evening and always felt secure. As a host, Darkoa was just a phone call away and was very helpful, patient, and efficient in addressing any concerns or questions we had. Once we confirmed the rental, she sent a very detailed list with all the info regarding the property and neighborhood. She also has a good network of friends and family in Accra available to help as well. I highly recommend the house and would love to stay again next time we visit Accra.
Zetoile
2014-08-08T00:00:00Z
Uns fiel auf wie sympathisch Darkoa schon bei der Anfrage war. Vor der Reise, hat sie uns praktisch durch das Haus geführt, und so haben wir uns gleich wie zuhause gefüllt, bevor wir überhaupt angekommen sind. Die schnelle Bearbeitung von Emails und Nachrichten waren echt Top. Egal welche Frage man gestellt hat, es gab sofort eine Antwort. Sehr kompetent war ihre Beratung und Vorbereitung (von Bring – Abholservice). Richard und Barbara waren echt Klasse und Hilfsbereit. Die Unterkunft war genau beschrieben, unsere Tochter hat sich sogar gewünscht es wäre unser Haus. Wir waren voll begeistert wie groß die Räume sind. Der Garten, echt riesig und schön grün. Wir haben oft da gekocht und gegrillt genau wie wir es daheim machen würden. Die Nachbarschaft ist sicher und freundlich.
Marci
2016-09-09T00:00:00Z
Darkoa's house was truly a home away from home during our 2 month stay in accra. It is situated in a very quiet and friendly neighbourhood, away from the hustle and bustle of town but still within a half hour drive. The house is quite large, spacious and very well equipped. There is also a beautiful garden with a coconut tree! Darkoa's friendly neighbour picked us up from the airport and became such a good friend to us, helping us out when needed. Darkoa's niece was also available to clean the house for us, which was very helpful. Darkoa herself has been very approachable and would check in with us by email to make sure we were happy. Any problems were quickly addressed. While we were there accra was facing a power outage, and while the house has a generator the fuel is expensive. Overall we had a great experience and i would not choose anywhere else next time.
Alia
2015-07-09T00:00:00Z
We enjoyed our time in Ghana at Darkoa's place. Her house suited our needs very well. It was very spacious, clean and had all of the amenities that anyone could want or need for a comfortable stay. The location was perfect for us as we could easily catch a taxi and/or walk to nearby establishments for dinner. If we had any problems and/or concerns Darkoa would try and make it right. Our overall experience at Darkoa's place was positive.
Alunda
2016-10-23T00:00:00Z
Kamertype
Gehele woning/appartement
---
Type woning
Huis
---
Geschikt voor
6
---
Slaapkamers
Accra, Greater Accra, Ghana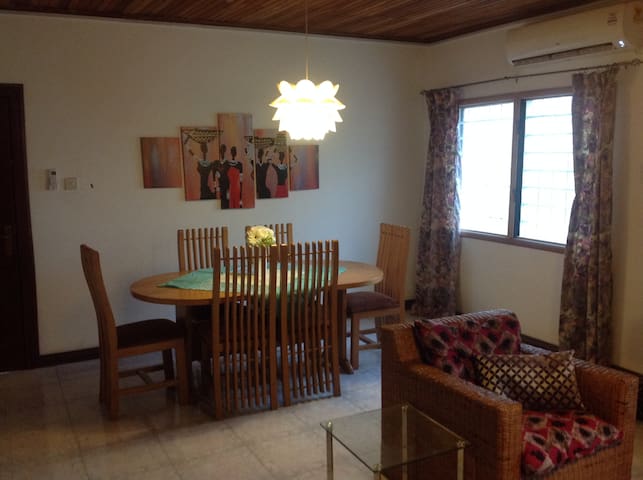 Our family friendly, bright and breezy guest house is great for holiday makers and guests wanting to explore Accra. Our double entrance doors to the House give way to mosquito netted doors and windows and all our rooms are equipped with ceiling fans for extra comfort. The house has a large TV, sound system, mini fridge, amble space for storage and a private rooftop area for relaxing. You will also have access to our well equipped kitchen and our cooking facilities.
Agape Guest House is fully accessible space and we can accommodate 6 people and more beds can be added if children are included. Request for additional bamboo bunk beds must be expressed in advance which can be arranged to suit any family configuration. The house is surrounded by a safe sand pit and many trees so guest can benefit from freshly squeezed orange, plantain, banana, mangos, coconuts, papaya and limes thought the year.
The area is a new location which has become a magnet for Ghanians wanting more affordable and accessible accommodation. The location has a new hotel with a swimming pool within a 10 minutes walking distance.
Kamertype
Gehele woning/appartement
---
Type woning
Huis
---
Geschikt voor
6
---
Slaapkamers
Accra, Greater Accra, Ghana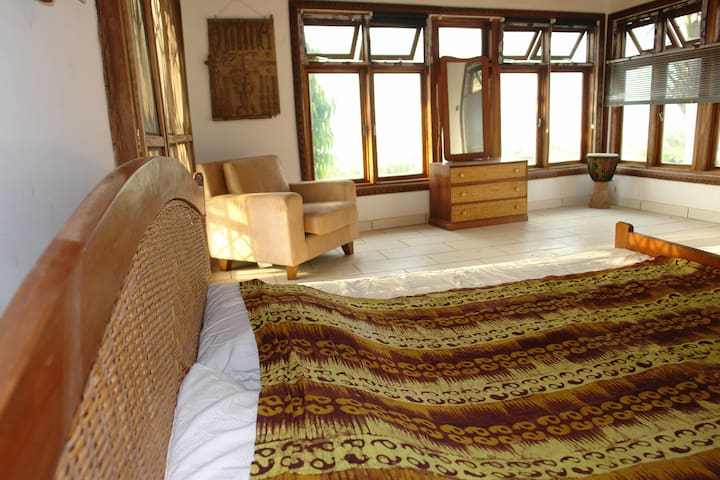 Dette er værelse nr. 2 af to stort set ens værelser. Dejlige rum i underetagen af et hus, som nybygget (og overetagen ved at blive færdiggjort). Både til dig, som rejser alene og for grupper op til 12-14 personer. Dette er ikke luksus, men absolut hjemlig ghanesisk hygge. Prismæssigt som et billigt hostel, men du får meget mere her. Og muligheden for at bruge køkkenet og lave din egen mad.
Huset er i et nybyggerområde, tæt på Cape Coast, men omgivet af grønne bakker. Dejligt roligt kvarter men med nem adgang til by og strand. Du bor omkring 2 km fra byen, men ikke midt i den pulserende og støjende by.
You get what you pay for. Basic ammenities were covered. However, the house does not have wifi (as listed) and the toilets barely flushed. The location is not central, but finding transit (a taxi for 10 to 15 cedi) or walking (4km) worked out well for us. We were greeted by Kwesi, given the keys and shown around, but were then on our own. Other people live in the house, but we had no idea who was supposed to be there and who was not, who had keys to the main door, our rooms, etc. Therefore, we did not feel very secure in the house. The space is alright for a few days, but I would not recommend staying there for much longer.
Yanin
2017-03-20T00:00:00Z
We had an wonderful 3-day-stay at Kathrines house in Cape Coast. The house has a really nice flair and is spacy and comfortable (even more than the fotos allready show). We used the common kitchen much and could allways get help and advice from Kwesi, who was a wonderful host. It is a real good alternative to a hotelstay and preferable if you like to have space for living and cooking.
Holger + Ursula
2014-04-23T00:00:00Z
Kathrine's hamlet in the Cape Coast region of Accra is private, serene, comfortable and inviting and very secure. The pictures are accurate though they can not capture the warm and welcoming feel of the house. Kwesi and Joe are the hosts and are very friendly and informative. They work close by so any emergency would be attended to ASAP though I did not have any. I initially booked the room for 3 days but could not leave the wonderful environment so I added 4 days. The bedroom was large with a huge bathroom and large closet space. The room had adequate lighting and the bonus was a solar reading lamp and a mosquito catching machine. Wonderful thoughtful touches! I also loved the linens on the bed which were so comfortable I slept through the monkey visitors.The electricity was on and the water flowed smoothly. The kitchen has all amenities you would need. I made some great meals with the addition of fresh lettuce, cabbage and tomatoes from Kwesi and Joe's organic backyard farm. (thank you again for yummy veggies) The house is located on a small hill with a provision store on the path. At the bottom of the hill you can easily access taxi or tro-tro to take you to market or castle or any (URL HIDDEN) was a fun city to explore with its small winding streets and the beaches along the coast are magnificent. I was very impressed with Katherine's timely communication with me and Kwesi's punctuality in picking me up in a very nice large van. I highly recommend this "FAB" house. I know I will definitely be revisiting this slice of paradise.
tehran
2013-11-24T00:00:00Z
I had a wonderful time in Cape Coast with Kwesi and Irene! They provided me with all of the comforts of home as well as a once in a lifetime Ghanaian local experience. I highly recommend this host!
Heather
2015-12-31T00:00:00Z
Couldn't recommend this more. Very secure, excellent hospitality, friendly and comfortable setting only a short taxi ride from the centre of town. Extremely tranquil and great transport links to Accra and Takoradi, as well as Twifo Praso inland. I will definitely be using this again,
Emma
2013-12-03T00:00:00Z
Kwesi var en fantastisk vært, imødekommende, hjælpsom og venlig. Jeg har sjældent følt mig så godt modtaget, vi har haft gode samtaler og gåture, og det har været en fornøjelse hele vejen igennem.
Anne
2016-03-17T00:00:00Z
My girlfriend and I had a wonderful stay. Kwesi (Kathrine's brother-in-law) was our kind and welcoming host. He had restaurants and beaches to recommend, all of which were great, and he even brought us out to listen to some great live music on a Friday night. I highly recommend this place for a couple or group who would enjoy a quiet stay a short cab ride away from the center of Cape Coast.
Andrew
2013-12-22T00:00:00Z
Our stay in Greenhill was very nice. Kwesi and Joe are friendly host. The room was clean, quiet and cool. Kwesi showed us the nightlife of Cape Coast. The stay at Greenhill is very nice. Thanks for all.
Dani
2015-02-09T00:00:00Z
Kamertype
Privé Kamer
---
Type woning
Huis
---
Geschikt voor
12
---
Slaapkamers
Cape Coast, Central, Ghana
Dit is een serene huisje als appartement ingericht om uw verblijf comfortabel en onvergetelijk te maken.
* Quite & veilige woonwijk * Driver & auto beschikbaar (tegen extra kosten) * House hulp * Eigen entree • Charming decor • Helder slaapkamers • Airconditioning in het hele • Aparte keuken • Twee En pak doucheruimtes * Drie toiletten • Aantrekkelijke tegelvloeren Onze woning is schoon, ruim en ontworpen om een goede specificatie. Het is ingericht met een mix van Afrikaanse en Westerse invloeden om de gasten een Ghanese en huiselijke sfeer geven. Elke kamer is en-suite met een tweepersoonsbed en inbouwkasten. De woning is geschikt voor 5 personen comfortabel of meer als je kiest (boekingen voor meer dan 5 personen zullen worden beschouwd op individuele basis). De woning heeft een eigen ingang en het is volledig ingericht met alle voorzieningen voor onafhankelijkheid. Gasten kunnen gebruik maken van alles in het pand. Ontvangstruimte: Front aspect dubbele beglazing venster en deuren naar betegelde veranda, satelliet-tv, telefoon punt, plafond verlichting, betegelde vloer. Keuken: RVS spoelbak met afdruiprek en chroom mengkraan, geïntegreerde vier pits gaskookplaat met oven / grill onder, geïntegreerde koelkast / vriezer, geïntegreerde wasmachine, een laag niveau en de muur gemonteerde kasten, betegelde spatplaten, verzonken laagspannings halogeen spots, betegelde vloer. Master Bedroom: Front aspect dubbele beglazing venster, satelliet-tv en televisie punt, plafond verlichting, betegelde vloer Suite badkamer met douche: douche, wastafel met verchroomde mengkraan, laag toilet, betegelde spatplaten, verzonken laagspannings halogeen spots. Tweede Kamer: Front aspect dubbele beglazing venster, plafond verlichting, betegelde vloer. Voortuin: volwassen struiken en bomen om grenzen en bedden. Er is een auto en een 24-uurs driver beschikbaar voor gebruik door gasten (voorwaarden en tegen betaling). Gasten kunnen bepalen of ze willen volledige privacy of wilt u regelmatige interactie met ons (de gastheren). De wijk is een rustige woonwijk. Het is een korte rit van het bruisende delen van Accra, zoals East Legon en de luchthaven van Residential. Het is ook een steenworp afstand van de rustige Aburi bergen. Het pand is gemakkelijk te bereiken met de lokale taxi station overkant van de weg.
De wijk is erg rustig en het appartement is gelegen binnen enkele minuten lopen naar vervoer, winkels en lokale eetgelegenheden.
Maa a été très aimable et disponible pendant notre séjour. Nous avons passé d'excellentes vacances et reviendrons avec plaisir. Ce logement est idéal pour un séjour en couple.
Elolo
2016-12-04T00:00:00Z
Home of Delight truly was our home of delight.. my girlfriend and I enjoyed our stay so much it felt weird when we had to check out. It has a way of instantly making you feel at home... a few hours there will make you feel you've been there for weeks maybe months, what I mean to say is it's got such welcoming energy. The rooms were very clean, the caretakers were very helpful and friendly even the pet dogs were excellent hots. The Internet was solid. We really enjoyed ourselves and would recommend this to anyone coming to Ghana. I want to say a big thank you to Maa Abena, Angie and the young man at the house. Cheers!
Mawuli
2017-01-13T00:00:00Z
Home of Delight. Pros: Apartment looked pretty much how it does in the photos. Bathrooms are a little tight but both rooms have one so fair enough. The apartment is secure and you will feel safe. Maa Abena was every bit as warm and welcoming as I thought she would be. Anything at all that you need just ask and she will endeavour to help you. The local people that Maa Abena knows are very friendly and helpful. Good people. If you take your time to look around locally, Pantang is actually quite a nice place, lots of development, restaurants, hotels etc.. Cons: Despite confirming and reconfirming on more than 2 occasions that a working generator would be available to us over the duration of our stay. On 2 separate occasions we had 'lights out' and on both times we were told they had to call somebody to get it all up and running. On the second occurance I was pretty cheesed off, so after a fair wait she did get it working. But I am disappointed that she didn't think to hold true to her word and fix it prior to our arrival. It was late, we had been to the beach, sand everywhere and we all had to sit in the dark in the heat waiting for light to take a shower.. On one occasion in the middle of the night, whilst sleeping, our bed made a creaking noise and then fell apart. The carpenter was called to fix it the next morning and it was implied that we should pay for it!!! We did not. The apartment unfortunately is NOT where (SENSITIVE CONTENTS HIDDEN) maps says it is. In Fact it is at least an hour out of central Accra, taxi fare is between 30-50GH to town or you could take 2/3 trotros (local minibus like buses). As we didn't have a car it made the cost increase very much for us. My last comment/s is not so much a Con as an observation but the apartment didn't have any multisurface cleaner for the bathrooms or kitchen and 1 thin towel per 2 people, lastly not even handsoap in the guest toilet much less any others. I hope you find this useful.
Tama'Re
2014-04-23T00:00:00Z
I stayed at the Home of Delight for about 2 weeks in mid November while visiting family. Overall it was a very positive experience. Maa Abena is a very gracious host, she arranged a taxi to pick me up from the airport and was very accommodating and accessible for the duration of my stay. The property is very peaceful, safe, clean and well maintained. My only issue is that there were a few nights when the power went out and the generator did not work however, I do believe that Maa Abena tried her best to rectify the issue expeditiously. As a result, I would definitely stay at the Home of Delight again, it's home away from home! Thank you Maa Abena and Okiyen for everything! :-)
Ish
2015-11-28T00:00:00Z
Maa Abena is very welcoming and easy to get on with. The location offers good access to almost anywhere one would want to go in Accra. I enjoyed my stay and would consider staying at the home of delight on my next trip.
William
2015-03-29T00:00:00Z
Maa Abena's hospitality was so impressive. While being for 8days, we had one bed making and laundry service.
Shunsuke
2014-02-03T00:00:00Z
My fiance and I recently spent one night at Home of Delight. The only problem was we wish we had time to spend more than one night. The home is every thing you could want: very clean, polished tile flooring, recently painted, air conditioning, TV, quiet, complete kitchen, high quaility bed sheets, and even Tommy Hillfinger bath towels. Maa Abena was great host and drove us to a market to buy food for the kitchen. Looking forward to my next visit.
Kofi
2016-01-27T00:00:00Z
I have stayed at Home of Delight three times now and probably will return again. It is quiet, very clean has all the conveniences of air conditioning, hot water, high quality bed linens , polished tiles and it has been freshly painted. What else can you ask for?
Kofi
2016-04-15T00:00:00Z
Kamertype
Gehele woning/appartement
---
Type woning
Huis
---
Geschikt voor
5
---
Slaapkamers
Accra, Greater Accra, Ghana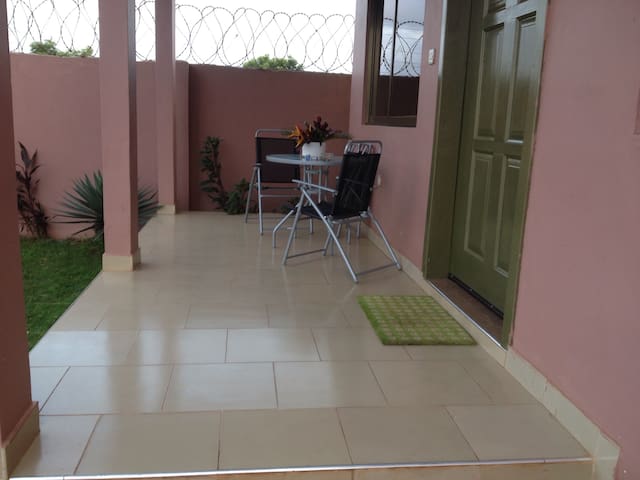 En suite bedroom in a private house. Has air conditioning, water heater, TV and internet access. Back up power and water supply. Use of kitchen to store and prepare meals. In a suburb of Accra but access to the main areas by taxi or local transport
Single en suite room with a desk and shelving. Plenty of wardrobe space.
Very quiet suburb. Reasonable access to all areas of Accra and airport. The road to the estate is untarred and can be muddy in the rainy season. The nearest convenience store is about 45 mins away on foot.
Very beautiful house and very clean. Good location for most places in Accra. Near Mall and airport. Very welcoming and friendly.
Carol
2015-03-30T00:00:00Z
Ann and Sam were great. Excellent place new and well managed. It was a real pleasure.
Alexandre
2016-03-26T00:00:00Z
I had a great stay at Ann's, her family is very friendly, and the room was perfect, with everything you need, in a very comfortable, relaxed home. Her home is in a safe, quiet residential neighborhood. I always found it easy to get a taxi just outside the estate and trotros are available at the junction, where there is also a convenience store. Ann helped me find my bearings to get settled here, as I was apartment hunting she was very helpful with advice on neighborhoods, etc. Would recommend her place to anyone!
Sophie
2016-08-09T00:00:00Z
This is a perfect place to stay in Accra. Ann and her husband Sam are incredibly welcoming and hospitable. The room is excellent and the neighbourhood is very nice. I would recommend this place to anyone who is coming to Accra!
Kasper
2014-10-09T00:00:00Z
The room was great for my needs: lots of space for clothes, clean, AC & fan, ensuite, desk--nice especially for a longer & work-related stay (like mine). The area is safe and close to the airport. Kitchen & living room (shared with Ann & family) are huge and well-equipped. Anne was very helpful: eg, she picked me up from the airport and referred me to a great cab driver. Mall, shops, & restaurants need a cab or bus ride, but that's to be expected in Accra. Had work in East Legon & Osu, so location worked well for me, though it's not central. Definitely recommended!
Nicolas
2014-11-16T00:00:00Z
Ann was an amazing host. She and Sam came to pick me up from the airport, which I very much appreciated, especially given that it was my first time in Accra and my flight landed relatively late in the evening. Ann was also very helpful advising me on how to get around in the city, and recommended some nice places to visit. The house is very nice and I had everything I needed. The location is convenient - I had to go to East Legon but the central parts of Accra are also comfortably reachable. I very much enjoyed my stay and can definitely recommend Ann's house!
Tsvetelina
2015-06-26T00:00:00Z
Ann and Sam were so welcoming.The room was just as described and very clean facilities.i really enjoyed my stay
Mary
2015-07-17T00:00:00Z
The room looked better than the pictures and Ann has a amazing home. The price of the room is great for Accra however the location is for from the main things to see. It was my first time in Ghana, and I think it would be great for someone who has a car or been to Ghana before. Ann and her family were very friendly and kind.
Joyann
2015-10-03T00:00:00Z
Kamertype
Privé Kamer
---
Type woning
Huis
---
Geschikt voor
1
---
Slaapkamers
Accra, Greater Accra, Ghana
Enjoy a cozy and comfortable private bedroom in the neighbourhood's #1 plush home. Get to experience rich Ghanaian city culture and easy access to city areas as our home is located along the main street.
Enjoy a cozy and comfortable private bedroom in the neighbourhood's #1 plush home. You get to experience rich Ghanaian city culture and have easy access to city areas as our home is located along the main street.
We are located right along the main street with easy access to public transport. You can also grab a taxi or pick a bus at the station (5min walk from our home) and get connected to public places in no time. In just 5min by car, you can hang out at one of Ghana's University Botanical Gardens.
What can I say but what a fantastic experience!!!! You will not be disappointed with the host and the extreme lengths Renita and her family will go to make your stay as pleasurable and as comfortable as possible. Renny and her mother were on hand to answer any questions I had. From my pick up at the airport, I met the driver with ease and was set up with a sim card and apps for my phone that provided me many places to order take out as well as an easy taxi app that locates a taxi driver from your location in Accra. Renny's family went out of their way to ensure my stay was safe and enjoyable as possibe. The room is huge and the ensuite bathroom has everything you need for a comfortable stay. Fresh linen, towels and laundry service were available at my disposal and the Ghanaian meals were a delicious added bonus. As an Airbnb Ambassador I highly recommend to stay at the Haatsville Haven when planning your trip to Accra. It is easily accesible to downtown and located near the main taxi/'bus station. For a first time traveller to Ghana Accra you will find you will have everything at your disposal and for seasoned travellers, it is a great location to get to other areas in and around Accra. Renny and her family are always welcome and I will definitely be back xoxo
Michelle
2014-08-02T00:00:00Z
Kamertype
Privé Kamer
---
Type woning
Huis
---
Geschikt voor
1
---
Slaapkamers
Accra, Greater Accra, Ghana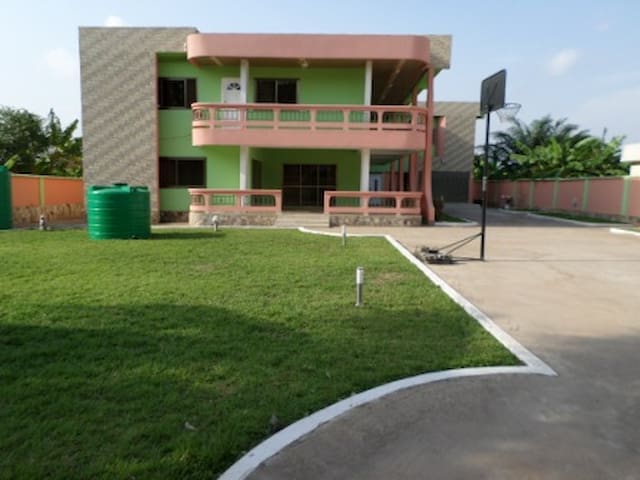 WWhomes is located in Haatso – Accra. It gives the feeling of home away from home. It's 4 houses, 3 bed rooms each fully furnished. It's 15 minutes drive from the airport, 10 minutes drive to the Accra mall and 5 minutes walk to the Botanical Gardens.
WW Homes is situated in a quiet neighborhood of Haatso north legon not far from the the premire Universitynof Ghana. You rent by the house not by rooms. A family of 6 can easily share the space.
We stayed in a very large two storey townhouse, which is quite suitable for families (like us) or groups due to the large size. The townhouse is located in a group of four townhouses in a private plot, complete with a manned security gatehouse and onsite house keeping. Shops and restaurants are a few minutes drive away. Access is off the main sealed road and then via 400m of dirt road, but well signed. Elizabeth (the host) was quick to respond to Email and help us locate the place and to check we had settled in. We found her very accommodating to our needs. As also was the onsite housekeeping who were very helpful. Inside the townhouses are very big and relatively clean, though ours was very dusty on the tiled floors, tables and kitchen surfaces. Air con worked well as did the water and showers. TV reception was not working well. The kitchen was well enough equipped, but the electrical circuits in the kitchen were not working, so the cooker was not available and we had to boil kettles for tea/coffee in the electrical circuits in the living room. The lounge and dining room were great. Access to Accra CBD is easy outside the peak commuter times. Overall we would recommend the accommodation for family groups on stays up to 5 days and particularly if you visiting the Legon/Achimota area.
Ian
2015-01-10T00:00:00Z
Kamertype
Gehele woning/appartement
---
Type woning
Huis
---
Geschikt voor
6
---
Slaapkamers
Accra, Greater Accra, Ghana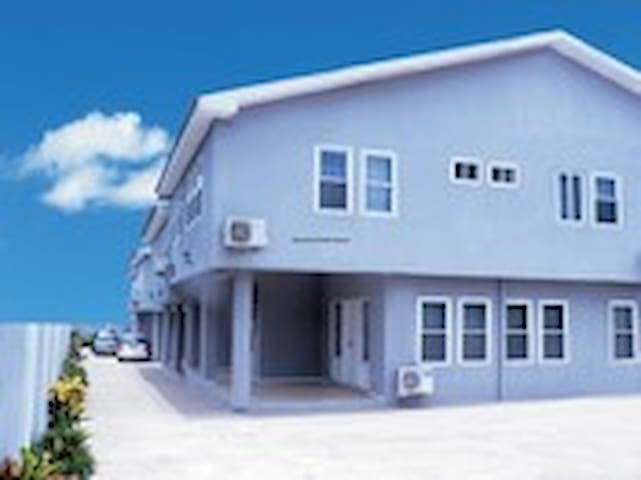 Dette er værelse nr. 2 af to stort set ens værelser. Dejlige rum i underetagen af et hus, som nybygget (og overetagen ved at blive færdiggjort). Både til dig, som rejser alene og for grupper op til 12-14 personer. Dette er ikke luksus, men absolut hjemlig ghanesisk hygge. Prismæssigt som et billigt hostel, men du får meget mere her. Og muligheden for at bruge køkkenet og lave din egen mad.
Huset er i et nybyggerområde, tæt på Cape Coast, men omgivet af grønne bakker. Dejligt roligt kvarter men med nem adgang til by og strand. Du bor omkring 2 km fra byen, men ikke midt i den pulserende og støjende by.
This was a really lovely stay for us, nice home, close to town, easy to get to and Kwesi was really helpful and accommodating, helping us with directions and transport. Would definitely recommend.
Stacey
2016-01-04T00:00:00Z
Kathrine in law Kwesi is accommodating and very helpful, and she was also available online to give immediate response. I was pleased with the service and the listing was as it is, the environment is cool and serene, though I spent but it was soothing to my wife and I.
Akinwale Akinsola
2014-11-24T00:00:00Z
Kwesi war ein sehr netter Gastgeber, wir haben eine schöne, ruhige zeit bei ihm verbracht. Die Zimmer waren groß und sauber! Zu empfehlen!
Hannah
2016-07-07T00:00:00Z
Kwesi was really great host. His beautiful smile was always there for us. He was curious and thoughtful about our needs. He made us some frozen morenga for our trip. He didn't mind when two taxi drivers rang him to get directions after we spent the evening in Cape Coast and they got lost. The price was competitive with local accom but we spent money on taxis to and from Cape Coast. This place would suit some people wanting to Stay out in the sticks with the birds and have a very private time away from all the evening entertainment in the very friendly town of Cape Coast.
jane
2015-02-13T00:00:00Z
A big thanks to Kwesi who made us feel so welcome. Really nice place and easy access to central Cape Coast.
Colin
2017-01-15T00:00:00Z
A very nice place near Cape Coast! Also, a nice restaurant nereby and a car (Rover 75). I would recommend to take this car with a driver - the best way to see Ghana! We made a three-days trip on this rover to the Northern Region. Kwesi is extremely friendly and helpful - many thanks for that to him!
Andrey
2015-05-19T00:00:00Z
I never actually made it to Kathrine's place, as I was very unfortunately in a car accident immediately before trying to check in! But I can say that both Kathrine and Kwesi were warm, wonderful, and amazing throughout the process, with Kwesi offering to assist in any way possible, and Kathrine refunding as much of the deposit as was possible. They both made a horrible affair that much more comforting and while I can't comment on the home, I couldn't wish for more helpful and welcoming people.
katy
2014-07-28T00:00:00Z
Ich war sehr zu frieden besser kann man für so wenig Geld nicht wohnen.Alles sauber und Ordentlich,komme sehr gerne wieder .Kann man weiter Empfehlen
Gudrun Evelin
2015-11-07T00:00:00Z
Kamertype
Privé Kamer
---
Type woning
Huis
---
Geschikt voor
12
---
Slaapkamers
Cape Coast, Central, Ghana
Nestled on the McCarthy hill and overlooking the ocean is a very clean and simple accommodation with private room available for rental. Spacious private bathroom and shower, refrigerator, fresh linen, microwave, close to mall, restaurant, Kokrobite beach. Easy transportation.
This is a single level house with a private room and bathroom available for rent, unit has ceiling fan, refrigerator, fresh lines, towels, and a microwave.
Ghanaians are friendly and welcoming traditionally with guest there for you rest assured that you will be surrounded with friendly people in a nice and quiet neighborhood. Easy assess to local taxi, trotro( mini bus) transportation, food, shopping, fitness club, and just 30 minutes from the city center Accra.
Excellent stay. Very clean and luxurious feel. Incredible view of greater Accra. The road up the mountain to the house is a little bumpy, but other than that this place was perfect for my stay.
Felix
2017-02-16T00:00:00Z
Kamertype
Privé Kamer
---
Type woning
Huis
---
Geschikt voor
2
---
Slaapkamers
Accra, Greater Accra, Ghana
The property is a storey building located in Gbawe - Accra. The top level of the building is the part for rental. It has a sitting/living room. En-suite bedroom all with electric shower and toilet. There is also a kitchen as well, with Microwave and washing machine. All 5 En-suite bedroom have air conditioning. There is a generator for when there is a blackout The place is very accommodating, About 38 minutes drive to Bojo Beach Resort. Car available at 100ghc a day negotiable and Driver for additional cost .
Kamertype
Privé Kamer
---
Type woning
Huis
---
Geschikt voor
10
---
Slaapkamers
Ga West, Greater Accra, Ghana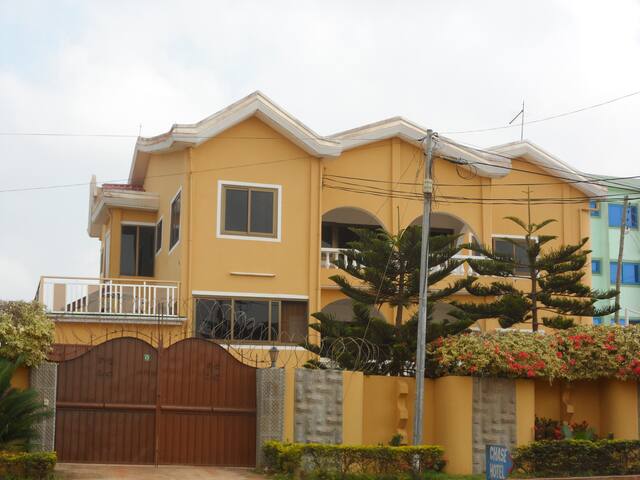 In één van de levendige kustplaats stedelijke dorpen Accra's, grote rustige zelfstandige woning met wasmachine in de beveiligde verbinding met tuin en parkeerplaats. In de buurt van de zee, winkels, restaurants, bars. Gemakkelijke toegang tot Tema, Spintex en Accra centrum.
Christopher was a fabulous host, and kept in constant communication with him even before my arrival date in Accra. He was kind enough to offer a pick-up from the airport for a fee, but I already had other arrangements. Pearl (the lady who manages the house for him), was very kind and directed me to the house on my arrival. The house was clean, and Pearl was very welcoming. I thoroughly enjoyed my stay at the Guesthouse, and would be more than happy to go back again. Sometimes there was no power, but this is due to the light situation in Ghana, so this was not a major problem for me. Once you familiarise yourself with the environment, Shoprite (a major store), is relatively close, and you can always get anything else that you need from the Nungua market that is quite near too. There are endless supplies of taxis and shuttle buses (popularly known as tro-tros) once you get to the main road. I would highly recommend the guesthouse to friends and family, and can't wait to go back again.
Nneka
2015-09-03T00:00:00Z
This is a really great place to spend your stay in Accra. I chose the location because it is midway between Tema, where I was working, and Accra, so it was perfect for me. The house is very nicely designed, full of light, and in a really cool area, which gives you a more authentic experience than you would have in central Osu, for example. Christopher, the owner, was an incredibly helpful and responsive host, and Pearl, who looks after the place and the guests, was an amazing host. She cooked me delicious meals and kept the place spotless. I intended to stay here only four weeks but liked it so much I decided to stay another four. I would strongly recommend the Peace House.
Jasper
2014-06-29T00:00:00Z
For some reason, Airbnb kept informing us that the rooms were already booked and even that only certain dates were available while our host, Christopher assured us it wasn't. This website issue needs to be addressed immediately. It was difficult to book individual rooms on airbnb and get a consistent rate. That said, the prices for the rooms were very reasonable! On first glance, as we took the road to Peacehouse, there was a bit of anxiety because of the neighborhood however the house itself was spacious with nice decor, gated and easily accessible from the main road. The rooms and beds were a good size and comfortable. The space around the house, within the gate is also very calm. However, the entire house could do with a good cleaning prior to and during the stay. It's important to note that because of the location, the area can be noisier than first thought - especially on Sundays when church is in session. The airport pick up was a great convenience and gave peace of mind in a location we hadn't been before. Yaw was very knowledgeable about the area and helped us with exchanging monies as well as picking up some nourishment. That said, it is RIDICULOUS to charge $30 when it's a 35 cedi (~$10) taxi ride. There was not enough clarity on the Wi-Fi accessibility. There was no Wi-Fi available within the home, but a USB for a laptop that would need credit (to be bought by the guest) and a local phone to add the credit to the chip that goes into the USB. In addition, the washer and dryer system did not work so we ended up hand-washing clothes prior to the housekeeper coming. There were some safety concerns that arose when Pearl, the housekeeper was not available and Emmanuel (amazing, very helpful substitute house manager) was also unavailable however, they were addressed. Christopher was very open, understanding and concerned when these issues were brought to him making a sticky situation smooth. We enjoyed the spaciousness of the house, were very grateful for the willingness and helpfulness of both Emmanuel and Pearl in helping us with every and any situation from finding taxis, to finding tailors to finding food, to finding groceries to finding ANYTHING. Kudos to both of these individuals for their priceless efforts to ensure that our stay was amazing. In addition, special thanks to Emmanuel for being an EXCEPTIONAL house manager! He facilitated travel, solved house issues efficiently and was very pleasant to interact with. We can say without a shadow of a doubt that his presence, congeniality, openness, gentleness, resourcefulness and calm added more to our stay than we can say.
Akua
2015-10-24T00:00:00Z
I really enjoyed my stay in Christopher's home. Christopher was responsive and Pearl was extremely accommodating. The house is lovely. Unfortunately, I could not stay as long as I wanted due to the long commute to my workplace. However, I will go back when I have more time to get away.
Janet
2015-04-27T00:00:00Z
I love this house. It was truly what called the Peace House. My husband and I came to this place not knowing what to expect but I was truly amaze by the hospitality and cleanliness that was provided by our wonderful host Pearl. Christopher and Pearl make a wonderful team. The rate was amazing and the atmosphere was even better. The local area was good to because everything was in walking distance. My additional family member who came to visit also raved about this place. Even my friends who were staying in a hotel were upset that they didn't know about this place. All I got from everyone was compliments about this gorgeous place and Pearl is an AWESOME cook. If you ever want something cook wonderfully, Pearl is the one for you!!! There is so much more I could rave about this place and all the accommodations but it will take up all the space on this website. Thank you so much Christopher and Pearl, may God continue to bless you both. ~Achiya Ameyaw
Achiya
2014-03-20T00:00:00Z
I went to Peace House at Nunga ghana, pearl who is house attendant is very gravely impaired by a victious dog bite that has a portion of her meat missing from her leg, I suggest whoever reads this review NO Longer visit this establishment. The owner seems to not care about the place, it is falling down and he refuses to help his only resources in Pearl Drake. very bad situation....stay away... i will check back in six months time,......Terrible!
Steve
2015-11-02T00:00:00Z
Pearl made me feel at home. Unfortunately my iPhone was stollen from my room. It appears that someone opened the window and screen and reached in and grabbed it off the bed. Pearl was very gracious and went to the police station with us so I could file a report. Nevertheless, I stayed an extra day. The house is lovely and close to Junction Mall and beaches.
Ari
2015-12-27T00:00:00Z
I felt most welcome, the people are as accommodating as possible, they were available to help buy things I needed. The environment is peaceful and cool, is not so far from a popular beach. The listing is quite good.
Akinwale Akinsola
2014-11-23T00:00:00Z
Kamertype
Privé Kamer
---
Type woning
Huis
---
Geschikt voor
2
---
Slaapkamers
Accra, Greater Accra, Ghana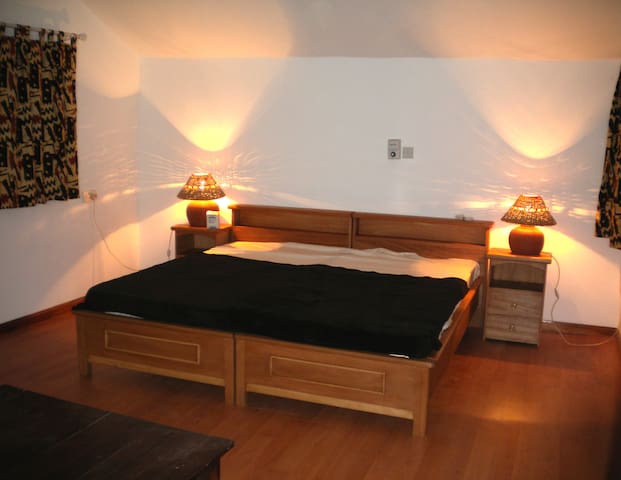 A snug and friendly home atmosphere with a bedroom that could easily be shared by a couple.20 minutes from the airport and emerging suburbs of Accra.
An average spaced bedroom,(5m x 5m) with its own hot shower bath/toilet facility. One bed.Installed air-condition and fan available. This bedroom situate within a large house with high ceiling living/dining hall where guests can easily interface with host family.Will comfortably fit a single guest, a couple, or couple with a child, a parent travelling with 2 young children
Its a quiet neighbourhood, little noise
Kamertype
Privé Kamer
---
Type woning
Huis
---
Geschikt voor
2
---
Slaapkamers
Accra, Greater Accra, Ghana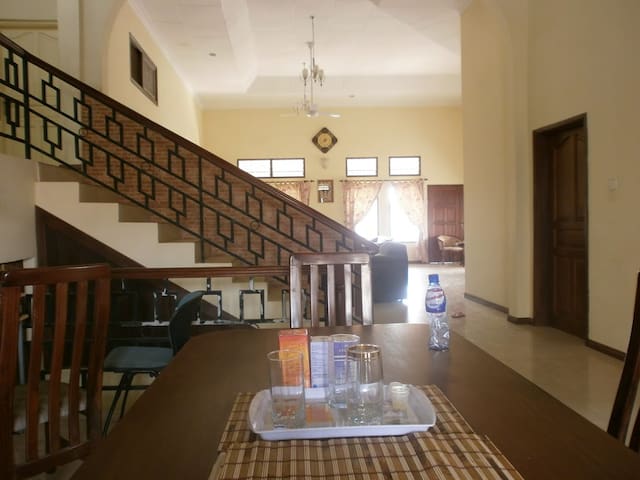 Our 5 bedroom apartment with fantastic room,very calm location and area in Accra.its 5 mins drive from the N1 highway.Easy to move around with available on demand taxi.Safe place to be.
My space has 5 bedrooms in 5 rooms
Fantastic neighbours,fun pleasure people
Kamertype
Privé Kamer
---
Type woning
Huis
---
Geschikt voor
5
---
Slaapkamers
Accra, Greater Accra,ghana, Ghana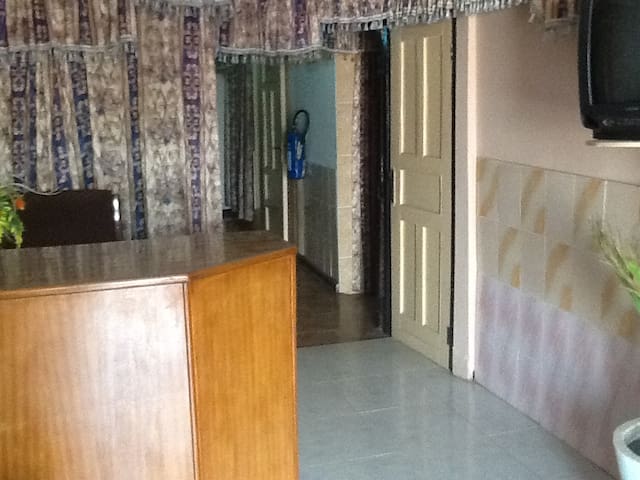 1

–

18

van

300+ Huizen te Huur