The old stable of Cal Salut, a traditional village house, has become a modern and cozy apartment, which retains the traditional elements in its structure, but which has the comforts of modern life. The apartment has a double bedroom, a large bathroom, living room and kitchen (fully equipped). In addition it has air conditioning, heating, wi-fi, nespresso coffe machine, hairdryer, tv, ... Towells and linen are included in the price.
It is a spacious and very nice apartment, with the essence of the old house, but very comfortable and modernized. It is in the center of Gratallops, which is a traditional village full of wineries and restaurants. There is the possibility of adding bed and / or extra cot.
Gratallops is a village of 200 inhabitants. The area is quiet, traditional, and friendly. In Gratallops you will find many wineries, several restaurants and bars, as well as a traditional pottery shop. It is also a starting point for walks between vineyards.
Kamertype
Gehele woning/appartement
---
Type woning
Appartement
---
Geschikt voor
2
---
Slaapkamers
Gratallops, Catalunya, Spanje
En una casa molt acollidora, decorada respectant el caràcter antic, tenim una preciosa habitació amb bany complet amb dutxa, dos balcons, un que dóna al pati, l'altre que dóna al carrer. El poble és molt tranquil i el paisatge sorprenent. Benvinguts!
Podreu gaudir dels espais comuns com el menjador, la sala i el pati ajardinat. Teniu dret a utilitzar la cuina també.
Gratallops té solament 200 habitants que us saludaran amablement. Podreu passejar pels seus carrers empedrats o visitar la botiga de la Mia que ven una mica de tot (carn i embotits boníssims de la comarca) i que us encarregarà un pollastre a l'ast si us ve de gust. O el forn de la Silvia que fa uns deliciosos croissants de mantega, o l'agrobotiga on trobareu els vins els olis que es fan al poble i a la comarca.
The house was charming and lovely, and Mireia was a wonderful host. We were hungry when we arrived, and she checked a couple of neighborhood places and found a restaurant that was open and would serve us. She was so kind and flexible. The house was absolutely spotless and had everything we needed to be comfortable (extra pillows, a fan, tea, coffee, oranges, etc.).
Brandon
2015-09-23T00:00:00Z
Passar uns dies a casa de la Mireia ha estat una experiència molt grata La casa esta disenyada amb molt de gust i es molt acollidora. Te de tot i no falta de res. Ella es molt amable, atenta i sap respectar la intimitat. El poble de Gratallops i la seva comarca son tambe molt agradables de visitar. No dubteu en reservar. Pasar unos días en casa de Mireia ha sido una muy grata experiencia. La casa esta diseñada con mucho gusto y es muy acogedora. Tiene de todo y no falta de nada. Ella es muy amable, atenta y sabe respetar la intimidad. El pueblo de Gratallops y su comarca son también muy agradables de visitar. No dudeis en reservar.
Tere & Nandius
2015-10-06T00:00:00Z
We weren't sure what our stay with Mireia in Gratallops would be like, we were blown away. The house is an amazing old stone terrace house and we had the whole top floor to ourselves. Gratallops itself is located in the stunning Priorat wine region and there is endless quality vineyards and restaurants to visit. Mireia was extremely kind and knowledgeable about the area. She even rang the local restaurant the night we arrived quite late and made a reservation for us. Our stay with Mireia has been one of the highlights of our trip. Can't recommend enough!
Sam
2015-07-05T00:00:00Z
Perfect location, in the heart of Gratallops. Very clean. Hosts are wonderful people and were very helpful. We will definitely stay again. Very good kitchen to use.
Craig
2015-11-18T00:00:00Z
Muy bueno. Lugar tranquilo i agradable. Recomiendo.
Alex
2015-06-21T00:00:00Z
Va ser una gran elecció anar a casa de la Mireia. La habitació i la casa es realment preciosa. Es una casa antiga , que es nota que ha sigut reformada amb molt de carinyo i un excelent gust . La Mireia va tenir cura de tots el detalls necessaris avans de la nostra arribada. No ens va faltar res! Vam trobar a la casa i aquest poble encantador la pau i tranquilitat que necesitavem. Varem quedar enamorats de Gratallops i de Cal Joanet. Ens veiem aviat Mireia, Graciès per fer-nos sentir com a casa!!
Vanessa
2015-09-07T00:00:00Z
We spent two lovely nights in Mireias house. The apartment was delightful and very lovely decorated. We felt right at home from the moment we stepped in. Gratallops is truly a genuine town with very welcoming inhabitants. Driving to the small villages in the area and sights made the trip complete. A must is to try the local vine and oil! Kind regards Frida & Philip
Frida
2015-07-31T00:00:00Z
Casa preciosa en un poblet precios. La mireia es un encant que et fa sentir com a casa des del primer somriure. Gracies!
Nuria
2017-02-24T00:00:00Z
Kamertype
Privé Kamer
---
Type woning
Huis
---
Geschikt voor
2
---
Slaapkamers
Gratallops, Catalunya, Spanje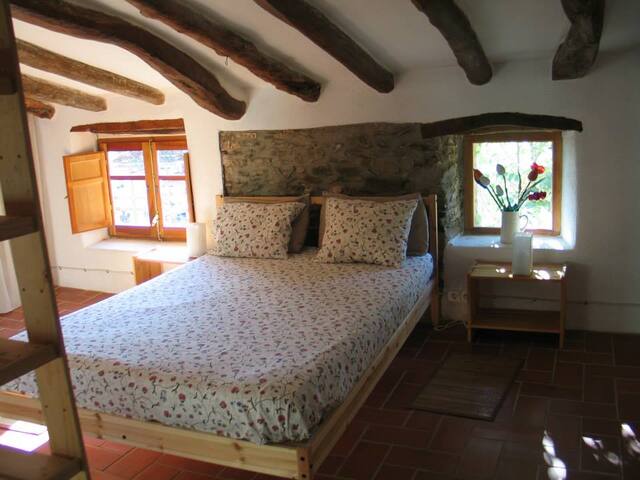 House in the heart of the Priorat (Gratallops) in an area surrounded by terraced vineyards. Discover the wine and the Priorat region, and enjoy the private swimming pool.
The house has: - Private pool Usaje exclusive for guests of CAPMAS - Covered terrace with barbecue - Hammock and swing in the forest (just in front of the house) - Double bed + room with two beds - Kitchen-Living room with fireplace
Priorat offers plenty of possibilities: wine tourism, cultural activities, hiking and relaxing activities / relax. Choose yours!
We hebben genoten van onze week in cap mas! Het huis was uitstekend. Prachtig uitzicht en de kinderen hebben genoten van het zwembad . De omgeving biedt veel mogelijkheden voor wandelen en uitstapjes. Tere en Ricardo zijn erg vriendelijk en behulpzaam. Kortom een prima stek om de priorat regio te verkennen.
Martijn
2016-08-14T00:00:00Z
The pictures don't do the entire house justice or the environment for that matter. It's a completely enchanting area with great access to some of the best climbing areas in the world. Margalef, siurana, monstant, etc. the hosts are amazingly gracious and willing to provide advice on anything you need wether it be directions or places to get wine or food. Worth it!
nick
2016-05-23T00:00:00Z
This really is a marvellous place. It has a really nice atmosphere. And the view of the surrounding wineries and Gratallops in the distance is incredible. Beautiful swimmingpool, enough shade and lot's of privacy. There is even some food and wine in the house which you can buy. Very nice owners too. Ricardo took our boys into the garden to search for eggs, pears and figs. They loved that. Everything you'll need is there. Lot's of nice details, lavender on the towels, little things like that. Clean and cosy. Loved it! Only little negative I can think of was the hauling guarding dog who woke us up a couple of times per night. For the rest it was perfect. We walked to Gratallops for dinner (nice restaurants!) lot of things to do in the area.
Annekarijn
2016-08-18T00:00:00Z
Wonderful place and wonderful hosts! We were met by Ricardo on our route from the airport - the house is in a very remote location, so rather than leave us to try to find it they met us at an easy spot. This was a great start. The journey in to Gratallops is stunning too - so it was a lovely journey from the airport. Before the visit we had been liaising with Ricardo & Tere's daughter, Laura, who spoke English and knew that our Catalan wasn't great. I have a reasonable level of understanding but speaking I struggle - with this in mine Laura left us a series of instructions in English to ensure we didn't miss any important information. The property is even better than it looks in the photos, and the view is just breath-taking! The kitchen was well equipped, the shower was great and the open fireplace was lovely. Ricardo gave us some of their own fruit, herbs and vegetables which we really enjoyed. There was also local wine available to buy so we did (of course!). We also had some eggs from their chickens. We chose CapMas as we wanted a nice relaxed few days in the middle of nowhere - and we got exactly that. With the occasional adventure around the vineyards or in to the local town. We drove in to Tarragona on our final day but wished we hadn't, as it was much nicer to stay nearby to CapMas! I would recommend staying here to anyone, especially wine lovers!
Michelle
2015-09-28T00:00:00Z
Tere & Ricardo were wonderfully friendly and accommodating. They both welcomed us to their beautiful property in the hills of Priorat with a home-made cake and dessert wine. Also: the house has probably the best mini-bar we're ever seen - perfect if you've not had a chance to buy some basic food stuffs on your way to Cap Mas... What a way to start our 6 days! The house was perfect for the three of us (2 adults and 1 dog) - rustic, remote enough for total privacy, but not completely cut off from civilisation (Falset is a 15 minute drive away and provides all the shops we needed). We spent our days exploring the region, hiking and running up and down the surrounding hills. We'd always look forward to coming 'home'. The house is simple but had all we needed to feel comfortable. The kitchen had all the utensils, pots and pans we needed, and the biomass heater kept us nice and toasty on the chillier evenings. We slept in the master bedroom which fits little more than a bed and space for clothes - but what more do you need? The bathroom was small and we had to be careful not to flood it when we showered but we got the hang of that pretty quickly. Dinners on the verandah overlooking the vineyards while watching the sun set... amazing! Ricardo came by every morning to tend to his veggie garden and check to make sure we were alright and on the one occasion that we needed his help with the heater, he fixed it immediately. A perfect host! In summary: we would most definitely come back - preferably when it is a bit warmer and we get to make full use of the pool!
Thomas
2016-04-17T00:00:00Z
There and Ricardo gave us a lovely welcome and were very helpful. The setting is so peaceful with lovely views on all sides. We loved the pool. Gratallops is very quiet but we had good food and great wine. The house mini bar is great - the eggs from Ricardo's hens were fantastic. Highly recommended if you really want to get away from it all.
Anna
2016-07-02T00:00:00Z
The house in the priorat was a perfectly restful place situated in the middle of the vineyards. Our hosts were very welcoming and the house itself was charming in every detail. We stayed for 6 days with two adults and two children aged 5 and 9. We loved cycling in the hills, swimming and walking. Muchos gracias!!
Ha
2016-07-31T00:00:00Z
We're was very pleased to stay here. Hosts are very kind and helpful. House situated in the heart of Priorat and views at every point are amazing. Pool saved us from the heat. And for sure this place are for wine lovers because so many famous wineries are around. Recommended!
Vladimir
2016-09-14T00:00:00Z
Kamertype
Gehele woning/appartement
---
Type woning
Huis
---
Geschikt voor
4
---
Slaapkamers
Tarragona, Catalunya, Spanje
Cal Llorencet is in de Lloar in een rustig dorp, 47 km. Strand omgeven door bergen. Het is gelegen in het historische Priorat, Wine Origin denominatie. Cal Llorencet is een typisch huis van Priorat, met vier verdiepingen en een kelder met kolommen en bogen. Afgesloten terrein met privé zoutwater zwembad, barbecue, garage en uitzicht op de bergen. Twee ingangen, de straat en de binnenplaats.
Access to the house is the courtyard parking area of maximum 4 cars, overlooking the pool and barbecue cellar and access to the first floor. The second, with access from the street, consists of gallery with arches, kitchen, distributor, living room with music equipment, DVD, TV and bedroom marriage in which you can enable an extra bed. A bathroom with bath and toilet with shower. The third floor consists of a large room, a bathroom with bath and three bedrooms bed, two of them with anteroom where you can enable two additional beds and a veranda. The fourth floor is open plan, with music equipment, TV and library. It has a double bed and twin beds loosely. We can enable this space for a marriage or 5 children.
En el mismo barrio viven Eli y José Mª con sus hijas. Ella se ocupa de nuestra casa.
Kamertype
Gehele woning/appartement
---
Type woning
Huis
---
Geschikt voor
8
---
Slaapkamers
El Lloar, Catalunya, Spanje
Cal Salut is a traditional house located in the heart of Gratallops (el Priorat). It is a traditional house, which has retained its essence over time, but which has all the comforts of modern life. Cal Salut has three double rooms with private bathroom. In addition to equipped kitchen, dining room, and terrace with barbecue.
It is a traditional house. It retains the essence of tradition, and has the comforts of modern life. It has three double rooms with private bathroom. Towells and linen are included. The house has living room, kitchen, and terrace with barbecue. The kitchen has dishwasher, coffee machine (nespresso), ceramic hob ... The house is equipped with heating, air conditioning, wifi, TV, hairdryers ...
Gratallops is a small village (200 inhabitants) and quiet. It has several wineries and restaurants. Also bars. The landscape surrounding the town is very nice.
Kamertype
Gehele woning/appartement
---
Type woning
Huis
---
Geschikt voor
6
---
Slaapkamers
Gratallops, Catalunya, Spanje
4/6 apartment located in an old area in the Lloar, Priorato.Ideal small town as a base for discovering the region and discover all its possibilities: hiking, gastronomy, wine, wineries, relax, photography, etc. Apt.totalmente equipped with kitchen, 2 bedrooms. bath / shower room. Welcome !!
The situation, in a small village of less than 100 inhabitants. perfect for 4 people + 2 beds located in the living room, perfect if traveling with children Apartment
This apartment is right in the middle of the quaint little town of El Lloar. While the is not much to do in the town itself, it is great as a starting point to explore the Priorat region. The apartment itself is not the most modern but it has everything you'll need. Jose Maria is a perfect host, he left some snacks and drinks for us on check-in. Be sure to visit the wineceller Clos 93 in town. Appointment can be made in the town shop opposite the church. The shop is run by the same family. All in all a great stay and well worth the money.
Mark
2017-01-23T00:00:00Z
Una buena base para explorer el Priorat. Jose Maria Es muy amiable y el sitio tiene todo para estar cómodamente. Especialmente la cocina.
Heleen & Rodrigo
2017-01-03T00:00:00Z
Apartament net i confortable, amb tot el necessari per allotjar-se. Poble ideal per desconnectar i amb unes vistes magnífiques.
Maria
2017-01-08T00:00:00Z
Los anfitriones son muy amables y acogedores. La zona preciosa, perfecta para ir de excursión y nada turístico. Perfecto para unas vacaciones tranquilas!
Gemma
2017-01-05T00:00:00Z
Ha sido un placer hospedarnos en casa de Josep, el trato ha sido magnifico y la tranquilidad del lugar es increíble. Solo mejoraría la comodidad de las camas.
Pol
2017-03-19T00:00:00Z
Gracias por su hospitalidad! Hasta una proxima vez, feliz ano! Lise, Daniel, Mia, Ferdinand y Violette
Daniel
2016-12-23T00:00:00Z
Jose Maria was a great host and Priorat is very beautiful. Hope I can return someday.
Sharifah
2017-03-10T00:00:00Z
Josep María es un gran anfitrión. Ha conseguido que inmediatamente nos sintiésemos como en casa. Además nos ha dado muy buenos consejos para poder disfrutar de toda la zona. El apartamento es acogedor y cómodo. Situado en el bonito pueblo del Lloar. Además tiene con una maravillosa terraza. En resumen, hemos pasado una estancia muy agradable y que sin duda recomendaríamos a cualquiera.
Jordan
2017-03-12T00:00:00Z
Kamertype
Gehele woning/appartement
---
Type woning
Appartement
---
Geschikt voor
6
---
Slaapkamers
El Lloar, Catalonië, Spanje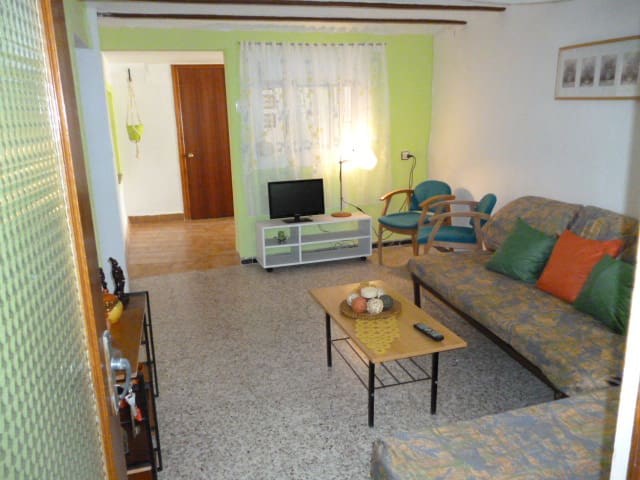 En la Vilella Baixa ( Cuna del priorat ) donde encontraras la tranquilidad y naturaleza pura al pie del Montsant . Disfruta de este paraiso terrenal
Kamertype
Gehele woning/appartement
---
Type woning
Appartement
---
Geschikt voor
5
---
Slaapkamers
La Vilella Baixa, Catalunya, Spanje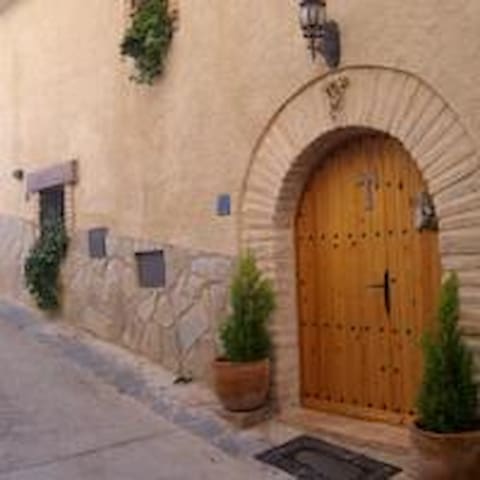 Our home is a dúplex with amazing views of Montsant river, vineyards and mountains; a spectacular terrace, where you could feel relax and enjoy the chillout area (3 sofas) where you also can cook delicious barbecues meals and eat it on a vintage marb
1st floor: Here you will have the dinning room, the kitchen and access to the terrace. 2nd floor: 3 bedrooms: 2 double room, one of them with a King size bed and a traditional Stone wall.(Both have greats views to the vineyards); and 1 single room. In this floor it´s also the main bathroom (be aware that the wáter pressure in the area it´s improbable).
La Vilella Baixa es un pequeño y bonito pueblo de unos 200 habitantes, el lugar ideal para poder disfrutar de los encantos del Priorat, en este momento candidato a Patrimonio de la UNESCO
Vi havde en virkelig skøn tid i Lolandas hjem. Udsigten er fuldstændig som billederne. Der var rent og pænt og det man skal bruge. Området er skønt - stort vinområde, smuk natur og ca 1 times bilkørsel til rigtig gode strande. Vi kunne godt vende tilbage.
Kamma
2016-07-14T00:00:00Z
Lolanda's place in Vilella Baixa was incredible. The house is lovely (the view from the terrace is amazing), the town beautiful and quiet and it was a great spot to use as a homebase for exploring Priorat. We had an amazing time there, definitely one of the highlights of our trip.
Sean
2016-03-19T00:00:00Z
Gran estada de cap de (URL HIDDEN) a campament base per descobrir el Priorat és ideal. La casa és excepcional, molt ben equipada y amb unes auques molt bones decorant les parets. Bon punt de partida per fer alguna bona excursió i gaudir d'aquesta terra de vins i oliveres. Molt recomanable, a repetir amb el bon temps.
Sergi
2016-03-06T00:00:00Z
Iolanda's house in the 'New-York' of Priorat (Vilella Baixa) is the perfect place to spend a wonderful getaway. The house is very comfortable with fantastic views of Montsant and the surrounding vineyards. We spent most of our time on the terrace! We stayed during an exceptionally hot week, so the air-conditioner was very welcomed.
Imogen
2015-07-06T00:00:00Z
As an extremely frequent traveler and vacation host with a number of flats, I can say with full confidence that this was one of the best experiences I can think of. The location is so charming - very peaceful, charismatic town, near some excellent restaurants and minutes from countryside trails. The flat had everything we needed and spending the afternoons and evenings on the beautiful terrace in total privacy was fantastic. This is great place for a family, or friends to relax, or rustic romance, or even just to get some peace and beautiful views alone.
Rolf
2016-07-16T00:00:00Z
Ihr Freund Paul hat uns sehr nett in Empfang genommen, alles gezeigt und uns Tipps für die Umgebung gegeben. Einmaliger Blick von der Terrasse auf Landschaft des Priorat!
Marlies
2015-09-12T00:00:00Z
Although the house is well hiden in the mountain, the house and especially the terrace totally worth it. The view over the vineyard is breathtaking. The people in the village are such nice and welcoming people. The barbecue is very nice and the armchairs are more than welcome to taste the Priorat wine on a warm evening. The air conditioning and the town swimming pool are definitly a plus.
Yann
2015-07-15T00:00:00Z
Todo estupendo!!muy recomendable!!
Olga
2016-12-11T00:00:00Z
Kamertype
Gehele woning/appartement
---
Type woning
Huis
---
Geschikt voor
4
---
Slaapkamers
La Vilella Baixa, Catalunya, Spanje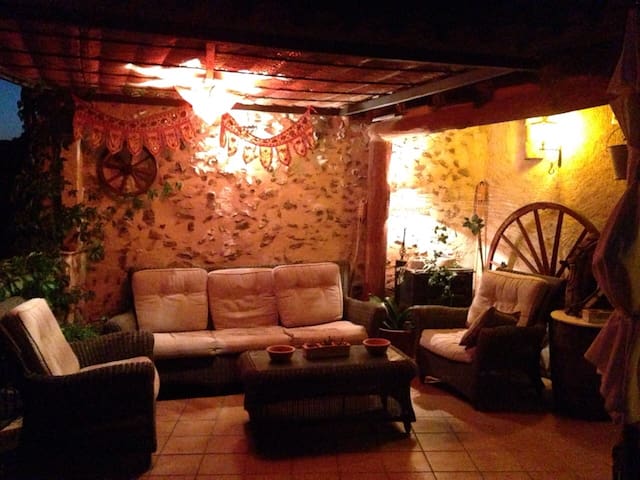 La Perissada is a house located in La Vilella Baixa, a beautiful and small village from where you will be able to enjoy the Priorat: its famous vineyards, its magnificent landscapes, the Montsant and its climbing areas of Margalef and Siurana.
A barn was transformed into a modern and comfortable house, while maintaining the original materials (stone walls and wooded roof) as well as the exterior appearance of the building. This is the distribution of the house: ground floor with the kitchen, a bathroom, a double bedroom (2 beds) and the living room (125 m2); first floor with three double bedrooms (2 with doublebeds and 1 with 2 beds) and two bathrooms (90 m2) and basement with utility room and access to the garden (120 m2).
La Vilella Baixa is a beautiful kind village of about 200 inhabitants. Th eere are two grocery stores, two bars (one with free wifi), two restaurants, a swimming pool and a playground. By its location, la Vilella Baixa is the ideal place to enjoy the famous Priorat vineyards as well as the magnificent scenery of Priorat, which is now being promoted to UNESCO WORLD HERITAGE. The village is set at the western end of the historical Priorat (just 7 kilometers from the Monastery of Escaladei) and at the foot of the Serra del Montsant (Parc Natural de la Serra de Montsant). It is the starting point to many walks and mountain bike routes through the tracks that run the vineyards of Priorat and Montsant mountains. An it is just a few kilometers from the famous climbing areas of Margalef (21 km. to the north) and Siurana (22 km. to the East).
Wij hebben genoten van ons verblijf in La Perissada. Het is een bijzonder huis: een antiek pand in het bergdorp La Villela Baixa, dat verbouwd is tot een moderne, hele ruime en comfortabele woning. Vooral de de dubbelhoge vide en de met liefde onderhouden tuin zijn heel mooi. Xavier en Esther zij heel aardig, behulpzaam en prettig in de omgang. Wij voelden ons er op de eerste dag al helemaal thuis! Absoluut een aanrader! Paul de Vroom
Robert Paul
2014-07-11T00:00:00Z
Aunque no conocimos a Xavier en persona (Berta, su vecina nos recibió súper bien!), la comunicación con Xavier fue fluida desde un principio, lo cual hizo el proceso facilísimo. Antes de la estadía nos envió indicaciones que nos sirvieron de guía para llegar a la casa y para sentirnos a gusto en ella, para movernos por el pueblo y para hacer el senderismo que tanto queríamos. La casa y su jardín son bellos. Las instalaciones funcionaron a la perfección, las habitaciones, el comedor, la cocina y los baños son amplios; el pueblo es mágico, la gente amable, los alrededores son realmente preciosos.... Recomiendo altamente esta "experiencia". Para nosotros los 3 días fuera de la ciudad se convirtieron en 3 días de ensueño. GRACIAS Xavier y Esther! Esperamos volver en primavera y seguir disfrutando!!!
Laura
2015-03-02T00:00:00Z
La Perissada was an amazing stay. I booked it for a team building weekend for my team and it was perfect for it. The neighbourhood is amazing! Quiet little village surrounded by wineries and olive fields. Xavier responded always to every question and gave us tips for what to do. He was a perfect host. It was a great experience and would recommend it to all.
Alexander
2014-11-23T00:00:00Z
My stay at La Perissada was excellent! Xavier and Esther contacted me in advance with a PDF regarding the property and the village as well as a map for parking/meeting point. The space is very comfortable and you have everything that you might need. Jaume, a neighbor greeted me and made sure he was available to help anyway he could. He helped with directions and appointments I had, he even came over to explain that there is an indoor clothes line because the days I was there it was raining and I needed to do laundry. They were all professional, which after traveling for a month and staying at Airbnb properties, I am learning makes for easier check-in check-out, less questions, smoother stays. I GREATLY underestimated what this region has to offer and I will look forward to returning, not just for wine, but climbing, mountain biking and lots of history. My best tip for the region is I was able to get lunch at Clos Figueras on Sunday not far at all from La Vilella Baixa in Gratallops! Go see Miguel and tell him you are excited to try the wines, oh and all the produce is grown right there in their garden!
Kevyn
2014-09-23T00:00:00Z
Hem passat dos dies fantàstics a La Perissada amb uns amics. La casa és preciosa, còmode i molt ben localitzada. La comunicació amb en Xavier ha sigut perfecte, ens ha ajudat moltíssim i ens ha enviat un dossier explicatiu de la casa amb una llista d'excursions i bodegues per visitar que ha estat de gran ajuda. Molt recomanable!
Eva
2016-06-26T00:00:00Z
Alles hat super gestimmt! Absolut tolle Lage zum Wandern und erholen! Antenberaubende Wohnung mit gepflegten Räumen! Kann ich nur weiterempfelen!
Manfred
2016-05-26T00:00:00Z
Excellent place. Great house. Very quiet with nices places to visit around
alexandre
2015-07-16T00:00:00Z
Resulta sorprendente comprobar que las fotos que aparecen de la casa no consiguen captar completamente su magia y su encanto, la realidad es mucho mejor. Gracias por un casa única para un lugar único, que te permite conocer los secretos del Priorat.
Ignacio
2014-08-11T00:00:00Z
Kamertype
Gehele woning/appartement
---
Type woning
Huis
---
Geschikt voor
8
---
Slaapkamers
La Vilella Baixa, Catalunya, Spanje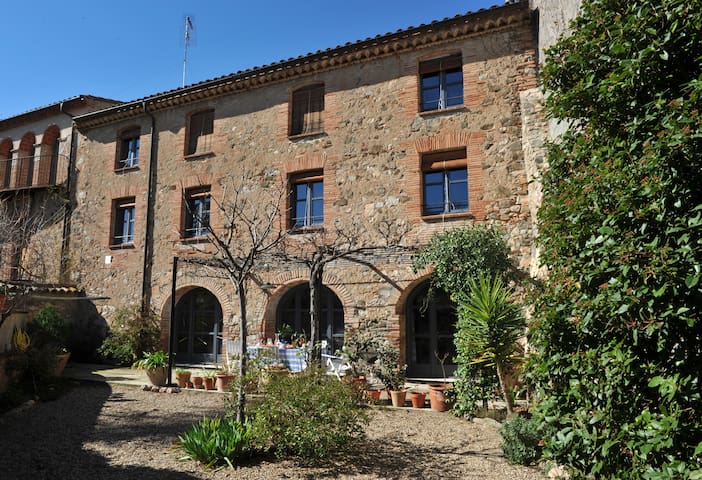 The house is in the village of Vilella Alta which is situated in the heart of the Priorat, a beautiful wine-growing area in Catalona. The views from the house are spectacular. Perfect for those who enjoy walking, wine tasting and nature.
The house consists a living room, kitchen-dining room and large terrace on the ground floor. The first floor has 2 doubles, a single bedroom and large bathroom. The attic is pretty much a self contained flat which consists of a fully equipped kitchen, bathroom, living area , terrace and bedroom with a double and single bed. The whole house is centrally heated. Smoking is not permitted.
The house is in the middle of the Montsant Natural Park. The area is famous for it's excellent wines, (Priorat DOQ).
La casa encantadora y las vistas excelentes. Todo muy cómodo y agradable.
Deborah
2016-07-18T00:00:00Z
La casa es estupenda, muy bien equipada y las vistas magníficas. Ha sido un lujo levantarse por la mañana y poder admirar ese paisaje, no hacía falta mucho más. Hemos disfrutado muchísmo el fin de semana, hemos estado relajados y tranquilos que es lo que buscábamos, y lo hemos pasado muy bien. La gente del pueblo ha sido muy cercana y agradable, dispuestos a ayudarnos, a ofrecerenos rutas, mapas, actividades que se había... Sin duda la estancia ha sido muy agradable y se ha hecho muy corta. Nos gustaría repetirlo en un futuro no muy lejano. Muchas gracias
Blanca
2016-05-09T00:00:00Z
Alice's house is spacious, well furnished and with all facilities needed. The view of Montsant from the terrace is amazing and the village of Vilella Alta is lovely and very well located close to Montsant. Highly recommended.
jordi
2015-10-12T00:00:00Z
Our stay at Alice's was perfect! We were very kindly welcomed by Francisco who showed us around the house. It's an amazing house!! There was everything we needed... It's cosy and it has really nice areas to spend quality time (terrace, living room etc).
Gayle
2016-05-02T00:00:00Z
Hemos estado encantados en casa de Alice. El priorat es precioso y poder disfrutar de sus paisajes en una casa de la zona es fantástico!!! La casa es muy amplia y acogedora, tal y como se aprecia en las fotos! En noviembre hace frio y la verdad es que la calefacción a funcionada excelente!!! Es ideal para ir con niños! Lo recomendamos!!
Maria
2016-11-20T00:00:00Z
Alice's house in Vilella Alta was a perfect getaway location for our vacation. Lots of room to spread out in, two gorgeous terraces for reading and relaxing, and comfy beds. Alice was easy to coordinate with and offered many wonderful tips and suggestions regarding things to do in the area. Would definitely recommend this house.
Kate
2015-07-27T00:00:00Z
El anfitrión estaba disponible para cualquier problema que pudiera surgir. Buena comunicación. La casa está en buenas condiciones y es espaciosa. El entorno es muy bonito
carles
2016-03-20T00:00:00Z
Alice's house is very nice and spacious ; it is rustic but very well equipped; and the terrace is absolutely wonderful; the pictures don't actually do it justice: there's this expansive view on the Montsant Natural park and the vine (with delicious and sweet grapes!) provides shade in the afternoon. The village is lovely: there's a public pool which is great for the kids and there's a very nice café/shop (Agrobotiga Lo Portalet) which is tiny but has everything you need, very good local products, and the owner is very nice. La Vilella Alta is a great place to stay if you want to hike : Alice has a lot of suggestions and a good collection of maps and guides for local hikes. We recommend in particular the hike to the Ermita San Bartomeu near Ulldemolins which is wonderful (don't forget your bathing suits as there's a lovely spring half way through the hike). The sea is not too far either, beautiful beaches are just 50 minutes away. We didn't meet with Alice but we texted, she was really helpful and welcoming. Also, there's no wifi in the house - a blessing ! (Wifi is available though at the Agrobotiga ;). We had a wonderful and refreshing stay, I hope we can come back some time.
Sophie
2016-08-24T00:00:00Z
Kamertype
Gehele woning/appartement
---
Type woning
Huis
---
Geschikt voor
8
---
Slaapkamers
La Vilella Alta, Catalonië, Spanje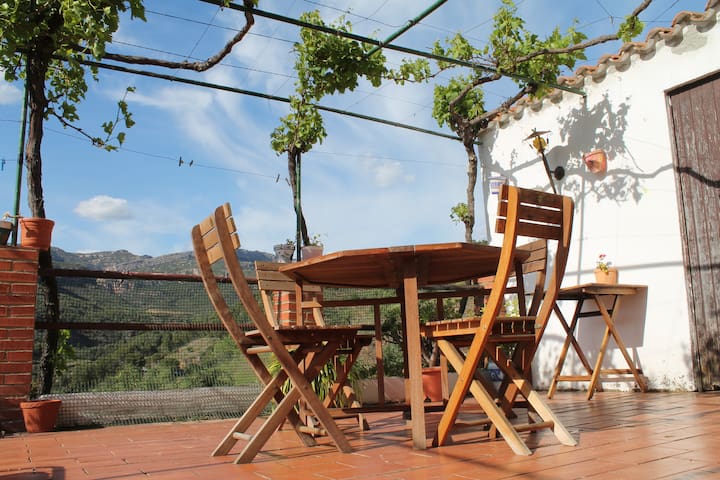 Lugares de interés: increíbles vistas. Te va a encantar mi lugar debido a el espacio acogedor. Mi alojamiento es bueno para parejas, aventureros, viajeros de negocios, y familias (con hijos).
Kamertype
Gehele woning/appartement
---
Type woning
Appartement
---
Geschikt voor
4
---
Slaapkamers
La Figuera, Catalunya, Spanje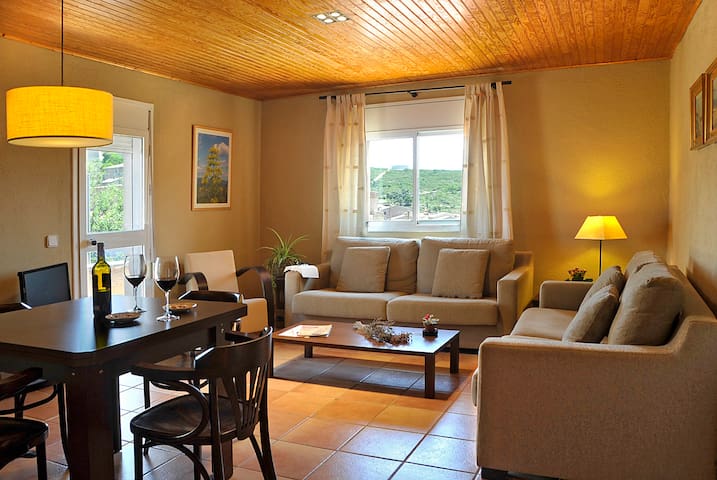 L'Eremita se ofrece como lugar ideal para visitar, disfrutar del descanso, la gastronomía de la zona, sus vinos, las catas y visitas a las mejores bodegas de D.O Priorat y Montsant, sus paisajes de excepción, sus fiestas populares o simplemente escaparse para desconectar y pernoctar con todas las comodidades en el Priorat, en un entorno natural y relajante. Espacio de construcción reciente, conserva la esencia rural, ubicándose en el centro del pueblo de La Figuera.
La casa, cuenta con plantas primera y altillo, que disponen de un espacio completamente equipado con cocina office, 3 baños, 1 aseo, sala-comedor, comedor con barbacoa interior, sala de juegos, descanso y reuniones, 6 habitaciones (de matrimonio, dobles o triples), y sala polivalente/de proyecciones, para realizar eventos y actividades tanto de ocio como profesionales. Capacidad para: 14 personas (ampliable a 18 personas en camas auxiliares).
El paisaje del Priorat, en el que amablemente se encuentran barrancos, terrazas, bosques, grutas y cultivos, se diferencia notablemente de sus comarcas próximas y con los demás lugares de Catalunya, tanto es así, que en la actualidad es candidato a ser declarado Patrimonio de la Humanidad. Desde el Balcón del Priorat cerca de la casa, a vista de pájaro podemos divisar paisajes excepcionales donde encontramos pequeñas poblaciones aledañas.
The host canceled this reservation 72 days before arrival. This is an automated posting.
Ruth
2016-10-24T00:00:00Z
The host canceled this reservation 67 days before arrival. This is an automated posting.
Daniel
2016-10-24T00:00:00Z
Kamertype
Gehele woning/appartement
---
Type woning
Huis
---
Geschikt voor
14
---
Slaapkamers
La Figuera, Catalunya, Spanje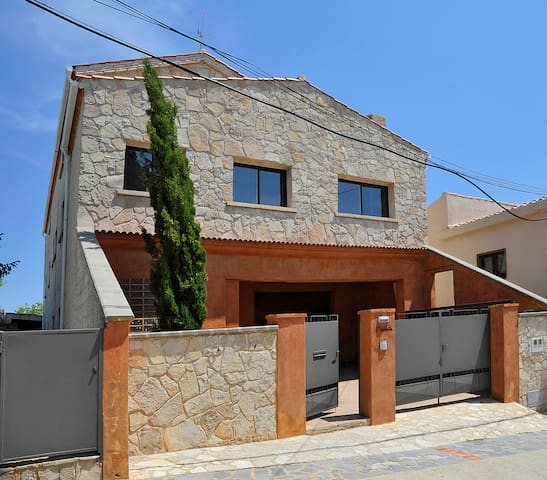 Mi alojamiento es bueno para parejas, viajeros de negocios, y familias (con hijos).
Kamertype
Gehele woning/appartement
---
Type woning
Huis
---
Geschikt voor
6
---
Slaapkamers
Porrera, Catalunya, Spanje
Os ofrecemos nuestra habitación de invitados. Es un espacio independiente y tranquilo que conserva el sabor de las casas de pueblo, con una sala de estar, un dormitorio y un baño. Soleada con vistas a viñas y olivos típicos del Priorat. Bienvenid@s
La habitación está ubicada en la segunda planta. Tiene un acceso totalmente independiente. Dispone de un baño para uso exclusivo. Los huéspedes disponen de una sala de estar con TV. La habitación es soleada y con buenas vistas.
Porrera es un pueblo tranquilo. La casa está ubicada al lado del rio Cortiella, a 150 metros del centro del pueblo.
Tolle ursprüngliche Liegenschaft die weitgehend erhalten ist und entsprechend gepflegt wird. Gute Lage am Dorfrand mit Ausblick und ausreichend Platz im privaten Bereich.
Stefan
2016-09-13T00:00:00Z
The perfect location for wine lovers. If you are in Priorat for wine tourism, this is the place to stay. A beautiful old house. The room romantic and very clean. Last but not least an authentic breakfast with local products while enjoying the mountain views.
Jenny
2015-06-28T00:00:00Z
Tot i que vaig estar molt poca estona amb en Jordi i la Gràcia, la curta estada em va permetre constatar que són uns excel·lents amfitrions. Ells no ofereixen una habitació sinó un petit apartament on pots sentir-te ben bé com si fossis a casa. Barrejant mobiliari antic amb modern aconsegueixen un ambient molt acollidor i privat. I per arrodonir la troballa, un esmorzar complet i equilibrat servit, en el meu cas, a una hora ben inversemblant. Tinc clar que repetiré a casa seva, si està disponible i a ells els va bé, en cas que vulgui venir a explorar el Priorat amb família o amics. La seva casa està molt ben situada i és fàcil de localitzar en el bonic poble de Porrera.
Mercè
2015-08-20T00:00:00Z
This suite is perfect for couples traveling through Catalina wine country. It is part of Jordi and Gracia's home, but is completely separate as it's upstairs on its own floor. It is very spacious, and Betty beautiful. The price was right for us as our stay included a typical Spanish/Catalan breakfast beads smeared with tomato and topped with cheeses and meats, accompanied by our choice of coffee or tea, served in our room at the appointed time. Gracia's garden is visible from the room, and she made her own marmalade which was served with our breakfast! The suite is located in a perfect little town with several wine cellars; it's recommended that you make reservations for tasting ahead of time, particularly in the fall when everyone is busy harvesting (and it's more of an off season time for tourism, particularly mid week). Note that the town is small, so pay attention to holidays and off season schedules of opening when you are figuring out meals during your stay. We didn't realize how big of a deal the National Spanish Holiday was (Oct. 12), which meant our meal choices in this little town were limited due to holiday and off season closures (and limited availability in the first place). We loved meeting Jordi and Gracia and they were very hospitable to us traveling on bikes, flexible and accommodating and full of suggestions/assistance, even despite our language barrier (Jordi speaks French and Spanish - its helpful to have basic skills in either language to stay here).
Dave & Jan
2016-10-13T00:00:00Z
Poble molt tranquil, agradable i ben ubicat per descobrir el priorat
Daniel
2016-06-26T00:00:00Z
Todo fue perfecto! La casa es preciosa, el desayuno buenísimo y los anfitriones nos acogieron de maravilla. Muy recomendable!
Laura
2016-01-24T00:00:00Z
Nuestra estancia en la casa de Jordi y Gracia ha sido genial. La suite es preciosa, super limpia y tiene todo lo necesario. Los anfitriones son muy disponibles y se tomaron el tiempo de sentarse con nosotros para explicarnos las varias opciones de programas para hacer en las regiones del Priorat y Montsant. El pueblo de Porrera es muy bonito también, y toda la región del Priorat vale mucho la pena, por sus catas de vinos y paisajes únicos. ¡Recomiendo muchísimo este alojamiento!
Inês
2016-10-30T00:00:00Z
Phenomenal views. Delightful owners. This is the place to stay in Porrera. The bed and bedding were immaculate and comfortable. A comfortable lounge/living area was where we got to enjoy our evening and breakfast the next day which was a lovely Catalan style meal with rich coffee.
Tz
2016-02-01T00:00:00Z
Kamertype
Privé Kamer
---
Type woning
Bed & Breakfast
---
Geschikt voor
2
---
Slaapkamers
Porrera, Catalunya, Spanje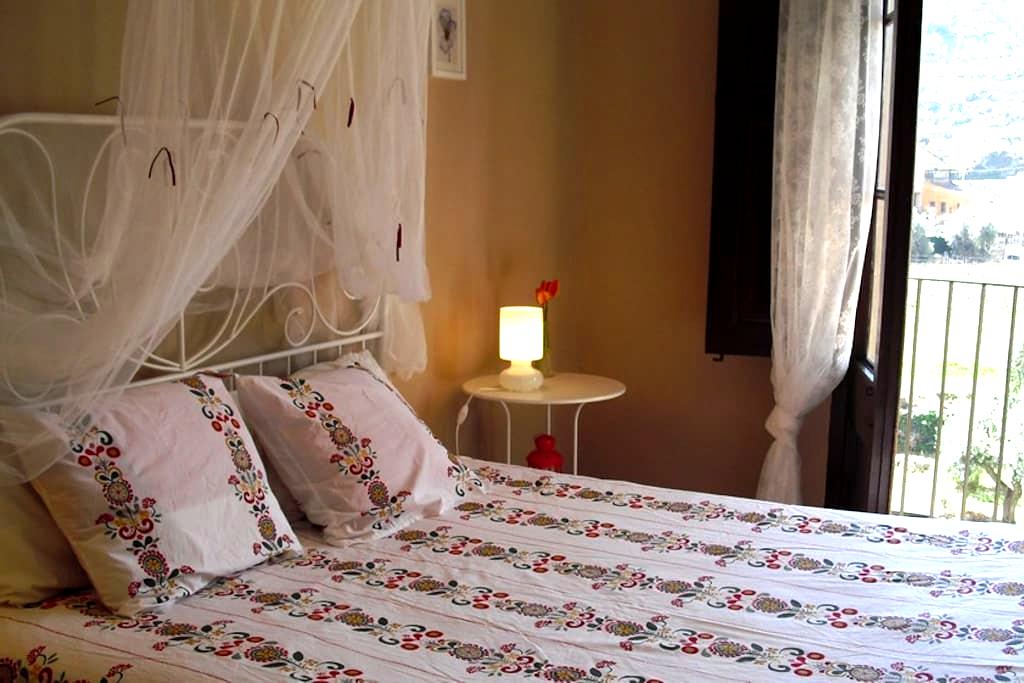 Apartamento equipado con cocina y con una estética original entre lo rural y lo moderno. Disfruta de la chimenea privada o de la fantástica terraza con vistas al Priorat. Situado en el centro histórico de Falset y con servicio de bar-restaurante.
Los apartamentos cuentan con un espacio amplio con más servicios, pensado para ofrecer estancias cómodas para grupos de hasta 4 personas con el máximo confort. La terraza, un espacio más del apartamento, es perfecta para compartir las noches de verano y disfrutar del primer sol de la primavera, con vistas a la Sierra de Quitaría y la Mola de Colldejou. La chimenea aporta calidez y belleza por las noches de invierno.
Está situado en el centro histórico de Falset, la capital del Priorat.
Je pensais pas que c'étais un hôtel, et sur les photos sa paraît bien plus grand qu'en réalité. Si vous arriver de loin prévoyez d'arriver après 13h sinon vous devriez attendre 13h pour pouvoir rentré dans votre chambre. Attendais vous aussi à certain concert la nuit qui ce termine très très tard, et ne surtout pas marché pied nu dans l'appartement si vous ne voulez pas avoir les pieds tout sale. Sinon les hôtes sont accueillant, souriant et sympa. Dommage que l'appartement/hôtel étais loin, vu qu'il n'y a rien dans le village à part quelque supermarché mais le village est par exemple à 40 minute de salou.
Kamil
2016-08-18T00:00:00Z
Kamertype
Gehele woning/appartement
---
Type woning
Appartement
---
Geschikt voor
4
---
Slaapkamers
Falset, Catalunya, Spanje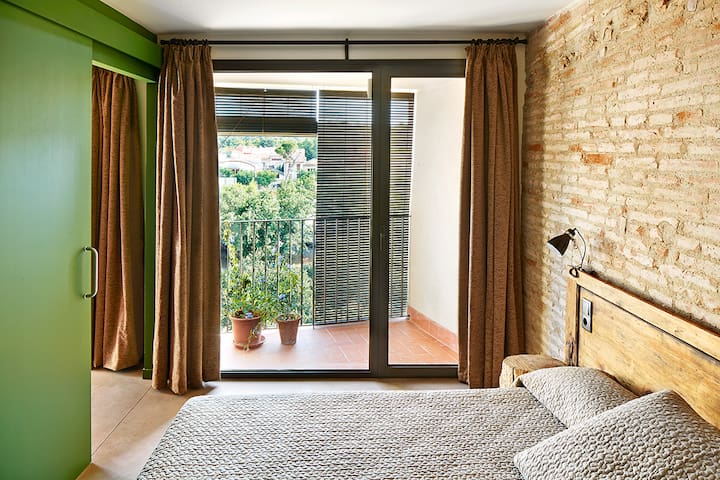 Situada al casc antic de falset a tocar de l'oficina de turisme, la plaça de l'església, l'ajuntament... Es tracta d'una Casa antiga totalment rehabilitada, distribuïda en 3 apartaments perfectes per a famílies o escapades de cap de setmana. ideal per gaudir del món rural i la natura. vine A comprovar-ho!!! Situada en el casco antiguo de falset a pocos metros de la oficina de turismo, la plaza de la iglesia, el ayuntamiento... se trata de una Casa antigua totalmente rehabilitada
CATALA Situada al casc antic de falset a tocar de l'oficina de turisme, la plaça de l'església, l'ajuntament... Es tracta d'una Casa antiga totalment rehabilitada, distribuïda en 3 apartaments perfectes per a famílies o escapades de cap de setmana. ideal per gaudir del món rural i la natura. vine A comprovar-ho!!! ESPAÑOL Situada en el casco antiguo de falset a pocos metros de la oficina de turismo, la plaza de la iglesia, el ayuntamiento... se trata de una Casa antigua totalmente rehabilitada, distribuida en 3 apartamentos perfectos para familias o escapadas de fin de semana. ideal para disfrutar del mundo rural y la naturaleza. ven y compruébalo! ENGLISH Located in the old town of Falset a few meters from the tourist office, the church square, town hall ... The house it is a completely renovated old building distributed in 3 perfect family apartments with all the conforts you needs to relax. Falset a town where you gonna enjoy the culture of the good wine of Priorat and Monstant, Come and see it !!! we have many guide to enjoy the region ideal for enjoying the rural and nature atmosphere..
The host canceled this reservation 179 days before arrival. This is an automated posting.
Oriol
2016-11-02T00:00:00Z
I stayed at Casa Rural for five nights in October. I really enjoyed the apartment: very comfortable, functional, cozy and quiet. Rosa and Eliseo were excellent hosts and responded to my inquiries promptly. I would happily stay here again. Me quedé en Casa Rural para 5 noches en octubre. Me gustó mucho el apartamento: muy cómodo, funcional, acogedor y tranquilo. Rosa y Eliseo fueron excelentes anfitriones y respondieron a mis preguntas con prontitud. Felizmente quedarme aquí otra vez.
Jeremy
2016-10-28T00:00:00Z
The location of the flats is good in the old part of falset. We got confused because in the profile of the flat there are actually photos from several flats in the building, not one flat. We changed flats as the first one did not have a terrace.The second flat was a studio flat with kitchen, living room and bed in one single space. Overall it was easy to communicate with the host and organize the arrival / check-out etc. Thank you!
Minttu
2017-02-19T00:00:00Z
Buena comunicación. Rosa y su esposo muy amables, el apartamento muy limpio y con todo lo necesario para una buena estadía. seguramente volvería otra vez.
Mauricio
2016-12-31T00:00:00Z
Kamertype
Gehele woning/appartement
---
Type woning
Appartement
---
Geschikt voor
8
---
Slaapkamers
Falset, Catalunya, Spanje
"El Verger" is a homely one level house with a courtyard, located in a privileged place of the town, next to the castle, in a very quiet zone, with magnificent views. Every day you can see a very beautiful sunset.
The house has only one level, comfortable and very bright, equipped to have a pleasant stay. It is located in the top of the town, next to the castle "Castell del Vi", accessible and very quiet.
It is very quiet, and in few minutes you can be in the centre of the town, where you found supermarkets, pharmacy, restaurants, wine shops, and a public swimming pool.
Ha sido un fin de semana estupendo en un entorno entrañable, la casa es muy amplia y con un jardín muy bonito, la anfitriona se ocupó perfectamente que no nos faltara de nada y nos encontráramos como en nuestra propia casa 100% recomendable.
Maria Angeles
2015-08-03T00:00:00Z
The house is very nice and spacious, location is great with beautiful view. Nuria was friendly and helpful. My recommendation! :)
Barbora
2015-08-29T00:00:00Z
Es una casa ubicada en la mejor zona del pueblo con buenas vistas desde lo alto. Tiene amplias habitaciones con muebles que reúnen lo tradicional con lo moderno y equipamiento más que completo para la necesidad del huésped. La anfitriona ha estado disponible y atenta a nuestra comodidad.
Muhanad
2015-08-08T00:00:00Z
Ya hemos vuelto de nuestra estancia. Los seis nos encontramos muy agusto y gratamente sorprendidos por el encanto de la casa y su jardin. Un espacio que poco a poco nos hizo sentir como en nuestra propia casa aprovechando tanto el interior que durante el dia nos protejia del calor como del exterior por las tardes y noches. Las vistas son privilejiadas: la mola llevaria el campanar y las dos estupendas puestas de sol. En el corazon del Priorat disfrutamos tambien del vino y de la naturaleza. Senderismo y bañito en rio. La sensacion al marcharnos fue la de que volveremos. Hemos encontrado un refugio. La verdad es que no echamos nada en falta. Muchas gracias por dejarnos compartir vuestro espacio y el de vuestra familia.
Emilia
2015-07-13T00:00:00Z
Fantástica casa en Falset, magnificas vistas y con una terraza muy amplia. Nos sentimos muy a gusto. Muy ordenado y limpio. Con todo lo que se necesita para un fin de semana. Núria nuestra anfitriona muy atenta a todo. Muchas gracias. Fin de semana inolvidable en el Priorat.
Neus
2016-05-30T00:00:00Z
Kamertype
Gehele woning/appartement
---
Type woning
Huis
---
Geschikt voor
6
---
Slaapkamers
Falset, Catalunya, Spanje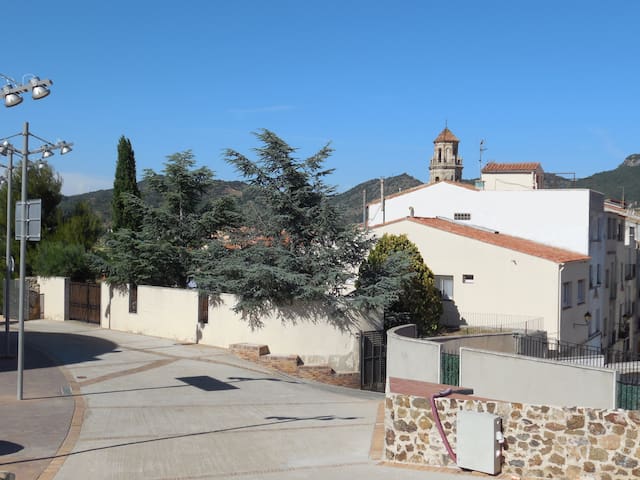 La Carrerada inaugurada en el año 1988, actualmente dispone de un apartamento independiente dedicado a turismo rural, con la capacidad para 4 personas especialmente indicado para una familia con niños o una pareja. Este establecimiento, espacio abierto de tres niveles tipo "loft", esta equipado con ropa de baño y de cama, utensilios de cocina. Tv, microondas, frigorífico, lavadora, plancha y calefacción etc. Cuenta con un pequeño patio – jardín con barbacoa.
Kamertype
Gehele woning/appartement
---
Type woning
Appartement
---
Geschikt voor
4
---
Slaapkamers
Porrera, Catalunya, Spanje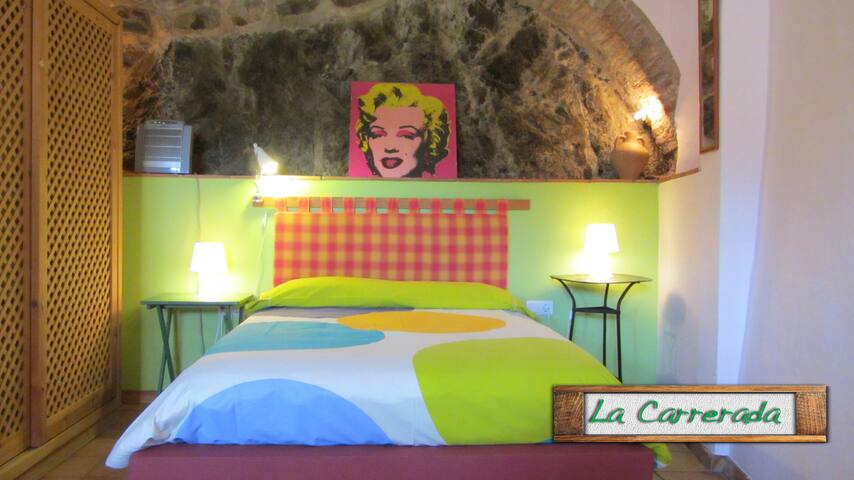 1

–

18

van

43 Accommodaties