Voer je aankomstdatum in in dit format dd/mm/jjjj
Voer je vertrekdatum in in dit format dd/mm/jjjj
0 kinderen
leeftijd 2 - 12
Ruimtes die je kan reserveren zonder op goedkeuring van de verhuurder te hoeven wachten.
2 Accommodaties
· Grove Hill
2 Accommodaties
· Grove Hill
Komende juli en augustus kun je een van deze 100 best beoordeelde woningen uitproberen, in elke prijsklasse, om zo een lokaal gevoel van Sonoma te krijgen. 24-uur inchecken, Direct Reserveren en lokale wijn en snacks. Leun achterover en geniet van je reis.
One bedroom with an small kitchen and dining. You have your own private bath area. It is the same location as the other apartment with the same outdoor photo's. Close to the Creek Indian Casino, 2 parks, Monroeville's To Kill a Mocking Bird, kids under 12 years old are free. There is one queen air bed.
The apartment was remodeled in the last months of 2015. There are a lot of new things including the the bathroom. One large room and one small bathroom. PLEASE READ...this is an studio apartment and not bed and breakfast. Bring your eats Walmart and other stores are 17 miles away. You have shared access to the pool and hot tube. There is also a gas and charcoal grill. I'm usually at work.
This is a farming area. Please see my other listing. I do not wish to copy and paste here. You will need an auto. There is no pubic transportation. Large trash container on the west side of the house and it goes out on Thursday.
Ronald had a perfect place for us to stay. He was a great host and all went really good. He has done some amazing work and wood work to the place. Very talented man!
Gail
August 2016
Ron was very accommodating. The apartment is in a beautiful setting and feels very relaxing. Out of the way of busy traffic and towns, you can really unwind. Highly recommend to go off the beaten track to stay here. Excellent.
Alex
April 2016
What a fantastic stay! First of all, despite being relatively compact, the room feels spacious by way of its design, with the fireplace and bookshelves on opposite walls giving the sense of an old living room where you'd expect to see dad in his smoking jacket watching the fire crackle. Which gets to the point - if you're looking to be surrounded by a simpler world than the city's been giving you, you can heal your spirit out here - sing along with the cows, take a walk down a dirt road or along some railroad tracks... get a little lost driving around, you'll just run into more people waving at you from their cars and porches as you drive past. Washer, Dryer, mini-stove, microwave, fridge, ice maker, toaster oven... all packed nicely into one corner and very easy to access. Seriously, I can't say enough about how intelligently-designed this space is - everything feels separated despite being a few inches or feet away. If you need to go shopping, there's a town about 20 minutes up the road. I didn't take advantage of the pool or grilling area, but they're both quite worthy of being put to good use. Ronald himself is awesome - he was always available but I felt private and the 'tranquility' of the area was rarely interrupted, except occasionally seeing him go by on his riding mower. Always friendly when we interacted, he's a professional builder and clearly loves what he does. Cozy bed, nice sheets, lots of pillows - just a comfortable place overall. If you need to get away or want to visit the casino down the road or other nearby attractions, this is absolutely a great place to stay. If you want a little larger place, he also has a 1BR as well. If you found it, book it. You've got the right one :)
Brian
April 2016
This is a really wonderful little gem of a place out in the country. Ronald has obviously put a lot of heart and soul into fixing this one room apartment up with built in cabinetry, a comfortable bed, nice decorations and all the things you need for a short or long stay. We were super comfortable and enjoyed talking with our host. Highly recommend this place as a great alternatives to a hotel room that would cost almost twice as much and not be nearly as nice. It's located less than 20 minutes from the hotels in Atmore at the Interstate exit.
Brian
May 2016
Cannot say enough good things about this place and Ronald. The pictures do not do it justice at all. First of all, the drive out there is amazing. So much space and beauty. Then, when you get there it's just as beautiful, if not more! Ronald was there to greet me when I arrived and showed me where everything was. He is so, so sweet. It rained most of the time I was there, which made the already-cozy little haven even cozier. It's very spacious and has everything you need. A great electric fireplace, stove, microwave, toaster, pots and pans, washer/dryer, tv/DVD player, etc. I could go on. I went for a getaway by myself to get ready for the new year, and everything about this place exceeded every expectation I had. I will DEFINITELY be going back!
Natalie
January 2017
The Studio Apartment in the Country was exactly what I needed. I went for quiet and solitude, and it was perfect. I had everything I needed, the studio was exceptionally clean, and as a host, Ronald maintained a nice balance between friendly conversation and assistance with the outdoor amenities (hot tub and fire pit) and respect for the solitude I came for. If you're looking to get away from the hustle and bustle, this is the perfect place.
Jessica
December 2016
Everything was great. I just needed a place to stay for the night. Half the price of a hotel and a much nicer place to stay.
Jim
November 2016
This is by far the nicest place on Airbnb that I've ever stayed at. I've done quite a bit of traveling for work and I would take staying here over a five star hotel any day. It's in a quite area, it's very comfortable and has everything you need, including a mini washer and dryer! Ron was very welcoming and very helpful during my entire stay. I recommend this to anyone traveling or visiting near by. You won't be disappointed!! I give it five stars.
Callie
February 2016
Kamertype
Gehele woning/appartement
---
Woningtype
---
Geschikt voor
2
---
Slaapkamers
1
Atmore
Apartment in my home in the country surrounded by farm land and timber land. This is South Monroe County. It is about 17 miles N. of the Creek Indian Casino. Towns around are Atmore and Monroeville. Close to Claude Kelly State Park. under 12 free. There is one queen size bed in a private room. The couch is not full size but would be good for a small person. One twin air mattress. PLEASE READ...this is an apartment and not bed and breakfast. Bring your eats Walmart and other stores 17 mi. away.
There is an apartment , pool and hot tub. Extra sleeping can be had with twin air mattress and the couch. Not much...I have to work a lot.
It is my home located in a farming area. You have to have a car. I am close to Wind Creek. It is 75 mile to Pensacola and 88 miles to Gulf Shores.
Ron was a very hospitable and helpful host. The accommodation was better than described - excellent pool and hot tub, spacious ans spotlessly clean accommodation with everything you need for a self-catering retreat in rural Alabama. The location is very rural and quiet, we had a lovely evening sitting in the hot tub and staring at the amazing night sky.
Rick
March 2016
We stayed over for one night. We really liked the house and had a wonderful rest. The pictures do not do the house justice! Ronald was very friendly and provided us with a big and clean place to stay at. He even left us some delicious cherry tomatoes from his garden. The place was easy to get to and is very quiet and idyllic. Surrounding the house are farms and small towns. Overall, we got some nice and quiet rest while on our way to another destination. This place was perfect for that.
Andriy
July 2015
Perfect experience from beginning to end. Great fast communication with Ronald. We stayed several days and enjoyed cooking out on the grill, relaxing in the hot tub and even swimming in the pool. This place is out in the country and let me just say the stars at night were big and bright! We were traveling lightly so it was nice to have the washer/dryer available. Full kitchen with most everything you would need to prepare meals. Highly recommend this charming place in the country. :-)
Michael
April 2016
What a find! Ronald was a warm and welcoming host and we loved the country quiet of his apartment. The hot tub outside was a big bonus that we hadn't spotted on the listing. Shame we were just passing through as could have happily stayed for days.
Ben
April 2016
Ronald's house is a very nice, clean and well organized place. Very cozy. We just loved the starred sky and non-urban neighborhood. Ronald is a very accessible and polite host. We really felt like home there.
Ricardo
October 2015
The host was very polite and hospitable. The private apartment has a kitchen, full bathroom, bedroom and living room: all were very clean. A pool and hot tub are just outside. The country setting was peaceful, quiet, and comfortable. Sunsets and sunrises were unforgettable! Several towns are a short drive away. Pensacola, FL is a little over an hour away. Absolutely great!
Bradley
September 2015
This was the perfect little getaway for my family. Ron was very accommodating and made this Mother's Day trip a success. Ron greeted us as soon as we drove up and showed us around the area. There were several little things available in the apartment (detergents, paper towels) that you tend to forget on trips. Ron answered any questions we had and even gave us tips to make the most of the trip. The apartment was emmaculate and I would definitely visit this little retreat again! The pictures do not do this place justice...
Tiffany
May 2016
Ron really made us feel at home. He showed us the pool area and hot tub, and was readily available if needed. The apartment is a nice, quiet place along the backroads in Atmore. This was a nice change of pace for both of us after staying in busy cities our last few trips. The apartment itself has a homey feel to it, not too big or small. Perfect for a couple or a small family. I would definitely recommend staying at Ron's if you need to get away from it all for a few days or weeks :).
Christopher
July 2015
Kamertype
Gehele woning/appartement
---
Woningtype
---
Geschikt voor
4
---
Slaapkamers
1
Atmore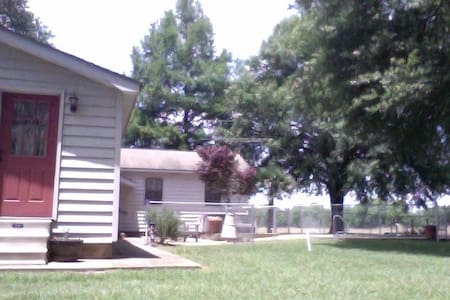 1

–

2

van

2 Accommodaties