Ronald was very patient waiting for me,I arrived a couple of hours late. He took me through the house and showed me where everything is, all and all a great welcome.He has put a lot of thought into the layout and inclusions in the house, he has pretty much thought of everything. All in all I had a great time staying and loved the area, the friendliest people you will meet in a country mile,real "Southern Hospitality".
Michael
2016-02-29T00:00:00Z
We had a really pleasant stay, even if it was only overnight. The apartment was very clean and comfortable. Ronald was a really gracious host as well.
Ginny
2016-04-25T00:00:00Z
Ronald had a perfect place for us to stay. He was a great host and all went really good. He has done some amazing work and wood work to the place. Very talented man!
Gail
2016-07-31T00:00:00Z
What a wonderful stay! We needed a place during our travel down to gulf shores and this was a hidden gem we loved it!! Highly recommend Ronald and his beautiful place!
Brittany
2016-10-08T00:00:00Z
You will love the place when you get it! Nice place to stay in. Clean, good price and really worth it
Hasan
2017-03-26T00:00:00Z
Ron's place is perfect for a quiet getaway. I can't wait to go back!!
Gregory W
2017-03-01T00:00:00Z
Great cottage in the country!
Eric
2016-12-21T00:00:00Z
This is a really wonderful little gem of a place out in the country. Ronald has obviously put a lot of heart and soul into fixing this one room apartment up with built in cabinetry, a comfortable bed, nice decorations and all the things you need for a short or long stay. We were super comfortable and enjoyed talking with our host. Highly recommend this place as a great alternatives to a hotel room that would cost almost twice as much and not be nearly as nice. It's located less than 20 minutes from the hotels in Atmore at the Interstate exit.
Brian
2016-05-08T00:00:00Z
Kamertype
Gehele woning/appartement
---
Type woning
Appartement
---
Geschikt voor
2
---
Slaapkamers
Atmore, Alabama, Verenigde Staten
農地や木材の土地に囲まれた国では、私の自宅のアパート。これは、南モンロー郡です。これは、クリークインディアンカジノの約17マイルのNです。町は周りアトモアとモンローです。クロード・ケリー州立公園があります。 12自由の下で。 1クイーンサイズのベッドが個室にあります。ソファはフルサイズではありませんが、小さな人には良いでしょう。ツインエアマットレス。お読みください...これはアパートではなく、ベッド&ブレックファーストです。あなたの食べウォルマートや他の店舗17マイルを持参してください。離れました。
これは、農業のエリアに位置私の家です。
It's a good place to live
Yuanda
2017-03-13T00:00:00Z
I am a frequent visitor because of work. I am love the place and Ron is the perfect Host. I would highly recommend this hidden gem!
Tamara
2017-02-25T00:00:00Z
The listing was 100% accurate. Ronald was there to greet us when we arrived and was around to answer questions when we needed him. The apartment was clean, roomy and stocked with everything you could need. The pool and hot tub were also clean. He takes great care of his property.
Jason
2015-09-09T00:00:00Z
Great place for a one night stop. Clean, cozy and everything taken care of. The host communicated in a good and timely manner.
Ellen
2016-11-19T00:00:00Z
Ronald Brooks was most helpful and answered all of our questions. The house, although in farm area was less than six miles from my Fathers house and very easy to find and drive to. The addition was clean, well kept and had all the comforts of home. The kitchen was well stocked as was the bathroom. We had free wifi and there was a blue ray player in the living room
Bob
2015-09-27T00:00:00Z
This was the perfect little getaway for my family. Ron was very accommodating and made this Mother's Day trip a success. Ron greeted us as soon as we drove up and showed us around the area. There were several little things available in the apartment (detergents, paper towels) that you tend to forget on trips. Ron answered any questions we had and even gave us tips to make the most of the trip. The apartment was emmaculate and I would definitely visit this little retreat again! The pictures do not do this place justice...
Tiffany
2016-05-10T00:00:00Z
Love this place, I have stayed here multiple times and always enjoy the peaceful county setting. The apartment is a cozy home away from home, complete with a washer, dyer and endless hot water. Ron is a wonderful host, if you need anything he is quick to help.
Tamara
2017-02-19T00:00:00Z
Ronald was extremely helpful with our trip, we were driving from New Jersey to New Orleans and needed to make a stop in Alabama to split our trip up. He was extremely understanding with our changing arrival time from 2am to 5 am. If you need a flexible stay, he's great! His yard was really cool with a hot tub, pool, some palm trees and even some cows next door.
Julia
2016-10-28T00:00:00Z
Kamertype
Gehele woning/appartement
---
Type woning
Appartement
---
Geschikt voor
4
---
Slaapkamers
Atmore, Alabama, Verenigde Staten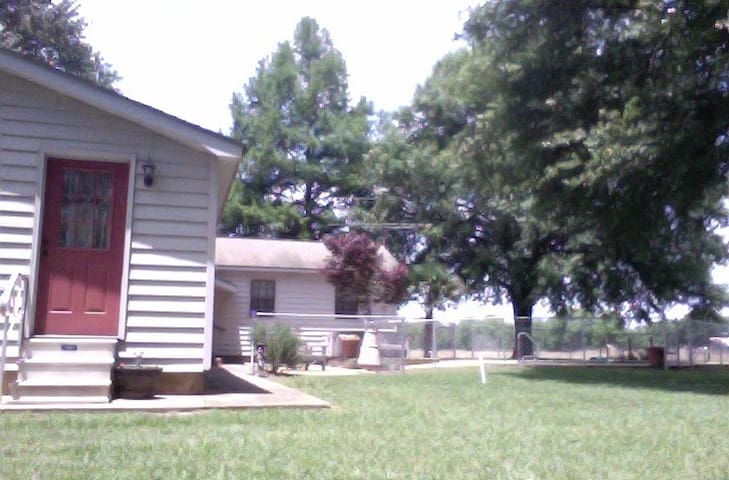 1

–

2

van

2 Appartementen te huur