Located in a private and sunny cul-de-sac neighborhood, 10 minutes to the beach, and situated between Boston and Cape Cod. 3 Bedrooms, 2.5 bathroom, with deck and manicured yard.
Spacious, immaculate and well maintained
Quiet neighborhood of 13 homes, family-friendly, yet peaceful, private and quiet. Shopping within 5 minutes, beaches 4 miles away, ice cream shop close by.
Kamertype
Gehele woning/appartement
---
Type woning
Huis
---
Geschikt voor
4
---
Slaapkamers
Pembroke, Massachusetts, Verenigde Staten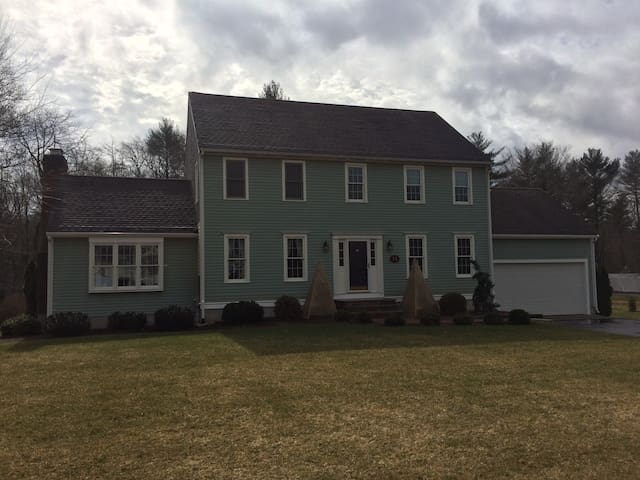 Our 2 bedroom home is not only lakefront, but just 25 minutes from the Duxbury and Marshfield beaches! Entertain indoors - cooking from a gourmet chef's kitchen. Or, take it outdoors for a pizza cook-off in the stone pizza oven! Just the two of you? The warm, eclectic interior invites you to relax, whether it's in the tranquil bedroom loft with French doors that open to the rooftop deck and boasts sunset lake views, or, on cooler nights, by the vintage pellet stove. Enjoy quiet mornings sipping coffee and listening to the birds from the worldly enclosed front porch.
72" TV, master loft with king size bed, living room with pullout couch, guest room with futon, pellet stove, outdoor pizza oven, lakefront, gourmet chef's kitchen, 1000 sq ft
Walking/biking trails, private, and safe
Rachael was a great host. The house was clean and in order. Very nice stay.
Lee
2016-10-23T00:00:00Z
Rachel's home is very cozy and warm! There is a lot of charm with plenty of character. Everything was very clean and organized. The home and outdoor area is even nicer than in the pictures. This truly is a lakefront escape.
Rogelio
2016-11-20T00:00:00Z
Beautiful views. Charming, clean and comfortable home.
Kathleen
2017-03-27T00:00:00Z
Rachael's place was wonderful and the views of the lake were beautiful. The area was very quaint and served as a great getaway. The kitchen and living area were well equipped. The house was very clean and organized with helpful tips. Highly recommend!
Julia
2017-01-01T00:00:00Z
Kamertype
Gehele woning/appartement
---
Type woning
Huis
---
Geschikt voor
6
---
Slaapkamers
Pembroke, Massachusetts, Verenigde Staten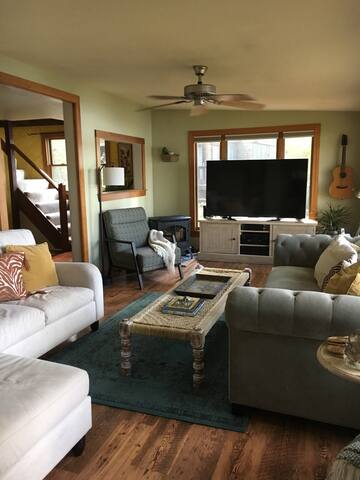 This log house is beautiful. Only minutes from historic Plymouth, beaches and the Cape. On an acre of private, wooded property. Located across the street from lovely cranberry bogs and walking trails. Close to Boston and Providence. A must see! Seasonal rates apply.
This listing is for a Traditional Log House rental/day/week/mo. Great for a summer vacation rental! Amazing for Autumn foliage and especially the cranberry harvest!! We have finished updating this listing with all new stainless-steel appliances, additional deck space and are almost done with re-modeling the basement. Our $125/day off-season rate reflects our ''almost finished'' state. The interior of the log home is as charming as the exterior and never fails to impress with its 30ft vaulted ceilings and hard wood floors. The yard is lovely and well-kept. Central Air/Heat with easy-to-use digital climate interface.
Located only a few miles from historic Plymouth, this property is situated on a series of cranberry bogs and has walking trails along lakes and ponds across the street. It is not located in a neighborhood, per se, although it does sit back from the main ''old'' road leading down to water- front Plymouth. The house has two incredibly lovely neighbors on either side, however, it remains very quiet and private with each property an acre or more each.
Het is een geweldig mooi huis. Er stond een heerlijke cake. Heel veel dank.
Bettine
2016-05-02T00:00:00Z
Een leuke verwelkoming en een leuk verblijf!!!,
Ronny
2015-09-30T00:00:00Z
Garrett was een geweldige gastheer. Vers gebakken bananenbrood stond klaar. We mochten hem altijd bellen! Het huis is prettig, met een leuke veranda en binnen een vide. Ligging tov strand en bos is prima. Supermarkt op 4 minuten autorijden. Topplek!
martje
2016-08-04T00:00:00Z
Great house. Great host. Everything was as advertised.
Jared
2016-11-14T00:00:00Z
Garrett is the penultimate host! We were in the process of selling/buying homes, and needed a place to stay between closings. We arrived at check-in time, and were surprised to see him there putting the final touches on everything. He gave a tour of the property and took warmly to our two dogs. He even recommended a place for us when we asked about take-out/delivery options for food (which was beyond expectations). We also need some white noise to sleep, so he eagerly offered up a system he had available. A couple days after our stay, he emailed me about a sweatshirt I had left behind. He was willing to come to my new home to deliver it to me - I dropped by instead, but the gesture shows how committed he is to his guests. If you're visiting Plymouth or the Cape, I would highly recommend staying here as an alternative to hotels - especially if you have dogs!
Brian
2016-01-29T00:00:00Z
Lovely home. Garrett is very responsive and cares about the quality of his guest experience. Ideal place for relaxing (lake nearby) and for sightseeing.
Lory
2016-09-06T00:00:00Z
Great experience.
Jessica
2015-09-01T00:00:00Z
Garrett was a fantastic host and made sure we had everything we needed and felt comfortable, from homemade banana bread upon arrival to checking in during our stay. The house is homey, comfortable and adorable! (Beds are amazing!) we are already thinking about our next trip there! Would definitely recommend to a tone looking for a quiet, quaint, peaceful place to stay while visiting the area! This was our first Airbnb experience and it was a great one!! We felt right at home there.
Josie
2016-07-11T00:00:00Z
Kamertype
Gehele woning/appartement
---
Type woning
Huis
---
Geschikt voor
6
---
Slaapkamers
Plymouth, Massachusetts, Verenigde Staten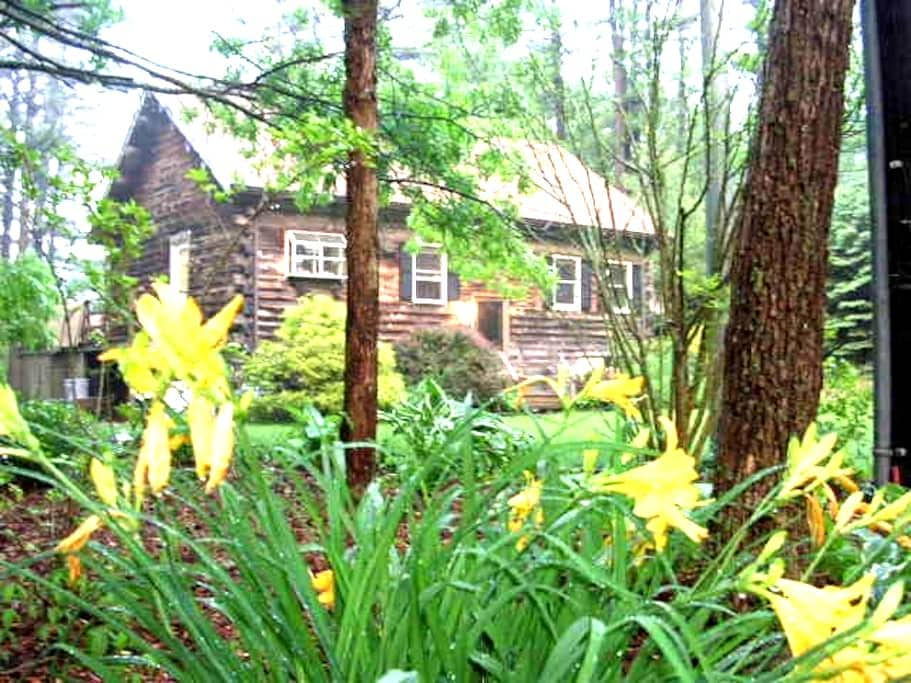 Beautiful post and beam cottage on historic farm in seaside town of Duxbury, MA only 30 minutes south of Boston. The "Honey House Suite" consists of one bedroom, full bath, living room, full kitchen and a lovely screen porch with a view of the pond. Feel free to walk over to main barn to visit with Premo our horse and Norman the mini donkey.
5/5 stars on all accounts! I booked this cute cottage as an anniversary gift for my girlfriend and me, as we wanted to get out the city (Boston) for a night. Lisa was very communicative beforehand, answering any questions I had about the place. I decided to book the place as the pictures looked beautiful and the value was great. Lisa was very flexible in the check-in time, as traffic had held us up. She even drove to meet us at one of the roads since we had some GPS difficulties. The place itself is absolutely gorgeous....handmade wooden cottage by her boyfriend, who is a master woodworker. The kitchen was stocked with coffee for the morning and everything was spotlessly clean. Lisa gave us a great restaurant recommendation where we had dinner (a place called Ember in Marshfield, which was phenomenal). The bedroom was very spacious and the bed itself felt like sleeping on clouds. In the morning, we awoke to see a beautiful view of the pond right outside the porch. Lisa told us to go walk around and see the farm animals, which we gladly did. They have a horse and a donkey, as well as chickens. There were some surrounding trails that we walked around on in the beautiful autumn morning. To top it all off, Lisa was very flexible with the check-out time, and gave us a great recommendation for breakfast. I couldn't recommend this place any higher and am looking forward to returning to this beautiful farm and seeing these friendly people again. They also do weddings here and I would highly recommend checking out this venue if you are interested in looking for a beautiful and scenic spot for a ceremony.
Noah
2016-11-13T00:00:00Z
Lisa was a great hostess, and the cottage was beautiful and perfect! Norman the miniature donkey was such a cute and sweet little guy, and the horse was a true gentleman.
Daniel
2016-11-28T00:00:00Z
Lisa was an amazing hose leaving many extras for us to enjoy. Additionally, the property was beautiful - gorgeous exposed wood throughout the cottage and a beautiful screened porch overlooking water and bird feeders. Sadly we had a quick stay but would love to come back. Very unique and special place.
Nauset Rental (Kent, Nicole, Devin
2017-03-06T00:00:00Z
We enjoyed having a space to ourselves and the cottage was beautiful. Very clean and organized with everything we needed. Comfortable bed, great shower. We appreciated having wifi access and full use of a kitchen. Highly recommend!
Linda
2016-12-14T00:00:00Z
Lisa's cottage is absolutely adorable and she was an amazing host. We enjoyed a flexible check-in and check-out. The cottage is exactly as it looks in the pictures and the giant bed is heaven to sleep in! We live in Duxbury and did this as a night away and could not have been more pleased. We will definitely go back as well as use for guests when they are visiting. Highly recommend!
kyle
2017-01-29T00:00:00Z
Very communicative and responsive host, thanks Lisa! The cottage was perfect for the two of us visiting family in the area, but needing a getaway. It was rustic but refined, and very comfortable!
Julia
2016-12-29T00:00:00Z
This place is amazing. Its exactly as advertised if not better. Lisa was a great host and made it extremely easy to find the place and get settled. The cabin has all the amenities you could hope for, including a fully stocked kitchen, cable and wifi. If you're looking to get away this is a great place to go, but still have all the conveniences you're used to. We didn't get a chance to meet any of the farm animals, but next time we would take more time to explore the area. This is definitely a place we'll be back to.
Daniel
2016-12-18T00:00:00Z
A lovely, quiet and spacious cottage in a rural setting. A must rent! We will be back again for sure.
Sarah
2017-01-01T00:00:00Z
Kamertype
Gehele woning/appartement
---
Type woning
Bungalow
---
Geschikt voor
2
---
Slaapkamers
Duxbury, Massachusetts, Verenigde Staten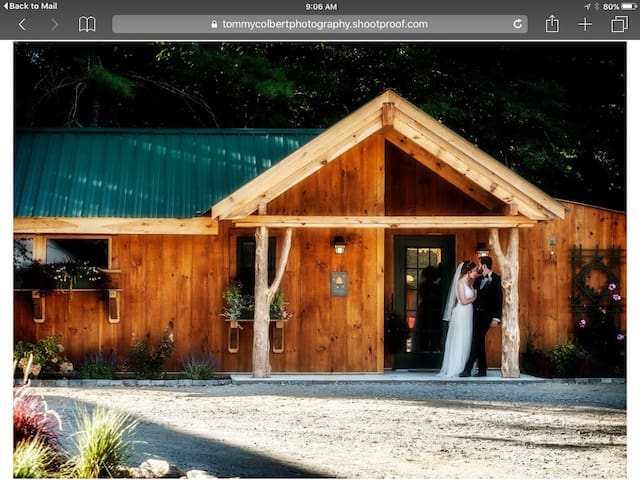 Bedroom located in 1800's home conveniently located across from Bridgewater State University with off street parking. Within walking distance to the center of town and MBTA commuter train to Boston. Another bedroom is available listed under 1800's home near BSU and train.
Our 1800's colonial house is located in Bridgewater, Ma which is 45 minutes from Boston and Providence and an hour from Cape Cod. The house is within walking distance from Bridgewater State College, MBTA commuter rail to Boston and all downtown shops and restaurants. Off-street parking available. Coffee and tea is available in the room. Another bedroom available in this house listed under 1800's home near BSU and train. Visitors have a separate entrance.
Safe neighborhood in the center of Bridgewater.
10/10 would absolutely 100% would recommend!! The host provides guests with so much comfort, and is so willing to accommodate guest needs and align with your schedule. The space is super cute, and right next to Bridgewater State University. It's a wonderful place to stay if you're visiting a friend.
Amy
2016-12-03T00:00:00Z
Sue was very accommodating and sensitive to our needs as we were in town for a family funeral. This is a lovely older home and super convenient to everything in Bridgewater and the area. We wished that we could have spent more time visiting with our hosts and just hanging out on the porch.
Richard
2016-09-24T00:00:00Z
Sue was a delightful host who went above and beyond to provide a service that lives up the "B&B" name. She met us at the train station, made us feel welcome, and provided coffee and basic breakfast. Her house is quite historic and has a real pre-Civil War-era feel to its architecture. She and her husband have made an effort to preserve its historic charm by making only the essential concessions to modernity (like good heating, etc) but door latches and some other fittings look original to the building. The location is perfect for anyone who has business at Bridgewater State University. It is right across the street from the campus, but still very tranquil given the quiet and spacious ambiance of this small town.
Nicholas
2016-03-19T00:00:00Z
Sue and Bob where very nice and gracious hosts. Clean, friendly lovely home and room. The bed was very comfortable and the house quite and easy to sleep. I used the room mostly for sleeping and reading..I was out 10-12 hours a day. Very happy. Thank you! Al
Al
2016-08-21T00:00:00Z
Sue was very helpful giving us instructions finding her place when I had entered the wrong address in my gps. Good location CVS and Walgreenn and laundry Mat very close. Bob makes a pot of coffee every morning and puts it outside your room at 7:30 am. Great way to start the day. We made several day trips, Plymonth is only 20 minutes away. House has a lot of charm.
Glenn
2016-09-01T00:00:00Z
Sue was out , so Bob showed me around and got me orientated. Very nice relaxed host----I felt right at home. I'll be back!
Oliver
2016-09-15T00:00:00Z
Sue and her husband were just as warm, friendly, and accommodating as one can imagine. Their house is awesome, the room was super clean and very nicely appointed. I slept very well in that bed and I enjoyed the entire experience of being in that house. I hope they'll take me again sometime down the road! I'm in Bridgewater a few times a year and it's very convenient to be able to stay there. I really appreciated staying in their home. It was an excellent experience.
Marshall
2016-05-07T00:00:00Z
My wife and I had a great stay with Sue and Bob. They were fantastic hosts and we would highly recommend staying with them. The house was charming and in a very convenient location to the campus and town. They went out of their way to tell us all about the town and area, and were extremely helpful throughout our visit.
Ben
2016-03-30T00:00:00Z
Kamertype
Privé Kamer
---
Type woning
Huis
---
Geschikt voor
2
---
Slaapkamers
Bridgewater, Massachusetts, Verenigde Staten
Come, stay & enjoy our lovingly restored Victorian home, a short walk to Bridgewater State University & the MBTA to Boston. For your getaway - a peaceful bedroom, formal parlor, tv room, dining room, sunroom and outside patio with gazebo and gardens. Each morning there's coffee, tea, fruit, & breakfast sweet. Inquire about specialty breakfasts served in our elegant dining room. We are centrally located for touring Plymouth, Cape Cod, Providence & Boston. Welcome travelers, BSU parents & alumni.
We have three bedroom options for guests: two queen rooms and one twin. To see our other rooms use this link to our profile: https://www.airbnb.com/users/show/34298646 Our home was built in 1872 for Dr George Hunt's homeopathic practice & residence. We have been lovingly & tirelessly renovating our home and gardens for the past 20 years. Our children grew up here and we want to share it with others. In fact, we always said when our children left us we could turn our house into a B&B. So this is a bit of a dream come true! Each morning there's coffee, tea, breakfast sweet and fruit to go. But if you would like to relax and enjoy our wonderful breakfast (fee added) please let us know and we'd be happy to fill you up!
Our neighborhood has many stately homes that are now mixed use. Our tree-lined street has sidewalks on both sides and many people walk or jog it regularly. The Bridgewater Common is a 5 minute walk away.
Bev and Richard's home is beautiful! They were wonderful hosts; very helpful and accommodating. We stayed two nights while packing our home and moving. The Baird's home was a relaxing escape! We stayed two additional nights at a hotel nearby and were questioning each other as to WHY... We definitely were more comfortable at the Baird's!!! Thank you Bev and Richard! Best of luck with future guests❤️
Beth
2016-05-21T00:00:00Z
Very welcoming HOME from the minute we stepped inside. What a gem the house is as well as the hosts! We couldn't have asked for anything more from this stay. The home was clean, comfortable and accommodating. Beverley was helpful with ideas of places to go and always asked if there was anything she could do to make our stay better. Very nice couple with the hearts in just the right place to open up their home to visitors! Highly recommend- Good central location to many places to visit.
Judy
2016-07-01T00:00:00Z
I was greeted with smiles and genuine friendliness upon my arrival at Beverley and Richard's beautiful Victorian house. I had the whole place to myself as there were no other guests during my stay. Beverley serves a nice healthy breakfast and is very accommodating. The house is within walking distance to the Commons area of Bridgewater and a short 10min walk to the campus of Bridgewater State Univ. and a a half hour drive to Plymouth. I will certainly stay with Beverley and Richard on my next visit to Bridgewater!...Thank you for your wonderful hospitality, Jeff.
Jeff
2016-07-23T00:00:00Z
I felt safe,welcome and comfortable from the moment I arrived at Beverly and Richards home in the lovely New England town of Bridgewater.
Oliver
2016-08-04T00:00:00Z
Heading into my first AirBNB experience, I had no idea what to expect. I came to Bridgewater to visit my extended family, and their house was full, so I had to find another place to stay. I stumbled on Beverley and Richard's house and felt an immediate pull because of the warm, familial feel. When I arrived, I knew I'd made a good decision – the house looked and smelled amazing. I stayed for three nights, and they were attentive to my every need. The house was immaculate, and my bedroom – complete with a Cape Cod theme – was lovely, clean, and comfortable. Oh, and breakfast was delicious! For less money than a hotel, I stayed in a beautiful, large home, met two great people, and enjoyed a fresh, scrumptious breakfast every morning. It was a five-star experience. Can't recommend highly enough!
Aaron
2016-05-08T00:00:00Z
We booked Beverley & Richard's B&B for a last-minute stay to watch our son's hockey tournament. When we learned he had an injury and may not be playing, Beverley worked with us and was more than accommodating. I'm glad I listened to her and didn't cancel because he ended up playing and we had the most welcoming experience. When the tournament was over and we found ourselves with a free day, Beverley gave us recommendations for spending the day on Cape Cod. The next morning she had a lovely breakfast prepared for us and she and Richard spent their morning getting to know me and my husband. We exchanged pictures of our kids and a few family recipes and felt like we were visiting old friends. One of the best AirBNB experiences - we hope to stay with Belevely & Richard again!
Alla
2016-08-01T00:00:00Z
Beverley welcomed me upon arrival and was very kind. My room was very comfortable and clean. A/C was a nice addition. Breakfast was simple and all I needed to get me started for the day. I will be staying here again next week. I look forward to making this a regular stop while in New England.
Janet
2016-08-22T00:00:00Z
Just The Ticket Beverley and Richard were most hospitable. Their house was beautiful and centralnto where i needed to be. Whilst I was made very welcome, I was allowed to come and go as I pleased. Breakfast was wonderful. Do nothing.
Andrew
2016-06-06T00:00:00Z
Kamertype
Privé Kamer
---
Type woning
Bed & Breakfast
---
Geschikt voor
2
---
Slaapkamers
Bridgewater, Massachusetts, Verenigde Staten
Enjoy a fun and relaxing stay in Kingston, with easy access to Plymouth Center, Boston & Cape Cod. Our cottage has a large back yard with a gas grill, patio for outdoor dining, an area for lounging & an outdoor shower. See our 100+ five-star reviews!
No need to wrestle with Cape traffic this season. Enjoy our delightful summer cottage for a classic New England beach vacation less than an hour from Boston. This 500-square foot home has one bedroom with a queen-sized bed and a living room couch that pulls out to a queen-sized bed. Due to the small size of the cottage, we only accept reservations for a maximum of two adults and two children. The large fenced-in yard has a shaded canopy area for relaxing and a patio for grilling and dining. The newly renovated kitchen comes complete with cooking implements, gas range, fridge, microwave, coffee maker and stools to complete the cheerful scene. An extensive bathroom renovation with new vanity, tiled floor and toilet was completed in 2014, along with the addition of an outdoor shower. This idyllic neighborhood is perfect for walking and biking and even has daily visits from the local ice cream truck! Please check out the AirBnB "guidebook" we've assembled to the right of our headline. It showcases many of the attractions within just a couple of miles of the cottage -great restaurants, movies, conservation land, a salon, two massage studios and lots of other interesting places. From the end of June through mid-September, you can take advantage of an express non-stop ferry ride to world famous Provincetown at the very tip of Cape Cod. It cost $43 round trip, for an extra $5, you can bring your bike! Drinks and snacks available on board. It leaves Plymouth at 10:00 am and arrives in P-town at 11:30. At 4:30 it leaves P-town and arrives back in Plymouth at 6:00. Just in time for dinner at any one of the dozens of restaurants downtown. This cottage is located in the Rocky Nook area of Kingston, a quiet, friendly neighborhood with access for renters and owners of Rocky Nook homes to beautiful Duxbury Bay and the private neighborhood beach. It's less than a 5 minute drive from exit 9 on route 3. The area is very close to the downtowns of both Kingston and Plymouth centers. Court Street in Plymouth is a great place to visit with dozens of charming shops and restaurants. If you like antiques and history, Plymouth center is the place for you. Plymouth Rock, Plimoth Plantation and the Mayflower II are always worth visiting and the fishing in Plymouth is rated among the best in New England! The Independence Mall with a deluxe 14-screen movie theater (and a Target!) is also only a mile and a half away. And for any last-minute, middle of the night cravings, there's a deluxe Walmart with a full grocery section that's open 24 hours in Plymouth. FIOS high speed wireless internet access. Basic cable with Streaming Netflix and HuluPlus via Western Digital media player. HD flat screen TV w/ DVD player. Air conditioned. Guests have access to the entire house and yard along with access to the private beach just a 2-minute walk away. I am available by email and phone but I won't be present during my guests' stay. This peaceful, relaxing neighborhood has it's own private beach that guests can enjoy. Swimming at this beach is ONLY available during the two hours before and two hours after high tide but there are also many other ponds, lakes and public beaches in the area for swimming and boating. Local bus service is available as well as buses to and from Boston and Plymouth.
This peaceful, relaxing neighborhood has it's own private beach that guests can enjoy. There are also many other ponds, lakes and public beaches in the area for swimming and boating.
We had a wonderful stay at Susan and Mike's cottage. Arrival and finding the keys were very easy, and Susan's communication ahead of our stay was great. The weather was hit and miss during our three nights there, so we didn't get to take advantage of the beautiful garden quite as much as we would have liked, but the cottage was cosy with every possible amenity we could need. There is a fantastic selection of books as well! The neighbourhood is really quiet, and was a great place for us to stay for our friend's wedding in Duxbury. If you're planning to stay in this area, I highly recommend this little cottage!
Lisa
2015-09-14T00:00:00Z
First experience ever with airbnb and couldn't be better. I LOVED the way the house looked with all the blues and the greens and the care that Susan & Mike put into it. The fabrics that were used for cushions, the dishes, the cutlery and even the dishwasher-soap: everything looked and felt so nice. The house was even better than the description. Also the garden is just perfect, with the deckchairs and the pergola. The house is in a very nice little neighborhood and it's just a 3 minute-walk to a romantic beach. We also went to Duxbury beach: just a short drive. I would recommend this cottage anytime! Doreen & Pieter
Pieter
2015-05-07T00:00:00Z
The cottage was perfect and exactly as described! It was a great location and a really cool, cozy house. It is right next to an absoltuely beautiful beach. I enjoyed a few nice early morning runs along the beautiful beach. Susan was a very gracious, organized host and we really appreciated her local recommendations. We would definitely stay here again! Thanks for the great weekend!!
Jessica
2014-06-02T00:00:00Z
Cottage exceptionnel à mi-chemin entre Boston (45 min) et Cape Code (60 minutes des plages de Dennis et de Brewster). La petite maison est très bien équipée (bien plus que ce à quoi on s'attendait), meublée avec goût, et très bien entretenue. Le quartier paisible appelle à la détente. Les gens des environs sont d'une amabilité surprenante. En tout et partout, une expérience exceptionnelle!
Bruno
2015-08-17T00:00:00Z
We had a lovely stay at the cottage. It was exactly as described and what you see in the pictures is what you get. It was especially great that the kitchen had everything we needed and made it really comfortable. It was like living at home. The backyard was beautiful and we definitely took advantage of the outdoor grill. Susan was very helpful and answered all our questions promptly.
Kwai
2015-07-03T00:00:00Z
We felt very invited in this beautiful cottage. It's furnished with love and you feel that inside as well as outside the house. We enjoyed a few sunny days in the garden and had some excursions to the nearby town Plymouth, where we visited Plymouth plantation and Mayflower2. There is also a small beach a few meters away from the cottage, which is very nice . We would highly recommend this cottage and come back anytime again. Thank you Susan and Mike, and it was nice to meet you in our last day!
Birgit
2014-06-29T00:00:00Z
The cottage exceeded our already high expectations! It is even cuter and more homey than in the pictures. Susan and Mike have done a wonderful job maximizing a small space and have decorated the cottage in such a darling, warm way. The backyard is an oasis - wonderful for both morning coffee and ending the evening in the glow of the outdoor lights. Susan has thought of everything to make the stay easy and comfortable - from toiletries in the shower to fluffy beach towels to crisp, comfy bedding to access to chairs for beach trips. The cottage's location is highly convenient, just 20 minutes from the beautiful Duxbury beach. The only thing I'd change is staying longer!
Lissa
2016-08-13T00:00:00Z
Lovely cottage close to beach. Very comfortable and well equipped. Everything you could possibly want. Close drive to Mall grocery stores movie theatre. Excellent safe pretty area for base when touring. Close to historic Plymouth. Susan and Mike very helpful hosts.
Brian
2016-10-02T00:00:00Z
Kamertype
Gehele woning/appartement
---
Type woning
Huis
---
Geschikt voor
4
---
Slaapkamers
Kingston, Massachusetts, Verenigde Staten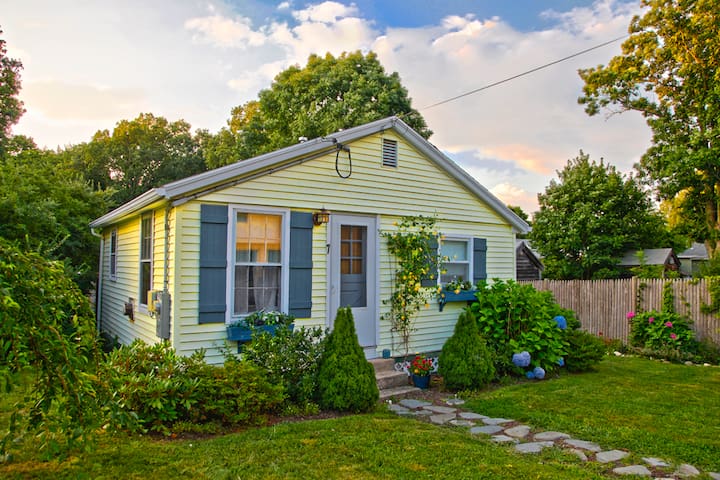 This peaceful, exclusive Pond front suite/studio apartment sleeps 2 to 4 guests comfortably, with all the amenities needed for a great weekend getaway! Situated between Boston and Cape Cod, and a short distance from Historic downtown Plymouth, where you can walk to night life, parks, and historic landmarks.
The suite sits right on Clear Pond where you have access to a private beach for relaxing and rewinding. The suite has a queen bed, and day bed with trundle, along with large comfortable bathroom. The living room offers wifi, cable, HD TV, and beautiful view of Clear Pond! We offer many amenities but please note there is only a small kitchenette area with refrigerator, keurig, and microwave. There is a deck outside with a gas grill for all your entertainment needs. It is only minutes from Colony Place, Kingston Mall, and Plymouth Center where you can enjoy seaside dining and oceanfront shopping..
The setting is a secluded fenced in quiet wooded hideaway on a pond front property; which is perfect for your canine friend since we are pet friendly. The suite offers a relaxing atmosphere with beautiful views of your private beach for fishing, swimming, kayaking, & canoeing. You're a stone's throw from Plymouth Rock, Plantation, beaches, restaurants and shops along the waterfront. There is a walking path around an adjacent cranberry bog, along with fire pits and private patio for your outdoor pleasure!
I stayed at clear pond Debra was a great host couldnt have asked for a nice host i give her suite a high five it was beautiful here and my dogs had a good time to very pet friendly again a high five for you Debra
Cheryl
2017-01-30T00:00:00Z
Debbie made me feel very welcome-- she was there to show me around when I arrived, she allowed me to come earlier than 3 p.m. to drop my things off, and she was great with my dog. In fact, our dogs got to play together in the fenced yard.
Suzanne
2016-10-10T00:00:00Z
We felt very welcome and my favorite part was the back yard and beautiful pond!!! The pictures of the room was perfectly potrait. The neighbors were friendly.
Maria
2016-08-20T00:00:00Z
Very lovely and peaceful place! It felt like we were in the woods. We enjoyed the beautiful view on the pond right from our private room. It was very clean and looked quiet cozy with its beach-themed decoration. Debra's house is perfectly located between Boston and Cape Cod and it's also worth it to check out downtown Plymouth, as well. We would definitely return!
Ann-Kristin
2016-08-16T00:00:00Z
My friend and I stayed here Sat/Sun night and it was perfect! All the wedding stuff was downtown and we were only a 10 minute drive. The amenities inside were super helpful--available were a couple of different coffees and teas, a small fridge, a microwave, an iron, and a nice shower. We mostly slept in the suite, but had enough time coming back to enjoy the pond at night and in the morning. Great way to start and end the day. I wish we had more time to spend here, the outdoor amenities were great as well with tons of different seating areas, fire pits, hammocks, and kayaks. The neighborhood is safe and quiet which was perfect for sitting by the pond and stargazing, hardly any noise or light pollution. Debbie was helpful and really friendly when we came to grab the keys before the wedding reception, but we mostly had the place to ourselves. Definitely recommended!
Madison
2016-09-26T00:00:00Z
We stayed here for 3 nights. Suite is comfy and cozy, equipped with mini frig, and microwave.
Maryann
2016-12-23T00:00:00Z
The host canceled this reservation 8 days before arrival. This is an automated posting.
Diane
2016-06-10T00:00:00Z
My wife and I had an amazing time here. Debbie was a superb host and provided everything we needed. The place itself was very cute - a quaint little place that backed up to a little pond that we were able to take a canoe out on. We met Debbie on our last night there and she was incredibly friendly, talking to us about the area, asking how our stay had been, and ensuring that we knew we didn't have to do anything to get the place "ready" for her after our stay was over. Overall it was an incredible place that I genuinely hope we get to experience again!
Ryan
2016-11-16T00:00:00Z
Kamertype
Privé Kamer
---
Type woning
Appartement
---
Geschikt voor
4
---
Slaapkamers
Plymouth, Massachusetts, Verenigde Staten
WE'RE BACK!!!! After almost a year offline due to town wide sewer problems I was forced to shut down operations because of non access to my property (and several other town locations) while the town worked 24/7 to resolve these problems. there still remains 'temporary' above ground pipes throughout the town but everything is slowly returning to normal. So.. that being said, let me tell you a little about the surroundings...I am located at the end of a cul-de-sac within minutes to vibrant Plymouth center and waterfront complete with a vast array of dining pleasures, art festivals/museums, eclectic shopping experiences, and multiple musical venues ranging from Celtic to contemporary to our own Philharmonic Orchestra. Less than 3 minutes walk from my home brings you to beautiful Morton Park, offering swimming, hiking trails, concession stand, bathrooms, and kayak rentals. Rental space includes separate lock off entrance with large bedroom, separate room housing small fridge, toaster, coffee maker, closet area and bureau. Full bathroom with shower and laundry facilities. Photos will attest to the beautiful garden areas for a relaxing roam about the property with morning coffee or evening cocktails. i am also very dog friendly having a beautiful chocolate lab as my canine companion. I am located approximately 3 miles from the highway and have attempted to create a tranquil environment blending flora, art & nature into a harmonious habitat. Price reflects close but convenient proximity to highway. Plymouth is a beautiful destination spot year round, midway between historic Boston and Cape Cod offering its own unique blend of history and positive ocean flow...
Peaceful surroundings with a very private entrance ! It was a large spacious lower level. We felt at home away from home. Thanks Lorna.
Vicki
2015-07-20T00:00:00Z
Friendly welcoming people. Lorna was quick to respond throughout the booking process. The space is exactly as depicted in the listing. The little sitting area with fridge, microwave and coffee maker was a bonus. Lorna even left some snacks and plates/utensils. The house is close to the freeway which may bother some staying in the summer, but the surroundings are quite woodsy. I would definitely recommend and may be back myself!
Laura
2016-01-09T00:00:00Z
Made us feel very welcome and is very friendly.The suite had everything including fridge, microwave, wifi access. Would go back again!
padma
2015-05-20T00:00:00Z
Lovely relaxed place. All the facilities we needed and nice and close to Plymouth town center. Great value for money. Would definitely recommend.
Gary
2015-06-22T00:00:00Z
Nous sommes arrivés tard dans la maison de Lorna, après avoir bravé des heures d'embouteillages ! Lorna nous attendait ! Le chemin et la maison elle-même étaient éclairés de plein de petites lumières, c'était féerique, et cela nous a fait oublier instantanément les contrariétés de la si longue route. Lorna est une hôtesse charmante, accommodante et très accueillante. Le seul petit point négatif a été d'être réveillé en sursaut le jeudi matin par un enfant qui criait en jouant sur le plancher au-dessus de nous et des pleurs de bébé qui ont duré fort longtemps, mais c'étaient les enfants d'une dame qui nettoyait. C'était probablement exceptionnel et donc un manque de chance. Mais ce petit inconvénient ne nous a pas enlevé le bonheur de séjourner dans cet endroit. La maison de Lorna est cosy et nous y avons trouvé tout ce dont nous avions besoin. Des snacks dans le frigo, des produits de bain dans la salle d'eau et de quoi faire du café et du thé. Lorna a même prévu des DVD pour meubler les soirs de pluie. Mais ce qui nous a vraiment émerveillés est son jardin. Une surprise se dévoile à chaque regard. C'est magnifique, une statuette, un elfe, une écriture… Une belle découverte. Ce fut un enchantement. Merci Lorna !
Bruno
2015-06-06T00:00:00Z
Clean, comfortable and spacious. I will definitely recommend it~
Yuhong
2014-09-28T00:00:00Z
What a great place to stay while in Plymouth. Lorna was the best host. Had water, coffee and homegrown tomatoes for us to enjoy. She also gave us the lay of the land. Having our dog with us was no problem. If going to Plymouth you should stay with Lorna.
Melissa
2014-09-04T00:00:00Z
Lorna's place was exactly as described. it was very clean and comfortable. She was very quick to respond and gave us great directions. We never did get to see Lorna because of our very late arrival and her schedule but we would definitely stay there again as well as recommend her to our friends.
Sharon
2015-10-16T00:00:00Z
Kamertype
Privé Kamer
---
Type woning
Huis
---
Geschikt voor
2
---
Slaapkamers
Plymouth, Massachusetts, Verenigde Staten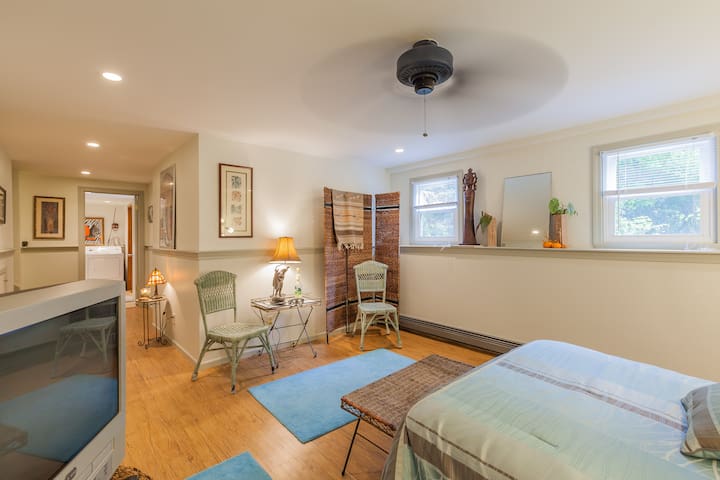 Gatherings, parties, events, reunions, etc with 8 or more total sleepers /non sleepers MUST be discussed before booking. 5 minutes from rte.495, secluded, 1200 sq.ft. apt. In-ground pool, horseshoe pits, tennis/basketball court. Fully lit for night use. Central air, full bath, eat in kitchen, balcony, private drive & entrances, 2 HD flat screen TV"s, Netflix, On Demand WIFI. Very comfortable for two or a couple with children.
Minutes from the Cape and Plymouth. Visit Boston, ( Red Sox, Patriots, Bruins, Celtics, Aquarium, museums, historical sites and trails, shopping, etc. etc. etc.) Ptown, Newport, Plymouth, (Plymouth Rock, The Mayflower, Plymouth Plantation) from your secluded country setting on 4 acres. Large pool deck with in-ground pool, firepit, pool house with bathroom and shower. Outdoor music system. Fenced areas for pets if needed. Very large yard to exercise your dog. The sleeping arrangements are as such (see pictures), The blue room has a queen size pullout with an airdream combination air/spring mattress. It is by far the most comfortable pullout mattress we could find. It is also very user friendly to go back and forth between bed or sofa. The yellow room has a twin size bed with an additional twin size trundle that pulls out from underneath. Both of these use conventional mattresses.
Secluded side street but only 5 minutes from rte. 495. Half hour to cape or waterfront in Plymouth.
Sehr freundliches und grosszügiges Gastgeberehepaar. Die Wohnung war sauber, gut eingerichtet und ruhig gelegen. Wir würden jederzeit wieder gerne dort hin gehen.
Stefan
2015-07-18T00:00:00Z
The summer of 2014 will go down as one of the best for our family. Paul's home is amazing and everyone who visited with us agreed. Several of my daughter's teenage friends came and said they never wanted to leave. Paul house and property were amazing, but it truly was his welcoming personality and generosity that impressed us the most. We felt at home and short after we arrived were wondering if we could book for next summer. The location was also great for us as we have family in Boston and on the Cape and Paul's place is right of the highway so getting to these places was quick and easy.
christine
2014-07-22T00:00:00Z
Once again Paul was a great host. The apartment is beautiful and clean and he is available if you need anything. This is a great get away!
Alison
2016-04-11T00:00:00Z
This was our first experience of using Airbnb and it could not have been more perfect! We were welcomed so warmly by Cheryl and given detailed information about their awesome home that we were so privileged to stay in. It was great having our self contained unit and the use of the home facilities. The pool was so refreshing on a very hot day (we didn't leave it!)
Brenda
2015-09-06T00:00:00Z
Paul and his wife are the best hosts ever. The place is super clean, spacious and it has all the amenities you need and more. I was in the process of relocating and stayed there for 2 months. I could not have found a better place. It became my home away from home. If you need a place to stay for one night, or an entire month, you will not find a better place. Thank you Paul for being such a great host!!!!!!
Luis
2017-02-28T00:00:00Z
We had an outstanding experience hosted by Paul and Cheryl. The description was accurate with it's many pluses enhanced by great hospitality. With a couple of athletic kids, the pool, courts and horseshoes were a perfect setting for our family. Not to mention, a great place for our dog to run free. We had a terrific late summer vacation thanks to Paul and Cheryl.
Ray
2014-08-21T00:00:00Z
Paul welcomed us very well. We were touched by his attentiveness and availability. We regret not having had more time to chat with him. The appartement was nice and clean. The woody environment was much appreciated. We strongly recommand this house.
ANTOINE
2014-05-04T00:00:00Z
Paul was so welcoming and accommodating. He greeted me upon arrival and gave us a tour of the residence. He even went so far as to have muffins and bottle of wine available. And, extended an invite to free reign of the tennis courts, Pool and humidor. The residence was spacious and comfortable. Thank you!
Catherine
2016-04-01T00:00:00Z
Kamertype
Gehele woning/appartement
---
Type woning
Huis
---
Geschikt voor
4
---
Slaapkamers
Middleborough, Massachusetts, Verenigde Staten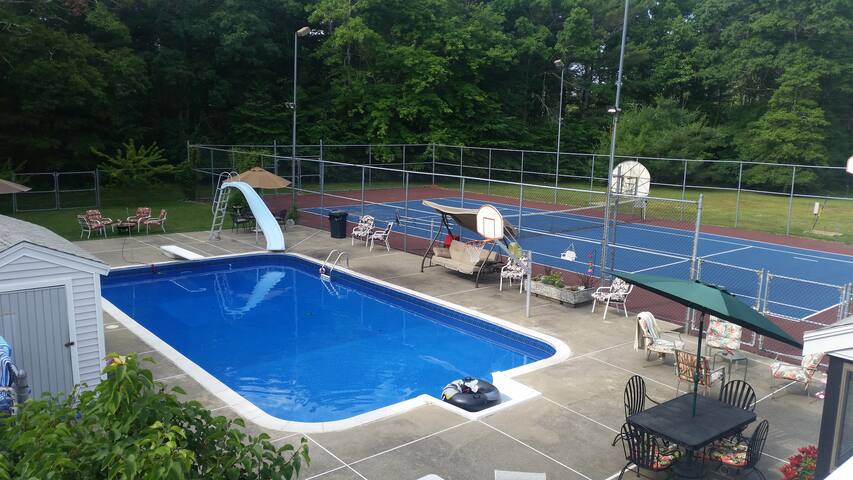 Lovely half house with 2 bedrooms in Historic Downtown Plymouth. Walk to nightlife, downtown, parks, historic landmarks. Short drive to Plymouth Plantation, beaches, airport, and public transport. Great location,people, ambiance, and the outdoors space. My place is good for couples, solo adventurers, and business travelers. We offer many amenities but please note while we do have a small kitchenette area with refrigerator, coffee maker and microwave, there is no full kitchen.
On historic Watson Hill, The Carole House is a charming bed and breakfast built in 1899 with 2 beautiful comfortable bed rooms, a relaxing common area reserved for just our guests and a relaxing patio with plenty of privacy and comfortable furniture to relax and take in the local wildlife.
The neighborhood sits on Watson Hill, which was the location of the first formal meeting and peace treaty developed between the Pilgrims and Native Americans. We are a short walk to an Indian burial ground and not far from Burial Hill, which is the resting place to many of our forefathers who arrived on the Mayflower!
I hope my overall rating showed all stars gold! Mark welcomed us warmly, was helpful with suggestions, showed us around our lodging. Beautiful home, close to everything. Easy to walk around downtown Plymouth. Thank you!
Mary
2016-09-15T00:00:00Z
My brother, wife & I need to stay in Plymouth for a few days and Mark at the Carole House was very accommodating and flexible to our needs. The house is situated with a short walk to the town center and water front area. Which made walking to dinner and breakfast quite easy. Thank you Mark!
Tim
2016-11-04T00:00:00Z
Mark was a great host and the house was very clean and comfortable. This was a perfect place to stay to celebrate a weekend in Plymouth. We'd definitely stay again!
Eric
2016-08-28T00:00:00Z
It was wonderful. Mark is an excellent host and I recommend everyone to stay at his place.
Saurav
2016-07-01T00:00:00Z
Mark was terrific with communicating and always very prompt in responding. He checked in with us often and greeted us upon arrival. He had lots of tourist information that was well organized and everything was well written out in a guest binder. He made us feel very welcome and we would stay here again if we were in the area. It was very easy walking to main street, the harbor, and all of the sights in Plymouth. It was also really close to many other things to see and do.
Ty
2016-10-21T00:00:00Z
Mark was a very welcoming host, and staying at the Carole House in Plymouth was a great experience. He provided tips and tricks to navigate the local history, cuisine, and beaches.
Giovanni
2016-07-25T00:00:00Z
Mark was a very friendly and extremely courteous host. The house and neighborhood was gorgeous, small yet cozy and very inviting. The walk to the downtown was short enjoyable, as the view from on top of watson hill is great. I would highly recommend staying here, Mark was very helpful in suggestion local places to visit and eat at and the breakfast each morning was delicious and homemade. Loved it!
Alex
2016-07-18T00:00:00Z
The rooms are exactly as described. Everything was very clean. Mark was very attentive and easy to communicate with. Would stay there again.
Olaf
2016-08-18T00:00:00Z
Kamertype
Gehele woning/appartement
---
Type woning
Bed & Breakfast
---
Geschikt voor
4
---
Slaapkamers
Plymouth, Massachusetts, Verenigde Staten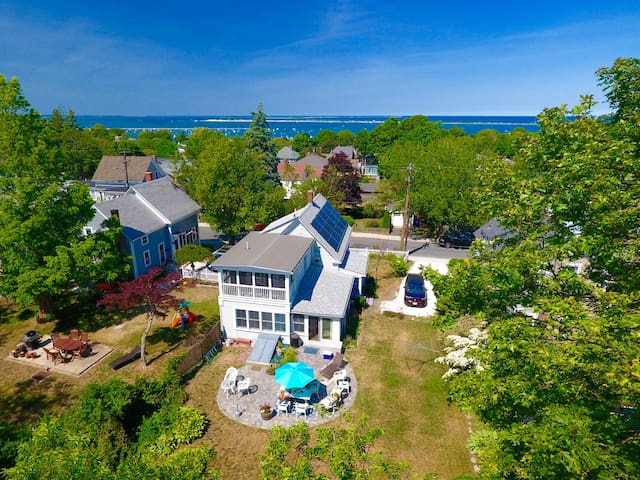 Downtown Plymouth, completely remodeled large studio apartment steps away from all the attractions Plymouth has to offer plus a multitude of restaurants/bars all within a 1-10 min walk.
A beautiful large clean studio in the heart of historic Plymouth harbor is waiting for you. The whole level has been fully renovated, redesigned, opened up and has all the spices, and kitchen appliances you need. Linens, towels, tissues, wireless internet access, and Verizon Fios HD cable.
This quintessential New England destination, nestled conveniently between Boston and Cape Cod, is best known for its Native history, the Pilgrim story, and one of the country's most iconic landmarks – Plymouth Rock. But history is just the beginning of what visitors come to experience here in Plymouth County. With everything from water sports to whale watching - golfing to ghost tours -Thomas Land to trolley tours - cranberry harvests to culinary tours… you'll find yourself planning your return visit before you even leave! And with quaint harbor side bed and breakfasts, family-friendly hotels, and a five star resort tucked away in the forest, our range of accommodations meet every preference.
Very comfortable Unit very easy to get downtown I would definitely stay again
steven
2016-05-31T00:00:00Z
Sehr gut! Der Aufenthalt bei James in Plymouth war sehr gelungen. Die Kommunikation mit James war immer sehr gut und prompt. Wir kamen abends zum Haus und fanden alles so vor, damit wir sofort starten konnten und uns zu Hause fühlten. Im Appartment standen Blumen und es stand eine leckere Flasche Wein bereit. Das hat uns sehr gefreut. Das Appartment ist sehr angenehm und liegt in Plymouth sehr zentral an den historischen Orten und in Hafennähe. Das hat uns sehr gut gefallen. Wenn wir nach Plymouth kommen werden wir uns sicher wieder um das Appartement von James bemühen. Vielen Dank!
Robert
2016-10-03T00:00:00Z
When I arrived there was a bottle of red wine as a welcoming gift. The space was immaculate and all amenities were high quality, better than described. My stay was very enjoyable and I certainly will come back again, if the occasion arises.
NICK
2016-10-27T00:00:00Z
Really cute place, very convenient and an easy walk to any of the sites. Really enjoyed the place and the parking was very convenient to have.
Jessica
2016-09-26T00:00:00Z
Fantastic small apartment with all the modern amenities. Very comfortable and in a great location walking distance to all the great spots in downtown Plymouth.
brett
2017-01-11T00:00:00Z
Wine and fresh flowers to greet me, very nice and welcoming! The apartment was excellent, fully stocked and equipped, and convenient to downtown Plymouth and its many attractions. Dedicated off-street parking was also appreciated.
Catherine
2017-01-06T00:00:00Z
What a great time we had! The apartment was just as advertised. It was clean, well stocked and very comfortable. I would recommend this place for anyone.
Margaret
2016-12-27T00:00:00Z
Great place, great location, and great host. Well worth the money and would recommend this place to anyone.
Cruz
2016-10-10T00:00:00Z
Kamertype
Gehele woning/appartement
---
Type woning
Appartement
---
Geschikt voor
2
---
Slaapkamers
Plymouth, Massachusetts, Verenigde Staten
Renovated Colonial home. Bedroom is upstairs, residents live downstairs, so lots of privacy. Bedroom has a comfortable queen bed and private, in-room bathroom. Conveniently located 1 mile from Rt 3, 20 miles from Cape Cod, 40 miles from Boston. One of two rooms available. Commuter Rail into downtown Boston is a 5 minute drive away. Yoga and TaiChi at Hope Floats a 5 minutes walk from the house and town library just 2 minutes walk. Inquire about bikes.
The neighborhood is centrally located but requires a car to get here, walk down main street for coffee, a few small restaurants and shops. Very close to highway and commuter rail into Boston. Beaches only a short drive, about two miles to Gray's Beach. Commuter Rail into downtown Boston is a 5 minute drive away. Yoga and TaiChi at Hope Floats a 5 minutes walk from the house and town library just 2 minutes walk.
For starters, the little photo doesn't do justice to the actual room--the best accommodations we've had at an Airbnb. The house is in a lovely neighborhood and is old (in a good way!) and the antiques and colonial paint colors and decor enriched the ambience and contributed to our very good experience. The hosts are obviously bedtime readers, as are we, so we were delighted to find a bedside table with good lighting on each side of the bed--a rarity. The location of the house was perfect for us, as we were headed to a wedding in Plymouth--not far at all and easy to find. We wish we could have stayed longer and gotten to know the hosts a bit.
Jeff
2016-07-11T00:00:00Z
We had a great stay at David's house: everything was neat and clean, we loved the details in the decoration, and felt very comfortable. Although be booked very spontaneously, everything was perfect. Thank you for the late-night conversation :)
Lennart
2015-08-24T00:00:00Z
We enjoyed our stay! David was responsive and welcoming; the room was clean and comfortable and just what we needed. We would recommend it to others visiting the area as a truly hospitable and friendly option.
Sue
2015-09-06T00:00:00Z
Pure hospitality! David was the consummate host. It was an absolute pleasure.
Julian
2016-08-02T00:00:00Z
David and his wife were fantastic hosts. The room was nice and exactly as pictured and we loved the privacy of having our own bathroom. We came in the middle of a family gathering, but everyone was so nice and welcoming that we felt right at home.
Lauren
2016-07-09T00:00:00Z
Beautiful home, great folks! Easy to find location. Motorcycle friendly. These are superb and interesting folks. Kind and affable. As prior b&b owners, they have a keen sense of their guests needs and are very accommodating. That's a wonderful trait. Very comfortable. Helpful recommendations by the hosts on places to see. Highly recommend this place!
Elizabeth
2015-08-22T00:00:00Z
We booked the room just a few days before our arrival. We had no problems with the booking or finding the house. We were greeted warmly by our lovely hosts upom arrival. The room we stayed in was great. It is spacious, the bed is big and comfortable and the private bathroom is clean and well equipped. The house is just a 15 min drive from the historical town of Plymouth, which we visited during our stay. Also, David is a most generous man, with whom we enjoyed interesting conversations about the american society and culture. When we left the house, we certainly felt we had learned a lot more about this big and fascinating country. Thank you, once again. We will of course highly recommend staying here! You will not find a better place for your holidays!
Michael
2015-09-22T00:00:00Z
I interacted very little with David since I got in late and left early; however, he seemed very nice when I talked with him. The room itself was really nice! It was comfortable, quiet and had its own bathroom. Overall, I'd definitely recommend staying here if you're in the area and looking for a nice, quiet room.
Matthew
2016-05-31T00:00:00Z
Kamertype
Privé Kamer
---
Type woning
Huis
---
Geschikt voor
2
---
Slaapkamers
Kingston, Massachusetts, Verenigde Staten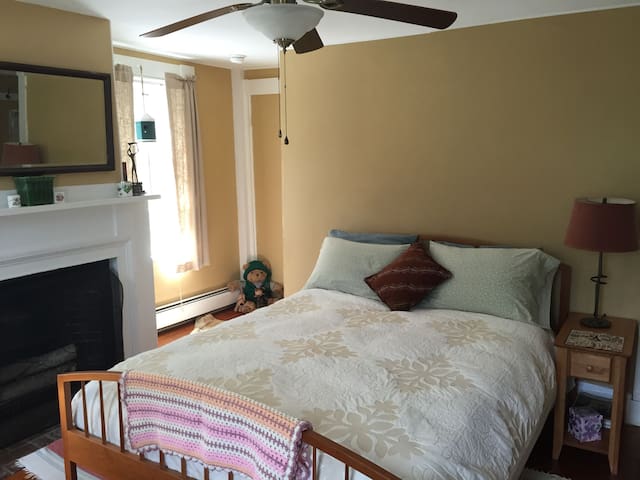 Free parking! Boston 2 miles to the commuter rail or if you prefer driving: Boston is 32 miles Providence 38, Cape 47, Newport 46. You may see wildlife while you are sitting on the deck enjoying a beverage. We love our home and welcome you to share it with us. Cable TV, wireless internet, and air conditioning in your room. Kitchen, washer and dryer and grill are available for your use.
Please think of this as your home! The room is newly painted with a double bed. The floor is laminate and there are two large windows. In the bathroom is a large shelving area above the toilet and another behind the wooden door. You will find extra towels, bedsheets and blankets in this cupboard. If you need anything, please do not hesitate to ask. The toilet paper is found beneath the sink along with some bathroom cleaner. (for long term guests)
This is a very quiet neighborhood. Our neighbors are friendly and a wealth of knowledge! The homes around us are well kept and peaceful (most of the time, it is quiet except for the laughter and playing of the neighborhood children).
Great value and great home! It was such an easy check in process and I will definitely look to be back!
Thomas
2016-09-12T00:00:00Z
The neighborhood was fine. Peter and Elizabeth went out of their way for my very late arrival. They were friendly and helpful. Th entrance to your private om and 1/2 bath was through the front door and their living room, complete with three dogs that were friendly. I got tv, wifi, and quiet nights of sleep. They were happy to share the kitchen and livimg aetas.
David
2016-10-02T00:00:00Z
Elizabeth and her husband are amazing people that I could not forget. I felt immediately at home. You are fantastic and everything was perfect and I recommend to all people looking for a place near boston to go to their place, you will not regret it !!! ( sorry for my english !)
Michael
2015-08-28T00:00:00Z
My boyfriend and I enjoyed staying with Elizabeth and Pete so much, that we booked a second reservation for an additional two weeks! Just to reiterate my previous review, they are very welcoming, kind, and helpful hosts. The room is comfortable and the house feels like a home. The location is great and there are plenty of amenities nearby. Elizabeth and Pete are also great resources because they are locals who know the neighborhood well. Elizabeth is so sweet and an amazing cook, and Pete is very funny and down to earth. And, their dogs are a lot of fun. We will miss them both!
Ashley
2015-10-01T00:00:00Z
Elizabeth and Pete are welcoming and kind people, and they have made our stay in Bridgewater a comfortable one! My boyfriend and I stayed in their guest bedroom, and it is a comfortable, clean, and hospitable room. Elizabeth and Pete went above and beyond to ensure we had everything we needed. They even picked us fresh fruit and vegetables from their garden! They have made us feel like part of the family. Their dogs Sergeant and Lola are sweet and make the house feel like a home for anyone who loves dogs. Also, they have a lovely backyard where you can relax or play with the dogs. There are nearby grocery stores and restaurants, and the neighborhood is quiet and peaceful. I would highly recommend staying with Elizabeth and Pete in their nice Bridgewater home. Thank you both for making our stay a good one!
Ashley
2015-09-14T00:00:00Z
Liz's home and family were great. The room was nice and I liked the private bathroom right off my room. The hospitality was great! We had good conversations about stuff in general. Pete was extremely good at giving directions to the things I need. He made a great map of how to get to the places I needed. We have similar interests which is always good for conversation. I would stay there again and again they are centrally located near colleges I frequent for business.
Chyrel
2016-05-11T00:00:00Z
My husband Bryan and have stayed with Liz and Pete twice and we'd stay with them forever if we could! They are kind hearted individuals who even care for rescue dogs like their own babies! We were treated with respect, dignity and allowed all the privacy we needed. Thank you both and we hope to visit again soon. P.S. Where is my jelly!
Jenna And Bryan
2016-09-21T00:00:00Z
We had a wonderful stay. Elizabeth and Peter felt more like friends and family than hosts. Though they were great hosts. I highly recommend them. They're funny, pleasant and welcoming. Overall, I'd go back to just to visit them. We had a great time.
Sandy
2016-09-27T00:00:00Z
Kamertype
Privé Kamer
---
Type woning
Huis
---
Geschikt voor
2
---
Slaapkamers
Bridgewater, Massachusetts, Verenigde Staten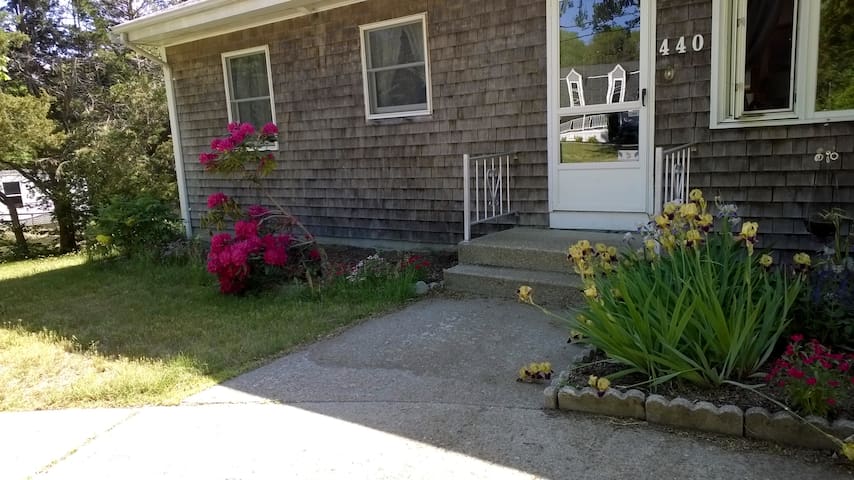 My place is good for couples, solo adventurers, business travelers, and families (with kids). Brockton, MA is a located south of Boston. The city is a working class urban neighborhood. There are many large retail stores in the area.
The townhouse is very quiet and semi private. There are only 3 side by side units in the building. This unit is on the end and has a small and quiet backyard with a very nice deck. The unit has been recently renovated and is very clean. Furniture, bedding, mattresses, linens, cookware are all new. The living room is very comfortable and features flatscreen 4K HD TV, local cable service and HBO. There is adequate work space and large entry closet for extra storage, coats, shoes etc. The kitchen features gas stove, microwave, coffee maker, dishwasher, fridge and is stocked with plenty of pots, pans and utensils for cooking. Dining area is located in the kitchen space with table and seating for 6. There is a half bath on the first floor and full bath on the second. The bedrooms are adequate size with plenty of closet storage space for hanging and stacking clothes. There are no dressers/draw style storage in the bedrooms. The beds are extremely comfortable and feature Serta mattresses and pillows. All mattresses and pillows have hypoallergenic covers. Beds are turned over/ properly cleaned before each visit. Guest are allowed to park MAXIMUM 2 vehicles on the property and there is additional parking on the street.
Brockton is a working class city south of Boston. The city is very urban and dense. Though this property is very quiet in comparison. There is an abundance of major name brand commercial retail stores, pharmacies, restaurants, fast-food, gas stations, etc. Many are with in walking distance and all are a very short car/bus ride away.
Stayed here with my family when they came to visit boston. It is a beautiful home and Frank was kind and communicative.
Miriam
2016-11-15T00:00:00Z
The listing was very accurate, everything was just as it appears in the advertised pictures.
Sarah
2016-10-23T00:00:00Z
My family and I stayed in Frank's townhome over Columbus Day weekend and couldn't have had a more enjoyable experience. Having been from the area, my husband, son, and I were looking to come down to visit family and initially began looking at hotels but with the Sox in the playoffs we were quickly discouraged and decided to try out AirBnB for the first time. When I came across Frank's listing I was impressed, the property looked clean and cozy and in a good area of the city. I decided to reach out to Frank prior to booking and he responded to me extremely quickly answering all of my questions and accomodating my family's needs. When we arrived, Frank was on sight to greet us and make sure we had everything we needed. True to the pictures, the house was ADORABLE!! Clean, cozy, well designed and decorated as well as set up perfectly for guests. Amenities including coffee, tea, and sugars were provided as well as toiletries, a blow dryer, a washer/dryer, cable tv, and even a set of tooth brushes and toothpaste. I genuinely loved staying at Frank's townhouse and hope to stay here again in the future. He was professional and friendly and a pleasure to work with. It was also conveniently located for us to spend a day in Boston by taking the commuter rail. Thank you Frank! -The Millers
Samantha
2016-10-10T00:00:00Z
Thanks Frank! Great Host! Great Property!
Samantha Rundy
2016-11-28T00:00:00Z
Franks place is awesome! Even better than the pictures. Everything was super clean and had basic toiletries and amenities and some extra cool things (dishwasher,washer/dryer). Frank was super fast responding and attentive to our needs. Place is close by local restaurants and shopping centers. A quick drive into Boston. Would definitely stay here again on my next visit to Brockton!
Thomas
2016-12-18T00:00:00Z
The listing was very comfortable and cozy. Frank was very accessible which made this Airbnb experience pleasant. The unit was also furnished with necessary household essentials such as towels, iron, cooking utensils, etc....Unit was also close to highways which made it easy to get to other parts of town. The mall was also two minutes away from the townhome. Will definitely stay at Franks place if available..
David
2016-11-25T00:00:00Z
its a beautiful place to stay. I will come back again
Myrlanda
2016-11-13T00:00:00Z
We really loved staying at Franks House. The house is cozy, new, clean and has really everything you need. Frank was very friendly, helpful and always(!) available. He even had good advises for our trip around Cape Cod. We would always come back and recommend to everybody who wants to stay near boston.
Elisabeth
2016-10-13T00:00:00Z
Kamertype
Gehele woning/appartement
---
Type woning
Stadswoning
---
Geschikt voor
6
---
Slaapkamers
Brockton, Massachusetts, Verenigde Staten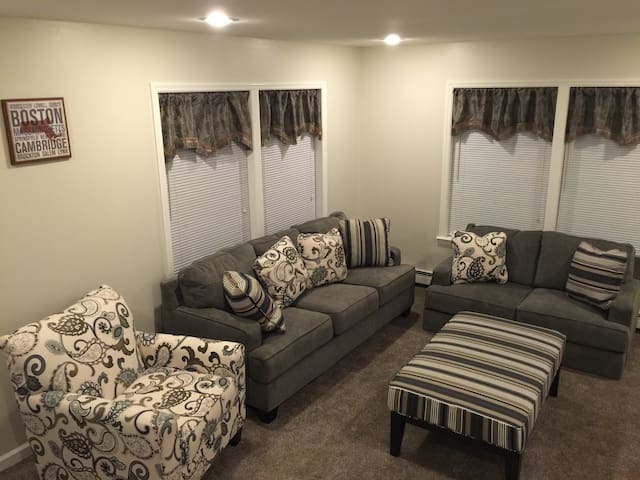 Beautiful, spacious suite with natural light & views. Romantic retreat setting 30-40 mins to Boston /Plymouth /Cape Cod. Guests describe as an ideal "Base Camp" for multi-day, multi-purpose visits to the Boston area: "Great /gorgeous location," "easy to get around" & away from city lights." Private entrance to light-filled one room suite (separate from home), with easy access all hours. Do you want a GET AWAY from the crazy pace of life? Read more!! Military/ multi-day-stay discounts.
Guests have described the space as "amazing," "very clean," "bright and large," "charming" with "a bed so comfortable you don't want to get out of it." It feels so far away from any city, yet it is only 25 miles to Boston. Even from the room guests enjoy the area's scenic beauty: The woods & fresh air, the lovely colonial homes on large country lots, the property's proximity to the ocean and the famous North River (the first designated 'wild and scenic' in MA). The very private apartment suite is reached by way of a set of steps from a side entrance in a separate newer garage/boat house building. The large (600+ sq foot) light colored studio apartment (one room with high ceiling) is filled with natural light from the ten multi-pane windows on all four walls that overlook woods, stone walls, lawns, bird feeders and the North River. New custom blinds allow one to darken the room, if desired. The apartment has a small fridge, microwave, coffee maker; private bath with a great shower; desk/ Wifi/ Blue Tooth speaker, couch, easy chair, bookcase, lots of overhead, desk, table and standing lights, two very comfortable beds (twin & queen in the same large room) and up to two air /floor mattresses, if requested. We have scored a PERFECT 5 out of 5 on cleanliness from every guest the past year. We take cleanliness very seriously. You should expect it and we make it our highest priority to ensure the space is as clean and comfortable for you as possible. Heat, AC & emergency generator: Guests control their own room temperature with a separate, responsive & reliable furnace and a new window AC (only needed a few weeks of the year). Visitors also appreciate our built-in gas generator which powers everything in the event of a local area power loss. Free off street parking (multiple spots if requested) for guests. Normally, we ask guests to park in front of the LEFT garage door. For first time Airbnb guests: Please sign up using our referral link so you can get $20-$30 Airbnb credit ( This is applicable to all any Airbnb property you decide to choose.) Copy and paste : www.airbnb.com/c/bdurfey
The area is amazingly beautiful. We have a private lane through a tall stand of cedar and a lot of walking trails through woodlands you can get to directly from our studio suite. Guests have also done birding, swimming and boating. The ocean is close enough we can hear heavy surf after a storm. Multiple ocean beaches for walking are less than 6-10 miles away. Marshfield's Green Harbor has some great local seafood places. There is also a fun local spot, on the North River, almost within sight (5 min drive) from our home. A typical New England fishing /sailing town, called Scituate (sit-U-it), is only 5 miles (10 mins away). It has a historic lighthouse at the mouth of the harbor. There is parking at the lighthouse. The town offers great shops & delicious seafood even closer. Scituate makes for a great place to walk along the sea wall and see a working fishing harbor. Hanover Mall is at Exit 13 (10 mins), a Christmas Tree Shop, many box stores etc are less than 5 miles away at EXIT 12. Dunkin Donuts and a great Irish Pub/eatery (The Tinker's Son) are in historic Norwell, just a mile away, across the river.
Everything was great. Bob and Carlyn are fantastic hosts.
Jim
2016-08-21T00:00:00Z
The apartment was amazing! I felt safe and secure in a quiet neighborhood across from a beautiful lake. Quick access to everything you could need. The hosts were very accommodating and made me delicious cookies! They even have a bluetooth speaker in the shower! Definitely recommend this to couples and families who want to come check out this beautiful area!
Alison
2016-07-25T00:00:00Z
Bob was very nice and accommodating prior to our arrival and during our stay. I had to book very last minute and he was very helpful. The apartment was clean and tidy and he/his wife left beverages in the fridge as well as some snacks and yogurts for breakfast. I would definitely stay again!
Marissa
2015-11-20T00:00:00Z
This was a great place to stay. Private, very clean and comfortable, in a beautiful natural setting. The location was great as I was able to head for the day to a terrific beach in Rhode Island, get back for a great fish dinner in Plymouth that evening and be in Boston the next morning to enjoy that fun city. The hosts, Bob and Carolyn, were welcoming and very gracious; I felt like I had known them forever. They clearly have thought out what a traveler would need and want while on the road. The bed and pillows were perfect for a good night's sleep and the variety of birdsongs in the woods outside the window, probably drawn to the river very nearby as well, were a beautiful way to start the day. Clean bath with a good strong shower flow and nice, clean carpet and furnishings in the room. A great place to stay and I recommend it highly!
Ellen
2016-07-25T00:00:00Z
My husband Jeff and I thoroughly enjoyed our stay here. This place is an amazing piece of heaven away from the city lights yet close enough to restaurants and shopping. So much to be appreciated here - there's a comfy hammock with a view of the night sky ...full of stars and accompanied with the perfect music (the sounds of nature). We took relaxing strolls down to the river soaking in the beauty and wonder of flora and fauna. We weren't privileged to meet Carolyn but I do know she is one blessed woman to have Bob as her husband!! His kindness and thoughtfulness is so appreciated. He had prepared our place with fresh fruit, snacks and drinks as well as fresh ground coffee!! The bed is SO comfortable you don't want to get out of it - seriously - but we (URL HIDDEN) evening we had dinner at Mill Wharf ( a very short drive) and sat on the upper deck overlooking the Scituate Harbor and then took a long walk on the rock jetty at the lighthouse!! We stayed 4 nights here and can say without a doubt that we will be back!! Thank you Bob for everything ... You made our stay unforgettable !!
Patricia
2016-06-14T00:00:00Z
Bob and Carolyn were extremely hospitable. They were very easy to communicate with, flexible during the check in/ out process, and even welcomed us with fresh baked cookies! The accommodations were very homey and clean. We found it easy to get around the surrounding neighborhood by ordering an Uber. I would definitely recommend a stay with Bob and Carolyn!
John
2016-08-14T00:00:00Z
What a great place to stay. Great location with access to Boston and Plymouth and all their history. Quiet apartment in a beautiful setting. Refrigerator, microwave, coffee tea and snacks in room. New window A/C, shower even has blue tooth speaker! Very fun. Host couple provided us with privacy but were very gracious and helpful when we had questions. Our two boys loved the big yards, and we ended up staying longer than the two planned days. The host couple gave great care to entire family. We'd recommend this place highly, and are planning on another visit.
Michael
2016-07-07T00:00:00Z
Everything was perfect. Bob and Carol were extremely gracious guests. Their home was beautiful in a very upscale neighborhood. Our accommodations were just what we expected. We would certainly come back. Mike and Anne Lefebvre
Michael
2016-09-11T00:00:00Z
Kamertype
Gehele woning/appartement
---
Type woning
Overig
---
Geschikt voor
4
---
Slaapkamers
Marshfield, Massachusetts, Verenigde Staten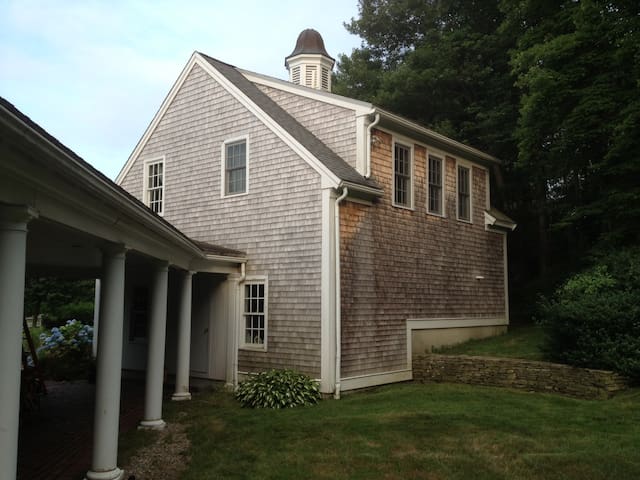 1850 tastefully renovated cottage style home, located in peaceful historic neighborhood steps to vibrant downtown Plymouth & waterfront . Gorgeous brick patio for entertaining, grilling, cocktails, etc. Small fenced in yard ideal for kids and dog The cottage has two bedrooms, one is a loft style which means its opened to the stairwell. Both bedrooms have a shared bathroom which both bedrooms have direct access.
The cottage has been tastefully and comfortably furnished with all the modern conveniences one would expect. The cottage is located only steps from vibrant Downtown Plymouth, the Waterfront and historical sites and museum's. Plenty of bars, restaurants, music venues, boutiques, antique shops, specialty shops water sports, boat and fishing cruises, daily ferry to Ptown and whale watching.
The Cottage is located on "Watson's Hill" this was a area where the Wampanoag Indians once lived and farmed. Most of the homes in this historic neighborhood date back to around 1850. All the homes are unique and have interesting curb appeal.
My family and I loved staying at Bernadette's cottage. It was bright, spacious, and had everything we needed and more. Her attention to little decorative details made us feel very welcome. The cottage is within walking distance to the Mayflower, Plymouth Rock, The Grist Mill, and many little shops. Plimouth Plantation and Plymouth Long Beach is a five minute drive away. We also drove to Boston, Providence, and Cape Cod, which were all about an hour to an hour and a half away. I hope that I someday can visit Massachusetts again; and if I do, I would definitely want to stay at Bernadette's cottage again!
Paula
2016-06-23T00:00:00Z
Really lovely house close to the main shopping and town center. Everything was very easy and Bernadette made us feel right at home immediately. I couldn't recommend more for a base to stay while visiting historic Plymouth! Thank you!
christine
2016-07-10T00:00:00Z
We had an absolutely wonderful time staying in Bernadette's cottage. We visited with our 11m old & dog and the house was perfect. There was plenty of room inside and out for both human and animal to enjoy. It was "baby safe" which allowed us to truly enjoy our vacation. The a/c was a godsend in the summer heat and the location to downtown Plymouth was excellent. We would undoubtedly love to stay here again.
Megan
2016-07-16T00:00:00Z
Bernadette's cottage was the perfect place for a wonderful weekend getaway, we never wanted to leave! It was the perfect location. Very close to plenty of restaurants and beaches. We were so lucky to be so close to all of the July 4th festivities and met so many wonderful people from the neighborhood while enjoying the patio in the yard. The house was exactly as described and very clean and comfortable. We couldn't have asked for a better host!
Deirdre
2016-07-06T00:00:00Z
Bernadette's cottage is a gem. The house is well-furnished, updated, clean, and represents quintessential New England character. The house is located within walking distance of town and getting into Boston was easy from nearby Kingston. Bernadette was incredibly easy to work with and responded quickly to messages. She was flexible with our check-in time and had loads of information about Plymouth laid out for us. I highly recommend this home for anyone visiting Plymouth.
James
2016-06-28T00:00:00Z
We have been staying at plenty B&Bs and holiday houses all over Europe: Our stay at the unique cottage of Bernadette really stands out! A authentic house @ Plymouth with all the comfort needed, and centrally located to visit Cape Cod, Martha's Vineyard, whale watching!, etc.
Rudy
2016-07-31T00:00:00Z
Lovely antique home with modern updates to make life easy. Loved this little home - only stumbling block was we could not figure out how to turn the oven on, but it was our last night so we decided to just go out and eat. Highly recommend and we have stayed in many rentals, top notch!
Patti
2016-10-30T00:00:00Z
Bernadette's cottage truly was a charming experience. We were just blocks from the waterfront festival, the house was so clean and welcoming.....we had a great time!
Rachel
2016-08-29T00:00:00Z
Kamertype
Gehele woning/appartement
---
Type woning
Huis
---
Geschikt voor
4
---
Slaapkamers
Plymouth, Massachusetts, Verenigde Staten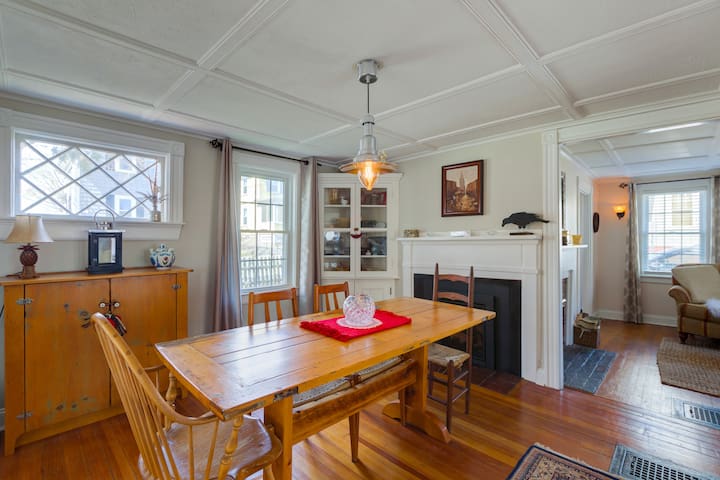 Master Suite private entrance, closet, private bath shower & whirlpool tub, sitting area, 46 inch Plasma TV. Walk to harbor and beach. Cape Cod 20 miles, train to Boston. Quiet area private st. In Suite: Refrig Mirco Toaster oven Krug. Central AIR.
Quite neighbor and quite home. Refrigerator, Microwave, Krug machine, and toaster oven are located in private suite area.
Quite neighborhood within walking distance to park, harbor and beach. Nice walking and biking trails. Home is located private street.
Elaine was responsive, very helpful, and I really enjoyed the privacy afforded me. Excellent experience.
Scott
2016-12-01T00:00:00Z
Elaine was very responsive. The bed was super comfy. There were plenty of towels, kleenex, cups, etc. Great location, just minutes from the main beach (maybe a mile and a half?)
Jeff
2016-09-05T00:00:00Z
I loved this space!!! Having never been in the "Cape" area, what a lucky choice to have ended up here. I had to work a business event from Friday-Saturday so I searched for a place to crash land in between, not sure what I was in for. The Duxbury area turned out to be a very beautiful and private area. The home owner, Elaine, was pro-active regarding my reservation. She touched base with me just enough so that I knew things were in order for my arrival. My stay was quite brief, but Elaine greeted me in person and gave me her personal recommendations for food and staples that night. Overall, this was the most memorable part of my business trip. Isn't it wonderful when something unexpected happens and you find yourself grateful for the experience?
Colleen
2016-05-01T00:00:00Z
This is a lovely property set in a beautiful and quiet area. Close by are some lovely beaches and is ideal for visiting Plymouth. The accommodation is very spacious with a large living area and huge bathroom all fitted to a very high standard. Elaine and her family made us feel very welcome and Elaine was extremely friendly giving us lots of information on the local area.
Jonathan
2015-09-11T00:00:00Z
Wow!! A beautiful home and a gracious host! Elaine was most accommodating despite our late arrival. On a last minute trip to visit family in Boston on Saturday and on the Cape on Sunday, Elaine's home was the perfect in between spot. The room was so spacious and comfortable with every convenience one could hope for. Additionally Duxbury is beautiful...definitely take the chance to explore!
Daniel
2015-10-12T00:00:00Z
Elaine was a wonderful host. She was very quick to answer my questions and accommodated my last minute change in arrival time without any issues. The room is lovely with all the touches that make it a comfortable stay (coffee & tea, wifi, extra blankets, take out menus, etc). I especially liked the private entrance and privacy that it afforded. I would absolutely stay with Elaine again! Thank you for your hospitality!
Heather
2016-02-29T00:00:00Z
Because of a storm, wrecks, and heavy traffic we didn't arrive until close to midnight for our stay. Elaine was gracious in helping us get there and leaving lights on, doors open, etc. Our room was wonderful, huge with comfy chairs, TV, desk, and a fluffy bed. Our bathroom was wonderful. She had thought of everything--bottled water, teas, coffee, milk, sweetener, hand lotions, soak, shampoo, even a bedside fan. She had it all. Thanks so much for a wonderful stay in a beautiful neighborhood.
Carla
2016-07-18T00:00:00Z
What a lovely place to relax - very spacious, homey, well-equipped, super comfortable bed, huge bathroom with Jacuzzi. Even nicer than the photos can show! I appreciated the privacy and private entrance. The home is located on a very pretty wooded lane - private and peaceful. Really appreciated the extra touch of having fresh milk in the refrigerator to go along with all the coffee/tea supplies. I would absolutely stay there again.
Sally
2016-12-13T00:00:00Z
Kamertype
Privé Kamer
---
Type woning
Huis
---
Geschikt voor
3
---
Slaapkamers
Duxbury, Massachusetts, Verenigde Staten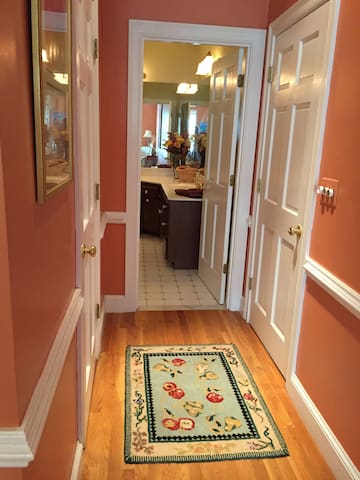 1

–

18

van

136 Accommodaties