Welcome! Dobrodošli! We are providing an exclusive accommodation for tourists interested in the unexplored area of high biodiversity and rich technical, cultural heritage located between the Alps and the Adriatic Sea. Free welcoming drink and bikes
Am besten meiden! Kaputte Ausstattung, Kakerlaken und Mutter des Besitzers als Mitbewohnerin! So haben wir uns diesen Aufenthalt nicht vorgestellt. Gastgeber hat uns nicht informiert, dass wir mit seiner Mutter wohnen werden. Sie hat uns am Abend sehr erschreckt, als sie auf einmal mitten in der Küche gestanden ist und uns gesagt hat, dass wir den Fernseher ausschalten sollten, weil sie nicht schlafen kann. Das hat auch die Unordnung in der Küche und Sachen im Bad erklärt, wo ein Gebiss im Glass gestanden ist. Um etwas kochen zu können mussten wir halbe Stunde die Küche putzen, so verdreckt war sie. Kühlschrank hat sehr gestunken, aber das schlimmste waren die KAKERLAKEN, die sich dort sehr wohl gefüllt haben. Nach einer schrecklichen Nacht, am nächsten Tag war der Besitzer sehr unfreundlich, wollte nichts unternehmen, die Mutter hat kein anderes Zimmer als das bei uns gehabt und musste dort bleiben. Eine Bestätigung, dass wir abreisen wollte Besitzer auch nicht unterschreiben. Bei der Polizei haben wir eine Anzeige gemacht, damit zumindest Polizei über die Situation weiß. Dort haben wir erfahren, dass sich sehr viele Gäste über Pension Rozica beschweren und die Polizei über die katastrophalen Hygienische Verhältnisse dort Bescheid weiß, leider viel zu wenig unternehmen kann. Auf unsere Beschwerde hat uns der Hausbesitzer mit einem Anwalt gedroht, wenn wir etwas negatives über die Unterkunft berichten. Wer wirklich etwas von Urlaub will, sollte die Pension Rozica meiden. Wir haben nur 1 Nacht bei 3 gebuchten Nächten übernachtet und sind dann abgereist.
Irena
2016-07-29T00:00:00Z
Gasper replied very quickly to our last minute rental request (in the afternoon for an evening stay). Eventhough he could not fulfill our wish of several nights (due to the short notice), he offered his help to find another stay after this one night at his place. Once again many thanks to him and his parents to have welcomed us.
André & Gwenn
2016-08-06T00:00:00Z
L'host è stato accogliente, anche se abbiamo aspettato un pochino all'arrivo. I genitori dell'host sono persone socievoli e ci hanno trasmesso informazioni preziose riguardo Idria e le tradizioni slovene. L'aspetto meno curato è quello del cattivo odore di chiuso/umido. In compenso l'appartamento era spazioso, ammobiliato.
Francesco
2016-08-14T00:00:00Z
Kamertype
Gehele woning/appartement
---
Type woning
Huis
---
Geschikt voor
7
---
Slaapkamers
Idrija, Idrija, Slovenië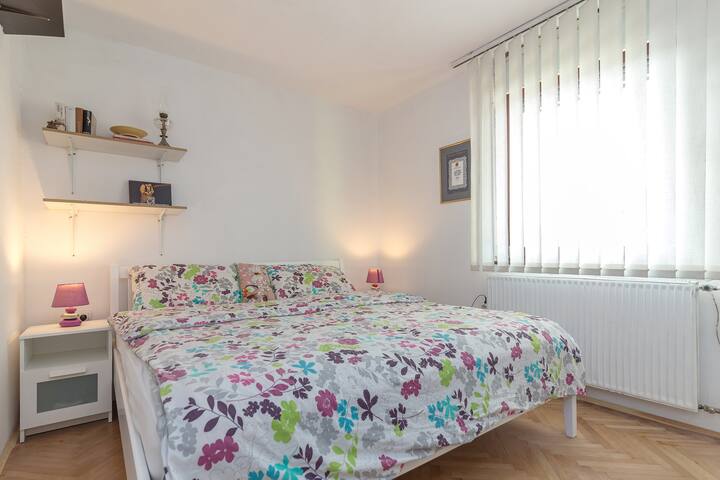 Wellcome in my antique Slovenian home.Enjoy the mountain of Vitovlje,get in touch with nature and relax watching the view of Vipavska dolina.From here you can see the Nova Gorica and Gorizia (IT),Trieste (IT) and its' sea.Border of Italy-15min drive,Trieste-55min, Venice-1h 30min,Ljubljana-1hour.This is a typical Slovenian stone house, made in 1910, old furniture, wooden floors in the bedrooms and new kitchen and bathroom. The house stays naturaly cool in summer thenx to the 1m wide stone walls.
Kamertype
Privé Kamer
---
Type woning
Huis
---
Geschikt voor
3
---
Slaapkamers
Nova Gorica, Nova Gorica, Slovenië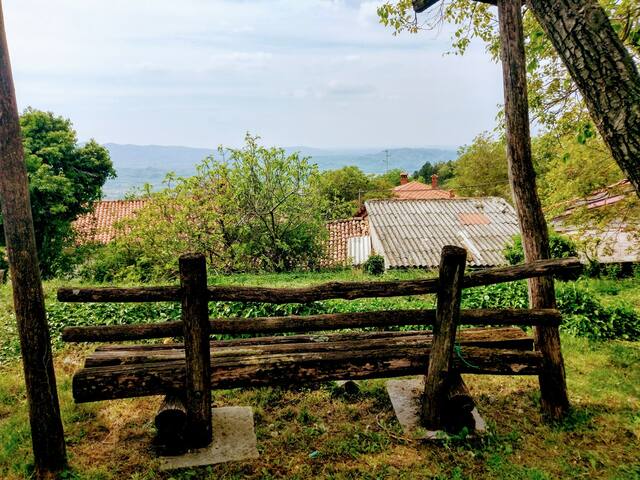 My place is close to Forest. You'll love my place because of the outdoors space, the neighborhood, the ambiance, the comfy bed, the light, the view, animals, food, quality of life, cycling, pool, mini zoo, big garden, lots of vegetables, hicking, relaxing, . My place is good for couples, solo adventurers, families (with kids), and furry friends (pets). Also if you are more that 3 people you have to take 2 rooms which means the price doubles up.
Thank you for your lovely place we shared. We appreciated peaceful area and fresh air.
Nicolas
2016-11-12T00:00:00Z
Place is beautiful. Nice for family with small child, because many different kind of animals present in the garden. All thing for live is present in the house. Owners is kind friendly. But road to the house is difficult some times.
Gordeev
2016-08-22T00:00:00Z
We had a really good stay in this house. We were the 1st people they receive from Airbnb but the family is used to host workers to help in the house. And you can definitively feel it ! They are extremely welcoming and love people. The house is really clean and full equipied. Useful if you need to cook. You'll have an incredible view in the morning for the breakfast on the terace :) Moutain + animals + quiet + lovely family = perfect moment.
Pierre
2016-08-12T00:00:00Z
Kamertype
Privé Kamer
---
Type woning
Huis
---
Geschikt voor
3
---
Slaapkamers
Gore, Idrija, Slovenië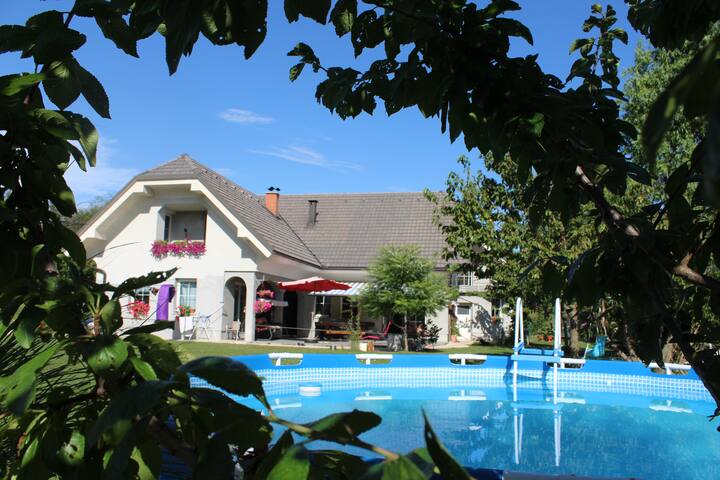 Appartment is modern and light with nice view. We are based in small local village with a lot of nature and possibilities to walks or riding and arrchery track with 3D targets in the village! Ljubljana city is 15 minuties away by car.
This appartment is big and open with nice view!
Nature!
Kamertype
Privé Kamer
---
Type woning
Huis
---
Geschikt voor
5
---
Slaapkamers
Podolnica, Ljubljana, Slovenië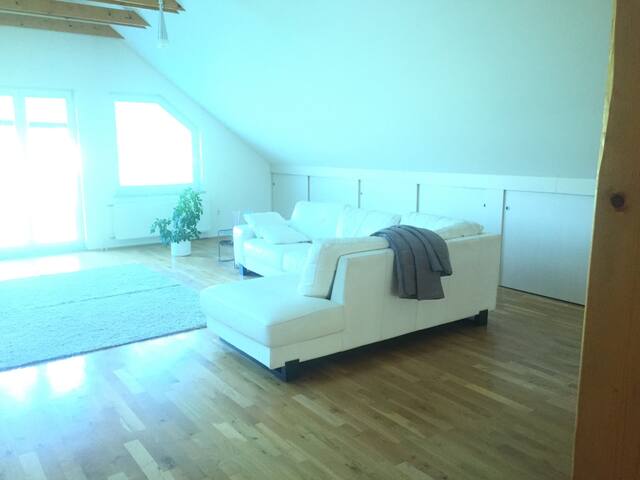 Perfect place for waking up listening to the birds singing and breathing fresh air. Very close to the house is a small creek where you can chill. There is no light polution up here so you can enjoy watching millions stars TV before going to bed. Peacefull location 10km from Idrija surrounded by forest. Perfect place for escape from busy cities. Best for hiking, biking, swimming, fly fishing, geology, wildlife,... Most suitable for people with thir own transportation.
The place is located at heart of Idrija UNESCO Geopark and on the edge of Upper Idrijca Landscape Park. The nature around provide unique experience. The room is comfy and functional, you have confortable dubble bed (160x200cm), closet, small table and night table. WI-FI is provided. In common space there is a possibility to place airmattress (2 persons). PLEASE NOTE! WE ARE RENOVATIONG THE ROOM SO THERE ARE NO PHOTOS YET. ALL THE REST IS AS YOU SEE. PLACE WILL BE AVALIABLE FROM THE END OF APRIL! Free portable WI-FI! (check photos) You are free to use portable USB WIFI anywhere in Slovenia with mobile network. You can power it on 12V in any car so you have full navigation on hand all the time.
Čekovnik (pronounced [tʃɛˈkoːu̯nik]) is a dispersed settlement in the hills west of Idrija. It covers area of 17.5 km2 (6.8 sq mi) and has a population of 144. Farming in Čekovnik is meager, and traditionally the economy of the village was based on forestry. Until 1926, timber was harvested and floated down Šihtenpoh Creek. A wooden dam was built on the creek in 1868 to aid log driving. During the Second World War, the local farmers were involved in support activities for thePartisans' Pavla field hospital (Wikipedia).
Urban i jego rodzina byli fantastyczni. Zapewnili idealne warunki w miejscu zakwaterowania oraz zorganizowali ciekawe wycieczki, dzięki którym mogliśmy poznać przepiękną okolicę i dowiedzieć się o szczegółach historii tego regionu. Polecamy to miejsce szczególnie tym, którzy w cichej i spokojnej okolicy otoczonej piękną przyrodą pragną odpocząć od zgiełku miasta.
Joanna
2016-08-23T00:00:00Z
Kamertype
Gehele woning/appartement
---
Type woning
Huis
---
Geschikt voor
6
---
Slaapkamers
Čekovnik, Idrija, Slovenië
Large Secluded Property With Pool & Amazing Views, Sleeps 14 Hisa Zeenia is a magnificent traditional 3 storey stone house, set in 8 Hectares (approximately 20 acres) of landscaped gardens and woodland with a Natural Swimming Pool
Large Secluded Property With Pool & Amazing Views, Sleeps 12 Hisa Zeenia is a magnificent traditional 3 storey stone house, dating back to 1860, set in 8 Hectares (approximately 20 acres) of landscaped gardens and woodland and approached via its own private drive. It has been carefully restored to retain its original Slovenian charm and furnished with antiques and traditional pieces and decorated in neutral colours. The house boasts all the modern comforts and conveniences expected in an exclusive villa. The property has been designed to take full advantage of its elevated and secluded position overlooking the Idrijca River toward the Soca Valley and offers its guest a relaxed retreat from which to enjoy the stunning Slovenian countryside. The property is ideal for entertaining larger groups but is also the perfect hideaway for a couple or family. In addition, Hisa Zeenia offers the perfect location for those interested in outdoor pursuits. The Idrijca and Soca Rivers only a stones throw from the house offering fly fishing, kayaking etc... Hisa Zeenia is a magnificent traditional 3 storey stone house, dating back to 1860, set in 8 Hectares (approximately 20 acres) of landscaped gardens and woodland and approached via its own private drive. It has been carefully restored to retain its original Slovenian charm and furnished with antiques and traditional pieces and decorated in neutral colours. The house boasts all the modern comforts and conveniences expected in an exclusive villa. The property has been designed to take full advantage of its elevated and secluded position overlooking the Idrijca River toward the Soca Valley and offers its guest a relaxed retreat from which to enjoy the stunning Slovenian countryside. The property is ideal for entertaining larger groups but is also the perfect hideaway for a couple or family. In addition, Hisa Zeenia offers the perfect location for those interested in outdoor pursuits. The Idrijca and Soca Rivers only a stones throw from the house offering fly fishing, kayaking and white water rafting. Guides and permits can be easily arranged locally. Please note, the house can accommodate12 people however is available to smaller groups outside the high season at significant discounts, making it ideal for couples or smaller families.
From Most na Soci train station, drive your car onto the train and relax and enjoy the scenery. In less than an hour, you will arrive at Bohinjska Bistrica where you can visit the famous lakes Bohinj and Bled, as well as Bohinj water park & spa. From here it is just 40 minutes on the motorway to the Slovene capital of Ljubljana. Also in Most na Soci, daily steam boat trips down the Soca river with lunch or fishing in the one of the top trout rivers in Slovenia, the Idrijca are also worth a try and walk up to Most na Soci church to enjoy a stunning view. The water sports centre is based in the next village of Tolmin which is less than 10 minutes drive/25 minutes cycle along the Soca river.
We were 4 families with children, which wasn't easy to find some house suitable for our group. This was the only one option we had in our set term. We were very lucky and very happy we went for this choice. The location of the house is perfect and the house is beautiful outside and inside. The people working around the house were very nice and helpful.
JANA
2016-08-14T00:00:00Z
Kamertype
Gehele woning/appartement
---
Type woning
Huis
---
Geschikt voor
12
---
Slaapkamers
Slap ob Idrijci, Tolmin, Slovenië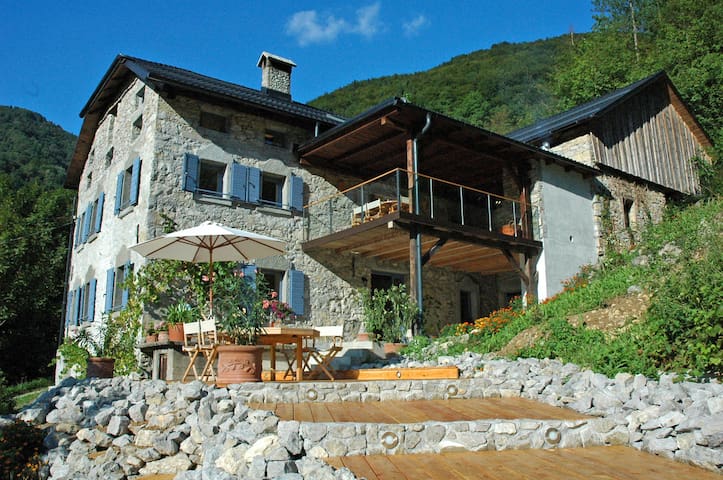 These is an old house by the river Idrijca. The place for swimming / fishing is just ten meters from the house. If you like spending time away from the big cities and just swimming, relaxing, making Barbecue, enjoying in the nature, than just come.
Is more than hundred years old house. In beginning of the year we are finishing renovation. We try to left all the old charm of the house. Now we have just to finish painting the walls inside, so that will be prepared for the first quest. And all the trees with the birds, the grass where can you lie, the river where you swim can make you a good summer story.
The house has no neighbors. But is still ten minutes walk to the village where is the food store, the restaurant and post office.
Zeer leuk huis langs de mooie rivier Idrija. Prachtig lokatie, heel rustig, zuivere lucht en veel vogels en vissen. Romina heeft ons heel goed geholpen met verwarming. Het vuur was al lekker aan toen we toekwamen. Een hele goede verwarming door een bakoven waardoor het huis verschillende dagen warm bleef. Ook kregen we onmiddellijk feedback toen de WIFI het liet afweten.
Caroline
2015-10-10T00:00:00Z
Sweet old but well renewed house, very good location, close to good fly fishing points, but most important thing - the owner. Romina waited for us, the bake was burning, the light were lighting and even some biscuits were on the table. Romina is a great and very friendly person, we will happy to come back here again.
Boris
2015-10-17T00:00:00Z
Wir waren zu sechst für eine Woche in dem Haus. Es war wirklich sehr schön. Das Haus wirkt schon etwas älter, das Bad und die Küche wurden aber scheinbar vor nicht allzu langer Zeit modernisiert. Der Fluss ist nur einen Steinwurf vom Haus entfernt mit kristallklarem Wasser, in dem wir jeden Tag einige Zeit verbrachten :). Das Haus liegt außerdem in einer Gegend, in der man wirklich seine Ruhe haben kann. Andere Häuser sind soweit entfernt, dass man viel Freiraum hat und sich nicht beobachtet fühlt. Auch den Abschnitt des Flusses hat man so gut wie immer für sich alleine. Also ein wirklich idyllischer Ort, an den einige von uns sicherlich gerne für einen Urlaub zurück kommen werden, wenn wir dürfen :D.
Dennis
2015-07-25T00:00:00Z
Romina was waiting at the house, showed us around and made us feel very welcome. The house is in a beautiful place, right on the pristine river Idrijca. It is tastefully decorated with many original features still present. The water that you see in the picture is shallow and warm enough for swimming. Ideal for kids. The village is convenient for exploratory trips and has its own supermarket.
Martin
2015-09-01T00:00:00Z
We had a lovely time at the Summer house by the river in Slap ob Idrijci. Romina was very proactive in keeping in touch and when we arrived an hour early she was already there waiting for us. Romina was very friendly and spoke good English. She showed us where everything was, and there was an English language list of local shops and restaurants with their opening hours. There was even a box of potatoes and onions from the garden and Romina said we were welcome to help ourselves to the other vegetables - tomatoes, cucumbers etc from the allotment. The house was charmingly decorated and well-equipped with plenty of pots and pans in the kitchen and there were basic ingredients for use - tea, coffee, various cooking oils, sugar, salt etc. There is plenty of hot water for showers and it isn't listed on the description but there is a washing machine. We had a brilliant time messing about in the river, and further down near the village there is a makeshift diving board, and for the intrepid you can jump off the bridge. Would definitely recommend the house for a good holiday. It is probably not suitable if you have young children or are a little elderly as the stairs are quite steep and the river is very close and not shallow.
Michelle
2015-08-08T00:00:00Z
Das einsame Haus am Fluß mit Badestelle ist einfach traumhaft! Es ist ein behutsam renoviertes, ehemaliges bäuerliches Anwesen, typisch für die Gegend. Und es ist sehr liebevoll eingerichtet. Baden im Fluß, wandern in Schluchten und auf Berge, historische Orte besichtigen, ausruhen - Slowenien, die Umgebung und diese Unterkunft haben unglaublich viel zu bieten! Wir haben es sehr genossen, uns sehr wohlgefühlt und gut erholt! Vielen Dank an Romina für Ihr Willkommen und dieses wunderbare Geschenk!
Michaela
2016-09-07T00:00:00Z
Romina was a fantastic and generous host. She was really friendly and nothing was too much trouble. The house itself was very peaceful in a lovely location, right on the river. The rooms were spacious and Romina really has thought about the sort things guests need, so the house was well equipped with everything from a coffee plunger to a barbeque. The general area is very beautiful. We'd recommend the Tolmin Gorge, Cerkev svetega Duha and some walks in the foothills of the Julian Alps. Piran and Izola are a relatively easy day trip away and well worth a visit. It's an hour and a half drive to Ljubljana, which is convenient for flights. I'd highly recommend this property and it's certainly somewhere I'd stay again.
Rory
2015-08-03T00:00:00Z
A lovely old house in a secluded pretty location (but only 5 mins walk from a shop) on the edge of the Julian Alps. It was pretty much as described and we had a superb holiday and would certainly return again. Romina was very friendly and helpful with advice about the area and very generous with produce from her vegetable garden. Worth being aware that this part of Slovenia is very mountainous and that almost all travel takes longer than it might appear if you are coming from a flatter part of the world
Chris
2015-08-24T00:00:00Z
Kamertype
Gehele woning/appartement
---
Type woning
Huis
---
Geschikt voor
6
---
Slaapkamers
Slap ob Idrijci, Tolmin, Slovenië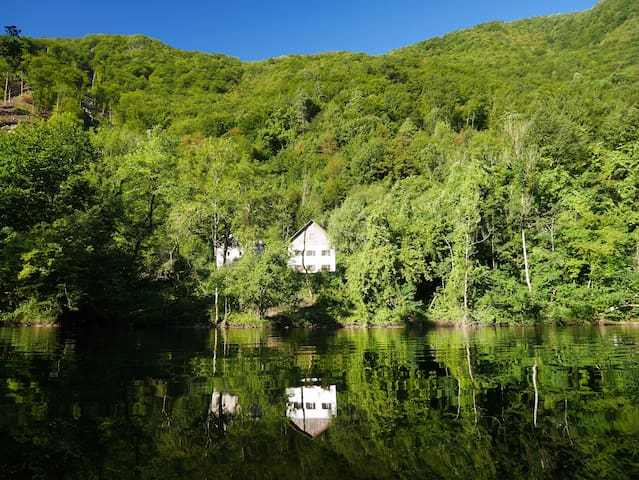 Hallo welkom voor een bezoek Stari vrh 1000m (skii heuvel) prachtige landschap en de natuur in op rustige en rustige omgeving, wandelen plaatsen, in de winter kunt u skii, fietsen, grillen, welkom fietsers, wandelaars, reizigers aardige mensen die goede tijd op zoek
ons huis is in de hoogste laatste piek positie op 1000 m heb je een prachtig uitzicht, voor wifi internet heb je in de buurt van het restaurant en het lekkere eten
We found this staying randomly: me and my girlfriend planned to stay in Bled but there was all full so we found this. When we arrived in Skofja Loka Jure and his friend brought us to the place, far 15km from the centre, arrived at the top of the mountain we discovered the paradise, the house is simply awesome, the view is...no words to describe it...splendid!!! He welcomed us with coffee and beer (and vodka also :P Jure and his friend are really nice people!) the price is amazing for what you have: a telescope, a little piano, an accordeon, darts, boardgames, barbecue, garden, view, good beds ecc...if you are searching for a relaxing paradise you are in the right place, near to skiing ways too and to a very cheap restaurant 5 min by car. I will sure come back to this great place! Thank you Jure!
Stefano
2016-08-20T00:00:00Z
What an amazing place! Wonderful location not far from Ljubljana, but feels like the middle of nowhere. Awesome view! The house is very cute and traditional and the fireplace made everything really cozy. Jure was a lovely host and picked us up from the train station in Skofja Loka and dropped us back there at the end of our trip. Hope to see you again soon, Jure!
Amanda
2016-10-01T00:00:00Z
This was my second time in Jure's house and I hope not the last one. First time was in August, this time with snow for skiing. The place is as I remember: awesome, a paradise, 5 stars for this price. Jure is a beautiful person, the best host you can wish, very easygoing. Skii roads are 10 minute walking, and car parking too. The near restaurant gostisce is good, price are excellent and is available walking 25 minutes from Jure's house, or going down with skii and then up with chair-lift. Skipass price is very very low! Skii tracks are not so much but very well done and beautiful! There are not so much people skiing so is very pleasant skiing in Stari Vrh. You can skii during the night too (19-22). Our staying were perfect, just a little bit tiring but hey, its the mountain. If you are serching the real mountain you are in the best place you can have for this price. Thank you Jure I hope to come back soon!
Stefano
2017-01-24T00:00:00Z
Jure's house is small but very welcoming and comfortable. The place is on one hand very intimate, but still the skiing facilities are just a few minutes of walking away. The towns in the area are also very nice. Jure is a welcoming host, an easy-going and nice guy...thanks Jure for the lovely staying!!
Agnese
2017-01-06T00:00:00Z
My friends and I really enjoyed this amazing experience. I can describe it like unique and exceptional. Jure is a very nice host he guied us to the place and was very helpful all the time. We had an amazing nite in his cozy place!
Baruc
2016-10-29T00:00:00Z
This place is great if you are looking for a totally secluded accomodation in the middle of the mountains and forests. Do not expect many comforts since services are basic. The atmosphere is really unique and Jure is a great and helpful host. The house needs better cleaning.
Marco
2016-08-18T00:00:00Z
Jure was very nice host, very helpful with our late arrival. The house was in the fantastic environment, well furnished, but dishes were not washed. I recommend it to everyone because of the great surrounding of the house.
Zuzana
2016-10-30T00:00:00Z
We had a great time at the cottage. Jure is a wonderful host. He has welcome us whit a littel gift. The view is perfect and the cottage is nice and cossy. There is a lots of diffrent pathways threw the woods, so you could explore the forest and hills around the cottage.
Janez
2016-12-31T00:00:00Z
Kamertype
Gehele woning/appartement
---
Type woning
Huis
---
Geschikt voor
6
---
Slaapkamers
Četena Ravan, Škofja Loka, Slovenië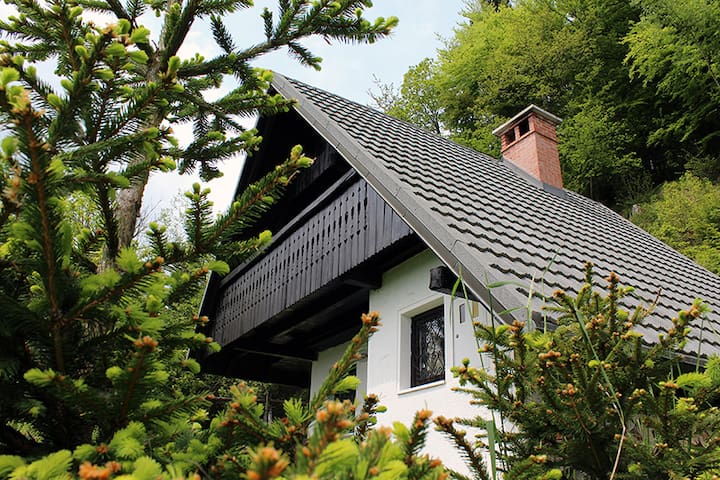 Koren Farm is een mooie grote moderne drie verdiepingen tellende boerderij omgeven door weilanden, bomen en tuinen.Het Appartementen voor de gasten bevindt zich in de 3e verdieping van het farmhouse.The huis bestaat uit 2 slaapkamers, 1 woonkamer met een tweepersoonsbed en een extra slaapbank, keuken / eetkamer, badkamer met een bad en douche, 2 balkons met meubilair en een verdere steen BBQ.There is een televisie en een beveiligde internet connection.The kamers zijn groot, modern en schoon en inclusief alle beddengoed en handdoeken
Het huis kijkt uit over de rivier de Idrijca die beroemd is om het vliegvissen vanaf 1 april - 31 oktober en u kunt genieten van een korte wandeling van het huis naar beneden naar een strand op slechts een paar minuten lopen waar er iriserende diepe poelen om te zwemmen, de temperatuur van de Idrijca kan 21-23 graden bereiken in de hoogte van de zomer.
Wij raden de prachtige uitstapjes en excursies: - Plaats Cerkno (dichtstbijzijnde supermarkten, bank, geldautomaat, een benzinestation, toeristische info, bakkers, slagers, bars en restaurants, museum - 10 km) - Hotel Cerkno (een nieuwe spa met Thaise massage, sauna, zout kamer .. - 10 km) - Cerkno ski-centrum - in de Winter tijd- (centrum is uitgeroepen tot de beste ski-resort in Slovenië voor de afgelopen 4 jaar - 17 km) - Partijgebonden ziekenhuis FRANJA (de tweede wereld oorlog - 14 km) - Plaats Zakojca - toeristische boerderij pri Flandru (paardrijden - 10 km) - Plaats IDRIJA (museum in het kasteel Idrija beroemde Idrija kant, Antony Shaft-een voormalige kwikmijn, landschapspark "Zgornja Idrijca" -wilde meer, toeristische info, bank, bars, restaurants, benzinestations, supermarkten .. - 20 km) - De rivier de Soca valey en de schoonheid van de rivier de Soca (Most na Soči - meer, plaats Tolmin en Kobarid en Bovec-raften, kanoën, kajakken, canyoning, plaats Kobarid-museum Eerste Wereldoorlog .. - 17 km tot 60 km) - LJUBLJANA (de hoofdstad van Slovenië - 65 km) - Grotten van Postojna (wereldwijd beroemd Karst grot - 57 km) - BLED (meer met eiland, kasteel ... - 70 km) - PIRAN (schilderachtige kustplaats - 135 km)
Stay here! It's a wonderful, spacious accommodation that's well-equipped and away from the hustle-bustle yet well located for touristic adventures (with a car). The place has been recently fitted-out to a good standard and Stanko has tried to anticipate every need from kitchen equipment to an excellent supply of leaflets of local attractions. I especially liked the balconies at both sides of the house (to enjoy a nice cup of tea with the first & last of the sun each day) and that a short walk across the road the river gets deep & swimable .... and there's no one else about! Finally, I have to mention Stanko - and his support team of family & friends! - who are the kindest, gentlest, most generous and genuine people you could ever have the good fortune to meet. They truly cared that we had everything we needed ... and gave generously of their local knowledge .... and their home-grown veggies & fruits and homemade bread & cakes. Stanko, we can't thank you and the team enough! We really wish you every success renting out the farmhouse - you deserve the very best! Thank you for this bright spark in our Slovenian adventure. Warmest wishes to you all from Beni & Jess
Beni
2016-08-09T00:00:00Z
The stay at Koren Farmhouse and in Slovenia was wonderful! I was there with my family and Stanko, his sister and brother-in-law made us feel really welcome. They gave us plums and salad from their own garden, baked Slovenian specialties as a welcome and provided many infos about things to do in the area and beyond. The apartment is very well furnished - all the things we needed were there - and it is very modern, clean and comfortable. Plus, there are sheep, cows and a dog and a super clean river to swim in just outside the door. Oh, and then there is the rest of Slovenia which is a jewel of a country! We would recommend this place 100%.
Maria
2016-07-23T00:00:00Z
Kamertype
Privé Kamer
---
Type woning
Huis
---
Geschikt voor
7
---
Slaapkamers
Stopnik, Tolmin, Slovenië
Huis voor rust en natuurliefhebbers. Geen buren rond, fris in de zomer warmte, basisvoorzieningen. Kwaliteit voorjaar drinkwater, bessen en paddestoelen vlak voor het huis. Traditionele Sloveense houtoven geschikt voor heerlijke bakken.
House is gelegen aan de rand van het bos, op slechts 40 minuten rijden van Ljubljana. Het is een perfecte plek om te ontsnappen aan de menigte, om vreedzame natuur te genieten. Mooi gebied om te wandelen, paddestoelen en bessen plukken ... Gelieve, breng uw eigen handdoeken en lakens. NB: Er is geen warm water en geen douche in huis. Er wordt geïmproviseerd buitendouche.
Yes, this house has a fantastic view - we loved the balconies! A house rather than a hut. It is rather tricky to get too as its up in the hills, but we enjoyed our stay in what to us felt like a traditional Slovenian home
Daisy
2015-08-02T00:00:00Z
We had a great time. The house was so cute and the views beautiful. Our dog had a wonderful time too!
Ashlee
2016-05-31T00:00:00Z
I spent a fantastic week in this hut. The view is really amazing, the house is very cute and cozy. The great place to relax and to settle mind. Thanks, Miha, for this opportunity! Аnd a special thanks for your outgoingness and hospitality!
Ekaterina
2016-10-15T00:00:00Z
Incredible wonderful house among the forests ! For those who love loneliness...
Jenna et Clément
2015-05-09T00:00:00Z
The purpose of my visit was to have a quiet, solo retreat time of 17 days where I would focus on good health and meditation. Miha was very helpful in arranging transportation to the cabin and for helping with grocery shopping beforehand. His father showed me everything about lighting the fire and other aspects about the cabin. For my purposes, the cabin was perfect! It was a cozy space, with a great view, a brilliant night sky and lots of farmland and hills to explore while hiking. It was an amazing experience and I feel so refreshed afterwards! You aren't completely isolated, there are farms and a few houses around, but the population is very low and there aren't any stores. Nearest grocery store is a 20 min drive down into the valley. Note that nobody in the town speaks English. I ran into a couple of people that did during the week when hiking and exploring.
Vishal
2015-03-28T00:00:00Z
We had a great time at Miha's place. The location is remote, unique and the views are absolutely stunning. Except for the outside shower (which we enjoyed because of the great (hot) weather), this is more a complete outfitted house than a hut. We didn't see Miha in person, but communication went smooth and quick. About reaching the hut: be sure you don't use the shortest (SENSITIVE CONTENTS HIDDEN) Maps route, you will be sent along a challenging and steep gravel road. Use the longer, asphalted road from Polhov Gradec to Crni Vrh instead :-)
Maarten & Jorine
2016-09-03T00:00:00Z
I stayed at this property for 10 days, even extending my initial period because I enjoyed it so much (thanks for that flexibility!). Host is generous and friendly and we'll reachable. I have not met him in person but thanks to good communication could find the Hut. Its a little tricky, but you get a good digital map and (SENSITIVE CONTENTS HIDDEN) navigation knows the place very accurate (even though it send me up some hardcore offroads, as it was apparently faster, but there are better roads up there I found out later). The privacy of the place is great, even though you have some (friendly!) neighbours behind you through the forest, so you don't feel isolated completely. What I loved about the place is that you can find so many nice places in and around the house, in shade and sun, on balconies or on lying chairs that are on location. There is also a bbq and fireplace. Its a great place if you want to take some time for yourself (or to write a book for eg.). Nearest shops are about 30 minutes with the car down the hill. Outside shower works great in the sun and gets tricky when it's wet and cold. Overall I very much enjoyed the stay and can very well imagine to come back. Thanks Miha!
Manuel
2015-08-17T00:00:00Z
Das Häuschen bietet einen unglaublichen Ausblick. Das mal zu aller erst, denn es ist sehr wichtig! Umhüllt von Bäumen, ist es im Sommer sehr kühl und gibt einem das Gefühl, in einem riesigen Vogelnest zu wohnen. Rund um das Haus herum wachsten Beeren und Pilze. Den Blick in die Ferne schweifen zu lassen wurde schnell zu einem täglichen Fixpunkt, den ich nach Bedarf in die Länge ziehen konnte. Die Natur und auch die Menschen, sind an diesem kleinen Ort sehr tröstlich und freundlich. Die Wanderwege nicht so sehr. Zumindest nicht zu mir, aber entlang der Landstraßen ist auch das spazieren Gehen ein ständiger Blick in die Weite. Im nächst gelegenen Ort, Polhov Gradec gibt es alles was man braucht und auch ein ganz nettes, sehr umsichtig geführtes Museum und andere Möglichkeiten, sich der slowenischen Kultur zu nähern, aber das ist nicht die größte Qualität des kleinen Jagdhäuschens in Crni Vrh. Die größte Qualität ist wohl neben der vibrierenden Natur, ein liebevoll eingerichtetes und gepflegtes kleines Haus, das einen sofort willkommen heißt. Die Gartendusche mit bereits erwähntem Ausblick habe ich nach meiner Zeit in Crni Vrh sehr vermisst und vor allem auch die Oblerfläche des Kachelofens im Herzen des Häuschens hätte ich mir gerne mit nach Hause genommen. Aber das geht nicht. Deswegen ist es sehr, sehr, sehr empfehlenswert, sich dieser Ruhe rund um und in diesem kleinen Haus hinzugeben, um ein Mal die Welt, Welt sein zu lassen.
Lilian
2016-08-01T00:00:00Z
Kamertype
Gehele woning/appartement
---
Type woning
Huis
---
Geschikt voor
6
---
Slaapkamers
Črni Vrh, Slovenië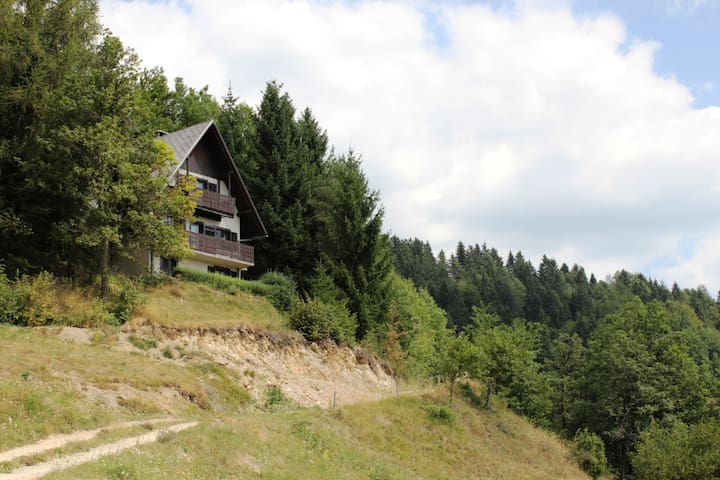 House is placed in small peaceful village Duplje surrounded with vineyards and beautiful Vipava valley. It is place for active and peaceful holidays. Perfect for sport activities as cycling, paragliding, walking and having a great culinary adventure.
House has its own vineyard and huge grassed area in front suitable to have garden parties. It is build as traditional architecture with stoned walls inside and lots of wood (ceilings, roof, flour). Has a relaxing equipment (massage bath and shower) inside.
House is located in the middle from town Vipava and Ajdovščina. You can see lots of local historical and natural landmarks in both towns and surrounded villages. Whole Vipava valley is well knows from good wines and local food. Well known restaurants are "Gostilna pri Lojzetu on Dvorec Zemono" - (URL HIDDEN) "Gostilna Podfarovž in Vipava" - (URL HIDDEN) "Gostilna pri izviru Hublja" - (URL HIDDEN) If you are interested in buying local wine and products you can go to shop "Faladur" in Ajdovščina - (URL HIDDEN) or go to winery in Vipava - (URL HIDDEN) There you can get more information about local attractions. Above the valley is mountain range named Gora where you will found lots of natural attractions. You can reach it by car, bicycle or have an hour and a half of walk from house have best view to whole valley up to Adriatic sea. From "Gostilna pri izviru Hublja" you can start an hour of walk and reach the biggest natural window named "Oliško okno".
This villa in Slovenia is a hidden gem! It's a gorgeously appointed home in the middle of the Vipava valley with lovely views and lots at hand. The hosts are so welcoming and warm and friendly, and even helped plan our day by offering wine tastings and lunch! They are incredible hosts who can help or leave you to it; whatever you prefer. The house is spacious and comfortable with plenty of outdoor space. Would love to stay for a week next time!
Katie
2015-09-20T00:00:00Z
Beautiful location, great views from bedroom terrace. Lots of space in the house. Amazing bathroom. This is a great place to chill out, drink wine & recharge your energy levels
Tatiana
2016-09-15T00:00:00Z
The place was very peaceful with amazing wines around it. My family was very happy to discover the slovenia from this beautiful place, because it was closer of some famous places and beach. Ales and Erick were very welcoming.
Maxime
2016-07-17T00:00:00Z
Amazing stay! The house is in the center of 120 local wineries. Beautiful views, great wine, rich history and a spacious, comfortable home in the countryside.
Michael
2016-10-24T00:00:00Z
We are a family with a three year old boy, and we spent 5 nights in Aleš's wonderful house in the middle of the scenic Vipava valley. Everything was exactly as described, except the house is much roomier than it seems from the pictures. It has everything that one could need, including a huge master bathroom with a massage tub. The place is beautifully decorated, and it even has a wine cooler. Aleš was a great host! He was waiting for us when we arrived, and gave us all the helpful information for our stay, as well as good reccomendations for restaurants (one of the best restaurants in Slovenia, Gotilna Pri Lojzetu, is at a walking distance from the house) and wine tasting choices in the area. He was also very flexible regarding our departure time, and was at the house to see us off in 5 minutes after I sent the message that we are ready to leave. All in all, we had a wonderful stay in Duplje, and will be sure to return!
Bojan & Bojana
2017-02-16T00:00:00Z
Aleš was away so his brother-in-law Erik met us. The communication beforehand was great, he's a really nice guy. The house was beautiful, spacious, modern, but also had a nice rustic feel thanks to the gorgeous property with all kinds of trees and vines. The view from the balcony is lovely. We said we were interested in food and wine, and Erik set up a wine tour with the neighbour within 10 minutes of our arrival! He also recommended this really great restaurant in Vipava. It's such a shame we had only one night there; there is so much to see and eat and drink in the area. I would love to go back, and stay at Aleš' house again.
Gillian
2016-08-20T00:00:00Z
Host was already waiting for us when we arrived. He showed us around the house and he heated the house the day before we came and that was a really nice gesture so the house felt very cozy. He gave us plenty informations where to eat and drink good wine. House is located in nice quiet village and has stunning views from the kitchen and bedroom area. It was good equipped and very spacious for two persons. Village has a good position in Vipava valley and you can sightsee with a car almost everything in approx. max. 30 minutes.
spela
2016-05-03T00:00:00Z
Ales met us at the house promptly and welcomed us with a bottle of delicious local wine which we enjoyed from the lovely patio overlooking the vineyard. He made two fantastic dinner recommendations and called ahead for both of them so the restaurants knew that we were coming. He also set us up with a tour with the owner of a local winery (Tilia) which was quite the experience. Additionally, he reserved us some bikes and gave us a bike map so we could explore the surrounding area. The house was a great size for two couples, and comes with its own wine cellar with locally crafted wines. It is a very modern house with great views!
Julia
2016-06-29T00:00:00Z
Kamertype
Gehele woning/appartement
---
Type woning
Huis
---
Geschikt voor
4
---
Slaapkamers
Duplje, Ajdovščina, Slovenië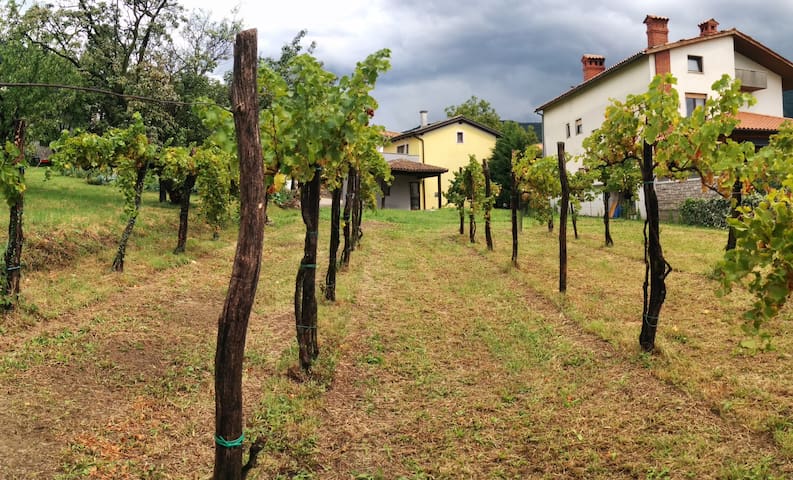 Heeft u genieten van een rustige en ongerepte natuur waar u kunt uitrusten en de dag doorbrengen op hoogte van meer dan 800 meter, en het vinden van nieuwe, een prachtig uitzicht op elke stap die je maakt? Heeft u genieten van de bergen fietsen en zwerven trog bossen op zoek naar blauwe bessen en paddestoelen? Dier en natuurliefhebbers, romantische en creatieve zielen, en iedereen die verlangt om iets nieuws te leren.
Het pand is gelegen op slechts 30 kilometer van Ljubljana en ligt in het hart van Polhov Gradec Dolomieten. Schilderachtig landschap met kerken op de top van elke heuvel en boerderijen verspreid over de omgeving biedt vele ideale wandelpaden, en schatten veel water beken en kleinere rivieren, die zijn geweldig als je wilt om jezelf te vernieuwen in de zomerse hitte.
Het gebied is zeer rustig
Het verblijf was zeer aangenaam, het had een ideale ligging met de nodige dingen aanwezig. De familie was zeer gastvrij, al moet je er tegen kunnen dat ze regelmatig over de vloer lopen.
Silke
2016-07-07T00:00:00Z
We hebben een geweldige vakantie gehad in Slovenië. Anže en zijn familie hebben ons erg welkom laten voelen en we hebben zelfs samen met ze gebarbecued! Al met al een topervaring. Sanitair en omgeving was ook erg goed. Bedankt Anže!
Arnoud
2016-07-28T00:00:00Z
Thanks for the nice stay, the nice food and the BBQ. We felt comfortable and were welcomed perfectly and shown around meeting all the family and animals. Nice place to stay !
Sahayra
2016-07-31T00:00:00Z
Beautiful little chalet, perfect for families, lovely host! Couldn't of asked for a better few days away!
Grace
2016-12-15T00:00:00Z
We stayed there for four days including New Years Eve. Anže and his mother were very polite and friendly. They even baked a bread for us that tasted awesome. The house was beautiful, it looked even better in real life. Basement was great place for celebration with plenty of space. The whole house was really clean and equiped with everything you need. We felt like we are in our own house. The thing I really want to mention is their farm with alpacas and other animals that are really interesting and kind. We played with them, also. All in all, I rate this with high five, because all 13 of us had enough space for sleeping, eating and having fun! Thank you Anže for being great host and I hope that you will host us at least one more time! Greetings from Ogulin, Croatia and we wish you all the best!
Matea
2017-01-02T00:00:00Z
Beautiful home in the country close to Ljubljana. Anze was extremely gracious and helpful the entire weekend. Our children loved the animals as well as the legos and games in the home. Everything was very clean and organized for an extremely comfortable stay. The fresh bread, jam, milk, and eggs were also a treat. We recommend Anze's home to anyone!
J & J
2017-02-20T00:00:00Z
It was wonderful! The area was amazing the house was clean and spacious. Our kids loved getting to see and pet the farm animals and wonder around the property. The host were very friendly and spoken amazing English. Explained the area and things to do and see. We really enjoyed our stay. Both of my kids loved having Legos to play with also. When they weren't exploring they were busy building with Legos!
Amanda
2016-08-07T00:00:00Z
Photographs and descriptions do not do justice to neither the house nor landscape. The apartment is big, bright, well organized, with everything, clean and very comfortable. The surroundings are lovely, forests as far as the eye and fairy countries. The house is an excellent starting point for excursions and visits to many interesting places.but the difference is Anze and his family! Their warm welcome but discreet, simplicity and availability, their industriousness and care they put into managing the house, the countryside, the animals are admirable and touching. Everyone in the family are busy and everyone is always willing to go to chat and to give advice and suggestions and in excellent English! In short, a place and the people we fall in love !!!
fausto
2016-08-15T00:00:00Z
Kamertype
Gehele woning/appartement
---
Type woning
Huis
---
Geschikt voor
10
---
Slaapkamers
Črni Vrh, Ljubljana, Slovenië
The winery estate is set among vineyards and the sounds of nature, in the village of Zalosce in the center of the Vipava Valley. The property features a well-known winery, a small campground and a swimming pool with stunning views over the landscape.
Newly furnished mobile home with a covered terrace is situated right next to the vineyards. It features two bedrooms, one with a queen size bed and a children's room with bunk bed, living room with dining table and a sofa that can be converted into a double bed, a kitchen with an electric stove top, fridge freezerr, microwave and all essential kitchen accessories. Bathroom is with a shower. Terrace comes with garden furniture. Free Wifi and air condition are also provided. Grocery shop may be found about 1 km away, while restaurant is only 50 m away. The property offers a unique experience of everyday life at a winery. In addition to their excellent array of wines, guests can enjoy some of the Vipava Valley's finest traditional culinary delights. Visitors may also take advantage of a large covered BBQ area.
It is conveniently located just one hour drive from Slovenia's capital Ljubljana, about 30 minutes from Trieste, and an hour-and-a half from Venice.
Super hyggelig bolig (for op til 4 personer) i god stand og ren. Lækker pool som ligger lige uden for. Kan ikke være bedre! Skønne omgivelser og udsigt. Ikke super stort sted men hvis man gerne vil have ro så er det et ideelt sted. Kan helt sikkert anbefales. Ca. en time fra stranden og Ljubljana.
Kim
2016-07-03T00:00:00Z
Kamertype
Gehele woning/appartement
---
Type woning
Huis
---
Geschikt voor
4
---
Slaapkamers
Vipava, Administrative unit Ajdovščina, Slovenië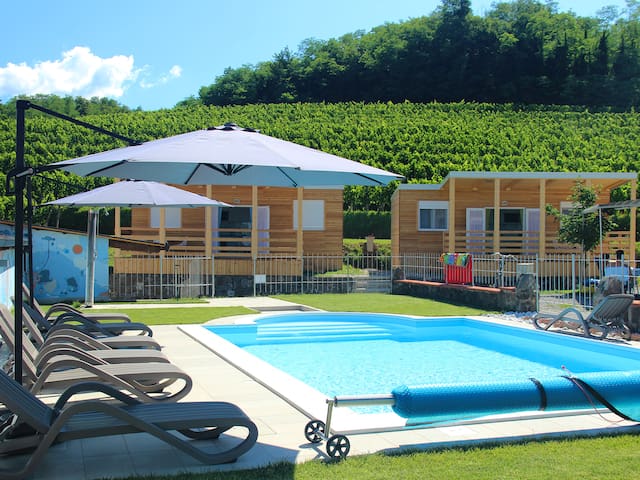 This simple and lovingly decorated country house is located in a small village called Vrtovin in Vipava valley. House has a kitchen, living room, two large bedrooms and one smaller, bathroom with toilet, hall, toilet and hallway. Free parking, TV, Wi-Fi and air condition are also provided. Behind the house is a lawn, organic fruit and vegetable garden is also at your disposal. Under the house is also the barbecue facilities and wine cellar where you can taste a glass of homemade wine.
The house is perfect for family holidays or people who love discover new places. Here you can enjoy the sounds of nature and rural life.
Vrtovin is the starting point of many hiking trails. Over Vrtovin is mountain Čaven and has very well-marked trails for hiking or you can explore very diverse history of village which has been inhabited since the Iron Age, and later, with the Romans built a military outpost. The trails are also suitable for mountain cycling. The place is also close to place Ajševica and Log, which are ideal for lovers of parachuting. Within a radius hour and a half drive is a lot of interesting places to see. The property is conveniently located just one hour drive from Slovenia's capital Ljubljana, about 35 minutes from Trieste, and an hour-and-a half from Venice. Vipava valley is all nature lovers and active vacationers delight: hiking trails, caves, rock climbing, mountain biking, paragliding, rafting, canyoning, fishing and hunting.
Blaz and his mother were wonderful hosts! The apartment was spacious and clean and had everything we needed. Blaz was very helpful and even took us to his friends wine cellar to taste some wine and schnapps. We had a great time and hope to get back in the future!
Luella
2017-03-03T00:00:00Z
The location is perfect for tourists. The house lies on a hillside in the small picturesque village where there is peace. It is a perfect spot to visit Italy or Slovenia, because everything is close. For example, to Trieste 40km, Venice 150km, the complex of caves 30km, 20km to the bridge Solkan. The house is very well equipped, clean and renovated. The host is very helpful, helping in every possible smoothly as planning trips, or buying products manufactured by local suppliers. Place in a 100% recommendable.
Kamil
2016-07-26T00:00:00Z
Wir wurden freundlich empfangen, alles im Haus war bestens vorbereitet. Wir bekamen auch gute Informationen und Vorschläge für Wanderungen in der näheren Umgebung, aber auch zu den touristisch bekannten Ausflugszielen Sloweniens. Die Wohnung bietet viel Comfort und Platz, und auch der grosse Garten und der Blick auf viel Natur mit Bergen, Wäldern, Blumenwiesen und Obstgärten sorgen vom ersten Moment an dafür, dass wir uns sehr wohl fühlten. Morgens kann man wunderbar auf der sonnigen Terasse frühstücken, frische Brötchen gibt es im gut bestückten Laden am Ortseingang. In Vrtovin trafen wir auf sehr freundliche und wohlwollende Bewohner und mit unserem liebenswürdiger Gastgeber konnten wir gute Weine verkosten und uns einige historisch interessante Orte anschauen.
christof
2016-08-12T00:00:00Z
Kamertype
Gehele woning/appartement
---
Type woning
Huis
---
Geschikt voor
7
---
Slaapkamers
Vrtovin, Upravna enota Ajdovščina, Slovenië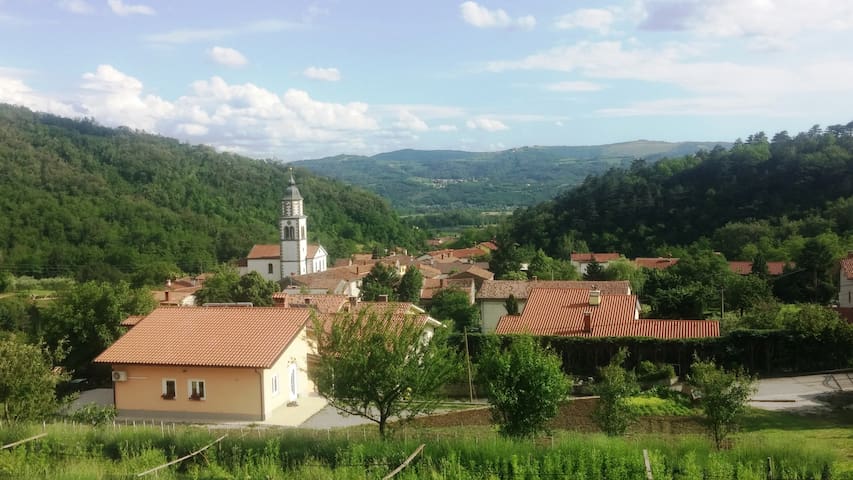 My house is near Ajdovščina, Postojna cave (grotto). You'll love for peace, nature, environment my guest. My accommodation is good for couples, solo adventurer and large groups.
my compagnon and I had very good time in this house!! We had a very good surprise because it's little bit insolite place!! we didnt excpect a house like that we was just to of us. the kitchen is very big and plaisant for cook!! there is everything we need and even more!! the bed was good. the house is in the center of a very small and quiet village. it was really plaisant for us to walk in this village which has a lot of charm and very beautifull point of view. When we arrived, Vlado was there waiting for us and he gives us every instruction we need. we recommand this place!! it was a good surprise for us!!
Héloïse
2016-10-20T00:00:00Z
Kamertype
Gedeelde Kamer
---
Type woning
Huis
---
Geschikt voor
6
---
Slaapkamers
Vipavski Križ, Upravna enota Ajdovščina, Slovenië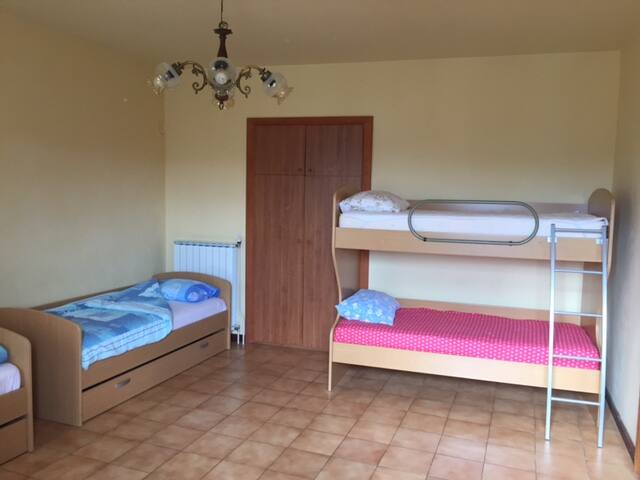 My place is close to great mountain views, countryside. You'll love my place because of the ambiance and the light, a great place to relax. My place is good for couples, families (with kids), and big groups.
Spacious farmhouse from the 18th century, recently (2013) renovated into a modern house with some traditional features. with a piano and a pool table in the common room, barbecue in the garden and public tennis court next door The house is located in an idyllic, rural location in the picturesque village of Ponikve on the plateau Šentviška, an ideal place for long walks or cycling and relaxing surrounded by green nature. The property is ideal for entertaining larger groups but is also the perfect hideaway for a couple or family. In addition, This is the perfect location for those interested in outdoor pursuits. The Idrijca and Soca Rivers only 8km from the house offering fly fishing, kayaking etc... The two-storey farmhouse from 1880 has recently been lovingly renovated in 2013, with much emphasis was placed on combining the traditional elements decorated with modern amenities with solid floors and wooden beams. On a floor space of 160 m² offers friendly living and dining area with integrated, open kitchen, five bedrooms and three bathrooms. On the ground floor the living room has two comfortable sofas, a rustic table, a wide, flat-screen digital TV with satellite channels and USB port, a DVD and a CD player, a stereo, and even a piano, wifi internet is provided.The open fireplace provides a cozy atmosphere and warmth on cooler evenings. Your common meals can be enjoyed on the large table with ten chairs. Through a wide passage, it goes into the modern fitted kitchen with center island and a practical breakfast bar with stools. It has a dishwasher, a 6 burner gas hob with an elegant stainless steel extractor hood, oven, refrigerator/freezer with ice and cold water, a microwave, a kettle and a toaster. Another highlight on the ground floor is still the games room with a pool table. Over a wide tiled staircase it is then up to the upper floor with the bedrooms and bathrooms. Four of the bedrooms are each equipped with a large double bed, in the fifth you will find two large bunk beds before, that will sleep four children or adults. The bathrooms even has a bath with rain shower head, the other two each have a spacious shower (with rain shower head). All three bathrooms have a wash basin with wall mirror and a toilet. A washing machine, two cots and a high chair are available, sufficient linen and towels is provided and the reliable wireless Internet access is offered for free in your vacation home. Outside, you can enjoy long common outdoor dining around the barbecue around. A car is recommended during your stay, you can always use the secure parking directly outside the house. The owner lives on the premises, in the building next door. Although he is of course always concerned about your privacy, it is to answer your questions of course, always happy to help. The village of Ponikve is located in about 720 m above sea level and offers splendid, long hiking/cycling trails with great views. Ample hiking and mountain biking trails can be found in the immediate vicinity. Right next door you can let off steam in the only tennis court. In the next village along Pecina about 3km there is a bar with friendly locals. in the valley bottom about 8km the village of Slap Ob Idricji has a small supermarket and a restaurant There is a very pictures swimming area by the river in Slap ob Idricji. Sorry no pets allowed unless approved
Kamertype
Gehele woning/appartement
---
Type woning
Huis
---
Geschikt voor
12
---
Slaapkamers
Ponikve, Tolmin, Slovenië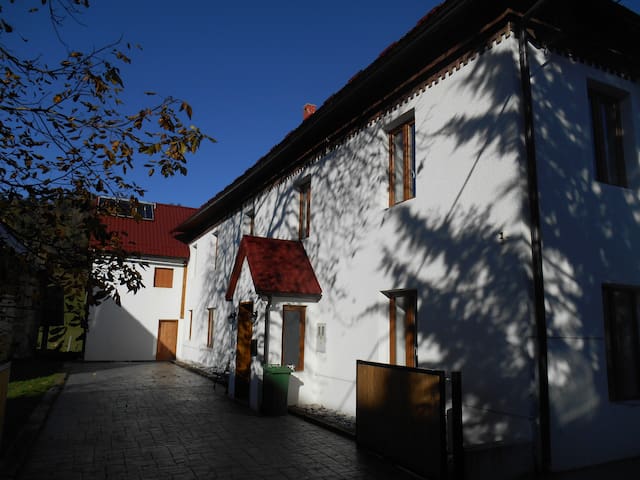 Razglednik is a new holiday house suitable for one or more (up to 8) person. It is located on the top of a hill with a spectaculous view on the mountains, capitol city, near by town Logatec and forrests around and around the house.
Razglednik is a holiday house suitable for one or more (up to 6) persons. It is located on the top of a hill with a spectaculous view on the mountains, capitol city, near by town Logatec and forrests around and around the house. From Ljubljana Airport to Razglednik there is only 40 km distance but in a case of no transportation, we can pick you up at the airport and take back at the end of your holiday in Razglednik. If coming by car, a big parking is avaliable next to the house. From the southern balcony there is a beautiful view on a domestic vegetable garden. Guests are alloved to use this bio vegetables for their dishes for free. The house has a large and confortable main room with a full equiped kitchen, dining room and living room from where you can aproach the semi closed terrace with BBQ. In the first floor there are three double bedrooms and a luxurious bathroom with three typed sauna. Free wi-fi is avaliable all around the house. If you prefer the outdoor activities, we suggest you to explore the nearby area walking or with bikes, which can be rented (contact the owner). For other outdoor activities we suggest you to visit: (URL HIDDEN) or (URL HIDDEN) Otherways we wish a pleasant stay ful of enjoyment and relaxation in this peaceful and magical nature around the house.
The closest neighbours are 500 m away, they are all very nice and friendly. It is located on the top of a hill with a spectaculous view on the mountains, capitol city, near by town Logatec and forrests around and around the house.
Kamertype
Gehele woning/appartement
---
Type woning
Huis
---
Geschikt voor
1
---
Slaapkamers
Žibrše, Logatec, Slovenië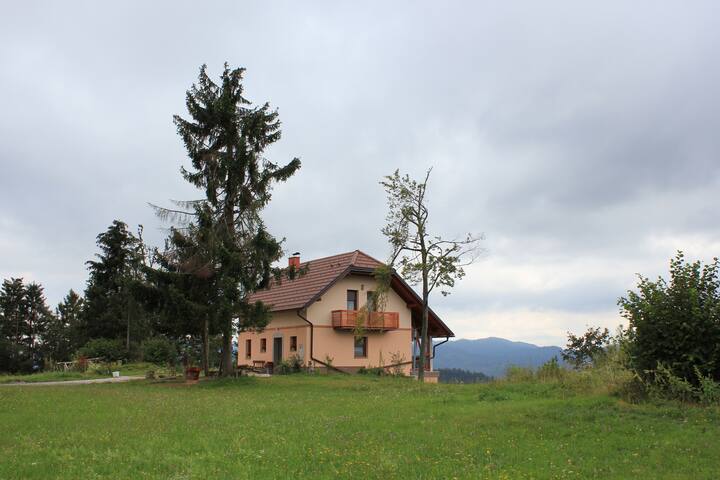 Vacation home is ideal for everyone, who wants to enjoy a few days of peace and quiet, encircled by beautiful nature of an isolated valley. The house stands next to a lively stream, surrounded by forests and grass fields, with a view of the Alps.
It is a new house, its exterior in typical local style to closely resemble over 200 years old millers house on the foundation of witch it is built. Modern style interior with four bedrooms, two bathrooms, kitchen and a dining room is furnished to offer you a comfortable stay, with dishwasher, washing machine, oven, microwave oven and a bathtub. Fireplace in the dining room give the house warm and romantic atmosphere. On the outside there is a terrace overlooking the stream and an orchard, where you can enjoy the taste of seasonal fruit (cherries, peaches, plums, figs, grapes, blueberries, apples, pears…..).
The location is ideal for biking and hiking trips. A few minutes' drive away there are some great fishing and swimming spots. In arrangement with local hunters, hunting trips in surrounding forests can be organized. Nearby towns of Tolmin, Idrija and Cerkno offer a taste of local culinary and history (you can visit the remains of world's second largest mercury mine of follow the line of WWI Isonzo front……), for those with taste for adrenaline Tolmin offers paragliding and all sorts of water sports on Soča river, while in winter months ski resort is open in Cerkno.
Dle našeho dojmu byli majitelé velmi milí a pohostinní, prostředí bylo půvabné a líbivé, dům čistý a velmi příjemně zařízený. S pobytem jsme byli maximálně spokojení. Jednoznačně doporučujeme.
Jaroslav
2016-08-14T00:00:00Z
the hosts were very kind and welcoming. The pictures didn't do the house and garden justice at all.... it is spotless and comfortable with a very well equipped kitchen, dishwasher, washing machine, wifi and even games for the kids. The amazing views are from every window in the house and the garden with its own bridge and brook is breathtaking - really something very charming and special. The house is remote in terms of complete privacy and far reaching beautiful views without any sight of other houses, but location is actually great for day trips and activities - only 20-30 minutes from Tolmin. We can't recommend the place highly enough. Thank you!
Ilan
2016-08-02T00:00:00Z
Dear Lenka and family, Thank you for the lovely time in your beautiful holiday house. We enjoyed it very much. It was a little bit difficult to find but after your help we were let to paradise! The holiday house is big enough for 8 people. We were with 3. In the house there is everything you need. The beds are good. The garden is large with a lovely creek next to the house. In the creek we saw trouts swimming. The surrounding is like a fairy tail. By day there are butterflies. In the evening it's very nice to bbq with the fireflies. It is back to nature and so peace full. (Why go back home??) In the garden are fruits and vegetables you may use. Nearby there is a good swimming spot in the river. Also nearby is Most na Soci, Tolmin and the Soca river. Good for sightseeing, shopping, water activities and flyfishing. You need a car to get to these places. Lenka and her family are very help full and will do everything to make you feel comfortable. We hope to go back next year and stay a little bit longer.
Helen
2016-07-29T00:00:00Z
The house is huge, very well furnished (king size beds...) and very very clean. The surroundings and the garden are amazing : hills, forests, small river... and close to a nice swimming spot in the river (10 min by car) and supermarket and commodities (25 min in Tolmin). We had such a nice time being lost in nature in this beautiful house. The landlords were so nice, they brought us strawberries, raspberries and peaches from the garden and made everything to make us feel welcome. We highly recommend this house!!
Adèle
2016-08-21T00:00:00Z
Kamertype
Gehele woning/appartement
---
Type woning
Huis
---
Geschikt voor
8
---
Slaapkamers
Slap ob Idrjici, Tolmin, Slovenië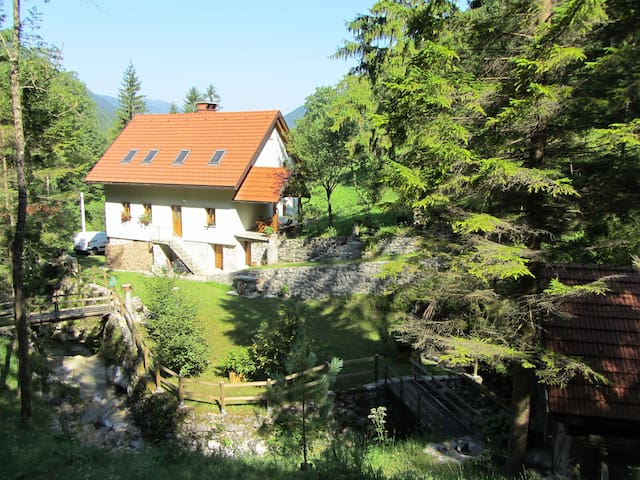 1

–

18

van

26 Huizen te Huur