Das charmante und gemütliche Schlafzimmer Cottage befindet sich nur 15 Minuten zu Fuß von der Innenstadt Jacksonville. Es verfügt über einen privaten Parkplatz und ist an der Seite des Haupthauses auf dem Grundstück. Der Eigentümer hat kleine Hunde und ist gut mit den Gästen auf ihrem kleinen Haustier mitbringen. Es gibt nicht eine voll ausgestattete Küche, aber es hat eine Küchenzeile mit Spüle, Kühlschrank, Mikrowelle, Kochplatte und Wasserkocher so Kochen Grundlagen wird kein Problem sein.
Ein Schlafzimmer im Rücken, das Bad mit Dusche enthält. Kleines Wohnzimmer mit Kabel-TV, Couch, Couchtisch, Küchenzeile. Es gibt einen kleinen geschlossenen Raum mit Tisch und Stühlen am vorderen Eingang.
Charmante und freundliche Nachbarschaft mit vielen neuen freundlichen Gesichter kommen immer. Gehen Sie den ganzen Weg hinunter 3. Straße im Herzen von Jacksonville zu bekommen und an einem Park oder zwei auf dem Weg zu stoppen. Viele Hunde, Hirsche und der Türkei herumlaufen zu, abhängig von der Zeit des Jahres.
The cottage is your own private, cozy living space. It has a kitchen with everything you'd need in a short stay. The living room is adorable and the sofa is very comfy. The bed room branches off the living area and is modern and stylish. I visited in December and it had a warm fluffy blanket and soft luxurious pillows. The heating works well. The space is a whole living unit, and doesn't feel like you're just stopping to rest in the middle of a trip. It's a great find. I highly recommend! Added bonus, the entrance, the fence and yard are picturesque and it was snowing when I woke in the morning. Very romantic and sweet.
Nedah
2017-01-01T00:00:00Z
Maryl's cottage is definitely cozy and the perfect place to relax! We really enjoyed our stay and would recommend it to anyone!
Melissa
2017-03-27T00:00:00Z
Great stay. Host was aware of all my needs and genuinely cared about my stay. Absolutely would stay here again.
Christopher
2017-02-21T00:00:00Z
The cottage was more than I'd hoped for and the pictures don't do the space justice! It was spotless (my #1 priority), well laid out, close to town and just felt like home from the start. Maryl was perfectly communicative with me and she is someone who definitely endeavored to make my stay comfortable and happy (thanks for the cookies!). I highly recommend staying here and look forward to doing so again. The cottage has all of the amenities one could ask for and a real bargain! Thanks!!
Danielle
2017-03-04T00:00:00Z
Little cottage was top notch for the price. Had snacks waiting for us, which is always a bonus!
Raul
2017-02-15T00:00:00Z
A cozy little retreat that I thoroughly enjoyed.
Richard
2017-01-09T00:00:00Z
The cottage was just what I needed after a long day on the road. Cozy, private, and stocked with goodies - I would definitely stay again!
Will
2017-01-03T00:00:00Z
Meryl was welcoming, helpful and responsive. She provided excellent communication while maintaining a sense of ease, and honoring privacy. Meryl genuinely seem to care about my comfort and trip objectives. When I settled in my cottage, I was surprised to find some yummy treats. The cottage itself was warm and cozy and the kitchenette was clean and equipped appropriately, I was therefore able meet to meet my objective of minimizing the cost associated with eating out. The heater warmed up the cottage quickly and maintained the set temperature. It was a little noisy but somehow it just reminded me of a crackly fire rather than being irritating. Overall I was delighted that my dog and I could feel so comfortable, safe and welcomed for such an affordable price. Thank you Meryl!
kimberly
2017-03-02T00:00:00Z
Kamertype
Gehele woning/appartement
---
Type woning
Appartement
---
Geschikt voor
2
---
Slaapkamers
Jacksonville, Oregon, Verenigde Staten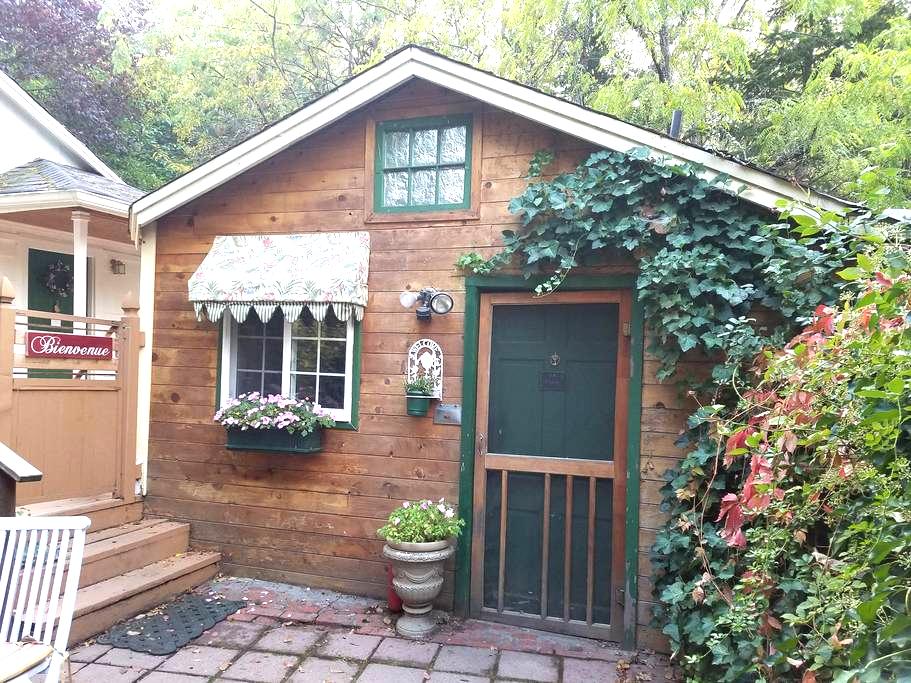 Spaziergang in die Stadt und Britt Festival! Close-in, historischen Ort! Kamin! Bequemes Ferienhaus mit neuen, eigenem Bad und Küchenzeile. Geräumig, mit hohen Decken, ein Queen-Size-Bett, Etagenbetten, ein Tisch für Spiele oder Snacks. Kabel-TV und Wi-Fi. Draußen ist eine schöne in einem komplett eingezäunten Hof grünen Rasen und riesigen Ahornbaum. Meine Hütte ist gut für Paare, Solo-Abenteurer, Geschäftsreisende, Familien (mit Kindern) und pelzigen Freunde (Haustiere). Sehen Sie sich eine Walk-Through auf youtube. Fenster A / C im Sommer.
Stand-alone-Gästehaus. mit angebautem, überdachter Parkplatz. Real, Gas-Kamin. Fenster Klimaanlage. Extra-Boden Futon für Kinder. Mini-Kühlschrank, Toaster-Ofen und Mikrowelle, aber keine Küche. Legen Sie die Einstellungen für 4. Kaffee und Tee-Bar in Hütte. Geeignet für Kinder und Haustiere, weil Cottage in einem komplett eingezäunten Hinterhof befindet. Sehr ruhig, ruhiger Lage. Cyd und Gary Liebe Haustiere und Kinder, also keine Sorgen über sie auf dem Hof spielen.
Dieses Viertel ist wie in der Zeit zurück zu treten. Unser Haupthaus wurde im Jahr 1875 gebaut, wie hier viele Häuser waren. Dies ist eine unglaublich schöne, ruhige, Platz. Wir sind nur zwei Blocks von den Britt Music Festival Gelände; Sie können Headliner-Acts aus der Veranda in den Sommernächten hören.
Adorable place, lovely host, highly recommend if you're in Jacksonville!
Jenny
2016-10-09T00:00:00Z
We so enjoyed our stay at Cyd's Pet-friendly Cottage! The cottage is delightful, and Cyd is such a gracious hostess, and was available for anything we needed. We stayed at her rental during the holidays, so we had a lovely time enjoying a meal that we brought to heat, while sitting at the table by the warmth of the gas fireplace. Truly a fun evening! For pet owners, the yard was perfect for our very active, young golden retriever. Also, we found the bed to be very comfortable with crispy, clean sheets. For anyone traveling during the winter holidays, downtown Jacksonville was wonderful and aglow with beautifully decorated lights! And fun for shopping! Thank you Cyd for providing us a place to stay while we were traveling!
Katie
2016-12-23T00:00:00Z
Loved my time at the little cabin. Very clean, cozy and effortless.
katy
2016-12-18T00:00:00Z
Cyd was a wonderful host, available as needed and warm and friendly. The cottage is lovely, very comfortable (great bed) and cozy and Cyd has thought of everything you could possibly need. The neighborhood is charming, leafy, and only a short walk to Jacksonville's historic Main Street. Would definitely stay here again and highly recommend it!
Carla
2016-09-10T00:00:00Z
Yes! Cyd and Gary were absolutely fabulous hosting me and my 2 dogs. Their cottage was immaculate and exactly as listed. The added benefit of booking their healthy organic breakfast enhanced the overall experience! They were very accommodating to mine and my dogs' needs. My dogs felt very much at home, it was very relaxing. This will now be my winter home whenever visiting Southern Oregon.
Ms Lee Kehaulani
2016-10-30T00:00:00Z
COttage was what we needed for a stay in the historic town of Jacksonville. Walking distance to the main street and comfortable stay. Recommended for your stay in Jacksonville.
Raymond
2016-09-25T00:00:00Z
This cottage was very clean and comfortable with easy parking and with a nice fenced yard for my Great Pyrenees, Emma. Cyd was very welcoming and made us feel at home. I would definitely stay here again in the future!
Darrah
2016-12-19T00:00:00Z
Cyd was a great host! Her place is adorable, clean, and walkable to the shops/restaurants in downtown Jacksonville. Highly recommend.
Allison
2017-03-26T00:00:00Z
Kamertype
Gehele woning/appartement
---
Type woning
Pension
---
Geschikt voor
4
---
Slaapkamers
Jacksonville, Oregon, Verenigde Staten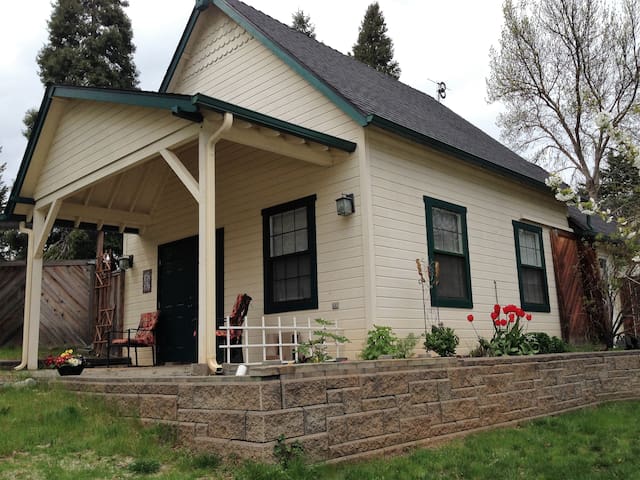 Unser Platz ist eine ruhige, warme und abgeschiedene Lage ideal für Paare und Solo-Abenteurer. 3 Minuten zum Historic Jacksonville und die vielen Weingüter und Outdoor-Abenteuer von Southern Oregon.
Voll in voller Größe Küche mit Kaffee und Tee ausgestattet. Holzofen (Holz inklusive). Neue, bequeme Matratze mit hoher Fadenzahl Bettwäsche aus Baumwolle und vielen Kissen. DVR und CD-Player.
Die unmittelbare Nachbarschaft ist ländlich und geräumig mit Häusern auf 2 bis 5 Acre Lose. Viele Rehe, Hasen und Truthähne vorbei. Genießen Sie Ihre Zeit in historischen Jacksonville (3 Minuten) Durchlesen der malerischen Läden, Kaffeehäuser, Probierstuben und historische Stätten, oder besuchen Sie die vielen Angebote des südlichen Oregon zu erleben. Es gibt 50 Weinkellereien innerhalb von 5 bis 30 Minuten. Ashland, eine eklektische Bergstadt mit Spaß Einkaufsmöglichkeiten und Restaurants sowie weltbekannte Shakespearian Theater ist nur 30 Minuten entfernt. Sie sind nicht weit von Weltklasse-Rafting und Jet-Boot-Ausflüge und nur 90 Minuten zu Crater Lake. Und überall Sie gehen, gibt es Wanderwege für alle Niveaus. Sie finden detaillierte Informationen in der Pension finden Sie während Ihres Aufenthaltes planen Sie Ihre Zeit zu helfen. Wenn Sie gerade suchen weg zu bekommen, ist das Gästehaus ein großartiger Ort zu begleichen mit einer Tasse Kaffee oder Tee, ein schönes Feuer und ein Get in einem guten Buch oder Film verpackt.
Very comfortable accommodations. Quiet location. Gracious host.
Deb
2017-03-24T00:00:00Z
It's at very scenic location...a great getaway location and vacation.
Raoul
2017-02-22T00:00:00Z
What an amazing place! It has everything you need plus a wood stove in which Dominic had already started a fire for me by the time I got there :) I slept great in the comfy bed all due to no WiFi, cell towers or smart meters (EMFs)... Will def be staying there again.
Susana
2017-01-10T00:00:00Z
Very cozy place. Fireplace, leather couches. Kitchen and bathroom are nice. No wifi.
Nicholas
2016-11-15T00:00:00Z
Great host. Great place. I would recommend the property for a quiet get-away
paul
2017-01-17T00:00:00Z
Great getaway spot for two! The host was extremely welcoming and helpful with food and wine tasting recommendations! Otherwise, felt secluded and relaxed in our Airbnb! Would highly recommend!
Jillian
2017-03-19T00:00:00Z
Great Southern Oregon get away. The guest house was private, well cared for, and had a good layout that featured a separate kitchen and bathroom. The main room was spacious and included a dining table and comfortable sofa. The windows are great for taking in the morning sun. The amenities include a Woodstove and full kitchen. The location is literally minutes from historic downtown Jacksonville, which features great restaurants and shops. It is also close to Medford, Ashland/ Southern Oregon University, and Talent. (Check out the Camelot Theater in Talent- Ashland isn't the only option for good plays).
Daniel McNeal
2016-11-13T00:00:00Z
Cozy, clean and comfortable. Beautiful surroundings. Saw a whole herd of deer in the first 10 minutes. There is no wifi or television but if you have a hot spot on your phone you will be fine as far as getting on the internet. It is a big space with lots of room to spread out. We did not have the pleasure of meeting Dominic during our stay but we will do so next time I am sure.
Lyn
2017-01-24T00:00:00Z
Kamertype
Gehele woning/appartement
---
Type woning
Pension
---
Geschikt voor
2
---
Slaapkamers
Jacksonville, Oregon, Verenigde Staten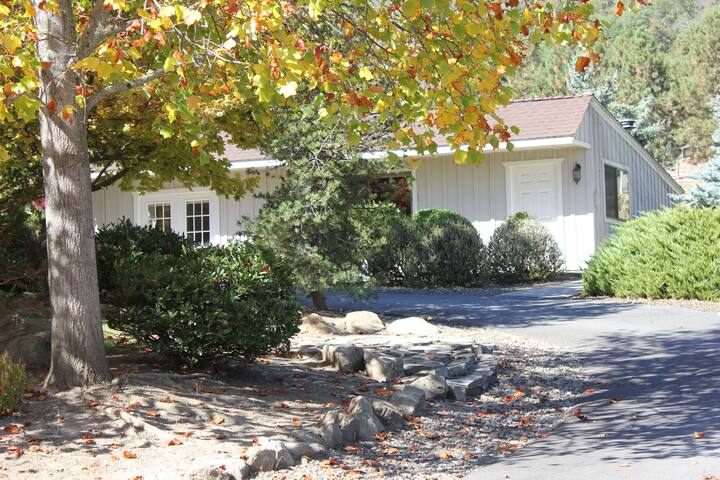 Mike and Kristin were welcoming, accommodating, personable, and very helpful about local activities.
Shannon
2017-02-05T00:00:00Z
Mike and Kristin were great hosts. The private room was a perfect place to come and go from as I visited family. I felt safe and comfortable I will be back for more good time in J'ville!
Bill
2017-03-18T00:00:00Z
Great place in a prime area of Jacksonville. Close to everything (of course nothing is too far away in Jacksonville). Mike and Kristin were super hosts as was Otis. Wonderful room with a view out to the pool, a park and cows beyond. Comfortable bed with great flannel sheets for the winter. Very large room. Adjoining bathroom with a private entrance.
Lyn
2017-02-27T00:00:00Z
Jacksonville is a quaint community and the accommodations of Mike and Kristin were wonderful. We felt like we were visiting long time friends. We enjoyed the short walk into town for breakfasts and country view from our bedroom window. Dining and entertainment options are surprisingly ample for a small town. Mike and Kristin's home is in a family oriented area close to town and our room with ensuite was large, beautifully decorated, quiet, and comfortable.
Troy
2017-04-01T00:00:00Z
Kamertype
Privé Kamer
---
Type woning
Huis
---
Geschikt voor
2
---
Slaapkamers
Jacksonville, Oregon, Verenigde Staten
I would recommend this cottage to anyone who wants to experience a loving small town. We really enjoyed walking to the local shops. Not to mention the small creek that ran behind the house was just beautiful.
Alex
2017-03-06T00:00:00Z
We absolutely loved the Standish Cottage. It was in the perfect location, just 2 short blocks from downtown Jacksonville. You walk right past the tourist information center on the way. The cottage itself is cute as a button. It's smaller, but doesn't feel that way due to the skylights in the living room, bedroom, and bathroom. The bathroom was updated and the shower was wonderful. A mattress topper and lovely sheets made sleeping a dream. The screened in back porch was also great, we wish that the weather was a bit warmer to really enjoy it. I would imagine a Spring, Summer and earlier Fall visit (we were there Nov 20-30) would result in a lot of time spent in the back porch. That babbling stream, and a glass of local wine, ah heaven!!!! The kitchen was small, but had all the appliances. The stove/oven combo and dishwasher were apartment sized. We still cooked a full on Thanksgiving dinner with 14 lb. turkey and all the trimmings. All cookware, utensils, dishes, glasses, and silverware were included. There was also a washer and dryer. I have to say this is the first time I've come home from a vacation with very little laundry to do. Deanna was great to work with. We would certainly stay here again. Get your reservation in early so that you don't miss out.
Julie
2016-11-30T00:00:00Z
Kamertype
Gehele woning/appartement
---
Type woning
Huis
---
Geschikt voor
4
---
Slaapkamers
Jacksonville, Oregon, Verenigde Staten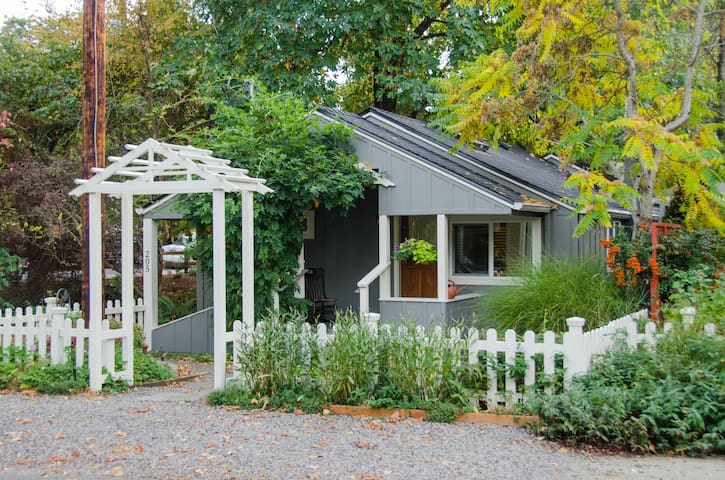 Genießen Sie Ihren Aufenthalt in der privaten Kabine, während Sie die bezaubernde Gelände erkunden, die die Wasserfall Pool, Spa, Ziegen und gurren Tauben Sie zu beruhigen. Die Kabine bietet Platz für zwei Erwachsene und bis zu drei Kinder. Schwelgen Sie in der Ruhe.
Nur wenige Minuten von Britt Festival und der Innenstadt von Jacksonville für Gelegenheits-oder feinen Restaurants, Kunstgalerien und Einkaufsmöglichkeiten.
Ruhige und schöne Einsamkeit in üppigen Wald.
Katrina was wonderful. She made me feel completely comfortable right away. Her communication was great. He yard, pool and jacuzzi are heavenly! Katrina even heated it up for me at night!! Her cabin is great. In the woods but closed to town, lots of deer and wild turkeys. I would definitely stay here again next time I'm in S. Oregon.
Joan
2015-08-29T00:00:00Z
Katrina was gracious and welcoming. She stayed in touch and let us know what to expect when we arrived. The light was on and the heat was on which made everything cozy and warm. We enjoyed the feeling of being in the woods and all our needs were met. The hot tub is a big plus. Even our dog loved her time at Katrina's!
Laurie
2015-11-27T00:00:00Z
It was a perfect weekend getaway for us and went beyond expectation. Katrina has a beautiful property, truly serene and quaint. We enjoyed the poolside and the hot tub with the sounds of running water and doves in the background, totally tuned out of routine life. Katrina is a great host, also brought us breakfast by the pool and has an adorable pet.
Hiral
2016-07-24T00:00:00Z
The Enchanting Forest Cabin lived up to its name. A lovely private space with a very comfortable bed and everything you need for a great stay. The property is beautifully landscaped and filled with unique touches. It's tucked away at the edge of town but only a 3 minute drive to everything. Katrina was very kind and accommodating. She even provided an amazing breakfast that she brought to our door. So nice! We'll definitely be back.
Mark
2016-03-21T00:00:00Z
Lovely peaceful place. Minutes out of town with a total country feel. What a pleasant place to spend my 60th Birthday! Thank you Katrina!
Jan
2015-08-13T00:00:00Z
This is truly a magical place! Quiet and secluded, yet five minutes from everything. We are so lucky Katrina is willing to graciously share her world with us!
Delona
2016-03-30T00:00:00Z
We had friends join us on our trip last minute. I was expecting to be in a cabin thinking our friends would have plenty of room to join, but turns out it is a small studio above a garage. Still very cute, and Katrina was very accommodating and was able to get extra bedding for our guests. The hot tub and back yard were beautiful.
Renee
2015-12-28T00:00:00Z
This truly is an enchanted cabin. Katrina's attention to detail is amazing. Your every need is met from toiletries to a sense of peace and serenity. In addition to the beautiful and incredibly comfortable cabin, you have access to a small pool with a waterfall, a hot tub next to cooing doves, a gorgeous gazebo with wonderfully comfortable seating and lighting, and the company of her love "bug" dog (if you so choose). On top of all this, Katrina prepared a delicious breakfast with fresh fruit, homemade cinnamon rolls, fantastic coffee, and fresh squeezed orange juice. It was so enjoyable that I lost track of time as Katrina and I chatted over breakfast. This is a fabulous spot. If you get the chance to stay here, take it!
Jeanne
2015-07-15T00:00:00Z
Kamertype
Gehele woning/appartement
---
Type woning
Houten huisje
---
Geschikt voor
2
---
Slaapkamers
Jacksonville, Oregon, Verenigde Staten
We had a fantastic nights stay in this wonderfully appointed carriage house. The bed was extremely comfortable and the dual shower head stall was an unexpected bonus. Staying in an 1868 carriage house does not mean you have to give up the modern amenities. And they did a great job blending the old with the new! We were also very pleased with how quiet it was. If you like the noise of a big city, this is not the place for you. We were there for the Britt Festival and it was an easy walk to get there from the carriage house. It was a short 2 block walk to downtown Jacksonville and all of the wonderful shops and restaurants.
Stephen
2016-08-07T00:00:00Z
Barbara met us as we arrived, and was absolutely charming. She made us feel very welcome and answered all questions that we had. The Carriage House was lovely and cosy, very clean, full of fun and quirky collectables and antiques, and just as it was depicted on the website. Jacksonville is my new favorite stopping off place on the way up from CA to OR!!! Charming and delightful town,and really friendly people. We'll be back for the Britt festival in the summer!!
Caroline
2016-10-13T00:00:00Z
Good location. Fun quirky house. The chocolate was much appreciated. Highly recommend.
Nadia
2016-12-30T00:00:00Z
Great place great hostess would stay there again soon
esther
2016-11-26T00:00:00Z
This is a great place to stay while in Jacksonville. We felt very welcome and it was great for our two dogs as well. We will definitely be back.
Tom
2016-07-02T00:00:00Z
I could not have asked for a better stay in Jacksonville. Barbara was a wonderful host and even looked after my dog for me when I got stuck working a long day one day. Cozy spot in a perfect location two blocks from the restaurants and shops of Jacksonville. Recommend very highly.
Michael
2017-03-16T00:00:00Z
Wonderful location with easy in and out . short walk to town. a great little yard for the dog to explore and a nice park around the corner to take a long walk with your pet. A great place to stay for exploring Southern Oregon. The Host , Bobby was very pleasant and helped us with any need we had. The room is large and comfortable, we spent most of our time at the table near the fireplace.
Terry & Barbara
2016-12-26T00:00:00Z
Barbara made sure that someone was available to answer any questions when we arrived. The carriage house is in a fantastic location - easy walking distance to downtown Jacsonville. The bed was comfortable and the jacuzzi tub was fantastic. Hope to stay here again soon!
Nick
2016-08-28T00:00:00Z
Kamertype
Gehele woning/appartement
---
Type woning
Huis
---
Geschikt voor
2
---
Slaapkamers
Jacksonville, Oregon, Verenigde Staten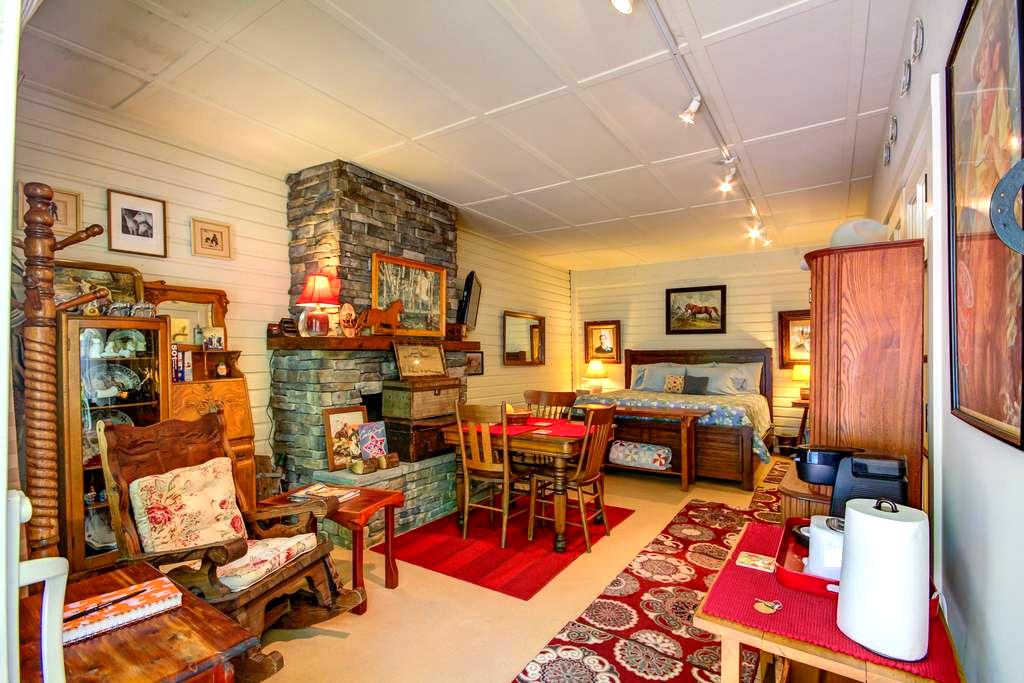 "Preços" Nossa taxa de casa é US $ 145 / noite e uma taxa de limpeza $ 25 por visita. As tarifas incluem impostos municipais e taxas de serviço. Um cão deve usar o Quarto Queen. Por causa da lavagem de cobertores e colchas.
Jacksonville, Oregon combina o ambiente suave de uma cidade histórica designada em um ambiente vibrante. A área dispõe de numerosas adegas, salas de degustação, Britt, um longo música de verão executar festival de artes e da famosa Rogue River para o pescador ávido. Premiado jantar e maravilhosas opções de compras estão todos a curta distância da casa. A localização é no coração de Jacksonville, ou fazer, estacionar seu carro na nossa garagem e esquecendo-lo perfeito. Temos que ir para desfrutar de uma infinidade de coisas para fazer na cidade. Veja jac(URL HIDDEN) (da Câmara) e jac(URL HIDDEN) para obter informações sobre eventos, lojas, restaurantes e hospedagem. aforismo de Thoreau, "Na selvageria é a preservação do mundo." É hora voltamos nossa atenção para o que pode ser a paisagem mais importante no século vigésimo primeiro da cidade. A cidade deve ser reconhecido como parte da natureza e concebido em conformidade. Seja profundamente consciente da vida selvagem em Jacksonville. O cervo, o guaxinim, os erros de carvalho únicas que muitas vezes caem das árvores e terra na varanda, selo da janela e calçadas. A cidade histórica é uma riqueza de árvores históricas antigas de crescimento, carvalhos, con-fifers, pinheiros quais bugs de Carvalho pode abandonam como você vê o veado (belas dólares) atravessar a rua, por vezes, nas faixas de pedestres. Tratar com cuidado e respeito.
O Plymale Cottage não é um verdadeiro Bed and Breakfast, é um "Bed and Biscotti". Café, chá, casa feita biscoitos e frutas são fornecidos todas as manhãs para sua diversão. Há uma TV e Wi-Fi, um pequeno frigorífico e microondas na área de café do salão para uso dos hóspedes. Claro lençóis e shampoos, etc, estão disponíveis para you.Park seu carro no caminho da unidade e andar em qualquer lugar em Jacksonville. Confira sites: jac(URL HIDDEN) de informações e eventos que irá mantê-lo entretido. A Câmara de Comércio Jacksonville / Centro de Visitantes é do outro lado da rua, bem como os Correios, bem como o histórico Jacksonville Cemetery.
What a wonderful wonderful place, we were so comfortable. fresh coffee and muffins met us no matter how early we got up! It was perfect
Laurie
2012-08-11T00:00:00Z
Loni was very welcoming! When we arrived she gave us a tour of the property and made it clear she was willing to help us with any questions. The listing was very accurate and the town is was adorable! The property was clean and comfortable. My husband and I slept in the king room and our son and daughter-in-law stayed in the queen room. Both rooms' beds were comfortable and the linens were soft.
Vickie
2015-07-13T00:00:00Z
The guest accommodations were really charming; clean, comfortable and spacious. We occupied the entire 2nd floor with family. The hosts, Loni, were kind, thoughtful and very informative. Loni even home bakes the mornings treats - biscotti, muffins and zucchini bread. The historical home us one block from the Main Street with access to restaurants, shops, antiques and great hiking trails. There could not be nicer and kinder hosts. Very charming rooms and very clean. Will visit again.
Cherie
2014-04-28T00:00:00Z
Lonnie was very welcoming and we enjoyed our time in Jacksonville. She was very accommodating when we needed an extra bed. My wife and I stayed in the king room and we really liked the bed and the ionizer air fan in the room. It's already a quiet neighborhood but with the fan we didn't hear a thing. It is an older house with outside stairs leading up to the guest entrance . That means there are creaky stairs, floorboards, etc and the bathroom is kinda small but some see that as part of the charm.
Jerry
2015-08-02T00:00:00Z
We were greeted warmly by Lloyd (+Max & Pepper) & given the "grand tour" of the upstairs Cottage. What a wonderful place to stay! Clean, comfortable, right downtown Jacksonville & the early morning breakfast/coffee surprise delivery by the "quiet as a mouse" Loni was soooo enjoyed & greatly appreciated. And the price is EXCELLENT! Both hosts are the best and we would highly recommend this place to all!!!!
Bruce
2014-10-02T00:00:00Z
Our stay at Plymale Cottage was perfect for us. We rented the entire place and it made for a very comfortable stay with our two kids (ages 16months and 3years). There was plenty of space and it is very child friendly. Loni even brought out a tub of toys for our kids to play with. Everything was very clean and the breakfast (biscotti and fruit) was tasty each morning. We would stay here again in a heartbeat.
Michaela
2015-09-22T00:00:00Z
Loni became like part of the family over our four stays this summer. She is kind, and a wonderful host. We will miss both her and her dog Max this winter. I would definitely recommend staying at the Plymale cottage.
China
2015-09-15T00:00:00Z
The lodging was as advertised. We really appreciated the air conditioning as the temp soared over 100 degrees. Unfortunately, we were greeted by a dozen bugs on the entry door to the unit. When this was pointed out to Loni, she dismissed concerns and stated that "they don't bite." During the tour, when another bug was sited, Loni commented to my son, "hurry up and kill it so you're mother doesn't have a stroke." Therefore, if you don't mind sharing your quarters with dozens of a variety of critters, this is the place for you! If you don't mind snarky remarks from your host, this is the place for you! However, if you prefer not to sleep with little creepy crawlers and prefer to be treated with respect, this rental cannot be recommended by our family.
Mary Grace
2015-08-01T00:00:00Z
Kamertype
Gehele woning/appartement
---
Type woning
Appartement
---
Geschikt voor
4
---
Slaapkamers
Jacksonville, Oregon, Verenigde Staten
Desfrute de nossa casa aconchegante privada na bela cidade de Jacksonville. Nossa casa foi recentemente renovado com novas camas, lençóis e móveis. Congratulamo-nos com animais de estimação para que você nunca tem que deixar seu melhor amigo em casa novamente! Temos um jardim totalmente vedado com grama e sair espaços no riacho. Caminhar para o centro e desfrutar da Britt Theater, lojas e restaurantes. Estamos perto da adega, caminhadas, ciclismo, esqui e tudo que você pode imaginar em nossa área bonita! (URL HIDDEN)
This place was amazing ! So comfortable and pleasant for all, especially my four legged friends. Super accommodating of all my needs. I will most definitely stay here again and again!
Molly
2016-09-16T00:00:00Z
This lovely, cozy and inviting home was just perfect for our visit to family and friends in Jacksonville and Medford, Oregon. While appearing rural and secluded, we were only literally minutes from grocery stores, restaurants and fun, interesting shops. Our grandchildren loved exploring the back side of the property and climbing in a toddler friendly tree. Everything we needed was there, very clean and inviting. There was local ground coffee, fruit, bagels and cream cheese for hungry arrivals, which was much appreciated. We would recommend this highly. Thank You!
Joan
2016-06-21T00:00:00Z
The Cottage was perfect for us. The yard and home are very dog friendly and Jacksonville is a great base for exploring the surrounding area. It was quiet and welcoming and the cottage was very clean.
Sarah
2016-08-08T00:00:00Z
The host provided us with coffee, half and half, orange juice and some breakfast treats. The cottage was very clean and stocked with the amenities. Love the location with deer abundant and a very quite neighborhood within walking distance to the Britt and downtown Jacksonville. The price is also such a great value, less than a hotel and so much more comfortable.
Leah
2016-09-19T00:00:00Z
Our stay at Daisy Creek Cottage was relaxing and comfortable. Four adults had plenty of room to spread out among the ample bedrooms and fully fenced backyard. We drank wine and watched the deer and fawns every afternoon. We left our car at the house and walked into Jacksonville, a wonderful little town with great tasting rooms and restaurants, every day. We explored the 13 miles of hiking trails only a few blocks from the house. Colleen, our host, had breakfast items waiting for us when we arrived, so we didn't have to worry about finding cream for our coffee when we first arrived. Really recommend this lovely spot.
Brooke
2016-08-24T00:00:00Z
My family and I came to Jacksonville to attend a concert at the Britt. We needed a small place that wasn't to pricey.This cottage was just perfect for us.Clean, comfortable and very accommodating. It was all we needed and more.
Lynne
2016-09-06T00:00:00Z
PERFECT! We were so lucky to have stayed at Colleen's cottage. The house and location is lovely. We had our 2 1/2 year old grandson for his first sleepover without his mom. He was nothing but smiles. The house accommodated myself, my husband,our adult son, the child, and of course our dog. There are a variety of choices of eating spots, the bar in the front yard being the biggest thrill for the child! Colleen thought of everything, from extra water bowls for the dog, a safe fenced yard and even a leash. We made all our meals there and had everything we needed. I can't recommend it highly enough. My only concern is it will be so popular it will fill up before we can return for our next sleepover! Colleen was generous with her space and absolutely responsive if I had any questions. A wonderful place in a sweet little town with everything at our fingertips. Thank you Colleen, it was amazing.
Hilary
2016-08-09T00:00:00Z
Thank you for creating this sweet place, Colleen. We really enjoyed our time there. Colleen has clearly put a lot of attention and heart into preparing this cottage for guests. It was perfect for my friend Katie and I and we loved being able to afford a place with two private bedrooms. It is about one mile from downtown Jacksonville, so, close enough to walk or bike, as long as you're aware of the definite uphill coming home! The outside was nicely arranged too - I had a beautiful morning sitting at that front counter eating breakfast and reading a magazine in the sunshine...Such a lovely vacation moment!
Meagan & Jeff
2016-09-29T00:00:00Z
Kamertype
Gehele woning/appartement
---
Type woning
Huis
---
Geschikt voor
4
---
Slaapkamers
Jacksonville, Oregon, Verenigde Staten
Retreat hier auf meinem 6 Morgen madrone Wald mit pastoralen Blick, Hirsche Wegen, 2 Meditation labyrinths- doch nur 3 Meilen zu der malerischen, historischen Stadt Jacksonville, Oregon, der Heimat des Britt Festival, 35 Minuten nach Ashland und 1,5 Stunden auf Mt . Shasta und Crater Lake. Diese Wohnung befindet sich in der unteren Ebene meines Hauses mit einer separaten Zufahrt zu ihm und Zugang zum Whirlpool wieder durch den Garten. Buchen Sie eine tibetische Schüssel, Kristallschale und Gong-Sitzung mit Claudia für $ 55 während Ihres Aufenthalts. Einfach göttlich!
Mein Platz ist nur 3 Meilen von der entzückenden Stadt Jacksonville, die den berühmten Britt Festival im Sommer veranstaltet und mehrere gute Restaurants und Geschäfte. Es ist nur den Berg hinunter, wie ich sage. Oder Sie können 35 Minuten nach der Stadt Ashland fahren und ein Shakespeare-Festival spielen zu sehen. Der Applegate Valley (Kleine Napa) startet nur auf dem Weg von Jacksonville in Richtung weg mit Dutzenden von bekannten Weinbergen. Crater Lake und Mt. Shasta sind nur 1- 1/2 Stunde fährt weg, und die Redwood Wälder und die Küste sind 3 Stunden entfernt. Ein perfekter Ort, auf dem Weg zu stoppen, nach oben oder unten I-5 und Rückzug für eine Nacht oder zwei.
Claudia sent me directions to her place and also to my next destination leaving from her place. There was good strong french roast coffee in the cupboard and half and half in the fridge. A nice surprise.
Elizabeth
2015-08-11T00:00:00Z
Our accommodations were clean, comfortable, quiet. Claudia was on hand to explain the premise. She made an excellent restaurant recommendation in town. Claudia was a warm and gracious host.
Stan
2015-08-28T00:00:00Z
Although we didn't get to enjoy our entire stay, the one night we spent at Claudia's was wonderful. Her property is remote and serene, yet close to Jacksonville center, with beautiful views of the valley and hills. It has everything you need for a short or long stay and was impeccably clean. Thank you Claudia!
Paul & Christie
2016-08-29T00:00:00Z
Claudia welcomed us upon arrival and provided the perfect introduction to her well-appointed, immaculate place. She lovingly welcomed our dogs, too :-) That makes every pet guardian's heart sing! This was absolutely perfect for our needs: quiet, removed from city hubbub, private, many places for walking dogs...very, very comfortable. Claudia's descriptions and photos accurately portray this apartment. The trip for us involved making several trips back and forth to Medford and Ashland, for family connections. The drives were very scenic, and it was a relief to return to the "Retreat Sanctuary." It is a very fitting name! It happened to be some of the hottest days of the year and it cools off beautifully at night. The A/C was just right. Not too cool nor hot. Claudia also provided us with two fans, that keep the air moving. We will definitely return to this place when we come back for the next visit. Thank you so much for your warm hospitality, Claudia!
Beverly
2016-08-20T00:00:00Z
Claudia was wonderful, and the downstairs apartment was private, attractive, clean and cozy. She even had little touches like oranges and coffee there for the morning. But the highlight was being in her wonderful hot tub as the full moon rose over the hills in front of us. It was such an epic soak that my boyfriend said he hadn't been that relaxed since he was in Mexico! Thank you Claudia.
Cara
2016-05-23T00:00:00Z
Claudia's Sanctuary worked out great for us. The location is lovely - on a hillside about 10 minutes drive from the center of Jacksonville and it was peaceful and mostly very quiet. The unit was clean, comfortable and had everything we needed. We loved using the hot tub - it is very close, though not immediately outside the door. The cooking facilities worked fine for us. Thank you Claudia!
Laurie
2015-09-01T00:00:00Z
Claudia welcomed us graciously and provided a tour of the downstairs apartment and the beautiful gardens about the house. Her place was perfect for our retreat, clean and orderly, all the amenities we needed, a large and very relaxing hottub on the deck, and a lovely madrone forest surrounding the house. There were also two labyrinths within the forest to walk and meditate within, beautiful and sublime. We thoroughly enjoyed our stay.
Michael
2016-07-10T00:00:00Z
This apt was a sanctuary for us. We just finished selling our house and moving and needed a quiet place to regroup. This was definitely it. Comfortable, secluded, wonderful views, friendly host who answered questions right away. Both Mike and I got a healing bowl treatment, it is a fantastic experience and truly unique!! I felt so at peace after. Her hot tub is worth the short walk as the view and jets melt any stress away! I loved sitting out on the deck and watching the birds and deer playing in their environment. The bed was comfy and shower and bath just right. Truly a great place to stay in the mountains yet close to town which had many fun restaurants and pubs and music. Claudia is a great host, privacy if you want it, conversation if you want it. I definitely would go back!
Marla
2015-07-31T00:00:00Z
Kamertype
Gehele woning/appartement
---
Type woning
Huis
---
Geschikt voor
3
---
Slaapkamers
Jacksonville, Oregon, Verenigde Staten
Kamertype
Gehele woning/appartement
---
Type woning
Appartement
---
Geschikt voor
3
---
Slaapkamers
Jacksonville, Oregon, Verenigde Staten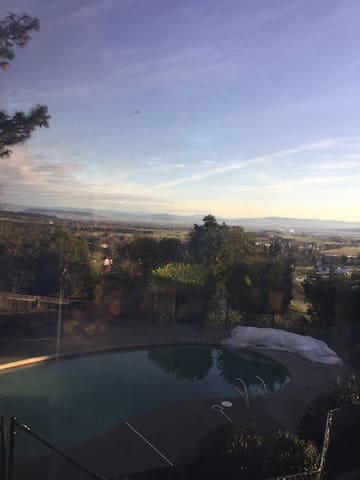 Our stay at Len & Linda's was just what we needed. The space was super organized and everything we needed was easy to find. We thoroughly enjoyed the space their deck allowed for chatting and relaxing. Having coffee, bagels, fruit and juice provided was very nice, too--(further extending the time we could sit on the deck!) Thank you, Len & Linda!
Betsy
2016-09-11T00:00:00Z
We really enjoyed our stay. Len and Linda were very helpful and answered all my questions. Their knowledge of the area was very helpful. The beds and accommodations were great and we had a beautiful view from our deck. We'll definitely be back.
Kristen
2015-11-15T00:00:00Z
Everything was perfect! Len and Linda have thought of everything a traveler could possibly need: the rooms are so well equipped! Fresh fruits greeted us. On top of that the rooms were clean and spacious. Jacksonville is a very beautiful little city.
barbara
2016-06-30T00:00:00Z
Very nice, super accommodating, and comfortable setting. Though we didn't get a chance to meet, Len and Linda were really nice in all our communications. The beds were very large and comfortable, and I would definitely stay again.
Albert
2016-09-03T00:00:00Z
We didnt actually use the property much. That being said, the accommodations were great and the hosts were very hospitable. Thank you for a great experience.
Brian
2016-07-17T00:00:00Z
Lin&Linda were very welcoming. Their set up really makes you feel like home. Peaceful isolated spot in a very green and quiet neighborhood. I highly recommend if you're planning on visiting near by areas.
David
2016-08-14T00:00:00Z
Great place. Loved the natural setting with deer grazing around and beautiful view from the deck. Len and Linda are very nice people and made us feel right at home. This was our first Airbnb stay and it was a great one.
Michael
2016-09-20T00:00:00Z
We were greeted upon arrival and felt very welcomed. Our stay was short but it was just what we were needing. I wish we could have stayed to see the area more, the view seemed very lovely.
Tamara
2015-12-31T00:00:00Z
Kamertype
Privé Kamer
---
Type woning
Huis
---
Geschikt voor
4
---
Slaapkamers
Jacksonville, Oregon, Verenigde Staten
独自の駐車スペースとブリットの敷地から4つのブロック、。 静かで安全な、シティパークの向かい警察署から1/2ブロック、カリフォルニア州セントから2つのブロック キングサイズベッド付きのマスターベッドルームと、リビングルームにあるソファ/ベッド。
Fantastic little place steps from the center of town. king size bed was very comfy. kitchen was very well equipped. Living area large with warm fire stove for cool nights. Close to bars, dining, kids play ground. We could have moved in for good! Thank you for the wine to welcome us & what an awesome records you have! Guests should note that internet access is not available & no TV. Not necessarily a bad thing!
Katie
2016-03-15T00:00:00Z
nice place,
Deb
2016-11-21T00:00:00Z
Loved the place. Beautiful setting, nice ambiance and easy check-in, check-out. Can't wait to come back for a Britt Show.
Sharon and David
2016-05-01T00:00:00Z
This is a great place to stay with all the comforts of home! It is with in walking distance to everything. We ended up having to cut our vacation short so we never got to meet Bruno. He was very helpful in the messages and texts we exchanged. We are looking forward to coming back!
Denise
2016-02-27T00:00:00Z
Excellent place to stay! Very clean, quiet and private. The King bed was extremely comfortable. I highly recommend Bruno's abode to anyone coming to Jacksonville.
Megan
2015-08-23T00:00:00Z
Bruno's place was just as described and making arrangements and getting in could not have been easier. If you are going to the Britt Fest or wine tasting in Jacksonville, this is the perfect place to spend a night or two. It's quiet and cozy and the bed is really comfortable!
Laura
2015-07-27T00:00:00Z
Bruno was great! The apartment was exactly as described. We were there to attend the Britt festival and we could walk to the concerts which was wonderful! Highly recommended.
Kelly
2016-08-16T00:00:00Z
Awesome location great little place. Loved the turntable!
David
2017-03-28T00:00:00Z
Kamertype
Gehele woning/appartement
---
Type woning
Appartement
---
Geschikt voor
4
---
Slaapkamers
Jacksonville, Oregon, Verenigde Staten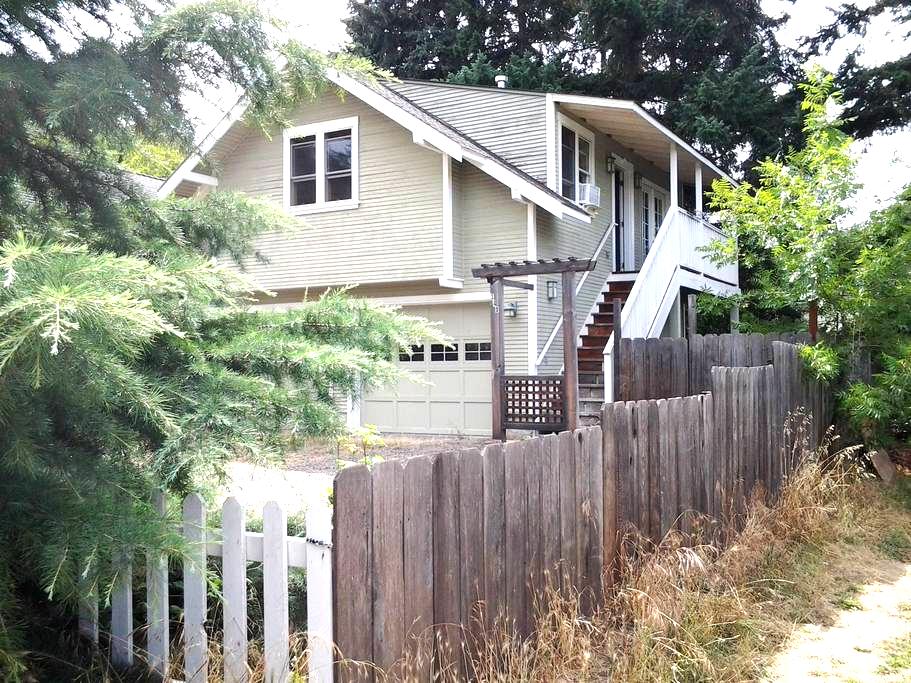 Um quarto acolhedor, com uma cama de casal e dois colchões de ar, se necessário. A uma curta distância de belas lojas Jacksonville históricos, restaurantes, degustação de vinhos e Britt. Também a sala com muito espaço para relaxar ou mais pessoas vivendo, se necessário.
Legal, limpo e acolhedor animais de estimação. Lotes de iluminação natural, um ventilador de ventiladores de teto e parte superior de tabela para os dormentes de fãs. Uma cama de casal e um colchão de ar rainha caber em tho quarto confortavelmente com espaço na sala de estar para uma outra rainha colchão de ar, se necessário, mais abundância de espaço para almofadas de sono para grandes grupos.
música bastante pacífica, amigável e ao vivo na cidade muitas vezes. Fácil caminhada para a cidade para fazer compras, arte, jantar, carrinho passeios para aprender a história de Jacksonville, entretenimento, ou vinho.
Gianina graciously welcomed us at the door upon arrival. She recommended a Halloween bus tour that we were able to enjoy. Her house was walking distance to everything and the accommodations were very clean.
Whit
2016-10-30T00:00:00Z
Comfy room with nice en suite, convenient for Jacksonville and the Britt music festival.
Andrew
2016-07-29T00:00:00Z
We felt welcomed and comfortable from the second we arrived!! As advertised, in every detail. Perfect location, friendly, and gracious hosts, we couldn't have asked for more. Thank you for everything!!
Scott and Gina
2016-07-09T00:00:00Z
This place was great. We brought our dog, Rosie. Jeff and Rosie and I felt like we were part of the family. Gianina and her daughter were warm and friendly, and so welcoming. Great place to stay.
Julia
2017-04-08T00:00:00Z
Great spot. Perfect walking distance to Britt venue. Friendly host. Come and go atmosphere.
Benjamin
2015-07-26T00:00:00Z
Terrific location for Jacksonville! Gianina and her family were very nice. The basement accommodations are a tiny walk to the heart of town. Private bathroom, laundry available, and friendly dogs to pay with.
Brandon
2015-09-06T00:00:00Z
It was very nice family and warm hearted. And stay is comforting.
shirley
2016-06-26T00:00:00Z
Gianina was prompt with her response to our last minute request for a stay the following night. She and her daughter (and dog) welcomed us and graciously opened their home to us during our stay. The house is located within easy walking distance to downtown Jacksonville but far enough away to be quiet. The room was quite comfortable and has a small private bath. We enjoyed our visit and would return when in the area.
Laura
2017-04-01T00:00:00Z
Kamertype
Privé Kamer
---
Type woning
Huis
---
Geschikt voor
4
---
Slaapkamers
Jacksonville, Oregon, Verenigde Staten
Conveniente localização central faz com que seja fácil para desfrutar das muitas lojas típicas, a passos dos melhores restaurantes, a uma curta distância dos Jardins Britt e outros pontos de interesse. Além da excelente localização, é muito charmoso e confortável.
Desfrute do nosso confortável cama, telefone, internet de alta velocidade e televisão queen-size cabo. Há uma tábua de passar para sua conveniência e casa de banho privada com o trilho de mão. Cottage é ideal para pessoas com mobilidade reduzida. A curta distância de Festival Shakespeare de Ashland e Ginger Rogers Theater no centro de Medford. Mt. Ashland Ski Hill também está a menos de uma hora de distância. Há muitos lugares para caminhar, pescar, nadar, jangada e até mesmo parapente. Venha desfrutar a beleza que temos para oferecer.
Você está em Historic Jacksonville, uma cidade muito pitoresca que trabalhou diligentemente para manter sua herança e a aparência dos edifícios originais. Será uma visita memorável !!
The experience was incredibly easy. And the cottage is perfect. Clean and comfortable. And secure. I stayed there alone and felt very safe. The neighborhood is full of cute shops and friendly people.
Jo Anne
2015-06-14T00:00:00Z
Everything was just so efficient from the moment we reserved and from the moment we checked out. Deana's cottage was so charming, well stocked, and with beautiful furnishings. I would highly recommend for anybody looking into having a vacation at Jacksonville and in other places of interest like Crater Lake. Truly a wonderful stay!
Kai
2015-08-03T00:00:00Z
The cottage is perfectly located in Jacksonville right by the adorable historic downtown. Deanna was very prompt to communicate with me. We did not meet in person because there is a keypad lock on the door that was preset with our agreed code. This worked like a champ and we didn't have to look after a key. It is just as stated with one bedroom that has a small seating area, a bathroom and well stocked coffee bar. It is very quaint and my husband deemed the bed "extremely comfortable". We look forward to many return visits!
Erica
2016-03-19T00:00:00Z
The cottage is conveniently located in downtown Jacksonville. Unfortunately, when we arrived in the late afternoon the room had not been cleaned and readied since the prior guests. After some panicked phone calls and texts, Deanna sent a cleaning crew over to prepare the room while we were at dinner. The room was also very chilly the first night, as this stay was in January and the room is heated by two small space heaters (a fake fireplace and a portable radiator) that hadn't been turned on to preheat the room. However, Deanna was quickly responsive to the problems and we were credited with a refund for the first night.
Cyd
2016-01-07T00:00:00Z
The Cottage greatly exceeded our expectations. It's in a perfect location in downtown Jacksonville and therefore within walking distance to great food, drink and shops. I wish we had more time to enjoy it!
Eric
2016-07-06T00:00:00Z
We arrived early evening to an unusual and quaint village. The place was well situated and accommodations comfortable.
Michael
2014-07-14T00:00:00Z
What lovely little place! It is right down in the historic area of town, walking distance to everything, and so quiet. Extremely comfortable bed and great bathroom! Would recommend for sure!
elizabeth
2015-10-07T00:00:00Z
We were celebrating our anniversary and going to the Britt Festival- we live locally, but it was nice to be able to spend the night and not have to worry about rushing home. The cottage is very cozy, cute, quite, exceptionally clean, and within walking distance of everything. The room was already being air conditioned when we arrived- a lovely welcoming break from the heat. I especially liked that the security code to get into the cottage had been sent ahead of time, so we didn't have to interact with anyone. After we got settled, we walked less than a block to dinner at the McCully house (exceptional food) and then we purchased a very nice bottle of wine from the Jacksonville Inn wine store. The next morning we walked to Stim for the most amazing coffee! After coffee, we walked to the Mustard Seed for a delicious breakfast. Thanks for helping to make our anniversary "staycation" weekend a success!
patty
2014-08-25T00:00:00Z
Kamertype
Gehele woning/appartement
---
Type woning
Huis
---
Geschikt voor
2
---
Slaapkamers
Jacksonville, Oregon, Verenigde Staten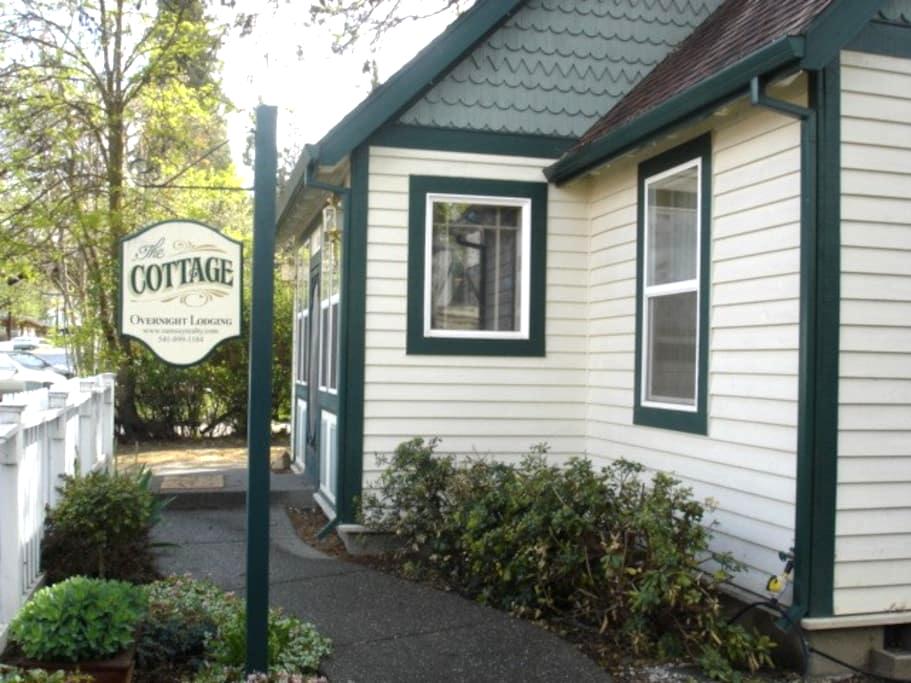 Kamertype
Gehele woning/appartement
---
Type woning
Overig
---
Geschikt voor
4
---
Slaapkamers
Jacksonville, Oregon, Verenigde Staten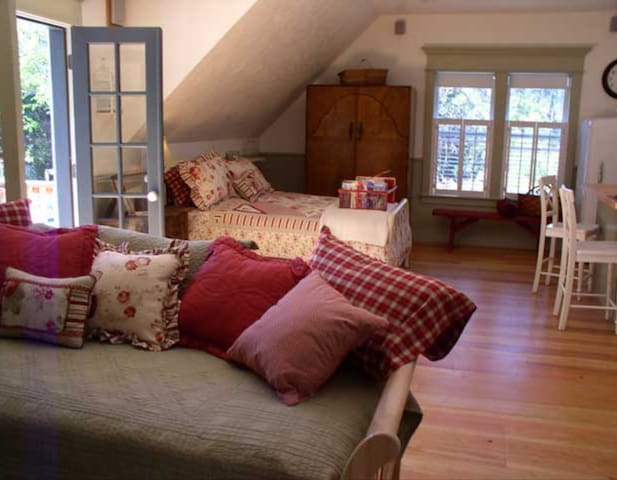 Ellee did everything she could to make my stay enjoyable and homey, responded to any of my requests immediately, and was very available during my stay. She is gracious and very familiar with the area and even invited me to some events to help me get started. The location is super, and it has been a great place to use as a home base while I explored the area!
Kate
2016-08-29T00:00:00Z
The host canceled this reservation 11 days before arrival. This is an automated posting.
Paris
2016-06-06T00:00:00Z
I stayed here in December 2015 while searching for a home to buy in Jacksonville. Ellee's home is in a wonderful location and is listed on the National Register of Historic Places. While the host lives downstairs on the main floor of the house, there is a private entrance for the upstairs guest suite which includes a large, updated bathroom, plus a full three-room suite consisting of a lovely bedroom (queen sized bed), a sitting room/TV room, and a dining room equipped with a nice big table, a coffee maker, a microwave and a small refrigerator. It's perfect for preparing simple meals, or the guest can use the host's kitchen on the main level to prepare more complex meals. Off-street parking is provided and the house is within easy walking distance of the entire downtown Jacksonville area. Ellee was a friendly and charming host, who was very responsive to any questions I had. Her guest suite is clean, spacious and comfortable, especially for those who are seeking a long-term stay.
Connie
2016-01-02T00:00:00Z
Kamertype
Gehele woning/appartement
---
Type woning
Appartement
---
Geschikt voor
2
---
Slaapkamers
Jacksonville, Oregon, Verenigde Staten
Amazing! absolutely amazing. Natalie had a very welcoming home. Clean and comfy!
Rachel
2016-10-10T00:00:00Z
The host canceled this reservation the day before arrival. This is an automated posting.
David
2016-08-31T00:00:00Z
Natalie's charming home was in a great location; close to all of the action downtown yet quiet and relaxing with a great backyard escape. What a terrific hostess... Natalie made us feel welcome with a clean, comfortable room and coffee ready each morning. If we are lucky enough to visit historic Jacksonville again we will certainly return to Natalie's house!
Jenny Lou
2016-07-25T00:00:00Z
We consider ourselves fortunate to have met Natalie. Her kind and welcoming manner made our stay in her beautiful home that much better. The large bedroom with the very comfortable queen size bed with a view of the surrounding gardens was a pleasure to stay in. Natalie even took the time to give us a walking tour of the historic Jacksonville. I highly recommend a stay in this very comfortable Airbnb. it added much to our Oregon trip.
Arthur
2016-04-06T00:00:00Z
We really enjoyed our stay at Natalie's place she was a great host and her space was very peaceful. Her gardens are beautiful and her location was great a short walk to some of the most beautiful trails to walk,run or bike plus great restaurants and shops and if you stay on a Sunday the farmers market is awesome!! The bed was very comfortable and her kitty's were sweet. Would definitely recommend
amy
2016-06-11T00:00:00Z
This was a wonderful neighborhood just blocks for downtown Jacksonville. The online description was on-point. Natalie made me feel very welcome. The room was comfortable and clean, not too cold and lots of fresh air. Natalie was kind, friendly and attentive to all my stay needs.
Gwendolyn
2016-06-25T00:00:00Z
I spent a lovely week in Natalie's home. She is a delightful person and a great host. I had so much fun. We even established a morning workout routine together!! What a great way to celebrate the autumn season in bucolic Jacksonville, Oregon!
Giselle
2016-10-21T00:00:00Z
Kamertype
Privé Kamer
---
Type woning
Huis
---
Geschikt voor
2
---
Slaapkamers
Jacksonville, Oregon, Verenigde Staten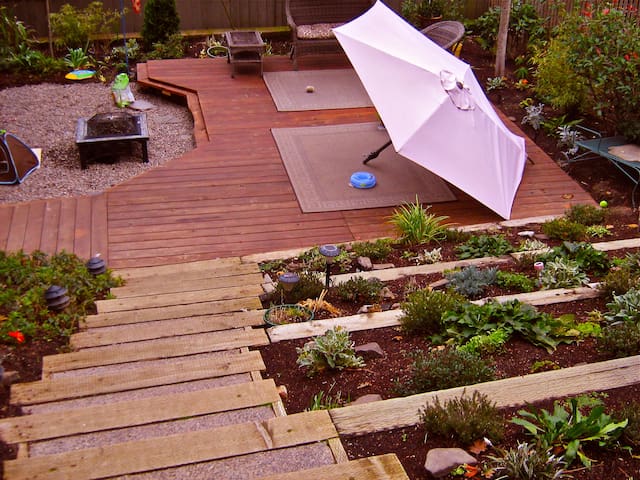 1

–

18

van

76 Accommodaties