Voer je aankomstdatum in in dit format dd/mm/jjjj
Voer je vertrekdatum in in dit format dd/mm/jjjj
0 kinderen
leeftijd 2 - 12
Ruimtes die je kan reserveren zonder op goedkeuring van de verhuurder te hoeven wachten.
2 Accommodaties
· Keldron
2 Accommodaties
· Keldron
Komende juli en augustus kun je een van deze 100 best beoordeelde woningen uitproberen, in elke prijsklasse, om zo een lokaal gevoel van Sonoma te krijgen. 24-uur inchecken, Direct Reserveren en lokale wijn en snacks. Leun achterover en geniet van je reis.
Great place for hunters ... also perfect for family events in the McIntosh, Watauga, Morristown Corson County area .
Kamertype
Gehele woning/appartement
---
Woningtype
---
Geschikt voor
11
---
Slaapkamers
6
Mc Intosh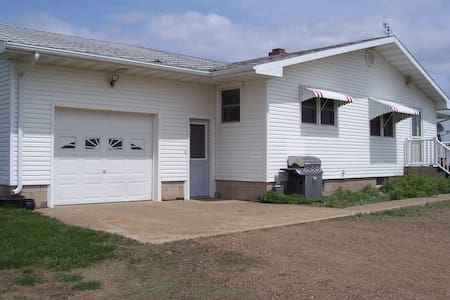 This is a lovingly refinished 1910-era folk victorian rescued from demolition and relocated to the banks of the Cannonball River near Mott, N.D., near the Badlands, Black Hills and in grassland prairie country. The west view to sunsets is so restful and wildlife abounds on the river.
This is a "saved" property, circa 1920, that was scheduled for demolition and moved to the present location. Every attempt was made to renovate this wonderful property and maintain the existing character of the dwelling _ there are some signs of its age _ chips in the old enamel sink, for example _ but those are part of the charm. The entire property is available for guest use. I'm very available by cell phone, but do not live in the community where the property is located. Please feel free to reach out with any questions, or if you need localized information.
You'll find that you have plenty of privacy, but feel to walk around and stop in a say hello to whoever you meet. The downtown is small, but friendly. Mott is a sweet little North Dakota town and the cottage overlooks the Cannonball River that runs through it. Lovely and very pastoral. The local grocery closes at 5:30 p.m. and is not open on Sundays. The local Pheasant Cafe serves wonderful breakfasts and is open through supper. Nearby Regent (15 miles west) has a Cannonball Saloon with a good steak and burger.
The host canceled this reservation 31 days before arrival. This is an automated posting.
Rebecca
Lauren's cabin was very charming and my friend and I enjoyed turning out all the lights and staring at the stars. We also enjoyed the howling in the distance (coyotes?) while hanging out. My only suggestion is that if you are coming in at night (as we did) to confirm exactly where the cabin is with Lauren.
Chris
November 2015
Lauren was a great hostess (though we never met). She communicated well via email and gave us a lot of information about the area, which was helpful. She even let us borrow her brothers kayaks, which we did not end up using. The cottage was just what the pictures describe. The locations is remote and quite. It was a very enjoyable place to stay. We would recommed it!
Krystal
September 2014
This place was adorable. It's the perfect place for a relaxing, remote retreat.
Charlene
July 2014
We had a great time. Walked to town for breakfast.
Gayle
July 2015
For a trip back to my home town, it could not have been a better place to stay. The view of the prairie and the cozy cottage made for a very nice stay. Clean, comfortable and with everything we needed to feel like our own home. The overnight temps were 10 below zero and we stayed warm and toasty as we played cards, told stories and truly enjoyed ourselves well into to the early morning hours. Loved it!
David
January 2016
The host canceled this reservation 3 days before arrival. This is an automated posting.
Julie
The Cannonball Cottage is a very cute, warm little house that is just perfect for a get away. It was clean, well maintained, and comfortable. Lauren is extremely accommodating. We had a blast, and you will too. Enjoy your stay!
John
October 2016
Kamertype
Gehele woning/appartement
---
Woningtype
---
Geschikt voor
4
---
Slaapkamers
2
Mott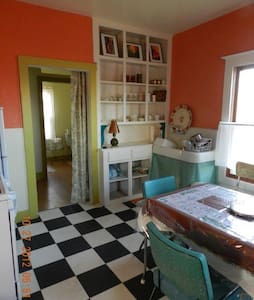 1

–

2

van

2 Accommodaties