De perfecte plek voor een rustige en ontspannen tijd-off in Gush Etsion. Goed ontworpen en gloednieuw huis met een spectaculair uitzicht, grote tuin in de buurt van gezinsvriendelijke activiteiten, geweldig uitzicht, en kunst en cultuur. Mijn plek is goed voor koppels, gezinnen (met kinderen), en harige vrienden (huisdieren).
This home is unusually large with open spaces in the living room and eating area, and a wonderful center island in the kitchen. The deck / patio has comfortable seating and a large table. The views are amazing. The home was peaceful and private. Yaakov was a wonderful host, providing us with some cookies, milk, and other food to get us settled in. He explained how to use the dishwashers and the washing machine, floor heat, water heater, etc. I only wish we could've stayed longer.
Alexander
2017-04-03T00:00:00Z
Kamertype
Gehele woning/appartement
---
Type woning
Huis
---
Geschikt voor
4
---
Slaapkamers
Haifa District, Haifa District, Israël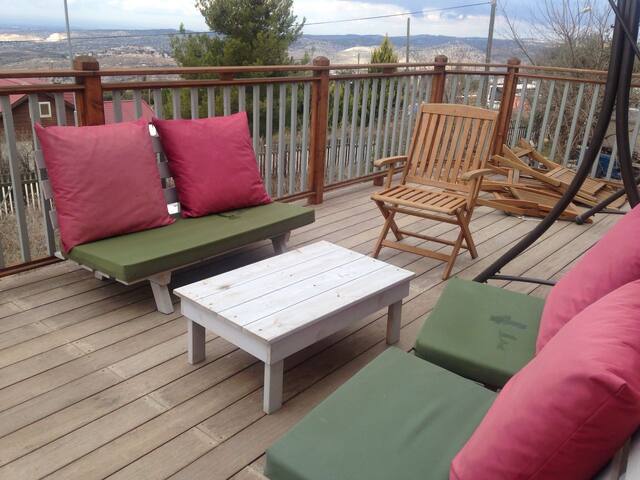 Rustieke caravan in het midden van de wijngaarden met een prachtig uitzicht! Rondom is er veel bronnen, Wandelen, Extreme Park, en boutique restaurants. Een 20-minuten rijden van Jeruzalem. Er is een bus elk uur naar Jeruzalem.
Kamertype
Gehele woning/appartement
---
Type woning
Huis
---
Geschikt voor
2
---
Slaapkamers
אלון שבות, Gush etzion, Israël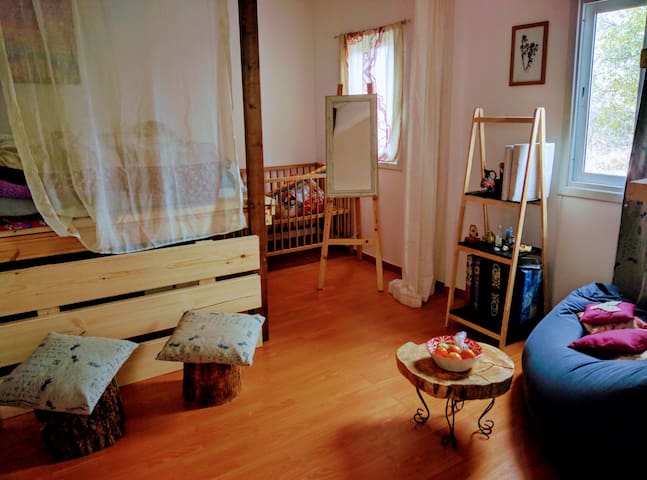 The reservation was canceled 71 days before arrival. This is an automated posting.
Stefano
2014-09-21T00:00:00Z
Kamertype
Privé Kamer
---
Type woning
Huis
---
Geschikt voor
1
---
Slaapkamers
Kfar Ezion, Gush Etsion, Israël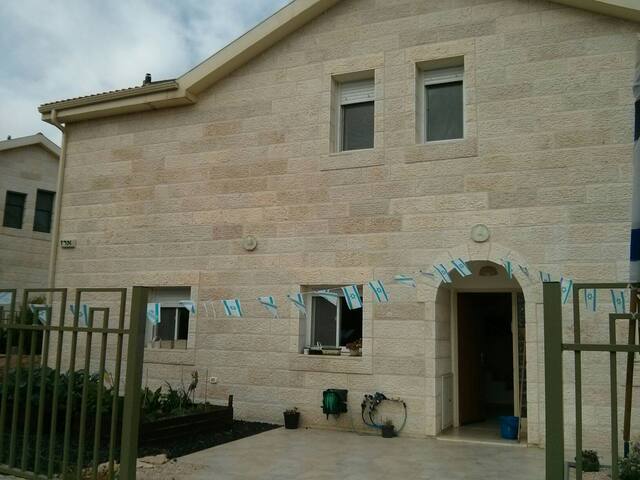 In the wonderful Community of El'azar (safe gated Community), 10 min drive from Jerusalem you can find our spacious, stunning home- Perfect for a family, fully furnished and fully equipped, garden, private parking, grocery store and more.
Our spacious, stunning home- Perfect for a family, fully furnished and fully equipped, garden, private parking, grocery store and more.
Amenities / Services within El'azar: The synagogue, preschools, mini-market, library and parks are in the center of the Yishuv. For other services, residents travel the short distance to Efrat. El'azar & Gush Etzion Tourism & Activities: 1. Elazar Experience Center: Petting zoo with entry into the cages for feeding (Elazar) 2. Deer-land:A large wildlife park. Visitors can circulate among the animals. Two ziplines (the longest in Israel), suspended obstacle course (Kfar Etzion) 3. Gush Etzion Wineries:Tour of the winery and tasting (Gush Etzion Junction) 4. Sound and Light Show:Recounting the fall of Gush Etzion prior to the establishment of the State of Israel. Ages 8+ (Gush Etzion Junction) 5. Biyar Aqueduct (the Shaft Riverbed): An underground tour of the aqueduct (Efrat) 6. Gush Etzion Farm: Horseback Riding Tours 7. Jeep Tours 8. Caliber 3: Combat training and sports shooting (Industrial Park) Hiking: Gush Etzion's Springs – A short walk to one of Gush Etzion's five springs and bathing in one of them. Shopping: Kfar Etzion, Tzomet HaGush both have a huge selection of shopping centers. recommended: Teva Naot Factory Store: This store is amazing. It is a large warehouse full of thousands of shoes. Shoes are discounted all year round for the whole family (Kfar Etzion) Recoshet: Camping, Hiking and Army supplies. Food: Chifon Bakery: Neve Daniel Roza: Meat Restaurant Gush Winery: Lovely Dairy Restaurant
We enjoyed staying here. Eilon's father-in-law meet us when we arrived and showed us everything in the house. He came by during our stay to check that everything was going well. The house is advertised as being 4 bedrooms, 3 baths but we found 5 rooms and 4 baths. The rooms were large and airy. We would stay here again when in the area, if available.
Dorothy
2016-07-20T00:00:00Z
Bonjour la maison de Eilon à El-azar que nous avons utilisé pendant 12 nuits a répondu à tout nos attentes, Tout d'abord nous remercions beaucoup Tommy pour son accueil et ces précieux conseilles tout au long de notre séjour pour circuler en Israël et notamment à Jérusalem et aussi pour respecter les autres habitants de la zone pavillonnaire, les 5 chambres et les trois salle de bains fonctionnelles nous ont facilitées la vie vu qu'on était 6 à vivre dans la maison comme ça le matin tout était fluide, La machine à laver et le lave-vaisselle etc,sont dans le standing de cette maison haut de gamme, La cuisine , le salon sont agréable surtout il y a la climatisation et le petit plus est le jardin sans vis à vis, il y a une place de parking toujours disponible, La maison est spacieuse et bien agencé, il y a un petit commerce dans la zone pour faire des achat ponctuelle, En voiture nous étions à 15 minutes de Jérusalem et de la vieille ville en gros pas trop de perte de temps en voiture, Les jours de Sabbat nécessite certains respect des usages mais nous avons toujours pu bouger pendant ces jours là, Les voisins on été sympa et disponible donc pour nous si on devait revisité autant Jérusalem on reprendrait cette maison sans hésitation  !!!!
Gilles
2016-08-02T00:00:00Z
Kamertype
Gehele woning/appartement
---
Type woning
Huis
---
Geschikt voor
8
---
Slaapkamers
El'azar, Center District, Israël