2 Accommodaties
· Koya-san
2 Accommodaties
· Koya-san
Sanboin is a "Shukubo"(temple lodging), which has a 1200-year history. Deluxe room "Mandala" is sophisticated wide room with conversation room. You can experience a kind of meditation that purifies the body and soul.
nice house, nice people
Zhang
October 2015
An amazing place to stay' such a calm atmosphere pervades the whole temple that it is easy to feel relaxed. The staff were very welcoming, the food was AMAZING, the best we had in Japan. The morning service is an experience not to be missed- very spiritual
Andrew
October 2016
The monk that greeted us was helpful and kind. The room is very large with a view of the garden. Sharing morning prayer ceremony was an honour and the food very (too!) generous. I think the cost of the room at nearly NZD$700 for one night was overpriced but a difficult time to find alternatives and a unique experience that we enjoyed.
Tracy
May 2015
The temple is quiet and calm and beautiful , and near the Okunoin.
Katy
April 2016
Staying at the temple was a great experience. We felt very welcome and really enjoyed our stay. Would definitley go back if we have the chance!
Tomas
August 2014
Nice temple located close to a bus stop. The monks are friendly and speak english. You can participate to the morning ceremony (6am), which is interesting. The temple has public baths with a little onsen (hot bath). Dinner and breakfast are included, and feature tasty, vegetarian dishes.
Laurent
April 2015
Staying at the Sanboin temple was incredible--it was a gorgeous in location with beautiful, tranquil living quarters--and the people who run the place are incredibly friendly and a great source of information about Esoteric Buddhism. The food was unbelievably delicious and intricately prepared, and there's a wealth of fascinating places to explore on Mt. Koya--my favorite was the Okunoin cemetery, where you can spend hours exploring small paths through the woods. Highly recommend!
Martha
May 2015
We had a very nice stay in Koyasan (Sab Bo In temple). Monks made us a visit in english of the temple. Our room was very nice, with a private view on the pond and the garden. The bathroom are shared (1 for mens, 1 for Womens), and Yukata are provided. We had the diner and the breakfast in our room, a discover of traditionnal vegetable monks' food. In the morning (6am), we took part in Monks prayer, for 1 hour. A very good experience, and very close to the things to be seen in Koyasan.
Laure-Anne
May 2015
Kamertype
Privé Kamer
---
Type woning
---
Geschikt voor
2
---
Slaapkamers
1
Koya, Ito District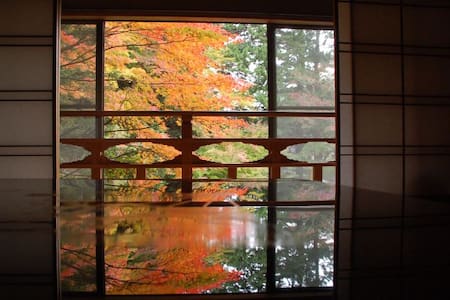 It was great to stay at Sanboin, one of the best shukubos, a specific type of esoteric Buddhism temple with the function of ryokan, Japanese traditional hotel. They serve delicious traditional vegan course dinner and breakfast. Also in the early morning you can join the morning chanting ceremony to meditate for about an hour. The whole experience that you stay in one of over 100 temples on top of Koya mountain which will soon have 1200 years anniversary is very unique and special. We also recommend the pilgrimage path, called Koyasan-cho-Ishimichi to climb up the mountain for about 7 hours.
Kosuke
May 2014
11月15日に一泊でお世話になりました。 門構えから、庭園、襖絵、本堂が素晴らしいのは想像通りでしたが、何より、坊の方々のホスピタリティが心暖まるものでした。 朝の御法話を待たずに、夕げの際に早々とご住職のお話を伺えたり、担当して頂いた石井全信さんには到着からお見送りまで、本当に、細かくお心遣いを頂きました。ありがとうございました。 また、今回の高野山での楽しみの一つの声明を拝聴できた事は、感慨深いものになりました。幼い頃からグレゴリオチャントに親しんで来たなか、十数年前に声明に触れる機会があり、何故かグレゴリオチャントと同調する心地よさを覚え、加えて、グレゴリオチャントには無い力強さと潔さを感じ、以来、コンサートホールではなく、早朝の高野山での声明を楽しみにしておりました。 16日の朝は前日の雨も上がり、清しい朝の本堂での声明は、自身の心が掃き清められていく素晴らしい体験でした。特にソロ(このような言い方は失礼かと思いましたが)の時のお声は、よく練られているのに透明で、金属音ではないのに強い張りがあり、雲海に舞い上がる白龍の様で、景色が変わっていきました。 高野山と言う異次元な聖地を創造して下さり、たった今、この瞬間も、森羅万象を憂い、守っておられる空海さんへの畏敬の思いを新にすると共に、三宝院にご縁を頂き、ありがとうございました。
Maya
November 2015
Our stay at Sanboin was magical and memorable, from the moment we set foot at its gate up to the time we exchanged goodbyes with our hosts. My wife, daughter, and I spent 2 nights at this temple lodge, arriving in the afternoon of the 30th of December and departing in the morning of New year. We occupied the private Japanese-style room (which was divisible into 3 by screens) with its ensuite toilet and bath. For the multi-course Japanese vegetarian breakfasts and dinners (which were all flavorful, generous, and filling), we opted to dine at the public dining hall that was lined with painted panels. As it was very cold (it snowed) at the time of our visit, all indoor spaces are warmed by space heaters. Our futons were also heated with electric liners. We were met at the gate by our host Zenbo-san. He took good care of us: He gladly answered our queries with regards to the practices, rituals, symbolisms, and history of Sanboin, of their founder Kobo Daishi, and Koyasan; and when we took part in the New Year's Eve Buddhist ceremony, he guided us every step of the way. Sanboin is ideally located in the middle of Koyasan. To its left is the Okunoin graveyard. To its right are the numerous grand halls and Shukubos. While there was a bus service, visitors can comfortably and leisurely go around town on foot. However, travelling to and from the Yokosan station, one must take public transport. Suggestions to future visitors: Consider *also* taking a stroll at nearby Okunoin in the evening, preferably after dinner, all the way to Kobo Daishi's mausoleum. The walk in the well-lit path may be deemed frightful by some, it is actually very solemn and SAFE. Take part in Sanboin's ceremony when available, or invited. Time your visit: the New Year's Eve midnight ceremony was a great experience. Worth mentioning is the fact that this year 2015, Yokosan celebrates its 1200th year. Apparently, winter is the favorite season of Kobo Daishi, but the cold can be prohibitive for some guests. Either way, Koyasan and Sanboin can be enjoyed all year round. We would love to see and enjoy Sanboin at other times of the year. Do not hesitate to ask the hosts. While there may be a language barrier, the monks at Sanboin have a good command of the English language. Even the head master. Sanboin makes its own sake. It also supplies sake to all other temples in Koyasan. It is not available commercially; but it is offered to guests. We would kid the monks that they must be well loved by the other monks in Koyasan. Be prepared to completely immerse one's self in Japanese culture, physically and spiritually. Sanboin comes strongly recommended.
Reggie
January 2015
Kamertype
Privé Kamer
---
Type woning
---
Geschikt voor
2
---
Slaapkamers
1
Ito District Koyacho Koyasan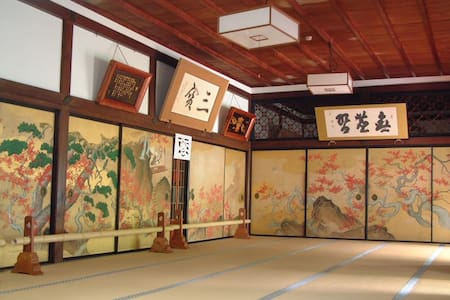 1

–

2

van

2 Accommodaties