Landhuis met verwarmd zwembad, een prachtig uitzicht op de bergen en het kasteel van Sant Miquel d'Escornalbou. Dit is een geweldige plek om los te koppelen. Mooie paden om te wandelen en te fietsen. Slechts 1/2 uur van de prachtige stranden en Priorat wijngebied.
House volledige informatie: Er is een mooie tuin met een klein zwembad, hangmatten, barbecue en paella-apparatuur, tafelvoetbal, twee terrassen in de tuin; een in de zon en een in de schaduw van de grote lindeboom. Er zijn dia's en een schommel voor de kleintjes en een ruimte met zand en speelgoed voor de kleintjes. - Er zijn gratis toegang tot internet in het gehele huis. - Er zijn activiteiten voor kinderen - kinderbedjes en stoelen beschikbaar - Informatie en brochures over de omgeving. Als u wilt, kunnen we altijd bellen en boeken voor u bij voorbaat. - Ook fietsverhuur en verkoop van lokale producten bij het huis. Casa Argentera 1, het penthouse: heeft twee slaapkamers, een met een eigen badkamer, een aparte badkamer met een bad en een lange tafel met ruimte voor de verzorging van baby's, een grote gecombineerde eetkamer en een woonkamer met een open haard, een keuken met alle moderne faciliteiten te voorzien voor uw comfort en gemak en met een ontspannen hoek. Vanuit de keuken is er toegang tot een eigen terras en een trap naar de tuin. Casa Argentera 2 - de eerste verdieping appartement: heeft twee slaapkamers, een met een eigen badkamer, een eenpersoonskamer, een badkamer, een woonkamer met een open haard en toegang tot het balkon, die een prachtig uitzicht op het dorp en het kasteel, een keuken met ruimte om te dineren en toegang heeft de tuin. In alle kamers van het originele tegelvloeren is bewaard gebleven en elke kamer heeft zijn eigen patroon. Deze verdieping heeft toegang tot een groot eigen terras met parasol en een eettafel voor 6-8 personen en leeshoek en een prachtig uitzicht op het dorp en het nabijgelegen kasteel. Casa Argentera 3, de begane grond: heeft 2 slaapkamers, een badkamer en een grote eetkamer of vergaderzaal met ruimte voor 15 personen. Deze kamer heeft een projector en homecinema-apparatuur en is ideaal voor kleinere bijeenkomsten, feesten of gewoon het verzamelen van meer dan een heerlijke maaltijd. Het heeft een gemetselde kachel en een open keuken met directe toegang tot de tuin. Een van de slaapkamers is oosterse geïnspireerde en sluit met een originele houten schuifdeur, prachtig gesneden uit Indonesië. (URL HIDDEN)
De verbluffend mooie instellingen van dit dorp, het is ongerept en er zijn zo veel leuke activiteiten binnen 1/2 uur, net als de Via Verde, een oude spoorweg weg omgebouwd voor fietsen waarmee je langs de meest indrukwekkende landschap en de warmwaterbronnen om te baden in op de manier. Vies Altes is een plek om te climp in de boomtoppen met kabelbanen voor kinderen en volwassenen van alle leeftijden. Wijn en olijfolie proeverijen. Tarragona by night.
La estancia en la casa la Argentera fue estupendaIna. Ina se portó como una super anfitriona! Desde el primer momento se preocupó para que estuviéramos cómodos en la casa , nos tenía la casa totalmente preparada y eso que éramos un grupo de 15 personas y 8 bebés y nos dispuso la casa totalmente adaptada para nosotros. Pasamos 4 días estupendos en ella y en todo momento sabíamos que podíamos contar con ella ya que creó un grupo de (SENSITIVE CONTENTS HIDDEN) para poder comunicarse con nosotros por si había cualquier tipo de problema, además nos aconsejó excursiones y un montón de cosas que ver. La casa es perfecta, la piscina y el jardín estupendos para estar con niños y en la sala de abajo la sals es muy grande y es muy cómoda para un grupo grande como éramos nosotros. Si sois un grupo grande el hecho de que en cada piso haya cocina y una sala crea los espacios perfectos para tener también un poco de intimidad. Realmente nos hemos sentido como en casa, muchísimas gracias por conseguirlo.
Emma
2016-11-01T00:00:00Z
Kamertype
Gehele woning/appartement
---
Type woning
Huis
---
Geschikt voor
15
---
Slaapkamers
L'Argentera, Catalonië, Spanje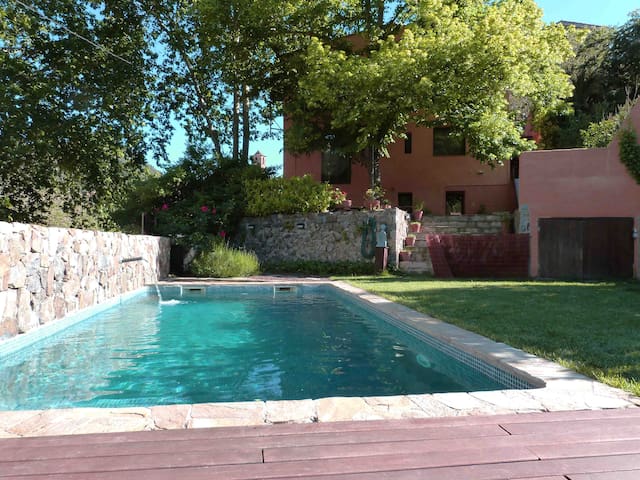 Ideal entre mar y montaña" a 10 km. del mar, cerca de las playas de Cambrils, Salou etc..Gran casa para familias, grupo de amigos ..con un gran salón de 75m con chimenea, cocina isla, jardín, piscina, barbacoa, salón de juegos billar, futbolín..
Pasamos un buen fin de semana. La casa es muy grande, suficiente para 14 personas como se indica, nosotros éramos 10. Tiene una buena cocina y comedor. Cuando llegamos tuvimos que dejar una fianza de 200€, que en ningún momento se nos informó. Ideal para grandes grupos que les guste la montaña ya que es de fácil acceso y está justo delante de la casa
Blanca
2016-11-01T00:00:00Z
La casa en si es muy bonita pero no entendimos como estando en el monte no tenia unas simples mosquiteras...imposible abrir las ventanas para ventilar por los bichos y el calor era horrible a la noche,de 7 noches no descansamos ninguna...nosotros sabemos perfectamente lo que es vivir en el monte pero eso no quiere decir que dentro de la casa tengan que andar los bichos a sus hanchas,hoy en dia hay muchos remedios para eso.y vuelvo a decir que se lo que es vivir en el monte y con calor! En la habitación "suite"el colchon era horrible...nos metimos mi marido y yo a la cama y hacia forma de v...la 1era noche mi marido acabo durmiendo en el suelo encima de 3 colchones de las camas supletorias que al dia siguiente casi tengo que ayudarle a salir del hueco del medio de los (URL HIDDEN) señora que nos atendio(que no era con la que yo habia hablado aqui)nos dijo que nadie les habia dicho nada,creo que vosotros deberiais de ir mirando ls cosas que se van deteriorando por el uso pero bueno si habia cosas que se veian de lejos que estaban para cambiar y que no cuestan dinero precisamente como una alfombra de baño,la de la "suite"estaba de vergüenza...tenia unos agujeros que hasta un ciego los hubiera visto y que decir de la fregona y las escobas con las que se supone que se limpian la casa...en fin nos dio pena que una casa tan bonita estaria asi... Por cierto quiero decir que nunca nos habiamos ido toda la familia de vacaciones y estas eran unas vacaciones llenas de ilusion pensando que estariamos en una casa maravillosa. Nosotros tenemos claro que volveremos al pueblo porque hemos conocido gente maravillosa pero con mucha pena a la casa no volveremos,un saludo
Lorena
2016-09-08T00:00:00Z
The host canceled this reservation 98 days before arrival. This is an automated posting.
Daniel
2016-09-23T00:00:00Z
Kamertype
Gehele woning/appartement
---
Type woning
Huis
---
Geschikt voor
15
---
Slaapkamers
Riudecanyes, Catalunya, Spanje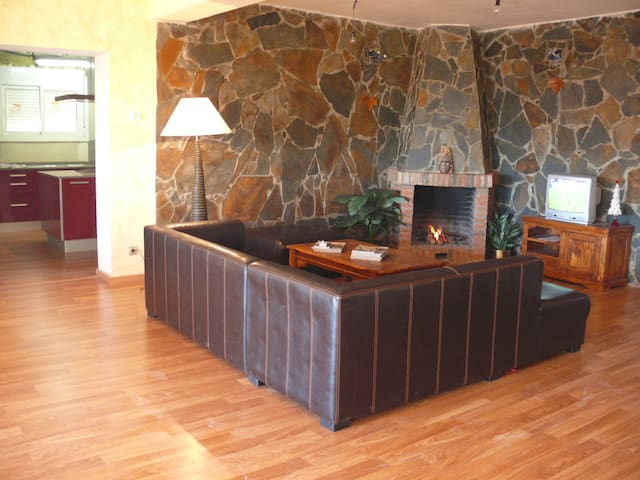 Lugares de interés: Cal Porxo es una casa rural que se encuentra en el centro histórico de Pradell de la Teixeta, en el Priorat a pocos minutos del aeropuerto de Reus y a 1'30h de Barcelona. A tan sólo 7 kms de Falset y a menos de media hora de la Costa Daurada, es una casa donde establecerse para conocer a fondo la comarca (Siurana, La Cartoixa d'Escaladei, Porrera, etc..) el mundo del vino i el aceite, el patrimonio histórico, el entorno natural y la gastronomía.
La casa del Jesús i la Lurdes és fantàstica!!! Hi vam estar molt còmodes, estava molt neta, com si fóssim a casa!! Ens va rebre el Jesús, ens ho va explicar tot i fins i tot ens va facilitar el restaurant per dinar!!! Totalment recomanable!!
Lourdes
2016-10-16T00:00:00Z
Casa Rural was a beautiful house. We loved it. A lot of work has been done to make this old house to a good place to stay in.
Inger-Lise
2016-12-23T00:00:00Z
La casa és preciosa. Està molt ben arreglada, i han cuidat fins el mes petit detall. Tot estava molt net, i feia molt bona olor. La casa té de tot el que es necessita. Ens hem sentit com a casa. El Jesús va ser molt amable. Ens va rebre on havíem quedat i ens va explicar un munt de coses per fer a la comarca. El poble és petit i tranquil, i molt maco. Els nens van poder jugar amb gronxadors i jocs que hi ha molt a prop de la casa. Han estat uns dies molt agradables. Tornarem segur.
Javier
2017-04-12T00:00:00Z
Kamertype
Gehele woning/appartement
---
Type woning
Huis
---
Geschikt voor
6
---
Slaapkamers
Pradell de la Teixeta, Catalunya, Spanje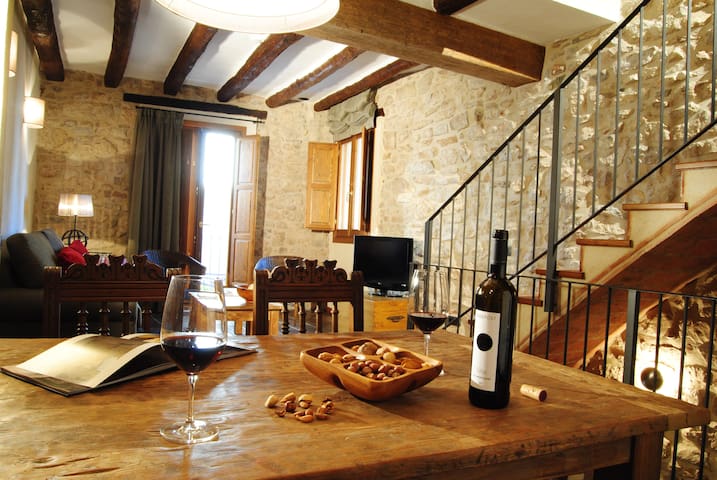 Masia in beautiful natural surroundings overlooking sea and lake. Big courtyard (patio) with chill out corners between the mandarin trees with BBQ area and outside heatedSPA. Between Cambrils beaches and Priorat wine area, close to Tarragona.
Casa Vella del Panta is a stepping stone to a rural hotel****, which is why the rooms are so spacious and exclusive with the great views over the sea and the lake. The masia has been fully restored after sustainable and ecological criteria in 2012-2013. For the moment we have opened the first floor as a rural self-catering house with 5 double rooms (1 family room with 4+ beds) each with own bathroom and tubs, and 2 attics with 2 beds in each, living room with open kitchen fully equipped. Big arched glass door leaves to the outside courtyard with mandarin trees and chillout sofa corners. Also there is a barbecue corner with fresh aromatic herbs few steps away. There is also a table for dining outside under the shade. Total capacity 10 adults+6 children, space for extra beds and cots. The land has 4 HA and a private access to the lake, where it is possible to take a morning swim. The swimming pool is small (3x3 and 90 cm high, a heated jacuzzi, working from Eastern to end of October. There is projector, TV, music equipment in the house and free WIFI. In the garden beside many natural paths and delightful corners, where is also swing and zip line for the children, and in the Eucalyptus tree we have placed a hammock for enjoying the view of the sea and landscape, your book or a nice siesta.
The masia is located in a quiet area between the nicest beaches of Cambrils, and the sierra of the famous wine area of Priorat, where you find many great wines and curious cellars, gastronomic routes and an excellent terrain for bicycling. We are 1/2hours drive from many good sights, the world heritage city Tarragona, Reus with its modernist architecture route and good shopping, Montblanc with the cister route. In the local area excellent routes for bicycling road and mountain bikes, walking and also the nearby climbing area in Arboli and Siurana is well worth a visit.
The house is lovely and Ina was incredibly responsive. We would absolutely recommend this house to anyone
Philip
2016-09-30T00:00:00Z
We had the most fantastic 3 night stay at Casa Vella del Panta at the beginning of May 2015! A beautiful house with so many extras in a simply stunning location. The 5 double bedrooms are all beautifully decorated, spacious and have views of the lake - many even with bathtubs in the bedrooms! We booked this house for a hen do - 15 girls spread out across the 7 bedrooms and it worked perfectly. 2 of the rooms (in the attic space) are designed for children but they worked fine for the adults in our group, they just both share the ensuite of the bedrooms below them. There are 2 large fold away tables that meant we could easily seat 15 both inside and outside for dining. The courtyard is perfect for alfresco evenings with a large bbq and is also a real sun trap in the day. Best features had to be the jacuzzi pool which was lovely to relax in during the day and then sip cocktails from later on in the evenings, with a stunning view overlooking the garden and lake beyond. And also the huge lake itself which is reached in a 5min stroll down a track opposite the house - we went swimming in it both days and it was an amazing and unforgettable experience!! The hosts were so helpful, friendly and accommodating and they made our stay literally perfect - from booking a chef to do us an awesome tapas workshop at the house, sourcing our taxi (we didn't have a car during our stay), to helping us with the shopping and setting up the ping pong table - they really did go above and beyond (thank you so much Ina)!! Our taxi (minibus from Nika Autocares) transferred 15 of us from and back to BCN airport and also took us on a wine tour in Porrera - they were great and it meant that for almost same cost as renting a car we were chauffeured door to door and had no stress. However if you want to get out and see the local area a car would certainly be advisable - for us we had everything we needed at the house :-) We can't wait to return sometime and until then we all have some amazing memories to hold onto. Definitely a 5 star stay for us!
Sarah
2015-05-05T00:00:00Z
Kamertype
Gehele woning/appartement
---
Type woning
Huis
---
Geschikt voor
16
---
Slaapkamers
Riudecanyes, Catalonië, Spanje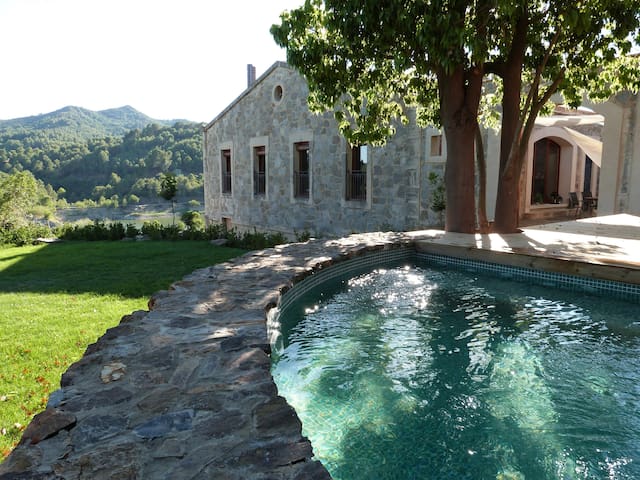 Lugares de interés: Castillo Monasterio de Escornalbou, Costa Dorada, Priorato . Te va a encantar mi lugar debido a el espacio acogedor y su ubicación. Mi alojamiento es bueno para parejas y familias (con hijos) o pequeños grupos de amigos.
Antigua casa de tres plantes situada en el casco antiguo de Duesaigües, reformada manteniendo el encanto y parte de los elementos originales. Consta de cocina y sala comedor con salida al jardín, y tres habitaciones independientes con baño, caja fuerte y balcón cada una, dos dobles de matrimonio en la segunda planta y una cuádruple de camas individuales en la tercera.
El pueblo dispone de tienda de comestibles, panadería, bar, restaurante y piscina municipal en verano. El entorno del pueblo, ubicado en la Baronia d'Escornalbou, con montañas suaves a 200 mts sobre el nivel de mar, es ideal para combinar actividades de senderismo, btt, o cicloturismo con escapadas a las playas próximas o al pantano de Riudecanyes donde realitzar deportes de agua, así como visitas culturales y lúdicas como el Castillo Monasterio d'Escornalbou, Port Aventura, o escapadas a veinte minutos en coche de Cambrils y del vecino Priorato.
The host canceled this reservation 79 days before arrival. This is an automated posting.
jordi
2016-10-12T00:00:00Z
Kamertype
Gehele woning/appartement
---
Type woning
Huis
---
Geschikt voor
10
---
Slaapkamers
Duesaigües, Catalunya, Spanje
Restored ancient house in historical center. Placed at 15 minutes from the beach by car. The site is a starting point of numerous hiking and mountain bike trips. It's nearby ancient monasteries, historical sites, roman world heritage Tarragona, Priorat and Port Aventura.
Cal Pedret is an ancient eighteenth century house located in the charming village of Riudecanyes, in a rural setting and close to the main tourist centers of Tarragona. Cal Pedret consists of two apartments that are rented together in this option. The ground floor consists of a living room with kitchen, two double bedrooms and a bathroom. The apartment has 30 m2 backyard, conditioning as an outdoor dining area. The first floor consists of a living room with kitchen, two double bedrooms and a one room with bunk bed, bathroom, terrace of 10 m2 and a balcony. It has heating and air conditioning
Belonging to the Baix Camp Riudecanyes it is located in a mountainous area of the Costa Daurada. This makes the village the ideal place to combine hiking, mountain biking or cycling with trips to nearby beaches and coves, as well as cultural and gastronomic outings. Riudecanyes also has great cultural and leisure attractions such as Escornalbou castle or boat station on the lake (dam) of Riudecanyes (kayak..), a 5-minute walk from Cal Pedret. Near Riudecanyes there are some quite interesting monuments, as the roman ones placed in Tarragona (recently declared " of exceptional interest" by UNESCO – 26 km), the hermitage of Mare de Déu de la Roca (13km); the beautiful village of Argentera (8km); the beaches of Cambrils (12km), Salou and the coves of Mont-Roig and l'Hospitalet de l'Infant; leisure centers such as Port Aventura (20km), the spa of Montbrió (3km) or the area of Priorat (famous for its wines and mountains, the monastery of Scala Dei or charming village of Siurana -30km) . The range of activities can be completed with sports activities such as trekking, mountain biking or cycling.
Pasé tres días muy agradables en Cal Pedret junto a mi familia. La casa está en perfectas condiciones, muy limpia y acogedora. La situación es magnífica para realizar excursiones por parajes preciosos. Fuimos a visitar el castillo de Escornalbou (muy recomendable). También se encuentra a 20 minutos de Port Aventura y de Reus. Los anfitriones, Paula y Josep, son encantadores y muy colaboradores con sus huéspedes. Estuvieron muy atentos de nosotros en todo momento. Enhorabuena!
CARLES
2016-01-05T00:00:00Z
L'apartament és tal i com el veus a les fotos. Molt còmode i ben moblat. La comunicació amb els propietaris ràpida i efectiva. Molt recomanable.
Xavi
2016-12-29T00:00:00Z
Una experiencia muy buena! Cal pedret cuenta con unes magníficas instalaciones y la atención de Paula fue genial. Recomendable para familias que buscan un sitio bonito para relajar se uns días.
Noelia
2016-02-28T00:00:00Z
La casa es tal cual figura en las fotos, totalmente reformada y muy cómoda. El pueblo pequeño y con pocas cosas para visitar. Pula una gran anfitriona siempre pendiente de las necesidades del inquilino.
MJ
2015-10-11T00:00:00Z
La casa está perfecta y Paula ha estado todo el fin de semana pendiente de nosotros sugiriendonos diferentes actividades. Muy, muy bien.
Laura
2015-08-30T00:00:00Z
Buena experiencia, paula muy amable y atenta, la casa tiene todas las comodidades. Ideal para descansar. Recomendable.
Sofia
2016-11-06T00:00:00Z
Un accueil très agréable. Disponible aux questions. Le cadre est super, la situation géographique est excellente . si on aime la mer,la montagne,la tranquillité c'est un endroit pour vous. Idéal pour des vacances en famille.
sandrine
2016-08-23T00:00:00Z
Tout était parfait. D'abord Paula est super accessible et répond très rapidement à tous vos messages. Elle est vraiment dévouée pour le confort de ses locataires. Elle est une immense source d'information touristique. Nous avons même fait des découvertes et une grillade ensemble! Son logement est très soigné, très propre et correspond exactement aux photos et à la description faite. C'est un logement très agréable dans un petit village charmant où les habitants sont très sympathiques. C'est hors du circuit touristique, c'est exactement ce que nous cherchions et nous avons adoré. C'est entre le mer et les montagnes. Dans la même journée vous passez de la randonnée à la baignade, c'est super! En plus, tout proche, une magnifique piscine vous accueille pour vous rafraichir. Les commerçants du village sont très sympathiques. Lors de notre séjour fin juillet, il y avait beaucoup d'animation au village: concert, cortège, bal, etc. Un logement magnifique, un accueil superbe, merci Paula pour ce séjour dont nous garderons un magnifique souvenir.
Patrick
2016-08-01T00:00:00Z
Kamertype
Gehele woning/appartement
---
Type woning
Huis
---
Geschikt voor
10
---
Slaapkamers
Riudecanyes, Catalunya, Spanje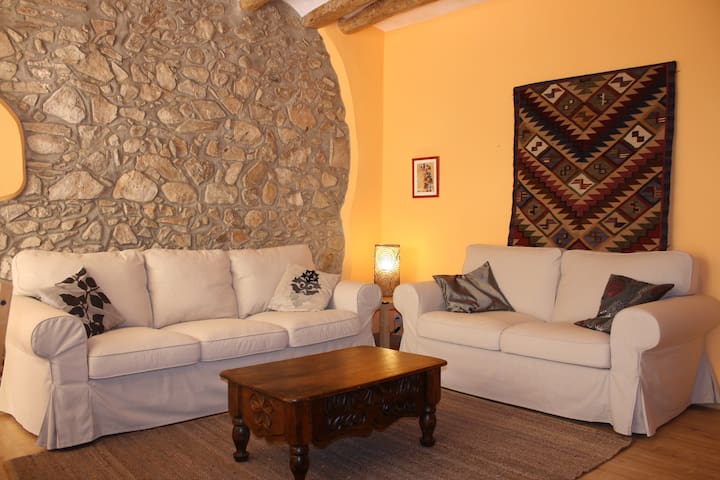 Casa rústica muy querida y con "caliu". Lugar de encuentro con familia y amigos. Tranquila, acogedora y con especial encanto. Para disfrutarla. En pueblo tranquilo, entre la montaña y el mar donde combinar relax y dinamismo. Os espero. HUTT-012445
Casa Orígenes es una casa de construcción nueva pero respetando el estilo y aire rústico de la típica casa de pueblo. Lugar para relajarse y sentir los pequeños placeres de la vida. Muchos detalles de la casa los hemos hecho nosotros mismos como el cabecero del dormitorio. La casa puede acoger a ocho huéspedes cómodamente. Tiene 150m² distribuídos en tres plantas. Planta baja: consta de entrada recibidor y espacio diáfano con sala, comedor, chimenea y cocina. Con acceso directo a terraza de 25m² con barbacoa para disfrutar de comidas y cenas(con todos sus utensilios necesarios). Segunda planta: dormitorio principal con cama matrimonio, techos altos y gran ventanal con preciosas vistas a la montaña. Cuarto de baño con gran ducha. Dormitorio doble con dos camas individuales, balcón y vistas a bonito patio de naranjos. Tercera planta: gran buhardilla de techos altos, cama de matrimonio y dos individuales, con TV y juegos, PlayStation 2 , para disfrutarla en familia y/o amigos. Alberga también lavadora con acceso a una segunda terraza de 10 m² para tender la ropa o tomar el sol en la intimidad. En la parte trasera de la casa tenemos un bonito patio donde disfrutar rodeado de flores y del pozo. En donde siempre disponemos de leña para la barbacoa o dar "caliu" al salón con nuestra chimenea. La casa dispone de calefacción con radiadores en habitaciones y buhardilla y chimenea en salón. En verano no es necesario aire acondicionado ya que se duerme muy fresquito. Si es necesario disponemos de cuna, bañera y trona para bebés.
La casa se encuentra en pleno casco antiguo de Riudecanyes, un bonito pueblo tranquilo. Situado donde empieza la montaña y a tan solo 10 minutos del mar. Con un pantano en el mismo pueblo por el que poder pasear o navegar en cayac . A las afueras encontramos el castillo de Sant Miquel de Escornalbou , el cual se puede visitar y donde disfrutar de maravillosas vistas hasta el mar. Pudiendo practicar senderismo, BTT etc. Y a tan solo 20 minutos tenemos el Parque temático de Port Aventura(Salou), o las capitales de Reus o Tarraco Romana . Por otro lado está el Priorat y Montsant, tierra de excelentes vinos y bonitos paisajes.
Kamertype
Gehele woning/appartement
---
Type woning
Huis
---
Geschikt voor
8
---
Slaapkamers
Riudecanyes, Catalunya, Spanje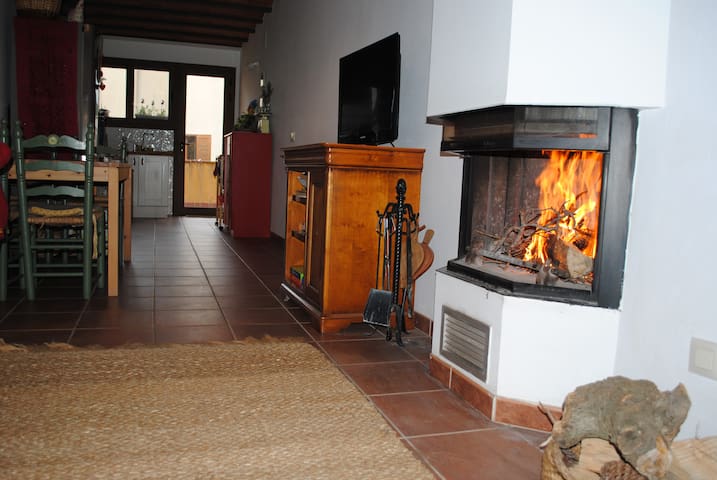 Casa en el centro del pueblo. Antiguamente era la casa del herrero, y por ello hemos querido conservar unos cuantos utensilios con los que se trabajaba. Casa de 1827, reformada en 1992 y que le hemos dado una segunda vida en la actualidad. Casa de 3 pisos, con Hall, comedor / cocina, 2 baños y 3 habitaciones grandes equipadas. Se encuentra situada a pocos km de la playa y del Port Aventura. Mucha actividad rural en la zona, gastronomía y enoturismo Número licencia: HUTT-011363
Dispone de mucha actividad de montañismo ya que se encuentra en medio de un espacio protegido como es la Mola de Colldejou y la Sierra de Llabería, con muchas rutas para hacer a pie o en bici de montaña como en 4x4
Dispone de mucha actividad de montañismo ya que se encuentra en medio de un espacio protegido como es la Mola de Colldejou y la Sierra de Llabería, con muchas rutas para hacer a pie o en bici de montaña como en 4x4
Nous avons passé de magnifiques vacances dans la région de Tarragone, entre autre grâce à David et Pili, qui nous ont accueillis avec beaucoup d'attention, de gentillesse et disponibilité. Lors de notre semaine c'était la fête du village, nous avons eu la chance de vivre une vraie fête Catalane, juste sous nos fenêtres. David et Pili, avaient même prévus des bouchons d'oreille si le bruit nous posait soucis, voici un exemple de gentille attention dont ils ont fait preuve. :) La maison est conforme au descriptif, rénové par David et Pili, avec beaucoup de gout et d'idée. Le village de Colldejou est au cœur de la montagne, idéal pour les ballades à pied ou à vélo. C'est une location que je recommande pour les amoureux de la nature. Merci encore à David et Pili
caroline
2016-08-16T00:00:00Z
Un grand merci à Pili et David pour leur accueil et leur gentillesse. La maison était tout à fait conforme au descriptif et aux photos, très agréable, le village est magnifique, un vrai havre de paix proche de la ville.
Vincent
2016-08-09T00:00:00Z
The host canceled this reservation 4 days before arrival. This is an automated posting.
Corenthin
2016-06-20T00:00:00Z
Allez y vous ne serez pas déçu !
caroline
2016-08-26T00:00:00Z
Français : Notre séjour a été super dans ce lieu au cœur de la montagne ! David et Pili sont des hôtes très sympathiques et très disponibles. Nous avons pu les joindre autant de fois que nous avons voulu. La maison ressemble exactement aux photos mises en ligne sur l'annonce. Un village très vivant et accueillant nous a permis de passer de très bonnes vacances à Colldejou. De plus, la grande piscine municipale (gratuite pour ses hôtes) à 100m est un excellent atout de cette annonce. Merci à eux. English : Our trip was great in this place in the heart of the mountain! David and Pili are very friendly and very attentive hosts. We were able to join them as many times as we wanted . The house looks exactly like the photos posted on the announcement. A lively and welcoming village allowed us to spend a great vacation in Colldejou . In addition, the large municipal swimming pool (free for guests ) at 100m is a great asset of this announcement. Thanks to them. Español : Nuestro viaje fue muy bien en este lugar en el corazón de la montaña! David y Pili son anfitriones muy amable y muy atento . Hemos sido capaces de unirse a ellos tantas veces como queríamos. La casa se ve exactamente igual que las fotos publicadas en el anuncio . Un pueblo alegre y acogedor nos permitieron pasar unas excelentes vacaciones en Colldejou . Además , la gran piscina municipal ( gratuito para los huéspedes ) a 100m es una gran ventaja de este anuncio. Gracias a ellas .
Gabriel
2016-08-06T00:00:00Z
Muy atentos a todo lo que pedimos antes de llegar. Una experiencia muy buena!
Mònica & Andrea
2016-09-07T00:00:00Z
un accueil parfait,nous étions attendu à l entrée du village.David et Pili sont très accueillants et gentils. la maison est dans un village de montagne très calme et reposant.le cadre es magnifique. la maison est parfaite,décorée avec soin,pratique avec les deux salle de bain.une à chaque étage.les chambres sont spacieuses et la pièce à vivre aussi et donne sur la place du village par une énorme porte et cela est agréable. je recommande fortement
Melissa
2016-10-30T00:00:00Z
Kamertype
Gehele woning/appartement
---
Type woning
Huis
---
Geschikt voor
6
---
Slaapkamers
Colldejou, CT, Spanje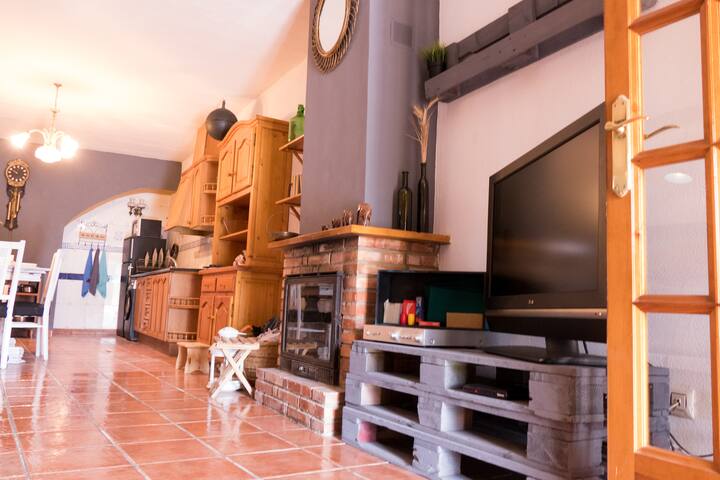 Us encantarà aquest apartament situat en una casa del s.XVIII que acabem de restaurar. Hem deixat a la vista elements antics, bigues de fusta o parets de pedra, i alhora, hem incorporat les millors comoditats: una gran estufa-llar de foc, calefacció i l'aire acondicionat. La casa es troba en el casc antic del poble de Riudecanyes, famós pel seu embassament i el castell d'Escornalbou, i molt proper a les platges i llocs interessants: ermites, poblets, ruta Gaudí. Allotjament oficial: HUTT-009937
Aquest apartament es troba en el primer pis i està format per una sala-menjador amb una gran estufa tipus llar de foc ( on podreu torrar pa i sentir l'agradable calor del foc), una cuina (perfectament equipada amb forn, microones, rentadora, cafetera nespresso i tradicional), una habitació de matrimoni, una amb dos llits, una altra amb llitera i un bany complert amb dutxa. També disposa d'una terrassa de 10 m2 amb taula i cadires i un petit balcó al carrer.
Ens encanta el nostre poble perquè s'hi respira una pau i un ambient especial. Als matins es senten cantar els ocells y molt a prop de la casa es troben petites botigues de poble on la gent encara fa tertúlia amb els seus veïns a la vegada que compren bona carn, embotits, fruita y verdura de proximitat, pa o la tradicional coca en recapte (espècia de pizza sense formatge normalment de ceba i pebrot) feta en forn de llenya. Es viu la vida de poble. A l'entorn podeu sortir a caminar: hi ha diverses rutes que surten directament del poble des de una hora a excursions de un dia: pel bonic pantà (on es pot fer caic o altres esports nàutics) els camps d'oliveres o les muntanyes properes coronades pel castell-monastir d'Escornalbou en un entorn preciós. També podeu arribar fent senderisme a l'indret on Gaudí es va inspirar per fer algunes de les seves obres més emblemàtiques. A part, molt a prop s'hi troben ermites, termes, altres poblets preciosos, les platges de Cambrils, Salou i les cales de Mont-roig i l'Hospitalet de l'Infant; el Santuari de la Mare de Déu de la Roca (13km), així com importants centres d'oci com Port Aventura (20km). També és molt a prop el Priorat ( amb la ruta dels vins, preciosos pobles, parcs Naturals o ermites i monestirs...), la Tarragona romana, Reus comercial i modernista... .
Kamertype
Gehele woning/appartement
---
Type woning
Huis
---
Geschikt voor
6
---
Slaapkamers
Riudecanyes, Catalunya, Spanje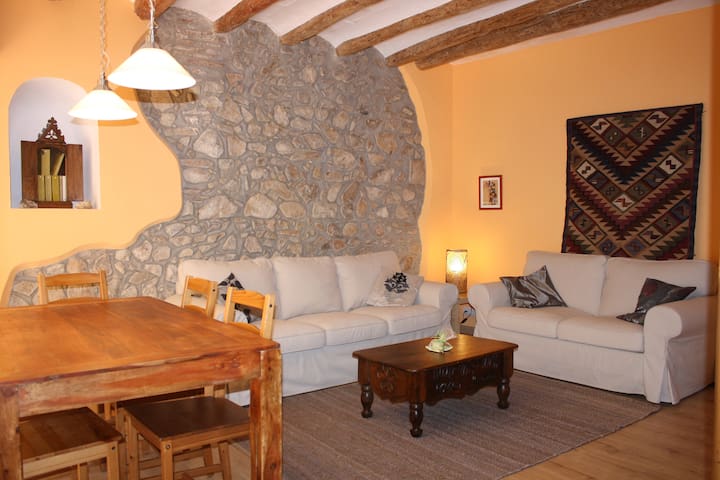 Un habitación para3 con un baño independiente y derecho a la cocina. Wifi disponible. En un lugar pintoresco y alejado de la gran civilización. Tranquilo cerca el pantano y las montañas a la distancia 8km del mar. Excelente para descansar y disfrutar
Zona tranquila
Familiar con parc jugar para los niños
Kamertype
Privé Kamer
---
Type woning
Huis
---
Geschikt voor
3
---
Slaapkamers
Riudecanyes, Catalunya, Spanje
Wynajme pokoj na wakacje i weekendy . Riudecanyes provincia Tarragona, Hiszpania. Pokoj jest z dostepem do lazienki i kuchni i WIFI. zapraszam serdecznie Kasia wiecej inf na priv. Habiatción en lugar pintoresco con baño y derecho a ala cocina yWIFI.
Kamertype
Privé Kamer
---
Type woning
Huis
---
Geschikt voor
3
---
Slaapkamers
Riudecanyes, Catalunya, Spanje
I offer my wooden house; a quiet place surrounded by olive trees, ideal for rest, but close to everything. Easily accessible from the AP7, A7 and Nal. 340. Very near the town of Mont-Roig del Camp, with all services. Ideal for 4 people. Fully equipped with bedding and towels. WIFI. Living / dining room with open kitchen. 2 bed. with double bed. Cradle. Bathroom. Toilet. Heating. Air conditioner. Washing machine. Dishwasher. I accept animals.
The house is surrounded by unspoiled nature in a typically Mediterranean environment. A small ideal for hiking or mountain bike instead. Very close to the village with all amenities. Medical, supermarkets, convenience stores, vet... Close to town and the beach. Fully equipped. 2 double bedrooms. Bathroom and toilet. Heating. Air conditioning. Beautiful views. Total tranquility. Perfect for trekking and mountain biking. wifi access. Pets accepted
As the house is in the middle of the field, its main attraction is the peace and quiet. At night the sky is so starry, that those who live in big cities and remember. Less than 25km radius there are many cultural and tourist options. In the village of Mont-Roig itself, the CENTRE MIRÓ, interpretation-center of the great painter JOAN MIRÓ. The little MUSEUM OF OLIVE-OIL, with tasting and the ERMITA DE LA ROCA a chapel in a magical mountain that you can not miss. A few minutes, ESCORNALBOU a medieval castle, with its spectacular views of the region; in Montbrió, the curious MUSEUM OF WINE "Els cups", with wine tastings. And just 20 ' in Reus, -one of the most important commercial cities of Catalunya-, the interesting CENTRE GAUDI and paths of modernist architecture. A visit to the stunning city of Tarragona, where you can step back in time among the many Roman ruins and enjoy some tapas in their streets full of charm. A few minutes ESCORNALBOU medieval castle, with its spectacular views of the region; Montbrió the curious MUSEUM OF WINE "Els cups", with wine tastings and tasting. And in Reus, just 20', one of the most important commercial cities of Catalunya, the CENTRE GAUDI and path of modernist architecture. It is essential to visit the stunning city of Tarragona. You can go back in time among the many Roman ruins and enjoy some tapas in their streets full of charm.
Het huis van Irene ligt op een prachtige plek tussen de olijfbomen en met uitzicht op de bergen. Binnen 10 min ben je op een prachtig strandje (niet toeristisch) of midden in de bergen tussen de wijnstokken van Montsant en Priorat. Irene is een hartelijke gastvrouw die veel weet over de bezienswaardigheden in het gebied. Een absolute aanrader!!!
Celine
2015-08-19T00:00:00Z
Zeer comfortabel huisje, vriendelijke gastvrouw, veel privacy rondom het huisje, dichtbij zee, maar ook in de bergen.
Jacco
2017-03-05T00:00:00Z
Bonito lugar
Mercedes
2017-03-26T00:00:00Z
Casita preciosa en un entorno tranquilo y bonito,en plena naturaleza. La anfitriona Irene muy agradable y atenta en todo momento. Para repetir sin duda.
Elena
2017-02-21T00:00:00Z
Casita de madera encantadora, en medio de campo de oliveras, cerca de la playa y posibilidad de senderismo, bicicleta carretera (muchas), visitas culturales, Castell Escornalbou, ermita de la Roca y un sinfin de lugares para no descansar, cuando la estancia en la casa así lo reclama..
Carles
2017-03-30T00:00:00Z
Irene was a fantastic host she was there to welcome us when we arrived and gave us great advise of where to visit during our stay.
Jeannie
2015-09-03T00:00:00Z
Disfrutamos el fin de semanaen la casa, el trato con irene de diez, muy atenta y simpatica. La casa se ve mucho mas grande que en la foto y lo pasamos genial. Gracias irene!
Olga
2015-11-15T00:00:00Z
Irene es muy amable y atenta, con sus indicaciones se llega muy bien a la casa. La casa es muy confortable y está situada en medio de campos de olivos con la sierra de llaveria de fondo. Hemos estado en otoño, una zona muy tranquila y recomendable. Hay muchos rincones por descubrir.
Marta
2015-12-08T00:00:00Z
Kamertype
Gehele woning/appartement
---
Type woning
Huis
---
Geschikt voor
4
---
Slaapkamers
Mont-roig del Camp, Catalonië, Spanje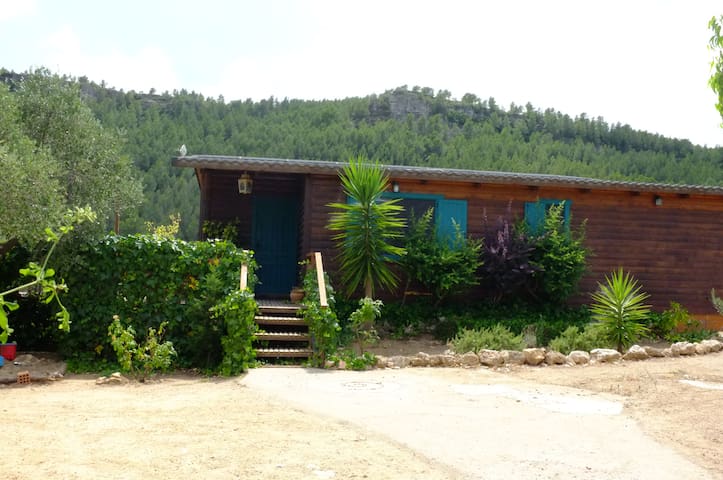 Rustic family house of 220m2 on 2 levels, sea and montain views .Closed Plantation of 1 ha. Fenced pool and garden, 10 mn from the beach. Surrounded by pathways. We love our environment and are happy to advise you on the best places to visit .
The ground floor is decorated rustic style with large fireplace, dining table 3m, fully equipped kitchen, pantry, bathroom with shower and bedroom with 2 single beds. The second floor has 2 terraces, 3 bedrooms, bathroom with tub and room for washing machine and iron. All the windows equipped with mosquito nets and shutters Rooms equipped with ceiling fans. Fenced pool (8m x 4m) ideal for families with children offering security. Garden, awning, deck chairs, outdoor furniture, barbecue. WI-FI, t.v with international channels, DVD, microwave, oven, dishwasher, 2 fridges,1 integral freezer, washing machine, iron and ironing board.
Das Haus befindet sich 5 Min. zu Fuss von dem schönen Dorf Botarell, 10 km von Cambrils (berühmte gastronomische Stadt) mit den besten Stränden an der Costa Dorada, 10 km von Reus (Einkaufszentrum), 15 km von Port Aventura (Themenpark), 25 km von Tarragona (Stadt Roman) und 100 km von Barcelona entfernt.
Wir waren die letzte Juli- und erste Augustwoche in der schönen Finca Laumar. Aus der kalten Schweiz ins warme Spanien. Mit Maria hatte ich schon vor den Ferien immer wiedermal Kontakt. Sie war bereits da sehr hilfsbereit und sehr zuvorkommend. So konnten wir mit gutem Gefühl nach Riudecanyes (eigentlich ist man näher bei Botarell) reisen. Bestimmt auch ein Grund für das gute Gefühl war, dass Maria und ihr Mann Deutsch sprechen und so die Sprachbarriere überwunden wurde. Wir wurden sehr freundlich empfangen. Das Haus liegt ausserhalb vom kleinen Dörfchen Botarell. Man hat das Gefühl, man sei ganz alleine auf dieser Welt. Nur die Hunde, welche in der Umgebung abends bellten (man gewöhnt sich mit der Zeit daran ), machten uns klar, dass doch noch andere Menschen in der Gegend wohnen. Das Haus und der Garten sind sehr gepflegt und es fehlte uns an nichts. Mit dem Auto (unbedingt notwendig, wenn man nicht nur im Haus Zeit verbringen möchte) machten wir verschiedene Ausflüge. Die Region ist extrem vielfältig, wir waren wandern, besuchten die Weinberge von Priorat, fuhren im Stausee von Riudecanyes Pedalo, sonnten uns an den Stränden von Salou bis Miami Platja (hier lohnt es sich Maria und ihren Mann zu fragen, wo die schönsten Strände sind), Tagesausflug nach Barcelona, Port Aventura Funpark (unter der Woche und so früh wie möglich gehen. Wir hatten einen Expresspass, so mussten wir nie lange anstehen. Dies hat sich gelohnt.) Wir fuhren nach Tarragona und mehrmals nach Cambrils (feines Essen und super Glace). Die Gegend und das Haus empfehle ich Paaren oder Familien, die gerne weg vom Trouble nach Ruhe suchen. Man ist in wenigen Minuten an so vielen Orten, aber auf ein Auto angewiesen. Und Maria und ihre ganze Familie immer zur Stelle, wenn man Hilfe oder Informationen über ein Ausflugziel braucht. Tolle Ferien, tolle Familie, tolles Haus, tolle Region. Danke Maria, Laurant und ihren Jungs für unsere unvergesslichen Ferien in ihrem schönen Haus.
Martina
2016-08-07T00:00:00Z
Kamertype
Gehele woning/appartement
---
Type woning
Huis
---
Geschikt voor
8
---
Slaapkamers
Riudecanyes, Catalunya, Spanje
The house is in the center of Mont-Roig in Plaça Joan Miró, at the foot of the tower. You will have amazing views from every corner of the house. You will love my house so if you want to enjoy the tranquility as if you love nature and its sports. My house is perfect for couples, families with children and artists.
Full house in the town center. There are three floors. Ground floor: entrance hall. First floor: kitchen, living room, two bedrooms, small bathroom. Second floor: bathroom with bath, laundry room with washer and dryer, living room. Terrace with access by spiral staircase.
The neighborhood is the center of Mont-roig, in front of the bell tower. Mont-roig is a quiet town full of life, shops, bars and restaurants.
Muchas gracias por todo, hemos estado muy agusto en tu casa, muy cercano de la playa y muchos sitios de interés. Gracias, un saludo.
Pilar
2016-07-11T00:00:00Z
La casa es super bé y molt grand. Es al centre del poble y davant del museu Miro. Em passat super vacances, y em pratica el catala. Molt gracies per tot. Una càlida benvinguda. Tornem Une maison très grande et très agréable proche des plages et de la montagne. Tout ce qu'il faut sur place, nous avons été très bien accueillis. Merci pour tout. Nous reviendrons.
Sylvain
2016-07-23T00:00:00Z
Pilar est une personne très accueillante et chaleureuse. Nous avons été très bien accueillis. La maison est juste splendide: très spacieuse, joliment aménagée et très bien équipée. La ville ou elle se situe est charmante et paisible, ses habitants sont très sympa. La plus proche plage se trouve à 6 km. Nous avons passé un très agréable séjour chez Pilar et nous conseillons son logement à tous :)
Eryka
2016-08-28T00:00:00Z
La situación del pueblo ideal, te puedes desplazar a otras localidades en poco tiempo. Las campanas.....Ay!! Me acostumbre cuando ya se terminaba nuestra estancia
Carmen Pilar
2016-07-30T00:00:00Z
Logement très agréable à moins de 10 min de la mer.
Rico52
2016-08-07T00:00:00Z
This is a lovely house situated in the historic center of Mont-roig. If you want to stay in a luxurious brand new place, you should go for something else. But if you are looking for a charming old Spanish town house, this I a very nice place. By the way; the view is really spectacular!
Stijn
2016-09-21T00:00:00Z
Kamertype
Gehele woning/appartement
---
Type woning
Huis
---
Geschikt voor
4
---
Slaapkamers
Mont-roig del Camp, Catalunya, Spanje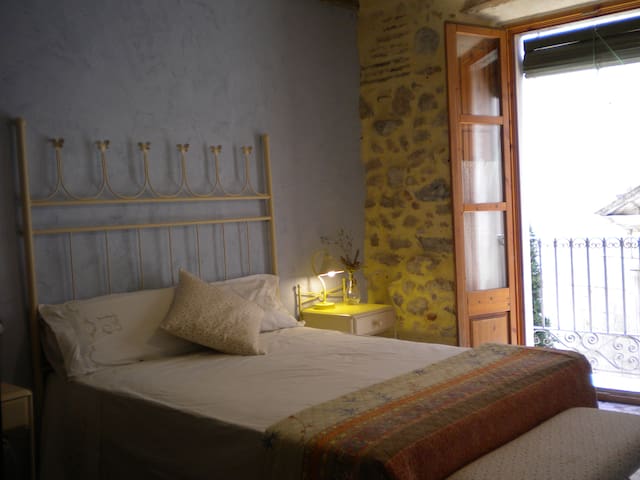 In the surroundings you can enjoy various activities: Horse Riding, Golf courses, guided 4x4 excursions, wine tours of the Priory, cultural monuments, modernist buildings in Reus, natural park Delta, Port Aventura theme park. You'll love: Large house fully equipped with land and swimming pool with 4 bedrooms, 3 bathrooms, kitchen, cellar, barbecue, terraces, parking and 15 km from the beach. Hutt-006852
The accommodation has the privilege of being in a rural setting bine connected to the towns of Reus and Tarragona and 15 km dela beach
The countryside surrounding the village is charming
La casa es mejor que en las fotos, el jardin es impresionante, desayunar allí, en el cesped un dia soleado es perfecto! La casa es muy grande y tiene muchas zonas de relax, cocina practica y con todos los utensilios. Quiero volver en verano para disfrutar de la piscina.
Samuel
2016-10-16T00:00:00Z
The host canceled this reservation 8 days before arrival. This is an automated posting.
David
2017-04-06T00:00:00Z
Lovely house!
Jari
2017-01-02T00:00:00Z
Kamertype
Gehele woning/appartement
---
Type woning
Huis
---
Geschikt voor
8
---
Slaapkamers
Les Voltes, Catalunya, Spanje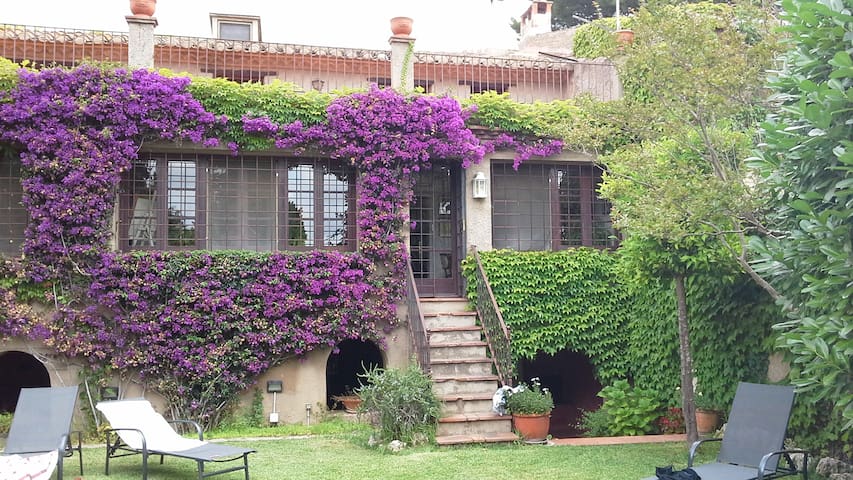 Mi alojamiento es bueno para parejas, viajeros de negocios, y familias (con hijos).
Gracias a Xavier , ya que en todo momento se preocupó por nuestra llegada y que todo estuviera a nuestro gusto, ya que íbamos con un niño pequeño. La casa esta de maravilla, no falta ningún tipo de detalle. Se nota que esta recién reformada y muy limpia.
Carlos
2017-04-09T00:00:00Z
Kamertype
Gehele woning/appartement
---
Type woning
Huis
---
Geschikt voor
6
---
Slaapkamers
Porrera, Catalunya, Spanje
Casa rural ecològica i còmoda. Ideal per a les persones que busquen contacte directe amb la naturalesa i descans. Situada al peu de la Mola de Colldejou, al mig de les muntanyes, entre oliveres, pins, i ametllers...
En plena muntanya, a nomes 15 minuts de las platges, aquesta casa situada a les afores d'un poble ple d'encant, us seduirà per la seva tranquil·litat, serenitat i les seves nombroses activitats (esport, excursió...) Tot això en un entorn excepcional, al peu de la Mola, on gaudiran d'una casa rural independent, una estància espaiosa i confortable. Tot el conjunt funciona amb energies renovables.
Situada a 1,5km de la sortida del poble de Colldejou (poble típic de Catalunya amb els seus 200 habitants,el seu fabricant de formatges de cabra i els seus petits comerços locals) tot en un entorn muntanyès i verd. La casa rural es troba en un lloc estratègic, en plena muntanya i a 15 minuts de les platges, en el límit entre la comarca del Baix Camp i Priorat, famosa per la seva cultura vinícola, la qual és reconeguda mundialment amb el seu D.O. Al mateix temps es troba a tan solo 25-30 minuts de les zones comercials, turístiques e històriques: Reus, Tarragona, Salou, Cambrils. Montanya: -L'ascensió de la Mola ( 914 m ) vista panoràmica. -Excursionisme , camí GR 7 ( França – Gibraltar ) -B.T.T i ciclisme Platjes: Esports aquàtics i relaxació a 15 minuts. Ciutats turistiques i històriques: -Tarragona (patrimoni mundial), a 35min. -Reus ( zonas comercials, museus, monuments ) a 25 min -Barcelona a 1h20. Oci: -Port Aventura a 30min. -Golf Bonmont a 20min. -Estacions balneari; Salou, Cambrils a 25min -Discoteques: com "Pacha" en La Pineda a 30min. -Centre Termal & i posta en forma "Termes de Montbrió" a 20min.
The host canceled this reservation the day before arrival. This is an automated posting.
Marcos
2016-02-11T00:00:00Z
Muy acojedora, todo muy limpio y nuevo, no faltaba detalle, menaje de cocina super completo, un trato excelente y una estancia perfecta
Yasmin
2016-03-27T00:00:00Z
Kamertype
Gehele woning/appartement
---
Type woning
Huis
---
Geschikt voor
8
---
Slaapkamers
Pradell de la Teixeta, Catalunya, Spanje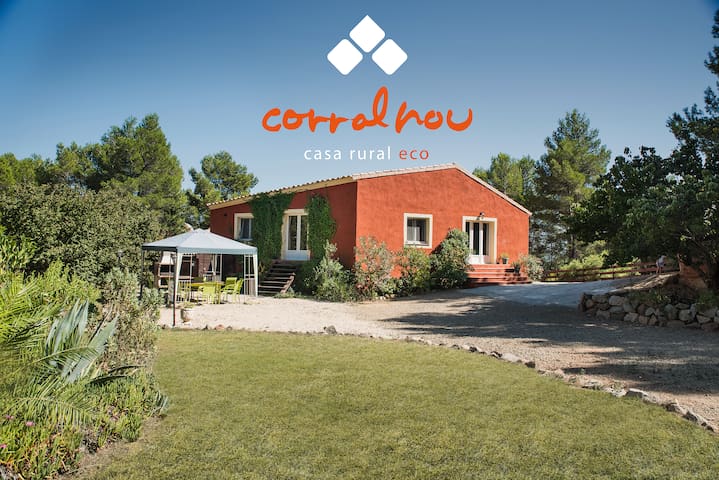 "El Verger" is a homely one level house with a courtyard, located in a privileged place of the town, next to the castle, in a very quiet zone, with magnificent views. Every day you can see a very beautiful sunset.
The house has only one level, comfortable and very bright, equipped to have a pleasant stay. It is located in the top of the town, next to the castle "Castell del Vi", accessible and very quiet.
It is very quiet, and in few minutes you can be in the centre of the town, where you found supermarkets, pharmacy, restaurants, wine shops, and a public swimming pool.
Ha sido un fin de semana estupendo en un entorno entrañable, la casa es muy amplia y con un jardín muy bonito, la anfitriona se ocupó perfectamente que no nos faltara de nada y nos encontráramos como en nuestra propia casa 100% recomendable.
Maria Angeles
2015-08-03T00:00:00Z
Fantástica casa en Falset, magnificas vistas y con una terraza muy amplia. Nos sentimos muy a gusto. Muy ordenado y limpio. Con todo lo que se necesita para un fin de semana. Núria nuestra anfitriona muy atenta a todo. Muchas gracias. Fin de semana inolvidable en el Priorat.
Neus
2016-05-30T00:00:00Z
Es una casa ubicada en la mejor zona del pueblo con buenas vistas desde lo alto. Tiene amplias habitaciones con muebles que reúnen lo tradicional con lo moderno y equipamiento más que completo para la necesidad del huésped. La anfitriona ha estado disponible y atenta a nuestra comodidad.
Muhanad
2015-08-08T00:00:00Z
The house is very nice and spacious, location is great with beautiful view. Nuria was friendly and helpful. My recommendation! :)
Barbora
2015-08-29T00:00:00Z
Ya hemos vuelto de nuestra estancia. Los seis nos encontramos muy agusto y gratamente sorprendidos por el encanto de la casa y su jardin. Un espacio que poco a poco nos hizo sentir como en nuestra propia casa aprovechando tanto el interior que durante el dia nos protejia del calor como del exterior por las tardes y noches. Las vistas son privilejiadas: la mola llevaria el campanar y las dos estupendas puestas de sol. En el corazon del Priorat disfrutamos tambien del vino y de la naturaleza. Senderismo y bañito en rio. La sensacion al marcharnos fue la de que volveremos. Hemos encontrado un refugio. La verdad es que no echamos nada en falta. Muchas gracias por dejarnos compartir vuestro espacio y el de vuestra familia.
Emilia
2015-07-13T00:00:00Z
Kamertype
Gehele woning/appartement
---
Type woning
Huis
---
Geschikt voor
6
---
Slaapkamers
Falset, Catalunya, Spanje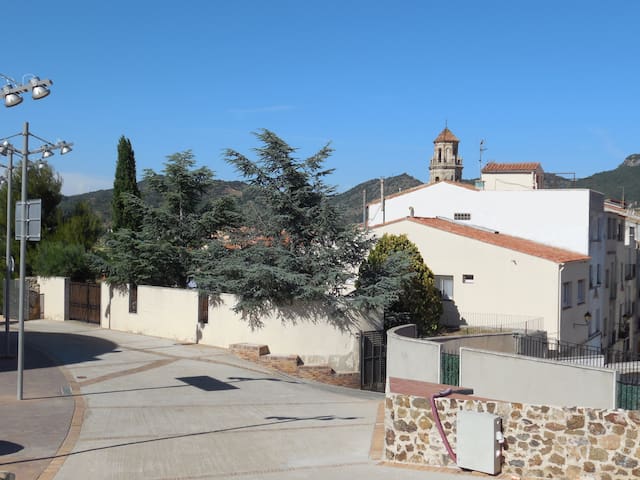 L'Argentera - Airbnb
:
Gemiddeld

4.56

van

5

sterren op basis van

165

gastrecensies
1

–

18

van

25 Huizen te Huur