Onze plaats is in de buurt van Kern River en Lake Isabella.
The apartment is light, clean and a roomy area. It does not have a full kitchen. There is a refrigerator, hot plate, toaster oven, microwave and coffee maker. Dishes can be hand washed in bathroom sink or given to owner to do in dishwasher. There is a queen size bed in the small bedroom, the couch can sleep one and an auto-fill queen size air bed is available to set up in the living room.
We loved staying at Bonny's place and also her hospitality! We would go there again in a heartbeat :)
Jolmer
2017-02-21T00:00:00Z
Bonny's place felt homey and was stocked with everything we needed. It was easy to find and Bonny was there with the key for us on our arrival. We used it as a base to explore the area and were very pleased with it.
Patty
2017-03-12T00:00:00Z
Great location, five minutes from the lake. Helpful host in all situations.
Tiffani
2017-04-02T00:00:00Z
Bonny was a great host to my daughter and myself. She was very kind and generous. The accommodations were everything we needed and more for our weekend trip. We would definitely stay there again.
John
2017-03-26T00:00:00Z
Bonny's place was awesome! She was there when we got in and showed us around the space. She provided all the linens and had the air mattress inflated on our arrival. She had lots of amenities and provided snacks in her well- equipped kitchen! There is also a gas heater provided which keeps it really cozy on cold nights. Bonny was super nice and i would highly recommend exploring the beautiful surroundings when you stay here, we didn't get the chance to look around the area much, but just driving through is worth it!
Lauren
2017-02-26T00:00:00Z
Very good location in Lake isabella. Excellent communication, wonderful landlady. Thanks Bony
Ori
2017-03-21T00:00:00Z
The stay at Bonny was nice, the accommodation is the description. For a detour to the Yosemite National Forest or as an intermediate stop on the way to Vegas is ideal.
Christian
2017-03-05T00:00:00Z
Nous avons passé une nuit dans un logement très agréable, très propre et très (URL HIDDEN) est bien équipé pour faire a manger et pour le petit déjeuner et Bonny met a disposition des produits pour les repas et le necessaire pour le petit déjeuner. Le quartier est calme et près d'un restaurant sympa .C'était une étape très appréciée .
hervé
2017-04-04T00:00:00Z
Kamertype
Gehele woning/appartement
---
Type woning
Appartement
---
Geschikt voor
4
---
Slaapkamers
Lake Isabella, Californië, Verenigde Staten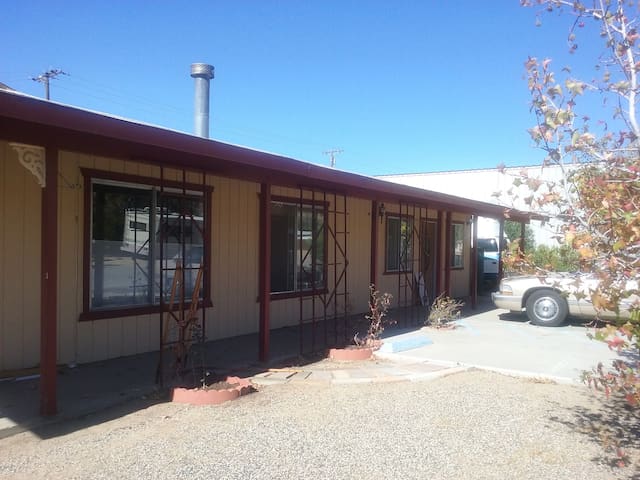 Our side unit is cozy yet spacious. We are walking distance to the beautiful Kern River and downtown. You will find Whitewater rafting, hiking, mountain biking and so many more activities.
Small space but nice access to town and scenic views!
Kelli
2017-01-07T00:00:00Z
Cody and Randi's place is ideally located near the center of town-an easy walk to the businesses and shops, and super close to the Ranger station for info on adventures in the National Forest. They were very accommodating of our late arrival, and communication was easy throughout. Plus the bed was super comfortable! Definitely recommend to anyone passing through Kernville.
Kate
2017-03-31T00:00:00Z
Very nice people! Room is in cute detached house, very clean! Flexible Check-in and -out. Incredibly beautiful surroundings with lots of hiking opportunities. Good restaurants and cafes very close!
Maximilian
2016-12-16T00:00:00Z
I was very grateful again to stay with Cody and Randi. They supplied me with all I needed for another great stay in Kernville. Comfy bed, nice ac and clean living space. 5/5 like always. Thanks again guys.
Troy
2016-07-09T00:00:00Z
Great place and very clean. Shower short though for any for anyone over 5'10. There was plenty of outlets for charging and the bed was super comfortable. Place is a quiet home like atmosphere.
Calvin
2017-03-19T00:00:00Z
We stayed here for a night on our way into Sequoia National Forest. We drove up from San Diego and planned on camping but with heavy traffic we were arriving too late and needed a place to stay for the night. Cody and Randi's place was perfect for the night before heading into the park for our camping trip. Right in Kerndale, 1/4 mile from the Ranger Station made it easy to get park information the next morning. Randi waited up for us late at night to greet us and let us into the separate/private unit next to her home. Everything was as pictured. Would definitely stay again if we were headed up that way. Even came across a family of deer crossing the road 1 block from the house.
Kevin
2016-05-29T00:00:00Z
Our stay at Cody & Randi's accomodation was really nice and a perfectly convenient choice on our route between Las Vegas - Death Valley and Yosemite. We were welcomed in person, being able to park directly in the driveway and had a good night stay. The accommodation was clean, too, which is very important for us :) Kernville is a cute city with some nearby wildlife where you could spend more than a night :)
Robin
2016-10-02T00:00:00Z
We had a lovely time. The apartment was tastefully decorated, neat and clean. It was quiet so that we got some good sleep. The lady of the manor was very gracious and hospitable. Everything was great!
Clarissa
2016-05-02T00:00:00Z
Kamertype
Gehele woning/appartement
---
Type woning
Appartement
---
Geschikt voor
4
---
Slaapkamers
Kernville, Californië, Verenigde Staten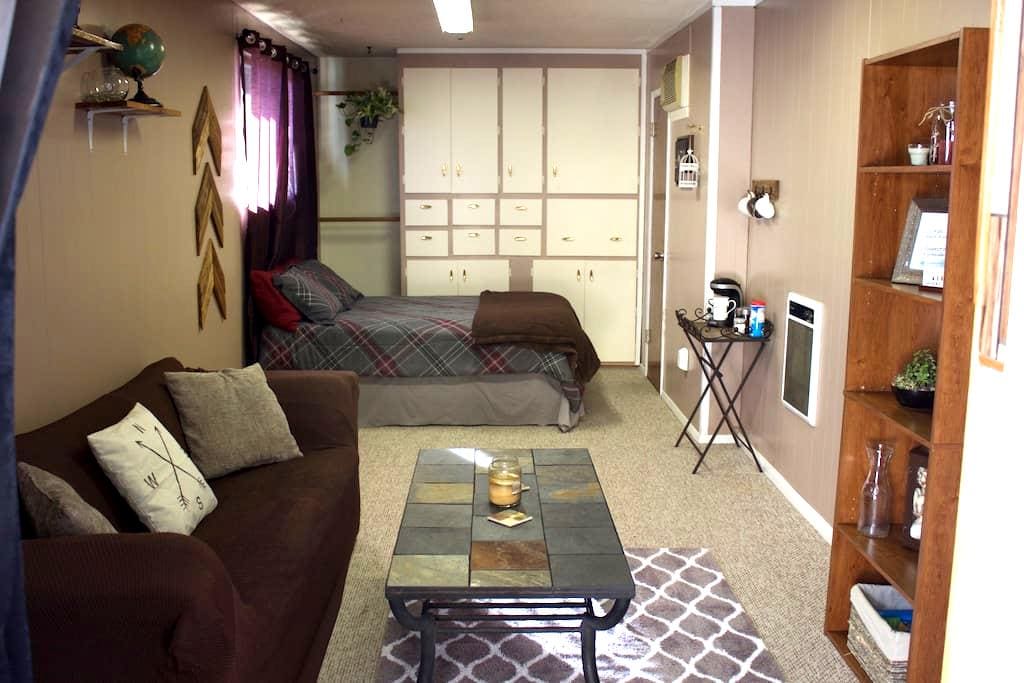 Stunning Mt. views in the Southern Sierra/Kern River. Large loft cottage, full kitchen, bathroom w/shower. The loft sleeps 5, additionally, we now have a private entry bedroom and bathroom available downstairs (sleeps 2, for a total of 7 people) if you wish to ADD this room Contact HOST. White water rafting, tubing, mountain biking, rock climbing, hiking, camping, fishing and outdoor activities. Dining and Antique shops. We are happy to offer Electric Vehicle Charging both 110 and 240v
We are located in the Southern Sierra Mountains, on the mighty Kern River and Lake Isabella. We are a three short block walk to the center of the village where you will find many antique shops, restaurants, and gift shops. Our town offers River Rafting, swimming, hiking, boating, and we are located just a short 30 minute drive to the Trail of 100 Giants, California Giant Redwood Park, where picnics are fantastic among 100 year old trees. (open May to October) (URL HIDDEN)
We offer quiet tree-lined streets, and a creek that runs through our property. There is a large grassy lawn for picnics, lounging or games. The village of Kernville has antique stores, sports rentals, other shops and restaurants and bars Calendar of Events: (URL HIDDEN)
The cottage over the barn is a great place for a quiet weekend getaway. Monica and Rob are wonderful hosts. The room is very clean, very large and very quiet. Great kitchen if you want to stay in and cook. Dawn and I enjoyed talking with Monica and meeting their grandson and beautiful dog Wolfgang. Monica made sure we had everything we needed for a great stay, and she even put a beautiful bouquet of fresh daffodils in the room for Dawns birthday. We would definitely stay here again and are happy to highly recommend this spot to the airbnb community. Thanks Monica and Rob!
Michael
2015-03-16T00:00:00Z
From the beginning, this was a wonderful experience. Monica was very flexible, friendly, and responsive as we worked out our booking and arrival. She made herself available for questions, directions, and recommendations, and you can tell she has put a LOT of effort into making the space comfortable. There are dozens of brochures and pamphlets with information about local restaurants, shops, and activities, and everything about the listing is very accurate. Everything was clean, comfortable, and all amenities were available as promised (wireless internet, TV, dishes, coffeepot, climate control, etc.). It was also a very easy walk into the village, and we were able to check out the museum, antique shops, and local restaurants without even getting into our car. All in all, Monica was a fantastic host, and the cottage is a really great space. We are definitely going to try to make our way back up here the next time we have the opportunity!
Michael
2016-02-22T00:00:00Z
Cozy place in a great location. Accommodating host...
Daniel
2017-01-13T00:00:00Z
Nice place. Great views
Corey
2017-02-23T00:00:00Z
Monica's place was perfect for our stay. We were only there for 1 night to hike in the sequoia national forest. The cottage above the barn was very clean and big! It was awesome to wake up to a view of the mountains. Monica and Wolfie (their very sweet dog) made us feel very welcomed upon arrival. Would definitely stay here again next time we venture that way!
Heather
2017-03-07T00:00:00Z
Spacious, well maintained, rustic and homely. Monica responds to messages quickly and assists with directions in advance too. Loved how there are board games, informative brochures and up to date kitchen and bathroom. Definitely recommended!!
Pranav
2017-01-15T00:00:00Z
What a lovely getaway!
Paxton
2017-03-14T00:00:00Z
We had a great time staying at Monica's cottage. It's very spacious, clean, and everything was as described. Monica made us feel welcome, including our young cat :). It's a perfect place to stay in Kernville.
Johannes
2016-12-22T00:00:00Z
Kamertype
Gehele woning/appartement
---
Type woning
Appartement
---
Geschikt voor
5
---
Slaapkamers
Kernville, Californië, Verenigde Staten
This newly remodeled cozy duplex consists of two spacious bedrooms and one cute bathroom. There's a fully furnished kitchen, dining room, and living room. Internet now available ! Also available is a vintage 4-5 people trailer on the property for rental.
Alongside the glorious, calm Kern River. There's plenty of outdoor activities right outside the door. Also available, a BBQ on the property to enjoy a nice meal while stargazing the Kernville night sky.
Outdoor activities include kayaking, white water rafting, boating, swimming, mountain biking, all levels of hiking, and an abundance of lake & river fishing. A few minutes away from the property, is Lake Isabella and the Alta Sierra Ski Resort. We offer activities for every type of individual.
It was a quiet neighborhood and walking distance to a popular beach along the Kern River. We were very comfortable and would stay here again for our next rafting trip.
Carmen
2016-07-15T00:00:00Z
We've stayed here before under previous owners. We have always liked the place...Jackie has made some nice changes, decorations etc. The only issue we had was the cable and internet was not hooked up and the cable guy stood us up two days in a row...Olympics were on, which we didn't want to miss. All in all it's a nice place,I'm sure we will be back.
john
2016-08-22T00:00:00Z
Awesome place to stay
Melissa
2017-02-19T00:00:00Z
Kamertype
Gehele woning/appartement
---
Type woning
Appartement
---
Geschikt voor
5
---
Slaapkamers
Kernville, Californië, Verenigde Staten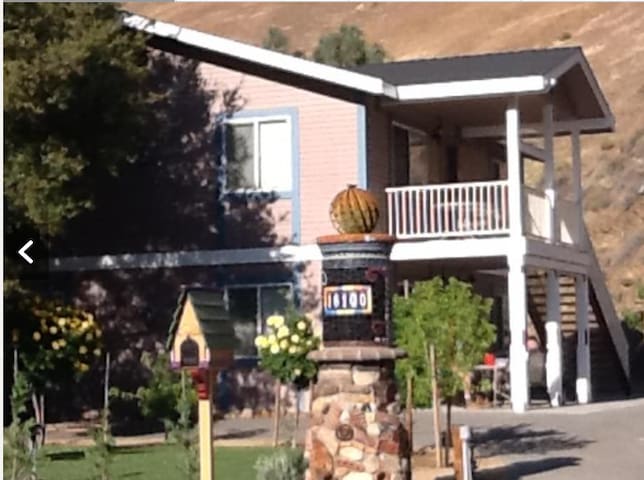 Great one queen size bed with private room. Includes shared bath, kitchen, living room, 2 miles from Bakersfield airport and 2.5 miles to freeway 99. Safe and good neighborhood, quiet place, and it's 1 mile from Walmart and Von's!
Great host. Very communicative and hospitable. Accommodations were clean, well kept, and the bed was very comfortable.
Andrew
2016-05-29T00:00:00Z
We had a GREAT stay at Vamshi's place, he is a very nice and welcoming host and made us feel very comfortable. The house is in a very quiet neighborhood but close to some places for dinner. We slept so well that we missed the alarm o'clock in the morning.... If we ever go back to Bakersfield (we're from France) we will go back to Vamshi's place for sure ! Thank you again Vamshi!
Viviane
2016-05-13T00:00:00Z
Bed was comfortable. Bathroom was not clean. The neighborhood made us uncomfortable, so much so that we didn't feel comfortable leaving our bike on the back of our car. The checkout time is listed as flexible, but as we were leaving around 7:50 a.m. Vamshi was also getting ready to leave. It seemed as though we were expected to leave prior to 8 a.m. Additionally an exact address was not listed and we had to call to know which door to knock on.
Fiona
2016-06-14T00:00:00Z
I was quite disappointed about the stay. The small annoying dog barked the hole time even during nighttime. There was a load ticking noise all the time. I couldn´t even sleep with earplugs. Although I wrote when asking for the stay that I plan to leave at 9 o´clock I had to leave the house at 8. Maybe I was used to flexible check-in/check-out time because of my last two stays. I would definetly dont´t come again. For $10 more I would have had a nice night at a motel.
Christian
2016-05-26T00:00:00Z
Vamshi was so kind, and wonderful to chat with. I enjoyed the neighborhood - got to go on a little evening jog and play on the playground!
Breanne
2016-05-30T00:00:00Z
Vamshi's apartment room is very clean and comfortable. We enjoyed our stay very much. He is also quick and easy in communication prior to arrival and during our stay. Vamshi is a great host and we would love to stay at his place if we visit Bakersfield in the future.
Luling
2016-05-22T00:00:00Z
Vamshi empfing mich sehr offenherzig und war ein sehr angenehmer Vermieter. Der Raum war angenehm groß und es fehlte an nichts. Die Matratze war sehr angenehm und ich schlief sehr gut. Wir konnten uns gut unterhalten und gingen auch gemeinsam zum Essen. Ich kann ihn ohne weiteres weiterempfehlen! i felt me from the first second very welcome. Vamshi is a very good host and the room was in a very good condition and have space enough. The mattress was awesome! we had a good conversation and enjoyed dinner together. highly recommended!
Timo
2016-06-01T00:00:00Z
Thank you Vamshi. though our visit was quite brief and we are new to air bnb Vamshi definitely went above and beyond to help us feel welcome and appreciated.
Tim & Heather
2016-05-16T00:00:00Z
Kamertype
Privé Kamer
---
Type woning
Appartement
---
Geschikt voor
2
---
Slaapkamers
Bakersfield, Californië, Verenigde Staten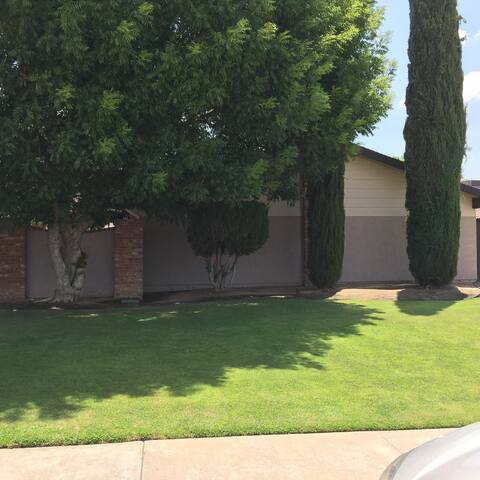 Lake Isabella - Airbnb
:
Gemiddeld

4.85

van

5

sterren op basis van

278

gastrecensies
1

–

5

van

5 Appartementen te huur