My place is close to Williamsburg Va. Richmond Va. Geo. Washington's Birthplace, Stratford Hall, Birthplace and Home of Chesty Puller, The Chesapeake Bay, restaurants and dining, nightlife. You'll love my place because of the location, the ambiance, the quiet and beauty .
I believe that you will find our little apartment quiet cozy and comfortable, as well as beautiful and peaceful. There is a full kitchen or fine dining not too far away Less than 3 miles. Upon your arrival, I or a member of my family or possibly a neighbor will be on hand to greet you, hand you the key and answer any questions you may have.
A lot of water sports and boating take place as Dymer Creek is an access point to the Chesapeake Bay. During the summer a lot of summer residence and other vactioner's are around.
Beautiful home in a very pretty location. the inside is *better* than the photos! We appreciated all the options of things to do -- board games, foosball, bikes and other outdoors stuff, etc. Bryan as a host was a real gentleman, very accommodating and helpful.
Tim
2016-08-08T00:00:00Z
Mr & Mrs. McClain are very welcoming, they met us at the home and gave us a tour of all the amenities. The place was clean and centrally located. We enjoyed our stay.
Lynne
2016-10-17T00:00:00Z
The inside of the house was very well kept and was very accurate as far as advertised. I cannot speak to the outdoor activities as it was rather cold. Bryan was very helpful with any questions and took care of any needs we had quickly. Our group of 4 was very comfortable!
Daniel
2017-03-12T00:00:00Z
Bryan and his wife were so friendly. I felt like they really tried hard to make sure our stay was great. The apartment is very spacious, and the photos do not do it justice. It appears everything has been recently renovated- everything is brand new and extremely clean. We had plenty of space for 2 adults and 3 kids. The closet off the master is large enough for a pack n play, FYI. Quiet, safe location near the Dymer Creek public access.
Abby
2016-07-10T00:00:00Z
Great place and very attentive host!
Susan
2017-02-15T00:00:00Z
My family and I stayed at Bryan's place for one night. We arrived at nighttime, so it helped that Bryan lit a tiki torch to signal the place and the parking area. We did not have the pleasure of meeting Bryan, but he left everything ready for us and kept in touch electronically throughout our stay. The home is cute, cozy, and clean. Our family enjoyed a movie night on the comfy couches, playing on the foosball coffee table, and wonderful sleep on great sized bedrooms. The upstairs and downstairs floors are connected by a small spiral staircase by the bathroom; we had a guest from upstairs come down to use something in the laundry area, but it was quick. I wish we had arrived earlier to have used the outdoor area, there was a gazebo, fire pit, and kayaks/bikes available for use.
Kenia
2016-06-26T00:00:00Z
Very nice accommodations, quiet, spacious and comfortable. Quiet and nice neighborhood, great for walks, close to town.
Carol
2016-11-21T00:00:00Z
Lovely place, nice sitting area, comfortable bedroom and equipped kitchen. Bryan was incredible kind, quick to communicate and you are minutes from White Stone and other lovely villages.
Kathleen
2017-02-20T00:00:00Z
Kamertype
Gehele woning/appartement
---
Type woning
Appartement
---
Geschikt voor
5
---
Slaapkamers
White Stone, Virginia, Verenigde Staten
Absolutely spotless!! Completely private. Very convenient to town, with all the comforts of home. Pat and Dennis are wonderful, informative hosts. Highly recommended.
David
2017-03-12T00:00:00Z
Pat & Dennis were amazing hosts. They were constantly available to answer any questions we had and went out of their way to provide an absolutely amazing experience. The rental was amazingly clean and well furnished and is located in a quiet & peaceful area right on the river. The entire area is very scenic and the local area businesses are both historic & family friendly. Pat & Dennis provided us with all the information on the local area as well as advice on local businesses and places of interested. There is even an informational folder for guests on the coffee table which has all the info you could possibly need. It was a nice surprise when we arrived there a few days before Christmas that Pat & Dennis had gone the extra step and provided us a Christmas tree and decorations, as well as coffee, creamer, and fresh muffins. The rental was spacious & comfortable, with great internet wifi, cable TV, and a generous selection of board games to keep the family entertained. After using Airbnb several times previously, I can honestly say this was our best experience so far. Thank you Pat & Dennis.
Paul
2017-01-20T00:00:00Z
Pat and Dennis couldn't be friendlier! They notified us ahead of time with restaurant suggestions and activities going on in town. They met us when we arrived, showed us the apartment and invited us to use their dock if we would like. The apartment is newly renovated, very clean and comfortable. The water side of their property is beautiful. We love being there!
Brad
2016-10-16T00:00:00Z
An incredibly immaculate property! Very comfortable and we'll stocked accommodations. It is in a quiet area with beautiful scenery and on the water. They have a nesting osprey nearby. Dennis & Pat are wonderful welcoming hosts who were accessible for questions and suggestions. They are from the area so it's great to get ideas for places to visit and dining. I look forward to my next visit!
Zoe
2017-04-01T00:00:00Z
Great welcoming process and mini tour to get familiar with everything. Cozy place, steps from the water, and everything was clean and well tended to. The breakfast of muffins and fruit was a crowd pleaser. Thanks again - will be looking for this listing again when we're in the area.
Chris
2016-10-23T00:00:00Z
Pat and Dennis's apartment was absolutely perfect and is located in an amazing small town, Urbanna, VA! I was in town with my boyfriend for a little weekend getaway and our stay couldn't have been better. The apartment itself is beautiful and beach themed. Tons of space, very clean, and the bed was so comfortable. This place beats any hotel room or bed and breakfast I've ever stayed at. Take a walk down to their dock too, the views are great. Pat and Dennis were very genuine hosts who were a pleasure to meet and speak to. They made sure we had everything we needed for a great stay. Also, Urbanna, what a neat town! I was able to walk everywhere in Urbanna from Pat and Dennis's place. Cute shops in town, really neat places to eat, and the people are so friendly. I'd highly recommend eating at "Something Different Restaurant." Very unique rustic place with amazing homemade barbecue, seafood, ice cream and desserts. They also have great drinks and have live music! I'd highly recommend this place to anyone! My boyfriend and I will definitely be staying at this place again in the future. Thanks Pat and Dennis!
Jenna
2016-09-17T00:00:00Z
This place is very relaxing. Beautiful small town with great restaurants. The apartment is very clean and plenty of room. Don't worry about the sleep sofas . They are real comfortable .Three couples could easily fit into the space. Pat and Dennis are really nice hosts. This is a great value for the rate. My family will definitely be back.
Greg
2016-11-06T00:00:00Z
The Vacation Station is a perfect spot for families and couples. There is lots of room, a river view, walking sites, and walking distance from shops and eateries (and the neighborhood has cats, if you're an animal lover). I enjoyed the cleanliness and privacy that the house provided. It is like a loft apartment. There are sky windows that you can view the stars through if it's too chilly outside. Pat and Dennis are sweet and helpful, and really care about making your stay great. I will definitely be staying here again. Thank you!
Emma
2016-10-27T00:00:00Z
Kamertype
Gehele woning/appartement
---
Type woning
Appartement
---
Geschikt voor
6
---
Slaapkamers
Urbanna, Virginia, Verenigde Staten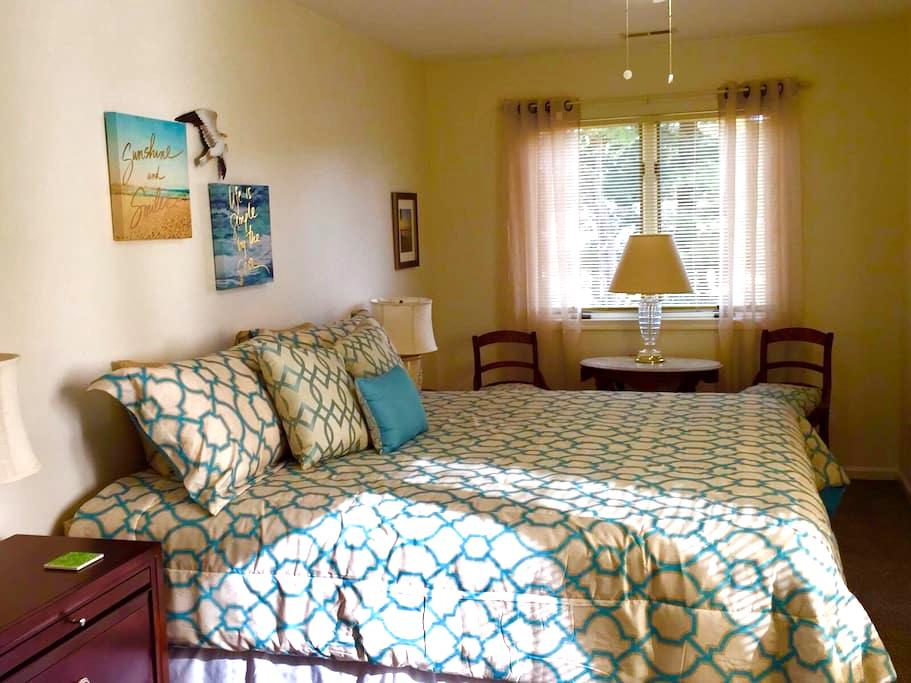 Nossa casa está localizada na margem do rio Rappahannock em Tappahannock. A sua suite beira-mar tem quarto de casal, uma cozinha, casa de banho e mobiliário confortável. O "Rivah" é famosa por ostras, caranguejos azuis, águias, passeios de barco e pesca. Muitas lojas e restaurantes estão a uma curta distância da sua suite no centro histórico. Para se divertir, se aventurar a uma cidade vizinha de água, adega, ou sítio histórico no pescoço do Norte. Preciso de mais espaço? Confira nosso 2 dormitório "Olde Sal" suíte Retreat em airbnb!
This is a beautiful home right on the water with great views. The host is super friendly and helpful in giving suggestions on what to do/where to eat and drink in town. A great weekend getaway!!
Allison
2017-04-02T00:00:00Z
This place was awesome! The apartment was a lot larger than I thought, with a kitchen, sitting area, large bedroom and bath. Chris and Amy came right out when I got there, no problems finding the place and they both showed me the place I rented and I also got to peek in the two bedroom area, which was equally nice! Their place is right downtown, within walking distance to things. I got there too late to wander downtown, but Chris wrote dinner options out and I ventured across the bridge to Warsaw and dined at Relish. Great food, drink and company. Just went back, enjoyed a glass of wine they left, watched TV and read. Got up before sunrise, made a cup of joe and enjoyed the sunrise before getting on the road. A great little escape - can't wait to come back in warmer weather!
Cassandra
2017-03-05T00:00:00Z
Kamertype
Gehele woning/appartement
---
Type woning
Appartement
---
Geschikt voor
2
---
Slaapkamers
Tappahannock, Virginia, Verenigde Staten
Notre place est situé à droite où Billups Creek rencontre la baie de Chesapeake! Passez votre week-end du kayak, le canotage, la pêche, ou tout simplement profiter du soleil et de profiter de la vue.
Cet endroit unique de l'océan est l'endroit idéal pour se détendre, en profitant des oiseaux et le beau ciel étoilé, dégagée par les lumières de la ville. Le chalet est sur nos privés 2,5 acres et vous êtes invités à utiliser notre quai pour traîner, le crabe, le poisson, ou lancer votre kayak ou de petites embarcations. Si vous avez un bateau plus grand, vous pouvez le mettre dans les environs et l'ancrer à notre quai pour un accès rapide. Ceci est une grande zone de vélo alors ne hésitez pas à apporter vos vélos et explorer. Nous sommes seulement à quelques miles à l'accès à la plage publique à Haven Beach sur la baie de Chesapeake. Nous avons vraiment apprécié notre accès rapide (2 miles) à la grande petite ville de Mathews, avec sa place historique de la cour et une multitude de restaurants, magasins de voiture, les épiceries, les services bancaires, etc. Si vous ne vous sentez pas envie de cuisiner, consultez White Dog Bistro pour un repas gastronomique et des cocktails, Southwinds Café pour une grande pizza dans une ambiance de taverne w / musique live occasionnelle, un restaurant mexicain, Richardson Café, et cela est tout simplement nommant quelques-uns!
Mathews a été élu l'un des meilleurs Coolest petites villes en Amérique par Frommers Voyage. Les gens sont sympathiques et Mathews County est presque entièrement entourée par l'eau avec non pas un feu stop dans l'ensemble du comté! Il est presque difficile de croire qu'il est seulement 1,5 heures. de Richmond, 3 heures. de DC, et 1 h. de Williamsburg. Obtenez des légumes frais, des produits locaux et une sensation pour cette ville pittoresque chaque Sat. matin d'Avril à novembre au Farmers Market sur la place du tribunal.
Our stay at Rosemary and Bobby's cottage was the perfect weekend getaway from the city. Located a short drive outside of Mathews VA, the property is idyllic and has a beautiful view over looking the water. We spent most of our time fishing on the dock. Bobby was very generous with his time, showing me how to properly spool my new reel and teaching us about the creek system. The cottage itself is lovely, clean and very well stocked. We took advantage of the warm weather and the grill, and ate all our meals outside. We also ventured into town and explored the public beaches. Mathews is a cute town and perfect for those who love antiquing. The public beach was quiet and great for bird watching. We couldn't have asked any more of Rosemary and Bobby. They are both such lovely people and went above and beyond to make our stay perfect. Can't wait to visit again!!
Rachael
2016-09-26T00:00:00Z
Rosemary was a great host! She provided excellent directions and then made sure that she was there when I arrived to give me a tour of the property and provide suggestions for local restaurants. The house was very user friendly, with all the amenities you could want and more! Weather you're out on the dock, laying in the hammock,or enjoying the view from upper deck, its a great place. Mathews, VA is a cute little town and I will defiantly be returning for future vacations.
Marianne
2016-08-29T00:00:00Z
Rosemary was a friendly host who took time to show us around the property. She and her husband recommended places to eat and they were great! They were kind enough to lend us the use of their kayaks. If you stay there and want to go to a beach I recommend haven beach. We didn't go there until our last night and wish we had more time there.
Brittney
2016-08-13T00:00:00Z
This cottage is a true hidden gem! It is perfect for a weekend of relaxation, enjoying the beautiful scenery of coastal Virginia, and all that the river and bay have to offer. Rosemary and Bobby were perfect hosts. From the moment we arrived they made sure we were taken care of, providing us with a clean cottage, food recommendations, kayaks, and even shared fresh steamed blue crabs from their crab pots. We had a wonderful stay at this cottage. We didn't want to leave and will surely be back!
Todd
2016-08-01T00:00:00Z
Ein wunderschöner Aufenthalt mit sehr herzlichen Gastgebern. Alles war sehr sauber, direkter Zugang zur Bucht, perfekt. Vielen Dank, Rosemary und Bobby für eure Großzügigkeit! Wir haben die Zeit bei euch in vollen Zügen genossen und werden immer daran zurückdenken.
Kerstin
2016-08-16T00:00:00Z
My boyfriend and I absolutely LOVED our anniversary trip to Rosemary and Bobby's amazing waterfront little cottage. Anyone would be lucky to stay here, it was incredibly clean and comfortable! It had everything you'd need for a relaxing extended weekend, and the views off the porch and down on the dock were incredible. They were so extremely generous as hosts, allowing us to use their fishing poles and kayaks, and even providing bait for the fish!! We so appreciated everything. They made it a priority to make sure we felt at home the entire stay, and with everything provided in the rental we most definitely did. We recommend the White Dog Bistro as a fancy dinner out, and definitely check out the pizza at Southwind. You will not be disappointed with this perfect retreat by the bay :)
Breanna
2016-07-19T00:00:00Z
Our stay at the River Birch cottage was peaceful and beautiful! It was the perfect weekend get away. Rosemary and Bobby were the best host and hostess you could ask for. The cottage Had everything we needed and more. Looking forward to the opportunity to return! -Reid & Cheryl (Ellen's parents)
Ellen
2016-07-24T00:00:00Z
Our stay at the river birch cottage was great! We were looking for a remote getaway near water and the cottage exceeded those expectations. Although there is only a toaster oven in the cottage, the grill downstairs, grocery store two miles away, and fridge made cooking at home looking over the river extremely easy (although Rosemary's dining suggestions were excellent as well). Seasonings and grilling utensils were provided, along with tea and coffee and some snacks. A highlight of the trip was when Bobby pulled his crab traps and steamed them for us to enjoy! If you are a lover of food, sleeping, and natural beauty I would definitely check out Moon!
Mary
2016-06-20T00:00:00Z
Kamertype
Gehele woning/appartement
---
Type woning
Appartement
---
Geschikt voor
2
---
Slaapkamers
Moon, Virginia, Verenigde Staten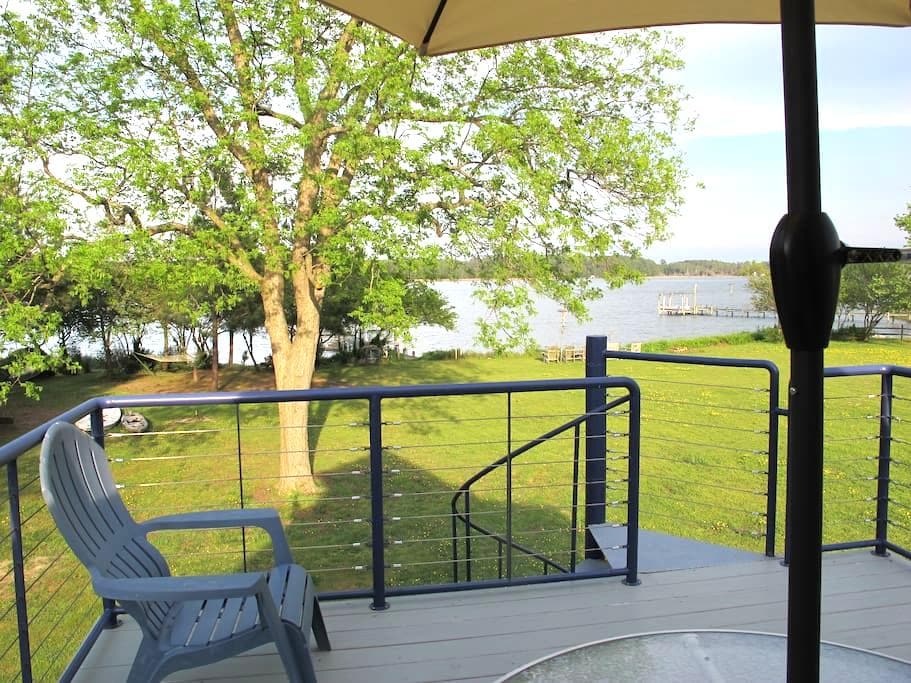 Chris and Amy are wonderful hosts. They really make an effort to make their guests feel at home. We loved spending the weekend at their beautiful house. Definitely recommend staying here.
andres
2017-02-19T00:00:00Z
The apartment was spacious and beautifully decorated with all the amenities one could want. The space is even better than the photos. Chris was very welcoming and friendly. We loved the waterfront view from the bedroom and would definitely return. We highly recommend!
Chris
2017-03-20T00:00:00Z
Kamertype
Gehele woning/appartement
---
Type woning
Appartement
---
Geschikt voor
4
---
Slaapkamers
Tappahannock, Virginia, Verenigde Staten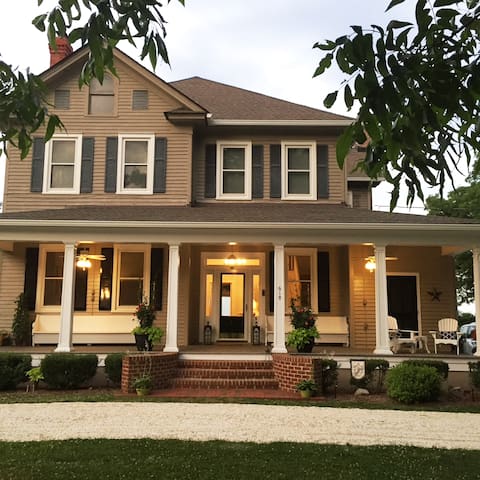 Un apartamento totalmente renovado en la histórica calle principal en Gloucester, Virginia. Tiene capacidad para 4 personas ...
Un apartamento de nueva construcción con vistas a la calle principal en palacio de justicia histórico Gloucester. Cerca de Williamsburg, Yorktown y el cuello del Norte de la región de la bahía de Chesapeake. La calle principal es una comunidad vibrante de tiendas, restaurantes y sitios históricos con eventos anuales como el Festival del narciso, festivales del vino, festivales y BrewJam mercado semanal de verano con música en vivo. Al lado de las Artes en Gloucester principal que presenta eventos Primer Viernes, música normal y eventos de teatro y mucho más! Conveniente para muchos campos de golf públicos y semi-privados y de las muchas atracciones en Williamsburg: Busch Gardens, Agua País, Williamsburg colonial, Premium Outlets, y más! Pasear aceras de la calle principal que acepta mascotas o visitar cerca de Yorktown histórico Riverwalk para aún más que hacer! Rodeado de pintoresca pequeña ciudad de América: Mathews palacio de justicia, el centro de Urbanna, Irvington, Kilmarnock centro y más! Y agua, agua y más agua por todas partes! Un navegante y el sueño de kayak! Apartamento cuenta con un dormitorio de la reina w / armario, sala de estar con extraíble sleepsofa, cocina w / bar de estar, sala de lavandería con lavadora de tamaño completo y secadora, 1 baño completo. Pasar tiempo al aire libre disfrutando del balcón del segundo piso con vistas al patio ajardinado a continuación. aparcamiento privado en la parte trasera. El acceso a través de la calle principal pintoresco callejón de adoquines que ofrece Cerca y pérgola.
What a wonderful stay in a beautiful town. Ricky's apartment was just what my family needed for a relaxing getaway from the city. The home was just as pictured and featured everything we could ever need. Ricky made sure we knew all of the details before arriving and was also helpful in suggesting restaurants and other places to visit. He was easily reachable by cell phone and answered all our questions. We felt so welcomed and comfortable in the home that we did not want to leave. Thanks for a helping our vacation be a great one!
Marcia
2015-07-26T00:00:00Z
My fiancé and I had the most incredible stay at Ricky's place. The apartment is located right on main street of the sweetest downtown area. Ricky was fantastic and so accommodating. He made us feel so welcomed and even made sure we had local snacks waiting. He gave us many suggestions of activities to do in town that really enhanced our trip. We would HIGHLY recommend staying in historic Gloucester Courthouse in Ricky's apartment.
Abby
2016-07-11T00:00:00Z
My family and I had a great time! Ricky was very reachable and very friendly. The town was quite, peaceful, friendly and not far from major tourist attractions. The condo felt like a home away from home and was exactly as pictured and described. Can't wait to plan another trip!
Alexandra
2015-08-15T00:00:00Z
The Gem of Gloucester This apartment is perfectly located in the heart of Downtown Gloucester, with easy access to everything you can think of. Shopping and all eateries are a few minutes away. Easy access to every highway, byway, and back road. This newly renovated spot was beautiful and absolutely perfect for our stay. Every amenity you could think of is right at your finger tips. Ricky's attention to detail was spot on. I'll be back next year and may stay longer so I can truly enjoy Gloucester. Ricky was very considerate and worked with me while a few kinks were being resolved with the reservation. Excellent communication the entire time and he gave me a few suggestions of places to visit outside of the area. I was made to feel welcome and at home from the very start. I truly couldn't have asked for a better experience.
Miaisha
2016-06-27T00:00:00Z
This is a very charming condo, fully stocked with very cute/modern decor. Soft bed, fluffy pillows and towels. Great plasma attached to wall with internet streaming options on (URL HIDDEN) convenient and a nice add-on that we needed for our particular travel that weekend. Well worth every penny and I would stay again if I am ever in the area again.
Lupita
2015-08-09T00:00:00Z
We had a great stay at Ricky's place. The purpose of our trip was a visit to Busch Gardens in Williamsburg. It was a 35 min drive, but little traffic. Main St was great and quaint. Ricky recommended York River Oyster Co for dinner in Gloucester Pount which was good food and nice marina location. The apartment is well taken care, clean and looks recently remodeled. It worked great for a family of 3 + dog. Very functional, quiet at night and walking distance to several restaurants in the neighborhood. In addition, the Gloucester area is historical, thus we enjoyed walking around and learning about past history. I recommend it and would stay there are again in future trips to the area. Reservations were easy and Ricky made recommendations which were helpful. Thank you, Ricky!!!
Vanessa
2016-07-04T00:00:00Z
Gorgeous place! Ricky was a wonderful host, providing information and recommendations on local restaurants, activities and more. He was easy to get in contact with and made sure to update us if anything regarding our stay could be improved (areas to park, local festivities, etc.). We would definitely recommend staying here and look forward to booking with Ricky for future visits to the area. Thanks for a great trip!
Meg
2016-03-19T00:00:00Z
Worry free stay. Ricky took great care to make sure we were comfortable.
Mary
2016-05-09T00:00:00Z
Kamertype
Gehele woning/appartement
---
Type woning
Appartement
---
Geschikt voor
4
---
Slaapkamers
Gloucester Courthouse, Virginia, Verenigde Staten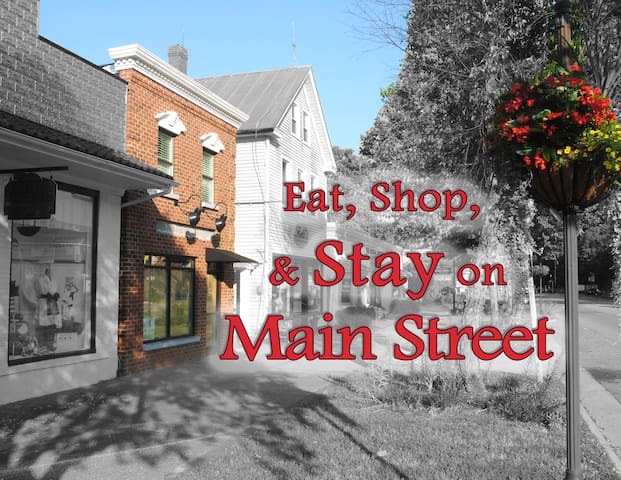 Lancaster - Airbnb
:
Gemiddeld

5

van

5

sterren op basis van

66

gastrecensies
1

–

6

van

6 Appartementen te huur