Appr. 140 sqm house located 15 minutes drive from Oslo, the capitol of Norway. The house was renovated (phone number hidden) and has two floors containg 3 bedrooms, 1 bathroom and 1 toilet, spacious hall, living room and kitchen. Outside terrace of 100 sqm.
Vi bodde her i 5 dager og er veldig fornøyd. Fint og koselig hus i rolige og barnevennlige omgivelser, kort kjøretur fra Oslo. Hyggelig utleier. Stedet kan trygt anbefales!
Elisabeth
2015-07-29T00:00:00Z
Beautiful neighborhood. Enjoyed the walking/biking trails.
Niki
2015-08-02T00:00:00Z
Kamertype
Gehele woning/appartement
---
Type woning
Huis
---
Geschikt voor
7
---
Slaapkamers
Langhus, Akershus, Noorwegen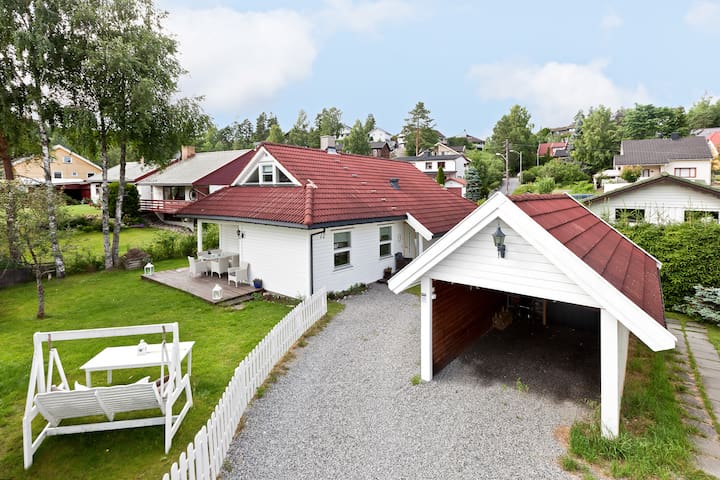 Het huis is gelegen in Bjørndal- Oslo: een plek midden in de natuur, maar tegelijkertijd heel dicht bij het centrum van de stad. Het huis heeft drie verdiepingen, veel ruimte en helderheid, een zonnige bloem terras en leuke buren.
Kamertype
Gehele woning/appartement
---
Type woning
Huis
---
Geschikt voor
6
---
Slaapkamers
Oslo, Oslo, Noorwegen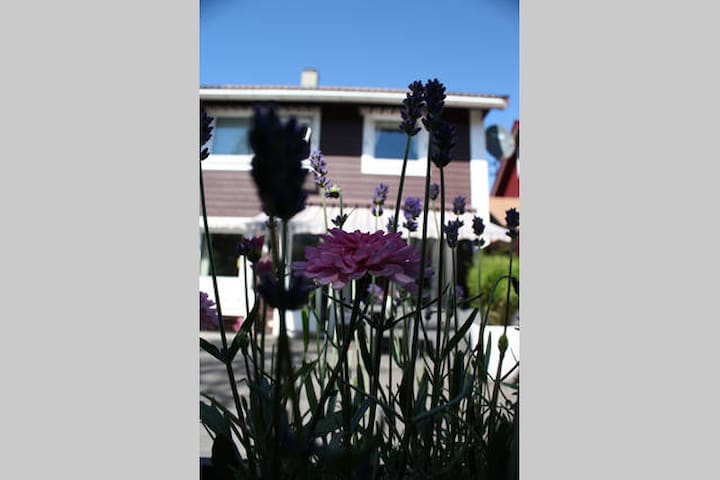 Safe Villa Close to public transport Home stay
Close to public transport Safe area Clean Tidy
Safe 30min oslo city centrum
Kamertype
Privé Kamer
---
Type woning
Huis
---
Geschikt voor
2
---
Slaapkamers
Oslo, Oslo, Noorwegen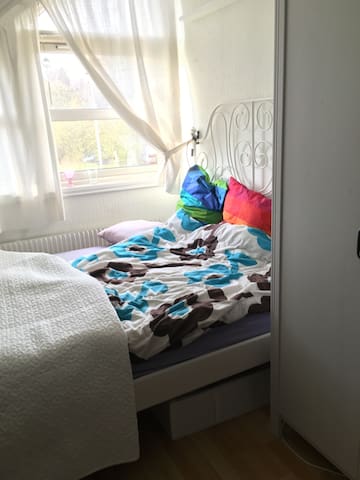 Two private rooms for 4 people . Parking space in a carport. Private Tv and livingroom with Netflix. Shared kitchen and bathroom. Close to train and supermarket. Fitness center within walking distance. 5 min.
The house is lovely and cozy with colorful paintings on the wall. The house is situated close to train and busstation within walking distance. 25 min. from Oslo. 5 min. to Ski city with cinema and shoppin(SENSITIVE CONTENTS HIDDEN). We have a modern kitchen and bathroom. Shared kitchen and bathroom. For guests we offer a private livingroom withTv and terrace at the top floor. Downstairs you can use the livingroom and kitchen. The house is located 25 min. with the train from Oslo. It costs 52 nkr for one ticket to Oslo. 430 for one week. The House is modern and has a healthy airsystem. It is possible for you to have the car in a carport. We can also charge your el car. Norwegian Outlet is not far from here.
We have a wonderful new supermarket next to our home. It is easy to do your groceries there. Nice woods and a lake close to the house. Wonderful and peaceful aria. Scandinavian biggest amusement Park where adults and children can have great fun. Ski downtown with shoppin(SENSITIVE CONTENTS HIDDEN), movie, restaurants, and bars.
Utrolig hyggelige mennesker! Her vil jeg gjerne flere ganger!
Thomas
2016-05-15T00:00:00Z
The photos are not accurate, only because it doesn't show how homely her house is. The house is really exquisite and beautiful. Beds are spacious and the blankets and pillows provided are really soft and comfortable. You'll definitely get much more than you pay for, highly recommend for anyone nearby! (plus it's affordable!) There's also a really friendly cat (no worries even for people who are very afraid of cats) that makes the stay even more relaxing.
Ryan
2016-08-19T00:00:00Z
Замечательно, в вашем распоряжении целый этаж со спальной душевой и туалетом. Все продуманно и очень чисто. Моника прекрасная хозяйка, накормила салатом и хлебом собственного приготовления. Остатлись очень довольны пребыванием в этом доме.
Vladimir
2016-06-12T00:00:00Z
Monica and Tommy are a lovely couple, so kind and friendly!! They made us feel like home since the moment we got to their house, such a warm welcome. Their house is beautiful and modern, very comfortable bed. Best hosts in my Airbnb experience so far, we would stay there again in a future. It was a real pleasure to meet them:)
Laura
2016-08-14T00:00:00Z
Wir wurden sehr herzlich aufgenommen und die Unterkunft war sehr schön. Wir konnten uns wie zuhause fühlen. Sogar ein tägliches Frühstück war inklusiv. Mit den Zug waren wir in einer halben Stunde in Oslo. Wir werden bestimmt wiederkommen.
Monika
2016-08-28T00:00:00Z
Kamertype
Privé Kamer
---
Type woning
Huis
---
Geschikt voor
6
---
Slaapkamers
1405 Langhus, Akershus, Noorwegen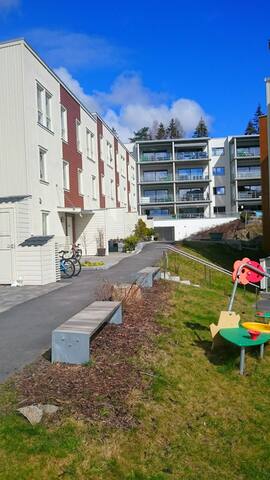 My house is a charming villa from 1890 with 4,5 rooms - 123 m2. It is in a big garden with a swimming pool. It is close to the Train station, Solbråtan (17 min from Oslo). Close to a fantastic Spa: The Well, shops, a forest, a lake and Tusenfryd.
The house is 123 m2 with 2, 5 bedrooms. You have to pass through one to get to the next bedroom, so best suited for family/good friends. More private sleeping arrangements are possible for up to 4 persons. There are two double beds (in two rooms) and one single bed in a small pass-through room + two matrasses and three sofas available. All equipnent you need for a comfortable stay is available. Please ask if you have special requests, and I will see what can be arranged. The house is very centrally located as it is 1/2 min away from the train station - 17 min to Oslo Central Station. You are very close to a supermarket - 5 min to walk, and 10 min away (or 1 station on the train) you have a good shopping centre, cinema, gym (Elixia) and restaurants/coffee shops etc. The nature is very close by - only 5 min. walking and you are by a lake in the forest! So there are good possibilities for enjoyment - even without a rental car. There are trains passing by, but only a few are very noisy (cargo). I don't even notice them!
The house is close to public transport (local train and bus) and the nature! Kolbotn is an independent municipality 2 km from Oslo city border, and is a very charming place to be! it is close to North Europe's biggest spa: The Well. Good food stores are within walking distance, and a shopping centre is close by (10 min by foot). We have beautiful natural surroundings with skiing opportunities, a lake and a big forest. The sandy beach, Hvervenbukta is only 5 min. by car or 15 min by bus (83) away! Tusenfryd amusement park is only 5 min. away by car. For nature lovers there are plenty of opportunities to walk in the forest, by lakes, go skiing in the winter, both cross country tracks and alpine (ingierkollen) are very close by. Drøbak is worth visiting, and there are many other things to see also outside Oslo!
Unni was excellent host. She replied to the request and my messages very quickly. We felt like in our own home. Thank you for the beautiful days we spent and hopefully next time we can also use this site. I recommend this place .
Aras
2015-11-12T00:00:00Z
Meně klidné místo s průměrným vybavením.
Martin
2016-07-27T00:00:00Z
Regrettably, Unni did not ensure that the house had been cleaned and prepared for us before we arrived. She did explain why she was late arriving at the house. To be fair, Unni did compensate us for this, was vey apologetic and did say that we could use the house before she cleaned it. However, we did not wish to sit in the sitting room when the settee still had the unmade bedding from a previous guest who had been sleeping on the sofa. As it was, it was after 10pm before we were able to feel comfortable and go into the house. The pictures do not reflect the house as it was during our stay. The garden is completely overgrown and the windows very dirty. Yes, the house is old but it is very tired and in need of a general tidy up and some TLC. I recommend that future guests ask Unni for a clear explanation of how to work the 3 tap system for the bath and shower.
Thomas
2016-08-15T00:00:00Z
Unni was very friendly.
Janek
2016-05-01T00:00:00Z
Très bon accueil d'Unni dans son logement. Le quartier est calme malgré la présence à proximité du train. Ceci ne nous a pas gêné en particulier la nuit. L'accès à Oslo est rapide en voiture. Logement type maison de poupée, ancien mais bien entretenu. Salle de bain et douche manquant un peu de modernité. Globalement très positif.
Jean-Pascal
2016-08-27T00:00:00Z
Wir haben unser Aufenthalt in Unnis Haus sehr genossen. Das Haus hat viel Charme und den Kontakt mit Unni verlief freundlich und problemlos. Wir wohnten zu fünft im Haus. Da die Schlafzimmer Durchgangszimmer sind und es nur ein Bad gibt, passt das Haus eher für Familien oder Leute die sich sehr gut kennen. Dies wussten wir jedoch im voraus, und konnten uns darauf einstellen. Einzig der Zug war Nachts etwas laut. Insgesamt hatten wir einen sehr angenehmen Aufenthalt.
Miriam
2016-09-20T00:00:00Z
We, a family with three teenager kids from Munich, stayed two nights at Unni's house. Unni is very nice and helpful, e.g. with advice on what to see in Oslo. The communication was always smooth and pleasant. The house and the equipment are not new, as shown in the pictures on the Airbnb site. On the other hand the house has therefore a distinct atmosphere. The train is passing by very close, but with closed windows the noise is okay. We didn't use the garden, but we can imagine, it's very relaxing after a day in Oslo.
Thomas
2016-08-25T00:00:00Z
meget fin
Tania
2016-08-08T00:00:00Z
Kamertype
Gehele woning/appartement
---
Type woning
Huis
---
Geschikt voor
6
---
Slaapkamers
Kolbotn, Akershus, Noorwegen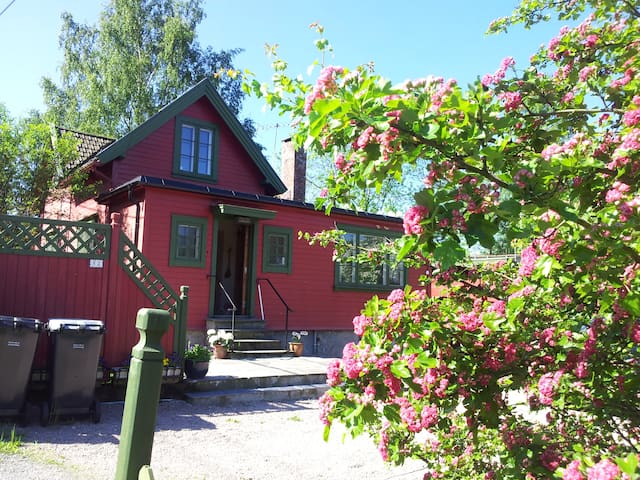 Charmante en rustige plek met een rustgevende tuin en veranda. Perfect voor zonnige dagen en lange nachten. Een korte wandeling naar de zee, zandstranden en de haven. 30 minuten met de bus naar het centrum van Oslo.
Houten huis met een grote tuin en een zeer zonnige overdekte veranda 10 minuten lopen naar de zee en naar de bus naar Oslo (steile weg) Een slaapkamer met een dubbel bed (of twee enkele bedden) en in de woonkamer; een slaapbank voor twee personen. Een slaapkamer met tweepersoonsbed in aparte huis in de tuin. Bovendien kan een extra persoon op de bank slapen. Mogelijk om matrassen voor extra mensen regelen. Badkamer met douche en toilet.
Zwemmen Sandy stranden zonnebaden visvangst Wandelpaden door de zee
Fin og koselig hytte! Flott opphold
Anette
2016-10-16T00:00:00Z
Wir hatten einen tollen Urlaub in Lisas Haus. Es war alles vorhanden was angegeben war und noch viel mehr. Lisa war eine sehr großzügige Gastgeberin. Bei Sonnenschein haben wir den nahen Strand sehr genossen.Auch die sehr gute Busverbindung nach Oslo war für uns perfekt. Wir kommen mit Sicherheit wieder
Ulrike
2016-07-05T00:00:00Z
My Husband and I just move to Oslo and needed a place with a yard, that allowed dogs. Lisa had no problem with our 3 dog and gladly accepted our request! The house it's self is the perfect summer oasis. There are a few large decks, perfect for lounging and reading a book. The house is equip with everything you could possibly need. We were very comfortable there and felt right at home! I highly recommend this place if you are looking to escape your busy every day life.
Laura
2016-06-01T00:00:00Z
This is a lovely place. Me and my family stayed here for a small week and this location was all we need. A beautifull area close to the water and only a 25 minutes drive to Oslo. I specially enjoyed the cosy veranda. Lisa gave us plenty of tips (the right ones!) for our visit to the city! I really would recommend this place if you don't prefer a city appartment! It is a charming house;-)
Patricia
2015-05-31T00:00:00Z
I cannot say enough wonderful things about my 5 week stay at this beautiful place. It was perfect for my needs as a student commuting back and forth from Oslo and as a heavenly retreat. I loved relaxing on the huge terrace in the afternoons and evenings with a glass of wine and picking fresh berries from the garden. Lisa and Christian were always so helpful and kind, always making sure everything was great. I highly recommend this getaway for anyone interested in pampering their mind and soul!!!
Lani
2015-08-01T00:00:00Z
Lisas house is a really lovely spot. Lisa is a very generous host and made us a really warm welcome with even flowers on the table. The kids loved to sleep in the annex and played in the wonderful garden. We enjoyed both city life of Oslo and nature while staying a really too short week at Lisa's house. The surrounding is more than fantastic as you can go for long walks along the fjord. We also had such good weather that we went swimming several times. Communication with our host was easy and very good. The whole house was so clean! Super!Dear Lisa, thank you so much! We enjoyed your house so much!
Isabel
2016-08-19T00:00:00Z
Thank you Lisa, for letting us stay in your cozy and warm home. We loved spending the winter nights in the living room with a good book. It is the perfect spot if you want both, some calm and relaxing time away from the city but be close enough to hop on a bus to Oslo and be there in about 45 minutes. Just be aware that if you don't have a car that its a 10-15 minutes walk up and down the hill from and to the bus station. Thank you again. Kind regards Carina
Carina
2016-01-03T00:00:00Z
It was a great experience to stay at Lisa's lovely home. Everything was as Lisa described. The place was super cosy and arranged with charm and taste. We loved the heating stove and hardly used the electric heaters as the stove is very efficient! The big TV screen with HDMI is great if you want to watch your favourite series from your computer, and the internet connection, although limited, was powerful enough to connect to our Netflix account smoothly. We should have rented a car though to enjoy the surroundings even more (also, without a car, shopping for food is a bit of an expedition, and the steep road Lisa mentions is actually very steep!) One last great thing that happened during our stay: we had the pleasure and astonishment to see two young deers grazing in the garden for about 20 minutes, as close as 2 meters from the house itself!
Gaël
2016-10-25T00:00:00Z
Kamertype
Gehele woning/appartement
---
Type woning
Huis
---
Geschikt voor
6
---
Slaapkamers
Vinterbro, Akershus, Noorwegen
A new, unique seafront house with private deep-water dock situated in the middle of a beautiful recreation area - by boat just 15 minutes from Oslo city center / 30 minutes by car - is for rent (days, week(s) or weekend) during parts of the year.
See some film clips from the video bloggers FunForLouis (Steve´s pre wedding trip, Pier pressure , 2 guys 1 bathtub and Losing the hat!) and Mr Ben Brown (Boating in norway!) on YouTube. Facilities: - spectacular seafront house situated on a hill with panoramic views over the fjord and city center of Oslo - new and modern, constructed in 2015 - all Miele kitchen appliances including 3 ovens (normal, compact and steam boiler), dishwasher, induction cooktop, coffee machine, fridge, freezer - washing machine - tumble-dryer - fireplace - 55" 4K ultra HD TV with 40 channels + Viaplay, Netflix, Mubi etc - wireless internet inside / outside - Sonos smart wireless HiFi system with Spotify, Tidal, Apple Music streaming in 4 zones - terrace with roof and patio heaters - 2 weber barbecues (1 gas + 1 charcoal) - small fishing / rowing boat (14 foot, 5 persons), rental: see below. - a 26 feet speedboat with 225 hp, rental: see below - kayak - fishing gear - life jackets (children + adults) - heating lamps - reclining chairs - and much more... The house is designed by Drøbak Arkitektkontor. The kitchen is fully equipped with the latest appliances, like three Miele ovens, induction cooktop, micro­wave as well as a dish­washer, refrigerator, freezer, ice maker, coffee machine, citrus press, toaster, salad spinner, chef's knives, porcelain tableware and glasses for wine, cognac, cold drinks, etc. In the living room there is a big flatscreen and home cinema, a library of films and books and a variety of family games. The dining area has a panoramic 180-degree view across the Oslo fjord, including Oslo city center. There are two roomy sleeping lofts; both of them sleep two adults (queen size bed) + one child or adult (single bed) while the common space in the middle can serve as a 4th bedroom (but then only with a mattress and with transfer from the two other bedrooms (please see the house plans among the pictures. The row / fishing boat may be rented for an additional NOK 1,500 per week or NOK 300,- per day. The kayak is free. Windsurfing may be rented for an additional NOK 1,500 per week or NOK 300 per day. A car (Saab cabriolet) may be rented. Price upon request. A speed boat (26 foot, 225 hp) may be rented. NOK 10,000,- / week or NOK 2,000,- / day (+ petrol). Bedclothes & towels: NOK 200,- per person (or bring yourselves). Cleaning fee: NOK 1,000,- (or clean yourselves). Electricity: NOK 1,- / kWh (a bagatelle in summer) It is installed fire and burglar alarm with direct communication to the security center. The nearest bus stop is far away, so without a car you will need to rent the car or bicycles or the speedboat. The summer season may be best for most people, but the property is also charming in late autumn, winter and early spring. Some winters, the ice on the fjord is thick enough for skating, cross-country skiing, ski sailing and kite snowboarding. The combination of cable-heated floors, electric wall heaters and an effective fireplace ensures indoor comfort all winter long.
Please see photos and text attached to the photos.
This is a dreamhouse and we loved the fantastic view. Everything was wonderful and Bjorn is a sympatic and helpful host. We all enjoyed our stay.
Kathrin
2016-05-28T00:00:00Z
Bjorn was extremely welcoming and a helpful host, answering any questions we had during our stay, making our stay very enjoyable and relaxing. The House is fully kitted out with everything that's needed and more, set in beautiful surroundings making it an extremely pleasurable stay. Would love to come back!
Michael
2016-09-03T00:00:00Z
Bjorn was at the property when we arrived. He was very welcoming showed us how the appliances worked and made sure everything was set to English for us. The house is in a very private setting with spectacular views. I enjoyed my stay very much.
Tim
2015-12-01T00:00:00Z
Positives, Perfect location with the most stunning views across the Norwegian Fjords, The place was kept very clean and the hosts was friendly and met us at the place on arrival. There are a couple of negative points - when I originally booked the host made an error and I had to rebook at a higher price, there was no wardrobe, no hair drier & a few hidden extras such as the coffee machine was chargeable, bed linen and towels were extra & most surprised to have been charged 1 kronor per KWh of electricity we used which I could not see in the terms and conditions .
Steven
2015-09-03T00:00:00Z
The area in which the beach house is located in is very exclusive and secluded. The nearest shopping centre in Vinterbro isn't far at all though, just about 10 minutes away, but it feels like another world here. There is a security gate when you turn off an unmarked road and after that it takes about another exciting 10 minutes to navigate the twisting narrow forest road filled with little peaks and troughs, before finally reaching a very steep downhill to the house. We did this in winter, in the dark fog and on an icy road near freezing point, with a rented van criminally mistakenly outfitted with summer tires. It certainly felt like an off-road rally experience. When you do get to the house safely, oh what a magnificent place it is! Inside, tasteful decor with top-end appliances, a closed fireplace, bedrooms with windows directly above your pillow for star gazing, and three places to bath or shower. Outside, heat lamps in the patio, subtle lighting along the perimeter of a long staircase down to your very own mini-pier for fishing or swimming. But the best part of our whole experience was our host. Thanks to the criminal car rental company and the life-threatening lack of proper winter tires, our van got stuck trying to drive up the steep slope just next to the house out to the nearby shopping centre. We tried fitting new snow chains and tried to scale the slope again but the chains just snapped. There was no grip and we were sliding down dangerously in the dark. A van, filled with three old folks, a kid, a baby and two stressed parents, all hungry, cold and frightened. We were stuck, rattled and shaken, with no one to turn to except Bjorn. He readily came to our rescue soon, expertly reversed the van back safely to the house, and drove us to the nearby shopping centre to have dinner. He even went out of his way to drive quite a distance away to a auto parts shop, bang on the doors despite it being just a little past closing time, all to buy a premium set of snow chains for our tires, which thankfully worked the next day and got us up and out. He didn't have to do all this, but he did and no amount of thanks from us can ever be enough for literally saving our lives. A magnificent human being with a magnificent house. What an experience!
Andrew
2015-12-20T00:00:00Z
Myself and my friends stayed in Bjorn's beautiful house for 4 days. We were absolutely ecstatic with our experience. Bjorn couldn't have been more friendly and helpful as a host. We were left in peace to enjoy the beautiful scenery and facilities that the property has to offer. I would really recommend this house to anyone looking to stay near Oslo. Thank you Bjorn!
Michelle
2016-09-15T00:00:00Z
Nach einer leichten Anreise vom Flughafen Oslo mit dem Mietwagen (Dauer ca. 60 Minuten - Achtung Rush Hour beachten) geht es am Ende ca 2 km über einen Forstweg (5 km vorher Einkaufen !) Sehr freundliche hilfsbereite Nachbarn - in den nächstgelegnen Häusern. Björn hat uns persönlich begrüßt und uns in alle Details des Hauses eingewiesen. Darüberhinaus gab er uns viele weitere Tips Oslo und Umgebung zu besuchen. Der Kaminofen passt herrlich zum Design der offenen Küche. Der Ausblick ist grandios, ein rundherum wunderbarer Ort in der Natur abzuschalten.
Markus
2015-10-19T00:00:00Z
Great place in a beautiful surrounding. The house is modern and well equipped. we'd love to come back one day and recommend this place to others.
Hannes
2016-05-09T00:00:00Z
Kamertype
Gehele woning/appartement
---
Type woning
Huis
---
Geschikt voor
8
---
Slaapkamers
Ås, Akershus, Noorwegen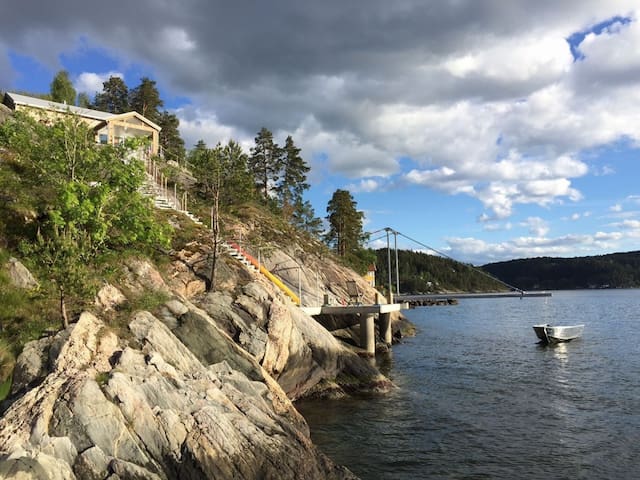 The house is 5 minutes walk from the railway to Oslo (22 minutes). It is 5 minutes walk from the woods. There is a Sushi & Wok restaurant, Chinese restaurant and a supermarket at the train station. Must love or tolerate the house cat that lives there and feed it once a day. Can therefore not bring a dog. You will love my place due to its closeness to the woods and its coziness (with fireplace and wood). My place fits both for one or two families, couples, singles.
Nice walks along the coastline: (URL HIDDEN)
Sushi: (URL HIDDEN) Golf in the summer: (URL HIDDEN) Drop-in horseback riding: (URL HIDDEN)
somos 7 adultos y cabiamos (URL HIDDEN) casa estaba muy limpia y tienen una gata muy linda, son muy simpaticos y nos han facilitado incluso el desayuno.muy encantado!
qingyi
2016-12-31T00:00:00Z
Kamertype
Gehele woning/appartement
---
Type woning
Huis
---
Geschikt voor
9
---
Slaapkamers
Oppegard, Akershus, Noorwegen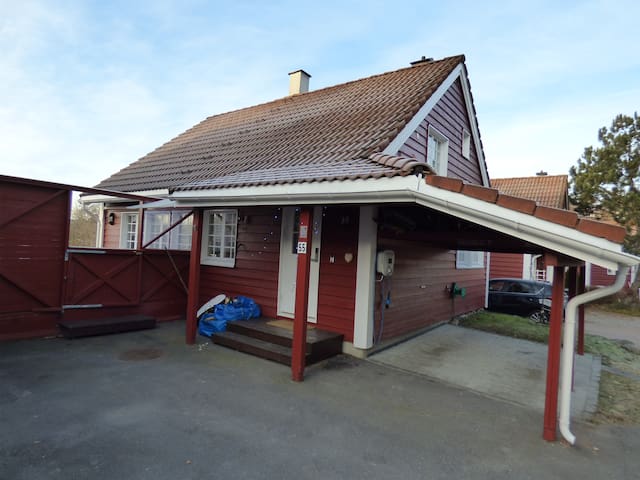 My location is near the beach ,, walking areas public transport, 25 min to Oslo, family-friendly activities, Tusenfryd ( amusementpark ), restaurants and eateries and nightlife . My place is good for couples, solo travelers, business travelers and furry friends (pets).
Vinterbro is a quiet and tranquil quarter. Some of the country, but very central. 25 min by bus to Oslo. 30 min to Drobak, with Oscars castle fortress We have shopping center with many fine shops and eateries.
Shopping Centre in the immediate vicinity and close to Oslo, Ski and Drøbak
I highly recommend Annette's if you are planning a trip to Oslo and surroundings. The house is gorgeously situated on a hill overlooking the Vinterbro center. It is close to central Oslo and has beautiful nature a short walk from the house. You can combine the best of both worlds - exploring the city as well as going for long hikes in the reserve close by. We brought our two dogs and both people and furry ones felt very welcomed! The house has a good size yard, the room is more than big enough and there's a separate bathroom with all the all you need and more. And, most importantly, the host family is terrific and made us feel right at home! We are looking forward to visiting again soon!
Maria
2017-02-26T00:00:00Z
She answered for my booking instantly. I arrived so early in the morning, but she was so generous to pick me up at the busstop. I could stay to feel at home. She helped me to find many information for me. I could use her printer too. She has a good smile, kindly attitude.
상곤
2016-12-31T00:00:00Z
From the very first moment Annette made us feel like at our own home. She and her daughter were really kind and close to us, and made sure that our staying was being comfortable everytime. The house is located in a really quiet neighbourhood, away from city noises and surrounded by nature (perfect for those who like going for a walk). However, it's really well connected as there is a bus stop just 200 meters away, and it takes about 30 minutes to get to the city centre of Oslo. The house itself and the bedroom could not be cozier, we were provided with all the amenities and were wellcome to use and share the kitchen, living-room... We must thank Annette and Frida [and Molly and Felix :)] for their excellent treatment and for making our trip and first airbnb experience wondeful. Hope to see you again! :)
Julen
2016-11-14T00:00:00Z
Kamertype
Privé Kamer
---
Type woning
Huis
---
Geschikt voor
2
---
Slaapkamers
Ås, Akershus, Noorwegen
House in a quiet area, 25 mins south of the Capital Oslo. The house is on a cul de sac, with a football pitch touching the property. There is also plenty og woods with a lake very close. A few minutes drive to Oslo fjord, where you can swim and picnic. The nearest town is called Ski, which has all the shops you need, cinema, restaurants etc. There is an even closer shopping centre nearby at Vinterbro centre. Excellent bus network to Oslo. The nearest airport is 50 minutes drive.
Kamertype
Gehele woning/appartement
---
Type woning
Huis
---
Geschikt voor
6
---
Slaapkamers
Ås, Akershus, Noorwegen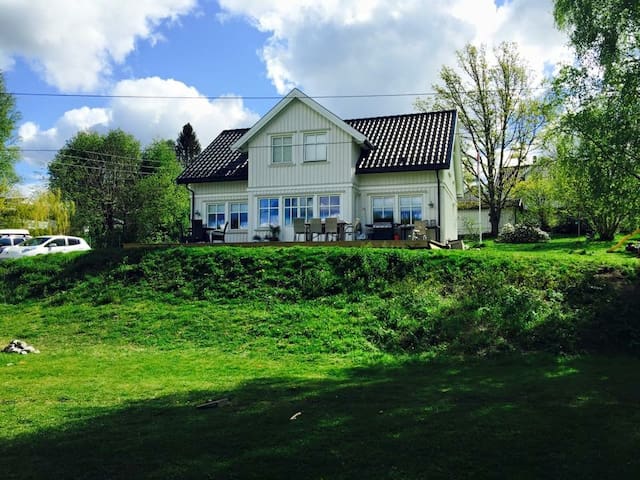 A charming house with 1.3 acres of land. Short distance to Solbråtan Station by train to Oslo (17 min) twice per hour. Peaceful. Kid friendly.
Restored house with many fine details. Delicious garden. Personligt with soul. Something simple, but good.
Calm quiet.
Anna var en flott vert. Huset er veldig sjarmerende og Hagen er super. Det var rent og pent. Anna spurte om vi ville bruke sykler og hun hadde lagt fram en bok om nærområdet og resturantanbefaling. Flott område rett ved togstasjon og Kolbotntjernet. Huset egner seg for en familie eller to vennepar som ikke har noe i mot å vaske kopper for hånd. Vi kommer gjerne tilbake og leier huset på nytt!
ida
2016-07-26T00:00:00Z
The nice yellow house of Anna is so cosy. And really nearby the train station, in 20 min. you are in Oslo. We had a great stay, enjoyed beautiful walks and had nice visits to Oslo. The cooking on the special old stove is a challenge but it works fine. The shower is a bit small and doors can not be closed. The cat and rabbit are nice pets and all together Anna's house gives you the feeling of a comforting home away from home.
Corinne
2016-12-28T00:00:00Z
Stille, koselig hus. Perfekt for familier som ikke krever luksus. Kort avstand til toget og butikker. Huset er gammelt og sjarmerende. Veldig rent og ryddig. Vi følte oss velkomne der.
Ragnhild
2017-02-25T00:00:00Z
The welcome was friendly and openhearted. The house is beautiful and cosy. Very artistic, creative, a little design museum full of lovely details and charming compositions of colors, structures and things. Art, music, stories... A real "Villa Villekulla :-)" Elsa the cat is charming, the surroundings are beautiful ... As the Beatles are singing: "Good Norwegian wood". We had a great time. A supermarket is up the hill.
Christian
2017-03-12T00:00:00Z
Kamertype
Gehele woning/appartement
---
Type woning
Huis
---
Geschikt voor
6
---
Slaapkamers
Kolbotn, Akershus, Noorwegen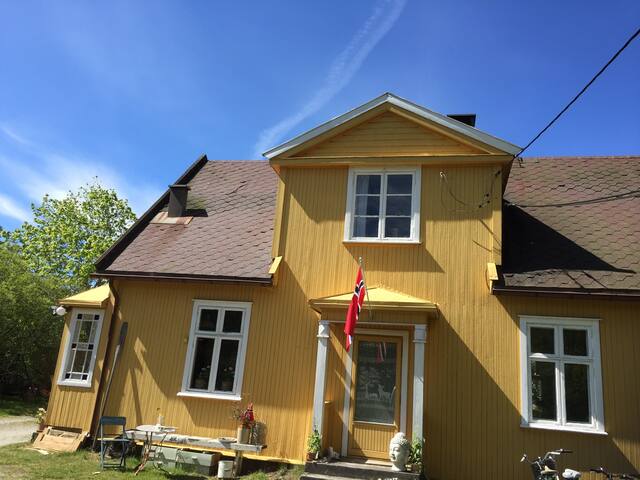 House Dobble or single room Privat barhroom
Safe neighborhood
Kamertype
Privé Kamer
---
Type woning
Huis
---
Geschikt voor
5
---
Slaapkamers
Oslo, Oslo, Noorwegen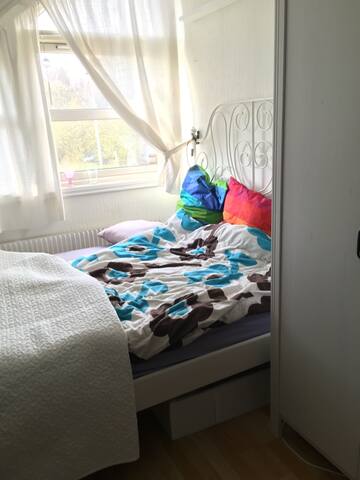 This high standard house is only 20-25 minutes from Oslo by car, but is still situated in a rural location 100m from the fjord. Here you can enjoy the seaview from a large balcony or from the inside through the many large windows. You can enjoy a nice workout in a well equipped gym, or relax down by the small beach 2 minutes away. The kids will love the sea, the playground and "tusenfryd" the amusement park nearby.
During summer time you can enjoy the luxury of a small beach 2 minutes from the house, and a larger beach/play-area aproximately 10 minutes by feet. There is a dock just down the road where rental of a boat can be arranged. During winter, depending on the weather, it is possible to go ice-skating on the fjord. "Tusenfryd" the amusement park is 10 minutes away by car, and the local shopping mall is nearby. There are jogging paths and good surroundings for cycling in the area. If you want to visit sweden it is a 1 hour drive away. Everything a family needs to have a good time is in the house. Since this a private home closets to store clothing etc is limited. There is a cat living in the house that needs some food now and then. It is mostly outside and has its own door.
This is the best villa when i live in Oslo,very nice view and nice (URL HIDDEN) was perfect.Totally recommended !
ci s s ciy
2017-02-22T00:00:00Z
utsikt. det mo vare fint til sommeren.
Emilio
2017-02-19T00:00:00Z
Kamertype
Gehele woning/appartement
---
Type woning
Huis
---
Geschikt voor
8
---
Slaapkamers
Ås, Akershus, Noorwegen
Stedet mitt er nærme Skogen. Du vil elske stedet mitt på grunn av utendørsområdet, lyset, den komfortable sengen, nærheten til naturen, fuglesang, ekorn, rådyr, elgen og eplene i hagen. Stedet mitt er bra for par, reisende alene, familier (med barn) og pelskledde venner (kjæledyr).
Kamertype
Privé Kamer
---
Type woning
Huis
---
Geschikt voor
5
---
Slaapkamers
Ski, Akershus, Noorwegen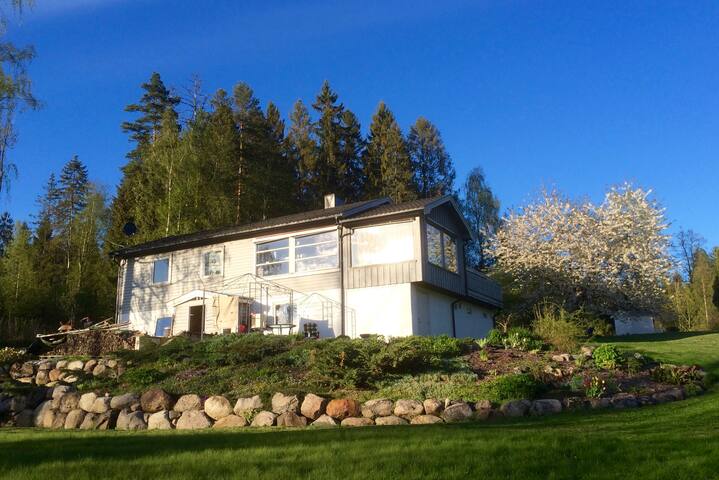 Nice house with terrace and garden in Kolbotn, an suburb close to Oslo, The bus is a 3minutes walk away, and takes 20 min to the centre of Oslo. It is a 10 minutes drive to the beach, and the forest is a couple of minutes from my door.
I live in a charming,cosy house whit good space. I have one private bedroom available for guests. Suitable for 1-2 people, perfect for couple.
Nabolaget Neighborhood: It is quiet, yet close to Oslo, the sea and the forest. It is a 3 minutes walk to a small shopping centre containing grocery store, café, florist, pharmacy, beauty salon, asian sushi take away, post office, dry cleaner, dentist, doctor. 10 minutes walk to Kolbotn shopingcentre with shops, cafés, restaurants .Next to the train that take you to Oslo city in just 12 minutes..
Eine absolut angenehme Unterkunft. Die Sauberkeit ist hervorragend. Die Freundlichkeit und Hilfsbereitschaft des Gastgebers ist außerordentlich gut. Alles in Allem sehr zu empfehlen!
Jürgen
2016-11-21T00:00:00Z
My experience with Robin was absolutely positive. He and his girlfriend were great hosts, ready to help and answer all of questions. He met me the day of arrival at the station and gave me a lift several times (as I was visiting dance event and the spot was about 4 km from his house). The room has a fantastic view, is clean and cosy.
DINA
2014-12-08T00:00:00Z
The reservation was canceled 3 days before arrival. This is an automated posting.
manon
2014-11-27T00:00:00Z
Kamertype
Privé Kamer
---
Type woning
Huis
---
Geschikt voor
2
---
Slaapkamers
Tårnåsen, Akershus, Noorwegen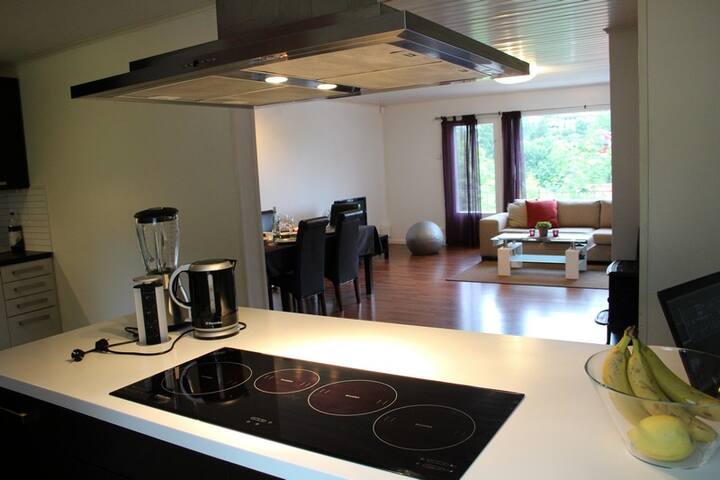 Beautiful house situated in Tårnåsen. The house is horizontally divided - we own the ground floor and basement floor, and the big secluded garden is all ours. Situated in a dead end street - quiet neighbourhood.
Big secluded garden with lots of space and sun.
The house is in a quiet neighbourhood, has a big garden and is in the end of a dead end street.
Kamertype
Gehele woning/appartement
---
Type woning
Huis
---
Geschikt voor
6
---
Slaapkamers
Tårnåsen, Akershus, Noorwegen
We have several rooms for your trip to Norway. It's located nearby Oslo, just 20 min by train. It's a three floor house with 4 bedrooms, 2 bathrooms and a kitchen. We have a big garden on the backside of the house and a terrace in front. Welcome
Close to Oslo, big house and a garden. Quiet area. Near the trainstation in Ski. A large shoppin(SENSITIVE CONTENTS HIDDEN) only 10 min away by foot. A cat that needs to be loved when we are away. And we would love it if you could take care of our plants. It is also a great place for kids. Almost no traffic in the street.
A quiet neighbourhood, great neighbours.
The house was just what we needed for our visit. There was plenty of living and sleeping space for our group of 6. The cat was friendly and self sufficient, so we did not have to worry about him too much. Beds were made ready for us, and linens available for the bath. Line provided detailed instructions for us on how to work the TV and wifi which we found very helpful. She was also quick to respond to any inquiries which I made both before and during our trip. Although we did not meet in person, I felt that she would do what she could to take care of us. The neighbor from whom we received the house key was very kind and welcoming as well. We would definitely recommend this house to anyone looking for a stay in Ski!
David
2016-03-26T00:00:00Z
Famille vraiment formidable rien a dire, j'ai passer un très bon séjour en Norvège ici à Ski . Quand j'avais besoin d'aide ou des renseignements ils etaient à l'écoute et m'aidais , je n'oublierais jamais cette formidable famille qui mon très bien accueilli et et qui mon vraiment beaucoup aidé et qui mon fais entré dans leur vie , je vous conseille cette maison si vous êtes en vacances ici a Ski en Norvège .
Vincent
2016-08-02T00:00:00Z
Kamertype
Gehele woning/appartement
---
Type woning
Huis
---
Geschikt voor
8
---
Slaapkamers
Ski, Akershus, Noorwegen
Modern 180 sqm house 20 minutes from Oslo Centralstation and 5 minutes with car or bus to Tusenfryd, the family amusement park. The house has 4 bedrooms and two bathrooms. Lovely kitchen, dining table suited for 8-10 and two lounges where one has TV. All bedroms are on the second floor which also has loft area well suited for training (TRX) or children playing. A 15 minute walk to the beach for swimming or relaxation. Ask for more information - additional pictures will be posted.
20 minutes from Oslo Centralstation 5 minutes to the Amusement Park 15 minutes to Ski Shopping Center with 140 shops and restaurants 5 minutes to Vinterbro Shopping Center with 80 shops and restaurants Bus stop just down the street - 200 meters
Kamertype
Gehele woning/appartement
---
Type woning
Huis
---
Geschikt voor
8
---
Slaapkamers
Ås, Akershus, Noorwegen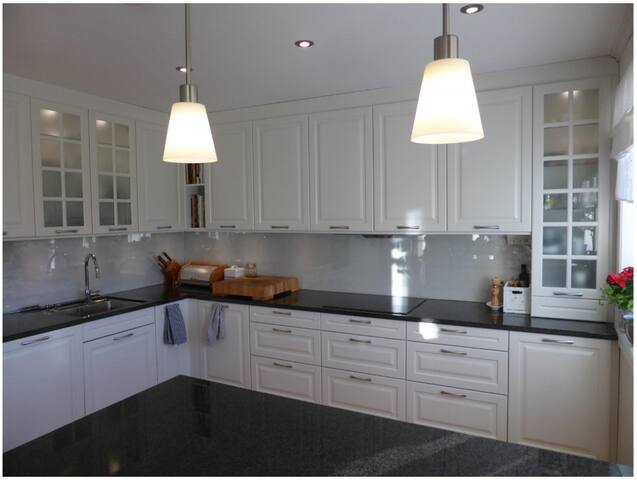 1

–

18

van

33 Huizen te Huur