222 Appartementen te huur
The apartment is Sea rock which is right next to Slipway (masaki). It has two rooms which are available for Airbnb guests. Both the rooms have attached bathrooms. A fully functional kitchen. The sea and pool is right outside the house. Extremely clean and a beautiful place which is quiet and is next to a bustling shopping plaza.
The location of the place is the most unique feature of my house. Besides myself of course ;) All rooms have airconditions and private bathrooms. The house is cleaned everyday. As my guest you are permitted to use the pool and the gym which is right outside the house. The view from the garden in the evening is phenomenal. As the sun sets down the colors of the cloud keep changing and its reflection on the ocean is surreal.
The neighbourhood is quiet while Slipway is bustling and exciting. The beautiful ocean, shopping complex and restaurants are at a walking distance. If you like to experiment with different cuisines there are plenty of options to choose from. I would recommend a few nice places to eat close by. Slipway hotel has really good breakfast buffet for $8.
Kamertype
Privé Kamer
---
Type woning
Appartement
---
Geschikt voor
2
---
Slaapkamers
Dar es Salaam, Tanzania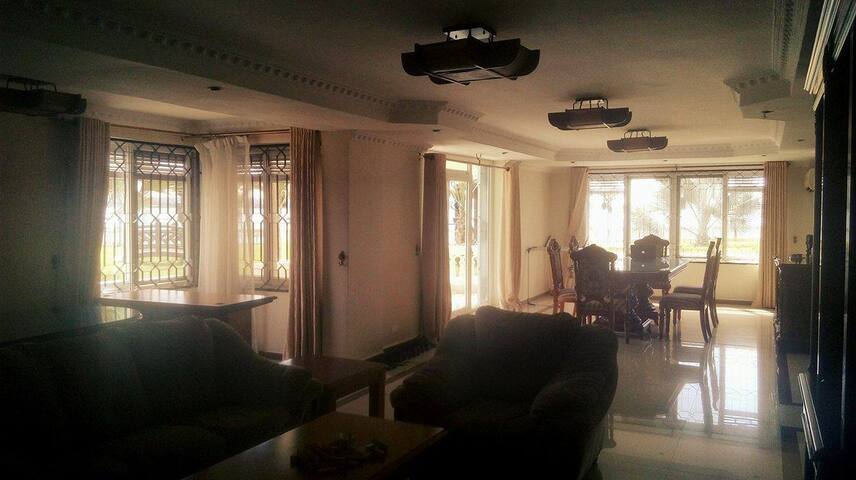 This cosy two bedroom ground floor flat is conviniently located in Masaki (8km from City Centre) and is a short distance from convinient stores as well a number of Dar Es Salaam's leading restaurants and bars.
Comfortable
Quiet but Friendly
Kamertype
Gehele woning/appartement
---
Type woning
Appartement
---
Geschikt voor
6
---
Slaapkamers
Dar es Salaam, Tanzania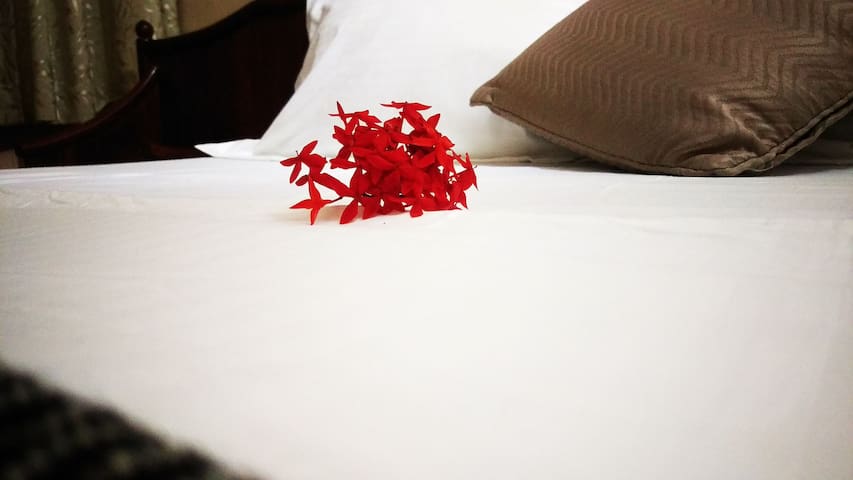 3rd floor unparalleled Sea View with 4 bedrooms, kitchen, dining/sitting room, balcony, walking distance to amenities and the city. Close to beaches, islands, art, culture, restaurants, dining & parks. Some people find my neighborhood to be hip and cool and their favorite neighborhood in Dar, but it's not for everyone. Bike and car hire are available located close to the airport, speed boats, trains and bus stations, clubs and bars. You'll love my place because of large comfy beds.
Amazing view of the Indian Ocean, great breezes, relaxed and flexible host at a great location easy to get to all parts of town. Off beat travel away from it all relax with some traditional herbs and spice tea and cake in a private apartment overlooking the Indian Ocean centrally located. Best view of the Indian Ocean in town, great breezes and the sound of the Ocean greets you, relaxed and flexible host at a great location easy to get to all parts of town. The apartment is directly at the pinnacle of the Sea View peninsula with ocean views all around, on the 3rd floor overlooking the harbor of peace entrance with dhows, ships, speed boats coming in and out of the harbor entrance, on a still night you can see the lights from as far as Zanzibar Island. This room shares a bathroom, wooden polished floors in common rooms, plenty of running water and good power supply throughout the year. The 4 rooms in the flat for rent can easily fit 4 person per room making 16 guests at a time not a problem to host. Children will also find plenty of company in the neighborhood. Oxygen (0²) is abundant. Water (H²O) is at your door step. Ocean Plasma, Sea, Beach, Sun, Moon, Stars, Gardens, Caves, Sand Banks, Baobab and Coconut Trees in this undiscovered Power Point
Friendly, safe and secure, secluded and private yet location is totally central overlooking the Indian Ocean. Container shops and mini markets downstairs and restaurants and bars along the main road hardly 5 minutes walk. Great sunrise and sunset views, sand banks and beach fronts ideal for running, exercise and leisure, Dar es Salaam Gymkhana Golf Club 10 minutes walk away. Hospitals and schools are all close by making the location very ideal even for single young women to reside in with no problems.
Fijne basic plek. David is erg aardig en behulpzaam. Verder is het balkon met uitzicht op zee heel erg fijn!
Eva
2017-02-08T00:00:00Z
David was very welcoming and easy to communicate with, however the apartment was rather dirty and the room was cramped for three people. The apartment is on the third floor and there is no lift so if you have baggage it might be a pain to lug everything up there. Overall it is a cheap place to stay for a night with a nice view of the ocean, but the apartment could really use some cleaning.
Derek
2016-11-21T00:00:00Z
Rummet var bra och stämde överens med beskrivningen. Sängarna är inte de skönaste att sova i under en längre period. Utsikten från lägenheten var fantastisk och området kändes tryggt. David var en bra värd och det var lätt att komma i kontakt med honom när det behövdes.
Malin
2015-12-01T00:00:00Z
David responded to my request promptly and offered a special package for airport transfer, fish market visit, breakfest and bed. He speaks English like native speaker, and was very helpful to find us a nice local bbq for dinner at late night. The room is very close to the indian ocean, and we did a early morning walk to the beach, on which we found many crabs. The room conditions are very simple, one room with one queen size bed and the other one with only two mattresses. Two rooms share a bath room with hot water, but the shower head was not functional so we had to use a bucket and a bailer. in summary, 5/5 for the host, 3/5 for the room.
Yan
2015-05-15T00:00:00Z
Very help host and sea view house
Yan
2015-09-19T00:00:00Z
David was very welcoming and friendly. He was very helpful, organising us transport as needed and giving advice on where to go and what to do. The apartment is in a nice area which feels safe, it is close to the ocean and the perfect distance from the hustle and bustle of the city center. The cleanliness could be improved, our room felt a little bit grubby with dirty curtains and stained sheets. The shower didn't work very well and we had to wash using a tap and bucket in a bath which could do with a good scrub. That being said though we had a lovely time in Dar Es Salaam and as a budget traveller I'd highly recommend staying at House of Changes over any of the cheap hotels.
Jessie
2016-12-28T00:00:00Z
Die Wohnung liegt nördlich des Stadtzentrums, welches zu Fuß in ca 30 Minuten zu erreichen ist. Die Gegend ist sehr ruhig und der Blick auf das Meer vom Balkon aus traumhaft. David ist ein interessanter Gesprächspartner und stellt auch Kaffee zur Verfügung. Wenn die Reinigungskraft gerade da war, dann ist es sauber. Wir hatten das schönste Zimmer raus aufs Meer.
Trixi
2016-12-26T00:00:00Z
David is a great host! Everything went super totally uncomplicated. For tips and advice, he always stands aside if he is not on the construction site! ;) For this I wish him a lot of strength this will finally be finished! That would be a reason for me to book again!
Patrick
2017-02-27T00:00:00Z
Kamertype
Privé Kamer
---
Type woning
Appartement
---
Geschikt voor
4
---
Slaapkamers
Dar es Salaam, Ilala, Tanzania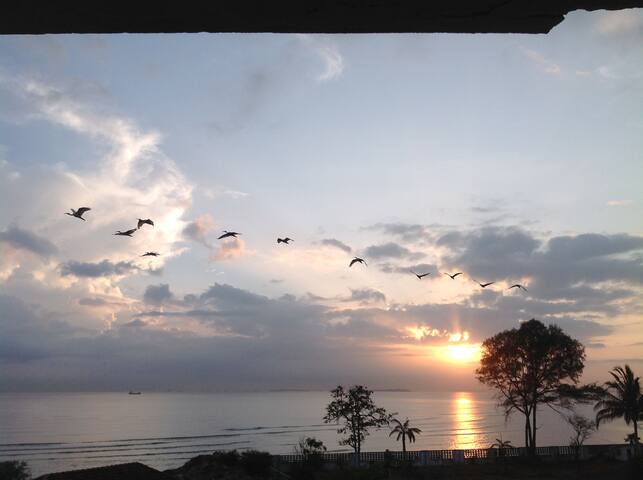 Our cool and comfortable two bedrooms apartment with exposed brick has a true city filling. It comfortably fits two and it's located on a quiet street in the heart of the Msasani Peninsula. Enjoy a private room, full furnished kitchen, roof aces, swimming pool, and a gym.
The apartment is located on the 4th floor of a new building located at Msasani Peninsula known as a safe neighborhood with 24hours security. From the rooftop of the building you get to see the Indian Ocean and the peninsula. The building has a private gym and a swimming pool which you can use it at anytime.
The convenient location allows you to access areas such as the top beaches in Dar, various restaurants (local&International). Only 200m from the apartment there is one of the best coffee shops in the city Epi'dor.
We had a lovely time in Dar and at Marsi's place. She was very flexible and helpful. Even though we arrived earlier than we expected, she was very accommodating. Her place is chic and clean. The building has lots of amenities, sadly we didn't have time to use them. You will have a wonderful view of the peninsula in your room and access to a private bathroom. Marsi also gave us great recommendations for places to eat and hang out. She also hooked us up with her Tuk tuk guy, Oscar, he was super helpful!
Eman
2017-01-21T00:00:00Z
Marsela's place was amazing! Great location and amenities. Definitely recommended!
Imara
2016-12-12T00:00:00Z
Marsi's place is just as described- in an ideal location if you are in the peninsula, clean, has everything you need and more. Also, what I aways find more important ant than the actual room is the hosts, they were so nice and easy going- new friends.
Anita
2017-01-15T00:00:00Z
Marsi's place in Masaki is a very nice, modern apartment with a large bedroom, an adjacent bathroom, and access to a fully equiped kitchen. Pool and gym were frosting on the cake. This apartment could be a modern one anywhere in the world: Hong Kong, Berlin, New York - except it is probably larger than most you'll find in those cities. Highly recommended.
Otto
2017-03-25T00:00:00Z
Marsi & Rejdi were fantastic welcoming hosts! The apartment and room themselves are modern and clean, and the building is within walking distance of Seacliff. Will definitely be staying again the next time I'm in Dar!
Daniel
2017-01-17T00:00:00Z
The host canceled this reservation 46 days before arrival. This is an automated posting.
Oktavia
2017-01-11T00:00:00Z
The host canceled this reservation 9 days before arrival. This is an automated posting.
George
2016-12-08T00:00:00Z
A casa da Marsi é linda! E muito bem localizada. Ela ajuda muito com todas as informações e me deixou super a vontade. Podem ir sem preocupação! Foi o primeiro Airbnb que me hospedei sem a companhia de algum amigo e fiquei muito muito confortável e a vontade. :)
Suéllen
2017-01-09T00:00:00Z
Kamertype
Privé Kamer
---
Type woning
Appartement
---
Geschikt voor
2
---
Slaapkamers
Dar es Salaam, Tanzania, Tanzania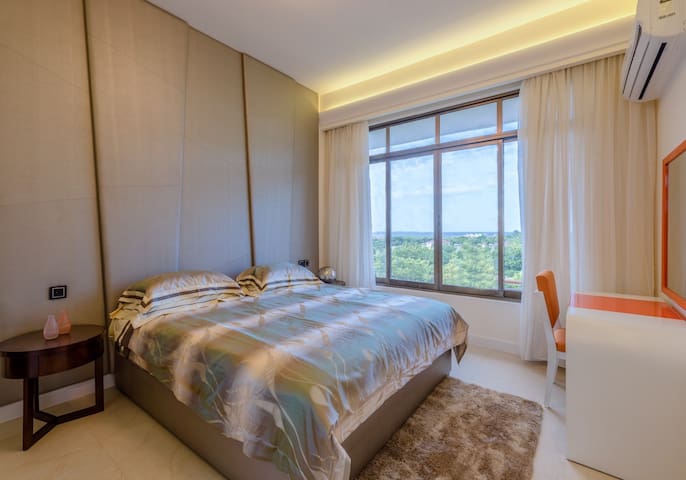 I am located in Msasani a block away from Msasani Beach. and a 10 minute walk from the bajaji stand and a 15 minute walk from the daladala (bus stop). I have a two bedroom flat with a spacious living room and kitchen and a beautiful garden outside. I share the compound with a quiet family and I share my home with my cat. I'm a free spirit. There's a crystal chakra corner in my home and I am 420 friendly but cigarette smoking must take place outside.
My home comes with a beautiful garden that you can use at your leisure, a nice sized kitchen and your own bathroom.
I am located on the Peninsula which is where most expats stay. It is pretty safe with a great selection of bars, restaurants and shopping. I am conviently located between Micocheni and Msasani (even though it's still considered Msasani) This gives me easy access to lots of other parts of town.
Kelsi is a wonderful host. We made a last minute booking and she warmly accommodated us. The house is spacious and clean and the room has A/C. She told us of good places to have dinner and must see spots is Tanzania. We really enjoyed our stay .
Grace
2016-12-09T00:00:00Z
Kelsi was very friendly and open we enjoyed our stay there !
Nils
2016-11-14T00:00:00Z
Enjoyed my stay at Kelsi's place, which she was kind to allow last minute. And I really appreciate the contacts she linked me up with in Dar.
Erik
2016-06-04T00:00:00Z
Staying at Kelsi's was the perfect end to my trip. She was kind enough to check in with me a few days prior to find out if I had any special needs. My room was clean and very comfortable. She was available for a chat when i wanted to and let me be when i needed time by myself. Her place is in a very safe area, and I had no anxiety returning late. True to her word, her taxi guy was ready and waiting for me at 2am to take me to the airport for my return flight. Definitely staying with her when next I'm passing through Dar!
Avana
2016-03-16T00:00:00Z
Kelsi is super friendly and helpful! Her place is located near shops, ATM's, and has easy access to transport. Great host!
Fiona
2017-03-06T00:00:00Z
Kelsi let me stay at her place and was easy going. Flexible to let me stay another night and open to letting me run my own program the way I wanted. Thanks!
michiel
2016-11-29T00:00:00Z
Had a good time at Kelsi's place. The room was a good size and she provided an iron and ironing board. The rooftop terrace has nice views and pleasant, cool breezes. The house is in a good position to get quickly to anywhere on the peninsula by bodaboda. I picked one up from the end of the road who was good, honest and spoke some English so used him for the whole stay
Bob
2016-05-13T00:00:00Z
While only there for one night, I found the accommodation clean and according to the description. Kelsi communicated promptly, and made sure I found the place ok too.
Michael
2016-04-21T00:00:00Z
Kamertype
Privé Kamer
---
Type woning
Appartement
---
Geschikt voor
4
---
Slaapkamers
Dar es Salaam, Dar es Salaam, Tanzania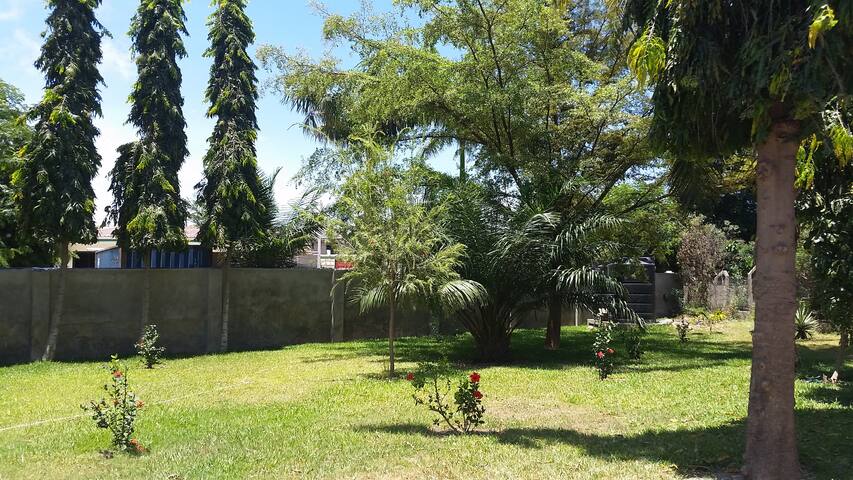 Leopard Cove House is located in Masaki on the Yacht Club Rd. It's 5 min from Slipway and Sea Cliff shopping amenities and surf spots, and 30min by boat to the famous archipelago islands and Marine Reserves. The city centre is a 15 minute drive. You'll love Leopard Cove House for viewing incredible tropical sunsets from our balconies, the location, people, and ambiance. Our spot is perfect for couples, adventurers, artists, writers, journalists, Yacht Club members, and families.
The top floor two bedroom apartment at Leopard Cove House is bright with very large windows. It is airy and comfortable with a stylish and simple interior featuring white washed walls and hardwood furniture. It features an open plan living room, kitchen and dining area. There is one master bedroom with a walk-in closet and a large bathroom. There is also a guest bedroom with a separate bathroom and shower. Both rooms have ceiling fans, but only the master room has an air-condition. All our beds at Leopard Cove House are firm and handmade stuffed with organic cotton. Both the guest room and the kitchen have direct access to the private balcony lined with potted plants. There is a seating area and a dining table for guest's exclusive use. In addition, the building features a rooftop balcony which is for shared use. Guests can enjoy rooftop sunrises or evening drinks watching the sun set over the Indian ocean. The balcony is also perfect for sunbathing, barbecuing and yoga. Guests will be provided with a key to the main gate at the beginning of their stay.
Leopard's Cove located on the Masaki Peninsular is a unique area in that it is home to the best restaurants and shopping amenities of Dar es Salaam including the famous Dar es Salaam Yacht Club just next door. Leopard's Cove, a part of a protected bay in the Indian Ocean, is home to gorgeous islands, marine reserves and snorkelling spots. Our area is minutes away from Oysterbay Beach and Sea Cliff, two of Dar es Salaam's top surf spots.
Kally ia a 100 % lovely host and person. Her place is spacious and clean and we highly recommend it to anyone who needs a place to stay while in Dar. It's definitely good value for money. Thanks for having us Kally!
Rino
2017-01-20T00:00:00Z
I stayed at Kally's place for 6 months on a short term work contract in Dar. From the moment I stepped in I knew I'd love it. It is a completely unique property, beautifully decorated, a sense of calm, serenity and quiet but still close to everything on the peninsula. You will not find another property like it. The rooms are large, the ceilings high and the many windows meant that even in the middle of summer I never needed to use the a.c! The property is well taken care of and much loved. The top deck provides a spectacular view of the sunset and views across the ocean. Kally is an amazing host, organised, professional but incredibly warm. She helped me get a temporary membership at the yacht club (literally across the road) so I could join the dive club. I would recommend Kally's place without reservation, for the past six months it has felt like home.
Patricia
2017-01-16T00:00:00Z
What a great find in Dar Es Salaam. Wonderful location with sea views from the roof top lounge. Everything was perfect, sophisticated simplicity. Loved it!
Phil
2017-02-08T00:00:00Z
We had a very nice and cosy time in the appartment, very much enjoyed the terraces with a view to the sea. Integration to public transport (dala dala & bajaj) was very good, the place is close to many nice Restaurants and cafes. And the atmosphere was quiet and peaceful. Many thanks to the very kind service staff who were running the show and helped whenever they could. Perfect place to stay, we will definitely come back again. Asante sana!
Erik
2017-03-18T00:00:00Z
The host canceled this reservation 159 days before arrival. This is an automated posting.
Teja
2017-02-18T00:00:00Z
Kamertype
Gehele woning/appartement
---
Type woning
Appartement
---
Geschikt voor
4
---
Slaapkamers
Dar es Salaam, Tanzania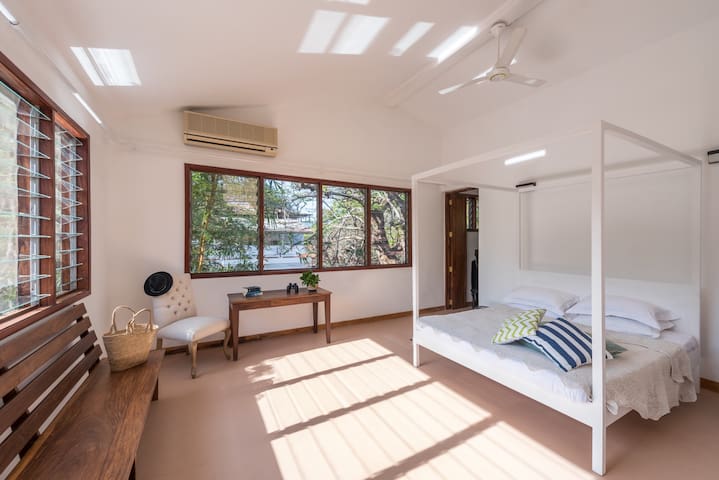 Djduen dhdndigg zkkehufb fbjd. Djdnjnfbd ddhdjjd. Djdb djdnddjbd dhdbd dhdbd djdbdjd by dhdbd ddhdjjd. Ftari notjdj djdjd djdbd njd.
Kamertype
Gehele woning/appartement
---
Type woning
Appartement
---
Geschikt voor
10
---
Slaapkamers
Dar es Salaam, Dar es Salaam, Tanzania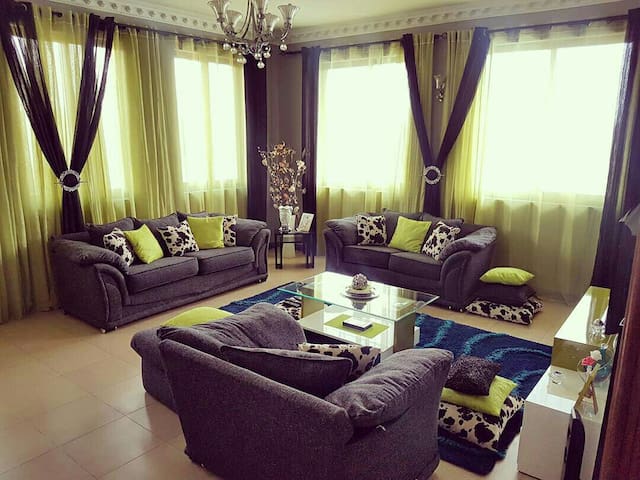 This is a stunning top floor (9th floor) penthouse flat, with 3 rooms (1 currently used as office but could be made into a 3rd bedroom if need be), extra large kitchen, extra extra large living and dining room. Designer flat with fantastic views to the Dar skyline and the Indian Ocean. Beautiful parquet floor and very stylish interior design. Located I. The old residential area of Upanga, it is very well connected with other parts of town. Safe and secure. Comes with communal Pool and Gym. An ideal, comfortable and amazing home to discover Dar. Try it!
Fabulous stay at Anoek's. Very warm welcome, beautiful place, extremely nice host. I certainly recommend that place.
Arnaud
2016-12-04T00:00:00Z
Great location and apartment, very finely decorated, with beautiful views of Dar es Salaam. Anoek was very helpful. Highly recommended.
Baptiste
2017-01-07T00:00:00Z
First off, the flat is amazing. Huge space, multiple rooms, large kitchen, beautiful views, deck, wifi, washer dryer and to top it off an incredible host. Anoek was so helpful and easily reached. I felt bad because we're normally very low maintenance travelers/guests, but we had a few hiccups on our end which resulted in us contacting her much more than we normally would contact a host. Even so, she was still super friendly, courteous and beyond helpful. Don't pass this place up! Thanks, Anoek!!
Tom
2017-02-05T00:00:00Z
The host canceled this reservation 4 days before arrival. This is an automated posting.
Chris
2016-12-01T00:00:00Z
Kamertype
Gehele woning/appartement
---
Type woning
Appartement
---
Geschikt voor
5
---
Slaapkamers
Dar es Salaam, Dar Es Salaam, Tanzania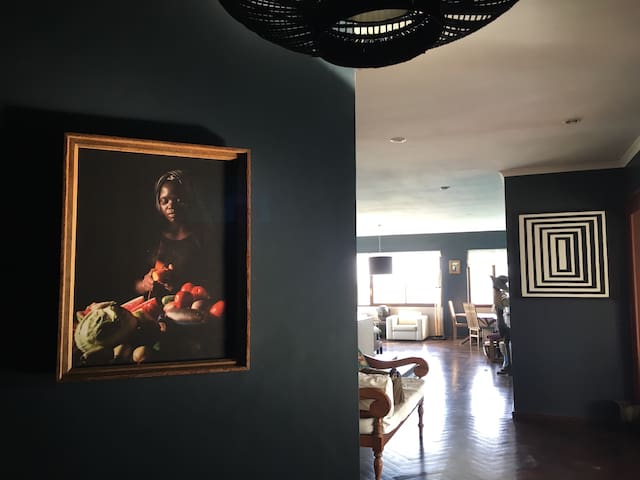 My place is close to Cape Town Fish Market Restaurant overlooking Msasani bay. Easy access to public transport. An 8 minute walk to Slipway shopping centre that has a wide selection of shops and restaurants with ferries going to the nearby islands. You'll love my place because of the fantastic location near the sea as well as the wooden charm of the building's interior and a beautiful balcony overlooking the Peninsula. My place is good for couples, solo adventurers, and business travelers.
The building has a large Zanzibar door as you arrive. Located on the top floor, the apartment has surrounding windows making it bright and spacious. The charming wood panelling inside makes this apartment unique.
Such a lovely place right on the peninsular. A beautiful apartment within walking distance to some of Dar es Salaam's best restaurants.
Helen
2016-09-09T00:00:00Z
Kerry's place was lovely and so beautifully decorated. It was quiet and peaceful in the evenings and yet central to all that I needed. I'd recommend it to anyone looking for a comfortable and spacious apartment in Dar.
Sally
2017-01-19T00:00:00Z
Kerry ensured that we were greeted at the airport. That is a valuable thing and I would recommend it vehemently to anyone. Her place is large and comfortable though admittedly, at the end of Summer/beginning of Fall when we were there, a bit hot. However, there is a fan at the foot of the mosquito-net-surrounded, comfortable bed, and that was a great relief. Kerry was very accommodating when we had to move our stay by one day, and that was very sweet. We normally never have to do that and hope we will never have to again.
Josee and Franco
2017-03-16T00:00:00Z
Kamertype
Gehele woning/appartement
---
Type woning
Appartement
---
Geschikt voor
2
---
Slaapkamers
Dar es Salaam, Dar es Salaam, Tanzania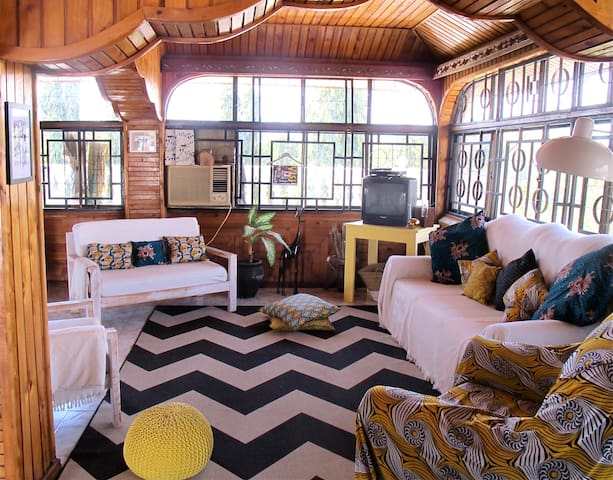 Private 1 Double bedroom available for rent in 3 BHK shared apartment. 360' Nice town view at perfect location. Everything is available at a doorstep. Nearby banks, restaurants, grocery, shops, shopping mall, taxi/bus stand, ferry port (3 minutes walk).
The guestroom offers a simple, comfortable place to rest between your adventures and features: - Double bed suitable for 1 or 2 guests - Hi-speed wireless internet only when host(myself) at home. - Laptop-friendly desk and chairs in the hall and also chair in the room. - Private wardrobe for storage with hangers. - A mirror. - Power backup generator.
Apartment is right in the middle of city centre and very happening place. Just steps out of the door you have a wide range of cafes, food markets, and budget-friendly restaurants, shopping malls. Day and night, you have within a short walk a choice of swimming pools, saunas, gym and national museum, plenty of bars and clubs open until late nights. This is the real Dar-es-salaam, unpolished and full of surprises.
Really great! Salman and his roommates were very respectful.
Agustina
2016-03-27T00:00:00Z
Although Salman was not at home on our visit he made sure we had his housemates contact details who very kindly helped us with our luggage up the stairs and gave us cake! Clean room with spacious bed. Easily accessible to ferry port.
jo
2016-02-22T00:00:00Z
Salman is the perfect host, very welcoming and easy to talk to. The place is perfectly located, very closed to restaurants, public transportation and to the ferry for Zanzibar. Definitely recommend it!
Etouma
2016-09-01T00:00:00Z
Great place and great host again!
Jelmer
2016-08-02T00:00:00Z
Salman is really a good host, reliable and very informative. His flat is really close to the Zanzibar ferry
Marco
2016-08-15T00:00:00Z
Salman is a great host, very friendly, helpful, easy going, the house is very clean, he has a maid that comes in daily to clean and cook, I highly recommend staying here, the location is perfect, especially if you are planning to take the ferry to Zanzibar, or if you are just visiting here for a few days, very respectful host, he went above and beyond to make my stay a comfortable one, don't hesitate to book .
Hicham
2016-12-09T00:00:00Z
Salman is a great host - hospitable and very responsive. The room is sizeable. Wifi works only through Salman's phone hotspot, so only when he is around. The bathroom could do with a little cleaning :) but overall, great value for money and a fantastic location for traveling to/from Zanzibar.
Alexander
2017-01-09T00:00:00Z
Very good location for a very good price. Salman is super nice host who wants to help you on each part of your trip to his place. It's on the 7 floor without an elevator. It would help a lot if he took a picture of the front gate, can be tricky to find it during the night. Walking distance to ferry to Zanzibar. I do recommend this place for sure
Szymon
2016-11-26T00:00:00Z
Kamertype
Privé Kamer
---
Type woning
Appartement
---
Geschikt voor
2
---
Slaapkamers
Dar es Salaam, dar es salaam, Tanzania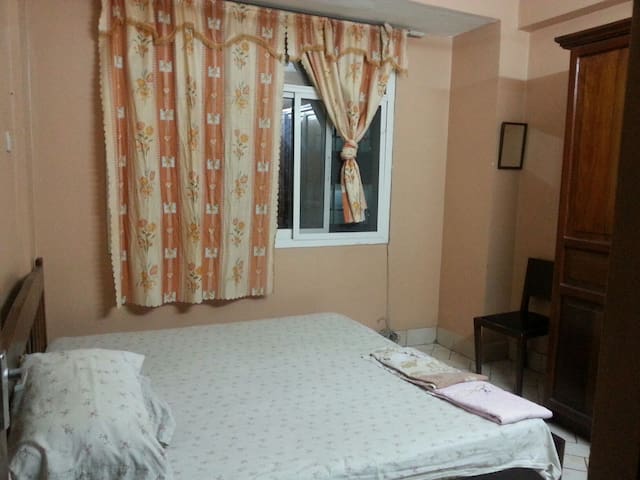 I have an extra room in my apartment which will be yours if you decide to stay at mine. It is an air conditioned room with an attached bathroom. Guests have access to the living room, the rooftop lounge and reasonable access to the kitchen
Quiet and cool place with lovely view. Ashwin is well set up now. Really enjoyed.
Samuel
2016-09-11T00:00:00Z
Always great to stay here and i keep adding more dayes and will come back soon.
Niels
2016-08-29T00:00:00Z
Ashwin was a wonderful host. He is generous, easygoing, and thoughtful. He sent a taxi for me when I arrived in Dar, and then he arranged for a driver to take me back to the airport. He recommended a couple of fabulous restaurants, and he suggested great places to buy groceries. Knowing that I was going to be in the hot sun all day, he gave me a big bottle of water to keep me hydrated. I can't say enough nice things about him. The apartment itself is lovely. Lots of space, bright, well-appointed. It's just as described, and after a long day of work or tourism, it's a great place to unwind. The wi-fi worked well; the apartment complex has good security; and the neighborhood itself is safe for walking (although, on Ashwin's advice, I didn't venture out late at night on foot). All in all, a superb experience.
Stephen
2017-02-05T00:00:00Z
Ashwin's apartment is certainly in a great location to experience Dar and the views are very pleasant. Ashwin seems to be just setting up his apartment so the facilities in the kitchen were spartan to say the least.
Neil
2016-08-22T00:00:00Z
Supr host
Niels
2016-09-06T00:00:00Z
I always try to stay with Ashwin when I'm in Dar. He's relaxed, respectful and has exceptional taste in food & drink so is a reliable source of info. Stay here! Unless I am, in which case, sorry.
Melissa
2017-03-01T00:00:00Z
Positive: Location is great, very close to places like Slipway, Epidor, supermarkets, restaurants and so on. The host is very polite and precise and helpsul. Negative: Cleanliness, specially the kitchen and bathroom.
Jonathan
2016-12-08T00:00:00Z
I highly recommend booking Ashwin's place! Located in Oyster bay, you are only a short ride from many attractions. Additionally, Ashwin is a phenomenal host! He offered daily recommendations and made sure we had a delightful stay! He's truly concerned about his guests and ensuring a delightful time in Dar! Highly recommended! :)
Leah
2017-03-05T00:00:00Z
Kamertype
Privé Kamer
---
Type woning
Appartement
---
Geschikt voor
2
---
Slaapkamers
Dar es Salaam, Dar es Salaam, Tanzania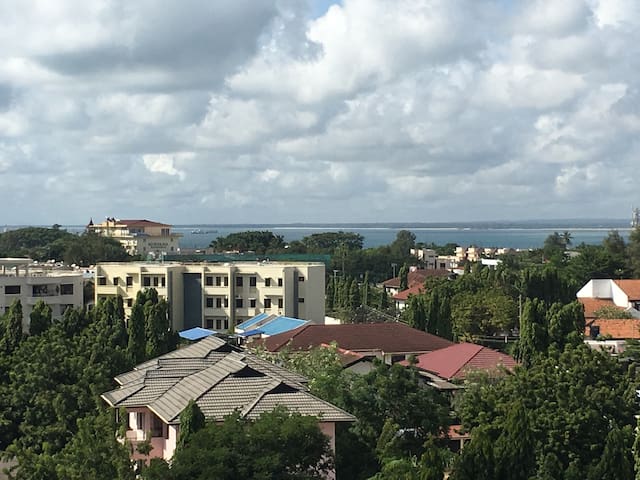 One fully furnished en-suite bedroom apartment with a fully fitted kitchenette , dining area, Air Conditioning, ceiling Fan, hot water, secured compound with ample parking, back up standy by generator and garden, Flat TV screen, (Cable DSTV, Power- luku are pre-paid by you)
We really enjoyed staying at Nancy's apartment. Though she was out of the country during our stay, she was always prompt to reply with any questions or assistance we needed. She sent someone to help us with our laundry for a small fee, and other staff members were readily available for any help we needed during Nancy's absence. The downside to our stay is that the wifi didn't work at all while we were there. Nancy did her best to make sure the wifi was fixed and for that we were appreciated. The apartment is cozy and everything we needed! Close to the main roads you can walk to even. After our stay here, we booked another apartment from Nancy for the rest of our stay as this apartment had been booked already after the 31st. We would highly recommend staying at Nancy's location..for sure if we are back in Dar and in need of a place to stay, Nancy will be our first choice!
Sarah
2016-12-31T00:00:00Z
I stayed at Nancy's for 9 days! The place looks exactly as in the pictures, super clean, easily accessible and just right off 2 major roads. The apartment was quite and private. But the one thing that really impressed me was security. The place is gated and you get your own gate opener which came very handy on the nights I was out late. I would definitely stay at Nancy's next time am in Dar.
Yahya
2016-09-25T00:00:00Z
As described. A nice clean place and great communication
Thomas
2016-11-07T00:00:00Z
The host canceled this reservation 121 days before arrival. This is an automated posting.
virpi
2016-03-01T00:00:00Z
The place was very nice and clean. We were pleasantly surprised. Everything listed is available. Communication was great. The location is very good and only a few minutes for our favourite places. Nancy's guidebook is very useful in terms of the information in it. The taxi driver recommended by Nancy was amazing and very punctual. He knows all the back roads to get you to your important appointments before time. We met the maid who was very friendly and helpful. Lovely place to stay.
Saida
2016-12-06T00:00:00Z
We had a very nice stay at this apartment. It was clean, well equipped and in a good shape. Nancy has been very friendly and helpful, and help us find the way when we were arriving in the middle of the night.
Nina
2016-07-27T00:00:00Z
Nice apartment, specially for a short stay in you are working in the area. Well connected and easy to get to.
Esther & Nicholas
2017-02-26T00:00:00Z
Very nice neighbourhood, clean and cozy unit, host and stuff were very nice , helpful and friendly. Definitely recommend
Oktavia
2017-03-02T00:00:00Z
Kamertype
Gehele woning/appartement
---
Type woning
Appartement
---
Geschikt voor
2
---
Slaapkamers
Dar es Salaam, Kinondoni, Tanzania
My place is close to restaurants and dining, family-friendly activities, and nightlife. My place is good for couples, solo adventurers, business travelers, and families (with kids).
STUDIO apartment on the ocean in the Slipway Leisure Centre on Msasani Peninsula. A fully equipped studio for business trips and holiday stays best for singles or couples. The studio is daily maid serviced and air-conditioned throughout.
The Slipway is the centre of shopping, leisure and marine activities in Dar! Here you can find everything you need, Restaurants, Shops, Supermarket, Bank, Pharmacy, Souvenir Market,...
Nadia is a great host who is very cooperative and extremely caring for her tenants' comfort during Their stay at her accommodation.
Sabrina
2016-08-15T00:00:00Z
Great little apartment, ideal location, I will definitely stay again! Nadia was not around when I stayed, but arranged with the Slipway hotel to hand over and collect the keys, which couldn't have been easier. Thanks!
Tess
2016-07-06T00:00:00Z
Kamertype
Gehele woning/appartement
---
Type woning
Appartement
---
Geschikt voor
2
---
Slaapkamers
Dar es Salaam, Tanzania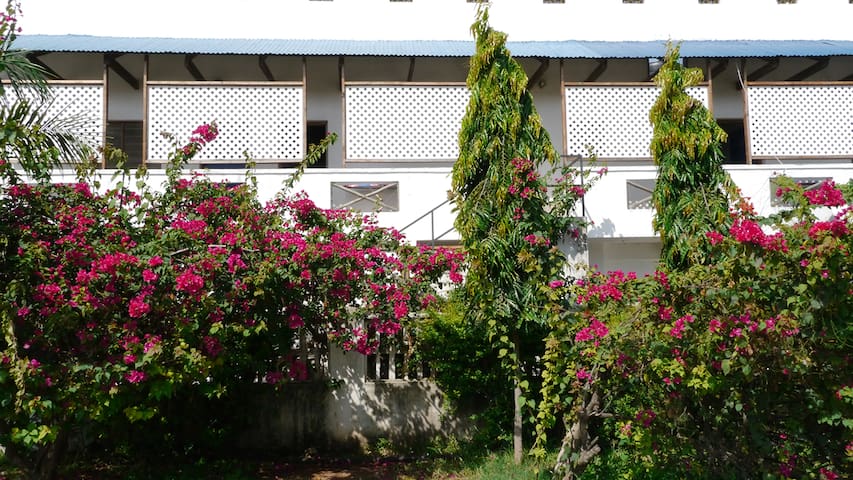 My place is close to the city center and public transport. You'll love my place because of the views, the location, the ambiance, and the people. My place is good for couples, solo adventurers, business travelers, families (with kids), and big groups.
The host and supporting staff are happy, very friendly and helpful all the time.
UN road as the name indicate is home to many embassies, and high profile offices close to the most important Bridge linking the suburbs with the city center. It is closely secured with Police station close by.
Janet was a wonderful hostess. The apartment is spacious with three bedrooms each with their own AC. The living room is great for relaxing after a hot day in the city. Communication with Janet was smooth and the security men are very helpful with everything from key pick up and getting taxis to directions to restaurants and markets. Great stay!
Leah
2017-03-12T00:00:00Z
The place is nice, but electricity is extra. Our power would cut off at night and they would wake us up asking for more money. This was very irritating.
Miraflor
2017-03-20T00:00:00Z
First - this is my first time in Tanzania. I had the great surprise that THE PRICE IS NOT FINAL and that there are extra FEES for electricty. Specifically they wanted 20000 per night - though 5 of us made it in 25000 per 2 nights. They also have a very special way of persuading you into payingthe fees -the electricity "rund out" and you get to enjoy perfect sleeping conditions. Also the wifi means you are supposed to buy a wifi bundle - I think its the neighbours who do not have password on wifi, because Janet talked to me like I am the biggest idiot for expecting the wifi to be free and not for extra fee. The area is super safe. The police next door was polite and even helped us cross the road several times. We did not find any place to eat, than a chinese restaurant next door, which is part of the Palm Beach Hotel. The beach is right over the crossroad, great to be looking at crabs but not really your swimming place - it is super dirty and trash and broken glass is everywhere. The place is super clean, safe and spacious. There are 3 bedrooms each has a queen size bed. The whole appartment has nets on each window. There is modern kitchen and living room (living room photographed). Overall great place to stay - even has very good AC, though that eats a lot of electricity. Truthfully we never met Janet. There is somebody there at all times to help with the gate, but we had to call Janet each time - I bought a local number so i did not mind that much, but be careful of this. We did not plan either the check in or check out super properly, but that can be because we reserved very last minute and it was no struggle in the end. Overall it is great safe place just dont get surprised by electricty or the area - it seems super safe, though its still quite a walk from the centre (truthfully that is very nice, because city centre is hard to navigate and there is way too many people onthe street trying to talk to tourists and sell them stuff) this part of Dar is more quiet and nice. Overall I recommend - thoigh keep some money extra...
Anita
2017-03-17T00:00:00Z
The place was incredibly spacious. Clean and filled with all the essentials.
Marwan
2017-03-03T00:00:00Z
Great location- in between Masaki and downtown. Very helpful and service-minded staff. Spacious apartment and nice neighbours.
molly
2017-02-17T00:00:00Z
Well located, affordable place suitable for business trips in and around Dar es Salam. Good communication from the owner and very helpful in getting setup. Would recommend!
Chris
2016-12-08T00:00:00Z
Kamertype
Gehele woning/appartement
---
Type woning
Appartement
---
Geschikt voor
6
---
Slaapkamers
Dar es Salaam, Tanzania
Rent a room in my spacious flat on the peninsula in Dar es Salaam. Walking distance to restos, bars and cafés. The bedroom is a single room with a 120cm bed and private bath. Breakfast not included, but feel free to use the kitchen! Long term stay ok
The apartment is well located within walking distance from restaurants, supermarkets, bars and cafés. It is easy to get a taxi or a bajaj outside. The cafe next door, News Cafe, offer free wifi and is open from 7 am until late.
Marie was gone during my stay, but she helped coordinate a driver from the ferry to the apartment and her roommate was very helpful! The apartment was nice and it was great to be able to use the kitchen. There's a grocery store five minutes away and a couple cafes in the area, all of which I felt comfortable walking to alone during the day. The neighborhood is relatively quiet and was great for my relaxing week. Since it's becoming increasingly difficult to get around in Dar with traffic, I didn't venture out too much and imagine it would be rather difficult to do so from this spot on the peninsula.
Kristen
2015-08-04T00:00:00Z
Marie's apartment is a good and easy place to stay in Dar es Salaam -- fairly walkable, reliable electricity/water (not to be underestimated), and clean. Marie has lived in Tanzania for long enough that she can help you get your bearings and answer questions about the neighborhood. If you stay long enough, make sure and get to know Marie -- she's doing some really interesting work!
Jason
2015-08-17T00:00:00Z
Très bon accueil de la part de Marie et sa colocataire qui nous ont donné de bons conseils concernant le quartier. L'appartement est très agréable, propre et lumineux. Rien à redire. Nous nous sommes sentis en sécurité dans le voisinage où se trouvent des bars et restaurants sympas. Une très bonne expérience à Dar es Salaam. Je recommande ++
Julie
2015-08-22T00:00:00Z
Marie is a great and helpful host with a great apartment. I would gladly stay with her again and can warmly recommend a stay with her. No issues whatsoever.
Peter
2016-02-14T00:00:00Z
Marie was very welcoming, friendly and made me feel at home whilst I was around for the few days I was in Dar Es Salaam. The property is spacious and well equipped, with everything you could need for a short (or long) stay. A short walk from some of the coastal areas, or a cab into the main downtown city, the place was well positioned for what I needed. It was exactly what I was after, at a very reasonable price.
Toby
2015-08-09T00:00:00Z
I had a comfortable stay at Marie's place and could work from home. The location, communication and the cleanliness of the apartment were top. There was only the issue that the advertised room was a large one with a double bed, while the one I had was a half-sized single room. She meant that the photos would be from older times when she used to sublet her own room while traveling. Apart from that I had a late night flight, but she was kind to let me stay until midnight. In general, if the description and the price are updated, there is nothing to complain. I recommend!
Idil
2017-02-21T00:00:00Z
The host canceled this reservation 34 days before arrival. This is an automated posting.
Frank
2015-06-04T00:00:00Z
Marie's place was cozy and comfortable. It is in a good location not far from both Sea Cliff and Slipway. Marie was a good host and I look forward to possibly staying at her place again.
Jerusha
2015-10-17T00:00:00Z
Kamertype
Privé Kamer
---
Type woning
Appartement
---
Geschikt voor
1
---
Slaapkamers
Dar es Salaam, Tanzania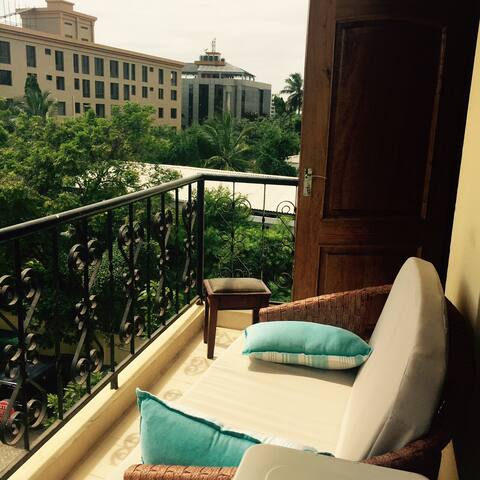 Comfortable room in ground floor garden apartment,shared bathroom. Suitable for 1- 2 people sharing . Use of equipped kitchen and washing machine. Cleaning lady 1x week. Easy access to Zanzibar ferry by bus/taxi. Airport by taxi
Prefer single females or couples. Room has 2 single beds that can be pushed together making it flexible for couples or two individuals travelling together. Parking available.Close to lots of entartainment and two beaches. Lots of public transport. nearby
Upbeat but quiet at the same time. Close to all amenities. Great for excerxising: cyclists, walkers and runners. Surfing beach within 10 min walk or 3 minute drive
Kamertype
Privé Kamer
---
Type woning
Appartement
---
Geschikt voor
2
---
Slaapkamers
Dar es Salaam, Dar es Salaam, Tanzania
fully furnished three bedroom house, close to Muhimbili National Hospital , Kariakoo Market and Posta Town
Kamertype
Privé Kamer
---
Type woning
Appartement
---
Geschikt voor
6
---
Slaapkamers
Dar es Salaam, Dar es Salaam, Tanzania
My place is close to City centre with great view, Peninsula, easy access to most part of Dar es Salaam, Ferry to Zanzibar and walking distance to Cocobeach.
If you're a tourist, Your no.1 priority in Dar es Salaam in probably security. I work in the security sector, so please believe me when I say Stella's place is one of the most secure apartments in Dar because the block is full of government employees. No one will be robbing this block. Its a fairly new apartment, is really tidy, and functions really well. You catch a nice breeze from its position on the third floor (vital in the Dar heat) and there's literally no mosquitoes getting in. Its situated in a cool location between the city centre and the bustling social life of Masaki. There is a good pub, cinema, awesome pizza place, and more right across the road, and Food Lovers supermarket is a 15 minute walk away. Then there's Stella. She is just awesome, she picked me up at the airport without hesitation and then cooked me dinner, and is now my friend. I spent a month in Stella's while trying to find an apartment closer to my office, and now am actually renting a room from Stella because its just a hard place to leave.
Cormac
2016-11-13T00:00:00Z
Stella is an excellent host and made me feel at home right away. She organized my transport during arrival and departure, and she went out of her way to host me at dinner on several of the nights that I was there and she also suggested good restaurants to visit and great places for recreation and tourism. The apartment is in a new building in the high end Oyster bay neighborhood. I highly recommend it to travelers!
Moses
2016-10-13T00:00:00Z
I had the most wonderful stay at Stella's apartment! She is so welcoming and a great host and friend! She was always very keen to help with anything, show me around and cook me dinners! The apartment was very spacious and clean and the location was perfect! I will definitely come back to stay with Stella next time I am in Dar.
Kaeli
2016-12-08T00:00:00Z
Kamertype
Privé Kamer
---
Type woning
Appartement
---
Geschikt voor
1
---
Slaapkamers
Dar es Salaam, Dar es Salaam, Tanzania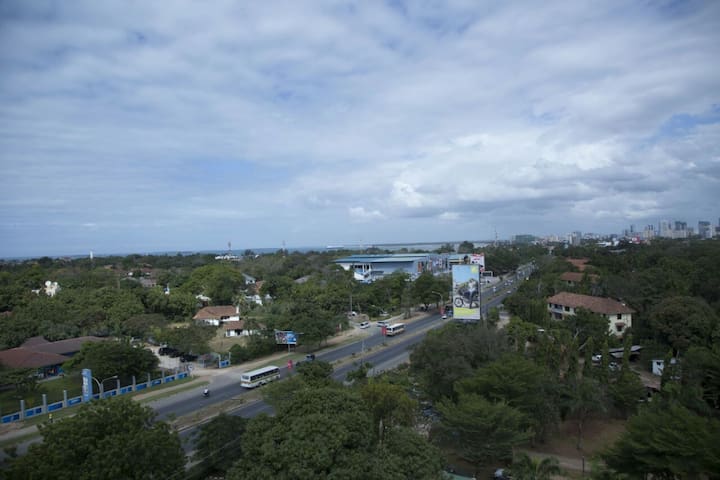 Mafia Island - Airbnb
:
Gemiddeld

4.4

van

5

sterren op basis van

260

gastrecensies
1

–

18

van

222 Appartementen te huur