Nuestro centro moderno 1D es accesible a todo Medina tiene que ofrecer! Restaurantes, boutiques, Erie Canal, y RR Museo todo dentro de un bloque. Recién actualizado con nuevos gabinetes, mostradores de un cuarto de galón, mosaicos personalizados y muebles modernos. Aire acondicionado central, estacionamiento lavadora / secadora en la unidad, y fuera de la calle. Perfecto para las familias que exploran el Museo RR, y excursionistas y ciclistas y navegantes que atraviesan el Canal Erie histórico. La cocina está totalmente equipada para cocinar. Una cama de matrimonio y un futón tamaño completo.
Se puede ir andando a muchos restaurantes y tiendas; tiro de piedra del museo del ferrocarril de Medina, que alberga numerosas excursiones y eventos familiares; 45 minutos a Buffalo, Rochester, y Niagara Falls; 2 horas a Toronto.
Kamertype
Gehele woning/appartement
---
Type woning
Appartement
---
Geschikt voor
4
---
Slaapkamers
Medina, New York, Verenigde Staten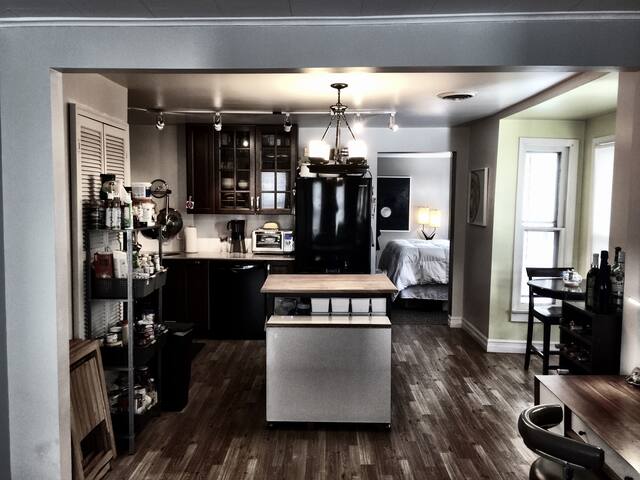 Volledig gemeubileerd appartement met 2 slaapkamers 6 personen (3 bed is slaapbank), 2 's nachts min. Tweede verhaal appartement met eigen ingang in een landelijk gebied van Western New York State. Het appartement beschikt over alle voorzieningen die men zou verwachten en is rustig en vredig. Niet roken, geen huisdieren.
Onze woning is een twee-slaapkamer tweede verhaal appartement met eigen ingang in een landelijk gebied in het centrum van Orleans County in Western New York State. Het appartement beschikt over alle voorzieningen die men zou verwachten, waaronder een bank die converteert naar een queen size bed waardoor het appartement om comfortabel te slapen zes. Het pand is rustig en vredig en het is niet ongebruikelijk om wilde dieren zoals herten, konijnen of bosmarmot in de grote, goed onderhouden tuin, terwijl u geniet van uw koffie op het dek. Restaurants en winkels zijn te vinden in een van beide Medina (8 mijl) of Albion (12 mijl). Het appartement is het hele jaar door beschikbaar voor verhuur.
Medina is goed gelegen voor het zien van vele natuurlijke wonderen / interessante bezienswaardigheden tijdens redelijke dagtochten; jammer NYC is zeven uur rijden. Wij zijn gevestigd minuten van de Great Lake Ontario, grenzend aan een rivier die vissen, kanoën, slangen en raften elke zomer organiseert, paardrijden is beschikbaar in het gebied en de herfst blad is voortreffelijk. Niagara Falls is een uur rijden net als de Great Lake Erie, Buffalo, Rochester, paardenraces en casino's. Toronto, Ontario, Canada is reizen ongeveer 2½ uur, vergeet niet uw paspoort als je van plan bent om daar te bezoeken. Ook ongeveer een uur rijden is Letchworth State Park, bekend als de "Grand Canyon van het Oosten," het is een van de meest landschappelijk prachtige gebieden in het oosten van de VS De Rivier Genesee raast door de kloof meer dan drie grote watervallen tussen de kliffen - als hoog als 600 voet op sommige plaatsen - omgeven door weelderige bossen. Wandelaars kunnen kiezen uit 66 mijl van wandelpaden. Trails zijn ook beschikbaar voor paardrijden, fietsen, sneeuwscooter en cross-country skiën. Letchworth biedt natuur, geschiedenis en podiumkunsten programma's, begeleide wandelingen, tours, een zomer lezingenreeks, raften, kajakken, een zwembad om te zwemmen en ballonvaren. Extra toeristische attracties zijn onder andere Art Park, dat tal van live theater en concerten buiten mei organiseert tot en met augustus, Darien Lake Theme and Water Park, dat ook zijn er talloze concerten elke zomer, Seabreeze Amusement Park, Martin's Fantasy Island Amusement Park, Niagara Wine Trail, Finger Lakes Wine trails, Erie Canal om te wandelen, varen en vissen, de enige weg onder het Kanaal van Erie zoals te zien in Ripley's Geloof het of niet, Erie Canal Locks in Lockport, NY evenals de Lockport Caves. Er zijn tal van historische bezienswaardigheden, zoals Old Fort Niagara. Vergeet niet te stoppen door de Anchor Bar de schepper van "Buffalo Wings", en Rochester Strong National Museum of Play of een van de andere fijne musea in de omgeving. Topsport in het gebied zijn de NFL Buffalo Bills, AAA honkbal Buffalo Bisons (boerderij club van de Toronto Blue Jays), NHL Buffalo Sabres, evenals pro voetbal en lacrosse. Talrijke boerenmarkten in overvloed in het gebied en we hebben een actieve Amish Community met vele handgemaakte waren. De Medina Railroad Museum heeft het hele jaar door displays en seizoeninvloeden gastheren "Thomas the Train" en "The Polar Express" trein rijdt.
Richard and Susan's apartment was very nice. Exactly as described. They had placed fresh milk, orange juice, eggs and bacon in the fridge for breakfast! That is very much appreciated since it is not located too close to a store. The place was very clean, everything worked and the stay was very enjoyable. Thanks Richard and Susan!
David
2016-11-27T00:00:00Z
Nice spacious clean place
Eugene
2016-08-24T00:00:00Z
The location is great. It is pretty central to most things! It's a really pretty area. The hosts are super nice and very helpful! They are quite thoughtful with things they leave for their guests- they even left some groceries!
Jillian
2016-10-20T00:00:00Z
Richard and Susan made the place very nice and clean. They provided everything we need and welcomed us in person. The trampoline, swing and swimming pool in the back yard were perfect for my kids. And they also prepared some breakfast for us. I highly recommend this accommodation and will revisit this place if there is a chance.
Bill
2016-08-15T00:00:00Z
Lovely and peaceful apartment. You almost have everything you need here. The real apartment is better looked than pictures and Richard is very nice. We had a very good journey.
Tianying
2015-08-29T00:00:00Z
We had a great stay at Richard and Susan's place. The description was if anything an understatement. The place was very clean, tastefully decorated without being cluttered, and comfortable. It was a great place to stay with our kids while visiting family for Christmas. We hope to stay there again in the future.
Rachel
2015-12-26T00:00:00Z
Richard and Susan's place was fantastic. It was very spacious and clean and had everything we could have wanted for a comfortable stay. I would highly recommend staying here.
paul
2016-10-08T00:00:00Z
we had a good trip here! we feel like home.Richard And Susan are very nice .They prepared some bread,milk and water for us. Thanks!
Haiyan
2016-08-21T00:00:00Z
Kamertype
Gehele woning/appartement
---
Type woning
Appartement
---
Geschikt voor
6
---
Slaapkamers
Medina, New York, Verenigde Staten
THIS IS A GREAT PLACE TO SPEND YOUR VACATION! Believe me whatever your expectation is for the night, Monte will not let you down. For those who travel to the Niagara Falls, Medina is around 45 mins drive away. It might be a little far compared to other places but believe me this place is amazing. The town is quiet and beautiful and the canalway is perfect for a walk. You could find anything you want for a perfect weekends here at Monte's house.
Zeming
2016-07-03T00:00:00Z
We recommend this accomodation to everyone!!! Go to Monte's home, if you want a 5-star-breakfast, a huge and hot pool where you can relax after an exhausting day, a fantastic host who is not only a great cook, but also an interesting person, a wonderful old house which is very clean and lovely decorated. We had the best time, staying at the 3rd floor of Monte's home. Monte made us feel very welcome and managed to give us everything we needed and even more. He really surprised us with his kindness, so we even stayed a night longer. Monte and his house have been one of the Highlights of our 4-week-trip through the USA. We would always love to visit him again.
Tobias
2015-09-29T00:00:00Z
Monte was terrific. We did not arrive until 1am and Monte stayed up to greet us. The room was equipped with a ton of extras like milk for my son (because we told Monte he liked milk) snacks, a few nice beers in the fridge etc. Had a great chat with Monte the first morning, he is a wonderful man. I would highly recommend this place to everyone.
Ron
2016-06-06T00:00:00Z
Really great experience staying at Monte's house, alot more to offer than just a bed!Heated pool out back, stunning views of the Erie Canal and really relaxing space on the 3rd floor. Would happily have stayed for longer! Very welcoming and friendly host, thanks Monte!!
Deirdre
2015-08-09T00:00:00Z
Monte was an excellent, warm and welcoming host! He was barbecuing with his kids and another couple (AirBnB guests) and invited us to join his feast on our arrival. He was generous with his home and yard space for relaxing and offered us recommendations for local restaurants and sights, in addition to wisdom about the area and its history. We had a great time! His collection of ephemera in the attic space was fascinating to observe.
Krystal
2015-05-17T00:00:00Z
I had the privilege of staying with Monte for 5 weeks when I had a training to attend in Lockport, NY. He was a fabulous host. I felt very welcome in his home. At times he made food for his family and I was always invited to join them for dinner. Both the food and company were wonderful. His home and pool were very clean. It was a very comfortable stay. Monte was a great host and a very nice guy. I would highly recommend staying at this home. 
Christine
2015-07-15T00:00:00Z
This is a special place to stay. Monte is a unique and generous host, who succeeds in making people feel welcome, comfortable and very much at home. He included me and other guests in a family dinner, so I felt part of the family. His home is clean and has many fun elements - the pool, shower and decks outside. Sunsets over the canal at the end of the garden. A short walk across a bridge and down the towpath reveals a local waterfall. Medina is an interesting old historic town on the Erie canal. I would highly recommend Monte's B&B to anyone.
Rebecca
2016-05-31T00:00:00Z
We even stayed one night longer than planned ;)
Tobias
2015-09-28T00:00:00Z
Kamertype
Privé Kamer
---
Type woning
Huis
---
Geschikt voor
3
---
Slaapkamers
Medina, New York, Verenigde Staten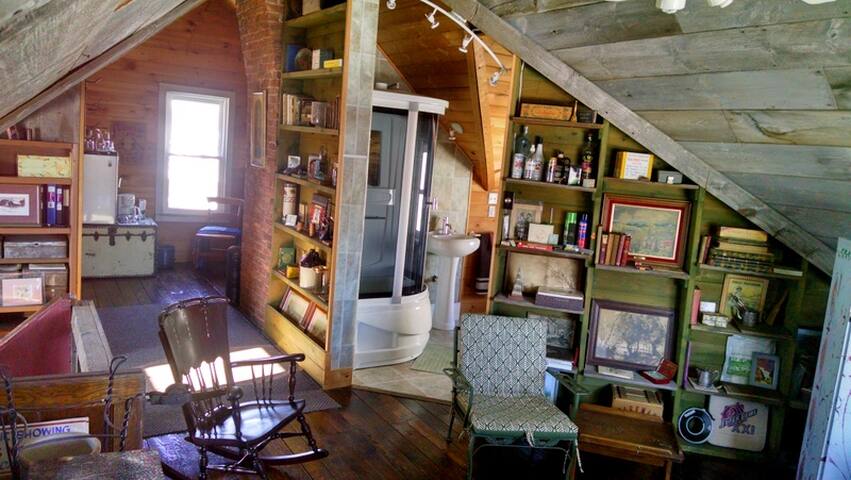 *Year-round lake waterfront in NY--AC and HEAT * In the country near fruit farms, wine trail, parks & dairy farms. *BIG view Lake Ontario & Canada-watch sunset and sunrise bed. *Easy check-in, fire pit, water front deck, weber grill, linens *50 min to Niagara Falls, NY *PET FRIENDLY *Situated in wine, fruit & Amish Country. *On world famous fishing Lake Ontario. *Open concept, 600 sq ft *basic cable, internet *although it is remote you have kind friendly neighbors Winter and Summer months
BEDS: MAIN FLOOR: one full, one twin. LOFT; one full ** OPEN FLOOR PLAN *Simple fenced in area for your pet. * deck on waterfront. *large treed yard for family games. **On holiday weekends there will be an increase of family guests visiting neighbors. *All linens are provided *fully equip kitchen *washer, microwave, coffeepot, and a PINK refrigerator. *Weber type charcoal grill * fire-pit for evening fun. *And let's not forget the fully screened in sleeping porch! *Easy on site parking. *Easy check in... side porch door will be open for you. I leave you to your solitude but if you need me I am only 1 mile away. Although this little cottage on the water has plenty to do in the area, and a public boat launch 1 mile away at GOLDEN HILL STATE PARK for boats and jet skis you might just want to sit back and relax. Take some time to enjoy the view, read and escape from the "to do " list.
* this is a family friendly cottage lane * perfect location to relax and put your feet up and watch the water *Niagara Falls is a 50 minute ride * boating, hiking, swimming, jet skiing * fruit farm county * Niagara Wine Trail * Golden Hill State Park is 1 mile away for boat launching
As always the stay was outstanding. Great views of the lake and peacefully al around stay. I have stayed with Dorothy twice now and wouldn't stay anywhere else. If you are looking for a great trip without any issues, this is the place to stay.
scott
2016-12-04T00:00:00Z
There are so many descriptive words that come to mind about this "tiny home"--breathtaking, quaint, warm, charming, (URL HIDDEN) name a few. We just kept saying, "WOW!" for about the first hour of being there. Be sure to check out the pictures of the work that Dorothy had done on the place to fully appreciate the love that surrounds you there. Everything was as described and more. Be sure you stop for groceries so you don't have to leave. We followed Dorothy's suggestion on that and were so glad we did. It was like staying in a hobbit of sorts--with a view that instantly takes away your cares. We had occasion to meet Dorothy in person and she is a warm, caring, loving delight, just like her tiny home! What a wonderful place and a great value. Will recommend to friends and hope to return someday!
Mary
2016-09-15T00:00:00Z
I cannot articulate well enough how lovely our stay was-- we are frequent Airbnb vacationers and this was our favorite stay yet. On our drive home, we're already trying to figure out whe we can come back.
Courtney
2016-11-07T00:00:00Z
She thought of everything. We couldn't be happier with the stay we had at this amazing cottage on the water. The weather varied from in the 30s and snowing to 60s and sunny during our stay and we were comfortable the entire time. While the cottage is cozy, I honestly feel that a party of 5 or 6 could be pretty comfortable during their stay. Take it from me, if we find ourselves in the area in the future, we will definitely try to book this gem again.
Ben
2016-05-18T00:00:00Z
This tiny house was absolutely fantastic!. Dorothy had a little welcome basket for us and was readily available for any questions we had. The view was stunning and you could hear the sounds of the lake while you slept. The neighbors are close by but everyone is nice and its a very quiet neighborhood. The inside of the house is comfy cozy and has everything you need. I never wanted to leave!!. Will definitely be back soon!!
Lisa
2016-06-25T00:00:00Z
Great place to relax!
Boaz
2016-04-28T00:00:00Z
We loved our stay! The lake was gorgeous, the ice from the cold weather left the shore sparkling. I was afraid the house would be cold, since the temperatures were right around freezing for our entire stay but it was blessedly warm and cozy. Dorothy was very welcoming, even setting out a little breakfast for us. There were cute little touches all over the house that made it so cheerful and made us feel right at home. The cottage had everything we possibly needed, except provisions. For those, we went to the Amish store about 10 minutes away. They had lots of good snacks, sandwiches, and cheeses. Even a toy for our dog. :-) We spent our time hiking, bird watching, and geocaching. There are several good family-friendly trails and caches nearby! The park with the boat launch also has an abandoned farmhouse that's a lot of fun to explore. We can't wait to come back next winter.
Myranda
2016-03-23T00:00:00Z
We had such a fantastic stay at Dorothy's cottage! Dorothy was very communicative and made us feel so welcome. We completely fell in love with the place from the inside out and it was the perfect place to celebrate our engagement. We will absolutely be back!
Mary
2016-08-07T00:00:00Z
Kamertype
Gehele woning/appartement
---
Type woning
Huis
---
Geschikt voor
4
---
Slaapkamers
Lyndonville, New York, Verenigde Staten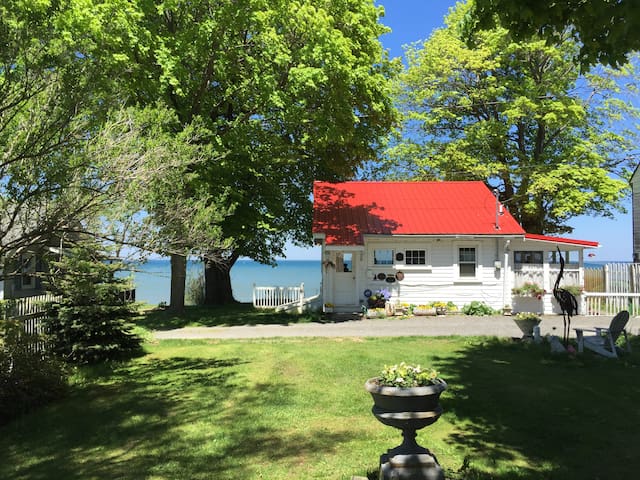 STAY HERE! Monte treats everyone like they're his best friend staying the night, and he'll do anything for yah! If Medina is near your route, please stay here.
Aaron
2016-06-19T00:00:00Z
Monte is a great host ever, generous and kind, his home is clean, provides good coffee and foods in the morning, lunch meat, even supper if we wish. I haven't been experienced this good with Airbnb hosts. He is the best ever!!
Fumihiko
2016-06-06T00:00:00Z
Monte has got to be one of the most accommodating hosts on Airnb! I could tell that he really enjoys the experience of having guests and keeps his house well suited to that. Great part of western new york to check out.. Thanks again Monte!
Guy
2016-09-13T00:00:00Z
I had a great stay with Monte! His house is beautiful, with the Erie Canal in his backyard. He went above and beyond to make sure I had everything I could need or want. He even made an incredible dinner! I highly suggest you stay with Monte if you find yourself in the Medina area!
Tom
2016-07-08T00:00:00Z
This was my first air bnb experience and I am spoiled for life. Monte was welcoming, friendly & helpful in every way. The house is awesome, beautiful kitchen & bath, quiet neighborhood that backs up to the Erie Canal. Monte is a great cook, generous in accommodating all food preferences. I loved this place and the host made it even better!
Teresa
2016-07-04T00:00:00Z
Monte's house and company were really great. Room was very comfy, clean and quiet. It's a beautiful rural area for those looking for something off the beaten path. I would definitely stay again.
Rachel
2016-05-02T00:00:00Z
Monte is a great host, he did not mind me arriving later in the evening and was very welcoming. He prepared an amazing breakfast in the morning as well as sending me off with a lot of fruit and yummy stuff for on the road. Thank you so much!
Wiea
2016-10-02T00:00:00Z
I was passing through medina on a cycle tour and was lucky enough to be hosted by Monte for the evening. It's hard to express how much he looked after me and I wouldn't hesitate to stay at his lovely home again. Monte went out of his way & truly made me feel at home with some amazing food and access to whatever I needed. It's rare to find someone so generous with his time and home. The room was ideal and had a lovely outlook over the canal. Monte recommended the local mead works in town & it's well worth a trip. His home is in a great area, really quiet & minutes walk to town. Staying with people like Monte is the reason I travel & use Airbnb. Couldn't recommend it more.
Toby
2015-05-08T00:00:00Z
Kamertype
Privé Kamer
---
Type woning
Huis
---
Geschikt voor
1
---
Slaapkamers
Medina, New York, Verenigde Staten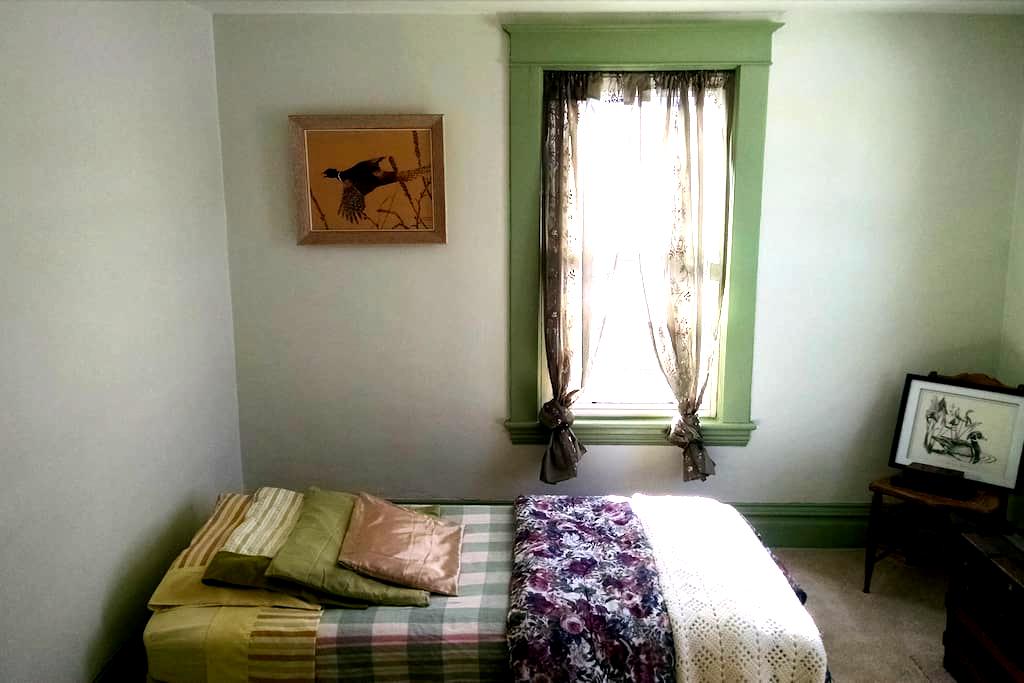 This place is awesome. Stayed in a large two bedroom one bath. The place has an industrial mid century modern feel, amazing natural light, and full kitchen. We received a credit at the cafe downstairs in the morning for breakfast and we were able to check in early. I would definitely recommend this place!
Kim
2016-04-25T00:00:00Z
Andrew and his awesome loft were both very welcoming. I could totally live there permanently.
James
2016-08-20T00:00:00Z
The loft is definitely worth to live in!! It is better than the pictures showed online. The Kitchen get everything prepared if you wanna cook something for your family. The living room is enough for 6~8 guys to play around. In all, I love this place
Yiwen
2015-09-07T00:00:00Z
Thanks for having me. The place was clean and comfortable and my host was really kind. Had a great time in Andrew's place.
Leo
2016-05-30T00:00:00Z
Andrew was a great host. We were late arriving and he made it all very easy. Everything was clean and lovely! The apartment has a lot of character and is huge! Medina is a sweet little town. We enjoyed our stay. Thank you, Andrew. Looking forward to coming back.
Sara
2016-10-30T00:00:00Z
Andrew's place is awesome! It is even better than the pictures. He is also a nice host. We had a very joyful stay there.
Ying
2015-08-23T00:00:00Z
Our stay at the hotel was a great experience. Andrew was quick to respond to our questions and was both accommodating and hospitable. The hotel is in a quaint small town and had a great coffee shop/cafe and mead brewery located on the ground floor. The loft itself was just as described, clean, and well maintained. Parking was conveniently located at the side of the building. Should we find ourselves in the area in the future we will definitely book again.
Brooke
2016-10-01T00:00:00Z
The location, history and overall convenience were amazing!! Andrew was a fantastic host and we had a wonderful time. This place was fully furnished with everything you need for a home away from home. Hair dryer, iron & ironing board, cork screw - all there. Decor was awesome and immaculate. We will definitely stay again.
Susan
2016-08-06T00:00:00Z
Kamertype
Gehele woning/appartement
---
Type woning
Appartement
---
Geschikt voor
4
---
Slaapkamers
Medina, New York, Verenigde Staten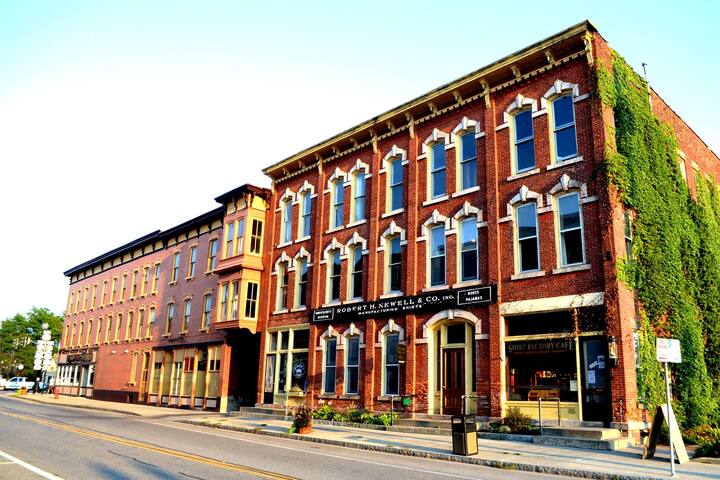 Velvet's cottage is absolutely charming. It's like you stepped back in time to this perfect mix of old time Americana and a bit of vintage French mixed in. So cozy and fun! Velvet was extremely prompt in all replies and so nice, as were her neighbours who made a point of stopping by to introduce themselves and make us feel right at home. I would highly recommend Velvet's adorable cottage to anyone!
Alyssa
2015-08-27T00:00:00Z
Velvet was a very attentive host. We enjoyed staying at the dollhouse very much! The location was perfect- far enough out to feel secluded but close enough to beaches and Niagra Falls!
Lois
2016-07-30T00:00:00Z
House has excellent location with all amenities. House was clean. Velvet was very quick to respond to any question. She is also very flexible with checkin and check out timing. Place is very fairly priced for the view and amenities it has.
ArunGandhi
2015-08-09T00:00:00Z
Very good experience living in Velvet's cottage. Clean, warm, pink and very comfortable, the most important is the beautiful sunrise on the lake. My friends, my mom and I love to stay here. Every neighs are friendly, like you living in your own home. So pity that we can't meet Velvet. Hope to see you next time.
Jas on
2015-09-28T00:00:00Z
Velvet was an excellent host. She communicated regularly, and responded promptly. The cottage was exactly as described - no surprises at all! Big bonus - lots of fresh flowers all over the home! It was a lovely touch!
Alissa
2016-08-21T00:00:00Z
Loved this place. Velvet is not kidding when she says it is right on the water!! It is one of the only homes on the street that sit that close to the waters edge. If you are looking for quite and private this is a great place. Everyone in the neighborhood was friendly and quite. We really enjoyed this pink doll house and Velvet was supper helpful with our stay the entire time. The back bedroom with a separate little sitting area and a raised bed with a TV and little refrigerator was AWESOME! Our daughter of 19 spent most of her time in there. It was like its own separate little space.
Bryan
2016-08-17T00:00:00Z
Velvet reply my msg extremely fast, she is amazing, alway make sure everything is perfect for us. Also, the cottage is clean, comfy and beautiful. We had a really good time there.
Jackie
2015-08-04T00:00:00Z
Outstanding location and views - quiet, safe and secluded. Car essential.
Angela
2016-08-04T00:00:00Z
Kamertype
Gehele woning/appartement
---
Type woning
Huis
---
Geschikt voor
5
---
Slaapkamers
Waterport, New York, Verenigde Staten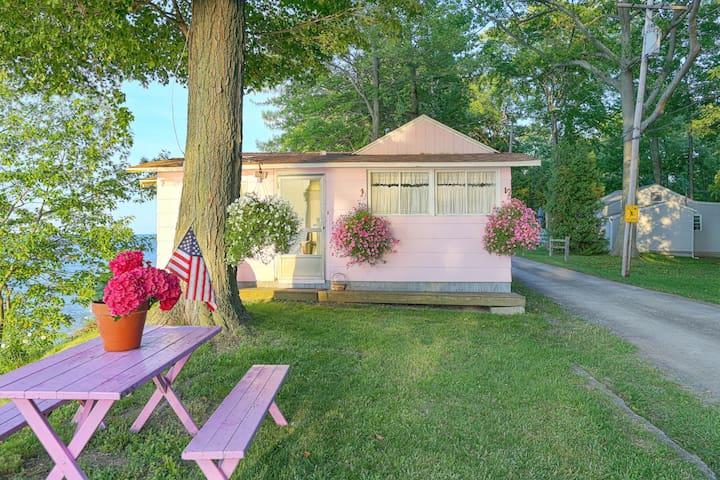 Water St Retreat is close to Newfane Town Marina, Niagara Wine trail & Craft Breweries, World Class Salmon/Trout Sport Fishing, Niagara Falls, Toronto, Krull Park. You'll love the home because of the location, the coziness, and all of the fun activities located within 10-20 minute drive or walk. The location is ideal for couples enjoying the wine trail, fishermen, and small families looking to relax by the water.
One bedroom bungalo style house. The entire upstairs is the bedroom with views of the water and marina. Full house with all amenities and fully stocked.
Beautiful, quiet, friendly lakefront community. Restaurants, stores, shops, beach, water, all within walking distance.
Perfect house in a great location. The description and pictures are 100% accurate. Shawn included activity ideas and recommend local events to us.
tzvi
2016-09-04T00:00:00Z
Shawn did an outstanding job of making my wife and I feel welcome. The commute took longer than expected and he ensured we arrived without concern. The house was very clean and was stocked with towels and travel size toiletries. It is very close to the water and is a cute little cottage. It's only about 40 minutes from Niagara Falls and it's a beautiful drive to the Falls. We appreciated having our own space out of the craziness of Niagara Falls. Shawn provided a lot of suggestions for things to do in the area and there are some cute attractions in Olcott. It was a great stay and a great value. We really enjoyed it and would return if traveling up that way again!
Mitch
2016-10-10T00:00:00Z
Shawn is great to work with. Very responsive to emails and the cottage was clean and close the the water. It was nice to be able to walk right to the marina and lake.
Kelli
2016-10-16T00:00:00Z
This house was beautiful and perfect for what we wanted. Simple charm and convenient location made our trip to Buffalo that much better. Shawn made us feel welcome and at ease during the entirety of our trip from start to finish. His home is located on a scenic marina in a quiet neighborhood. Plus, Shawn even went so far as to provide suggestions of local activities. We had absolutely no problems staying and would return for another trip!
Zach
2016-08-15T00:00:00Z
Staying at the Water St Retreat was the perfect way to start the New Year! Shawn and Kim were a delight and the cottage was lovely! We enjoyed the local wineries and sights to see--even in the off season. The house is as clean, charming, and Shawn was incredibly accommodating. We highly recommend staying here and can't wait to come back soon!
Amanda
2017-01-01T00:00:00Z
Enjoyed our stay at the water street retreat. House was very clean and comfortable with everything we could have needed. Shawn was very responsive to any questions. Will definitely be back in the future.
Steven
2016-08-28T00:00:00Z
We thoroughly enjoyed our stay. We stayed in the cottage for about six weeks and couldn't have been happier. Shawn was very responsive to any of our needs or requests. The cottage was immaculate and met all of our needs. We could not have been more pleased. The neighborhood was friendly and we were only steps from the edge of the lake. We stayed during the fall so it was nice and quiet which suited us very well.
Dorathy
2016-11-27T00:00:00Z
This place is awesome! The house was so welcoming and homey when we arrived and super comfortable in a quiet neighborhood. It was great to crash after a long trip and relax in our own little place for a few days. A huge highlight was being within a short walk down to the water where we could watch the boats, and just enjoy the mesmerizing waves. Staying in a home away from home where my friend and I could look out the kitchen window and see lake Ontario and the gorgeous skies at sunset and sunrise was beyond words perfect. The house and location was just what we needed for a quiet get-away that was also a comfortable drive to Niagara Falls and sites in Canada. We couldn't have asked for better hosts too! Everything was wonderful!
Sarah
2016-08-18T00:00:00Z
Kamertype
Gehele woning/appartement
---
Type woning
Bungalow
---
Geschikt voor
4
---
Slaapkamers
Burt, New York, Verenigde Staten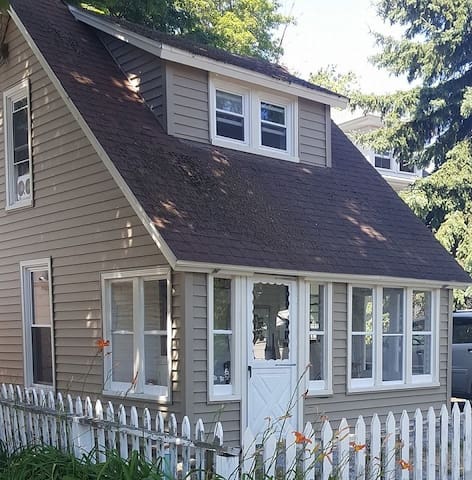 HERZLICH WILLKOMMEN! Willkommen! Im Idealfall möchte sich zwischen den Ausfahrten 48 (Batavia) und 48A (Pembroke) auf der Autobahn Route 90 (New York State Thruway), HAUS AM WALDRAND (Haus am Waldrand) von zu Hause aus zu Hause weg zu sein. Nähe Buffalo, Rochester, Niagara Falls, Darien Lake und Letchworth State Park.
Warum in einem anonymen, teuer und langweilig Motelzimmer bleiben ?! Ihre Suite mit eigenem separaten Eingang hat ein Doppelbett, einen bequemen Stuhl zum Lesen oder Fernsehen, einen Schrank, einen Raum für Ihren Laptop, einen kleinen Tisch und Stühle, einen Mini-Kühlschrank, eine Multi Tassen-Kaffeemaschine, Mikrowelle , Toaster, Geschirr, Gläser, Besteck und ein Bad mit ebenerdiger Dusche. Ein DVD-Player und viele DVDs sind ebenfalls erhältlich. Ein kostenloser W-LAN, Wasser, Kaffee, Tee und verschiedene Snacks sind immer zur Hand. Die Suite ist auch mit charmanten Antiquitäten ausgestattet. Wir sind nur 1/2 Meile von einer Tankstelle, Supermarkt, Baumarkt, Kirchen und ein Postamt.
Wir befinden uns in einer schönen ländlichen Gegend mit unserem Eigentum durch den Frieden von schönen Wäldern umgeben. In der Nähe ist Tonawanda Creek.
Although we only had a very short stay and did not have a chance to meet Karl due to our tight schedule his place was a haven to our road weary bodies and souls
Chip
2015-10-24T00:00:00Z
Jill and Karl are great and so is their place. Nicely appointed and all the amenities. Plus, for me it is very casual, private and quiet and much less than 1/2 the price of a "Days Inn" type commercial place right at I-90. Do not hesitate to book Karl and Jill's place. It great! Thanks again, Doug
Douglas
2016-07-20T00:00:00Z
Karl was a great host... Even though we reached late he arranged the stay very well. His place was really cute and well decorated. We loved the antique show pieces in the room.
Tejas
2016-08-07T00:00:00Z
Karl was great in hosting us and was generous enough to put up an airbed for additional person. The listing is very accurate and is located a bit off I-90 but wonderful if you like a country feel or a stay preferred away from the usual motels. Thanks for the muffins :) I'd highly recommend the place to stay. Thanks again, Karl.
Aniruddha
2016-08-07T00:00:00Z
As soon as I arrived, Karl and Jill came outside and greeted me with a hug. I had missed my original flight earlier that morning and had a schedule change. Karl and Jill were more than accommodating, and for my first Airbnb experience, it was one I will never forget! I left this trip with having made two amazing friends.
Beth
2016-07-25T00:00:00Z
We had an amazing stay at Karl's place. Karl and Jill were lovely hosts and solved the problem we had with the coffee maker immediately. The place was beautiful and exactly how it was described. The neighborhood was quiet and pretty. We had a great stay and would really recommend this place! Thank you so much!
Lisa
2016-06-27T00:00:00Z
Nice place and we were very comfortable for night stayed.
Lee+Tina
2016-03-31T00:00:00Z
Haus Am Waldrand is a wonderful cozy place to stay. The stars at night are as wonderful as the hosts! The suite is cute and comfy with everything you need minus a stovetop. Don't hesitate to book it.
Stephen
2015-12-06T00:00:00Z
Kamertype
Gehele woning/appartement
---
Type woning
Huis
---
Geschikt voor
2
---
Slaapkamers
Corfu, New York, Verenigde Staten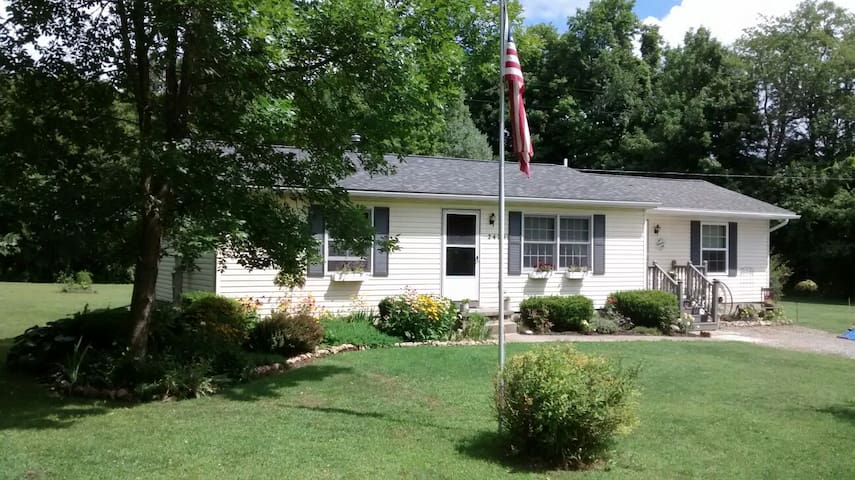 Great experience at this farmhouse, house is very nice and in a quiet location. Very convenient for larger groups .
Ashmita
2016-08-31T00:00:00Z
Enjoyed our stay here in November. The porch is excellent for taking in the countryside and enjoying the sun (the resident cat seems to think so as well). Also of note: well-equipped modern kitchen, rustic piano, two updated bathrooms, and a lot of space.
Nicholas
2016-11-13T00:00:00Z
The Farmhouse was great for our month stay in NY. I was managing a project in Buffalo, and needed an extend housing option for my project team. The commute to Buffalo was manageable on a daily basis (~50mins) and offered us the opportunity to enjoy the vineyard, as well as some peace and quiet after work. Amanda was a wonderful host, who promptly communicated at our every need. The house also has the luxury of being a stone's throw from the vineyard and farm- so that should you need anything, there is always staff on site to accommodate. The surroundings are charming and offered enjoyable evenings hanging out on the well-appointed porch, and the country road is perfect for a run or a jog. The large kitchen is perfect for a groups who are looking to share a meal together or just need enough space to navigate in the morning.
Brad
2016-07-11T00:00:00Z
Our stay at Amanda's farmhouse was magical. The decor is very thoughtful and comfortable, so that the view from every angle in every room is quite pleasant. "Becker Farms" restaurant and wine tasting is right next door; we took advantage a few times during our trip. Walking back to the house from the restaurant on a cold winter's night feels like something of a storybook. It's a rural setting and all that was missing was the horse-drawn carriage. The house is spacious - we loved making use of all of the rooms with my 8-month old child (who bores easily!). Many alcoves, special nooks and crannies with thoughtful furniture to adorn. The beds themselves were comfortable. The master bedroom, especially. There was plenty of storage EVERYWHERE. The trips to Buffalo were a bit of a trek, but the scenery on the way is rural and lots of unique bridges and small towns to occupy your imagination. Besides "Becker Farms" there are a few restaurants within 5 minutes' drive, and a grocery store is also within 5 minutes. For heavy shopping we went for a longer trip to Walmart (20 minutes). To top it off, the claw tub is a wonderful way to relax. Highly recommend the "Rustic, Chic Farmhouse" and all it has to offer! Enjoy!
stefan
2017-02-01T00:00:00Z
This is one of those hidden gems on Airbnb. The location (on a farm/vineyard/cidery) and unique house (architecture/character/history) really made the trip. The photos don't do the place justice - it's really charming and spacious! It's located right on Becker Farms - check out their site for more info. You can keep busy for a full day or two right there on the farm. They have a great pub, with food most days, a small grocery/farmer's market, petting zoo, house wine, beer and ciders, fun activities and nice sunsets. We drove to Lockport which was great for a daytrip and the BUFF airport was only 45 min away. We got pizza delivered from nearby. We were 6 persons (aged 30-80) -- comfortable stay for us all. They appear to still be ramping up the house for guests. It's a work in progress and many small broken things are overlooked. They are going for luxury chic and it's headed in that direction, but quality is in the details. For the price and all things considered it's a great value and I think this place will get better and better for guests. The wifi was on the slow side. Curtains are needed for bathroom windows, at the least. Little things... we really liked it overall!
Jeremy
2016-08-18T00:00:00Z
The host was very responsive. The home is located in a great place, next to the farm, where you can buy fresh vegetables, cider, wine or have a brunch. The home is clean and very cozy. We liked to have breakfast on the veranda and sit there in the evenings.
Svetlana
2016-08-22T00:00:00Z
All in all the total experience was phenomenal starting with the drive upstate – it was extremely scenic. The areas surrounding the house were so peaceful & tranquil you'd want to stay there forever & then of course the bonus of being close to Niagara & Darien lake & not forgetting Tops which you don't find here in Manhattan – wish we had room in the car so we could do our monthly shopping as it's so much more affordable. The farmhouse itself was another winner! It had everything we needed & more… We had ample room for our 3 families (with the 3 kids), both the bedrooms & the beds were generous in size & the foam topping on the mattress was a huge hit. The kitchen & laundry again had ample room with cupboard & fridge stocked with essentials which was very thoughtful however we did replace quite few items before we left. The place was equipped with all the useful items you need in a getaway home – dishwasher, microwave, incinerator (found the hidden button on the last day) & washer & dryer. The living & dining areas again was spacious although we hardly used it - the TV's in the kitchen & sitting rooms with what seemed like very different programming for each location was very thoughtful. The outside also was simply amazing – with the rolling lawns & the huge trees – where the kids could just run around after breakfast or early evening not forgetting the grill, allowing us to have our traditional South African bbq (we did both meat & fish – compliments of the special offers at Tops) & finally the porch for the grandparents – with the swing bench & the house cat to keep us company (we named him Snowy). one of the most beautiful places in the world to meet a sunrise, to quote them. The only complaints I have was the flies, we could not enjoy our meals without having to constantly swat them away which I think one of those electric bug zappers could quickly resolve and there was no AC downstairs especially in the kitchen which would get really hot as we were there in July. Amanda was a great host, the place somehow got double booked and we had to shorten our trip by 3 days but as compensation we received a discounted rate. She provided us the locations of some amazing hiking trails as well as Tops supermarket where we picked up some real good offers.
Ashraf
2016-07-30T00:00:00Z
We had a great stay here. The place is amazing, a very serene environment that was the perfect getaway for our family. We loved the petting zoo next door, and went their twice with our kids, who couldn't get enough. The host was great, and was accessible at any time. There were plenty of snacks and breakfast items. It was also a very comfortable distance from Niagara Falls. We had an awesome stay and hope to come back soon!
Nick
2016-08-26T00:00:00Z
Kamertype
Gehele woning/appartement
---
Type woning
Huis
---
Geschikt voor
6
---
Slaapkamers
Gasport, New York, Verenigde Staten
Wonderful harbor front bungalow within walking distance to Olcott Marina, piers, and bait & tackle shop. Restaurants and gift shops right across the harbor. Fishing available right from property. Close to Niagara Falls (and casinos), Buffalo, and Burt dam. Nearby grocery store, laundromat, and gas stations.
This is a fully insulated, heated bungalow that is available year round. A/C are window units. There is a propane grill.
Kamertype
Gehele woning/appartement
---
Type woning
Bungalow
---
Geschikt voor
2
---
Slaapkamers
Burt, New York, Verenigde Staten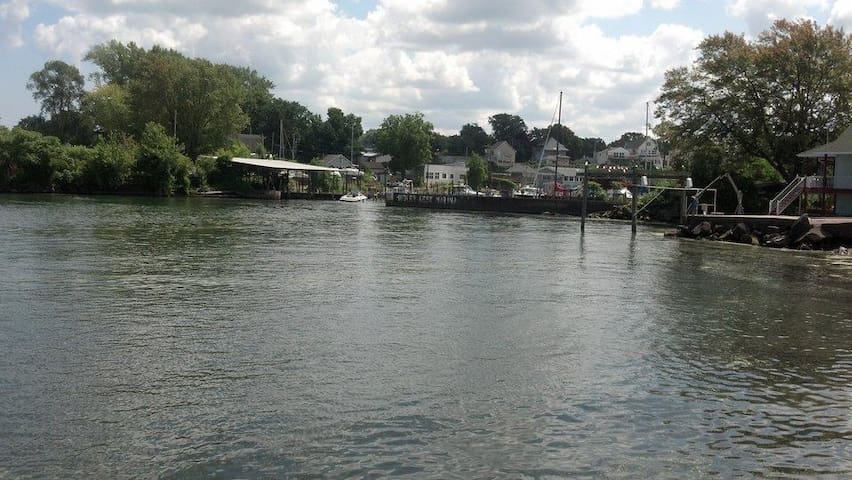 This house sits in the four corners of Clarence Center with 3 restaurants, 1 coffee shop and a bank within 1/2 block. Surrounded by trees, the home is offers a full bedroom with high ceilings and full adjacent bath for you only. This is on the 2nd floor. Animal visitors are welcome if well-behaved.
very comfortable
Valery
2016-06-27T00:00:00Z
This house is very big. And the room I live is very beatiful and big. I have a big and clean private bathroom. Host is very kindness. The house is in a small town. Evenlly, I drunk some wine in the some bar near the house.
CAI
2015-10-04T00:00:00Z
This is a nice single room with a very spacious attached bathroom. It's in a very quaint neighbourhood (didn't get a chance to check out the local eateries and gift stores, unfortunately) and if that's not your thing, a very short distance away from lots of more mainstream shopping. Hosts very friendly and chatty. Easy access. I thought it was well priced and worked out quite nicely for my stay, would definitely be fine with staying there again.
Assad
2016-09-25T00:00:00Z
The house was exactly as shown in the pictures. The room was very spacious, with a big private bathroom. It was clean and cozy. Megg placed extra fans to make the room airy and increase air circulation. It was very comfortable and we had a sound sleep. She was very welcoming and easily approachable. We had a great stay and would definitely recommend this place.
Litty
2016-07-25T00:00:00Z
Megg met us on the walkway in front of her cottage and showed us inside and to our room. She shared some history of the area and gave suggestions of things we might be interested in doing. Her "Charming Coach House" was just as the pictures showed on the Airbnb site. Although our days were very full, we were able to visit with Megg later in the evenings. All in all, this was our very first experience with Airbnb and We would definitely do this again. Thanks Megg!
Donna
2015-07-21T00:00:00Z
Megg was very gracious and accommodating! She met me outside of her place and gave me a tour and some great local recommendations. She was friendly and efficient. The room was very spacious, as was the on-suite bathroom. She got me a bagel and OJ in the morning, too! Would definitely stay here again!
James
2015-11-06T00:00:00Z
An amazing place to stay. Large room, comfy bed, big bathroom. Even breakfast and coffee included. Megg and her husband were warm and welcoming. I would give 6 stars if i could. Highly recommended.
Andreas
2016-05-24T00:00:00Z
The host canceled this reservation 12 days before arrival. This is an automated posting.
Rabia
2016-05-16T00:00:00Z
Kamertype
Privé Kamer
---
Type woning
Huis
---
Geschikt voor
2
---
Slaapkamers
Clarence Center, New York, Verenigde Staten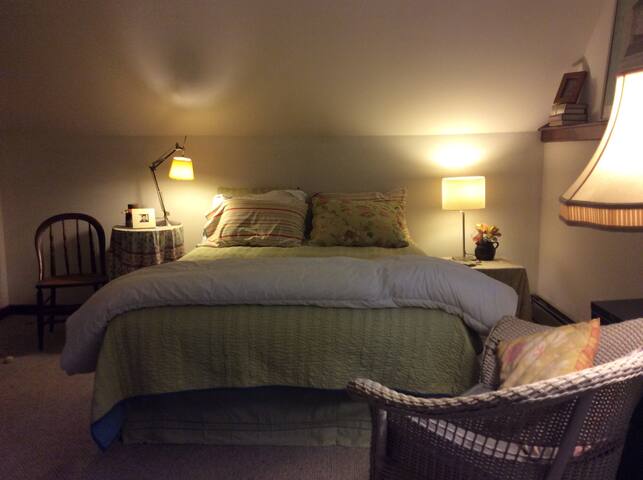 Prachtige 1-slaapkamer apt met koningin en 1 twin in de slaapkamer en 2 tweelingen in de woonkamer, keuken, douche, kabel-tv, gratis Wi-Fi, op loopafstand van winkels, bars, restaurants. Korte rit naar het prachtige Lake Ontario, lokale wijnkelders, Niagara Falls.
Volledig appartement met een eigen ingang. Er is geen zorgen te maken over hoe laat je aankomt als die regelingen worden opgevangen voordat je hier (URL HIDDEN) wordt gegeven na de boeking is voltooid. Volledige keuken zorgt voor het koken op uw gemak.
Alles is dicht bij. Lopen naar winkels, restaurants, bars, banken, kerken.
Diane and her husband are very nice! The apartment is clean and comfortable. Good communication with Diane, she reply so fast. We enjoyed our stay.
Gang
2016-07-12T00:00:00Z
Diane was very friendly and co operative. We checked in at around 11 PM and she was there to welcome us. The place was comfortable, clean quite and I shall definitely recommend Diane's place to my friends.
Biswadeep
2016-08-28T00:00:00Z
Diane's apartment was a lovely and cozy place to stay. I took my boyfriend to East Aurora and Barker for his birthday, and we decided to stay the night in Newfane. I really enjoyed the spot. The location is great. Would stay here again.
Sara
2015-05-04T00:00:00Z
Needed a one night stay in Niagara for family and when looked up online for hotel rates were extraordinary high. This is my first time use of an airbnb apartment and it was a very pleasant experience. If you have time to drive half an hour from niagara falls then you should definitely take this apartment. The place is very quiet and calm and everything was perfect from the towels in the toilet to water bottles in the fridge. We were a group of five and we had comfortable beds for all and was able to have nice tea in morning.. Thank you Diane for such a great hospitality. Couldn't meet her but she gave clear instructions on message as well as in the notes in room. Also if you are staying here don't miss the Billy's diner nearby for breakfast.. Wow that was delicious.. Don't miss it.
Prem
2015-07-21T00:00:00Z
Diane is a thoughtful host who had perpared everything listed in the listing page, although we couldn't meet her at her house. More than anticipated. The neiboughhood is quiet, very close to the Lake Ontorio. We had the most confortable sleep on our trip to Eastern America.
晓锋
2015-07-29T00:00:00Z
Great quiet room with comfy bed. Nice little kitchen. Everything was very clean. Diane and her husband were very nice. Never bothered us just knocked once to make sure the room was acceptable. Kitchen had all the needed supplies. They even had some toiletries for use if you forget anything.
Eric
2015-11-11T00:00:00Z
Diane's apartment is very clean and cozy. We enjoyed our stay there. Thank you, Diane & Jeff. We will definitely come back.
Nicole
2015-08-02T00:00:00Z
If you are in the area, this is a great place to stay. It's quiet, cozy,and very clean. It's in a cute little town and very close to the lake. We will definitely stay again if we are in the area.
Erika
2016-07-03T00:00:00Z
Kamertype
Gehele woning/appartement
---
Type woning
Appartement
---
Geschikt voor
5
---
Slaapkamers
Newfane, New York, Verenigde Staten
Kamertype
Gehele woning/appartement
---
Type woning
Houten huisje
---
Geschikt voor
5
---
Slaapkamers
Waterport, New York, Verenigde Staten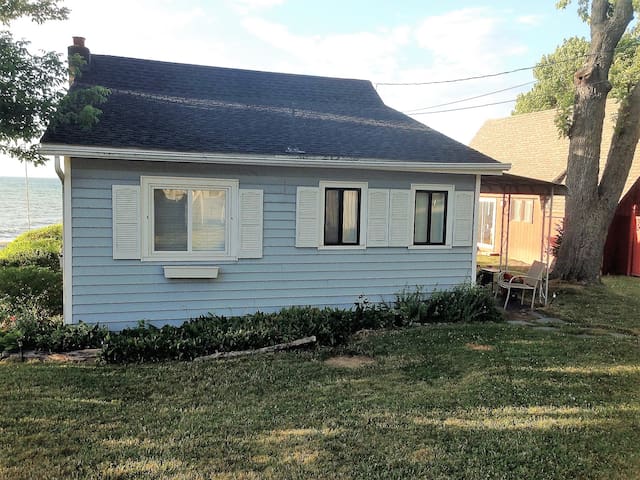 Rain was a lovely host. Cool orange cat on the gro7nds made my day. My family of 5 and I had a lovely time - so did Tyson our pup. Wonderfully decorated cottage with awesome antiques, super cozy and clean! Excellent kitchen! Short and Sweet stay. Wish it were longer. I loved all of the decor, Rain you have excellent taste! I will love to visit again.
Jessica
2017-02-20T00:00:00Z
Rain's place was fantastic. We were originally going to stay for only one night, but fell in love the minute we stepped into the place and decided to stay for three nights, instead. It's very warm and cozy and kitschy - lots of great little baubles and comforts that you slowly notice as you walk through the house. Rain and her supporting cast are all wonderful and willing to help at a moment's notice as you navigate the vintage kitchen or the overall layout to the cabin. Rain's cabin works as a romantic get away or a writer/artist retreat - but it's also not too far from Buffalo and Niagara as long as you don't mind a scenic drive back and forth. Honestly - I plan on staying at Rain's cabin whenever I'm in the area, regardless of the extra driving time involved. It's rare that you have such a great combination of a friendly host and a comfortable space in one AirB&B location; where you can cozy up on the large couch and play scrabble, or watch some netflix on the flat-screen, or play some Queen on the record player. Great job, Rain! I highly recommend this place!
Jason
2016-12-31T00:00:00Z
Kamertype
Gehele woning/appartement
---
Type woning
Huis
---
Geschikt voor
6
---
Slaapkamers
Akron, New York, Verenigde Staten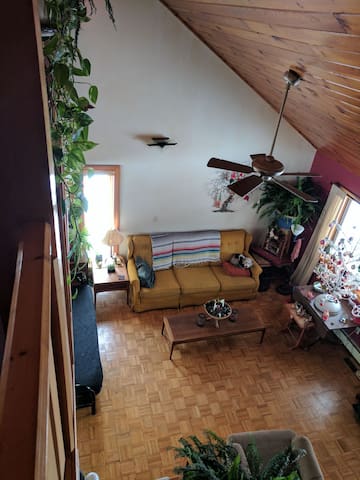 Lake front Designer Schmuckstück hat Haupthaus, Bootshaus und Badehaus. Boat House ist eine zusätzliche Gebühr und angeboten saison: Details siehe unten. Gourmet-Küche, Rock Kamin, expansive Deck, Treppe zum See mit Steg, Badeplattform, Feuerstelle, Liegestühle, 3 Kajaks, Kanus und Paddelboot für Ihren Einsatz
Lake front Designer Juwel: Haupthaus für 6 Personen: 1. BR Königin hat bed.2nd BR eine Reihe von Etagenbetten + 1 Zweibettzimmer und der Schlafbereich Veranda hat eine Doppel-Schlafcouch Gourmet Küche Carrera Marmor Bakers Tisch hat, öffnet sich zum Speisen und Wohnzimmer mit gewölbten Decken, mit Blick auf Felsen Kamin expansive Deck. Treppen führen hinunter zum See, wo man Bootshaus finden Boat House ist saisonal verfügbar und wird eine zusätzliche Gebühr von $ 75 pro Nacht und $ 75 Endreinigung. Schlafmöglichkeiten für 4 mit 1 Queen und eine Reihe von Etagenbetten muss als ein besonderes Angebot von Inhaber angefordert und eingerichtet werden Es gibt 3 Kajaks, 1 Kanu und ein Tretboot für Ihren Einsatz zusammen mit einer Badeplattform und zwei Docks (wir verlangen keine Docking-Boote jedoch) Das Badehaus ist saisonal allen Gästen zur Verfügung. Es hat auch eine Dusche. Western New York, sehr ländlich und ruhig Komplett mit Gourmet-Küche renoviert, schöne Terrasse mit Blick auf den See, ideal für unterhaltsam. Das Bootshaus ist saisonal vermietet und verfügt über 1 Doppelbett und eine Reihe von Etagenbetten (2 Einzelbetten) für eine zusätzliche $ 75 pro Nacht
Western New York, sehr ländlich und ruhig Pünktlich zur Fangsaison, nur 5 Minuten zum besten Fischgründe in NY Staat
This listing was great for a family getaway. It was cozy, clean, and beautifully furnished.
Casey
2016-10-03T00:00:00Z
If you could imagine your most ideal dream lake house - it would probably look just like this one! We were 2 families with young kids having a reunion and the house couldn't have been better for our needs. The location is spectacular, right on the water, with boats and life-jackets to use, our kids were busy swimming and kayaking around the lake every day! The house itself is just as cute as it looks in the pictures (if not even cuter!) - the kitchen is amazing, a chef's dream - we are all foodies, so we shopped the local farms and came home with gorgeous fresh veggies, cooked amazing meals and ate them out on the deck table, which Robin had even set with fresh flowers for us, overlooking the water. We will enjoy the memories of our time at this sweet cottage for many years to come! Thanks for everything.
Danya
2015-08-19T00:00:00Z
This adorable cottage on the lake was beautiful and very welcoming. Robin was helpful with our last minute request and her neighboring family made sure to check on us to see if we needed anything as well. We would definitely stay here again when we visit family in the area again. The gourmet kitchen is my dream come true! One thing to keep in mind is that there is only 1 true bathroom in the house, the second bath is the boathouse down by the lake. We didn't realize this when be booked and it was a bit tight for 6 adults trying to her one bathroom in the house.
Melissa
2016-10-09T00:00:00Z
What a lovely time we had at the cottage on Oak Orchard River! Robin was easy to get a hold of by phone/text and was responsive. The space was just as described in this ad, and even more adorable in person. It is cozy, airy and open with amazing decor and a perfect kitchen. Superb and homey attention to details. The water is right outside the door and a few steps away! Our sunset pictures are incredible. We spent two nights/three days. We had an event in Spencerport (about 35 minutes away from the cottage) and the hotels in that area are just not good at all. Bed and breakfasts were nice but small and also the same price. So for just a few extra miles, this was the obvious and perfect choice for us. It was a a tad tight with 6 of us and one bathroom, so a longer stay might have been a little tough. (There is another toilet/sink in the bathhouse, which helped! But 2-4 people would be ideal in this living space for a longer vacation.) The kayaks and life jackets were in excellent shape and we spent multiple hours exploring the river. We had dinner at a nearby local bar and grill that we found on (SENSITIVE CONTENTS HIDDEN), and it was really delicious. Also found walmart 15 mins away and convenient stores 10 minutes away. Otherwise we soaked up the sunshine and the quiet. We hated to leave, and we would love to return for another visit sometime!
Amy
2015-06-22T00:00:00Z
Fantastique Cottage sur les bords du lac Alice. La cabine était très propre à notre arrivée, bien équipé et nous avions même un petit panier garni qui nous y attendait. La meilleur surprise, surtout pour les enfants, fut la diversité des équipements nautiques fournis avec la location: Canoé classique, canoés kayaks et même un pédalo. Bref super lieux pour passé de bonnes vacances en famille. Les paysages au levé et au couché du soleil sont absolument fabuleux.
GEOFFROY
2016-08-06T00:00:00Z
很美丽的小屋!房东很周到,很热情!
Hua
2015-07-27T00:00:00Z
If you're looking for a comfortable, roomie and clean place to stay look no further. Robin's house and hospitality is top notch. The house is well equipped with everything you will need to feel like you are at home. The house is located only minutes from some of the best salmon fishing on Oak Orchard River. Would recommend staying here.
Kyle
2015-10-14T00:00:00Z
We had a lovely time spent at Lake Alice. We chose this lakeside house to stay in while visiting relatives and attending a family wedding nearby. The house is very tastefully decorated and well equipped. There were only 4 of us so plenty of space. Could have accomodated 5 or 6 easly in the house and with extra 'teenage' space in the boat house this house is very adaptable. We entertained family for dinner with 10 of us sitting eating al fesco on the large terrace. Nice attention to detail to make us welcome - fresh coffee, fruit and flowers. Large kitchen with all mod cons. Robin easily contactable and while we were staying her husband, Michael and the grandchildren were staying inthe house next door and able to help us with all our queries. The children enjoyed playing around in canoes and kayaks exploring the river. Very quiet location and a good spot to unwind.
Felicity
2015-07-22T00:00:00Z
Kamertype
Gehele woning/appartement
---
Type woning
Huis
---
Geschikt voor
6
---
Slaapkamers
Albion, New York, Verenigde Staten
My place is close to great views, restaurants and dining, and family-friendly activities. You'll love my place because of the coziness, the views, the people, and the location. My place is good for couples, solo adventurers, business travelers, and families (with kids).500 ft from the Historic Erie Canal;1 hr from Rochester;45 minutes from Buffalo and Niagara Falls;15 minutes from Lockport(Cornerstone Ice Arena).Non smoking in house.
房东非常友好和善,我们有了一种回家的感觉。房子周围环境非常漂亮,优雅,安静。房间非常整洁宽敞。可以用厨房自己做饭。
韩春兰
2016-05-23T00:00:00Z
Kamertype
Privé Kamer
---
Type woning
Huis
---
Geschikt voor
6
---
Slaapkamers
Middleport, New York, Verenigde Staten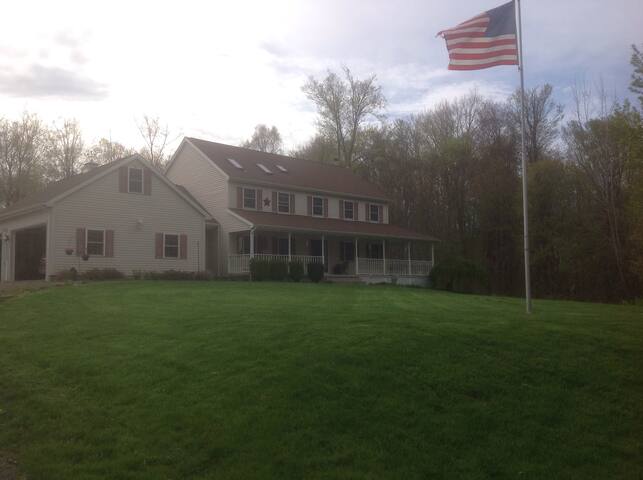 Point Breeze lac Ontario, État de New York Q lit, gigogne et futon sommeil 6 cuisine entièrement équipée, WiFi, TV un barbecue étapes pour marinas, restaurants, phare historique À quelques minutes de caves, antiquités, artisanat Amish et les marchés heure à Niagara Falls, Buffalo, Rochester
This cottage was just as it was represented! We were quickly contacted by the host and all questions answered. He made us feel very welcome and was available for troubleshooting the pilot light problem we had via phone. We had a lovely experience and will definitely be back!
amanda
2014-09-16T00:00:00Z
Great experience! The cottage was exactly as described, clean and well kept with all amenities. Lake views are beautiful. Judd was very friendly and responsive.
Carly
2016-06-17T00:00:00Z
This place was fantastic! We were so glad having found this lovely cottage at Point Breeze with an amazing view. Judd and Laura gave us such a warm welcome and were checking on how we were doing. Thanx again for this wonderful plate full of fresh fruit. Everything is freshly remodeled, all clean and furnished with everything you need. It was a pleasure staying at your place! I hope we get to meet you again soon.
Beate
2014-05-28T00:00:00Z
the cottage was greater than we expected. it really looks like in the pictures: cozy. it is directly at the lake. you can prepare your own food in the fully equiped kitchen or go to a nearby diner. judd was very helpful and answered quickly. we would definetely stay here again.
Angie
2016-05-24T00:00:00Z
Everything about the house was lovely. We enjoyed a fantastic fire while looking over the lake at night, and woke early to take in the sunrise the following day. Thank you so much for the use of your space, we will absolutely be back!!
Michael
2015-11-28T00:00:00Z
Much better than shown in pictures. A real gem right on the bank of Ontario Lake. Everything was top of the list. Location is very convenient - a 1 hr 10 min to Niagara Falls park and also there is Hamlin State Park with a beautiful beach for swimming.
Yelena
2016-08-17T00:00:00Z
Judd was super nice and made everything very easy. Clean, cozy home. Great parking and view. Everything you need for a nice relaxing stay. Everything was super super clean. Equiped with a full kitchen/bathroom/living room with games to play. He gave me all the information to make my stay awesome.
Laura
2016-11-27T00:00:00Z
From beginning (making the reservation) to end this was a great experience. Judd was very responsive and kind. The Point Breeze cottage was delightful, comfortable, well-appointed, and very clean. We had everything we needed! While the weather wasn't great the experience was. We were very happy staying there and the washer/dryer was a bonus! Many thanks and we hope to return.
Gwen
2016-05-18T00:00:00Z
Kamertype
Gehele woning/appartement
---
Type woning
Huis
---
Geschikt voor
6
---
Slaapkamers
Kent, New York, Verenigde Staten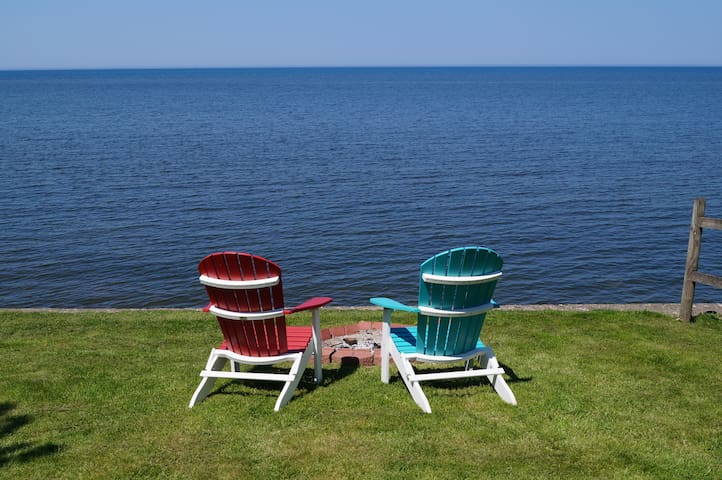 1

–

18

van

70 Accommodaties