Welcome to a cosy apartment on the first floor in our house! The apartment has a bedroom, bathroom with toilet and separate shower and a living room with a kitchenette, including a fridge, a stove and an oven.
Located with two minutes walking distance to marina with bathing facilities (winter bathing with sauna also an option). The house dates from 1775 and has been restored. And the house has won an award for careful resoration. Breathable house insulated with paper wool.
Located in the old town with harbor views. 2-minute distance to the marina and harbor bath.
Die Wohnung entspricht genau der Beschreibung. Sie ist sehr schön und gemütlich eingerichtet. Stege ist der ideale Ausgangsort für Touren in Møn, z.B. die Kreidefelsen. Die Übergabe klappte sehr gut.
Jean-Daniel
2016-07-26T00:00:00Z
Thanks to Neel and Jan. Very nice and clean appartment in the city center. Communication was very easy and everything was fine. we warmly recommend.
Nicolas
2016-08-13T00:00:00Z
Wir waren zwei Nächte in dem Apartment von Neel und haben uns sehr wohl gefühlt. Das Apartment ist hell und freundlich eingerichtet und sehr sauber. Die Lage dicht am Hafen und zur Stadt perfekt. Neel ist eine sehr nette Gastgeberin!
Jennifer
2016-07-29T00:00:00Z
Neel was welcoming. The apartment is well located in Stege near to the port and it's very cosy and clean. We really recommand this place. And Møn is a very nice island.
Yvon
2016-08-23T00:00:00Z
Neel is a very friendly lady who makes you feel welcome at the apartment. The apartment itself is well situated and the cleanest we have ever had. The best airbnb experience so far!
Dylan
2016-07-11T00:00:00Z
The appartment is newly made, excellent. It's close to the bus stop and center of the town. Neel was kind to us, and everything went smoothly. definitely recommended for a stay on the island of Møn. The town itself is charming and plesant. Lots of restaurants and bars for a small town. A wonderful experience!
Nachiket
2016-07-15T00:00:00Z
Kamertype
Gehele woning/appartement
---
Type woning
Appartement
---
Geschikt voor
4
---
Slaapkamers
Stege, Denemarken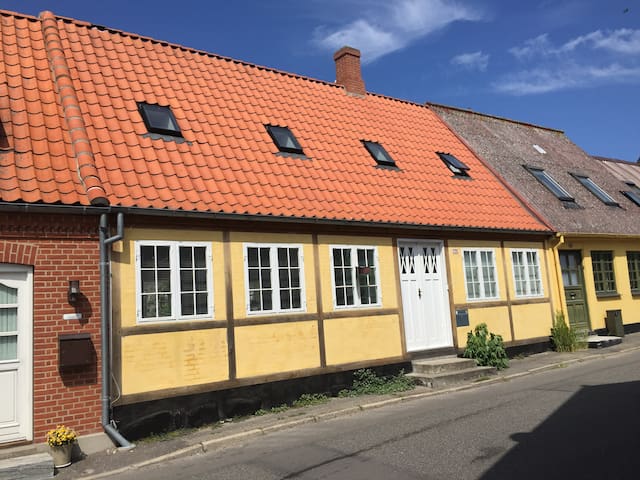 Great opportunity for the large family or who want plenty of space. Close to greenery, the sea and pleasant walking paths despite the very central location with good shopping and restaurants just outside the door. Perfectly located...
I welcome you to a beautiful large bright apartment with sea 200 meters from the door and beautiful greenery. You coming to stay at the heart of the old town of Stege, 200 meters from Stege square and trade opportunities just outside the door, in nice well run property. The apartment is divided as follows. 1 floor restated refurbished, entrance hall with entrance for children's room with two beds of 90x200. Bathroom with shower and toilet. Large kitchen with ceramic hob, dishwasher and space for culinary experiences. From the kitchen access to a large lounge with dining area, dining table for 8 people. Cable TV DVD and iphone music system. The living room can be prepared up to two people in the very comfortabel sofa bed 180x200. Second floors, with access from the kitchen is the old part of the apartment appears not refurbished, but work fine and are heated. Includes large bedroom with king size bed 180x200 next to a small room with a guest bed 120x200 Also a small toilet on the 2nd floor. There is free wifi with fast 20/6mb throughout the apartment. Free laundry in the basement. The apartment is located 400 meters from the bus station where there are good connections to Vordingborg and the Eastern Moen and the white cliffs. The apartment delivered clean, the agreed number of beds are covered with clean linens, of course, there are towels and bed linen change for stays more than 5 days. There is a possibility of late arrival, and supermarket 100 meters from the property has open everyday until 22:00 Bus station is in work distance about 300 meters. The apartment is at the heart out to Stege main street and town square. There are several real cozy cafes and restaurants and shopping facilities within 400 meters. 20 minute from one one the Danish top 10 destination: Møn's Cliff is one of Denmark's most beautiful nature experiences and also the most famous and visited place on Møn. The light chalk slope rises more than 100 meters vertically towards the sky and make an dramatic end to the otherwise soft landscape of Møn. Booking minimum 2 days, and 48 hours in advance
The greenery and pleasant walking paths despite the very central location with good shopping and restaurants just outside the door. The short distance to the sea and the fresh air
Excellent stay at Danny's 3-bedroom apartment in Stege. The location was flawless for our purposes (you're right at the town center) and accommodations comfortable. Visitors should know that the (quite roomy) downstairs is elegantly finished, the upstairs (main bedroom and small bedroom) is rough in places –renovations to the stairs and upstairs bath not yet complete. Danny is an excellent host and I would not hesitate to engage this apartment again.
Ken
2015-05-24T00:00:00Z
We felt very at home at Dannys appartment - the lower floor is spacious, clean and very cosy. Danny is a very friendly, welcoming, reliable and forthcoming person. The location of the apartment is very central in Stege, with good bars and restaurants around. I can very much recommend staying at Dannys appartment to enjoy Moen!
Tan
2015-07-31T00:00:00Z
Vi fik en fin modtagelse af Danny Sandstrøm, Der var rent og pænt i lejligheden der duftede af sæbe. En rundvisning i lejligheden så vi vidste hvor tingene var. Stege er absolut en by vi gerne vil vende tilbage til, der er hygge og stemning , dejligt at der ikke er lavet stor center der ødelægger by stemningen. Birthe Sørensen
Birthe
2014-08-31T00:00:00Z
Danny is a very nice host. He was very helpful, we followed his advice and our trip to Mons was great ! The apartment is so large and good located to visit Stege and the Island. We did a bike trip and Danny took care of let us a place to store them. I recommand this appartement without hesitation.
Emilie
2014-08-10T00:00:00Z
Danny is a great host with a great house. He was there when we arrived to explain everything about the house, give recommendations about staying on the island of Moen, and was generally a very nice person. This was a perfect place for our plans. The house had plenty of space and is perfectly located on the island for easy access to all that Moen has to offer.
Quinn & Lúcia
2015-06-22T00:00:00Z
Flat is personally and nicely decorated and equiped with everything just like at home, even a printer for our boarding cards !!!!! Coffee, tea, drinks in the fridge... candles on the table, towels, soap, shampoo... everything is there Danny is really a great host ! Stege is a very nice little town. We just loved it (except that you don´t have any dec
Martine
2015-08-30T00:00:00Z
Danny is a very attentive host. The description of the appartment is accurate but the pictures are not. It is in fact much larger than what the pictures suggest. It is also increadibly well located, with a large public parking lot (free) next to it and also a kids parks at less than 50m. Overall, great appartemnt in Mon!
Frederick
2014-07-16T00:00:00Z
This is a nice 1st floor apartment with lots of space, with all the equipment you would need, in the middle of town with everything nearby, accessible on foot (stores, bakery around the corner!, restaurants, tourist office, banks...). The perfect location to explore Møn, we rented bikes and went to beaches, churches, Møn Is and not to forget the Cliffs and the GeoCenter.
La Famille Baud
2014-07-26T00:00:00Z
Kamertype
Gehele woning/appartement
---
Type woning
Appartement
---
Geschikt voor
7
---
Slaapkamers
Stege, Region Zealand, Denemarken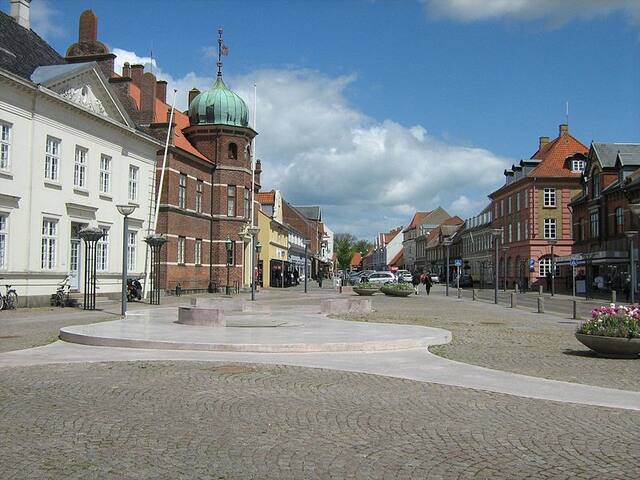 This completely new renovated apartment is in the top-end of the top end locations in Stege/Møn, with a sea view over Stege Nor. Where the garden meets the water, there is a small private peer with a boat. The front side of the building is facing Stege's charming main street with less than three minutes walk to the central square where the old town hall is now hosting a local chocolate manufacturer. On this street you find art galleries, local specialised shops, vibrant restaurants and cafes
The apartment is on the ground floor with private access to garden area. It is in an charming old building from the 1880s, with all modern features, such as Smart TV, high speed Internet, and all necessary kitchen facilities, furniture, bed linen, etc. The two bedrooms are very private, separated by the large living room with a special bright veranda that provide a perfect space for breakfast, in green surroundings and a view over the water. In one bedroom the beds can be separated.
Niels place turned out being even better than we had anticipated, being placed perfect with Seaview and on the main street, with a garden even! It's a specious, clean and very light apartment, perfect for getting a wholesome vacation feeling. If you get the opportunity to go to Møn, you should definitely try and stay here!
Mia
2017-03-26T00:00:00Z
This apartment was so beautiful, bright and very clean. Everything was of highest quality and we had everything we needed, towels, really nice clean bed linen, super nice duvets, Smart TV with good Internet connection, pots and pans, etc. It was refreshing to wake up with the sun shining in the living room, and to have an amazing view over the garden and the sea. Everything in the apartment is brand new and of high quality which was amazing given the most reasonable price. Niels was very approachable and helpful host. He gave us instructions on how to get there which is by the very convenient. We really appreciated his recommendations as a local which helped us to live there like a local. We would highly recommend the butcher and restaurant called Slagter Stig Stoeberiet where you can choose your own steak that they will cook and serve for you in the dining area. The best steak I've ever had! There is also a really nice cafe down the road that serves delicious brunch dishes but you have to book in advance even in low season. There is also a bird resort nearby for bird lovers. We will definitely come back soon and stay longer.
Shirin
2017-03-12T00:00:00Z
Kamertype
Gehele woning/appartement
---
Type woning
Appartement
---
Geschikt voor
4
---
Slaapkamers
Stege, Denemarken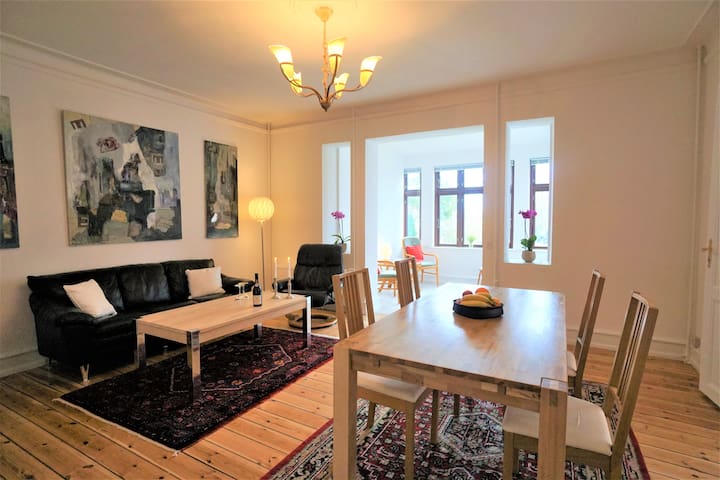 In the middle of Stege with a great view. It is clean and very cozy
Great host and good location. Quick communication.
Eva
2017-03-28T00:00:00Z
I had a good time in Simon's place. He answered my questions and gave some tips too. He and his son are good cooks! His house is like 5 minutes walk from the bus station. Overall it was a enjoyable experience
Zhen Yin
2017-01-19T00:00:00Z
Kamertype
Privé Kamer
---
Type woning
Appartement
---
Geschikt voor
2
---
Slaapkamers
Stege, Denmark, Denemarken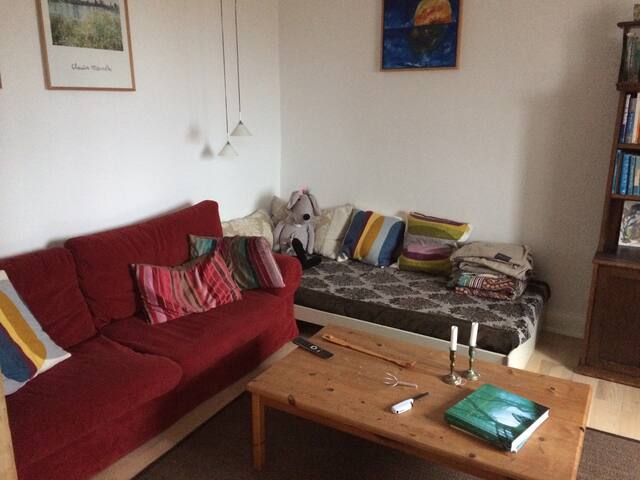 Disse 2 hyggelige Retreat lejligheder med eget køkken og bad ligger på en gammel gård tæt på vandet. Retreatet er for dig, der ønsker at nyde det enkle liv, den gode søvn, tilbagetrukket i stilheden og naturen - kort sagt et Retreat. Et fantastisk udgangspunkt for at opleve vidunderlige Møn. Retreatet er et bed and bath Retreat, du sørger selv for alle måltider.
Sommerretreatene hver på ca. 70 kvm. er indrettet med: (Retreat lejlighed nr. 1) Entré, soveværelse, ældre badeværelse, ældre køkken i forbindelse med stue. Stuen kan klare 2 opredninger. Egen øst/sydvendt overdækket terrasse. (Retreat lejlighed nr. 3) Entré, soveværelse, ældre badeværelse, ældre køkken med spiseplads, 2 Stuer/værelser adskilt med dobbelt skydedør. Afdeling af haven til deling for vores Retreat gæster med ca. 300 kvm. græsplæne med masser af sol (afhængigt af vejret). Vi har jævnligt besøg af fasan, harer, ræv og rådyr (de må ikke jages her). For de fleste der besøger vores Retreats er stilheden og roen essentiel, her på stedet drejer det sig om at komme ned i tempo, og så bruge byen og de øvrige omgivelser som supplement.
Natur, stilhed, ro, strande, Hvide Klint, Møns Klint, "Dark Sky". Handelsbyen Stege ligger ca. 4 kilometer fra Retreatet, med flere indkøbsmuligheder samt restauranter.
Zeer vriendelijke ontvangst. Communicatie vooraf verliep perfect. Unieke locatie, zeer afgelegen, op wandelafstand van een strand. Eiland Møn is zeker een bezoek waard en indien je van rust houdt en een auto bij hebt, is dit een uitstekende slaapplaats.
Pamela
2016-08-09T00:00:00Z
A great host, an amazing place and a beautiful apartment. Unfortunately we had only two nights at Møn. This is a lovely place and we really enjoyed our stay there. Communication with Michael was so kind, friendly and fast. The apartment was big and very clean. The kitchen is well equipped. Everything what is needed you will find there. We love to relax in the big and charming garden. I can highly recommend without limitations. We will definitely stay again at this wonderful place at Møn.
Franziska
2016-07-15T00:00:00Z
In a beautiful setting, a stunning house owned by very friendly hosts. Basic and convenient interior, great garden to have breakfast or to play. Great spot to discover beautiful Møn. We felt very welcome due to the clear and warm communication and the very friendly reception. Recomended!
Simon
2015-07-29T00:00:00Z
Vi havde et rigtigt godt ophold. Værelset var pænt og rent. Gården var rigtig hyggelig. Michael og Helle tog rigtigt godt imod os. Klart anbefale et ophold hos dem.
Thor
2015-07-12T00:00:00Z
Very welcoming hosts, the place is nice, tipical, and definitely suggested for families. The apartament has a big garden where children can play and enjoy the outdoors.
mary
2015-08-09T00:00:00Z
Et virkeligt fredeligt og naturskønt sted og alligevel med korte afstande til alle attraktioner og seværdigheder på Møn og omegn. Vi blev modtaget med stor venlighed og varme, og vi følte os meget velkomne under hele opholdet. Lejligheden er rummelig og i fin stand. Enkel og hyggelig indretning, med udgang til den store, helt ugenerte have.
M
2015-07-25T00:00:00Z
"Sommerretreat på Møn" lever 100% op til annonceringen - det er et fantastisk dejligt sted. Vi blev modtaget af Helle og Michael med en åbenhed og venlighed, som gjorde, at vi følte os velkomne med det samme. Lejligheden (nr.1) var super funktionel og der er gjort meget ud af hygge med plaider over stolene og fyrfadslys. På sengene lå der små duftposer af lavendel - en sød lille ter pris detalje. Køkken og bad er sandt nok af ældre dato, men begge dele fungere som det skal og der var rent og pænt. I lejlighed nr.1 er der en lille overdækket terasse, som vender ud mod haven - der er dejligt både morgen og aften. Vi kan varmt anbefale Helle og Michaels lille "sommerretreate" - særligt til dem, som sætter pris på landlig idyl og en helt ganske særlig fred og ro.
Rikke og Janus
2015-07-08T00:00:00Z
Vi blev modtaget af Helle og Michael med megen venlighed. Vi fik virkelig fornemmelse af, at de ønskede det bedste for os. Der var bl.a. blomster og lokale smagsoplevelser i det hyggelige værelse, der var indrettet stilfuldt. Køkkenet og badeværelset var af ældre dato, men alt fungerede, og der var rent og pænt. Vi fik god vejledning vedr. spisesteder og ture på Møn. Vi ønsker for Michael og Helle, at de vil få mange gæster gennem airbnb.
Leif
2015-04-05T00:00:00Z
Kamertype
Gehele woning/appartement
---
Type woning
Appartement
---
Geschikt voor
4
---
Slaapkamers
Stege, UT, Denemarken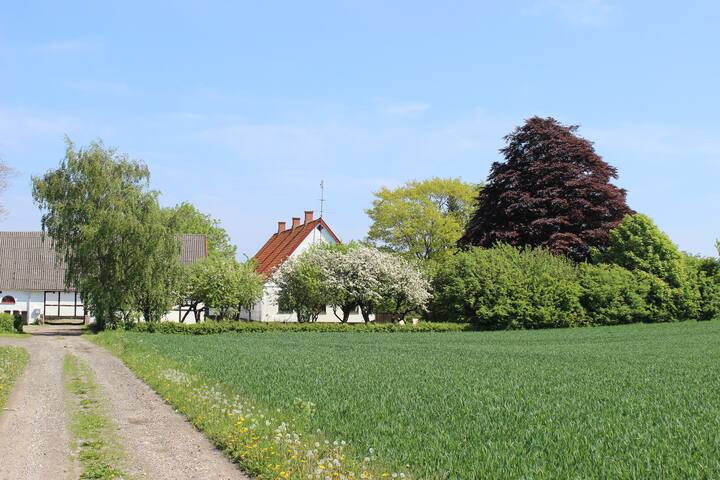 Zelfstandige huisvesting ca30m2, gelegen aan doodlopende straat met prachtige tuin. Woonkamer met keuken, fornuis en koelkast. Slaapkamer M.2 bedden, eenpersoonsbed in stuen.Direkte toegang tot de tuin. Entree met kleine badkamer met douche gratis parkeren
Een warm welkom middels een briefje op tafel. Overal was aan gedacht, de bedden heerlijk opgemaakt. En de tuin, een lustoord met overal zitjes.
Jeanette
2015-07-10T00:00:00Z
Het was een comfortabel huisje. Smaakvol ingericht met ruime keuken. Heel rustig gelegen wat een verademing was na de snelweg. Kust (haventje) ligt op 2 km (URL HIDDEN) leuk voor een avondwandelingetje. Wie weet komen we nog eens langs. Rob en Lucia
lucia
2015-06-24T00:00:00Z
We had a great time at Winnie and Tom's cottage which is very confortable and situated in a very nice area.area . we could enjoy the nice and sunny garden. Winnie and Tom are very friendly and gave us good tips. We hope to come back.
Francoise
2016-07-26T00:00:00Z
Great atmosphere. A sort of homecoming
Nancy
2016-05-02T00:00:00Z
Excellent accueil de Tom et Winnie. Il y a tout ce qu'il faut dans la petite maison. Le + : le jardin (où s'est d'ailleurs aventurée une biche !). Très bon point de chute pour explorer Møn.
Ced (DK5)
2016-08-08T00:00:00Z
Tom and Winnie are very nice host. Their house is charmful and is an excellent place to explore the Møn Island and others. There is everything here to enjoy!
emmanuel
2015-07-22T00:00:00Z
Very cosy acommodation in a very loveley neighbourhood! It offers everything you need. We loved having breakfast and dinner in the beautiful garden with the sun in our faces. Tom and Winnie were perfect host giving us a very detailed description how to get to their house. You need a car because it's located a little outside the next bigger town but that was no problem for us. We definitley recommend this accommodation!
Theresia
2015-08-19T00:00:00Z
The house was really well equiped and situated in a nice location. Mons klint can easily be reached from there.
Laura
2016-06-26T00:00:00Z
Kamertype
Gehele woning/appartement
---
Type woning
Appartement
---
Geschikt voor
2
---
Slaapkamers
Stensved, Region Syddanmark, Denemarken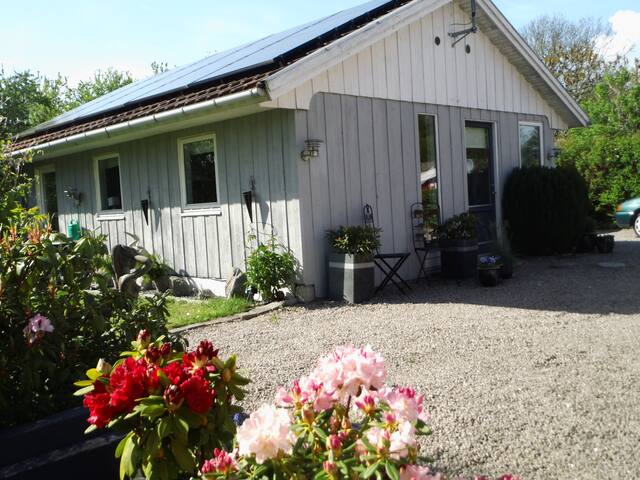 Onlangs gerenoveerde woning met goede voorzieningen. Gelegen in een landelijke omgeving met mooie uitdagende natuur met bos en strand en de blote hemel. Mogelijkheid tot wandelen en fietsen in een rustige omgeving. 3 km van winkels, 4 km van afrit 41 op de snelweg E47 / E55, 100 km naar Kopenhagen
50 m2 zelfstandige woonruimte bestaande uit een woonkamer met een slaapbank, slaapkamer, keuken met eethoek, badkamer en een kleine hal met garderobe. Op het platteland met een prachtig uitzicht vanuit elk raam.
Het was een heerlijke week in het huisje bij Henni. Henni is zeer gastvrij en " alles" is mogelijk. Huisje is zeer compleet, schoon en knus. Veel ramen ,waardoor mooi uitzicht. De ligging is fantastisch! Gaan hier zeker terug!!! Ps. De mail v airb&b met routebeschrijving was oke , alleen het huisnr klopte niet.
Paulien
2016-07-07T00:00:00Z
Henni heeft ons persoonlijk welkom geheette. Het huisje wat zij verhuurd is gewoon geweldig, netjes,schoon en van alle gemakken voorzien. Ook de ligging is super, je moet wel goed tegen stilte kunnen omdat het huis tussen de heuvels ligt maar met mooie uitzichten. Voor de boodschappen kun je terecht in het dorp Stensved waar twee supermarkten zijn met ook een tankstation voor de auto. Kortom wij willen dit zeker aanprijzen voor mensen die van rust en natuur houden.
Anneke en Kees
2016-04-06T00:00:00Z
Henni is a lovely host. Communication was excellent. The accommodation is great, cosy and very comfortable - especially during a winter storm! We had a great stay and can highly recommend. Thanks Henni! P,L,H,W
Peter
2016-12-27T00:00:00Z
We stayed at Henni`s place for three nights and it was just perfect! The appartment is really cosy and clean. Henni was very communicative and always taking care of us. We even received a very delicious dinner one night and breakfast the other morning. We can recomment here to everyone and will sure return there for our next stay in the south of Seeland!
Christina
2015-11-15T00:00:00Z
Nice surroundings and a big gar den (Gras) as playground for our children. Very wel located between all the things we wanted to do like: Labyrint Park Monts Klint Canopy Etc The house was excellent we had all we needed. And all the support from Henni we needed. Tanks
Balder
2016-07-14T00:00:00Z
Unser Urlaub bei Henni war toll. Die Umgebung ist genau das Richtige für einen entspannten Urlaub in der Natur. Aber man braucht ein Auto oder ein Fahrrad um flexibel reisen zu können (z.B. zum nächsten Supermarkt oder Bahnhof). Die Lage ist auch perfekt zwischen Kopenhagen und Gedser. Henni war eine tolle Gastgeberin. Sie war jederzeit für Nachfragen vor Ort und hat uns tolle Ausflugstipps gegeben. Henni spricht sehr gut englisch und deutsch. Das Apartment ist direkt auf ihrem Grundstück. Alles war super sauber und gemütlich (mit Fußbodenheizung!). Die Küche war sehr gut ausgestattet mit Kochfeld, Kühlschrank, Mikrowelle, Wasserkocher und Kaffeemaschine. Wir haben sehr viel gekocht. Henni hat uns auch alles bereit gestellt (Bettwäsche, Handtücher, Lappen etc.). Wir waren zu Zweit, aber im Wohnzimmer gibt es noch eine Schlafcouch für zwei Personen. Das W-Lan ging leider nicht, was für uns aber kein Problem war, da wir ja Urlaub machen wollte ;-) Sollte ein nächster Dänemark-Urlaub anstehen, werden wir wieder bei Henni anfragen.
Josephin
2017-01-04T00:00:00Z
Vi blev varmt modtaget af henni, og det var styr på det hele:) tak for et fint ophold
Søren
2016-12-12T00:00:00Z
Sehr schnelle Antworten auf Anfragen und Nachfragen. Sehr Flexibel in den Ankunftszeiten. Henni ist mehrsprachig und sehr nett und zuvorkommend. Wohnung liegt sehr ruhig gelegen in einer Bauernschaft. Die Wohnung ist sehr schön und komfortabel eingerichtet. Die Küche hat alles was man benötigt. Bettwäsche und Handtücher werden von Henni gestellt. Sehr schöner und weitläufiger Garten, ideal für Kinder. Supermärkte, Tankstellen, Bäckereien, Metzger, Apotheke sind alle in einem Umfeld von 5-10 km mit dem Auto zu erreichen. W-LAN für Laptop und Smartphone ist schnell und stabil.
Winfried
2016-08-14T00:00:00Z
Kamertype
Gehele woning/appartement
---
Type woning
Appartement
---
Geschikt voor
4
---
Slaapkamers
Stensved, Denemarken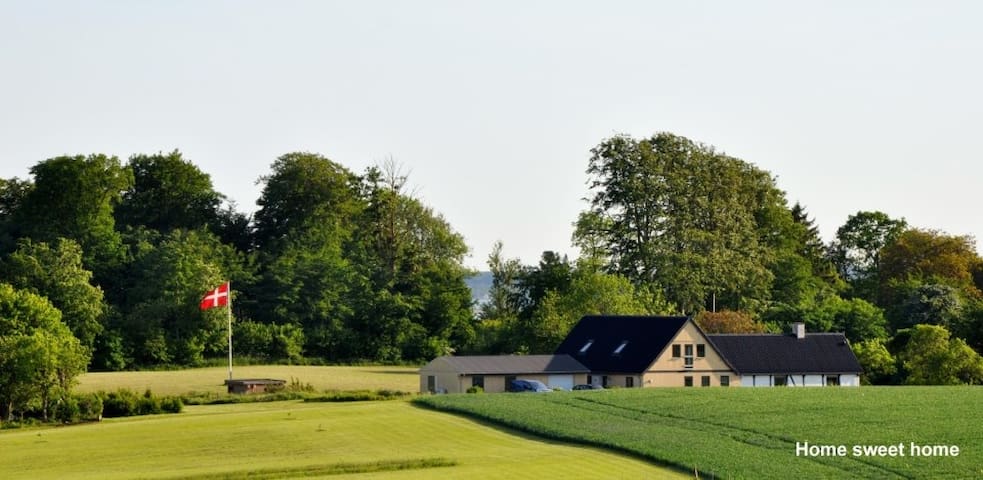 Min bolig lægger tæt på Centrum, havn, skov, strand, supermarked, restaurant, seværdigheder. Du vil elske min bolig på grund af Masser af plads, roligt sted og meget hyggeligt. Min bolig er god til par, soleeventyrere, forretningsrejsende og familier (med børn).
Jørn was great, quick frendly response and the apartment was just what we wanted!
Ragnar
2016-10-09T00:00:00Z
Jørn er en super host som tar godt vare på sine gjester. Vi booket samme dag og kom sent på kvelden på gjennomreise ned til Frankrike. Alt fungerte perfekt med kommunikasjon og beskrivelser stemmer godt. Vi sov godt og på morgenen ble vi servert god nytrukket kaffe, godt brød og økologisk syltetøy/ost før vi fortsatte ferden. Fungerte perfekt!
Anna-Lena
2017-03-29T00:00:00Z
Vi overnattede kun en nat, dejligt stort värelse med fred og ro, der er gåafstand til centrum ca. 20 min. med shopping og restauranter. Söde og rare värter som serverede dejlig morgenmad, og vi fik en hyggelig snak. Det var virkelig et plus med "serveret morgenmad" når man som vi, skulle köre langt bagefter.
Jonna
2017-03-04T00:00:00Z
Jorn did everything right through his Time as the host. The room and bath was really nice and clean and if you want a tea you can ask Jorn. Thank you very much for your hospitality. Ozan
Ozan
2016-08-08T00:00:00Z
Jorn is very nice and attentive . I had a very interresting conversation with him .The place is quiet and relaxing. I highly recommend
Mohamed
2016-08-07T00:00:00Z
Vi fælge os meget velkommen i Jørns dejlige hjem i udkanten af Vordingborg. Jørn var meget hjælpsom og imødekommende under hele vores ophold.
Ruth
2016-07-25T00:00:00Z
Vil bare sige 1000 tak for et rigtig dejligt ophold...
Claus Egmose
2016-08-15T00:00:00Z
Bon accueil, chaleureux. La maison est très agréable. Merci Jorn
brigitte
2016-07-25T00:00:00Z
Kamertype
Gehele woning/appartement
---
Type woning
Appartement
---
Geschikt voor
2
---
Slaapkamers
Vordingborg, Denemarken
Min bolig lægger tæt på restauranter og spisesteder, stranden, natteliv, familievenlige aktiviteter og fantastiske udsigter. Du vil elske min bolig på grund af placeringen og omgivelserne. Min bolig er god til par og familier (med børn).
Stor 4- Herskabslejlighed, belligende i centrum af Vordingborg. Lejligheden ligger få minutters gang fra Vordingborgs borgruin og tæt på Vordingborgs hyggelige nordhavn, hvor man kan nyde lidt mad eller bare nyde udsigten. Vordingborg har meget kyststrækning, hvilket gør det let at komme en tur til stranden. Lejligheden er placeret i algade, hvor der er en del muligheder for shopping. Er man til musik, ligger "STARS", et spillested, der er kåret til Et af de bedste spillesteder i Danmark, to minutters gang fra lejligheden.
Alt gik som det skulle. Super fin kommunikation forud for indtjekning og alle aftaler holdt i forbindelse med indtjekning. Lejligheden er rigtig fin, stor, ren og alle faciliteter fungerer perfekt. Lejligheden har desuden en fantastisk placering super-centralt midt i byen. Meget anbefalelsesværdig!
Anders
2016-12-24T00:00:00Z
Celine er en meget imødekommende værtinde og havde gjort det hele super hyggeligt til opholdet . En skøn lejlighed perfekt placeret i Vordingborgs gågade. Vi booker uden tvivl, når vi igen får behov for ekstra sovepladser - al mulig ros og stor tak til Celine
Bodil
2016-12-25T00:00:00Z
The host canceled this reservation 49 days before arrival. This is an automated posting.
Svend
2017-03-12T00:00:00Z
Die Lage der Wohnung ist sehr gut. Sie liegt mitten im Centrum von Vordingborg. Es war sehr überraschend wie leise es dort ist, was man bei der Lage nicht vermuten würde. Versorgungsmöglichkeiten, Bars uns Restaurants sind alle gut in wenigen Minuten zu Fuß zu erreichen. Die Wohnung ist echt groß und nett eingerichtet. Celine hat eine Mitbewohnerin, Lisa. Lisa hat sich sehr nett um uns gekümmert. Beide studieren Lehramt in Vordingborg. Vordingborg selber ist eine Stadt mit Geschickte. Der Dänische König hatte hier vor Kopenhagen sein Schloss. Es befindet sich in 5 bis 10min zu Fuß von der Wohnung entfernt. Weiterhin ist der Strand nicht weit weg. Von uns daher eine klare Empfehlung für eine Dänemark Urlaub in netter historischer Umgebung.
Heino
2016-10-26T00:00:00Z
Celine er MEGET imødekommende, alt klapper og lejligheden er virkelig hyggelig og indbydende. Beliggenheden i Vordingborg gågade er suveræn
Bodil
2017-02-26T00:00:00Z
Kamertype
Gehele woning/appartement
---
Type woning
Appartement
---
Geschikt voor
3
---
Slaapkamers
Vordingborg, Denemarken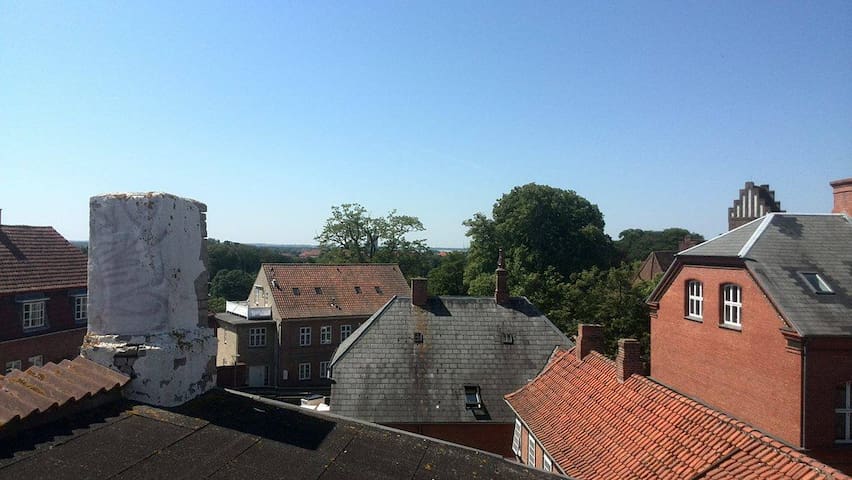 Mooie en spannende appartement gelegen in het midden van Præstø centrum met heerlijke tuin tot aan de idyllische tubæk å Het appartement is 150 m² biedt alles wat u nodig heeft, en is geschikt voor 5 personen, maar schrijf voor meer info
Kamertype
Gehele woning/appartement
---
Type woning
Appartement
---
Geschikt voor
5
---
Slaapkamers
Præstø, Denemarken
U zult genieten van mijn huis als gevolg van het appartement is 60 m2 en nieuw gerenoveerd. Het is gelegen in het centrum van de stad, in een rustige omgeving. Dicht bij winkels, restaurants, het strand, de rivier en groene gebieden. Het is mogelijk om de tuin. Het Observatorium pand werd in 1927 gebouwd door dominee en amateur-astronoom Theodor Hansen. Hij had zijn verrekijker staan in de koepel die kon worden "geopend". Vandaag zijn er "verboden terrein" om de koepel en het dak. Mijn accommodatie is goed voor koppels en gezinnen (met kinderen).
Kamertype
Gehele woning/appartement
---
Type woning
Appartement
---
Geschikt voor
4
---
Slaapkamers
Præstø, Denemarken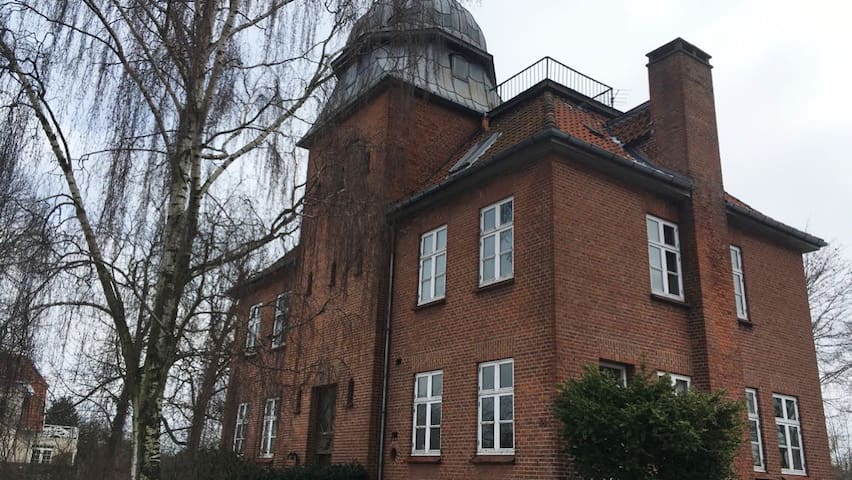 Her kan du lade op og slappe af. Nyd et par stille dage væk fra byens larm og lad naturens fredfyldthed fylde dig med energi. Her får du en hel lejlighed separat fra hovedhuset med bad og toilet. Adgang til vaskemaskine og tørretumbler
The host canceled this reservation 57 days before arrival. This is an automated posting.
Susanne
2017-03-18T00:00:00Z
La ferme est fantastique et les chiens ont fait le bonheurs de nos enfants. Mette est adorable et nous a offert des œufs frais de la ferme. C'est un lieux convivial et à recommander à des familles avec enfants.
Jan
2016-08-17T00:00:00Z
Mette fik os til at føle os hjemme og velkomne med det samme. Hun var god til at tage børnene med rundt til dyrene, hvilket var en stor oplevelse for dem. Vi fik også gode ideer til familieaktiviteter i området af Mette. Det er et rigtig børnevenligt sted at holde en kort eller lang ferie.
Marianne
2016-10-21T00:00:00Z
Kamertype
Gehele woning/appartement
---
Type woning
Appartement
---
Geschikt voor
4
---
Slaapkamers
Vordingborg, Denemarken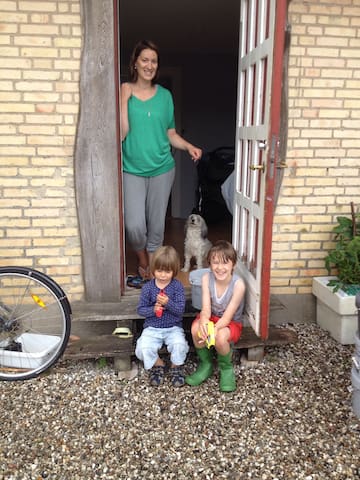 Værelse på første sal midt i Præstø, tæt på butikker, caféer, havn og lille strand. Værelset har to senge, bord med to stole, skab og en lille arbejdsplads. Badeværelse på gangen lige over for værelset. Trådløst internet, el-kedel, service, kaffe og te. Morgenmad er ikke inkluderet men kan købes.
Else war super nett und gastfreundlich. Wir haben eine Nacht bei ihr verbracht und haben uns sowohl in der Stadt als auch bei ihr sehr wohl gefühlt. Vielen Dank dafür!
Katalin
2016-07-25T00:00:00Z
Else is a very special and very nice host
Raffael
2016-09-10T00:00:00Z
Das Frühstück ist sehr empfehlenswert, besonders wenn das Wetter mitspielt und man es auf der großen Terasse einnehmen kann. Das Zimmer hat eine freundliche, helle Atmosphäre. Die Vermieterin ist sehr nett.
Birgit
2016-06-24T00:00:00Z
La chambre de Else est trés agreable, tres propre et trés bien décorée. Else est trés sympathique et à votre écoute. Je la recommande et y retournerai volontiers.
Christine
2014-07-24T00:00:00Z
We only slept one night at the house. Everything was OK. Restaurant Kaktus just opposite the house served very good food for a reasonable price. We had a good night of sleep before we started our home trip. We would like to have had the breakfast on the terras, but the rain wasn't helping with that. So we had our separate ordered breakfast in our room. Breakfast was excellent.
Karel
2016-07-11T00:00:00Z
Else er en super vært. Så hyggeligt et værelse og meget venlig modtagelse. Anbefaler klart et besøg hos Else:)
Birgitte
2016-02-29T00:00:00Z
Our arrival time changed a few time during the day, but that was no problem for Else. She welcomed us friendly. We just stayed one night, left early in the morning, therefore not much to say.
Loes
2016-10-19T00:00:00Z
Very nice, comfortable room near the centre of Praesto. Else was the perfect host.
Alwyn
2016-06-18T00:00:00Z
Kamertype
Privé Kamer
---
Type woning
Appartement
---
Geschikt voor
2
---
Slaapkamers
Præstø, Region Zealand, Denemarken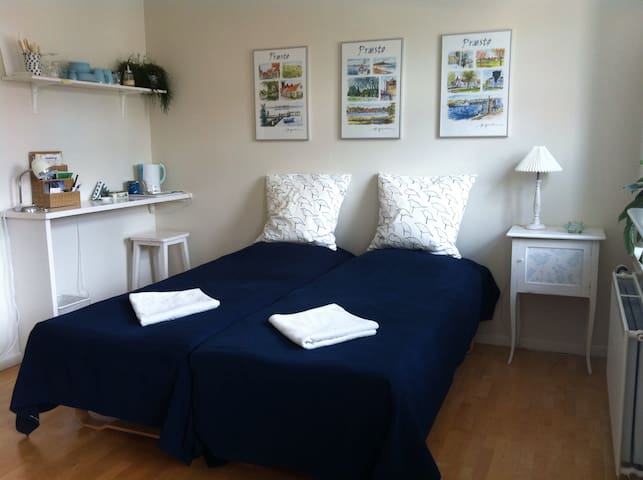 Really nice apartments in renovated farm in Sortsø, North Falster. Two top modern holiday apartments with all facilities and wifi. Walking distance to cozy little harbor with smokehouse and fresh fish. Catch your own fish in the nearby river.
Scenic surroundings with sea views. Lovely modern holiday apartment in renovated farm. Nature, tranquility and proximity to fun. Kids are more than welcome.
Our holiday apartment is the perfect base for explorations and day trips to places like BonBon land, Moens Klint, Crocodile Zoo, the tractor museum in Eskildstrup or a trip with the small ferry Ida. Both kids and their parrents love our little fishing stream and our popular local harbor - both in walking distance - where you can buy fresh catch of the day and smoked fish as well. Try their crab salad - it´s addictive!
Het is een prima appartement. Groot zat voor 4 personen (volwassene). We waren op door reis, 1 nachtje hier geslapen. Mooie omgeving.
Maaike
2014-07-06T00:00:00Z
Mooi luxe appartement, heerlijk rustige omgeving.
Bas
2016-07-24T00:00:00Z
Fräsch lägenhet med alla tänkbara bekvämligheter. Fin och lugn omgivning, men på bilderna får en uppfattningen om att det ligger närmre vattnet. Supertrevligt välkomnande av värden och vi kände oss väldigt välkomna!
Jonas
2016-07-23T00:00:00Z
Super modern, comfortable apartment.
Erin
2016-07-16T00:00:00Z
Freundliche und sehr flexible Gastgeberin, saubere und sehr gut ausgestattete Unterkunft. Schöne Lage in der Natur nahe dem Meer.
Elena
2016-09-25T00:00:00Z
W've spend just a perfect night in just a perfect appartment (luxurious!) on our way back from Sweden to Belgium. Thanks!!!
Alexandra
2015-08-16T00:00:00Z
Marianne's house seems really new and is in excellent shape. It has all amenities you need, except that nobody lives in the house, so you need to buy your own cooking ingredients (butter, herbs, etc.). But other than that it's a perfect place to stay.
Johan
2015-07-21T00:00:00Z
Wir waren nur eine Übernachtung da - dafür ist es völlig in Ordnung. Wir hatten alles was wir brauchten.
Sebastian
2016-07-25T00:00:00Z
Kamertype
Gehele woning/appartement
---
Type woning
Appartement
---
Geschikt voor
4
---
Slaapkamers
Stubbekøbing, Denemarken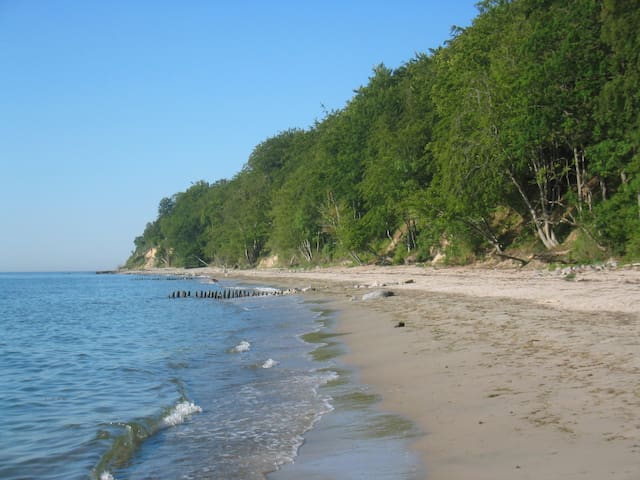 Ground floor apartment close to the water bus and indkøb.Egen entry through the carriage house. Shower room and small kitchen with refrigerator, microwave, and stove / oven. 2 mattresses and a couch that can be used as sofa bed for 2. The apartment is on the main street with a few minutes for the water to public transportation and shopping. Small communal courtyard that can be used for parking of bicycles / mc.
God belligenhed
Lovely town with many well preserved houses. Close to nature and fjord. Atmospheric harbor and good restaurants.
Kamertype
Gehele woning/appartement
---
Type woning
Appartement
---
Geschikt voor
4
---
Slaapkamers
Præstø, Danmark, Denemarken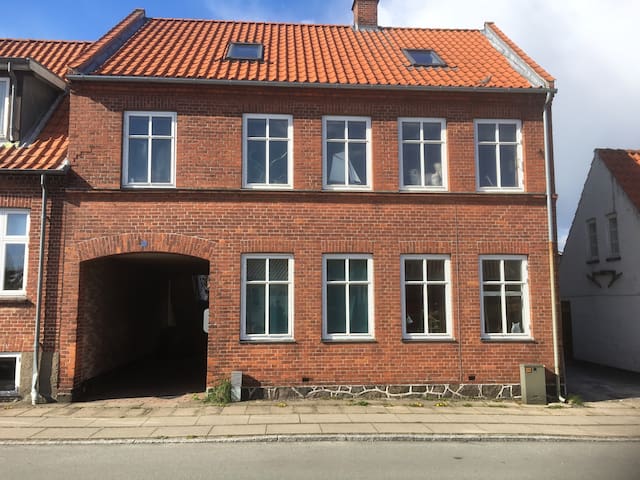 The apartment has everything in 34 square meters. Separate bathroom and kitchen. In the living room you find a dining section, a living section with the sleeping sofa, and a sleeping section. Close to the wood, beach, station: In the inner center
If you are looking for place, where you can relax, far from noisy world, this is exactly for you. You can enjoy peaceful location at Karen´s place, perfect for solo travellers or for couple. Highly recommended location, the best from all airbnb!
Judita
2016-09-14T00:00:00Z
Hyggelig lejlighed tæt på centrum.
Kirsten
2017-02-19T00:00:00Z
Kamertype
Gehele woning/appartement
---
Type woning
Appartement
---
Geschikt voor
4
---
Slaapkamers
Vordingborg, Denemarken
Mijn huis is gelegen aan Bogo in een mooie omgeving dicht bij een korte afstand van kliffen, Knuthenborg Vordingborg Kasteel Centre Faro. Mijn accommodatie is goed voor koppels en gezinnen (met kinderen).
Kamertype
Gehele woning/appartement
---
Type woning
Appartement
---
Geschikt voor
6
---
Slaapkamers
Bogø By, Denemarken
2-værelses lejlighed med køkken og badeværelse samt fordelingsgang. 2 sovepladser i soveværelse Der kan tilkøbes 2 sengepladser, 1 på sovesofa i soveværelset (der kan godt ligge 2 børn) og 1 opredning på sofa i stuen. Ligger tæt på indkøbsmuligheder/bager/bank og tæt på DGI Huset Panteren og Vordingborg Centrum og lystbådhavn Der vil være kaffe og the til fri afbenyttelse, samt lidt spiseligt i køleskabet så kan ikke skal gå sulten i seng den første aften.
Separat lejlighed med egen indgang. Tæt på Vordingborg Centrum Parkering foran bolig (gratis) på gårdsplads
Lejlighed ligger tæt på Kvickly (med postbutik og bageri), Fakta, Aldi, Rema1000, Nordea Bank, Apotek og ca. 500 meter fra hovedgaden og Borgcentret (dvs. Ruinterrænnet med Gåsetårnet) Ligger 300 m fra DGI-huset Panteren og 200 m fra motionscenter "WorkItUp"
Jeg kan varmt anbefale at bo hos Henny. Min kone og jeg havde en skøn weekend i Vordingborg. Lejligheden er hyggelig og ren. Der er alt hvad man har brug for. Masser af indkøbs muligheder lige rundt om hjørnet. Vi vil helt klart leje os ind der igen hvis vi skal på de kanter i fremtiden
Thomas
2016-05-30T00:00:00Z
X
Poul
2017-04-03T00:00:00Z
Fine and comfortable. Felt like home.
Lixin
2016-11-15T00:00:00Z
Henny is very nice and sweet. Although she can't speak English, she prepared lots of food for us, including cookies, drinks, toast, fruits and so on. Her daughter, Heidi, can speak English so communication is no problem. And they answered messages quickly. Besides, this house is warm and big. We like this house.
Olga
2016-09-23T00:00:00Z
Jeg havde et rigtig godt ophold hos Henny, der bor i et roligt kvarter med adskillige indkøbsmuligheder i kort gåafstand. Lejligheden er med privat indgang og består af både stue, soveværelse, køkken og pænt badeværelse med fordelingsgang. Henny havde stillet morgenmad frem i køkken/køleskab, lagt en fin brochure om Vordingborg frem og der var rent og pænt i lejligheden. Jeg kan klart anbefale at bo hos Henny!
Ida
2015-10-02T00:00:00Z
Jeg kan kun anbefale, at man lejer Hennys lejlighed, hvis man skal en smuttur til Vordingborg. Lejligheden er meget ren. Derudover har lejligheden alt, hvad man skal bruge under sit ophold, som eksempelvis alverdens køkkengrej. Da jeg ankom, blev jeg mødt af Hennys datter Heidi, der var meget flink til at vise mig rundt - og i køleskabet var der endda også basisvarer som ost og mælk. Alt i alt var mit ophold rigtig positivt!
Christina
2017-02-24T00:00:00Z
Det var dejligt at blive modtaget med lidt i køleskabet som ost, mælk, smør og juice m.m. samt diverse brød og kaffe samt te. Virkede meget venligt.
Karen
2016-09-01T00:00:00Z
En rigtig hyggelig og meget ren lejlighed som kun kan anbefales, hvis man mangler et billig sted at overnatte
Stanley
2015-11-07T00:00:00Z
Kamertype
Gehele woning/appartement
---
Type woning
Appartement
---
Geschikt voor
4
---
Slaapkamers
Vordingborg, Denemarken
1

–

18

van

27 Appartementen te huur