Appartement zeer goed gelegen op slechts 5 minuten lopen van het strand in het centrum van Miami, 2 slaapkamers, badkamer met douche, apart en uitgeruste keuken, woonkamer, verwarming, airconditioning en een terras met barbecue.
Квартира 2 спальни, кондиционер / отопление и радиаторы, гостиная с диван-кроватью, кухня, ванная комната с душем, терраса с частным барбекю. Постельное белье и полотенца включены, воду и электричество включены в цену. Miami Platja расположен в самом сердце Коста Дорада, между морем и горами, вы найдете уникальный и гостеприимную назначения, где семья может наслаждаться. В цену не входит туристический налог (туристический налог) для ночевок € 0,90 на человека в день и должен быть оплачен наличными по прибытии. Муниципалитет имеет 12 километров береговой линии, которая сочетает в себе обширные пляжи с извилистыми бухтами девственной красоты, местом, где вы можете заниматься многими видами водного спорта. Светимость, разнообразие и земные цвета делают интерьер Miami Beach идеальным местом, чтобы насладиться природой: практика езды на велосипеде, пеший туризм, гольф или просто прогулки в идиллической обстановке является лучшим выбором для любители природы. Стратегическое расположение Mont-Roig-дель-Камп и Майами Плайа является идеальной отправной точкой для всех видов экскурсий, поездок и мероприятий вне. тематические парки (Port Aventura), экстремальные виды спорта, население большого интереса как Таррагона, наследие, Реус или города Барселоны Roman, они доступны для всех, и в нескольких километров.
Het appartement is gelegen in het centrum, op loopafstand van de winkels en het strand op slechts 100 meter
Estancia perfecta, casa muy cómoda, sencilla, con todo lo necesario. Zona muy tranquila, con calas preciosas y magnifica la playa Cristal. Ideal para familias, bien ubicado, servicios muy cerca y sin problemas de aparcamiento. Luis el anfitrión muy amable y pendiente de todo. Facilitan una guía de consulta sobre rutas y visitas en la zona. Gracias por permitirnos descubrir esta bonita zona de Tarragona! Repetiremos sin duda!
Emma
2016-06-19T00:00:00Z
MCarmen and Luis were very helpful in making our stay in Miami Platja comfortable and convenient. We had originally asked to stay at one of their properties further from the beach, but with their expertise they arranged an apartment just blocks from the beach, in the center of town (which was perfect!) The apartment was very nice and I would definitely recommend staying there or in other properties of Fernandez y Vicuna!
sarah
2015-10-26T00:00:00Z
Nuestra estancia en este alojamiento fue estupenda. No podemos poner ninguna pega. Desde que llegamos la impresión fue muy buena, en cuanto a limpieza, y decoración de el apartamento. Hay mucha información en el apartamento sobre cosas que hacer al rededor y qué ver, una pasada. Además totalmente equipado en cuanto a menaje, toallas y sábanas (todo muy limpio para el uso). EL apartamento es muy agradable y totalmente cierto en cuanto a lo que ves en las imágenes. DIsfrutamos mucho de la terraza y de la barbacoa, aun siendo invierno. Lo recomendamos a todos los que podemos. Solo añadir que en la descripción no ponía nada de que hubiese calefacción y sí que había, nos comentaron que era nueva de diciembre y que lo actualizarían en la web, pero por si se les pasa, que quede dicho por aquí. :)
Marian
2017-01-15T00:00:00Z
La comunicación con el anfitrión era muy fácil y bueno. El apartamento para dos está como tú y tiene un salón bonito. Hemos disfrutado del babacoa amplia con mucho gusto. El mar es muy cerca con calas estupendas y una playa extensiva a 1 kilómetro. Hay todos los servicios muy cerca.
John
2016-02-16T00:00:00Z
Nos recibieron muy bien y nos dieron muy buenas recomendaciones para ir a comer y disfrutar de la zona. La casa es tal cual sale en las fotografías y está muy cerca de una cala preciosa. La terraza es perfecta para comer al aire libre y estar de vacaciones. Lo hemos disfrutado mucho!
Denise
2016-03-30T00:00:00Z
Très bon séjour à Miami Platja. Localisation pratique, à proximité de la plage, du supermaché, etc .. Très bon accueil de Luis, nous remercions sa grande disponibilité!
Virginie
2016-04-11T00:00:00Z
Parfait. Le logement est conforme à la description. L'accueil est très cordial, l'hôte restant à l'écoute tout au long du séjour.
Gilles
2016-05-27T00:00:00Z
Muy amables y pendientes. La estancia fue muy buena y todo como en el anuncio. Impecable :)
Claudia
2016-09-05T00:00:00Z
Kamertype
Gehele woning/appartement
---
Type woning
Appartement
---
Geschikt voor
6
---
Slaapkamers
Miami Platja, Catalunya, Spanje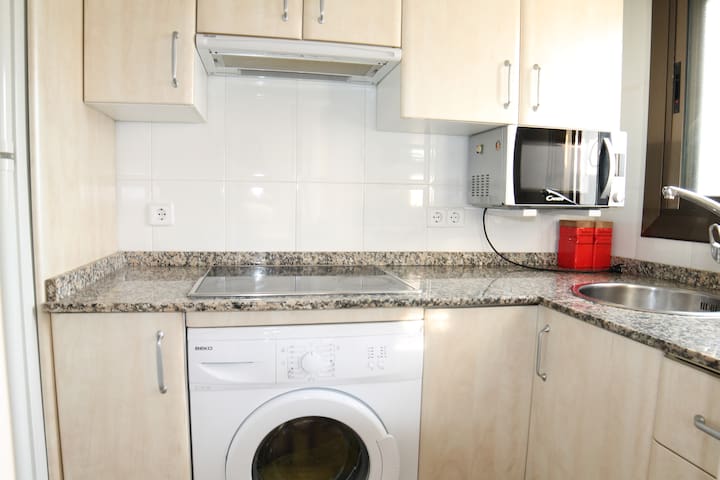 Mijn ruimte is vlak bij de luchthaven en een prachtig uitzicht. Het appartement bevindt zich op de begane grond, frontlinie zee en met directe toegang tot het. Je hoeft niet te trappen naar het appartement in te voeren. U zult genieten van mijn ruimte voor de locatie, het uitzicht, de mensen, en intimiteit. Mijn accommodatie is perfect voor koppels, avonturiers die alleen reist, en zakelijke reizigers.
Mijn accommodatie heeft een geweldig terras / eigen tuin en beschikt over een grote gemeenschappelijke tuin ook. Het is een appartement / studio zeer comfortabel. Geschikt voor het werken met draagbare werkgebied. Strijkijzer en een haardroger. Het heeft een hoge snelheid wifi.
Het appartement ligt aan de zee, grote rust van het gebied, een grote parkeerplaats, een fantastisch uitzicht, en naast supermarkten en restaurants.
Todo genial. Ideal para parejas que busquen un lugar acogedor cerca de la playa. Muy recomendable. Muchas gracias.
Edu
2017-01-02T00:00:00Z
Great host beautiful cosy flat in front of the beach recommended if you want to relax!
Bradley&Family:-)
2017-03-01T00:00:00Z
Mi estancia en la casa de Ruben ha sido fantástica, hemos llegado a las 23:00, nos han recibido sus padres que nos han explicado todo como funcionaba la casa. La casa es pequenita pero muy coqueta, limpia, con todo lo que necesita, bastante iluminada y fresca, perfecto para dos personas. Justo en frente esta la playa, hay restaurantes y supermercados cerca. Ruben ha estado en contacto con nosotros y nos orientado sobre todas las dudas. Gracias por el detalle Ruben. Totalmente recomiendo.
Mara
2016-09-10T00:00:00Z
Hola, tengo que dar las gracias a Ruben y a sus padres de lo bien que se han portado con nosotros. Nos atendieron maravillosamente y Ruben es encanador, el lugar es fantastico, y muy facil de encontar, justo enfrente de la playa, el chiringuito, ..Estuvimos de maravilla y todo fenomenal. Ruben un 10. Muchas gracias por todo. Esperamos volver a repetir.
rosa
2016-09-16T00:00:00Z
The apartment is really very close to a nice beach (less than 50 meters). The communication to Ruben was good and we were able to move in at the same day, as we booked. The apartment is small, but you have all necessary stuff you need. I think it's maximum for two persons. There are some nice restaurants nearby, the next supermarket we found was within a 5-10min car ride. I can recommend this apartment.
Julian
2017-04-04T00:00:00Z
Rubin is a great host - super friendly and hospitable! He mad everything for us to get easily to the house and to ensure that our stay will go smoothly. The flat is located on a first line to the see, but to get to the beach you need to cross the street (very few car not often), and go down stairs - this could be essential for guests with kids. The apartment itself is not big, but really cozy and comfy. We would recommend, especially for couples if you are looking for a nice place with good see location.
Vlad&Irina
2016-10-18T00:00:00Z
The apartment is very close to the beach and its wonderful to hear the sound of the sea all the time! It's small but totally ok for two persons! Ruben is a very nice guy and was very helpful! Wonderful stay!
Max-Valentin
2016-09-27T00:00:00Z
Hem estat com a casa ,molt bon anfitrio,gràcies Ruben i als seus pares.el lloc fantastic. Molt tranqui i la cala molt (URL HIDDEN) per repetir.
Montse
2016-10-08T00:00:00Z
Kamertype
Gehele woning/appartement
---
Type woning
Appartement
---
Geschikt voor
3
---
Slaapkamers
Miami Platja, Catalunya, Spanje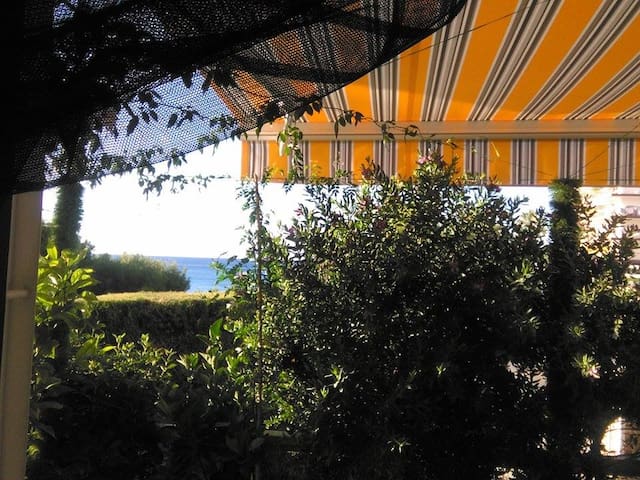 Rustig appartement op 100 meter strand bij Club Nautico en in de ideale plek voor de zee en de stad in de bergen. Goede parkeerplaats. complete keuken accessoires. Beddengoed. WiFi. En TV.
Het is erg rustig op een centrale locatie.
Het is centraal gelegen en toch niets verzadigde behuizing.
From the first moment of our trip we felt welcomed. Gloria picked us with her car from the station as we arrived very late in the evening and with heavy luggage. The location is perfect as it is literally 1 min away from the beach and at the same time very close to city centre and all shops . House has a big garden with sitting place where we could have our breakfast and dinner everyday. Any queries or needs we had , Gloria would always help and supply with info or gadgets. Absolutely recommend.
Karolina
2016-11-07T00:00:00Z
mi estancia con mi hija de 5 años ha sido estupenda.un sitio tranquilo,limpio ,espacioso y con todas las necesidades t comodidades cubiertas.Gloria ha sido encantadora,y servicial.sin duda un sitio (URL HIDDEN) playa a 3 min.andando.,el pueblo tiene mucha vida y con muchas actividades.espero volver
Karmele
2016-08-06T00:00:00Z
We had wonderful stay at Gloria's place. The house is very clean, well-located and has everything we needed to cook and rest. Gloria was very helpful and welcoming. Our particular thanks for the toys and provided swimming pool for our son. We would recommend Gloria's place to our friends.
Mikhail
2016-07-31T00:00:00Z
Kamertype
Gehele woning/appartement
---
Type woning
Appartement
---
Geschikt voor
2
---
Slaapkamers
Tarragona, Catalunya, Spanje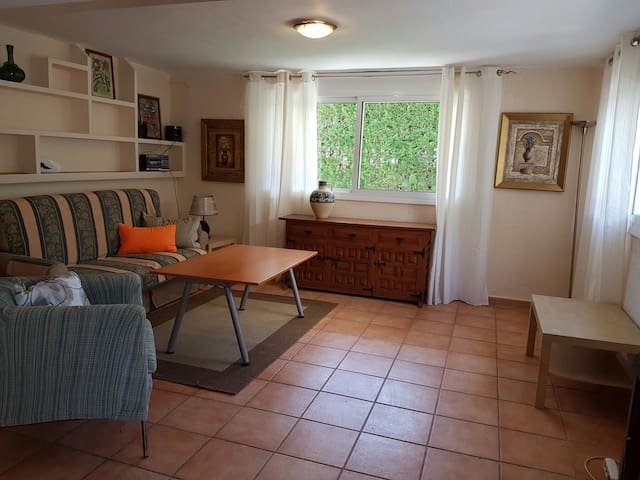 Beach apartment 6th floor with a view breathtaking in the quiet of Mount seafront Roig. 2 swimming pools and a private beach near Ideal for a weekend or a week zen, couple, family, friends
Die Einrichtung und Ausstattung des Appartments ist wirklich Top. Die Küche ist komplett ausgestattet und lässt keine Wünsche offen. Auch die Wohnung ist wunderschön gestaltet und die Aussicht ist super toll!!! Einzig die Lage lässt ein Wenig zu wünschen übrig. Es gibt wenig Gaststätten oder Bars in der nähe. Ein Supermarkt und ein Pizzaria sind aber in unmittelbarer Nähe und wer ein paar Tage ruhe sucht, ist hier vollkommen richtig.
Paul
2016-05-20T00:00:00Z
This is a wonderful Mediterranean-style apartment with a modern kitchen and bthroom and a spacious terrace. It surely does look much better in real life than on photos. There were all the amenities one might need - coffee machine, sun umbrellas, lots of stuff in the bathroom and kitchen. The bed in the master bedroom is probably the best one I've ever slept on. And of course, never in my life I will forget this splendid view. Apart from the beach being right there, literally at your feet (you can access it through a door behind the pools), there's a restaurant near the building and a supermarket some 5 minutes away. Miami overall is a very quiet place great for a relaxing holiday. The sand beaches are simply amazing and almost deserted in the end of May. True, there's not much going on around so if you're up for nighlife and the usual resort buzz that's not your best choice. If there's such an opportunity I'd strongly recommend visiting a colorful and generally overlooked city of Tarragona which is some 40 km away. Despite not living in Spain, Dominique was easy to reach and we've managed all the issues with her local representative even with my most rudimental Spanish. We've had a fabulous stay and I'd absolutely love to return to this apartment one day.
Polina
2016-06-04T00:00:00Z
Todo fantástico :-)
Martina
2015-12-08T00:00:00Z
Dominique nos há presentado un sítio maravilloso. Hemos estado muy cômodos y toda nuestra comunicacion se contestó con prontitud. Lá descripcion y las fotos Mostran muy bien El apartamento. Lá terraza es espetacular.
Diego
2015-10-13T00:00:00Z
Super quiet in March, ideal to take a break and enjoy the amazing views from the apartment's terrace. Dominique was also very flexible with the check-in/out hours.
Alicia
2017-03-10T00:00:00Z
The host canceled this reservation 4 days before arrival. This is an automated posting.
Isabel
2016-11-21T00:00:00Z
Hemos estado genial...el apartamento, el entorno, las vistas....genial. Gracias por todo!
Tony
2016-07-09T00:00:00Z
Fantastique vue sur la mer dans une jolie résidence donnant sur la plage. Un quartier trés calme. Appartement correspondant à la description de l'annonce. Un beau séjour un Espagne.
Jean-Marie
2016-04-21T00:00:00Z
Kamertype
Gehele woning/appartement
---
Type woning
Appartement
---
Geschikt voor
4
---
Slaapkamers
Miami Platja, tarragona, Spanje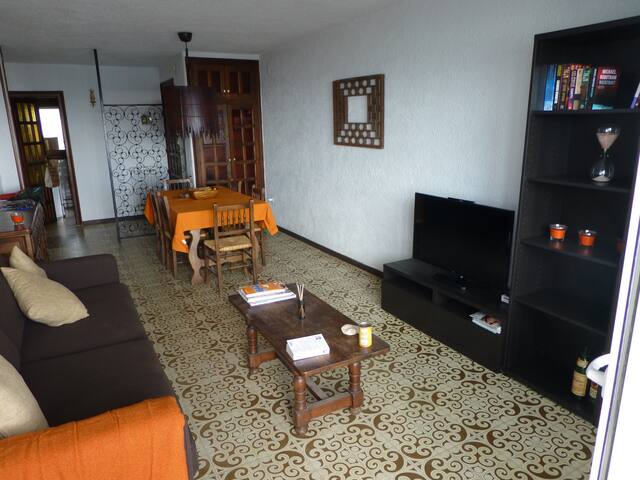 Klein appartement met uitzicht op zee met uitzicht op de haven van Hospitalet de l'Infant, rustig dorpje aan de Costa Dorada. Ideaal om te ontspannen. 15 minuten van Tarragona, Salou of Reus. Goede combinatie van trein en bus
Licht en uitnodigend.
rustig water en de haven, waar er vele bars en restaurants. Een paar meter verderop is de kerk en rond bakkerijen, boerderijen en kleine bedrijven.
Very cute apartment owners. Good location, close to the sea. In apartment has everything you need to live. Nice atmosphere and design. Not far going to the shops. In winter, when weather is nice - comfortable inside, but if the cold wind large room is not heated thoroughly. But it ok. Very good impression. Thank you, Sylvia.
Elena
2016-02-03T00:00:00Z
L'appartement est très agréable. La propriétaire met à disposition en plus des serviettes de toilette des boissons, huiles, pâtes, sel, café, sucre, produits ménagers gracieusement. L'appararement est lumineux et situé dans un quartier calme à deux pas de la plage. Équipements au top (télé grand ecran dans salon et chambre, machine Nespresso, chauffage d'appoint y compris dans la salle de bain, bougie,...). La vue depuis le balcon est magnifique (maisons blanches typiques, palmiers, mer). Centre ville accessible à pied. Place de parking gratuite au pied de l'immeuble). Décoration sen de l'appartement. Ideal pour couple ! Prévoyez juste des draps pour matelas plus grand que norme standard ! Merci Sylvia, bravo et continuez comme cela !
Christophe
2016-01-04T00:00:00Z
Wonderful place!
Weronika
2017-01-01T00:00:00Z
Nous sommes arrivés un peu en avance le jour J. Néanmoins, Silvia a fait en sorte que nous puissions avoir la clef rapidement. C'est Toni qui nous a reçu et transmis la clef. Nous venions de faire un long voyage pour arriver et il a été très rapide ce qui était très appréciable. L'appartement est très lumineux avec une magnifique vue sur la mer et très fonctionnel. Pendant notre séjour, Silvia était dans le quartier donc très pratique si nécessaire. Nous avons dû l'appeler pour "l'alarme à gaz" qui est très sensible et réagit à un coup de parfum. Mais pas d'inquiétude, il est possible de la débrancher. Nous reviendrons!
Nicolas
2016-08-07T00:00:00Z
Todo muy bien, estancia muy agradable.
marta
2016-11-01T00:00:00Z
Todo perfecto, muy recomendable. La zona es tranquila y agradable, la playa está al lado. El apartamento perfecto para pasar unos días tranquilos y, por último, la anfitriona muy cercana y agradable y dispuesta a ayudarte en todo lo posible.
Alejandro Emilio
2016-06-03T00:00:00Z
Great apartment with a great host! The apartment is as discribed on the site (so also the balcony with view :)) It's decorated very nicely, modern and has al the conveniences you need (even with private parking). If' you need an nice place to stay for an affordable price, don't hesitate! Sílvia welcomed me warmly and was available if needed during my whole stay. She also tries to do the best she can to make your stay as good as possible. The only thing I could think off that the apartment lacks is perhaps an internet connection. But who normally needs that during holidays :). (and you can just go the the library or sportcenter for free wifi). Sílvia, thanks for having me in your nice apartment!
Gunther
2016-04-02T00:00:00Z
Silvia est une personne super. Elle nous a bien tout expliqué. Tout était très facile grâce à sa disponibilité et sa gentillesse. L'appartement était mieux que sur les photos. Très propre, Très bien situé et avec toutes les commodités. En couple, ce séjour était simplement parfait. Le village est calme et la plage en face de l'appartement donnée l'impression d'être privée. Il est très facile de se garer devant l'appartement. Les terrasses de la chambre et du salon sont idéales pour les petits déjeuners. Nous nous sommes sentis extrêmement bien, comme chez nous. Il n'y avait quasiment pas de voisin lors de notre séjour, mais on peut entendre un peu les voisins, cela dit nous avons trouver calme, tranquillité, bien être et détente. Pour conclure, nous avons recommandé cette appartement à nos proches dès notre retour. Silvia et Tony son très agréable, simple et disponible. Une sensation de bien être remplissait ce bel appartement au prestation haut de gamme et au prix attractif. Nous recommandons fortement et nous y retournerons !
Lionel
2016-05-28T00:00:00Z
Kamertype
Gehele woning/appartement
---
Type woning
Appartement
---
Geschikt voor
3
---
Slaapkamers
L'Hospitalet de l'Infant, Catalunya, Spanje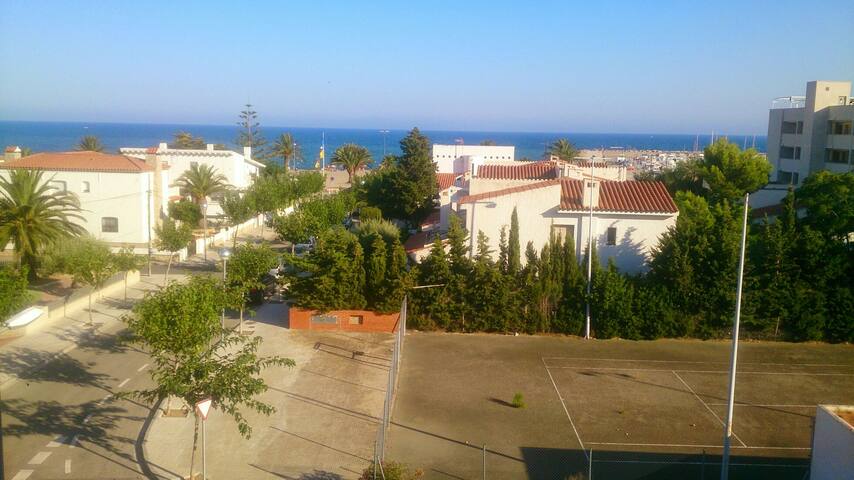 Bonita casa unifamiliar situada en la exclusiva urbanización de Pino Alto, en Miami Playa. Situada a 350 m de la playa, dispone de un total de tres dormitorios dobles, un salón con cocina americana, dos baños, un porche con muebles de jardín, una amplia terraza-solarium, dos jardines privados con salida directa a la piscina comunitaria. Está equipada con aire acondicionado en las dos plantas.
La vivienda se alquila por semanas completas (de sábado a sábado), pudiendo realizar reservas por más de una semana.
Se trata de una zona residencial. es un barrio silencioso, de viviendas unifamiliares, ideal para descansar, aunque está próximo a zonas de ambiente como el paseo marítimo o el puerto deportivo de Hospitalet de l'Infant, al cual se accede a través de un puente de madera.
Kamertype
Gehele woning/appartement
---
Type woning
Vakantiewoning
---
Geschikt voor
8
---
Slaapkamers
Mont-roig del Camp, Catalunya, Spanje
Apartment ideal for families, just 150 meters from the beach, equipped with all modern amenities (cable TV, washing machine, microwave, etc. ..), you will also have to WIFI Internet Broadband connection.
Charming apartment located on the first floor of a private villa only 100 meters from one of the most beautiful beaches of Miami Playa, This apartment of 70 square meters with terrace offers all the comfort and modern amenities (including wireless high speed Internet), you will soon feel like home! A few minutes of your apartment you will find supermarkets and specialty shops, and every Sunday morning you can explore a local market with fresh produce in the nearby village of Hospitalet del Infant. If you do not have a car, daily public bus from Miami playa allow you to visit the neighboring towns Cambrils, salou, reus, Tarragona for just a few euros.
The area at the edge of the sea has a family atmosphere. Of numerous small coves and beaches are within walking distance. Shops and supermarkets for shopping are located 10 minutes walk
Horacio мы не видели, а вот его родители, которые нас встречали, очень добрые и отзывчивые хозяева. Апартаменты были другие, с видом на море, а не на улицу. Район понравился очень, хотя там немного ресторанов и до магазинов пешком неблизко. У нас была машина, проблем не было. Тихо и спокойно. Рекомендую.
Dmitry
2015-06-29T00:00:00Z
Прекрасное расположение, рядом рестораны, кафе, магазины, 5 минут от моря, при этом тихо и спокойно. Очень радушные хозяева ( родители Орацио). Просторные комнаты, хорошо оснащенная кухня, чисто и уютно! Всем рекомендуем этот великолепный дом!
Ksenia
2016-07-20T00:00:00Z
Excellent accueil de Léo (maman d'Horacio) . Adorable, très serviable . Nos deux enfants l'ont adoré , sans oublier Emilio son mari , qui est tout aussi gentil . A notre arrivée le samedi après un long trajet en voiture, nous avions eu l'heureuse surprise d'avoir une bonne pastèque et boissons fraiche , ce qui fut très appréciable. Nos échanges quotidiens, nous permettaient de nous sentir comme à la maison. L'hebergement correspond bien à la description détaillée sur le site .Très bien situé , à 100 m de la petite plage charmante avec ses petits concerts de soir sur le sable. La petite terrasse de l'appartement est très agréable ou nous apercevons la mer . MERCI et au grand plaisir de se revoir Léo et Emilio. Bonne santé à vous.
Christophe
2015-07-26T00:00:00Z
We spent an joyful vacation at this place. For a family with kids it was just perfect. The beach is hundred meters away, just go down to a cliff by stairs and you will get on quiet and private beach with clear sea and bar with cold drinks. There is railroad next to villa, after one day you got used to the train sound and don't mention them, cause there is just single track and it takes 3-4 sec for train to pass by. Horacio gave good navigation of local stores and wineries around and his parents was really welcoming people. Certainly we will get back there next times. We even left our beach umbrella and other stuff just not to carry them next time :) Beautiful place and people!
Andrei
2015-07-18T00:00:00Z
Des notre premier contact, Horacio a été très patient et très disponible. A notre arrivée, sa maman et son papa nous ont accueilli formidablement. Logement proche de la mer et de toutes les commodités. Toute la famille s'est régalé pendant le séjour et nous avons pu profiter des conseils de la maman d'Horacio pour des endroits à visiter. Appartement parfait pour une famille qui recherche le calme et la plage.
Laurent
2016-08-07T00:00:00Z
Были у родителей Horacio уже второй раз, в этот раз именно в тех апартаментах, что на фотографиях. Кроме улицы, с балкона и море видно, на самом деле. Отдыхом довольны очень! И район, и море, и пляжи... Ресторанов и магазинов вблизи немного. У нас была машина, проблем не было. Тихо и спокойно. Родители Horacio очень добрые и отзывчивые. Спасибо им большое за всё, а также отдельно за помощь их друзей в оживлении нашей машины, в которой аккумулятор опустошился.
Dmitry
2016-07-06T00:00:00Z
Nous avons été très bien reçus par la maman d'Horacio qui est très gentille et très attachante ainsi que son papa. Belle surprise à notre arrivée les lits etaient faits, de la pastèque et de l'eau fraiche au frigo. Appartement au calme, très bien situé près de belles criques. Appartement à recommander
Jean Pierre
2016-08-27T00:00:00Z
Kamertype
Gehele woning/appartement
---
Type woning
Appartement
---
Geschikt voor
4
---
Slaapkamers
Mont-roig del Camp, Catalonië, Spanje
Attracties. U zult genieten van mijn ruimte voor de locatie, het uitzicht, en de sfeer. Mijn accommodatie is goed voor koppels, gezinnen (met kinderen) en huisdieren.
Het ligt op een ideale locatie voor een vakantie woonwijk familie, is het appartement volledig uitgerust, heeft een woonkamer, keuken en volledig uitgerust met vaatwasser, koelkast, oven en keukengerei, badkamer met ligbad, twee slaapkamers, een tweepersoonsbed bed van 1,50 m. en een met twee enkele bedden van 0.90 met kasten. Een terras met tafel en stoelen.
Kamertype
Gehele woning/appartement
---
Type woning
Appartement
---
Geschikt voor
6
---
Slaapkamers
Miami Platja, Catalunya, Spanje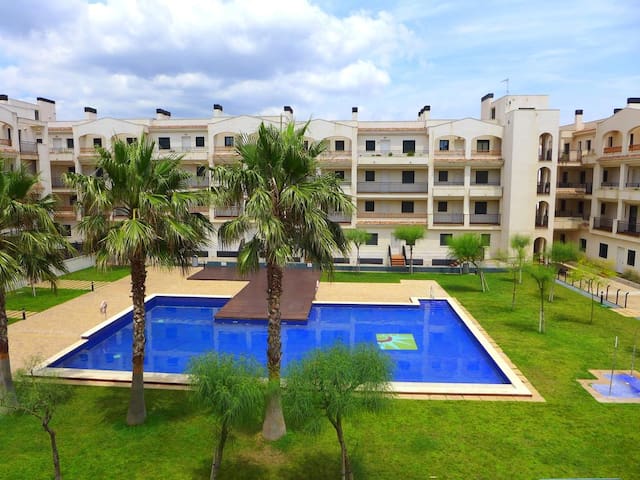 Mon logement est face à la plage, proche de Cambrils, Salou, du parc Port Aventura, de Tarragone et Reus (aéroport), du parc naturel du détroit de l'Elbe, de chemins de randonnées et VTT dans la montagne, de Barcelone... Vous apprécierez mon logement pour la vue front de mer, la piscine, le confort (clim, 2 douches, TV satellite), le quartier (jeux pour enfants, restaurants le long de la promenade de la plage). Mon logement est parfait pour les couples et les familles (avec enfants).
Appartement au 4ème étage (avec ascenseur) avec emplacement de parking à l'intérieur de la résidence.
Poco que decir! Todo perfecto! El sitio inmejorable, en la primera línea de la playa Cristal, unas vistas estupendas! Apartamento esta tal cual como en las fotos, muy tranquilo. Llegamos una hora antes, y sin problema, a cualquier pregunta Delphine contestaba en seguida. Sitio de 10! Muy recomendable!
Victoria
2016-09-04T00:00:00Z
Kamertype
Gehele woning/appartement
---
Type woning
Appartement
---
Geschikt voor
5
---
Slaapkamers
Mont-roig del Camp, Catalunya, Spanje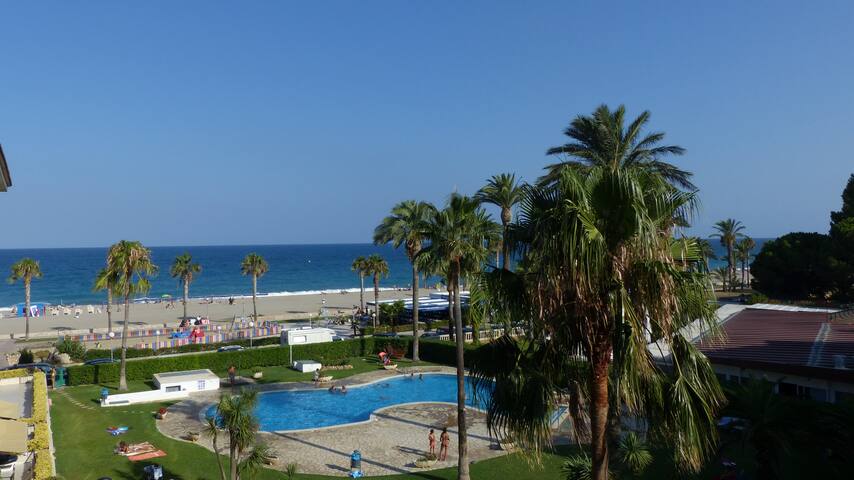 Apartamento de 90 mts totalmente equipado, dispone de huerto familiar y barbacoa. A 5 min. de la playa, 15 min de port aventura y 15 min de la sierra de llaveria. Tranquilo y acogedor, disfrutarás de tu paso por la costa dorada.
Un apartamento amplio, muy acogedor y muy bien soleado con todas las estancias al exterior.
Zona muy tranquila con muy buen ambiente entre los vecinos.
Really like this place.
Elena
2017-03-15T00:00:00Z
Magnifique appartement , très bon acceuil lors de notre arrivé nous sommes 5filles qui on passer un exellent séjour dans cette ville agréable , Juan est une personne très gentil , toujours la en cas de besoin et toujours souriant , merci pour tous
Dalal
2015-08-30T00:00:00Z
Juan Carlos est un hôte très sympatique et qui donne de bons conseils. L'appartement est très joli et très bien équipé. On apprécie la décoration, les grandes pièces et la climatisation. La maison est bien située dans un endroit calme. Toute la famille a beaucoup aimé.
Patrick
2015-08-16T00:00:00Z
Desde que llegamos al apartamento, Juan Carlos fue muy cordial con nosotras y nos enseñó todo lo que debíamos saber (funcionamiento de los electrodomésticos, supermercado, etc). El apartamento está situado en una zona tranquila y muy acogedora. El piso estaba muy limpio y ordenado y todo lo que necesitábamos estaba a nuestra disposición. Ha sido una suerte encontrar este apartamento y lo recomendamos al 100%! Muchas gracias por todo Juan Carlos y Marc!
Marta
2014-08-23T00:00:00Z
Nous avons passé d'excellentes vacances. Accueil convivial, amical et chaleureux , très sympathique le propriétaire Juan Carlos . Nous recommandons vivement cet appartement , vous ne serez pas déçu, il convient parfaitement pour famille avec enfants, l'appartement est spacieux et très propre, il est très bien agencé et avec goût. Situé dans un quartier résidentiel bien au calme "à 5 minutes de la plage" et de tous commerces . Nous garderons un excellent souvenir. MERCI JUAN Manuel Christine et les enfants
Manuel
2014-08-18T00:00:00Z
El apartamento de JC es perfecto. Amplio, bien decorado y con todo lo necesario. El es una persona muy atenta y facilita mucho la estancia. Una pena no haber tenido tiempo para disfrutar mas de la casa y sobretodo, de la barbacoa :) Sin duda repetiré.
Bernardo
2016-12-17T00:00:00Z
Everything was great
Craig
2017-03-26T00:00:00Z
Незабываемый отдых, замечательные апартаменты, большая площадь квартиры позволила чувствовать себя комфортно всем членам нашей семьи. В квартире есть все необходимые удобства и даже больше. Рядом находится большой супермаркет, до моря 15 минут пешком, на машине 3 минуты. Хуан Карлос очень добрый и отзывчивый, спасибо ему большое за гостеприимство. Мы с удовольствием вернемся еще раз.
Сергей
2014-08-08T00:00:00Z
Kamertype
Gehele woning/appartement
---
Type woning
Huis
---
Geschikt voor
6
---
Slaapkamers
Mont-roig del Camp, Tarragona, Spanje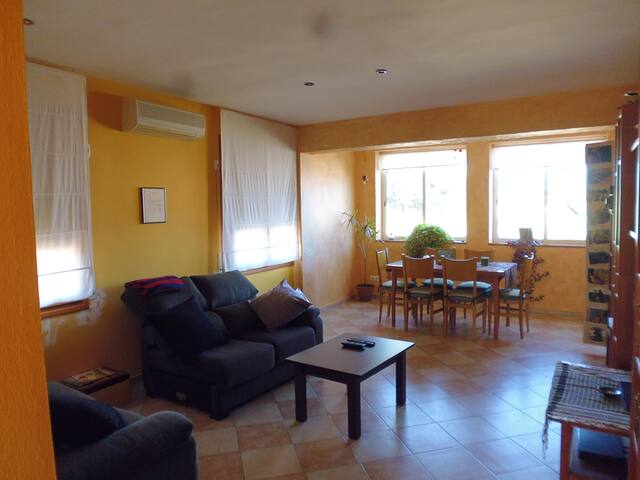 cozy apartment, 1 bedroom with double bed and wardrobe, 1 bedroom with 2 single beds, exterior very bright, beautiful views, quiet area of natural coves, wide range of restaurants and supermarkets
Entrance door. 1 double bed of (PHONE NUMBER HIDDEN) single beds, wardrobes, kitchen, oven, microwave, hob, dishwasher, refrigerator, crockery, cutlery and utensils, linens and towels. Heating and air conditioning
very quiet area, with wide range of restaurants and supermarkets
Kamertype
Gehele woning/appartement
---
Type woning
Appartement
---
Geschikt voor
4
---
Slaapkamers
Miami Platja, Catalunya, Spanje
Lugares de interés: Port Aventura y FerrariLand a 15 minutos, Playa Cristal una de las mejores de Cataluña a 5 minutos.. Mi alojamiento es bueno para parejas y familias (con hijos).
Jättetrevlig! Fin fräsch lägenhet. Lugnt område, trevliga grannar, (gåavstånd) nära till strand, mindre affärer, supermarket. Vi var där i 2 veckor och vi trivdes jättebra och återkommer gärna!
Sanna
2016-07-07T00:00:00Z
Super merci Marti !
Mehdi
2016-08-30T00:00:00Z
Nous avons passé un très bon séjour dans l appartement de MArti. L appartement est propre, clair et bien agencé. Il y a tout ce qu il faut (prévoir draps et serviettes). Marti est un hôte très agréable et arrangeant. La terrasse et la piscine sont de vrais plus ! Je recommande ;-)
Malik
2016-07-20T00:00:00Z
Kamertype
Gehele woning/appartement
---
Type woning
Appartement
---
Geschikt voor
4
---
Slaapkamers
Montroig, Catalonië, Spanje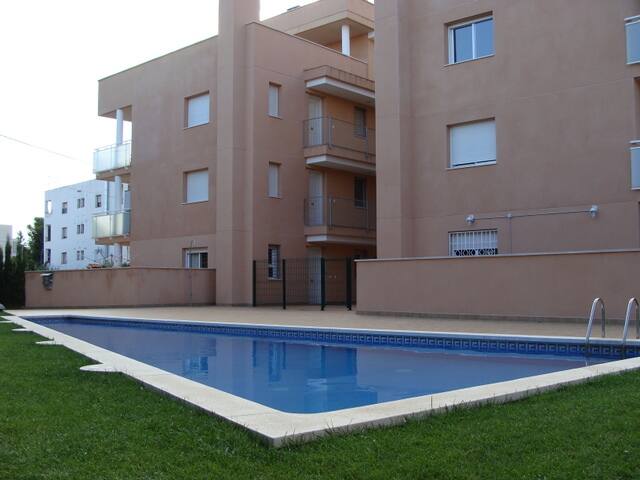 Loft appartement met meerdere kamers voor 4 personen (een tweepersoonsbed en een slaapbank twee plaatsen). Ideaal voor alleen of met kinderen koppels. Optimale locatie dicht bij het strand.
Het hok heeft alles wat nodig is om het verblijf heel plezierig gasten. Het is een lichte ruimte met uitzicht op de zee, meer bepaald aan de Cala del Misteri dat is 80 meter verderop. Amerikaanse keuken met een ontbijt bar met krukken en koken is inclusief alle benodigde kookgerei en borden, glazen, bestek, kookplaat, koelkast, vriezer en magnetron met grill. De badkamer is voorzien van handdoeken, gel, shampoo en heeft een grote en comfortabele douche. Er is een tweepersoons bed 1,60 x 2m en een slaapbank van dezelfde maatregelen. Het appartement bestaat uit lakens voor twee bedden. Er is een kledingkast en een commode voor opslag. In de woonkamer is er een bank, salontafel, eettafel, stoelen, TV, DVD en airconditioning met warmtepomp. Er is een terras met tafel en stoelen waar u lunch of diner aan zee . De apartametno is volledig gerenoveerd met parket.
De wijk is een rustige wijk van Miami. Naast het appartement zijn er alle noodzakelijke diensten: supermarkt, apotheek, restaurants, bushalte om naar de nabijgelegen dorpen, etc. Om naar het strand ga je naar het einde van de straat waar sprake is van een viaduct aan het spoor over te steken, en waar we de Cala Misteri. Dit gebied is vol met verschillende baaien langs de kust, de baaien hebben meestal strandtenten. Als u wilt gaan naar een grote strand, 2 km van het appartement is Playa Cristal watersport biedt. Vanuit Miami kunt u ook een bezoek brengen vele gebieden van belang: Porta Aventura die 20 minuten, 15 minuten Cambrils, Salou 20 minuten, het Delta de l'Ebre tot 410 minuten Hospitalet de l'Infant is de zijde (5 min) en heeft een jachthaven vol restaurants.
Kamertype
Gehele woning/appartement
---
Type woning
Appartement
---
Geschikt voor
4
---
Slaapkamers
Miami Platja, Catalunya, Spanje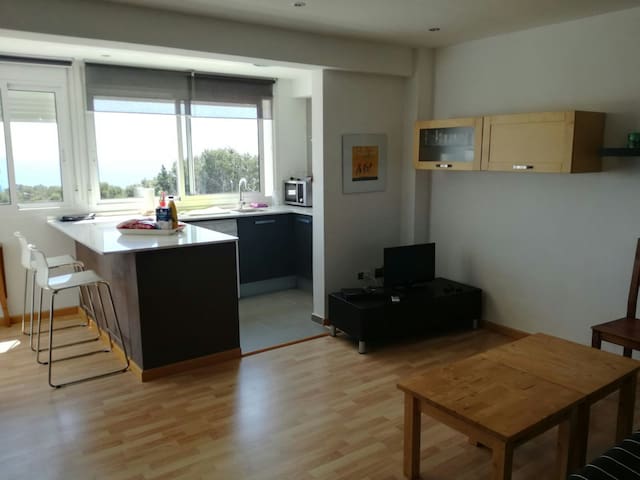 apartment overlooking the sea, very bright and comfortable located in a quiet area.
Ideal for couples. Family with two children (there is a transformable furniture in bed for one more person)
Kamertype
Gehele woning/appartement
---
Type woning
Loft
---
Geschikt voor
4
---
Slaapkamers
L'Hospitalet de l'Infant, Catalonië, Spanje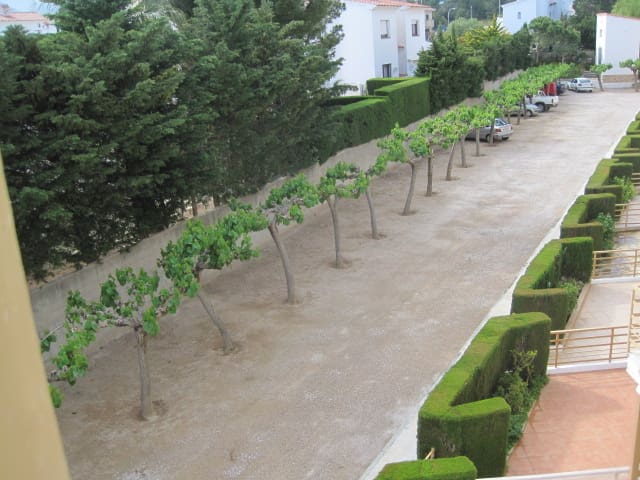 Kleines Haus mit Garten in einem ruhigen Wohngegend 3 km von den Stränden und 20 km von Port Aventura und Ferrari Land. In der Anlage gibt es öffentliche Verkehrsmittel, Bars und ein Supermarkt.
Kamertype
Gehele woning/appartement
---
Type woning
Huis
---
Geschikt voor
4
---
Slaapkamers
Miami Platja, Catalunya, Spanje
The second floor of the villa = a guesthouse area. Suitable for 2 persons with 2 beds, 2 chairs, bathroom and terrace with table, chairs and awning. Total Privacy: TV, Wi-Fi, air conditioning and heating. There are coffee (melita type), available with filters, coffee and water to the tank. Between Cambrils i l'Ametlla de Mar. Tranquility and relaxation. For restless and curious people it is an excellent place to find a unique territory that will surprise the visitor geographic point.
La zone de location fait partie d'une maison familiale de deux étages. l'entrée est partagée, hall d'entrée et une partie du jardin. - Les clients peuvent utiliser le réfrigérateur domestique général pour garder les boissons au frais. En outre, ils peuvent utiliser le micro-ondes pour chauffer lattes, couper ou de thé. - Pour nettoyer les vêtements personnels que nous offrons au visiteur la machine à laver générale dans la maison. - En été, les clients peuvent avoir le stockeur général de la maison pour éteindre les serviettes de plage sèches. Il est situé sur un côté du jardin. - L'armoire à pharmacie est le général de la maison (pas qu'il y ait une disposition dans l'appartement) et nous fournissons l'hôte qui nécessite ara choses fondamentales. - Lorsque nous signalons qu'il ya espace de travail avec Internet, nous voulons dire que la connexion LAN Wi-Fi, il est pour toute la maison et par conséquent cela comprend l'appartement à louer.
It is an area of chalets formed long before tourism came to the Costa Dorada. This space is located on the sea front and next to the marina.
We really enjoyed our stay in Marc and Maria's house. The apartment is just one street away from the beach! The room was very clean and large. Maria and Marc are very kind and friendly. They invited us for a drink, gave good suggestions about places to visit in the area and were always available for conversation (in Spanish or French). On a bien aime notre sejour chez Marc et Maria. L'appartement est tres proche de la plage. La chambre est tres propre et grande et la terrasse sur le toit tres magnifique. On voit la mer du terrasse. Maria et Marc sont tres gentilles. Ils ont nous invite pour l'apero, donner d'information sur des endroits a visitie et ils sont toujour disponible pour un conversation (en Espagnol et Francais).
Barbara
2016-08-01T00:00:00Z
Marc y María son encantadores. Te reciben como si fuera de sus amigos, toman el tiempo de darte informaciones sobre la zona, sus restaurantes preferidos... El alojamiento es muy agradable con terraza et baño privados. Ha sido una muy buena estancia y repetiremos.
Mathieu
2016-08-22T00:00:00Z
Marc et Maria Félix sont très charmants.ils ont décoré avec goût un espace agréable avec terrasse privative donnant vue sur la mer.la plage est vraiment très proche et la région est magnifique .ils aiment faire connaître toutes les curiosités et sont de très bon conseil.
BEATRICE
2016-09-04T00:00:00Z
The host canceled this reservation the day before arrival. This is an automated posting.
TATIANA
2016-07-21T00:00:00Z
Дом очень удобный. Марк и Мария очень любезны и отзывчивы.
Liudmila
2016-07-17T00:00:00Z
Tant en Marc com la Maria Felix han estat molt amables i ens han aconsellat en allò que hem demanat. L'habitació és molt comfortable i la ubicació de la casa immillorable. Tot estava netíssim. Es pot deixar el cotxe al mateix carrer de manera gratuïta.
MIreia
2016-06-26T00:00:00Z
Kamertype
Privé Kamer
---
Type woning
Chalet
---
Geschikt voor
2
---
Slaapkamers
L'Hospitalet de l'Infant, Catalunya, Spanje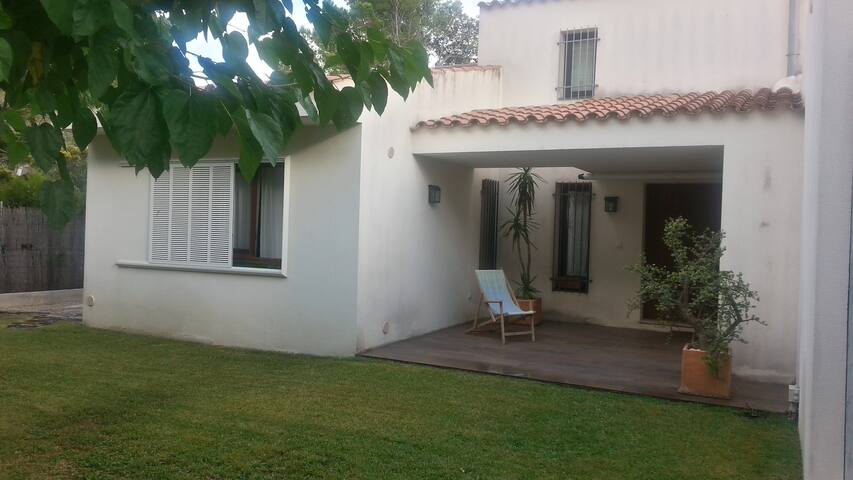 New fully equipped apartment, 10min walk from the beach and 10 min drive from Salou: portaventura. Ideal for 4 persons, large terrace, air conditioning, comfortable, rooftop pool. Close to all amenities, restaurants, parks children + parking
Rooftop pool with stunning views of the sea and mountains with new benefits and qualities. (Air conditioning, heating, refrigerator, flat screen tv, freezer, dishwasher, oven, coffee maker, cook robot, hairdryer, iron etc ...) private parking garage. Also the apartment is equipped to accommodate baby indeed up there sue high chair, cot and stroller
The beach, restaurants, shops, attractions
Nous avons passé 10 jours très agréables dans ce bel appartement. Le lieu est propre et bien équipé avec une superbe piscine sur le toit de l'immeuble. La station est à taille humaine et les plages sont de très bonnes qualités. L'accueil et le suivi de Rémy sont exemplaires. A recommander et à recommencer. Mikael
mikael
2015-07-24T00:00:00Z
Rémi est très sympathique. Appartement conforme aux photos. Séjour très agréable.
Jessica
2015-08-19T00:00:00Z
Hemos pasado la Semana Santa en el apartamento de Remi. Éste, está situado al lado de la estación y justo encima de un supermercado. Tiene garaje y piscina en la azotea. Ésta última nosotros no la hemos utilizado. Tiene 2 parques cercanos para niños, un bar y farmacia también al lado. El piso está muy bien equipado, tiene de todo, es pequeño pero funcional. Al llegar nos encontramos con un problema en el apartamento, pero se pudo solucionar. La comunicación con Remi es rápida y buena, siempre está atento por si pasa algo. También una inmobiliaria cercana puede atenderte en caso necesario. Por lo demás Hospitalet del Infant nos ha encantado. Es un pueblo pequeño, llano en general, con bastantes parques y paseos. Variedad de supermercados y oficina de información y turismo. Nuestra experiencia ha sido buena, no descartamos volver.
Jon
2016-04-01T00:00:00Z
El apartamento de Remí ha cumplido mis expectativas y lo he disfrutado mucho. Viendo el perfil de la propiedad resulta evidente que se trata de un apartamento turístico, típico de la costa Brava. Pero hay algunas diferencias: el edificio y las instalaciones son nuevas, la cocina parece a estrenar, el baño es correcto con muy buen caudal de agua, la terraza es interior y rodeada de vecinos del edificio, en la terraza comunitaria hay dos enormes piscinas para el primer chapuzón del día, la plaza de garaje es un plus, en el mismo edificio hay un Carrefour enorme y en frente la estación de trenes del Hospitalet del Infant (por suerte de noche circulan pocos trenes ya que puedes oírlos desde la cama) Tanto Remí como Sandra han sido muy amables y han contestado rápidamente mis preguntas y mensajes. Vengo con frecuencia a esta zona, conociendo el tipo de apartamentos y habitaciones que puedes encontrar, definitivamente volveré a casa de Remí. Estanis y Rod English version: The apartment met my expectations and i enjoyed my time there. Reading the profile, you can tell that it is a holiday rental, as it is not personalized like most Airbnb homes. This is typical of the Costa Brava. Remí had only just purchased the apartment, and he says that they will be making it homey when they spend time there this summer. Here is the rundown…. THE BUILDING: the building is new and clean and is over a huge quality supermarket , there is an indoor secure parking space, it is opposite the train station (there are not many trains at night as you can hear them in bed), there is a comunal terrace with two huge swimming pools with an amazing view. THE APARTMENT: The kitchen is as if you are the first person using it, the terrace is interior – meaning you are overlooked by the whole building, the bathroom has lots of hot water, the space is clean and tidy. Remí and Sandra were very friendly and were excellent with their communication. I go often to this area, and know the standard that you will find here, and i will definitely return the Remi's place. Estanis and Rod
Rod
2014-07-16T00:00:00Z
The host canceled this reservation the day before arrival. This is an automated posting.
Fifi
2016-08-26T00:00:00Z
Nous avons passer un agréable séjour à lhospitalet de l infant, idéal pour les familles, l'appartement est très bien équiper . L équipement pour les enfants en bas âge est un plus qui nous a bien servi ( poussette et lit bébé) . Rémi est très agréable, joignable a tout moment et de bon conseil. Nous ne pouvons que recommander cet appartement qui est idéalement situer car on peu tout faire à pied, plage, port, centre ville ( le plus un hypermarché juste en bas de l immeuble ) , idéalement équiper , nous sommes ravi et remercions Rémi
Lahcen
2016-08-07T00:00:00Z
Nous avons passé un excellent séjour entre amies a l'hospital del infant, il s'agit d'une petite ville très charmante, animée et bien située. L'appartement est très moderne et très bien équipé, avec une grande terrasse et une piscine sur le toit; il est aussi très bien situé, proche du centre et de la mer, avec un supermarché en bas de l'immeuble. Nous avons été très bien accueillies sur place Bref nous recommandons vivement cette location!
Elise
2015-07-04T00:00:00Z
Kamertype
Gehele woning/appartement
---
Type woning
Appartement
---
Geschikt voor
4
---
Slaapkamers
L'Hospitalet de l'Infant, Catalonië, Spanje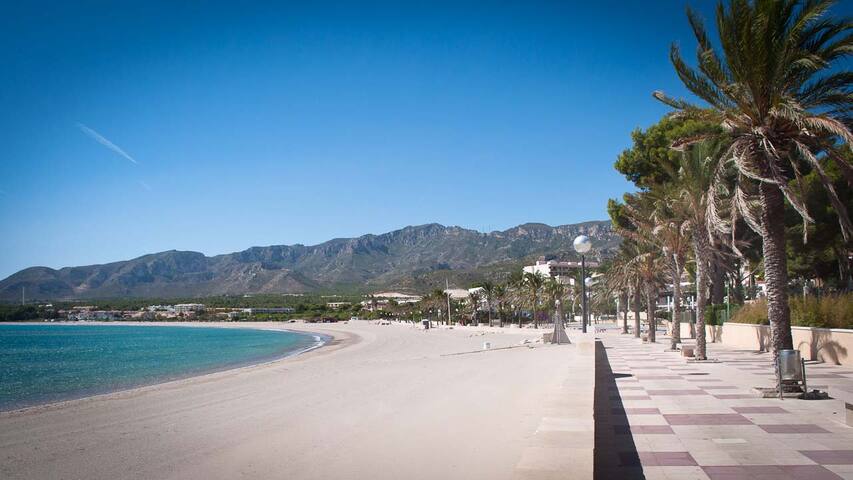 New fully equipped apartment. With wifi, conditioner, dishwasher, washing machine. Perfect place for families with children! Private swimming pool. Free parking. 5 min. walk to children's playground. In Miami a lot of sports centers - windsurfing, catamaran, bicycle rent. 25 min drive by car to Port Aventura.
One of the cleanest beaches in Costa Dorada - "Cristall" to walk for 3 minutes. Wide coastline with restaurants, children's playground, beautiful sandy beach.
En Miami un montón de centros deportivos - windsurf, catamarán, canoas, bicicletas de alquiler.
...
Claudia
2016-08-24T00:00:00Z
A very nice and quiet neighbourhood with everything necessary close by. A big shop just 5 minutes away by foot. The beach is very close with a nice promenade and restaurants. Stunning view from the terrace. A very good choise for family vacation.
Ivari
2016-08-30T00:00:00Z
Спасибо за прекрасный отдых! Новая хорошо оборудованная квартира с изумительным видом на море. Романтичная лестница к морю и ухоженный просторный пляж. Доброжелательная, готовая помочь хозяйка.
Irina
2016-09-09T00:00:00Z
El apartamento genial, muy limpio y cómodo, una zona muy tranquila, con piscina, parking... La única pega es que NO está a 50 metros de la playa, está a unos 10 minutos andando porque no es ni primera ni segunda línea de playa.
Daniel
2016-06-27T00:00:00Z
Je vous recommande cet appartement ! il est bien équipé, calme. Merci a Svetlana.// I recommend this apartment! it is well equipped , quiet . Thank you to Svetlana .
laure
2016-08-17T00:00:00Z
Franchement je vous conseille cette appartement J'ai passer 4 merveilleux jours , n'hésitez pas à réservez vous aller pas le regretter
Wassil
2016-07-18T00:00:00Z
Nice apartment close to the beach, albeit too small for the 5 of us. Balcony has great sea view. Friendly host, responding promptly to any questions. Clean apartment although the sewer was rather smelly.
Willem
2016-08-08T00:00:00Z
The host canceled this reservation 3 days before arrival. This is an automated posting.
Miriam
2017-04-12T00:00:00Z
Kamertype
Gehele woning/appartement
---
Type woning
Appartement
---
Geschikt voor
5
---
Slaapkamers
Mont-roig del Camp, Catalunya, Spanje