We are close to public transport and parks. You'll love my place because of the views, the location, and the people. My place is good for couples, solo adventurers, and business travellers. Mirboo North is a lovely friendly town, with several lovely coffee shops, a world class brewery and an excellent pub for a meal. There is also a library, gift shop, chemist, IGA store with bottle shop and newsagent. If you like walking or cycling we have the rail trail to Boolarra, approx 13km in length.
Private entry for guests to come and go as they like. Close to lovely walks only minutes from state forest. Lots of places to explore. Interesting small township which is very friendly. Great places to eat and have coffee - within walking distance. Your space has it's own entry - facilities in room include TV, microwave, fridge, coffee machine, kettle, crockery and cutlery. We are happy to supply breakfast which can be eaten on the verandah in warmer weather or at your own outdoor table and chairs.
We are on the edge of town, yet within walking distance. Only minutes from stunning views of potato country - i.e. greenery and wonderful contrasting loamy soils. Mirboo North is one of the prettiest towns in the Gippsland, but then we're biased as we chose to live here. It's very hilly and very green.
Highly recommend theis Airbnb, comforable, immaculately clean and Sue and Brian were wonderful hosts, even taking us for a drive to see some of the local sites. Great beer at the local brewery and great coffee at the local bikie cafe as well.
Danielle
2017-03-12T00:00:00Z
We loved our stay here! Sue and Brian were so friendly, welcoming and helpful. The room had everything we needed and then some.
Joey
2017-03-21T00:00:00Z
Very clean and comfortable accommodation with friendly hosts, Sue and Brian, who will go out of their way to make sure your stay is a positive one. Well stocked fridge. Advice re: local walks was excellent.
sally
2017-04-07T00:00:00Z
I really enjoyed my stay at the house of Sue and Brian! Very nice people with a beautiful house. If you like to you can have a very private time. But if not the two probably would help with anything needed. Thanks for the sightseeing tours, Brian!:)
Sabrina
2017-02-23T00:00:00Z
nous avons passé un super séjour. nous recommandons fortement.
Léa
2017-01-11T00:00:00Z
Lovely secluded private space for guests with separate entry, set on fabulously landscaped gardens. Sue & Brian were fantastic hosts going that little bit extra to ensure our stay was memorable.
Damian
2017-01-13T00:00:00Z
Sue was most welcoming! Her place is lovely with everything you need. Coffee, breakfast and homemade cookies! A comfortable private room well situated near town and the grand Ridge trail. Sue was very helpful during our stay.
Allison
2017-01-26T00:00:00Z
Sue and Brian were wonderful hosts! Even before we arrived they let us know about a local festival and were very flexible when our arrival time was uncertain. We pulled up to their home through a beautiful garden and were greeted by Sue who showed us to our private suite. After walking through we were amazed to learn we were their fourth guests as they had thoughy of everything visitors might need. We soon met Brian who invited us in for coffee and homemade cookies before volunteering to take us on an hour-long tour of Mirboo North. We learned a lot about the history of the town, saw some amazing views and many things we may have otherwise missed. Our room and the attached private bathroom (with separate toilet) were spotless, the bed extremely comfortable and the selection of breakfast was outstanding. This was the best AirBNB we have stayed at and would rate out stay six stars if we could!
Mike & Anna
2017-02-12T00:00:00Z
Kamertype
Privé Kamer
---
Type woning
Huis
---
Geschikt voor
2
---
Slaapkamers
Mirboo North, Victoria, Australië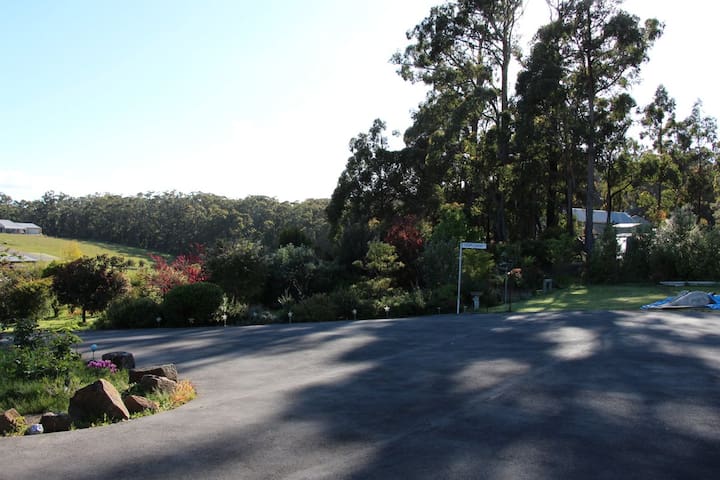 Stand alone very private apartment, Full kitchen, tastefully decorated, situated in beautiful rural setting, only minutes to town centre, many great walks with nature and fabulous views, wake up and go to sleep to sounds of laughing kookaburras and other native birds. Complementary Continental breakfast offered for one day only.
Peaceful, country experience, town only 3ks away, many scenic walks and wild life out and about at dusk, also experience a real working escargot farm. For more information on our farm and restaurant menu go to our cafe escargot web page.
Take in the fantastic view, and at dusk walk, ride or drive around the 6km block around our place, and experiencing the different working farms, and wild life , also many other attractions in the area.
I would definitely recommend this beautiful place for a relaxing mental escape.
Lorraine
2017-03-13T00:00:00Z
A great place to stay if you are travelling in Gipsland. The accommodation is clean, comfortable and spacious. We had a great meal in the restaurant on Christmas Eve but family commitments meant we couldn't go again. Vincenza and Doug were very hospitable.
Nigel
2016-12-26T00:00:00Z
Location was great being close to the town. Quiet and calm surroundings. Hosts were informative and always accessible.
Gethsi
2017-01-10T00:00:00Z
En pleine nature, calme et cosy ! Nous avons très bien dormi... La prochaine fois nous testerons le restaurant dont la spécialité est très française - les escargots ! (On regrette d'avoir eu d'autres obligations qui nous ont empêchés d'y goûter...)
Ayse
2017-01-01T00:00:00Z
Self-contained unit was exactly what we were looking for. Their business means that a large range of additional services were available too.
Brendon
2016-10-14T00:00:00Z
Vincenca and Doug both made is feel very welcome. Treated us like we were family or friends. The meal we had Saturday morning night was impressive and tasty, as was out fill breakfast the following day. Would have no hesitation in recommending them to other people and will definitely stay there again if we are in the area. Thank you both for a lovely stay.
Sue
2016-03-08T00:00:00Z
This stay fitted what I was looking for, a quite getaway and I thought it was exceptional value. I was greeted immediately on arrival and shown to my accommodation. There is a restaurant on the property and was asked if I would be eating there that night and was told to phone if I had any questions or required anything. The accommodation was above my expectations, in a quite rural area. I highly recommend it.
Alan
2016-10-23T00:00:00Z
We had a good time at Vincenza's place. The apartment is very clean, private and you are surrounded by picturesque country side. The hosts are very communicative and friendly. Would recommend for a relaxing getaway.
Mihaela
2016-10-26T00:00:00Z
Kamertype
Gehele woning/appartement
---
Type woning
Appartement
---
Geschikt voor
2
---
Slaapkamers
Mirboo North, Victoria, Australië
Set in a pretty little garden with table and chairs for outdoor eating. The house has polished floors throughout, a cosy open fire, is comfortable and clean. Every bed has a cosy doona and each room has a garden view. Fully eqipped kitchen
Set in a pretty little garden with table and chairs for outdoor eating. The house has polished floors throughout, cosy fire, is comfortable and clean. Every bed has a cosy doona and electric blanket, each room has a garden view. Fully eqipped kitchen 70 acres of pasture and forest. Lovely long walks around our farm. Watch the feeding of the alpacas, help collect the eggs. We have bees for our own honey, we bottle fruit from our fruit trees - apples, pears, peaches, plums. Cherries, blackberries, blueberries, walnuts and Nashis when in season. Our alpacas birth their crias from mid November to the end of January so you are bound to see some young ones running around. Shearing is in the month of November. Why not spend some of your time taking one of our friendly alpacas on an alpaca walk - either short or long...or visit our alpaca shop and look at Brigitte's wonderful felting. There are certain parts of our farm that are off limits, but these change during the year. Guests will be made aware of these when they check in. We are always available to help you during your stay. We encourage our guests to join us in our alpaca duties, not to help, but to see and participate in the running of our farm. We are almost 5km from Mirboo North and 26km from Leongatha. There are local buses from Mirboo North to both Leongatha and the Latrobe Valley. Please let us know if you would like a timetable. Even in summer, it can get cold on our farm so we advise guests to bring something warm to wear, and also footwear appropriate for farm wear and/or wet weather.
Nice and peaceful. Loved it. Brigitte and her husband were very welcoming. My mom loved talking to her. The house was good for the price. Could do with a touch up in places, but good enough for a short stay. The alpacas were the stars though. We got to cuddle baby alpacas :)
Mardi
2016-01-04T00:00:00Z
Dear Brigitte, First & foremost, thank you very much for having us for the stay at your place between 4th to 6th July 2016. Alpaca farm stay was such a wonderful experience. Though it was very cold during that period but there was no regrets. It was a special experience as we get to hug & pat the alpacas especially cuties, they were so adorable. Seeing them walked around the farm so freely I also had that sense of freedom. I even had the chance to witness the bottle feeding for Cutie, so exciting!! It was my very first experience. The scenery was so beautiful, the place was very quiet and relaxing, especially after the shower of the rain, it looked so green with a little misty, splendid view!! The house we stayed in was clean & car parking was so convenient. Brigitte thanks for being so caring. We were so touched when we reached the farm and saw that you had already set up the fire for us cause it was so cold that night. So cool, a real fire place!!, where we could physically add in firewood to obtain extra heat for the living room while watching tv. Thanks for being so generous to allow us to go round the farm & the alpacas' hut to have close contact with the alpacas whenever we wish to. Unfortunately, it was raining so we didn't take that privilege.
Patrica
2016-07-06T00:00:00Z
Absolutely fantastic stay! Came from Sydney with a few friends and was immediately made to feel welcome. Brigitte gave us a tour of the farm, we got to meet a baby alpaca and assisted with the milking of another. Rooms were very comfortable with a lovely bathroom. We (a group of 20 year olds) could not have asked for a better stay. Very generous hosts, would definitely recommend a stay. The view was incredible, watched a beautiful sunset surrounded by the valleys of Victoria.
Charlie
2015-12-29T00:00:00Z
We had a lovely stay in the cosy and rustic cottage at the farm. Keith and Brigitte are very friendly and we enjoyed cuddling the alpacas! Would highly recommend for a family stay, would be a great experience for kids.
Karishma
2016-09-17T00:00:00Z
Brigitte and Keith made us feel very welcome. We enjoyed meeting the alpacas and getting to know their various personalities. The house was clean, comfortable and large enough to accommodate our group of 5 (3 adults, 2 children). And the view from the farm was lovely. This was a great place to stay and would recommend it to anyone, especially families.
Ross
2015-12-27T00:00:00Z
The views really are amazing! As are the alpacas. We had a great stay - the cottage is comfortable and we really enjoyed the indoor fireplace. Brigitte and Keith were extremely friendly and generous with their time, introducing us to the alpacas and showing us around their garden and orchard.
Emily
2016-09-25T00:00:00Z
It's a good and a quiet house to stay, the host is nice!
Yiming
2016-05-10T00:00:00Z
Brigitte was very welcoming and friendly towards our little travelling party. We were a group of 8 young adults and she got ready an extra bed for us so no one had to sleep on the couch. We had a fabulous time getting to know her alpacas, her farm of chickens, fruit trees, vegetable garden and her dogs. I could not have asked for a better experience. We thoroughly enjoyed our stay because of of such an encounter with nature, guided by a generous and enthusiastic host. I am sure we will be back to bring friends and family to visit such an unusual Airbnb location.
Esther
2016-03-26T00:00:00Z
Kamertype
Gehele woning/appartement
---
Type woning
Huis
---
Geschikt voor
7
---
Slaapkamers
Mirboo North, Victoria, Australië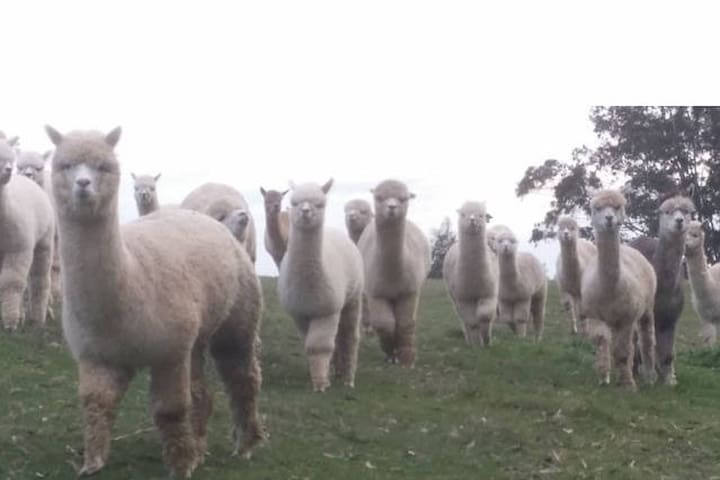 We are close to everywhere! We are 90 minutes from the snow at Mt. Baw Baw, 50 minutes to the ocean at Inverloch, 90 minutes from Corner Inlet and Wilsons Promontory, 120 minutes from the centre of Melbourne, 60 minutes from Tarra Bulga National Park, 5 minutes from the Grand Ridge Brewery and its restaurant and bar - and light years away from stress!.
We are 2 ½ kms from Mirboo North and so you can pop into town for a coffee, meal or a drink and be home quickly. That said, you can sit on the deck and watch the Milky Way blind you at night, since we have little light interference from any township of size. Listen to the frogs croak in our creeks, hear the foxes calling late at night and and our owls hoot in the still night air.
Mirboo North is a special place. The rolling hills, green paddocks, cows everywhere and friendly locals means we have been blessed moving to this town. 2500 people are our neighbours and there are something north of 67 community organisations registered in Mirboo North. So the people here are friendly, resourceful and independent. It's a farming community first and foremost, with a rich tradition of immigrant nationalities settling here to make their life, from the late 1800s to today. Tractors on the road, stock on the road, trees down in bad weather, friendly waves as you pass all of this as part of the Mirboo North experience across a year. You'll feel alive again after a weekend here!
Kamertype
Gehele woning/appartement
---
Type woning
Bungalow
---
Geschikt voor
4
---
Slaapkamers
Mirboo North, Victoria, Australië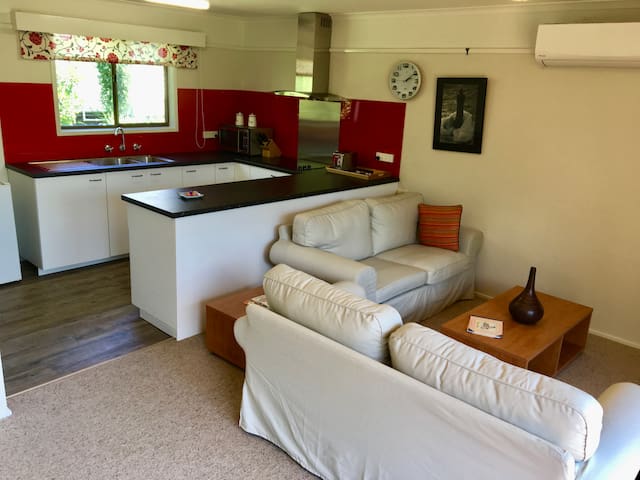 Wonderful Cosy Modern Garden House. The large Queen Bed overlooks a magnificent Garden. With its North Facing views the Sun streams into the Room for Winter warmth. Peaceful and restful with Birds the only noise! Nature at its best.
Our Garden House has a wonderful outlook into a Park like setting. The fully equipped Apartment has its own Kitchen /Dining Area and very functional Bathroom. The Garden House is situated among 3 Acres of Garden just on the Southern edge of Warragul. We have wonderful views over fertile Farmland, Latrobe Valley and the Strezlecki Ranges. It's perfectly situated for trips to the Snow at Mt Baw Baw, Surf Beaches of Phillip Island and the Wildlife of Wilson Prom. The area has wonderful Food and Wine attractions and your Hosts will be pleased to suggest activities to your particular interest. Warragul has a huge range of Restuarants and a busy Cinema and Performing Arts Centre with great shows on offer. We really enjoy sharing our Property with our Guests and will go out of our way to ensure you have a great stay with us. Internet is available at $10 per day. Wild Dog Winery / Bar and Restaurant are almost next door and the Mt Worth State Park is 25 minutes away. There is a frequent Warragul Melbourne Train service 7 days per week. Pickup can be arranged.
Cute place to stay, beautiful views of the countryside.
Louise Alice
2015-06-12T00:00:00Z
We were warmly welcomed at this sweet country cottage by Annie. It is very handy to Warragul and the garden setting is lovely. A last minute booking easily made.
Janet
2015-06-29T00:00:00Z
We arrived on a very cold day for an overnight stay and were welcomed with a lovely warm cottage, all heating switched on for our comfort, thank you! The cottage was clean and comfortable, we were very happy. The cottage is set in beautiful surroundings, close to town.
Joy
2015-08-03T00:00:00Z
Pauls place was lovely and well equipped! Perfect place for a weekend getaway, and Diesel the dog was a bonus!
Alexandra
2016-02-22T00:00:00Z
Paul & Annie were warm, welcoming hosts, & happy to help whenever we needed something be it kitchen utensils or local area advice. The garden house & red doors apartment are great accommodations- clean, well equipped, v comfortable & only 4 mins to town! We couldn't have asked for a better place to stay in preparation for our warragul wedding. We hope to return & wouldn't hesitate to recommend to all :) thankyou so much xxx
kate
2015-11-23T00:00:00Z
Paul and Annie were gracious hosts and even invited us to join in on their family bonfire. We had a lovely, relaxing stay, enjoying the scenery and peace and quiet. The accommodation was comfortable for two people and kitchen had all the necessities. Location was great, super close to Warragul town centre and Wild Dog Winery. Thanks for having us!
Taryn
2015-04-06T00:00:00Z
We couldn't believe the views, the hills and the incredible surrounding of green and huge trees. The property is really stunning and quite peaceful. We were completely put at ease by our relaxed and thoughtful hosts who provided toys for our two year old to play with, even a high chair for us. They were such accommodating hosts that wanted to help in every way possible and though our stay was short it was refreshing and so calming. Thanks!
Levi
2016-02-28T00:00:00Z
A very warm welcome from Paul and Annie. Their cottage in the garden has everything you need for a very comfortable stay. The garden has amazing views over the surrounding countryside. The cottage is very well appointed and spacious. It is totally private and a lovely quiet spot. We would not hesitate to recommend this accommodation.
Camilla
2015-01-06T00:00:00Z
Kamertype
Gehele woning/appartement
---
Type woning
Appartement
---
Geschikt voor
2
---
Slaapkamers
Warragul, Victoria, Australië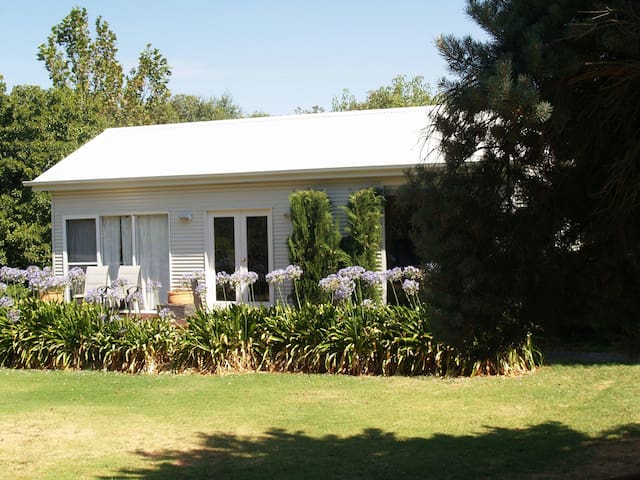 Situated on eight acres among rolling hills, experience fresh air and tranquility, close to rail trail and lyre bird walks, water falls . Health farm facilities extra charge, restaurant on site, 3 ks from township of Mirboo north.
Independent space, have own bathroom extra toilet and laundry, restaurant on site for meals
lots of walks, enjoy the country side, local town close for other attractions. Have a healthy experience by booking a shiatsu massage, vega test, inferred sauna, or oxygen hyperbaric session therapist available on the premises
We had a nice stay! It was all tidy and clean. Vincenza was nice and friendly :)
Lisa
2016-04-01T00:00:00Z
My husband and I were made to feel extremely welcome by our hosts and their dog at this charming farm stay. The quiet rural setting with a view over rolling farmland was the perfect place to unwind. Attached to a busy restaurant, the apartment had everything we needed. There is no actual bathroom so the shower is a little oddly located in the laundry, but you get used to it. There was some kitchen noise through the wall, but nothing to worry about. We also enjoyed the home prepared foods in the restaurant, with escargot on the menu!
Lyn
2016-01-03T00:00:00Z
Want to stay in a rural area, but have immediate access to fine dining for every meal so you never need to leave? Then this is it. Neat, impeccably clean with friendly and discrete hosts; you need nothing more. Our son loved it - room to run and play outside safely.
Annigje
2017-01-29T00:00:00Z
Our family enjoyed their stay.
Troy
2017-03-19T00:00:00Z
Our hosts Vincenza & Doug are such interesting hospitable people. We thoroughly enjoyed our 3 night stay and dinner in the cafe. The house is so comfortable & clean, bed comfy, lovely soft towels & toiletries. Woke up to a tranquil, peaceful, scenic view & a sunset from our bedroom window.
Gwen
2016-04-20T00:00:00Z
On arrival we were welcomed by a very friendly Vincenza. She showed us around and made us feel at home straight away. The 2 bedroom apartment and the view from it was great. The food in the cafe was catered for our needs too. Overall, it was a wonderful experience.
Deepak
2016-10-31T00:00:00Z
Charming location and excellent value with helpful and friendly hosts though note that the kitchen area is quite small
Rob
2017-03-16T00:00:00Z
All good, plenty of room., clean, bed were comfy, Vincenza and Doug were lovely hosts. Would stay again
james
2017-01-02T00:00:00Z
Kamertype
Gehele woning/appartement
---
Type woning
Appartement
---
Geschikt voor
4
---
Slaapkamers
Mirboo North, Victoria, Australië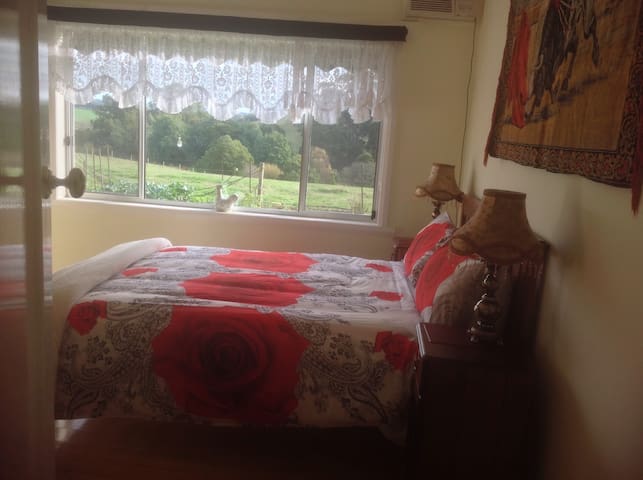 Guests who have stayed at Grand Ridge over the past 10 years have all been unanimous in saying it is a beautiful location with great views & very comfortable. We keep it specifically for clients who are particular in their expectations. Many guests return multiple times. Imagine being at the corner of two valleys overlooking rolling green hills. All on your own on 19 acres ...surrounded by hundreds of trees.. views from virtually everywhere inside the house....lying in bed admiring the landscape
A unique modern architect designed house set on 19 acres for the discerning client located in the heart of the rolling green hills of South Gippsland only a 90 min drive from Melbourne, a city of restaurants. Quiet, peaceful and tranquil with spectacular views, even from nearly all inside rooms, Grand Ridge is located at the corner of two beautiful Tarwin river valleys. You wont be disappointed, as many clients who have stayed have attested to. One client even found a koala in a tree 5 steps from the rear door!!! Its very private. The only sounds you are likely to hear are of birds and cattle!! Grand Ridge has many wonderful drives starting from the front gate. Its also a perfect area for quite back roads to bicycle on or simply walk amongst the rural country side. 25 Minutes away are some beautiful isolated beaches that you can swim or walk. Leongatha with all modern shopping facilities is a 13 minute drive through diary country on a sealed road. Check out our website (URL HIDDEN) Sorry....ADULTS ONLY
Rural country lifestyle which is so quiet clients feel they are in a world of their own!! Our only neighbours are cows, birds and rabbits!!!
Didn't want to leave. 10/10 on everything! Amazing views, great hosts and a very private getaway. Everything we needed this weekend
andy
2017-04-09T00:00:00Z
One of the most beautiful, scenic and relaxing airbnbs we've ever been to! We'll be back!
Tim
2017-03-12T00:00:00Z
Beautiful location and comfortable house. The outdoor fire was really nice. House was well equipped. Tony is a very helpful host. Unfortunately on arrival the forrest featured on the pics (as the main view from the house) had just been logged/cut down, that was disappointing as it was what attracted me to the location.
Adrien
2016-12-31T00:00:00Z
We had a great experience staying at the Grand Ridge, picturesque views all around the property which is in a great location. Enjoyed the fireplace and the lounge with great views out of the window. Would definitely like to come back again in the future.
Arni
2016-03-30T00:00:00Z
Wow, what a view! rolling green hills dotted with freshly cut bales of hay and the sound of cows mooing in the distance. Our expectations were quite high and we weren't disappointed. Privacy, peace & quiet, were just what we were looking for; a home away from home. The house had all we needed and a very comfortable bed...we slept like logs. Everything was clean and tidy and all Tony's communications with us were super friendly, clear and concise. We wished we could have stayed longer :) Thanks, Lou & Rod
Rod Lou
2017-01-05T00:00:00Z
Fantastic place to stay! Highly recommend! Very secluded, very peaceful, crazy beautiful view, spacious front yard, loved the fireplace, shower was perfect! At night you can see the stars so clearly. 15-20 min drive to nearest shops. We would definitely come back here again!!
Jason
2016-12-18T00:00:00Z
A big thank you for letting us stay in your beautiful holiday house, we had such a relaxing time and you made everything so easy for us! The views are stunning and the property is so quiet and peaceful, the only sound you will hear is the occasional moo from a cow. Perfect little spot for a short getaway. We would love to come back and stay again in the future.
Elissa
2014-06-10T00:00:00Z
Kamertype
Gehele woning/appartement
---
Type woning
Huis
---
Geschikt voor
4
---
Slaapkamers
Hallston, Victoria, Australië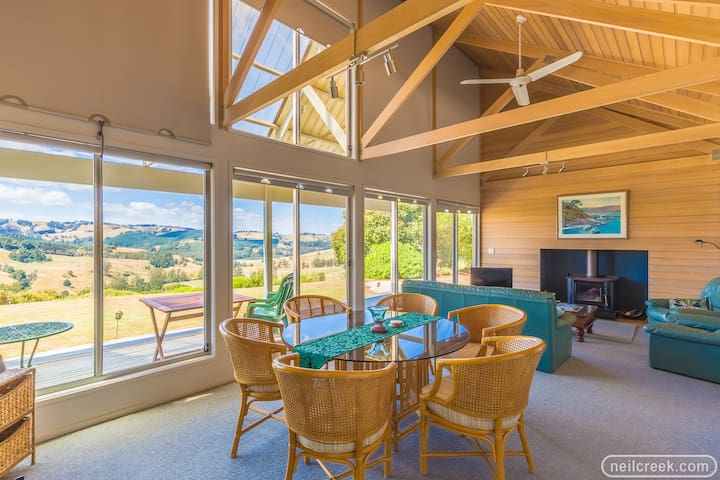 We thoroughly enjoyed our stay at the Brigadoon Cottages. The cottage is well stocked with kitchen utensils to cook a gourmet feast; the bed was extremely comfortable; and there is free wifi. The scenery is also lovely, and there were delicious, homemade cookies to enjoy. What more could one ask for!
Laura
2013-01-01T00:00:00Z
The cottages are beautiful, welcoming and located near a small forest. We had a great vacation, enjoyed the atmosphere and the nature around.
Rita
2015-04-07T00:00:00Z
Kamertype
Gehele woning/appartement
---
Type woning
Huis
---
Geschikt voor
2
---
Slaapkamers
Newborough, Victoria, Australië
Beautiful part of the country about 2-3 hours drive from Melbourne. We had some lovely walks: Lyrebird walk; Old railways line (and further afield) and around Wilson's Prom. Wendy and John were fantastic hosts - we arrived as strangers and felt we left as friends. Comfortable bed; great food; good Wi-fi reception and pretty gardens.
Gwen
2017-01-26T00:00:00Z
A very pleasant surprise! Down a driveway through a small pasture and we were directed into a carport right in front of the space, which was spacious, well-equipped and comfortable. It was cozy sitting by the fireplace, and very quiet and dark at night for a sound sleep. Wendy was a wonderful host, and really took care of us especially over a delicious cooked breakfast! It was a great stay, and we would love to return.
Herb
2016-07-31T00:00:00Z
Amazing stay. John and Chloe were very welcoming, such a gorgeous place, and the dinner and breakfast was amazing.... beautiful produce, as was the lime and mint water! Would love and hope to come back soon
Priya
2016-05-23T00:00:00Z
Wendy has been a great host, very helpful and present. She even researched tips for our needs, she cooked us a great Breakfast, different every day, and she organized some hot stoves in the apartment, to let us cook. The apartment is in the same house, but totally private. It also has its own fireplace, which is just so great! I totally recommend!
Manuele
2016-09-23T00:00:00Z
John and Wendy greeted us on arrival and showed us around with ease. We got a lovely tour of their gorgeous property and were even invited to join them for cheese and wine with a view! Nothing to fault with John and Wendy. They are a wonderful couple and made us feel right at home. The place was simple, but all that we needed for a little weekend getaway. Breakfast was phenomenal! John and Wendy are quite new to AirBnB, but they're fantastic at hosting guests!
Kat
2016-05-16T00:00:00Z
We had a fabulous getaway at John and Wendy's place. The place was peaceful and quiet, with a beautiful outlook over the garden and surrounding hills. Wendy and John (and Chloe, the staffy!) were warm and welcoming from the minute we arrived, showing us around and sharing some of their amazing produce. We were spoilt every morning with freshly picked and prepared fruit and a full cooked breakfast enough to sustain us during some hikes throughout the day. We were very comfortable and the unit was simply and thoughtfully equiped with everything we needed. We enjoyed some good movies with the fire going which was wonderful! Excellent value and a perfect quiet retreat!!!
Ellen
2016-03-30T00:00:00Z
Very easy check in, everything as described or better! Unfortunately we could only stay one night - John and Wendy were lovely hosts and a had a great property to share. Cannot wait to visit again.
Simon
2016-05-29T00:00:00Z
Doesn't matter if you are looking for a quiet and comfortable retreat to rest or a perfectly located spot to travel around Gippsland, this place will fit all your needs. I spent 4 amazing days with Wendy, John and Chloe, resting for two days in the farm (reading, studying calligraphy and walking the place) and then traveling to Tarra-Bulga and Wilson's Prom to hike during the other two. There's no price like sitting in the backyard with a cup of tea and a book in your hands with that landscape. The distance to parks and attractions (like Wilson's Prom) are fine and within 1˜1.5h. In both activities, I felt really supported by the hosts, including the delicious breakfast that will make you hate your own food as soon you are back home...
Rodrigo Thiago
2016-10-03T00:00:00Z
Kamertype
Gehele woning/appartement
---
Type woning
Bed & Breakfast
---
Geschikt voor
2
---
Slaapkamers
Boolarra, Victoria, Australië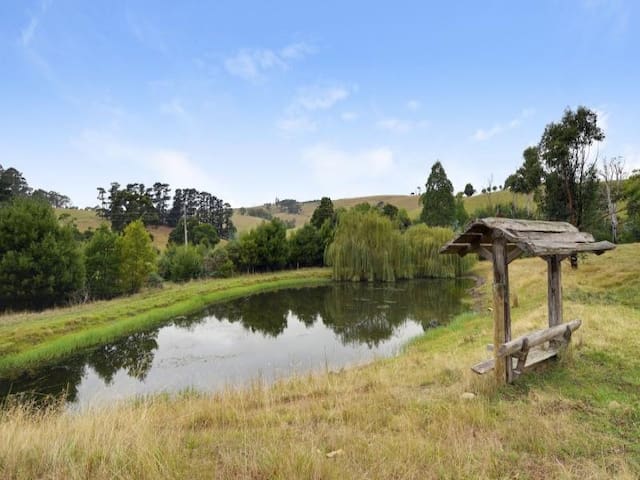 Ideal overnight place to stay for travellers and overseas visitors going to Wilsons Prom and Phillip Island. No extra charges for use of linen, towels or cleaning. Only a 3 minutes walk / 3 blocks max away from all conveniences. Woolworths, Aldi & IGA supermarkets, main shops, RSL Club, Cinema, McDonalds, KFC & Subway. Great location to crash/base yourself while in town. Wi-Fi is only walking distance away at the local library and above fast food outlets
Excelente todo. Rob es muy atento. La casa es muy cómoda. Y Rob le pone toda la onda que necesitas para pasarla bien.
FACUNDO
2017-03-20T00:00:00Z
Excellent ! Rob was a wonderful host and we had a lot of pleasure in his place.
Sixtine
2017-03-15T00:00:00Z
Rob best host ever had, good helful person in every way. The place is very clean, big comfortable bed, my personal thanks.
Edmundas
2017-02-07T00:00:00Z
We enjoyed staying at Bob's so much. He was the ideal Airbnb host, providing many suggestions and tips for our travel. The house was super tidy and clean, conveniently located 30 mins away from the Prom. We also got a little breakfast, which was super appreciated. Recommended if you are visiting Gippsland
Roberto
2017-02-19T00:00:00Z
Robs place was an awesome and he's a great host. Everything was great and rob was really welcoming and friendly. As travellers was a welcome relief from hostels getting some good food down us and some good nights' sleep! Can't recommend his place enough and was great for visiting the Prom for a couple of days. The town had everything we needed including wifi and reasonable supermarkets.
William
2017-02-22T00:00:00Z
Rob is a kind and friendly host. His house is a perfect place to stay for visitors who traveling to Wilsons Promontory Marine National Park. The room is clean, tidy and comfortable. Near to supermarkets, shops and restaurants. Highly recommended.
Sihan
2017-02-10T00:00:00Z
We had a great stay at Robs. The bed was comfortable and the property was close to shops. Rob was very friendly and sociable and we enjoyed our evening with him. He gave us local tips and breakfast items the next morning. We would recommend Robs places. It is close to Wilson's Prom.
Dani
2017-02-05T00:00:00Z
A fine place! You should go there!
Henk..
2017-03-26T00:00:00Z
Kamertype
Privé Kamer
---
Type woning
Huis
---
Geschikt voor
2
---
Slaapkamers
Leongatha, Victoria, Australië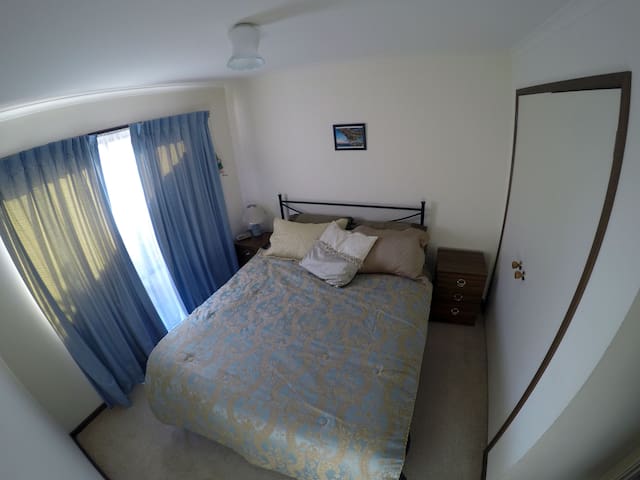 This is a wonderful self contained Apartment with all facilities you need. Very comfortable large Bedroom with wonderful Garden views.
Thanks for making space for us. Very welcoming and lovely place for our family.
Alex
2015-09-21T00:00:00Z
Fantastic accomodation with kind and friendly hosts. Situated in a great location, they also have a beautiful cat and dog, diesel. Paul turned on the heater before we arrived so the place was warm and toasty, a very thoughtful gesture. We will definitely return!
Stracy
2015-06-15T00:00:00Z
An absolutely gorgeous home that was only equalled by the wonderful hosts. The place was warm, well appointed and welcoming, surrounded by lovely gardens. The hosts made me feel very welcome and were available for any requests. I will definately stay here next time.
Zunami
2015-07-25T00:00:00Z
Paul and Annie made us feel extremely welcome. They even offered to make us espresso for the next day if we wished. Their apartment is a lovely space that is clean, cleverly designed and spacious. The interior decor create and warm and sophisticated atmosphere. There is an abundance of books in the main bedroom for some bedtime reading and the heater works quickly for a winter night. All the amenities are immaculate and modern. We felt it was fantastic value for the price. Highly recommended.
Jodie
2015-04-24T00:00:00Z
Paul was the perfect host and the accommodation was exact as described. Set in a lovely part of the world it's well worth the visit
Chris
2015-08-24T00:00:00Z
Paul and Anne were great. There was a bit of a mix up with the booking but it was resolved and everything was great.
Mark
2015-07-20T00:00:00Z
We had an excellent stay here for two nights. It was comfortable, clean and private and the hosts were willing to help make our stay as memorable as possible. Thank you
Kristian
2015-12-01T00:00:00Z
The host canceled this reservation 172 days before arrival. This is an automated posting.
Catherine
2015-06-01T00:00:00Z
Kamertype
Gehele woning/appartement
---
Type woning
Appartement
---
Geschikt voor
2
---
Slaapkamers
Warragul, Victoria, Australië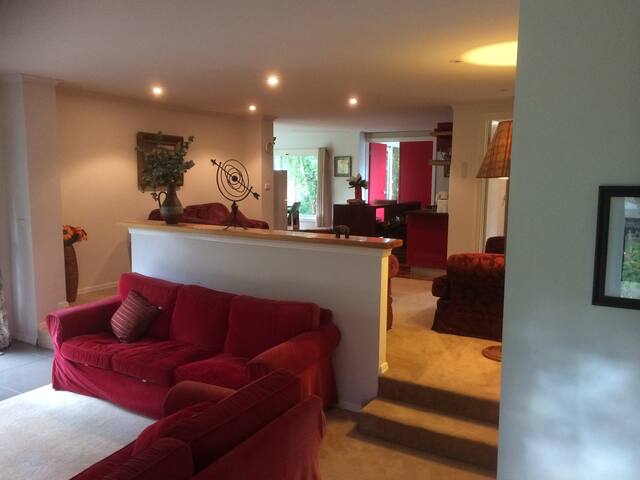 Country Gables Cottage is a charming, one bedroom, self-contained cottage nestled amongst the native bushland and rolling hills of our seventeen acre farm in Koonwarra. The perfect place to relax and immerse yourself in the country lifestyle.
Country Gables Cottage is located on a small cattle farm 3kms from the contemporary rural village of Koonwarra in the heart of South Gippsland, Victoria. Ideally suited to couples it offers a relaxing retreat from which to explore all that the region has to offer. This one bedroom, self-contained cottage is beautifully appointed with your comfort in mind. * The open plan living area contains a cosy fireplace. Firewood is provided. * Queen bed with electric blanket, doona, blanket, pillows, pillow and mattress protectors. * All linen is provided. * The lounge has a flat screen TV, DVD player, full stereo with CD player and iPod dock. * A selection of books, DVDs and CDs are available for your use. * Full equipped kitchen including wall oven, hotplates, microwave, full-size refrigerator/freezer, dishwasher, pantry, toaster, tea and coffee facilities plus all crockery, cutlery, glassware and cooking utensils. * Laundry with washing machine and ironing facilities. * Spacious bathroom with shower and separate toilet. * Electric heater * Air conditioner and fan available. * Front verandah with bench seat and table to enjoy the view. * Rear porch with BBQ. * Picturesque gardens including vegetable garden and chook house. * Good mobile, 3G and 4G internet coverage * Stunning views across the farm and rolling hills from the kitchen, lounge and bedroom.
An abundance of native wildlife and birds can be viewed from the comfort of the cottage or on walks in the local area. Wallabies, koalas, echidnas, kookaburras, rosellas, blue wrens and finches are regular visitors. Chooks roam in our garden and cattle graze close by in the paddock. The farm is located 1.5km off the South Gippsland Highway on a quiet country road five minutes from the village of Koonwarra. Koonwarra is known as a 'small town with a big heart' and offers a regional foodstore, cellar door and emporium - The Koonwarra Store, Farmers Market Store, Artisan Bakery and Cooking School, Day Spa and a bustling monthly Farmer's market (first Saturday of the month). Many producers of highly regarded fine food and wine can be found in the area. The Great Southern Rail Trail starts in Leongatha, passing through Koonwarra to Welshpool, a distance of 67.5km.
We had the most wonderfully relaxing stay in this clean and cosy cottage. Lyn and Dave were so friendly, we came away feeling like family. We have already begun recommending their place to friends to family.
Kelly
2015-05-12T00:00:00Z
I had a lovely stay with my boyfriend in late Feb. the cottage has everything you need for a comfortable and romantic weekend away. Lyn was very accommodating and welcoming - we would definitely stay again. As other have said; the only downfall is two nights isn't long enough!
Ruby-Jean
2016-02-22T00:00:00Z
I put my inlaws into Lyn's country cottage for a weekend. She did a great job communicating about best way to find the location and even had the fire going upon arrival. I earn a lot of Brownie points due to the stunning country views and the storybook cuteness of the property. Very Fresh and Clean.
Nick
2015-09-07T00:00:00Z
My partner and I had the most relaxing weekend away here! So peaceful. Surrounded by nature and stunning views! Absolutely everything and more was provided for us !! Couldn't have left feeling any better about an amazing weekend away !! Thank you Lyn
Sarah
2016-11-19T00:00:00Z
This place was absolutely amazing! If anyone is wanting to getaway to the country for the weekend, I would strongly recommend staying at this cottage. Breathtaking views and loads of wildlife surrounding the area. Owners are welcoming, lovely and very helpful. Will be coming back again soon.
Ryan
2016-12-04T00:00:00Z
My partner and I enjoyed a fantastic weekend away at this cottage! We arrived on a Friday night in the dark, so waking up in the morning and seeing our surroundings for the first time was amazing. On arrival, we met Lyn, who had prepared a fire for us, filled the house with fresh flowers and left some delicious milk for us in the fridge. She also gave great suggestions for nice walks in the area. For the rest of our stay it felt like we had the whole property to ourselves. The cottage is a great base for Wilsons Prom, Inverloch, and everywhere in between. We already miss the sounds of the cows and kookaburras. We hope to be back again one day. Thanks again Lyn! Anna & Michael
Anna
2016-10-30T00:00:00Z
Lyn and David were lovely. This was our second visit to Country Gables and the beauty of the location, the well-appointed accommodation and warm hospitality are an absolute stand-out for us. Lyn even remembered our passion for local produce and, prior to our heading off on our weekend, suggested we swing by a local supplier that would stock us up on our favourite foods! We can't recommend Lyn and David any more highly.
Matt
2015-09-29T00:00:00Z
There was so much to love about the cottage. The quiet, the views, the wood heater and how welcoming everything felt in the simple, tasteful interior. We will be going back for another visit very soon I hope.
Sharon
2015-09-03T00:00:00Z
Kamertype
Gehele woning/appartement
---
Type woning
Huis
---
Geschikt voor
2
---
Slaapkamers
Koonwarra, Victoria, Australië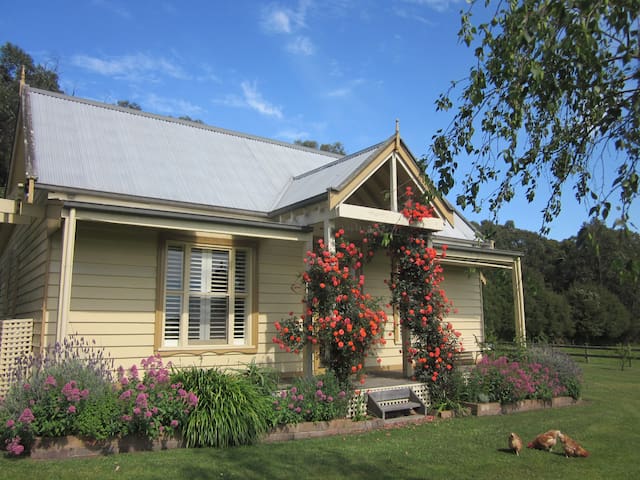 Health matters, go on treat thy self at Gippsland wellness retreat
Were you can create your own package from the following modalities. We offer a healing experience at Gippsland wellness retreat. Mild hyperbaric oxygen pod $55.00 for 1 hour Infrared sauna $40.00 for 40 mins Vega test for allergies deficiencies hormones $95.00 Shiatsu massage $90.00 Luxurious Essential oil spa $50.00 Qualified therapist on site Workshop on health and well being 60.00 for 1 hour Energy stretches $30 for 30mins Restaurant on site for clean food
Peaceful, tranquil and great bird sounds fantastic views and walks
The apartment is in a quiet rural location, comfortable bed and well equiped kitchen. The onsite restaurant serves quite nice french and tapas style foods.
Andrew
2016-08-08T00:00:00Z
Kamertype
Privé Kamer
---
Type woning
Appartement
---
Geschikt voor
2
---
Slaapkamers
Mirboo North, Victoria, Australië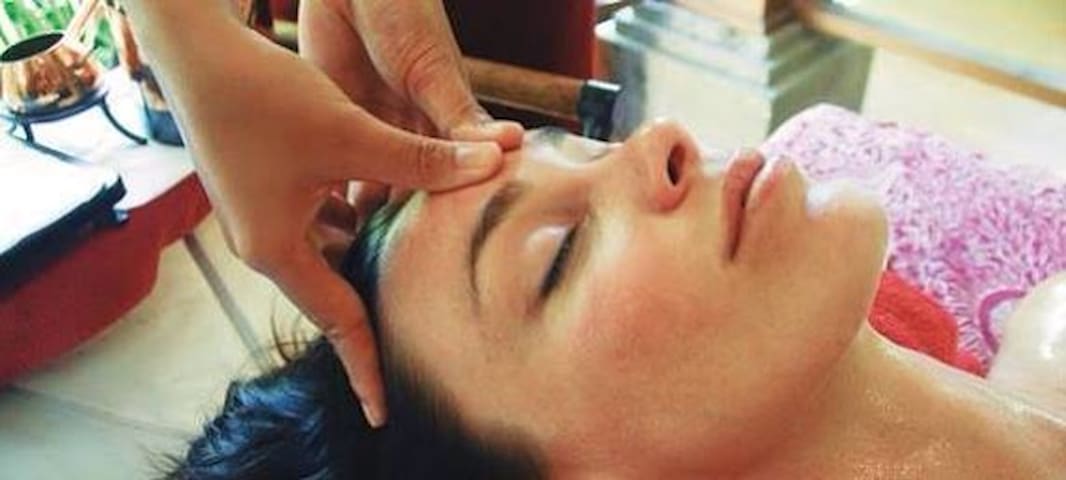 Anderley has two secluded cottages located the hills of West Gippsland and just 90 mins from Melbourne CBD Fully self contained cottages feature: Breathtaking Views Double Spa Cosy Wood Fire Yarragon Village is nearby is for some retail therapy. Single night bookings may be available (a higher nightly rate applies - just send through an enquiry and check with us.
Anderley offers two self contained cottages set on a 35 acre elevated rural property in West Gippsland. Ideal for a couple or for two singles to share (One cottage has 2 double beds). The views are simply stunning - and they can be enjoyed from the expansive deck; from your spot in front of the fire or from your bed! Both cottages have an expansive deck where you can sit back and enjoy the views. The space is private and very relaxing. The cottages are 80 metres apart and separated by a tree belt, and about 100 metres (and more trees in between) from the owners house. Anderley is just an easy 90 minute drive from the city of Melbourne and only 5km from the popular tourist village of Yarragon which is renowned for its unique shops and eateries.
We are surrounded by farmland in an elevated area on the North slopes of the Strezlecki Ranges. We, and many of the neighbouring properties, have embraced the re-vegetation of steep land on the farm and the protection of native bush in the area. This is bringing an increasing range of birdlife and native animals back to the area. If you are quiet and watchful, you will be delighted by seeing Lyrebirds, Wallabies, Echidnas and Wombats. (Even the occasional Koala Bear) Eagles are often seen enjoying the thermals in the sky just out from the cottages. In under 10 minutes, back in Yarragon, you have a delighful little country Village with an amazing variety of unique shops and plenty of options for a cafe latte.
Beautiful view, nice quiet place.. perfect for a weekend getaway..
Galen
2016-08-13T00:00:00Z
Such a beautiful setting, amazing views & gracious hosts. The accommodation could not be faulted, we enjoyed the fire, the deck, the walks through the ranges & the peaceful nature that this place exudes. We've already recommended it to our family & several of our friends. Thank you Lee & Andrew.
Jackie
2016-04-11T00:00:00Z
We were greeted so warmly on our arrival by Lee and made to feel welcome in the magnificent cottage that Andrew had destined and built with great attention to both aesthetic and functional detail. Set up perfectly for R&R there were movies to watch, books to read and we would recommend a massage with Lee. The region is breathtaking and well worth braving a chilly morning to catch the sunrise. Such a range of interesting things to do, places to see and regional produce to savour. Thank you both for making our break such a memorable one.
Sally-Anne
2016-08-09T00:00:00Z
Absolutely fantastic accommodation, beautiful views and all the facilities we needed for a great weekend away from the rat race.
Melinda
2015-09-29T00:00:00Z
Had a lovely couple of days at Lee & Andrews cottage. Great space, with all you need, and the hosts were very helpful. 12/10 for views - absolutely stunning! Would love to stay again.
Sam
2016-09-16T00:00:00Z
Such an amazing place to relax and unwind. Photos don't do it justice and Yarragon is a great little town with a fantastic pub and great food. Thanks so much for the hospitality!
David
2017-03-12T00:00:00Z
Lee and Andrew what a wonderful couple to meet and hard working on the farm when we stayed their cows gave birth and they were looking after them. The place was breathtaking we loved the rustic bush feel of the interior and exterior. I could feel the lovely northerly breeze on my face as I had a quiet lie down on the decking chair overlooking the valley trees were so green and plentiful. The bed was so comfy we fell asleep on the top of the covers and the spa was lovely as well we will definitely be back and have told our close friends about it. I agree the photos don't do it justice it's so beautiful spacious and private just what we wanted!! Leigh and Brendan
Leigh
2016-01-25T00:00:00Z
It was an absolute pleasure staying here! The pictures don't do it justice at all. The cottage itself is gorgeous not to mention the view. It's so peaceful and relaxing, just distant sounds of cows and kookaburras! The cottage is equip with everything you'll need, the bed and linens are soft and comfortable, the bathroom spa is a great touch and the kitchen is fully stocked with utensils etc. Our stay was perfection! Thanks Lee!
Nicole
2017-02-11T00:00:00Z
Kamertype
Gehele woning/appartement
---
Type woning
Houten huisje
---
Geschikt voor
2
---
Slaapkamers
Yarragon South, Victoria, Australië
We had a lovely weekend at Cheryl's cottage. It was so cold and wet outside, yet so warm and inviting inside we didn't want to leave the fire.
Jodi
2015-07-12T00:00:00Z
From the moment we arrived at Marges Cottage, my friend and I felt welcome. Cheryl had left us a beautiful cake, the fireplace ready to light and delicious local breakfast supplies. The cottage is cosy and peaceful, in a secluded location. Was also very convenient for our booking at Tamsin's Table on the Saturday. Would recommend!
Nicole
2015-04-26T00:00:00Z
My wife and I stayed at Marge's Cottage for a weekend getaway. Our host Cheryl made sure that we were well catered for, we felt very welcome. The space is beautiful, the surrounds are beautiful, I cannot recommend the cottage highly enough.
Steven
2015-08-09T00:00:00Z
Thoroughly enjoyed my stay at Marge's! The house and surrounds were beautiful. I'll be back and almost certainly be recommending to friends. Thank you for having me Cheryl!!
Patrick
2015-09-13T00:00:00Z
A wonderful place to spend a long weekend with my little family. The cottage is very tasteful and very comfortable, and the added touches of homemade muffins and jazz on arrival made it extra special. Apples and peaches growing a plenty. Patting the horses was a highlight for my two year old daughter! Highly recommend
Penny
2017-03-12T00:00:00Z
We have just enjoyed a wonderful weekend at Marge's Cottage and we highly recommend you check it out too. Cheryl was helpful and so welcoming. And, provided the most delicious fresh produce for our breakfast and snacks! Beautiful open spaces, cosy fire and comfy beds. Couldn't ask for a better spot for a weekend getaway!
Kara
2016-05-23T00:00:00Z
Lovely weekend. Perfect getaway especially if you are headed to Tamsin's Table. This was my first airbnb experience and it was a great one. Marges cottage was gorgeous, even better then the photos and the attention to detail made it stand out. Fresh flowers, a hand written welcome note, top quality breakfast provisions are just a few and amazing brownies on arrival were just a few of the details. Private, heavenly bathroom, highly recommend.
Anita
2016-11-19T00:00:00Z
We loved staying at Marges Cottage! Cheryl spoilt us with a lovely cake. When we looked in the fridge we discovered more treats in the form of cupcakes, bacon, milk and homemade jams! There was even a delicious loaf of bread waiting for us. Marges Cottage was perfect for us as we wanted to get away from everything and have some family time together. It's not too far from nearby towns if you need to get a few groceries. I recommend staying more than two nights if possible. Thanks so much Cheryl. We loved it. Even our eldest son mentioned wanting to return.
Jason
2016-04-27T00:00:00Z
Kamertype
Gehele woning/appartement
---
Type woning
Huis
---
Geschikt voor
4
---
Slaapkamers
Poowong East, Victoria, Australië
Winchester Rise is a private, stylish and relaxing place to stay with great views and many quirky touches, twenty minutes from Wilson's Promontory on the edge of the township of Foster. Foster is an historic gold mining town nestled at the base of the Strezlecki ranges on Corner Inlet. With it's great coffee and cafes, supermarkets, pub, butcher, fishmonger, golf course, museum and mountain bike park, it is a truly unique base from which to explore the delights of Prom Country.
Winchester Rise is a unique, surprising place to stay. It is located on a rise in a quiet cul-de-sac on the edge of town affording stunning views across rolling hills. It has been renovated by two artists/tradesman with personal flair and attention to detail. It is an open-plan, light-filled cottage with beautiful artwork. There are two bedrooms, two living areas, a private alfresco area, native garden, a covered deck with great rural views, a luxurious bathroom, a modern, spacious kitchen stocked with all those little things you might need, and much more.
Foster township is the perfect base from which to explore the Prom Coast. It is 20 minutes from the gates of Wilson's Prom. It boasts two supermarkets, banks, chemist, cafes and restaurants, fishmonger, butcher, outdoor adventure outlet, gift shops, an 18 hole golf course and much more. Also within twenty minutes are two amazing surf beaches, inlets for fishing, swimming, walking and bird/wildlife watching, Port Welshpool (where you can launch any boat at any time), the fishing village of Port Franklin and the arty town of Fish Creek (less than ten minutes away). You are also on the doorstep of Agnes Falls, the Grand Ridge Road and Tarra Bulga National Park. Foster is quite unique in having some beautiful bush right next to it, as well as a fantastic sign-posted mountain bike park which wind it's way through old gold mining country. Speaking of gold mining, Foster is an historical town boasting it's own museum of local history. The great southern rail trail also passes through the town.
Wonderful property with easy access to Wilsons Prom and surrounding areas. We had everything we needed to be comfortable, and especially loved the decor of the house. It was a relaxing and enjoyable place to stay for a few days.
Kes
2017-01-01T00:00:00Z
Our stay at Winchester Rise was amazing. The house has been decorated in such a thoughtful, warm, quirky way, we felt right at home. The space is bigger then you would expect from the pictures. The front porch is really spacious and the view is beautiful. Also a lot of birdlife! The quality of the beds, linen, soaps etc is excellent. You can see that a lot of love went into this house! Communication with Grant was easy, he always replied right away on any questions. We stayed for 6 nights. The weather was a little bad upon arrival, but after a day it became fantastic weather to visit Wilsons Prom. The drive is about 30 minutes to the entrance of the park, and it is a really relaxing and beautiful drive. The little town of Foster had everything you need, supermarkets, pharmacy, coffeeplaces. I would recommend this house and its location to everyone.
Moniek
2017-02-18T00:00:00Z
A great holiday home in a great location, with those extra touches that make it even more enjoyable Roland, Linda, Chris and Jasmine
Roland
2017-02-27T00:00:00Z
This beautiful and charming property has been renovated with real care and feels luxurious and modern with a lovely nod to the past. The kitchen has everything you need for cooking a good meal and lots of cooking books for inspiration. The picked herbs and vegetables from the garden was a lovely touch to arrive to. The veranda was the perfect spot to end the day watching the sun. The house is about a ten min stroll to the shops in the little village of Foster and is a perfect spot for exploring The Prom. Close to some great wineries too. We loved our stay and will definitely be back.
Lyndsey
2017-03-04T00:00:00Z
Winchester Rise is a lovely, clean home and dog friendly. The kitchen is modern with good cooking facilities. It's in a great location, ten minute walk from town and a ten minute ride to get to the Great Southern Rail Trail. The bikes available at the house were perfect for the ride from Foster to Toora and from Foster to Fish Creek. Grant was a perfect host and gave us heaps of advice about dog friendly beachs and locations nearby. There was also an information pack with great suggestions of activities we could do during our stay. The front deck is lovely spot to enjoy a glass of wine and watch the sunset over the hills. We enjoyed our stay and look forward to visiting again.
Jenny
2017-04-06T00:00:00Z
Truly wonderful! We felt at home as soon as we stepped through the door. This inviting holiday cottage is beautifully styled with eclectic vintage finds set against a modern backdrop, creating the perfect balance of old and new. We enjoyed the easy stroll into town for a delicious dinner at the welcoming local pub (unfortunately we didn't win the meat raffle), and the dazzling sunrise on the neighbouring hills made us get out of bed early to enjoy breakfast on the deck. My four year old was sad to leave this little treasure, which is a sure sign of a great time. I think the adults would have liked a bit longer here too. Thank you Grant for making it all so easy, and creating some lovely memories.
Louise
2017-02-11T00:00:00Z
Grant had contacted me beforehand to see if we wanted two singles and a double or two doubles, which I thought was very considerate given we were two couples staying together. He's also left fresh herbs beside the cooker, and towels on the bed, both of which we used. Neighbourhood was pleasant and charming, it reminded us a little of the town in Edward Scissorhands although not austere in any way. The listing was only inaccurate in that it slightly undersells itself.
Jonny
2016-12-21T00:00:00Z
The house was great for us as two couples to get away and relax. It is a good base to visit the Prom for the day and to explore the rail trail by bike. Grant was easy to communicate with and thoughtful. We appreciated the use of the bikes and the basic food items that were provided. We would definitely recommend it to both couples and families.
Kendal & Kristin
2016-12-04T00:00:00Z
Kamertype
Gehele woning/appartement
---
Type woning
Huis
---
Geschikt voor
4
---
Slaapkamers
Foster, Victoria, Australië
Home is where the heart is and there is an abundance of it in this renovated two bedroom 1905 cottage sleeping three. Set in a lovely garden the cottage is a five minute walk from the Leongatha bus station and main street. Filled with charm and colourful artwork the home is a lovely place to return to after a day out exploring the picturesque countryside or nearby coastline, its villages and towns, many galleries, wineries and numerous other attractions.
Such a cute and homely little cottage with a gorgeous cottage garden, close to town with all amenities. Well worth the stay.
Tabitha
2017-02-18T00:00:00Z
Cute place, very creepy though. Overgrown garden, lots of spiders and spider webs. Very noisy, right on the main road - lots of trucks travel on that road of a night time. There was rats crawling around in the garden at night. The bed wasn't too comfortable either. Other than that, it was fine enough for one night but seems a little expensive for the price, the photos don't show the bad aspects of the house - all the spider webs...
Sarah
2017-03-23T00:00:00Z
这地方简直不能再赞了,我们本是想在威尔逊岬露营的,但时机不允许就在这里住了两晚,这里简直太棒了。 Stuart就是个艺术家,房间和整一个花园/果园,简直就是出乎意外的惊喜。这个小镇非常非常安静,在客厅里放个音乐喝个酒思考下人生,太赞。
慧
2017-02-24T00:00:00Z
Lovely house and very beautiful garden!
Jasmine
2017-02-07T00:00:00Z
Very close to shops, cinema and public transport. Very noisy at night though, lot's of trucks passing through. Cosy cottage and lovely garden.
Sonja
2017-03-05T00:00:00Z
Charming country cottage. Stuart responded very quickly and communication was excellent throughout. Late check in and check out which wasn't a problem. Well appointed house with charm and an awesome garden with fruit trees.
Kristian
2017-01-28T00:00:00Z
Good value for money - spotless character home with lots of charm and a beautiful garden - close to centre of town
Amanda
2017-03-13T00:00:00Z
Stuart was a fantastic host. He replied to messages promptly and gave us all the information we required. The house was very clean and set up for our stay. The double bed was very comfortable and the house was a great temperature - a fan was out for use also. Would recommend this property and Stuart as a host.
Luca
2017-03-26T00:00:00Z
Kamertype
Gehele woning/appartement
---
Type woning
Huis
---
Geschikt voor
3
---
Slaapkamers
Leongatha, Victoria, Australië
The Garden Apartment is a full wing of a large home nestled in a wonderful garden. We are situated within 3 km of the Centre of Town and so are close to all amenities.
Escape to the Country. We offer a fantastic attached fully equiped Apartment with large Bedrooms, its own Kitchen & Bathroom and large Dining / Living rooms. The area of the Appartment is approx 90 m2 The House is situated on 3 acres of well established Gardens just on the southern edge of Warragul. We have wonderful views over fertile farmland, the Latrobe Valley and Strezlecki Ranges. Oakridge is prefect for trips to the Snow at Mt Baw Baw, Surf Beaches of Philip Island and the Wild Life of Wilsons Prom. The area has wonderful Food and Wine attractions and your Hosts will be pleased to suggest activities to your particular interest. Internet is available at $10 per day. Warragul has a huge range of Restaurants and busy Cinema and Performing Arts Centre with greay Shows on offer. We really enjoy sharing our property with our Guests and will go out of our way to ensure you have a great stay with us. A fully Cooked Country Breakfast is available at $20 per head if your tempted. There is a frequent Train service between Melbourne and Warragul and local Car Rental available. Looking forward to hearing from you.
Fantastic hosts! Paul and Annie really go the extra mile to make guests feel welcome. Large, spacious apartment set in peaceful surrounds. Loft bed and toys supplied were a big hit with the kids. Super comfy mattresses on beds.
Shelley
2016-04-08T00:00:00Z
The reservation was canceled 3 days before arrival. This is an automated posting.
Marcus
2014-06-05T00:00:00Z
It was lovely to arrive to a warm welcome, fresh flowers and plenty of space. The Kids loved playing in the gardens and riding scooters and the billy cart on the driveway. This made our stay in Warragul a pleasure.
Brett
2015-09-27T00:00:00Z
My family had a great time staying at Paul and Annie's beautiful place and we look forward to staying there again. Paul and Annie were warm, welcoming and very helpful. The loft bunk bed was a real hit with the kids.
New
2015-03-28T00:00:00Z
Paul and Annie are wonderful hosts. Our stay was much better than we could have imagined. Beautiful gardens and more space than you could use. We will come back.
Tania
2014-11-17T00:00:00Z
Paul and Annie are amazing hosts. Communication and check-in was smooth. They have a beautiful house and we had a private wing to ourselves with its own kitchen and lounge. Annie has exquisite taste and her home was a reflection of her. Warm, colourful, comfortable and spacious for our group of 5 adults. We will definitely stay again!
Aron
2016-05-16T00:00:00Z
Paul's place was really splendid. I think the photos do not do this place justice at all. It has a beautiful view and a private place for 6 people to sleep in and a separate place for a couple. The BBQ at their living room is really nice as well. I will definitely come back again.
Wilson
2015-05-04T00:00:00Z
Wonderful place to stay. Beautifully designed and decorated apartment. Lovely hosts Sheldon the cat was lovely to cuddle. Thank you
Sally
2015-03-08T00:00:00Z
Kamertype
Gehele woning/appartement
---
Type woning
Appartement
---
Geschikt voor
6
---
Slaapkamers
Warragul, Victoria, Australië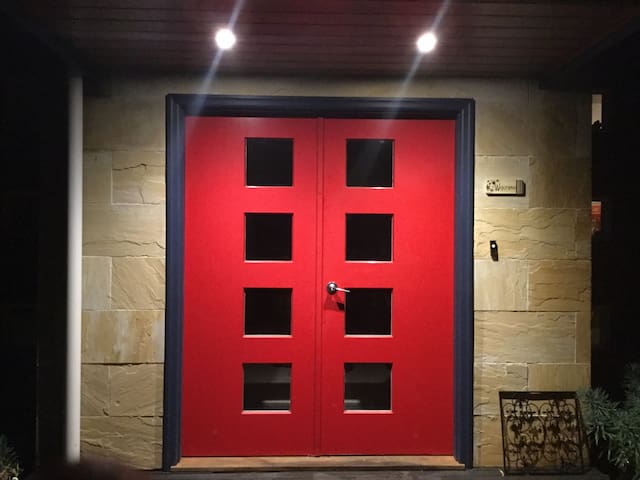 1

–

18

van

114 Accommodaties