Our place is a short walk to Lake Michigan, the beach, and great views of the sunset. Not far from Stoney Lake, Silver Lake Sand Dunes, and located in Claybanks township. You'll love my place because of the new remodel, and comfortable coziness. Eating and sleeping outdoors on the deck, and the fire-pit for roasting hotdogs & s'mores bring back some of the simple pleasures of country living! Our cottage is a great getaway for couples, families (with kids), and big groups.
It is quite spacious , and in a beautiful wooded setting. The upstairs is a new addition, and the downstairs has been remodeled.
Spacious and serene. Generously provisioned kitchen with plenty of dishes, pots, pans, etc.. Wood, chairs, benches, marshallow/weenie fork & more for enjoying the fire pit in the back yard, beach toys to borrow, wrap-around deck with umbrella & furniture especially nice in afternoon. Couple miles drive to free beach access at Claybanks Township Park. Wooded lot close enough to hear Lake M sometimes but not see it. Cool Michigan breezes most days and ceiling fans in many rooms. Upper level brand new. Lower level has a couple very musty rooms. Hope these can air out. Lots of mosquitoes outside as is typical of the area. Serious bug repellent recommended. Right now Aug.2016 NO AT&T reception, but Verizon works fine. We hear AT&T will be adding a tower in the area in October... Kris and her daughter were on hand to guide us in, welcome us and show us around. Very knowledgeable about the area. Great value. We would love to come back.
Emily Hillquist
2016-08-06T00:00:00Z
Kris is very responsive. The house is nice and spacious. It can easily hold up to 3 families up to 10 people with right beds and furniture. A short walk gets us to a narrow long stretch of sandy beach by Lake Michigan, great for watching sunset after spending the day at the nearby Silver Lake Sand Dunes (25 minutes drive) or Luddington State park (1 hr). Would come back if in the area again. The only thing: wifi is on and off, cell phone reception not very good. But we are on vacation, off the grid worked out fine. :-)
Joy
2016-09-05T00:00:00Z
Great cottage in the woods for our family reunion! We enjoyed the nice porch and deck and even sat around the fire pit. Plenty of room for all, and Kris was a thoughtful hostess. The only thing that could improve the experience would be more comfy seating in the living room.
Steve
2016-09-17T00:00:00Z
If you are looking for a "pure Michigan" experience, this is the place for you! Kris has created a lovely, spacious, and delightful place. The house is surrounded by beautiful woods and very private. Kris is a warm and welcoming host. This house has 3-4 bedrooms and 3 baths, well stocked with towels, etc. The location is amazing - within walking distance to Lake Michigan - and a short drive to a variety of towns and points of interest. It is a great place for a group of friends or a family.
Rebecca
2016-10-02T00:00:00Z
This is really great location. It's on your way to so many things. Kris was really helpful and thoughtful. The only improvement would be a window fan or two.
Polly
2016-08-14T00:00:00Z
The house is not too far from a fairly narrow beach (less than 5 minutes driving), the Lake is beautiful. We did not stay long enough to appreciate the house, but Kris was responsive and comprehensive. Overall, it was a bad experience, we had to leave after a few hours in the house because of a cleanliness issue. Sprint phone coverage was really bad (but they have WIFI now). We finally paid $231 for the night which was really expensive and add to our disappointment. I will not recommend the house to my Family and Friends but I'm sure that the cleanliness will be improved and the house will be a nice getaway near the beach.
CINDIA
2016-08-23T00:00:00Z
Kris is very friendly and gave a great tour of her home. It's a wonderfully charming house! It was the perfect place for us to relax as a family.
Deb
2016-08-28T00:00:00Z
Kris, Thank you for being such an amazing host! your house was perfect for us. ♡♡ We appreciate you and all that you did!! If we make Michigan Adventure a year a yearly thing, we will see you again. Thank you so much!!!
Dorthy
2016-08-30T00:00:00Z
Kamertype
Gehele woning/appartement
---
Type woning
Huis
---
Geschikt voor
7
---
Slaapkamers
Montague, Michigan, Verenigde Staten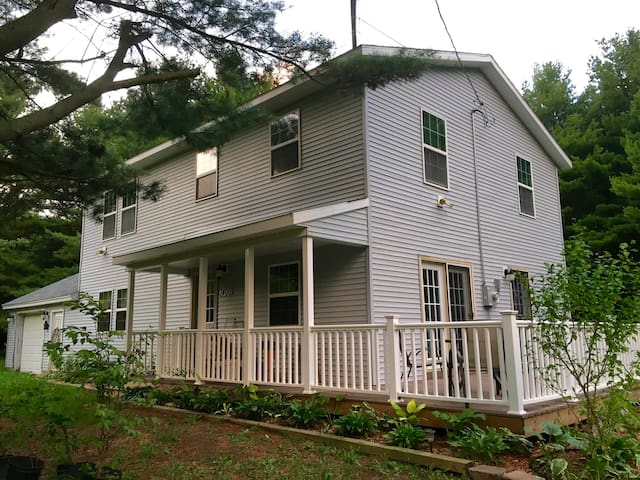 Roomy family style cottage with Great kitchen, cozy living room. Downstairs bedroom with new window A/C unit...rarely needed...shaded setting in hemlock clearing, great patio sun. Lots of books...birds, nature. Upstairs family loft, two twin beds, one full bed and one queen bed. Full bath with shower upstairs too.
My wife and I took a weekend trip to Montague for a last getaway before baby #4's arrival. We fell in love with the place the moment, our wonderful host Kim and her husband let us in the door. The cozy cottage was absolutely perfect! Moments after seeing the size and number beds, we began planning a return trip with our kids and in-laws! The beach area down the path was a pleasant surprise. Relaxing, peaceful calm sandy beach, where me and my wife soaked up the sun. Kim and her husband were helpful with recommendations and tips with things to-do in the area. We look forward to visiting again!
Miguel
2016-09-05T00:00:00Z
This place is amazing! Close to the beach, plenty of space, perfect layout, inviting and comfortable outdoor space. I loved it. My 4 friends and I came for art prize. We all loved the space and town.
Amanda
2016-09-25T00:00:00Z
Situated in an untapped part of W Michigan, the Gray Dove is an ideal place for quiet getaway over a weekend or longer. We're keen to return ASAP. The kitchen is well-equiped and we cooked all our meals in and took a picnic to the beach on our last night. This would be a great spot for a group of friends, for a family outing, or for a couple. My wife and I enjoyed everything about this place for our time away. Bring your bikes for a chance to roam around the countryside and back roads, bring a beach tent and towels for a day at the lake, and try to stay out of the car as much as possible. During our too-brief period, there was no reason to leave the shady, relaxing confines of the Gray Dove and its beach-side neighborhood.
Nathan
2016-08-25T00:00:00Z
My stay at Kim and Stephen cottage was a much needed break as well as a wonderful trip down memory lane. I grew up in Montague and had spent a great deal of my weekends on the neighboring 80 acre owned by the sadony family. It's not only a breathtakingly beautiful area, it's a wonderful, peaceful cottage to stay in with exceptional hosts.
Rob
2016-10-02T00:00:00Z
We loved this cozy and sweet cottage, was the perfect fit for our family of 6! The hosts were very gracious and hospitable, the property was beautiful and a short walk to the beach. We can't wait to go back!
Diana
2016-08-30T00:00:00Z
Kamertype
Gehele woning/appartement
---
Type woning
Huis
---
Geschikt voor
6
---
Slaapkamers
Montague, Michigan, Verenigde Staten
Secluded Lake Michigan cottage with 90 feet private beach.
Kamertype
Gehele woning/appartement
---
Type woning
Huis
---
Geschikt voor
9
---
Slaapkamers
Montague, Michigan, Verenigde Staten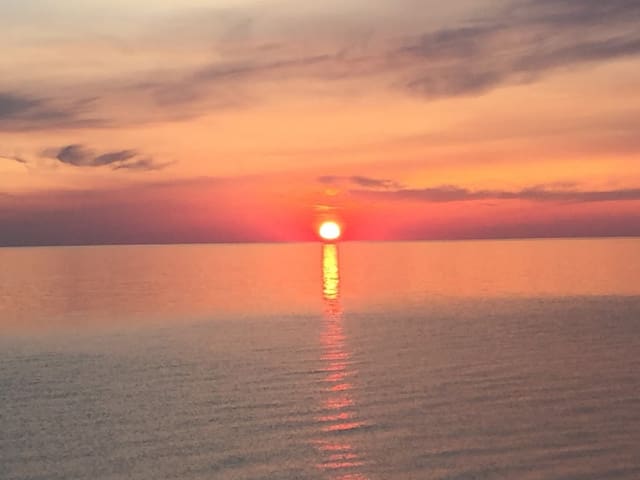 Welcome to Snails Tail, a cozy fairytale cottage set in the picturesque harbor town of Montague near Lake Michigan. This whimsical cottage offers everything you need for a memorable romantic stay. You are a 10 minute walk to downtown Montague which offers a grocery store with extensive wine and craft beer selection, old fashion ice cream soda fountain, yoga studio, art galleries, antique stores, bookstore, concerts in the park on Tuesdays and a farmers market on Wednesdays and Saturdays.
Completely remodeled in the arts and crafts style last year, Snails Tail is reminiscent of staying in a woodland fairytale cottage. Cozy but very comfortable with everything you need all while being so close to town and Lake Michigan. The bathroom is small but has a wonderful old-fashioned metal claw leg bathtub shower combination. The updated kitchen is fully stocked and has a dishwasher, microwave and a vintage 1940's Chambers stove. The master bedroom has a antique queen size bed, matching dresser and walk in closet. The guest room has a full-size bed, antique dresser and small closet. There is a three season sitting room with a desk and small bar area. (not heated in winter) The living room has a wood burning gas start fireplace. The yard has a fire pit, grill, outdoor bar and hammock. Air conditioning is a window unit which adequately cools the cottage. Fans are also available.
Snails Tail sits in a quaint neighborhood on a quiet street with amazingly friendly neighbors. We are maybe a 10 minute walk to town. Montague has long been a respite for Chicagoans looking for a idyllic escape from the heat of the big city. It has a rich history as a lumbering town that helped rebuild Chicago after the great fire of 1871 as well as suppling wood for furniture construction to Grand Rapids which was know at one time as the furniture capital of the world. Montague and its sister city of Whitehall are the quintessential small towns so many of us dream about growing up in or retiring to.
The host canceled this reservation 8 days before arrival. This is an automated posting.
Lindsay
2016-12-21T00:00:00Z
Kamertype
Gehele woning/appartement
---
Type woning
Huis
---
Geschikt voor
4
---
Slaapkamers
Montague, Michigan, Verenigde Staten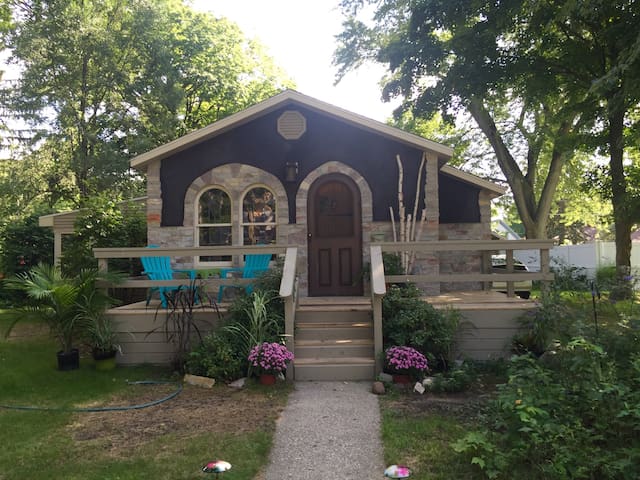 3 Bedroom, 1 Bath Cottage on 76' Private Frontage on Lake Michigan MONTAGUE/WHITEHALL COTTAGE, BEAUTIFUL VIEW AVAILABLE ON SCENIC LAKE MICHIGAN! VRBO322524ha PET FEE of 150.00 PER PET REMINDER!! INSTANT BOOK AVAILABLE THROUGH MAY 15TH OF 2017 UNTIL FURTHER NOTICE. PLEASE SEND A MESSAGE IF YOU ARE LOOKING TO BOOK PAST THIS DATE.
3 Bedroom with 2 of the bedrooms with queen beds and the 3rd bedroom with 2 full beds and a twin. Lake Michigan views from all rooms and windows of the cottage. Ample deck space around the entire cottage with gas grill or charcoal grill provide for outdoor cooking including picnic tables lounge chairs for sunset viewing and outdoor cookouts. VRBO322524ha
It is in Big Flower Creek Association a 34 acre wildlife sanctuary with Big Flower Creek river access to Lake Michigan with row boat, canoe and kayak provide with advance notice. It is also very close to the West Shore Snowmobile Trails. Silver Lake Sand Dunes. Michigan Adventure.
What a great place!! I don't think you could find a better view! Mike has thought of everything. Very comfortable and cozy place.... we are already planning our next stay!!
Cass
2016-10-17T00:00:00Z
Just got back from a wonderful , relaxing long weekend staying at Mike's cottage. Everything was great. Mike took time and showed us where everything was and even stop by to bring us some extra paper goods. He's a great host. It was a GREAT place. And I'm definitely going back.
Jeri
2016-10-09T00:00:00Z
Mike gave all info ahead of time and then greeted us when we got there too! Def above and beyond. He was extremely receptive to questions and was available 24/7. The place is fabulous! Exactly what a beach cottage should be... My only complaint is that I couldn't move in permanently because I would like to! I did extend my stay by a day tho because I loved it that much...
Wendy
2016-09-11T00:00:00Z
Host went out of his way to meet us at the property and show us around despite our late arrival. Beautiful place - as advertised. Will definitely want to stay here again when we have more time!
Eric
2016-11-14T00:00:00Z
If you want to escape and relax, this is the place to do it. Absolute stunning views, immersed in nature, and silence I didn't know existed! The house was well kept and clean and Mike makes himself available when needed.
andrew
2016-04-18T00:00:00Z
Mike was an exceptional host to work with! The views at the cottage are to die for and he thought of everything to help make our stay perfect. Mike even went so far as to purchase a hammock for us to use because we inquired about one. Our favorite part of the trip was walking along the private beach and watching the sunset from the deck. If you're looking for an "unplugged" (even though there is wifi and cable) getaway, this is the place! We are already looking forward to coming back again.
Rebecca
2016-05-08T00:00:00Z
Looks just like the pictures. Beautiful views and tranquil setting! We were there for a weekend getaway and wished we could've stayed longer! Mike was there to greet us upon arrival, and walked us through the house to show us where everything we may need was located. He also had pamphlets and flyers of things to do in the area, which were helpful.
Jeff
2016-05-23T00:00:00Z
Mike was extremely welcoming upon arrival. The directions he gave us were perfect as his beautiful cottage was secluded deep in the woods and right up on Lake Michigan. The pictures do not do his home justice! It was everything we could've hoped for looking for a getaway weekend. We can't wait to come back! 5 stars.
Alex
2016-11-13T00:00:00Z
Kamertype
Gehele woning/appartement
---
Type woning
Huis
---
Geschikt voor
8
---
Slaapkamers
Montague, Michigan, Verenigde Staten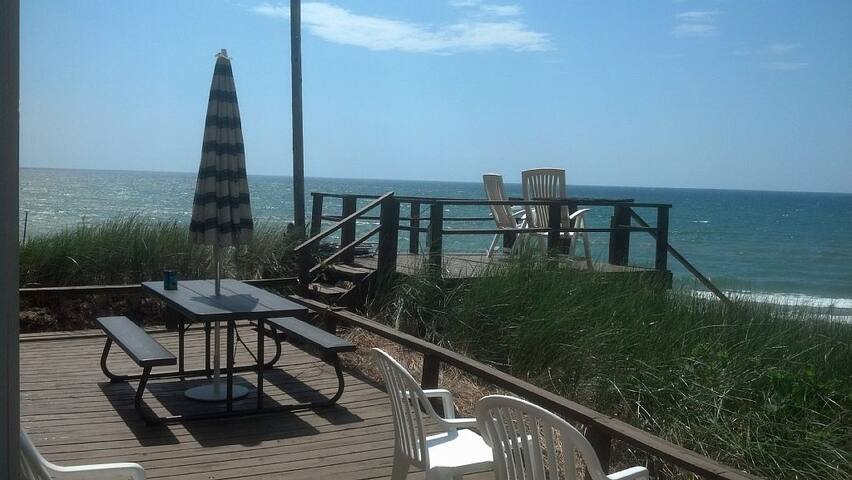 Nestled in the woods, overlooking Buttermilk Creek, offers quiet privacy, but is within minutes of Lake Michigan beaches, White Lake, restaurants, a microbrewery, yoga studio, multiple golf courses, bike trail, water sport rentals and water parks.
Hip '50's ranch, kitchen and two baths renovated 2015, perched above a tree-filled ravine, we call it our 'tree house.' Private, spacious, wrap-around deck for grilling, cocktails, enjoying the birds and wildlife. WiFi, cable, Xbox, bluetooth sound bar, cook's kitchen. Small fenced yard for children and pets.
Neat, well-kept, residential neighborhood that dates to the 19th century lumber era of White Lake.
I arrived a tad early because enroute, I was unable to access my messages. Mitch was amazingly flexible and welcoming. The house was welcoming, warm, comfortable, tidy, and immediately I felt relaxed. The sound of nature and the view and privacy was truly hard to leave when my stay ended. If ever the house goes on the market, I want a chance to buy it. I would stay again, if they continue and will check into it next year to see if home is still available Thank you Mitch and Lori for sharing your piece of heaven with me. Sally D
Sally
2016-08-23T00:00:00Z
Mitch and Lori were terrific hosts. We were made to feel very welcomed. Any questions prior to, or even during, our stay were promptly addressed. The location is perfect, just as described. We could be on the water or beach in minutes. Yet downtown was within walking distance. Private deck, yet house in residential area. Felt very safe and comfortable. Would gladly stay again!
Ryan
2016-07-15T00:00:00Z
Lori and Mitch were amazing hosts! They were very easy to work with and the house couldn't have been more perfect for our family of 5. We picked the area for its proximity to Blue Lake Fine Arts Camp where our oldest daughter was working for the summer. We grilled and were completely relaxed on the back deck surrounded by trees. Very quaint town with cute shops - our favorites were the Book Nook & Java Shop, Water Dog Oufitters (where we rented SUPs) and of course Mitch and Lori's yoga studio. We took, Mitch up on a Sunday drop-in class and were so glad we did. They even left a bottle of wine for us in the fridge!
Krista
2016-07-26T00:00:00Z
We arrived on the hottest day of the year. The house was (uncharacteristically) warm and stuffy. We told Mitch and, as if by magic, two new fans appeared on the front steps before 9am the following morning. The heat abated after several thunderstorms and we never needed the fans, but really appreciate the time and effort he expended to try to make us more comfortable in the unexpected heat. Overall, the house was comfortable and well-equipped. The deck and outdoor grill allowed fun meals and time to enjoy the great view of the woods from the house. As if the natural view was not beautiful enough, Mitch surprised us with lovely floral arrangements which he left on the deck near the grill. Would definitely stay again and suggest this well-equipped home and the genial hosts to anyone travelling in the area.
A
2016-08-17T00:00:00Z
Lori and Mitch are wonderful hosts! They left suggestions of local beaches, shops, restaurants, bike trails, and hikes. The White Lake area has a lot to offer for a fun vacation. The 22 mile bike trail is "smooth powder" and begins 2 minutes from the house. The beaches are great for swimming, water sports, or simply reading. Mitch warmly welcomed me to a yoga class and it was excellent! He is obviously well liked by his many students. The house features newly remodeled bathrooms and kitchen. Our family of four had plenty of space to either get together or find some private time. The deck offers beautiful views and sounds from the creek running through the ravine below. On our last night, after a walk on the beach, we enjoyed making dinner together with food from the Montague farmer's market (not to be missed if you are from the city like we are) complete with a local cherry pie. Fantastic!!!!! Lori and Mitch made themselves available by phone and were minutes away if needed - but they weren't needed. This house is very comfortable and summer fun is just minutes away.
Cathy
2016-07-23T00:00:00Z
The neighborhood was very safe and quiet and within walking distance to downtown. The listing was pretty accurate. You could tell it was newly updated because it was open, but still had a cozy feel to it. The wooded setting and ravine were beautiful and we were delighted that a small creek babbled behind. The wrap around deck made for great viewing as well as a peaceful spot to sit outside and read. We have two teenaged boys and they were delighted to find the X-Box. Lori and Mitch were great about communicating with us and made sure everything was ready when we arrived. We happened to meet them on arrival and they were very personable. If you get a chance, take advantage of the discounted yoga classes at White River Yoga.
Michelle
2016-08-01T00:00:00Z
I was so pleased with our first Airbnb experience. The house was beautiful and well stocked. Lori and Mitch were very approachable and Mitch came and introduced himself on arrival. we would highly recommend this home to all
Lynn
2016-08-28T00:00:00Z
Upon initial arrival at this adorable home we were instantly thrilled. It was clean, well equipped, well maintained, scent free, and very welcoming. We thoroughly enjoyed the view off the deck down to the creek. It was serene and stunning to wake up to each morning. Having a bowl of cereal and sitting on the deck was like spending a few minutes in heaven. Mitch and Lori were extremely accommodating and even left us great suggestions of good places to eat and visit in the area. We will absolutely be staying here again. Our experience was nothing short of wonderful!
Diana
2016-09-04T00:00:00Z
Kamertype
Gehele woning/appartement
---
Type woning
Huis
---
Geschikt voor
5
---
Slaapkamers
Montague, Michigan, Verenigde Staten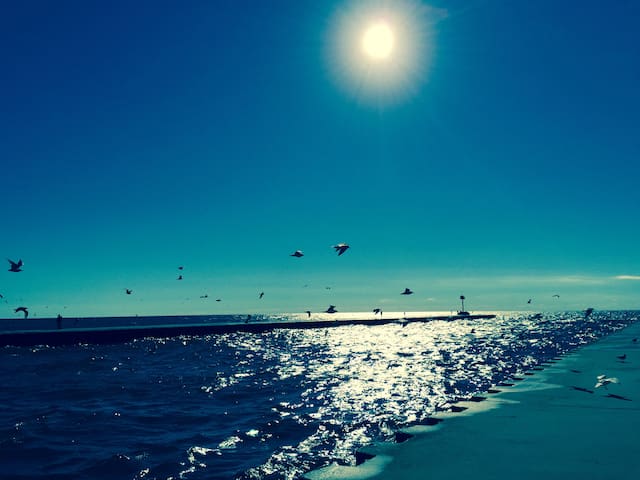 A Private upstairs bedroom with attached half bath and loft in a beautiful log home nestled in the woods, half a mile from two Lake Michigan beaches, a public boat ramp onto White Lake, and a fishing pier. Just fifteen minutes from grocery stores, bike paths, bike, kayak and SUP rentals, antique shops, coffee shop, Fetch Brewery, Yoga studio, and the highway.
If you are looking for a quiet spot where you can walk out the door through trails in the woods, or down to the beach, this is it. I do not have a dishwasher or cable TV, but I do have Wifi. You will have the upstairs bedroom, loft, and half bath. The bathroom downstairs has a shower/tub.
The Old Channel Inn, a wonderful restaurant and bar, and The Old Channel golf course are right down the street. You can see other homes from my home, but they are at least 300 feet away.
Kamertype
Privé Kamer
---
Type woning
Huis
---
Geschikt voor
2
---
Slaapkamers
Montague, Michigan, Verenigde Staten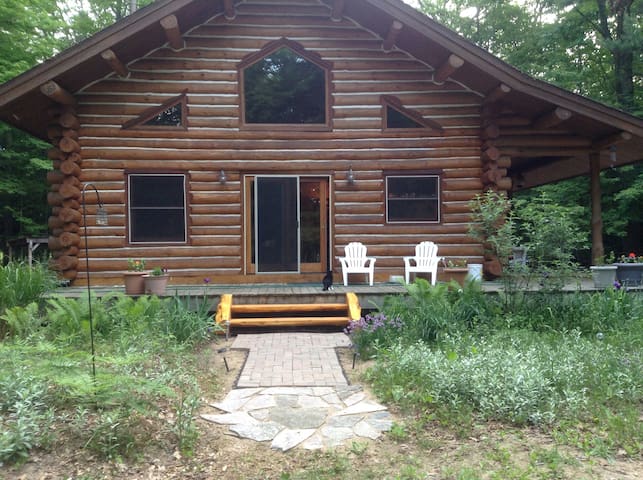 My place is close to Meinert Park and Lake Michigan. You'll love my place because of the views, the location, and the outdoors space. The backyard is wooded, with multiple wildlife. There is a spacious deck as well as an enclosed sunroom. My place is good for couples, solo adventurers, business travelers, families (with kids), and furry friends (pets).
The house is a comfortable, cozy house set back into the woods. It has a comfortable living space, and two bedrooms, as well as two full bathrooms.
The house is located on a dead end road with minimal traffic. It is a quiet street, with friendly neighbors.
Such a lovely place! We loved it and can't wait to go back. Thanks Carol.
Melissa
2016-09-07T00:00:00Z
What a beautiful home surrounded by nature and a short walk to Lake Michigan. We had everything we could have possibly needed with the comfort and amenities of home. Our hosts were lovely and checked in with us the day after our arrival to make sure we had everything we needed. We would definitely recommend this cozy cabin in the woods if you are looking to relax and unwind and enjoy a wonderful PureMichigan vacation.
Jennifer
2016-09-27T00:00:00Z
Like a previous review said, the pictures don't really do this cottage justice! It's off the beaten path and very private - it was perfect for my family and I. My toddler and my parents had so much fun playing together on the back porch, and the grill and kitchen are well appointed and ideal for having a family meal, rather than having to eat out all the time. The beds are also extremely comfortable. The house is surrounded by woods, so don't forget your bug spray (this is NOT a knock on the listing, just a note about Michigan in the summer if you intend to spend any time outside at all)! We weren't able to take either the walk or the drive to the nearby beach, but there are detailed instructions in the house on how to get there. Thanks for providing such a nice and comfortable home for my family for the weekend!
Kyle
2016-07-18T00:00:00Z
Everything at the house was very warm and accommodating. Carol sent us detailed directions and a map to the house. She and her husband stopped by for a very pleasant chat and to see if there was anything we needed.
Tom
2016-10-13T00:00:00Z
Carol was an amazing host. Super responsive and helpful. She installed an extra window AC unit during our hot and humid stay. The foresty walk to the beach is really nice but with small kids and a lot of stuff the drive is an easy alternative. Overall a really nice and relaxing place to stay!
Thom
2016-07-24T00:00:00Z
The Cozy Cottage was an amazing place to stay. The photos do not do it justice! The cottage is located at the end of a secluded road at the end of a long wooded driveway. The large deck (complete with a table, chairs, and a grill!) overlooks an open yard and then onto acres and acres of beautiful forest. The surrounding forest is just beautiful and provides walking access to Lake Michigan (instructions provided by Carol at the house were very helpful). The house itself was clean, spacious, and well-stocked with kitchen, bath and linen necessities. The master bed was super comfortable (thick memory foam topper). Carol made us feel welcome by providing a printout with details about the property and area. We would definitely stay hear again :)
Carissa
2016-05-31T00:00:00Z
Carol was always just an quick email away and answered all my questions in a timely manner. Cute little cottage tucked away in the woods. More than enough space for us, even though we only pretty much slept there!
Kristen
2016-08-21T00:00:00Z
Kamertype
Gehele woning/appartement
---
Type woning
Huis
---
Geschikt voor
4
---
Slaapkamers
Montague, Michigan, Verenigde Staten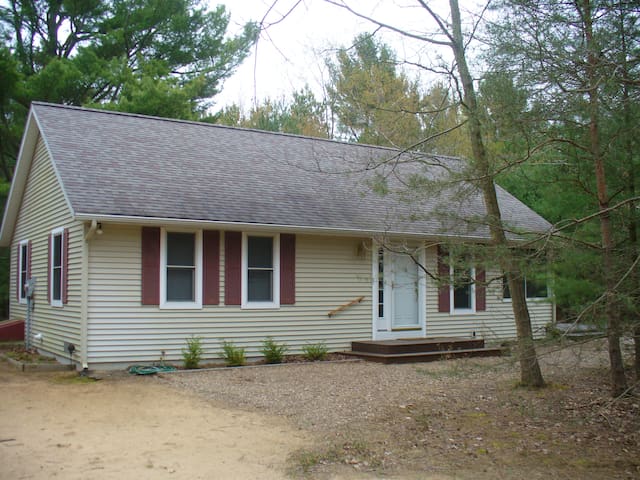 Swan at Stonehearth is close to downtown Montague with its small-town charm. Seasonal farmers market, book store/wine bar, old-fashion soda fountain, bike trail.. Enjoy a glass of wine in front of the beautiful stone fireplace and fall blissfully asleep in a fabulously comfortable bed. Quiet charm and romantic ambiance.. Perfect destination for a quiet retreat, special celebration, or a long weekend all to yourself. Business travelers will welcome the space to relax instead of a boring hotel.
Quiet residential neighborhood within walking distance of downtown Montague. Check out Book Nook and Java Shop for music, wine, yummy foods and, of course books! Seasonal farm market with the best local produce. Cross the bridge to Whitehall and check out Fetch Brewing or Pub 111 for great brews. Find unusual gifts at Colby's Hokey Pokey, Pitkins Drug Store, or White River Gallery.
Kamertype
Gehele woning/appartement
---
Type woning
Huis
---
Geschikt voor
3
---
Slaapkamers
Montague, Michigan, Verenigde Staten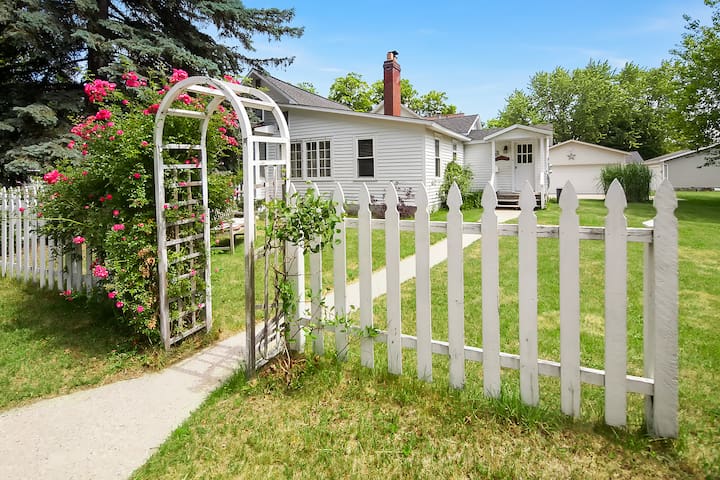 Lovely house close to Lake Michigan and Meinert Park. It is about 8 miles from Montague. This is in a wonderful location on a quiet dead end road. My place is good for couples, families (with kids), and furry friends (pets).
This two bedroom house has wonderful views in the backyard, and a spacious deck. It is a open design, comfortable, and larger than it looks in pictures.
House was larger than expected and very convenient location. Carol was very helpful and accommodating during our stay. We would definitely be back when we're in the area again.
Andrew
2016-06-28T00:00:00Z
Our stay at Carol's was beyond great. I wish we could rate this stay for more than five stars. We loved the quiet location and the spacious, comfortable, and well-stocked house. The house was perfect for the whole family including our dog and baby. Everything was accurate in description. Carol was an excellent communicator and we had several questions and changes that needed to be made. She accomodated us with with the utmost amount of grace. Thank you for offering your place during the holidays.
Matt
2016-12-27T00:00:00Z
Kamertype
Gehele woning/appartement
---
Type woning
Huis
---
Geschikt voor
6
---
Slaapkamers
Montague, Michigan, Verenigde Staten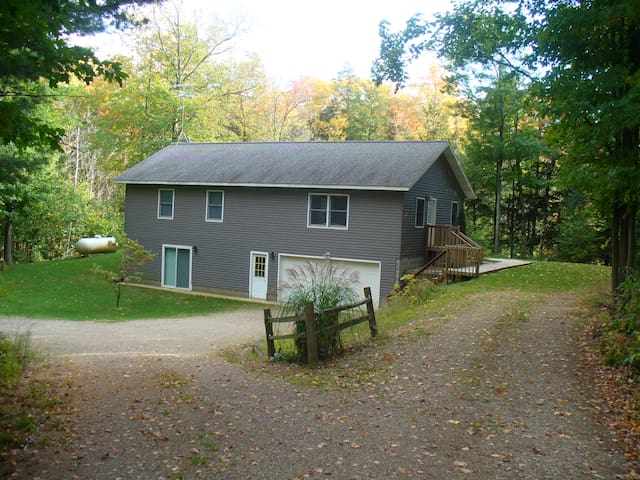 Charming cedar shake farmhouse converted to beach house. Ideal for rural simplicity and uncrowded beach-bumming. Cool breezes and farmhouse quiet; the beach, swimming, and sunsets are only 3 minutes away. Weekly rentals only, Sat. to Sat.
The lake, with its deep, white-sand private beach, is 1/4 mile down a private, shaded road through the dunes. 3 minute drive, 15 minute walk. Everything you need for a perfect vacation. Uniquely furnished and fully equipped: •2 bedrooms (Master BR newly furnished, Sept. 2014) > large livingroom with opening windows on 3 sides. •Separate library-dining room > Large furnished rear deck. •Large, light & airy living room •Large furnished rear deck •TV, DVD, CD, High Speed Internet
Just past farmland, Fruitvale Road runs dead into Lake Michigan dunes. One house there is ours; the other is the artist-couple who manage our property. The only other neighbors: deer, rabbits, and birds.
Kamertype
Gehele woning/appartement
---
Type woning
Huis
---
Geschikt voor
4
---
Slaapkamers
Montague, Michigan, Verenigde Staten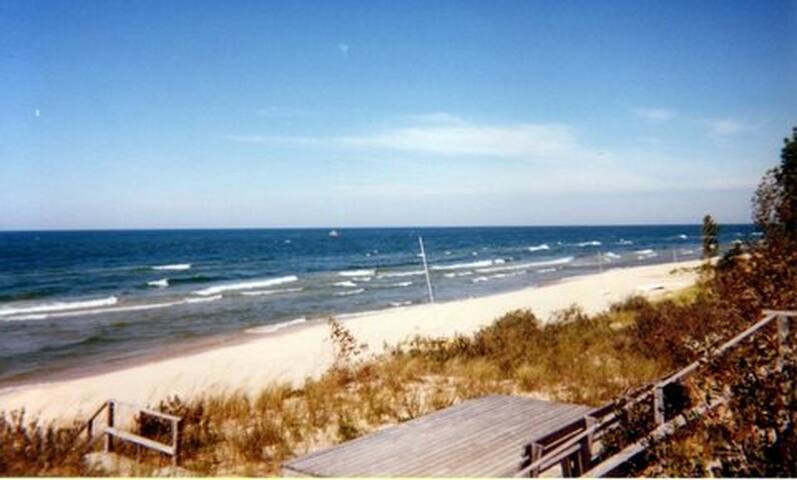 This is a beautiful, one-of-a-kind home fully restored by a master craftsman. Located on a quiet street only a short walk to downtown Whitehall & White Lake. Beautifully decorated, you will love relaxing inside or lounging on the secluded back deck.
If you are looking for a quiet getaway in beautiful home near downtown Whitehall, this is the place. This home was fully restored by a master craftsman - it has a ton of character and wonderful detail. Aside from the wonderful interior of the home, there is a back deck with a bubbling artificial pond and winding pathway through the backyard and garden. Downtown Whitehall is a short walk as is White Lake. Lake Michigan is about a 15 minute drive. You will truly enjoy staying at this one-of-a-kind home.
This is definitely the best place we've stayed in with airbnb! The house was so clean and everything we needed was there. Communication with Elliott was great and we had no problems with anything. Lovely bedrooms and very comfortable beds made for a wonderful get-away! Backyard was magical with pond, gardens, and trees and plants! Neighborhood was so quiet and peaceful. We are definitely going be staying there again! Elliott's place is a definite 10!!!!
anna
2016-11-15T00:00:00Z
Great place for a get away. Pictures are accurate,very beautiful cottage. Short drive to the lake. Great hosts ! Would love to visit again.
Kelley
2016-10-23T00:00:00Z
It's a really a nice quiet neighborhood for guests to relax and unwind. The interiors have a very traditional and antique look which resembles the historic background of Michigan. It's located in a very convenient location, walking distance from the lake and a small strip mall.
Akhil
2016-05-16T00:00:00Z
We had a wonderful experience in this beautiful house. Very close to all the Whitehall amenities in a nice neighborhood. The kids had such fun watching frogs in the small pond in back, and the details in the house were gorgeous. Hosts were very helpful, responsive and friendly. We highly recommend this to our friends traveling in the area and would (will!) definitely stay again!
Caitlin
2016-04-25T00:00:00Z
The home was beautiful and we had a wonderful time! Elliott was easy to reach and everything you want in an Airbnb host.
Nicole
2016-10-30T00:00:00Z
Cozy, unique home in a beautiful neighborhood. We enjoyed mornings drinking coffee on the back porch viewing the beautiful garden. The location of the house is central to all that Whitehall has to offer. We would definitely stay here again, and likely will as we have family in the area. Thank you for offering such a great home away from home :)
Heather
2016-09-06T00:00:00Z
Thoroughly enjoyed our stay in Whitehall. The house is in a quiet neighborhood but close to white lake and downtown. Enjoyed how cosy and quirky the house was with loads of character and things to look at. Garden and porch area were lovely. Bathroom and kitchen areas were very good with everything we needed provided. Elliot was quick to answer our questions. A very nice getaway, highly recommended.
Alice
2016-10-21T00:00:00Z
Elliot was terrific - very communicative and friendly. The house was great, it had all the amenities and was clean and comfortable with a really good garden area.
Geoff
2016-10-05T00:00:00Z
Kamertype
Gehele woning/appartement
---
Type woning
Huis
---
Geschikt voor
4
---
Slaapkamers
Whitehall, Michigan, Verenigde Staten
You'll leave your worries behind when you stay at this beautiful home on White Lake with deep water access to Lake Michigan. Enjoy a blazing bonfire on the private beach, paddle around White Lake in our canoes, and experience Pure Michigan views from nearly every room in the house. Get comfortable, cook or grill a meal, sit awhile on our front porch or side patio and take in the mesmerizing view of the Lake.
Kamertype
Gehele woning/appartement
---
Type woning
Huis
---
Geschikt voor
10
---
Slaapkamers
Whitehall, Michigan, Verenigde Staten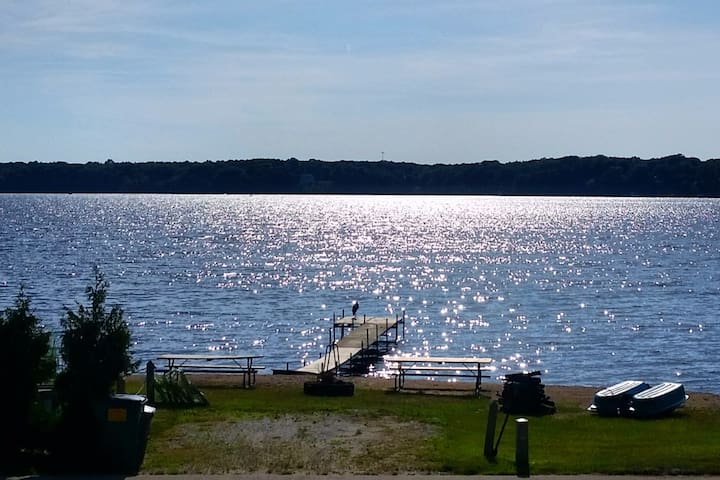 Our one-of-a-kind house has features you'll see nowhere but here. Located right across the street from beautiful whitelake we are close to everything West Michigan has to offer.
Hank's house, is located close to everything. 10 minutes from Michigan Adventure theme park. 5 minute drive from a free boat launch. 5 minute drive to Duck Lake State Park. Plenty of shopping and golfing and fishing not to mention our beautiful sunsets.
Our neighborhood is filled with summer cottages and beautiful homes. We sit just across the street from beautiful White Lake, which is one of the few that has Channel access to Lake Michigan. We have a nearby boat launch and many tourist attractions just minutes away from the house .
Kamertype
Privé Kamer
---
Type woning
Huis
---
Geschikt voor
6
---
Slaapkamers
Whitehall, Michigan, Verenigde Staten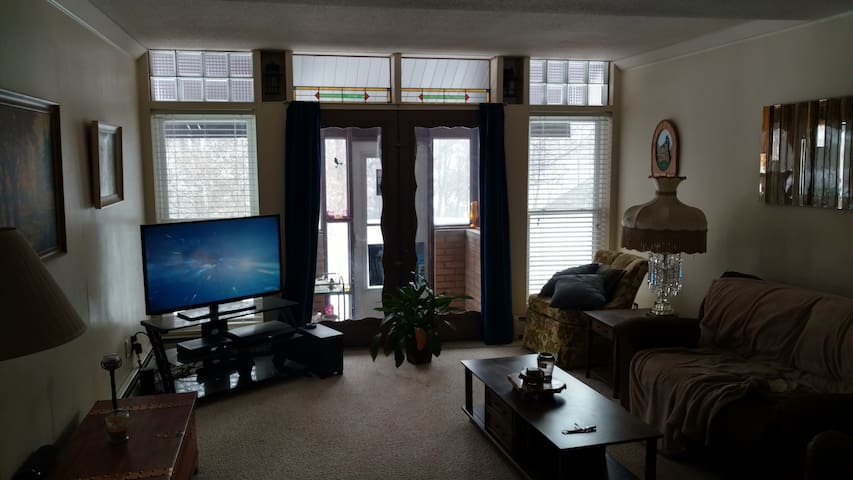 Located in a quaint town, walking distance to White lake, fishing, shops, parks, bike trail, tennis courts, bars and restaurants. 7-8 miles to Lake Michigan beaches. House is cozy and clean with 4 person outdoor hot tub, fire pit, quiet area. The set rate is for four people. Additional guest will require approval and an additional cost of $10.00 per person per night.
My neighbors do watch out for each other. We do care about our neighborhood and all activities going on. I know all of my guest will be respectful during their visit to this wonderful community. Thank you!!!!!
Unfortunately i wasnt able to make it to the house, Mary called me and made sure i got the directions clearly on how to get into the house. Very sweet woman! Super bummed i couldnt use the hot tub! Will book again here!
Sydne
2016-06-29T00:00:00Z
Everything was as advertised. Very nice place to stay. Thank you.
Dani
2016-09-19T00:00:00Z
Mary is a great host. Even though we didn't meet her in person, everything in the house was nicely arranged for us. All three bedrooms had necessary beddings, even a couple of bottled water on each night stand. Adequate hand towels and shower towels in both bathrooms. On the kitchen table, Mary even left a couple of small bottles of wine, making us feel at home right away. There was coffee maker, which we found very useful. Mary provided a carton of milk. Very nice. Overall, very nice experience. I would definitely come again, if we come to this area in the future.
Philip
2016-08-22T00:00:00Z
The posting does a very good job of describing what the house is like. After you stay there you will know that the host genuinely wants to make you feel welcomed. This is what I call a 4C place .. Clean, Cozy, Comfortable & Cost Effective ..! If you are planning to visit anywhere from Holland, Mears, Whitehall, Hart, Silver Lake Dunes .. I strongly recommend this place.
Khaula
2016-05-16T00:00:00Z
Everything was great. Very friendly host. Amenities as decried.
Mick
2016-06-27T00:00:00Z
Great place to stay! Would stay there again! It had all of the essentials one would need and so much more! Loved the house and the price we were able to stay there for.
Thomas
2016-08-17T00:00:00Z
We had a great stay at the Jackson house! The place was very clean and the attention to detail made it feel like home. We Would definitely recommend staying here!
Laura
2016-09-11T00:00:00Z
Mary was great and left very good details on everything. The house was lovely and the neighborhood was very peaceful.
Elaina
2016-06-11T00:00:00Z
Kamertype
Gehele woning/appartement
---
Type woning
Huis
---
Geschikt voor
7
---
Slaapkamers
Whitehall, Michigan, Verenigde Staten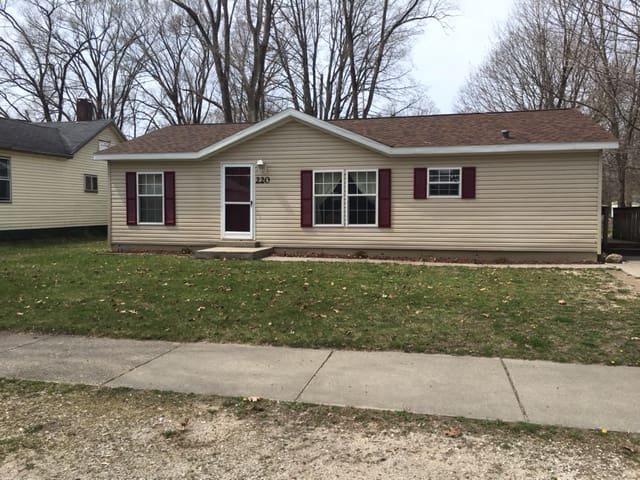 Near LAKE MICHIGAN, MI ADVENTURE, JJ RESORT, 22.5 MILES OF BIKE TRAIL, WHITE RIVER KAYAKING & CANOEING, FISHING, CAR RACING, HORSE RIDING, GOLFING, OPTIONAL 40 ACRE LEASE FOR HUNTING. SILVER LAKE DUNE RIDING, EASY ACCESS TO SNOWMOBILE TRAILS.
Has a fenced in back yard with a fire pit, gas grill and plenty of outdoor furniture for lounging. The front room is set up with a table and chairs, games, playing cards and puzzles with a pellet stove for those chilly days and nights. We have a full kitchen, full bath, TV's and dvd players, washer and dryer.
A five minute drive to Lake Michigan, Duck Lake, White Lake and Michigan Adventure, also our spectacular lighthouse built in 1875 which is now a museum open for tours. We are two miles from our local library with bike/walking trail in warm weather. Snowmobile trail in winter! We are twenty minutes from Silver Lake Dunes, horse back riding, JJ Water Park, White River Canoeing and kayaking (Happy Mohawk), Lewis Farm petting Farm and Country Dairy. We are twenty mins. from The Lake Express Ferry from Milwaukee to Muskegon and lots of restaurants and shopping.
We had a great time while staying at Erica's place...nice, clean, and quiet location.
Jonathan
2016-09-05T00:00:00Z
Erica was a wonderful host, she went out of her way to make our stay comfortable. The house was clean and minutes from Lake Michigan.
Jesse
2016-07-30T00:00:00Z
We were very pleased with the welcome. The home was very country setting which we liked. The home was cleaned well, it was baby friendly, and well kept up. We were only minutes away from the lakes. A very quiet neighborhood and very private area.
mary lou
2016-05-19T00:00:00Z
This house was perfect! Very cozy with a beautiful back yard to just hangout in peace. Would definitely stay here again!
Brandi
2016-06-28T00:00:00Z
This rental was a clean, pleasant, and quiet place to stay. It was very convenient for us since it was less than a 30 minute drive from the sand dunes at silver lakes park. Erica was a a kind lady who very charming to deal with. I would certainly recommend it or stay there again.
Nick
2016-07-04T00:00:00Z
We enjoyed our stay at Erica's rental house near Whitehall. It was really close to a couple little towns, a water park, Lake Michigan,and about half an hour from Muskegon. We didn't meet Erica, but talked to her several times over the phone- she was available to answer questions during our stay. The home looks like it is set up as a rental property and we had no complaints. It was clean, as described in the listing, and there were some nice touches added- a couple kids games, a stack of firewood to use in the backyard firepit, and bottled water in the fridge. The only issue we had was the whole house was a complete cell signal dead zone- but that's pretty common in Michigan so we expected it. Overall it was very nice and I would recommend this property.
Scott
2016-05-31T00:00:00Z
The neighborhood was very rural on a busy road right outside of town. Erica's house was very close to a lot of really great vacation sites for young families. We had a great time and the house was very comfortable.
Jessica
2016-08-10T00:00:00Z
The house was exactly as pictured--lovely furnishings, warm and welcoming. More spacious than it looks. The large laundry was a great toy car run when it rained. And the hostess provided big baskets of toys! It was clean and ready. 4 nice tvs! But no wifi. The review nicked down just a tad because there were no sundries--half a roll of t.p., one bar of hotel-size soap, washer and dryer but no detergent, no extra garbage bags. A stop at the Meijers in Muskegon on the way in might be a good idea. It's well water, fine to drink but you might want a couple of gallons of "regular" water.
Mary
2016-08-22T00:00:00Z
Kamertype
Gehele woning/appartement
---
Type woning
Huis
---
Geschikt voor
7
---
Slaapkamers
Whitehall, Michigan, Verenigde Staten
My place is close to parks and the city center. You'll love my place because of the location and the people. My place is good for couples and families (with kids).
Kamertype
Gehele woning/appartement
---
Type woning
Huis
---
Geschikt voor
9
---
Slaapkamers
Whitehall, Michigan, Verenigde Staten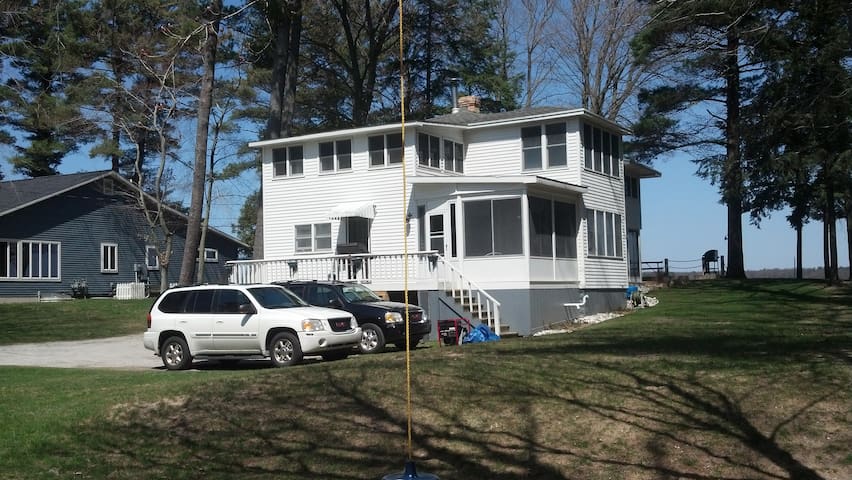 At this time water levels are so high there is no beach accessibility at the house. There are three beaches close by: Township beach 10 driveways South; Duck Lake State Park beach 3 min drive North; and Muskegon State Park beach 7 min drive South. Most of the renters love Duck Lake State Park beach because the channel runs through and the water is a bit warmer.
Beachside Chateau Cottages Many majestic Lake Michigan waves have rolled onto the shoreline since the Beachside Chateau Cottages were built in 1928. Out family has owned the main house and small, cozy guest home since 1965, and we continue to enjoy the stunning view of Lake Michigan to this day. The main house will comfortably sleep nine people with three bedrooms and two bathrooms. The extra-large bathroom on the main level has been recently updated and has a beautiful ceramic tile shower. The kitchen is newly remodeled and includes a large table setting for several people. At the end of the day, you can comfortably sink into the two leather couches in the living room and watch the 50-inch flat-screen TV on the wall above the large brick fireplace. Sit outside on the spacious deck with a cup of coffee in the morning or a favorite beverage at night, and watch the sun set into the lake, while sailboats pass by. A brand new stairway, descending from the yard down to the lake, includes a landing half way down so you can sit and enjoy nature and the view all at once. Duck Lake State Park is just around the corner where you can walk and relax on the sandy beaches. The winding and breathtaking views of Scenic Drive will take you into the quaint towns of Montague and Whitehall, where you can eat, shop, and take a picture of the world's largest weathervane. Michigan's Adventure and Silver Lake Sand Dunes are great entertainment for the entire family and are within close proximity. The state of Michigan is also home to more historical lighthouses than any other state! You can easily take a lighthouse tour in either direction, the closest one in Whitehall, only minutes away. Charter a sailboat or fishing boat from one of several marinas located close to the cottages. Be sure to cook your fresh catch on the grill! Our family has many good memories of life at the Beachside Chateau Cottages, and now, we want you to enjoy and make your own lifetime memories as well!
Nancy was there when we arrive to give a tour. She was helpful and attentive. Lots of trees and pretty area. Little purple flowers on the bluff. You will not have a lake view from the house, but it's a few hundred feet to the lake view and the stairs that go down to the lake. The cottage is an older home, but it's been recently renovated. Fresh paint and flooring and appliances--well, everything. I felt like I was the first person to rent it. We liked to go to Duck Lake to watch the Sunset, since the water was high this year and toddlers and cliffs don't mix well. :-) My wife, two-year-old, and I enjoyed our stay here. My wife is an oil painter and was able to use the property and the local area for 30+ works while we were there for a week.
Stephen
2016-06-13T00:00:00Z
My wife, my two-year old son, and I had a lovely stay at Nancy's cottage. The cottage itself is equipped with everything we needed to feel relaxed and at home. The true prize of the cottage is the views of the lake from in front of the big house. We were lucky enough to have nights of beautiful sunsets, which we watched while tending to the fire-pit. There is also a wonderful beach only 5 minutes away (Duck Pond) where our son had a blast wading through the shallow water. Lastly, I will say that Nancy was a wonderful host and just a genuinely nice person. I wish we lived closer so that we could stay at the cottage more often.
Leon
2016-07-03T00:00:00Z
Accurate
Ted
2016-07-19T00:00:00Z
Kamertype
Gehele woning/appartement
---
Type woning
Huis
---
Geschikt voor
5
---
Slaapkamers
Muskegon, Michigan, Verenigde Staten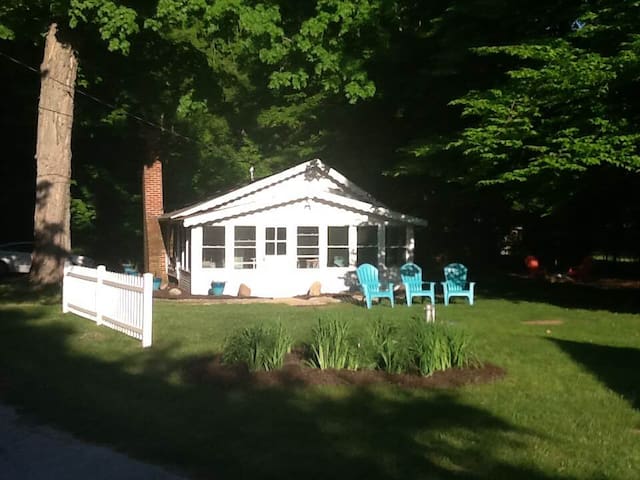 1

–

18

van

31 Huizen te Huur