3 Accommodaties
· Dundrod
3 Accommodaties
· Dundrod
Tullywest B&B is 5mins drive from Belfast International airport in a central countryside location for touring & business. A modern home with spacious guest bedroom which is located on a mezzanine floor with: dedicated shower room, sitting area, WiFi, TV & hospitality tray,. Lifts available to and from the airport and to bus links. A car is beneficial for travelling outside Belfast. Belfast City (20 mins by bus or car from airport) Super breakfast included. NITB approved.
The bedroom space provides a very comfortable and stylish room for guests to relax in. BT Infinity broadband is available through the home as well as Free view channels in the guest room. Guests are invited to enjoy the use of the sunroom and living room. We take pride in our home and are keen to share our interests in good food, art and the garden. We hope that guests will feel relaxed and at home, choosing to relax and chill out on their own or join us for a cuppa or a meal. The guest room is located upstairs. Some spaces such as the sunroom and living room are shared. While guests can make use of the fridge, the kitchen is not available for the preparation of meals by guests. We enjoy meeting people and are happy to provide advice on how to make the best use of your time in the N Ireland by suggesting directions to travel and places of interest. At the end of the day a cup of tea or coffee will always be in the pot to accompany the sharing of the day's adventures or the planning of what comes next! A cooked breakfast is included in the price, however, if you plan to leave for an early flight and only require a light breakfast this can be replaced with a light supper on the day of arrival. This is a flexible arrangement. A more substantial evening meal can be provided as a small cost.
While Tullywest B&B is set in scenic countryside with beautiful views it is only 5 minutes drive from the local small town of Crumlin and 10 mins drive from Antrim town and 25 minutes into the centre of Belfast. There are a choice of restaurants only a few minutes drive away. The Belfast International airport is 5 mins drive away and the hosts are happy to pick up and drop off guests for airport travel or to catch buses that travel from the airport into Belfast city centre, these leave every 20 minutes. Tours operate out of Belfast to all parts of N Ireland. A car is beneficial for touring beyond Belfast. Free Parking is provided during your stay. Tullywest provides a central location for traveling in all directions whether it be business or exploring scenic N Ireland. For business visitors we provide a homely space for you to work from. Guests are welcome to join us for evening meals and menus are varied and flexible to suit dietary needs. The many centers of interest within easy reach include: the scenic north coast with the Giants Causeway, Belfast tours, the Titanic Quarter, Games of Thrones venues, museums, etc A special interest in quality dining can be shared with guests with advice on where to eat nearby as well as in Belfast and beyond. A UK Award winning restaurant Wine and Brine is only 15 mins drive away in the Moira. If you have an interest in golfing or crafts, activities can be arranged or visits advised. There are three golf courses all within 10 minutes drive from our home.
I stayed with Vine and Davy for 5 nights while I was there for work. Vine and Davy were the perfect hosts, very friendly and welcoming, made me feel at home. The house was in a beautiful setting with lovely views of the countryside and the lake. My room was lovely, very comfortable and very quiet, I slept very well every night. The breakfast was fantastic, perfectly cooked, and lots of variety available. Excellent coffee as well and such a nice setting in front of the beautiful scenery each morning. I thoroughly enjoyed my stay with Vine and Davy, lovely kind people with a beautiful home, I would love to come back and stay again.
Chloe
September 2016
Fantastic Guests with a beautiful house, went above and beyond by giving me a lift to the airport.
Jack
October 2016
I 've had a truly lovely stay,everything was perfect.
Θοδωρης
December 2016
Superb hosts and room!
Nick
March 2017
The host canceled this reservation 44 days before arrival. This is an automated posting.
eva
This listing, being very near the airport, was exactly what we wanted. We loved the warm homely welcome and a long chat about mutual interests. Fantastic comfort and great breakfast
Marion
October 2016
Oh my goodness. I cannot say enough good things about Vine & Davy, their incredible hospitality and their beautiful home. The accommodations are far better than most I have had - clean, comfortable and impressively stylish. The food was absolutely delicious, and the company was top notch. Vine has not missed a single detail. These are great people and I so enjoyed getting to know them. My only regret is that I didn't have more time to spend. If you love art, kindness and complete comfort, this is your place.
Tonia
January 2017
Vine and Davey did everything possible to make our stay the most homely and welcoming place for a nights stopover. From the cup of tea on arrival to the delicious and extensive breakfast, everything was simply delightful. They really were the perfect hosts-even dropping us to the airport the next morning. The decor and scenery were beautiful and everything was sparklingly clean for us. We can't wait to visit again someday!!
Claire
October 2016
Kamertype
Privé Kamer
---
Type woning
Bed & Breakfast
---
Geschikt voor
2
---
Slaapkamers
1
Antrim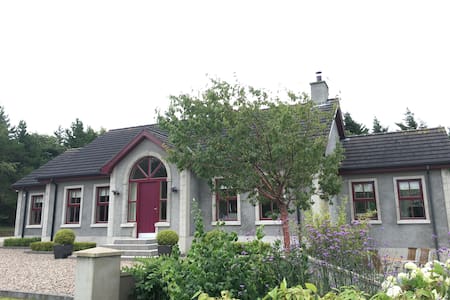 Quiet rural location attached to our home but yet completely independent. It is furnished with living room and kitchen , bathroom accessed from hall and bedroom which have built in wardrobes. A separate washing machine/freezer room is downstairs. WE ALSO HAVE A SEPARATELY LISTED TWO BEDROOM APARTMENT.
You will have access to patio, main garden (getting an overhaul ) clothesline Garage and store ,perhaps you are an angler ,biker needing storage,warm boiler house for drying your stuff. We have a veg garden so may be some goodies there . Our main dwelling will not be accessible see below for additional accommodation . We will try and be as help full as we possibly can on any situation which may arise as we do appreciate fully how difficult it can be when you are in a strange location and need good support.Washing Machine is included with 4 day bookings only.
We are ten minutes from The International Airport twenty minutes from Belfast (12 miles) so a car or bike is a requirement for getting around.Carhire at airports .We can by arrangement do transportation Local Airport £10. City Airport £20 each way. Apart from the double bed two portable single bed spaces could be put into hall and living room.Possibility of extra 2 to 3 double beds with en-suites in our main house,subject to family availability at the time. More than two persons will be £22 each per night
Raymond and Rosemary were wonderful hosts and they made us feel very welcome. They gave us very useful information about the region and places to visit, and we had a great time! The apartment is beautiful and very comfortable, we loved the garden as well!
Claire
August 2016
Again a superb stay
Patrick
May 2016
Oh my goodness, I don't have enough nice things to say about Ray and his wife. These two are fantastic hosts. They invited us into their home and we talked about life and Ireland over cookies and tea. They go above and beyond to make you feel welcome. Ray has worked hard to create great living spaces that are very private. I wish these two were my neighbors!
Mary
July 2015
We had a really great time staying at Raymond and Rosemary 's place, the flat was just perfect and has everything we needed. It's a really quiet place in a beautiful landscape. Raymond and Rosemary where very kind with us, if we needed something, we just had to ask and they helped us with enthusiasm. Thank you again for everything! We really enjoyed our time in your place.
Aurelia
September 2015
What an amazing place Raymond and Rosemary have! We've had the pleasure of staying at the apartment for 2 nights. The apartment is everything you could wish for. Big bedroom, nice bathroom and a living room with kitchen in a beautiful rural setting. We felt like staying at a 5 star hotel. Rosemary and Raymond are great hosts. They did everything to make us feel at home. We very much recommend staying at their place and when we return to Belfast we definitely would like to stay there again!
Sjoerd, Ingeborg & Vinn
July 2015
Raymond and Rosemary were very welcoming and hospitable. They went far and beyond their call of duty and helped us out immensely. Would highly recommend this place as it's modern and close to the airport (yet still feeling like you're in the countryside). Would love to come back again thanks so much :)
Conor and Izzi
July 2015
Raymond and Rosemary are two of the loveliest hosts we have met. From the minute we arrived they made us so welcome and they both encompass what AirBnB is all about which is meeting the people as well as having excellent accommodation. Both of them could not have done enough for us. Their flat is superb and very well appointment with everything one needs for a great stay. Their location is ideal forthe international airport which is just down the road a few miles away. Their house is stunning and although our accommodation was separate from the main house, Raymond and Rosemary invited us to join them for a glass of wine in the evening and a coffee in the morning. We would definitely recommend anybody staying in this area or coming to visit Belfast and the surrounding area, to stay with this special couple. It was a joy to stay in their apartment and meet such wonderful hosts. Thank you so much Raymond and Rosemary for being such welcoming hosts!
Alison
July 2015
There are not enough kind words to describe our stay with the Wilson's. While offering some of the finest hospitality possible they give you space and all the amenities that you need. They were very helpful with directions. The apartment is modern, beautiful, and comfortable. What a beautiful pair of people. We hope to return.
Joël & Jessica
July 2015
Kamertype
Gehele woning/appartement
---
Type woning
Appartement
---
Geschikt voor
2
---
Slaapkamers
1
Nutt's Corner
This is a new apartment on first floor with all modern appliances and comforts. A washing machine with overnight drying facilities are provided. The apartment is attached to our living area but with own entrance and separated from the main dwelling. WE ALSO HAVE A SEPARATELY LISTED ONE BEDROOM APARTMENT.
Our two bed apartment is 15 minutes from the airport and Belfast and is in a quiet rural location with no traffic congestion so you get on your way without delay We have garden and patio spaces for you to relax in ,a garage for your bike and anything you might not want to take out everyday We are usually available to help with difficulties that may arise.(yes illness travel and luggage to name a few have been daleth with in the past)
Many of our guests appreciate the quietness of our location as they have come from very busy noisy home surroundings. It is advisable to have transport but we have collected people at the airport or brought them to the bus stop for a small fee (collection at the airport for £10.
Perfect!
Nick
March 2017
Raymond and Rosemary were wonderful hosts! They were very accommodating from the beginning and the happiest people we have met so far in Ireland! They live right next door so they are there to help you with anything you need, and of course their place is lovely. We didn't realize it was so far into the countryside so we got a little lost as we arrived in the dark. Try to get there in the daylight and enjoy the garden and relaxing atmosphere. Would definitely recommend this apartment to get away from the busy city of Belfast.
Julia
September 2016
My family and me stayed here for one night and we were all flabbergasted. The apartment is easy to get to with a car and is on the way from Belfast towards the coastal route which was perfect for us. Everything in the apartment is in pristine condition and all appliances work perfectly. The beds are very comfortable and helped us recuperate from a lousy rainy afternoon in Belfast as did the shower. The interior is magnificent and there's only more to say about the owners. Both Rosemary and Raymond did everything in their power to make the place feel like a home for a night. Sheets and towels are clean, there's all you need for breakfast (variety of muesli, butter, marmalade, milk, coffee, tea, bread), even four eggs that come from happy-plucking hens you see while driving in. Honestly, better than a hotel. They even went out of their way and booked a dinner for us in a restaurant they recommended. I would definitely recommend everyone to stay here as it is clean, comfortable for four adults, close to Belfast and the hosts know how to welcome you in the best way.
Tamara
April 2016
Raymond and his wife are friendly and lovelyyyy!!! There were also so helpful, they helped us to find a restaurant around Belfast. Also the apartment was really clean and spacious. They were a full breakfast : cereals, bread, jam... Everything was perfect, again thank you so much ! We will definitely go back to your home when we will go around Belfast :-)
Audrey
July 2016
We were made to feel very welcome and looked after, the area was stunning and very quiet which was good for a good nights sleep
Craig
September 2016
Great service provided by Raymond. Their apartment was perfect for our requirements. Communication was excellent and description was exactly as listed.
Duncan
August 2016
Raymond and Rosemary are very kind and helpful. They showed us their hospitality and we felt ourselves like at home. I really thank them for all. I hope I could visit them again in future.
Emrah
July 2016
Kamertype
Gehele woning/appartement
---
Type woning
Appartement
---
Geschikt voor
4
---
Slaapkamers
2
Nutt's Corner
1

–

3

van

3 Accommodaties