Ideal para uma escapadela da vida citadina e azafama da vida da cidade. Se está a procura de paz de alma, descanso e ar puro, este espaço é para si. Situado nas margens do rio Zêzere, a casa tem uma vista fantastica sobre o rio e paisagem natural ao seu redor. A casa está pronta para receber casais, famílias (com crianças) e amigos peludos (animais de estimação).
our host was very nice
Sara
2016-08-23T00:00:00Z
A estadia superou muito, a expectativa criada pelas imagens do anuncio. A vila de Dornes é um local mágico e único, que recomendo visitar. E a casa do Sr. Luis o local ideal para disfrutar, com uma vista mágnifica para o Rio Zezere, Santuário e Torre Templária. O Sr. Luis esteve sempre disponivel para ajudar no que fosse necessário. E a sua casa têm todas as condições para umas férias ou uma escapadela de fim-de-semana.
Rui
2016-08-21T00:00:00Z
Fomos muito bem recebidos, o facto de se poder levar animais é uma mais valia. A casa era bastante agradável e com uma vista fantástica sobre o rio. Dornes é um pouco isolada e sem grandes atractivos à noite mas óptimo para quem precisa de se retirar um pouco da agitação e isolar-se.
Sónia
2016-08-08T00:00:00Z
The host canceled this reservation 4 days before arrival. This is an automated posting.
Cristina
2016-08-16T00:00:00Z
Kamertype
Gehele woning/appartement
---
Type woning
Appartement
---
Geschikt voor
4
---
Slaapkamers
Nossa Senhora do Pranto, Santarém (district), Portugal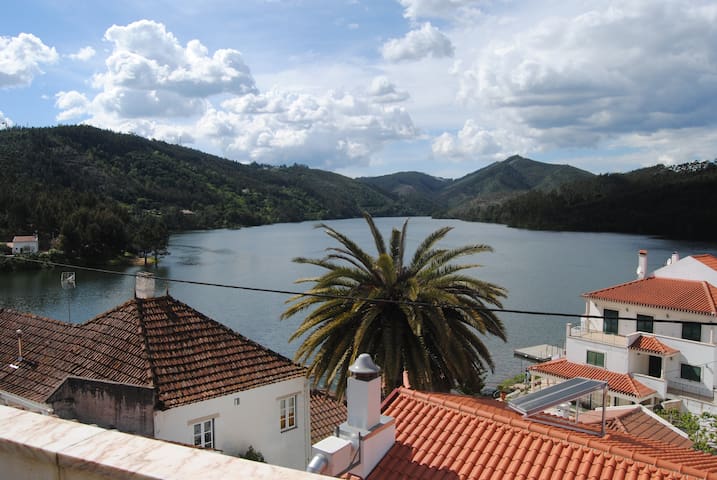 Door de wateren van de dam, het Aparts. Leistenen vloer geven u een verblijf in een idyllische plek waar je kunt watersporten beoefenen, wandelen door de bergen of gewoon zitten op de veranda, luisteren naar het getjilp van vogels.
Nous avons passé un agréable séjour chez Roberto et sa femme. Hôtes agréables serviables. Si vous chercher le calme alors allez y sans aucune hésitation. Avons passé d'agréables moments au bord de la rivière et belles randonnées à faire. Malgré la barriere de la langue bon échange, Roberto à tout fait pour traduire nos conversations avec sa femme.
Patrice
2016-08-13T00:00:00Z
Simpatia e disponibilidade imensuráveis, além de um enorme talento tanto do Roberto como da Tais. Local paradisíaco ideal para um fim de semana ou férias, tanto para nós como para as nossas cadelinhas. A casa prima pelo bom gosto e limpeza. Vamos com certeza voltar.
Sónia
2016-09-18T00:00:00Z
The place is located at the end of a country road in a remote part of Portugal on river Zezere. There are no services anywhere close by, and you need to bring all your food and supplies, including paper towels and condiments. We have not met Roberto, but his wife Thais was helpful in getting us settled in the downstairs apartment. After that we were on our own. The apt is rather small, and most suitable for one, maximum, two people. The kitchenette can only hold one person at time, and not really suitable for any serious cooking. It did not have a microwave. The place is clean, and cool even in a strong heat. The access to the river is by a dirt road and then by a narrow path thru the woods. Beach is rocky, but it may be one if just a few accessible points on this river. We enjoyed a swim in the heat of the day. Most villages didn't have any kind of access. Note that there are multiple dogs in the area and they bark at night when wild pigs pass by.
Kate
2016-07-25T00:00:00Z
Wonderful part of the world! Very nice house, comfy bed, and great view.
Agnieszka
2016-09-12T00:00:00Z
The host canceled this reservation 42 days before arrival. This is an automated posting.
Olga
2016-05-25T00:00:00Z
Thank you for the nice time in your appartements. The garden is really nice and green. It is in walking distance to a lake. Down there are narrow paths. The lake has a small so called beach but we did not stay there a long time. For the area you need definitely a car. The next shop for buying food is a 15 min. drives away. Everybody is very friendly.
Katrin
2016-08-01T00:00:00Z
Lugar de visita e estadia obrigatória. Por vezes torna-se difícil encontrar palavras que possam descrever a maravilha de uma obra de arte. Neste caso estamos na presença de 2 artistas de uma enorme criatividade - Roberto e Tais - de quem é fácil e gostar e privar
LUIZ
2016-06-06T00:00:00Z
Casa acogedora, una perfecta excusa para pasar unos días en paz y armonía con la naturaleza abrumadora que te rodea. Anfitriones generosos, respetuosos y atentos a demás de agradables, silencio total y el río una pasada. Muy recomendable. Lo único "malo", la lejanía de los pueblos de alrededor, supermercados etc.. en coche 10 minutos.
Pablo
2016-07-18T00:00:00Z
Kamertype
Gehele woning/appartement
---
Type woning
Appartement
---
Geschikt voor
4
---
Slaapkamers
Santarém, Santarém, Portugal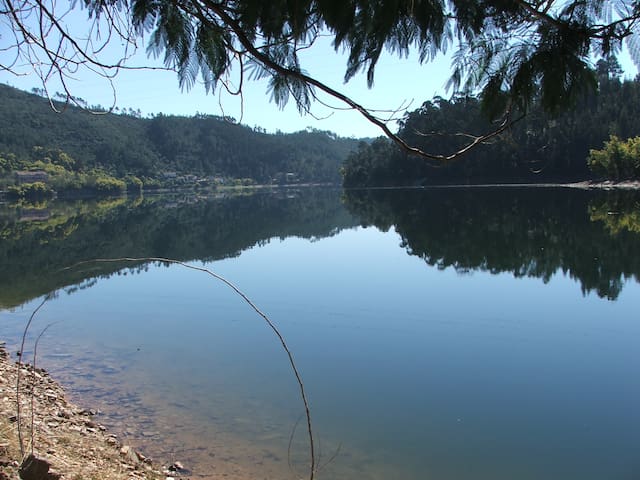 Quinta da Cerejeira: an oasis of quietness and hospitality, surrounded by nature and the friendly Portuguese way of living. We offer 3 fully equipped apartments for 2-4 persons, a small campsite in the orchard and a small but nice swimming pool.
Espaço acolhedor, disponibilidade dos responsáveis aos pedidos e boa receptividade aos animais de estimação.
Luísa
2016-08-26T00:00:00Z
The hosts were very helpful and knowledgeable about the area, our room was great and had everything we needed, they even supplied a high chair, cot and bedding for our baby boy. We would definitely go there again. Thank you.
wayne
2016-04-21T00:00:00Z
Kamertype
Gehele woning/appartement
---
Type woning
Appartement
---
Geschikt voor
4
---
Slaapkamers
Ferreira do Zêzere, Santarém, Portugal
A Casa situa-se na Lagoa Azul, Castelo de Bode. Freguesia da Castanheira. A Casa situa-se mesmo em frente a barragem, tem muito boas áreas, ideal para umas férias descansadas. O meu espaço fica perto de belas paisagens. Vai adorar o meu espaço por causa de o pé-direito alto, as vistas, a localização, as pessoas, eo ambiente. O meu espaço é bom para casais, aventuras individuais, famílias (com crianças), egrandes grupos.
Kamertype
Gehele woning/appartement
---
Type woning
Appartement
---
Geschikt voor
6
---
Slaapkamers
Ferreira do Zêzere, Santarém, Portugal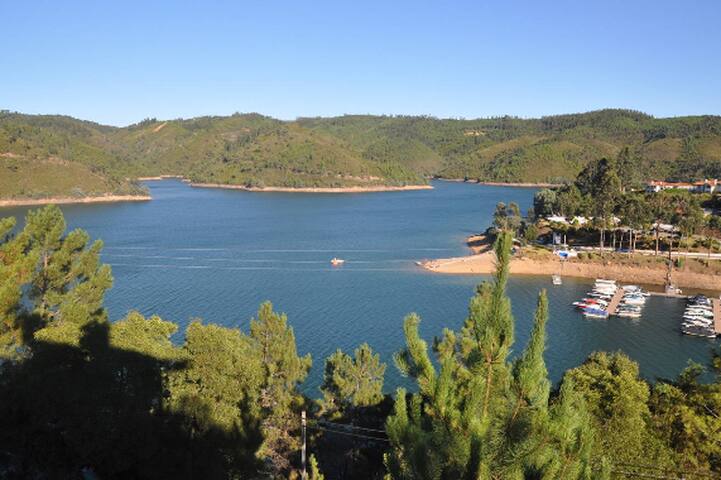 Cosy and stylish with a charming atmosphere, created with taste and decorated thoughtfully. Functional and comfortable.
The house has a good vibe to it. It is said to have personality and taste, maybe a bit arty. It is filled with art books that you can look at. It has great light coming in from both sides of the house with morning light coming in from the main bedroom and kitchen. From mid afternoons to the evening you will have light shinning into the livingroom and the balcony. The kitchen has all you need to cook meals. It is properly and fully equipped with oven, dish-washer, micro-wave, toaster, kettle, coffe-machine, pots, pans, cutting knives and essential basics like olive oil, salt and pepper and other herbs. There is a laundry room with a washing-machine where you can hang your clothes to dry. There are 2 bedrooms, the main bedroom has a double bed. The other has a single bed and one extra matress. The space is ideal for four, but you can always fit one more person on the couch. The couch is very big and comfortable, you can stretch out comfortably even if you are tall. Bedrooms are provided with clean bed-linen and towels.
The neighbourhood is quite charming with a variety of green areas and trees where you can go for a walk amongst the local neighbour's gardens. Ideal if you have a dog or children.
Benedicta's apartment has been perfect for us. Clean, nicely furnished and perfectly located in between the city center and the ocean. Grocery shop is next door, so is the amazing Parque da Cidade. Bus all night to go back home - yes, we felt home ;)
andrea
2016-08-30T00:00:00Z
Benedita did everything to make our stay comfortable, the place is cosy and clean, half an hour away from the beach walking through the park, for the city centre walking is possible but bus is more comfortable as the only way is taking a big road for at least half an hour. Great value for money!
Sarah
2016-09-08T00:00:00Z
Très bon séjour chez Benedita. L'appartement est propre et très joliment décoré :) Le rapport qualité/prix est excellent car l'appart est situé entre le centre-historique et les plages... Petit bémol : attention aux oreilles sensibles car il est situé sous un couloir aérien et les voisins sont relativement bruyants! On fait néanmoins passer l'adresse à nos amis, c'est un point de chute idéal pour découvrir le nord du Portugal!
aurelie
2015-08-25T00:00:00Z
Very atmosphere and artistic style apartment! When you live here you really feel it like your home. Full equipment. And important thing is every detail put here with love by Benedita. Neighbors are very pleasant. Area is quiet. Only walking around is already pleasure. 5 min. walk to one of the best supermarket in town (Continent). And little bit longer to get other good supermarkets (Pingo Doce). Both of it has daily offer for good coffee and fresh bakery addicted. 10 min. walks to area of old portuguese villas with interspersed with new private buildings. 20 min. to the best park of Porto (Cidade). 30 min. to get sand beach Matosinhos. And same time but different direction to very charismatic place with many beautiful point (Foz Do Douro). You can catch old tram to center. Or go to the lighthouse and easily spend time to stare on powerful waves of Atlantic Ocean. All these walks immersed in flowering trees. I glad my apartment's choice in Porto. Because if you live in the centre you will never have time on this place. But it's must see and feel everyone who go to Porto. It's original life of Porto.
Pavel
2016-02-06T00:00:00Z
Todo fue genial, el apartamento es acogedor y la anfitriona muy amable.
Daniel
2016-07-19T00:00:00Z
We were staying at Benedita's house for a month. It is a very comfortable place for living. Good kitchen with balcony, nice living room with balcony too. The apartment has a very stylish retro decoration. We like it. There were all what we need and more. We found a good library of art books. It was very pleasant to spend a leisure time at home - you always have something for reading or watching. This is a quiet district with several supermarkets nearby. Also there is a wonderful museum of modern art with a cozy garden, that has free entry on Sundays morning. 25 minute walk to ocean and you see a huge beach with good waves for beginners and several surfing schools around. Not far from city center - 20 minutes by bus. Benedita is a great hostess. She was always in touch and always helped us to decide all our common issues. It is a pity that we did not have time to drink a glass of wine together. It might be interesting to know each other better, but I hope we will.
Anna
2015-08-13T00:00:00Z
Kamertype
Gehele woning/appartement
---
Type woning
Appartement
---
Geschikt voor
4
---
Slaapkamers
Porto, Portugal, Portugal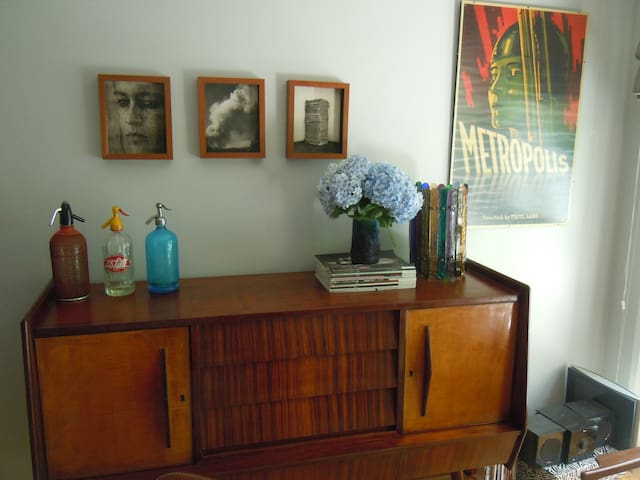 Junto às águas da Barragem, os Aparts. Chão da Lousa proporcionam-lhe uma estadia num local paradisíaco, onde poderá praticar desportos náuticos , passeios pela serra ou ficar simplesmente sentado na varanda, ouvindo o chilrear dos pássaros.
Os Apartamentos Chão da lousa localizam-se numa pequena quinta rural junto à Albufeira do Castelo do Bode.
Haven. Magical. There is not so much words to describe it. At first we didn't want to leave a good review, so we can keep this place just for ourselves but that's just too hard to do. We are very grateful to had the opportunity to stay at Roberto's. Both him and Tais are wonderful people with great energy and beautiful artists. Not to forget, their wonderful dogs. We got the rest that we needed and the only thing we regret is that we couldn't stay longer. Again, thank you.
Antoine and Leona
2016-08-06T00:00:00Z
This house is in the nature and is totally fabulos. the owner is extremely nice, welcoming and helpful. We enjoyed the place.
Samuel
2016-06-10T00:00:00Z
As imagens da casa e de toda a envolvente não mentem. Pelo contrário, ficam aquém, porque (pelo menos para já...) as fotos não nos permitem perceber os cheiros, os sons, nem a simpatia com que se pode ser recebido! Passámos dias magníficos em família. A casa tem tudo o que se precisa para se passar uns dias de férias em absoluto conforto. A envolvente geográfica e paisagística é maravilhosa, de grande tranquilidade e beleza. O Roberto e a Thaís são muito simpáticos e prestáveis, sempre disponíveis para o que seja preciso. A decoração de todo os espaço, interior e exterior é linda, feita em grande comunhão com a natureza e muitas vezes com objectos de arte feitos pelos próprios. Recomendo muito uma estadia, se o objectivo forem umas férias em Paz, na Natureza. E claro, estamos desejosos de voltar ;) !
Catarina
2016-08-19T00:00:00Z
The area is truly bueatiful and the nearby village Dornes is breathtaking. The balcony has a view on the river. It's a 5 minute walk to a small beach where you can swim. It's quiet and perfect for some days of nothingness.
Jacob
2016-08-02T00:00:00Z
Um excelente local para descansar nas margens do Zêzere.
Filipe
2016-08-13T00:00:00Z
Fomos muito bem recebidos em Rio Cimeiro. A casa é confortável e tem tudo o que é necessário para uma curta estadia, para além disso tem uma vista muito bonita para o rio.
Cidália
2016-01-02T00:00:00Z
Uma casa muito acolhedora e típica num local muito bonito e calmo. O Roberto é muito simpático e prestável.
Cristina
2016-08-21T00:00:00Z
Une très jolie région à visiter, il faut se munir d'un gps pour trouver l'appartement.très jolie vue depuis la terrasse, endroit (URL HIDDEN) y a le nécessaire pour cuisiner.merci encore!
Lea
2016-10-02T00:00:00Z
Kamertype
Gehele woning/appartement
---
Type woning
Appartement
---
Geschikt voor
4
---
Slaapkamers
Dornes, Santarém, Portugal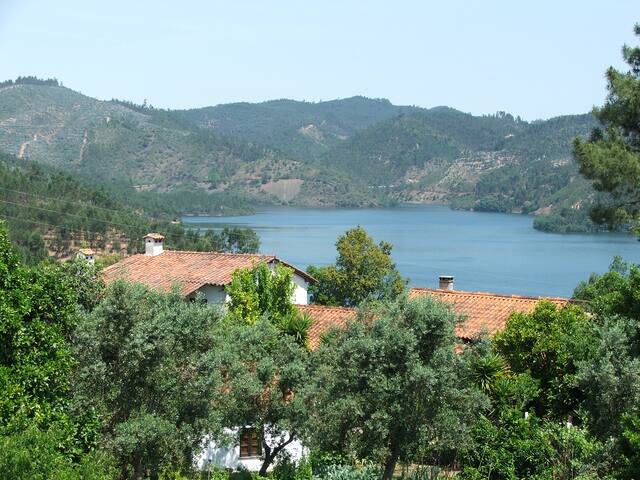 With superb views of the tranquilizers waters of the Zêzere river, direct access to the lagoon where you can take dives and have a good time of fun
Nos ha encantado la casa, tiene unas vistas preciosas y es más bonita en la realidad que en fotos. Pedro se mostró disponible en todo momento y ha sido un gusto poder permanecer unos días en su casa. Muy recomendable
Virginia
2016-07-15T00:00:00Z
Pedro jest bardzo życzliwym i pomocnym gospodarzem. Spotkaliśmy się z ciepłym przyjęciem. Jest bardzo komunikatywny, w j. angielskim bez problemów. Okolica jest piękna, a apartament położony jest nad jeziorem. Wspaniałe miejsce do odpoczynku, szczególnie dla rodzin z dziećmi. Szczerze polecam!
Tomasz
2016-08-18T00:00:00Z
We loved our stay in your peaceful Paraiso Azul. It was as peaceful as the photographs show. On arrival we were met by Pedro , his wife and child and all were very helpful and friendly. The view is stunning and we had a wonderful swim in the lake as well as an interesting visit to Tomar
Anne
2016-05-25T00:00:00Z
On a passé deux semaines dans le calme, le paysage et le lac super, les gents très gentils, rien à dire. A refaire avec plaisir.
Carlos
2016-09-17T00:00:00Z
Tres bon séjour Le calme absolu La nature et le lac Superbe vue de terrasse
Ziane
2016-07-21T00:00:00Z
Paraíso Azul is really a great place. Pedro and his wife were very friendly, the communication was without problems. We've had a great stay there, the garden is really beautiful, so are the surroundings. It was lovely to start and end the day with a dip in the river, just a few steps from the apartment.
Annemiek
2016-06-22T00:00:00Z
Pedro was very friendly, the communication was easy. He came in the nearest village to show us the house. The view to the lake is exactly like in the photos: beatiful. The water is deep immediatly, it is perfect to swim. The car is necessary.
Sándor
2016-07-09T00:00:00Z
Pedro is a hospitable person that met us in Serra to bring us to the house. Beautiful location at the lake, clean, large, well equipped. We enjoyed swimming in the lake, village life nearby and the city of Tomar with its fantastisch monastry and enchanting small town atmosphere. Paraiso Azul stole our hearts. Great view on the lake. The house is part of a small complex of holiday apts. Thus silence is not guaranteed. The gardening was well done!
Marchien
2016-07-06T00:00:00Z
Kamertype
Gehele woning/appartement
---
Type woning
Appartement
---
Geschikt voor
4
---
Slaapkamers
Tomar, Santarém (district), Portugal
Apartamento integrado numa quinta do séc. XIX em restauro, com várias árvores de fruto, com vista desafogada, o que proporciona uma estadia em completa harmonia com a natureza. O apartamento tem 3 quartos, sala, uma casa de banho e um pátio.
Apartamento integrado numa quinta do séc. XIX em restauro, com várias árvores de fruto, com vista desafogada, o que proporciona uma estadia em completa harmonia com a natureza. O apartamento tem 3 quartos, sala, uma casa de banho e um pátio. Venha desfrutar de pão saloio, ovos biológicos e todas as frutas de época, tais como maçãs, cerejas, kiwis, castanhas, framboesas e ameixas, para o seu pequeno-almoço. Em dias mais quentes, aproveite para mergulhar na praia fluvial de Dornes a 10min de carro ou em Ferreira do Zêzere – Castanheira, a 15 km e praticar desportos náuticos ou passear de barco. Visite as aldeias típicas e faça caminhadas e desfrute das belas paisagens. Prometemos noites de céu aberto a contemplar as estrelas e muita tranquilidade. Aproveite o calor da lareira nos dias frios. O proprietário da quinta é entusiasta de motas e bicicletas antigas e põe à disposição bicicletas clássicas (anos 50 e 60) para poderem passear. A quinta fica a 1200 metros da saída da A13, a 20 minutos de carro de Tomar, uma cidade histórica com o convento património da humanidade da Unesco e com um impressionante castelo templário do século XII. O santuário de Fátima está apenas a 62km de distância e Lisboa está a 1h40 de distância de carro. A bela cidade de Coimbra fica a 45min de distância de carro. Da estação de comboio do Entroncamento é possível chegar a todo o país. Supermercados, lojas, restaurantes, cafés e todas as outras amenidades que você pode necessitar estão a 4km de distância em Cabaços. Café mais próximo a 1km. Venha desfrutar de uma experiência pura e relaxante.
Joao was very helpful because we got lost on our way and he met us to drive to the accommodation. He was very welcoming leaving cheese, bread and wine. The farm is very peaceful and beautiful location. The accommodation was bigger than we expected, plenty of space.
ross
2016-07-29T00:00:00Z
Our stay at the Country House was just amazing. The communication with Joana was very easy, we just didn't meet herself in person. The owner of the fruitfarm gave us an unbelievable warm welcome and even collected us from a city nearby. The house is part of a fruitfarm where you can find trees of chestnuts, cherries, lemons and nectarines and even their fruits if you come at the right time :) And they where very delicious! In the neighbourhood you find lots of other fruitfarms, the city of Tomar with its Convento is very close and also the river Zêzere. The house itself is very big, everthing in Vintage-Style. We relaxed so much and wished to stay some more nights to enjoy the nature and the unlimited generous hospitality of our host!
Johannes
2015-07-22T00:00:00Z
O João foi um anfitrião 5*! Recebeu-nos com a maior atenção e carinho! Recomendamos vivamente a Quinta dos Castanheiros, a quem procura um ambiente tranquilo e caseiro. O João deu-nos miminhos constantemente, até sopa da pedra nos trouxe! Foi um excelente fim de semana prolongado!
Catarina
2016-08-15T00:00:00Z
Kamertype
Gehele woning/appartement
---
Type woning
Appartement
---
Geschikt voor
6
---
Slaapkamers
Ferreira do Zêzere, Santarém (district), Portugal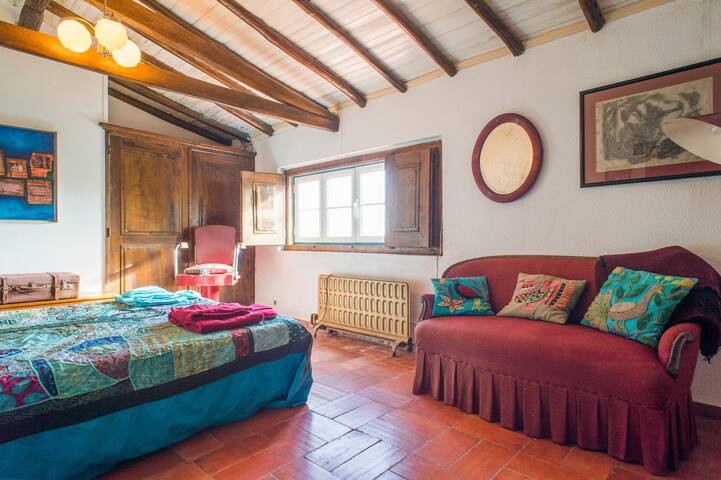 ** Lodge Residence van Vila Palmeira ** Dit is een unieke platte, die charme en comfort combineert met een prachtig decor. Dit prachtige appartement is gelegen in het condominium Vila Palmeira, in de betoverende en prachtige stad Tomar. 3 minuten lopen naar het historische centrum van de stad en 4 minuten met de auto naar het klooster van Christus. * Transfer Service - Beschikbare (Haal meer info)
The Lodge Residence van Vila Palmeira, is gelegen in Tomar in een kalme en rustige omgeving, in de buurt van de rivier de Nabão en Oude Fabriek bedrading. Is gevestigd in een volledig nieuw en modern appartement met unieke en ongeëvenaarde faciliteiten, zoals parkeerplaats ernaast, en een groot openlucht zwembad.
Loved it, stunning place, I can't even describe how good it was. Andre was simply amazing. In the beginning my girlfriend and I were a bit afraid because we would be the first guests but since the moment we've arrived it was great! Andre prepared some welcoming snacks and even the air conditioning was already on for the place to be warm and cosy. Andre suggested us some great places to visit including one of the best restaurants in Tomar. Thank you for everything, it was a 5* staying.
Mattheüs
2016-11-22T00:00:00Z
Perfeito para um casal com dois filhos ou dois casais. Casa moderna (a nossa foi a segunda (URL HIDDEN) uma cozinha super bem equipada num condominio fechado muito calmo. E o melhor de tudo foi a recepção e a disponibilidade do André! 5*
Gloria
2016-12-10T00:00:00Z
I don't think I have ever slept somewhere so modern and so fully equipped with high-tech appliances. I slept wonderfully in the spacious bedroom. André was there waiting for us us outside even though we were a little late. He answered all our questions and went out of his way to make sure we had everything we needed and all the information we wanted about Tomar and the surrounding area. We were also greeted with a bottle of wine, bread, granola, juice, etc. If like me, you are not used to smart appliances, make sure you listen carefully when André show us how to use them. If not, just get in touch with him and he'll help you promptly.
Mathilde
2016-12-16T00:00:00Z
Johannes
2017-03-29T00:00:00Z
Tudo excelente! Boa recepção, a casa está toda equipada e num bom condomínio.
Daniel
2017-02-16T00:00:00Z
Muy recomendable. Un lugar acogedor y cómodo para cuatro personas. Muy bien ubicado para recorrer Toma, Fatima, Nazare y alrededores. Muy completo el duplex. Queremos regresar en verano y disfrutar la piscina!! Gracias
Adriana
2017-02-14T00:00:00Z
This was a beautiful house with all modern amenities. It was clean and exactly what the pictures showed. Andre was a great host. He was helpful and so kind and offered to pick me up and drop me to the station. He was available whenever I needed. Tomar is a quaint little town and Andre's home is an excellent option for your stay in Tomar. Thanks a ton Andre for everything!
Rohima
2017-02-09T00:00:00Z
Kamertype
Gehele woning/appartement
---
Type woning
Appartement
---
Geschikt voor
4
---
Slaapkamers
Tomar, Santarém, Portugal
I remember all guests this year is the Festa dos Tabuleiros only realised 7 in 7 years please book in advance 4july/13July.
Kamertype
Privé Kamer
---
Type woning
Appartement
---
Geschikt voor
1
---
Slaapkamers
Tomar, Santarém (district), Portugal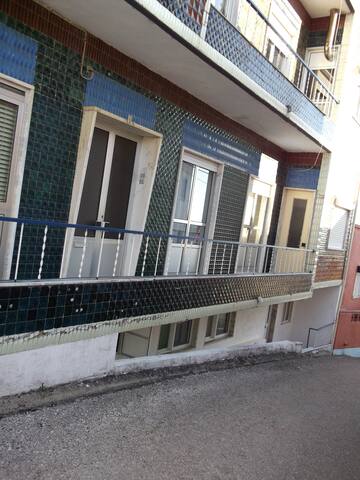 Deze koel en comfortabel appartement met één slaapkamer is gelegen in het hart van de stad, één stap verwijderd van de rivier de Nabão en met een bevoorrecht schilderachtige uitzicht over het Convent van Christus.
Deze koel en comfortabel appartement met één slaapkamer is gelegen in het hart van de stad, één stap verwijderd van de rivier de Nabão en met een bevoorrecht schilderachtige uitzicht over het Convent van Christus. De architectonische vormgeving, geschreven door architect José Carlos Cruz, werd uiteengezet om een appartement van het einde van de jaren 1940 te herstellen en het herstel van de waardigheid van het ooit had. Voldoen aan een scherpe idee van comfort, het appartement draagt een unieke signatuur: de kleuren, de coatings, de vloeren, de hedendaagse vs. vintage stukken, de verlichting, de kleine boekenkasten alle lagen en overlappen elkaar om de ruimte te verrijken met een " vleugje warmte ".
Ontsnappen aan de razernij van de "grote steden" en genieten van een unieke mix van geschiedenis, natuur, stad en platteland is waarschijnlijk het beste wat Tomar te bieden heeft. Haal diep adem en laat je gaan. In de tussentijd, naast de honderdjarige geschiedenis, ontdek de kleine restaurants en "tascas", de winkels van een ander tijdperk, de historische cafés en zelfs een echte Farmers Market met echte lokale boeren. Hier zult u in staat om te genieten van de charme van een kleine landelijke stad in een eigentijdse setting omlijst door rust en comfort.
Excellent location, apartment very comfortable, would recommend strongly to have the breakfast. Definately would not hesitate to stay again.
William
2015-09-24T00:00:00Z
Great cool flat immaculately clean and a perfect position for tomar town centre. Couldn't have asked for better for our trip.
Chris
2016-10-10T00:00:00Z
Nice place in an easy to reach location. The apartment was nice for a short stay and the host was friendly.
Leyla
2017-03-10T00:00:00Z
We really loved the apartment and location. Filipa met us and settled us in. The breakfast was amazing an so helpful with traveling with a baby. Would recommend this to anyone! Thank you. Andrea
Andrea
2016-02-13T00:00:00Z
Miguel AndM Filipe were wonderful hosts. The apt was immaculate. I can't imagine how they packed so much into a small apt, yet it was perfectly spacious for the two of us. Location couldn't have been better with parking right across the street. Nice to see that owners/hosts actually care about the comfort and happiness of guests. Many thanks and continued success, I'm sure that you'll have that with the amount of thought and concern you deliver. My best to you both! Catherine
Catherine
2016-11-05T00:00:00Z
La casa,es tal y como aparece en las fotos,preciosa y acogedora. Muy cerca del centro de Tomar,y el Castillo que es magnífico. Hemos pasado unos días maravillosos.
Soledad
2015-12-08T00:00:00Z
Very comfortable apartment, very close to where we needed to be. An unexpected and delightful bonus was the arrival of a freshly baked cake from the host's friend Filipa on our last evening there. Thank you Filipa.
Graham
2016-11-02T00:00:00Z
Appartment very well located in Tomar, cleaned every day with all the accomadations needed .We were welcomed very well by Filippa who offered us a glass of porto. We really appreciated the breakfast offered the 1st day. It is really easy to park the car very cloe to the appartement.
Marie-Noelle
2015-08-31T00:00:00Z
Kamertype
Gehele woning/appartement
---
Type woning
Appartement
---
Geschikt voor
2
---
Slaapkamers
Tomar, Santarém (district), Portugal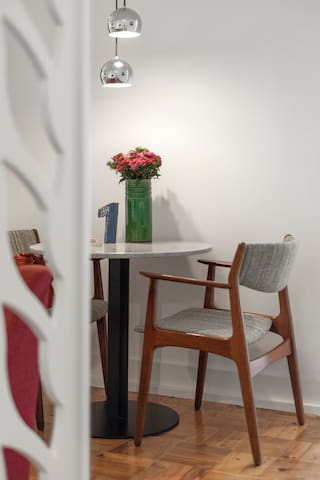 Located in downtown this beautiful and modern Apartment is perfect for 3|4 guests for a short or medium stay to those who love to stay in the heart of the city classified a World Heritage Center by UNESCO.
Pasamos unos días estupendos en casa de Joao,limpio,cómodo,bien decorado y bien situado.Pena de la WiFi que no funcionaba correctamente, seguro que lo soluciona pronto.
MANOLI
2015-11-03T00:00:00Z
O apartamento é extremamente confortável, com estrutura para quem deseja preparar refeições, bem localizado e com estacionamento gratuito à porta. O João foi um excelente anfitrião, nos recebeu muito bem, foi bastante atencioso e ainda nos ofereceu itens para o nosso café da manhã. Ele também deu ótimas dicas sobre a cidade (locais para conhecer e restaurantes). Valeu a viagem.
Luiz Claudio
2016-04-14T00:00:00Z
L'appartement est grand et agréable, et João est très sympathique, avec un accueil chaleureux, et un plateau petit déjeuner à disposition. Pas encore totalement fonctionnel pour une famille entière mais on recommande pour partir à la découverte de la belle ville de Tomar.
Michael
2015-07-24T00:00:00Z
El trato de João fue excelente, preocupado en todo momento por los pequeños detalles de nuestro viaje y ofreciendo información para mejorarlo. El piso se encuentra muy bien ubicado, en una zona tranquila y a 5 minutos andando del centro histórico de Tomar. Aunque no es nuevo presenta numerosos detalles que lo hacen realmente acogedor. Con una buena limpieza y cómodo.
Ales
2015-08-11T00:00:00Z
We like the flat very much because of style and good atmosphere of it. Joao is very polite and attentive. Location is very good - close to historical center and castle that has been seen from the balcony. And we like very much that there is no problem with parking of our car.
Kira
2016-10-11T00:00:00Z
Wonderful experience. Joao couldn't be in town to greet us but we met his Dad and he made us feel most welcome. Joao left us a bottle of wine with guides to the town and restaurant recommendations. Super easy access, we only had a night in town but wish we could have stayed longer.
Mark
2016-08-28T00:00:00Z
Joao muy majo,nos estaba esperando a la llegada. El alojamiento está limpio y con todo lo que indicaba la descripción. En una zona residencial a 5 minutos de la calle principal. Hay mucha zona para aparcar al lado.
Henar
2017-03-24T00:00:00Z
O apartamento surpreendeu, está remodelado, bem decorado e com as comodidades necessárias. A varanda é agradável e com vista para as muralhas. A localização é ideal próximo do centro, e sossegada. O João é muito simpático um autêntico anfitrião. Recomendo.
Carlos
2016-12-11T00:00:00Z
Kamertype
Gehele woning/appartement
---
Type woning
Appartement
---
Geschikt voor
4
---
Slaapkamers
Tomar, Santarém, Portugal
Modern and cosy room with private bathroom and a balcony, in a new appartment, just a few steps from the historic center of Tomar. The appartment is in a central residencial area nearby to supermarkets, restaurants, cafes, gardens and the river.
Located in the center of Tomar, just a few steps away from the trendy Praça da República in the historic center. We offer a confortable and well decorated private room with a queen size bed, ideal for solo travellers or couples; it also features a private bathroom and a balcony with view. Kitchen is available and guests are welcome to use it. Complementary coffee and tea are available.
Very well located and central. You only have to cross the beautiful 'Old Bridge' and you are in the historic center of Tomar. There are supermarkets, shops, restaurants, pharmacies, cafes, banks etc. Very close to the green and fresh gardens, the beautiful Nabão river and the emblematic swiming pool.
The room and bathroom are big and beautiful, decorated with taste. Very nice view from the balcony. Ana is a very nice host ready to help and advise us. The location is perfect, near the historical center and there is free parking directly below the building.
Samuel
2016-09-14T00:00:00Z
Ana était facilement joignable. Cela dit, accueil assez rapide voire expéditif. Chambre très propre et salle de bain moderne. Nous n'avons pas eu l'occasion de profiter du balcon (mauvais temps) mais il y en a un. Seul bémol, pas de double de clé. Sinon nous avons pu garer la voiture juste en bas : pratique et confortable.
Claire
2017-03-21T00:00:00Z
We had great time at Anas appartment! The room and the bathroom are very big and everything was clean! Ana is very nice and made everything to make our stay comfortable!
Teresa
2017-01-05T00:00:00Z
Ana est tres accueillante et tres disponible. Elle a pris du temps pour nous aider et nous renseigner. Son appartememt est tres beau et tres propre et tout pres du centre. Je le recommende.
Christine
2016-10-26T00:00:00Z
Nossa permanência em casa de Ana foi muito prazerosa. Passamos a maior parte em visita à preciosa cidade de Tomar, mas nos moventos de descanso em casa, foi um refúgio de tranquilidade e conforto. Entre os 5 alojamentos onde permanecemos por 15 dias, o de Ana, (últimos 3 dias) foi disparadamente abete o melhor.
sebastiao
2017-03-30T00:00:00Z
Anna est une hôtesse discrète. Son appartement très près du centre est très beau. La chambre est grande est agréable et on dort bien.
Pierre
2016-09-19T00:00:00Z
La casa di Ana è molto accogliente, ben arredata e con gusto. La camera non ha niente da invidiare ad un albergo a 4 stelle, con terrazzo, aria condizionata e TV. Il bagno è spazioso e a nostro esclusivo uso. Unica pecca: non aver avuto a disposizione le chiavi di casa. Comunque bella esperienza, Ana è stata gentilissima a consigliarci anche un ristorante in centro e cosa vedere in città.
Riccardo
2016-10-10T00:00:00Z
Bon accueil, hôte discrète.
Hélène
2016-10-22T00:00:00Z
Kamertype
Privé Kamer
---
Type woning
Appartement
---
Geschikt voor
2
---
Slaapkamers
Tomar, Santarém, Portugal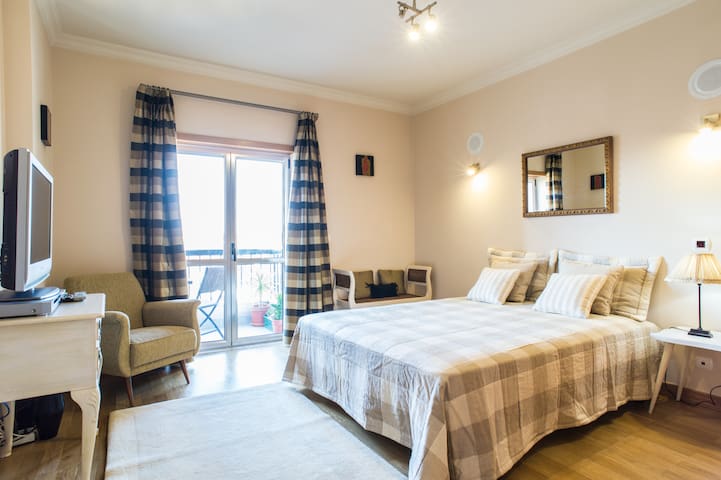 A House Serta fica perto de arte e cultura, belas paisagens, restaurantes e refeições, atividades para famílias. Vai adorar A House Serta por causa do ambiente, a localização, e a zona exterior. A House Serta é direccionada para casais, viajantes de negócios, pequenos eventos, e famílias (com crianças).
Kamertype
Gehele woning/appartement
---
Type woning
Appartement
---
Geschikt voor
5
---
Slaapkamers
Sertã, Castelo Branco, Portugal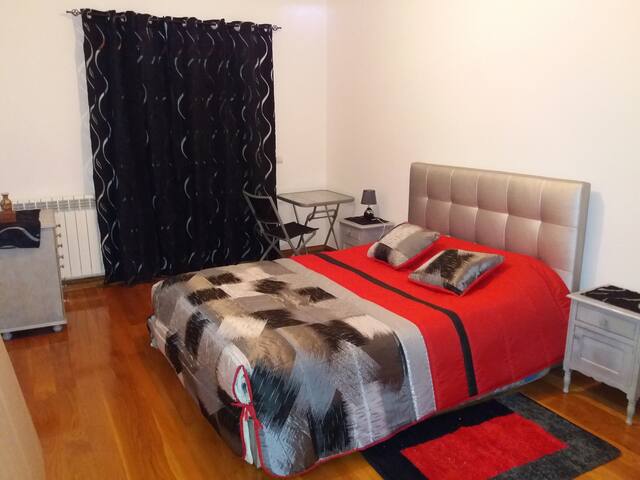 Very sunny remodeled duplex in historical Tomar. One step away from the Nabão River and with a privileged scenic view over the Convent of Christ.Perfect place for a couple!
Very quiet neighborhood, close to good restaurants, fharmacy, grocery store, hairdraisser salon. The appartment is also 1 minut away from the beautiful Municipal Garden - Mouchão Garden
Kamertype
Gehele woning/appartement
---
Type woning
Appartement
---
Geschikt voor
2
---
Slaapkamers
Tomar, Santarém, Portugal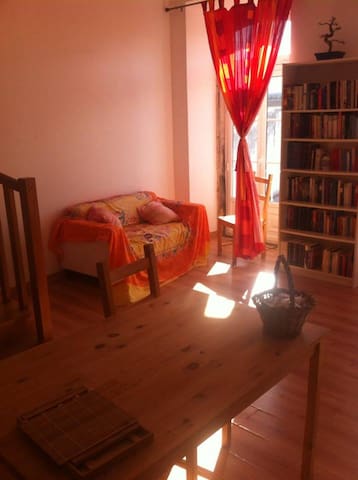 With direct access to the castle of Bode Albufeira.
Pedro war sehr entgegenkommend und hinsichtlich unserer nur schwer abschätzbaren Ankunftszeit sehr flexibel. Wir haben alles so vorgefunden wie hier beschrieben und uns rundum wohl gefühlt. Der See vor der Tür ist glasklar und ideal zum Schwimmen. Die gesamte Atmosphäre war sehr entspannt. Wir kommen sehr gerne wieder.
Ines
2016-08-13T00:00:00Z
O sitio é muito bonito e a casa está muito bem situada. O terraço é fantástico para estar e admirar a envolvente. O Pedro foi muito simpático e disponível. A água quente e transparente, perfeita para nadar e dar uns mergulhos.
Magda
2016-08-15T00:00:00Z
Local muito calmo, tal como desejavamos. Agradecimento ao Sr Pedro Anfitrião, disponivel para esclarecimentos, sempre que solicitado. Paisagem fantastica e recomendavel para quem quer passar uns dias em descanço. Agradecidos pela possibilidade de acesso ao kayake, que possibilitou momentos de puro encanto paisaristico e entretenimento.
Rui
2016-10-02T00:00:00Z
Kamertype
Gehele woning/appartement
---
Type woning
Appartement
---
Geschikt voor
6
---
Slaapkamers
Santarém District, Santarém (district), Portugal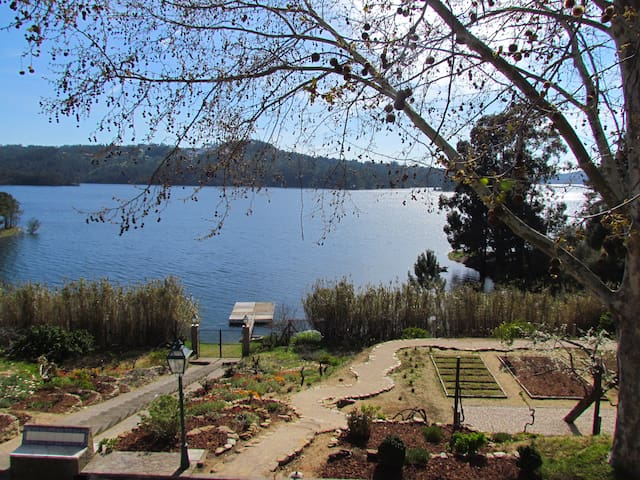 Cosy apartment in the historical center of the city, near Convento de Cristo, the Train Station, the commercial area and it's 35km from the city Fátima. It's on the ground floor with a beautiful yard.
The apartment is cosy and it's in the historical center of the city. The rooms have view to the private yard. It has wood floor and all of the windows with double glass. Access to all commercials type of stores on foot. It's 15 minutes on foot from the train station. Tomar is the capital of Templários. It has urban transport that travels the whole city and even turistic means of transportation ( train convoy of the city and tuk-tuk).
Acocelhamos a visitar: - O Convento de Cristo e o Castelo dos Templários - A roda do Mouchão - O jardim do Mouchão e o Rio Nabão que o atravessa - As igrejas ( S. João e Nossa Senhora dos Olivais) - As Escadinhas Nossa Senhora da Piedade (365) - A Sinagoga de Tomar - A Praça da República e as suas esplanadas - O Museu dos Fósforos - O Aqueduto - A Mata dos Sete Montes
Excelente, muy recomendable. El lugar esta muy bien ubicado, muy cuidado y con todo lo necesario. Ademas Ana y su familia son muy preocupados y están pendientes de todo, de ayudar y hacer la experiencia en Tomar lo mejor posible. 100% recomendable.
Rodrigo
2016-04-28T00:00:00Z
Tivemos dois dias excelentes!! Ótima casa com algo especial: o pátio interno. Lindo e aconchegante!! A casa é muito espaçosa e próxima de tudo. E Ana nos recebeu muito bem, nos explicando tudo. Adoramos!
João Carlos Raphael Maria
2016-06-12T00:00:00Z
Zentrale Lage, zuvorkommende Gastgeber - jederzeit wieder
Rebekka
2017-03-12T00:00:00Z
Mi evaluación es de 10!, Antes de llegar a la casa, siempre estuvieron atentos , y una vez que llegamos nos recibieron Ana y Christophe, muy amablemente, son muy agradables, muy simpáticos, son de las personas que te hacen sentirte como en casa, incluso nos tenían preparados unos pasteles, buenísimos! La casa es perfecta, muy cómoda . tiene un patio alucinante, con muchos detalles , sin dudarlo volvería a esta maravillosa casa La recomiendo 100%100, para disfrutar de la espectacular ciudad de Tomar. Sinceramente dar las gracias a Ana y Christophe, por acogernos en vuestra casa, espero volver .
Javier
2016-05-02T00:00:00Z
Charmant appartement, délicatement décoré et pourvu. Cosy, reposant. Superbe terrasse, cuisine spacieuse et bien équipée, salon idéal pour se poser.
Olivier
2016-08-02T00:00:00Z
Orange Tree Yard is right in the centre of old town Tomar, close to everything. It's very quiet and comfortable too. The patio is beautiful.
Marilyn
2017-03-29T00:00:00Z
We found Orange Tree Yard exactly as advertised (except the oranges were green
Donald
2016-09-22T00:00:00Z
Kamertype
Gehele woning/appartement
---
Type woning
Appartement
---
Geschikt voor
4
---
Slaapkamers
Tomar, Santarém, Portugal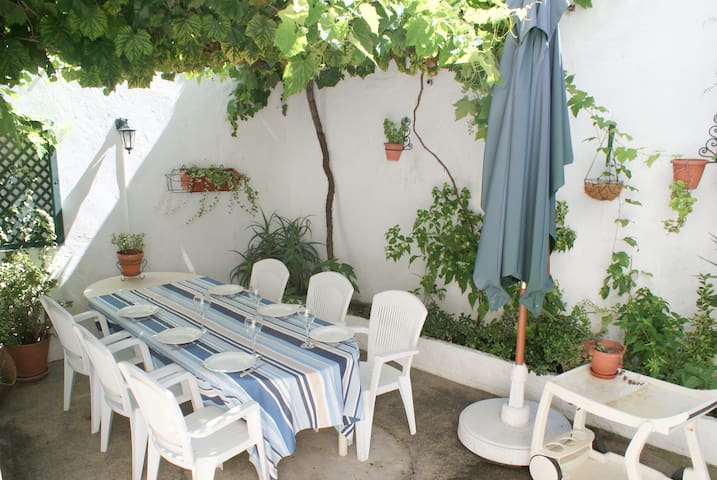 Apartamento T1 situado em zona habitacional (URL HIDDEN) parque de estacionamento nas traseiras do prédio. Fica apenas a escassos minutos, a pé, da zona histórica da cidade.
Kamertype
Gehele woning/appartement
---
Type woning
Appartement
---
Geschikt voor
1
---
Slaapkamers
Tomar, Santarém (district), Portugal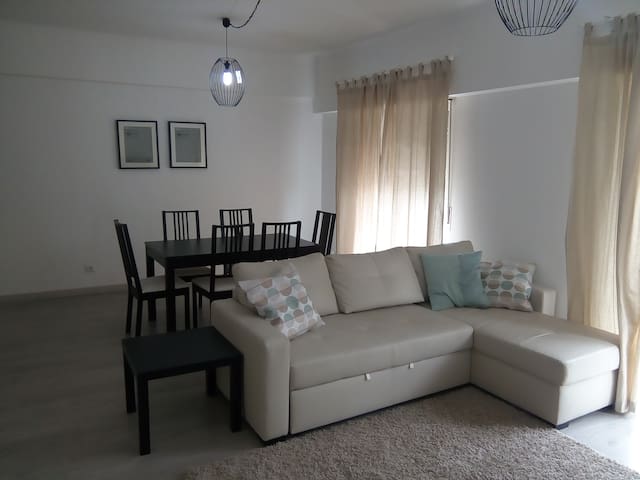 1

–

18

van

73 Appartementen te huur