Voer je aankomstdatum in in dit format dd/mm/jjjj
Voer je vertrekdatum in in dit format dd/mm/jjjj
0 kinderen
leeftijd 2 - 12
Ruimtes die je kan reserveren zonder op goedkeuring van de verhuurder te hoeven wachten.
8 Accommodaties
· Port Mansfield
8 Accommodaties
· Port Mansfield
Komende juli en augustus kun je een van deze 100 best beoordeelde woningen uitproberen, in elke prijsklasse, om zo een lokaal gevoel van Sonoma te krijgen. 24-uur inchecken, Direct Reserveren en lokale wijn en snacks. Leun achterover en geniet van je reis.
My place is close to The portmansfield bay., family-friendly activities. You'll love my place because of The fishing. There is also parking for small boats. My place is good for couples, solo adventurers, families (with kids). There are a lot of fishing tournaments and also viewing wildlife. its 20 miles from Harlingen. and 50 miles from the beach. 30 miles from mexico. walking distance to lighted pier with pic nic area.
Beautiful ocean view and sunrise. New 500 foot lighted public fishing pier and county park within walking distance. Deep sea fishing and bay fishing charters available
Very great location and comfortable and cozy accommodations.
McLean
August 2016
Left the outside light on for us knowing we're going to be arriving at dark, turn the air conditioning for so will not be hot when we got there and left us some drinks and snacks for us.
J.R.
August 2016
Clean, comfortable accommodations as promised. Left the A/C and lights on for arrival. Highly recommended for the Port Mansfield area.
Daniel
August 2016
Nice little Port Mansfield house. The owner responded quickly to any communications and needs. Would stay again for sure.
Nathan
July 2016
Kamertype
Gehele woning/appartement
---
Woningtype
---
Geschikt voor
5
---
Slaapkamers
2
Port Mansfield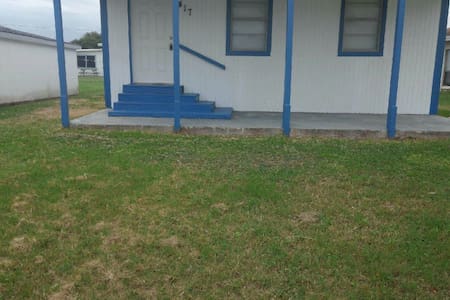 PORT MANSFIELD WATERFRONT HOUSE, 4 bedroom 3 bath for total house. Complete 3/2 apt. UPSTAIRS, 1/1 apt. DOWNSTAIRS. 3 BOAT DOCKS,LIFTS, Boat trailer parking next to house. Built 2004. RENT EITHER APT. or BOTH. CONTACT OWNER FOR RATES.
Waterfront house with boat docks and lifts. Fenced yard. Boat trailer parking next to house. 2000 sq.ft. deck over boat docks. Access to all of house, including garages.
Kamertype
Gehele woning/appartement
---
Woningtype
---
Geschikt voor
8
---
Slaapkamers
4
Port Mansfield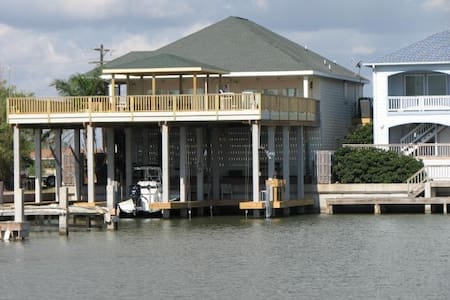 My place is close to -the beach (South Padre Island) -Valley International Airport -Hugh Ramsey Nature Park . My place is good for: -couples -business travelers -families (with kids) -big groups.
My husband and I have six kiddos and have been renting vacation homes for years. With so many personalities and the age gaps, we have always had problems finding the perfect place for all of us-so we bought it and are excited to share The Hideaway with you! We are 45ish minutes from South Padre Island so we can easily go spend the day at the beach and come home to quiet fishing and grilling. This house is unique because there are two full kitchens, two full living areas, basically two homes in one. We know that you will come to love it as much as we do. Games, books, cable TV, gas grill, charcoal grill, boat lift, fishing station-- World Birding Center is around the corner, but honestly you can sit on one of the decks and watch the hummingbirds, the green and Ringed Kingfishers, and green jays right from the comfort of your pjs and coffee. Take your boat from our boat lift and in less than 10 minutes you will be fishing at Laguna Madre for tarpen, snook, redfish, and trout. I do have a property manager close by to help with anything that may come up and I am readily available by phone.
My neighborhood is quiet and private.
I highly recommend Christina's place. It is great for family vacation. It has everything you need, from dishes, pots and pans to fishing rods and even board games for the family. Our family enjoyed her place and no one wanted to leave. It is truly relaxing as well. It has 2 kitchens and 2 living rooms!! We were fixing snacks and desserts in the upstairs kitchen and the main meal on the 1rs floor kitchen. We played scavenger games with the kids among other fun games in the entire house. The two living rooms were very spacious. The kids spent a great deal of time there, specially the upstairs one were they relaxed playing their tablets and enjoying it more with the available wifi. The beds were super comfortable (like sleeping in a cloud) very nice smelling and all. The fishing deck was very practical and beautiful, unfortunately we were unable to catch any fish. It was our first time fishing and we could see the river had lots of fish, we could see them jumping out of the water lol! We still had a lot of fun though. We even saw a dolphin! We believe that's what it was, the kids were exited when they saw it. Visiting Christina's hideaway was an excellent experience for our family and I strongly recommend it.
Victoria A
January 2017
Kamertype
Gehele woning/appartement
---
Woningtype
---
Geschikt voor
12
---
Slaapkamers
5
Rio Hondo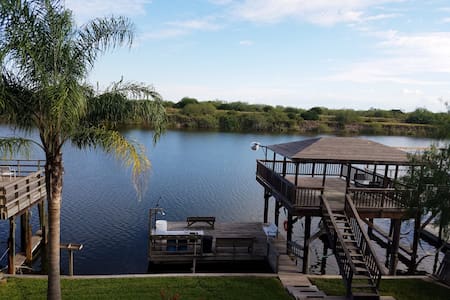 Great fishing, hunting and bird watching. Our place is close to great views and the beach. You'll love the place because of the outdoors space and the lodge. Our place is good for couples, solo adventurers, business travelers, families (with kids), and big groups.
Kamertype
Gehele woning/appartement
---
Woningtype
---
Geschikt voor
14
---
Slaapkamers
3
Rio Hondo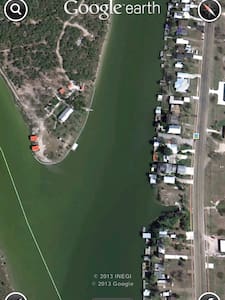 Large newly decorated room with en suite bathroom and private entrance . New furnishings .Quiet neighborhood close to airport and highways. Central air and heat. See photos for more details.
Self contained space , perfect for a relaxing stay when away from home . We can negotiate fee for monthly or longer stay. We respect your privacy. When occupied we will visit space only on request . Call or text if you need clean towels , sheets or other requests /queries. Owners live on property if you prefer face to face interaction.
From the moment we arrived we felt welcomed and comfortable. We stayed in the cottage for a week, drove to the beach and mexico, good central location. We couldn't have had better hosts! They were great company on warm nights sitting on the porch, very helpful, lent us their lawn chairs for a music festival, even shared pizza with us. Can't say enough good things about them, we look forward to staying with them again. The cottage was clean, provided more than expected, and very private. This is the place to stay!
Audrey
May 2016
Annette brought me a whole plate of fresh fruit. So sweet!
Amy
October 2016
Very much at home here.
Sheridan
June 2016
Annette and Patrick were both very nice and friendly and received me well. The room was very nice and clean.
Aaron
August 2016
Annette and Patrick are FABULOUS hosts! They made us feel so welcome and even dog sat for our dogs while we went out. Bed and pillows were super comfortable. Room was beautiful and accessible. We feel like we have a new family in Harlingen and we will book there every time we visit our son at the Marine Military Academy!
Beth
September 2016
Annette and Patrick were great about being open to several changes of dates and added on dates. We came for dental work and found we needed to stay in the area for additional work. Annette and Patrick were very welcoming. Their place is adorable. Bed is comfortable and room is large and Annette has thought of every little amenity. I love people who pay attention to details. We have extended our stay by two days because we are so comfortable here. We were invited to coffee one evening to better get to know Patrick and Annette. They are both delightful and when we return to Harlingen in April or May, we will be booking their place for our stay. Thank you Annette and Patrick.
Patsy
November 2016
Mr. and Mrs. Davis made me feel welcome I was shown in and was shown the room. I loved that it has its own private entry door and you can park very close to the door. Area is nice and quiet.
Juanita
August 2016
Patrick and Annette welcomed me upon my arrival and gave me a tour of the unit! It was very clean and well equipped! Great stay for a great price! Thanks guys!
Rakesh
September 2016
Kamertype
Privé Kamer
---
Woningtype
---
Geschikt voor
2
---
Slaapkamers
1
Harlingen
Large ,clean, bright space for work or leisure . Workstation, Queen bed , bedside tables and lamps, wardrobe, kitchenette with essentials. Lovely bathroom , with walk in shower . Private outdoor sitting area to enjoy warm weather and hear the birds.
Set apart from main residence, this cottage has its own entrance with private outdoor area . Laundry facilities are available if requested. Owners live on property.We will be available in person or by phone for your needs.
The property is a long-time habitat for local and migratory birds, with many generations of our celebrated local species having nested in the very trees you'll be sitting under. Some of the neighborhood inhabitants include: Great Kiskadee, Orioles, Jays, Mockingbirds, Black-Bellied Whistling Ducks, Curve-Billed Thrasher, Plain Chachalaca, migrating Cardinals, Three varieties of Woodpecker (that I've identified, so far....), various Finches, several types of Dove, at least two types of Parrot, Hawks and other Raptors, Owls, Martens, Bats, and I've even seen a Roadrunner drying off on a pole after a storm! We are five minutes from the Airport. Ten minutes or less to anything in Harlingen! Guest Transportation can be arranged if needed. Quiet, Residential area just a mile from Valley International Airport; Harlingen, Close to local Hospitals, clinics, shops and restaurants. South Padre Island is only a 45 min drive.
I always stay with Annette and Patrick when I come to Harlingen to work. It's perfect. Clean, private, safe, comfortable and a great deal. Thanks so much!
Amy
September 2016
Annette and Patrick were excellet hosts, and the cottage was in perfect condition with excellent, hotel-like accomodations.
Grant
July 2016
Annette and Patrick are wonderful hosts and their place is cozy and clean. We will definitely stay here every time we come to Harlingen.
Elaine
November 2016
Couldn't be happier with my stay. Annette and Patrick were friendly, helpful, and absolutely perfect hosts. The space is really nice, comfortable, with every amenity you'd hope for. Really great in every respect.
Charles
August 2016
This place is great. Really clean, uncluttered, great bed, quiet, if you want windows open. Annette and Patrick are kind and attentive. They are a great resource for information about the RGV. Highly recommend.
Amy
December 2016
Excelente opción de hospedaje para dos personas con todo lo necesario para una estancia cómoda. El lugar tiene acceso independiente es amplio y está muy bien conservado. Annette y Patrick se esfuerzan en que tu estancia sea agradable y en mi experiencia lo lograron. La próxima vez que visite la zona definitivamente consideraré está opción nuevamente
Alfredo
August 2016
Most important things first: This is a very clean little house, the bed is comfortable, shower is good, and there are plenty of towels. They have responded to earlier posts about the lack of shampoo and hair dryer by providing both. Annette and Patrick were very friendly and helpful. We met just one of their nice doggies, and he was not a problem at all. We are not pet owners and they mostly kept them out of sight.
Carol
February 2016
I had a wonderful one night stay in the cottage! Fast internet, bottled water, and coffee and tea for the morning for just a few of the things that made my stay relaxing. I also slept great on the extremely comfortable bed! Highly recommended
Charlie
June 2016
Kamertype
Gehele woning/appartement
---
Woningtype
---
Geschikt voor
2
---
Slaapkamers
0
Harlingen
My place is close to grocery stores, shopping places, Harlingen airport, parks, and Harlingen Public Library. Guests can also enjoy a pool and jacuzzi outside the apartment. My place is good for couples, solo adventurers, and business travelers.
I am so thankful that Marta opened up her home to me. She was incredibly polite and a great host. I was able to peacefully finish my work during my stay and get a good nights rest before a very stressful day.
Craig
October 2016
Kamertype
Privé Kamer
---
Woningtype
---
Geschikt voor
2
---
Slaapkamers
1
Harlingen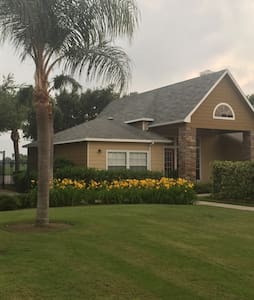 Three night minimum. Has garage parking in front. Washer/dryer. 2 refrigerators.
Quite. Bird watching - turkeys, green jays, purple martins, barges, Dolphins. Church on the Arroyo one block. County Park in walking distance. Chili Willies restaurant 3 miles. Bait shop with good hamburgers and fish plate to go. Owner lives next door. Boat ride and fishing trip available. 3 kayacks available.
Privacy. 28 miles to Brownsville, San Benito, and Harlingen. 18 miles to San Benito and Los Fresnos. 35 miles to Padre Island and Port Isabel. Deposit required for breakage.
We really enjoyed our stay. Very quiet community and very accommodating hosts. We are already making plans for our summer stay.
Curtis
November 2015
Kamertype
Gehele woning/appartement
---
Woningtype
---
Geschikt voor
4
---
Slaapkamers
2
Rio Hondo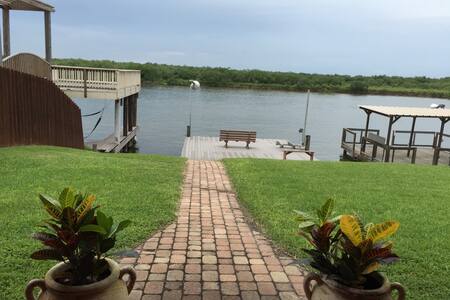 1

–

8

van

8 Accommodaties