Stunning Bay Area views, central PV apt in a rural setting, and close to town. My guest apartment has: One of the best views in PV. Space to relax: unit has a living room, dining room, & private bedroom. Peace & quiet in this secluded location. An easy commute to Stanford, many Bay Area co's, and Sand Hill VCs. Privacy - the unit has two separate entrances. Healthy activities nearby like running, hiking, biking, and equestrian trails.
This is a mother-in-law unit w/ separate entrances ~900 sq. ft. It has a large living room/dining room/office-study area with views of the south bay area Private bedroom with queen size bed Huge walk in closet Full kitchen including dishes, pots & pans (no DW or garbage disposal - sorry) Bosch gas stove Newly painted & carpeted Radiant heating Private patio & garden Parking next to garage Storage for bicycles in a separate shed
The main house and apartment are removed from the road so are extra quiet and secluded, but still just minutes from Stanford, downtown Palo Alto, Menlo Park, Woodside, and Los Altos. Alpine Road is a favorite with bike clubs, and PV is known for its many equestrian stables, and trails.
This is an in-law style unit attached to the basement of the house and with internal access and also a separate outdoor entryway. The unit is spacious, with minimal but good quality furnishings. Shower cubicle is small and will be a problem if you're >5'8"/big build. Kitchen and bathroom are old (60s/70s) design but generally clean and well maintained. The house heat is fixed at 68 degrees. There is a small space heater available as well. The location is exclusive and high-end, quiet, and with a terrific view of the valley from the living area window.
Oliver
2017-03-05T00:00:00Z
This was the 2nd time I stayed here, and it was great. VERY spacious, clean apartment, well-equipped kitchen and the most beautiful views. A great getaway or place to get some quiet.
kathryn
2016-12-14T00:00:00Z
Our hostess was extremely accommodating and welcoming. I wanted to book the location for a special occasion and she made sure everything went smoothly. Anytime I contacted her, she was very responsive. The location itself is private and wonderful. Inside, the rooms are cozy and serve their purpose. But what truly sets this place apart is the gorgeous outdoor view. Overlooking the valley, the patio provides an amazing view throughout the day. During my stay, the skies were so clear that we could see the stars so clearly. If only for the view, I'd recommend this place but the hostess herself makes this place extra special.
David
2016-12-26T00:00:00Z
The view is lovely from this property. The unit is the lower basement of the home. The unit was clean and Bk stayed up late to let me in when my flight was delayed. The bathroom is original from the 60's, very small shower that fits someone 5'2" like me fine. The queen size bed was very comfortable.
Karen
2017-01-12T00:00:00Z
Just as pictured, but for me the beauty of the location is wonderful. There are birds in the day, and total quiet at night. The home is comfortable and well-supplied. I would like to stay again.
Conrad
2017-03-15T00:00:00Z
Great location away from the city that was still close. Apartment as described, Bk was very helpful and always available. Comfortable space.
Bryan
2017-02-15T00:00:00Z
This guest home is very nice n has breathtaking views! I loved it! The host was super nice n communicative and provided breakfast too!
Laura
2016-12-19T00:00:00Z
The views here cannot be oversold. This place has the best views I've ever seen in Silicon Valley - the rolling, forested hills of Portola Valley, the bay itself and then the hills of east bay. The lower-level apartment itself is spacious, well-appointed, and extremely clean. There is a fully-equipped kitchen and a large walk-in closet that can store several suitcases and a lot of hanging clothes. The bathroom is small and dated, but everything works well and it is very clean. This place would be very comfortable for two people as well as just one. A third could sleep on the L-shaped sofa, if needed. Barbara was very accommodating and genuinely wanted to make my stay as comfortable as possible. She's a very nice and considerate host! This is a beautiful property in an exclusive area in the hills of Portola Valley. Very quiet. Great hiking in several different natural areas nearby or you can just start walking up the road. Barbara's place is really great and I look forward to staying again in the future!
kathryn
2016-11-30T00:00:00Z
Kamertype
Gehele woning/appartement
---
Type woning
Pension
---
Geschikt voor
3
---
Slaapkamers
Portola Valley, Californië, Verenigde Staten
Lots of light, best views silicon valley has to offer, easy parking. Only 15 minutes drive to downtown Palo Alto or to Cupertino. Contact host for details, briefly available in April.
I arrived in the evening and Alex made me feel welcome immediately. He's a nice host providing everything I needed during my stay. The room has great views over the valley, even at night but especially during the day! I'll definitely stay with them again.
Ciprian
2015-05-07T00:00:00Z
If you want to have the feel of high-life of Silicon Valley, there is no better place than Vlad's to get immerse into how the feature is shape. Astonishing views is appropriate description of this wonderful property: you can just sit for hours looking over Palo Alto and talk the wonderful hosts.
Florin
2016-08-17T00:00:00Z
Alex greeted me warmly as soon as I was at his house. He showed me the room, it really has a great view even at night, not only during the day. It was comfortable and had all the necessary amenities. I slept well there and I'll surely return whenever I need to visit California again.
Ciprian
2015-05-05T00:00:00Z
Kamertype
Privé Kamer
---
Type woning
Huis
---
Geschikt voor
2
---
Slaapkamers
Portola Valley, Californië, Verenigde Staten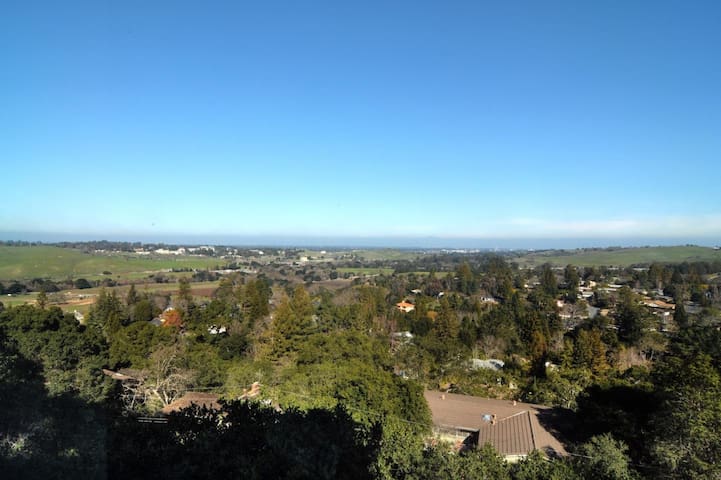 In Portola Valley, a private, free-standing one-bedroom guest cabana, in a very quiet setting. Under 10 minutes to Stanford, 15 to Menlo Park or Palo Alto, half hour from SFO, 45 minutes to San Francisco.
You have your own private cabana, the guest house at our home in the Portola Valley foothills. We overlook Silicon Valley. It is a one-bedroom, with a bathroom and a living/dining room, and a kitchen. The Cabana also includes a large patio with seating for 8 or more.
We are a few minutes from lots of things to do, but in an area that feels 'rural.' From the Cabana, you can head out the driveway and into a street that provides any number of great walks, as long or short as you want. Hilly and scenic and peaceful! Yet, ten minutes to downtown Menlo Park, fifteen to Palo Alto, Portola Valley is on the West border of Stanford, and the local neighborhood has a number of wonderful restaurants, grocers, and services.
David and Goldy have an amazing place: super clean, private, and quiet. They think of everything and have a notebook with all the info you could need. I love the way they have decorated and made their place feel comfortably luxurious with soft linens, a bed that allowed me to sink into instant sleep, and a big television, which is always a plus. They left me a delicious bottle of wine and irresistible popcorn. I could not have asked for any more. Their place is easy to get to and was perfect for me.
Dana
2016-09-28T00:00:00Z
Nice welcome and place. Very comfortable.
MAC
2015-05-22T00:00:00Z
From an early accomodation selection process David has been very responsive and helpful. He responded to all my inquiries literally in on-line mode. At proposed Cobana I enjoyed privacy and comfort that are not comparable to any hotel nearby even with a 30% higher rate. Views are nice, good neighborhood and David's welcoming care make this choice outstanding. As a complement David presented bottle of nice local wine and took me around Palo Alto and Stanford on his cabrio.
Nodir
2016-10-20T00:00:00Z
David is a gracious host with a wonderful place. His cabana is located in the hills just above Stanford. As a result the setting is very nice, it has a beautiful view and it is quiet. It is still, however, conveniently close to 280, Stanford, Palo Alto and Menlo Park. The cabana itself is clean, comfortable and well appointed. David is friendly, helpful and prompt and thorough with his communication. My schedule only allowed for a brief visit, but I left wishing I had the time to stay longer.
Jim
2015-10-27T00:00:00Z
We had a wonderful 6 day (EMAIL HIDDEN)munication with David was easy and quick. He responded very promptly to my emails and was accessible before and during our stay. He very graciously made it clear he was available if we needed anything while there, though was very cognizant of the fact that some guests prefer quiet and privacy. The cabana was exactly as shown in photos and very well-equipped. The setting and view was even lovelier than in the photos. The outdoor seating area is beautiful and I wish we had been able to take advantage of more time there; it is a treat to sit outside and enjoy the view. The kitchen, though small, was well-stocked and it was fantastic to prepare meals there rather than eating out for seven days. David had very kindly left a bottle of wine and some snacks when we arrived which we enjoyed during our stay. This cabana is a fabulous alternative to overpriced hotels in PA and I would definitely stay there on a return visit. One note: there is currently a home being constructed on an adjacent property, next to the cabana. The work seems to be done with precision timing - starting around 8am and completely done by 5 with no noise/activity on the weekend - so not at all an issue for guests who will be up and/or out during weekday work hours but something to be aware of. The work obviously will be of finite duration and, even with the construction, I wouldn't hesitate to go back but it is something, in the short term, to be expected during a stay. Highly recommend this rental - we had a great stay!
kristin
2016-07-21T00:00:00Z
Great place! Great host! We came to our daughter's graduation. This was a beautiful, quiet and private place. It was a great place to recharge. David made it exceptional. He was engaging and helpful with as much privacy as wanted. We had some other parents up and they all were envious.
Sonja
2015-06-15T00:00:00Z
The cabana was a wonderful place to stay (great view, great amenities, very quiet), but what made this a singular experience was the hospitality. David was communicative, friendly, and made us feel very welcome on our arrival. And his attention to detail was extremely impressive. Coffee, wine, Calvin and Hobbes books, luggage stands, kitchenware, fresh bananas, individually-wrapped soaps, a detailed "Operating Manual" for the cabana, and menus from local restaurants — these are just the details I can remember off the top of my head. Truly a 5-star experience.
Kevin
2015-04-06T00:00:00Z
Amazing patio with fantastic views. Super friendly, welcoming host. Welcoming and orientation materials go above and beyond anything I would expect or have encountered elsewhere.
Jill
2017-03-19T00:00:00Z
Kamertype
Gehele woning/appartement
---
Type woning
Huis
---
Geschikt voor
4
---
Slaapkamers
Portola Valley, Californië, Verenigde Staten
Our home is located just a few steps from hiking and biking trails and beautiful views, yet it is 5 min from the 280 freeway. The neighborhood is close to a local grocery store/deli, cafes and restaurants, and other conveniences. This room would work for a solo adventurer, a couple, or a business traveler.
* Walking distance from several hiking and biking trail systems. * Walking distance from a grocery store and deli. * Short drive (1 mi) to additional restaurants, cafes, dry cleaning, and other grocery stores. * 5 min drive to the 280 freeway.
The location was in close proximity to Palo Alto University and in a quiet neighborhood. Tia and her family were great hosts. The children were polite and the family dog well behaved. The bed was comfortable, and the room and bathroom private as advertised. Be willing and open to being inside the lives of a family. It worked for me, and the family made it easy. Tia was generous with directions and suggestions for hikes.
Kira
2017-04-04T00:00:00Z
Kamertype
Privé Kamer
---
Type woning
Huis
---
Geschikt voor
2
---
Slaapkamers
Portola Valley, Californië, Verenigde Staten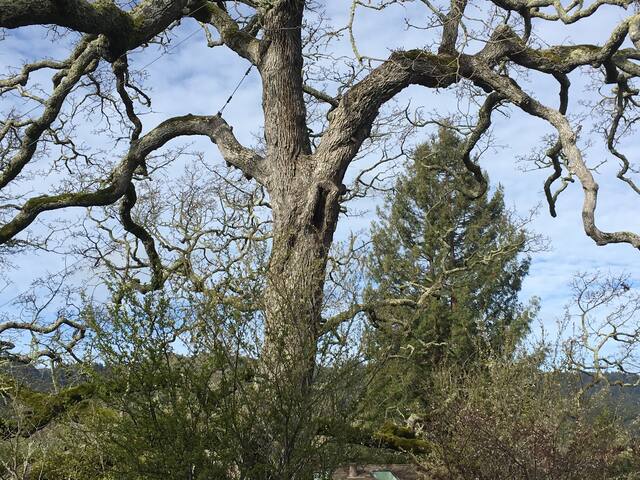 Centrally located hillside home with stupendous light & views, comfortably fits two-four, gourmet kitchen, minutes away from great restaurants, shopping, Stanford, Silicon Valley, Menlo Park, Palo Alto. Easy access to freeways, airports.
No disappointments on this one! Million dollar views out each window! We lovingly call this home "The Tree House". Looking out the windows in any direction see nothing but trees and blue skies. Sit on the wrap-around deck and watch the birds soar and even see an occasional osprey. And looking into the tree lined meadow below see the occasional deer and cottontail, going by. Don't lose out! Book today.
The serenity and the incredible view! Yet it's just minutes away from Menlo Park, Palo Alto, Stanford and Silicon Valley businesses!
We had a fabulous stay at this house. It was clean, comfortable and offered everything we needed. It was even nicer than the picture -- both the location and the inside. Thank you for making our stay so enjoyable.
Kasey
2015-05-17T00:00:00Z
Marsha's property is very conveniently located close to the intersection of I 280 and other business destinations in Silicon Valley. The surrounding is very quiet full of nature. We saw many deers around the property. The house is equipped with everything we need for stay and Marsha was very helpful helping us stay comfortably during our visit. Amongst all, view from the terrace is magnificent. We were here on business and we would like to come back here.
Kuni
2015-11-16T00:00:00Z
Marsha was an excellent, warm host at this lovely house in a peaceful hilltop location. We greatly enjoyed our stay. Portola Valley is tranquil and lovely. On several occasions we encountered deer pottering around the local streets; there were hummingbirds near the balcony and birds swooping through the valley. The house is as described, with pleasant views over a canyon. It's a short drive to good food shops and on to Stanford and the delights of Palo Alto; or up to the fresh air of the ridge top (hiking in the redwoods followed by a massive burger at Alice's Restaurant!). It was well equipped, with plenty of kitchenware, good bathrooms, and comfortable beds. Internet service was rock solid. The house is spacious - especially the master bedroom which is huge. As noted in the listing, the deck is awaiting refurbishment; but everything else worked very well. In Summer we needed to take a little care with closing blinds at the right time, because the sun blazes in during the afternoon; but it cools to a lovely temperature afterwards. Marsha was charming and attentive without being overbearing - a very thoughtful host. She shared a couple of ideas from her passion for motor racing, introducing us to some excellent local events. We stayed here for just over two weeks and would be delighted to return.
S&A&s
2016-08-17T00:00:00Z
Great!
Jonathan
2016-09-29T00:00:00Z
another great stay at Marsha's lovely place. we could not recommend it more highly!
Gretchen
2015-10-30T00:00:00Z
My firm stayed at Marsha's home January 23rd through February 12th. We checked back in February 17th through March 6th. And we are planning to come back for additional dates in March. Do I need to say anything more?
Michael
2017-03-06T00:00:00Z
House was in a great location and very spacious and inviting inside. Beautiful kitchen and very large rooms. The views were stunning! Easy to get to Stanford, Palo Alto or go up to SF on 280. There is a very nice small shopping center at the bottom of the hill with a great market and some good restaurants and a coffee place.
Anne
2015-09-21T00:00:00Z
My second stay at this property and it was even better than the last one. Marsha had stocked the place with thoughtful amenities and food (including a bottle of bubbly :). Very nice lady, I will definitely stay here again.
Andy
2015-05-20T00:00:00Z
Kamertype
Gehele woning/appartement
---
Type woning
Huis
---
Geschikt voor
4
---
Slaapkamers
Portola Valley, Californië, Verenigde Staten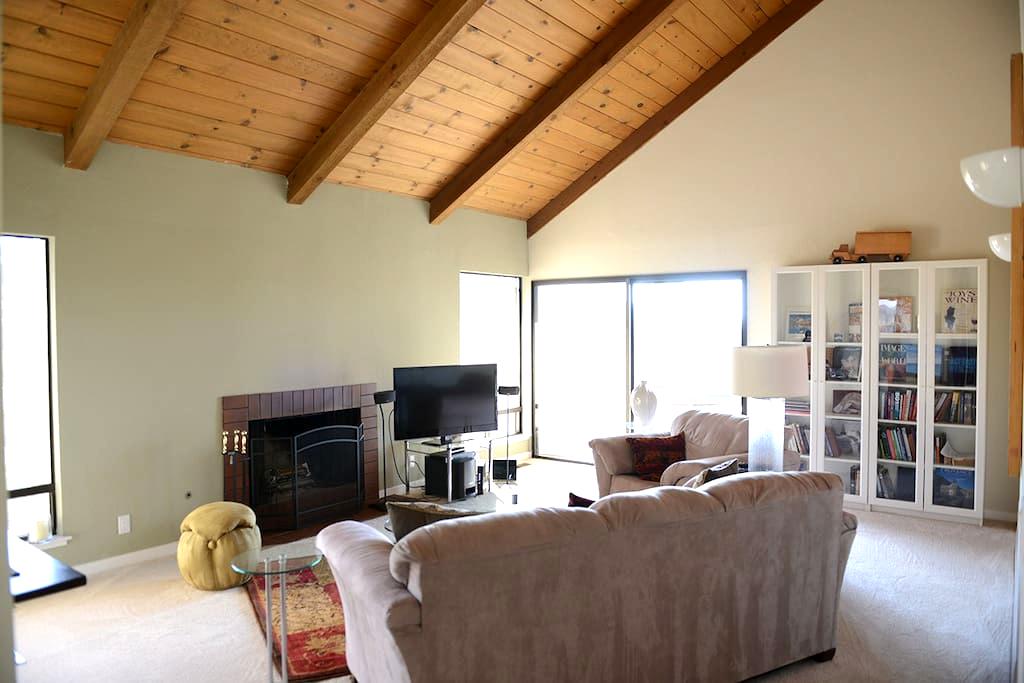 A cozy studio space with a large deck located just 15-30 minutes from Stanford, Sand Hill Road, and major tech companies. 45 minute drive to San Francisco. Easy access to hiking and biking on the Portola Valley Town trail system.
This cottage is nestled in the trees and feels almost like a tree house. The ~400 square foot deck makes a great outdoor living room.
Our neighborhood is full of friendly, quiet people who enjoy the outdoors.
Thoroughly enjoyed my month long stay! The cottage is just as described & pictured. Hilary was a great host! Perfect for a solo traveler or a couple. Comfortable bed, access to Netflix & Wifi, full kitchen, and indoor washer/dryer! Loved the location away from the busier city streets, but still an easy 15-20 minute drive to Stanford where I was working. Added bonus, deer sightings in the area almost daily. Would definitely stay again!
Erica
2017-02-05T00:00:00Z
We really enjoyed our stay at the woodsy cottage. Hilary and Colin were kind and generous hosts—giving us tips on local hiking trails, groceries, and bike shipping methods. The kitchen was well equipped for all our cooking needs, and included a dishwasher and brand-new stove. A washer and dryer, tv, and wifi were all provided, as well as toiletries, soap and shampoo. The overall feeling of the space itself is warm and relaxing. It was perfect for two people who spent a considerable amount of time there. The bed and bedsheets are comfortable. The deck furniture is great for lounging and birdwatching (though you might want some bug repellent after dusk). The location provided a reasonable commute to our workplaces in Palo Alto and Mountain View, but was far enough away from fast-paced Silicon Valley to feel secluded and comfortable. You'll probably want a car to get around, unless you are a very strong biker (we were impressed by the quality of bike lanes in the area, though also impressed by the steepness of the road up to our house). But if you do have a car, it's close to highway 280, Safeway, and local restaurants and trails. We will miss the woodsy cottage!!
Ethan
2016-08-01T00:00:00Z
My husband and I stayed at Hilary's place for a month when I was getting medical treatment at Stanford. The place is exactly what we expected and met all our needs. It has a very functional and efficient design, and equipped with most things you will need on a daily basis. The view from the window is spectacular. We will definitely miss waking up to those gorgeous trees. Hilary and her husband were very gracious hosts and have tried to make sure our stay was comfortable. I'd definitely recommend this place to anyone!
Katie
2017-03-06T00:00:00Z
Overall it was a great stay. The room had a lot of amenities which made the stay comfortable. Communication was easy and the posting was accurate. Only negative was the heater, it was very loud and made strange noises when heating the room. Also, the room was very cold when we first arrived because the heater was off. It would have been nice to walk into a cozy room after a long day of traveling.
Alicia
2016-12-01T00:00:00Z
Hilary was a fantastic host. She was incredibly responsive, and provided everything I needed for a comfortable stay. The location of this cottage was ideal for peace and quiet with an easy commute into the bay area. I'd definitely stay again!
Jill
2016-08-27T00:00:00Z
Great location - Hilary was great with communication and very friendly. Super quiet.
Caitlin
2016-10-05T00:00:00Z
Stayed for 3 nights. I wanted to stay somewhere a little different on this trip, somewhere quiet and out main city areas of Silicon Valley. This place definitely has that. The area is beautiful. There's some great walking trails just near the house. Its maybe a little more remote then I expected and finding the place isn't super easy but once you get used to the roads in the area you'll be fine. The place itself if very comfortable but smaller feelings then the pictures. The bed is good, shower average, kitchen seemed well equipped. The outside space is nice to have but doesn't feel as private from the main house as I would have liked. Bad things are that the fridge and heating are overly loud. Every time you open the fridge it makes a humming noise for 10 minutes and after turning the heating off it bangs for about 15 mins :( Both need an upgrade. Still, its a nice place for sure and its nice to wake up surrounded by trees and the stars look amazing at night and its really quiet which is great.
Andrew
2016-10-21T00:00:00Z
I really like this place, it's clean,comfortable and convenient. I hope I could come back soon!
Shuai
2016-11-14T00:00:00Z
Kamertype
Gehele woning/appartement
---
Type woning
Houten huisje
---
Geschikt voor
2
---
Slaapkamers
Portola Valley, Californië, Verenigde Staten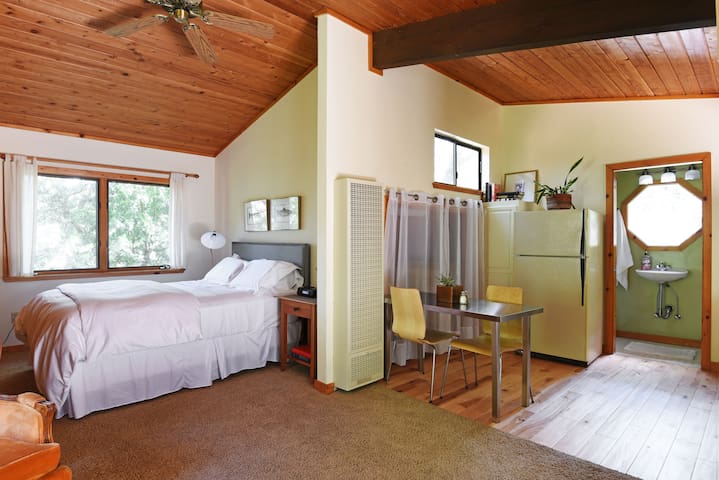 Remodeled home nestled among an oak grove, waterfall & vineyard in the hills above Stanford (10 min), Palo Alto (20 min), Mountain View (25 min) and San Francisco and San Jose. Perfect for traveling families and groups, as well as startups visiting Silicon Valley. Tennis court, basketball, kids toys too!
This recently remodeled home is nestled among an oak grove, a waterfall garden and a vineyard in the hills above Palo Alto & Stanford University. It's perfect for traveling families and groups, as well as startups visiting Silicon Valley or conducting off-site meetings. The home is convenient to I-280 (5 mins away), Stanford (10 mins), Sand Hill Rd (7 mins) and both San Francisco (35 mins) and San Jose (25 mins). It's very close to Palo Alto, Menlo Park, Woodside, Mountain View and Los Altos. Levi's Stadium is 30 mins away. This is a storied property - it once was a hunting lodge visited by Hollywood celebrities like Bing Crosby. In the 60s and 70s it became a hippie commune before becoming a private residence. This house was once a stable and was converted decades ago to a guest house, then remodeled and updated twice in the last 10 years, including new kitchen, bath and beds. In addition to all the amenities inside the home, there's a full tennis court, basketball, and in warm weather a pool and hot tub are usually available as a courtesy (please confirm availability before booking - these are sometimes unavailable). A private half-mile walking trail encircles the property and a network of public hiking trails are available just outside the fence. The self-contained house includes a kitchen, dining area, living room and 3 bedrooms. The master bedroom features a luxurious queen bed fitted with 400-thread count Egyptian cotton sheets. There's a 42" HDTV as well as a walk-in closet, dresser and full-length mirror. The second bedroom has a queen bed, desk, dresser, TV and closet with plenty of shelving. The third bedroom has a twin bunk bed and a dresser. Additional sleeping for two is available on the convertible sofa in the living room. It opens to a queen-size bed with a memory-foam mattress. The bathroom features a marble floor and granite slab on the sink and the shower. There are extra towels, pillows and blankets as well. The full kitchen includes granite counters, premium cabinets and modern appliances: range, 2 ovens, microwave, dishwasher, disposal and full refrigerator/freezer with ice-maker and filtered water. Dishes, cups, silverware, pots, pans and utensils are available. There's plenty of counter prep space. In addition to the dining table, there's a bar-top with four stools. The living room features a 60" HDTV with Blu-Ray DVD player, Wii gaming console and surround sound. You'll have one of Comcast's top internet and cable packages with ESPN, HBO, Showtime, Cinemax, Starz and a many other channels. There's also a selection of books & toys that are appropriate for young children. The home has plenty of natural light and includes its own heating, air conditioning, full-sized washer and dryer and plenty of closet space. The back porch includes two chairs with the vineyard to your back. There's also a cafe table with two chairs at the end of the house. And just off the tennis court is an outdoor patio with table, umbrella and four chairs. You'll have your own driveway and parking accessible through an automatic entry gate. The surrounding area is popular for walking, running, hiking, cycling (road and mountain), and horse-riding. It's quite beautiful and rustic despite being minutes from I-280, Sand Hill Rd, Stanford and Palo Alto. Shopping and dining are minutes away, either in town, Palo Alto, Menlo Park, or beyond. We have great reviews and a flexible cancellation policy. To check availability, click on the "calendar" tab above the big photo at the top. To check rates, plug in your dates and you can check the total before booking.
This is an ideal location - close to Palo Alto, Stanford, Menlo Park, Los Altos, Mountain View. It's only 5 minutes from shopping and the I-280 yet feels peaceful, rural and secluded.
Lovely home - great hosts! So quiet and relaxing, loved the pool/sauna/whirlpool! Close to Palo Alto yet up in the country! Thanks for a wonderful vacation!
Heather
2011-08-25T00:00:00Z
Jennifer has been a very good host. She welcomed us warmly and explained everything we needed to know. The house was fabulous, well equipped and nicely located. We stayed with two kids for a week and felt like at home from the very first moment.
Eva-Maria
2014-05-18T00:00:00Z
This house was perfect for our travelling family. We stayed for an extended time and found the accommodations exactly what we needed having two young kids. It's in the perfect location to access Stanford and the surrounding communities and really is a beautiful setting for any type of stay. Whether for a couple days or for an extended visit, we would highly recommend this place for a couple or a small family. We'll definitely be back!!
Ken
2012-01-19T00:00:00Z
We had a great one month stay at this house during our visit to Stanford. Calm and quiet location, yet close to everything. Easy communication with the hosts. The home is clean and spacious and with a lot of amenities. Definitely recommended.
Andrea
2016-09-25T00:00:00Z
Staying at Jennifer's home is pretty the best AirBnB experience you'll ever have. Spacious, clean, well-equipped, quiet and convenient. Not to mention the occasional wildlife spotting on the property. Our stay was great; everything to know was clearly explained when we arrived. I know where I'll stay next time I'm in the area.
Alexis
2012-04-28T00:00:00Z
It was very easy to communicate with the host before arrival. The entry to the unit was easy with everything consistent with the profile online. The unit was clean, orderly and welcoming. It really felt like a lovely cottage in a tiny vineyard on a lovely estate. Special and relaxing. If you're doing anything in the Silicon Valley or even the Bay Area in general, it works out great in terms of driving time while still feeling relaxes and a little rural in the best possible way. Love the dear and wild turkeys in the neighborhood while knowing you're a reasonable drive into SFO/Oakland/Berkeley. Much better option than an expensive, run of the mill hotel.
Dan
2016-10-01T00:00:00Z
Jennifer and Bill are gracious hosts and they have a terrific house in a peaceful setting. Since they lived in it themselves for a couple years while they built the main house, the layout works extremely well, it has a nice and fully functional kitchen - unlike some of the guest houses on this site which are converted sheds. It's convenient to 280, Sand Hill Road, Palo Alto and at the same time if you like to bike, some of the best biking roads on the peninsula (and the world for that matter) are literally right outside the door. I spent two months there and highly recommend it - it'll be my first choice to stay when I come back to the area.
Mike
2013-04-01T00:00:00Z
Courteous and very helpful hosts. House is charming and very comfortable, perfect design for a 3 bedroom, even better than the photos make it out to be. Extremely convenient to Stanford and I280. I loved staying here and can't wait to return.
Lisa
2014-05-07T00:00:00Z
Kamertype
Gehele woning/appartement
---
Type woning
Huis
---
Geschikt voor
8
---
Slaapkamers
Portola Valley, Californië, Verenigde Staten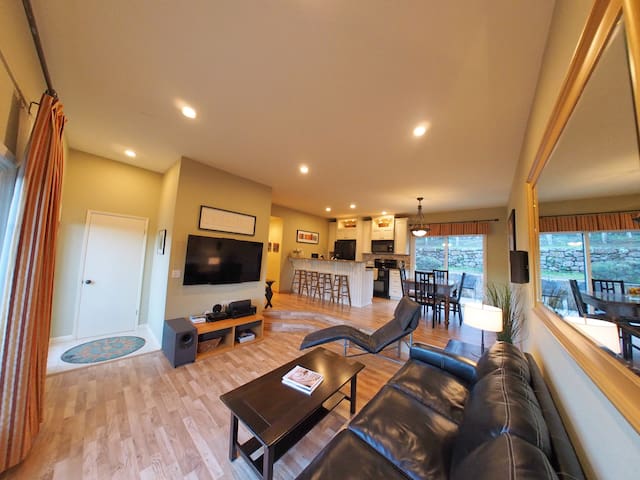 Recently built, modern, stand alone guest house in Portola Valley. Nestled in the hills, surrounded by nature, yet right off the I-280 freeway in the heart of Silicon Valley. Our guest house is a stand alone, self-contained structure with all the amenities. Sleeps up to 4, has a full kitchen with custom built concrete countertops in the kitchen and bath. The house is complete with not only WiFi, but tons of storage, closet space, and parking. Escape back to nature, or come for work...
We are located in the hills above Stanford University, surrounded by nature and rolling hills, yet in the heart of Silicon Valley. The guest house is perfect for outdoorsy types who would like to return to nature out on the trails, visiting travelers who would like to take in the sites of San Francisco or San Jose, or business travelers. The home is convenient to I-280 (4 minutes away), Stanford (10 minutes away), Sand Hill Rd (7 minutes away), San Francisco (35 minutes away), and San Jose (25 minutes away). It's also very close to Palo Alto, Menlo Park, Woodside, Mountain View, and Los Altos and Levi's Stadium (30 minutes away). The stand alone, newly built guest house was completed in 2013 and includes a kitchen with a bar and stools for dining, a bedroom, living room and bathroom. The house contains hardwood floors throughout. The full kitchen comes complete with brand new Calphalon pots and pans, a full set of dishes, cutlery, knife set, glasses, a Keurig coffee machine, coffee mugs, wine glasses, mixing bowls, kitchen towels, spices, tons of counter space and cabinets with amazing storage. The stainless steel appliances are brand new. The full sized refrigerator/freezer also has a water filter and an ice-maker. There is a drawer dishwasher, full oven with a two burner electric cook top and a microwave. The bedroom includes a brand new queen sized bed with additional storage cubbies. The closet contains a closet pack with an ironing board and an iron. In the bedroom there is a wall mounted 32" HDTV as well as a concrete top dresser, bedside table and a full length mirror. The TV has DirectTV with a cable package. An extra set of sheets are available for both the master bedroom and the pull out couch in the living room. The living room has a brand new queen sized sleeper couch and a duvet when needed. The concrete topped wire meshed coffee table allows for additional storage, as does the matching media console. The 52" HDTV comes equipped with DirectTv's premium cable package. The whole house has high speed WiFi, so you can stay connected (if you want). The living room TV is also equipped with a sound bar system. The bathroom has a custom concrete counter top and concrete sink, a walk in shower with a linear drain and custom ceiling to floor tiles. There is an extra set of bath towels for the bathroom. For exclusive use for the guest house, there is a full sized, stacked washer and dryer unit conveniently located right outside the front door, hidden out of sight behind a closed door. Detergent and dryer sheets will be made available. The home has many windows that let in natural light, but also includes built-in roller shades. There are two ceiling fans in the house, but the house also has its own heating and air-conditioning. The outside Ipe deck comes equipped with a gas plummed BBQ and teak outside furniture with a coffee table and seating area for 4. The deck area and BBQ are for the private use of the guest house and the deck area opens up right from the living room door. All cleaning supplies are stocked in the guest house, including dish soap, etc. Portola Valley has many open trails for hiking, biking and horseback riding as well as open spaced preserves; maps are provided. In town there are also public tennis courts, basketball courts, a playground for small children, library and soccer fields.
The location is ideal. We are very close to Palo Alto, Stanford, Menlo Park, Los Altos and Mountain View, in the heart of Silicon Valley. We are close to 280 and Sand Hill Rd. We are surrounded by nature, yet we have access to everything. Our neighborhood is peaceful and serene with a rural feel, but not so far removed that you are isolated.
My stay was everything I could have hoped for. Scenic, quiet, organized, clean, well arranged, and central. I could get to sandhill road or downtown PA in under ten minutes, yet it was a quiet secluded location. There was a great grocery store and restaurants less than five minutes away. Ralph and Renee also have impeccable taste, it really was great place to stay. Given the opportunity I would stay there again!
Nick
2017-03-31T00:00:00Z
Kamertype
Gehele woning/appartement
---
Type woning
Pension
---
Geschikt voor
4
---
Slaapkamers
Portola Valley, Californië, Verenigde Staten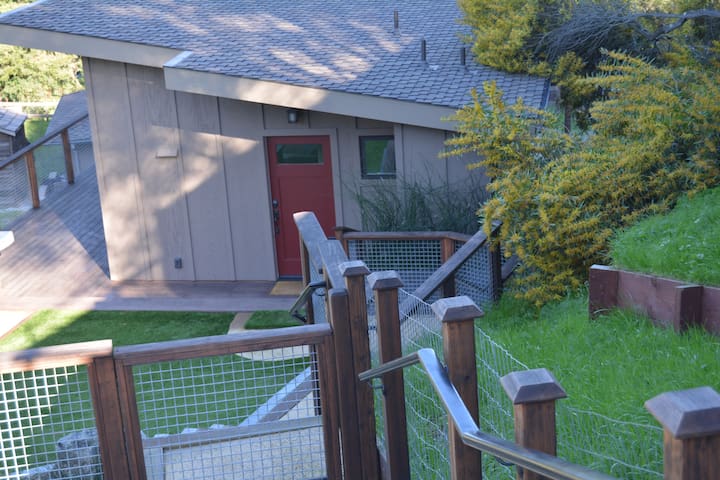 Furnished with your own patio - near Stanford Furnished room in a newly renovated house located on the hills of Silicon Valley in the excluded Portola Valley charm. Perfect for temporary stay or business commuters, while in the peninsula. This house has everything you need for a convenient and affordable stay, ideal for Stanford Graduate, PhD, Founders and Executive since we already have few living here.
Location: 15mn to Stanford SLAC or 10mn to Highway 280 1 Bed with comfy queen mattress (can be set as a Sofa Bed if you need more space in your room) Shared bath with 1 person Living area - with Patio for BBQ Kitchen - equipped for light cooking. Dining area - can host 4 to 6 guests for BBQ (require approval) Washer & Dryer in the house Convenient public trail and cycling just around the corner Private parking is free for compact car High Speed Internet + Central Heating/AC + Utilities Included
We are situated above the Town of Portola Valley , overlooking San Francisco Bay and its surrounded by thousands of wooded acres of permanent open space, yet is only 10 minutes from Interstate 280. The 105 "rural estates" are favored by a microclimate ranked among the best in the world. You also get the best air quality in California!
Kamertype
Privé Kamer
---
Type woning
Huis
---
Geschikt voor
1
---
Slaapkamers
Portola Valley, Californië, Verenigde Staten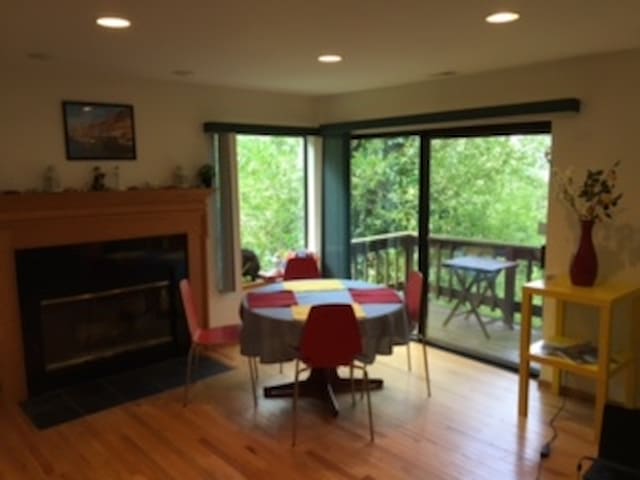 Brand new listing! Come be one of the first to stay at this newly remodeled, European-style studio with bathroom and kitchenette! The enchanting cottage sits away from the main house on this 1 acre property and has a isolated, treehouse feel. An immaculate jewel box nestled among the old oaks. Amazing canyon views and outdoor guest space galore. Minutes away from shopping and restaurants and just 12 minutes from Stanford. Complimentary gourmet coffee & snacks.
Located in Los Trancos, the pristine guest house is just a 5 minute drive from Alpine Swim and Tennis Club . 12 minutes from Stanford. Whether you're looking for a weekend getaway to bike and hike or you're in the area on business, this cozy pied-a-terre offers all the modern conveniences without the hustling crowds. Come trade the sounds of the city for wildlife including birds, chirping frogs. Watch the soaring hawks and grazing deer from the picture window. Guests have a private outdoor terrace as well, ---the perfect getaway for quiet contemplation. Sit and enjoy a glass of wine as you watch the sunset. The space features a full size comfy bed (Ideal for 1. Or, 2 really close folks) with down duvet, assorted down pillows both soft and firm, elegant 400 thread count 100% cotton sheets, Wi-Fi, plus a DeLonghi heater to take off the morning chill. Also, a portable fan though it's not likely you'll need it in Portola summers. Bi-weekly maid service included every for longer stays if desired. Brand new kitchenette comes equipped with sink, under counter fridge/freezer, toaster oven, blender, Nespresso machine with assorted coffees, teas, sugars and milk plus dishes/bowls/flatware and wine glasses and cheeseboard. Bathroom was completely updated with all new fixtures. In the breezeway is your own private brand new washer and dryer if needed. Yoga mats and beach towels provided for your use, too. Small dining table that doubles as a desk plus 2 chairs look out to the view while you have your morning coffee and plan your day in this enchanting place. You won't want to leave! One parking spot is reserved in my driveway so you need not worry about having a parking spot. Additional cars can be parked down the hill about 200 feet away.
I've prepared a Guest Welcome Kit notebook in the studio with the 411 on Portola Valley with a book on all the nearby trails. with suggestions for everything from PV' and Woodside restaurant offerings to hiking trails or where to go horseback riding.
Amazing space and host.
Erik
2017-02-28T00:00:00Z
Beautiful place - surrounded by nature.
Erik
2017-01-31T00:00:00Z
This is a beautiful house in a beautiful location. Directions and checkin were flawless, and Steven was able to accommodate my late arrival.
Gabriel
2016-12-08T00:00:00Z
Loved the contrast of Steven's place - a very secluded location and a very modern feel inside. It is definitely removed from urban life - if this is what you are looking for, Steven's place is perfect for you. I am one of those folks who like to disconnect when I want to get a good nights sleep. The bed was amazing and it is a super quiet spot. It is in a valley so I recommend that head up during the daylight. This isn't anything against Steven's place but it is a fun and curvy road up. I headed up at dusk and the roads were little dark even then. Because you are remote, I would imagine that stargazing on the patio would be amazing. Unfortunately, it has been a rainy week and missed it. I hope that I can come back and take advantage next time.
Lisa
2016-12-15T00:00:00Z
Kamertype
Gehele woning/appartement
---
Type woning
Pension
---
Geschikt voor
2
---
Slaapkamers
Portola Valley, Californië, Verenigde Staten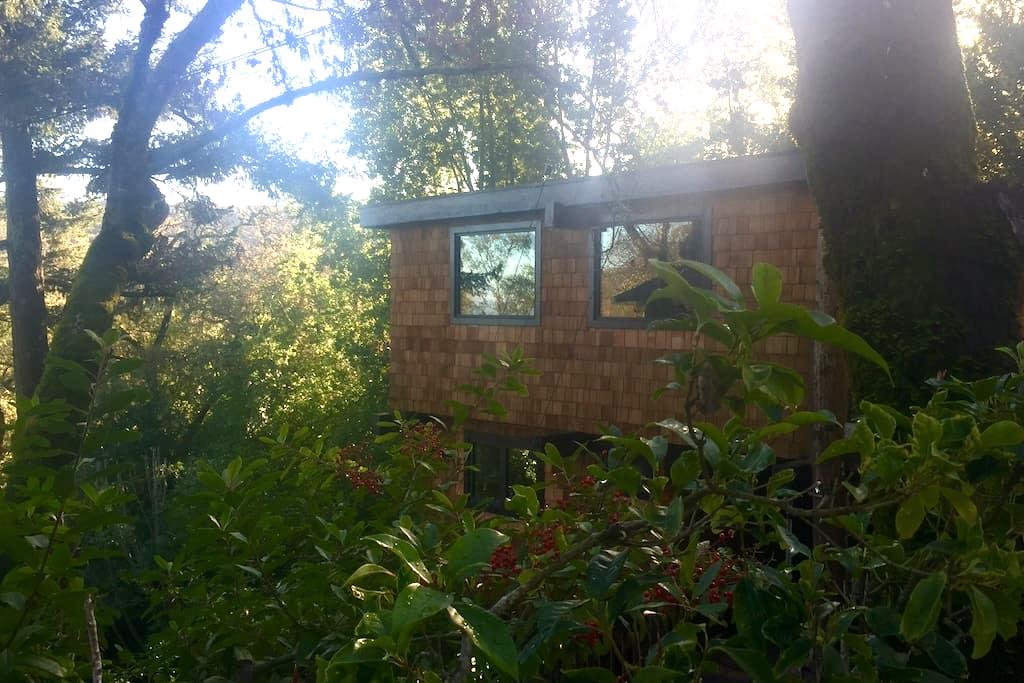 2 Large rooms right next to private bathroom in a lovely A-frame home nested in forrest with wonderful views of Arastradero Open Preserve. Rooms are on the main floor along with large kitchen and open dinning room and living room with shared access.
Sonia's place was amazing! Felt as though I was in a tree house in a forrest. The view from the wonderful deck was endless rolling hills, not another house in sight. Beds were really nice and rooms very quiet. Beautiful house with a large kitchen that opens into a high ceiling living room. Its almost as though we had rented a private home vs room since the host lived in a separate section of the house. We had rented a car and I recommend that future guests have their own car vs trying to just use public transportation (though we did take the train into SF, which was fine). Thank you Sonia! We'll book Sonia's place the next time we are in the area.
Hilary
2016-01-31T00:00:00Z
Lovely quiet spot in a great location. Beautiful views and amazing space. Sonia was very communicative and nice. Had no problem finding the place with her instructions. Would stay again.
Erica
2016-02-04T00:00:00Z
Beautiful quiet location
Reynold
2017-03-25T00:00:00Z
Sonia is a terrific, friendly host. Her home is a clean, lovely spot on a hillside in the redwoods, where we saw deer every day. Having coffee on her large deck overlooking the valley was a highlight!
Jan
2016-07-15T00:00:00Z
I LOVED STAYING HERE!!! Wow, great view from the deck, it was all so clean and tidy, and Sonia is one of the most friendly and accommodating hostesses you could ask for. I had some much needed peace and quiet and a great night's rest after stressful business meetings that day. Couldn't have asked for better comfort away from home.
Mandy
2016-02-05T00:00:00Z
Sonia was a great host. The place is beautiful with a great view. This location worked well for our visit.
Andy
2016-07-24T00:00:00Z
Kamertype
Privé Kamer
---
Type woning
Huis
---
Geschikt voor
4
---
Slaapkamers
Portola Valley, Californië, Verenigde Staten
The rental is for one or two of the bedrooms while we are away for a week. My place is close to great views and restaurants and dining. You'll love my place because of the outdoors space. My place is good for solo adventurers and business travelers.
There are lots of stairs and redwood trees.
Stefan and Sasha were there to greet me and give me a house orientation. They also left me a very thoughtful note with their phone numbers. The house is in the trees and feels like part of the environment. They provided a very comfortable bed and everything was clean and well considered. Stefan and Sasha are amazingly hospitable. I would definitely stay here again!
Dana
2016-08-28T00:00:00Z
Kamertype
Privé Kamer
---
Type woning
Appartement
---
Geschikt voor
2
---
Slaapkamers
Portola Valley, Californië, Verenigde Staten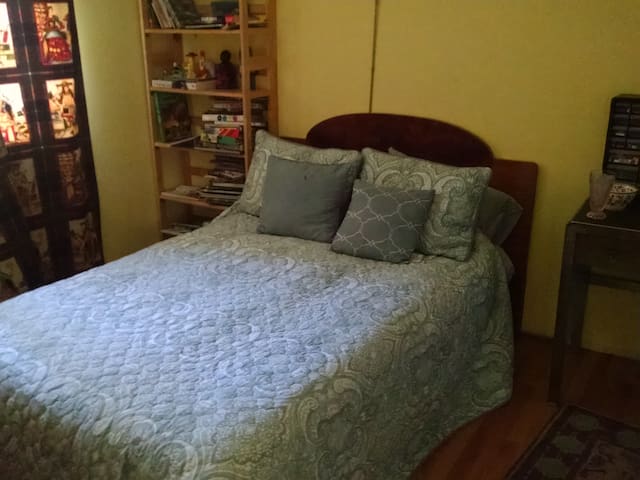 Updated ranch home in Portola Valley, 10 mins from Stanford Univ, perfect for families visiting. Million dollar views. Mstr bedroom with queen sized bed with en suite bathroom and hot tub. 2nd room has a bunk bed. 3rd room has a single bed.
3 bedroom, 2 bath single story ranch house on 1.4 acres with pool, hot tub, grape vines in front of patio, and 30 fruit trees, flower and vegetable gardens, and pasture for rest of property. The entire property is on a gradual hill with three tiers of spaces- house on top, pool at intermediate level and side of property, then pasture at bottom. Fabulous views of coastal foothills and mountains provides bucolic, peaceful experience.
The neighborhood has excellent trails and parks for hiking, running, biking, and walking. Half of the town is "open space" preserved land for the public's use. Very quiet and safe area with lots of neighbors walking dogs or jogging.
Kamertype
Gehele woning/appartement
---
Type woning
Huis
---
Geschikt voor
6
---
Slaapkamers
Portola Valley, Californië, Verenigde Staten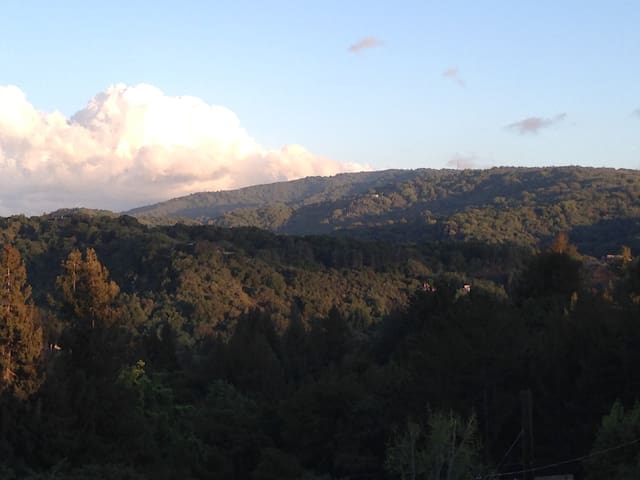 Stay in our 2BR cedar and glass guest house on a three acre property just minutes from Palo Alto, Stanford University and Sand Hill Road. Access to San Francisco, Silicon Valley and the entire bay area for work or play. You can also get away from it all on the hiking trails accessible from the property, or nearby Windy Hill or Arastradero Preserve.
Forty-One Oaks guest house is in a beautiful, serene, treed setting just minutes from I-280 and access to Silicon Valley, San Francisco, and the rest of the Bay Area. The three acre property is called 'Forty-One Oaks' because of the glorious woodland setting, with 41 significant oak trees. See families of deer and other wildlife right out your window. Catch a look of the famous Stanford 'dish' radio-telescope from your living room window. The guest house is approximately 750 square feet cantilevered over the oak-studded hillside. Enjoy the comfortable, well appointed living area and full, modern kitchen with marble counters and stainless appliances. There is a lovely deck with BBQ, table and chairs for outdoor dining or just enjoying the view. There are 2 bedrooms, one with a full-size bed, closet and large dresser. The second bedroom has a trundle bed (2 single beds that can be combined to create a King) and a desk so it can be used as an office. The house was constructed in 2014 to the highest quality and safety standards. Ceilings are 9 feet high, lights are LED, and windows and views abound. Everything is on one level, with just a small step up from the parking area, friendly for those with mobility challenges. Plenty of parking, solid wi-fi, full kitchen stocked with cookware, plates & utensils.
Portola Valley is a wonderful, wooded town with great people, lovely walking and horse trails, and awesome access to the best of Silicon Valley and the Bay Area. Local restaurants, stores, library and a weekly farmers market. Bianchini's grocery, Konditorei coffee shop and Parkside Grille are some of the local favorites.
Very cool place on an outstanding property, secluded and quiet, but still close to the action in Menlo Park and Palo Alto. If you like architecture, the place is really cool and modern. Steve stopped by with a bottle of wine and was very accommodating.
Andy
2015-07-17T00:00:00Z
Steve was a great host and the place was comfortable and brand new with wonderful views in the morning.
Dane
2014-10-04T00:00:00Z
The reservation was canceled 5 days before arrival. This is an automated posting.
Adrien Hobt
2015-03-12T00:00:00Z
Steve's guesthouse is beautiful! Great location, amazing views and a helpful host.
Jordan
2016-10-29T00:00:00Z
The guesthouse is amazing and has great views, just like the photos. It was also kept very clean. It was our first time in Portola Valley, and it is a beautiful neighborhood. Steve was there to greet us upon arrival and departure. Would definitely go back!
May
2015-01-30T00:00:00Z
Stunning and beautiful low-key home. Had a fantastic stay and the host was very helpful and communicated clearly prior to staying and throughout. The house has great cross-ventilation and the bed was very comfortable. I would definitely stay here again.
Jessica
2016-09-16T00:00:00Z
Location was perfect for me, not only for proximity to my client but because of the surroundings; peaceful, quiet, beautiful. The house worked well for me, had most of the basics to eat in and even do some cooking. I did not meet my hosts but communication was very responsive. Would look to rent here again.
B June
2015-02-06T00:00:00Z
Steve's house is great. House is modern and neat. Location is great. It's very convenient if you want to travel around Portola Valley, Palo Alto and Stanford. The neighborhood is safe and quiet. The view of the house is amazing.
Wang
2015-10-17T00:00:00Z
Kamertype
Gehele woning/appartement
---
Type woning
Huis
---
Geschikt voor
4
---
Slaapkamers
Portola Valley, Californië, Verenigde Staten
Fully furnished home in the picturesque town of Portola Valley. Portola Valley is in the heart of the Silicon Valley, near Stanford University, San Francisco and 90 minutes from the Monterey Peninsula, Carmel and Big Sur. The home is convenient to I-280 (10 mins away), Stanford (15 mins), Sand Hill Rd. (12 mins) and both San Francisco (4o mins) and San Jose (30 mins). It's very close to Palo Alto, Menlo Park, Woodside, Mountain View and Los Altos. Levi's Stadium is 30 mins
Tree House in the Oaks is a lovely setting with many trees, minutes from Highway 280 and access to Silicon Valley and the San Francisco Bay Area. You will see deer and other wildlife from the windows. The home is on a hillside with decks on three sides. The location of the home offers outdoor space on three of the decks. There are 3 bedrooms. The master bedroom has a private bathroom (shower only), a queen-size bed and dresser. The second bedroom has a single bed, and third bedroom has a double bed. There is a bathroom with a shower and a bathtub on the second floor. There are many steps to the front door. It is not appropriate for anyone who cannot climb steps. Two parking spaces in the driveway and parking around the circle. There is solid wi-fi, full kitchen stocked with cookware, plates & utensils.
Portola Valley is a beautiful oak woodland with great people, amazing hiking trails and horse trails. There are two grocery stores (Bianchini's and Robert's Markets) and several good restaurants in town and in the nearby town of Woodside.
Kamertype
Gehele woning/appartement
---
Type woning
Huis
---
Geschikt voor
5
---
Slaapkamers
Portola Valley, Californië, Verenigde Staten
Two story lovely cottage with views. Close to highway 280 and less than 10 minutes to Stanford. Close to gas station and Ladera shopping center with quaint market, coffee shop and restaurants. There is an upper room with bamboo hardwood floors and a smaller downstairs kitchen that opens to a large deck. Lovely views, quiet, and private. Key features of cottage include the following(URL HIDDEN)-Views of rolling hill(URL HIDDEN)-Detached, 800 sq. ft(URL HIDDEN)-Peaceful, natural surroundings with Oak an(URL HIDDEN) Redwood trees(URL HIDDEN)-30 Minutes to San Francisc(URL HIDDEN)-Comfortable bed with 400 count sheet(URL HIDDEN)-Barbecue grill on dec(URL HIDDEN)-Cabinet stocked with tea and coffe(URL HIDDEN)-Blow dryer and iron provide(URL HIDDEN)-Twin mattress or air mattress availabl(URL HIDDEN)-Washer/Dryer
This was our second stay at Sarahs cottage and it felt like coming home again. The view is outstanding, the bed is really comfortable. Sitting on the balcony, watching the hummingbirds and the sunset is a perfect digital detox retreat right here in Silicon Valley - awesome! Will be back for sure :)
Jutta Juliane
2015-08-09T00:00:00Z
We lived 2,5 weeks in the cottage, and it was amazing. Everything was in great condition, the location was perfect for quick access to 280 and downtown Palo Alto. Also loved the fact that there's a nice shop (Bianchini's) nearby. Sarah and Tom were really helpful and indeed had a bottle of wine welcoming us. And we were totally blown away by the views — on a clear day, you could see all the way to the towers in the financial district in SF on the horizon, and even the mountains behind the Golden Gate.
Martin
2014-02-27T00:00:00Z
Sarah's cottage was just as described. This is a very comfortable place to stay; it is well-equipped, and close to the local grocery (which is lovely) and to Stanford/Palo Alto. Communication with Sarah was great.
Barbara
2016-01-26T00:00:00Z
The place was perfect for our needs. Beautiful views, great accommodations, friendly hosts. Lovely area too!
Mindy
2016-11-21T00:00:00Z
The place is exactly as advertised: great views and very quiet. No issues at all, can highly recommend to anyone.
Alexei
2014-04-29T00:00:00Z
Our stay at Sarah's cottage was perfect! The cottage is close to Stanford and Palo Alto, which we needed, yet it is in a quiet neighborhood setting, where we could relax, much more so than in a hotel. It is also convenient to shopping. The views are as lovely as advertised! The cottage itself has plenty of space for two, a comfortable bed, and a great kitchen and bath. We would definitely stay again.
Barbara
2014-09-19T00:00:00Z
This was our first airbnb experience and it was FANTASTIC! The place is wonderful and very comfortable- the pictures don't actually do it justice. I have family in the area and this was a perfect retreat during the holiday. Sarah is a wonderful host and communicates clearly and quickly. We really appreciated the small details like cookies, coffee and a bottle of wine. I only wish it had been a little bit warmer to enjoy the beautiful views from the deck! Walks in the neighborhood were lovely. Thank you!!
Cay
2015-01-01T00:00:00Z
Sarah's cottage was just as described--lovely views, convenient to 280, Palo Alto and Stanford. Great kitchen, bathroom, bed, and space to relax in, in a quiet neighborhood. The bottle of wine and snacks were a nice touch! Sarah was responsive and easy to communicate with.
Barbara
2015-05-12T00:00:00Z
Kamertype
Gehele woning/appartement
---
Type woning
Overig
---
Geschikt voor
3
---
Slaapkamers
Portola Valley, Californië, Verenigde Staten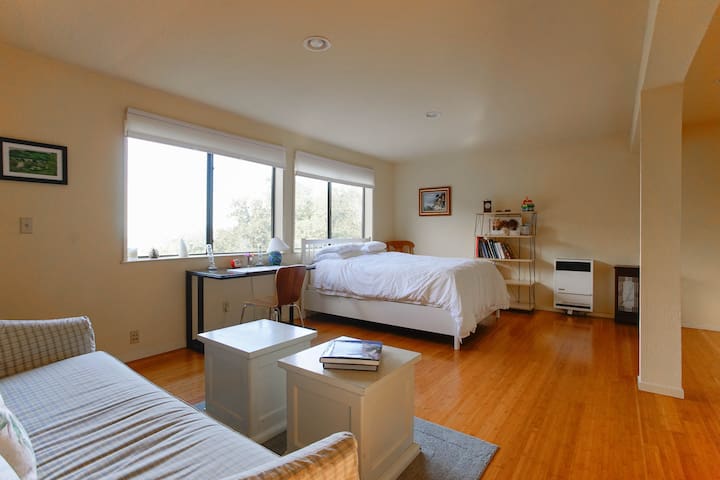 Spacious, modern, architect-designed 1-bedroom cottage, on 3 1/2 acres of high meadowland in the Portola Valley Hills. Be sure to see the descriptions of the interior and of the amazing landscape and views under "The Trip" below.
Private 1-bedroom cottage with living, dining and brand new full kitchen. Surrounded by open space and wildlife, distant view. 10 minutes to Stanford, 5 mins to 280. Modern architecture on 3 -1/2 acres of high meadowland, views from the property span the western hills and from San Francisco to the South Bay (Cupertino, Milpitas, etc.,) plus all three bridges over the San Francisco Bay, with gorgeous sunrise and sunsets. 10 minute drive to Stanford and Silicon Valley from your private hideaway. Birds and wild creatures feed outside your windows, early in the morning: deer, coyotes, bobcats, foxes, and more. Bedroom: 1 comfortable king size bed. A large L-shaped desk and executive chair, printer, and high-speed wifi for your business needs. Large 2-person closet with iron and ironing board, cleaning supplies for your use should you want them. The Living, Dining and Kitchen area: 3-seater sofa with comfortable new mattress for the pull-out bed; 2 easy chairs; the dining table seats 4. The kitchen is fully equipped with all necessary cooking utensils. Microwave, coffee maker, toaster, full-size refrigerator. Bathroom supplied with towels, shampoo, conditioner, body wash, two bathrobes, hair dryer, and first aid kit. Massage table available on request. For guests who stay a week or more, we offer weekly housekeeping and clean sheets and towels . We also make our home laundry available for these longer-term guests' use (only).
Dead-end road, great short hilly walk with views of Stanford land: Felt Lake and the "Dish," distant views of San Francisco Bay. Great hiking and biking area. Easy access (less than a mile) to coffee shop, several excellent restaurants (we'll have a list here for you and reservations are recommended), market, UPS/PO, gas station, dry cleaners/professional laundry. 5 minutes by car to Interstate 280, 10 minutes to Stanford University, 15 minutes to Palo Alto or Menlo Park. Complete privacy, quiet serenity.
Anne was an amazingly generous host, providing for my every need during my stay. The hideaway is a guest house on a beautiful property. It is even nicer than described in the listing! It was clean, was stocked with all of the items one might need for a home away from home. I indeed saw many different types of wildlife in the field right outside the house. I found this place to be incredibly comfortable, relaxing and a perfect escape after business meetings in Silicon Valley. The property is minutes away from Stanford and Palo Alto, and there are a bunch of great food options in nearby Portola Valley. I will most certainly come back again and highly recommend it to others.
Josh
2016-03-25T00:00:00Z
Anne's place is as described, or in fact even better. It is situated on a wonderful property with a view stretching from San Francisco to the mountains behind San Jose. Peaceful atmosphere, and outstanding birdlife in the large garden, sunrise views, all included! The interior is newly renovated. Anne could no have been more accommodating and helpful. She made sure everything was to our satisfaction and was an excellent host.
Walter
2016-02-19T00:00:00Z
Anne is an incredible host. Warm, friendly, helpful and kind. Her house is a serene and beautiful place to hang your hat for a few days when you're in the Valley. The size is perfect for one person or a couple, the amenities are complete. Thank you to Anne for opening her house and making it available and for the warm hospitality. It's truly a special place. One of the best (if not The best) airbnb experience yet. I'm definitely making this my new home in the Bay Area.
Yuval
2016-07-17T00:00:00Z
Anne is a wonderful host that takes much pride to ensure that a memorable experience. I stayed here with my fiancee on the days just prior to our wedding as a relaxing get-away before the exciting events to come. We were not disappointed. Anne's place came with all the comforts of home - it was clean and included all the essential amenities. She even provided some snacks and coffee and bites for breakfast. The location is memorable with beautiful views abound. It is proximate to hiking trails and the charming offerings of Portola Valley.
Daniel
2016-09-30T00:00:00Z
This is a fantastic AirBnB in the classic style! Highly recommended.
Yuval
2016-11-18T00:00:00Z
Anne was a lovely hostess. The pictures don't do the home justice, it was so much more beautiful in person. The views are gorgeous and I felt relaxed immediately. I would unequivocally and without hesitation recommend this home to anyone.
Jessica
2016-07-29T00:00:00Z
Anne is an extremely welcoming host. She was responsive and attentive in our pre-visit correspondence, and we were warmly received on premise. The neighborhood is quiet and idyllic, and in close proximity to Stanford and Palo Alto.
Anna
2016-10-27T00:00:00Z
Kamertype
Gehele woning/appartement
---
Type woning
Huis
---
Geschikt voor
3
---
Slaapkamers
Portola Valley, Californië, Verenigde Staten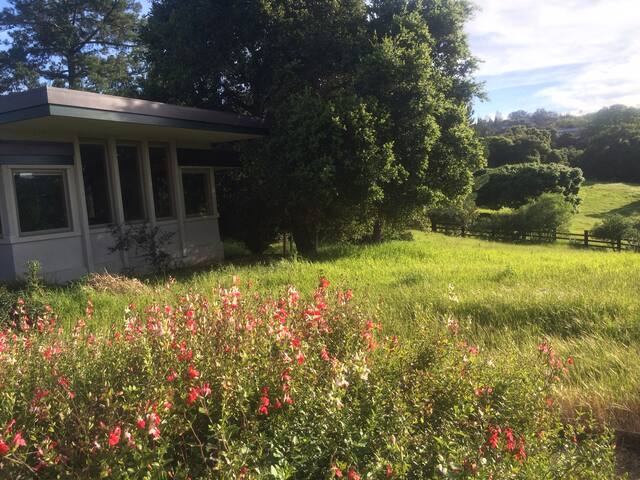 Located in a quiet neighborhood in Portola Valley surrounded by redwoods and beautiful bike trails. Yet, minutes away to Stanford and many tech companies in silicon valley. Enjoy the spacious room with full privacy.
The accommodation was clean, quiet and exactly as described. Once I had everything I needed, I was left with privacy and respect. I loved this house in Portola Valley and would stay here again.
Andrew
2016-04-11T00:00:00Z
I had a nice stay. Portola Valley is beautiful!
Rory
2016-07-30T00:00:00Z
Excellent accommodation in a beautiful area. Perfect for my biking holiday.
Andrew
2016-10-27T00:00:00Z
Kamertype
Privé Kamer
---
Type woning
Huis
---
Geschikt voor
1
---
Slaapkamers
Portola Valley, Californië, Verenigde Staten
Portola Valley - Airbnb
:
Gemiddeld

4.93

van

5

sterren op basis van

252

gastrecensies