Great studio apartment with stunning views of the icebergs and of out of the ordinary. Private entrance and private terrace, with stunning views. Summer with 24 hours of sunlight or winter with the northern lights, the choice is yours.
Uffe was the perfect host. He is a taxi driver and he will pick you up at the airport if he is working that day. As it turned out, he was working both when I arrived and left, so he also took me to the airport. I needed some laundry done and he gladly obliged. He really makes you feel at home.
Brian
2016-08-06T00:00:00Z
I was expecting uffe's studio to be nice but infact it was just the most beautiful place in the (URL HIDDEN) exageration, and I have seen some beautiful places.... The town of ilulissat is lovely, but it is the icebergs and glacier that you come here for, and from uffe's studio these icebergs are a few metres away. Incredible. The view changes every hour. The icebergs are amazing and the studio could not be closer. Uffe has left a television and hifi but you won't turn them on for fear of missing something out of the window! There is a huge terrace for lunch (even at zero degrees it was worth having lunch out there) and enough kitchen utensils to cook a light meal...The studio is heated as much as you want and uffe will leave you towls and tea cloths. The area is 10 mins walk to the centre, a little less to the church and museum. It is infact between the town and the beginning of the Yellow Trail which is the most beautiful trail, to see the end of the fjord and the beginning of the sea.... to quote the Lonely Planet "this is it...its one of those places so spectacular that it makes everything else pale in (URL HIDDEN) be honest it is SO true, and from this studio you feel exactly that way. After the perfect sunsets, look out for the northern lights right there from the terrace, its amazing, an incredible sight. I not only highly recommend this studio but can confirm that it is probably the cheapest place in ilulissat, the best situated, and the place I would just love to return to, and as soon as possible! pour ceux qui ne comprennent pas l'anglais, sachez que c'est sûrement la plus bel endroit du monde, le moins cher de ilulissat, et le meilleur placé...c'est l'endroit de rêve, les icebergs qui defilent toute la journee, les couchés de soleil magnifiques, les northern lights si belles...allez y et profitez, cest juste incroyable...
serena
2014-10-03T00:00:00Z
A fine little spot in the world.
Rodney
2015-05-13T00:00:00Z
在住宿的地方就能看到浮冰,風景好,房間該有的都有。房間在屋主家樓下,晚上睡覺時會聽到樓上的腳步聲。
hsien
2016-04-28T00:00:00Z
"An apartment with a view" was not a undetstated title for this cosy studio apartment. One evening we had the biggest iceberg floating by on the first row sea view that even brought locales out to have a look. The apartment is located in walking distance to the center off town and have some amazing hikes close by. The apartment is equipped thoughtfully with all the things you need. We even had a barbecue one evening. Uffe was a very easy going host living in the apartment above. He picked us up on arrival. He let us have a late check out the day of our departure, and we had a nice morning chat the day we left.
Bunnylau
2016-06-02T00:00:00Z
Wonderful location and perfect room for two people. I give Uffes place my best recommendations.
Ida
2016-05-31T00:00:00Z
Our trip was very great, thanks to Uffe !! The apartment was very comfortable, cosy, well-equiped, and the scenery from the balcony is just magic !! The icefjord changes of colours and the icebergs move, thus the view changes everytime ! Uffe is very nice, as he is a taxi driver, he drove us from and to the airport, gave us some advices and good addresses !! Thanks for everything Uffe, we are dreaming of coming back as soon as we'll be able...
Amandine
2016-03-29T00:00:00Z
Charming little apartment on the sea with a phenomenal view and private terrace. This quaint studio apartment was very cosy and well organised. We loved it. A very special place to stay.
Edwin
2015-04-25T00:00:00Z
Kamertype
Gehele woning/appartement
---
Type woning
---
Geschikt voor
2
---
Slaapkamers
Ilulissat, Qaasuitsup, Groenland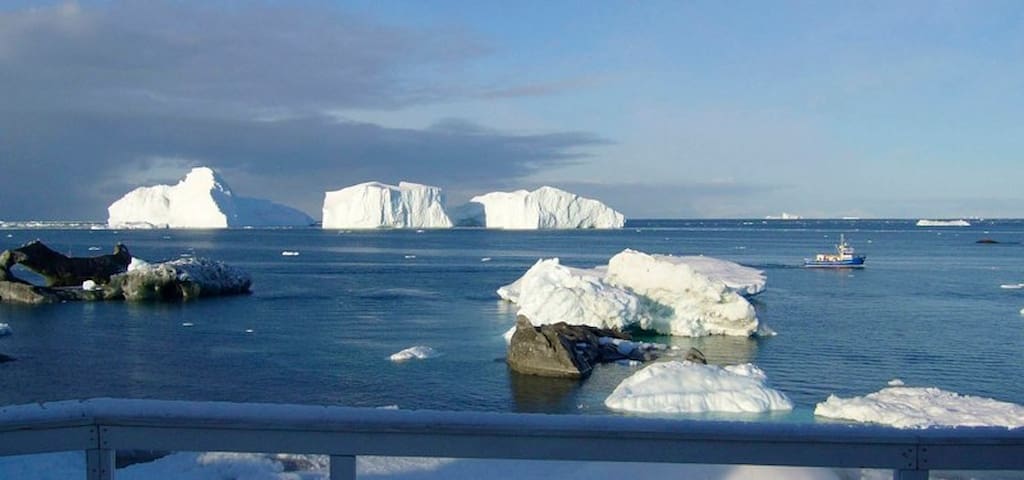 We offer 6 rooms to individuals and groups in our beautiful houses with shared kitchen and bathroom facilities. The UNESCO site is only a few minutes away on foot as well as the city centre. We look forward to welcome you and offer you the best view!
We offer 6 rooms with 2 beds in each but with space for an extra bed for families
Info per SMS über Ankunftszeit und Kontaktperson. Kontaktperson hat in der Unterkunft auf uns gewartet bis wir vom Flughafen angekommen waren. Alle hat perfekt funktioniert!!!
bernhard
2016-01-17T00:00:00Z
Das ist ein kleines Guesthouse (drei Zimmer) eines Unternehmens, bei dem man auch Toren in die Umgebung buchen kann. Es gibt zwei weitere Häuser, die nur im ganzen vermietet werden. Mein Einzelzimmer war ein kleines Doppelzimmer (sehr gutes Bett), Bad und Toilette teilt man mit den anderen Gästen. Zum Guesthouse gehören außerdem eine gemeinsam genutzte, gut ausgestattete Küche und ein großes, schönes Wohnzimmer mit einer etwas provisorischen Couch und zwei langen Tischen, großem Fenster mit treumhaftem Blick auf die Bucht und ein Balkon, der ab dem Nachmittag (August) Sonne hat. Der Gastgeber selbst war nicht da, aber er hatte einen Freund geschickt, der mich begrüßt hat und auch die ersten Tage morgens und abends da war und sehr freundlich alle meine Fragen beantwortet und mir viel über das Leben in Grönland erzählt hat. Ich habe meinen Aufenthalt in dem liebevoll gestalteten und eingerichteten Guesthouse sehr genossen und kann es uneingeschränkt weiterempfehlen. Im Gegensatz zu anderen Häusern in diesem auf Felsen erbauten Ort, die oft nur über lange Treppen und Holzbohlenwege erreichbar sind, ist es ebenerdig von der Straße aus zugänglich. Mehrere Supermärkte sind zu Fuß ereichbar, das kleine Ortszentrum nach etwa 15 min Fußweg. Die Wanderwege zum Eisfjord sind ca. 15 bzw. 25 min entfernt.
Kerstin
2016-08-22T00:00:00Z
Wow! What an incredible place! If you are wanting to sit in a warm cosy home watching ice bergs float past your window, this is the place! Easy to find, close to the centre, fully stocked kitchen and incredibly comfy bed. We walked from the airport (took about 30mins) and it was a lovely walk in the snow and such a beautiful view. Our stay was made even better by the friendliness and hospitality of the people running this place and I would recommend to everyone, thanks for such a positive experience!!
Anna
2015-10-31T00:00:00Z
We had a beautiful time at Blue House. The location is amazing and the house lovely furnished: the living room and the terrace with view over the sea are just amazing! We really recommend this place!
Petra
2016-05-13T00:00:00Z
位置很好!!景观很好!!面朝冰山峡湾!!住的很舒服!!房子超棒!!!住了五天,很喜欢!!我还会再来,当夏天到来时!
刘
2016-01-21T00:00:00Z
Me and my friend stayed at the green house and it was amazing :) we even had the house to ourselves. There is everything you need, spacey kitchen, spacey living room, nice litte bathroom and the beds were so comfy in our sleeping room. On top of that you also have literally the best view over the sea and it was perfect for watching the most intense sunsets and of course northern lights as well. We sat outside at night on the terrace for hours and observed them. SO GOOD! Overall we couldn't have been happier about our stay in the Guesthouse and if we should return one day, we would definitely book this place again :) Laura & Eva
Eva
2016-10-08T00:00:00Z
Ilulissat er fantastisk smuk og er omgivet af den storslået natur! Ilulissat Guesthouse er virkelig behageligt og dejligt at komme hjem til efter en lang vandre- eller sejltur. Rigtig fine faciliteter og lækker, lys og ren indretning. Kasper er gæstfri og rar. Jeg kan helt klart anbefale dette sted - og kommer jeg tilbage til Ilulissat en dag, er jeg ikke i tvivl om hvor jeg skal bo :)
Cecilie
2016-06-27T00:00:00Z
Excellent apartment with superb Seaview. Balcony that has full sea view where you can see Icebergs. We were lucky to catch the northern lights from the main door of the apartment. We enjoyed the northern lights from the comfort of the apartment and didn't need to brave the extremely cold windy night outside of town just like many others. The apartment has fantastic heating and shower that keep us warm at all times. It has compete cooking utensils if you need to cook. Nearest supermarket is 10 minutes uphill walk away while the town centre is about 20to 25 mins away. Thank you Kasper and his helper for the excellent experience!
Sim
2016-04-14T00:00:00Z
Kamertype
Privé Kamer
---
Type woning
---
Geschikt voor
2
---
Slaapkamers
Ilulissat, Kitaa, Groenland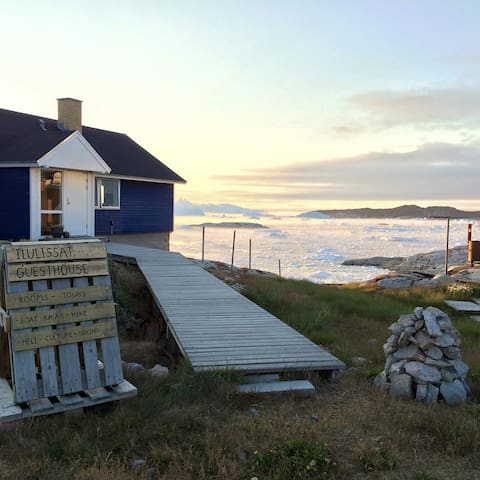 Min bolig lægger tæt på tæt isfjorden. Udsigt fra fælles terrasse.. Min bolig er god til par og soleeventyrere.
Ett fint och jättetrevligt boende! Här finns allt man behöver och det är egen ingång och lugnt och stillsamt. Och internet, vilket inte är någon självklarhet på Grønland.
Helena
2017-03-04T00:00:00Z
Neils is a very friendly guy and you will feel living in your home when you stay in his house. The location is 10 minutes walk from the city center and not far from the starting point of Sermermiut hiking line.
Mingming
2017-02-08T00:00:00Z
We had a really enjoyable stay at niels' place. He kindly picked us up from the airport and made us feel welcomed throughout our stay. His house is really close to the UNESCO hiking tracks and we also saw northern lights from his place. Supermarkets as well as the city center are nearby. We highly recommend this cosy accommodation. Andreas+Antje
Andreas
2017-01-18T00:00:00Z
Kamertype
Privé Kamer
---
Type woning
---
Geschikt voor
2
---
Slaapkamers
Ilulissat, Qaasuitsup 3952, Groenland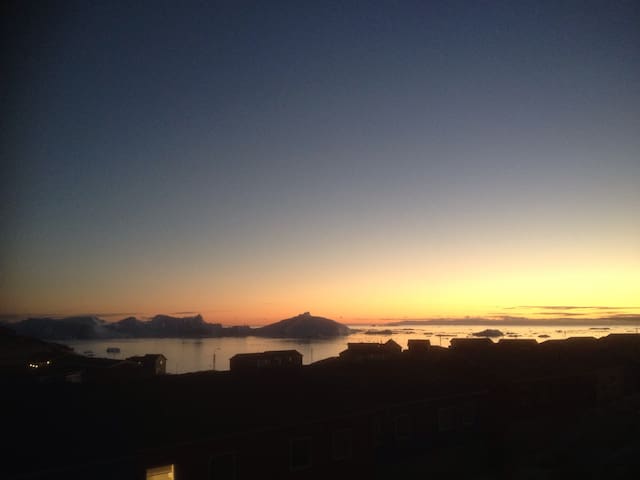 We call the house 'Hollywood' and from here you have a first class view to the harbour and the citys oldest houses. The location of the house couldn't be more central with only 200 m to shoppingfacilities, cafés, restaurants, supermarket, bank and all the touristoffices in the city. Next door is the artmuseum of Ilulissat. The house has a fully equiped kitchen if you want to cook at home some nights. Transfer to and from the airport costs 50 kr/person with a minimum of 100 kr.
There is central heating in the house
The house is located in the central part of Ilulissat right next to all the tourist offices, shopping facilities and so on.
Conveniently and recently renovated house with two bedrooms in the center of the town. The location is quite private and quiet. It has all the modern amenities you can think of. There are huge windows overlooking the harbor, so cannot complain about the views either. I would recommend it to anyone visiting Ilulissat
Inuuteq
2016-06-29T00:00:00Z
Flemming give us a big surprise at kangerlusuaq airport when we stop at there.☺The house is very nice,his parents are very nice! Thank them very much!
may
2016-10-08T00:00:00Z
十分舒服的房子,一切用品恰到好處。下次來一定也會預定!I will come back again!
斌
2016-09-06T00:00:00Z
The host canceled this reservation 35 days before arrival. This is an automated posting.
Mia Børsmose
Kamertype
Gehele woning/appartement
---
Type woning
---
Geschikt voor
4
---
Slaapkamers
Ilulissat, Qaasuitsup, Groenland
Hus på 105 m2 centralt beliggende med fremragende havudsigt. Huset har 2 soveværelser, stor stue - køkken med fremragende udsigt. Der er en meget stor terrasse ud til vandet samt en anden terrasse med morgensol. Badeværelse er med brus samt spabad/badekar.
Vi boede 4 nætter i Uffes hus. Opholdet var ubeskriveligt fantastisk! Huset var centralt og hyggeligt at være i med stor terrasse direkte ud til isbjergene med grill, som vi var velkomne til at bruge. Udsigten til isbjergene og midnatsolen var FORMIDABEL og kunne nydes fra stort set hele huset. Uffe har været rigtig god at kommunikere med under hele forløbet! Vi kan varmt ANBEFALE at bo i Uffes hus, og kommer meget gerne tilbage!
Anne-Line
2016-07-22T00:00:00Z
Kamertype
Gehele woning/appartement
---
Type woning
---
Geschikt voor
6
---
Slaapkamers
Ilulissat, Qaasuitsup 3952, Groenland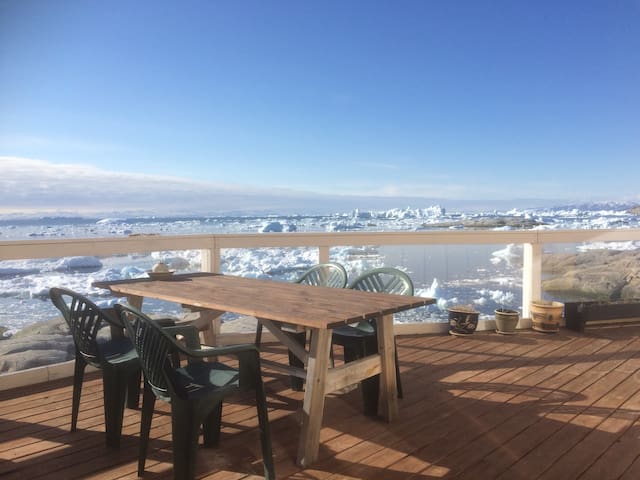 Nyrenoverede eenfamiliehuse med udsigt til havet, fyldt med isbjerge der sejler forbi byen. Ofte ses også hvaler lege og boltre sig. Der er 2 db-værelser. Der rådes også over et vandrehjem med 10 sengepladser. Også udflugter med motorbåde.
Kamertype
Gehele woning/appartement
---
Type woning
---
Geschikt voor
4
---
Slaapkamers
Upernavik, Qaasuitsup 3962, Groenland
A place in north Greenland Uummannaq island
The view is magnificent from the rooms
Kamertype
Privé Kamer
---
Type woning
---
Geschikt voor
2
---
Slaapkamers
Uummannaq, Kitaa 3961, Groenland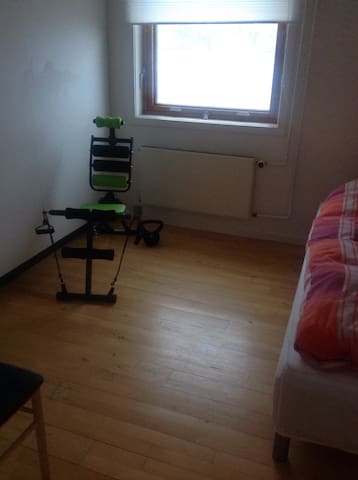 Min bolig lægger tæt på midt af byen og naturområdet. Du vil elske min bolig på grund af hygge og placering. Min bolig er god til par, soleeventyrere, forretningsrejsende og familier (med børn).
Kamertype
Gehele woning/appartement
---
Type woning
---
Geschikt voor
4
---
Slaapkamers
Ilulissat, Qaasuitsup Kommune 3952, Groenland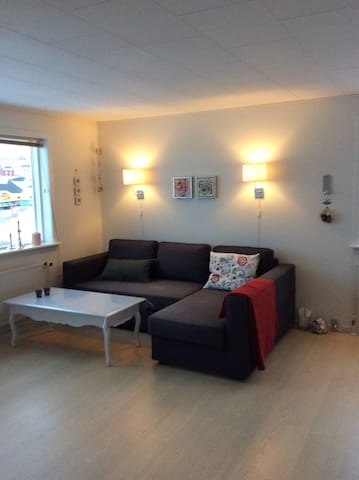 Et hus midt i byen og naturen. Der er 2 gode soveværelser, en med dobbelt seng, den anden med en enkelt seng og en sovesofa til 2 personer. Der er en hyggelig køkken samt en spiseplads til 6 personer. Toilet og bad og vaskerum.
Kamertype
Gehele woning/appartement
---
Type woning
---
Geschikt voor
5
---
Slaapkamers
Godhavn, Qaasuitsup Kommune 3953, Groenland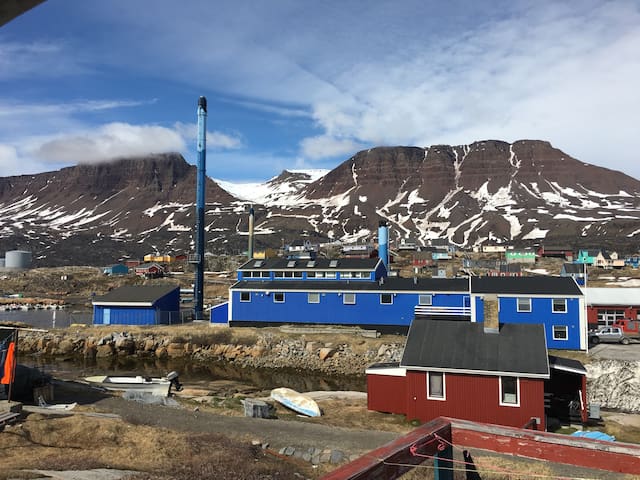 We offer accommodation to individuals and groups in our beautiful houses as well as tours to the icefiord and UNESCO World Heritage Site. The UNESCO site is only a few minutes away from our guesthouse that also offers the best view of the ice fjord. Our black house offers a total of 10 beds. We do have wi-fi which can bought online opening your browser. If you are looking for Greenland nature outside your door steep and the best view, then you will like our place.
Ilulissat Guesthouse is a long lived dream that has now come true. We opened this summer and We offer accommodation to individuals and groups in our beautiful houses as well as tours to the icefiord and the UNESCO World Heritage site Nationalpark.
Absolutely fantastic place. Stayed there for 8 days with my girlfriend and 5 month old son. I really miss sitting by the big panorama windows or on the balcony watching the scenery on the icefjord. Naja was amazingly friendly and helpful. I can definately recommend the place.
Søren
2015-09-26T00:00:00Z
The Ilulissat Guesthouse is an extremely nice location. Clean, quiet, warm, perfect equipped. Kaspar is very helpful, friendly and flexible. No complains at all.
Marcel
2016-06-02T00:00:00Z
Kamertype
Gehele woning/appartement
---
Type woning
---
Geschikt voor
10
---
Slaapkamers
Ilulissat, Kitaa, Groenland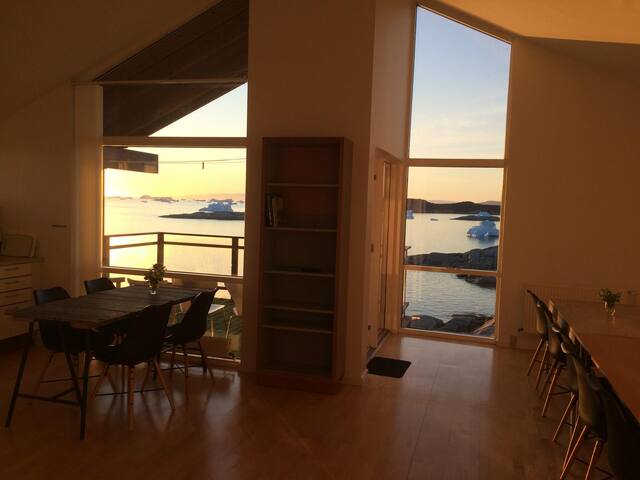 Our new guesthouse is a charming Greenlandic house with amazing view over the Discobay. From the terrace you can see giant icebergs flowting by. In the summer you can see the midnight sun and in the winter time we have northern light. Total 79 m2 The UNESCO park is only a few minutes away and offers great hikes to the icefiord. Our house has 6 beds, but it is possible to add 2 extra beds (dkk 300,- pr. bed pr. night) We offer wi-fi which can be bought online opening your browser.
房子很不错,宽敞明亮,厨房设施也很齐全,风景一流
菜
2016-07-29T00:00:00Z
The arrival was smooth. Nils was waiting for us at the blue house. We felt welcomed. The neighborhood is good, feels safe. The view from the house window is fantastic. The house is clean, warm and spacious.
Qin
2016-09-09T00:00:00Z
It's a good place to stay in Ilulissat, particularly if you'd like to stay in a Greenlandic house.
SungHa
2016-06-25T00:00:00Z
Nice and clean house with exceptional view. Both Kasper and Maya were dedicated to help us during our stay.
Dúi
2016-06-18T00:00:00Z
Kamertype
Gehele woning/appartement
---
Type woning
---
Geschikt voor
6
---
Slaapkamers
Ilulissat, Kitaa, Groenland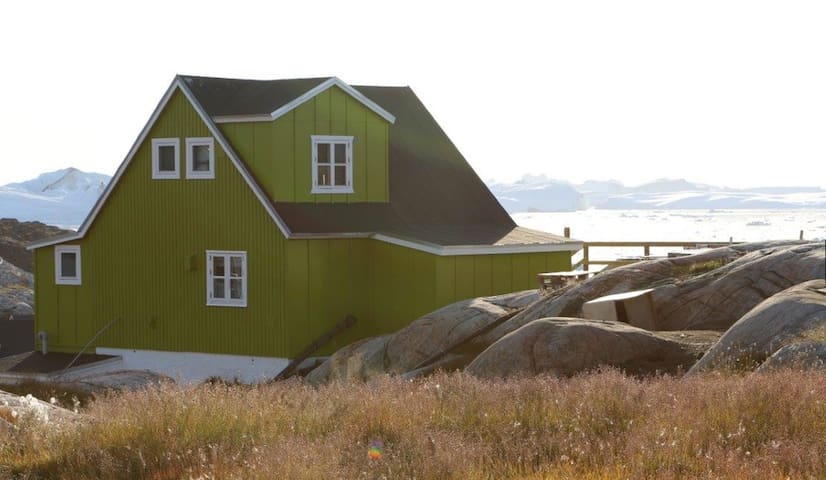 1

–

11

van

11 Accommodaties