Vakantie appartement incl. keukentje en badkamer, gelegen op een doodlopende van een straat van de groene heuvel in de buurt van het centrum van de stad.
Nette Gastgeber, die Wohnung hat ihren Zweck erfüllt
Sebastian
2015-05-09T00:00:00Z
Alles gut
Karin
2016-11-30T00:00:00Z
The hosts were very nice and made us feel welcome. The apartment had everything we needed, including a large bathroom. There was not a separate bedroom, but there were two twin size beds on either side of the living area, with a couch, chair, and table in between. There was a separate dining table with chairs at the end of the room. The alcove kitchen was equipped with everything we needed. The large picture window looked down the hill onto Kusel. Jeri and Paul, Americans who reside in France
Jeri
2014-12-27T00:00:00Z
Die Gastgeber sind sehr nett. Die Wohnung entspricht den Bildern, ist nur leider im Winter sehr kalt aufgrund des Bodens. Ansonsten war alles gut. :)
Laura
2017-02-25T00:00:00Z
My brother and I visited Kusel to explore our family's history in the region. The accommodation was perfect for our needs. We could walk into town in minutes and had all the amenities we needed. It is spacious and comfortable; the photos do not do the apartment justice. The view from of the town is beautiful from the flat. Hans-Joachim was a great host and went out of his way to help us make our trip successful, including contacting records offices/archives in the region and helping us translate some old records from archaic German to English. It is marked as 'private room' but is really a standalone unit with its own entrance and set of keys. We will definitely stay here again if we return.
Simon
2016-01-26T00:00:00Z
Will be visiting Kusel again.
Farhad
2016-08-29T00:00:00Z
Kamertype
Gehele woning/appartement
---
Type woning
Appartement
---
Geschikt voor
2
---
Slaapkamers
Kusel, Rheinland-Pfalz, Duitsland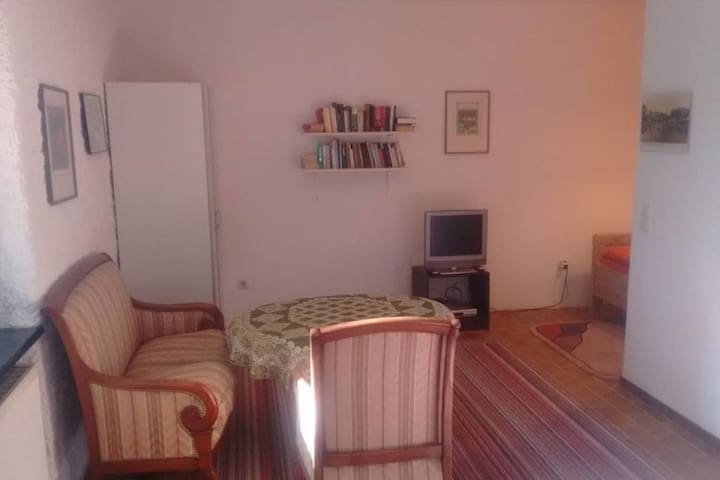 Wij nodigen u uit in onze liefdevol ingerichte en zeer ruim appartement met 4 sterren allemaal rondhangen om te hebben, ontspannen maar een keer en genieten van de rust van de natuur. Brengt u uw vakantie in de prachtige Nordwestpfalz.
Geweldige locatie in de "Koning Country". Maak kennis met de regio rond Königsberg, de "Koning Country" te leren kennen. De regio "Koning Land" is tussen Kaiserslautern en Idar Oberstein en omvat een deel van de Northwest Palatine hill country. De naam "Koning Land" gaat terug op een eindeloze Königsforst waarvan het centrum van Königsberg in Hinzweiler was. De "Koning Land" is samengesteld uit de lokale gemeenschappen over de Königsberg. Wanneer vakantie in ons appartement elke komen hier om de kostprijs. Dichte bossen, groene weiden, ongerepte natuur en vriendelijke, sympathieke mensen maken de "Koning Country" een ideale vakantiebestemming voor het hele gezin. Een scala aan recreatieve faciliteiten, commerciële, winkelen, een goed ontwikkelde gezondheidszorg en een gunstige ligging in de buurt van Kaiserslautern zijn ideale omstandigheden voor een aangename woonwijk en een ontspannen vakantie. De "Koning Country" en wij, de familie Bauer, kijk uit naar uw bezoek.
Zeer rustig en ideaal voor ontspanning. De buren zijn vooral kippen en paarden, die men de hele dag kon kijken.
Zeer aardige mensen die veel moeite doen om je een thuis gevoel te geven. Uitstekend huis en een goede locatie . Gewoon top we komen zeker terug
Klarin
2015-05-10T00:00:00Z
We hebben een prima tijd gehad in Hinzweiler. Het huis is zeer ruim en van alle gemakken voorzien. Het was er schoon. We werden uitstekend ontvangen door Michael en de communicatie was prima. Ondanks dat je een gedeelde voordeur hebt, heb je daar eigenlijk geen last van omdat je eerst in een hal komt waar je gelijk naar boven naar je eigen voordeur kan. De omgeving is rustig en mooi, maar de winkels zijn niet al te ver. Je kan vanaf het huis ook leuk wandelen. We zijn op advies van Michael nog naar Meisenheim geweest en dat was erg mooi/leuk. Al met al waren wij zeer tevreden!
Matthijs
2016-01-05T00:00:00Z
Prima verblijf
Hilde
2017-01-29T00:00:00Z
The host family is most accomodating. We spoke no German, so having a host that spoke excellent English made things easier. Accommodations were amazing; spacious, so clean, everything that you could think of including a phone for local calls, sun room, belcony, and the peaceful countryside that is absolutely gorgeous. I would definitely ask to stay with the Bauer family again next time I return to this part of Germany.
Anthony
2015-06-02T00:00:00Z
We spent eight weeks in the Familie Bauer's wonderful apartment in Hinzweiler. This large apartment is spacious and well equipped for a long or short stay. Our hosts were gracious and helpful. It took only twenty minutes to get to Kaiserslautern and the countryside was beautiful. The apartment is modern, with good WIFI, television, and washer/dryer. The two bedrooms were more than ample for our needs. We enjoyed our stay and hope the apartment is available when we return to the Kaiserslautern area. We miss Luna!
RW
2016-08-06T00:00:00Z
Also...ich weiß, dass ich jetzt mit einer guten Bewertung meine Chancen auf ein nächstes Mal schmälere. Wer hier einmal war kommt immer wieder und dann ist die Wohnung besetzt wenn ich sie buchen möchte...:-( Trotzdem werde ich jetzt nicht lügen, auch wenn es besser für mich wäre: Diese Unterkunft lässt eigentlich keine Wünsche offen. Hier fehlt es schlicht an nichts. Die Wohnung ist sicher doppelt so groß als so manche 3 Zimmer-Wohnung. Sie verfügt über so viele Schränke, dass ich an Ostern 3 Stunden nach meinem Osternest suchen durfte. In der Küche (alles sehr sauber) befinden sich mehr Küchengeräte als in unserem eigenen Haushalt. Sicher nicht für jeden so wichtig wie für mich: Eine Badewanne, in der auch ein ausgewachsener Mann von 1,90 gemütlich entspannen kann. Die Aussicht ist genau das, was sich ein Großstätter wünscht. Viel Feld, Wald, Hügel und Wiese. Und wenn man Glück hat, bekommt man die wunderschönen Pferde zu sehen, die man direkt von der Küche, vom Wohnzimmer oder dem tollen Wintergarten aus bestaunen kann. Die Betten sind in sehr guten Zustand und supergemütlich. Ich habe schon lange nicht mehr so gut, friedlich und lange geschlafen. Und wenn dann morgens der Hahn kräht und seine Hennen durch die Gegend scheucht (ja, das gibt es wirklich noch...), dann macht es diebische Freude sich nochmals auf die Seite zu drehen und sich zu sagen: "S....drauf, nicht mit mir heute!". Selbst wenn das Wetter mal nicht so toll ist, kann man sich einen gemütlichen Tag machen, denn es fehlt weder an guten Büchern, noch an einer Spielekonsole mit den entsprechenden Spielen. Sicher gibt es für den absoluten Kritiker immer in den Krümeln etwas zu finden. Vielleicht, dass man Dusche und Badewanne nicht so gut gleichzeitig nutzen kann, da sonst das Warmwasser nicht hinterher kommt. Sage ich jetzt aber auch nur, weil man ja irgendetwas bemeckern muss um glaubwürdig zu bleiben. Ein superfreundlicher und sehr hilfsbereiter Gastgeber erwartet den Urlauber hier. Fast habe ich mir die Frage gestellt weshalb wir eigentlich nicht einziehen... Fazit: "Heute ist nicht alle Tage, wir kommen wieder - keine Frage!"
Ralf
2016-03-31T00:00:00Z
Wow, riesige Wohnung, bestens ausgestattet! Okay, der alte Sony-LCD-Fernseher hat vermutlich Seltenheitswert, aber sonst alles weit besser als ich es jemals erlebt habe. Nette Vermieter, unkomplizierte An- und Abreise, ich kann die Ferienwohnung uneingeschränkt empfehlen!
Dennis
2015-05-25T00:00:00Z
We had a wonderful experience with our stay here. Great place for a larger family. Super friendly, and prompt with responses. Was a bit further then we expected from the military base, but the drive had beautiful scenery. Well worth it!
Kelly
2017-03-05T00:00:00Z
Kamertype
Gehele woning/appartement
---
Type woning
Appartement
---
Geschikt voor
6
---
Slaapkamers
Hinzweiler, Rheinland-Pfalz, Duitsland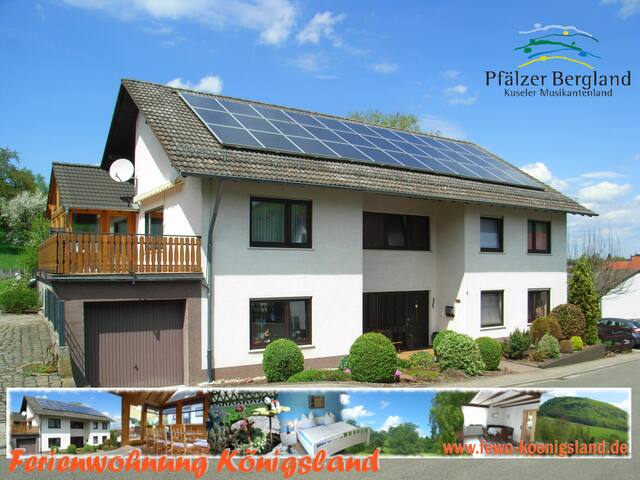 อพาร์ทเม้นของเราในถนนที่เงียบสงบของ Rammelsbach เทศบาลใน Kusel Kusel ขวา Musikantenland ล้อมรอบด้วยธรรมชาติที่คุณจะพบจะอยู่ในส่วนที่เหลือบรรยากาศสบายและเวลาที่จะความเครียดที่อยู่เบื้องหลัง อพาร์ทเม้นของเราตกแต่งอย่างสะดวกสบายพร้อมระเบียงทางเข้าแยกต่างหากสามารถรองรับได้ 2 คน สนามเด็กเล่นผจญภัย, สนามเทนนิสและชายหาด - สนามวอลเลย์บอลไกลจากพาร์ทเมนท์ของเรา ที่จอดรถและที่จอดรถจักรยานสามารถพบได้ตามธรรมชาติที่บ้าน
Sehr schöne, gemütliche Wohnung in ruhiger Lage.
Harald
2016-05-05T00:00:00Z
An absolutely perfect place. Very very clean and well appointed. Excellent location for touring the Kusel and Kaiserslautern area. Minutes from the autobahn and in a very quiet area. Will stay here again!
Katy & Jason
2016-09-20T00:00:00Z
Wolfram bietet eine super Wohnung an. Sehr modernes Badezimmer. Die Wohnung ist absolut empfehlenswert. Er war sehr flexibel beim Check out und hat uns ins nächste Dorf zu unserem Wagen gefahren. Sehr nett und hilfsbereit.
Benjamin
2016-08-21T00:00:00Z
Geschmackvoll eingerichtete Wohnung, gut ausgestattet, sehr freundliche und hilfsbereite Gastgeber, wir haben uns sehr wohl gefühlt, ideale Gegend zum Fahrradfahren (e bike) und Natur genießen
Claudia
2016-10-19T00:00:00Z
The host canceled this reservation 4 days before arrival. This is an automated posting.
Jacob
2016-09-06T00:00:00Z
Kamertype
Gehele woning/appartement
---
Type woning
Appartement
---
Geschikt voor
2
---
Slaapkamers
Rammelsbach, Rijnland-Palts, Duitsland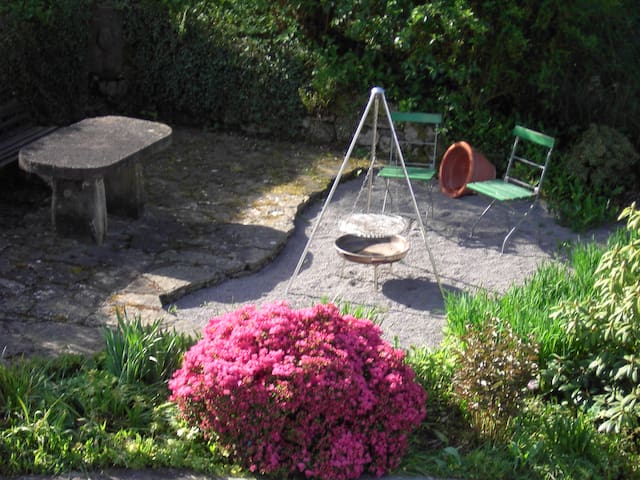 Ons appartement is gelegen op de fiets- en wandelpaden in de prachtige Glantal. Het appartement beschikt over een tuin. Mijn accommodatie is perfect voor koppels, zakelijke reizigers en gezinnen met kinderen die willen veel doen. Wij zijn verheugd over elke gast, de wandelaars, natuurliefhebbers, mensen op zoek naar rust, kenners met de vreugde van het koken en stelletjes die op zoek zijn naar saamhorigheid in een gezellige en comfortabele omgeving. We hebben het appartement zorgvuldig en liefdevol ingericht.
Het appartement is gelegen op Glan-Blies-fietsroute, in Veldenz parcours en de trolley route. In de omgeving zijn er tal van zwembaden en het wildpark Potzberg. Na Baumholder is slechts 15 minuten.
In de plaats is er een restaurant, een bakker en een pizza service. Talloze winkels liggen op slechts 9 km afstand.
Kamertype
Gehele woning/appartement
---
Type woning
Appartement
---
Geschikt voor
3
---
Slaapkamers
Sankt Julian, Rheinland-Pfalz, Duitsland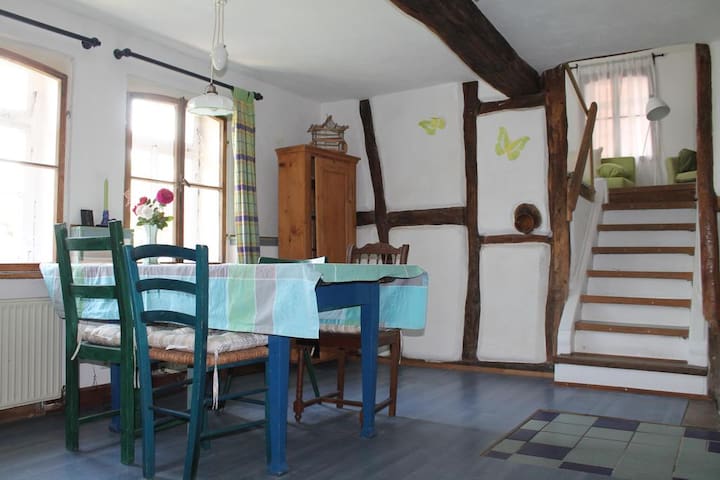 Just 45 mins. to France. This is a great stop for travelers who need a little rest from the city. We are located just 10 mins. walking to a train station. There is many walking and biking trails in the woods nearby. The room has simple bohemian feel.
Katy was nice and made my stay pleasant. House was very comfortable and modern.
TEMITOPE
2016-03-25T00:00:00Z
This place was awesome! It was in a small town I think they call it a village, but it was awesome she literally lives about 10-15 minutes away from the train depending on how fast or slow you walk. She was very helpful and even gave us a ride to where we needed to go when she was able to! Her house was super cool even though we just had a room it was awesome became she had all these cool items from all the places she has visited. If I'm ever going back to that part I will definitely stay there! I'll recommended this place to all of my friends! Anyone going to visit near the area this is a perfect spot. To unwind and relax after having an eventful day or days you can definitely chill at this spot.
Katie
2017-03-23T00:00:00Z
We enjoyed our stay in Katys home. She assisted us with everything needed. will recommend!
Simon
2017-03-29T00:00:00Z
Wir haben die drei Tage super gut geschlafen, es ist wirklich ein absolut ruhiges Haus. Die Unterkunft ist sauber und sehr liebevoll eingerichtet, so dass wir uns gleich wohl fühlten. Katy war stets erreichbar und stand schnell hilfbereit zur Seite.
Thorsten
2016-04-11T00:00:00Z
Staying with Katy was great. Her place is very beautifully decorated. It gave me the relaxing feeling of staying in a spa. My husband and I needed to stop off somewhere on our drive down to Italy and her place was right along the way. We got in rather late and had to leave early in the morning. Katy was so nice to accomodate our schedule. I definitely recommend her place!
Stephanie
2016-06-10T00:00:00Z
All perfect, nice small room and very friendly host. I would recommend this room for future stays in this region.
Ronny
2016-05-15T00:00:00Z
Sehr nette und freundliche Gastgeberin mit offenen Herz und Bereitschaft zum helfen. Die Räumlichkeiten sind gut ausgestattet in abseits in kleinen ruhigen Dorf.
Pawel
2017-02-15T00:00:00Z
My stay with Katy and her family was the perfect ending to my first ever European journey. I was greeted with smiles and made to feel like a long lost friend until the end(URL HIDDEN)The living space was warm and cozy, somewhat like a hip coffee shop where you can enjoy a good book or lounge around to take advantage of the internet connection. Katy is very knowledgeable about the local area and is also a seasoned traveler that has the most interesting stories to share. If you need a tranquil place to rest and recuperate, her home is the place(URL HIDDEN)highly recommend staying here. I just hope that she and her family will have a room available for me when I come back to this area.
Romer
2016-08-05T00:00:00Z
Kamertype
Privé Kamer
---
Type woning
Appartement
---
Geschikt voor
2
---
Slaapkamers
Niedermohr, Rheinland-Pfalz, Duitsland
This nice two bedroom fully furnished apartment comes with fully furnished kitchen for your cooking needs.
Very near Ramstein, Germany, this two bedroom apartment is fully furnished and sleeps 5. Extra foldout beds for an extra two persons with surcharge. American owner. Search our schrollbachapartment. No breakfast provided, but complimentary coffee included. Full kitchen and appliances. WIFI. TV/VCR/DVD players, one full bathroom, washer and dryer, dishwasher, microwave. Give us an email to inquire about availability. We are short walk to Obermohr train station. Kid and pet friendly. Private driveway.
Very quiet neighborhood next to a popular bike trail. Nestled into a valley, off the main street.
We really enjoyed our stay, Mike was very nice and welcomed us right in, made us feel very comfortable. The apartment was very clean and worked perfect for us. The neighborhood was nice and quiet, great location. We definitely would come back and will be recommending to all our friends.
Danielle
2015-02-15T00:00:00Z
Mike and hos family were amazing hosts. They live on the next floor above and we never heard them. The apartment was just as advertised. It was very clean and comfortable. I would recommend anyone to stay here. Thanks Mike!
Lucas
2016-03-31T00:00:00Z
Great place to stay near Ramstein! The rooms are large with plenty of beds for our family of six. The apartment was well equipped with everything we needed for our short stay. The kids loved the toys and the trampoline! The trail near the house made for a great run and family walk. Mike was very responsive and kept great communication. We definitely recommend this place to others!
Danielle
2017-04-08T00:00:00Z
Our stay at Mike's apartment was very nice ... lots of room for our family of five. Pictures and description are very accurate. Communication and arrival was seamless; great location for the Ramstein airbase as I had to make a few trips each day. Our girls had a great time with Mike's kids ... we really appreciated their hospitality! Great value ... we felt very comfortable with our two night stay.
Dan
2016-02-14T00:00:00Z
Check-in and check-out were a breeze. The apartment was fantastic. The apartment had more than we needed! lovely, lovely experience.
LaShea
2015-05-23T00:00:00Z
The apartment was perfect for our family. Very large space and perfect for families. Very close to Ramstein with grocery store very close as well. Kids loved jumping on the trampoline and playing with the toys available to us. Host was very friendly and was able to accommodate us on very short notice.
Cynthia
2015-03-15T00:00:00Z
Great apartment close to base. Great for kids. Excellent, friendly hosts.
Starrina
2015-03-28T00:00:00Z
We felt so welcome staying with Mike and Melissa and really enjoyed the apartment. It was so perfect for our month long stay and we will certainly recommend it to friends. Thank you so much for a wonderful month in Germany!
Brittney
2016-01-07T00:00:00Z
Kamertype
Gehele woning/appartement
---
Type woning
Appartement
---
Geschikt voor
7
---
Slaapkamers
Niedermohr, Rijnland-Palts, Duitsland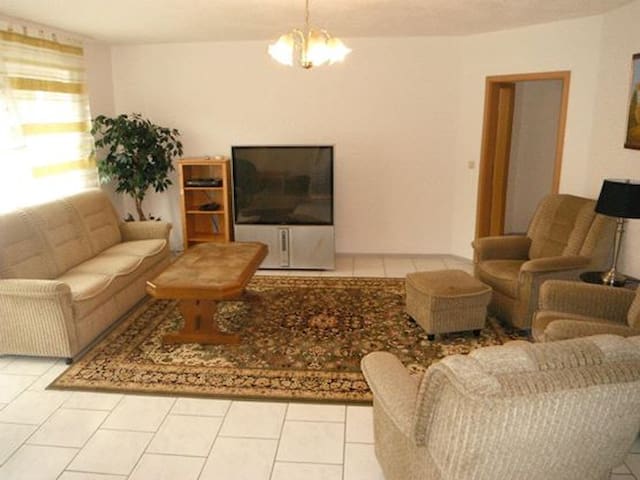 3 rooms ready-furnished Apartment (2nd and 3rd level) of a quite house with garden and barbeque available. Apartment is including hair blower, electric iron, microwave and many other accessories.
3-Zimmer-Wohnung in ersten und zweiten Stock eines ruhigen Hauses mit Gartenanschluß und Grillmöglichkeit auf Anfrage. In Sommermonaten lässt es sich auf der Terrasse mit Grill und Blick auf die Draisinen-Strecke wunderbar entspannen. Die Wohnung ist möbliert mit Betten, Sofa, Tisch, etc. 2 Personen übernachten im Schlafzimmer. Eine Person kann auf der ausziehbaren Schlafcouch im Wohnzimmer übernachten. Im Obergeschoß finden 2 Personen auf der ausziehbaren Schlafcouch und eine weitere Person in einem 1-Personen-Bett Platz zum übernachten. Zusätzlich finden Sie Fön, Toaster, Bügeleisen und vieles mehr vor Ort auf. 3 rooms ready-furnished Apartment (2nd and 3rd level) of a quite house with garden and barbeque available on request. Apartment is including hair blower, electric iron, toaster and many other accessories. 2 persons can sleep in the sleeping room. 1 person can sleep on a sleeping couch in the living room. In the upper level 2 people can sleep on a sleeping couch and additionally 1 person on a single bed
Die Nachbarschaft ist ruhig und ländlich - eine Gaststätte ist in unmittelbarer Sichtnähe erreichbar. Im gesamten Glantal sind mehrere Restaurants, Gaststätten und sonstige Gastronomie empfehlenswert. Das Weinanbaugebiet "Rheinhessen" befindet sich in nur ca. 20 Minuten Fahrzeit entfernt. Neben der direkten Sicht auf die Draisinen-Strecke gelangen Sie nach 3 Gehminuten direkt dorthin. Wir geben Ihnen gerne Tipps und Empfehlungen vor Ort.
Einfach nur gsnz , ganz toll:)) danke!!!
Anika
2015-06-15T00:00:00Z
The host canceled this reservation 17 days before arrival. This is an automated posting.
Zachary
2016-03-03T00:00:00Z
My wife and I had a wonderful stay in this apt! We were very impressed with how clean and spacious the place was. It felt like it was recently renovated. We were here for 11 nights but it didn't feel that long because of the wonderful accommodations. We enjoyed the great views of the fields and railroad tracks from the back windows. The trail behind the house was great for walking our dogs. The owners, Ralf and his wife, were very accommodating with everything from our late night arrival to our dogs. The town we stayed in was lovely; very nice and quiet. We enjoyed the drive around the area and the lovely views of the countryside can't be beat. The surrounding small towns nearby were charming. We stumbled upon a festival during our stay that was right down the street and it was wonderful. The people we met were so nice and we had a great time. We would love to come back for a visit in the fall when the foliage changes and stay in this house again!
Sang
2015-05-23T00:00:00Z
haben das erste mal über Airbnb gebucht und waren mit der Auswahl der Angebote sowie Abwicklung sehr zufrieden. Die Unterkunft übertraf unsere Erwartungen. Ausstattung und vor allem das kostenlose Internet verdienen uneingeschränktes Lob. So würde man es sich überall vorstellen. Die Vermieter waren sehr freundlich. Obwohl direkt an der Straße gelegen war so gut wie kein Straßenlärm zu hören. Man kann diese Unterkunft jederzeit weiterempfehlen.
manfred
2015-08-03T00:00:00Z
Very gracious and helpful hosts. The Glanbrucken area is lovely and relaxing. The cottage is comfortable and spacious with a nice bar nearby.
Diego
2015-04-14T00:00:00Z
This is funny to review this property because as we were driving to the property we all thought that the place was not going to be nice BUT to our surprise it was an AMAZING place to stay in, never met Tobias but we constantly kept communicating thru text and I could say that he's a nice guy, met someone who I think was he's mom, a very nice lady. I would definitely recommend this place.
Alex
2015-08-15T00:00:00Z
Ottimo appartamento. Molto confortevole e pulito! Molto accogliente. Grazie tobias
Gaetano
2015-08-28T00:00:00Z
It was a very nice and large apt. All was good and we had it all to ourselves. The washer was broke but had didn't matter, the few things we did by hand. The kitchen had everything we needed, very nice.
Robert
2015-09-11T00:00:00Z
Kamertype
Gehele woning/appartement
---
Type woning
Appartement
---
Geschikt voor
6
---
Slaapkamers
Glanbrücken, Rheinland-Pfalz, Duitsland
Apartamento "jardín de hierbas" en el suelo, **** - confort, con la opción de 2 o 3 Schlafzimern. El amplio apartamento con 2 dormitorios, 1 baño, cocina, sala de estar tiene unos 75 metros cuadrados y ofrece alojamiento para 3 personas. pero también puede ser reservado (con cargo adicional) con un tercer dormitorio adicional para 2 personas con gran ducha integrada. Especialmente para las personas con problemas de movilidad, como también accesible a través de la rampa.
Nuestro "Birnbaumhof", una antigua granja en forma de herradura hoy plantea una nueva casa, cómodo de invitados, zona tranquila, y el bosque local, para llegar bien ubicado:. 10 min Para Ramstein, Landstuhl, a 20 minutos a Kaiserslautern .. Ciclismo y. Senderos conducen justo delante del hotel, el campo de golf "Barbarroja" es tan sólo 2 minutos de distancia de nosotros.
Kamertype
Gehele woning/appartement
---
Type woning
Appartement
---
Geschikt voor
3
---
Slaapkamers
Schwedelbach, Rheinland-Pfalz, Duitsland
El apartamento está situado en una nueva zona tranquila vivienda desarrollada en Ramstein, justo al lado de los bosques y senderos. Fue construido 2013 y tiene 3 dormitorios con camas tamaño queen y 1 cama king size. Se encuentra a 5 minutos de la base aérea, y todas las tiendas.
El apartamento tiene tres habitaciones, una sala de estar, un baño completo con bañera y un aseo, una cocina totalmente equipada y un jardín.
senderos preciosos que entran en los bosques y los pueblos de los alrededores. La zona es muy tranquila!
Rudy & Keziah are amazing! They are super hospitable and very accommodating. They had coffee, a little toiletry package, at the house and offered to get me food since I arrived on a Sunday and a lot of places were closed. They gave me a quick tour of the town and helped me get my bearings so that I would be able to find my way onto the base where I am working. The place is super comfortable. The descriptions are accurate. The neighborhood is new and very nice. I love running and the trail was just in the backyard! A nice place rented out by great people.
Gon
2016-02-29T00:00:00Z
Rudy was a delight to work with and made the ambiance of the apartment very inviting with fresh flowers, fruit, snacks, and even yummy chocolates on our pillows! The neighborhood is clean and new. Great for walking. The apartment was spacious, clean, cozy, and we LOVED the heated floors! I'd recommend this apartment to anyone staying in this area.
Jayvin
2017-02-25T00:00:00Z
Kamertype
Gehele woning/appartement
---
Type woning
Appartement
---
Geschikt voor
7
---
Slaapkamers
Ramstein-Miesenbach, Rheinland-Pfalz, Duitsland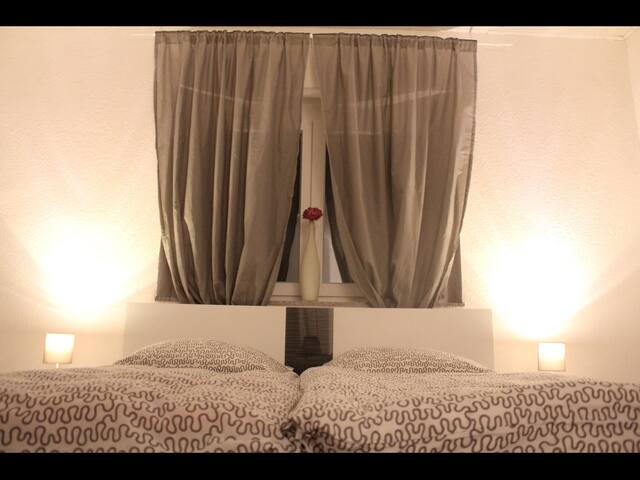 KMC TLA - Vakantie in Ramstein Stad / Duitsland Er is een nieuwe manier om te verblijven in een stad: leven als een lokaal. We bieden volledig ingericht, high-end, betaalbare woningen, variërend van een slaapkamer zo groot als vier slaapkamers. U kunt op ons rekenen om u een perfecte plek om naar huis te bellen tijdens uw verblijf in Ramstein. Ons doel is om u te voorzien van een onvergetelijke woonbeleving. We hebben 2, 3, 4 slaapkamers TLA in Ramstein stad op slechts 3 minuten naar het Westen - Poort van Ramstein Air Base
Kamertype
Gehele woning/appartement
---
Type woning
Appartement
---
Geschikt voor
6
---
Slaapkamers
Ramstein-Miesenbach, Rheinland-Pfalz, Duitsland
De ontvangst was prima. Mocht er iets zijn konden we altijd bij haar terecht, hier hebben we geen gebruik van hoeven maken. Er was ruime info d.m.v. folders over de omgeving, dit is erg fijn! Er is veel te ondernemen in de omgeving. Mooie zwembaden, fijne fiets en wandelroutes en vele recreatie mogelijkheden in de buurt.
Annelies
2016-07-27T00:00:00Z
Everything was great - Thanks
Colm
2015-03-02T00:00:00Z
Die schöne Wohnung von der Familie Neska ist sehr gut ausgestattet und liegt in einem ruhigem Wohngebiet in Weilerbach. Uns hat der Aufenthalt sehr gut gefallen und wir empfehlen es auf jeden Fall weiter.
Manuel
2014-03-17T00:00:00Z
We loved the apartment from the first moment we saw it. Peter and Jutta have been very accommodating and always willing to help out. Nice neighborhood with plenty of walking trails. Weilerbach is a very nice community. Within walking distance to shops. Within 10 min drive to Ramstein Airbase. We have absolutely enjoyed our stay. We can't recommend this place enough. We will definitely be back.
Sherese
2015-10-11T00:00:00Z
This is the second time we have stayed at Jutta's and Peter' s apartment. We have enjoyed our time in Germany and staying here gave us a wonderful base to tour Europe. The apartment is very homey and wonderful. Jutta and Peter are very nice and were always available to help with any questions.. I recommend staying here and I will miss our "second" home in Germany..
Kris
2016-10-24T00:00:00Z
The apartment is really beautiful and clean.. it is perfect for 3 persons and a baby, you can find all what you need to cook. We have a really nice time there and jutta is also a nice person...
Diana
2014-10-27T00:00:00Z
Super! So wie der erste Besuch! Kann es nur jedem weiterempfehlen!!!!
Sebastian
2015-06-28T00:00:00Z
Die Wohnung ist wirklich super schön, sauber und entspricht den Fotos. Auch von der Ausstattung her ist alles Notwendige vorhanden. Die Schlüsselübergabe verlief ebenfalls total unkompliziert. Wir haben unseren Aufenthalt in diesem gemütlichen, ruhigen Ort sehr genossen.
Beate
2015-01-03T00:00:00Z
Kamertype
Gehele woning/appartement
---
Type woning
Appartement
---
Geschikt voor
3
---
Slaapkamers
Weilerbach, Rijnland-Palts, Duitsland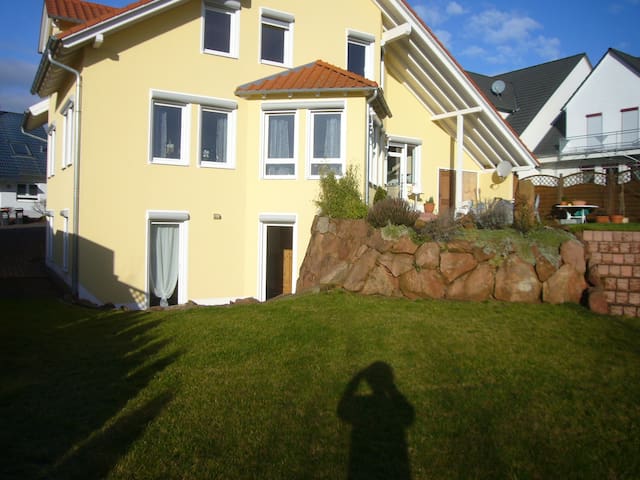 Der Ort ist modern, in der Nähe RAB, ideal für Familien.
Kamertype
Gehele woning/appartement
---
Type woning
Appartement
---
Geschikt voor
2
---
Slaapkamers
Ramstein-Miesenbach, Rheinland-Pfalz, Duitsland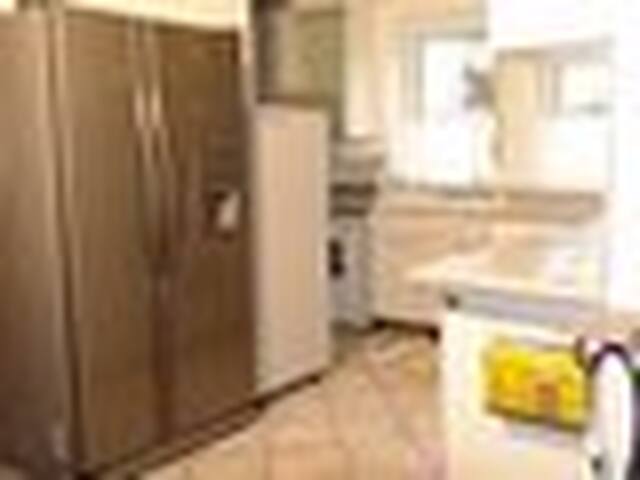 Schöne 3-Zimmer-Wohnung in der Nähe der Air Base Ramstein und Landstuhl Regional Medical Center. Direkt neben dem Netto (Lebensmittelgeschäft und Bäckerei), perfekte Lage, um die Region zu besuchen oder langfristig bleiben. Wireless-LAN, AFN, Himmel, und lokale Telefon inklusive! Haustiere OK
123 m², Küche bereit, mit allem, was Sie brauchen, nur Ihr eigenes Essen mitbringen vorzubereiten! Komplette Wohnzimmer mit TV, AFN, SKY und DVD-Player. Eines der Schlafzimmer verfügt über einen GameCube und TV. Schön mit türkischen Teppichen eingerichtet. Ein Bad mit Dusche und Badewanne, Bettwäsche zur Verfügung gestellt! Waschmaschine und Trockner enthalten ist, und einem großen Kühlschrank und Gefrierschrank für einen längeren Aufenthalt.
Abseits der Hauptstraße, aber in der Nähe der A62 Ausfahrt so kurze Fahrt auf die Autobahn. Lebensmittelgeschäft und Bäckerei 100 m entfernt. Schöne Wanderwege und Wälder in der Nähe.
Clean! Very comfortable. The perfect place to relax and enjoy the local area. Mike is very easy to work with and made us feel welcome instantly. Unit is located conveniently close to base and the highway. Has everything you need to enjoy yourself including child amenities, fast wifi, and multiple tv options. Highly recommend!
George
2015-11-01T00:00:00Z
Mike was an outstanding host, very accommodating and flexible. It is in a great location, quiet neighborhood, near Ramstein. Definitely recommend it for travel or business in Kaiserslautern area.
KELLAN
2016-05-16T00:00:00Z
This apartment is absolutely wonderful! Melissa met us and was so sweet and helpful! She had maps of the area and gave us her mobile numbers in case we had any questions or problems. The apartment was extremely clean and had everything we could possibly need. I will definitely try to stay here again and I would definitely recommend them!
Jennifer
2016-11-06T00:00:00Z
The apartment is conveniently located close to everything you could need. The size was perfect for our family of 7. The apartment was very clean. Mike greeted us, provided us with everything we needed. He even left a recommendation for food delivery. The kitchen was stocked for cooking anything and there was a washer and dryer available. Great experience, we would stay again if we are in the area.
Melissa
2016-04-14T00:00:00Z
Mike was very accommodating, as we arrived much later than expected on our arrival date. He made sure we felt welcome and explained everything we could need to know while staying there. The place itself is great- very spacious with every amenity you could need. It's very close to the base & easy to find, so definitely recommended for anyone needing to get to the base quickly. It's also a great location for exploring the area.
theresa
2016-04-01T00:00:00Z
Mike was a great accommodating host. He was very responsive, prompt, and helpful. The apartment is a very nicely furnished downstairs apartment with a private entrance. The apartment was very clean upon arrival and has easy access to the autobahn, Ramstein AB, and a local grocery is just a block away. There are also some video game consoles available which kept my kids entertained. I would highly recommend this apartment.
James
2016-04-11T00:00:00Z
We could not of been happier with our stay! The home is a large space with everything you need and was very clean. Our hosts could not of been more hospitable and courteous. You cannot beat this home, location, and price!!
Brad
2017-01-18T00:00:00Z
We had an amazing stay at Mike's apartment. It was more than we expected. It is quite large and roomy. Plenty of space for the 3 adults and two children in our group. The AFN and tv options were great as well as the washer/dryer on site. Most importantly, it is well-kept and very clean, in a nice and safe area. I highly recommend this apartment to anyone traveling to the area. Mike was extremely kind and a wonderful host.
Samantha
2016-05-02T00:00:00Z
Kamertype
Gehele woning/appartement
---
Type woning
Appartement
---
Geschikt voor
7
---
Slaapkamers
Spesbach, Rheinland-Pfalz, Duitsland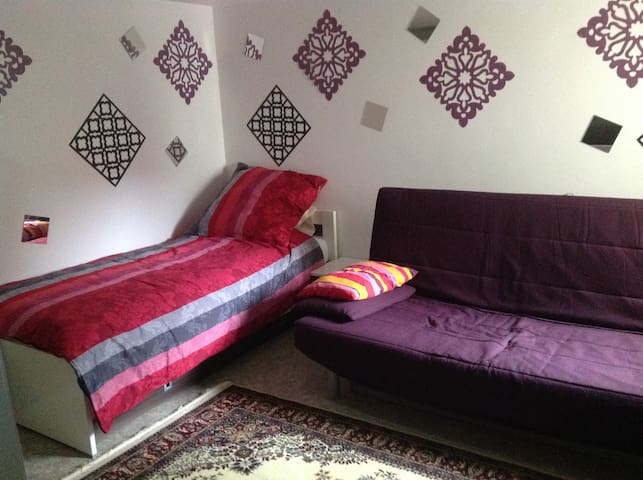 Volledig ingericht, voorzien van airconditioning, 2 kamer appartement met een mooie leren bank en 60 "Smart TV, High speed internet, telefoon flat aan alle EU-landen en de VS, een volledig uitgeruste keuken, badkamer met douche, bad, wasmachine / droger en parkeerplaats in de garage.
Great place, quiet location. Nice little town with numerous eateries. Flat is above a bakery which could be real good or real bad.
Mark
2016-05-19T00:00:00Z
The host canceled this reservation 18 days before arrival. This is an automated posting.
Fedelma Claire
2016-09-05T00:00:00Z
Kamertype
Gehele woning/appartement
---
Type woning
Appartement
---
Geschikt voor
4
---
Slaapkamers
Ramstein-Miesenbach, Rheinland-Pfalz, Duitsland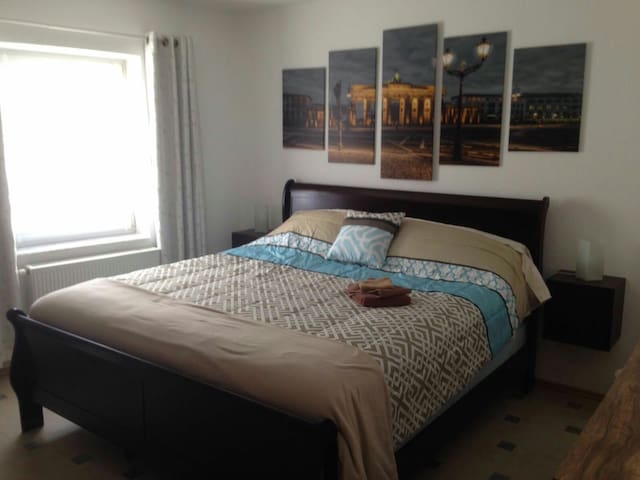 Nice 2 Schlafzimmer / 1 Bad komplett eingerichtete Einheit in Ramstein, nur wenige Minuten Fahrt zum RAB. Geeignet für Einzel-, Paare oder Familien mit wenigen Kindern.
Das Hotel liegt in ruhiger Umgebung, nur wenige Minuten Fahrt zu RAB.
The host canceled this reservation 106 days before arrival. This is an automated posting.
Stacy
2016-04-09T00:00:00Z
Kamertype
Gehele woning/appartement
---
Type woning
Appartement
---
Geschikt voor
2
---
Slaapkamers
Ramstein-Miesenbach, Rheinland-Pfalz, Duitsland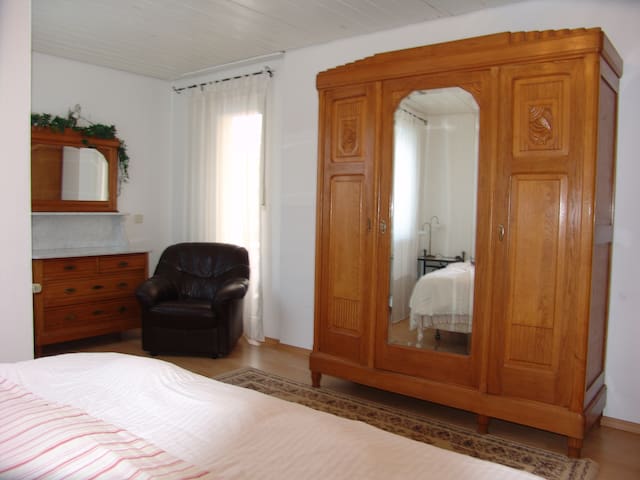 Die Wohnung befindet sich ca. 300 m vom Ohmbachsee entfernt. Sie hat zwei Schlafzimmer Küche , Bad, Wohnzimmer und Esszimmer. Ein Balkon ist vom Wohnzimmer und Schlafzimmer zu begehen.
Kamertype
Gehele woning/appartement
---
Type woning
Appartement
---
Geschikt voor
2
---
Slaapkamers
Schönenberg-Kübelberg, Rheinland-Pfalz, Duitsland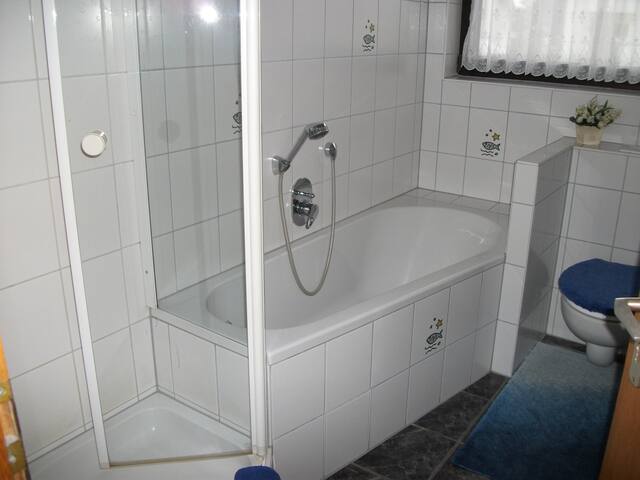 Meine Wohnung ist sehr hell und modern eingerichtet . Grosse Küche mit allem was man zum kochen braucht. Drei grosse Schlafzimmer mit gemütlichen Betten . Dazu gehört eine riesen Terasse auf dem man im sommer gemütlich sitzen kann
The host canceled this reservation 127 days before arrival. This is an automated posting.
Esther
2017-03-22T00:00:00Z
Kamertype
Gehele woning/appartement
---
Type woning
Appartement
---
Geschikt voor
6
---
Slaapkamers
Bruchmühlbach-Miesau, Rheinland-Pfalz, Duitsland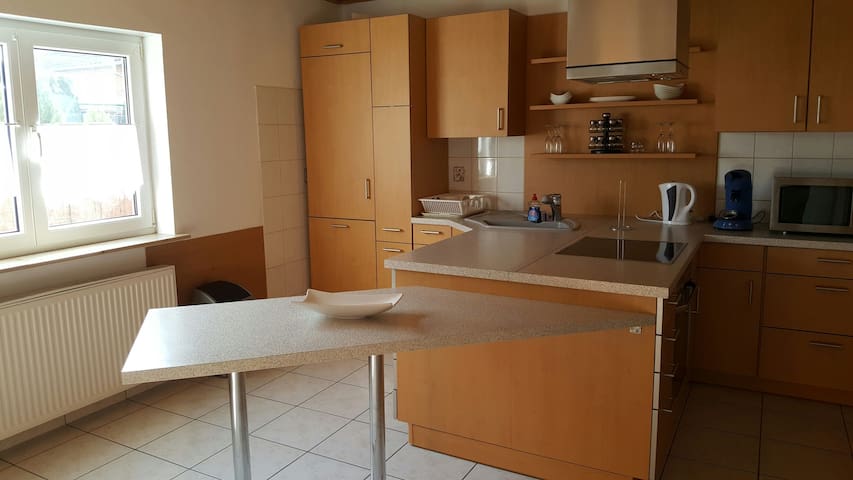 Gemütliches helles Zimmer mit Miniküche, eigenem Bad und WC. Im 1. Stock gelegen, mit separatem Zugang und viel Privatsphäre. Für Langzeitgäste sehr gut geeignet. Kaffee, Tee, Milch und Zucker stehen zur Verfügung. Frühstück auf Wunsch für 4 € pro Person (glutenfrei möglich) Unser Haus liegt direkt am Radverkehrsnetz im Radwanderland Rheinland-Pfalz. Die Draisinenstation in Lauterecken ist 1200 m entfernt.
Die Unterkunft ist in einem historisch alten Sandsteingebäude am Stadtrand gelegen. Das Zimmer ist hell und freundlich und etwa 14 qm groß. Ein Badezimmer mit Dusche und eine separate Toilette gehören zu alleiniger Nutzung dazu. Die Ausziehcouch wird zu einem 160 cm breiten Bett. Handtücher und Bettwäsche stehen zur Verfügung, ebenso wie Internetzugang und SAT TV. Für die Selbstversorgung finden Sie in der Miniküche einen Kühlschrank mit Gefrierfach, eine Mikrowelle, eine Kaffeemaschine, einen Wasserkocher, einen Toaster, eine Einzelkochplatte, eine elektrische Pfanne auch zum Pizzaaufbacken, sowie Kochgeschirr. gemahlener Kaffee, Tee, Milch und Zucker sind vorhanden. Auf dem Flur gegenüber befindet sich das zweite Fremdenzimmer mit zwei bequemen Betten, das mitgemietet werden kann. Ich mache Ihnen dazu gerne ein Gastgeberangebot. Ich vermiete die Zimmer immer nur an eine Reisegruppe und kann maximal 4 Leute aufnehmen. Im obersten Stockwerk wohnt eine junge Familie mit Baby. Im Flur und Treppenhaus ist daher gelegentlich Babygeschrei zu hören.
Wir haben keine direkte Nachbarschaft.
Het was een bijzonder ervaring, de kamer, de badkamer en het toilet was héél proper. Christine had thee, koffie, suiker, enz voorzien. Er was zelf een kleine elektrische kookvuur, waterkoker en koffieapparaat in de kamer. Het is een oud huis dat met heel liefde gerestaureerd is. Zij en haar man hebben ons zeer goede tips gegeven voor onze reis (we hebben, dankzij hen, heel mooie dorpjes kunnen zien). Het is absoluut een aanrader!!!!!!
Diana
2016-08-27T00:00:00Z
Christine and her husband were wonderful hosts. They were both very helpful with anything that I needed. The room was comfortable and had everything that I could possibly need during my stay. The room is on the first (second for those from America) floor with the toilet and shower in the adjacent hallway. All fixtures are very modern and everything worked flawlessly as it is apparent that maintenance and cleanliness are paramount. As mentioned the location is on the outskirts but there are restaurants and a grocery store just a few minutes away by foot or car.
Frank
2016-02-22T00:00:00Z
Super Unterkunft, die keine Wünsche offen lässt. Außerdem waren die Vermieter auch sehr nett und hilfsbereit.
Freya
2016-09-24T00:00:00Z
Tip top - Christine und ihr Mann sind super nett und haben mir für ein paar Tage einen sehr angenehmen und super gemütlichen Aufenthaltsort zur Verfügung gestellt. Das Appartement war zudem prima ausgestattet. Habe mich sehr gut aufgehoben gefühlt. Gerne wieder!
Maximilian
2016-07-29T00:00:00Z
Christine war/ist sehr freundlich. Zimmer war super. Frühstück ebenfalls sehr gut.
Susanne
2016-06-27T00:00:00Z
I was welcome with a smile! Cristine was a great host and there if i had some questions. The bathroom and the toilet are separte from the room. So this cozy room feels more like a small flat! Gudd! Also es gebbt nixx se meggere, Christine! Danke.;)
oliver
2016-07-15T00:00:00Z
wieder mal ein perfekter Aufenthalt! Wieder mal sehr nett und vorallem sehr unkompliziert! Vielen Dank Christine!
oliver
2016-09-28T00:00:00Z
Alles bestens und wie beschrieben. Gastgeber sehr freundlich. Gerne wieder.
Thorsten
2016-04-06T00:00:00Z
Kamertype
Privé Kamer
---
Type woning
Appartement
---
Geschikt voor
2
---
Slaapkamers
Lauterecken, Rheinland-Pfalz, Duitsland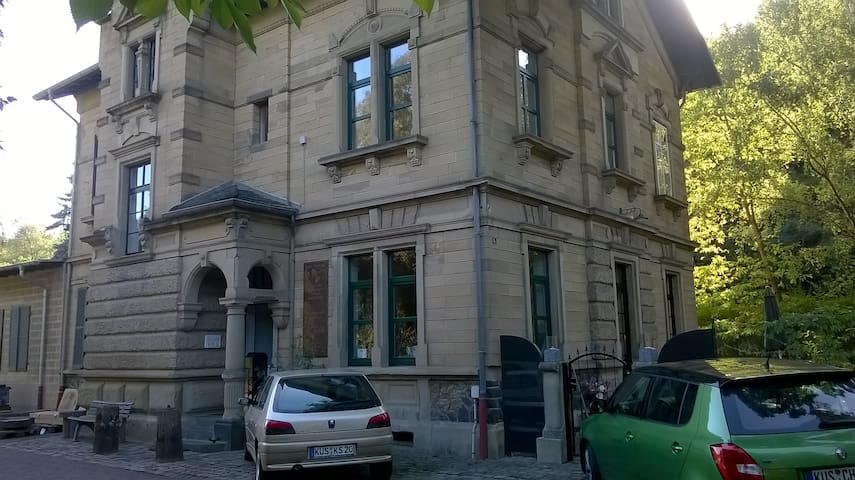 1

–

18

van

24 Appartementen te huur