300+ Appartementen te Huur
Lucija Private Room is located in Kaštela - between the historic cities of Split and Trogir. Split is 15 km from Lucija Private Room, while Trogir is 8 km away. The nearest airport is Split Airport, 4 km from the room. You'll love my place because of the location, the people and the ambiance. It's great for couples, solo adventurers and business travelers. It's perfect if you want to relax and explore Central Dalmatia.
The room is set on the ground floor of an old stone house right at the waterfront in Kaštel Stari. An electric kettle and a mini fridge are included as well.
Everything you need is within a short walking distance - bakery, daily market, beach, bus stop, restaurants and bars.
Ivana was a very welcoming and professional host! The apartment is just lovely and right by the sea - you can cross the road and dive into the water. The beaches are great, clean and family friendly. I can only recommend this, if you visit the Kaštela.
Katharina
2016-08-30T00:00:00Z
We were only at Ivana's apartment for a short time but she made sure we had everything we needed including print outs for bus times etc to the airport. the apartment is very sweet and right next to a few cafes and restaurants which were very handy! would stay again :)
Claudia
2016-08-23T00:00:00Z
Very cute and quaint place. It was very close to a beach and restaurants are readily available all around. The room was clean and had all essentials! The host was very welcoming and gave us tips on parking. Overall good experience! The place was also only a 5min drive to the airport which made it easier for us to get to our early flight.
Vivian
2016-08-13T00:00:00Z
I highly recommend staying at Ivana's place, which is truly a rare treat! The apartment was very charming and cosy with a great location in Kaštel Stari. Ivana is such a great host! She was very flexible and helpful in organizing our arrival and we enjoyed every second of our stay at her place. We would definitely book this accommodation again. :)
Ulla
2016-08-28T00:00:00Z
La chambre très coquette est très agréable et offre tout le confort et commodité. L accueil souriant de Ivana est chaleureux.
gaelle
2016-07-19T00:00:00Z
Lucija was so welcoming and easy to communicate with. The flat was exactly as described and perfect for what we needed: a relaxed evening near the sea before an early alarm to catch the plain. Would definitely recommend it if you need to be near Split's airport!
Hannah
2016-09-19T00:00:00Z
Very elegant room in a quiet village. Beach, market, restaurant, everything is nearby. A perfect stopover stay before the airport!
Hong
2016-09-16T00:00:00Z
Everything was as described. A really nice modern room right next to the water's edge! Ivana was very helpful.
Felix
2016-09-21T00:00:00Z
Kamertype
Privé Kamer
---
Type woning
Appartement
---
Geschikt voor
2
---
Slaapkamers
Kaštel Stari, Splitsko-dalmatinska županija, Kroatië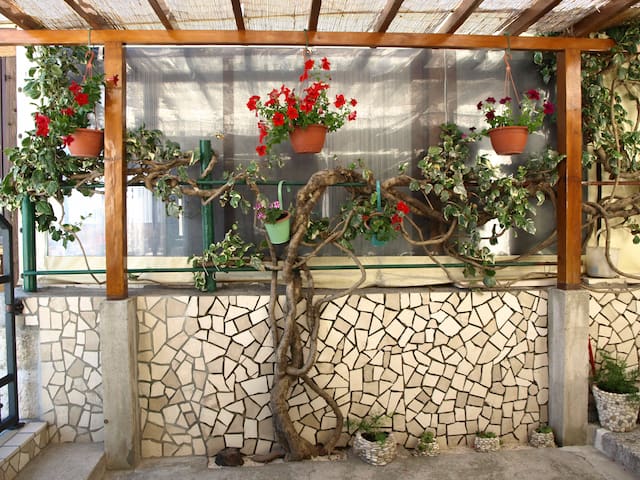 ESPERANZA apartments situated in the old part of the castle, the best are the ratio of domestic comfort and enjoyment in holidays.Century-old stone house provides a romantic view of the tradition of Dalmatia, with the maximum comfort of modern life
Apartment comfortable for 2+1 people, 45 m2 is situated on first floor. On the first floor is room with double bed ( option bunk bed ) bathroom and shower, SAT/TV , WI-FI, AC and full equipped extended kitchen (fridge, cooker, electric kettle, taster, etc). . Each apartment can easily accept 3 people.
The neighborhood are quite and surround with origin stone houses separated with small streets (there is no cars!). Very close are small restaurants and domestic "konoba" with origin dalmatians food, who can satisfy delicate hedonist. Because your apartment are close to all local markets (fish, vegetable and fresh froth) including supermarkets and small cafeterias your vacation will be smut and relax.
We voelde ons erg welkom,en het appartement was werkelijk heel mooi en geriefelijk,en erg smaakvol ingericht. Sreten is een een uitstekend gastheer,en een warm persoon, zodat je je meteen op je gemak voelt,en met een lekkere welkoms borrel ging dat meteen lukken. Dank je Sreten,voor de mooie dagen die we bij jou hebben gehad
monique
2015-08-12T00:00:00Z
Stunning apartment minutes from the waterfront. The room is large and airy and the interior design is very well done - It has a feeling of modern luxe in a traditional Mediterranean setting - the stone walls are beautiful. Sreven is an excellent host who will go out of his way to ensure you experience the best of Kastela - he met us with homemade plum brandy and figs and sent us off to a really great restaurant for dinner - I had been so enthusiastic about the figs that he came the next day with a bag for us to take away - a really exceptional host. Highly recommend!
Claire
2015-07-04T00:00:00Z
Sreten was amazing! He invited us to join his BBQ on the Terrace, which was fantastic. He is a lovely host with great stories to tell. The apartment is beautiful and clean as shown in the pictures. He informed us of a wonderful local restaurant. Highly highly recommended, you will not be disappointed.
Warren
2016-06-24T00:00:00Z
Wonderful place!!!! As well as wonderful the welcoming Streten and Kastela Novi reserved to us both. Kastela Novi is a lovely quiet, perfect little place right on the see and the apartment is just absolutely phantastic. I woudl say it is even better than in the description. Streten who has furnished and projected the place himself, has done a brilliant job. He welcomed us very efficiently and stayed with us for a nice talk and offered a nice welcoming drink. Really well done Streten!!! We will for sure suggest yr place as well as Kastela Novi and Croatia to all our friends. Thank you very much, Roberta and John
Roberta
2015-08-24T00:00:00Z
Our stay at Sretens place was amazing. The room is very spacey and looks as a movie scene. It was very clean and we had all the facilities we needed. Sreten is a wonderful and very kind guy, I would recommend this place to anyone (in fact, I have recommended it to all my friends and family). Thanks for the very nice time Sreten, see you next year!
Jasmina
2016-08-24T00:00:00Z
We loved our stay at Esperanza! The room is perfectly, modern designed and really interprets the 'new' as well as the 'old'. Sreten was the most gracious host and welcomed us with great hospitality. Big spacious room, amazing bathroom and a top modern kitchen to share. Would have for sure booked this again!
Ragnhild
2016-07-12T00:00:00Z
Ahh Sreten.. ! Thank you sooo much for your hospitality ! In french we can say that he's a '' BIG BEAR '' with a '' BIG HEART '' ! He made us laugh and have a good time in a nice litle village. He recommended us a litle restaurant near the appartement with 10% off and give us a lot of tips. We talked a lot with him because he's really appreciate his life in this beautifull old house. Before we had to take our flight, he came spontanely with a self prepared fish, a fresh salad and a glass of white wine. It was pretty good and perfect before our flight. We will surely recommend this appartement to our friends. You have a bus station near the appartement ( 37 / Trogir- Split Airport - Split ) it cost you 22 Kuna per person and you have like 30 minutes to go in Split. We recommend you to be carefull with the taxi's. The price allways changing ;) You can also rent bikes or Scooters in the center. Cheers Sreten and see U soon amigo !
Dion
2016-06-26T00:00:00Z
Die Unterkunft war großartig und Sreten ist ein unglaublich netter Gastgeber. Ich würde ohne Bedenken immer wieder dort hinfahren.
Michael
2015-09-19T00:00:00Z
Kamertype
Privé Kamer
---
Type woning
Appartement
---
Geschikt voor
2
---
Slaapkamers
Kaštel Novi, District Split-Dalmatië, Kroatië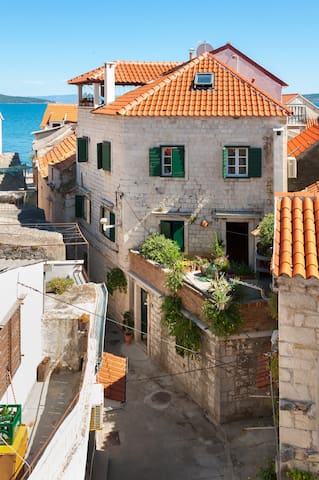 We have two apartments for 4 people (2+2), each with double bed, toilet with shower, kitchenette, dining room with pull out sofa and balcony. The house is only 100 m distant from the beach and right across the supermarket, football and basketball playground and tennis courts. Bus station is just 100 m away and airport 1 km.
The house is perfectly located, you only need few minutes to get to everything you need. There are two beaches, from which is one sandy. Neighborhood is really quiet so nothing can't keep you from enjoying your vacation.
Goran is a very friendly and helpful person ! He picked us up at the airport late at night and always answered quixkly to our messages. The location is "basic" but really nice and close to the airport. We found everything we needed, the balcony has a great view on mountains, the place was clean... we really recommand this place for itself and for Goran, who is a perfect host !
Isabel
2016-09-04T00:00:00Z
The apartment was exactly as described and exactly what I needed! There is a supermarket directly opposite and the beach is a 2 minute walk away. The bus to and from the airport is in easy walking distance which was perfect for me. The host Mihaela (Goran's wife) was very nice and very helpful and recommended Trogir, a town a short bus journey away that I hadn't planned on visiting. It was very picturesque and I recommend it too if you are staying here! All in all it was perfect!
Samantha
2016-09-07T00:00:00Z
The Apartment was very basic but clean and tidy. The Airport was 5 minutes away so served well as a final stop over before flying home. Goran was quick to reply to messages.
Ashley
2016-05-25T00:00:00Z
Mihaela (Goran's wife) was incredibly hospitable. She picked us up from the airport, showed us around the neighborhood, directed us where the bus stops were, drove us to a restaurant nearby and showed us to an ATM. We also took her advise and visited a town nearby for coffee in the morning. The apartment is a five minute walk from the bus stop and is walking distance from the airport as well. Apartment is simple and clean, perfect for our stay.
Tyler & Lisa
2016-11-21T00:00:00Z
The host canceled this reservation 44 days before arrival. This is an automated posting.
Hamish
2016-06-27T00:00:00Z
Très bon séjour dans l'appartement de Goran situé idéalement à côté de l'aéroport. Logement propre et pratique composé de deux balcons très agréable bien exposés. Goran a même eu la gentillesse de nous accompagner pour prendre notre avion le matin en allant travailler ! Merci encore !
Marina
2016-08-18T00:00:00Z
Beskrivelsen af boligen var præcis. Værten var hurtig til at svare.
Rene
2016-05-15T00:00:00Z
The host waited for us when we got lost finding the place! Everything was great, really close to the airport & a hotel restaurant is walking distance away.
Jasimine
2016-06-03T00:00:00Z
Kamertype
Gehele woning/appartement
---
Type woning
Appartement
---
Geschikt voor
2
---
Slaapkamers
Kaštel Štafilić, Splitsko-dalmatinska županija, Kroatië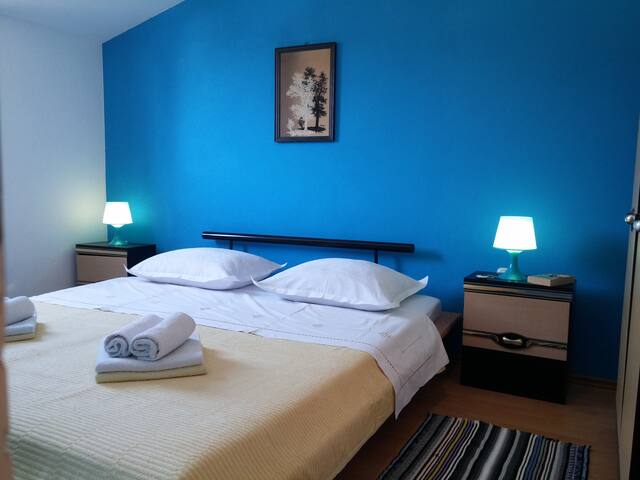 Three Feral Apartments are situated in a large bay of Kaštela, famous and beautiful towns, Trogir and Split, in a quiet part of Kastel Stafilic. From the nearest airport is located only 3 km, while the sandy beach Gabine are located 200m. 2+3
Petit village tranquille, authentique, avec une plage et des commerces à proximité. Belle terrasse avec vue sur la mer. Hôte sympathique.
Jean-Paul
2016-06-23T00:00:00Z
Nous avons séjourné une nuit dans l'appartement de Vinko. Très bon accueil, superbe appartement, très bien situé, très spacieux et très propre. On serait bien restés plus longtemps !!! Merci pour tout !
manuela
2016-04-10T00:00:00Z
Great place and very nice host.
Nick
2016-07-28T00:00:00Z
Vinko was a great host. He was patient and waited for us at the airport and drove us to the apartment and gave us an idea of the surroundings. When the wireless went kaput he also fixed it quickly. Vinko is very kind and responsive. I would definitely come back!
Marc
2016-06-30T00:00:00Z
Our stay with Vinko was absolutely awesome, you could not wish for a better host/ess. The apartment was exactly as described.
Lloyd and Kay
2016-07-15T00:00:00Z
It was great that Vinko was able to meet us when we arrived. A lovely welcome. This area was a quaint coastal town. Sadly we had a flight to catch early next morning otherwise we would have loved to stay longer. Clean & well appointed apartment. Thanks Vinko for taking us to the airport. It was much appreciated.
Howard
2016-09-26T00:00:00Z
Très belle surprise pour cet appartement situé à 30m de la mer (200m d'une plage) dans une petite ville qui ne manque pas de charme surtout le soir. De bons conseils de Viko qui nous a accueilli pour 2 nuits à 5 personnes (2 adultes + 3 enfants de 8, 13 et 15 ans) Appartement très bien conçu et décoré de façon très contemporaine avec une petite touche d'authenticité (mur en pierre). Je conseille vivement plutôt que de loger dans le tumulte de Trogir.
stephane
2016-07-23T00:00:00Z
Vinko was a very nice host and very welcoming. The apartment was nice and tidy and freshly renovated. The kitchen was not too good if you want to cook a meal, so as 4 people we had certain problem with that. The weather wasn't too warm those days we were there, and inside the apartment it was even colder especially in the bathroom. Difficult to find the address. Overall good experience.
Arvid
2016-05-05T00:00:00Z
Kamertype
Gehele woning/appartement
---
Type woning
Appartement
---
Geschikt voor
5
---
Slaapkamers
Kaštel Štafilić, Kroatië
The perfect place for a vacation or STOP-OVER! Spacious & stylish APARTMENT OLIVIA is ideally located between the UNESCO cities Split and Trogir, reachable by car/bus in 15 minutes. A few walking minutes from the beach, restaurants and shops. FREE AIRPORT PICKUP/DROP-OFF!
The spacious apartment comfortably sleeps 4 + 2 guests. Two bedrooms, a large living and dining room with a sofa bed, kitchen, bathroom with full tub/shower bidet and washing machine. You have your private balcony with a dining set and lounge chair overlooking the lushous garden. SAT TV, A/C, WiFi, safety box. Secure parking in the shade accessed by automatic door opening. FREE-OF-CHARGE airport pick-up/drop-off. Bikes and kayaks available at symbolic price.
Take a few steps down to the sandy beach, stroll along the seaside and explore the old fishing villages, built in the early Medieval times. Have a traditional Dalmatian dinner in one of the many authentic Dalmatian restaurants offering a gorgeous view of the Adriatic sea, the nearby islands and the skyline of Split. Enjoy one of the many summer festivals, concerts or mingle with the locals as they celebrate village parties with traditional food, wine and music. If you're up for some adventure, use the bikes for a drive along the seaside, passing picturesque sceneries, historical sites and visiting the UNESCO-protected castle in the sea, where Game of Thrones was filmed. Pristine sandy and pebble beaches, historical sights dating back to the Roman Empire, shops, grocery stores, restaurants, bars, the post office, ATM's, farmacies and the bus stop are just a few steps away from the apartment.
Very comfortable, clean and friendly. We found everything we needed. The hosts very absolutely friendly. It was a pleasure being there.
Marco
2014-09-10T00:00:00Z
Kathrin and Vinko were amazing! They were very hospitable and helpful. They had lots of recommendations for things to do and places to visit and eat! And the apartment was awesome and exactly what we needed! The only thing is we wish we could book them again but the next weekend was already booked!!
Leah
2016-06-26T00:00:00Z
Very nice appartment : comfortable, practical and well located. Kathrin and Vinko were really helpful and warm. We will come back and recommend this apartment to our friends.
Kim
2013-09-15T00:00:00Z
(URL HIDDEN) words can describe how beautiful this country and its people are. Especially Kathrin and her wonderful family. Everything was perfect...the Appartment was very clean ( believe me I am very fussy with this and I always take a cleaning and desinfection solution with me which I always use except this time...the bathroom was very clean and the whole appartment is well equiped). Kathrin and her husband Vinko were so helpful and always there to help and to solve any problem. Kathrin was so kind to pick us from the airport when we arrived and even drop us at the airport on the day of our departure. I would recommend everyone to stay at Kathrin and Vinko's Place if they would like to experience real croatic life. You won't meet someone more generous and open-minded like Kathrin and Vinko.
Vidhya
2014-04-13T00:00:00Z
Kathrin made the process very easy, plus she met us at the bus stop from Split, and drove us to the airport at 6:20AM! The flat was huge, very comfortable, wish we would have planned to stay in Kastel Novi longer. It is a beautiful spot on the coast outside of Split, with many historic sites to visit. They live in the building, and her family was wonderful as well.
Arnie
2016-10-22T00:00:00Z
Kathrin and her family were wonderful hosts. They were very welcoming and friendly, and went out of their way to make us feel welcome in the apartment. The apartment is on the second floor, and Kathrin lives on the third floor, so she was always available to assist us if we needed anything. Kathrin and her family were especially nice to our 2 year old, who was so happy during our stay. Kathrin provided a tour of Kastela upon our arrival, which really helped us make the most of our time there. The apartment itself was spotless, and had everything you might need. There was even a box of toys and books, as well as a beach umbrella, all of which came in very handy.
Tracey
2015-07-10T00:00:00Z
Only there for one night but Vinko was extremely welcoming and helpful. The apartment was arranged just as we had requested and was well equipped. It was close to the airport and easy to find. Great hosts!
Catherine
2016-05-29T00:00:00Z
Everything was PERFECT . Vinko and Kathrin are so friendly, helpful, interesting and warm persons. We really enjoyed their presence and felt so comfortable staying there. Vinko welcomed us with a tour through the village and gave us lots of info and tips on getting around. Kastel Novi is an beautiful and authentic place, not so crowded and touristic. We loved it. The next beach is seven minutes walking distance. Five minutes distance by car we get to Trogir a wonderful, old and touristic city. Half an hour into the other direction you can visit Split. The flat is very comfortable and clean. It is equipped with everything one desire. Wow! Thanks a lot for everything. We hope to come soon again and to enjoy some more evenings with fish and concertina music ;-) together with you. HIGHLY RECOMMENDED!!!
Sabiha
2013-08-25T00:00:00Z
Kamertype
Gehele woning/appartement
---
Type woning
Appartement
---
Geschikt voor
6
---
Slaapkamers
Kaštel Novi, District Split-Dalmatië, Kroatië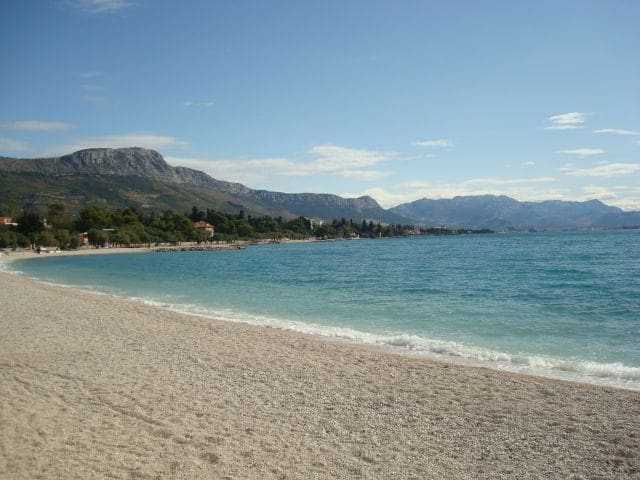 Villa Vetma is een nieuwe moderne villa, op 50 meter van het strand in een klein kust plaats Kastel Kambelovac. Kambelovac is een klein stadje vlakbij de stad Split, gelegen op het mooiste deel van de Adriatische kust.
Moderne Villa, geweldig uitzicht op zee, volledig uitgerust met alles wat men mijn behoefte. Appartement 2 heeft grotere balkon.
De rustige, heeft een prachtig uitzicht op zee, heeft een groot strand lopen vlak voor de Villa. Fietspad is recht in de buurt van de Villa passeren. Klein bos met vogels west en vogels zingen, het is gewoon geweldig.
Ze hebben ons goed verzorgd en ons welkom geheten. Alles was daar wat nodig was. Ze waren er als je ze nodig had. En verder lieten ze je perfect met rust.
R.
2015-09-16T00:00:00Z
"Wonderful apartment. Clean spacious and bright. Thank you for your welcome and your availability. Excatement description corresponds to the apartment. We are delighted with Croatia, we had a great holiday. Thanks for everything. On hope to come back and we'll keep your address. sorry for our English. Good luck to you. We recommend this apartment. "
ludivine
2014-09-13T00:00:00Z
Great spot right near Split! Apartment is just as described and the view is amazing! For those travellers who prefer being just outside of city centres this spot is perfect! Igor and Tea great and easy going made us feel at home straight away! Highly recommend :)
Stephen
2017-01-28T00:00:00Z
it was a really nice appartment, spacious, clean with a huge terrace and a wonderful view over the ocean. Igor was a really helpful and nice host
Anja
2016-08-27T00:00:00Z
L'appartement était d'une propreté remarquable. Très moderne et bien équipée. Igor à répondu à nos questions rapidement et nos hôtes étaient attentionnés. L'appartement est dans un petit village bien agréable. On peut marcher d'un bord comme de l'autre pour découvrir les autres petits villages. On a une vue sur la mer et pour s'y rendre une petite marche. La plage est de galets.
Paryse
2016-09-02T00:00:00Z
We liked it very much, everything was as expected, the terace and the view is beautiful. Owners are really tolerant and took good care of us. We would love to come back one day. Thank you Tea and igor :)
erik
2015-07-15T00:00:00Z
Beautiful new apartment which is fully equipped with all you need, the beautiful terrace overlooking the sea, the many beaches in the area, the owners absolutely amazing and this way we want to thank you for the wonderful vacation. Recommended every visit Villa Vetma.
Ingrid
2014-06-29T00:00:00Z
Nous avons découvert ce superbe appartement moderne et décoré avec beaucoup de goût. A notre arrivée Igor nous a accueilli avec gentillesse, un plateau de charcuterie - fromage avec des boissons nous attendait. Notre séjour début octobre sous le soleil a été très apprécié : ce logement spacieux très moderne avec une vaste terrasse donnant sur la mer toute proche nous a enchanté. Ne sachant comment remercier ce jeune couple, nous avons acheté des petits cadeaux pour leur deux enfants. Nous gardons cette adresse précieusement son emplacement est idéal pour faire des promenades à pieds au bord de mer.
eliane
2015-10-04T00:00:00Z
Kamertype
Gehele woning/appartement
---
Type woning
Appartement
---
Geschikt voor
4
---
Slaapkamers
Kaštel Kambelovac, District Split-Dalmatië, Kroatië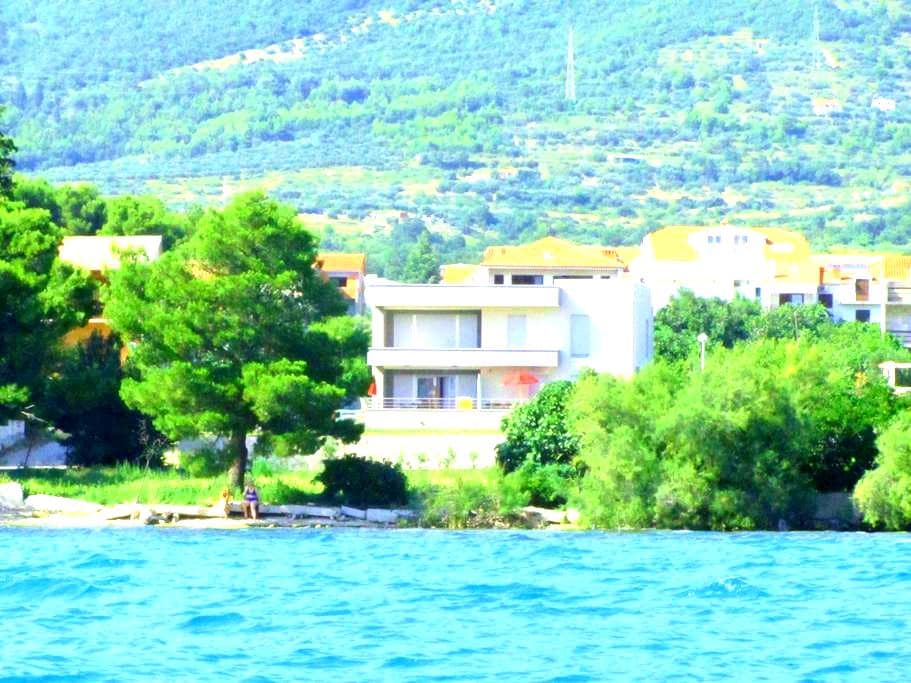 Our cool and comfortable 2 bedroom apartment offers you everything needed to feel like at your own place! With modern kitchen, bathroom and beautiful green garden and outside fireplace, this place offers you to experience real mediteranien life
57 square meters apartment 2 bedrooms (one double bed, two single beds) one sofa bed for two people 4+2 people comfortable fit 1 crib for a baby bathroom modern kitchen outside fireplace green garden parking place
Apartment is located in Kastel Luksic, one of the seven villages on the Dalmatian coastline, and offers you quality accommodation in the heart of Dalmatia, halfway between Trogir and Split. Kaštela are a series of seven small towns in between Trogir and Split, two antique towns partly or completely on the UNESCO world heritage list with their beautiful cobbled streets and Split's majestic Diocletian's Palace. If you are looking for a place to enjoy your summer holiday in Dalmatia, book this comfortable apartment in Kaštela and spend unforgettable moments in the Mediterranean Croatia. Apartment is equipped with modern furniture, and on terrace you can relax or enjoy an outside barbique where you can make the Dalmatian specialties and after relax in the green garden on the swing chair. It is a two bedroom apartment with bathroom, fully equipped and newly furnished, 500 meters away from the sea. In front of the house is a parking place, so you will surely spend a great vacation in Kaštela. You can book your stay in these fully equipped apartment and use it as your base to visit everything that Croatia has to offer in its surroundings, like the before mentioned towns, or the islands of Brač, Hvar or Šolta. If you prefer nature, rivers and mountains are only one hour drive away. Some 500 years ago there was a significant development of twenty castles, fortifications, of which nowadays only seven are preserved. Around them settlements were sprouting to finally merge together into the town of Kaštela. While in Kaštela, be sure to visit Split, Trogir, Salona, Šibenik, Zadar – all of them recognized by UNESCO and entered in the World Heritage list. Book your stay in Kaštela, seven little stone pearls in one shell, and enjoy your summer vacation and the Mediterranean atmosphere of Dalmatia. Recommended restaurants: *Baletna Skola Address: Ulica Dr. Frane Franica 1, 21214, Kastel Kambelovac *Konoba Intrada Address: Obala Kralja Tomislava b.b., Kaštel Novi 21 216 Fast Food and pizza delivery: *Fast Food Gricko Address: Novi put 6, Kaštel Luksic
Jelena and her family are perfect hosts. The apartment looks exactly like the pictures, was equipped with everything you need and very clean . For questions and problems we could always contact them. When our little boy was sick, Jelena has driven us to Split in the ambulance, managed everything for us and even held his hand when he got an infusion. She did not even take money for gasoline. Jelena's mother surprised us with home-grown grapes, pears and tomatoes, which tasted excellent. As we arrived without a stroller, Jelena's brother and his wife borrowed us the stroller of their daughter and even gave our son toys. Dear Jelena, we had a great stay with the best hosts you could wish for. You treat your guests as friends and we will never forget what you have done for us as we needed help. Many thanks.
Johannes
2015-09-09T00:00:00Z
Jelena and her mother made us feel very welcome. The space was perfect for what we needed. My 3 year old loved having a garden to run around in in the mornings as we were preparing to go to the beach. Originally we were going to take public transport but Jelena suggested we rent a car and it was a huge life saver as we could go all over the place from beach to beach. Public transport would have been an additional challenge with children as well as an unnecessary stress for a family holiday. Jelena helped with many suggestions and helps for the area that were specific to the kind of holiday we were looking for. Highly recommend this place!
jennifer
2016-09-01T00:00:00Z
We stayed at Jelena's apartment for a week and it was really great. we rented a car and there's a space for our car right in front of the house. Jelena was really helpful, she informed us about the exact route to her house and traffic to Dubrovnik and she provided travel guide in the apartment, which was really useful. If anyone rented a car with GPS, please be aware that the GPS doesn't show any roadworks, therefore it's great that Jelena told us the exact route to her house! Her responds are often quick as well. We really enjoyed staying there. the location is great as well as it is in between Trogic (20 mins drive) and Split (30 mins drive).
Kevin
2016-07-19T00:00:00Z
Place was great and as described. Short distance to both Split and Trogir and well connected. Jelena and her Mom were great hostesses and were available at all times. Recommended stay with everything brand new and spotless making as feeling like at home. Our 4 years old daughter enjoyed the garden.
Natalia
2016-10-30T00:00:00Z
We really loved staying at the apartment. Brand new, clean and enough space for two adults and two kids. Also the garden next to the house was a real asset for the kids. The neighbourhood is very quiet, and stil with the beach at ten mnts walk and Split and Trogir at 15 to 20 minutes by car. Jelena and her mother were very friendly and helpful. It was a real pleasure staying here! So if you are planning a trip to Split then this is an ideal address for you to stay!
Danijela
2015-08-05T00:00:00Z
Nous venons de passer 10 jours chez Jelena et avons beaucoup apprécié notre séjour. Jelena s'est rendue disponible pour répondre à toutes nos questions. Elle est même venue nous chercher à l'aéroport de Split. Sa famille a été aux petits soins (sa maman nous apportant des figues fraîches et légumes du jardin, son frère nous prêtant des jouets pour notre fils de 2 ans). L'emplacement nous convenait bien, à 10mn à pied de la côte. Les kastela ont beaucoup de charme et d'authenticité. On sent qu'un tourisme plus large peut se développer ici. Pour le moment c'est ambiance locale décontractée (en tous cas en juin) et c'était parfait pour ce que nous cherchions. En plus il est très facile de prendre le bus pour Split (compter quand même le temps des bouchons) ou de Trogir : super à visiter et bons départs pour excursions en mer. Plein de choses à faire dans les environs ! L'appartement est agréable, lumineux et très propre. S'il y avait une seule proposition d'amélioration : mettre plus d'ustensiles de cuisine et une étagère en plus pour poser les contenus des sacs plutôt que sur la table (mais c'est vraiment un détail). En tous cas : un grand merci Jelena ! Bonne continuation à toi et tes proches !
Marion
2016-06-26T00:00:00Z
Jelena and her family were very kind and helpful. We had everything what we needed. Near the apartament are shops, cash machine, restaurant. Apartament was clean and well equipped. I recomend this place ;) Jelena thank you for a nice stay!
Dominika
2016-10-07T00:00:00Z
Jelena i jej mama są wspaniałymi gospodyniami! Bardzo przyjazne, sympatyczne i pomocne. Każda nasza drobna prośba załatwiana była od razu i z uśmiechem. Jelena oferuje więcej niż trzeba- na zakończenie pobytu dostaliśmy przemiły upominek, który rozczulił i zostawił wspaniałe wrażenie. Tak zostaje się przyjaciółmi, choć dzieli nas tyle kilometrów. Jeleno, dziekujemy!
Dorota
2016-07-29T00:00:00Z
Kamertype
Gehele woning/appartement
---
Type woning
Appartement
---
Geschikt voor
5
---
Slaapkamers
Kaštel Lukšić, Hrvatska, Kroatië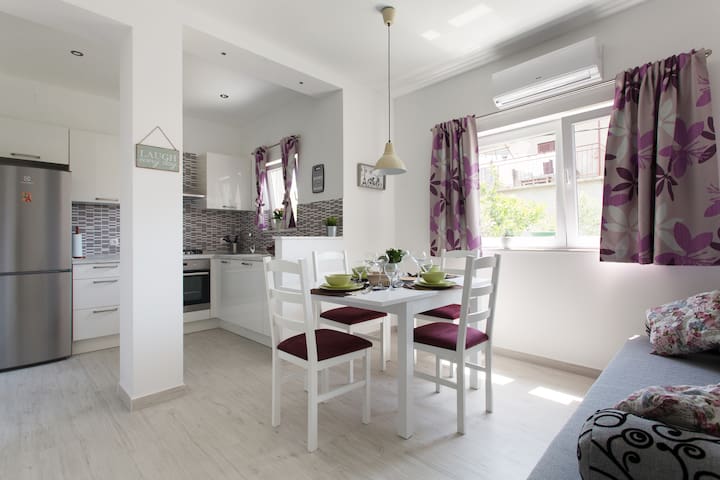 Dit moderne appartement aan zee in Kaštel Kambelovac ligt op slechts 50 meter van het dichtstbijzijnde strand. Het beschikt over een rustige maar gunstige locatie, korte busrit naar Split en Trogir.
Apartment on the first floor of an old stone house. 2 apartments are situated within the premises, each equipped to host up to 2 guests. Within both apartments, a bright double bedroom, a cosy living room and a well-equipped kitchen can be found.
Gebouwd in de eerste helft van de 16e eeuw, Kastel Gomilica Castle en Kastel Luksic Castle liggen beide op 10 minuten lopen. Het beschikt over een rustige maar gunstige locatie, korte busrit naar Split en Trogir. De prachtige omgeving van Kaštel Kambelovac heeft zandstranden, authentieke Dalmatische restaurants en een mooie boulevard.
Location was awesome. Hrvoje picked us up from the train station in Split and answered any questions we had about getting around. House was very nice and it was awesome to be able to to our laundry.
Amanda
2012-09-02T00:00:00Z
Nice little apartment very close to the beach. Hrvoje was very helpful with directions so it was easy to find. Great stay if you want to visit Split. Best recommendations!
Niels
2014-08-15T00:00:00Z
We stayed 10 days at Hrvoje's appartment and had a great time! The appartment was clean, lovely and fully equipped with everything we needed. Hrvoje was very flexible as we arrived at night and always available for questions and recommendations. He´s a very friendly person and was a great host!
Linda
2014-06-24T00:00:00Z
Hrvoje's apartment is an absolutely fantastic place to stay if you want to be close to Trogir or Split but are trying to avoid the crowds. It's also just a great place to kick back and relax since the property's right on the water with an awesome view out over the Adriatic. Hrvoje's a bit of a champ and more than happy to have a chat over coffee. He even brought me a jug of fresh cow's milk and a loaf of sugary bread! And that was in addition to generously giving me a bottle of local red on my arrival. A seriously good dude! The nearby shops have everything you could need, the internet connection was always fast and reliable and everybody in the area was always so friendly. It was hard to leave this place, I'll definitely try to come back and I'd highly recommend it!
Michael
2014-04-05T00:00:00Z
Hrvoje's seafront stone house was at a great location nearby Split (only a 20-min drive). The house is located adjacent to the sea and there is a nice beach nearby (a 3-min walk). The apartment had everything we needed - a/c, wifi, free parking, clean bathroom, and a comfy bed. We would definitely recommend this apartment.
La
2015-06-23T00:00:00Z
Alles exakt wie beschrieben, sehr sauber und nahe am Strand gelegen, zudem ist Hrovje sehr hilfsbereit bei Fragen aller Art - gerne wieder.
Michael
2015-09-09T00:00:00Z
A nice apartment at a very nice location. Wi-fi works perfect. You stay amongst locals – they gather on a small square just behind the house in the evening and in daytime fill up the beach a couple of hundred meters from the flat. Showers on the beach. Easy walking distance to bakery, supermarket and bus stop. Can highly recommend a close by restaurant with serving outside underneath large trees. We had dinner at that place each evening – a good idea to book a table or you might have to wait for a table. My best recommendations for Hrvoje as host – even if I had forgot the + when messaging him about our arrival (meaning he didn't get the message), he just showed up a few minutes after our arrival.
Jens Peter
2012-07-14T00:00:00Z
Appartement très sympa dans un village adorable et une vue superbe sur la mer. Quartier très calme qui correspondait à mes attentes. Propre, bien équipé, parfait.
christelle
2013-06-07T00:00:00Z
Kamertype
Gehele woning/appartement
---
Type woning
Appartement
---
Geschikt voor
2
---
Slaapkamers
Kaštel Kambelovac, Splitsko-dalmatinska županija, Kroatië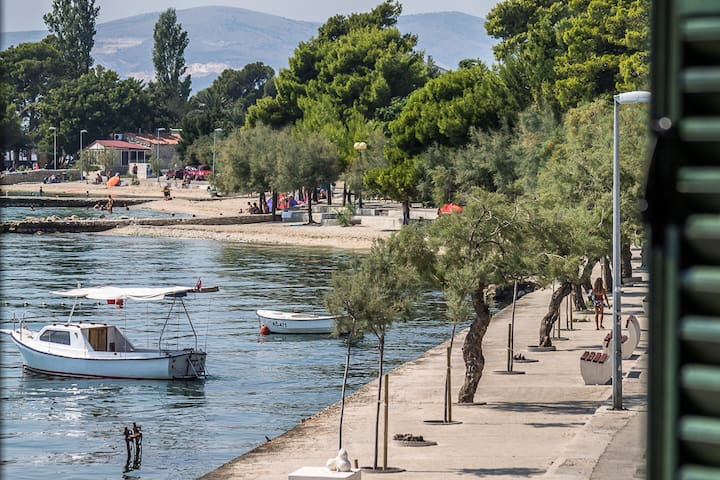 Description? Easy, panoramic view, fresh modern interrior. Full equipped with all those little things you would need for your comfy vacation. Wifi and parking are secured and free :). #RestWithStyle
4 stars apartment located in Kastel Stari just between 2 UNESCO cities, Split and Trogir. Located on the last floor of family house . The interior is modern designed and equipped. Spacious living room consists of the big sofa, kitchen is equipped with everything you will need , flat screen Smart tv with satellite channels, there is a cute balcony which looks both on the mountains and the sea. The bathroom is modern decorated and fully equipped. Air conditioner will make you feel good through all apartment. The bedroom is spacious with king sized comfortable bed . The exterior of the house is really big, offering a big green garden full of fruits, vegetables and flowers which are perfect for your walking and eventually picking up some fresh fruits and vegetables. Also, you can use fireplace for making BBQ as well as the exterior table so you can eat it as well on fresh air.
Peaceful and quite neighborhood with a lot of green area. You will enjoy the silence and great views full of colours.
We only stayed one night but the appartment is very modern, comfortable, clean and fully equipped. We had good contact with Nikola and his sister. And we also enjoyed the jam they offered us as a gift. We fully recommend this address.
Alexandre
2016-07-23T00:00:00Z
Отдых в этих аппартаментах был безупречным! Расположение, сами аппартоменты, все было великолепно, но особенно хочется отметить гостеприимство хозяев, Никола и его семья самые замечательные хозяева :)))! Мы отдыхали в этих аппартаментах 9 дней, и Никола и его семья сделали все возможное и невозможное,чтобы мы чувствовали себя комфортно,и чтобы наш отпуск удался! Большую часть отпуска мы провели без машины, и благодаря близкому расположению остановки поезда и усилиям Никола, мы этого почти не заметили :) Последние два дня мы снимали авто, это позволяет быть более мобильным и успеть песетить больше интересных мест, а посмотреть в округе есть что! Мы отдыхали с маленьким ребенком и ей тоже все очень понравилось, а она ошибаться не может!
Ирина
2016-08-19T00:00:00Z
Nicola's apartment was probably one of the most comfortable places we have been so far. It was a bit hard to find. But, once we got there everything went perfect. We were very well welcomed by Nicola. There was a fresh ice tea bottle in the fridge waiting for us which was what we really needed. It's close to Trogir, a very nice place to visit. Josipa was also very nice. Unfortunately, we stayed just one night as we were traveling between other cities by car. We highly recommend this place if you are traveling by car and want to visit Trogir or Split.
Paulo
2016-07-21T00:00:00Z
Nikola je bio izvrstan domaćin, naši tehničari su bili oduševljeni ljubaznošću domaćina, vrhunskim smještajem i svakome bi preporučili ovaj apartman i Nikolu kao vrhunskog domaćina.
ALEN
2016-07-14T00:00:00Z
Nikola is the best host I've ever met. His girlfriend is from Poznan and also he speaks a little bit Polish. His apartment was really beautiful and clean. We had a little problem with finding the place but Nikola came for us to the gas station and showed us the way. The apartment was so cozy that we stayed one more night. I definitely recommend Nikolas place.
Natalia
2016-09-20T00:00:00Z
Nikola provided extremely swift communication to us, and helped us a great deal when we ran into some troubles along the way. Despite our tenure having ended last week, he continued to follow up and provide help regarding our situation. Nikola is truly a gentleman and definitely one of the most responsible hosts I've met. His apartment was extremely modern, and for the price, it is definitely a bargain! It is about 15 mins drive away from the airport, so its really convenient. Amenities within the apartment are all brand new, and I couldn't have asked for a better place to spend my last night in Croatia!
Tan
2016-11-07T00:00:00Z
I hightly recommend Nicola's place to everyone one out there who is looking for a beautiful, well equipped and spacious apartment and an amazing host! so here is the story: we were a group of three friends roadtripping throughout Croatia and actually planned to camp with our tents wherever possible. However, the weather turned really bad (prosper thunderstorm...) that evening and we were desperately looking for a nice place to crash. It was already past 6 pm when we contacted Nikola on Airbnb and he responded immediately. We told him we would not make it to the apartment before 9pm but it was no propblem at all. Also I had only internet because we stopped at a petrol station with free wifi to send the apartment request. I asked Nikola to only contact me by text or call me on my mobile phone nr and a second later I had a lovely text and the confirmation for the night. Because of a construction site and the bad weather we only arrived in Kastel Stari shortly before 10 pm and couldnt find the place. A quick call and Nikola meet us at a near by petrol station to follow him home to the apartment. We finally arrived and asked Nikola for a recommendation where we could go for food. However he told us that the high season just finished we might have trouble to find a restaurant that late. We didnt want to bother him and said we'd figure something out but he insisted to bring us dinner from his downstairs flat. A minute later we had a big loaf of fresh bread, Croatian prosciutto, a block of chees, cold beers, a whole bottle of homemade hazelnut liqueur and a bottle of ice tea :) He wished us a lovely night and headed off with the words "If you need anything at anytime just text me or give me a call." What a perfect host. Checkout time would have been at 10 am but Nikola texted us in the morning that we shouldn't bother with the official checkout time, take our time and leave when it suits us. So we did, had a big breakfast, texted him at 11:30 am that we are ready to hand him back the key. He turned up a few minutes later, helped us with figuring out the ferry timetable to Brac, gave us recommendations for the island and left. IN SUM About the place: it is amazing, anything you could ask for, very hight standards for Croatia, so defo a 4* apartment! About Nikola: super friendly, helpful, generous and walking the extra mile for his guests.
Verena
2016-09-07T00:00:00Z
Communication was at a highest level, the host made us welcome right from the get go! He thouroughly explained us how to get to his place with our car and prepared some beverages for me and my girlfriend! The place itself was clean as a whistle, comfortable and warmhearted... He gave us directions we needed and gave us few tips on what to do with our short stay at his place!
Perović
2016-10-21T00:00:00Z
Kamertype
Gehele woning/appartement
---
Type woning
Appartement
---
Geschikt voor
4
---
Slaapkamers
Kaštel Stari, Splitsko-dalmatinska županija, Kroatië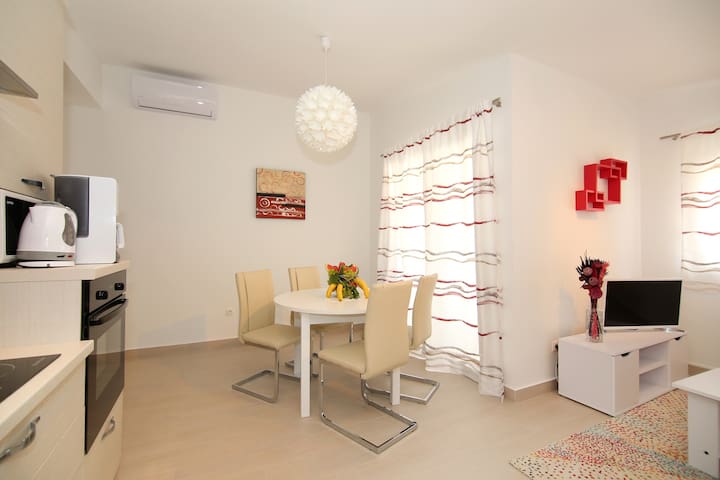 Apartments Penic offers you a new, comfortable room for 2 with private bathroom and balcony, little cooker for coffee, fridge and it's air-conditioned. 300 m from sunny beaches, 6 km from Trogir, 20 km from Split. Just 1 km from Airport Split.
After midnight neighborhood is quiet and peacefully.
Bon sejour, goran est sympa et serviable
patricia
2015-09-27T00:00:00Z
L'hôte n'étais pas là, c'est son père qui nous a fait rentrer dans les lieux, un très court état des lieux et il est parti. Nous ne l'avons plus revu après. La chambre et la salle de bain étaient très propres, la wifi est gratuite. En revanche, rien à faire aux alentours, mis à part la plage (ce qui est déjà bien) et un petit bar de plage. Les premiers restaurants sont à 2 kilomètres.
Hugo
2016-09-05T00:00:00Z
The room was very clean and we were welcomed by Goran's mother with baked goods. It was a very nice touch. This apartment is nice and close to the airport. The bathroom is down the hall. This is a perfect place to stay if you want to be closed to the airport.
carole
2015-09-26T00:00:00Z
Siamo stati bene in appartamento, grazie all aria condizionata. Ci ha accolti il padre di Goran, che ci ha spiegato molto, molto brevemente le varie cose. L'appartamento è pulito. È situato in una zona abbastanza deserta, non ci sono ristoranti o negozi (per mangiare abbiamo camminato 2 km), e le strade sono poco illuminate e sterrate. È situato a 1.5 km dall aeroporto, infatti si sentono spesso gli aerei decollare. Consiglio questo alloggio per chi avesse bisogno di essere vicino all'aeroporto, ma non per una villeggiatura.
Marco
2016-07-25T00:00:00Z
The room was very nice and clean and it was also nice to have own balcony. The location was just perfect for us because it is within 5 minutes driving distance from the airport. Eventhought the airport was close, we slept well and didnt actually hear any noise at night. Also the parking was free, and there were restaurant and a market near. We didnt met Goran but his mother was there for us and she was very nice and welcoming. We have nothing but positive things to say about Gorans place.
Niina
2014-08-11T00:00:00Z
bon accueil malgré notre arrivée tardive. rien à redire merci pour la nuit passée.
Jérôme
2016-07-14T00:00:00Z
The apartment was ideally located and served us well for the night we spent in Trogir. However, there was a lack of communication with Goran directly preceding our arrival which lead to some difficulties in finding the address and gaining access to the room. We were eventually welcomed by a lady who we presumed to be Goran's mother, who was very helpful. She even offered to drive us to the airport the following morning, should we require a lift.
Nell
2016-07-28T00:00:00Z
We found the apartment very easily and were warmly welcomed by Gorans parents. The communication was a little bit tricky but Gorans mom made it all work. We felt at home with her. We used the apartment in order to catch a (very very) early flight and for that is was perfect. It is an apartment with basic furniture but in perfect condition. For an overnight stay to catch a flight or when you spend your main time doing sightseeing and stuff - this apartment will be perfect.
Johanna
2015-04-05T00:00:00Z
Kamertype
Privé Kamer
---
Type woning
Appartement
---
Geschikt voor
2
---
Slaapkamers
Kaštel Štafilić, District Split-Dalmatië, Kroatië
Modern fully equipped studio apartment in family house with separate entrance (Free wi-fi, TV, Air con, heating, safety deposit box, fully equipped kitchen). Apartment is situated in the city centre just 30 meters from the main beach. Pharmacy, supermarket, bakery, children playground, coffee bars and restaurants are just near.
We had a very lovely stay at Ana's studio. It is exactly the same as in the pictures, very clean, modern and very cool (even without using the air-conditioner), which we enjoyed after a long hot day in the sun. Ana and her husband made us feel very welcome from the start and gave us some great tips on how to visit Split and Trogir.
Justien
2015-08-31T00:00:00Z
Nie mieliśmy okazji poznać Any, ale mieszkanie pokazał nam jej mąż Bosko. Udzielił nam wielu pomocnych informacji, a kontakt telefoniczny był na bieżąco.Apartament jest zgodny w 100% z opisem i zdjęciami na stronie. Jest czysty i przyjemnie urządzony. Dla osób, które tak jak my planują korzystać z transportu publicznego i tak podróżować do Trogiru lub Splitu, lokalizacja mieszkania jest idealna. Przystanek podmiejskiej linii autobusowej nr 37 znajduje się dosłownie w odległości 5 minutowego spaceru. Dla osób chcących spędzać czas na plaży mieszkanie położone jest również dogodne - morze znajduje się w odległości zaledwie 100 m. W bardzo upalne dni ulgę przyniosą 2 sprawne klimatyzatory. To były dla nas niezapomniane wakacje i z czystym sumieniem możemy polecić ten apartament:)
Katarzyna
2015-07-31T00:00:00Z
Relaxed Stay Ana is very kind and friendly and was very flexible on our arrival.She helped us to print our boarding tickets and had a good idea for our evening Dinner. The food at "Stalla" was great. The apartment has a very nice interior and looks like on the photos. The beach is only a few seconds away, so it`s perfect to have a short swim. Thanks Ana and good luck for you and your family.
Hiltrud
2015-07-10T00:00:00Z
Nice welcome and ready to support in any occasion
Eric
2016-08-29T00:00:00Z
Nagyon kellemes egy hetet töltöttünk párommal Ana stúdió-apartmanjában. Minden a leírtak és látottak szerint volt. Az ágy két személyre is teljesen kényelmes, a konyha teljesen felszerelt, a fürdő szuper. Teljes körű volt a biztonság is - apartmanon belül is és kívül is. Tisztaság, rendezettség, praktikusság jellemzi a helyet. Remek kiindulási pont a környék bejárásához. Kellemes a kis terasz is. Csak pozitív véleményünk van. A parkolás is jól megoldott. Tulajdonképpen csak az érkezéskor és a távozáskor találkoztunk házigazdánkkal - de nekünk ez pont megfelelt, de bármi kérdésünk vagy problémánk lett volna, sms-ben bármikor el tudtuk volna érni Ana-t. Üdvözlet: T
Tamás
2016-07-26T00:00:00Z
We had a wonderful, relaxing stay. Thanks very much!
Simon
2014-08-24T00:00:00Z
5 stars for Ana and her beautiful apartment! We were for a week in Anas little apartment and we can´t say any bad things about this holidays. It all starts before our vacations where Ana was everytime available for any type of question. The same thing directly in vacations!! We enjoyed to stay at her and her wonderful little family!! The apartment was totaly the same like on the desciption and very compfortable for a week. With a perfect position for visiting the beauty of Dalmatia! Although the beach directly next to the apartment was perfect for swimming and relax. As result we can just say that the apartment and the wonderful hosts Ana and her husband are perfect for holidays in Croatia. We just can say thank you for this wonderful week and that we will come again for sure!! Carina and Nicolas
Nicolas
2016-06-01T00:00:00Z
Ana was great and the listing is just as described and shown on the pictures. A wonderful modern apartment (with parking) for a couple that is less then 50m from a beautiful beach and close to everything that you will need. Would definitely recommend this listing to anyone
Branimir
2016-08-15T00:00:00Z
Kamertype
Gehele woning/appartement
---
Type woning
Appartement
---
Geschikt voor
2
---
Slaapkamers
Kaštel Stari, District Split-Dalmatië, Kroatië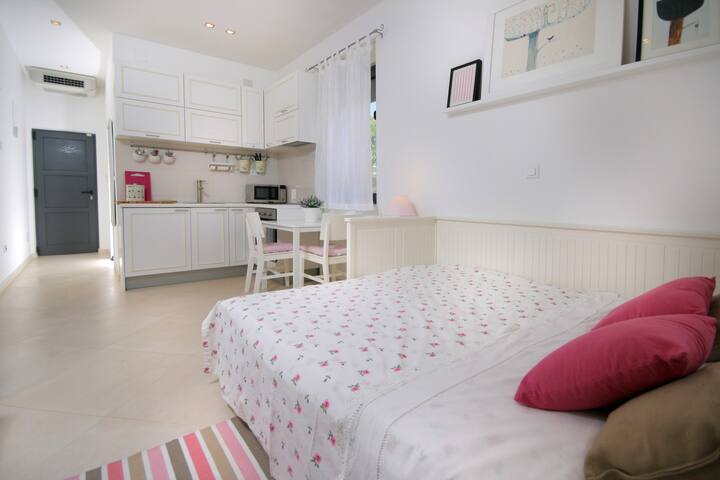 Modern studio apartment in the family house,close to beach,bus station and supermarket.Kaštel Štafilić is small town between Split and Trogir.Moreover,airport is 3 km away.
Small but spacious apartment and fully equipped with everything you need to have a comfortable and pleasant stay. Beautiful beaches,caffes,restaurants,grocery stores,post office,farmacy are in walking distance. Space also includes A/C, LED TV, free wifi, small kitchen with all necessary appliances. The ideal location in Kaštel Štafilić,one of seven medieval villages which from the city Kaštela and a perfect base to explore central Dalmatia of, set on the on one of the longest rivieras in Europe between two UNESCO heritage cities of Trogir (12 min) and Split (20 min),just 5 minutes driving distance from the airport Split.
Abbiamo soggiornato qui per 5 giorni ad agosto. L'appartamento è esattamente come descritto, piccolo ma accogliente. E' ubicato al piano terra, con ingresso in una piccola cucina, un bagno e una camera da letto. All'esterno è presente un piccolo terrazzino di pertinenza davvero sfizioso. Nell'appartamento sono presenti tutti gli essenziali ad eccezione del phon. L'appartamento è dotato di parcheggio privato. L'accoglienza di Onofrio e della sua famiglia è stata fantastica. Ci hanno subito fatto sentire come a casa. Il padre, Tony, ci ha anche offerto più di una volta dell'ottimo vino e dei fichi. Quando siamo andati via ci hanno anche lasciato qualche piccolo souvenir come ricordo. Saluto tutti con grande affetto, in particolare Aron e Mobi, i due simpatici cagnolini che ci hanno fatto compagnia durante il soggiorno. Unica nota negativa è il posto, Kastel Stafilic, che mi è piaciuto poco per le attrazioni turistiche, per la vita notturna e per le spiagge (il mare era un pò sporco). In ogni caso in 30 minuti si arriva agevolmente a Split e in circa 15 minuti a Trogir per cui è comunque un ottimo appoggio per visitare la zona. -- We stayed here for 5 days in August. The apartment is exactly as described, small but cozy. It is located on the ground floor, and it has a small kitchen, a bathroom and a bedroom. In the apartment there are all essentials except the phon. The apartment has private parking. Onofrio and his family were fantastic hosts. they made us feel so welcome. Onofrio's father, Tony, offered us good wine and figs. When we left the apartment, they gave us some souvenir. I greet all of them with great affection, especially Aron and Mobi, the two cute dogs that have been with us during our stay. The only negative is the place, Kastel Stafilic: I did not like the beach (The sea was dirty ) and the nightlife. In any case, in 30 minutes you will easily get to Split and in 15 minutes to Trogir, so it is still an excellent base for exploring the area.
Paola
2016-08-21T00:00:00Z
Paikka oli juuri sellainen kuin luvattiinkin. Meitä häiritsi hieman huoneistoon pinttynyt tupakan savu.
Lari
2016-09-04T00:00:00Z
This is a nice little apartment and our friendly host was great at coming to find us down the block (we couldn't see the house numbers). Great parking with a short walk to the grocery store and bakery. We just stayed for the night on our way to Dubrovnik and were gone early the next morning, so can't comment on any other local items. The only drawback is that there is a lot of traffic noise for folks who go to bed early - if you're a night owl then that might not be a problem since traffic did slow late in the evening.
Pamela
2016-11-10T00:00:00Z
Logement très bien situé entre trogir et Split, idéal pour une étape.
julie
2016-10-07T00:00:00Z
Great little studio, onofrio and his family were very nice and hospitable. Enjoyed my stay here.
Vasily
2016-09-10T00:00:00Z
We had a lovely stay. The appartment is smal but equipped with everything we needed. And what a lovely yard! From the airport it's just a short ride. Ana and her boyfriend are very welcoming, even offered some selfmade wine! Thank you :-)
Jasmin
2016-05-02T00:00:00Z
The host canceled this reservation 104 days before arrival. This is an automated posting.
Afton
2016-04-01T00:00:00Z
The apartment was really close to the beach. The house was nice as in the pictures. Onofrio and his parents were kind.
Krisztián
2016-08-05T00:00:00Z
Kamertype
Gehele woning/appartement
---
Type woning
Appartement
---
Geschikt voor
2
---
Slaapkamers
Kaštel Štafilić, District Split-Dalmatië, Kroatië
one bedroom apartment by the sea, 4 km away from the town centre
Decent inexpensive place 4km from trogir on the beach with restaurants nearby. Matilda wasn't around but her mother was around and was very helpful.
Andrea
2016-08-19T00:00:00Z
Kamertype
Gehele woning/appartement
---
Type woning
Appartement
---
Geschikt voor
3
---
Slaapkamers
Trogir, District Split-Dalmatië, Kroatië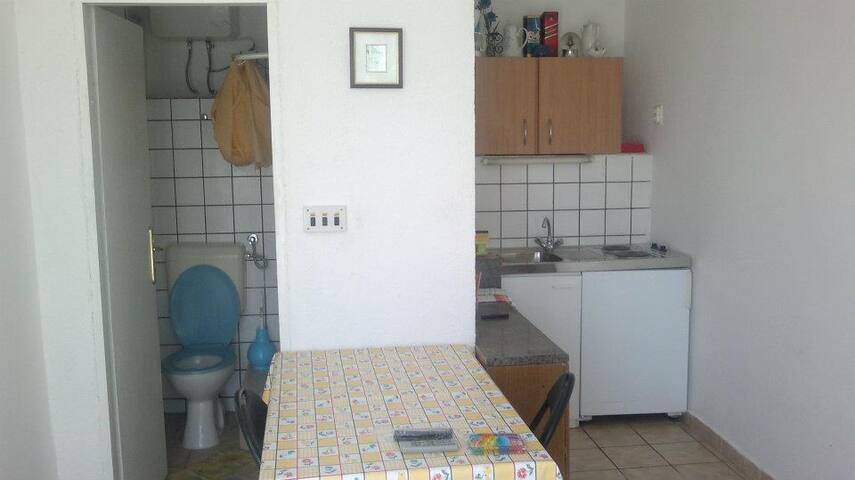 Apartman Marita je ukusno kompletno namješten i siguran smještaj pogodan i za obitelji s djecom. S balkona se pruža pogled na more i uređen vrt . Gostima je na raspolaganju kamin za roštilj, a moguće je dogovoriti i vožnju brodicom te doživjeti na poseban način Kaštela s morske strane. Ugodan boravak i svu potrebnu pomoć i upute osigurati će vam ljubazni domaćini .
Apartment is completely furnished, with three bedrooms, living room, kitchen, bathroom and one separated toilet and balcony. Distance from city of Trogir is 6 km, from Split is 17 km.
Apartman Marita se nalazi u iznimno mirnom susjedstvu, udaljeno je od prometnih cesta. U blizini je šetnica kojom može hodajući ili biciklom doći do centra mjesta. Obala je bogata uvalicama gdje možete pronaći i malo mira samo za sebe.
han sido solo dos magníficos días, nos hemos quedado con ganas de mas, pero el viaje debía continuar. Todo bien, limpio, cerca de la playa y lusitana siempre ha estado atenta con nosotros, gracias por todo.
Leonel
2016-09-22T00:00:00Z
Cette location était parfaite, nous étions 8 et souhaitions découvrir Split.Tres bon emplacement proche commerces et petite plage.Logement très propre, bien décoré, fonctionnel et confortable.Accueil chaleureux, hôtes très sympathiques et attentifs à toutes nos demandes.Nous recommandons cette bonne adresse.
laetitia
2015-08-09T00:00:00Z
Excelente , la verdad que el matrimonio es de lo más amable y educados , gente de verdad , la casa es tal cual como figuran en las fotos volveremos pronto gracias por todo
Martin Manuel
2016-09-25T00:00:00Z
Nous avons reçu u très bon accueil de la part de notre hôte, qui est venu nous chercher à l'aéroport à l'heure fixée. L'appartement est très propre et correspondait parfaitement à ce qui était décrit.
Nadège
2015-08-07T00:00:00Z
Lucijana was a very nice host, she tok us from the ferry station to her beautiful home in Kastela, near Split airport with a nice beach a few steps away.
Miguel
2015-07-11T00:00:00Z
Lucijana & her husband were most welcoming. They met us at the airport, took us to the supermarket to buy some provisions, then back to the apartment & then dropped us off at a restaurant. Next day she sent up a bowl of delicious doughnut type tiny balls that she had baked & later in the day, as it was pouring with rain, they gave us a lift to another very good restaurant & came to pick us up when we were ready to go home. Later in the week, when it was her day off, she drove us into Split & gave us a fabulous tour of the Old Town, which we never would have found ourselves. On the last day, she sent us up some more of the doughnut balls, & when she said goodbye, she gave us a lovely bottle of spirit & a special souvenir of olive oil. Her husband then gave us a lift to the airport.
David
2016-05-02T00:00:00Z
Nice flat near to the airport of split, the hosters were very nice and drive us to the airport !
Christophe-Arnaud
2016-10-02T00:00:00Z
Lucijana and her husband were amazing hosts. They picked us up and dropped us off at the airport. The house is amazing with a great view of the ocean. Perfect for a large group of people!
Jonathan
2017-04-08T00:00:00Z
Kamertype
Gehele woning/appartement
---
Type woning
Appartement
---
Geschikt voor
8
---
Slaapkamers
Kaštel Štafilić, District Split-Dalmatië, Kroatië
Only 20 meters from the most famous beach in Kastela and close to the public transport, situated in the heart of an old quarter. It takes 5 minutes with a car from here to Split airport. It has all the modern amenities you may need. You'll love it because of the ambiance and the view. Great for couples and families (with kids). Apartment was renovated with great care in 2016. Parking spot is available next to the apartment.
This apartment is owned by my family for over a century, it was renovated with love and passion in the spring of 2016. In the apartment you will find pictures by local painters from Kastela in two comfortable bedrooms, lovely kitchen, bathroom and a nice living room with flat tv and a surround system.
Great location in the heart of the old Kastela fishing quarter, next to the beach. Miles of beautiful beaches spread towards UNESCO World Heritage Site Trogir. Also there is delightful riviera that spreads towards city of Split, also UNESCO World Heritage Site.
Luka's place was the perfect place for us to base ourselves for our stay around the Split area and for a day trip to Krka national park. His place was big enough for the 3 of us and had everything we needed to feel at home. He even left us some welcome chocolates and a bottle of local liqueur which we didn't try but I am certain would have been delicious. :) I would have no issues staying here again and would recommend to anyone looking for somewhere nice and quiet outside of split, close to the airport, and in an authentic Croatian village.
Ryan
2016-06-26T00:00:00Z
L'appartement est très confortable, propre et récent. Il est bien situé à 2 pas du port, de la plage, des bars, restaurants. Idéal pour visiter Split, Trogir, Solin en profitant de la mer. Luka est très disponible. Le prix est très attractif. Chaudement recommandé.
Sebastien
2016-07-25T00:00:00Z
Nice apartment, great views of the ocean! Clean and organized.
Caitlyn
2016-10-28T00:00:00Z
Sehr nette und prompte Beantwortung aller Fragen. Alles lief super, auch unsere Anreisezeit war flexibel. Die Wohnung war toll, genauso wie beschrieben, wir haben uns sehr wohl gefühlt. Die Küche war hervorragend ausgestattet. In eine Minute erreichte man Meer und Strand! Sehr empfehlenswert!
Zsofia
2016-08-20T00:00:00Z
The apartment is everything you need for an authentic Croatian experience! Beutiful scenery to the sea from kitchen window. Apartment was very modern, spotless clean and freshly decorated. Very near to the beaches and harbour (max. 30-50 metres / 3 minutes walk) Little market just around the corner. Luka (the host) was absolutely perfect: Very friendly, helpful and gave us useful information on how to get around etc. This was our first Airbnb experience and we couldn't have hoped for a better host and apartment! 10 / 10!
Ari
2016-07-31T00:00:00Z
Luka was a great host, and the place was beautiful as well. He made the trip easy for me, and spoke great English, always having good advice on what to see, where to go, and how to do it. The apartment was just a few meters away from the beach, and the town was a quiet local place. No problem to get to stores or to the bus to ride into Split. The recently renovated apartment was great to stay in and looked just like the pictures. Would definitely go back here when I get the chance.
Dionys
2016-07-20T00:00:00Z
I had great time! Apartment is the new one, it is very peaceful place. Beach is 5 min away and Luka was great host! I recommend!
Kristina
2016-06-23T00:00:00Z
Luka's apartment was fabulous! Very close to the sea and had everything we needed. Any requests or queries before and during our stay were responded to quickly and helpfully and we were given great recommendations. The location is fantastic, only a minutes walk to the beach. 4 adults fitted comfortably in the apartment. Perfect location for a relaxing break in the sun.
Ellie
2016-08-27T00:00:00Z
Kamertype
Gehele woning/appartement
---
Type woning
Appartement
---
Geschikt voor
5
---
Slaapkamers
Kaštel Štafilić, District Split-Dalmatië, Kroatië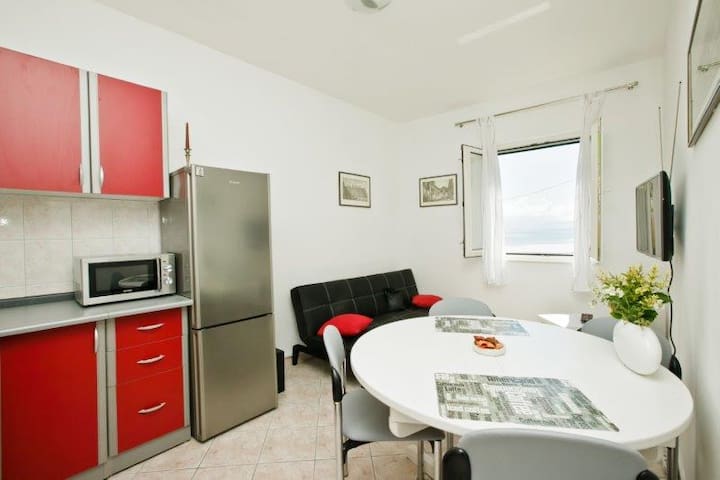 STONE HOUSE appartementen, gelegen in het oude gedeelte van het kasteel, de beste verhouding van huiselijk comfort, het moderne leven en plezier in holidays.Century oud stenen huis, hield van onze voorouders, biedt een romantisch uitzicht op de traditie van Dalmatië.
Dit appartement bestaat uit een keuken, woonkamer, badkamer en slaapkamer, die 45 m² gebied maakt. De badkamer bestaat uit een douche, toilet, wastafel, grote spiegel, kast voor toiletartikelen en een wasmachine. In de keuken zijn er vier stoelen, een eettafel en het is uitgerust met diepvries, magnetron, waterkoker, enz. De woonkamer bestaat uit een zwarte bank, een kleine tafel en een televisie. Andere accessoires zoals een wandklok, tapijten en gordijnen maken dit een aangename omgeving. In de slaapkamer is er een tweepersoonsbed, die een gescheiden kunnen worden indien nodig. De kamer heeft twee kasten en nachtkastjes naast het bed. Vanaf het balkon is er uitzicht op de zee op slechts ongeveer 50 meter afstand. Het hele huis is gebouwd van steen in een authentieke Dalmatische stijl overspannen over drie verdiepingen. Het uitzicht reikt de Kastela Bay, Split, Ciovo en BRAC. Afstand tot de zee ligt op slechts 30 meter
De stad Kastela strekt zich uit in een 17 km lange kust. aan de voet van de heuvel Kozjak. Het is gelegen tussen Trogir en Split, en is onder de bescherming van UNESCO.
Darko and his wife were amazing hosts! The apartment was super comfy and was located in a nice quiet area right next to the water and only a short walk to the beach. There was an amazing restaurant only a few minutes walk away with amazing food (my favourite of Croatia) with great prices. Darko was helpful enough to surprise me with a booking! I would definitely stay there again as it was a relaxing and care free. Thank you Darko!!
Lana
2016-07-11T00:00:00Z
The best part of this house, are for sure the owners. They received us with wind and cold drinks on the fridge and a warm wellcome. The house was very clean and just as the pictures. There was everything we needed inside the apartment. The Village is quiet and relaxing but there are plenty of restaurants and a supermarket nearby. I would definetilely recomend this house.
Sofia
2016-07-05T00:00:00Z
Darko is very welcoming, he Was waiting for us in front of his apartement and helped us to park. He greeted us with fruits and beers. The apartement is very Nice and clean. Kastel novi is lovely with everything available nearby.
Noémie
2016-08-20T00:00:00Z
Darko is the perfect host! He was always present for us, to tell us what we can do in the village and in Croatia. The appartment is exactly the same as pictures. (Clean, spacious) I recommand to everbody to go to Darko and his family!
Megan
2016-08-18T00:00:00Z
Darko and his wife are perfect hosts - always helpful and lovely!! the appartment is very nice and fully equipped. we stay there with our two kids and it was enough place for us. Kastel Novi is a very nice and relaxing city with nice beaches and good restaurants. it is placed between Split and Trogir - so very easy to visit both cities. Parking was no problem.. 100% recommendable! !!
Martin
2016-09-16T00:00:00Z
3 jours parfaits chez un couple chaleureux et serviables. Darko et sa famille sont fantastiques. Nous avons pu visiter la région de Split dans les meilleurs conditions. Appartement moderne et fonctionnel. Si nous revenons en Croatie nous y retourneront à coup sur. Merci. 3 pretexts days with warm and helpful couple. Darko and his family are really amazing. We discover Split, Hvar and Trogir in perfect conditions. Cosy and fonctionnal appartement. Next time in Croatia we'll stay there again. Many thanks.
Chevalier
2016-07-09T00:00:00Z
Sto utilizzando airbnb da qualche anno ormai ma non mi era mai capitato di incontrare delle persone così gentili, disponibili e ospitali. Due persone speciali Diana e Darko. La casa era molto bella e profumata nella zona migliore (Kastela) per visitare Spalato, Trogir ed Isole!!!! Un mare molto bello, autobus vicino, supermercati nella zona, ristorante Konoba Intrada molto buono!! Assolutamente consigliata
giacomo
2015-09-11T00:00:00Z
Very pleasant flat in a nice area. we spend two nights and everything was perfect. Hosts are really kind. Thanks again for everything. I recommend this place.
Capucine
2016-07-17T00:00:00Z
Kamertype
Privé Kamer
---
Type woning
Appartement
---
Geschikt voor
4
---
Slaapkamers
Kaštel Novi, District Split-Dalmatië, Kroatië
Een verblijf in Kastela zal uw adem weg te nemen, en in onze mooie en recent vernieuwd appartement voelt u zich als thuis, om uw vakantie nog specialer, aangenaam en uniek zal maken, en ik verzeker u zult willen om terug te komen. Kom en geniet!
Geweldige Locatie! Appartement is slechts een korte 10 minuten rijden naar Trogir en op 15 minuten rijden van de stad Split
We had a really good time at Velimir's apartment. The location is exceptional, so close to the sea, the beach, the marina and the restaurants. We also really enjoyed the patio with its BBQ. The apartment was very clean, nicely decorated. Also Velimir helped us a lot finding a motor boat to rent. Finally we appreciated to be located at Kastel Kambelovac and not in the touristic city of Split (which is very close).
Isabelle
2016-08-01T00:00:00Z
We were very happy to visit Velimir and the family. They are very hospitable and friendly, attentive to details, ready to help, well disciplined and accurate with time and simply absolutely charming people))))) The apartment is brand new, very clean, equiped with all you need including domestic appliances like oven, big easy to use range, washing machine, etc. Moreover, the beds and pillows are big and comfortable. There is fast WIFI. The host provided us with a lot of towels. I'd like to admit that the layout of the apartment is good and the apartment is roomy and well illuminated. The garden is in perfect condition with closed green terrace and place for BBQ. Parking place is inside the territory of the house. The Location is really nice it is 1-3 minutes walk to the beaches, near to the best restaurant in Kastela. It takes 10 minutes drive to Trogir and 15 to Split. In Kastela there are a lot of supermarkets. The place is quiet and not noisy. From this place it is easy to drive to most tourist attractions in Croatia. All in all the apartment is exellent and we definitely recommend it to everyone!
Irina
2015-09-17T00:00:00Z
Velimir was waiting for us upon arrival. He gave us a tour of the apartment, offered suggestions of places to eat and where to find groceries. The apartment was exactly as described. Extra bedding, towels, numerous dishes and cooking utensils. Comfortable, clean, quiet, and conviently located near the pebble beaches. We thoroughly enjoyed our stay and we would highly recommend it to others.
Tiffany
2016-07-02T00:00:00Z
Great
Luciano
2016-09-04T00:00:00Z
Great experience staying at Velimir's Kastel getaway. It's a beautiful house and just a 10min drive to Split. Velimir was very responsive to any questions/requests. - excellent host!
Jerry
2016-07-19T00:00:00Z
This wonderful small town beach house is right in front of see view. It is brand new, spotless, beautiful and so comfortable place. Very quiet and A.C. in summer will make u feel relax. 5 min.to the beach, restaurant, bus station(if u like to visit Split or Trojer.). The owner was very kind and welcomed us. He even taught my husband stick shift driving. They are very nice and warmhearted family. This place our favorite vacation place. Two thumbs up. We definitely recommend for everyone. Especially who has kids...they also provide us baby cot for my toddler. Thanks so much Velimir.
Eunjung
2015-07-22T00:00:00Z
Dear Velemir, We had a wonderful time in your nice apartment. Thanks to you and your family for being helpful and generous. Kastel Kambelovac is a quite relaxed village - we especially liked Trogir, the nearby town. CU next year!
Michael
2016-10-29T00:00:00Z
We really like to stay in this apartment. Velimir's girlfriend was waiting for us and told us all about the apartment and what to do. The apartment is new and is in very good condition and with private parking. Is very well located right on the beach and in a quiet area. We can walk on the beach and has a good restaurant and supermarkets near the apartment
Antonio
2015-08-18T00:00:00Z
Kamertype
Gehele woning/appartement
---
Type woning
Appartement
---
Geschikt voor
4
---
Slaapkamers
Kaštel Kambelovac, Kroatië
Comfy Studio close to the airport in small town of Kastel Stari. Very quiet and green surroundings. Connection with Split City by BUS no. 37 from a stop very close by (30 mins ride). In the 200 meters radius you have a seaside, post office, bank and a supermarket. Some very nice restaurants and beaches in the area too.
Staying in apartmant was nice, the room is big and cozy...
Milica
2016-07-26T00:00:00Z
Tomislav a été très disponible et accessible. Facile à joindre et discret. Son studio est parfaitement équipé pour un court séjour, il est idéalement situé tout proche de la plage. Le quartier est familial et charmant. Je recommande une étape chez TOMISLAV
ASTRID
2016-08-09T00:00:00Z
It was absolutely great to spend few days in amazing Kastela and additionally to live in this cosy, beautiful studio. The interier of studio is the same like in the photos, so comfortable. I also appreciate locality, it is so close to sea and beaches. And finally, Tom is very kind and willing. Thank you so much for everything :) :) :) I hope that I´ll come here in the next time again.
Jana
2016-08-04T00:00:00Z
Our stay in Tomislav's studio was just one word: PERFECT! First of all the place was exactly like on photos, which is important when you book. Secondly it was very clean and equipped with all necessary things that you can think of. The place is close to the beaches, restaurants and at the same time quiet and relaxed. If I go again to this part of Croatia, I will definitely go to the same place! All the best!
Luka
2016-07-11T00:00:00Z
Communicating with Tomislav was easy and correct, even that we had not met in person. We had a nice time in the apt. Even it's close to the street, it's not too loud as in the house area is pretty quiet.
Manol
2016-07-30T00:00:00Z
Très bien accueilli, hôte sympa arrangeant et remise des clés rapide. Le logement est bien situé plage à quelques pas. Je recommande!
Eva
2016-08-20T00:00:00Z
très propre et très bien situé, a 100metres de la mer :) idéal pour une petite balade du soir :)
vincent
2016-07-22T00:00:00Z
We had a great time at the apartment. It was very nice and clean. Tomislav was not there because he was on vacation himself, but his sister hosted us very well. But he also answered all our questions very fast by mail. We would recommend the apartment.
Marius
2016-07-02T00:00:00Z
Kamertype
Gehele woning/appartement
---
Type woning
Appartement
---
Geschikt voor
3
---
Slaapkamers
Kaštel Stari, District Split-Dalmatië, Kroatië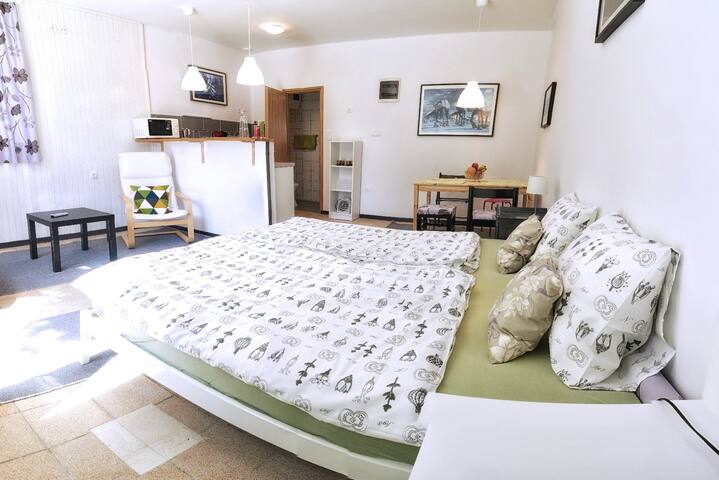 Rudine - Airbnb
:
Gemiddeld

4.85

van

5

sterren op basis van

427

gastrecensies
1

–

18

van

300+ Appartementen te Huur