Holzrahmen Chalet im rustikalen Gehöft auf 23 Morgen Küstenwald im Salmon River-Tal, in der Nähe Sayward Dorf und Berg Cain. Eine seltene Oase dem Weg nach Norden von Vancouver Island. Genießen Sie das Panorama von der Terrasse, die Bibliothek und Holzofen. Venture auf das Meer-Kajak, Whale-Watch, alpine Wanderung, zu Fuß zu den ältesten Bäume auf dem Planeten. In der Saison Alpinski & Ski-Tour am Mount Cain. Der Besitzer ist ein geprüfter Bergführer, geführte Hütte auf Basis alpine Wanderungen und alpine Skitouren zur Verfügung.
Lyle zog auf diesem rohen Land vor 25 Jahren. Er entwarf und baute alle Strukturen Materialien aus dem Land verwendet wird. Gebäude ist im Gange. Die neueste Struktur wird durch seine langjährige Führungs beeinflusst und Beratung im Himalaya.
Bergabhang Farm liegt im Salmon River Valley. Das Tal ist von Berg H'Kusam, dem Ort des jährlichen Endurance Event "The Kusam KLIMB" dominiert. Der Salmon River fließt in den Ozean an Kelsey Bay in Sayward Dorf. Kelsey Bay, Johnstone Strait und Robson Bight sind die Standorte für die Anzeige der Bewohner Orca Wal pods.Whale-Watching-Touren können bei Kelsey Bay (Sayward) und Telegraph Cove angeordnet werden Es gibt viele selbst geführte Spaziergänge und Wanderungen in der näheren Umgebung, von einem einfachen Spaziergang zu einem Multi -Tages Wanderung. Wir sind bequem auf den Berg Cain, gelegen, die (in der Saison) bietet, ist die beste Powder Insel für die Skiläufer und Reiter. Lyle bietet eine Hütte Basis geführte Alpinski-Tour Reise auf dem Berg H'Kusam. Wir sind ein Gate-Weg in den Norden von Vancouver Island, die viele Möglichkeiten zum Wandern, Kajak bietet, zu erforschen Kultur der First Nations und vieles mehr!
We only stayed an evening here but wish we'd stayed longer. Amiti and Lyle's place is beautifully build and perfectly positioned in the mountains. Hope to visit again!
Rob
2016-08-24T00:00:00Z
We stayed here for one night but could've stayed for a week! It's a beautiful clean open house with amazing views and tranquility! Love staying here so much!
Daniel
2016-08-17T00:00:00Z
What a great place to stay for our family. If you are in the area, plan for a few days at this special home.
Sage
2016-08-05T00:00:00Z
We had a relaxing stay here after a lovely day of skiing at Mt Cain. We loved the layout with its cozy nooks and wished we had a few more days to enjoy the serenity offered at Amiti and Lyle's place in Sayward. Hope to return another time!
Sameen
2017-03-26T00:00:00Z
Amiti and Lyle's cabin is in a beautiful location and is a perfect place to unwind. They were extremely helpful and incredibly warm, welcoming hosts. It's a very special place and we felt very lucky to spend such a cozy Christmas there.
Sonya
2016-12-26T00:00:00Z
This unique mountain home is a very special place to stay. It's secluded yet close enough to put in big days skiing at Mount Cain. The bedrooms are all very comfortable with lots of natural light and nice views. The fireplace and library in the living room make it tempting to curl up inside all day, but there is so much to do nearby. Make sure you spend enough time here for both relaxing and adventuring!
Sam & Adele
2017-02-14T00:00:00Z
Amiti and Lyle's home was the perfect respite from our over-stimulated city life. Nestled into the edge of the forest, every detail of their home has been carefully and lovingly built, pulling together the simultaneous feeling of spaciousness and coziness. Panoramic views from almost any location with an array of small gathering spaces, we felt connected to the land, rather than separated from it. We slept deeply, we snuggled around the fireplace, and we joyously cooked up a storm with their well stocked kitchen (note there is limited freezer/refrigeration space). We are already trying to figure out when we can go back.
Joshua
2016-07-24T00:00:00Z
Such a wonderful and warm place. We wish we had spent more time there. Communication was excellent.
Alex
2016-07-13T00:00:00Z
Kamertype
Gehele woning/appartement
---
Type woning
Huis
---
Geschikt voor
6
---
Slaapkamers
Sayward, British Columbia, Canada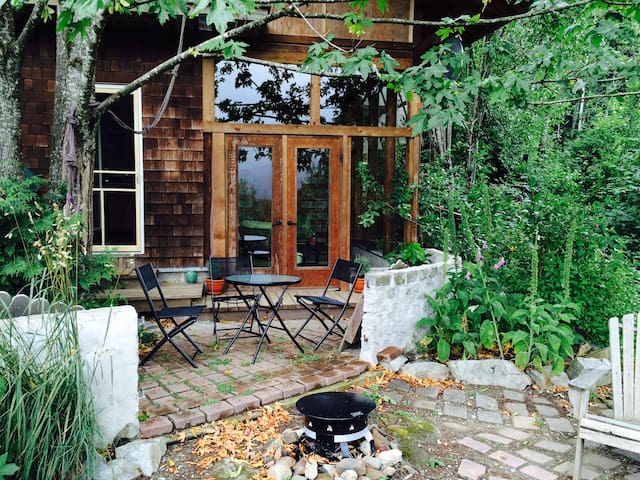 Il nostro lodge accogliente è immerso nei boschi appena fuori Sayward sulla bellissima isola di Vancouver della Columbia Britannica. E 'il luogo ideale per rilassarsi dopo una giornata di avventure, lo sci, la caccia, o di lavoro. Le nostre opzioni soddisfare tutti i viaggiatori. Le scelte vanno da una camera deluxe con camino e bagno en-suite a letti ostello a prezzi accessibili. Se siete alla ricerca di un posto di vacanza, un luogo per un ritiro, o un luogo per rilassarsi dopo una giornata di lavoro a livello locale, abbiamo quello che ti serve.
Prezzo indicato è per l'affitto di tutti i 9 camere. Le camere sono disponibili anche separatamente, con l'accesso a tutte le aree comuni.
opportunità abbondanti per l'eccitazione e il relax partono nostra porta di casa. C'è una piccola cascata in loco, e alci spesso visitare il nostro prato. È possibile raggiungere a piedi il fiume Salmon dalla nostra porta, e ci sono una vasta gamma di escursioni nelle vicinanze. Canoa, kayak, pesca, caccia, paddle boarding, golf, sci alpino e sci di fondo, osservazione delle balene, o anche solo ammirare alcuni alberi enormi, è tutto accessibile da qui.
Kamertype
Privé Kamer
---
Type woning
Natuur/eco-lodge
---
Geschikt voor
16
---
Slaapkamers
Sayward, British Columbia, Canada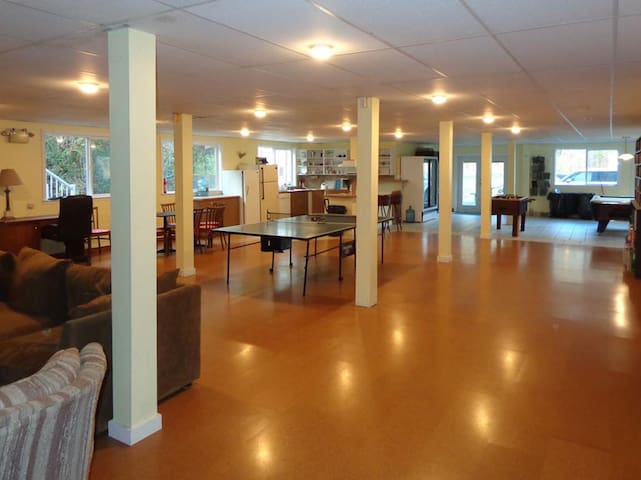 Panoramafenster und Tannenhölzern bringen die Natur in dieser charmanten Hütte auf der West Thurlow Insel. Es ist eine vollkommen zivilisiert Basis, um die wilde BC Küste zu erkunden. Genießen Sie alle Annehmlichkeiten im Sommer, oder ruhige Abgeschiedenheit im Winter.
Kamertype
Gehele woning/appartement
---
Type woning
Houten huisje
---
Geschikt voor
6
---
Slaapkamers
Blind Channel, British Columbia, Canada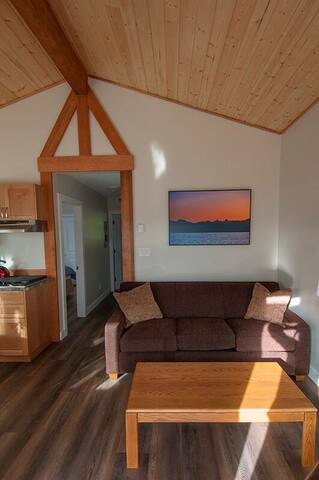 Adorable studio cabin for two with tons of character on enchanting Shoal Bay. Amazing mountainscape views of the bay - best views around. Darling porch. Mosaic shower and art-boutique decor. Includes shower, bathroom, and kitchenette. This property is on a remote island that can be reached by the following: Water Taxis available from Campbell River via Wayward Water Taxi. Float Planes available from Campbell River, Seattle, Victoria, and Vancouver via Kenmore, Coral, & Central Mountain Air.
A peaceful and magical cabin in a breathtaking sea-side, mountain setting. Accesible by boat or floatplane only.
The place was beautiful, extremely comfortable, relaxing, and better than we even hoped. The hosts were extremely attentive and made us feel very welcome. They also gave us as much privacy or space as we wanted. The hosts run a "pub" for dock and cabin guests each evening which allowed us to have a beer or cocktail and talk with interesting visitors. The overlook/gold mine trail was just right for a short exercise and island excursion. We HIGHLY recommend this experience.
Lizbeth
2016-08-16T00:00:00Z
Kamertype
Gehele woning/appartement
---
Type woning
Houten huisje
---
Geschikt voor
2
---
Slaapkamers
Shoal Bay, British Columbia, Canada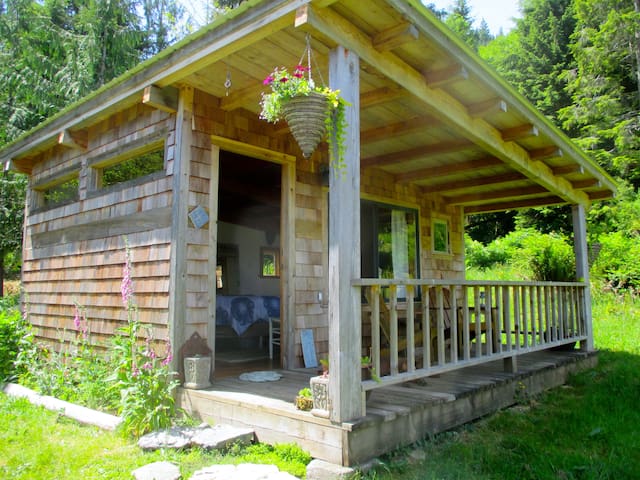 2 Bedroom Boutique Cabin style House with the dramatic back drop of Mainland Moutain and sea views. This property is on a remote island that can be reached by the following: Water Taxis available from Campbell River via Wayward Water Taxi. Float Planes available from Campbell River, Seattle, Victoria, and Vancouver via Kenmore, Coral, & Central Mountain Air.
Loft and main floor bedrooms with wood burning stove. Kitchen with undercounter fridge and 4 burner gas stove. Bathroom complete with shower stall. All overlooking Shoal Bay and the coastal mountains.
Shoal Bay is completely off the grid and produces all of it's own electricity. Fresh water comes from a fresh water stream and many of our vegetables come from our own beautiful garden. Of course we will be happy to share not only our lovely garden produce but fresh delicious crab, prawns, and fish directly from the bay itself.
The cabin on Shoal Bay is the winter home for Cynthia and Mark. In the summer they live above the Pub which has been a landmark at Shoal Bay for eons. Being a real home, it has the feel and ambience of a real home: substantial, appropriate for the environment and in every way delightful. The couple is well known for miles around being the proprietors of the local pub and warfingers for the public dock – which, incidentally, also serves the cabin and pub. They are friendly, helpful and gracious hosts. Much of Cynthia's art decorates the place (her work is exhibited at museums and art galleries worldwide) and even the kitchen accoutrements are an eclectic mismatch of antiques and modern. I don't think two cups or mugs are the same. Some of Cynthia's work is for sale at the pub. Since the island has no roads, no store and no restaurant it is ideal for boaters who would like to stay on land a day or two without forgetting why they came here in the first (URL HIDDEN) experience the scenic drama that is BC's coastline. We thoroughly recommend the place.
Barrie
2015-07-10T00:00:00Z
Shoal Bay is simply stunning. We very much enjoyed our week long stay and plan on returning. The hosts made us feel very welcome. We had good luck with the fishing - Coho, Chinook and Halibut. A true off the grid experience!
Kelsey
2015-09-05T00:00:00Z
This is a very special place. It's a hard-to-find combination of stunningly beautiful, remote, yet also connected through the stream of boaters coming to enjoy the dock, scenery, gorgeous garden and beer. We spent 10 lovely days on East Thurlow, and easily filled our days with fun activities and friendly conversations. We hiked, kayaked, swam (in cold, brief spurts), fished, cooked, ate, read, talked, napped, sipped wine as the sky turned pink, and drank Dark & Stormies as an impressive storm rolled through (which caused boaters at the pub to run to their boats to batten down the hatches!). We had our 1-year old daughter with us, and she thoroughly enjoyed practicing her walking skills down the long dock and learning how to ride in the kayak. We really loved the beauty, uniqueness and friendliness of the island. Local boater, fisherman and friend of Mark & Cynthia, Larry, generously caught us some amazing seafood during our time there. We also caught the most gorgeous Chinook salmon you've ever seen with a local guide from Denham Bay and enjoyed it for a couple days. Heads-up to future travelers: not many regularly scheduled water taxis go out to the island, so you will likely have to charter a boat, which is not cheap. Call around ahead of time for the best rate, or try to combine your trip if you can. We also brought all our food for our 10-day stay, which worked out perfectly. Cynthia and Mark were very kind to help us store food in a 2nd refrigerator, and they helped get us whatever we needed. You can definitely get food from Cynthia's beautiful garden but you should bring enough to get by on your own. We would love to return someday!
Meredith
2016-07-25T00:00:00Z
Best place I've been to in a long time. Great hosts and met some very friendly people. Ideal for someone who wants to get away from the touristy areas and experience the beauty nature has to offer. Asked the kids what they enjoyed the most (i) Disney resort in Hawaii or (ii) Shoal Bay and both said Shoal Bay was better. This is what makes AirBnB so great! Without AirBnB we would never have discovered this gem. Thanks Mark and Cynthia!
Riaan
2015-08-10T00:00:00Z
Kamertype
Gehele woning/appartement
---
Type woning
Huis
---
Geschikt voor
4
---
Slaapkamers
East Thurlow Island, British Columbia, Canada
Charming two-bedroom, two-level cabin full of character in enchanting Shoal Bay. Stunning view of Norwegian-fjord-like mountainscape of breathtaking British Columbia. Pot-belly stove and piano. Includes full-kitchen, and bathroom. This property is on a remote island that can be reached by the following: Water Taxis available from Campbell River via Wayward Water Taxi. Float Planes available from Campbell River, Seattle, Victoria, and Vancouver via Kenmore, Coral, & Central Mountain Air.
Be our first guest! We've just joined AirBnB and are building our reviews. Come at a huge savings as one of our first guests!
This island is one-of-a-kind. Tucked away in the Vancouver archipelago, it's a once in a lifetime experience to get away in such a serene and beautiful natural environment. No car noise, and only a few friendly people around. The stars out here are incredible.
Kamertype
Gehele woning/appartement
---
Type woning
Houten huisje
---
Geschikt voor
4
---
Slaapkamers
Shoal Bay, British Columbia, Canada
Sayward - Airbnb
:
Gemiddeld

4.77

van

5

sterren op basis van

22

gastrecensies
1

–

6

van

6 Accommodaties