Renoviertes Bauernhaus "Ringgis" (150 Jahre und von den Behörden als "erhaltenswert"eingestuft). Der Raum ist eine offene Galerie mit 2 Betten: 1.6m + 1m. 1 privates Bad mit Lavabo, Dusche und WC. Frühstück inclusive. Zufahrt mit Auto ideal. Sonst werden Gäste am Bushalt abgeholt.
Das renovierte Bauernhaus steht oben auf dem Berg mit traumhafter Aussicht. Der zur Verfügung stehende Raum ist eine offene Galerie im OG (privater Eingang über Aussentreppe) mit 2 Betten (1.6m + 1m). Angrenzend ein WC mit Lavabo und Dusche. Grosse Terrasse und Hausplatz. Keine Nachbarn. Sehr ruhig. Decke niedrig wie in alten Häusern leider üblich (Achtung Kopf! Low ceiling, watch your head!). Das Wohnzimmer im EG darf jederzeit als Aufenthaltsraum oder zum Fernsehen benutzt werden. WLAN im ganzen Haus und auf Terrasse.
Das Haus steht oben auf dem Emmentaler-Hügel und demnach ist die Aussicht wunderschön. Die Zufahrt ist asphaltiert. Wir sehen die Berge und in der Ferne die Berner Alpen direkt von der Terrasse aus. Sonst sind rundum Wiesen und Wälder wo im Sommer Schafe, Alpaca und Kühe grasen. 2 Km bis Dorf Aeschau , 6 Km bis Eggiwil, 10 Km bis Langnau, 30 km bis Bern und 67 km bis Interlaken. Sehr schöne und interessante Wanderungen können gleich ab Haustür unternommen werden.
Therese en Rolf zijn zeer gastvrij en doen hun best om je te helpen bij vragen over de omgeving/activiteiten. Ze zijn makkelijk in de omgang en je hebt ook echt het gevoel dat je welkom bent. Het huis is mooi en schoon en je hebt een fantastisch uitzicht van de omgeving. Door mijn lengte (1.88m) moest ik wel gebukt door de kamer/badkamer lopen. Beneden was dit geen probleem.
Lex
2016-08-30T00:00:00Z
Theresa's place was a unique experience. Located on top of the village, over looking a gorgeous and scenic landscape, it was a a great experience. The home was immaculate. Will definitely visit again, albeit once the upstairs bedroom has the roof lifted! Thanks for a lovely stay Therese.
Neil
2015-10-06T00:00:00Z
ruya gibi bir manzarası var bayan threser çok samimi ve nazik bir insan.
Ağafendi
2016-06-02T00:00:00Z
주변 경치가 환상적인 전형적인 스위스 농촌마을이다 하루를 자고 오기는 너무 아쉬운 곳이고 주인 아주머니의 꼼꼼한 배려가 너무 고마웠다 fantastico!!
Tae-seob
2017-03-30T00:00:00Z
Couldn't find a perfect word to describe how grateful both me and my sister to have the chance to stay at Therese & Rolph/Rolf 's the Ringgis! Both of them are so friendly and helpful. We arrived on the Sunday evening and due to the irregular bus schedule Therese drove all the way to pick us up at the Signau station. She even invited us to have dinner with them on the night before we leave the place (the dish is marvelous!) on the day we checked out both Therese and Rolf brought us to the local restaurant to experience the culture there. Therese can speak fluent English and shared with us lovely stories of how she and Rolf rebuilt the Ringgis and lots of other great stories of the place. We feel sorry that we hardly can speak and understand German else we can chat more with Rolf too. Overall it is great experience to stay with them. Highly recommended and the Ringgis has a great view looking at the mountains/ hills of Switzerland. It is very convenient too if you wish to take train from Signau/Lagnau to Luxern or Interlaken. Thank you for the greatest experience! Thumbs up!
Shi-Hui
2015-11-10T00:00:00Z
Therese est très gentille, très accueillante et son chalet est magnifique! Le décor est très joli autour et la vue est splendide. Le petit déjeuner fut très bon. Therese nous a donné beaucoup de conseils sur les visites à faire et nous avons aussi eu d'agreables conversations. Mon amie et moi recommendons bien évidement. Encore merci pour nous avoir recommandé d'aller au Niessen car c'était super :) à bientôt si nous repassons dans le coin
Yoan
2016-10-30T00:00:00Z
Nous avons passé un charmant weekend suisse chez Thérèse et Rolf qui sont absolument adorables et très chaleureux! Leur chalet en bois est perché tout en haut d'une montagne avec une vue imprenable sur la vallée et les sommets au loin. Au pied de la colline et sur les conseils de Thérèse, nous avons mangé au Tanne, petit restaurant de spécialités suisses avec en prime un band d'accordéonistes pour l'ambiance!! Une expérience typique à deux pas de Bern!
Marie
2015-10-18T00:00:00Z
Therese is so energetic and kind host. Everything's so clean and smell really good(definitely because of lavender!) If you like nature, gardening, and Switzerland's real house in the mountain, you should go Therese's house. so great!!!!
Danbee
2016-10-08T00:00:00Z
Kamertype
Privé Kamer
---
Type woning
Huis
---
Geschikt voor
3
---
Slaapkamers
Eggiwil, Bern, Zwitserland
Uw huis in een rustige woonwijk is het ideale vertrekpunt voor uw activiteiten in Bern. Ons huis biedt twee gescheiden Elke kamer voor 2 en 3 personen. Een ontbijt geeft je de energie die u nodig heeft voor een mooie dag.
Je verblijft in een prachtig oud huis omgeven door een grote privétuin. Het huis is gelegen in een rustige en vredige wijk Bern. Het werd gebouwd in 1894, maar volledig gerenoveerd in 2008. Uw prive ruime kamer op de begane grond flat, die je deelt met Jonas en kunnen twee andere reizigers. Ons huis ligt dicht bij het centrum van Bern, op slechts 7 minuten lopen van het beroemde beren pit en de historische oude binnenstad. Een 15-20 minuten wandelen brengt u naar het centraal station van Bern. De ruime kamer nodigt u uit voor een kort of lang verblijf. Gratis wifi. De vloeroppervlakte van uw kamer is ongeveer 25 vierkante meter. De twee comfortabele bedden kunnen worden samengevoegd tot een kingsize bed. Een derde extra matras kan op de grond worden gelegd tegemoet. Een ingebouwde kast voor uw persoonlijke bezittingen is beschikbaar. Vers beddengoed en handdoeken zijn aanwezig. EXTRA: we zullen informatie geven over onze favoriete plekken in Bern. Wij kunnen ook een aantal goede restaurants en bars. Bern heeft ook een geweldig nachtleven. Toeristische informatie over de stad en de regio Bern is voorzien. U krijgt een kaart van de stad gratis te krijgen. Gratis wifi is voorzien.
De flat is gelegen in de prachtige wijk genaamd Obstberg, één van de oudste wijken in Bern met een aantal historische gebouwen. De beroemde schilder Paul Klee woonde hier tijdens zijn jeugd.
prachtig huis ,vlakbij het centrum van Bern, makkelijk te bereiken met de auto en heel rustig gelegen. Heel vriendelijk ontvangst van Jonas, met alle nodige tips om te weten waar we naartoe moesten. Een aanrader
kristin
2015-09-22T00:00:00Z
Even alles laten zien, sleutels gegeven om elk moment in en uit te kunnen. Ov kaart gekregen, wat ook handig kan zijn. Parkeerplaats voor de auto tot onze beschikking. Prima locatie, je bent snel in de stad! Het is niet lux, maar schoon en verzorgd. Jammergenoeg de eigenaren zelf bijna niet gesproken omdat we zelf een druk programma hadden.
Silvia
2015-08-23T00:00:00Z
Danke für den angenehmen Aufenthalt; die Ruhe, die schöne stadtnahe Lage und die sehr freundlichen Vermieter...absolut empfehlenswert; wie auch die Möglichkeit, ein Frühstück zuzubereiten, es war alles vorhanden, und im Garten zu verweilen. Abgesehen davon, daß die Betten sehr bequem waren!
Anja
2014-06-10T00:00:00Z
jonas's house is very nice and wonderful, especially near to old town. i enjoyed old town without too much walking. but though i wished to see host, could not see him because he were very busy. i was very happy in jonas's home. i will book at jonas's home when i will go to swiss.
규원
2014-07-20T00:00:00Z
The room is perfect! It's the best house I've ever booked on airbnb, the location is very close to the old city and the nearby area is very quite and beautiful. Room is quite big, the bathroom and kitchen room is clean and comfortable. Jonas is also very nice and recommended a great restaurant to us. We had a very great time in Jonas' house. 这间房间超赞!地理位置非常好,临近老城区和熊苑,从火车站坐车也相当方便。街区非常漂亮和安静,房间、浴室、厨房都很干净并且舒服,还提供早餐。我们非常喜欢!以后还会入住的!
嫣
2015-12-07T00:00:00Z
Jonas ist ein toller Host und gibt sich viel Mühe einen individuellen Aufenthalt zu gestalten. Er kennt sich sehr gut in Bern und im Umland aus und kann einem viele Tipps geben ob Restaurants, Unternehmungen oder wo man abends weggehen kann. (: das Zimmer ist richtig schön und man fühlt sich sofort wohl. (: für Frühstück ist gesorgt und wir hatten die Wohnung meist für uns alleine. Jederzeit gerne wieder!
Daniela
2017-02-19T00:00:00Z
Jonas's space is a bargain for Bern. Located in a quiet residential neighborhood not far from the old town, the room is a good space to unwind. Getting to the house may be a bit tricky at first, but there is an efficient bus system to get one outside of old town, after which you must take a short but healthy stroll up a scenic hill to the house. Jonas generously allowed us to use his kitchen, where we sat and read in the evenings. His parents also came by and greeted us along with an energetic pup named Alma. The welcome was warm and the place was great! Thank you, Jonas and family!
Diana
2014-11-26T00:00:00Z
예정보다 늦은 시간에 찾아 갔지만 호스트가 기다리고 있었습니다. 친절하게 안내를 해주었고, 집 시설도 좋았습니다. 호스트의 성격도 좋고 친절했습니다. 귀여운 강아지 또한 너무 좋았습니다. 특히 가장 좋은 점은 숙소의 위치 입니다. 주변에 버스 정류장이 가까이 있고 걸어서 주변에 접근이 쉬웠습니다.
INHO
2016-06-09T00:00:00Z
Kamertype
Privé Kamer
---
Type woning
Huis
---
Geschikt voor
3
---
Slaapkamers
Bern, Kanton Bern, Zwitserland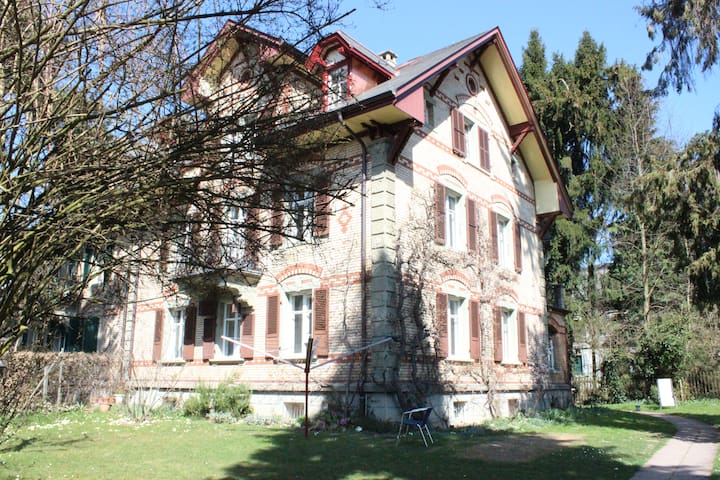 Rosengarten, Zytglogge, Bärengraben liggen met de bus gemakkelijk te bereiken. Ook het Stade de Suisse en de PostFinance Arena liggen binnen handbereik. Zeer geschikt voor koppels en zakenreizigers.
Douche baden, goed uitgeruste keuken, een eettafel en een bank. TV, radio en WLAN. Wasmachine en droger kunnen worden gedeeld.
Kamertype
Gehele woning/appartement
---
Type woning
Huis
---
Geschikt voor
2
---
Slaapkamers
Ostermundigen, Bern, Zwitserland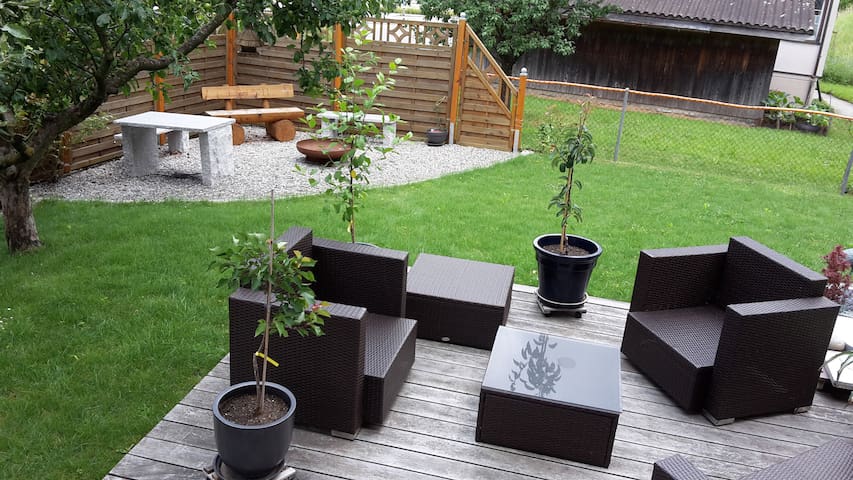 The place to stay is located near the capital of Switzerland, Berne, it has a wonderful view, is close to art-, culture- and sport events, has good public transport and is close to countryside. You will love our place because of its great atmosphere, our uncomplicated hospitality, the bright and cosy rooms, the possibility to sit in the wild garden. Our place is good for couples, single adventurers and business travelers.
It is located at a nice place, in calm surroundings, it has a big and charming garden, a Wintergarden, big and cosy rooms.
There are many old trees in the neighborhood.
Kamertype
Privé Kamer
---
Type woning
Huis
---
Geschikt voor
2
---
Slaapkamers
Ittigen, Bern, Zwitserland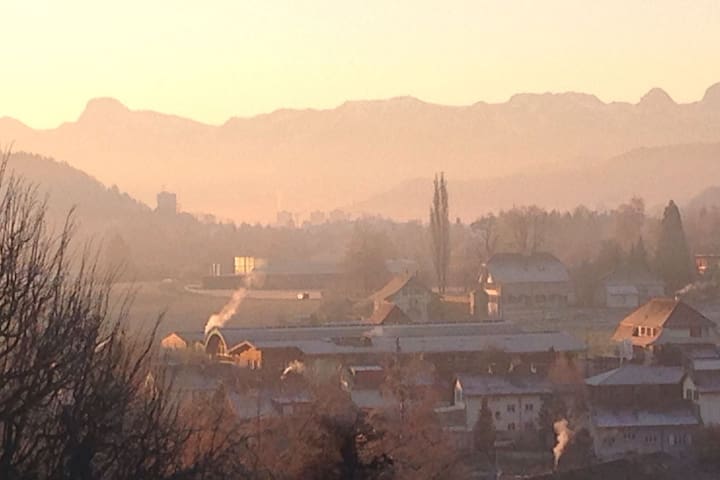 Here you experience the sounds of nature as water, wind and light.
Kamertype
Gehele woning/appartement
---
Type woning
Huis
---
Geschikt voor
4
---
Slaapkamers
Linden, Kanton Bern, Zwitserland
Our house is really great located. In winter you can skiing or snowboarding on piste 3 min walk from the house. In summer you can walk over the extensive hiking trails. You will love this place. Lucern is 40min and Bern 1 hour.
Great located in the mountains between Luzern and Bern. Our house can comfortable accommodate 6 people. (for bigger group i can offer next extra bed)
Piste, hiking trails, bio food, Emmental cheese and biscuit factory...
Roads were very difficult to reach there from Luzern. No GPS system find the house correctly and not many peoples in this village knows Monika. It took us one hour to find the house. House was not clean and had some insects inside bedroom. There was some dirty smell coming everywhere. KItchen and washroom were not clean . Security level at it's low level. Main doors were open whole night and no lock for bedroom. My wife fall down on wait floor near steps. It was not easy to go in bedroom with small child and big luggage. I will never recommend for family with small kids.
Santosh
2015-08-13T00:00:00Z
Communication prior to arrival was not good enough, lack of response. Didn't meet Monika either because she was out of town but her family was so nice and welcoming. I will miss the village and all the memories there. Her mom, dad and brother treated me very nice, I felt like a family member.
Khairul
2015-04-12T00:00:00Z
It was a journey of a lifetime for me at Lucerne..! One of the most serene locations and would be hard to describe with words and I doubt if all that beauty can be confined in a picture..! Monika was very good host ,her family was well prepared to pick me up at the bus station, and everything was well arranged..! The bathroom and the bedroom was all clean and very well maintained. Privacy was at its peak and the warmth their family members showed to me was astounding! I will always want to go back when time permits and would recommend the place highly for the ones who want to take their holiday in Switzerland. The place is well connected by train and overall I loved it ! Thanks !
Sudhir Kumar Raj
2015-05-10T00:00:00Z
It was a great experience staying at Monika's flat. We were very nicely greeted by her father, who showed us the flat facilities. The place was very spacious and perfectly.
Omer
2015-02-17T00:00:00Z
Unbeliveable location! Great place & wellcoming! מקום מדהים במיחד בתוך ההרים הגבוהים של שוויץ. יפה נקי ומסודר מומלץ Thank you,Dushana!
elchi
2015-05-16T00:00:00Z
When we made our reservation half a year ago, we believed we had booked an entire house like we always do (after almost 10 bookings on AirBnB before). On arrival we were welcomed by the parents of Monika, who showed us one big bedroom. Our son isn't used to sleeping in the same room, which can result in a sleepless night for all of us. Despite this unfortunate surprise the people were welcoming, although they spoke little English. They tried their best to accommodate us.
My
2015-07-16T00:00:00Z
The hosts are very nice and friendly people. It's a lovely cottage in the mountain.
Jiajing
2015-06-02T00:00:00Z
Although I did not meet Monika, she was very helpful via email and on the phone. I stayed with her family and they were so kind to me. I feel I could not have asked for better hosts. I even arrived one hour late because I missed a train connection, and they still were so kind and welcoming to me, even though they had been waiting an entire hour and I had difficulty notifying them on time. I also came sick and they were so caring - - buying me cough drops, cooking for me, and making me special tea. They took me to see some great things in the area as well. I loved it - the location was so idyllic in nature and I had a wonderful time with them. I never expected such wonderful and generous hospitality; I left feeling incredibly inspired, lucky, and grateful. I hope to return.
Lisa
2015-06-10T00:00:00Z
Kamertype
Privé Kamer
---
Type woning
Huis
---
Geschikt voor
3
---
Slaapkamers
Hasle, Luzern, Zwitserland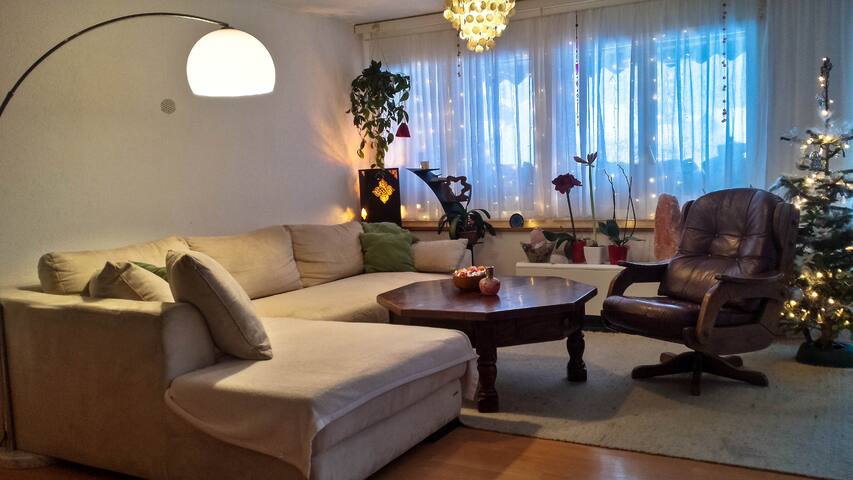 My house is near public means of transport, forest, shopping center and the Moossee. My guest room is suitable for single travelers, adventurer / inside and Business Travellers. w-lan is present, an office table is in the guest rooms.
the bathroom is shared.
Ich war nun schon das zweite mal bei Marianne und habe mich wieder sehr willkommen gefühlt :) Sie ist sooo lieb und cool und egal ob du Ruhe brauchst oder Lust auf ein Glas Wein mit ihr hast, es ist alles möglich :) Vielen lieben dank
elissa
2016-11-23T00:00:00Z
Accueil des plus chaleureux de Marianne (cerise sur le gâteau j'ai mangé une fondu Suisse préparé par ses soins !!) Elle est très arrangeante. Totalement satisfait de mon séjour à Schönbühl. Je recommande vivement Marianne à toute personne cherchant un logement proche de Berne Mathieu
Mathieu
2016-11-21T00:00:00Z
Una casetta deliziosa, pulita, accogliente con una camera rassicurante e un letto comodo. Marianne accoglie come se si fosse amici di lunga data. Assolutamente da consigliare.
Simone
2016-12-15T00:00:00Z
I was the first guest for Marianne by AirBnB. I found her very kind and friendly. She let me feel like in my own home. The house is nice and the room is comfortable. I recommend this AirBnB.
Alex
2016-11-14T00:00:00Z
Eine 1-A Gastgeberin!!! Großzügig, freundlich und offen. Ein sehr sauberes Zuhause und nur eine kurze S-Bahn-Fahrt bis zum Stadtzentrum. Ich empfehle diese Unterkunft für alle Reisenden!
Hana
2016-11-28T00:00:00Z
Der Aufenthalt war super, Ich konnte sehr spät anreisen, wurde mit frischem minz - und Ingwertee verwöhnt und hatte alles was man braucht!
elissa
2016-11-18T00:00:00Z
In meiner ganzen Airbnb Kariere muss ich sagen, dass Mariane eine aussergewöhnliche Gastgeberin ist und übertrifft alle meine Begegnungen bei airbnb. Sie ist nicht nur symphatisch und Rücksichtsvoll, sondern vielmehr gibt Sie einem das Gefühl der Ruhe und Freiheit ohne Missverständnisse oder Abneigungen zu haben, was uns sehr gut getan hat, vorallem konnten wir uns a-priori in ihrem Haus so fühlen als ob wir uns in unser eigenes befinden...und kann es jedem nur empfehlen so eine Gastgeberin kennenzulernen.
Said
2017-01-31T00:00:00Z
Schönes, sauberes Zimmer. Ich habe mich sofort wohl gefühlt. Marianne ist eine super Gastgeberin!
Marie
2017-02-10T00:00:00Z
Kamertype
Privé Kamer
---
Type woning
Huis
---
Geschikt voor
1
---
Slaapkamers
Urtenen-Schönbühl, Bern, Zwitserland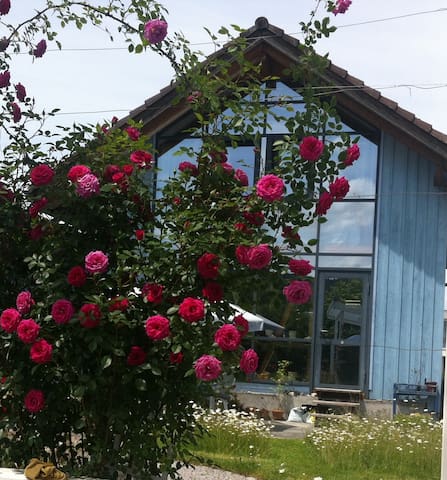 Das Haus liegt etwa 100 m Fußweg von der Emmentaler Schaukäserei (ideal zum Einnehmen von Mahlzeiten), am Ende einer Sackgasse (kein Verkehr), auf einem Grundstück von 1000 qm. Fußbodenheizung (Raumklima!), Teppichboden im gesamten Haus. - Der Gastgeber ist derzeit der einzige Bewohner des Hauses. - Sie reisen mit Kind(ern)? Nach Absprache können Sie Ihren Gastgeber als Babysitter buchen (Näheres weiter unten). - Infos für Raucher weiter unten.
Das lichtdurchflutete Erdgeschoss des Hauses ist, wie man auf einem der Fotos sieht, wie ein grosser Wintergarten. Da unseren Gästen die Möglichkeit geboten wird, das Erdgeschoss als 'Gemeinschaftsraum' mit zu benutzen - und da ja nur ein Appartement vermietet wird, mieten Sie eigentlich ein ganzes Haus mit grosser Terrasse. Für Kinder unter zwei Jahren muss kein Aufpreis gezahlt werden. Es steht auf Wunsch für Fr. 15/Nacht ein spezielles Babybett zur Verfügung ("babybay 100110 Original natur unbehandelt extra belüftet Beistellbett") Matratze Das Doppelbett im Gästezimmer (Hauptzimmer) hat eine Breite von 160 cm. Bei der Matratze handelt es sich um eine 7-Zonen-Matratze mit einem speziellen Bezug für Allergiker. - Für Gäste, die grösser als 1,80 m sind, gibt es eine extra lange Bettdecke. Frühstück: Auf Wunsch kann (zwischen 8 h und 12 h) ein Frühstück serviert werden (auch auf Ihrem Zimmer). Preis: Fr. 18,- für Erwachsene und Fr. 12,- für Kinder bis 14 Jahren. Nach Ihrer Buchung werde ich mich bei Ihnen nach besondere Wünschen für das Frühstück erkundigen und Ihnen Ihre Wünsche, soweit irgend möglich, zu erfüllen versuchen. - Gästen, die morgens VOR 9.00 h das Haus verlassen wollen/müssen, kann auf Wunsch für Fr. 15,-/Person ein 'Schnell-Frühstück' bereit gestellt werden (Kaffee/Tee aus Kaffeemaschine, Cornflakes/Müsli mit Milch oder Brötchen/Brot/Croissants mit Butter und Marmelade/Honig). Beim Bäcker neben der Schaukäserei (Mätteli-Beck) gibt es ein Frühstück ab 8.00 h. Die Schaukäserei hat ab 9.00 h geöffnet. Bewirtung: Abends (20.30 h bis 24 h) ist eine Bewirtung (Getränke und Snacks) möglich. Dies ist auch, abhängig von der Anwesenheit Ihres Gastgebers, tagsüber möglich. - Eine semi-professionelle Kaffeemaschine für die Zubereitung von Espresso und Cappuccino ist (selbstverständlich) vorhanden. 65''-UHD-Fernseher Im Gemeinschaftsraum (Wohnzimmer) befindet sich ein 65''-UHD-Fernseher (3D-Brillen vorhanden), der von unseren Gästen in den Abendstunden bis gegen 0.00 h nach Absprache (mit-) benutzt werden kann (nach 0.00 h nur noch das TV-Gerät auf dem Zimmer). Auf Wunsch können von diversen Streamingdiensten (z. B. Swisscom-TV, Apple-TV) Filme gegen Entgelt geladen werden. Separater Kühlschrank im Gästezimmer: Im Gästezimmer befindet sich ein kleiner Kühlschrank, damit unsere Gäste eigene Getränke oder kleine Mengen Lebensmittel kühlen können. Im Gästezimmer befindet sich ein Radio mit CD-Player und iPod-Dockingstation Sauna: Im Keller des Hauses gibt es eine Saune. Sie kann von Gästen genutzt werden. Fr. 25,- für das Anheizen und Fr. 5,- pro Person für Badetuch und Handtuch. Massage: Wir meinen, dass Pierre-à-Baus kann es mit jedem Wellness-Hotel aufnehmen. Ihr Gastgeber ist nicht nur Coach, er ist auch ein erfahrener Masseur (keine medizinischen Indikationen!). Eine Ganzkörper-Massage, und danach eine Sauna. (Falls Sie es bevorzugen, kommt aber auch gern unsere Masseurin ins Haus.) Tischtennisplatte: Große Terrasse und Rasen bei entsprechender Witterung nutzbar (z. B. zum Spielen, Tischtennisplatte vorhanden, kann gegen geringes Entgelt gemietet werden).
Ein wunderschönes schweizer Landhaus mit einem seriösen und feinfühligem Gastgeber. Dankeschön!
Achim
2017-03-04T00:00:00Z
Toller Vermieter! Ganz untypisch für einen Mann geht er richtig fürsorglich mit einem als Gast um. Wer fragt schon, ob man Frühstückswünsche hat, die nicht auf der Karte stehen?! Das hatte ich jetzt nicht erwartet. Es war auch überall sehr sauber im Haus. Und normalerweise schlafe ich in der ersten Nacht schlecht in einem fremden Bett. Dank der Matratze war's aber prima. Und auch schön: Es stehen keine ausrangierten (Sperrmüll-) Möbel im Zimmer, sondern die Einrichtung ist neu!
Gesine
2017-03-05T00:00:00Z
Kamertype
Privé Kamer
---
Type woning
Huis
---
Geschikt voor
4
---
Slaapkamers
Affoltern im Emmental, Bern, Zwitserland
Gelegen op 1 km (0,65 mijl) in de buurt van het centraal station van Solothurn en het prachtige historische centrum van de stad kunt u gemakkelijk een wandeling van en naar onze romantische huisje. Profiteer van de combinatie om uw eigen ruimte voor jezelf en de nabijheid van de bruisende nacht Solothurn leven en culturele activiteiten. Ideaal voor jonge koppels, backpackers of groepen personen (maximaal 4) op zoek naar een zeer unieke ervaring. Mijn vrouw en ik houden ervan om nieuwe interessante mensen te ontmoeten om ideeën te delen en te lachen! :-D
Die Unterkunft bei Martin ist absolut empfehlenswert! Gut gelegen, mit dem Kamin sehr gemütlich, geräumig. Das Gastgeberpaar war sehr freundlich und hilfsbereit - was braucht man mehr, um sich wohl zu fühlen? Die Lage ist genial, obwohl wir jahreszeitlich von der tollen Aussicht nur wenig mitbekommen haben. Wir würden immer wieder kommen! Vielen Dank
Lilian
2016-11-18T00:00:00Z
Die Unterkunft ist absolut einzigartig und an einer super schönen Lage. Alles war sauber und es hat alles was man braucht. Es ist einfach aber dennoch stilvoll eingerichtet. Die Gastgeber sind sehr freundlich und aufgeschlossen, alles klappte auf anhieb. Wir können diese Unterkunft gerne weiterempfehlen!
Christine
2016-12-17T00:00:00Z
Très bon accueil, le logement est très confortable et propre. Il est bien situé, je n'ai pas pu profiter de la vue car la météo n'était pas clémente. Martin et Ségolène sont sympas !
Pascal
2017-03-01T00:00:00Z
Wunderschöne ehemalige Jagdhütte, heimelig & romantisch.
Angela
2017-02-17T00:00:00Z
Ségolène and Martin are very relaxed hosts. They welcomed us with a filled fridge (breakfast) and fresh fruits! Their accommodation is beautifully situated, has a very nice fire place and is super quiet at night, you will sleep like a baby!! Nice hikes, just around the corner and Solothurn city is only 10mins by foot. I'd go there if I were you!
Sjoerd
2017-02-26T00:00:00Z
Für einen kleinen Kurzaufenthalt genau das Richtige. Ruhig und trotzdem zentral, in einem urigen kleinen Häuschen. Zwar ist die Treppe zu dem Matratzenlager nichts für Geh- und Rückenkranke, und nachts ein sehr waghalsiges Unterfangen, aber der Charme der Wohnung leidet nicht darunter. Sehr nette Gastgeber, sehr herzlich. Wir haben uns wohlgefühlt!!
Katrin & Paul
2017-03-28T00:00:00Z
Great Location, good service. Perfect place to be.
Michael
2017-01-22T00:00:00Z
L'hospitalité de Ségolène et Martin est unique et généreuse, ils ont tout fait pour que je me sente bien et m'ont accueilli de très belle manière. La maison est très agréable et le feux de cheminée rend le séjour encore plus beau. Merci pour tout, c'était parfait.
fra
2017-01-26T00:00:00Z
Kamertype
Gehele woning/appartement
---
Type woning
Huis
---
Geschikt voor
4
---
Slaapkamers
Solothurn, Solothurn, Zwitserland
Ein hübsches Zimmer wartet auf Euch,in einer sehr schönen ruhigen ländlichen Gegend. Aussicht ins Grüne, gutes Frühstück. Da der Gastgeber 5 Hunde hat, sind Hunde nach Rücksprache, erlaubt. Parkplatz beim Haus, kostenlos. Hilfsbereite Gastgeber.
Da der Gastgeber 5 Yorksher (Hunde) hat, ist die Unterkunft für Personen, die keine Hunde im Haus akzeptieren können, ungeeignet
De kamers zijn te klein en te vol gebouwd. Badkamer niet schoon en geen warm water beschikbaar omdat de zoon des huizes samen met vrienden de boiler had leeg gemaakt. Wel aardige mensen maar voor ons niet voor herhaling vatbaar.
Jan
2016-05-30T00:00:00Z
Ich hatte eine sehr schöne Zeit bei Olena und Urs, war sehr Familier und würde immer wieder dort einkehren!!!
Christian
2015-06-22T00:00:00Z
Sehr nette Gastgeber, gemütliches Zimmer und sehr leckeres Frühstück. Vielen Dank, wir kommen gerne wieder.
Marvin
2015-10-11T00:00:00Z
Olena and her husband are very friendly and helpful. They help us to explore lovely places close to their house. They have a nice house with beautiful view. We really enjoyed staying at their lovely house. I would definitely recommend this place!
Rike
2015-08-08T00:00:00Z
Sehr nette Gastgeber, ein Gutes und Reichaltiges Früschtück, Danke für alles, immer wieder gerne!!!!
Dimit
2015-09-24T00:00:00Z
Personnes très accueillantes, chambre et salle de bain propre, déjeuner très varié et copieux. Mon ami et moi avons passé un excellent séjour.
Yolande
2015-12-27T00:00:00Z
Vielen, vielen Dank nochmals Olena und Urs. Ich habe mich gefühlt wie bei Freunden, mit viel Herzlichkeit, Aufmerksamkeit und Hilfsbereitschaft. Habe super geschlafen und lecker gefrühstückt ;o) Wenn es passt, sehr gern wieder! Steffen
Steffen
2015-06-23T00:00:00Z
Eine freundliche und sehr bemühte Gastgeberin. Ein Schlafzimmer was der Beschreibung entspricht. Eigenes Bad. Gutes Preis-/Leistungsverhältnis.
Michael
2015-07-26T00:00:00Z
Kamertype
Privé Kamer
---
Type woning
Huis
---
Geschikt voor
2
---
Slaapkamers
Gondiswil, Zwitserland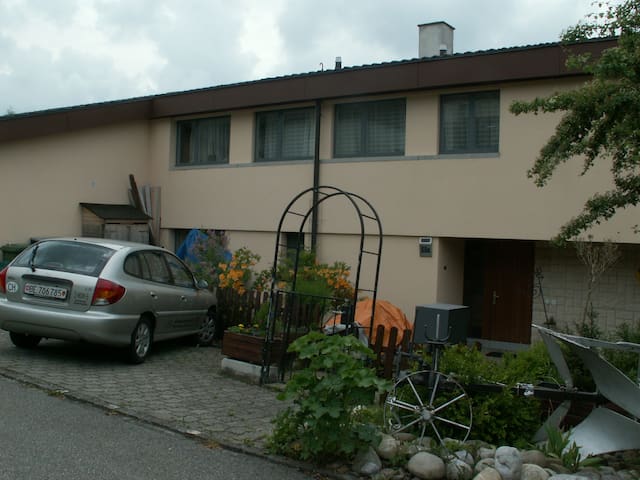 Gemütliches Gästezimmer in schönem Einfamilienhaus an ruhiger Lage mit Parkplatz. Nahe der wunderschönen Stadt Solothurn und der Autobahnausfahrt Kriegstetten, sowie Solothurn Süd. Die offene Küche, das Wohn-Esszimmer und der Garten können mitbenutzt werden. Es hat ein gemeinsames Badezimmer + 1 WC. Ihr Haustier ist auch gerne willkommen.
Das Haus ist hell und modern. Es verfügt über alles was man braucht und die 'Mitbewohnerin' steht bei Bedarf mit Rat und Tat zur Seite.
Man grüsst sich freundlich, tauscht ab und zu ein paar Worte. Am Wichtigsten ist aber, das Motto 'Leben und Leben lassen'.
Manuela is a very nice and frienly woman (always smiling), and the room very comfortable in a very nice house and huge bathroom!! Bed is really comfortable!!
MIGUEL
2016-11-27T00:00:00Z
Alles super, was kann man mehr sagen! Manuela ist eine tolle Gastgeberin!
Thomas
2016-11-29T00:00:00Z
Manuela hat uns schon beim ersten Kontakt das Gefühl gegeben, willkommen zu sein. Ihr Haus, das uns bei unserer Ankunft ganz allein, wie selbstverständlich, zur Verfügung stand, ist ein Traum, unser Zimmer war mit allem ausgestattet, was man sich wünschen kann. Erwähnenswert ist auch die Tatsache dass es einen eigenen Parkplztz vor dem Haus gibt. Diese Unterkunft und die Begegnung mit Manuela ist wirklich lohnenswert.
Jutta
2016-11-06T00:00:00Z
Ich konnte mich bei meiner Gastgeberin voll und ganz von anstrengenden Tagen ausruhen. Das Gästezimmer im Haus ist gemütlich, alles sehr sauber und liegt angenehm ruhig. Für diesen Erholungswert habe ich auch die Anbindung per Bus in die nächste Stadt in Kauf genommen. Auch die Kommunikation war stets rasch, somit konnte ich flexibel an -und abreisen. Gerne wieder!
Rieke
2017-03-22T00:00:00Z
Abbiamo passato una notte nella bellissima casa di Manuela la quale ha gentilmente accettato la prenotazione praticamente all'ultimo momento nonostante avesse molto da fare. La casa é stupenda, tutto pulitissimo e ordinatissimo, molto curato e organizzato, la doccia fantastica. Il letto, sebbene sia un divano - letto é molto comodo. I dintorni assolutamente tranquilli. I miei cani non sono stati un problema, anzi hanno ricevuto un sacco di coccole extra. Aggiungo che é veramente a pochi minuti dall'autostrada. Se ci sarà l'occasione sicuramente ci torneremo. Grazie Manuela!
sonia
2016-11-26T00:00:00Z
Es hat alles hervorragend geklappt. Ein modernes Zimmer, eine sehr nette und hilfsbereite Gastgeberin und ein super Preis/Leistungs-Verhältnis. Wir können die Übernachtung sofort weiterempfehlen.
Alexander
2017-01-07T00:00:00Z
Beautiful house, very nice host, we really would stay again with Manuela. Very quiet and nice neighborhood.
DAMIEN
2016-12-20T00:00:00Z
A wonderful stay in a very clean and modern house! The house is centrally located with easy access to Bern, Solothurn and the surrounding area. Supermarkets are nearby too. Manuela is a very welcoming and interesting hostess. We loved chatting with her over dinner. You are also able to fully use all facilities in the house and given space and privacy. Amazing value for money too in Switzerland!
Jodie
2016-12-08T00:00:00Z
Kamertype
Privé Kamer
---
Type woning
Huis
---
Geschikt voor
2
---
Slaapkamers
Biberist, SO, Zwitserland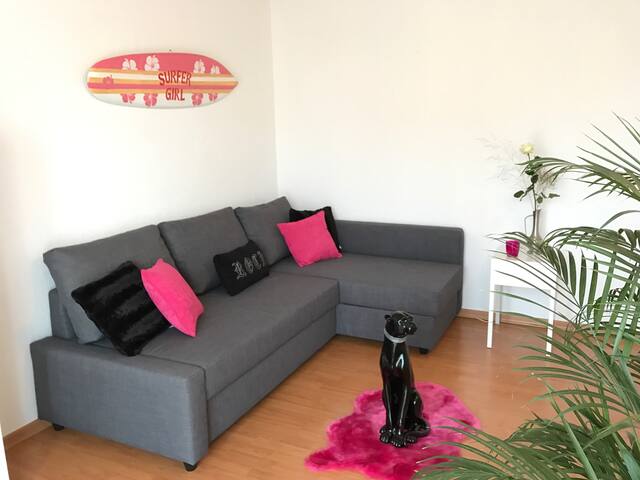 The B&B is an 18th century house, whose original character has been preserved to a great extent. It is surrounded by green pastures. The rooms are cozy with wooden floors and walls. Own toilet, shared bathroom. Parking place in front of the house.
Old wooden house in rural environment, familiar atmosphere. 2 twin rooms, babybed if required. Own toilet, shared bathroom. The place is not easily to reach without car.
Rural environment, no traffic noise.
Dit was reeds ons tweede bezoek aan Ruth en opnieuw hebben wij het erg naar ons zin gehad. Ruth is heel erg vriendelijk en wij - een familie van 4 - voelen ons alsof wij thuis zijn. Ruth spreekt 4 talen en naast het Nederlands spreken wij ook Frans. Voor ons is dit een supertussenstop wanneer we op bezoek gaan bij familie in Italie. Dus wij kunnen reeds zeggen: 'Tot de volgende keer!'
Marc
2016-02-29T00:00:00Z
Op doorreis naar Italie overnacht bij Ruth in haar heerlijke woning in Entlebuch. Prachtig gelegen in een Zwitserse valei. Luzern is op rijafstand en zijn daar dan ook wezen eten 's -avonds. Leuk huis, heerlijk ontbeten met als grote kers op de taart dat onze drie kinderen gratis welkom waren. Dank Ruth
Tom
2016-05-01T00:00:00Z
Uitstekend verblijf gehad bij Ruth. Zeer gastvriendelijke vrouw. Onze 2 kinderen vonden het geweldig, prachtige omgeving en ideale overnachting voor onze doorreis naar Italië.
Michel
2015-08-14T00:00:00Z
Ruth was a wonderful host. We really enjoyed staying at the farmhouse, and her breakfast and fondue was superb. The surroundings were very scenic, with loads of easily accessible walks. The town and railway station are within a short walk of the property. Ruth gave us excellent advice regarding trips, transport and excursions. Really looking forward to staying with her again.
Fernanda
2016-07-24T00:00:00Z
My family totally enjoy our stay with Ruth! We loved the rustic environment with cows at such close proximity, we drank milk which were milked moments ago, apples from the apple trees which were pressed into juice, ate cheese which were made by a cheese factory nearby, vegetables which were from the garden bed at the back of the house. Ruth is very attentive to our needs and offered us good suggestions on sightseeing places. She speaks perfect English and it was such a pleasure talking to her and exchanging views about social issues in Switzerland and Europe. My children and us missed Ruth's place the moment we leave Entlebuch. We hope to come back someday.
TONG MUI
2015-11-17T00:00:00Z
Ich bin leider krank geworden und konnte nicht zur Pension reisen.
Ilka
2016-02-22T00:00:00Z
Ruth did a great job of making us feel at home. She greeted us warmly and explained everything about our stay in her home. We enjoyed learning about the region while we had breakfast. The home itself was spacious and inviting, having the charm of a wooden house. And the area is beautiful to explore. We followed her recommendations for drives and trails. I would definitely stay there again.
Phil
2015-05-25T00:00:00Z
The b&b located in a farmland. We arrived in a cold evening but Ruth came out to welcome us. The old wooden house was warm and cosy inside and we had a sweet dream that night. In the morning you can see cows from the bedroom and the sound of cow bells were amazing. The breakfast was wonderful, the bread and jam were all handmade by Ruth. My family and I believe that Ruth is the best host we have ever met. Thanks a lot!
Xinyi
2015-10-21T00:00:00Z
Kamertype
Privé Kamer
---
Type woning
Huis
---
Geschikt voor
4
---
Slaapkamers
Entlebuch, Luzern, Zwitserland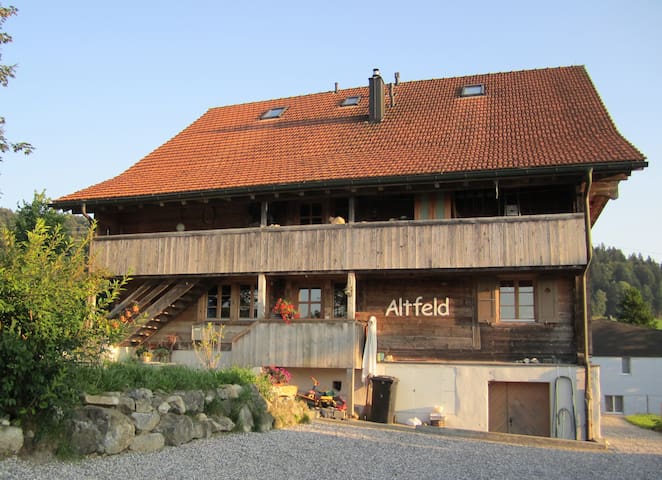 Cozy Studio, 5 minutes from the motorway junction A1 Bern-Zurich, exit Wangen an der Aare, a quiet and sunny location in the countryside. An ideal place to explore all of Switzerland. Arts and Culture (Reto Bärschi, Art Courtyard) 5 min. Walk away. Location, ambience, outdoor spaces and the natural environment will excite you. Ideal for couples and business people who want to treat themselves wellness and tranquility. Smoking is in Reduit and of course allowed outdoors at any time.
Een geweldig mooi appartement met alle luxe die je maar wensen kan. Zeer zeker aan te raden.
Annette
2016-12-18T00:00:00Z
Zwei wunderbare Tage durften wir in der Oase in Wangenried verbringen! Unbeschreiblich schöne momente die wir nicht vergessen werden ! Die Gastgeber sind so nett wie nie zu vor erlebt man fühlt sich gleich wie zu Hause! Vielen vielen Dank dafür
Tanja
2016-08-12T00:00:00Z
Die Unterkunft von Marlise und Roger ist, wie auf den Bilder zu sehen, sehr sauber, gemütlich und schön eingerichtet. Das Bett ist bequem, das Haus und die Umgebung sehr ruhig, so dass man gut schlafen kann. Zum Frühstück wurden wir mit Joghurt, Obst, O-Saft, Kaffee, Milch, Mutter, Marmelade, Nutella, einer gemischten Käse- und Wurstplatte etc. verwöhnt. Dazu gab es frisches, leckeres Brot. Marlise und Roger sind außergewöhnlich hilfsbereit. Sie haben uns Tickets für eine Veranstaltung in Bern organisiert und das Geld sogar vorgelegt! Wir haben uns sehr wohl bei ihnen gefühlt und würden jederzeit wieder buchen.
Werner
2016-08-18T00:00:00Z
The owner is very nice and clean well. wine also helped us pick up please travel. thrive!
아림
2016-09-15T00:00:00Z
Marlise went over and beyond all of our expectations... We were there to visit our first grandchild, yet also did a little business as well. She always asked us every morning/night what we needed. She kept our refrigerator stocked with morning food, ironed my shirt, and did a load of laundry the day before our departure. The family are great people in a wonderful, Swiss village setting. We WILL be back!
Wandell
2017-03-28T00:00:00Z
We had a great time at the apartament. It is a nice studio with a private kitchen and private bathroom. We were also allowed to use some inside and outside shared areas with terace, swimming pool, jacuzzi and you still get privacy there as much as you need it. The hosts were really hospitable, nice, friendly and sincere. They did everything to make us feel comfortable.
Andrius
2016-08-04T00:00:00Z
Die Gastgeber Roger und Marlise waren super nett und simpatisch!Wir haben unseren hochzeitstag bei innen verbracht!Das Studio ist sehr schönn,und die Benutzun von jacuzzi war toll,Marlise hat uns noch einen Moscato frizzante als geschenk hingestelt♡ Wir kommen bestimt wieder.
Licia
2017-01-13T00:00:00Z
Wir hatten ein mega schönes Wochenende bei Marlise & Roger und würden es jedem nur weiterempfehlen. Das Preis-Leistungsverhältnis war absolut in Ordnung! Frühstück im Kühlschrank, alles sehr sauber, schöner Whirlpool und allgemein wunderschöne Wohnung. Wir freuen und schon aufs nächste mal :-) Viola, Matthew & Nala
Viola
2017-01-29T00:00:00Z
Kamertype
Gehele woning/appartement
---
Type woning
Huis
---
Geschikt voor
2
---
Slaapkamers
Wangenried, Bern, Zwitserland
Im neu erstellten Hausteil vermieten wir eine freundliche 2 Zimmer Wohnung mit ruhigem Schlafzimmer, moderner Küche, Bad, Wohnzimmer. Zentralschweiz heisst mit dem Auto: 30Min bis Luzern, 50Min bis Zürich, 1h bis Bern oder Basel
Aus alt mach neu, aus dunkel hell und bring Freude, Licht und Freundlichkeit herein. Mit diesen Ideen haben wir unser Haus umgebaut und können nun Platz für maximal 5 Gäste bieten (3 in dieser Wohnung und 2 im Schlafzimmer mit Bad einen Stock höher - siehe unseren zweiten Eintrag bei AirBnB)
Grosswangen ist in der Schweiz sehr zentral gelegen. Wir haben rundum sehr schöne Velorouten, Spazier- und Wanderwege. Ein interessantes Naturlehrgebiet ist ganz in der Nähe. In 10-15 Minuten ist man in den historischen Städtchen Willisau, Sursee und Sempach. Alle sind sehr schön mit Stadttor erhalten.
5 sterne + vielen dank für alles - waren und sind begeistert
Miladin
2015-04-02T00:00:00Z
Rita와 Richard는 매우 친절한 host였습니다. 모든 것이 갖춰있는 Rita의 집은 cow bell 소리가 들리는 공기 좋은 곳에 위치해있습니다. wellcome drink와 nespresso coffee machine은 Rita의 환대를 경험할 수 있는 것들이었습니다. 공휴일이라 방문하지는 못했지만, 가까운 거리에 훌륭한 bakery가 있습니다. 전 세계의 여행자에게 open mind로 열려있는 Rita와 Richard를 만난 것도 스위스여행의 또 하나의 즐거움이었습니다.
Boyoung
2016-05-06T00:00:00Z
Wir wurden von Rita Brusa sehr freundlich empfangen. Die Wohnung mit der voll eingerichteten Küche ist komplett neu. Sie ist liebevoll eingerichtet und entspricht genau den Beschreibungen. Wir fühlten uns richtig wohl. Rita ist sehr hilfsbereit und wir konnten uns jederzeit mit Fragen an sie wenden. Diese Wohnung empfehlen wir gerne weiter. Walter und Rita
Walter
2014-09-20T00:00:00Z
Il soggiorno presso la casa di Rita e famiglia é stato estremamente piacevole. Casa curata, pulita, calda ed accogliente come da foto; dotata di tutto ciò che può servire per soggiornarvi davvero come a casa propria. Le comunicazioni con Rita puntuali e precise, l'accoglienza graziosa con una lavagnetta di benvenuti!! Immersi nel verdi e nella tranquillità della campagna Svizzera, a 30 minuti circa da Lucerna, in un alloggio davvero realizzato con passione ed amore, grazie ancora!
Cristina
2016-10-31T00:00:00Z
Wir waren mit einem Kleinkind (6 Monate) in der Ferienwohnung von Rita. Sie war super eingerichtet für Familien mit 1 Kind. Die Wohnung liegt in der Nähe von vielen Ausflugszielen und ist top eingerichtet.
Simone
2016-09-29T00:00:00Z
Best Experience Ever!! One of the most wonderful Experiences of our lives. We feel truly lucky and blessed to have chosen Rita's Place. First I would like to talk about our hosts. We did'nt at any point feel like Guests... We felt like family as we were treated like one. Rita's husband Richard fetched us from the Train station and waited sweetly and patiently for us as we missed our train. Welcomed us with a great smile and made us comfortable immediately. We really enjoyed with Rita and Richard as they made us feel truly welcome into their home. They Invited and took us to Children's Equestrian gymnastics at Dagmersellen. This was organised by their own family. This was an experience our kids will remember all their lives, and so will we. Every Morning Rita would take the kids around the area on a Horse and showed them all the Farms around. Everything from Cherries, Grapes, Raspberry to Apples were there. We plucked a few cherries too...A very different and awesome experience for us. My 2 Sons just loved Rita and are still asking for her. One evening we had dinner together and Richard gifted us a Swiss Army Knife. Richard plays the Piano and Guitar very well and entertained us to the fullest. Kids had a great time dancing to his Tunes. They are the Best Hosts we have ever stayed with. The House- As good as the hosts. Everything thing in that house is of Superior Quality. The Bed, Bathroom Fittings, Kitchen fittings and the overall house was Top Notch. There is no TV which is also great since there are so many natural things to do. Some of their cuttelry was Villeroy and Boch which really shows the quality conciousness. We were super comfortable. Location- Its a bit away from Lucerne City. 45 minute Bus ride. However its nicer to stay here at Innerdorf [Sursee] and experience the city whenever one wants to go. 45 minutes is a small price to pay to enjoy both the experiences. Bus Stop is a 10 minute beautiful walk away from Ritas House. Overall a Great Experience and You would be lucky if you Chose this place and spent time with this lovely couple.
Ajit
2015-06-30T00:00:00Z
It was a great experience . Rita was a wonderful host. Her apartment was beautiful and impeccable . We had a great time . She gave us a tour and paid attention to every small detail . We even had refreshments in the refrigerator . Rita has set the bar very high !
Rehana
2015-08-16T00:00:00Z
Rita was very kind to us, she made us feel welcome and her house is very well managed. It had everything promsited. We liked living outside of the city so this was perfect for us. We'd recomend this place to everyone.
Dmitry
2016-08-17T00:00:00Z
Kamertype
Gehele woning/appartement
---
Type woning
Huis
---
Geschikt voor
3
---
Slaapkamers
Grosswangen, Luzern, Zwitserland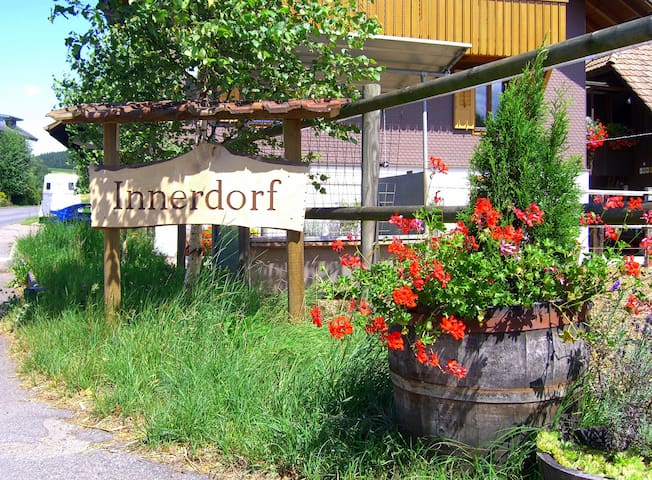 The room is suitable for short stays for individuals. It is located in our private apartment on the ground. The rooms on the ground floor (kitchen, living room and dining room) can be shared. There is a small private bathroom with shower for single use are available. Even the garden for common use.
Old, cozy house with garden, lovingly furnished. The bed and toddler is possible, a cot is available by arrangement.
Central location in the village, close to nature, shopping and restaurants within walking distance.
Bei Sibylle und Christoph wurde ich sehr herzlich und offen empfangen. Sie sind sehr gastfreundlich und Hilfsbereit. Ich durfte mit mein Zimmer sogar aussuchen. Die Zimmer sind rustikal eingerichtet, in der Zeit zurückversetzt, das ist ein Erlebnis wert. Die Zimmer haben ein sehr angenehmes Raumklima und eine beruhigende Atmosphere. Mir ist mal wieder vor Augen geführt worden, dass ohne Luxus das Leben reicher ist. Ich kann nur jedem empfehlen heir mal zu nächtigen. Ich würde mich freuen wenn ich wieder bei Sibylle und Christoph nächtigen dürft.
Horst
2017-03-24T00:00:00Z
So loved the rooms! So cute and cozy! Didn't expect an upgrade! Really love a good accommodation above anything! Promise! You're in for a treat for just a low price! Complete toiletries and complimentary stuff (wine, mini chocolates, coffee, tee). And the host was nice enough to fetch me as I got at the wrong side of the train, and was already 30 mins away from the supposed station. And also for sending help when I needed it! Really appreciate it! Thanks a bunch!
Ruth
2017-02-10T00:00:00Z
Sehr schön, sauber und gemütlich.
Darko
2016-11-04T00:00:00Z
Very beautiful, cosy and clean :)
Darko
2016-11-10T00:00:00Z
Kamertype
Privé Kamer
---
Type woning
Huis
---
Geschikt voor
1
---
Slaapkamers
Entlebuch, Luzern, Zwitserland
Large bright room upstairs an older house with charm, wonderfully quiet area near the forest and surrounded with wild gardens, well-connected to public transport, on foot 20 minutes to the city center, two bicycles available for free. Please register me when booking, whether you need one or two bicycles, so I can make them available
Quiet atmosphere, therefore also suitable for work wonderfully, learn to read and enjoy the garden; in a few steps you're in nature with forest and meadows
Bei Susanna fühlt man sich auf Anhieb gut aufgehoben. Alles sehr unkompliziert. Jeder Zeit wieder!
Simon
2017-03-24T00:00:00Z
Susanna ist eine sehr umsichtige Gastgeberin und sehr um das Wohl ihrer Gäste bemüht. Ihr Häuschen ist ruhig gelegen und sehr liebevoll eingerichtet. Ich habe mich sehr wohl gefühlt und konnte gut erholt am nächsten Morgen starten.
Sven
2017-02-25T00:00:00Z
Kamertype
Privé Kamer
---
Type woning
Huis
---
Geschikt voor
2
---
Slaapkamers
Langenthal, Kanton Bern, Zwitserland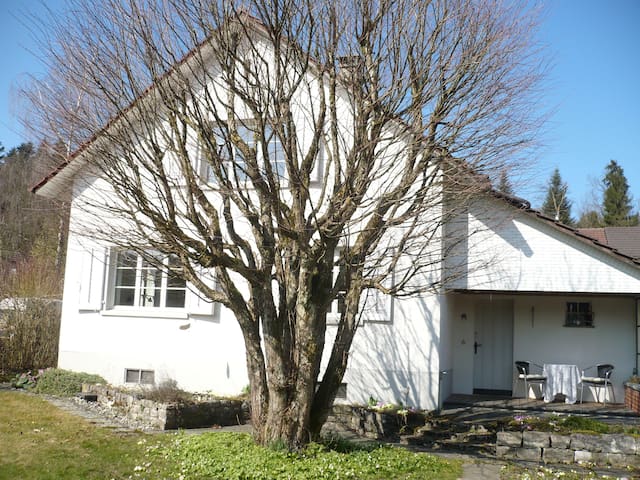 Peace and relaxation in a natural paradise. Forest on foot in 2 'reach. Suitable up to 6 people. Ideal for families, hikers, nature lovers, bikers. Activities among others in the UNESCO Biosphere: pan for gold, crystal clear starry nights, beautiful walks, bike trails, adventure trail for children - - Napfgolderlebnis Zyberiland. 40 car 'to Lucerne, 15 minutes by road' to Wolhusen. Sörenberg about 30 '. Outdoor Wolhusen 8.5 km (car 15 min.) Village shop and restaurant in the village (2km). Public transport in summer 100m, Winter (2km).
Als u op zoek bent naar rust in een prachtige landelijke omgeving bevindt zich op de juiste plaats. De nachten bieden stilte, de koekoek uit het bos, de grootste 'akoestische emissies ". Daarnaast is de lage lichtvervuiling opent een prachtig uitzicht in het universum. Overdag landbouw in de zomer de boeren in de velden rond. Berg beitsen rond!
Sehr freundliche und unkomplizierte Gastgeber! Das Bauernhaus hat viel Charm, ist aber auch sehr gut ausgerüstet (Küche, sanitäre Anlagen) und steht in einer idyllischen Umgebung. Sehr empfehlenswert!
Manuel
2017-03-12T00:00:00Z
Kamertype
Gehele woning/appartement
---
Type woning
Huis
---
Geschikt voor
6
---
Slaapkamers
Romoos, Luzern, Zwitserland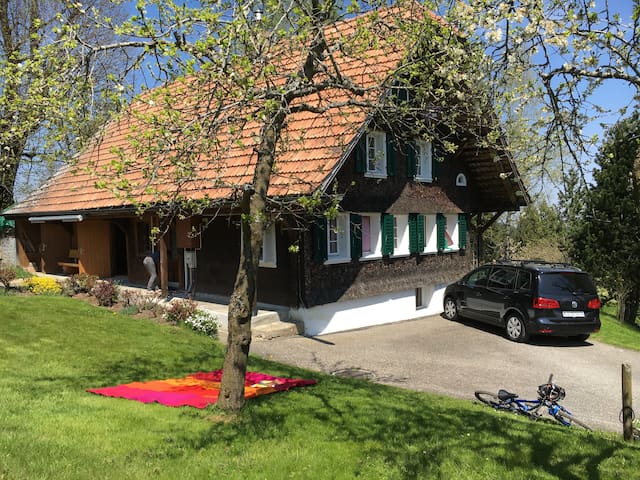 Cozy opportunity to rest. with public transport compound
Kamertype
Privé Kamer
---
Type woning
Huis
---
Geschikt voor
2
---
Slaapkamers
Burgdorf, Bern, Zwitserland