Voer je aankomstdatum in in dit format dd/mm/jjjj
Voer je vertrekdatum in in dit format dd/mm/jjjj
0 kinderen
leeftijd 2 - 12
Ruimtes die je kan reserveren zonder op goedkeuring van de verhuurder te hoeven wachten.
15 Accommodaties
· Trinidad
15 Accommodaties
· Trinidad
Komende juli en augustus kun je een van deze 100 best beoordeelde woningen uitproberen, in elke prijsklasse, om zo een lokaal gevoel van Sonoma te krijgen. 24-uur inchecken, Direct Reserveren en lokale wijn en snacks. Leun achterover en geniet van je reis.
READ FIRST - Adventure in a private ghost town! Not your average listing! Cozy solar-powered cabin tucked into a coal mining ghost town. Experience our wildlife, hike, fossil hunt, explore ruins, pan gold, tour dispensaries and enjoy life. Just below 7000ft, all seasons offer new activities. You can easily find out more about Morley by visiting the Pueblo Steel Museum. We are always improving the property so come back for new stuff. Currently, we are working on adding bathrooms/showers.
Off-the-grid cabin on the outside, high-tech glamping on the inside. You might have trouble leaving the advanced amenities this solar powered adventure launch pad provides, were it not for the ghost town we've nestled it in. 50' TV and dvd player - TONS of movies. You will have to run to town in order to watch the game (any game). Laptop and USB charging. Propane camping stove and some munchies. Coffee and tea are provided along with soda and water. Huge beanbag bed (double) and a smaller fold up couch-chair-bed (great for dogs or disobedient children), we also provide a crazy amount of blankets. Large propane heater fills this small space quickly regardless of outside conditions, small heater can be left on all night to maintain temp. This space is truly meant to provide comfort at night for Morley explorers all year around. We have a biweekly maintained porta john for a bathroom. We are currently constructing a shower/bathroom building, but don't expect to use it until at least summer 2017. Larger parties need only contact us in advance for tent/rv/festival inquiries. Tent sites are available. Sometimes the weather does not cooperate with our solar setup, so we will totally run a generator at your request. We are working on expanding our solar to include a working lighted fridge, keurig, and instant water heater. Honor Liquor Bar? Yes. Please replace the value that you consume, and leave the price tags on your replacements. (Or tip so we can.) On one side guests have access to the gardens (summer), approx. 20 acres of forest, ruins, a year-round creek, a scenic bridge, and The Morley Cabin. On the other side guests have access to what's left of Morley Colorado including St.Aloysius Catholic Church and 70ish acres of foundations forests, and ruins. To get to your booking, use exit 2- not exit 6. Please call about 30mins away so we can warm the cabin and offer any required initial assistance. After that we will be available over cellular to answer questions, provide transportation between sides of the town, limited medical assistance, and/or suppressive fire (we mentioned the large cats and bears, right?). We like to smoke a joint with our guests to get to know them a bit - usually soon after you arrive. From then on we are available as much or as little as you desire. If you are so inclined, we offer things like large cookouts, spiritual and tribal retreats, weddings (or equivalent ceremony), and marijuana "bake-ations"*. These are examples of things to contact us about before booking in order for us to meet your expectations. Looking for something else? Just ask. We usually have escorts or guides available to support your adventuring party without a heads up, but if you do plan on needing them - please tip. *Bake-ations are fully custom to your imagination. Some ideas include; bringing you ounces, munchies and movies for weeks straight... having an all-you-can-smoke competition... the 'dab' experience... touring the dispensaries of Trinidad...
Our neighbors consist of wild animals such as bears, deer, elk, antelope, coyotes, turkeys, large and small cats and cows/bulls (summer). Be very respectful of them. We ask that you stick to our ~100 acres only, boarders will be explained/ shown. If you do meet any of our human ranch neighbors, please do not mention airbnb. Feel free to spread the word if you decide to go to Raton and/or Trinidad though. ;) There is a land tie from the garden side (where the cabin is) and the ghost town side between which is railroad. We will provide transportation (or directions) between the two sides at your convenience. We are always improving our mitigated and developed area to make getting around easier. We are very early on in this process- so with the lack of trails in most places we ask you actively attempt to not disrupt the environment as much as possible. We are pretty equal distance to Trinidad Colorado and Raton New Mexico. Both are within 15 miles. There are roughly 25 miles of dangerous underground coal mine that are newly accessible for the first time in about 50 years. If you expect to spelunk then bring methane safe air tanks and be prepared to sign a waiver. Again, no shower yet and our bathroom is a shared (but immaculate) porta john. We recommend those red jammies with the butt-flap... but really. No poking around the ghost town after dark without permission and accompaniment! This is very important. Smoke all the weed you want inside the cabin (or with your hosts lol), cigarette smoking is limited to dirt roads and the cabin porch area.
Great place if you're looking for a Colorado get away! Pet friendly and hosts we're very welcoming!
Brooke
December 2016
Great place with friendly host.
Joshua
December 2016
Perfect location off highway. Top notch glamping. Solar tv with huge movie selection. All the classics. Warm welcome, great stories, & dank buds. Private ghost town tour was epic and informative. Great experience and so glad we didn't miss the chance to meet these guys.
Sarah
January 2017
If you're on an adventure and need a place to stop it's a great place, one of a kind!
Ben
December 2016
If you are in the need, or are looking for an easily accessible place with excellent hosts and great history, this is the place. Loved the private tour of the ghost town and hosts are extremely kowledgable and friendly. Had a great movie night with a wonderful hike in the morning!
William
December 2016
Very informative locals that have hearts of gold! The place is just beginning to bloom, with that being said, it is very basic for now. Can't wait to see what the future holds for the Ghost Town! Great fellowship. I will be back!
Amanda
December 2016
This was our first trip to Colorado and I don't think it could have been any better. Our host were amazing. The cabin was just as it was described. It began to snow and they still took us hiking to see the old ghost time. They were more than hospitable. We hope to make it back this way a couple of times a year now that we have this cozy tucked away place and a few new friends!
John
December 2016
Kamertype
Gehele woning/appartement
---
Woningtype
---
Geschikt voor
3
---
Slaapkamers
1
Trinidad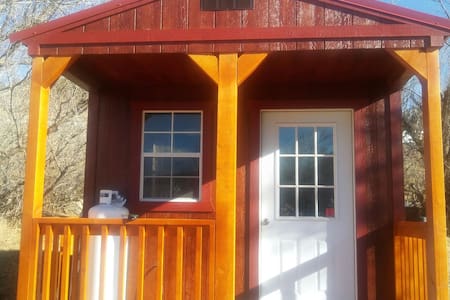 Beautiful artistic Victorian home. The house is at the end of a street on a hill and so is quiet and has views in all most every room. Kitchen privileges, 2 bedrooms upstairs (somewhat steep) 2 bathrooms, easy going atmosphere, WONDERFUL view & air!
The view of the entire city. Very quiet and can hear the train nearby. Clean air! I have 3 very sweet cats. Full use of kitchen and use of laundry (slight charge) 2 Queen size beds,(check with host if 2nd.bedroom is available as it won't show on calendar and is the same price. ) I welcome children and have a new roll away with memory foam, soft quilts or comfy couch downstairs by the fireplace. Library full of books. PLEASE NOTE: AFTER 9:00PM there will be a $10 per hour charge. Please be courteous and honor that before you leave. Remember this is not a hotel it is my home and 9:00 is getting late to check in and settled. Thanks!! Please Note: EACH bedroom is $85-and $20 for each additional person. Enter through side entrance. motion light as you enter. Love to have guests! I am considered friendly, respectful and caring. I want my guests to feel comfortable and relaxed. I give my guests their space but am available for their needs etc.
Quiet and friendly. Walking distance to town which is less then a quarter a mile away. Very safe neighborhood, no problems ever. Sit and view the view. Walking or driving. Great neighborhood to walk, trails by the river close by. There is also a tourist shuttle that drives around to historic sites. the is a small rental facility here, Amtrak stops here, there is a bicycle rental shop and senior shuttle and tourists trolley. check out website: historictrinidad.com- check my reviews. I live here full time and so I am all most always here but you can "enjoy" the entire house, kitchen, sun room, yard w/view etc. You are renting the room and bath but can use the rest of the house with respect to me.
I made a last minute decision to stay in Trinidad, and only gave Dana an hour's notice, but she was amazingly hospitable, and very friendly! And she fed me, which I always appreciate. And the view... great. I spent the afternoon sitting in front of the window in the bedroom with a laptop, watching the snow fall on town. It was absolutely beautiful. I felt right at home. Thanks, Dana!
Patrick
December 2015
Dana is a kind and generous host and went out of her way to insure my comfort. Sitting outside in the morning with a fresh cup of coffee enjoying the view was a great way to start the day. The room and bed are very comfortable. Definitely check out the Southern Colorado Repertory Theatre performance while in town - stellar performances and direction for an evening's entertainment. And the pizza at Bella Luna Pizzeria from their fire brick oven is not to be missed. Yum! Wished I had more time to enjoy Dana's hospitality and the sweet wonders of Trinidad.
Cheryl
August 2015
Dana's house sits perched high above town, providing magnificent views to the Sangre de Cristo mountains. Dana is welcoming, relaxed, and flexible. She made time to visit a bit upon my arrival, show me the house, and encourage me to make myself at home. As a bonus, she provided lovely breakfast offerings, insisting that I sit in the prime seat of her dining room to experience the stellar view to the southwest. My stay was just one night, but Dana made it easy and very pleasant.
Mary
May 2015
Dana was a great host. She was very welcoming and shared lots of information about Trinidad. The room certainly does have a view. I loved going to sleep and waking up while looking out over the entire town from bed.
Brien
January 2015
What an exceptional stay! The room was charming as was the entire house with its antique artifacts and books with no ISBNs, too rare to be copyrighted. The bed in my quiet room that made it more comfortable than my bed at home! I loved the unobstructed view from the dining room, overlooking Trinidad to the mountains beyond. Dana invited us to join her and friends for dinner at a great restaurant where the talented owner and the impressive wait staff entertained us with professional singing! Back at the house, our hostess capped off the evening with a chocolate flour-free confection (something between a souffle and a cheese cake), coffee, and a reading from her own poetry, which she shares with the local poetry group that meets regularly in her home. We had come to Trinidad for the 2nd annual ArtoCade (the small town event that turned out to be BIG), which we thoroughly enjoyed the next day on Main Street. Dana extended her hospitality that night at the continuing festivities where she made us feel like "locals" as we joined the revelers--many in costume--for adult beverages, food, dancing, and entertainment: live music, a light show, a world class magician, professional aerialist performers, and fireworks. Staying with Dana Miller was a two-day surprise party, staged so we felt like the guests of honor.
Judith
September 2014
The house is a funky Queen Anne, somewhat ramshackle, in a struggling town with many such houses. This is a lived-in house, it has been around for over a hundred years, and the age shows. But so what? Dana is a generous, welcoming spirit: she is why you will want to stay here, and why you will overlook minor housekeeping details. The bedroom was clean, the partially shared bathroom was fine, and the view from the house can't be beat. All in all, a good stay.
Opie
October 2016
Dana made me feel very welcome in her home. Which is very cute, quite and comfortable. It is perched on a hill with great views of Trinidad and is full of wonderful antiques, so I found myself walking around staring at her walls and bookshelf's. I absolutely loved it! She allowed me my space when I needed to work on my computer in my very comfortable and cute room with a view. She was very informative on things to do and see around Trinidad. She invited me to have dinner she and her "Wasband" (what a neat man)...excellent enchiladas! Most of all Dana has a wonderful and kind soul, I found a new friend who I will be staying with again and again. For anyone who needs to unwind for a few days or longer, Dana's place is wonderful!
jennifer
July 2016
Dana was very accommodating to my 10 year old son and myself. The views are wonderful. Thank you for being a gracious hostess. I hope you enjoy the Bath & Bodyworks lotion I left as a thank you for your hospitality.
Ruth
July 2016
Kamertype
Privé Kamer
---
Woningtype
---
Geschikt voor
5
---
Slaapkamers
1
Trinidad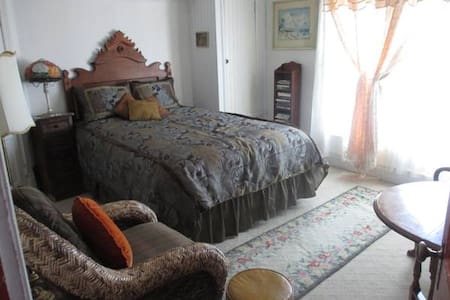 My place is close to parks: Trinidad Lake State Park. You'll love my place because of the location. My place is good for couples, business travelers, and families (with kids).
Kamertype
Gehele woning/appartement
---
Woningtype
---
Geschikt voor
4
---
Slaapkamers
2
Trinidad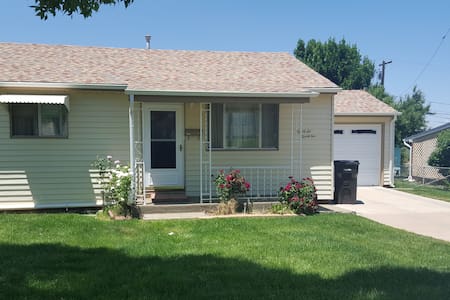 Creatives welcome! Get away from the noise and hustle bustle of cit life. Historical architecture, Kit Carson, Highway of Legends, Canyon Land, Taos Santa Fe, Mountain views of rainbows and wildlife. Create Write Paint Hike Bike Fish Golf Play Explore Relax in the beauty of southern Colorado.
Wow. The mountain views are breathe taking. Convenience and great location. Amazing view of the stars. Quiet clean home environment. Hop and skip to College or downtown. Easy access to interstate 25. Historical architecture, Kit Carson, highway of legends and the Santa Fe Trail, Canyon land, trout fishing. Great weekly and monthly discounts available for the holidays and ski season! Guest room, full bathroom, kitchen. Morning and evenings
It's very close to the Trinidad butte with amazing views of the town and area mountains. Hop on the Santa Fe Trail or highway of legends to explore the many canyons, parks, rivers, lakes, mountains. Historical architecture and quaint neighborhoods. This town has plenty of artists and fun festivals to enjoy. Artocad is coming up! Exciting artist made cars on parade, music, food. Blues festival in Trinidad is also on the calendar! Stay tuned for the Creative District announcement! Trinidad is popping! Restoration and renovations are under way. Come check out the growth and create new ideas and work. Plenty of wilderness to explore, hike, bike, fish. Golf course is close by. Ski resorts in NM and CO are a hop and skip away. Wow you can take a day trip to Santa Fe or Taos for more cool creative spaces to visit. Amtrak station is close. Less than a mile. Walkable town with ease and comfort. Sunshine all winter. There is so much to see and do inSouthern Colorado! Trinidad is going through a Renaissance ! Come check out the new live work space for artists, the museums, the galleries are coming with the influx of artists. Downtown is under construction and restoration projects are popping. Amazing Arts and music festivals. Summer brings the baseball games from our fantastic AAA baseball team. And enjoy our sunshine-We have 65-75 degrees during the winter. With an occasional snow fall that evaporates quickly. Santa Fe trail. Highway of Legends. Trails for hiking biking and motor vehicles. Vistas and views of the Spanish Peaks and foothills are breathtaking.
A great home and host with perfect Trinidad views. T'Alyne's home was quiet and comfortable.
Leigh
September 2016
Wonderful host, beautiful room. It was a short but lovely stay. Trinidad is a neat town! I hope to be back again really soon and I would definitely recommend T'Alyne as a host. Thank you for the hospitality!!
Rebecca
December 2016
She was very friendly and she gave me information about the city and neighbourhood.
Karsten
September 2016
T'Alyne was a wonderful host. She was welcoming and accommodating. We enjoyed chatting with her and playing with Kiko, her cat. The house was clean and cozy. We had no issues and slept well on the comfortable bed. Also loved the views!!
Sharon
December 2016
Very cozy and nice place. Talyne was a fantastic host and made my stay most comfortable and enjoyable.
Srirangapatnam
September 2016
T'Alyne set up a time of arrival for me so all I had to do was have a good day enjoying the sites. She provided a clean room and bathroom. The bed was comfortable and had some wonderful pillows. She provided maps of the area. She lives in a quite peaceful location with one of the best friends by the name of Kiko. Thank you for a peaceful home away from home.
Jeff
December 2016
Kamertype
Privé Kamer
---
Woningtype
---
Geschikt voor
1
---
Slaapkamers
1
Trinidad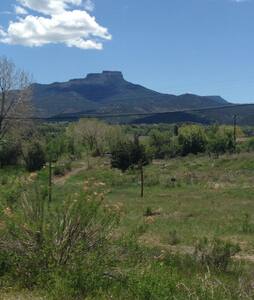 Beautiful Colorado 8000 feet high mountain ranch with spectacular views. Use our 2 BR Guest Suite with exterior entrance, living area, kitchen, 1 bathroom. Normally sleeps 4, accommodates 10. Opens to inside 30' pool, hot tub and long wet bar and Much More. IMPORTANT NOTE: YOU MUST READ ALL DETAILS OF GETTING AROUND BELOW. 4 wheel drive or chains are needed for heavy snow or rain. We cancel reservations if very severe weather is forecast. And you MUST NOT use GPS on these mountain roads.
We are full time owners with a single guest suite that is located in our large Santa Fe style home on our 35-acre beautiful high mountain Colorado ranch. It is part of the exclusive Santa Fe Trails Ranch Association that maintains the roads, fire department and water system for 400 other ranches together in the association. Views are spectacular with Rocky mountains, tall pines, Spanish Peaks, and many miles of private roads that can be used for All Terrain Vehicles. The Guest Suite has an exterior door directly to parking. Central heat and AC with 2 upstairs bedrooms: 1 full bed for 2, the other with queen bed for 2 and an outside view deck. The 2 bedroom Guest Suite was designed for 4 persons, and the living room is small. However, both bedrooms, and the living room all have couches that fold down to comfortable full beds for 6 extra persons, for a total of 10 persons, but that is crowded. The pool room has a long bar that seats 10, with little humidity, if the pool and hot tub covers are kept shut when not in use. Please call us if you are concerned about enough room or space for larger groups. The 2 bedroom guest suite is designed to sleep 4. Please see pictures of living room with a group over 4. 1 large bathroom with large shower, 65" 'HDTV, with Dish Network and all premium channels, BluRay, DVDs and I-pod dock in living room next to kitchen with refrigerator, microwave, electric oven and full sink. It opens into a 30' swimming pool, hot tub, long wet bar, all surrounded by rock walls. There is an attached outside view and pool deck that leads to an upper view deck with awesome rocky mountain views. See all the pictures of mountain views, sunsets and sunrises, wild animals and much more! On the other side of the pool room there is an inside view room for our guests which is normally locked. Contact hosts at any time if you desire to use the view room. Owners are always available for interaction, problems and questions. We do use the pool for our daily exercise, Monday through Friday, and occasionally on weekends so there will be some time during the day that guests will not have access to the pool. We can work that out with the guests on the best time that works for you as a guest.
Spectacular Colorado rocky mountain views, scenery and wildlife everywhere in the neighborhood. We are approximately 10 miles south of Trinidad, gas, shopping, and Trinidad Lake. Hiking, boating, fishing, Bocce courts, golfing, and more in Trinidad; ATVing, mountain biking, hiking, horseshoes, in immediate area. Cross country skiing, and ski resorts within 100 miles. Our ranch home is approximately 5 miles of dirt roads off of I-25 at Exit 6 that can be snow-packed in winter and muddy in summer. They are normally well maintained by the Association, but ALL or 4WD, or chains are needed for snow or heavy rain in our high mountain paradise. With heavy snow you may not even be able to get out WITH HEAVY SNOW YOU MAY NOT EVEN BE ABLE TO GET OUT, as it can be two feet high or even more, particularly with very high snowdrifts. Please always call us the host, directly before the 24 hour cancellation window because we should know the weather conditions that close to your stay, and because you can still cancel at that point if there are severe weather forecasts. We will cancel in the case of severe weather during your reservation. Also, if you enter the ranch area after dark, or when snow covered or heavy rain, we will escort you from the mailboxes as you enter for the 5 miles of unpaved roads to our place. You must call us to coordinate directly to meet you. Be sure to use OUR DIRECTIONS, and NEVER use GPS. Refundable cleaning, damage and theft deposit of $100.
We felt like family. Tom & Margaret are friendly...and interesting. Tom has made personal touches here and there.
Charles
September 2016
This place is very unique. We enjoyed our stay there. Highly recommend for a quite get away.
Steven
July 2016
Excellent place to rejuvenate: The pool was warm and inviting, private and easily accessible from the 2 bedroom condo-style accommodations; relaxing in front of the HUGE TV was so nice; wifi worked fine to communicate with our hosts who responded promptly, and Verizon 1-bar, tho sketchy, was still usually usable for phone calls. The comparatively remote ranch location was easy to reach by the well-tended road, about 15 minutes from I-25. Coffee & tea (and breakfast bars) were provided; be sure to bring your own food to prepare in the tiny but well-equipped kitchen--refrigerator, microwave, electric oven,& coffee makers are on-site. Considering the current high fire danger in Southern Colorado, I appreciated the thorough property fire mitigation and our hosts' reminders to be fire-wise at all times. We enjoy wildlife--from a distance--where we live in Palmer Lake, so know how important it is to keep premises secure at all times. While steep stairs up to the two bedrooms precluded Bob's access, he slept comfortably on the living room fold-down couch. I definitely will use Curt's place as a base for future visits with family near Trinidad. The mountain ranch setting and lovely, warm pool would also be a perfect destination location for exploring the area, plus the ideal stop on the way to Taos or Santa Fe. Don't miss the photo-op pueblo-style church ruins located in the coal mining ghost town on private property, and visible from the road!
Judith
November 2016
Hosts were very helpful and accommodating. Apartment was clean and the space was kid friendly. After enjoying the indoor pool and hot tub, we roasted s'mores with the kids in the outdoor fire pit. The experience was relaxing and rejuvenating. We enjoyed amazing mountain views from the deck and watched wildlife in the morning. Great place to get away!
William
June 2016
This was a great place to stay. All you could need, beautiful views, great hosts and plenty of room. We will be back!
Kyle
July 2016
This was our 3rd time staying at Curt and Margarita's awesome guest suite and we're going to keep coming back. I guess I don't really need to say more. Thanks, Curt and Margarita, you and your place are top notch!
Alicia
September 2016
Pool area is awesome! Beautiful scenery!
Steven
October 2016
Very receptive welcome to a stunning and cozy location. Would stay again only this time for more nights!
Amanda
August 2016
Kamertype
Gehele woning/appartement
---
Woningtype
---
Geschikt voor
10
---
Slaapkamers
2
Trinidad
My place is close to public transport, parks, and art and culture. You'll love my place because of the comfy bed, the outdoors space, the neighborhood, the light, and the kitchen. My place is good for couples, solo adventurers, business travelers, families (with kids), and furry friends (pets).
Kamertype
Gehele woning/appartement
---
Woningtype
---
Geschikt voor
6
---
Slaapkamers
3
Trinidad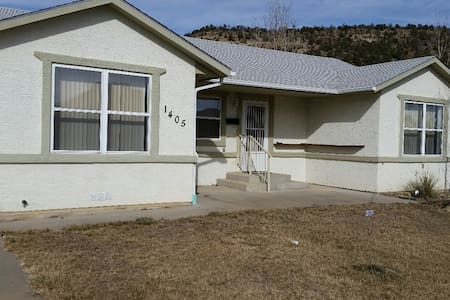 Thirty minute drive to Trinidad or Raton. Completely furnished guest house on our remote property in the foothills of the Sangre de Christo mountains. Upscale decor with bedroom, living room, kitchenette, bathroom and outdoor patio.
Rest and relaxation in a very secluded, heavily wooded mountain retreat. Spend your days exploring our land, going to nearby attractions or just relaxing in our private guest house. Spend your nights gazing at amazing star filled skies and listening for wildlife. Great place to escape from your stressful routine. Perfect location for artists and writers looking for a quiet place to work. You'll have use of our guest house that's built-in to our outbuilding which comes with a bedroom, living room, bathroom, kitchenette and dining area. There is a patio out your front door, which is furnished with a table, chairs and patio heater. If you'll be needing to do laundry during your stay, please let us know and we'll allow you to use the facilities in our home. You're also welcome to use our hot tub, just please be aware it's outside our bedroom. You'll also have access to approximately 40 acres of wilderness that you're welcome to hike around on. We live next door in our home, so are absolutely available should you need anything. We're pretty friendly folk, so can be persuaded to socialize some or if you'd rather be left alone, we'll respect your privacy.
We live on a very secluded ranch in the foothills of the Sangre de Christo mountains. We can walk out our door and hike for miles, enjoying tons of wildlife and beautiful views. With 300 days of sunshine on average a year, the weather is almost always pleasant, even in Winter. There is no public transportation, we're very secluded. There are literally endless daytrip opportunities in our area! We live within an hour or two drive from the Great Sand Dunes, Capulin volcano, Angelfire, Taos, Highway of Legends, Cimarron, St James Hotel, Philmont, NRA Whittington Center, Vermejo, Clayton Dinosaur Tracks and tons more! Let us know your interests and we'll try and steer you in the right direction.
This cabin is absolutely lovely and well-furnished with a big bathroom, large, functional kitchen (there's no stove/oven; they have a hot plate but intend to install a stove soon) with snacks and staples available in the pantry. The bedroom is cozy with a firm, comfortable memory foam bed and plenty of places to sit. The space is heated by a blower stove, so even though it was pretty chilly outside, we were toasty indoors. Brian was an awesome host with many helpful suggestions for activities to do around town. If it's snowed recently or might snow during your stay, you should definitely drive a 4WD vehicle up to their property as the roads can be icy and piled high with snow. We will definitely be back!
Kate
January 2017
This is truly a "winter wonderland' place. The description is spot on so, if you are looking for a secluded mountain experience, this is the place! We stayed six nights. The hosts, Brian and Denise, are very up front about the mountain road that leads up to this little, paradise place. We visited during Christmas time so Trinidad had snow. We did use our 4 wheel drive to get there, however, Brian told us he could come down and pick us up, if needed. The house was very warm (both with heat and "vibes") and was furnished really cute. It was complete with everything we needed, even to cook Christmas dinner! The bathroom was stocked with everything we might have forgotten. Brian and Denise live next door so they were there to help us and answer any questions we might have. We were delighted every time we walked or drove around with all the wildlife we saw plus the beautiful scenery. Trinidad is a funky, cool place to visit so we enjoyed our trips we made but were always enchanted when we drove back to our secluded house. If you want to have a mountain experience near a cool and quirky town like Trinidad, we encourage you to try Brian and Denise's place. You will love it! It's equipped, warm, scenic, safe and worth the drive. We hope to go back!!!
Ginger
December 2016
Staying at Brian & Denise's BEAUTIFUL guest house was one of the best travel experiences we have ever had. My only regret is not being able to stay about a week, and the next time I'll have to. We arrived late and still received an inviting welcome. The space is styled and dialed-in, and the breathtaking forest separates you from anything or anyone else. We cannot wait to come back through, cheers!
Genette
December 2016
Thank you for everything Brian, Denise and Adaline! Rob and I had a wonderful time and can't wait to stay again!
Cindy
January 2017
Kamertype
Gehele woning/appartement
---
Woningtype
---
Geschikt voor
4
---
Slaapkamers
2
Trinidad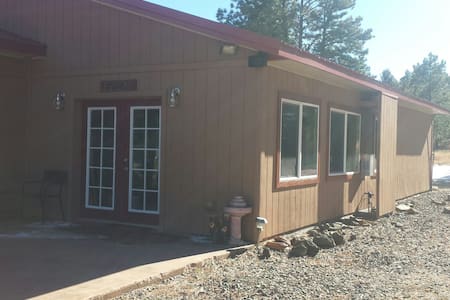 My place is close to the city center, parks, art and culture, and great views. My place is good for couples, solo adventurers, and business travelers.
Prominent 1898 Western Victorian home and ambiance. Main Parlor room, Kitchenette, Dining room/Entertainment room, Front porch on Main St. & Gilley's Place (our beautiful outdoor classic movie and entertainment (live music) venue. Parking is available at either the driveway next to the house, the driveway to the detached garage, or street parking in front of home on Animas St. side. There is also free city parking lot next to us. Please call or txt any Q's to (PHONE NUMBER HIDDEN) at any time. Either door entry to the home is suitable. Front door is on Main St. and the back door is on Animas St. We will be 100% available for you during your stay! We live upstairs and you can call or txt to ((PHONE NUMBER HIDDEN) at anytime for an immediate response or push our digital (URL HIDDEN) doorbell for 2-way communication as well.
Kamertype
Privé Kamer
---
Woningtype
---
Geschikt voor
2
---
Slaapkamers
1
Trinidad
Welcome to the Heart of Trinidad! A western Victorian style Bed & Breakfast! Our Heart of Trinidad Bed & Breakfast caters to those traveling to or through the cozy, quaint mountain town of Trinidad, Colorado. As our guest, you'll enjoy plenty of room in our famous 1898 home that is located in the downtown historic district. The best restaurants, shopping, & cannabis dispensaries are all within a couple of blocks away. Our place is perfect for couples, solo adventurers, & business travelers.
Main Parlor room, Kitchenette, Dining room/Entertainment room, Front porch on Main St. & Gilley's Place (our beautiful outdoor classic movie and entertainment (live music) venue. Parking is available at either the driveway next to the house, the driveway to the detached garage, or street parking in front of home on Animas St. side. There is also free city parking lot next to us. Please call or txt any Q's to (PHONE NUMBER HIDDEN) at any time. Either door entry to the home is suitable. Front door is on Main St. and the back door is on Animas St. We will be 100% available for you during your stay! We live upstairs and you can call or txt to ((PHONE NUMBER HIDDEN) at anytime for an immediate response or push our digital (URL HIDDEN) doorbell for 2-way communication as well.
Kamertype
Privé Kamer
---
Woningtype
---
Geschikt voor
2
---
Slaapkamers
1
Trinidad
Come enjoy a piece of heaven in northeast New Mexico. Wonderful, peaceful, quiet setting. Located just outside of Raton - an absolute old-time jewel of a town. Be ready for seconds-long traffic jams of 2-3 cars around rush hour.
This is a large pool house nestled in a secluded canyon just north of Raton, NM; just a few scenic miles to the Colorado border. Remarkable views surround us. Pedazo de Cielo shares the neighborhood with lots of wildlife - birds, deer, bear, mountain lion, and the occasional fox. There is a queen bed, two double beds, double sleeper sofa, twin trundle bed, a pack-n-play for littles, and a loveseat and two full-sized sofas - all in the pool room. If private bedrooms or additional housing needed, Pedazo de Cielo II is available to rent as well. The pool room has a salt-water swimming pool, with auto cover/safety lock. Pool heated for additional charge Oct-April, price dependent on length of stay. Great hot tub with tv and disco lights, wood burning fire place, as well as outdoor gas grill on the patio. Fire pit is allowed during times when burn-bans are not in effect, 52" TV with Dish. Kitchenette has microwave, toaster oven, roasting oven, toaster, hot pot, blender, full size side-by-side refrigerator, coffee makers, two hot plates, cooking utensils. Enjoy dining in or al fresco. The huge shower has rain head with on-demand hot water heater. Game area - lots of board games, cards, dominoes. Full size ping-pong table. Children's play area. Outdoor relaxing with umbrella tables. Star-gazing. On-site hiking 31 acres. Lots of hiking trails in Raton and around local State lakes. Geocaching sites in area. Year-round fishing at local lakes. Ski slopes 1-1/2 hr away (Angel Fire, Red River, Taos). Lifts run 9 am to 4 pm. Golf - 18 hole course in town. Be ready to play around wildlife. At sunset, it is awesome to watch the wild turkeys running/flying to their nests right off the 19th hole. On-site parking, with 2 spaces inside (advised due to bears in area and no snow/ice on vehicles when heading out). Garage doors accomodate high clearance vehicles with overhead gear. Great settings for large families, retreats, special events. Catering can be scheduled. Pedazo de Cielo is here for your enjoyment! Entire property (front chalet-style home connected to pool house and apartment; two large garages for 8+ vehicles/rvs, 31 acres) is FOR SALE! Listed on Zillow. Will continue to rent until property is under contract. Guests will have an assigned code to the keypad lock, so they can come and go at their leisure. If the garden is producing, you are welcomed to enjoy! I love to meet people and hear their stories, but respect your privacy. You enjoying your stay here at Pedazo de Cielo is my goal. I live on-site and will be available to assist you in person or by phone.
Pedazo de Cielo offers lots of fresh air and sunshine year-round. Town is just a few miles away so this area is especially quiet - except for occasional thumberstorms, and fireworks around the holidays. Raton has a airfield available. The Southwest Chief Amtrack train stops in town twice daily. The Greyhound bus line has numerous stops daily. Transportation to the property can be arranged if scheduled ahead of time. Local events: *Jan 1 - Polar Bear Plunge @ Lake Maloya Rear-around fishing in local lakes/streams *April - Climax Canyon 5k Run *June & July - local rodeos *July 4 - Parade and International Balloon Rally *Historic (100 yrs) Shuler Theater - live stage productions *Art galleries *Museum *Self-guided walking tours in our historic downtown area *Summer Saturdays - Farmers Market *Summer Fridays & Saturdays - lots of local rummage sales *Music on Main Street - Ripley Park on Sat/Sun *Capulin Volcano National Park - 36 miles *National Rifle Association Whittington Center - 11 miles
What an interesting, entertaining and comfortable place to spend an evening. The place was very clean and has many activities to keep a family busy. The host was easy to communicate with and was quick to respond to questions. Our family hopes to spend another night there again next year as we make our way to the Colorado mountains.
Nathan
August 2016
Very Nice Host. Great place for a pool party!
Gay
January 2016
Had an absolutely wonderful time here! Mimi is the best and will go again soon!!
Tamme
September 2016
Mimi is a wonderful host. We met her during check in and she insured we had everything we needed. The provided garage is huge and was large enough for my F250 diesel which was a pleasant surprise. The house itself is absolutely beautiful and has everything you could possibly want for a relaxing getaway. While we didn't use the pool we greatly enjoyed the hot tub and the fireplace. Even as large as the home is it still felt cozy. The property is gorgeous, quiet, and away from it all. It is the perfect getaway!
Jeremy
January 2017
A wonderful place to getaway from it all! Mimi is Fabulous and the pool is fantastic!
paula
July 2016
How do I describe this place? It is one HUGE building with everything in it....the beds, the living area, the game area, the hot tub, the pool, the kitchenette/bar area, plus a large open balcony area, where there is another living area and bed! It was just me and my husband, so, in a way, I felt sad we had no one to share the experience with! It would be an awesome place to bring your LARGE family for tons of fun! You should be aware (URL HIDDEN) kind of like camping, in the sense that you can't really get away from each other unless you want to go outside to the great fenced in patio/yard. Being a large, all inclusive room, makes it loud when you talk and play. No (URL HIDDEN) all fun! Bedtime might be a challenge with little ones and the noise though! lol When you lay in the beds...you can see the stars through the large windows. The property is nestled up against the wooded mountains, which makes it very private and serene. There is a very large, attached garage, to park your vehicle in. Mimi was very good to work with. She addressed issues immediately and answered all our questions. This was our first experience with an Airbnb stay and I would say, it's probably the cream of the crop! It was an amazing and different experience for sure!
Tina
June 2016
Our stay was amazing. 5 kids and 5 adult. There was plenty of room. Mimi is amazing. Very sweet and considerate. The pool house is breath taking. Our family is already planning our next trip. Thanks again Mimi.
Scott
August 2015
Wow! This was such a fun stay. My husband, myself, and our 1 year old daughter stopped in Raton for a night, and are so glad we were able to stay at Pedazo de Cielo. Mimi was a very helpful hostess, we never met her, but she responded quickly to our questions via text. The space is literally a giant open room with a pool, hot tub, beds, kitchen, ping pong table, and more. There were covers for the pool and hot tub while we weren't using them, which was so helpful with a toddler. There were fun toys for her to play with, space to run around, and baby gates. Very family friendly! The SHOWER was amazing. It was nearly impossible to get our daughter out of it. I'd love to come back at some point and stay with our extended family to take more advantage of the indoor pool. If you find yourself around this part of the country, looking for a place to stay, this is it! Also, we had a change in schedule last minute and Mimi was very accommodating and allowed us to change our dates.
Abby and Justin
December 2015
Kamertype
Gehele woning/appartement
---
Woningtype
---
Geschikt voor
9
---
Slaapkamers
0
Raton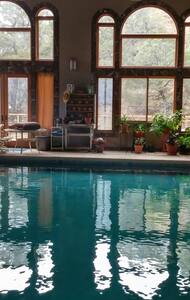 Welcome to the Canyon Casita~ a hidden gem steeped in Colorado history! Nestled in the old mining town of Cokedale, CO (National Historic Register), this peaceful little get-away is brimming with Spanish charm & a wealth of Rocky Mountain beauty!
The Canyon Casita is located directly off Colorado's Historic "Highway of Legends" (Co US Hwy 12) in the town of Cokedale, CO listed on the U.S. National Historic Register as "the most significant example of an intact coal camp in Colorado." The Canyon Casita is an original dwelling built in 1907 to house a coal miner and his family. Many of it's features are original to it's 1907 construction preserving the integrity of the home's history. The 700 sq ft of The Canyon Casita is an ideal "love nest" for couples/honeymooners who wish to enjoy the privacy and peaceful comfort of a "home away from home" while exploring the beauty and splendor of Southern Colorado and the adventures of the Sangre de Cristo Culebra Range of the Rocky Mountains! The Casita is surrounded by the best Southern Colorado has to offer! You'll find phenomenal photo opportunities, outdoor activities and recreation (hiking/fishing/hunting/wildlife/bird watching/mountain biking/ghost hunting/history tours/sightseeing/rest and relaxation)!!! The Casita is located just 6 short miles from historic Trinidad, CO~ a pure, Colorado small town paradise of history, antiquing & mountain beauty with ample shopping, eating and community events to draw the favor of travelers who love the West!!! In addition, The Canyon Casita is also located near beautiful Stonewall, Cuchara, La Veta, Walsenburg and the site of the Ludlow Massacre of 1914. The area is steeped in history and perfect for adventurous ghost hunters! Entire home available~ Host will accommodate guests personally upon arrival and provide availability for any questions or concerns during guest's stay. Attentive to guest's needs without being intrusive. Guests will enjoy the comfort of entire home independently without presence of owner during time of stay.
Without a doubt, the location of this home is beyond compare in access to the breathtaking beauty of Southern Colorado and it's rich history!!! The Canyon Casita is located in a quiet, peaceful, easily accessible location perfect for evening rest after enjoying day excursions throughout the Southern Rockies! Enjoy fishing across the road at Trinidad Lake or travel a few miles west on Hwy 12 for phenomenal views and trout fishing at Monument or North Lake at the base of the Culebra Range! Fantastic photo opportunities abound in every direction with tons of public roads that meander through the mountain terrain! Free parking within home's boundaries (1-2 vehicles). Home is easily located with excellent access via CO US Hwy 12 just a few miles off I-25. No public transportation is available outside of Trinidad, CO, however, Trinidad hosts an Amtrak Train Stop as well as a public trolley tour to visit historic areas of the city. Nearest airports~ International airports *215 miles: Denver, CO (DEN / KDEN) Denver International Airport *259 miles: Albuquerque, NM (ABQ / KABQ) Albuquerque International Sunport Domestic airports~ *95 miles: Pueblo, CO (PUB / KPUB) Pueblo Memorial Airport *112 miles: Alamosa, CO (ALS / KALS) San Luis Valley Regional Airport *132 miles: Colorado Springs, CO (COS / KCOS) Colorado Springs Airport *177 miles: Los Alamos, NM (LAM / KLAM) Los Alamos County Airport *204 miles: Santa Fe, NM (SAF / KSAF) Santa Fe Municipal Airport Local airports~ *12 miles: Trinidad, CO (TAD / KTAD) Perry Stokes Airport *34 miles: Raton, NM (RTN / KRTN) Raton Municipal Airport Home has a comfortable back patio deck and yard with a relaxing view of the black "coal" hills surrounding Cokedale and Fisher's Peak.
Kamertype
Gehele woning/appartement
---
Woningtype
---
Geschikt voor
4
---
Slaapkamers
2
Cokedale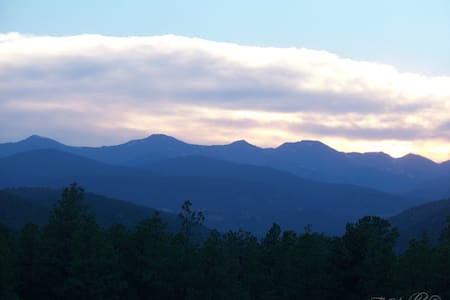 An historical home with beautiful garden and wrap around porch. Rooms are nicely appointed and guests enjoy a scrumptious breakfast. Located near city center and close to train and bus service. On the Santa Fe trail and near hiking and walking tour.
Period furnishings, robes, wifi, laundry available, frig and microwave, rollaway available. Common areas include living and dining rooms, garden area, coveted porches, outdoor grill, kitchen and laundry room. Owner lives on site strives to pamper every guest. She also serves a great breakfast!
Surrounded by beautiful churches on three corners, views of the foothills to the Rockies located in the city center and in short walking distance to restaurants, museum, hiking trails, theaters, and historic walking tour. Small town and you can walk anywhere in minutes. Host also offers car service for guests who arrive by train or bus. Bicycles are available for rent. Guests are welcome to grill outdoors and use the main kitchen. Guests are responsible for cleanup.
Barbara was a wonderful host with a beautiful house. She was flexible on scheduling and very helpful as well. We'd be happy to stay with her again!
Mike
August 2016
What a charming, positive experience there is to be had at Barbara's B &B! We were quickly made to feel right at home with a slice of homemade lemonade pie and couldn't feel more welcome. The room had everything we could've ever needed. The open windows and hometown atmosphere were not unrecognized. Barbara's peach waffles were absolutely delectable! Will definitely stay here again.
Heather
September 2016
It was a delightful stay. Barbara is an excellent host. We really enjoyed our stay.
jim
September 2016
We will never forget Barbara's hospitality and delicious breakfast. Had wonderful conversations with her which both me and my husband enjoyed. Since it is a historic home, the guests share a bathroom, but in our room we had a sink and shower, which was nice. She does have a second restroom downstairs. It was a pleasure to have met Barbara and to have stayed at her Victorian home.
sharon
July 2016
From lotions and potions and bedding so nice, Delectable peaches enhanced with fresh spice. Waffles and country ham, eggs and oh my! Our own hearts desire is to stay here...we sigh! You'll enjoy this delightful respite and your lovely gracious Air B&B host, Ms Barbara! Her home is a fascinating historic treasure and yet she has provided everything to make it comfy for a modern traveler. Large rooms complete with freshly laundered quilts and bedding, In-room fridge, wifi, tv, microwave, sink, convenient charging outlets, books, brochures describing local history, toiletries, etc Etc. This was perhaps the best run B&B we've ever had the pleasure to visit! We really did want to stay another day or two but we had time constraints and meeting obligations. Darn! Breakfast was another special treat. Barbara served fresh peaches grown in her lovely yard. She even pre-chilled the orange juice glasses! Everything was served in a lovely breakfast room with patriotic linens. Eggs, ham, waffles, coffee. Her thoughtfulness is evident in everything she does, serves, says and even in her careful lovely grooming. It's evident that Barbara is is a very special person running a no-excuses top-notch B&B. Her little Yorkie girl, (URL HIDDEN) adorable. Barbara makes sure Guiness stays downstairs though we would welcome Guiness visiting. Guiness and our Westie dog, Buddy ...became fast playful friends quickly. There's a great fenced in play yard for the pups and a doggie door too. There's everything to love about Barbara's "Heart's Desire." Don't hesitate to book your stay with her but do contemplate staying longer. We wish we had. Guess we'll just have to return! With pleasure.
Angela
July 2016
We enjoyed our stay with Barbara very much. She is a very spirited and joyful soul who loves meeting new people. Her service was well thought out and she was completely available and helpful whenever we needed it. The house and room were very comfortable and we felt very at home there. The town was so cute and downtown shopping was within walking distance of her house. We would have loved to stay longer to enjoy her company and tell stories, but had to go, with promises of seeing her again.
Schelly
July 2016
Barbara was very friendly and immediately made us feel very welcome. Her house was beautifully decorated with many antiques from her family. Her breakfast was fantastic and she made sure if we had any special needs or requests. She was very helpful with ideas of things to do and places to eat in Raton. I highly recommend a visit to Barbara's Bed & Breakfast!
Jan
September 2016
I'd ask her ahead of time for more instruction on where house is. It was dark, and had snowed & we could not find her house easily.
Karen
December 2016
Kamertype
Privé Kamer
---
Woningtype
---
Geschikt voor
2
---
Slaapkamers
1
Raton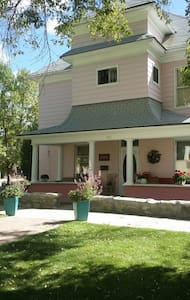 Large apartment attached to my other listing - Pedazo de Cielo I. These two properties are attached, but are rented separately. Great if you do not need pool/hot tub, or if need additional beds and baths in addition to Pedazo de Cielo I.
Pedazo de Cielo II is attached to Pedazo de Cielo I. Either can be rented separately, or together. Both have separate entrances and patios with awesome views. Great for larger family gatherings. Huge gourmet kitchen. Two individual bedrooms with private full baths (one double bed and one queen bed). Access to pool room - pool, hot tub, ping-pong table only if both units are rented. Otherwise, there is a locked door between units. If Pedazo de Cielo II is rented with Pedazo de Cielo I, you will have access to all amenities listed. I am very respectful of your privacy. I love to meet people, and get them acquainted with property. If I am unable to be here when you arrive, a handbook is available. I am available by phone/text 24/7 for any issues that may arise.
This property is nestled at the end of path at the base of a scenic canyon. Very quiet. Amazing wildlife viewing, star gazing. Amtrack and Greyhound arrive twice daily. No cabs/uber/lyft available. With prior arrangement, I can arrange private transportation.
Kamertype
Gehele woning/appartement
---
Woningtype
---
Geschikt voor
4
---
Slaapkamers
2
Raton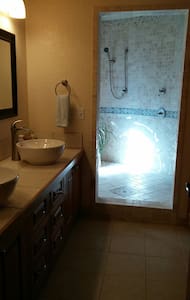 Great option for those needing weekly or month to month housing! HUGE 2BR apartment close to downtown Trinidad, but nestled in a beautiful, peaceful valley. Just a couple miles from the beautiful lake, and all that Trinidad has to offer! Come discover a beautiful Victorian gem of a town--with a great theater group, galleries, a fantastic brewery, and lovely restaurants! Not to mention endless outdoor activities! Trinidad is an up and coming TRUE Colorado experience!
1,000 square foot 2BR apartment with VERY large bedrooms and kitchen area. Unit is upstairs, and has a beautiful view of Fisher's Peak, the iconic image of Trinidad. Kitchen is stocked with all utensils needed to create a great meal, and good coffee is always on deck! There is a Safeway just a couple miles away, and you can also take advantage of the wonderful Farmer's Market on Saturdays for groceries. Comfy, newer furniture gives this an upscale feel, and cable TV provided with premium channels. SO much better than staying in a hotel!!! Laundry Room located on site. Property manager on site full time for any maintenance issues, as well as check in/check out.
This is located in a newer neighborhood--apartments are surrounded by very nice homes. Crime rating is "lowest". Close to downtown, Trinidad State Park, Mt. Carmel Wellness Center, Highway of Legends. On site parking right outside unit. Also consider using the Trinidad Trolley to get around just for fun!
Kamertype
Gehele woning/appartement
---
Woningtype
---
Geschikt voor
6
---
Slaapkamers
2
Trinidad
Experience the best of Trinidad, Colorado during your stay at 'Home in the Hills.' With 2 bedrooms, 1.5 bathrooms and accommodations for 4, this humble abode guarantees the most quintessential southern Colorado retreat you won't soon forget!
Lose yourself in the serenity of this stunning, completely off-grid, solar-powered Trinidad vacation rental house. From the moment you step foot inside 'Home in the Hills,' you will be enchanted by its genuine southwestern character, and quiet serenity. You'll adore the warm, comforting ambiance of this rural home, from the inviting rustic-inspired decor, to the expansive views visible from every room in the house - not to mention the secluded yet not remote feel of this gated ranch community. With 1,400 square feet of tastefully appointed living space, this dwelling is ideal for small families or friends traveling together. During your stay, you'll be delighted to discover all the important amenities you need for the ultimate home-away-from-home experience, including wireless internet access, up to 4 sets of towels and linens for all beds, in-unit laundry machines and flat-screen satellite TV. Prepare your favorite home-cooked meals in the fully equipped kitchen. Situated high atop a ridge in the gated Fishers Peak Ranch, this fantastic 35-acre property boasts unparalleled plains views, as it overlooks the historic frontier town of Trinidad and Old Santa Fe Trail. In the evenings, enjoy a clear view of the magnificent twinkling stars above as you unwind with your loved ones on the front porch. Look forward to sipping your morning coffee in the loft overlooking Fisher's Peak, as the sun begins to flood the eastern plains and town of Trinidad with light. Breathe in the sweet smell of Pinon Pine as you watch the summer thunderstorms roll in over Raton Pass, or take a leisurely afternoon nap while listening to the wind rush through the trees in the canyon below. After an eventful day of hiking through the rolling hills, unwind with your loved ones around the stone fireplace in the living room as you watch your favorite TV show on the flat screen satellite television. Evolve Vacation Rental Network is on a mission to make vacation rental easy for travelers. Every property in our network has been vetted and verified so you can book with confidence. If you have questions prior to your trip, we are happy to assist you 7 days a week. During your stay, your local contact will be available 24/7 to help with any issues that may arise.
For the history buffs in your group, Trinidad has so much to discover. This community has an expansive history, rich in lore involving many colorful frontier characters - both heroes and outlaws! Take a trip through time with a ride on the free trolley bus that tours points of interest in the town, including the Baca House, Bloom Mansion and the quaint Victorian lined streets of the Historic District. You can also visit the popular AR Mitchell Museum of Western Art or attend a performance of the Southern Colorado Repertory Theater. Your whole group will enjoy dinner at the delicious Rino's Italian Restaurant, complete with singing waiters, fantastic dishes and the best entertainment in town. Although you may want to spend your entire trip relaxing inside or investigating the quaint historic town, there's a massive variety of nearby outdoor activities for you to explore. Spend a day driving along the picturesque Highway 12, fondly referred to as The Highway of Legends - boasting stunning views of the Spanish Peaks stone dikes and Sangre de Cristo mountains. This highway will take you to the marvelous Trinidad Lake State Park, only 4 miles west of town. It's a best kept secret, known for having some of the best fishing in Colorado, with a number of species including trout, walleye and bass. Appealing area events include the Trinidaddio Blues Fest and the County Fair and Rodeo, both of which bring an influx of people and astounding excitement.Regardless of how you choose to spend your time in this fantastic town, this Trinidad vacation rental home in the hills will serve as the ultimate home base! Key Residence Features: - Amenities include a fully equipped kitchen, in-unit laundry machines, wireless internet access, 35 acres of private land, ceiling fans, off-grid solar power, gated community, flat screen satellite TV, and much more - Fantastic location overlooking Trinidad - Easy access to museums, antique shops, mouthwatering restaurants and entertainment! - Close to amazing outdoor attractions, including Fisher's Peak, The Highway of Legends, Trinidad Lake State Park, Sangre de Cristo mountains, Monument Lake, North Lake and more! Bedroom Configuration: - Master Bedroom: Queen-sized Bed - Bedroom 2: 2 Twin-sized Beds Additional Sleeping: - 2 Twin-sized Air Mattresses can accommodate extra guests if necessary A Note from the Owner... I just wanted to share with our prospective guests a bit about why spending time at this "home in the hills" has a special significance for me. I was born and raised in Trinidad. As a youngster, I would often climb up the small hill at the top of Tillotson Street (there were no houses there then) and perch on one of the large rocks, surveying the town below and Fisher's Peak in the distance. It seemed like I was above everything, except the clouds in the sky overhead. This was my "thinking time", and those are treasured moments of my childhood. That was almost 70 years ago, and a lot of livin' has transpired since then. College, Army, broadcast career, marriage, small business, born again in Christ, grandchildren, retirement...and now the sense that things are coming full circle. The reason for building our "home in the hills", was a desire to share some of those childhood moments when life was simpler with family members. Now that we know the wonders of nature seen in the trees, the rocky hills, the passing thunderstorms and the rainbows that follow ...are all works of the Creator, and are manifestations of His awesome power and wisdom. You may not agree with us about that, but you are still welcome to come and enjoy our "home in the hills" and maybe have a little quiet "thinking time". -Jim R
Kamertype
Gehele woning/appartement
---
Woningtype
---
Geschikt voor
4
---
Slaapkamers
2
Trinidad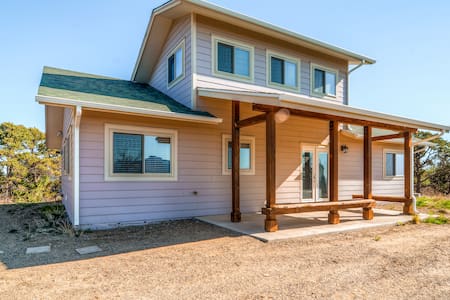 1

–

15

van

15 Accommodaties