Mooi gerenoveerd huisje, gelegen in het groen van de natuur; ideaal voor diegenen die willen ontspannen of lange wandelingen. Het huis beschikt over faciliteiten voor outdoor activiteiten, zoals een open haard en ligstoelen en een paar spelletjes tafel voor entertainment. Het ligt op 10 minuten rijden van het centrum van Enego.
Het chalet is verdeeld over vier verdiepingen, bestaat uit een begane grond met keuken (die heeft, boven de kachel, een houtkachel), grote open haard, kleine zithoek met een bank en TV, badkamer met douche en toilet. De eerste verdieping bestaat uit twee kamers, de eerste met de mogelijkheid van vier eenpersoonsbedden, de tweede met een tweepersoonsbed en een eenpersoonsbed en een balkon met uitzicht op de bergen; op de zolder is er nog een tweepersoons bed. Alle drie de kamers zijn uitgerust met garderobe. In de kelder is er een goed uitgeruste magazijn (er zijn ook laarzen in het geval u niet), met een kleine kelder en een badkamer met wasmachine (alleen wastafel en toilet). De buitenkant van het huis is een barbecue en er is de mogelijkheid om buiten te eten, het nemen van de tafel, dankzij een grote parasol / tuinhuisje. Bovendien, het magazijn hebben we wat zon, die in de tuin kan worden gebruikt voor zonnebaden. Voor de open haard, de barbecue en de kachel al het hout je nodig hebt, door ons te vinden. Het terrein is omgeven door bossen en uitgestrekte weilanden. Het gebied is ook uitstekend geschikt voor paddestoelen (vooral drum sticks), zuurkool en andere bergkruiden. Dit is een plek niet alleen voor degenen die willen ontspannen met de vogels zingen in de loop van de dag, de prachtige sterren 's nachts, de herten die af en toe kan worden gezien: het is ook een plek voor lange wandelingen geschikt voor kleine en grote.
De natuur is wat rondom het huis, geschikt voor mensen die houden van rust en wandelen.
Het huis is fijn, we hebben het er goed gehad ! Heerlijk gebbq, en s'avonds hout vuur gemaakt. Prachtig uitzicht lekker gewandeld met de honden. Alleen het lijkt op de foto dat het huis alleen staat. Dit is niet het geval op 20 meter afstand is er een houten huis waar in de weekeinde mensen verbleven. Verder staan er iets verder ( 50 meter rondom) op de berg diverse andere woningen. Sommige worden bewoond of hebben weekend gasten, die soms veel geluid overlast gaven. 2 badkamers is overdreven. het is 1 badkamer en een extra toilet met wasbak in de kelder alleen buitenom te bereiken. daarom vindt ik de prijs per nacht behoorlijk hoog ! Het plaatsje Enego is erg leuk en relaxed. Ga vooral eten bij Sette Teste en la Bionda
Caroline
2016-08-07T00:00:00Z
Siamo stati molto bene, la baita è immersa nel verde ed è tranquilla. Fabio ci ha accolto con (URL HIDDEN) casa si trova vicino al paesino di Enego nel comune di Asiago e da li si possono fare diverse escursioni e visitare bei posti.
Anna
2016-07-17T00:00:00Z
Fabio was responsive to all of our enquiries and met us in the village to take us up to the chalet. The chalet is in a very beautiful and unique setting but is not easy to get to without a car. The chalet is well fitted out and a very comfortable place to relax and enjoy the scenery or go on a ramble along one of the many walking tracks. It was the perfect way for us to wind up our holiday. Thank you Fabio and family for making our stay such a memorable experience.
Jacqui
2016-09-11T00:00:00Z
Fabio a été très accueillant et sympathique avec nous. Son chalet est très beau et parfaitement adapté aux vacances dans les montagnes. Merci beaucoup. Grazie molto.
Jens
2016-08-31T00:00:00Z
Era in un posto così che volevamo trascorrere le nostre vacanze in montagna con i bambini! La baita è splendida, il posto è fantastico e l'accoglienza di Fabio e della sua famiglia è stata a dir poco eccezionale. Spero di poterci ritornare. Grazie Francesco e Cristina
Francesco
2016-08-15T00:00:00Z
Fabio was a Really friendly and helpsome host - we enjoyed the stay in the house in the mountains where nothing was missing. A greate place for a holiday - even if you are into hiking, biking or relaxing!
Nicoline
2016-07-09T00:00:00Z
We had a wonderful time at the house. It was perfect, exactly as in the photos. We stayed here with a 2 and 7,5 year old and even though the weather was not great, we enjoyed ourselves very much. The wood-burning stove worked really well and roast beef & potatoes in its oven turned out perfect. Great mountain house. The area is beautiful.
wieske
2016-06-12T00:00:00Z
Kamertype
Gehele woning/appartement
---
Type woning
Houten huisje
---
Geschikt voor
9
---
Slaapkamers
Grigno, Trentino-Alto Adige, Italië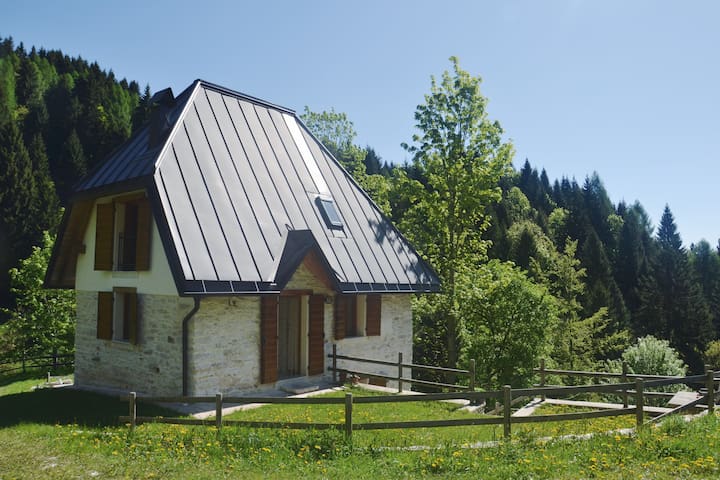 Portion of farm facing south. In the countryside (or snow), beautiful and which reports to the true roots of the mountain. Heating e'assicurato large parlor (heat generated by burning wood) and stove. Fireplace. Suitable for those who love the direct contact with the truest nature.
Large open space on the ground floor with large, typical, parlor, can heat the entire house as well as a stove. Heating is entrusted to them: there are no radiators But, believe me, the heat will not miss !. There is a fireplace, even visual bell'impatto. in very large wooden table inside, able to make unique both lunches that you dinners. Outside, weather permitting, there is a large barbecue and an equally large table where only make your grills! The ground floor floors are tile monoculture, the stairs leading to the first floor and the same wooden floor
De boerderij is geïsoleerd. Het land, Castello Tesino, heel mooi, ligt op 6 km afstand
Kamertype
Gehele woning/appartement
---
Type woning
Overig
---
Geschikt voor
10
---
Slaapkamers
Celado, Castello Tesino, TN, Italië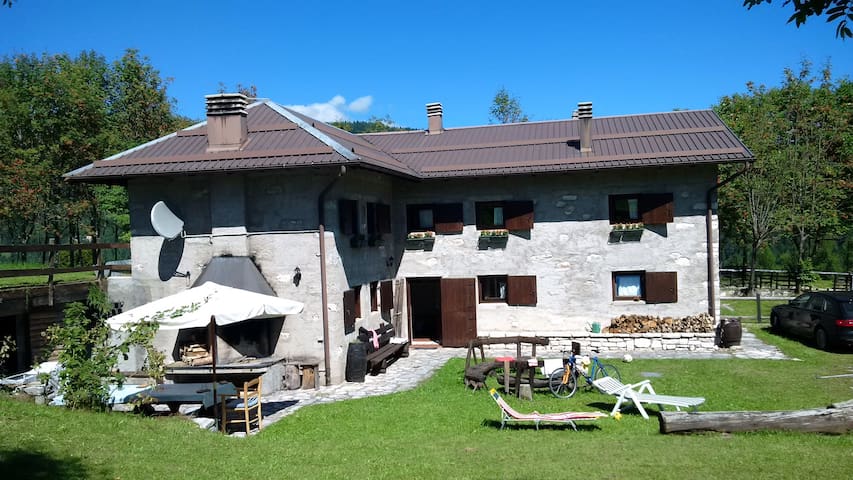 Independent and private house, entirely for yourself, surrounded by nature at 1.100 masl; the house is a typical mountain hut and it is situated in one of the most famous mountain pastures of the area. It is the ideal place for people who love nature and mountain. The house is available from the beginning of May 'till the end of October. In the Winter season (November to April) it is not available, since the access road is close due to high snow.
The house is made of three floors. The main structure is made by: a ground floor, where you can find a kitchen with fireplace and a bathroom with shower; a first floor, where you can find a bedroom with double bed (possibility to add a cradle); a second floor/ attic, where you can find a second bedroom with three beds. All the three floors are communicating, connected by stairs, and are heated by a wood stove. Separated from the 'main structure' described above, there is also a separate room with private bathroom; it is situated at the first floor and it is entirely made of wood. It is a completely independent room or studio, where you can find a double bed, a sofa bed and a private bathroom with shower. Towels and sheets are included in the price. In the back of the house you also have a big terrace in front of the wood; moreover, there are a fully equipped warehouse, a woodshed and plenty of private space to park your car. The house is surrounded by a big courtyard with grass where you can eat or rest.It is the woodland that frames the entire owned mountain pasture reserved for guests. The peace is absolute. You can enjoy the scenery on a fine day, the stars at night, you can hear the rain, wake up with the singing of the birds and if you are lucky, you can spot deer and wild stags grazing in the surrounding landscape. No shortage of mountain, philosophy, art and photography books, magazines and comics. There is equipment for outdoor activities and leisure and a telescope to be used with great care, in the beautiful starry nights.
The lodge and the mountain pasture are on the border of the historic First World War between Italy and the Austro-Hungarian Empire. You will find many consulting historic and geographic guides to explain the Asiago Plateau, the Trentino and Veneto regions and the Dolomites. In addition to detailed maps of all the trails in the area including the famous Trail of Cippi which traces the historic border of the war and runs just a few metres away from the lodge.
Het is een leuk huis met veel ruimte en rust. Het uitzicht is prachtig. De advertentie omschrijft goed hoe de inrichting is.
Familie
2016-08-03T00:00:00Z
We atrrived to an amazing place! The chalet is marvelous and it is surrounded by great nature. The Chalet is well equipped. It is very unique experience to live alone in the nature and to heat the water and the house with wood! We were there with our 4 kids for 6 days and enjoyed every moment.
ODED
2015-08-02T00:00:00Z
la baita è ancora più bella di quello che promette in foto. semplice ma attrezzata di tutto, ricca di calore e di ricordi familiari. ti svegli al mattino e c'è solo silenzio, rientri il pomeriggio e vedi i caprioli scesi dal bosco a mangiare nel prato davanti casa. direttamente dalla baita potete percorrere il sentiero dei cippi o fare altre piacevoli passeggiate. la zona è strategica per muoversi verso l'alto piano fino in Trentino, troverete a disposizione numerose mappe e guide, come altri bellissimi libri di fotografia,filosofia e altro. cucinare con la cucina a legna è stato interessante (naturalmente c'è anche quella a gas) e scaldare l'acqua con il boiler a legna è stato semplicissimo, basta solo non avere fretta ,avere ritmi un po più rilassati. giampietro è stato un ospite preciso, diretto e puntuale nonché accogliente, così come i suoi zii dirimpettai e suo fratello che abbiamo avuto il piacere di conoscere. il paese di enego è piccolino ma ha tutto quello che serve per una vacanza tranquilla. assolutamente un'esperienza da ripetere, sopratutto perché i nostri due cani sono stati benissimo!
martina
2015-08-23T00:00:00Z
We had wonderful 5 nights at Giampietro's mountain lodge. Ulla met us at the church in Enego and took us to the house. She gave us brief instructions about the technical details of the house. Giampiedro's descriptions on the Airbnb page are very accurate and the house gave us the impression to arrive at home, everything we needed was where we looked for it like the toaster, the citrus press, the towels, the blankets and all the things you need to be comfortable. All equipment in the house has been installed or renovated with great care and we truly had a great deal of respect for the craftsmanship that had gone into the renovation of the historic farm house. It was cold outside when we arrived but the ground floor wood cooker did a good job and also warmed up the rooms above. The hot water boiler also runs on wood and after the first round of heating up the water it became routine. Hot water and shower work very well. We did not use the big separate room with its own bathroom and it was not heated by the wood cooker. In the kitchen there is also a gas stove for cooking which we did not use. The setting of the house is very unique and in the middle of the woods on an open meadow. The only sounds were cuckoos, other birds and deer. For the first 3 days we did not see another person nor a car. On the weekend we met the neighbors and had a nice chat in a wild mixture of Italian, French and English. The Enego village is about 20 min away driving very slowly on a narrow single lane gravel road (in some parts paved). Passing oncoming cars can be very tight. Enego has all you need like restaurants and shops. The village hangs on a cliff some 25 hairpin curves up form the valley bottom. Hiking trails start right at the lodge and we hiked up to Fort Lisser (WW1). Other trips took us on climbing trails in the close vicinity. Giampiedro had sent us web links ahead of our trip but he also has a good selection of hiking trails in the house library. We will come back!
Schaller Family
2016-05-23T00:00:00Z
Casa splendida, come da descrizione per posizione e architettura, e accoglienza gradevolissima da parte di Giampietro (con tanto di regalo di benvenuto), che oltre a essere stato un ospite pronto e disponibile a qualsiasi domanda, è stato prezioso nell'aiutarci a risolvere un piccolo problema automobilistico.
Giorgio
2014-08-17T00:00:00Z
What great cabin, back to the past with wooden oven, wood heated watertank, etc. It was very calm place, and we enjoyed the surroundings. The road up to the cabin was an adventure in itself, and be prepared for steep driving and narrow road. Good clearance to the ground under the car is an advantage. Clean towels were available. Great fun to live like they did many years ago.
Thor
2016-07-10T00:00:00Z
Giampietro's Baita is simply amazing. It's a beautiful mountain farm-house in the middle of a gorgeous valley: the perfect solution if you want to enjoy the peace and relax of the mountains, faraway from any noise. We will return for sure next year!
Massimiliano
2016-09-03T00:00:00Z
The reservation was canceled 16 days before arrival. This is an automated posting.
Nadezhda
2014-04-09T00:00:00Z
Kamertype
Gehele woning/appartement
---
Type woning
Houten huisje
---
Geschikt voor
7
---
Slaapkamers
Enego, Veneto, Italië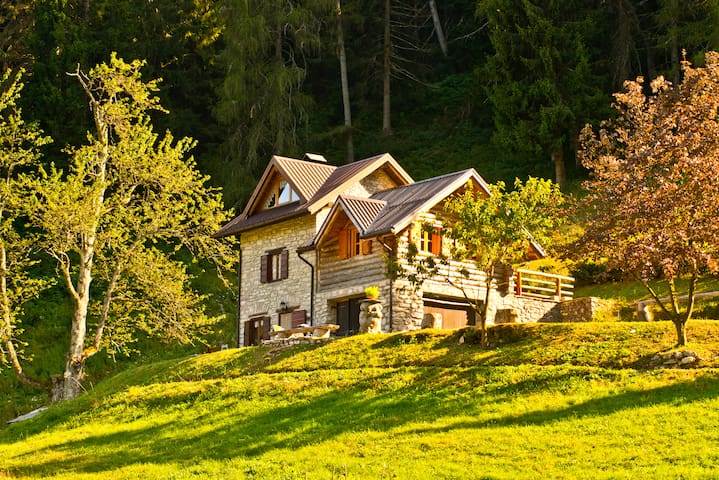 il b&b dispone di due camere da tre letti con bagno privato, con un piccolo suplemento e possibile usare la cucina,gli ospiti devono apettarsi un posto mondano imerso nella natura,
Kamertype
Privé Kamer
---
Type woning
Bed & Breakfast
---
Geschikt voor
3
---
Slaapkamers
Valli del Pasubio, Veneto, Italië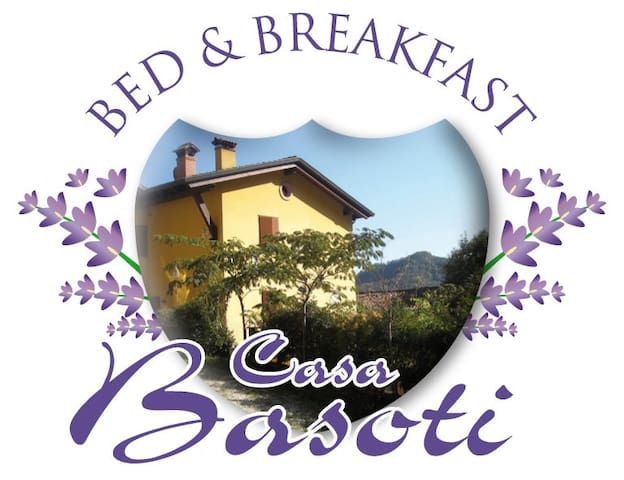 1

–

4

van

4 Accommodaties