Voer je aankomstdatum in in dit format dd/mm/jjjj
Voer je vertrekdatum in in dit format dd/mm/jjjj
0 kinderen
leeftijd 2 - 12
Ruimtes die je kan reserveren zonder op goedkeuring van de verhuurder te hoeven wachten.
15 Accommodaties
· Vivah Reforma
15 Accommodaties
· Vivah Reforma
Komende juli en augustus kun je een van deze 100 best beoordeelde woningen uitproberen, in elke prijsklasse, om zo een lokaal gevoel van Sonoma te krijgen. 24-uur inchecken, Direct Reserveren en lokale wijn en snacks. Leun achterover en geniet van je reis.
Jesús es amable, atento y se mantiene comunicado para cualquier situación que se presente; el sitio es tal cual lo puedes ver en las fotografías; será necesario que cuentes con un vehículo, pues el transporte público es muy escaso y los taxis, esporádicos. La colonia parece más insegura de lo que realmente es; muy familiar con niños jugando en la calle, aunque lejana y poco accesible si andas a pie.
Sergio
October 2016
Colonia cercana a la feria de Durango y lejana a cualquier otra atracción (centro, viejo oeste,museos,etc.). La zona se ve insegura pero realmente es tranquila. El transporte publico es escaso. Casa amplia y agradable. Tiene asador. El Sr. Jesús muy amable.
José Luis
December 2016
Una excelente opción para estar en Durango capital, precio súper accesible, nuestros anfitriones súper amables, muy atentos y dispuestos a atendernos a pesar de que por contratiempos llegamos muchas horas después de lo acordado. El lugar es muy amplio y muy bonito, a nosotros nos dio la oportunidad de alojar un grupo más grande de personas, el lugar se presta pues la estancia es muy amplia y permite acondicionar donde dormir. En la cochera se pueden estacionar 2 autos compactos sin problemas. La cocina tiene todo lo necesario. Lo que ves en las fotos es lo que recibes. 100% recomendado.
Luis
February 2016
Los servicios de la casa están muy bien y se encuentran el perfectas condiciones, es un muy cómoda. En cuanto a la ubicación, no se encuentra muy cerca del centro y es un poco difícil llegar en un principio. Los dueños de la casa son muy amables.
Mariana Berenice
July 2016
My gps was offline, but it did not matter! The family was ready to jump in the car and guide me to the lodging. Hugs! Perfect abode for travelers-kitchenette, secure parking, neighborhood market, roosters, music and a lively neighborhood. I will be back.
Le An
September 2016
Siempre tuvo atención con nosotros los facilitó las cosas gracias
Brenda
March 2016
Both of the hostess were nice and very attentive
Maricela
May 2016
We were traveling through Mexico and needed a stop in Durango. Jesus has a large locked up parking area which was great for us as we were traveling with a loaded pickup. He and his wife met us at the house and showed us everything and handed off the keys. They live near by so it was no problem for them to meet us at our arrival time, we called them when we were 15 minutes out. The place was clean and roomy. Everything was as advertised and we will stay there again next time we go through Durango. It would also be a good place to spend a week as it was very roomy. Be careful with the address. If you just copy and paste it into (SENSITIVE CONTENTS HIDDEN) maps it might show you another location on the South West side of town. But the "Get Directions" link on Airbnb is the right location on the South East side of town.
Russell
May 2016
Kamertype
Gehele woning/appartement
---
Woningtype
---
Geschikt voor
4
---
Slaapkamers
2
Durango
Lugares de interés: Disfruta Durango y sus eventos culturales o por visita de negocios, hospédate en este cómodo y amplio Departamento amueblado a diez minutos del centro histórico, de fácil acceso a transporte público, centros comerciales y educativos.
Dos habitaciones con clóset, cama nueva matrimonial, espacio para trabajar con PC con internet,señal Wifi, TV cable. Cocina integral completa con refrigerador, horno de microondas, estufa de gas, cafetera, vajilla bàsica, al recibir huesped como cortesìa de bienvenida se incluirà cafè, tè, leche, agua, jugo y panecillos recièn hechos del dìa. El departamento cuenta con uno y medio baños, cuarto de servicio y patio. Departamento interior independiente con patio y cuarto de servicio. Será un gusto ser su anfitrión en este cómodo y acogedor departamento.
A una cuadra del museo Benigno Montoya. A una cuadra de vías de acceso de transporte público.
Tranquilo, bonito y espacioso. Fácil para transportarte.
Zaira
October 2016
Héctor y su familia fueron muy amables y atentos a todas las necesidades que he tenido con mi familia en la casa. El lugar está a unos 10 minutos o menos del centro histórico y es recomendable tomar un taxi, los cuales pasan muy seguido y cerca. El departamento es lindo y amplio, además de que uno puede cocinar tranquilamente sus alimentos. Sin duda volvería a hospedarme aquí, es de los mejores airbnb que he adquirido. Muy recomendable, tanto el lugar como Durango que es hermoso.
Danaí
December 2016
El lugar es muy agradable, atentos, muy limpio todo, realmente piensan en todas tus necesidades en cualquier parte de la habitación, si volvería a hospedarme en este lugar durante mi estancia en Durango.
Patricia
November 2016
Héctor es un muy buen anfitrión, desde que llegamos tuvo muestras de cortesía para nosotros, siempre estuvo al tanto de lo que llegábamos a requerir. La casa es muy limpia y con grandes espacios. Lo recomiendo.
Nelson
November 2016
Kamertype
Gehele woning/appartement
---
Woningtype
---
Geschikt voor
4
---
Slaapkamers
2
Durango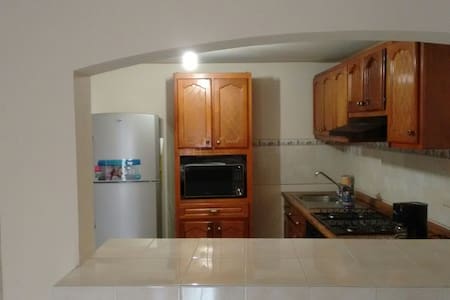 Frente a cine y pequeña área de comercios, frente a Sams y Wallmart, Zona Privada, Área tranquila a 8 minutos del centro en auto.
Casa para parejas o huéspedes de negocios. No cuenta con sistema de cable. Si requieren paseo por la ciudad, con gusto.
Casa en Privada, poco ruido. Al centro de la ciudad en auto 8 minutos, el transporte público al centro pasa frente a la casa y se llega en 15 minutos
Kamertype
Gehele woning/appartement
---
Woningtype
---
Geschikt voor
4
---
Slaapkamers
1
Durango
A SMALL CITY LOCATED AT THE CENTRAL NORTH OF MEXICO AND 3 HOURS AWAY FROM THE BEAUTIFUL BEACH OF MAZATLAN CITY. DURANGO IS KNOWN AS THE MEXICAN MOVIELAND THANKS TO IT'S GREATEST WESTERN HOLLYWOOD AND INTERNATIONAL FILMS AND PRODUCTIONS DONE HERE.
A wide and cozy house would make you feel more privacy. Very well located, close walking distance from downtown. Hospitals, supermarkets, schools, churches, drugstore, hotels, restaurants, banks, gas station, gym, parks and a shopping mall everything one might need is five minutes close by walk to our home and you still feel privacy inside of it!!. Guest have access to the whole common areas of the house like kitchen, dinning room, gardens, living rooms, etc. We are always please to meet new people and to help them in anything we can. We like privacy and are able to interact with our guests as much as they allow us to do it.
I love our home, it's near of everything because downtown is very close by walk and here inside one would feel like we're far away from everything because it's still a quiet zone!!. it's so easy to move to everywhere from here. Bus stops and taxis are for all over this zone and the Central Bus Station for foreign departures is just five minutes by car away from our house. Durango has much to offer to those who're looking for gentle, nice and charming people. We love tourists, we love people!!.
Kamertype
Gehele woning/appartement
---
Woningtype
---
Geschikt voor
4
---
Slaapkamers
2
Durango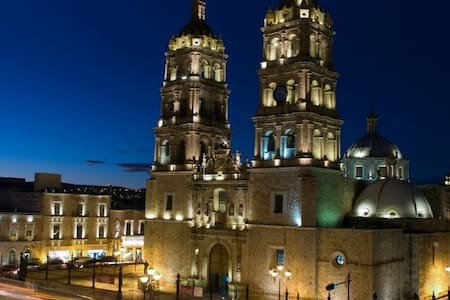 Recámara tipo clásico, en zona centro de la ciudad muy accesible
Kamertype
Privé Kamer
---
Woningtype
---
Geschikt voor
2
---
Slaapkamers
1
Durango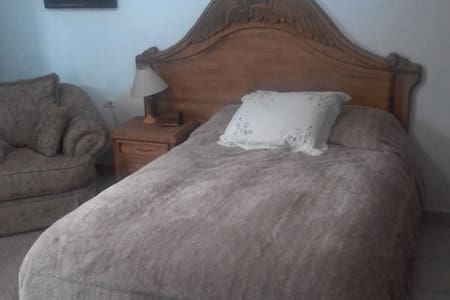 Cozy and comfortable centrical house waiting for you at Durango, known as a Western Movieland. Incredibly well located and near from everything you can need from this quiet colonial and small city.
Clean and cozy place to stay in. Very centrical house located 20 minutes by walk away from downtown and still in a quiet neighborhood. Continental breakfast, T.V. internet, garden smoke areas, laundry room, kitchen, living room to read, to take a nap or just to stay around. As long as our guests could wish, we are pleased lo interact with them.
We love this centrical place to live in because everything is so near from here just by walking! and it is still a quiet zone. Bus stops, taxis, are everywhere around here and we have an extra parking place to our guests if needed. Hospitals, Restaurants, Schools, Parks, Supermarket, Hotels, Drugstores, Gas Station, Everything just from some steps away from our house!
Kamertype
Gehele woning/appartement
---
Woningtype
---
Geschikt voor
2
---
Slaapkamers
1
Durango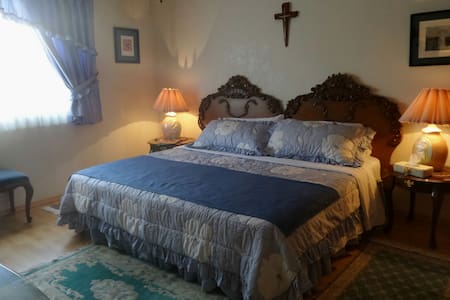 Comfortable room with two twin beds and it's own bathroom. The house is in a centric location on a quiet street just about 20 minutes by walk to downtown, and five minutes away by car from the main square of the city and 10 minutes by walk from Paseo Durango, the main commercial zone in Durango.
We are a clean and honest traditional mexican family who loves to meet new people and cultures. We like privacy, therefore we respect someone else spaces. We offer a charming place to stay. Continental breakfast. Laundry room. Common areas as living room, gardens, kitchen. Tv. Parking. Internet. Etc.. We are able to interact with our guests as much as they would allow us to.
What we like the most about our neighborhood is that we are located 20 minutes away by walk from downtown. Everything is near to our home, just a few steps and you will be at the Supermarket, Gym, Church, Hospitals, Schools, Restaurants, Banks, Drugstore, Parks, Hotels, Gas Station, etc., and even though we are in the central area of the city, it's still a quiet place. It becomes so easy to move to every where in the city from here, by walk, by taxi, by bus. The Central Bus Station is five minutes away by car. And by now we offer one car parking. Durango is an small traditional colonial city in the central north of Mexico known internationally mostly for being a movie land, a place where have been filmed so many Hollywood productions mainly related to western gender.
Olivia fue muy amable en todo momento. Incluso antes de llegar a su casa nos ayudó a orientarnos en la ciudad. Su casa es muy familiar ya que vive con sus hijos lo que la hace mas agradable. La casa es grande, limpia y tranquila, lo que la hace mas acogedora. Es aplicada a la hora de seguir las normas de la casa lo que la hace mejor aun. Gracias Olivia por tu ayuda y permitirnos quedarnos en tu casa.
Monica
December 2015
Kamertype
Privé Kamer
---
Woningtype
---
Geschikt voor
2
---
Slaapkamers
1
Durango
The room is very well lit with two twin beds. The beds and matresses are new. The house is located in one of the main streets in the city center of Durango just minutes away from main attractions.
Kamertype
Privé Kamer
---
Woningtype
---
Geschikt voor
2
---
Slaapkamers
1
Durango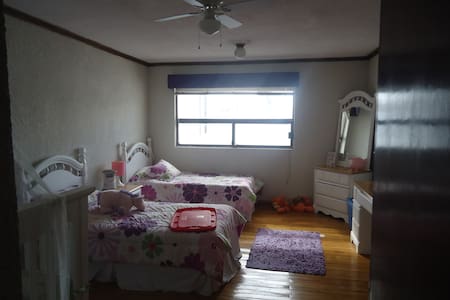 Cozy room with a king size bed and it's own bathroom, the house is in a centric location on a quiet street about 20 min walking from downtown and 10 min from the city mall.
Our clean and cozy home is ideal to those who are looking for quality and comfort places as for those who are interested to know and live in a typical mexican family place. Our guests have their own complete bathroom, towels and blankets. They have access to any common areas of the house including kitchen, dining room, living room, garden areas. I'm at home most of my time, so the interaction with my guests could be as often as they would like to. We are glad to meet and host new people at home.
My neighborhood is a nice and still quiet place located close to downtown so near to our house you can find hospitals, supermarkets, malls, cinemas, churches, grocery stores, hotels, restaurants, pharmacies, schools, money exchange places and banks, gas station and much more around here. The access to taxi cars, which are very cheap, is very easy here including some bus stops and the city bus station it's just ten minutes away by car from our house. As we like animals we'd like to tell you that we own a very quiet female cat some times inside the house and a border collie male dog which is mostly in our graden.
Olivia is a terrific hostess and guide to the area. Our room was delightfully prepared and was very comfortable -- as are all of the other spaces in the house. Our first afternoon, Olivia and her two young children gave us a marvelous tour of Durango, including sunset at the top of the telferico. The home is near city center but without all of the city-type hassle. We recommend this home and hostess to anyone who has business downtown and/or wants a place close to all of the beautiful sites here. THANK YOU, Olivia and family!
Marti
August 2015
Olivia was a wonderful host and truly went above and beyond all expectations to make my stay as nice as possible. I came to Durango with very little Spanish in order to learn the language and before I arrived she had gone out of her way to research schools for me. The house is quiet and comfortable and I truly felt at home here. The kids even lent a hand by putting up post-it notes with the Spanish names for things! The house is centrally located with lots of restaurants and stores nearby, and an easy walk or quick bus ride from the Plaza des Armas. A thousand thank you's, Olivia!
Douglas
June 2015
Kamertype
Gehele woning/appartement
---
Woningtype
---
Geschikt voor
2
---
Slaapkamers
1
Durango
Exelente ubicacion cerca de paseo Durango .Vigilancia 24 hs. Tipo penthouse piso 10 Residencial las torres...todo cerca...excelente ambiente. Muy comodo. Muy limpio y sobre todo muy tranquilo. Seriedad y confianza. Mejor que hotel.
estamos en un lugar cerca del centro de la ciudad, de la central camionera y a 15 min. del aeropuerto acceso a la cocina,sala,terraza.cuarto de tv proporcionamos informacion turistica y de los lugares mas recomendados de la region
la zona donde esta la propiedad es muy tranquila y muy bien ubicada taxi, autobus caminando, renta de coche
This was a very nice place. Has a beautiful view from the tenth floor.
Ron
December 2016
Miguel was both attentive and caring, communicating with me from day 1. His home was far larger than I expected, spacious and comfortable. The room included a bathroom, while I took advantage of a shared kitchen and patio. The apartment is on a tower closed to downtown, very easy toget a Taxi nearby, and an Oxxo (like a 7/11) just a block away. Miguel lives in the same apartment and he made it his mission to make me feel comfortable and at home while I stayed in Durango. I would definitely stay again in the future. Miguel es a la vez atento y agradable, comunicando conmigo desde el primer día. Su casa era mucho más grande de lo que esperaba, amplio y cómodo. La habitación incluye un baño, mientras me aproveché de su cocina y patio. El apartamento está en una torre cercas del centro, muy fácil de conseguir un taxi cercano, y con un Oxxo (como un 7/11) a sólo una cuadra de distancia. Miguel vive en el mismo apartamento y él se dedico a que me sienta cómodo y en casa mientras yo me quedaba en Durango. Sin duda reservacia de nuevo en el futuro.
Victor
October 2016
De hecho el depa está aún más bonito que se ve, el cuarto muy grande y 30 minutos caminando al centro. Las calles por la casa son muy seguras y lindas y es un lugar súper tranquilo. Miguel también es muy amable, un superhost que hizo lo máximo para asegurar que disfrutara mi estancia allí.
Tom
December 2016
Kamertype
Privé Kamer
---
Woningtype
---
Geschikt voor
2
---
Slaapkamers
1
dDurango, Durango, MX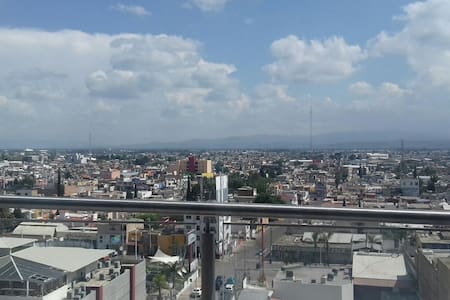 We're located on the central part of Durango, 20 minutes by walk away from downtown. The neighborhood is a quiet place. Schools, drugstores, 24hrs.SuperMkt's, hospitals, churches, gyms, hotels, restaurants, malls, cinema, everything very close to us.
One of the things we offer apart from our home, is our human service, we like people, we like different cultures and we are able and happy to help our guests as much as we can do it, it means, some times we can drive them from one place to another inside the city or out of it to let them see our beautiful landscapes and the different cinematographic sets which are like 30 minutes away from the city. Our guests are able to use all the common areas of the house as gardens, living rooms, laundry room, the kitchen and the dinning room. As we love to meet new people we're very glad to interact with our guests as much as they allow us to do it and we respect privacy as much as we like to be respected in that sense too.
Durango is known to be a the Movieland from Mexico, it is because of his large filmography
Kamertype
Privé Kamer
---
Woningtype
---
Geschikt voor
2
---
Slaapkamers
1
Durango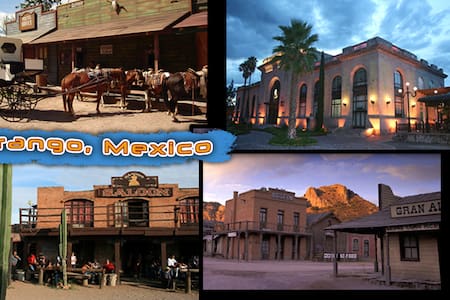 1

–

15

van

15 Accommodaties