This dashing location includes a full size bed, nightstand, dresser with mirror, easy access to I-88, 355, and the BNSF Metra Train Line.
Fabulous stay! My only complaint is the host's newborn was present and I found myself giving her kisses all day, and it was very distracting from the amazing food.
Manish
2016-07-09T00:00:00Z
Excellent stay. Amazing whiskey selection.
Manish
2016-05-28T00:00:00Z
Kamertype
Gehele woning/appartement
---
Type woning
Huis
---
Geschikt voor
1
---
Slaapkamers
Warrenville, Illinois, Verenigde Staten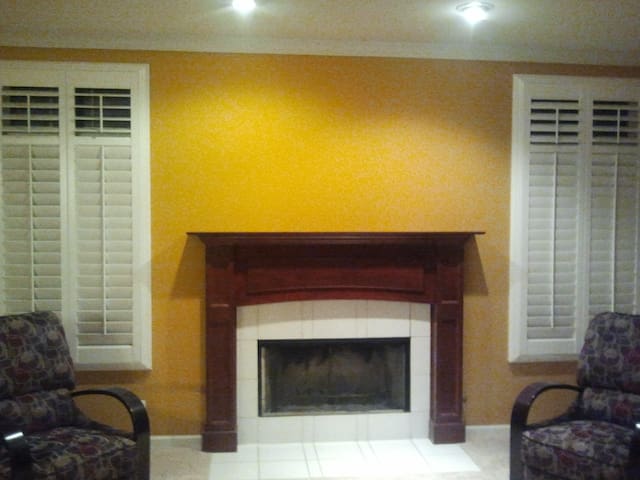 Spacious cozy room for comfortable nights rest, upon request more rooms available for relaxing and/or entertaining. Breakfast available w/fee on Saturday and Sunday. Close to City of Chicago, but far enough away to enjoy the small town atmosphere.
Extra Rooms and space is available for rent if needed for entertaining and/or visiting upon request.
Kamertype
Privé Kamer
---
Type woning
Huis
---
Geschikt voor
2
---
Slaapkamers
Warrenville, Illinois, Verenigde Staten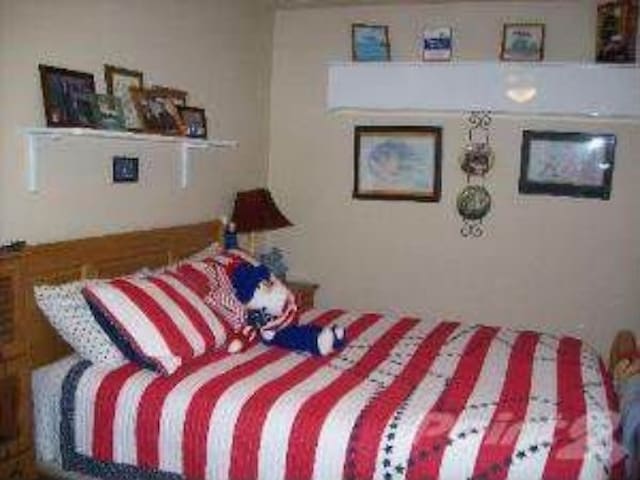 Walking distance to downtown Wheaton, where you can enjoy one of the largest Farmer's Markets in Illinois. Hop on a train to Chicago and visit the Willis Tower or walk to Mariano's to buy some groceries to cook in our beautiful cooks kitchen!
Fishing Pond & Park directly across the street Walking distance to downtown Wheaton, with access to Metra system Walking distance to Wheaton College, local library and many restaurants and shops including Mariano's Grocery Store & Wheaton Meat Market
Walk to downtown Wheaton to visit the Farmer's Market, Starbucks and hot spot Gia Mia for lunch or dinner, then visit Graham's for chocolate and ice cream for dessert! Walk across the street to fish or play at Rathje Park Feel like shopping? Check out Bella Roba and Jeans & A Cute Top Shop or hop in your car and drive a mile to Target & Kohls Driving distance to Danada Square, Oak Brook Mall, and Whole Foods
Megan and Vic place was amazing, they really made my first experience a great one! They were welcoming and helpful with whatever I needed. My ladies night was a success because of their beautiful home. Thank you again for everything!
markyshiara
2016-09-25T00:00:00Z
Megan and her husband were extremely hospitable during our stay. We were in Wheaton during a pretty significant snow storm (at least it seemed significant to me as a native Southerner). They went out of their way to meet us at check-in and came back over to shovel snow off the walkway multiple times during our stay. In short, they really exceeded my expectations in terms of both communication and courtesy. The place itself is clean, more than adequate, and in very close proximity to downtown Wheaton.
Caleb
2016-12-12T00:00:00Z
Loved!
Serena
2017-02-12T00:00:00Z
Communication was excellent, home was very cozy- a gem, and conveniently close to Wheaton down town. Highly recommended.
Adriaan
2017-03-18T00:00:00Z
This is a great home for anyone who would like the conveniences of home along with a location close to downtown Wheaton and Wheaton College.
Alisa
2017-02-21T00:00:00Z
Awesome place. Easy in and out. Flexible. Thanks a lot!
Tucker
2017-01-02T00:00:00Z
We were in town for a weekend to attend a wedding and needed 2 rooms fur the three of us. Megan and Vic's 2 bedroom little cottage is just fits the bill. It is located conveniently in a very clean middle class neighborhood not too far from Wheaton and Glen Ellyn downtowns. Although interior is done very well and clean, outside area, driveway and the front steps could use some flowers and beautification. A brand new Welcome mat will enhance the curbside appeal. A fabulous place for two couples or a couple with grown up kids to spend a few days when you are in town for an event. Cheaper than renting two rooms in a hotel. We found Megan and Vic to be very friendly and caring.
Moe
2016-08-08T00:00:00Z
We had an amazing experience staying at Megan and Vik's place for over two weeks. The house is situated in a quiet and safe neighborhood that offers great views of the nearby park. We felt the owners thought of everything to the tiniest details for their guests. e.g. providing information regarding local restaurants, events, places to see, bringing over extra chairs in a flash, installing the internet/wifi access, setting up a TV, putting garbage on the curb for morning pick-up and we could go on. It was very easy to get in touch with Megan and Vik anytime of the day regarding any questions or requests we had. Both ensured our stay was perfect. We would highly recommend this place to anyone visiting Chicago/Aurora/Naperville/Wheaton area!
Neha
2016-05-24T00:00:00Z
Kamertype
Gehele woning/appartement
---
Type woning
Huis
---
Geschikt voor
5
---
Slaapkamers
Wheaton, Illinois, Verenigde Staten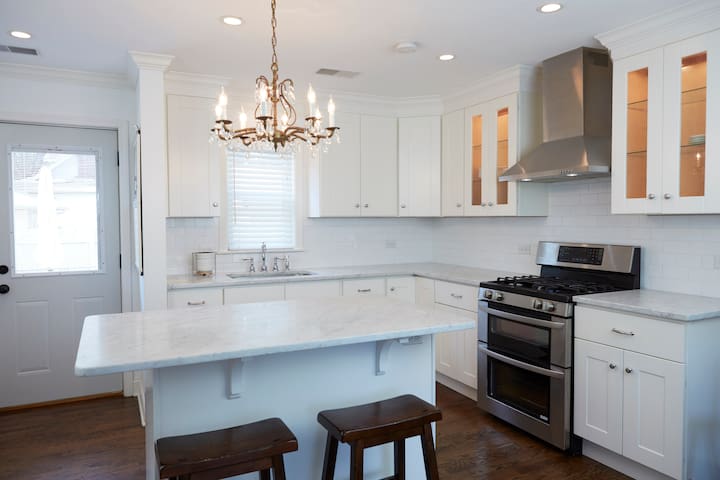 Private Second Floor includes Three Bedrooms, One Bath, Will sleeps 5, +1 small child on small mattress First floor shared Kitchen, Living Room Washer & Dryer $5, 1 time chg Groceries & MCDonalds 1 mile Major Highway access to Chicago & Suburbs, 1 mile Airport 26 miles Play ground .3 miles Beautiful Walking trails .1 miles Major shopping .5 mile Dinner nightlife. Kid Friendly Safe Neighborhood, Cozy, Quiet & Comfortable. Uber Driver in house.
Quiet with walking trails only 2 blocks away
Bill thank you for a great stay. Quiet, comfortable and relaxing. Thanks for the ease of check in and information. No issues during stay.
Martin
2017-01-25T00:00:00Z
If you are looking for a large, comfortable and family friendly place, you should book William's place ASAP! You will be quite glad you did.
Mike
2017-02-11T00:00:00Z
The rooms were very neat and the hosts were very nice.
Bhargavi
2017-01-14T00:00:00Z
位置非常好,我们非常喜欢这里,Carol和Bill带我们去周围的公园和湖玩耍,象一家人一样,非常感谢!希望再次来到这里。
Richard
2016-07-31T00:00:00Z
Nice people, gave me space when I wanted it. I would recommend this place!
Rick
2016-09-03T00:00:00Z
Only stay here if you enjoy immaculately clean, comfortable lodgings run by a kind, accommodating host.
Stephen
2017-02-08T00:00:00Z
from begging,we lived here,and from departing,we lived here. we like this couple,wish you have.a good health. welcome to China.byebye.
Richard
2016-08-13T00:00:00Z
Everything was as described and the hosts were very accommodating. We made better time than expected and they allowed us to check in at 2pm instead of 4pm, which was very nice. I am a meal prepper, so I packed a salad and some fruit, which they allowed me to keep in their refrigerator. We were in town for a baptism so we didn't hang out too much at the house.
Katie
2016-11-14T00:00:00Z
Kamertype
Privé Kamer
---
Type woning
Huis
---
Geschikt voor
5
---
Slaapkamers
Woodridge, Illinois, Verenigde Staten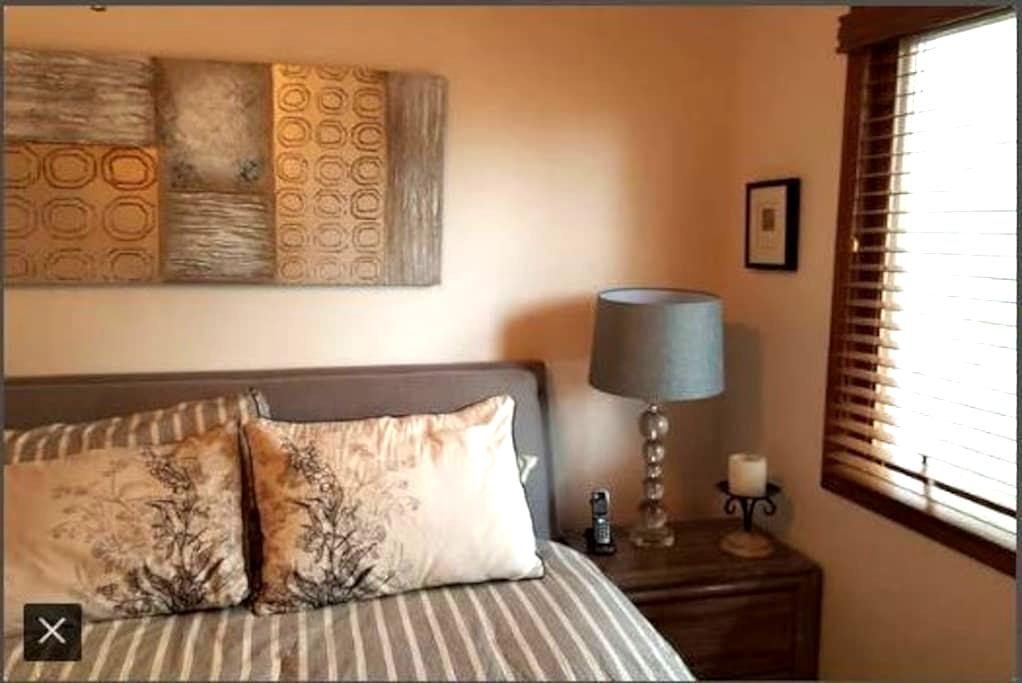 Huge townhouse that will be empty for a week. Fully furnished 2 car garage. Modern Stainless appliances washer dryer, 40 minute drive to the city.
Kamertype
Gehele woning/appartement
---
Type woning
Huis
---
Geschikt voor
8
---
Slaapkamers
Carol Stream, Illinois, Verenigde Staten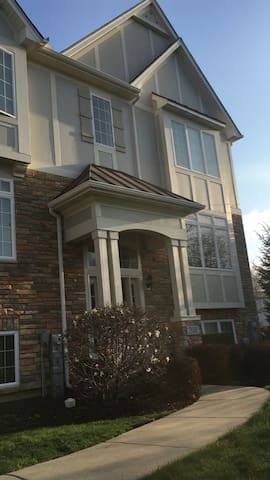 Ideal place for professionals working out of their home town from Monday to Friday, business travelers in general and solo adventurers. It is conveniently located 4 min from I-355, 5 min from I-55 and nearby a shopping mall. Yet the neighborhood is very quiet. The bedroom and the dedicated bathroom amenities are inspired by hotels. Sip a drink in the relaxing living room after a hard day work. Or indulge along with me in a movie watching experience on a 133" cinema screen.
Open floor, cathedral ceilings, maple hard wood floor throughout the house, European style furniture, some European modern art, South East Asia artifacts and mostly traditional Chinese paintings. Philips Hue lighting in common living area.
I like my neighborhood very much, because it was established in the early 1990's in a wooded area with a lake nearby. Hence there are plenty of mature trees, some diverse suburban wildlife (I even had a hawk dive on a rabbit once in my back yard), and some beautiful unique architect houses not made out of the same cookie cutter. The neighborhood is very safe, conveniently located close to shopping outlets, dinning, public parks, forest preserves and to major highways.
Where to start, from the contemporary house, to the stocked kitchen, and the most welcoming and friendly host ever, this home is the perfect spot for anyone who is looking for a quiet and comfortable place to stay. The room I had was comfortable with its own tv and all the channel subscriptions (HBO, Netflix, etc). Great location to go shopping and eat also. Would absolutely stay there again.
Krishna
2017-01-06T00:00:00Z
Close to shopping and restaurants. Easily the coolest house we have stayed in. Cannot beat the value. Daniel is also a pleasure to speak with.
Chad
2017-03-20T00:00:00Z
Great house and host. Great communication.
Matt
2017-02-17T00:00:00Z
5 stars! Daniel has put a lot of thought into his listing. Check in/out is easy, if he's not home he has a lockbox for access to keys. The home is very clean and beautifully furnished exactly as shown in the pictures. The guest room is well equipped for travelers with a workspace, lamp, extra power outlets, wonderfully fluffy duvet, and plenty of snowy white towels. The bathroom is next to the guest room and was sparkling clean. I enjoyed watching Netflix on the large tv in my room at night and the last night of my stay I watched a movie with Daniel in his media room. Wow, such a treat and very relaxing! Great space, great host. Thanks again, Daniel!
Amy (Sully)
2017-01-04T00:00:00Z
Awesome stay at a beautiful home, exactly what we needed after 8 hours of driving! We didn't make our original check in time at 7pm, but Daniel was totally understanding and okay with our late arrival. Thanks for staying up for us! Everything was immaculate! Convenient location that was nearby plenty of stores. Only wish we could've spoken to Daniel a little more, but we were so beat after driving. He's a cool and interesting guy, would absolutely stay with him again.
Christina
2017-04-03T00:00:00Z
Daniel was a thoughtful, cordial and helpful host. I stayed for 5 nights in need of a short-term place to stay while starting a new job in the area. The home was very clean, modern, had an art to the way it was designed and equipped. I definitely recommend.
Michael
2016-12-23T00:00:00Z
Great place, as usual. Stayed here several times.
Matt
2017-02-16T00:00:00Z
Great place, and a very nice home. Would stay here again!
Brian
2017-03-31T00:00:00Z
Kamertype
Privé Kamer
---
Type woning
Huis
---
Geschikt voor
2
---
Slaapkamers
Bolingbrook, Illinois, Verenigde Staten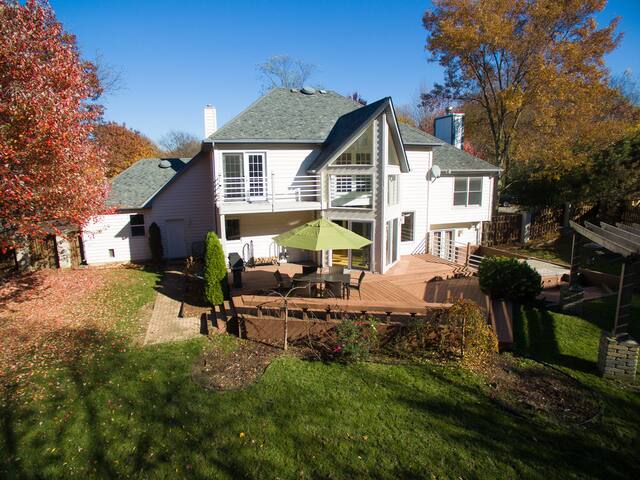 We have up to 3 available bedrooms in our home, each with a queen bed. Book 1 room or all 3 for larger groups. Your stay with us will be a peaceful retreat in a 5 star luxury setting. Our lovely neighborhood is a short walk to restaurants & shops.
Our cozy, quiet home is centrally located in the Fox Valley area. Our suburban neighborhood is a close walk to both Geneva & St. Charles. Both gorgeous villages have many festivals, quaint shops, restaurants, pubs, movie theater/cinema. To visit downtown Chicago, there is a local train which runs often throughout the day. Saint Charles is a wonderful place to visit and have fun. We actually feel as though we're on vacation every day! It's a small, trendy river town with amenities that appeal to everyone: biking, running, walking, hiking, golfing, horseback riding, kayaking, wine tastings and incredible shopping. At night, have a glass of wine and restore yourself with a fabulous meal at one of our city's many celebrated restaurants, bars, clubs and local theaters…all literally minutes away. Saint Charles was voted the "best town to live in and ranked number one in the United States" by Family Circle Magazine. We offer a continental breakfast each morning, as well as water and chocolates in each room. We have high-speed wireless Internet throughout the house. You are welcome to use our refrigerator if you bring your own food. Parking is available both in the drive and street side. Other amenities are linens and towels, bathrobe, soap, shampoo, hair dryer, lotion, iron, ironing board and fan. We're empty-nesters who love to welcome guests & travelers from near & far. Hope you'll check us out!
Great neighborhood - very safe!! Location is 45 minutes from downtown Chicago and just blocks from downtown Saint Charles, IL & downtown Geneva, IL
The way you already have made us feel welcome, by presenting a lovely welcoming home.
Sandra
2016-08-03T00:00:00Z
Wow!!! I've always had great experiences with AirBnB, but my stay with Theresa and Craig's home is beyond amazing! The neighborhood is beautiful and quiet. It is next to lovely parks, 5 to 10-minute walk from the picturesque river, and just short walks to two charming small town centers and shops. Everything is connected by walking/biking trails, so everything is literally close by. I did a few jogs and had to stop many times to take pictures. Car is definitely NOT recommended to enjoy neighborhood. And the house...ah, the house! Pictures don't do it justice. I thought I was in a designer home. The rooms, the furnishings, and the overall ambiance is very classy yet warm and inviting at the same time. Bed (you have choices from 3 rooms) is luxurious. Shower is immaculately clean and has everything one would need. I wish I knew how to cook because the kitchen is amazing. Internet is fast and I was able to use it for work. But the highlight of my stay is Theresa and Craig. From the moment they received me on their doorstep, I was made to feel right at home immediately. They felt more like old friends instead of hosts. We chatted about many things. They shared what they had on their table too. I shamelessly (with their permission) ate all their delicious pasta(!). I went to Geneva/St.Charles to run a marathon, but getting acquainted with Theresa and Craig was just as memorable if not more so. Their home is indeed a special place to stay.
JD
2015-09-13T00:00:00Z
Beautiful home in a perfect location! Within 3 minute drive to downtown Geneva or 10 min walk. Next to a beautiful park and near the river. Spacious, comfortable and great amenities. Teresa and Craig were wonderful hosts. We'll definitely be coming back!
Anjalee
2017-03-05T00:00:00Z
Theresa and Craig were excellent host! They were very accommodating with our late arrival time and very welcoming when we arrived. They laid out an excellent breakfast for us and made us feel right at home. I would definitely recommend staying with them!
Sarah
2016-12-02T00:00:00Z
A beautiful home in a quiet neighborhood. We enjoyed the whole house. All bedrooms are upstairs, which could be a problem for some folks.
Ernest
2017-03-03T00:00:00Z
A great experience with a family in the suburbs of Chicago!!! Besides being a beautiful, quiet and very safe place, both Theresa and Craig are very kind persons and they ensured we had all that we needed, including personal attentions that gave us the feeling of being part of their family. The appartment is even better than the pictures. I definitely recommend this option to anyone who is looking to know the advantages that the suburbs could offer to the guest. Fueron dias sumamente agradables los que pasamos en compañia de nuestros anfitriones, que en un momento determinado, mas que visitantes nos sentimos parte de su familia. Estamos seguros que tanto Theresa como Craig, seguiran siendo muy bien calificados por los visitantes de Airbnb que tengan la suerte de hospedarse en su hogar.
Jorge
2015-05-21T00:00:00Z
Theresa and Craig have a beautiful home in a nice neighborhood on a quiet, tree-lined street. They are extremely friendly hosts who offer their home through Airbnb for the purpose of making new friends and providing guests with a pleasant and comfortable place to stay. While we shared their house, we felt like we were among family, and I can honestly say this was the best Airbnb experience we've had so far. The St. Charles / Geneva area is a gorgeous valley that contains a long and scenic river with plenty of parks, shopping, dining, and activities. We thoroughly enjoyed our time here and look forward to a return visit the next time we travel to Illinois.
John
2016-07-06T00:00:00Z
Theresa and Craig were the perfect hosts and truly wonderful people! From the moment we got there, they were extremely welcoming. The house surpassed all of our expectations. The neighborhood was adorable, the town was beautiful and the home was maintained perfectly. We felt incredibly comfortable and welcome through out our stay. We truly hope to be back in the area again in the near future so we can stay with (and spend time with!) Theresa and Craig again.
Cheryl
2015-08-25T00:00:00Z
Kamertype
Privé Kamer
---
Type woning
Huis
---
Geschikt voor
6
---
Slaapkamers
St. Charles, Illinois, Verenigde Staten
Beautifu home just one mile from Downtown Naperville. Private bathroom oasis w/ rain shower & body jets. FREE Coffee/Tea, FREE wi-fi. Queen size REAL bed. Use of kitchen, off street parking, cable TV in shared space. Two outdoor decks, fire pit.
Home is a tri-level home. Your room has a queen sized bed and is on the lower level away from the other bedroom's space. Your bathroom is across from your bedroom and will be yours to use during your stay. Towels are included as are sheets, hangers, bedding (and extra bedding if necessary). Hairdryer available. FREE Wifi available.
Our neighborhood is well established and about a mile to the fun of downtown Naperville. We walk it all the time. There are plenty of street lights and sidewalks and is VERY safe. Mature trees, families and a relaxing atmosphere make it a great place to be. Downtown Naperville has amazing restaurants, bars, and shops. It's also home to North Central College's Campus.
It was a nice stay with Kathi. She is very kind and easy to communicate with. You will get most privacy as you almost have the whole downstair by yourself. The guest bathroom and the shower were what I loved the most. It was aesthetically well-kept and roomy. The bedroom was perfect, and a working desk in the room was helpful as we traveled for business. I definitely recommend Kathi's place to business travelers, couples, and single persons. Also, I would like to go back and stay with her whenever I travel to Naperville again.
Christina
2017-03-22T00:00:00Z
My first AirBnB experience and it has surpassed my expectations. Kathleen's place suited what I needed and she has been the perfect host to the point that I extended my stay for 2 more nights. I will tell more after my 2nd stay comes to an end.
Leon
2017-03-29T00:00:00Z
I stayed for 9 weeks as a clinical student at Edward Hospital, and I thoroughly enjoyed my stay. Great drive to work, home was lovely, and Kathi is an amazing host. She welcomed me like family (even took care of me when I got the flu), which made the academic stresses far more manageable since I wasn't worried about my living situation on top of it. Also her home is really close to downtown Naperville (5 minute lyft/uber) but in a quiet community, which is like the best of both worlds. I can't give her enough stars!
Rachael
2017-03-04T00:00:00Z
Kathy is a wonderful hostess. Very friendly and helpful, she goes out of her way to make you feel "at home". She even walked us to the trailhead a few blocks away and gave us directions to downtown from there. The photos do not really do the space justice. The downstairs space is full of natural light, has a sitting area with a TV and a gorgeous Japanese styled bathroom. Very comfortable bed and pillows. The neighborhood is very quiet and nice with tree-lined streets and well kept homes.
Shannon
2016-05-09T00:00:00Z
Absolutely beautiful home and accommodations! Some very interesting design elements and features especially Very clean. Nice outdoor area pleasant in evenings. Kathleen is a delight and fun to talk to. Highly recommended!
Lisa and Rick
2016-09-19T00:00:00Z
Kathleen's home is in a nice suburban area of Naperville, only about a mile from the downtown area. Kathleen herself is a fantastic hostess and was very easygoing about our stay. We had an odd check-out time (which was one of our main concerns), but she was able to accommodate our exit extremely well. Many Airbnb hosts simply rent out a room, but Kathleen goes above and beyond to make sure the stay was special. She had tidied a bed for us, laid out some snacks, and showed us where everything in her house was for easy access. She made sure we were comfortable, which is something I appreciate in a host. She was also very easy to get along with. Her house itself was very nicely designed and I thoroughly enjoyed being in that space. It was easy to settle into and she made sure everything is great for her guests. If you're looking for a place in the area, I'm sure Kathleen would be the best option. You won't regret it. Also, her bathroom sink is the craziest thing I've ever seen, it was like a fountain you'd see in some sort of park.
Ayub
2016-10-23T00:00:00Z
The house is located in a quiet neighborhood and not difficult to find except the street number. My room and the house is very clean and Kathy is extremely friendly. I booked this place in the last minute (less than 24 hours) and I am glad that I can stay here. I have a client in this area and I will definite stay here again if needed
Peter
2016-09-14T00:00:00Z
Kathi is a great and thoughtful host with a lovely home. I will plan to visit again and recommend her.
David
2016-09-09T00:00:00Z
Kamertype
Privé Kamer
---
Type woning
Huis
---
Geschikt voor
2
---
Slaapkamers
Naperville, Illinois, Verenigde Staten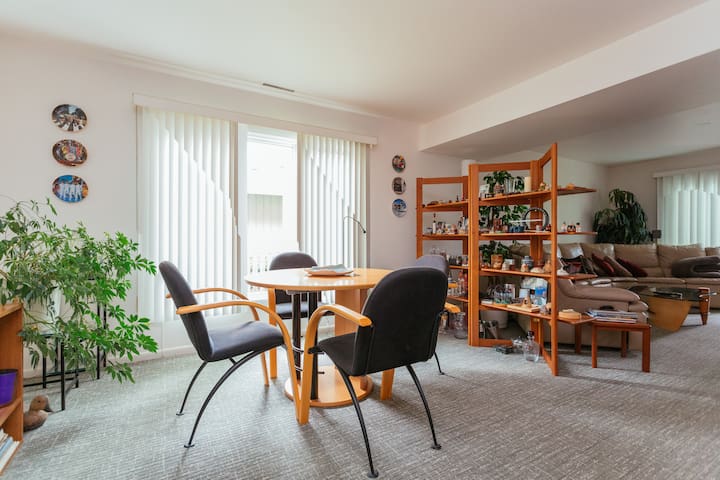 Spacious 5800sqf family-friendly suburban home in quiet wooded neighborhood. Down the street from Cantigny Park, minutes away Wheaton College. Chicago easily reached by car or train. With many amenities this is perfect place for hosting an entire family.
Our eclectic-country themed house sits on just under 3 acres of land secluded in a wooded Winfield neighborhood. Walking distance to trails and a creek, our home is the perfect getaway while remaining close to all the attractions and stores you love in the suburbs. Our home is large enough to sleep 10 people comfortably, however, additional guests can fit as well if they're willing to sleep on a couch. Amenities filled, this house is perfect for adults to young children a like with plenty of entertainment spaces, play areas, and appliances to make your time enjoyable.
Our home is a quiet wooded neighborhood minutes away from shopping, but off the beaten path enough to feel like a getaway.
Beautiful home and gorgeous setting. Wonderful host who made our trip very easy!
Cindy
2016-10-31T00:00:00Z
From start to finish, my and my 9 friends' time in Chicago was such a joy -- in large part thanks to this incredible home. The kitchen was big enough for moving around and large feasts, and there were plenty of bedrooms and chill rooms for occupying throughout our weekend together. Ryan was always available with any questions, and he guided us though the check-in process. He did come over a couple times to check on the outdoor cats, but he did not interfere with our gathering in any way. All in all, I couldn't recommend this house enough. Lots of space, and lots of room for memories. An easy drive to the train station and Chicago as well! Thanks for helping us have a weekend we'll remember the rest of our lives.
Tom
2016-08-02T00:00:00Z
Incredible property with a huge and well-kept front/back yard. Pictures don't do it justice! All sorts of amenities such as a high quality grill, jacuzzi, trampoline, hammocks, etc. Really loved the kitchen area with the spacious center island and high ceilings, we had many great family gatherings there. Excellent kitchen equipment. Master bedroom is very nice with large bathroom and walk-in closet. The property manager was on top of things and easy to reach. Highly recommended! I've stayed at 50+ Airbnbs and this was one of my best experiences. In particular, this place is perfect if you have kids.
Brian
2016-06-20T00:00:00Z
Wonderful house that was exquisitely decorated for the holidays. We had a wonderful stay here. The party room in the lower level is beyond any reasonable expectation. Have to see it to believe it.
Bob
2017-01-03T00:00:00Z
Such a wonderful, beautiful, warm and spacious home. The home was more than large enough for our 3 families (adults/kids) to enjoy a few days together with food, laughter and quite/quaint privacy but with all the modern amenities of a great kitchen, clean modern bathrooms and wifi/entertainment. Our children also loved the home and the stay. It really was ideal, totally accurate and the hosts were friendly, helpful and responsive. I have only great things to say and would highly recommend them as hosts.
Pat
2016-11-26T00:00:00Z
This home was the perfect venue for our family to gather to celebrate our Dad's 90th birthday. The space is tremendous and provided lots of room to spread out but allowed us to be comfortably together as well. Perfect for families with kids of all ages. You will not be disappointed if seeking lots of space in a beautiful, conveniently located setting. Thank you very much for sharing your wonderful home!
Deborah
2017-02-26T00:00:00Z
A beautiful home with great space for a family gathering. We met here for Christmas. The kitchen is fabulous with a lot of space for everyone to help out. Nice big dining room so everyone could eat together. Good sleeping space for everyone. The nature trail behind the house was an unexpected bonus, allowing nice morning hikes in the snow. The owners were very accommodating and communicated regularly.
Michael
2016-12-26T00:00:00Z
Kamertype
Gehele woning/appartement
---
Type woning
Huis
---
Geschikt voor
16
---
Slaapkamers
Winfield, Illinois, Verenigde Staten
Country farmhouse, 2 block walk to Metra train--45 minutes to Chicago and all city has to offer! Park and trails across the street; bike, run, hike, fly fish, kayak, and horse back riding nearby. Relax and watch sunset from our cozy wrap around porch! We are just a few miles from Wheaton College, walk to train and you can get there in 2 train stops or a quick drive. Other points of interest in the area are Cantigny Park just 1 mile away and Central DuPage hospital is a 2 block walk into town.
We are a Bed and Breakfast /Guesthouse and have Three lovely guest rooms available in our home, rent one or all three for larger groups. In addition to the 3 upstairs guestrooms, we have a Queen Bedroom in our lower level finished basement space. Rent one or all 4 for larger groups! Guest Room One has a queen bed with an en-suite private full bath. Guest Room Two has Full size bed and En-suite full bath. Guest room Three has a Queen bed and shared full bath. All rooms have large closets, a desk, and wi-fi. We have a refrigerator on the second floor for guests to access beverages and snacks. We also have a completely finished basement with an alcove with a Queen Bedroom space. The basement bedroom has a private full bath on the first floor.
Quiet west suburban neighborhood near where the original publisher of the Chicago Tribune Robert McCormick considered home. Winfield remains a sleepy train stop just west of Wheaton. Our home is across the street from park, and forest preserve with 80 miles of horse trails. Walking distance to Catigny Park to enjoy the gardens or play a round of golf!
Laura and Mike are such great people. They have a beautiful house that she built! If you would like to stay with a wonderful couple in an adorable location, then this is for you. The victorian house is like being in a home decorators magazine. They are gracious and helpful. We had a great time and hope to beback some day.
Rick
2016-11-05T00:00:00Z
Laura was very helpful and welcoming, even as we were delayed in our arrival. She accommodated our gluten-free daughter and our extra guest at breakfast without a moment's hesitation. She and her husband shared their spacious and comfortable house with our family with ease on that beautiful weekend in October. We had a beautiful walk in the neighborhood before breakfast, horses on the neighboring property, woods, meadowland. Amazing that it is so close to Chicago. Convenient and restful.
Nancy
2016-10-23T00:00:00Z
Laura and Michael were beyond welcoming and gracious. Their house and surrounding neighborhood is absolutely beautiful. They provided wonderful conversation and good energy. If you have a chance to stay with them, I certainly would recommend it. Also, their dog Beau (Bo?) is the best. A great experience.
Ian
2016-09-26T00:00:00Z
The hosts make you feel right at home. The common rooms are open plan and spacious, so you have places to be private or join in depending on how you want to spend your time at the property. Lovely small personal touches that make you feel you are staying in a private boutique hotel.
Sandra
2016-08-12T00:00:00Z
Laura This is a repeat request for a review for the same stay I had at your property. I completed the star ratings, just so I hope it helps with your listing.
Sandra
2016-08-14T00:00:00Z
Laura and Michael are terrific hosts.we loved their dog, Bo as well. We were in town for a family event and 6 of us stayed 4 nights in three rooms. The home is as lovely and inviting as the hosts. They went out of their way to be accommodating, offered Chicago Historical tour site suggestions to our daughter and her fiancé and even helped me get car keys back to my wife as I stood at the trian in Winfield IL heading down town, realizing I left my wife without keys. Just terrific folks and AirBNB hosts!
Tom
2016-08-01T00:00:00Z
I was traveling to Oak Brook for meetings and luckily there was very limited hotel availability, which lead me to try AirBNB for the first time. Laura, Mike, and Beau made me feel very comfortable from the start. Laura's tour on my arrival covered everything I needed to know. The home is spacious, comfortable, clean, and very well appointed. The home was only 25 minutes from my meetings in Downers Grove, but if felt like I was hours away from the noise and activity of the local hotels. Laura and Mike were excellent hosts. Due to work commitments that evening I only had limited interaction with Laura and Mike, but the conversations were friendly and relaxing. To steal from Tony's review, "consummate hosts". The only problem I had was that the last day of meetings were cancelled and had to cancel my second night. I had grand plans to set up camp on their gorgeous front porch and watch the wind blow. Thank you Laura and Mike for a great experience.
Mark
2016-09-15T00:00:00Z
We spent some unforgettable days in a cosy house sourrounded by a wonderful garden and were so warmly and friendly welcomed by Laura and Mike that we felt immediatly at home. We, this is myself and my husband as well as our two teenage-kids. We are looking forward to our next stay at Laura's and Mike's and say THANK YOU to them for hosting us.
Beatrice
2016-06-26T00:00:00Z
Kamertype
Privé Kamer
---
Type woning
Huis
---
Geschikt voor
8
---
Slaapkamers
Winfield, Illinois, Verenigde Staten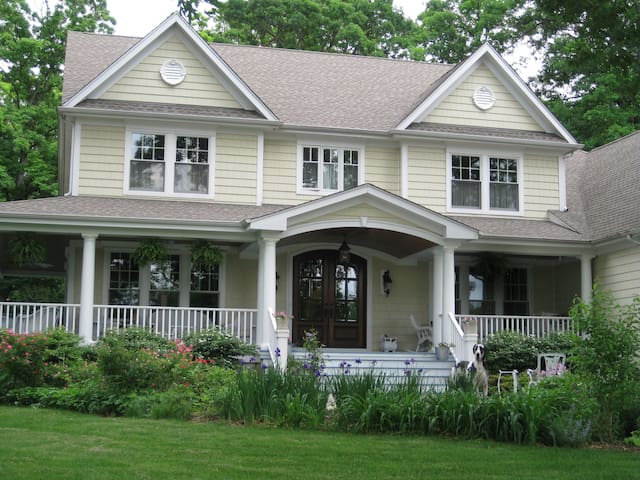 Private Room with a Queen Bed in Large 5 Bedroom Home. Laundry, Large Kitchen, Dining Room, Parking, Large Flat Screen TV and more...
Kamertype
Privé Kamer
---
Type woning
Huis
---
Geschikt voor
2
---
Slaapkamers
Glendale Heights, Illinois, Verenigde Staten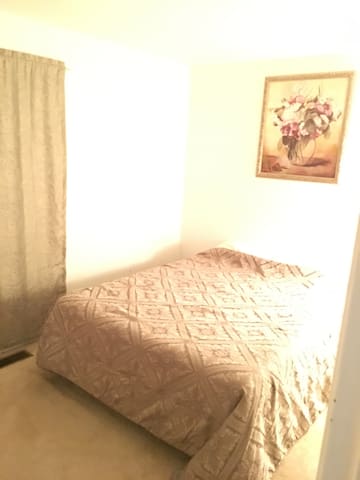 Spacious lower level of my home, situated on an acre of land. There is 1 Bedrm + LR & a full bathroom with two person Jacuzzi, an electric fireplace and wet bar. There is a washer and dryer for your use and plenty of space in the large open area.
Newly renovated home, with granite wet bar and tile floor. Can shower in the Jacuzzi tub with new shower curtain. The fireplace is electric with remote control.
It has a rustic feel and there are lots of woods. The neighbors are friendly and the 'no outlet' block is quiet. When entering from Belmont Road, be sure to go east (fyi) because the street sign for Wisconsin Ave is only displayed to the west. In the early summer the lightning bug show in the backyard cannot be missed! Don't forget to ask me for the free Alter Brewery Micro Brewery drink coupon (if I didn't leave it out for you).
We had a good stay
Brooke
2016-08-30T00:00:00Z
Nice, clean and Cosy House. Unfortunatly we didn't met rodger
Michele
2015-08-05T00:00:00Z
We enjoyed our stay at Rodger's place. We were out most of the day, and used this place to sleep in at night. He has a good collection of DVD's, Cable TV etc for your entertainment. The place is clean, and has all the basic amenities. Bathroom/Shower room is the highlight. Plenty of lights in the ceiling made the basement nice and bright. The bedroom is a bit smaller than how it looked in the picture. A thermostat in the basement would be nice to have to control the temperature at your comfort level. But Rodger has adjusted it from upstairs couple times as per our request. Overall a great place to stay.
Ali
2016-09-15T00:00:00Z
Had a great time! It's spacious it was able to accommodate my whole group. We had 6 people staying there. The bathroom has a huge shower and two person tub. I would most definitely stay here again. It's close to a local brewery and easy to get to the freeway system. Thanks again.
Josh
2016-05-23T00:00:00Z
Rodger was an excellent host! I highly recommend him! He gave us great suggestions on where to go while in town and he was willing to work with us as our plans changed kinda last minute (thanks again rodger!) Don't let the deep voice scare ya, he's a totally nice guy! Out friends who were traveling with us were very happy with our stay too!
John
2015-10-30T00:00:00Z
We stayed at Rodger's for a week and had a great time. The location was convenient as it was right in the middle of the area we needed to be for my brother's wedding. The neighborhood is nice and downtown downer's grove is very quaint; wonderful place to go and explore. I would certainly recommend staying at Rodger's.
Laurens
2016-06-07T00:00:00Z
We really enjoyed our time at Rodger's place, it was super nice and spacious and he was a great host.
Jenna
2015-12-27T00:00:00Z
Rodger was very friendly, gave us everything what we asked for, I agree with the other positive reviews here. And yes, the extra bedroom and bed was something he added recently which was a surplus!
Pramod
2016-06-18T00:00:00Z
Kamertype
Gehele woning/appartement
---
Type woning
Huis
---
Geschikt voor
8
---
Slaapkamers
Downers Grove, Illinois, Verenigde Staten
This elegant and spacious bed room with private bath room is perfect for traveling couples, if booked with bed room (see my another listing "A cozy & quiet bed room for you...") it'll be good for a small family enjoy the private bath room as a suite. For long term tenants the ideas of configuration is limitless such as converting this room into a office, studio, living room etc. (there is a door between this room and adjunct bed room aforementioned). If you're interested contact me
The bed was very comfortable and I slept well! Quiet environment, nice airy kitchen. Host mastered the art of being available without being intrusive. Appreciated my stay!
Kim
2017-03-25T00:00:00Z
David was very welcoming to his home and made our stay feel like we were staying with family. I highly recommend David 's place He's a great host
Lorelli
2017-04-05T00:00:00Z
My second stay here. Really enjoy being in David's home. Very sociable, sincere, and concerned that his guests are happy and taken care of.
Ben
2017-03-30T00:00:00Z
David is a warm inviting host! His house is spacious and perfectly located for anything anyone could need. Very comfortable. Imagine a private airstrip, attached garage, and attached hangar, and grand piano all in one spot! Highly recommend.
Ben
2017-03-16T00:00:00Z
Kamertype
Privé Kamer
---
Type woning
Huis
---
Geschikt voor
2
---
Slaapkamers
Naperville, Illinois, Verenigde Staten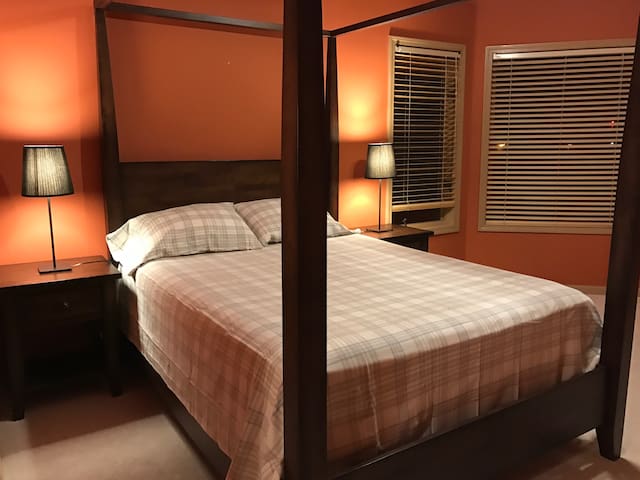 My place is close to all major highways and has easy access to go anywhere. There is public transportation close by. We have driveway space for your car. It is located next to walking/running trail & parks. Shopping & movies & restaurants are within walking distance. Quiet & very safe neighborhood. Full use of kitchen. Your own private full size refrigerator,coffeemaker, toaster oven and microwave. Wireless internet & cable TV. Use of washer & dryer & laundry soap. toiletries included.
A very nice, comfortable, family home
john
2016-12-23T00:00:00Z
My stay was great. Taylor is an awesome host who provides as much privacy as you want, but is also as accommodating as you need. It was a perfect place to stay as a short term option prior to closing on my condo. Would recommend to anyone. Thanks!
Robert
2017-02-13T00:00:00Z
We stayed in one of the rooms on the lower level. There was another tenant in the other room, but he was quiet and we only saw him once since we weren't there a lot. The whole house was pretty quiet and there weren't many people around when we were there. We had a separate bathroom upstairs and we had a key to lock our bedroom door when we left, which was nice. Communication from Taylor to check-in was great and easy. We had everything we needed while we were there. Overall good experience.
Loren
2017-03-13T00:00:00Z
Kamertype
Privé Kamer
---
Type woning
Huis
---
Geschikt voor
1
---
Slaapkamers
Woodridge, Illinois, Verenigde Staten
Recently Remodeled 4 bedroom 3 bath 2000 sq foot 2 story Colonial home, large master bedroom, in a Norman Rockwell-esque perfect neighborhood, located walking distance to METRA station and a 10 minute walk to North Central College. Ideal location for any picture-esque Chicagoland getaway. Restaurants, parks, shops and sporting events all nearby. Previous movie sets including Cheaper By The Dozen' 'Friday the 13th' and 'Home Alone' all filmed in Naperville. This is the TRUE Naperville experience
Kamertype
Gehele woning/appartement
---
Type woning
Huis
---
Geschikt voor
11
---
Slaapkamers
Naperville, Illinois, Verenigde Staten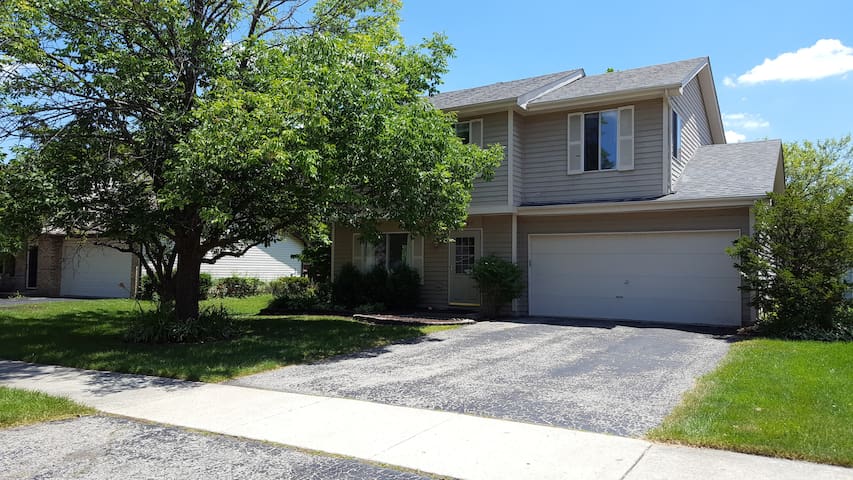 14 public golf courses within 7 miles. 61 miles of bike/running paths adjoining the property. Additional 50 miles of connecting trails. 1.5 miles from Wheaton train station with an hour trip to downtown Chicago. Nightlife, family-friendly activities and restaurants all nearby. . You'll love my place because of the resort like atmosphere. The only home on this semi private lake. My place is good for couples, business travelers, families (with kids), big groups, and furry friends (pets).
We really enjoyed our stay at Dean's house. It was plenty spacious for a group of eight people, not cluttered, and located in a nice, quiet neighborhood. The Prairie Path is close enough to walk to. While I wouldn't have included the unfinished bath in the basement in the bathroom count, the house otherwise provided what we needed. The Keurig coffeemaker and k-cups Dean provided were a nice touch. He was reachable by text should we have needed anything. We had a great weekend stay and are grateful for the opportunity to stay at Dean's house.
Jen
2017-03-28T00:00:00Z
The host canceled this reservation 27 days before arrival. This is an automated posting.
Gretchen
2017-03-03T00:00:00Z
We were the first rental guests and the host was clearly scrambling to get everything ready to go for us. Dean could not have been more gracious and was there for our every wish. The last minute additions will be appreciated by the next renters. The house size was great for the 6 1/2 of us plus the host allowed us to bring in family for a Christmas get together. A small group of about 30 folks!! Driving through the upscale neighborhood, one would be surprised to see the backyard and the great pond; had a feeling of being in the woods. We will hopefully rent again. Thanks Dean!
Pat
2016-12-28T00:00:00Z
Kamertype
Gehele woning/appartement
---
Type woning
Huis
---
Geschikt voor
8
---
Slaapkamers
Wheaton, Illinois, Verenigde Staten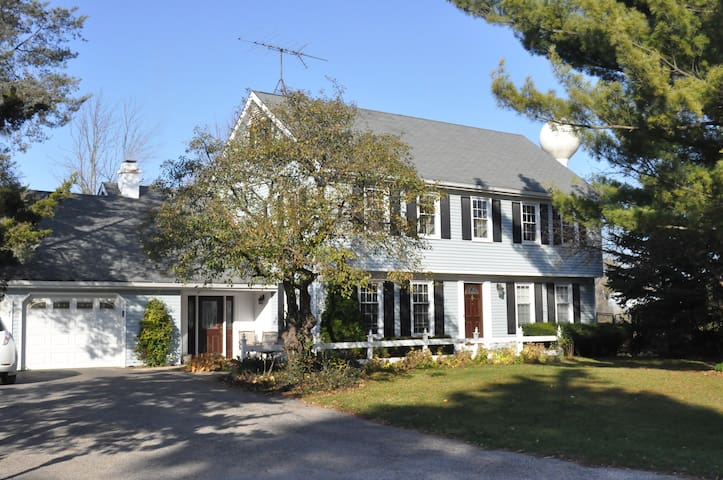 This grand three-story sunlit country mansion, situated on over 2.5 acres in Naperville's renowned "Horse Country" features a tennis court, an indoor swimming pool, hot tub, five bedrooms including an 1,100 sq foot master suite, 7.5 marble baths with 6 bidets, three patios, five fireplaces and 40+ skylights. The lower level is finished with a sauna, wet bar,and wine cellar! Limousine and driver available at a reduced rate! For weddings and parties, additional fees and restrictions may apply.
This expansive mansion is ideal for multiple families and groups of friends who like common living spaces. The indoor heated pool is perfect during inclement and fair weather alike. For weddings and other parties, catering and tents are permitted, but need prior approval. For large gatherings (greater than 50 total people including staff, hosts and guests), a small additional fee may be assessed.
Quite residential neighborhood bordering a 20 acre horse farm and riding stable.
The house is amazing, from tastefully done decor to plush jacuzzis and heated pool; it was the perfect country home to host my family and friends for the wedding week. We had a lot of fun staying together under the same roof. This house has many living spaces where different groups could congregate. Between the swimming pool, table tennis and numerous board games there was never a dull moment. I would definitely recommend this place for your next family get together. Much more personal and cozy than staying at a hotel.
Agasthya
2017-03-19T00:00:00Z
This home is amazing! Very versatile with something for everyone. Great for being active or just lounging around. Owners were great to work with and check in and out was extremely easy. A perfect experience for us.
Brendan
2017-02-09T00:00:00Z
Comfy beds. Big kitchen and lots of communal areas. Tons of yard space. Ping pong table, indoor pool and jacuzzi, sauna, outdoor tennis court. Outdoor fire pit and BBQ area. Great place! Will be back!
Eric
2017-03-26T00:00:00Z
We enjoyed the swimming pool, table tennis gaming here,its a fantastic house.
Menglong
2017-04-01T00:00:00Z
The listing description was very accurate and we had a bottle of champagne as welcome gift from the host. Not to much but still something that makes you feel welcomed in this house.
Garri
2016-09-12T00:00:00Z
Kamertype
Gehele woning/appartement
---
Type woning
Huis
---
Geschikt voor
16
---
Slaapkamers
Naperville, Illinois, Verenigde Staten
We have a charming old home available to rent on certain weekends. The neighborhood is quiet and near downtown Naperville and the Metra/Amtrak train station. It's an easy walk to many amenities and close to North Central College.
Two story, colonial home with backyard and deck available to guests. Free street or driveway parking. We have a queen size air mattress that sleeps 2 people that can be set up anywhere in the house (sheets, blanket, and pillows provided. We also have a nursery with a crib that can be used by guests.
Quiet, family neighborhood with lots of kids and friendly neighbors.
Susan's home was exactly as described and more. The home was warm, cozy and spotless. She had everything that you could possibly need. Arrival and departure were a breeze and Susan contacted me each day to see if things were okay or if we needed anything. Would definitely recommend to others and would love to stay again.
Mary Ann
2016-12-28T00:00:00Z
Susan's house was perfect. Very adorable and clean. She made it super convenient to get into the house and was very easy to communicate via text while we were there. It is a great location, quiet neighborhood, cute deck in the backyard. Would definitely stay here again if I am every in Naperville again.
Emily
2016-06-13T00:00:00Z
My favorite airbnb I've stayed in so far! Susan was wonderfully communicative both before and during our stay in Naperville. Their home is beautifully furnished and styled and was very comfortable with anything you might need. The fenced in back porch area was beyond lovely during spring afternoon and evenings. Naperville was a very sweet town with a lot to offer and catered to a lot of different interests. I would certainly stay here again.
Sarah
2016-04-18T00:00:00Z
Susan's house is very cute and cozy. It was clean and we felt at home during our stay there. She was extremely easy to work with and had great communication throughout.
Elizabeth
2017-01-01T00:00:00Z
WOW!! We can not say enough good things about this adorable home! It's THE perfect location for Naperville fun and it's super comfortable! Susan is very accommodating and communicated well with us. Every amenity was provided for our visit. The home is less a mile from the heart of downtown Naperville and only a few blocks away from convenient shopping. The yard has a beautiful, private patio with seating to gather with your family or a few friends. If your travels bring you to this cool town, this is the perfect place to stay!! Thanks so much for making our stay so wonderful!
Terri
2016-07-05T00:00:00Z
This is such a warm and welcoming home. The neighborhood was cute and the neighbors were very friendly. We loved the fenced in backyard, deck, and being able to use the grill. Susan was a great communicator as well. It was a great place to stay while we visited the Chicago area.
Lynn
2016-08-08T00:00:00Z
This was our first Airbnb experience and it was fantastic! The bar was definitely set high. Susan was so unbelievably accommodating and helpful. Everything about our stay was clearly communicated ahead of time and all of my questions were answered quickly. The house was immaculate, as well as super comfortable and inviting. Instructions about the house, as well as recommendations for transportation, dining, and entertainment were available upon arrival and Susan and Nolan checked in regularly to make sure everything was going well. Honestly, we couldn't have asked for a better experience. Thank you Susan and Nolan for a wonderful weekend in Naperville!
Heidi
2016-05-31T00:00:00Z
Susan's house is beautiful! Historic, warm, updated, well styled, super clean and very comfortable. It was the perfect place for my in-laws when they came into town over the holidays. The nursery was very helpful for my baby niece. Communication was great with Susan and her reception was very warm. Overall a great experience and would definitely recommend.
Timothée
2016-11-27T00:00:00Z
Kamertype
Gehele woning/appartement
---
Type woning
Huis
---
Geschikt voor
6
---
Slaapkamers
Naperville, Illinois, Verenigde Staten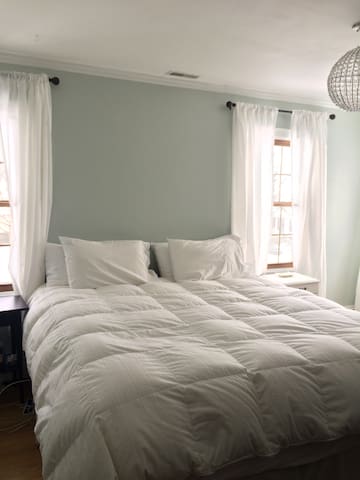 Warrenville - Airbnb
:
Gemiddeld

4.83

van

5

sterren op basis van

372

gastrecensies
1

–

18

van

111 Huizen te Huur