Наше место находится недалеко от пляжей & горы. Вы будете любить свое место из-за естественного солнечного света, с удобными кроватями и довольно атмосферой. Наше место хорошо для одной или двух пар, сольных авантюристов и деловых путешественников.
Удобное расположение, идеально по центру между Sunday River, Mt. Аврам и Шони Пик. Менее чем в 40 минутах езды от North Conway, NH.
Сентябрь и октябрь является справедливым сезон, вы можете пойти на сельскохозяйственной ярмарке каждую неделю в это время года. Fryeburg ярмарка, ярмарка Oxford Не хотите кататься на лыжах только на одну Mt., остаться здесь. Так много гор так близко.
This was our first experience with airbandb and we couldn't have been more satisfied. Tim and Joanne were the perfect hosts!!! Friendly, accommodating and welcoming. A place we called our home away from home for the weekend. The place was exactly what is pictured; clean, spacious and cozy. We look forward to our next trip to Waterford/Bridgton and staying with Tim and Joanne again.
Judith
2016-10-02T00:00:00Z
Tim and Joanne made our stay and unforgettable experience! We enjoyed every minute of it. The location is very quiet and the lake with a beautiful public beach is just a few minutes of walking. Just a few minutes of driving and you will enjoy great hiking trails with breathtaking views from the Hawk mountain. We also enjoyed a fully furnished kitchen with all utensils and equipment you might ever need for cooking. If you have enough time make sure to visit Portland, Maine - since it's just an hour and a half of driving. Mount Washington is also very close - it's only about an hour away. To sum it up - this was a perfect weekend getaway! We hope you enjoy it as much as we did.
Alexei
2016-09-06T00:00:00Z
Nice out of the way location, well appointed apartment, cozy and clean, very private, hardly ever heard anyone around, hosts were very friendly and helpful.
AKIRA
2017-02-23T00:00:00Z
Tim and Joanne were so nice and helpful! They even cleaned our car after a snowstorm and came outside to help us back out of the driveway when we got stuck! The place was great too. :)
Vadim
2017-01-08T00:00:00Z
We booked our stay on short notice (business trip) and our hosts communicated with us quickly. They had someone meet us when we arrived to help us settle in and provided information about restaurant in area. The place was exactly as shown and was immaculate. We had everything we needed for a pleasant stay. Our hosts were friendly and helpful.
Hank
2016-11-08T00:00:00Z
The host canceled this reservation the day before arrival. This is an automated posting.
Ben
2016-12-24T00:00:00Z
Great place to ski and stay Sunday River. Tim and Joanne are very friendly. We very much felt at home in our own private space. Would recommend this space anytime.
Ashleigh
2017-01-15T00:00:00Z
We stayed for one night at Joanne and TIm's lovely apartment arrived late in the evening discovering at day light the beauty of their place. The apartment itself is spacious ,very comfortable fully equipped and shining clean. THe hosts warmly welcomed us into their house guiding us about the touring possibilities in the area. Highly recommend ! Miriam ,David,Assaf
Miriam
2016-10-16T00:00:00Z
Kamertype
Gehele woning/appartement
---
Type woning
Appartement
---
Geschikt voor
4
---
Slaapkamers
Waterford, Maine, Verenigde Staten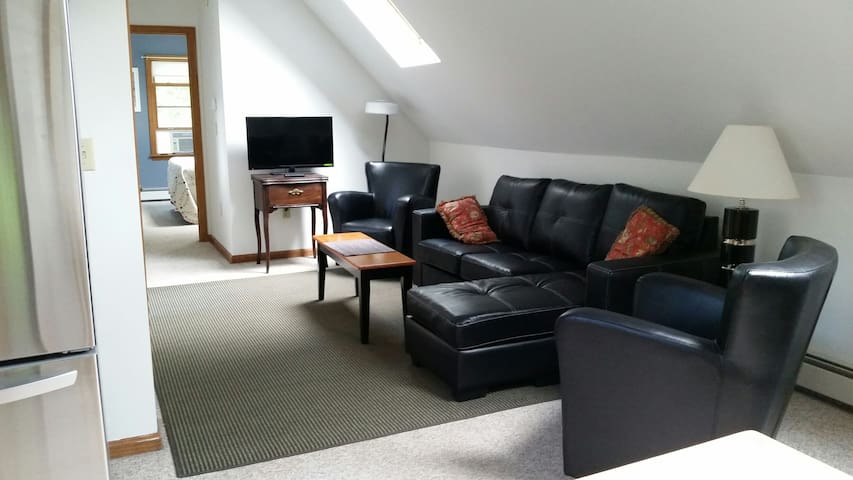 Country Style Horse Farm w/ separate apartment and driveway on the other side of the house. Long Lake is 500yards, Shawnee Peak is under 10 miles, Bridgton Academy is at the end of the street.
I highly recommend Sandy's place if you're looking to get away for a relaxing weekend near the lakes and mountains of Maine. The apartment has its own entrance and is walled off from the larger farm house where Sandy lives. She is super inviting, but also gave us total privacy. The whole thing is incredibly quaint and very comfortable. It's secluded, but also just 5 minutes from the shops and restaurants in Bridgton and 15 minutes from the slopes of Shawnee Peak. We had an awesome time and Sandy was incredibly responsive to all of our requests. And she was more than happy to let us bring our dog too! A great vacation all-around.
Griff
2017-01-16T00:00:00Z
What an excellent family ski trip adventure! The place was spectacular and Sandy was the best!
Yasmin
2017-02-23T00:00:00Z
The place was perfect for our needs! The master bedroom is huge and beautiful. The area is very tranquil and served as the perfect getaway. Sandy was also very helpful on places to eat in the area.
Julia
2017-03-05T00:00:00Z
Great place to stay near all the outdoor activities to do year round. From skiing at Sunday River having fun on all the lakes nearby. I can't wait to go back.
Kyle
2017-03-19T00:00:00Z
We had a great time at Sandy's place. It was beautiful and clean, and Sandy was a wonderful host.
Shemesh
2017-02-19T00:00:00Z
If you are going up to this area in Maine then this is the place you will want to stay. Sandy and Terry are Fantastic people. They treat you like family. They are super nice, down to earth and very accomodating. The roons are super clean and spacious. The decor was excellantly done with a beautiful New England style . The Canopy bed in one of the rooms is so comfortable and brings you back to another time and place. We loved it here and will be going back. It is quiet and peaceful a perfect get away from the hustle and bustle of life. Downtown Bridgton is only minutes away and is full of quaint shops and restaurants. We recommend Vivo's for a wonderful Italian experience. If you get the opportunity stay there you will not regret it.
Jim
2017-01-28T00:00:00Z
sandy was a really warm n helpful host. she welcomed us w/open arms, even she helped us dig our car out when it got stuck in the blizzard. she was born n raised in the area, so is very knowledgeable w/any info that was needed. the house is huge n our half of the place was more than enough for 2 adults, 1 kid n 1 dog. we had a big modern kitchen n a big living room. i also love that the farm house was so quintessentially New England...
Evie
2016-12-30T00:00:00Z
Kamertype
Gehele woning/appartement
---
Type woning
Appartement
---
Geschikt voor
4
---
Slaapkamers
Bridgton, Maine, Verenigde Staten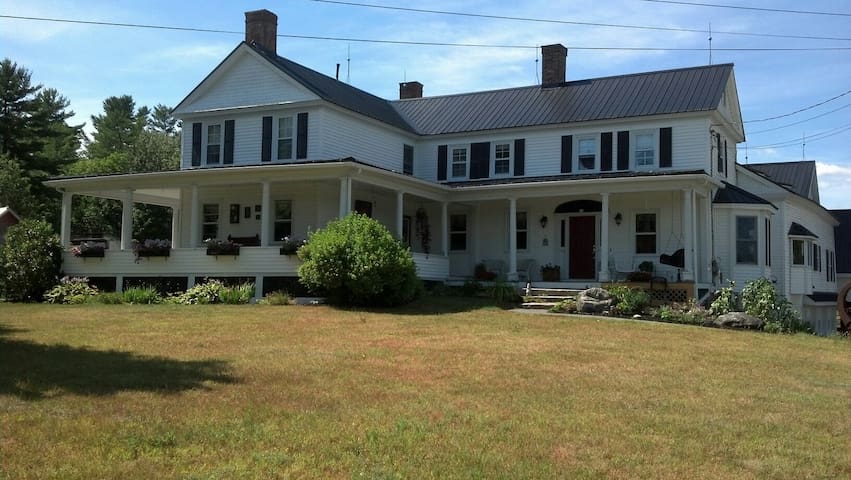 Cette charmante maison historique a été restauré avec goût dans un Airbnb accueillant et confortable. Situé au cœur du centre-ville de la Norvège, Maine, il est à distance de marche d'un café, brasserie artisanale, jardin communautaire, magasin d'aliments naturels, studio de yoga, et de nombreux magasins d'artisanat uniques, locaux. La Norvège est entouré par des opportunités extérieures abondantes, notamment le ski, la natation, la randonnée, le vélo et la navigation de plaisance. Cette Airbnb soutient locale: 5% des bénéfices sont reversés à l'Alan Day Community Garden.
Kamertype
Gehele woning/appartement
---
Type woning
Appartement
---
Geschikt voor
4
---
Slaapkamers
Noorwegen, Maine, Verenigde Staten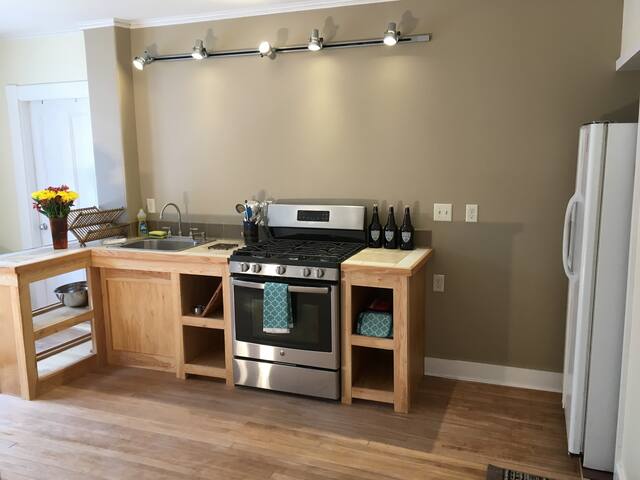 Kamertype
Gehele woning/appartement
---
Type woning
Appartement
---
Geschikt voor
2
---
Slaapkamers
Noorwegen, Maine, Verenigde Staten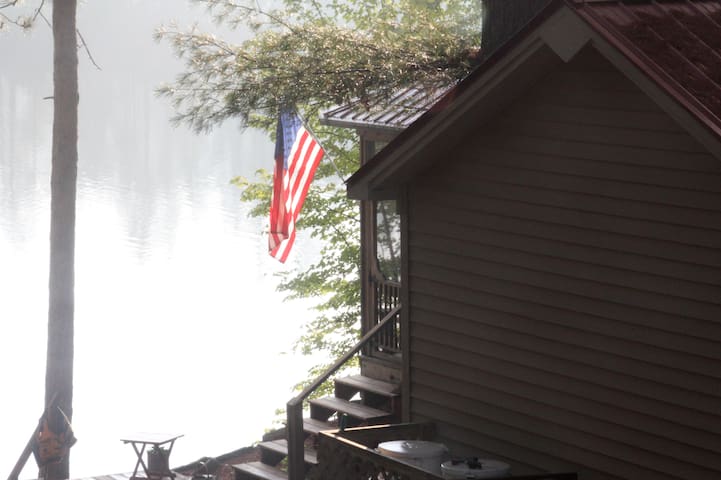 On a back country road, between 2 crystal clear lakes, you will find a small family farm with wide open fields, horses all around, and the occasional wild animal grazing in the pastures. We welcome you to visit.
The quaint 1 bedroom apartment ( approx. 400 sq. ft. ) is located on the second floor of the large attached barn. A new chair glide helps those that need assistance. The windows overlook the pastures and fields, allowing lots of sunlight to enter the room. A small kitchenette with a microwave, coffee maker, toaster, and refrigerator allows for a convenient early breakfast, and nighttime snacks. Satellite TV and free Wi Fi are available in the apartment. A brand new queen size bed eases you off to sleep in the bedroom, and a pull-out full size bed in the living room allows for extra guests or children.
The farm is on a back country road with streams and fields along the way. The road offers scenery for walkers and joggers alike. An animal rescue facility is next door, and downtown Bridgton is only a short distance away. The area has 3 public beaches, and a ski resort less then 5 miles away.
Nice , clean space in a rural area. Friendly and helpful host.
Simen
2016-08-28T00:00:00Z
The place was exactly like we expected. Although we only stayed for one night, we thoroughly enjoyed the stay. The apartment was very clean and Walt made us feel right at home! Would highly recommend this place! Location of the house is awesome. It's surrounded by nature on all sides!
Sudeep
2016-10-16T00:00:00Z
This was a LOVELY place to stay for the night! We would come back again any time! They went above and beyond to make us comfortable - and they provided lots of yummy cereal!
Liesl
2015-08-12T00:00:00Z
Just perfect..friendly and helpful and gave us privacy...more than we anticipated...water and some groceries..clear instructions
Debbi
2016-07-29T00:00:00Z
We pulled up to a beautiful home, and was immediately greeted by two gorgeous dogs! We were then shown where we would be staying, and it was lovely! Lots of comfortable space overlooking the rest of the land, and all the animals on the farm. We loved staying here!
Marisa
2016-08-29T00:00:00Z
My wife and I had a great night on Betty's farmhouse. Betty and Walt were extremely hospitable. I would highly recommend this listing for anyone looking to find an affordable place to stay in Bridgton. They even sent us off with a dozen fresh eggs and vegetables grown in their garden!
Ty
2014-08-31T00:00:00Z
Betty and Walt were wonderful hosts. The apartment is as cozy and comfortable as can be! It is immaculate and well stocked with an assortment of breakfast items and coffee/tea/hot cocoa. The furnishings are really lovely, and Betty and Walt have added lots of thoughtful details like books about the region and extra blankets. It was an absolute pleasure to wake up and see the farmland in the back, and then meet the resident dogs. Betty and Walt have a special welcoming quality that makes you feel very special. This will be my "go-to" place in Bridgton from now on.
Melinda
2016-01-16T00:00:00Z
This is a fabulous place to lay your head for a few nights. The private suite is above the attached barn on the right (in their picture), and it has everything you could want: comfy bed, fully stocked kitchenette, nice little sitting area, couch AND a view out the back overlooking a horse paddock. This is the full on farm experience complete with chickens running around and a dozen eggs from Walter and Betty on your way down the road. They couldn't be nicer and while they leave you to come and go as you will, they seem to pop up as soon as you think of anything you might need. I'll be back here for certain. (Judging from the guest book, I'm not alone in this assessement.)
John
2016-04-27T00:00:00Z
Kamertype
Gehele woning/appartement
---
Type woning
Appartement
---
Geschikt voor
4
---
Slaapkamers
Bridgton, Maine, Verenigde Staten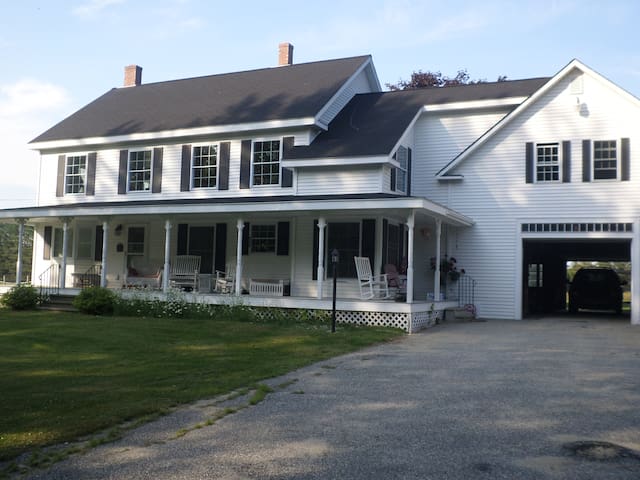 Our place can be described as a minimalist-meets-bohemian flat with old-fashioned charm that comes from its location on the second floor of a 19th century Greek Revival home. With new appliances and furniture our place can be your home away from home whether you are a couple, family, or simply hiding away to write your first book!
The space has a vintage feel and is great for relaxing, thinking and intimate conversation. We'll be sure that you are well stocked with coffee and tea, and the basics for cooking such as herbs and spices, salt and pepper, olive oil and vinegar, honey and sugar.
Located on Main Street in Bridgton, our place is three doors up from Standard Gastropub with over 200 craft beers on offer and the best lobster roll you'll ever have. Within walking distance are drip coffee bar, Highland Lake beach for swimming, the Magic Lantern movie theatre and Sammy's Scoops ice cream parlor, Pondicherry Park, Bridgton Books and the Bridgton Public Library, as well as Chinese, Thai, and pizza restaurants, Ricky's Diner, the Tap House, Nectar smoothie bar, a grocery store and Reny's department store. Craftworks and Firefly offer shopping, along with our shop downstairs, called groundcover, and also many shops full of vintage and found items and antiques all along Main Street.
Great spot, cosy upstairs apartment.
Tom
2017-02-26T00:00:00Z
The apartment was nice. The only reason for a 4 star is because the shower is on an angle and if you are taller than 5 feet (and that's pushing it) you will be bent over and leaning to the side just to shower. I'm pregnant so that just didn't work and was super awkward. The apartment was clean and looked as pictured. The location is perfect.
Brittney
2016-08-20T00:00:00Z
Lucia made it very easy for us to get into the house, as we got there a little later than expected. She was extremely quick to answer a couple questions we had while we were there. Everything was very clean and tidy. Overall a very positive experience!
Jen
2016-08-22T00:00:00Z
Lucia was a great host. The space was spotless and very simple yet elegantly appointed. My family stayed here over the holidays and Lucia was very flexible with us potentially extending our stay. Everyone was very happy with how cozy the space was even in the very cold weather!!! The space is in an excellent location! Bridgton is a cute little town with a little bit of everything. You could walk to everything one might need! Everyone mentioned that the beds were comfortable and that they slept great! I would definitely recommend this apartment(URL HIDDEN)
Agnes
2016-12-26T00:00:00Z
The place was lovely and just as described.
Gail
2017-04-03T00:00:00Z
Great little, cozy cottage. Close to shopping, food and entertainment. Wonderful communication with host and an all around perfect getaway!
Nathan
2017-01-28T00:00:00Z
Very nice place right on Main St near restaurants, ice cream, and shops. Close to the public beach at Highland Lake.
Kate
2016-08-01T00:00:00Z
Fantastic location, almost couldn't be better / more accessible. Easy parking. Quaint & charming apartment, I believe made 150+ years ago. The two bedrooms are quite far apart - excellent for privacy or if you have a snorer in your group :-) The mattresses were also quite firm - probably the best quality we had during our 5 day trip in the state. Kitchen & common areas are "cozy" & well done. The shower is a bit weird as the ceiling above the tub area is slanted (part of the sloping roof) So if you're 5'8" & under (guesstimate) you should be fine, else - you may find it a little challenging.. We were there Oct 8-9 & it did get cold at night & in the morning; unfortunately there was no way to get the apartment warmed up; possibly the only downside of an otherwise nice apartment & reachable host.
Uday
2016-10-09T00:00:00Z
Kamertype
Gehele woning/appartement
---
Type woning
Appartement
---
Geschikt voor
4
---
Slaapkamers
Bridgton, Maine, Verenigde Staten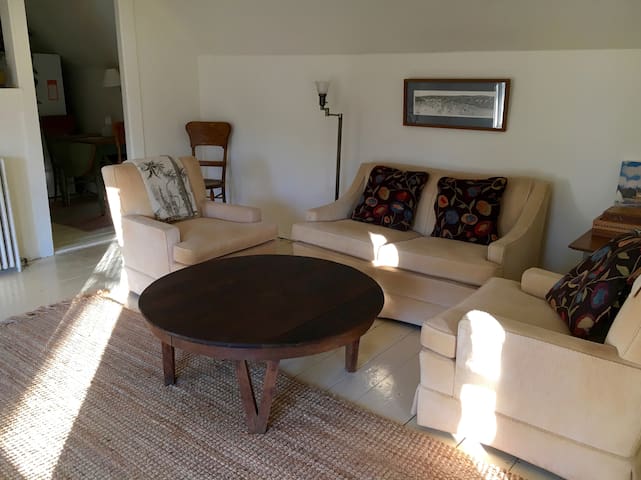 -- No smoking - No pets - No partying -- NOTE: If you break these rules, you forfeiting your security deposit. We're located at the best spot in town; by a great beach. You can walk to everything; Food, Drinks, Dinning, Entertainment, Foliage, Ski Country, Snowmobiling, Boating, Canoeing, Kayaking, Fishing, Golfing, Tennis, Walking Trails Etc.
This section of our home is completely new, from floor to ceiling. We call it The Suite. We modeled it after a Luxury Hotel Suite, designed as contemporary as possible. We hope you enjoy the large room, windows, and great location. The Suite has kitchenette. No stove for cooking, but you'll find many appliances to make your stay very comfortable. The Suite is right on Stevens Brook Trail, which is right across from our driveway (look for the sign into the woods), go straight towards the theatre, or walk right and down Bacon st., trail goes towards Highland Lake. Behind the theatre is many more connected walking trails at Pondicherry Park. We hope you leave your car parked, because you can walk to the beach, or the main street. Bridgton is host to so many things to do Winter, Spring, Summer and Fall; fishing, boating, canoeing, golfing, antiquing, shopping, downhill skiing, cross-country skiing, sledding, tubing, snowmobiling. If you go to Ricky's Dinner tell em Charlie sent you.. you'll get the most warm welcome from the wait staff either way. Enjoy the house as if it were your own. call me anytime if you need something, and I will do my best to arrange what you need or tell you where to find it. Bridgton is host to so many things to do.. more than I can list here. Winter, Spring, Summer and Fall, always a fun place to take the family. fishing year around is the best both lakes and streams. Call Uncle Lunkers for fishing bait and tackle (tell Larry Charlie sent you), he'll give you the scoop on fishing tips and fishing derby's for kids and adults. boating, canoeing; many lakes to choose from or walk to Highland lake. 18-holes of professional golfing is just down the street, antiquing, shopping again walk to many shops by the theatre in either direction, downhill skiing at Shawnee Peak (night skiing is awesome), plus North Conway NH has Brenten woods and Attitash and Sunday River is also close by. Apple picking, cross-country skiing and snowshoeing at 5-Fields Farm. take a picture of a moose, its worth $500 bucks, dog sledding events at the same place. Snowmobiling; Bridgton is part of a 600-mile groomed trail system that connects going north. The walking trails behind the Magic Lantern Theatre are great. And of course The Magic Lantern Theatre is open with the latest movies, and a huge screen TV pub (great for watching sporting events). Hunting, Hiking, Tubing. Basketball, and ice skating at the recreation center. You can also go indoor swimming. Ever go to a Drive-in Theatre? Bridgton has one. How about old fashioned home made meals, go to Ricky's Dinner tell em Charlie sent you.. you'll get the most warm welcome from the wait staff. you can walk to most everything; lake beach, theatre, shopping, stores etc. Please take your shoes off in the hallway. The hallway provides lots of space for shoes, boots and to hang jackets and store your suit case and other belongings. We provided a large trash barrel for your bagged trash (We'll empty it on Saturdays'). Note: our place is like a hotel, no stove for cooking. we provide other appliances like fridge, microwave, coffee maker, and water boiler for tea to make your stay comfortable.
The best location in town... You can walk to everything.
Charlie was an amazing host! From the moment we booked with him he was extremely helpful. He did everything he could to make sure our stay was enjoyable. He messaged us with all the information about the suite we needed to know. The suite itself was perfect as well. It is small yet spacious and absolutely sparkling clean. All of the amenities worked wonderfully. The suite is also in an amazing location with food and beach within walking distance. It was a great experience overall. I would definitely stay in one of Charlie's listings again!
Rebecca
2015-07-22T00:00:00Z
Charles was very responsive to my request to book the suite and to any questions we had along the way. The check in process was easy. The suite matched the photos we saw online and it was clean. The accommodations themselves are very basic (no frills). We did not find the bedding or pillows to be exceptionally comfortable, but on the plus side the suite is located within an easy walk to town that has some shops and restaurants, the air conditioning worked, and the wireless service was reliable. There were some guests staying in the main house while we were there, and you could hear them talking at times (there is a locked door separating the residences). We also shared a driveway with them, but it wasn't problematic.
Stefanie
2015-08-18T00:00:00Z
Charles was great. Very communicative and concerned about our arrival and our enjoyment of the area.
Fernando
2016-07-18T00:00:00Z
Excellent host, great accommodations, frendly and helpful. Will use again
Randy
2015-07-20T00:00:00Z
Had a great time staying in Bridgton! The room was clean and very comfortable for 5 people. Charles was a great host and very responsive to inquiries about the suite and things to do in Bridgton.
Eliana
2016-06-04T00:00:00Z
Charlie is an excellent host and his apartment was great! My friends and I had a wonderful time in Maine and New Hampshire since the place was located around a lot of activities. Charlie was easy to talk to because he responded very quickly to messages through airbnb. He also gave me his number and constantly reminded me to let him know if we needed anything. Whether it was answering our questions or giving us advice on what activities were available, Charlie was very helpful. No complaints here, everything was great. Thanks for letting us stay!
Andy
2014-07-20T00:00:00Z
My family and I had a great time staying in Bridgton. As described in the post, the beach was a short walk away as were many lovely stores and restaurants. Charlie was a thoughtful and kind host. He suggested hiking trails, sights to see, and recommended his favorite eats in the neighborhood. For our trips to the lake, he lent us noodles and boards. He even cleaned up a bucket of toy cars for my toddler son. The room was comfortable, for a group of four it was perfect. The place was attached to the larger house but had a private entrance, which made us feel that we could come and go without disturbing anyone. When we didn't see Charlie around the house it was easy enough to communicate through text. Looking forward to a return visit!
Iris
2014-07-14T00:00:00Z
We had a great time staying at Charles' Suite. The apartment was incredibly clean and comfortable for our party of 4. It is located just a 3-5 minute walk to the downtown area and convenient to restaurants, convenience stores, and shops. It is also only about a 10 minute drive to Shawnee Peak. Charles was more than accommodating and we would definitely come back.
Ali
2015-03-16T00:00:00Z
Kamertype
Gehele woning/appartement
---
Type woning
Appartement
---
Geschikt voor
6
---
Slaapkamers
Bridgton, Maine, Verenigde Staten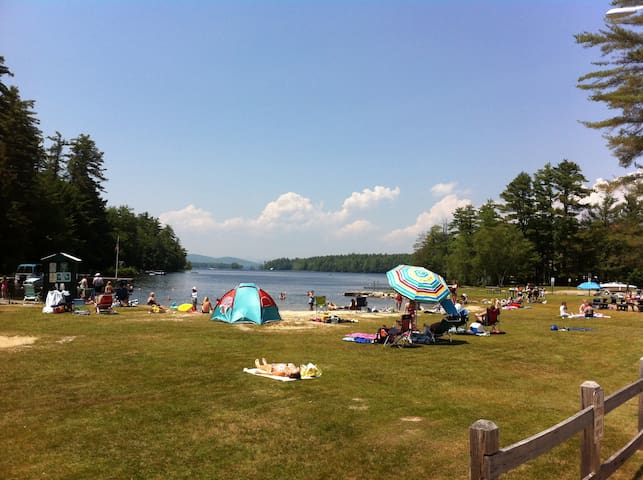 My place is less than 1 mile to: restaurants and dining, 66-acre walking park, art gallery, center of town, downtown movie theater, and shops. You'll love my place because of the lake view from living room, access on-site to: private beach, picnic tables, cooking grills, free use of canoes, kayaks, rowboats, fitness center. Apartment is equipped with all eating and cooking utensils.. My place is good for couples, solo adventurers, and business travelers.
Kamertype
Gehele woning/appartement
---
Type woning
Appartement
---
Geschikt voor
3
---
Slaapkamers
Bridgton, Maine, Verenigde Staten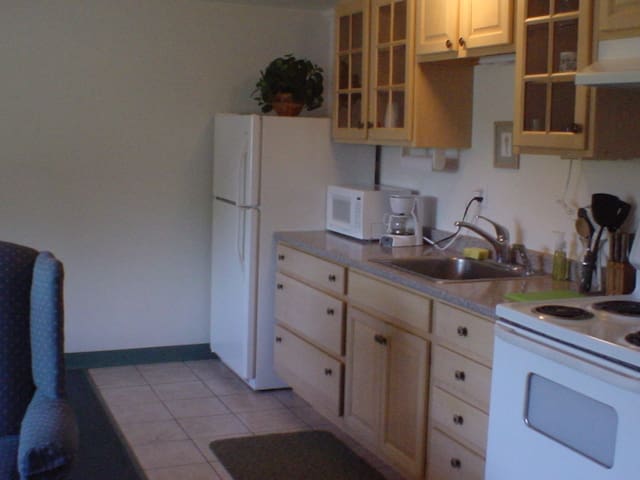 Kamertype
Gehele woning/appartement
---
Type woning
Appartement
---
Geschikt voor
4
---
Slaapkamers
Stoneham, Maine, Verenigde Staten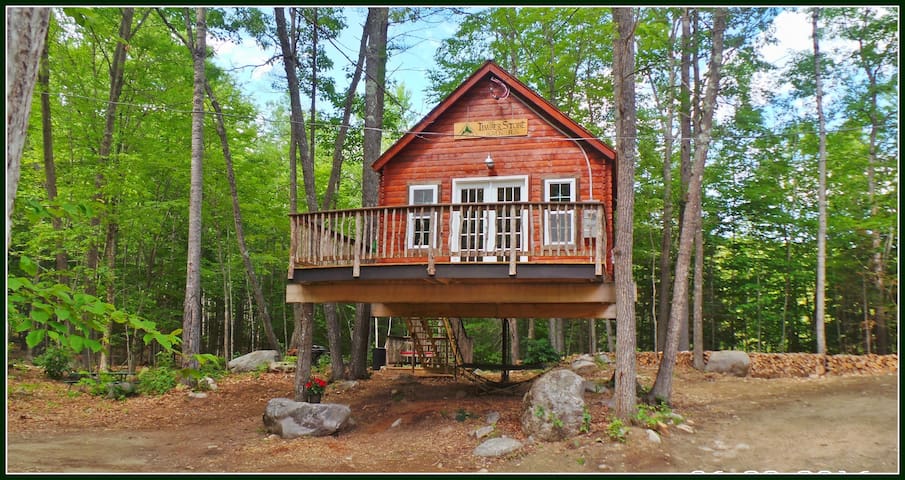 Kamertype
Gehele woning/appartement
---
Type woning
Appartement
---
Geschikt voor
2
---
Slaapkamers
Stoneham, Maine, Verenigde Staten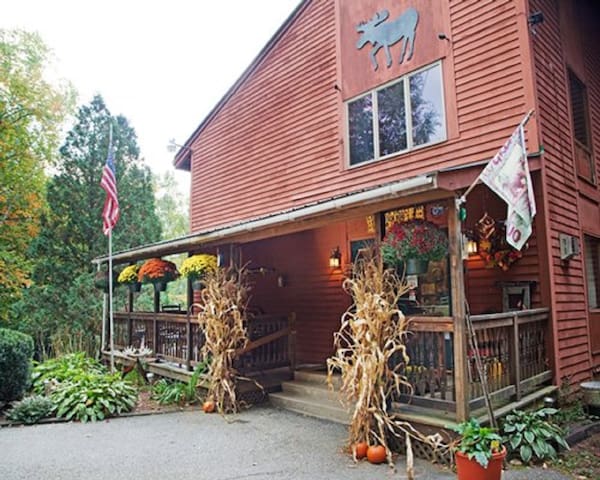 Very clean and bright fully-equipped apartment just up the hill from the historic village of Bethel. Private bath and comfortable, real bed for two adults, plus a fold-out couch and chair for small children or teens. Plenty of privacy on your own deck surrounded by trees, lots of hot water in the shower/tub, and a flat-screen Direct TV to watch the Red Sox and an ipod dock to listen to your own tunes. An hour away from the ocean and in the middle of the best leaf-peeping in the northeast, not to mention the fine dining at the many village inns. Our street Paradise Road lives up to its name: quiet, tree-lined, and picturesque with beautiful views of the mountains with their numerous hiking trails. Come to fly fish, play golf, rent a canoe or kayak for the many rivers and ponds all around. We are also only a short distance from the Appalachian Trail where some of our guests have hiked it a section at a time.
Everything was great. Bruce and Victoria were lovely. The place was spacious with a nice deck, and (VERY) quiet! We really enjoyed staying there and hope to come back.
Nicolas
2014-08-20T00:00:00Z
We arrived to a beautiful hand-written note, welcoming us. The house is beautiful, set in a quiet, secluded part of Bethel. Perfect for a quiet weekend away, close enough to town that anything you need is a quick drive away.
Matt
2014-09-01T00:00:00Z
The hosts could not have been more accommodating and welcoming, both in online communication and in person. And the "apartment" is actually a fully equipped home in an aesthetically pleasing modern timber structure in a very private, wooded setting just a few steps away from one of the most breathtaking mountain views imaginable. The hosts live on the same property, but the airbnb apartment feels totally autonomous and private. It not only lived up to, it exceeded expectations in every way. The hosts added many notes of grace--from a refrigerator stocked with breakfast goodies to a glimpse of their artistic and literary pursuits. Good internet connection, impressive music library, cable TV, shampoo and toiletries...nothing was missing. Would love to stay here again for much longer.
Roger
2015-08-31T00:00:00Z
We had a great stay with at this apartment. Bruce and Victoria were easy to work with, very welcoming, yet also gave us our space. The apartment was easy to find, looked just like the pictures, was very clean. Bruce and Victoria also left a few breakfast items in the fridge for us which was a nice touch. I would absolutely stay with them again!
Kristy
2015-06-14T00:00:00Z
We had a lovely stay in Bruce and Victoria's apartment. It was a beautiful area, and the apartment was quiet and private. Bruce and Victoria made great hiking and eating suggestions, which really made our trip. I'd recommend future travelers bring some breakfast supplies to supplement what Bruce and Victoria provide, as it wasn't enough food for the two of us. Otherwise, the listing was entirely accurate, and the pictures representative. The apartment is so tasteful and thoughtfully put together you really feel as though you are being welcomed into a home away from home - the marks of a perfect airbnb listing! We would highly recommend it to any travelers passing through the area.
Jake & Amber
2014-10-19T00:00:00Z
We very spontaneously wrote Bruce a message about staying at this apartment the morning of our arrival. He replied immediately, was very responsive and we were excited to come to Bethel. We arrived later than anticipated in this very cute and cozy apartment. Bruce and Victoria left a note on the door and we felt at home immediately. Everything was clean and tidy, the kitchen was well equipped and the apartment was even bigger than it looks on the pictures. Bruce and Victoria supplied the fridge with a small breakfast and the bathroom even had towels for us to use. The area is very quiet and peaceful, surrounded by the beautiful mountains. We stayed for one night. Bruce stopped by the next morning and generously offered us to stay longer than the usual check out time since they didn't have anyone coming in that day. We had the perfect experience and recommend this place to anyone who is looking for a cozy, clean, beautiful apartment which is close to the White Mountains and Graft Notch State Park and offered by very kind and warm welcoming hosts.
Fanny
2015-09-07T00:00:00Z
Bruce & Victoria (and their adorable dog, Theo) were wonderful hosts, and the apartment was absolutely lovely. I was attending a wedding nearby, and the location was perfect. They even stocked the fridge with some basic breakfast items, which is a huge plus. Thank you so much!
Mimi
2015-10-11T00:00:00Z
Second time staying here, and it was as great as the first time! Hosts are very gracious and warm, and very accommodating. The apartment is peaceful and exactly what we needed for our weekend. We hope to stay here again on our visit next year!
Laurie
2016-05-09T00:00:00Z
Kamertype
Gehele woning/appartement
---
Type woning
Appartement
---
Geschikt voor
3
---
Slaapkamers
Bethel, Maine, Verenigde Staten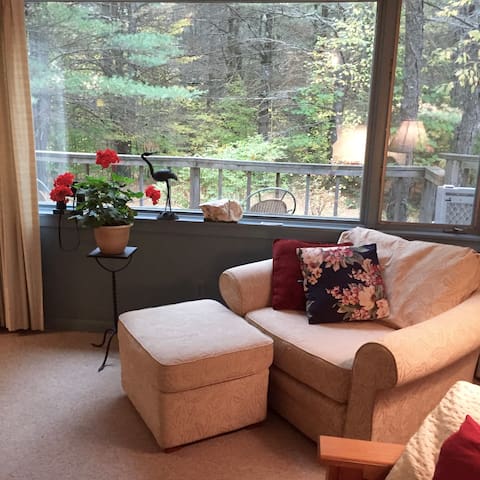 Kamertype
Gehele woning/appartement
---
Type woning
Appartement
---
Geschikt voor
1
---
Slaapkamers
Stoneham, Maine, Verenigde Staten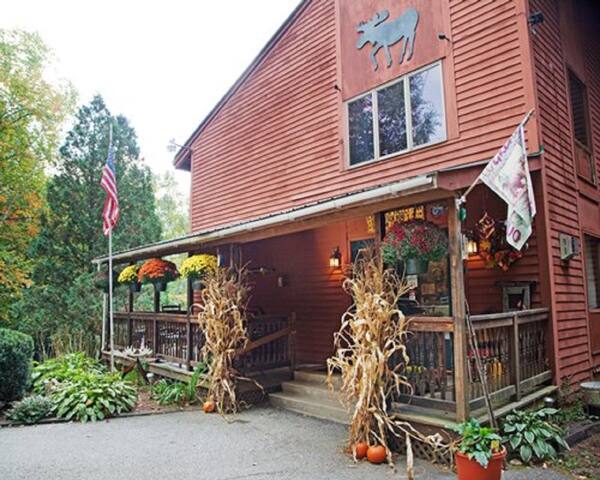 We spent 4 nights at Ken's place. Location is very good for skiing in Sunday River and very private after skiing time. The apartment was cozy, clean, kitchen is clean, equipped with all type of cooking tool. Ken was very responsive in replying email, providing additional information about the local area points of interests. Price was very good too! Highly recommended to anyone go to the area, particularly skiing in Sunday River and don't want to burn cash at the resort. Thanks Ken
Thanh
2016-01-21T00:00:00Z
Ken was very helpful every step of the way. He is very responsive and well organized. All the indications as to how to get to his condo, how to retreive the keys and to fully enjoy our stay were provided by him very quickly after we completed the reservation. The condo is exactly as shown on the pictures and very clean. The lake is quiet, perfect for some canoe (the use of which is made really easy again by Ken's instructions and organization) and the condo is close to plenty of hiking trails! Even the neighbours are really nice!
Marie-Soleil
2016-09-06T00:00:00Z
We had a very nice time in the waterfront condo - great view of the pond/lake, and lots of loons to be seen - Thanks!
Ellen
2015-07-28T00:00:00Z
Great place to stay in rural Maine. Beautiful countryside near Bethel. Condo was great and the lakeside view is spectacular.
Jared
2015-10-15T00:00:00Z
Ken was ver responsive and thorough with instructions. The unit was charming, immaculate , well located and with lovely view of Bryant Pond.
Elaine
2016-03-13T00:00:00Z
This is a fantastic little condo next to a beautiful lake. We enjoyed swimming in the very clean and refreshing (not too cold) water and watching and listening to the loons day and night. There's a wonderful small grocery/restaurant 5 minutes up the street (The Local Hub) that sells organic food and has a lovely local vibe.
Liz
2016-08-19T00:00:00Z
My partner and I found Ken's condo for a last minute trip to Sunday River. The condo is great, secluded and right on the pond, and an easy drive to Sunday River in the morning. The kitchen was well stocked, and even though Ken was away on deployment, he communicated very quickly! Check in and parking and directions were all very easy! Sean and I loved our system, and we would certainly stay again!!
Max
2017-02-20T00:00:00Z
Perfect ski condo for a weekend at Sunday River. The condo was equipt with everything you'll need including a queen, two twins, and two pullout couches. Kevin was a very accommodating host and left us perfect instructions and was available when we had questions. Absolutely would stay again!!
Drew
2015-03-02T00:00:00Z
Kamertype
Gehele woning/appartement
---
Type woning
Appartement
---
Geschikt voor
4
---
Slaapkamers
Woodstock, Maine, Verenigde Staten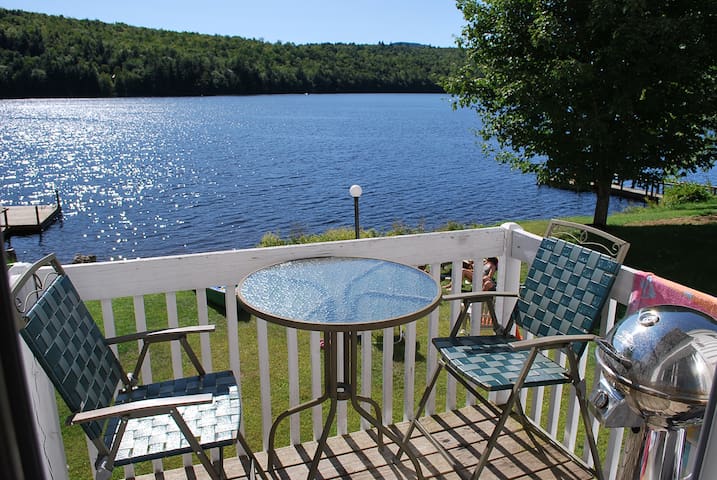 Denmark Stage Stop House an equestrian estate between Mt Washington Valley & Bridgton Maine. Stay and Ski Shawnee Peak Bridgton Maine, only 5 miles from The Denmark Stage Stop. Surrounded by beautiful Maine towns such as Fryeburg, Sebago, Naples and Brownfield, Maine. Shawnee Peak is a great family ski area without the crowds of the larger resorts - great night skiing too! Great Shawnee Peak Lodging Accommodations Bridgton Maine! Ski ME!
Denmark Stage Stop House in Denmark Maine is located on an equestrian estate between Mt Washington Valley & Bridgton Maine. We are close to spectacular lakes, ponds and rivers and many outdoor activities and The Stone Mountain Arts Center. Our Shawnee Suite affords our guests complete privacy with it's own entrance and is surrounded by pastures and gardens. We limit the number of guests to no more than 6 people - no exceptions. Sleeps 6. The Denmark Stage Stop House, offers pet friendly (dogs only) accommodations on a private equestrian estate in Denmark Maine, is where you want to be if you are looking for great accommodations while visiting the Bridgton Maine area. Whether you just need a place to relax in the in the heart of Maine's Lake Region or want to enjoy the many summer activities our area has to offer, you cannot beat the Denmark Stage Stop House. Please read our full description to familiarize yourself with The Denmark Stage Stop House. We do no have any "HIDDEN" fees such as those for cleaning no charge for cleaning and no security deposit required, which up to now has worked very well as all of our guests have been very responsible. While the 2 bedroom Shawnee Suite is structurally part of the main house, it is completely removed from the residence with it's own entrance on an opposite side. In fact, we rarely even see our guests unless they opt to interact with us and we appreciate how important your privacy is to our guests. The Shawnee Suite is surrounded on by pasture and garden views. The outside grilling and seating area is yours and yours alone as well and again completely removed from any activity in the main house. We are just entering our 4th year offering superb guest accommodations. We welcomed over 288 people through our doors in 2013, all to rave reviews. Many of those guests have returned more than a few times and many tell us they are keeping this place their secret and not telling their friends, although we certainly wish they would. We are only one mile outside Bridgton Maine and only 5.4 miles from Shawnee Peak Ski (AKA Pleasant Mtn.) for great hiking. When you choose the Shawnee Suite you save even more with a full kitchen to prepare your meals vs. having to eat meals out at a restaurant, although there are plenty of restaurants in the area. We also offer our Bungalow Cottage for up to four people at a lower rate. Stone Mountain Arts Center for Performing Arts is only a short distance away. At Stone Mountain Arts Center is an intimate performance hall situated in the foothills of the White Mountains. Please be aware we have a two (2) night minimum. On long holiday weekends we have a three night minimum, which includes Memorial Day, 4th of July, Labor Day. Exceptions may be possible on a case by case basis, but you must contact us specifically with this request. Shawnee Suite's 2 Bedroom Suite offers; Full modern kitchen, saves you a lot of money when you do not have to dine for all your meals. Full size gas range/oven, with hood Full size refrigerator Dishwasher Microwave Double bowl stainless steel sink Breakfast Bar Coffee Maker – coffee (decaf & regular), tea, hot chocolate supplied. Waffle, Pancake/Omelet Maker – mix supplied Bedroom #1 - double bed complete with heated mattress pad and heated blanket and flat screen TV. Bedroom #2 – Futon style bunk bed with double bed on bottom and twin bed on top and flat screen TV. All beds have heated mattress pad and electric blanket. Living Room couch converts to two twin bed with heated mattress pads and electric blankets. Flat screen TV in Living Room. Large private full bath with tub/shower. Heated toilet seat. Linen closet stocked with many towels. Central Heat in winter A/C in all rooms in summer Flat Screen HD TV's in all rooms with local channels only. The living room television also has Netflix, Amazon Prime and Hulu Plus with plenty of movies and shows to entertain you. We do not allow more than six (6) people to stay in the Shawnee Suite. We are also pet friendly, dogs only. Please see our pet policies. We do our best to accommodate our guest's needs at all times and that includes check-in/check-out. If you need an early check-in or late check-out let us know and as long as we do not have overlapping guests we will certainly accommodate you. We opened Stage Stop Ice Cream on our property in 2013 which serves Annabelle's hard serve ice cream and Maine's own Oakhurst Dairy's soft serve ice cream and new this year Dole Whip made famous at the Disney Resorts. You can't miss our amazing ice cream Whoopie Pies - seasonally May through October. Stage Stop Ice Cream is located right on site and only a short walk away from both our Shawnee Suite and the Bungalow Cottage. The Shawnee Suite has views of our pastures and fields and our horses Hot Shot and Jag. There is outdoor seating with a gas grill with a side burner. Just beyond the Shawnee Suite is a fresh herb garden and a vegetable garden our guest are free to pick from when the vegetables are in season. Guests in both the Shawnee Suite and Bungalow Cottage have private entrances to their accommodations. Guests also have use of our private putting green. During the summer season, pick fresh vegetables and herbs from our gardens. The Shawnee Suite has a private outdoor yard with a gas grill and outdoor seating. We like to be available to greet our guests, however on very night late arrivals that may not be possible. We are available at anytime during our guests stay for questions, issues or anything at all - even to find the best restaurant around - all you have to do is ask. We are generally on site but if not I am only a phone call or text away. If you want absolute privacy that's OK too. Our Shawnee Suite guests have a private entrance to their 2 bedroom, full kitchen suite. Late arrivals are not a problem at all-just let us know your expected time of arrival and we will make the appropriate arrangements. Late arrivals are much more common than early arrivals around here since everyone travels from Mass, New York, etc, so no matter what time you arrive you will be able to access your accommodations. Shawnee Suite guests have a private outdoor yard with gas grill and outdoor seating with views of our pastures and horses. Denmark Maine is a very rural area and our property is no exception. We are only 5.4 mile away from Shawnee Peak for all you skiers. The Denmark Stage Stop House is only one mile outside of Bridgton Maine and 5 miles from grocery stores, etc. found in Bridgton Maine. We are in the heart of Maine's Lake Region, surrounded by mountains, lakes, which makes us home to many prestigious summer camps. Portland Maine - 1.25 hours Boston, MA - 2.50 hours North Conway, NH - 25 minutes Bridgton Maine - 5 miles Shawnee Peak Ski And Snowboard Resort - 5 miles Best of all during the warmer weather months, spring through fall, our Stage Stop Ice Cream Stand is open offering ice cream treats ,cold beverages and more. We are only a short distance from The Stone Mountain Arts Center in Brownfield, Maine. If you are coming to our area to enjoy do not miss one of the many national acts up close and personal in an equally beautiful setting. Getting around in Denmark, ME generally requires a vehicle as there are no restaurants, (except our Stage Stop Ice Cream, which is open seasonally during the warm weather months) or stores within walking distance, which is part of the charm here. Free Parking on site for guests We do our best to employ green practices whenever possible. We use environmentally safe lighting throughout our properties, our properties are insulated to a very high standard reducing our use of fossil fuels, we use environmentally friendly cleaning products whenever possible and employ recycling. While we do have HD flat screen televisions for our guests, we only have local television stations, no cable channels, however our televisions are pre-programmed with Netflix, Amazon. We MUST charge an 9% Lodging Tax required by State of Maine which is not included in the price and must be paid at time of arrival via cash or check. We apologize for this but there is no way for us to add it on to our rates as a "tax". If we increase the rate to cover this it means a higher fee for both our guests and ourselves. We take your safety (and ours) seriously. For this reason we make sure we have WORKING smoke and CO detectors and fire extinguishers in all of our rentals. We are also available to walk your dog for you, if you do leave your dog crated in your room, as long as the dog is friendly and allows us to leash your dog. There is no charge for this service but we do need advance notice to make sure we will be available as needed. As a dog lover too I do not travel anywhere without "Cowboy" and his comfort is as important as my own, so I understand how important it is to find a place that really is pet friendly.
Rural area but grocery shopping, gas stations and such only about 5 miles away. Best of all for all those skiers and snowboarders, we are only a hop, skip and jump from Shawnee Peak Ski Area in Bridgton, Maine - only 5.4 miles away. Take advantage of Shawnee Peaks amazing night skiing and on Monday Madness you ski for the night for only $19.00, ski from 3:30 PM to close. Great family friendly ski area!
Di was great at accommodating our various needs and all had a great time!
John
2016-07-10T00:00:00Z
Stayed here for a week whilst visiting my fiancee. Lovely place with plenty of space to unwind. Di was a great host and I can highly recommend staying here.
Martin
2016-10-15T00:00:00Z
Deborah is my family's favorite host. She was so gracious, making sure everyone is having the best experience. And her place is just as great!!! The suite is well appointed with everything we needed plus more! It was a charming country home and we all felt the warmth and the love she put in it. Love the wide open space,and especially the hammock. Kids love and enjoyed playing with Cowboy and terribly misses him now. And if that is not enough, we got delicious natural ice cream everyday! I wasn't familiar with the area when I booked it, but left loving it because of all Deborah shared with us. Now we have new places to explore and look forward to.
maria
2016-08-30T00:00:00Z
Di was very welcoming and make the suite very comfortable to stay in! She even gave us a breakfast basket and fresh eggs for our stay. Everything you would need was right there, and the scenery was wonderful.
Jennifer
2015-08-24T00:00:00Z
Deb was awesome what else can I say
Susan
2016-08-29T00:00:00Z
All was great at the apartment. Spacious and clean. I wish we had not had to leave so early so we could have taken time to enjoy the breakfast provisions.
Mary
2014-06-08T00:00:00Z
I didn't end up staying in this suite, but Debra was helpful and proactive in helping me out.
Inbal
2014-07-07T00:00:00Z
It's a magical and beautiful place. The appartement is so well equip and had a beautiful style. Also the garden is really big and perfect for walk with friends and dog. Deborah was really sweet at pour arrival, she explain us everything and give us touristic tips for the visiting. I really recommand this place. One of my best Airbnb experience!
Mia
2016-10-23T00:00:00Z
Kamertype
Gehele woning/appartement
---
Type woning
Appartement
---
Geschikt voor
6
---
Slaapkamers
Denmark, Maine, Verenigde Staten
Updated 2-bedroom / 1-bath first floor condo available at the historic Bethel Opera House. Sunday River premier parking and on-mountain locker included with rental.
Updated "wood" floors, marble countertops & backsplash, stainless steel appliances, dishwasher, fresh paint, bathroom, carpet in bedrooms, white trim w/ gray paint throughout and funky eclectic yet functional furnishings. Plenty of off-street parking, and on-site coin-op laundry. All towels and linens provided. Located on the Mountain Explorer Sunday River shuttle route accessed in front of the Bethel Inn. Please no pets, ski boots or skis in unit or in hallway. Looking for friendly, considerate and respectful people only. This is our year around, weekend home and we have to live with our neighbors! Available February 18th-25th.
Located next to the Bethel Inn and across from the Bethel Common, walking distance to all shops, cross country skiing, restaurants, Gould Academy, grocery store and 5 miles to Sunday River.
Kamertype
Gehele woning/appartement
---
Type woning
Appartement
---
Geschikt voor
5
---
Slaapkamers
Bethel, Maine, Verenigde Staten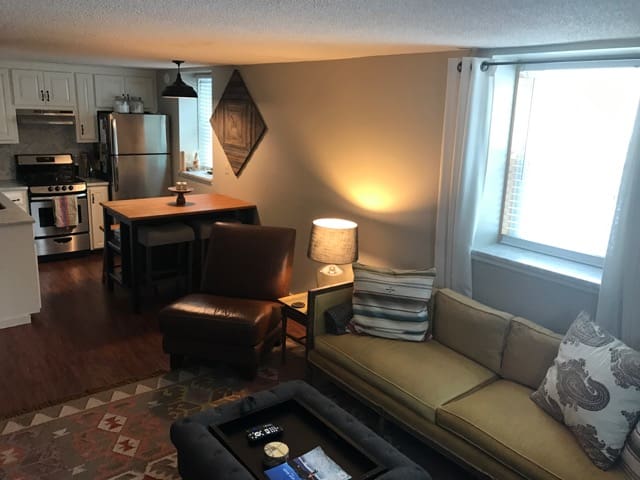 Großes Bauernhaus Wohnung mit Blick auf Pleasant Lake. Inklusive große Küche, Bad, W / D, große geschlossene Veranda, Holzofen in LR, Ausstattung von kleinen Dorf. Eigentum stößt öffentlichen Strand. Ich entschuldige mich aber nicht das Richtige für Haustiere. Auch ich will alle Anfragen verstehen, mein Preis spiegelt Nachfrage. Offensichtlich werde mich nicht eine schöne Wohnung auf einem See im Juli und August für den gleichen Preis vermietet ich es im April mieten. Meine Basis ist 70.00, aber bitte den Kalender für Preisschwankungen überprüfen.
Eigentum grenzt an den öffentlichen Strand. Sub Shop mit gutem Essen über die Straße. Auch ein gutes Land Geschäft mit gutem Kaffee, Pizza und Sandwiches.
Es ist ein kleines Dorf ME
This was a quiet, peaceful spot to stay on a break from Boston. Sharlene was very available when we had a question or two, and so hospitable! We really enjoyed the space the apartment afforded, and the view over the lake nearby - just lovely with morning coffee!
Rose
2015-05-21T00:00:00Z
The place is fantastic. The pictures don't even do it justice, once you walk in you'll immediately fall in love with the place. Plus the view of the lake was breathtaking. We rented it for a quiet night away and it was perfect, the store across the street was helpful for the few things we forgot. Sharlene was the best host and thought of everything. Highly recommended!
Marlon
2016-05-04T00:00:00Z
very easy and unique rental. Really captures the spirit of Casco. Great communication. Clean with WiFi. I really appreciated the opportunity to stay here.
Patrick
2016-07-10T00:00:00Z
Great space! Beautiful view, total privacy, and everything you need to make yourself at home. We stayed here after camping for a few days, and it was the perfect place to re-enter civilization - washer/dryer, larger kitchen, nice bathroom, but still dark and quiet at night. Very happy with our stay.
Cat
2015-05-23T00:00:00Z
Sharlene's place was spacious and as described. It certainly was able to accommodate the four of us staying. She was prompt and communicated well.
Jonathan
2016-07-10T00:00:00Z
Super nice view of the lake. House is super clean. Sharlene is super responsive and easy to work with. Will definitely stay here again.
Usanus
2016-09-28T00:00:00Z
The listing was very accurate and our host did a great job of making the access to the apartment a smooth one. We loved that it was clean comfy, cozy, and spacious! We also loved the easy parking and spectacular views of the lake. This was an extension of the original stay, and it was well worth it! We had a magnificent time in Casco at Sharlene's place and we would definitely stay there again!!
Judy
2015-07-26T00:00:00Z
Sharlene was the best host! She was so welcoming and friendly. Great communicator even before we got there. She knew we were arriving super early so she even texted us when the room was ready even though it was before the designated check in time. I felt like I was staying with a friend! The suite is fabulous too. Sharlene keeps it super clean. It is in a great location - the views are beautiful. Spent my morning in the enclosed porch sipping coffee. I would definitely stay here again!
Magda
2015-08-07T00:00:00Z
Kamertype
Gehele woning/appartement
---
Type woning
Appartement
---
Geschikt voor
8
---
Slaapkamers
Casco, Maine, Verenigde Staten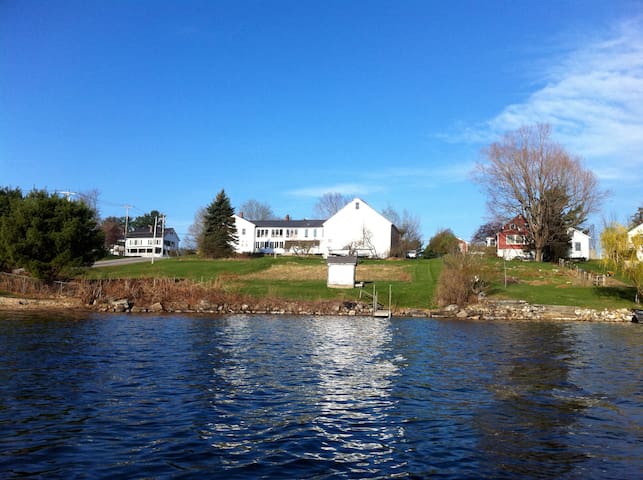 4-NIGHT MINIMUM STAY! Sleeps 4: Kitchen: Partial Bathrooms: 1 Max Occupancy: 4 **See "Description" Below for ALL Details**
***See "Description" Below for ALL Details*** **THERE IS A FOUR NIGHT MINIMUM STAY** ! For best rates I am accepting booking from today through 2 months out. Each individual unit's size, floor plan, floor level, resort site location, building placement, unit placement within buildings, view, privacy, number of beds and type of beds, bathroom size & amenities, kitchen size & amenities, deck/balcony, and ALL other characteristics MAY VARY. SPECIAL NEEDS UNITS may also be available upon request! Onsite management of each resort will require a security deposit against a major credit card of a minimum of $100, up to a $250 maximum (varies at each resort location). Such security deposit is scheduled to be released on day of departure. The resort MAY charge a fee for internet, wifi, and/or parking. ABSOLUTELY NO PETS ALLOWED! If you have a service animal, you must let us know in writing prior to booking. Regardless of what is stated; In unit Washer & Dryer may vary. Resorts have common area Washer & Dryer facilities a very high percentage of the time, but there are instances that they do not. Amenities Washer/Dryer: No Furnishing Television: Cable/Satellite Number of televisions in unit: 1 Video player/Recorder Room Facts Telephone Unit square footage: 544.0 The Bethel Inn is steeped in traditional design based on a cluster of three colonial buildings. The Oaks, Pines and Main Inn offer standard, select, deluxe and deluxe suite guest rooms. All rooms boast a private bath, cable television, and comfortable furnishings, as well as spacious bedrooms. Deluxe rooms and deluxe suites include air conditioning, a fireplace and an added living room. The décor is rustically modern with lots of amenities for your comfort. Check-in and Check-out Check In Time: 16:00 Check Out Time: 10:00 Weeks Resort check in days: Friday , Saturday On-site Golf Entertainment / Nightlife Cross Country Skiing Tennis Off-site Playground (Nearby) Racquetball (15.0 mi) Beach (3.0 mi) Lake (3.0 mi) Downhill Skiing (7.0 mi) Water Skiing (30.0 mi) Windsurfing (30.0 mi) Ski School (7.0 mi) Horseback Riding (4.0 mi) Boating (3.0 mi) Fishing (3.0 mi) On-site Arcade/game room Sauna Jacuzzi/Hot tub Swimming pool Off-site Salon (Nearby) On-site Conference facilities Internet access in public areas (fees may apply): High speed access Off-site Medical facility (Nearby) Car Rental (10.0 mi) On-site Restaurant/Dining Snack bar
The Bethel Inn is a 200 acre golf/ski resort built around a charming and historic country inn and two restaurants. For golf enthusiasts, the 18-hole PGA course comes complete with school, clinics and tournaments. There is a year-round outdoor heated pool, saunas and game rooms as well as tennis. For winter fun, there is skiing, both downhill and cross-country, in the majestic Mahoosuc Mountains. The resort has a private lake house for swimming, sailing and canoeing. When you are done outside, come in and rest in the cozy inn or feast in the on-site restaurants. The Bethel Inn Resort is located in the premier four-season destination of western Maine. Bethel is in the Androscoggin River valley among the Mahoosuc Mountains, and the outdoor activities are endless. In the winter you can ski, both downhill and cross-country; in the summe,r you can take a wonderful hike or take advantage of the many rivers and lakes. Enjoy the refreshing energy of springtime and unbeatable beauty of the foliage in the fall. Go moose watching, take in a community event or performance, or revel in the many shopping opportunities, wonderful restaurants and spas.
Kamertype
Gehele woning/appartement
---
Type woning
Appartement
---
Geschikt voor
4
---
Slaapkamers
Bethel, Maine, Verenigde Staten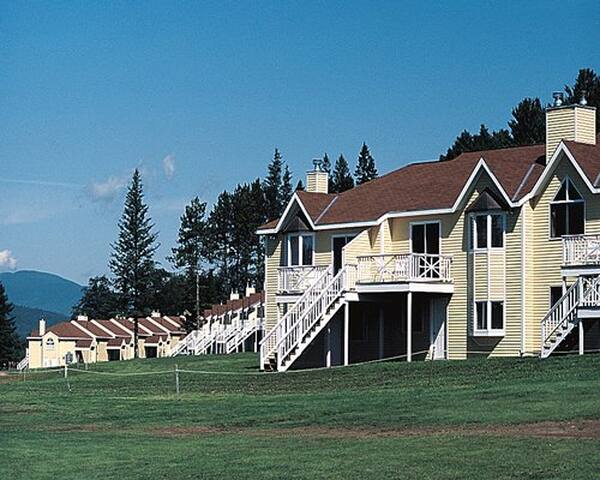 1

–

18

van

40 Appartementen te huur